My Chalk Painted Cabinets (4 years later-how did they do!?)
This post may contain affiliate links. Please see disclosures here.
You don't have to hire a professional to paint your kitchen cabinets! With the right tools & paint, anyone can do it. I'm sharing how my Chalk Painted cabinets have held up, 4 years later.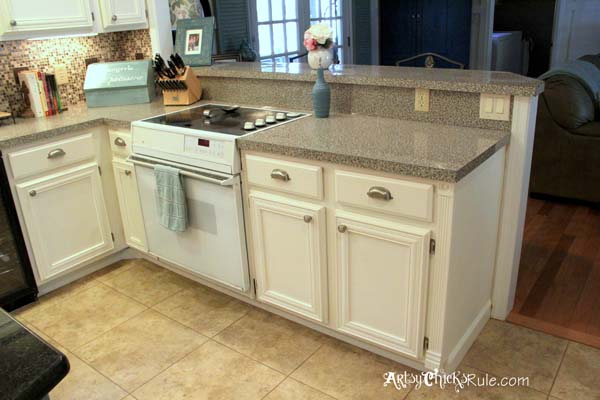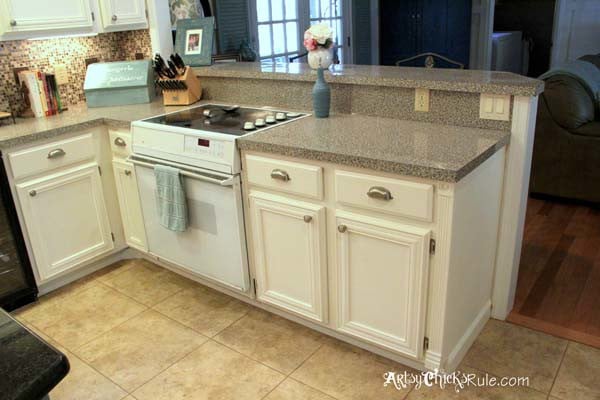 Hey Friends!
I've been meaning to get around to this post for a very long time.
It's been sitting in my "draft" folder just waiting for me to write it, titled and all.
I had to change the "3" to a "4", it's been that long. ;)
So today is the day I thought I'd tell you how my Chalk Painted Cabinets have held up over the years.
And the answer is…..pretty darn well.
If you are new around here, I painted my kitchen cabinets with Annie Sloan Chalk Paint over 4 years ago now.
You can read all about that right here, "Kitchen Cabinet Makeover with Chalk Paint".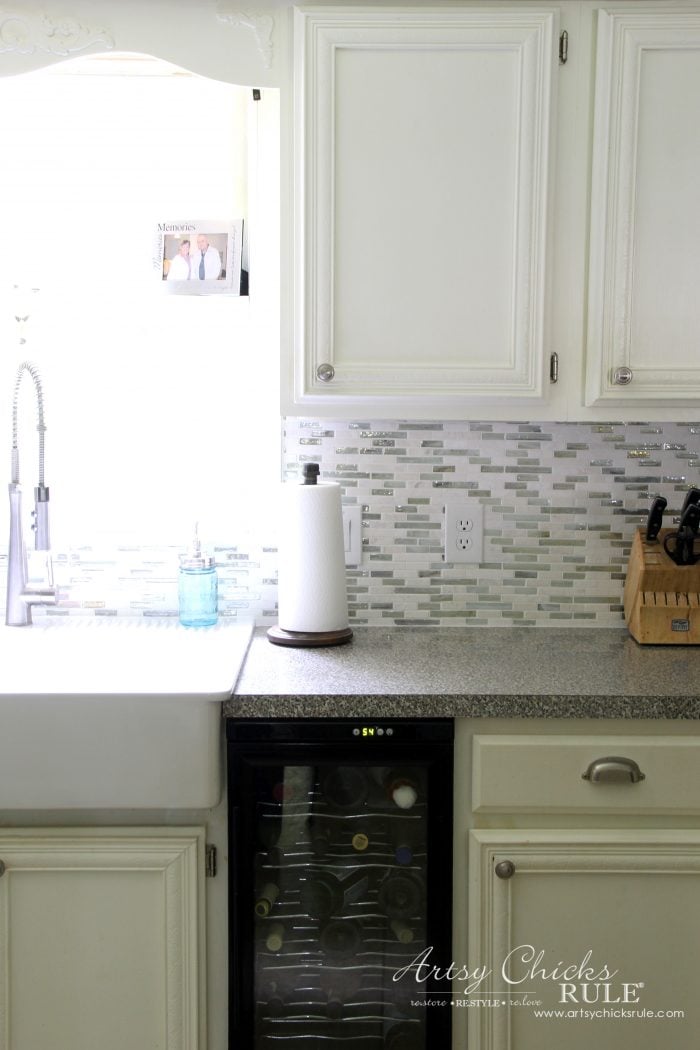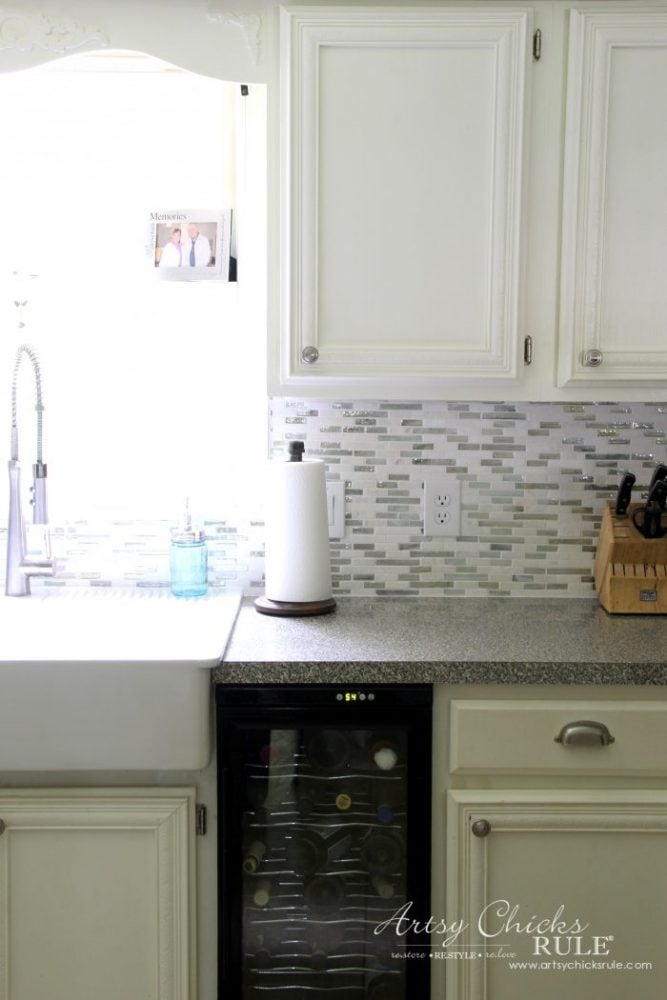 These are a few photos from my recent kitchen tile back splash project.
But you can see the cabinets and how well they look.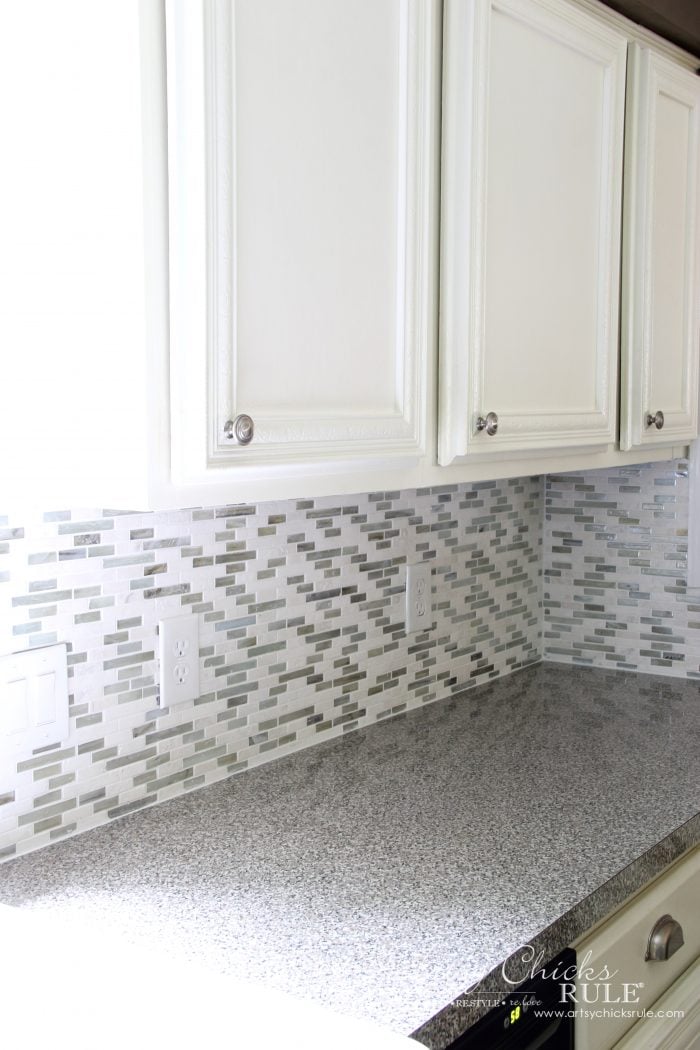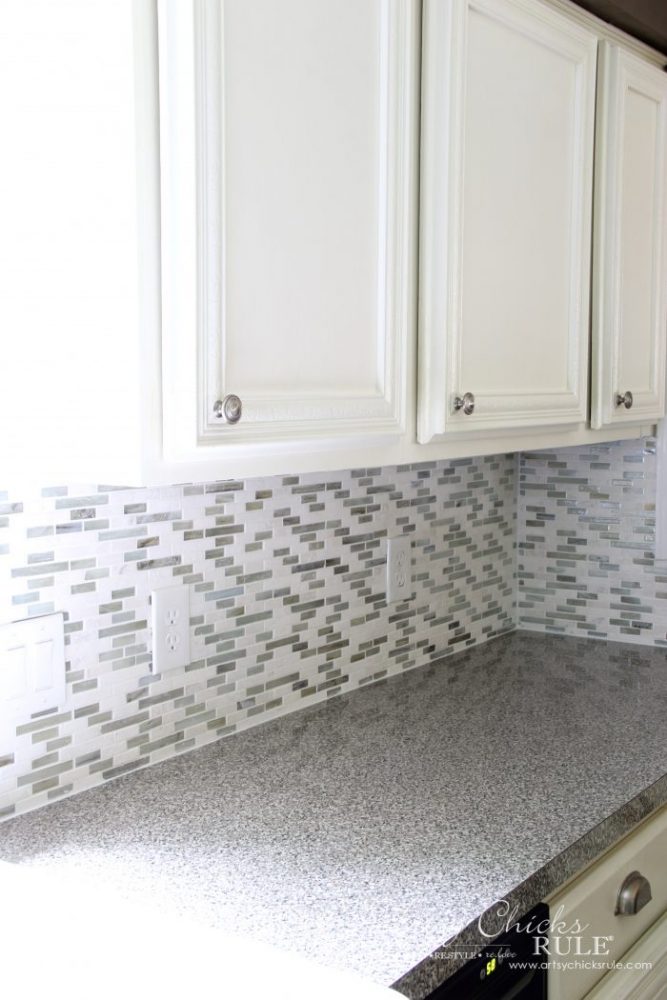 I also have a Chalk Painted kitchen island.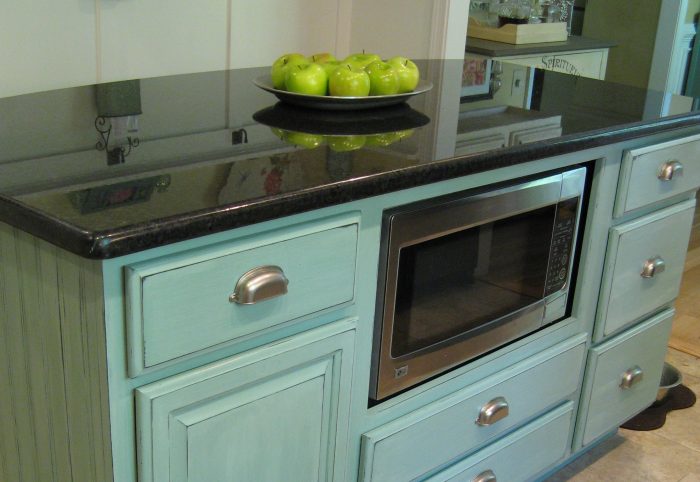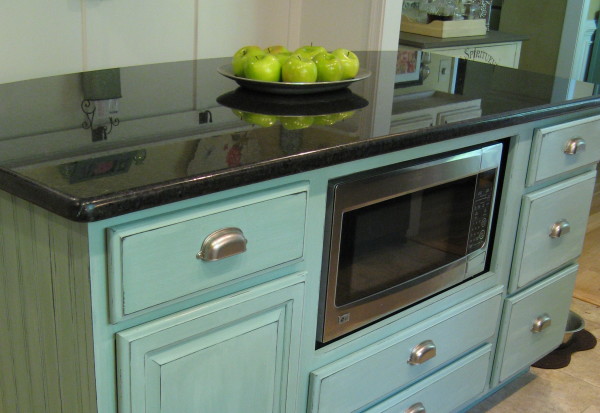 You can read all about that here, "Kitchen Island Makeover"
Now let me preface this by saying, I did not use wax to seal these Chalk Painted cabinets.
AND I would not recommend using wax to seal cabinets in a kitchen at all.
It's just too much upkeep (and work, let's be honest, waxing is not the easiest thing to do).
I painted and waxed (with Annie Sloan Clear Wax) this little bread box that I use in my kitchen.
I've had to re-wax and buff it multiple times since having it in here (which is about the same time frame).
Can you imagine if I'd waxed all these cabinets and island?
It's also got a few small nicks here and there. The finish is just not durable enough, in my opinion, to use in a high use area like a kitchen.
Plus it tends to look "smudge-y" from all the hands on it.
So just say, 'no' to wax in a kitchen. ;)
What I did use (and recommend) is a poly sealer.
I used Varathane sealer that was made for flooring. As a matter of fact, we used it on our wood floors when we refinished them sometime before this.
It was so rock hard there I thought it'd be perfect for my Chalk Painted cabinets.
And I was right!
That stuff is rock hard and why I probably had little noticeable wear.
I was hoping it would not yellow but sadly it did ever so slightly.
If you look at the post I linked at the beginning of this post, you will probably not be able to tell much difference at all.
Like I said, very slightly, but enough that I can tell.
Definitely not as bad as others I've used in the past but still just a bit.
That is one of the reasons I'll be repainting.
And the other reason is because I didn't paint them white-white from the beginning so they started out a bit on the warm side, poly or no.
Now, let me say that it's hard to find a good sealer that doesn't yellow a bit. I've yet to find an absolute perfect one.
With that, I'd say this one was pretty good. (again, not perfect)
Another that I like quite a lot is General Finishes High Performance Top Coat.
I've had pretty good luck with it.
Even though I plan to repaint them, I have to say, I'm quite impressed with how well they've held up.
However, the paint I applied originally after moving in (regular latex with a glaze over top) also held up very well.
I had no chipping or wear in that paint either but I soon grew tired of the glaze which ended up just looking "dirty" to me.
I've also had no chipping and wear in this Chalk Painted cabinet finish either….except in one place.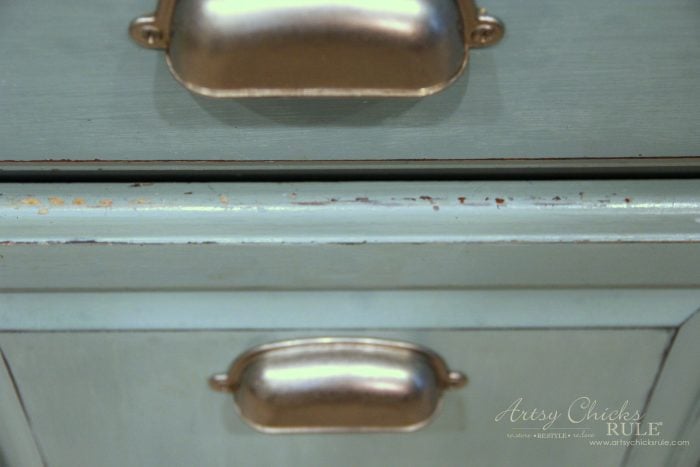 The handle above is the silverware drawer. Obviously one that is used often….and you can see the paint is in great shape.
Down below, well, we have quite a few nicks in the paint at the top of the door. Not really paint wearing away, just the nicks.
This is where our trash can is and the handle is honestly a bit to low to use…..so guess where we open it??
Yep, hands and nails end up hitting that top area to pull it open and have nicked it over time.
But that is honestly the only place in the entire space that has any kind of wear or nicks.
I will be putting a different type of pull (and moving it up closer to the top) when I repaint the island.
No more nicks for us there!! ;)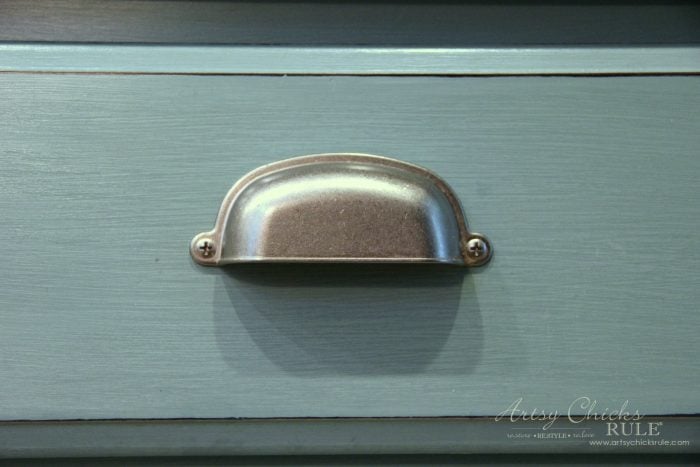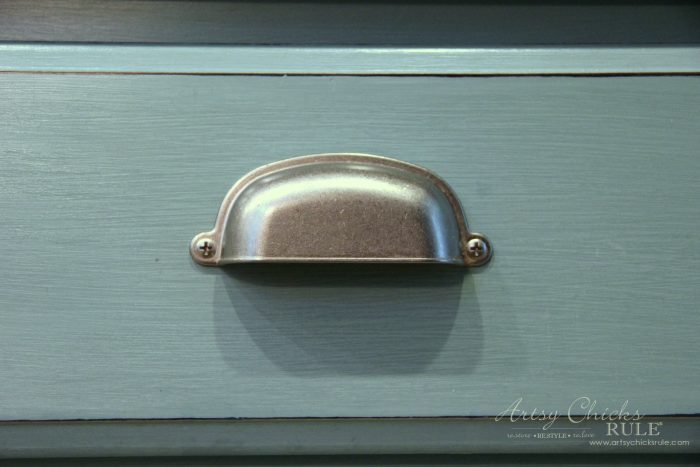 This is the other side.
As you can see, looks pretty great.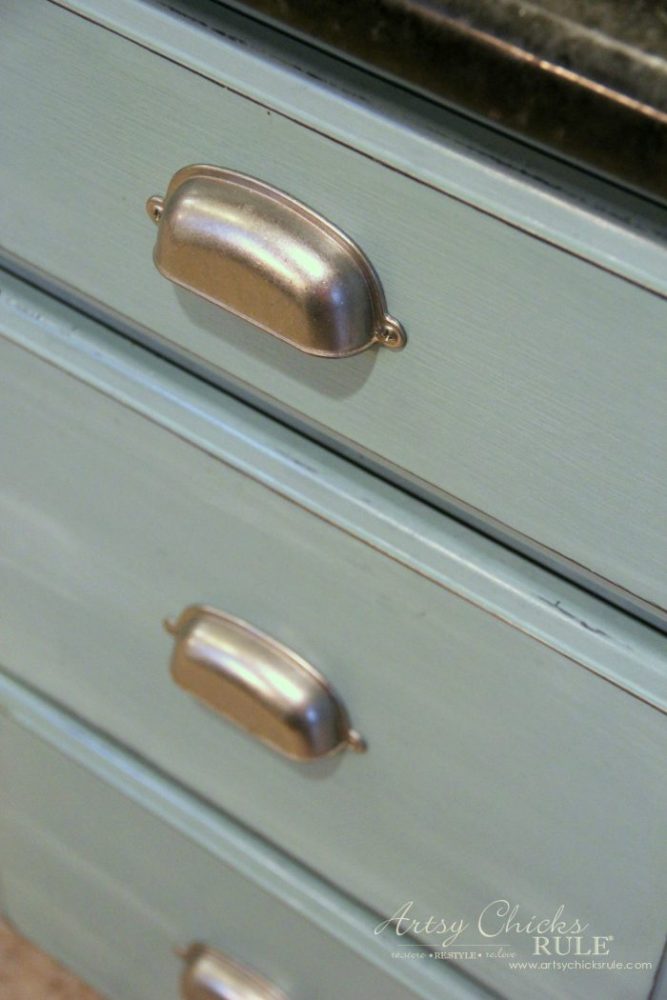 I do have a few spots like this (below) here and there.
Not sure what's going on here but I'm guessing something spilled and stained it.
It doesn't go away (dry) and I can't clean it away either. It's stained and there for good.
So that's an odd occurrence I've never seen with regular, more traditional paints.
I don't see this at all on the whiter Chalk Painted cabinets, however, only the blue.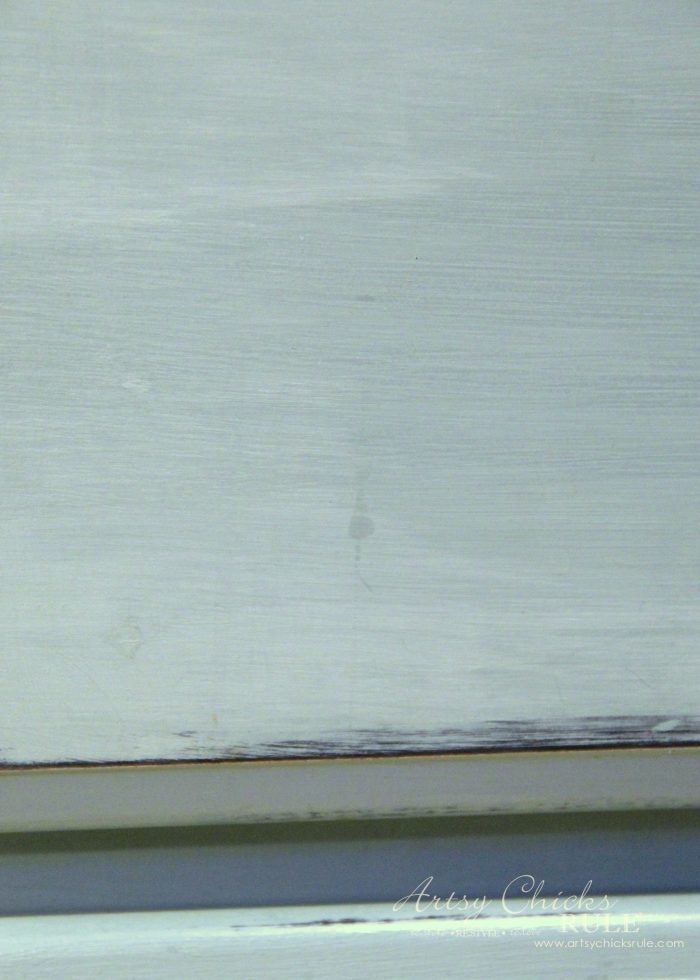 Here is the cabinet right by the sink that holds vitamins, aspirin, etc.
One we go into daily.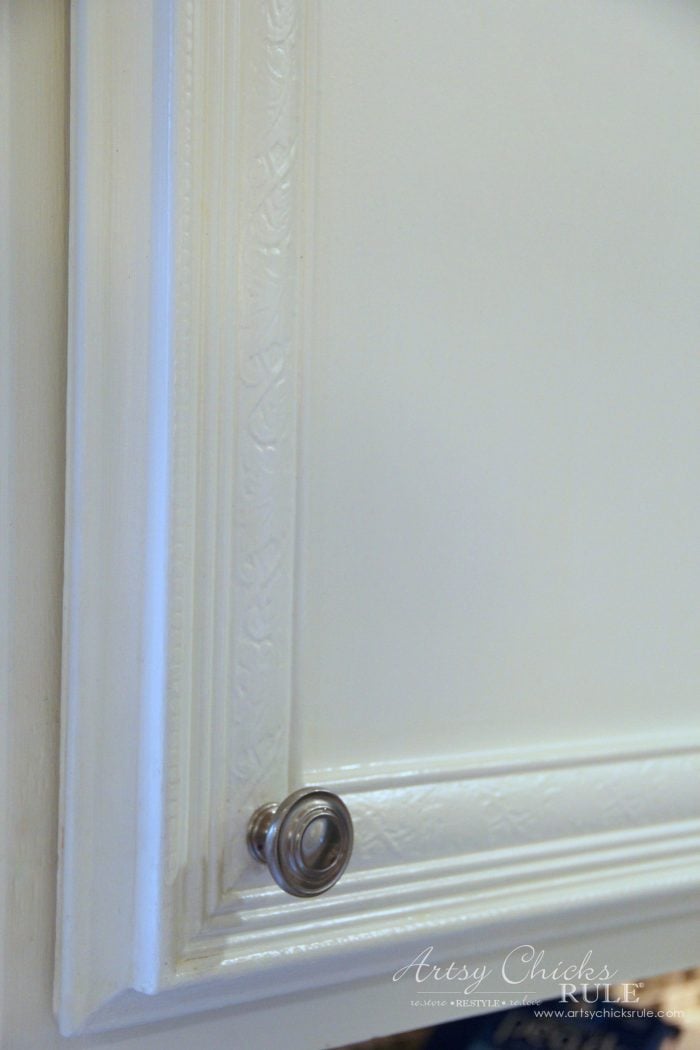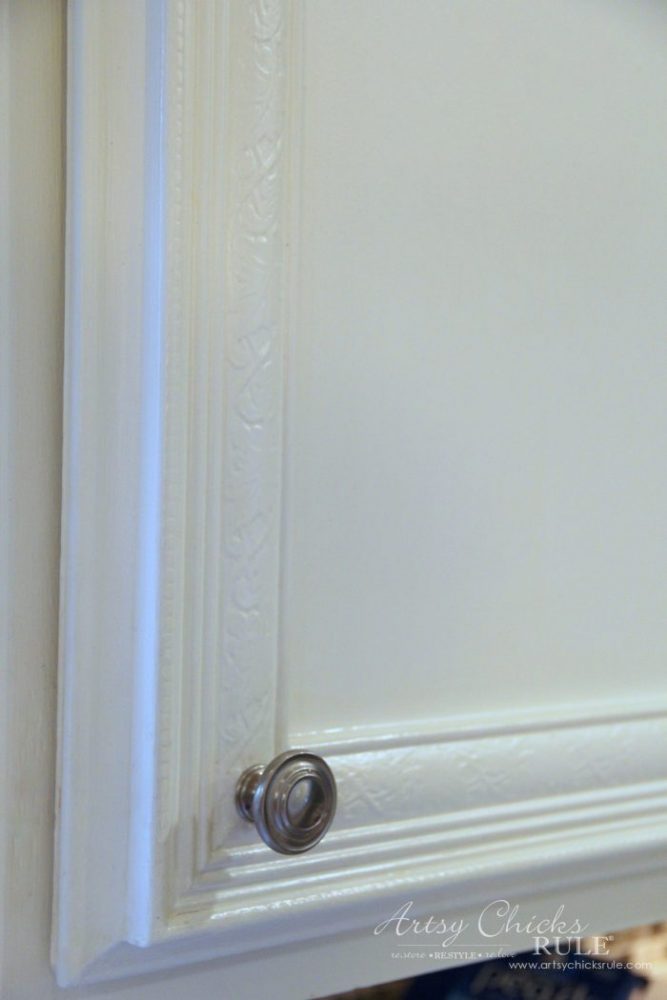 No wear, nicks, etc.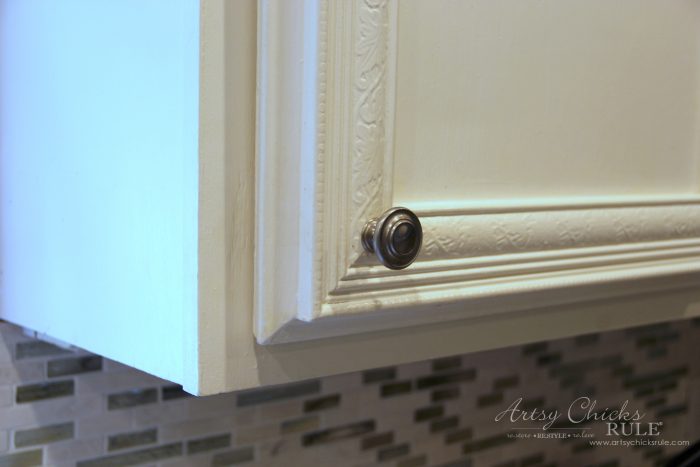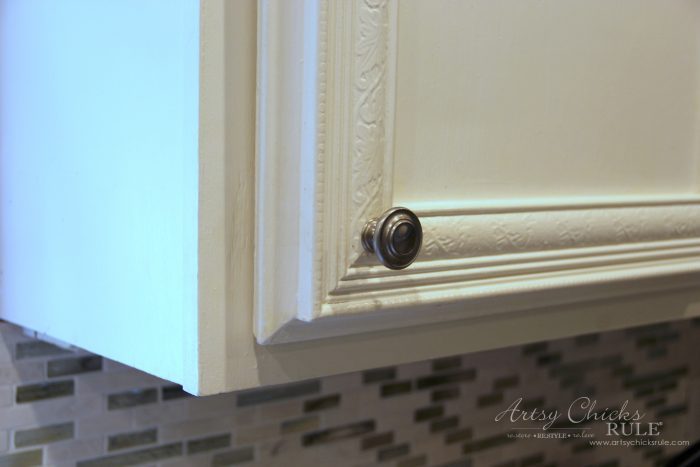 To the right of that is the cabinet that holds spices, some plates and glasses.
Also, used very often.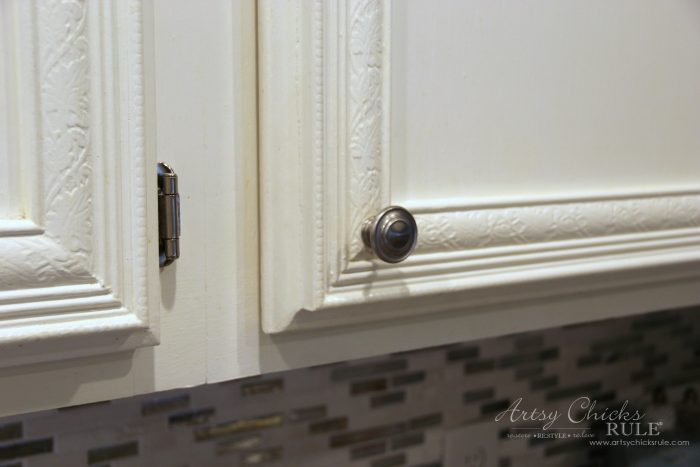 I've not done any retouching since they've been painted….anywhere.
No wear whatsoever around any handle, cabinet edge, etc.
You may be able to see that the seam between the trim (and the door) we applied to the cabinet is cracking a bit.
But that really doesn't have anything to do with the paint. I'll lightly sand and re-caulk that area before I paint again.
(We had flat fronted cabinets when we bought the house and added decorative wood trim to dress them up…I'm planning a tutorial on that soon, too)
Another cabinet and drawer that is used often.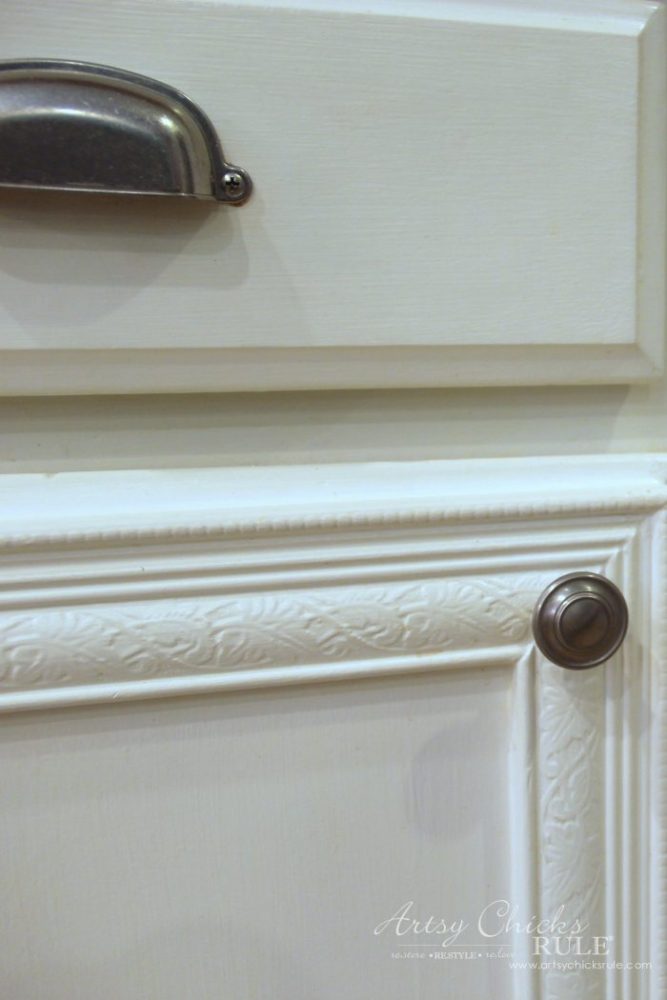 So, as you can see, not too bad at all!
I wouldn't hesitate to recommend using Chalk Paint on your cabinets.
I would absolutely do it again.
But again, I would not recommend wax of any kind in the kitchen. (or bath, for that matter)
Some things to keep in mind. Chalk Paint tends to leave strokes or not be as smooth as latex.
You can counteract that by lightly sanding in between coats. And on your final coat before applying your sealer.
And another thing, just because you are using Chalk Paint, it does not mean that they have to be "shabby" looking or distressed.
It's just paint like any other paint. (relatively speaking) So, paint and distress or paint and don't distress.
Your choice! (just as it's your choice whether you are using Chalk Paint, acrylic or latex, etc)
Now, what am I using to repaint the cabinets and island??
It won't be Chalk Paint this time.
Not because I wasn't happy with it but mainly because I also love another paint and want to give it a go in here.
The paint I'll be using is General Finishes (in Snow White). A nice, bright white.
I recently used this exact paint in my Coastal Laundry Makeover. <— you can see it there
I'll also be using it for the island. The color is undecided but I'm considering Persian Blue.
(and probably a mixed version of it to create a nice, soft, pale blue shade)
So there you have it.
My thoughts and real life experience with Chalk Painted cabinets.
What are your thoughts?
Have any questions? I'd be glad to answer or help any way I can!
Just pop it in the comment box below. :)
EDITED TO UPDATE: Since writing this post, we've decided to give our entire home a bit of an overhaul. Which includes finally replacing these 40-year-old cabinets. Having them painted and updating them worked well for 14 years though! I still think this is a great way to update cabinets and if ours weren't so old, we probably would not have replaced them. It was just time. :)
To catch up on what we have going on, check out the posts below…
More home DIY tutorials we have shared here:
Be sure to PIN this Chalk Painted Cabinets review for later!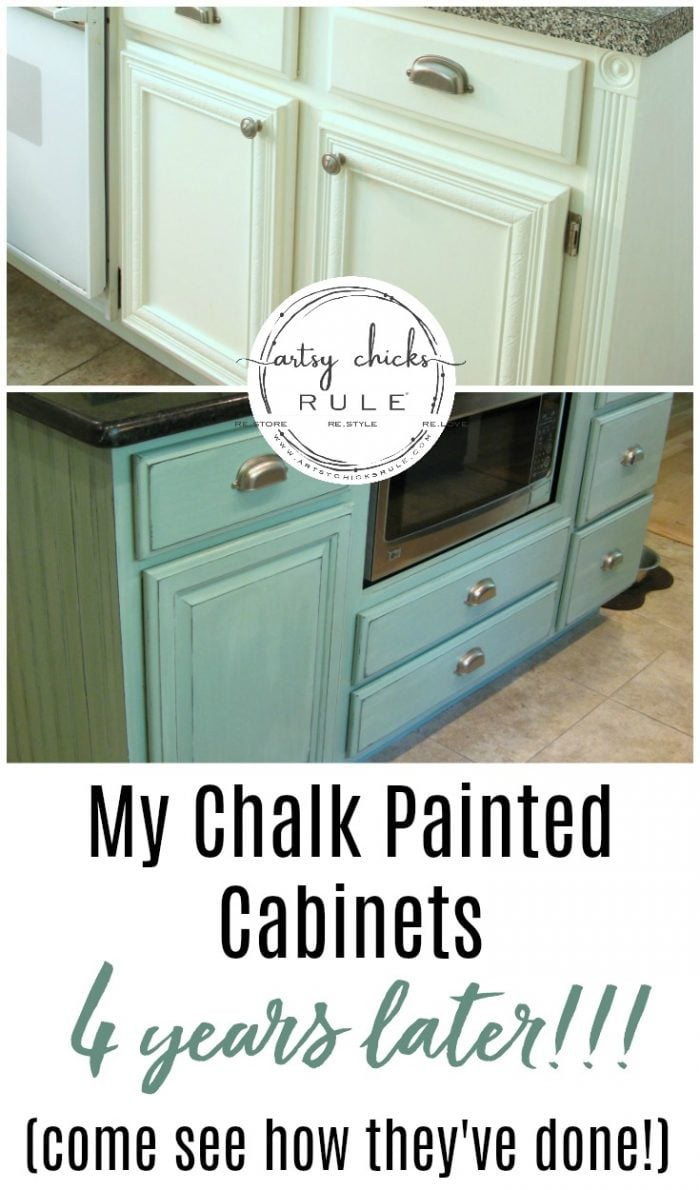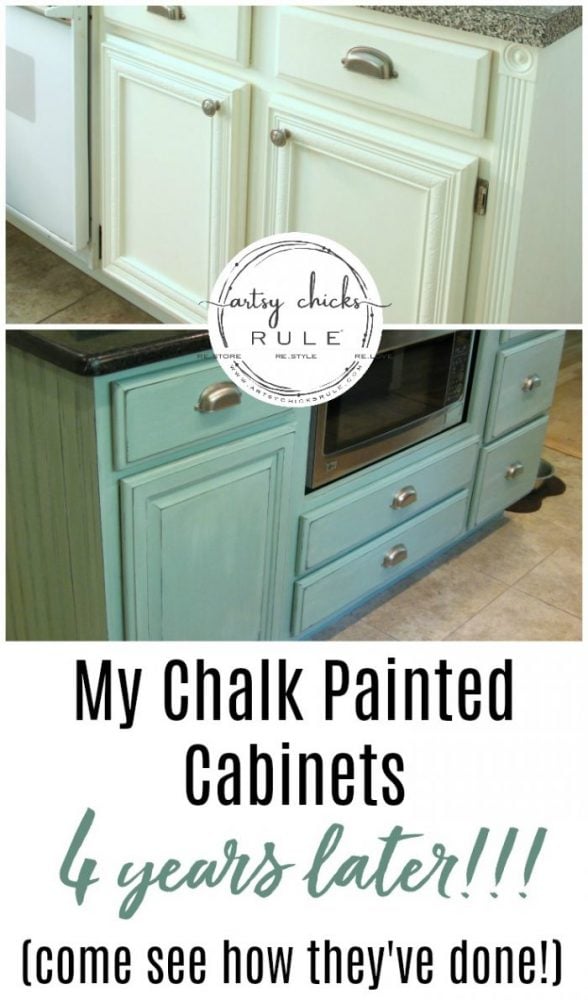 I'll see you back here on Thursday!
Have a great week until then! :)
xo