DIY Crown Molding (easy way to do wide, custom look molding!)
This post may contain affiliate links. Please see disclosures here.
My husband and I created this DIY crown molding to give the look of wide, custom style woodwork. Simply done!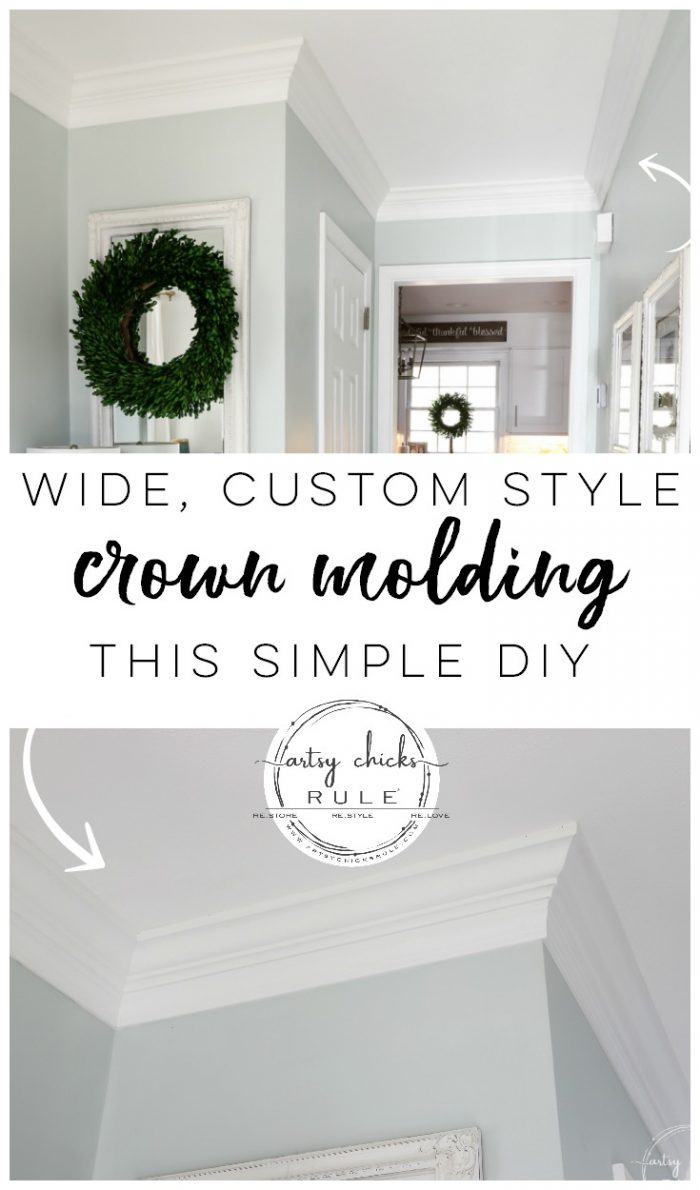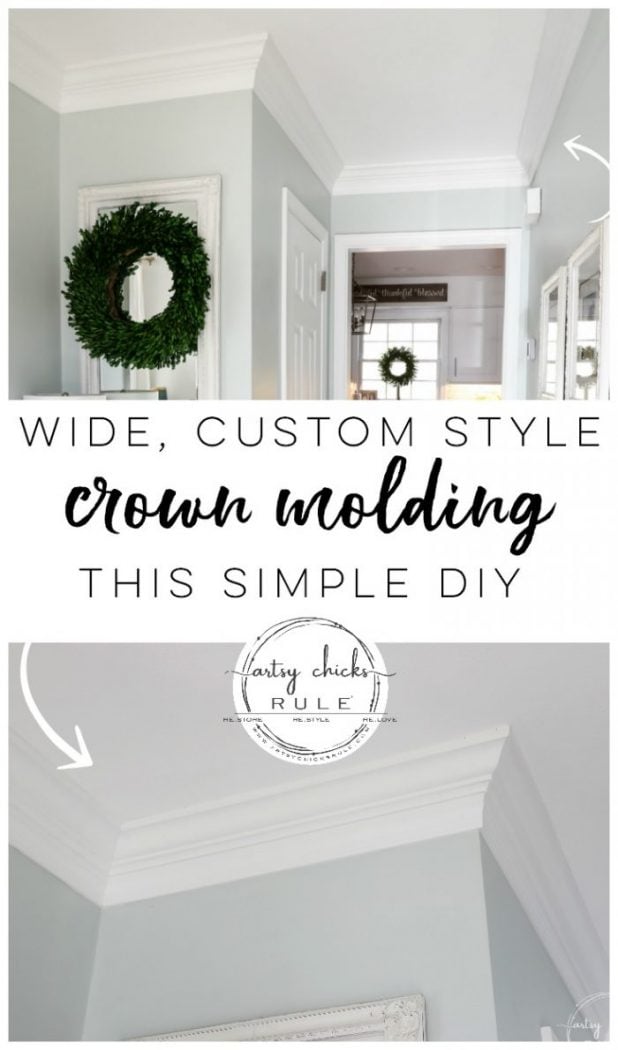 Hey friends! I'm finally sharing the crown molding my husband and I installed in our foyer recently.
Well, we recently finished it anyway. haha
It was just one more thing on the list of makeovers/remodels around here!
So, yep, it got started, then stalled, then finally finished.
It wasn't a big job, we just had about 5 (or 50) other ones going at the same time.
DIY Crown Molding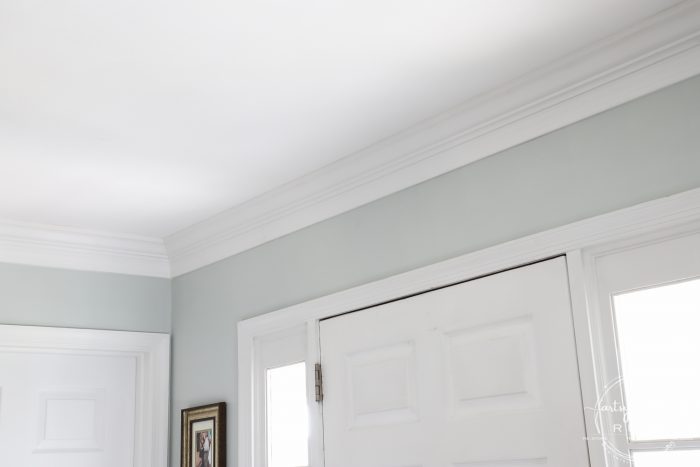 I'm really happy with how this turned out.
I adore the wide, deep look as it makes it look a little more custom.
This room previously did not have crown in it.
Move in day…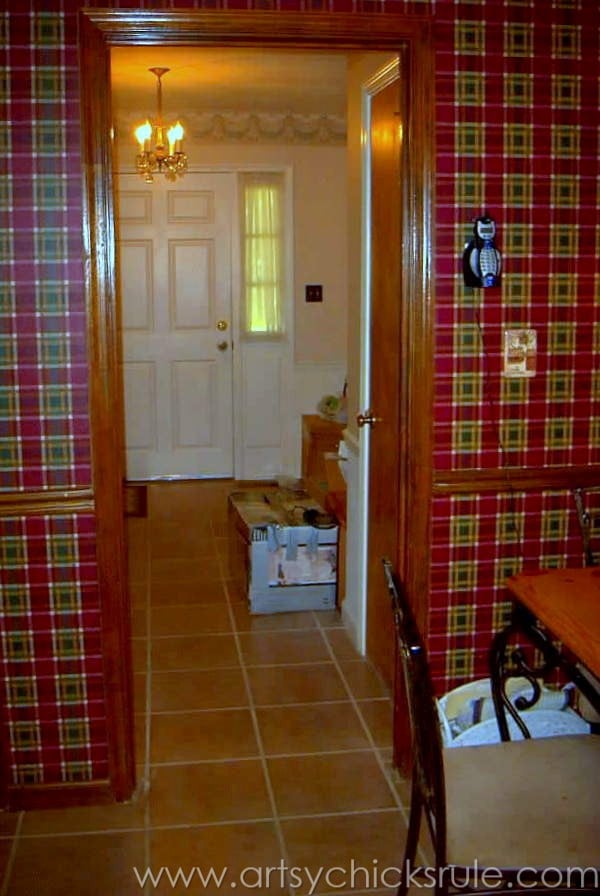 But it did have wallpaper and a border around the top!
That's the old tile floor that we removed and replaced with vinyl tiles….which we have since replaced with beautiful wood-look laminate flooring. (by the way, we originally removed the ceramic tile because there were tons of cracked pieces when we moved in)
Can you believe there was also a door in that small opening there??
We took that sucker off the day we moved in! lol
Here it is after I removed all the wallpaper and border. Ugh, that was a job!
This house had wallpaper in every room, just about.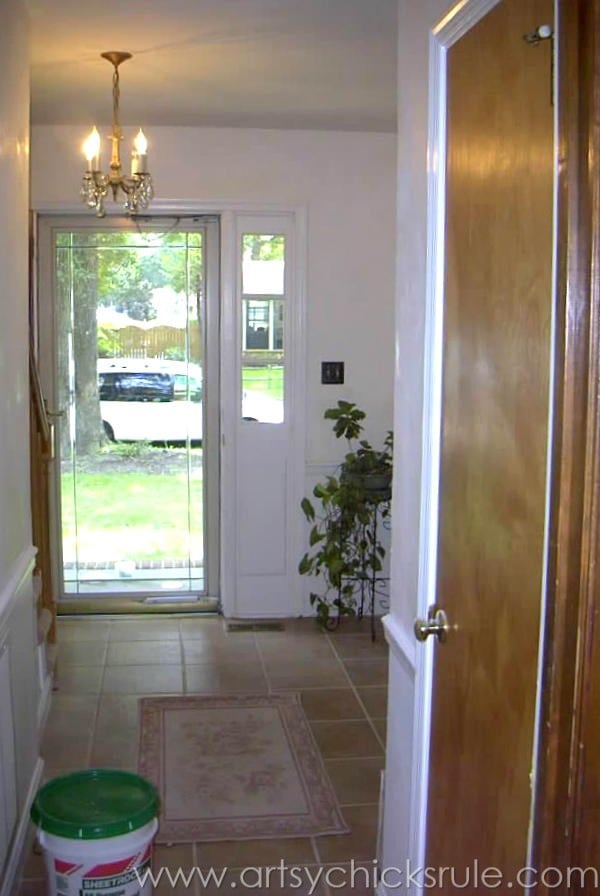 We hadn't replaced any of the interior doors/knobs yet, though.
(Aw, sorry, I can't help myself….memories!! My old "mommy" van, from when my babies were actually babies, is parked out front!)
How about this view??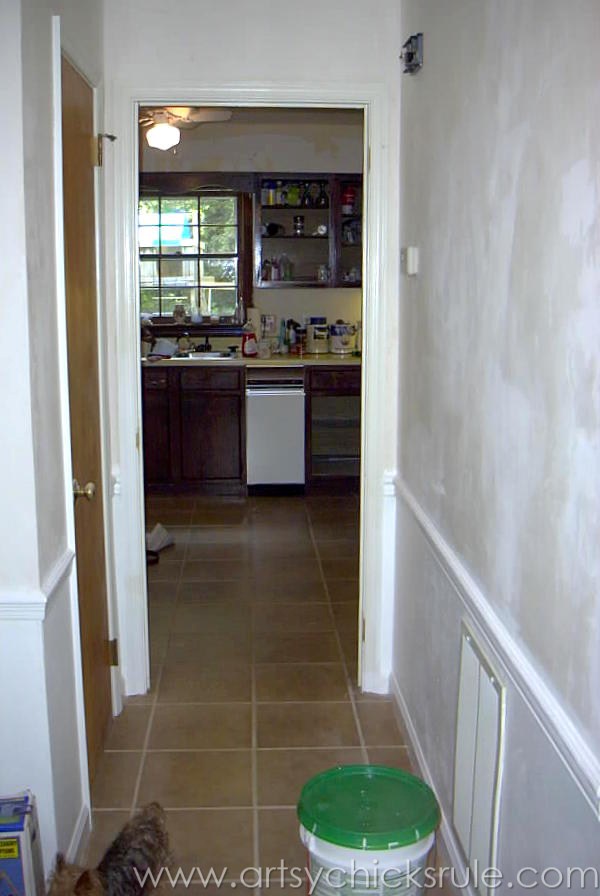 Yikes!! Haha!!
It sure looks different now, huh? (aww, more memories, there's my little buddy in the bottom left corner of the photo!)
And how it looked at one point after…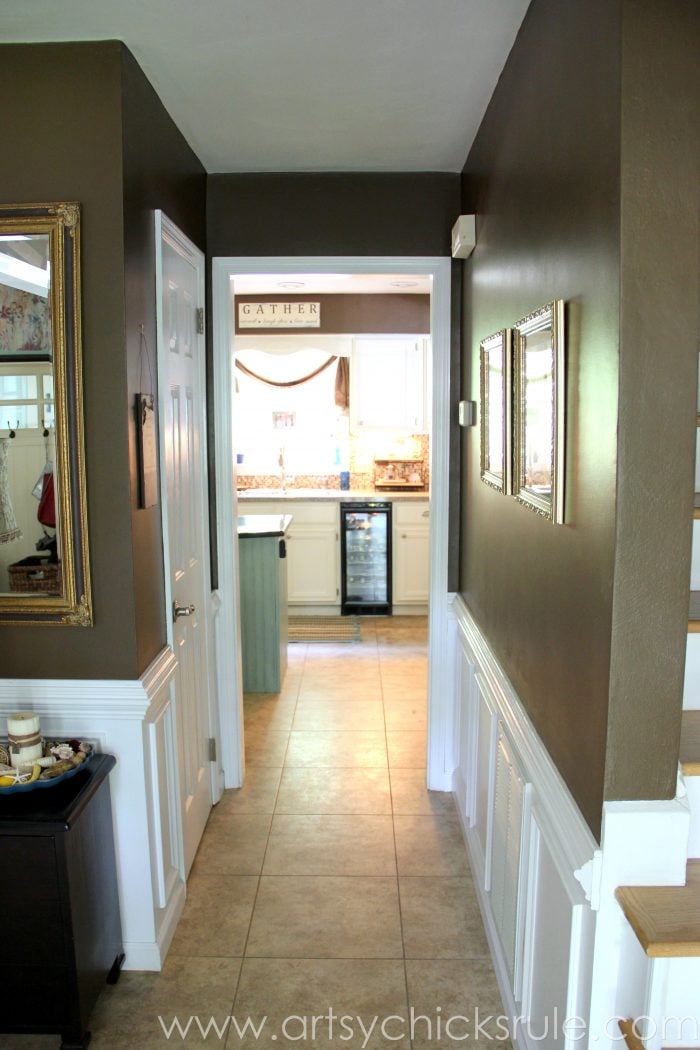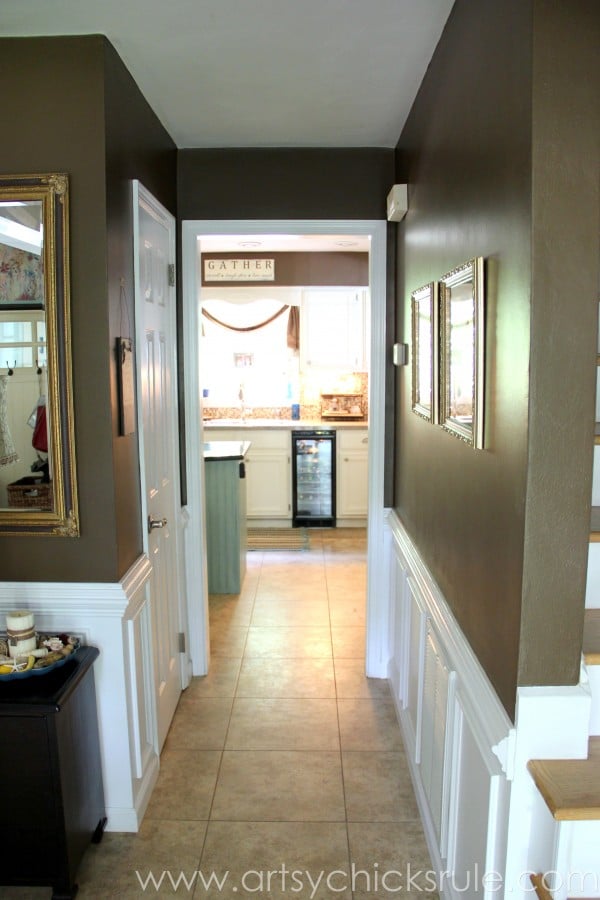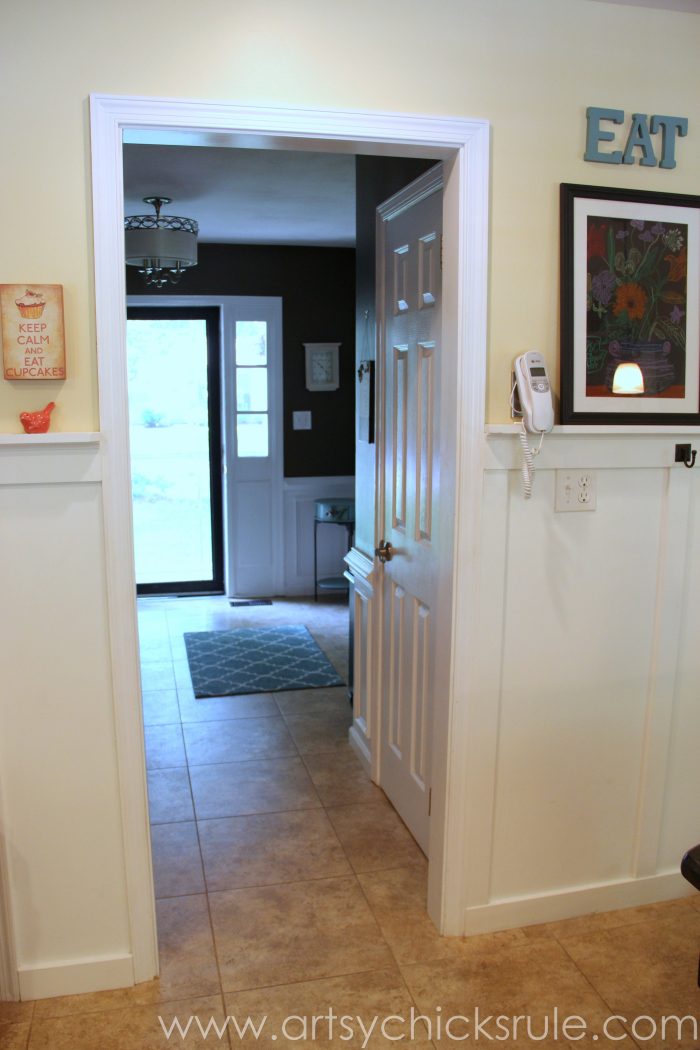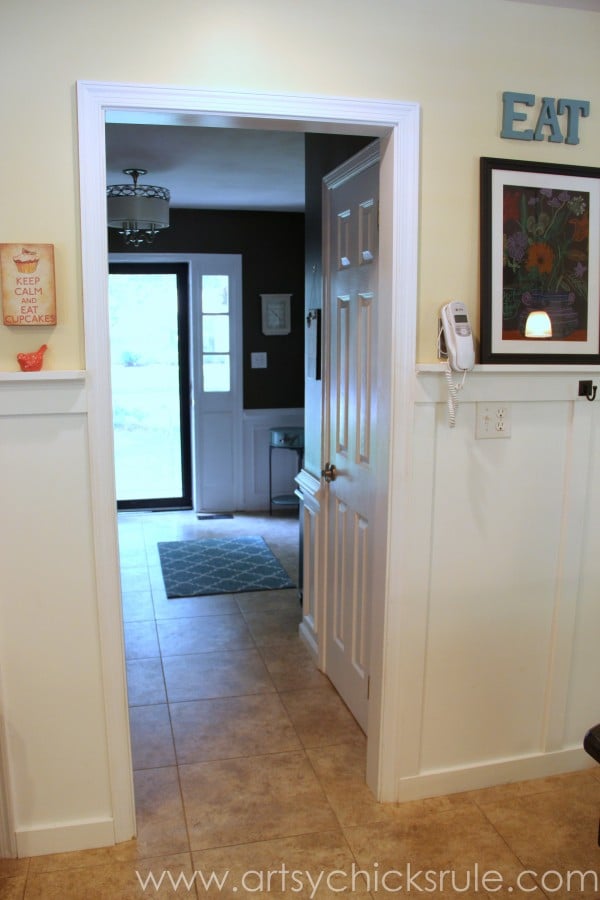 So, we installed new doors, new floors, new paint, new light fixture, and wainscoting…but we never got to the crown molding in that room, until now.
Here's what we used:
re-used the old crown we took down from the dining room/morning room (we put up new, wider trim and reworked the corners in there)
paint (I used Sherwin Williams Extra White on all trim, doors, etc, in Eggshell finish)
15 gauge finish nailer (for nailing the old crown mold to the ceiling)
brad nailer (for nailing the new pieces)
wood filler
caulk
This may not be the regular way to do this but this is the system my hubby came up with to do it.
And it seemed to work out perfectly!
Especially nice, we re-used the old crown we took down from the dining room. (it got used for the "behind the scenes" portion)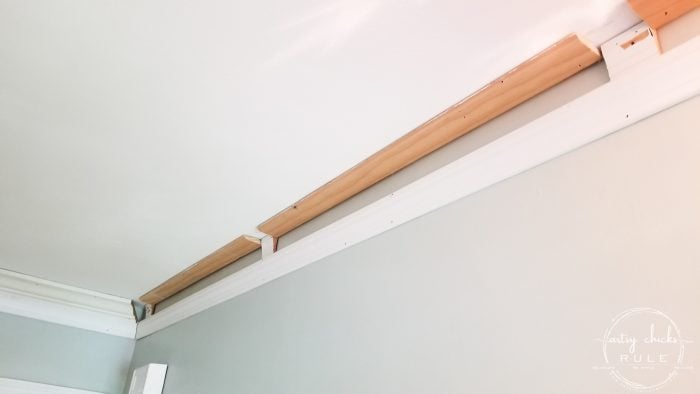 It's pretty basic, actually.
He nailed the old crown mold pieces to the ceiling, upside down, so the angle (that is naturally found on crown molding) was at the front.
The new piece of crown mold has an angle as well. When turned upside down like that, the two fit directly together. Sort of yin and yang.
He then nailed the new crown mold to the old one, which is held secure by being attached to the ceiling.
The small cuts of door casing in between were basically there as spacers.
So…the new piece of crown mold was nailed at the top, into the re-used crown that was attached to the ceiling.
It was also positioned, and then nailed, about 1/4 – 1/2 inch over the top of the door casing that was attached to the wall at the bottom.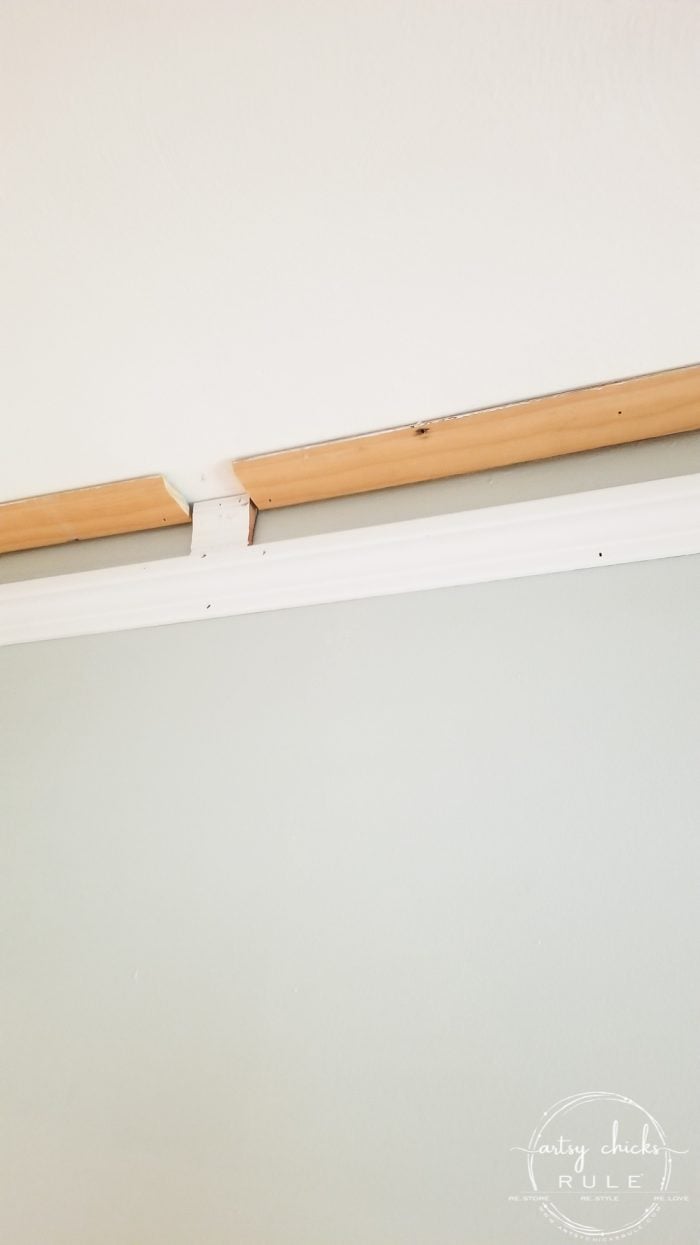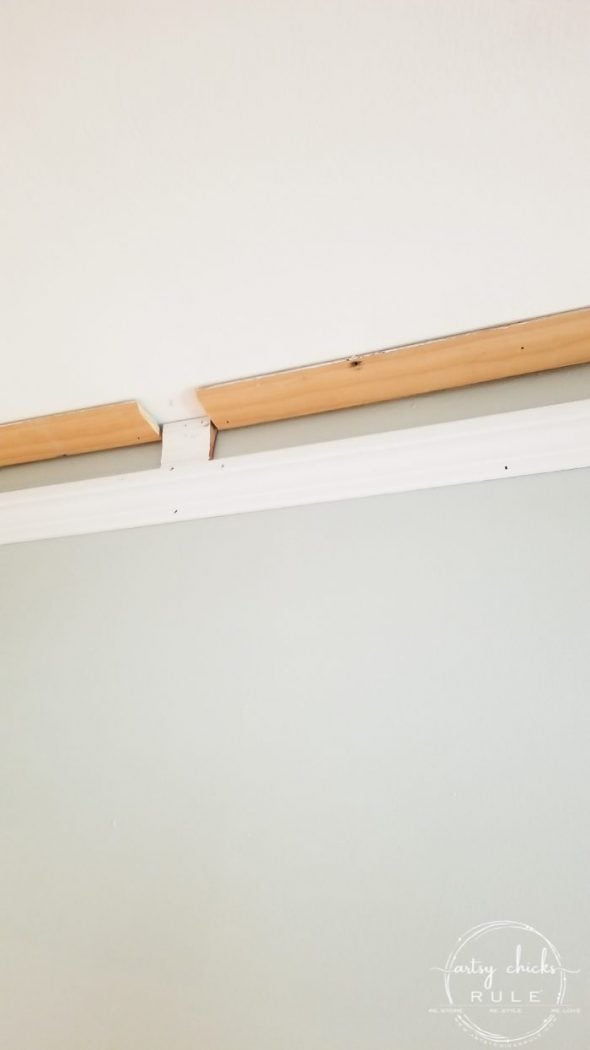 I know that might be confusing so I created a detailed photograph to explain everything.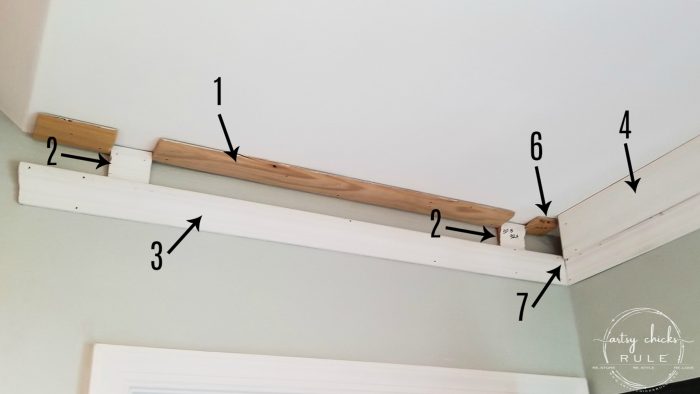 old, re-used crown molding, attached to the ceiling upside down so that the slanted edge is on the front.
door casing cut into 2-3 inch spacers
2-1/4 inch door casing
4-inch crown molding
I just realized there is no 5!! haha, oops
is showing where you nail and attach the new, 4-inch crown to the old one that's attached to the ceiling. (remember, the angles of each "meet" up)
is showing how you overlap the bottom of the 4-inch crown onto the door casing and nail it into place there.
All nailed and ready for filler, caulk, and paint! (caulk is my bff ;) caulk makes everything beautiful! )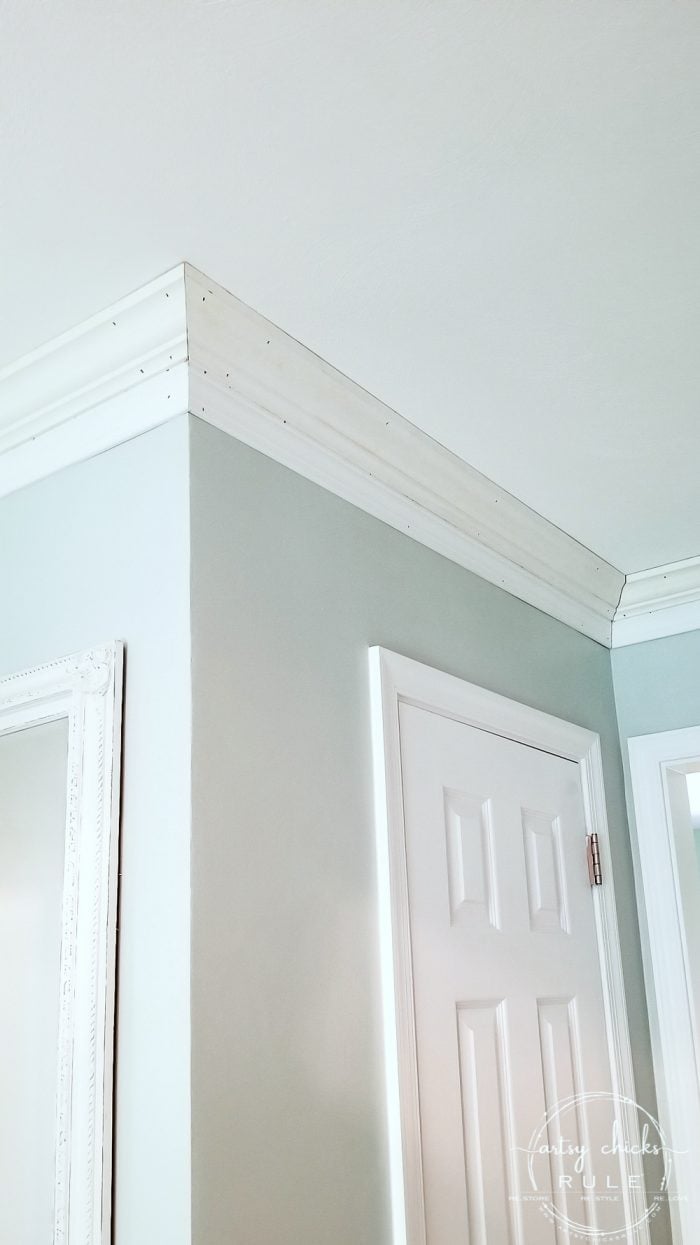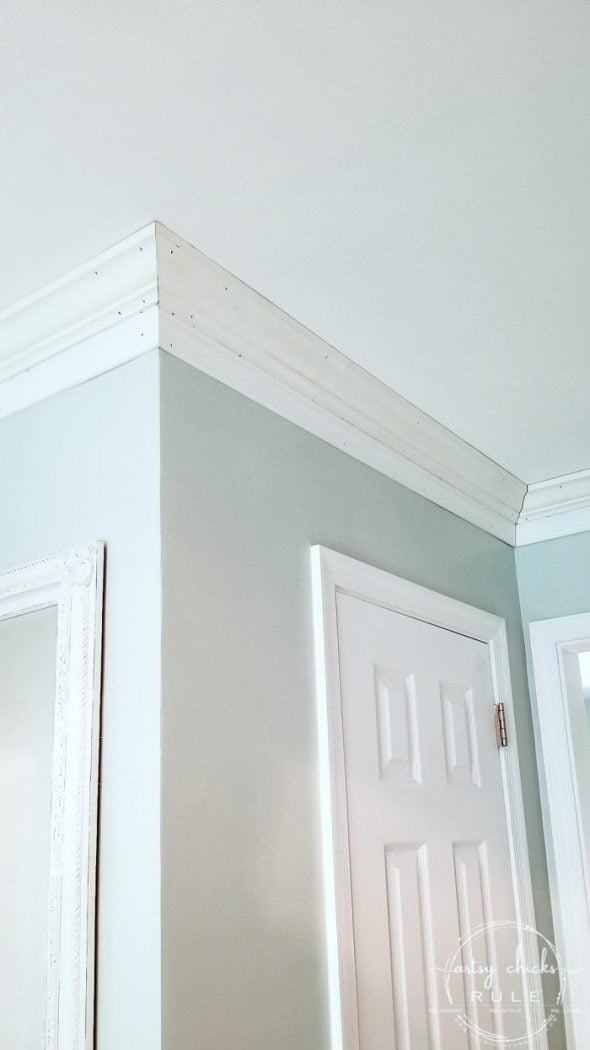 I'm sorry I didn't get to take more photos of the actual "doing" of this DIY crown molding project, but as I said, we were living in total chaos at the time.
A full kitchen remodel is underway as well as replacing the flooring in the entire downstairs. And repainting walls, ceilings, and every single door and piece of trim, and wall treatment in the downstairs.
Yep, all at the same time.
So, we were just whizzing through, trying to get it all done and keep our sanity!! lol
But there's really not much to this project. It's a pretty basic one.
Just follow the photo above and you've got it.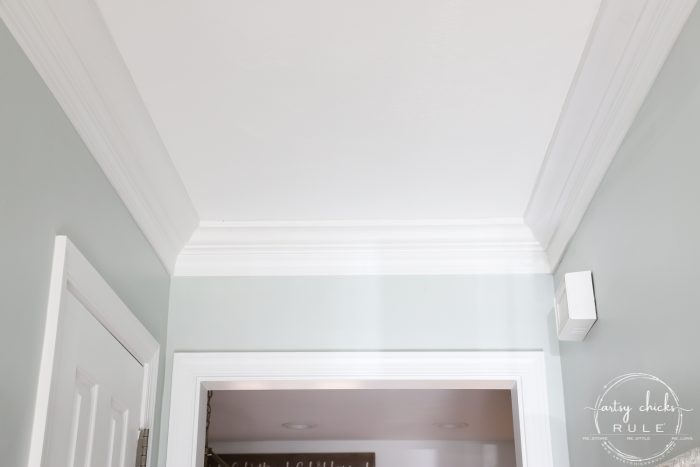 Seriously, caulk, y'all…..caulk… finishes everything up so nicely. Don't skip that step!
Seal every single seam, for a seamless look.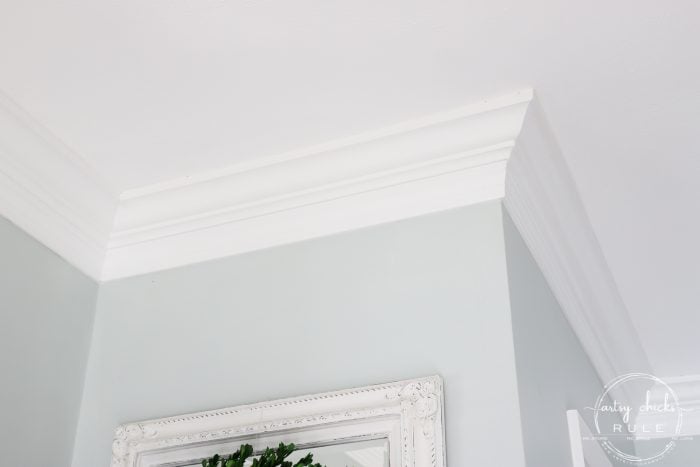 Here's how we finished off the ends on each side of the stairs…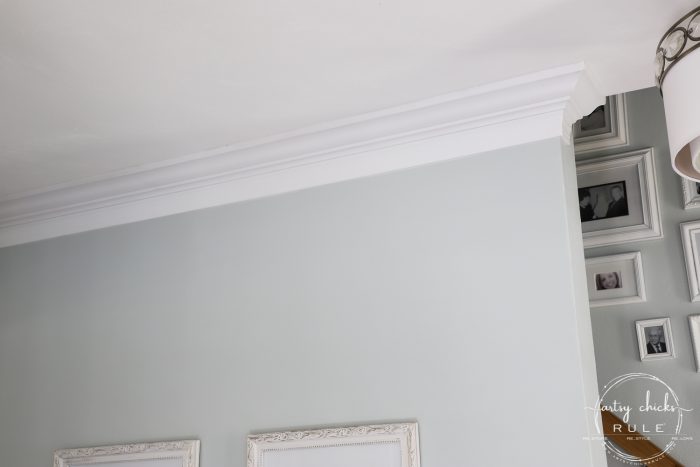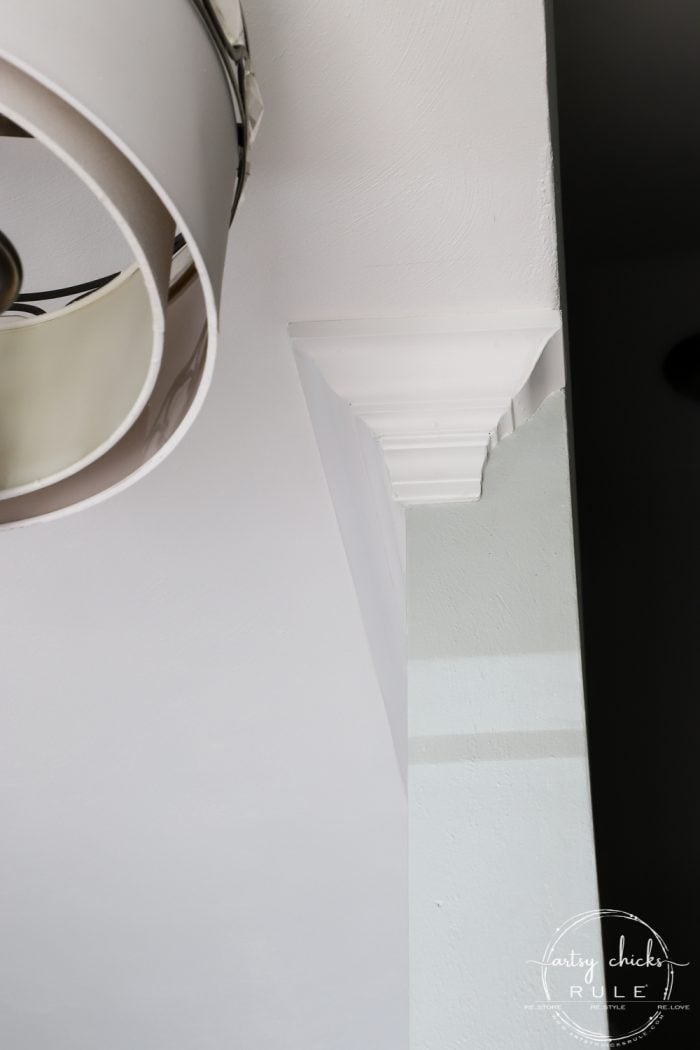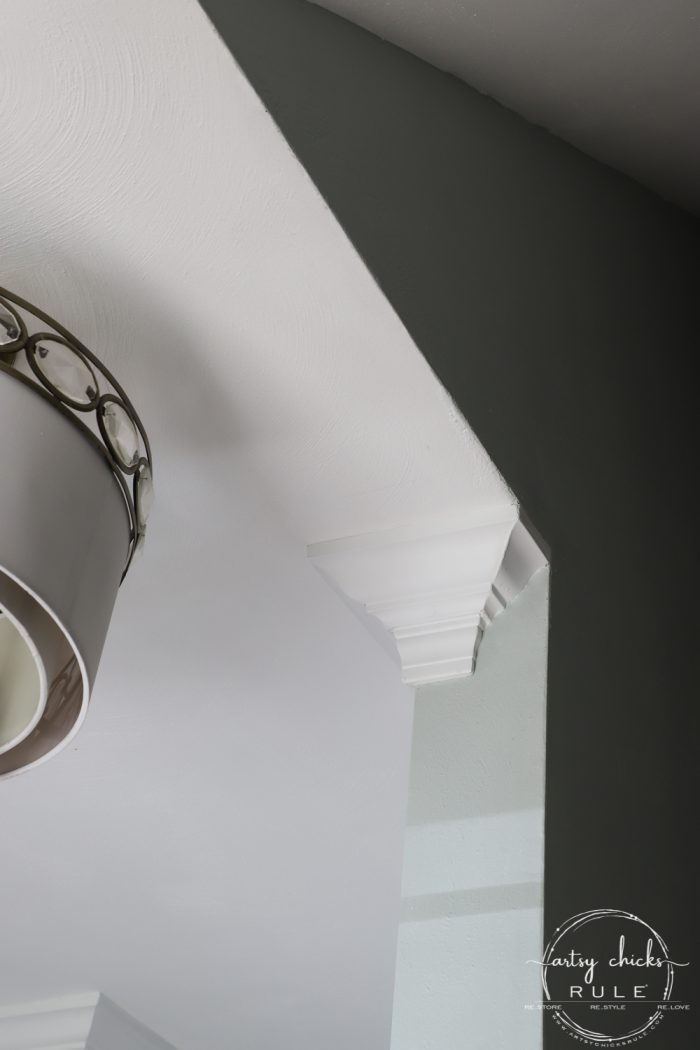 And on the other side of the wall going up the stairs.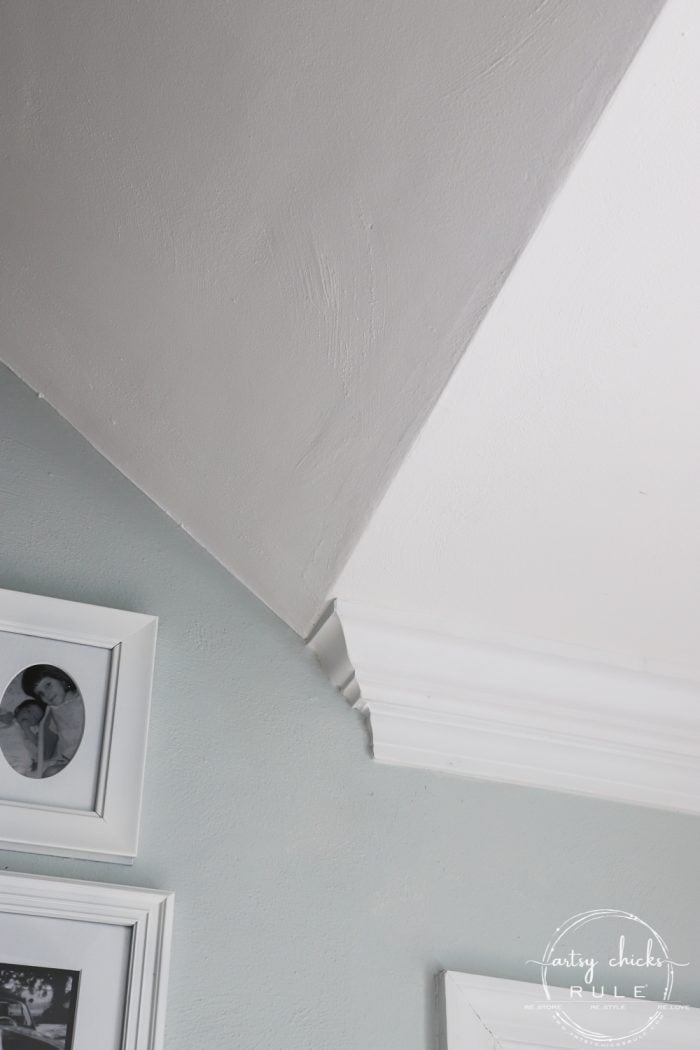 And a full shot of the foyer finished…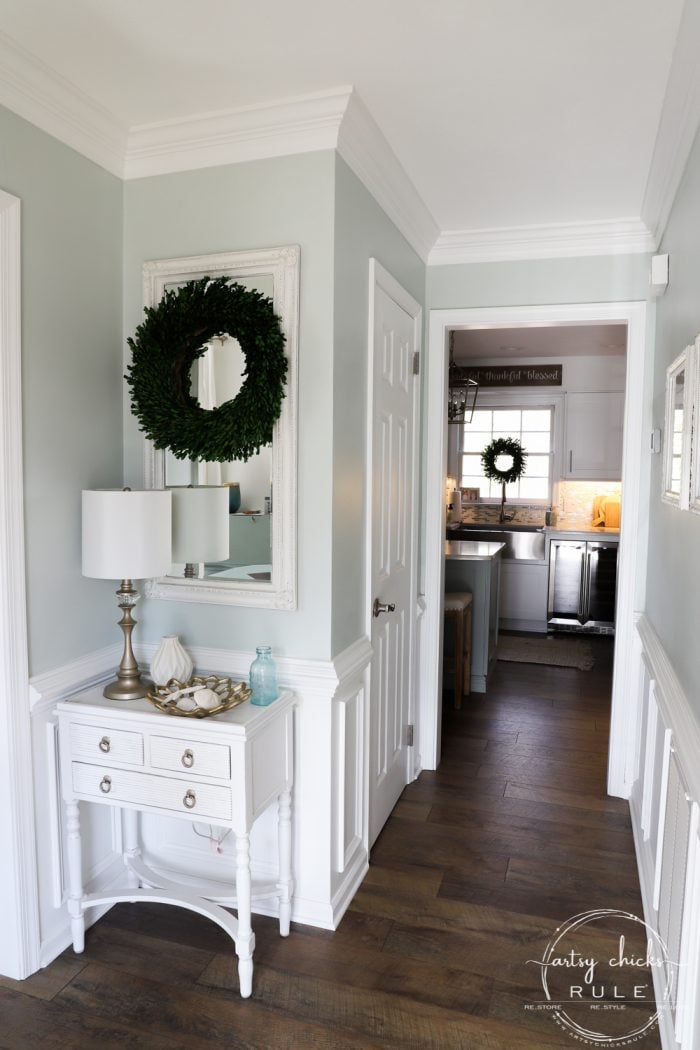 I just love what it adds to this space. Doesn't it look so much different?
It looks so much nicer and finished with the new DIY crown molding done.
Another project I'm so, so happy to mark off the list! Yippee!!
PIN it to save it!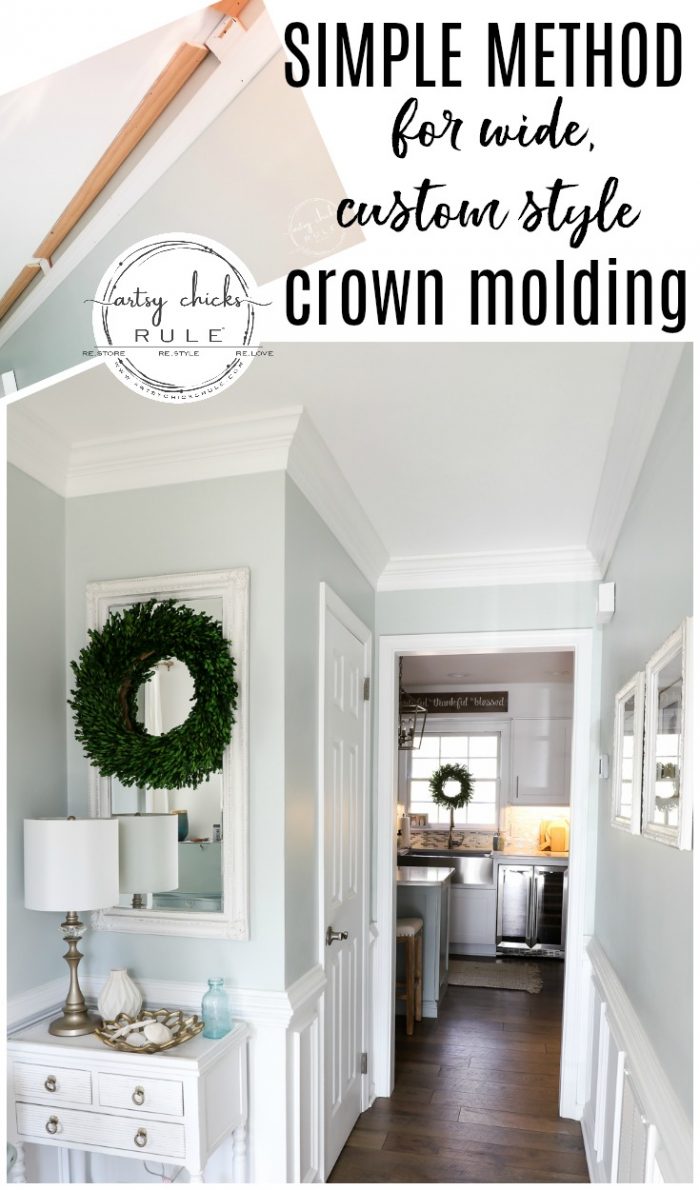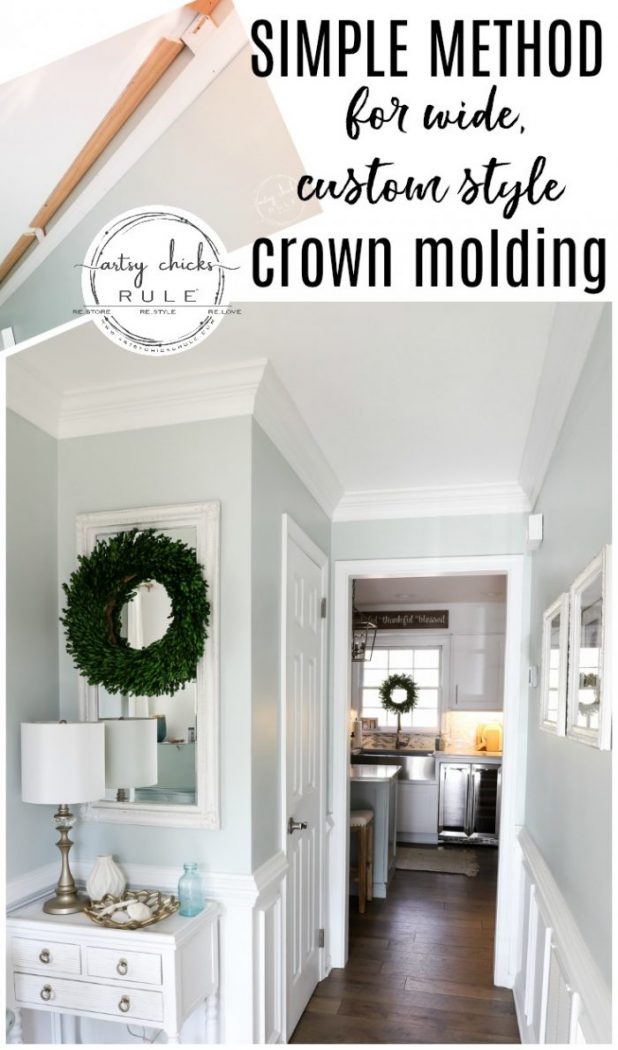 More home DIY tutorials we have shared here:
I'll see you back here on Saturday! It's my birthday (shhh, haha) and I'm giving one lucky winner a box of goodies.
Here's a sneak peek of what's inside…..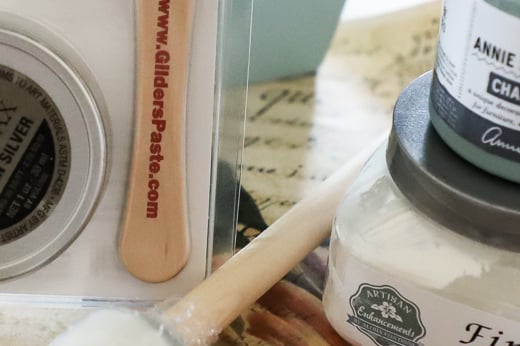 Heh, heh…I did say "sneak peek", can't give it all away! ;)
I may even throw in one or two extra items…I usually do!
UPDATE!! Hop on over there now, here!
So be sure to check your email for your newsletter from me, or back here, so you can enter to win!
Hope you have a wonderful weekend, my friends!
xoxo