DIY Faux Shiplap (get the look without the expense!)
This post may contain affiliate links. Please see disclosures here.
Installing shiplap in your home shouldn't be exhaustive OR expensive! Learn how we did our DIY faux shiplap, the easy (and inexpensive) way!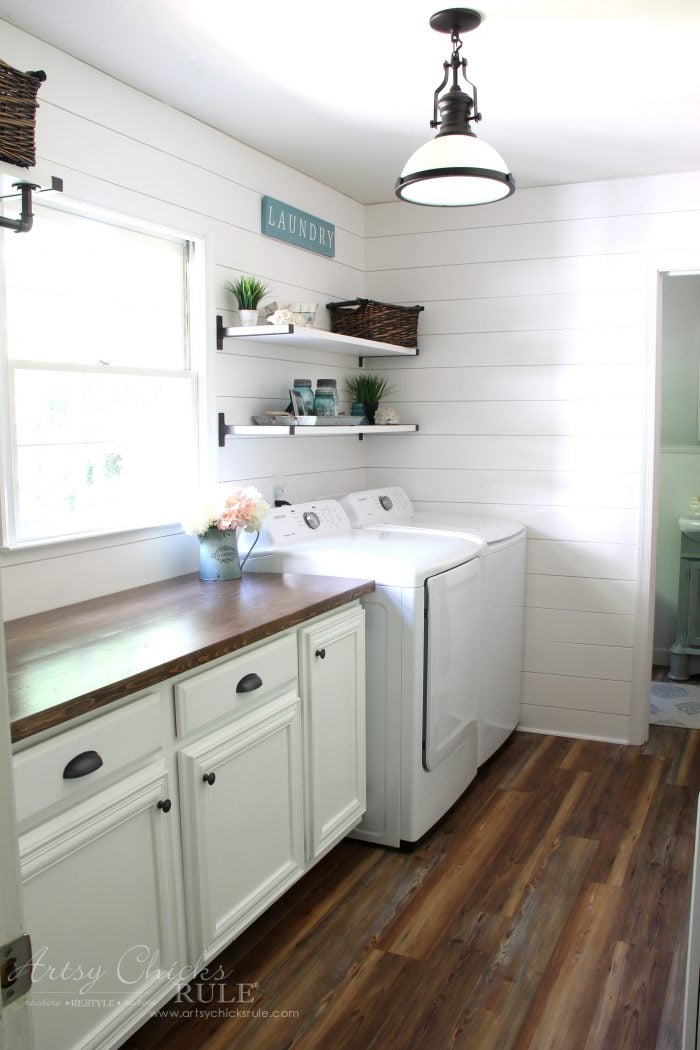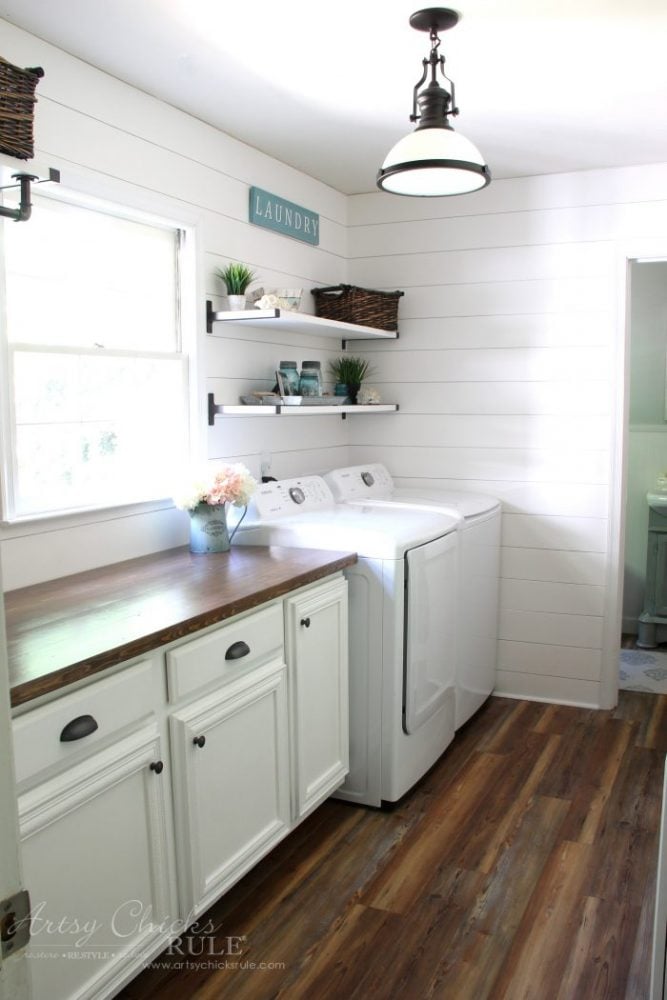 Today I'm back with the DIY Faux Shiplap tutorial.
In case you are new here, my husband and I installed DIY faux shiplap in our "Coastal Laundry Makeover". (<— see more photos and details here)
The DIY faux shiplap is a lot cheaper and pretty easy to install. BUT it doesn't look cheap. Get that shiplap look for less.
And who can tell the difference once it's up? (this photo is before finish trim, by the way, see more below) Learn how to do your very own DIY shiplap wall today.
MATERIALS LIST

Paint, brushes (my fave!), and rollers
(Want to see even more of my favorite DIY supplies??? Take a look in my very own curated shop, here!)
Okay, let me start out by saying that you can get The Home Depot or Lowe's to rip these down for you.
That is what we did to get it done quickly.
Unfortunately, the person cutting tried to cut a bunch of boards at one time which left us with different-sized boards, uneven cuts, and really rough edges.
It was such a mess that they ended up giving us 50% off the total cost.
Thankfully we had added in quite a bit extra for the job because we had to sift through the pieces and discard any that were not cut straight or weren't the right size.
If they had cut one at a time (or even only 2 or 3 at a time) we wouldn't have run into this problem.
But like I said, the person cutting thought they'd get it done quickly and apparently was trying to cut 5 at a time!
We came back over and saw this and got someone else to cut the rest.
Anyway, just be aware of this if you go this route.
For the size, we decided on 6-inch planks.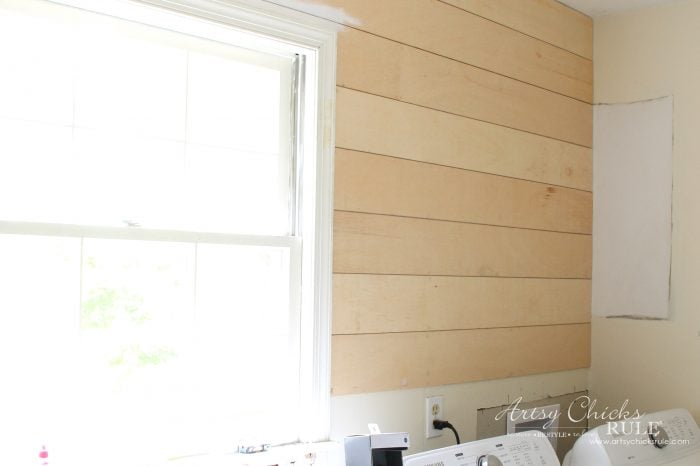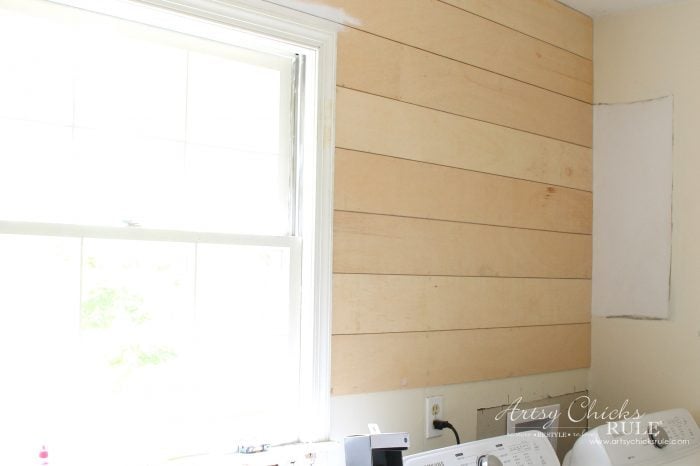 I've seen where people do larger than this but 6 inches seemed perfect for the scale of our room.
Since the boards were rough cut, we did have to sand the edges before installing.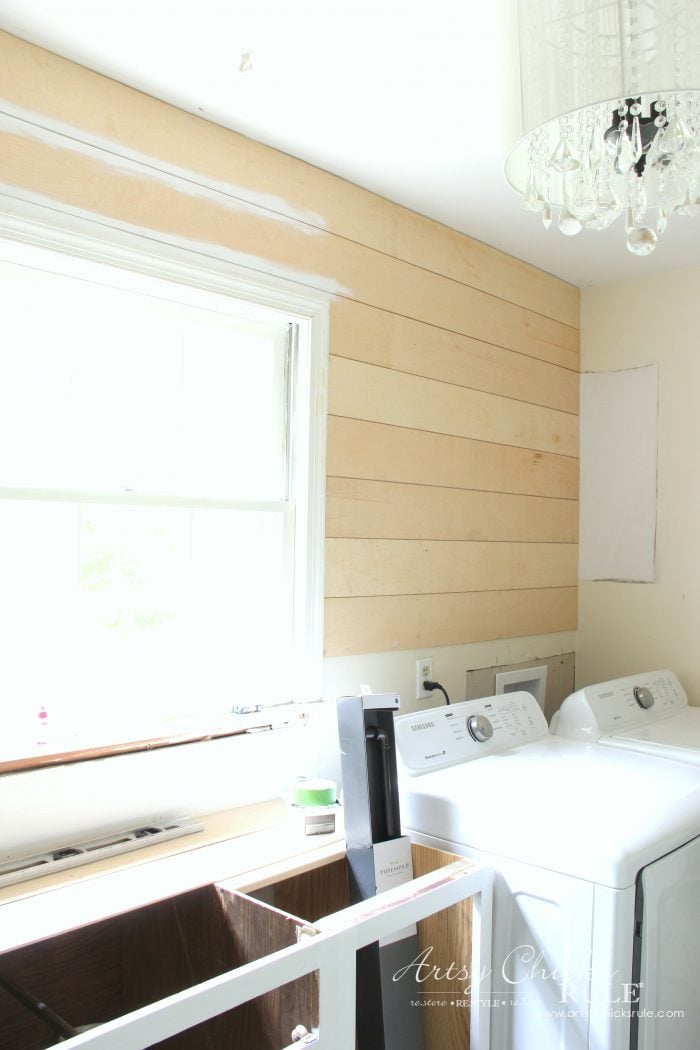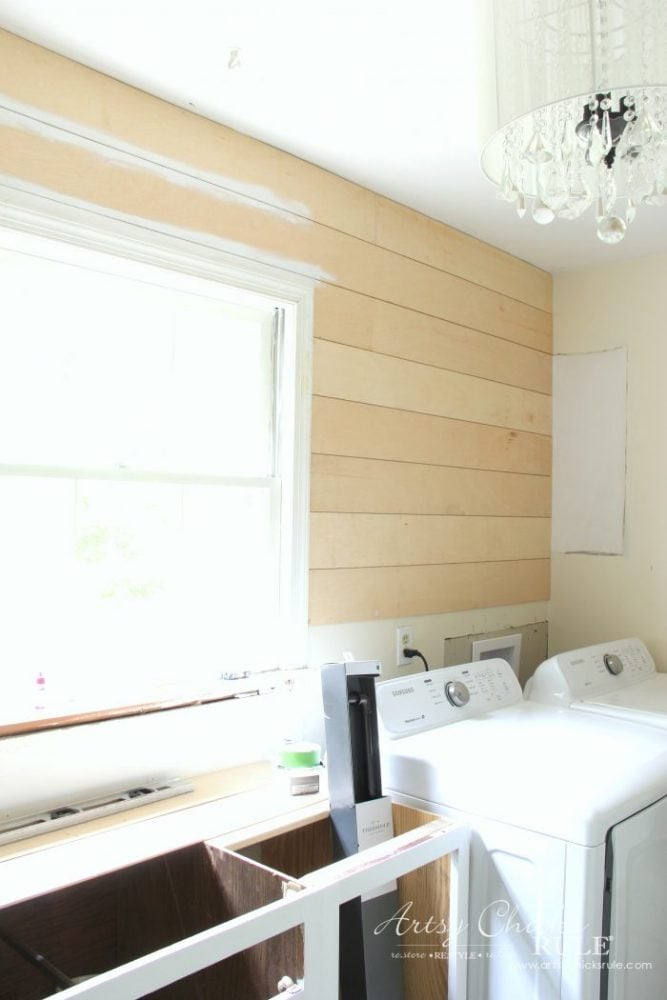 And you may notice that paint line above. I had originally thought since the walls were light to begin with that I wouldn't need to paint first.
That was a mistake.
I should have painted the wall the same color I was painting the shiplap beforehand.
I also should have painted the inside edge seams beforehand as well. We got about halfway through and decided to paint the walls and edges for the entire rest of the job.
I went back and painted the walls everywhere there'd be a gap…..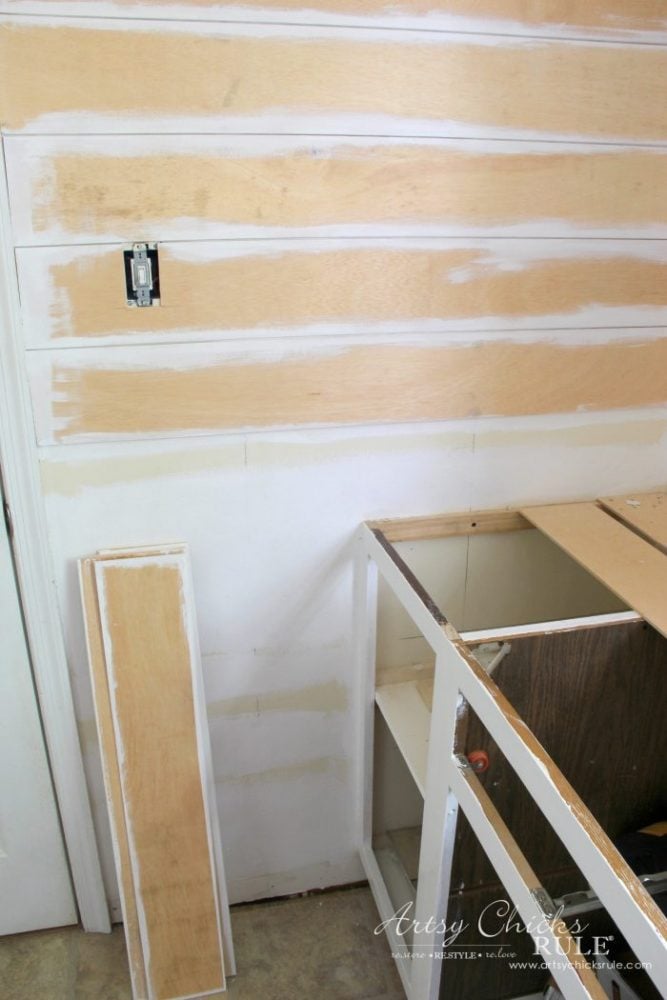 ….and as you can see, the edges of all the boards too.
SO much easier!!!
Trust me on this. Take the time to do some priming of the walls with paint beforehand.
It will save you a lot of work.
You might also notice the long penciled lines going down the wall. (hidden partly from my painting)
You'll want to go around the walls with a stud finder and mark where the studs are.
When nailing the boards up be sure to nail into the studs, whenever possible.
Be sure to follow along over on INSTAGRAM as I am always sharing in my stories what we're doing…as we are doing! Action shots. ;)
Lots of "behind the scenes" in live time.
Okay, for the gaps/spacing between pieces.
I've seen people use nickels or pennies and even traditional spacers.
But in the end, we used these…..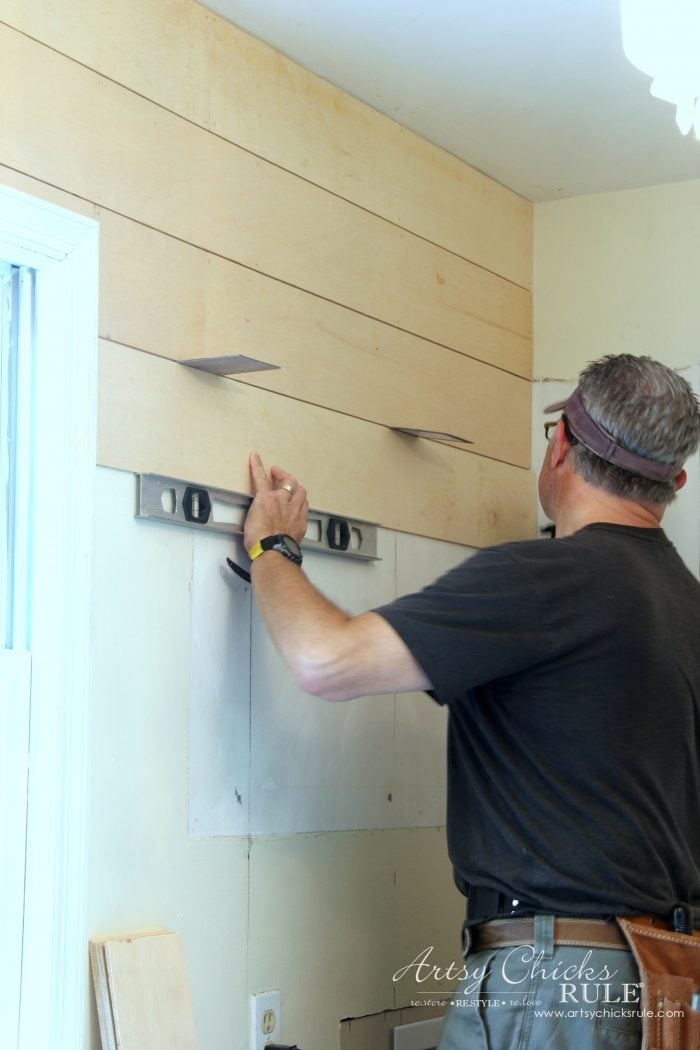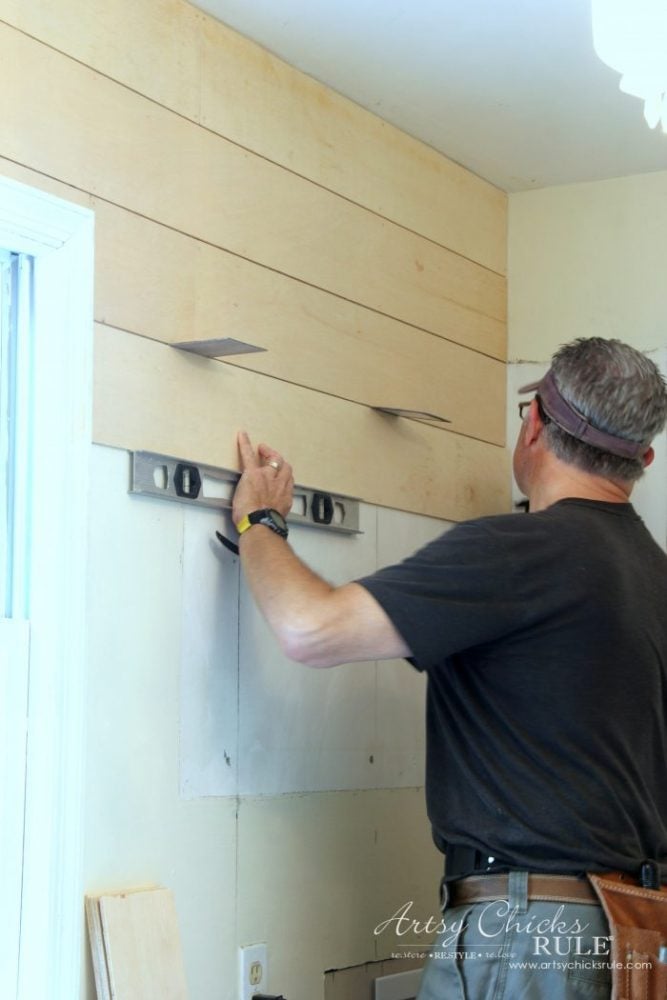 …and a level of course.
Do you know what those are?
They are flooring samples!! Haha! Yep!
And they were the perfect size for the gap plus they stayed in place pretty well.
Hey, it worked for us!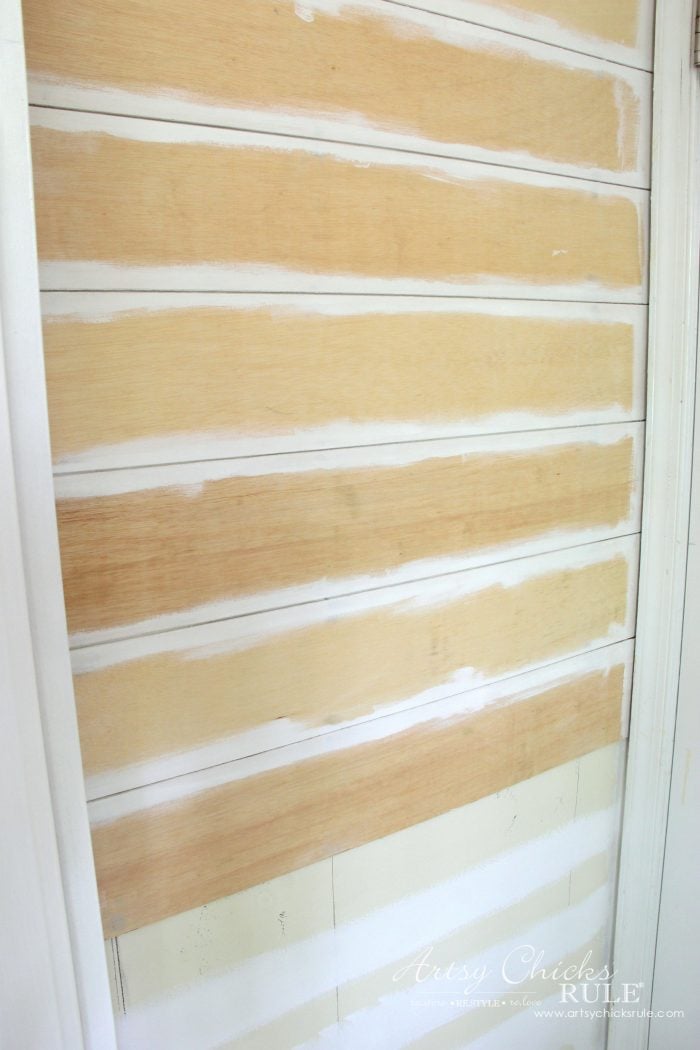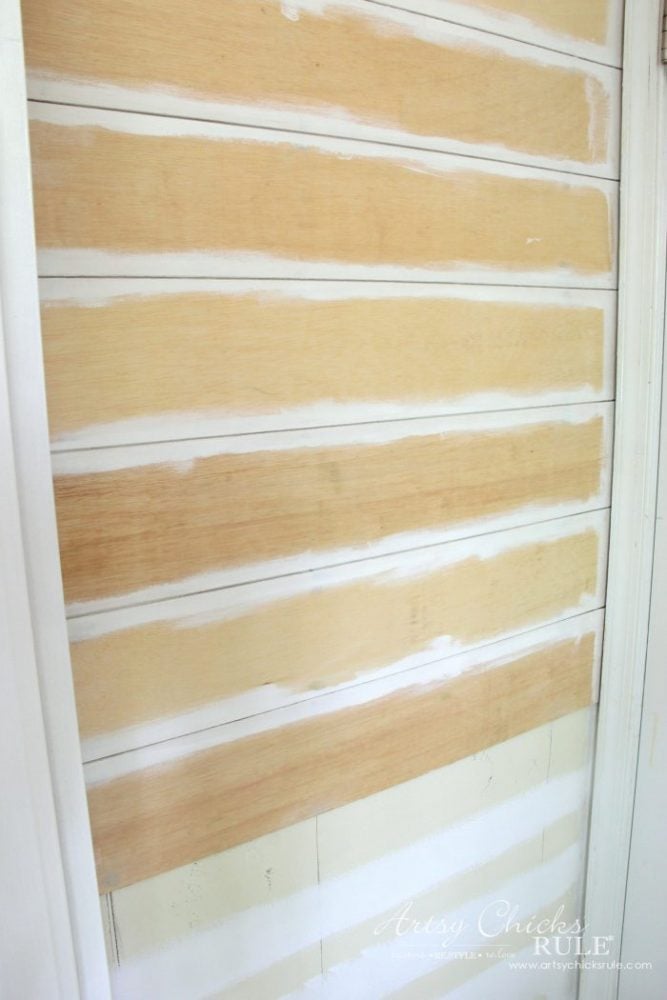 We used the brad nailer nail gun to nail the shiplap boards into place.
We didn't use any kind of glue behind them because we felt that was unnecessary.
You may remember this big ole gap from this post.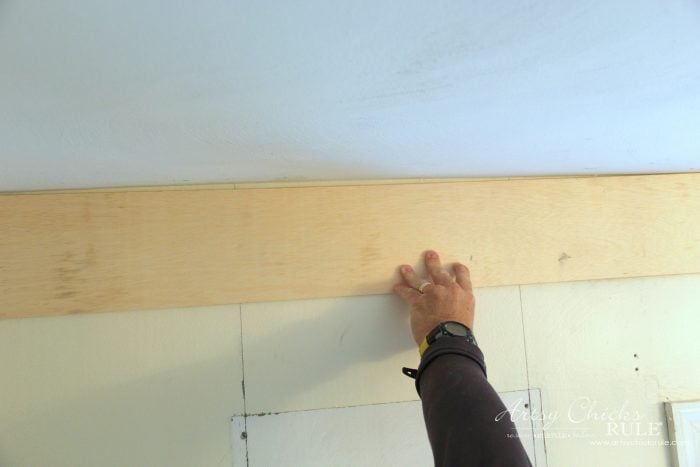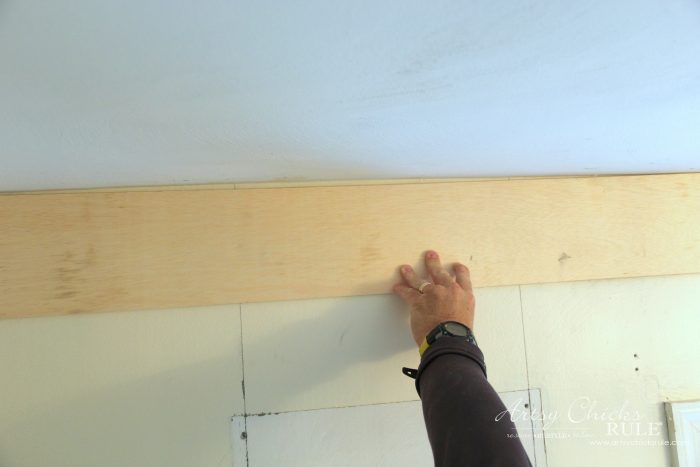 Lovely uneven house.
I hadn't planned to add any extra trim to the top but once we saw how uneven the ceiling was we knew we would have to.
If yours fits tightly to the top I'd say you could skip this next step.
This is the same exact spot you see above all finished.
No more gap!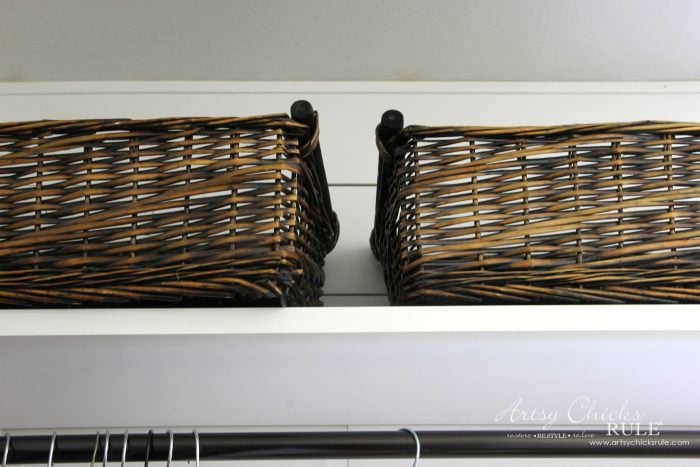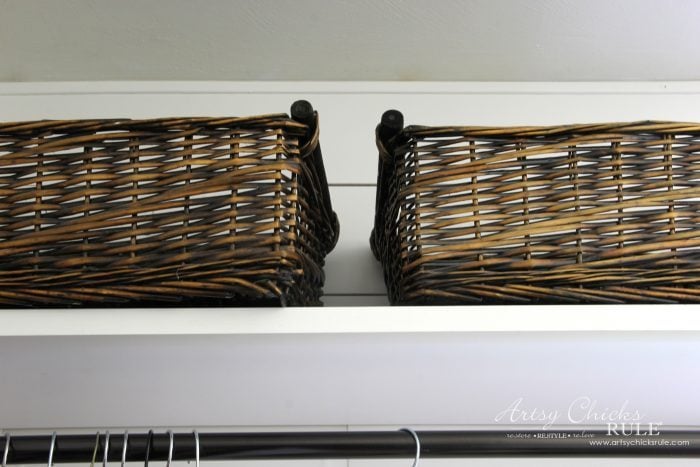 We used the casing all the way around to hide any imperfections and give a finished look.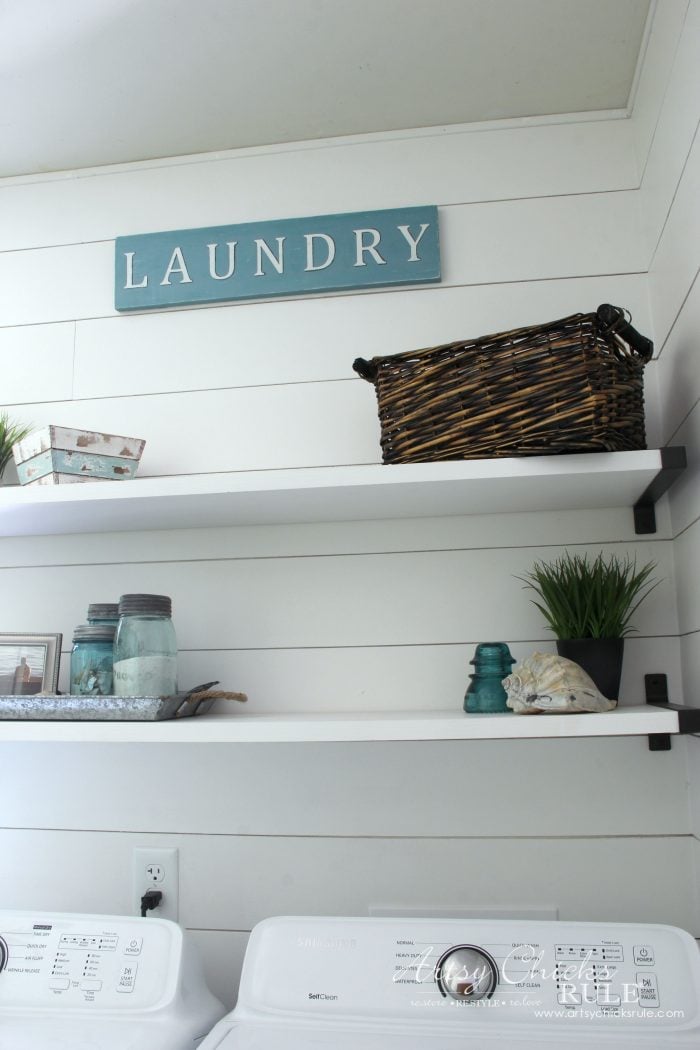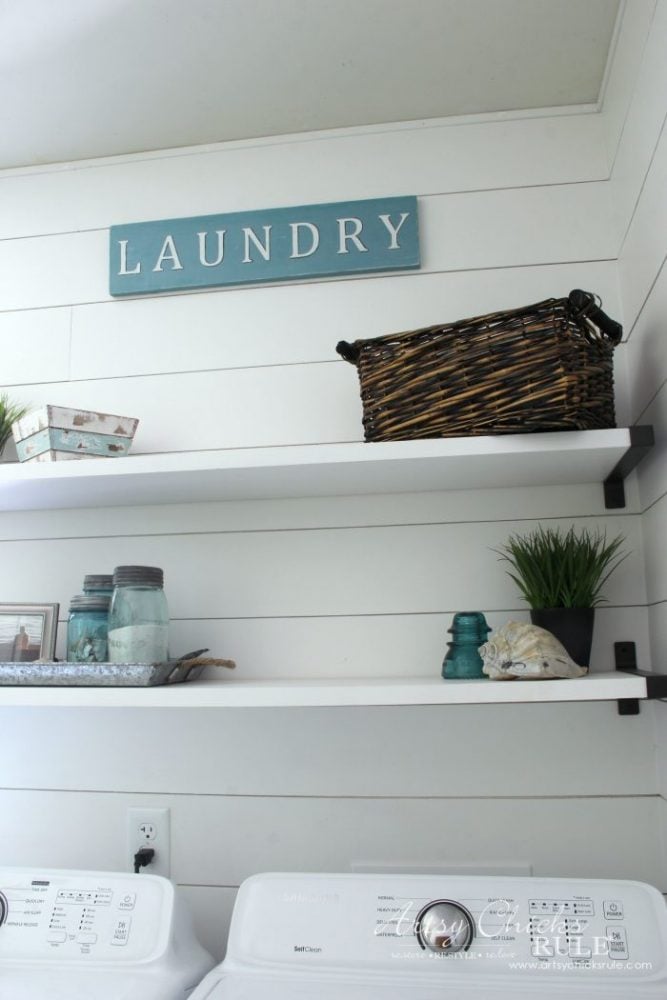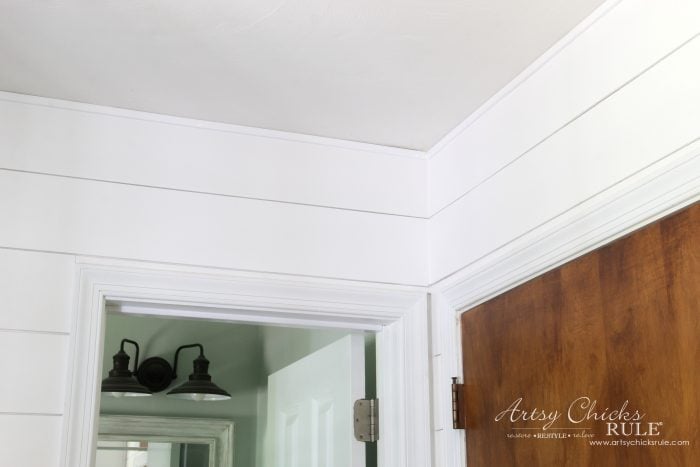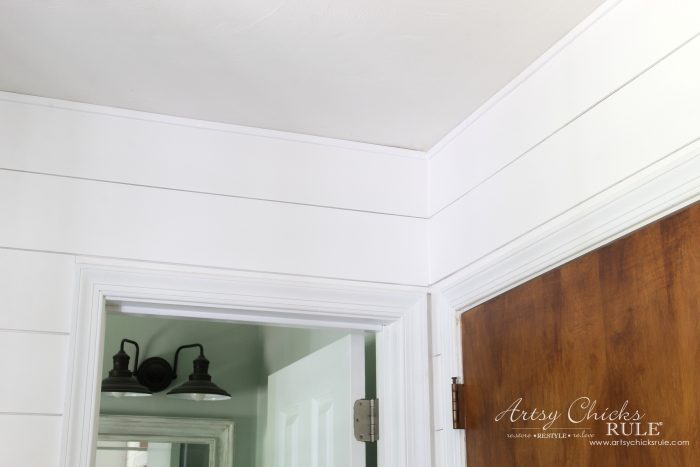 Much better than the unsightly gaps all around.
Gotta love an older home and its unevenness!!
We also went back in and added these little baby DIY faux shiplap pieces in this gap here…..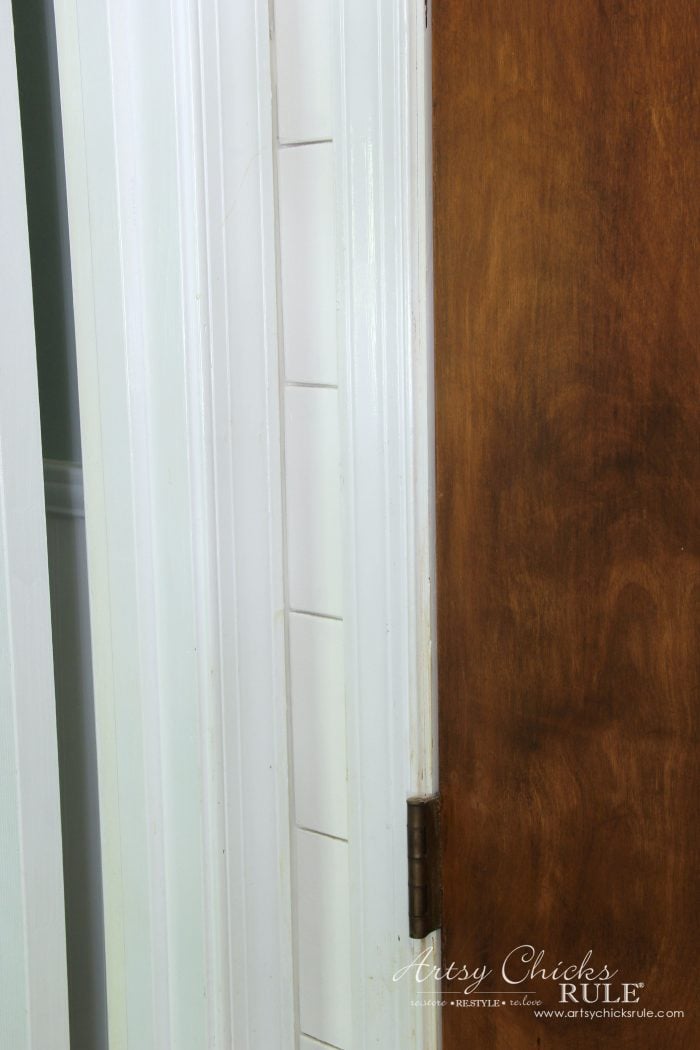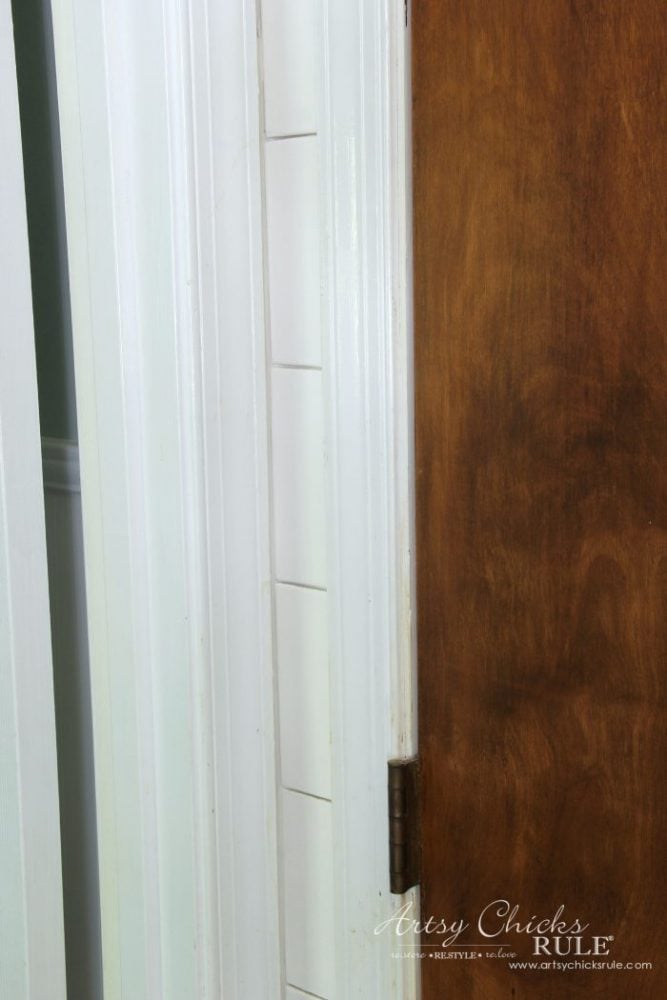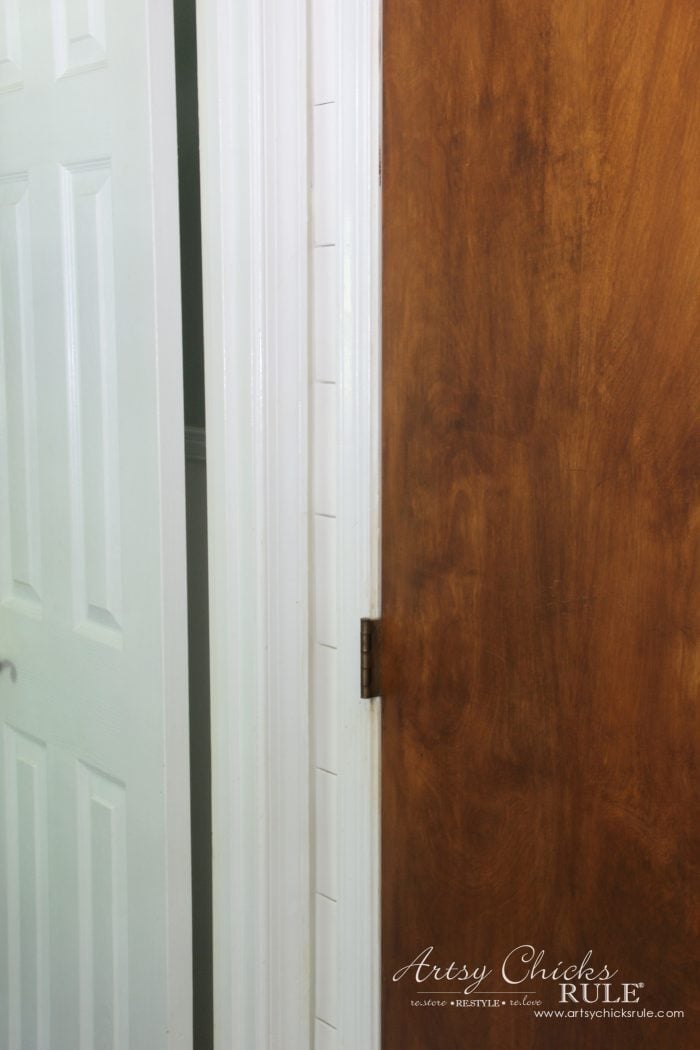 We didn't have these or the trim done for the big reveal.
But I'm loving it all completed now.
We also used the casing trim on the sides of the floor-to-ceiling wall cabinets and baseboard where there was a gap.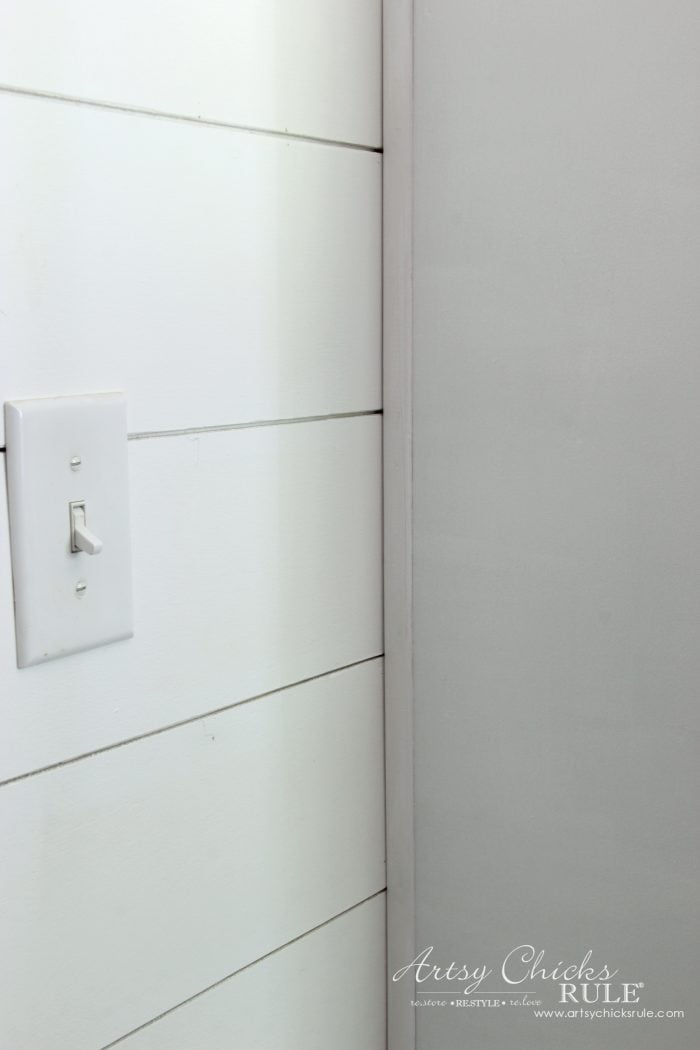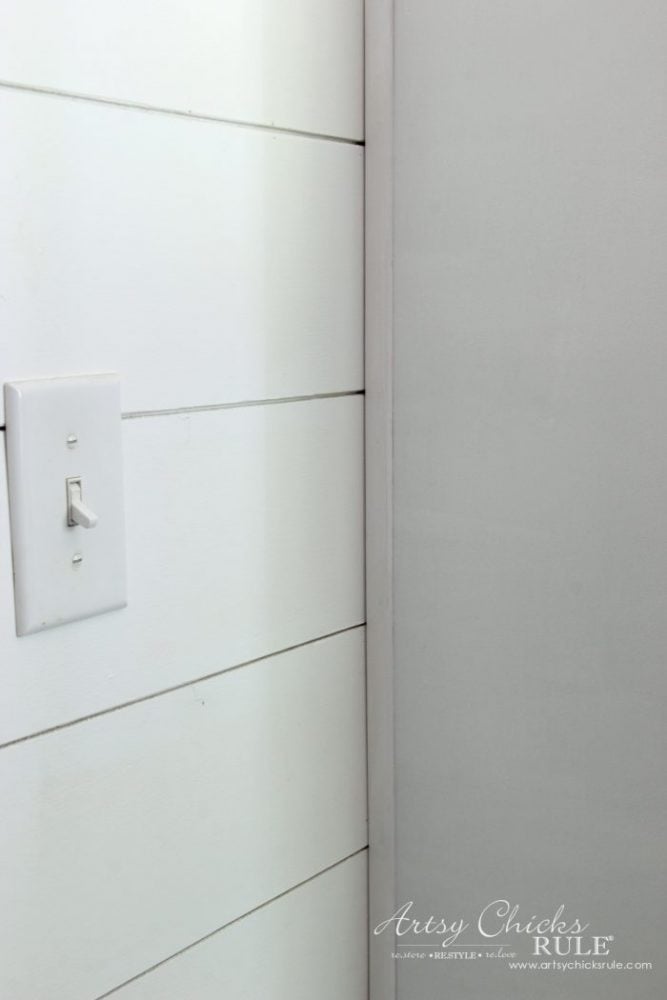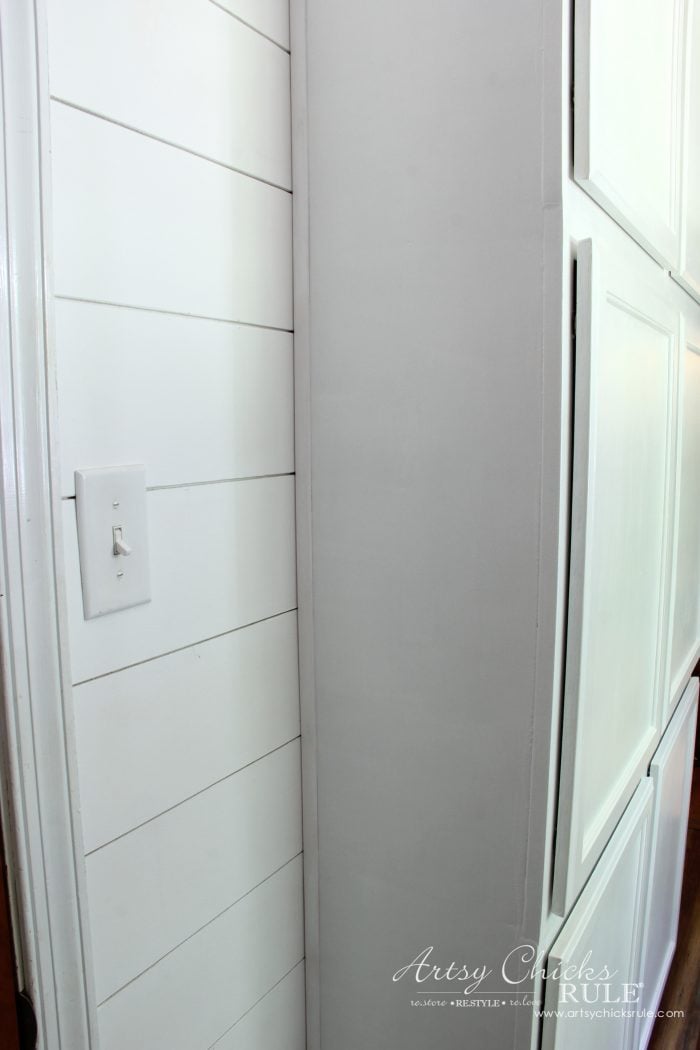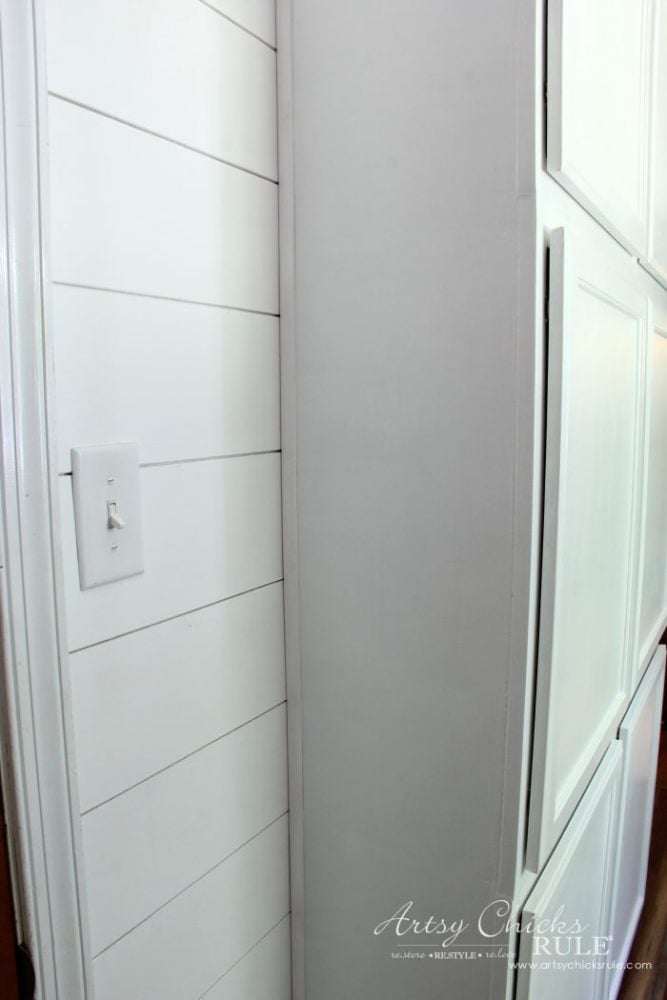 For reference, the paint color we used on the walls is by Behr and is called Nano White.
And I adore it!
It is THE perfect white, in my opinion, of course.
And caulk…..caulk is your very best friend here!
I LOVE seamless and once everything is up, go around and caulk all the ends next to the wall, door trims, corners, etc.
Make it seamless and lovely. I hate caulking but I love how everything looks once I do.
For the brad nail holes, I used regular wood filler.
And that is it!
It truly was not a hard job at all.
BUT it was tedious. I can not tell a lie.
It was a tedious job but so very doable.
Do we want to do it again anytime soon? Nope!
But guess what, we are.
We'll be adding shiplap in the bathroom area of our Master Bath/Closet Makeover. (<<<— Update! See it NOW finished, here!)
Which we are actually getting back to now that the Coastal Laundry Makeover is complete.
I told my sweet hubby that we need to do it like we did that one, in 5 weeks!!!
Hahaha …that didn't go over too well and I got "the look". ;)
It was a tad stressful but hey we got it done quickly! Hee hee
Well, we will definitely keep y'all updated here as we go on that project too…so stay tuned for that.
So glad we are finally, for real this time, done with the Coastal Laundry makeover, and am just loving our DIY faux shiplap.
It has made a world of difference in this room.
If you haven't already, hop on over to the Coastal Laundry Reveal so you can see how this room started. (you won't believe it!!)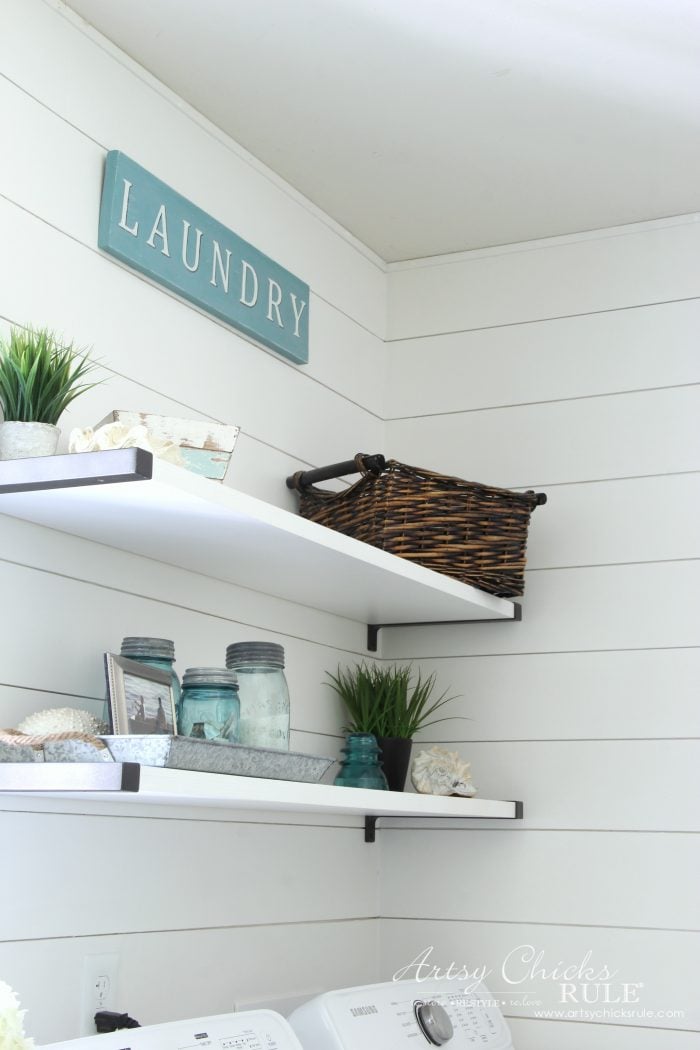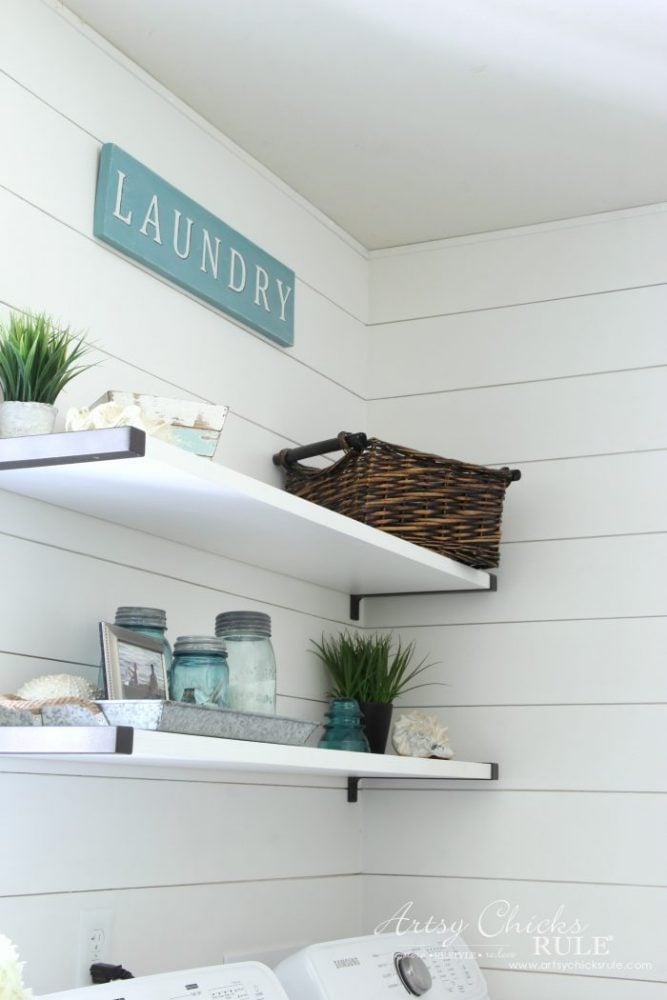 Be sure to PIN this DIY Faux Shiplap Tutorial so you can save it for later!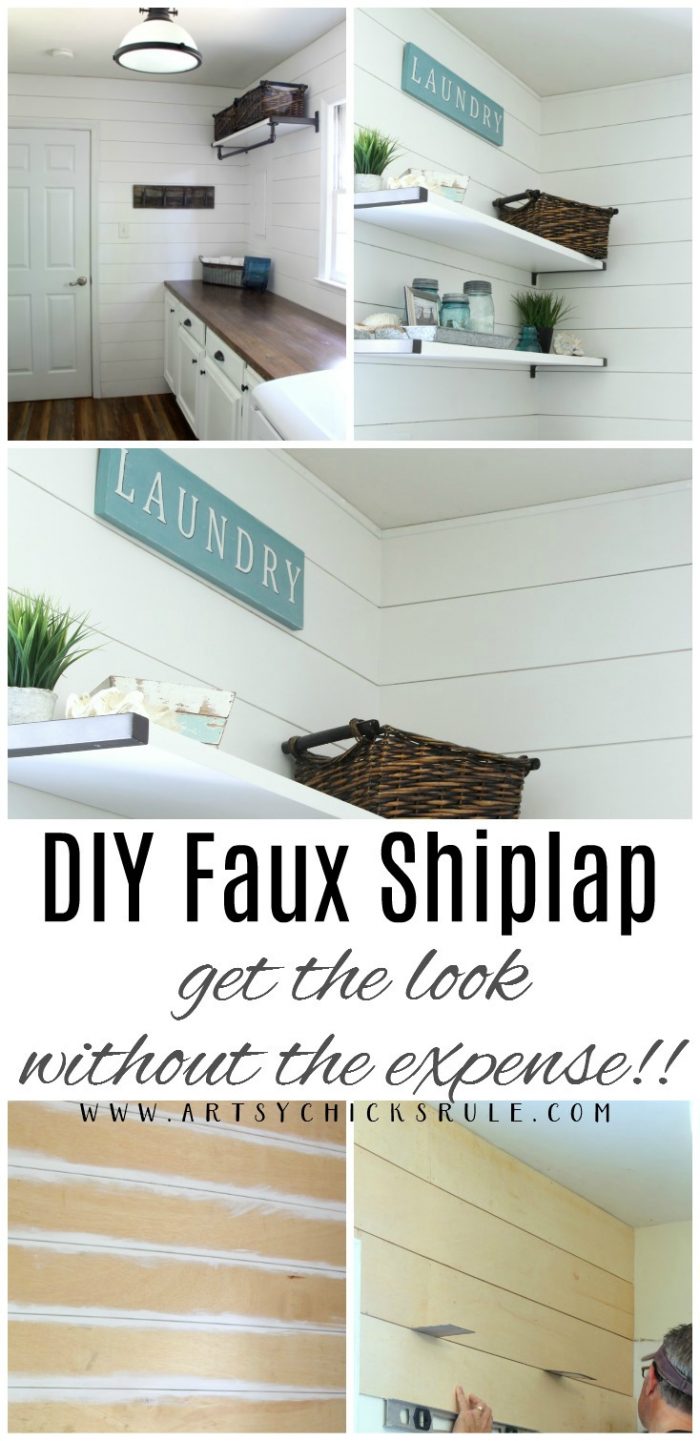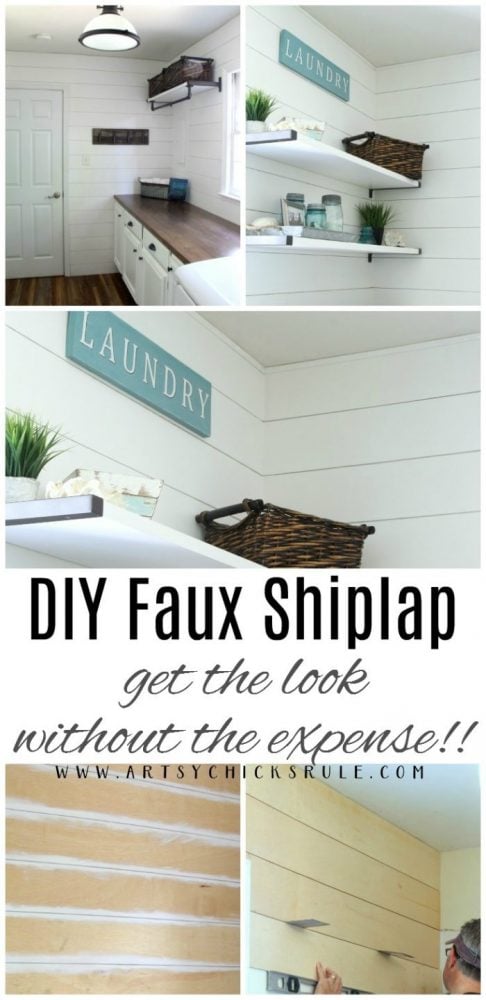 I hope you all have a wonderful weekend! Can't believe it's already mid-July, can you?
More home DIY tutorials we have shared here:
I'll see you back here next week with a fun sign I'm working on!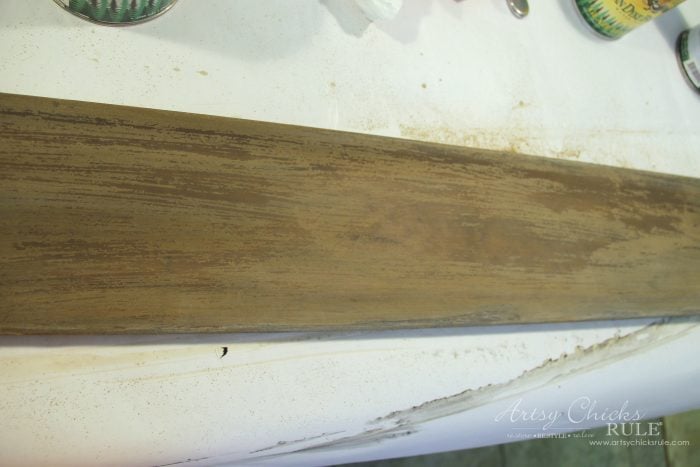 UPDATE!! See it now, here!
xo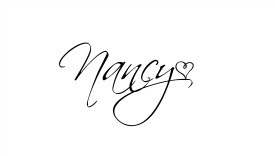 SaveSave
SaveSave