Coastal Bathroom Makeover Reveal (all the details!)
This post may contain affiliate links. Please see disclosures here.
It's coastal bathroom makeover reveal day!! Yippee!!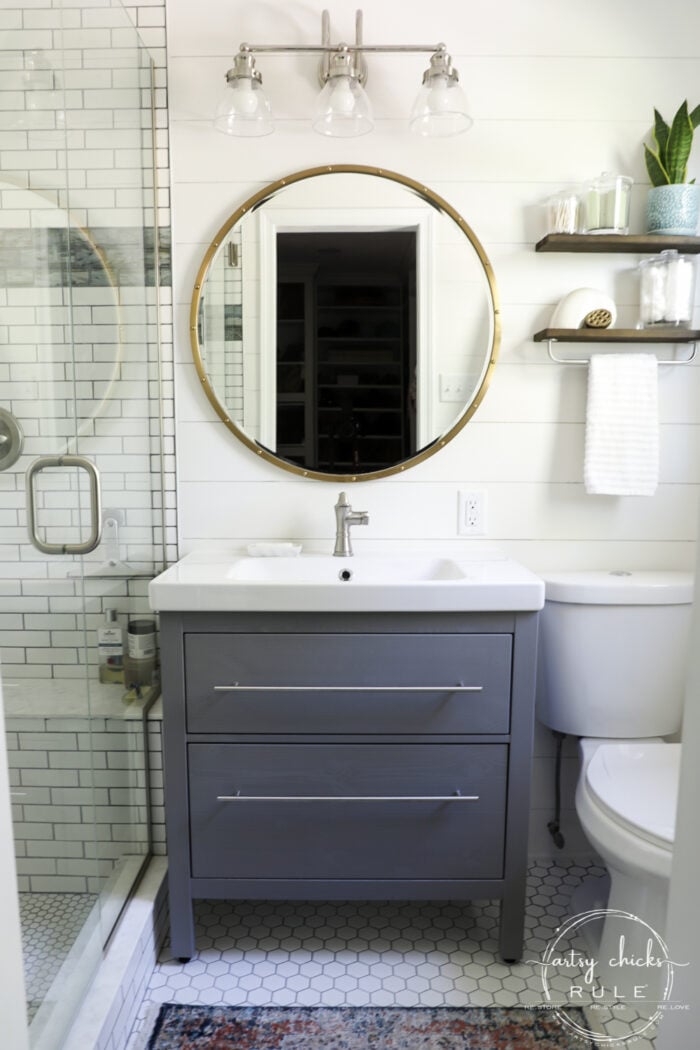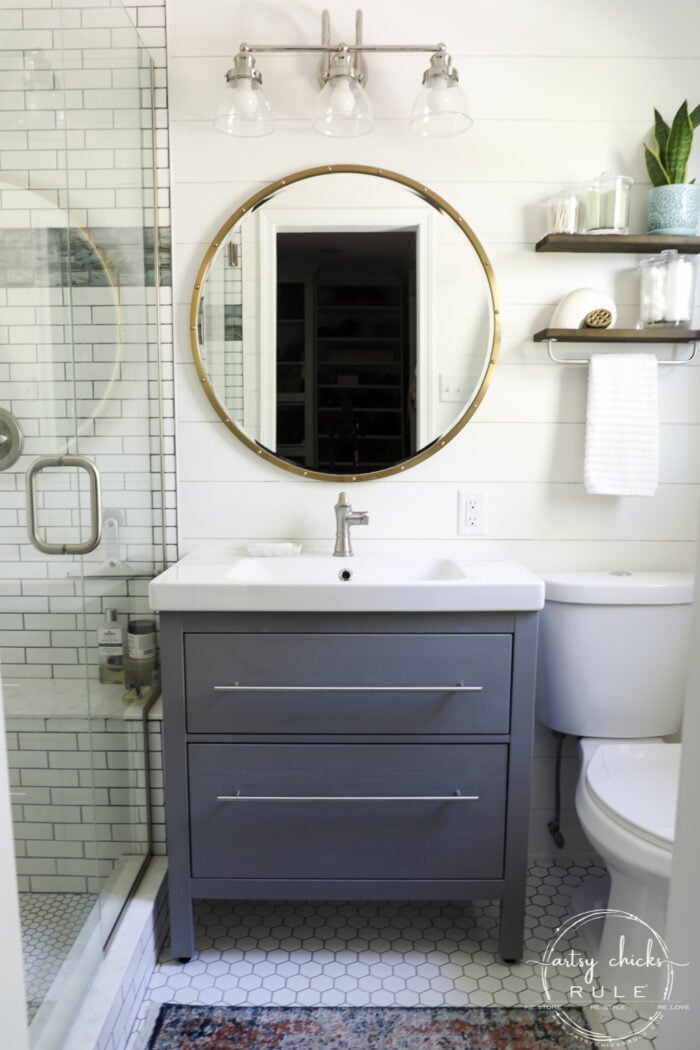 Can you believe it??
Probably more than I can. lol Because I've been living it over here. ;)
Actually, for 15+ years…ack! How I have no idea.
But as it sometimes goes, we end up doing the things that people see first. Somehow this little coastal bathroom makeover got pushed to last over and over (and over) again, well, because we were the only ones who ever saw it. And because we had another bathroom we could use down the hall.
We even started it back in 2017 (well, we actually sort of started it before that, years before…but as I mentioned…it got sidelined). But other projects jumped in front of it again. At that time, the coastal farmhouse laundry took over.
Next came the full kitchen remodel. New flooring and so on.
But we finally wrapped our way back around to the bathroom makeover. Looking over these pictures to do this post was daunting…and liberating all at the same time.
We are FREE!!
This was the last of the major remodels we had to do in this house. Everything else that we have left to do is small, fairly simple things.
I can NOT tell you how happy that makes me.
That's why it feels like such a treat to have it finished…finally. Such a sweet treat it is. I feel so spoiled!! haha Such a simple little (tiny) bathroom and I truly feel pampered. Considering how it started it's no wonder, but still.
And the closet makeover has a bit to do with that as well. We have hardware to place and I have a little something else I need to finish before I reveal that but it's basically done too.
I also have some exciting news about that too. Well, it's exciting for me! haha The closet is MINE! All mine. :)
My sweet hubby liked my awesome plan of this closet being mine, and us building him a built-in closet unit in our bedroom. We measured and also looked at and measured his clothes hanging in the other room (our makeshift closet during this time) before we decided fully to make sure he'd have plenty of room. We've already started on his, you might have seen a snippet or two over on Instagram stories.
But that's for another post, I'll tell you all about that when I share the master closet makeover.
Today it's all about our coastal bathroom makeover!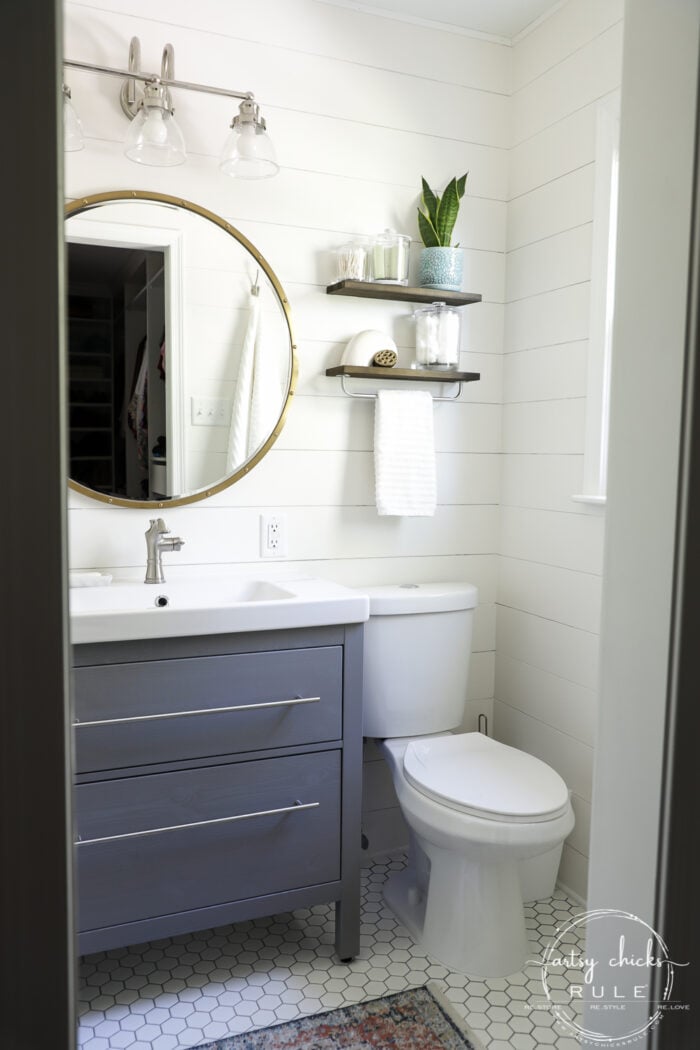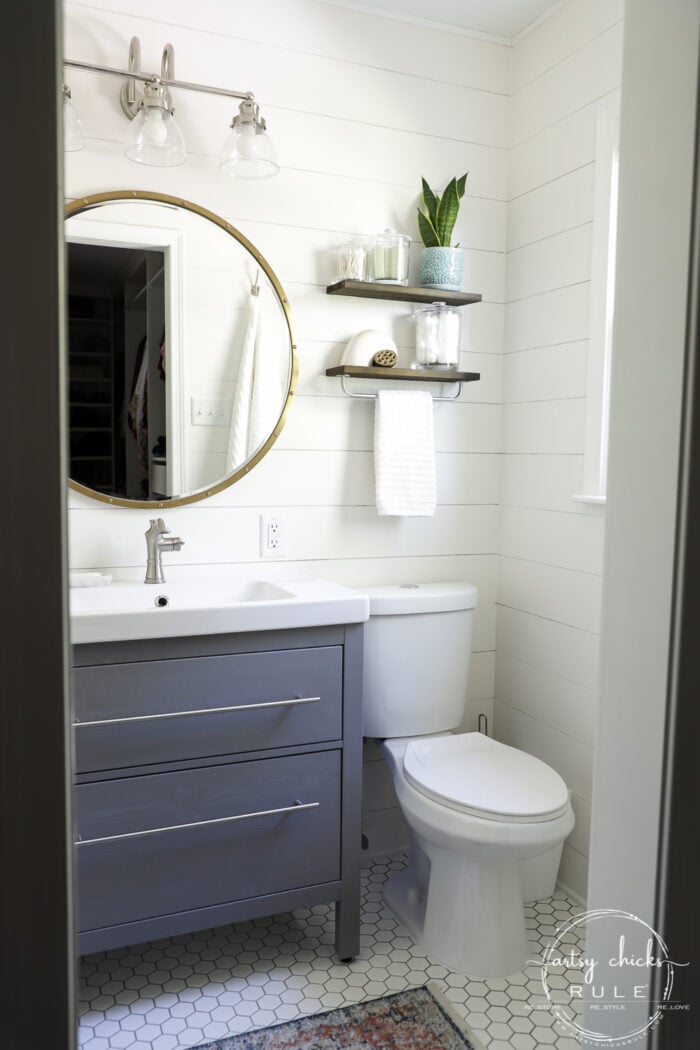 Coastal Bathroom Makeover Reveal
I'll be sharing a few "before" photos and "during remodel" photos today but if you want to see more "before" photos, or installing tile, etc., pop on over >>> to this post first before you continue reading here.
Here's an oldie. Way back when we first started this makeover. And thought we'd finish it at the time. ha!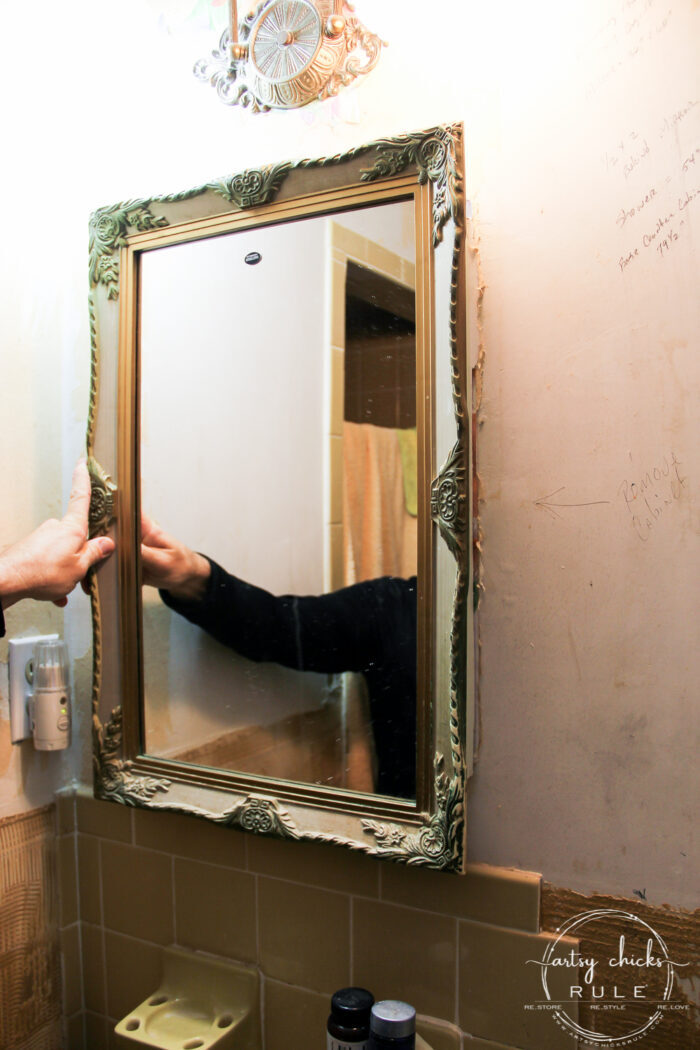 Good intentions anyway.
Baby steps…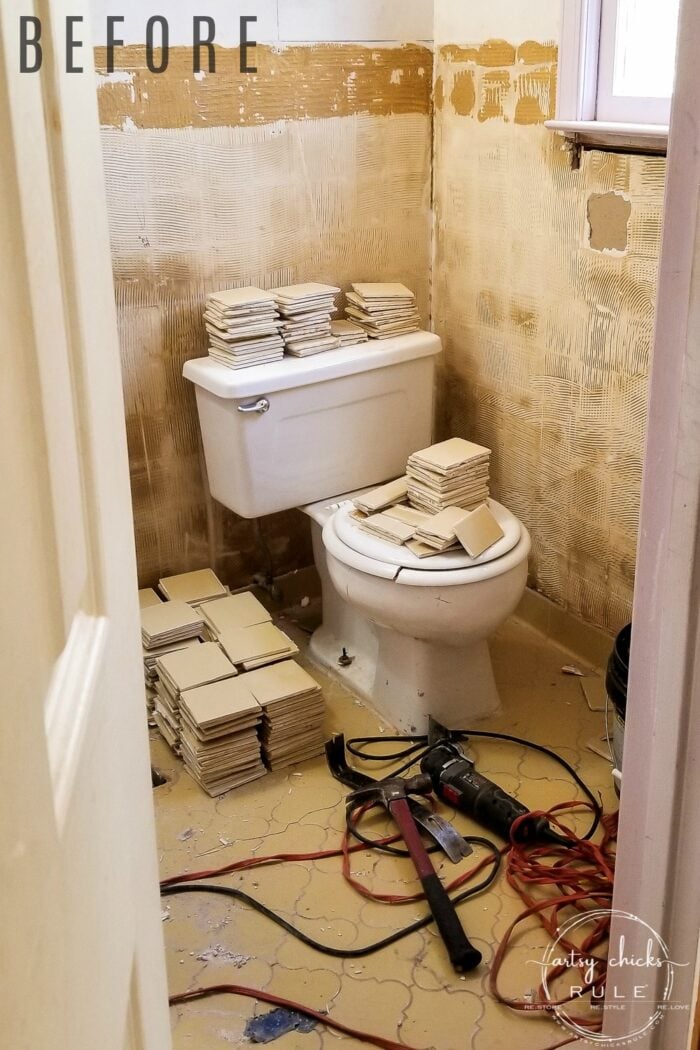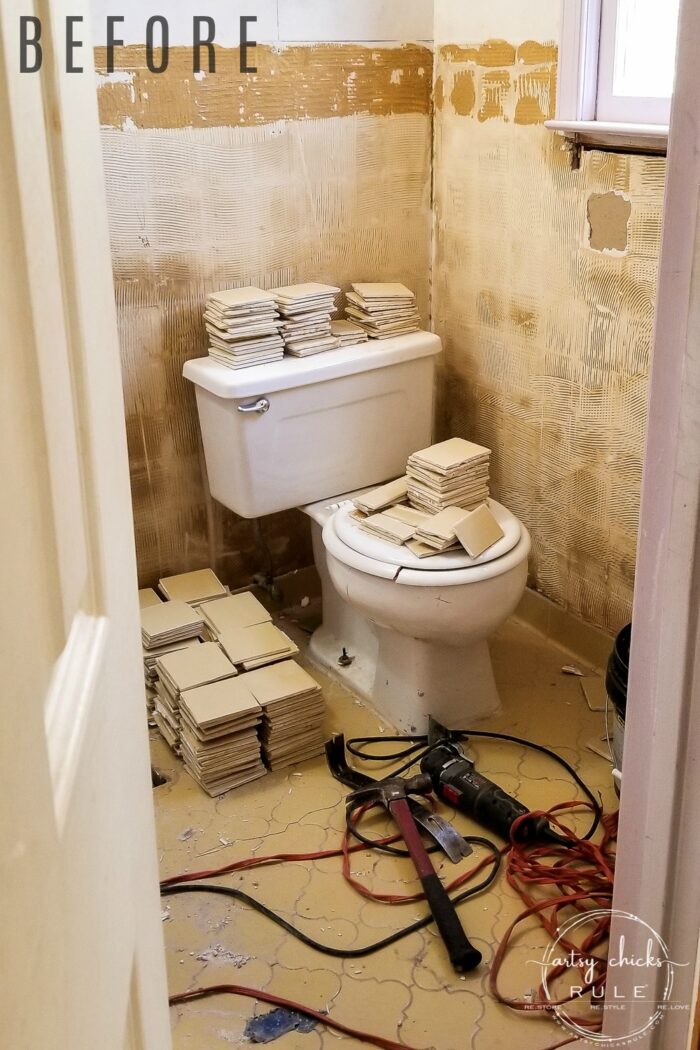 I should mention that my "before" pictures are really "during" since I never ended up taking any of this bathroom. But it was interesting.
Lavender painted cabinet and window, gold countertop, big colorful floral wallpaper, original light fixture (very ornate 70's-you can see a little bit of it in the first picture above), and very gold tile.
It lived mid-construction for years. Ugh (so embarrassing but it is what it is…and this was real life right here)
Inside the shower, tiles coming down. Yay!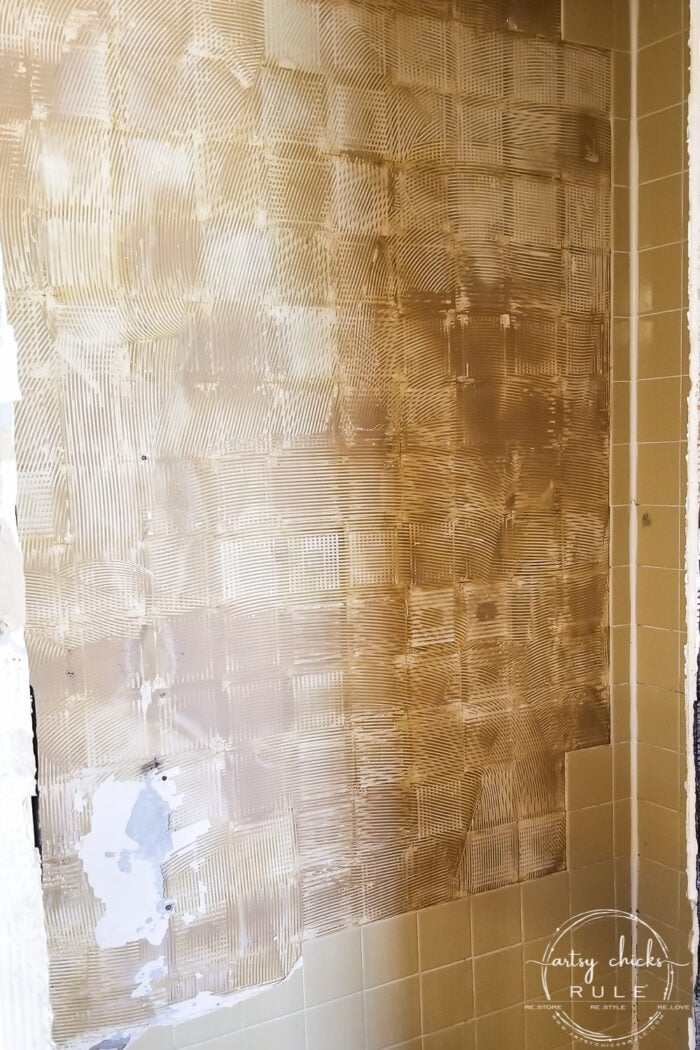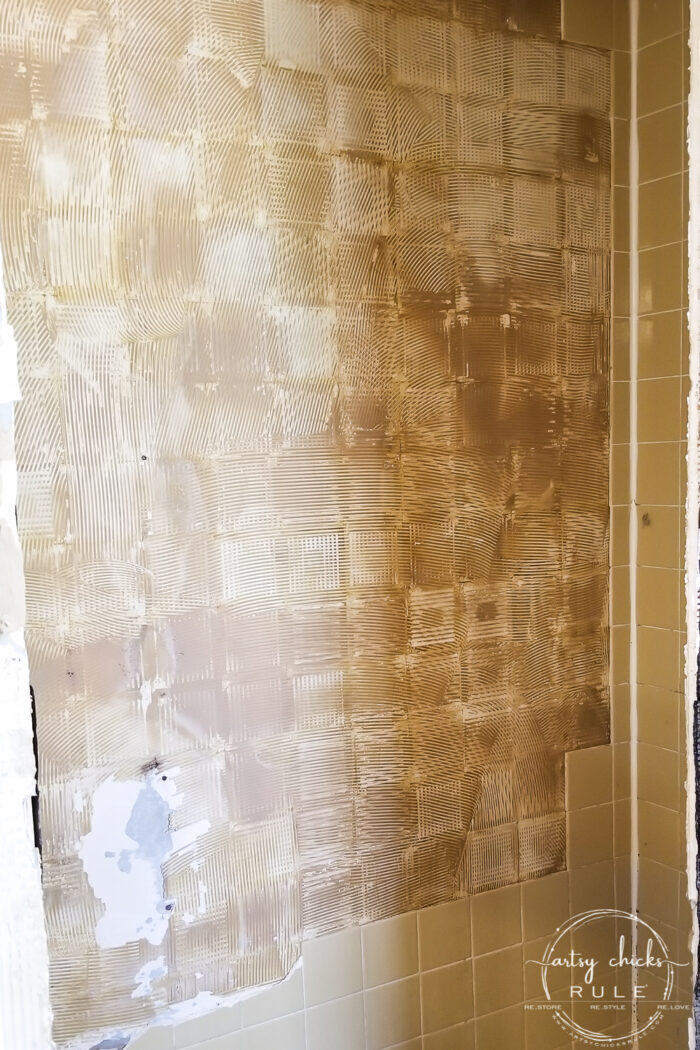 We only ended up taking a handful of showers in this bathroom because we found out soon after we moved in that there was a leak.
The leak ended up on the ceiling of the kitchen. Which when we noticed it leaking, we realized it had been leaking before we moved in and had been painted over I'm assuming by the previous homeowners. We weren't really happy about that but what are you gonna do?
So we stopped using that bathroom and started sharing our kid's hall bath with them. (we thought temporarily…ha!!
For years. As you already know.
I absolutely hated taking a shower in there so that was fine by me. It was so creepy and dark and cave-like.
Yuck.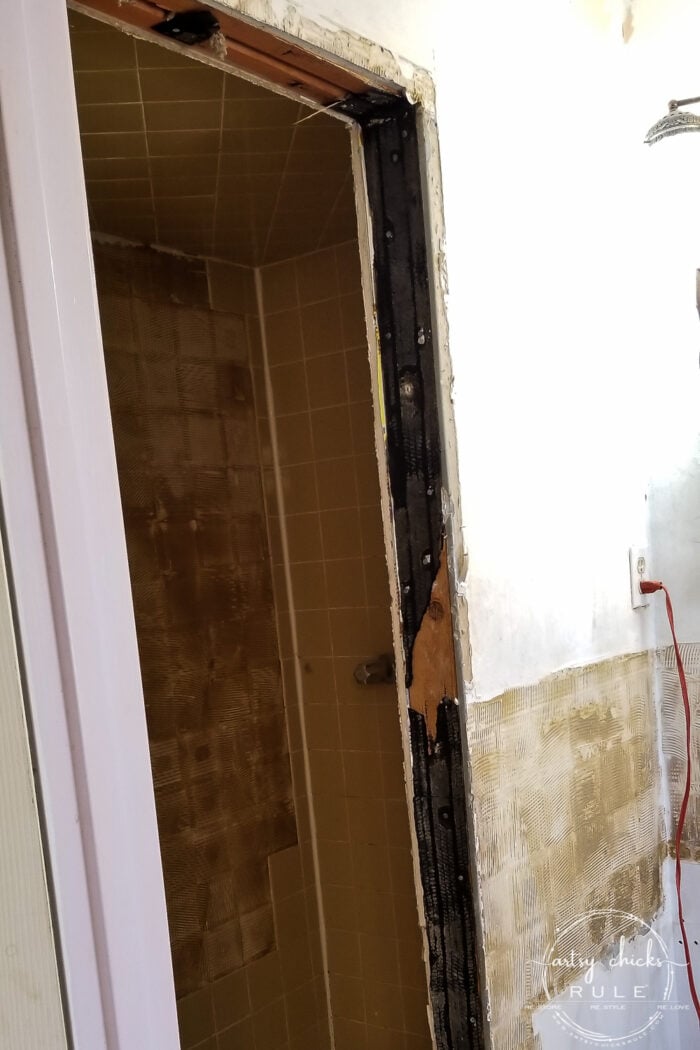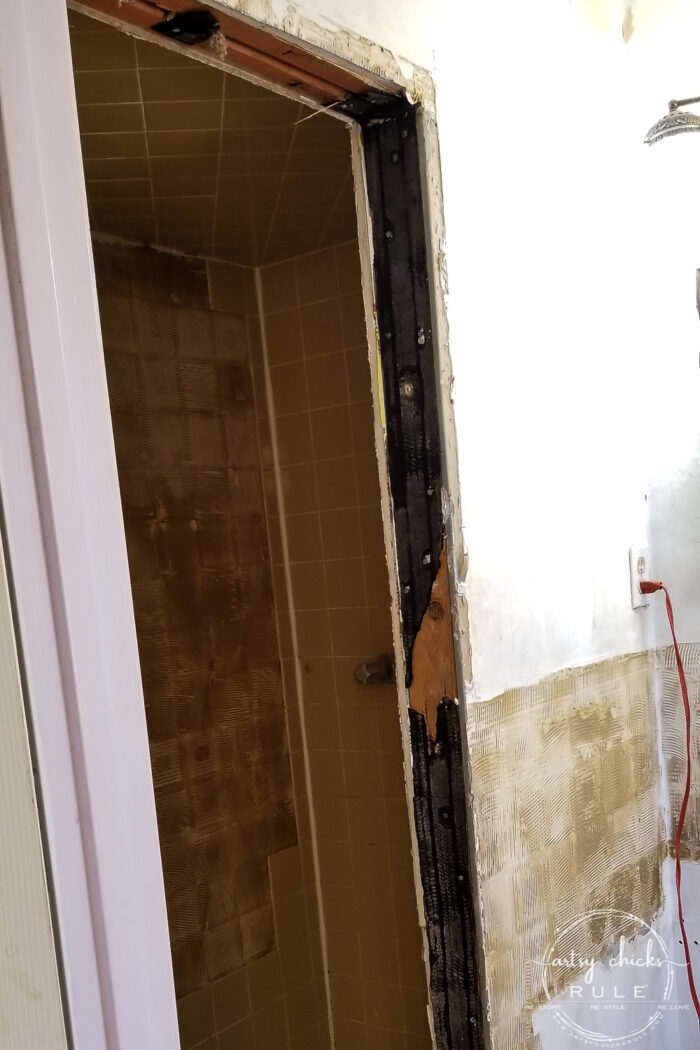 So one thing we knew we were doing was taking that wall OUT and raising that lowered ceiling inside the shower UP HIGH.
Buh bye!!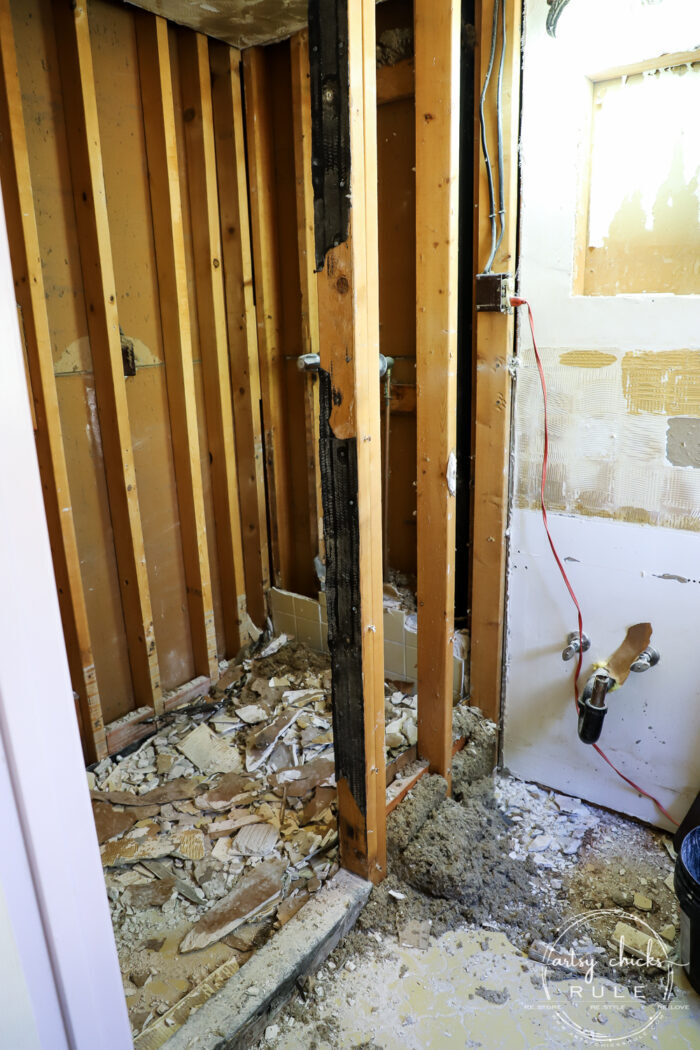 Good riddance!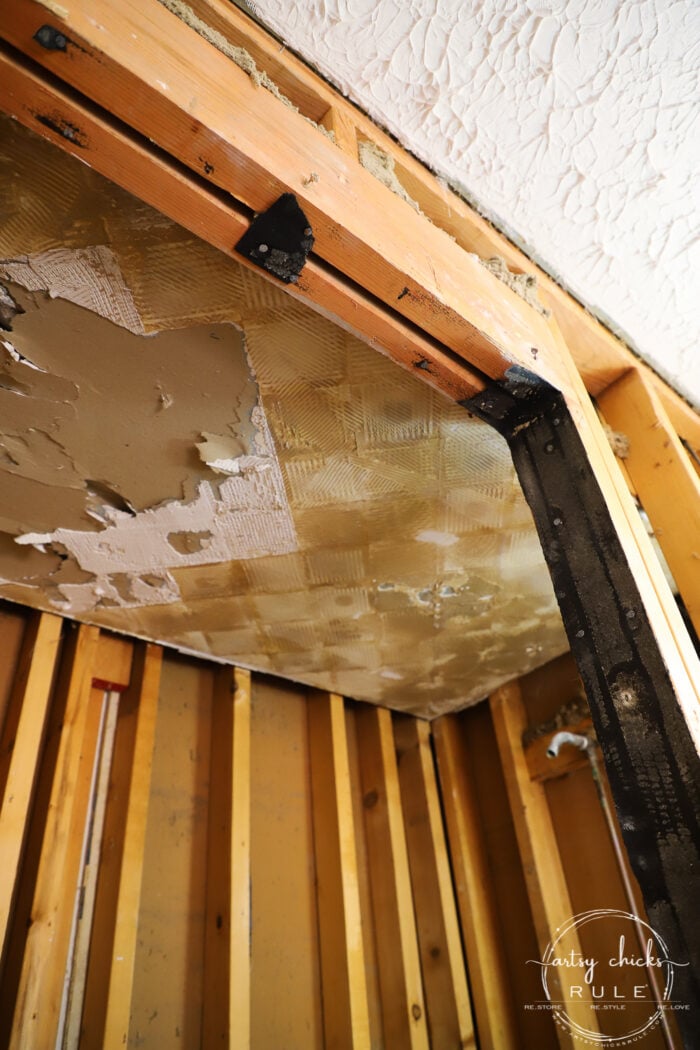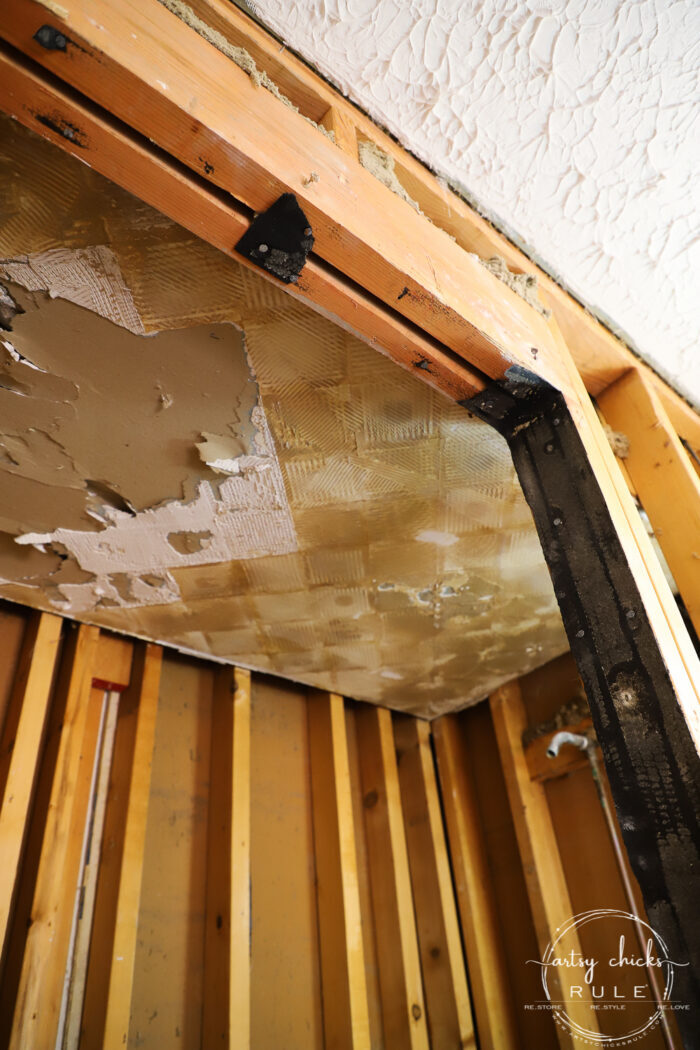 There's the old stamped ceiling. We also removed that and replaced it with nice, smooth drywall….and a new light over the shower.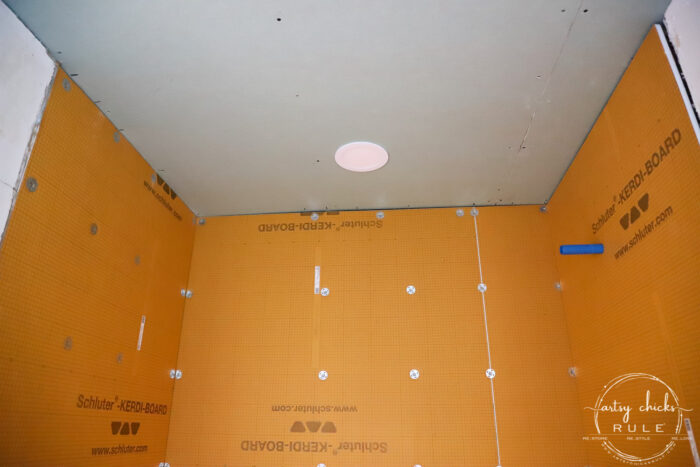 My husband and I did the entire remodel except for the plumbing and electrical.
Hubby did the tear out (a lot of work), the drywall, built the shower, and installed the faux shiplap.
I painted, caulked, and did all of the tilework myself…whew…that was a job. Not gonna lie about it! lol But it was doable.
I might have cursed a time or two though.
Oh, he also replaced the old, lavender window with a pretty new one.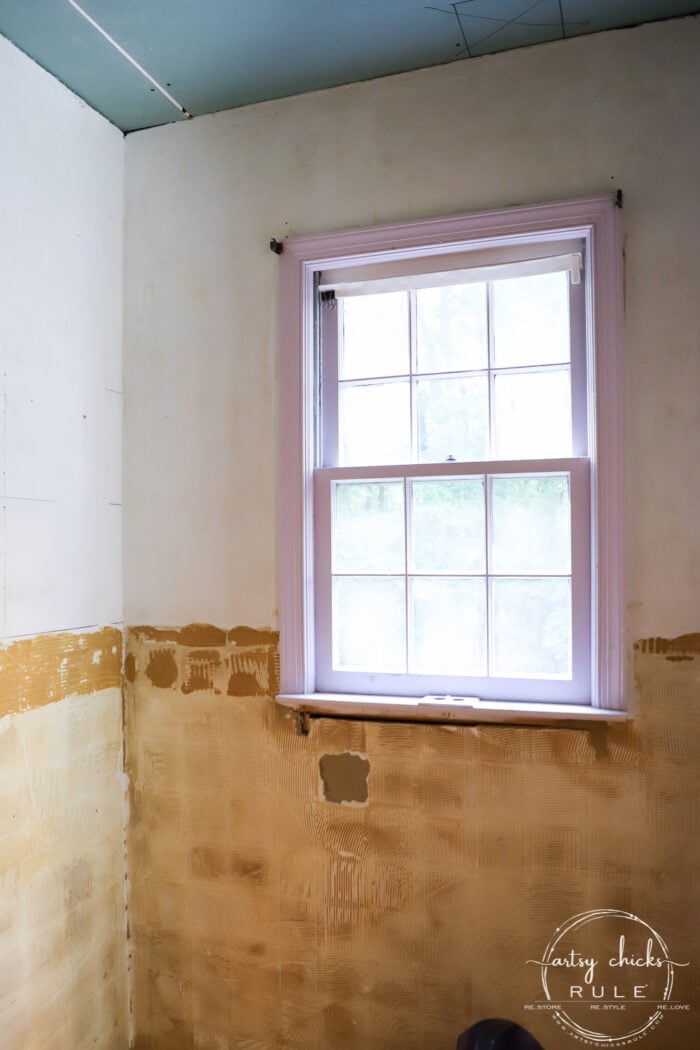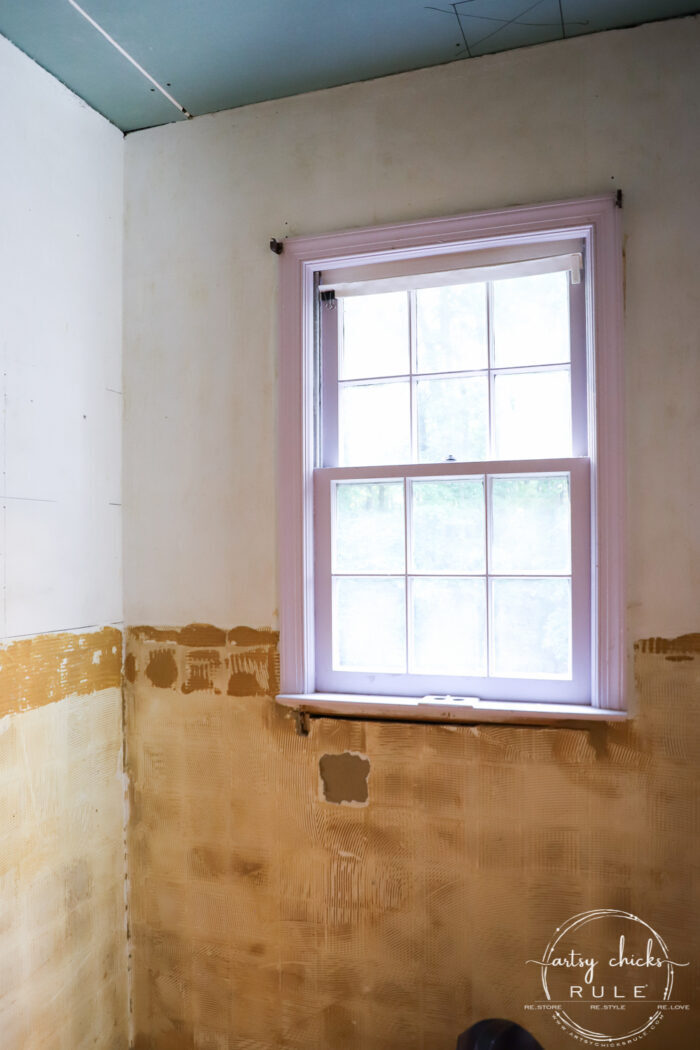 The first new window in our house. We've since put in 7 more and have 13 more to go. SO excited about that too because there were quite a few windows we've never been able to open since moving in. Terrible!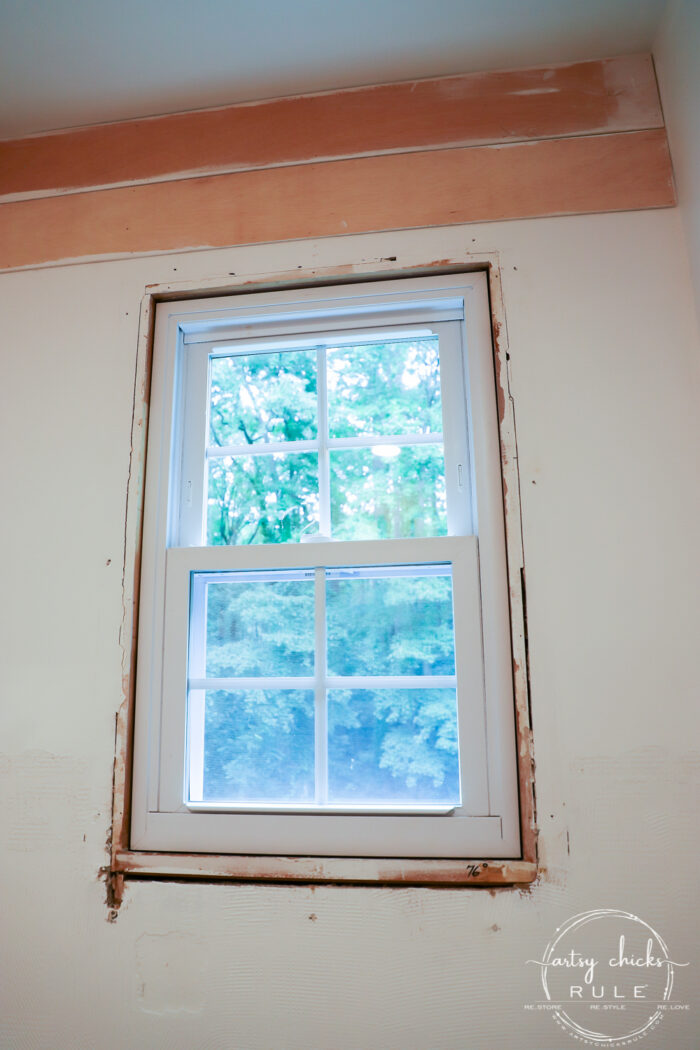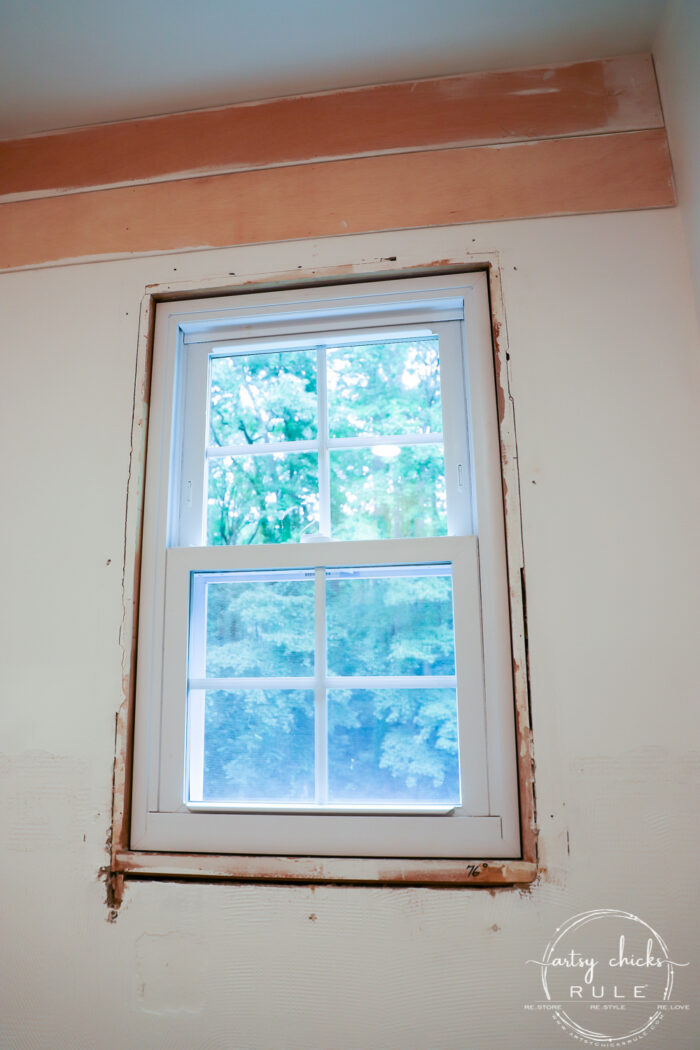 Are you ready to see pretty pictures now??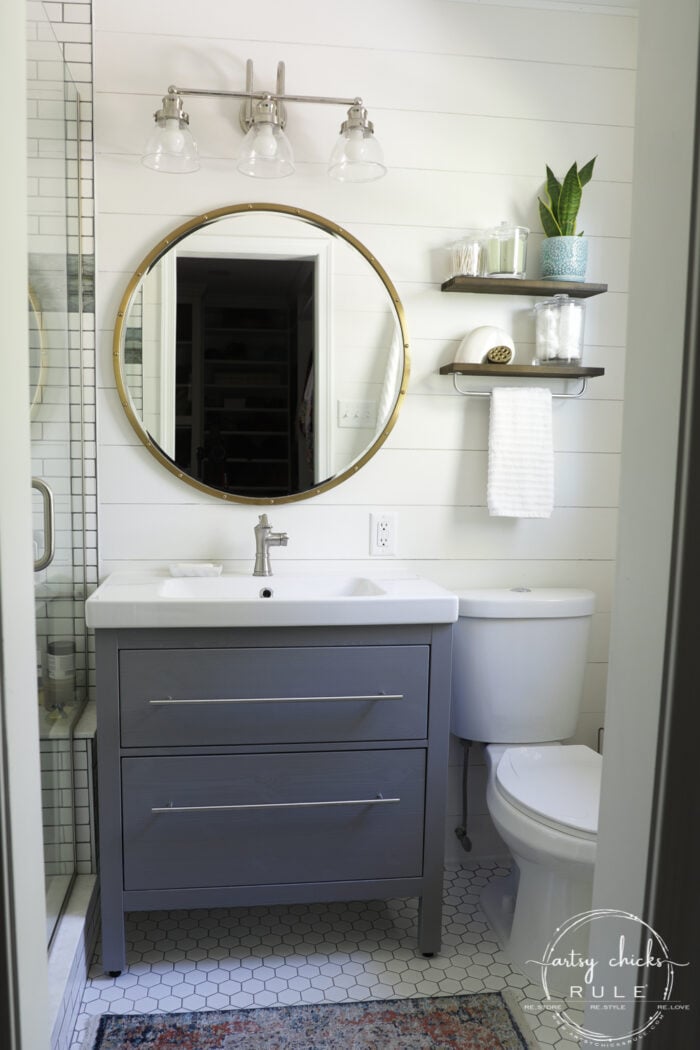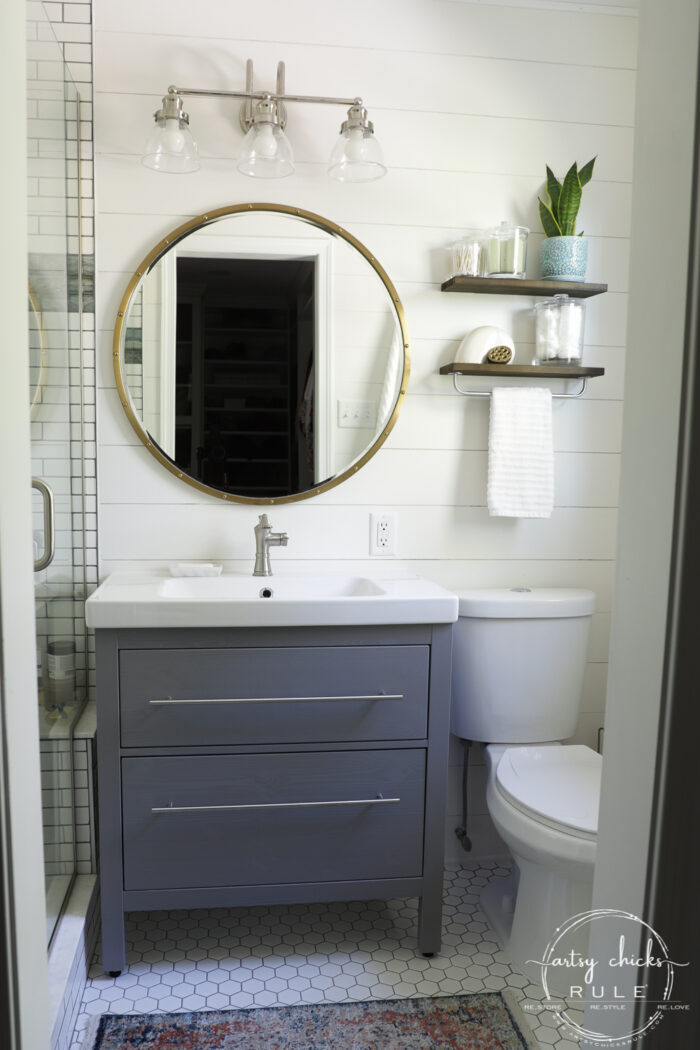 Hello there big, bright, sunshiney, happy, happy, happy bathroom.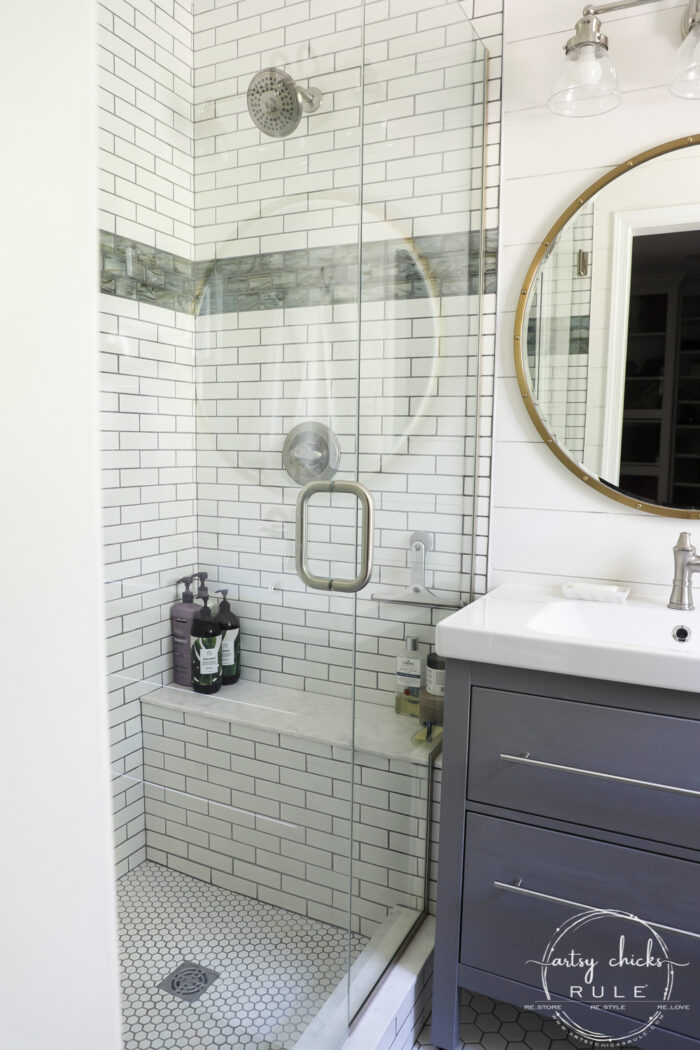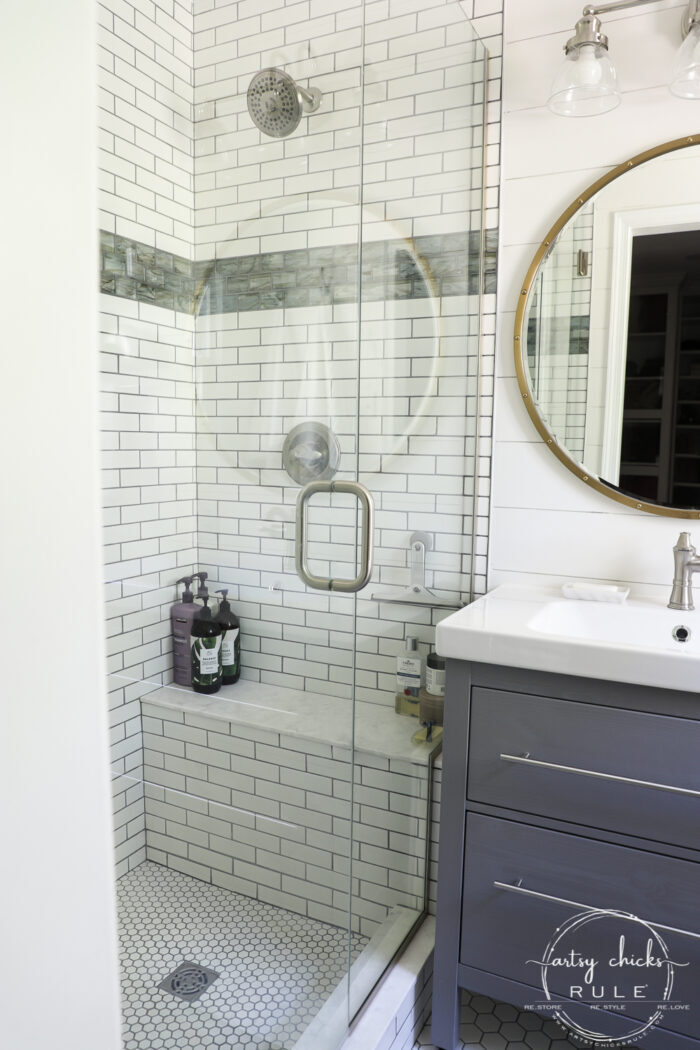 What a welcome change you are!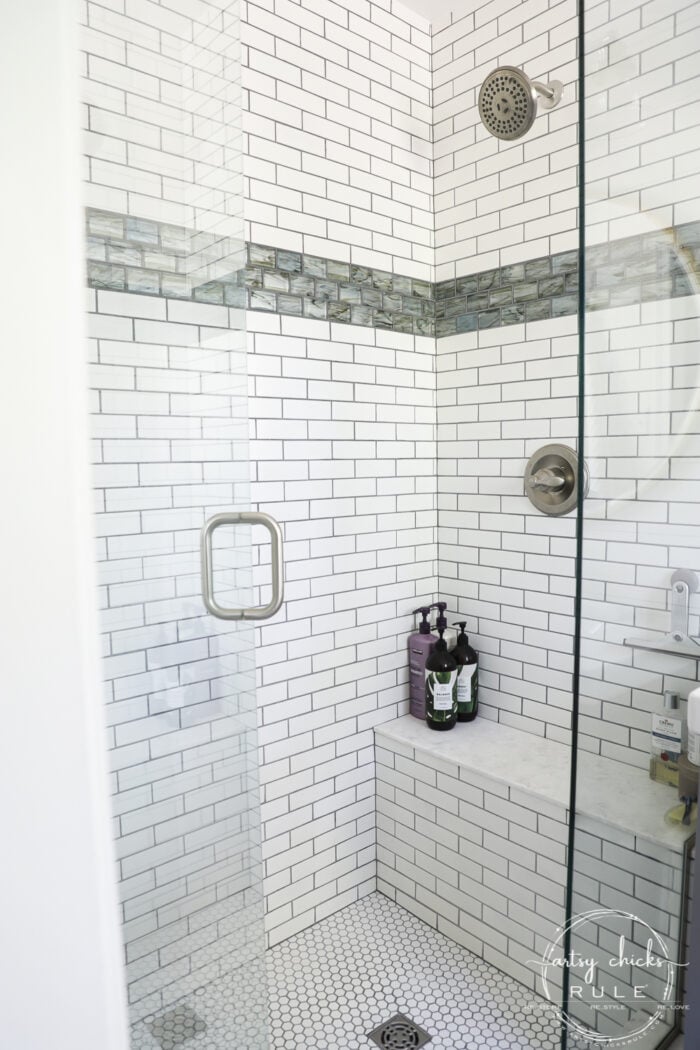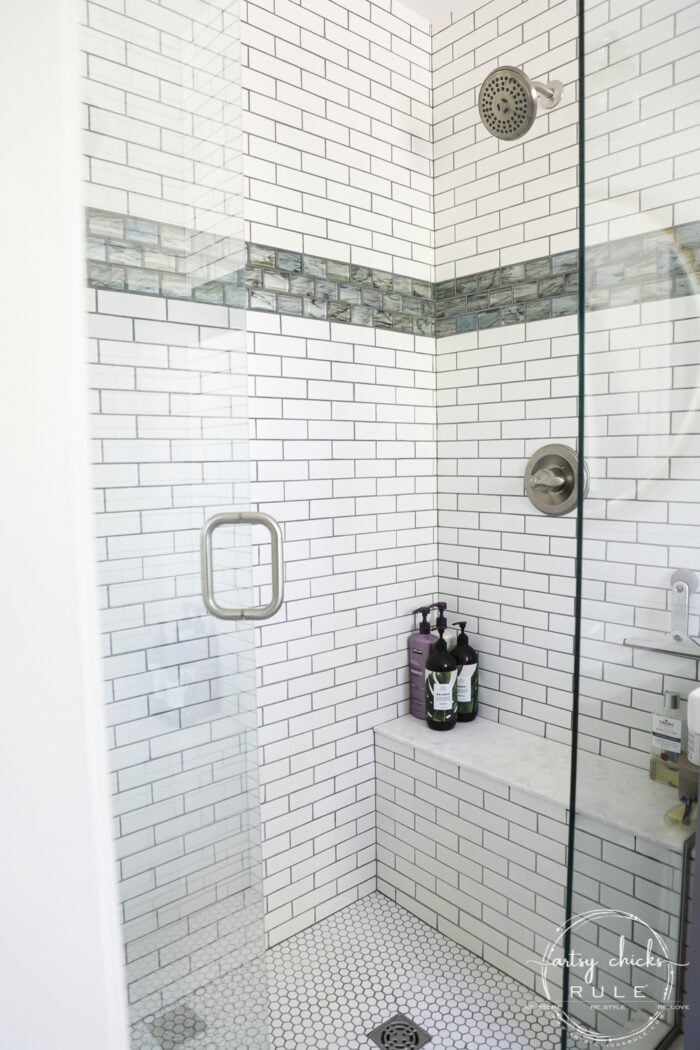 No more cave-like shower going on here. Thank goodness.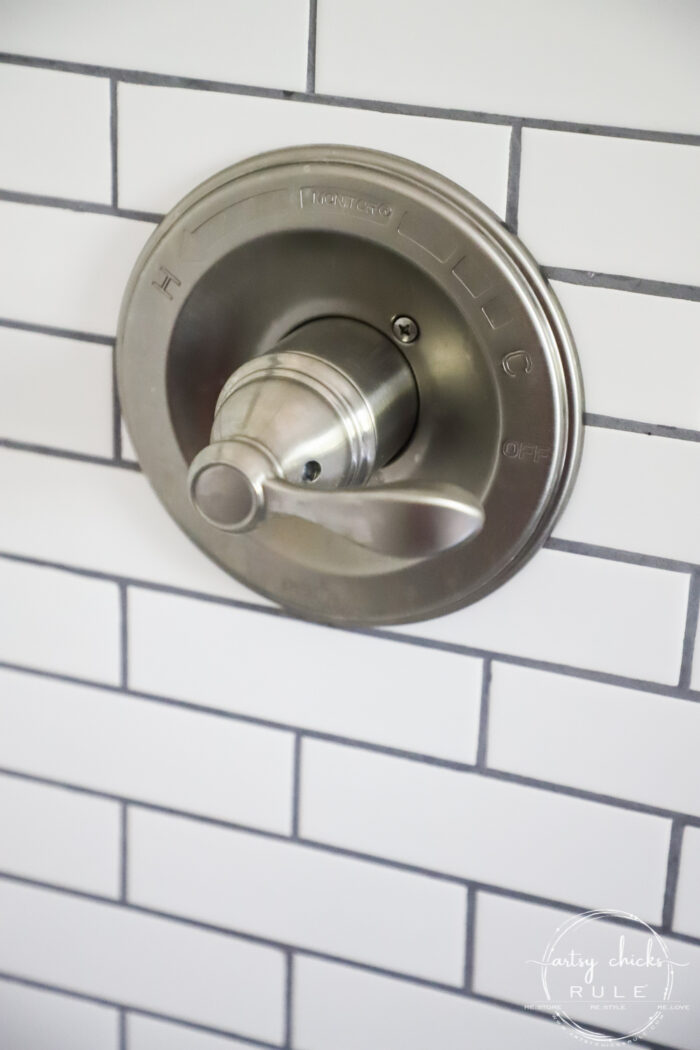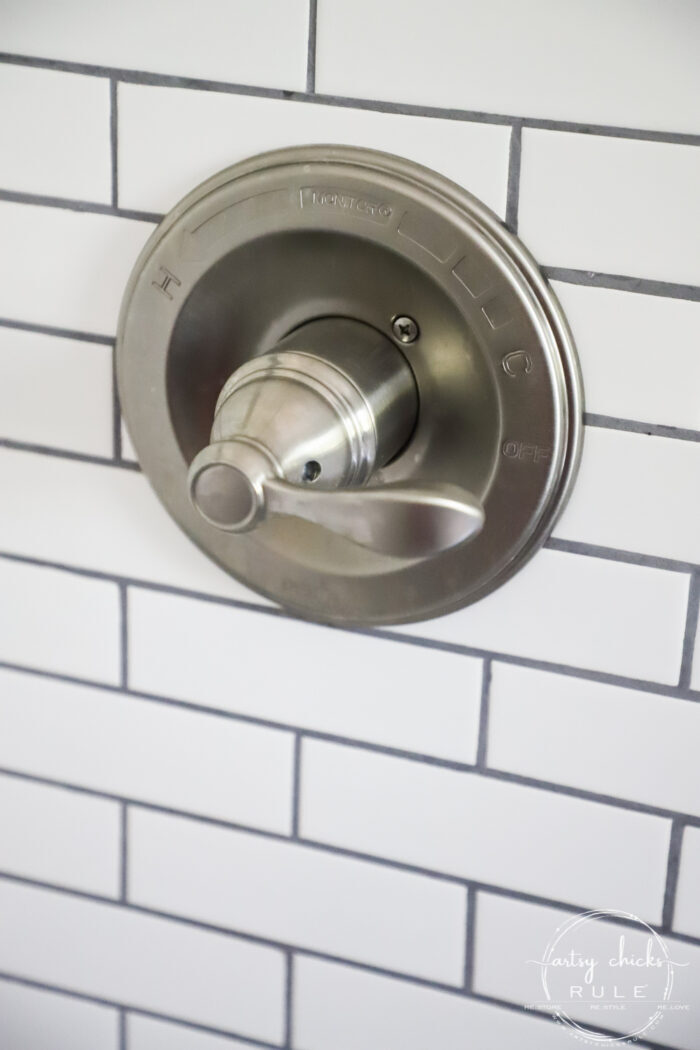 We had to build the "seat" on this side. Not the best location but we couldn't really put it on the other side.
I'm so happy to have it for shampoo to sit, etc.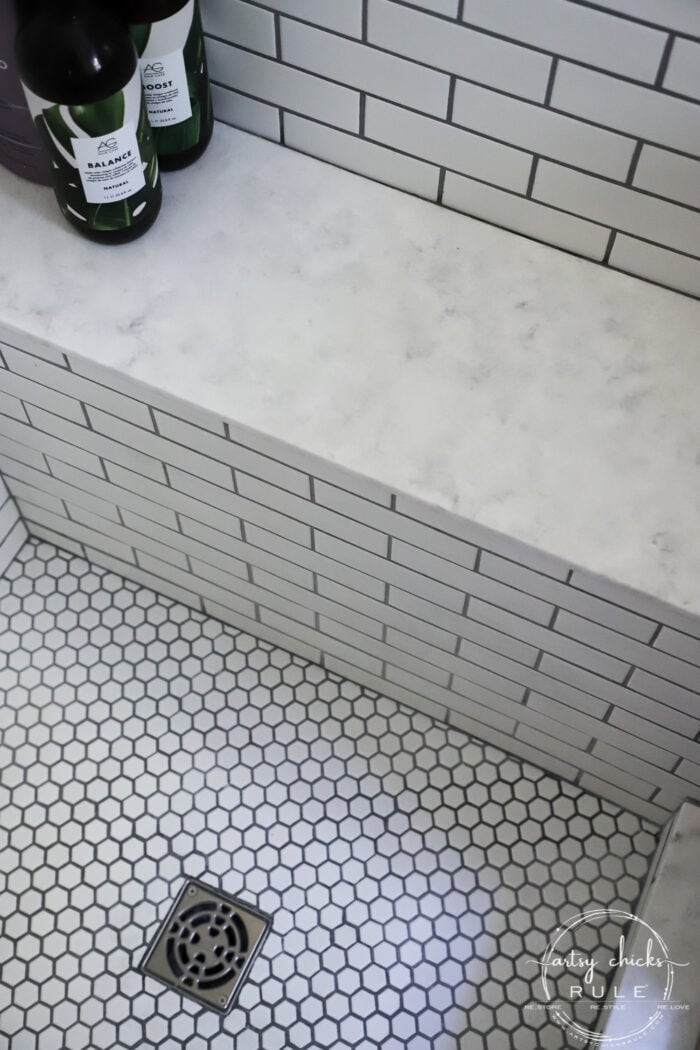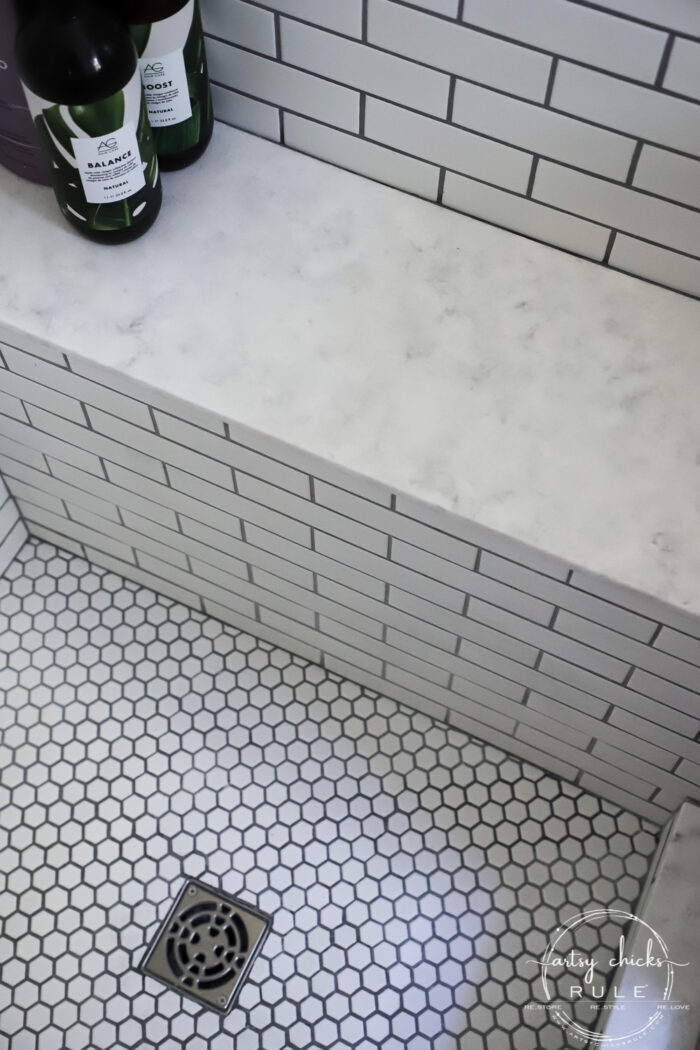 We ordered the two slab pieces from the shower department at Lowes. I was so, so happy with how well they matched the tile.
Baby hexagon tile for the shower floor.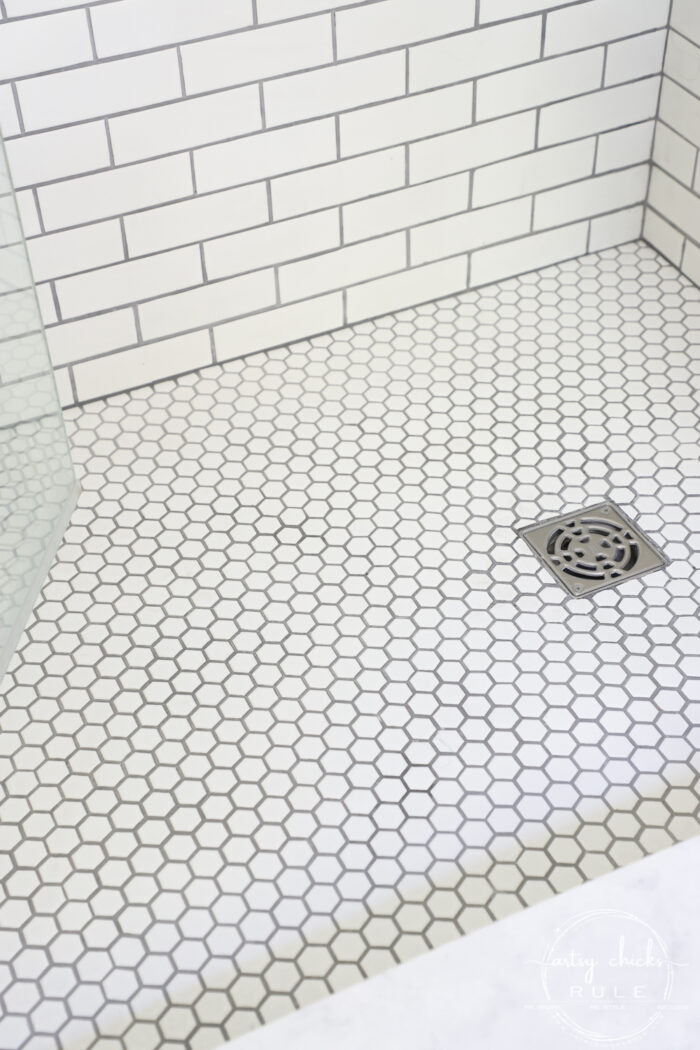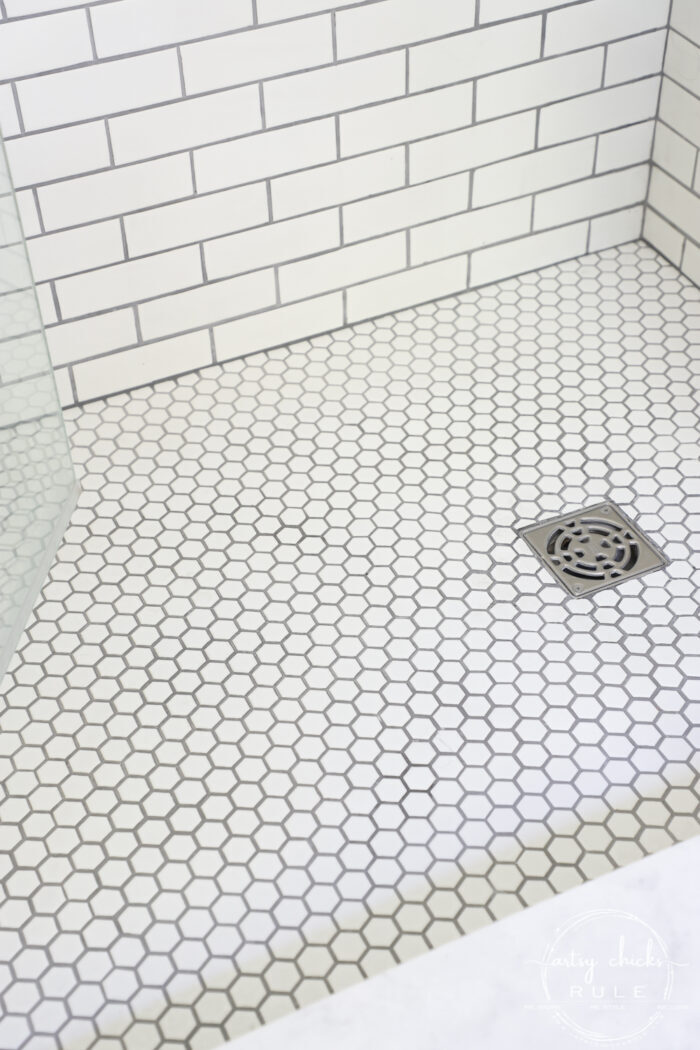 The new, nice smooth ceiling…and light…and fan. Can you believe none of our bathrooms had fans??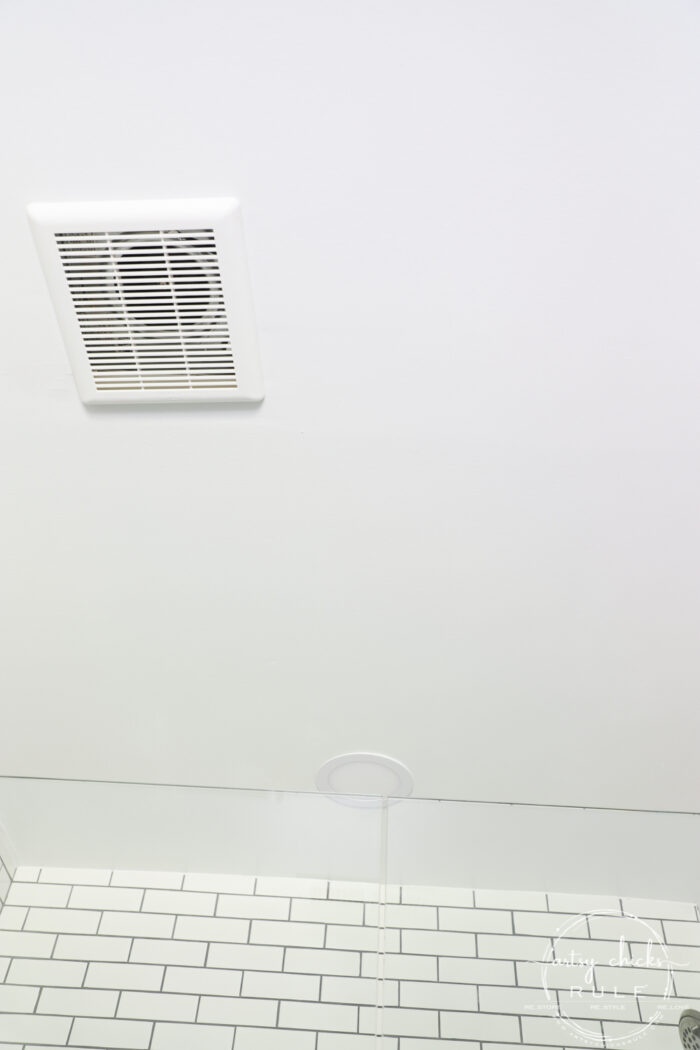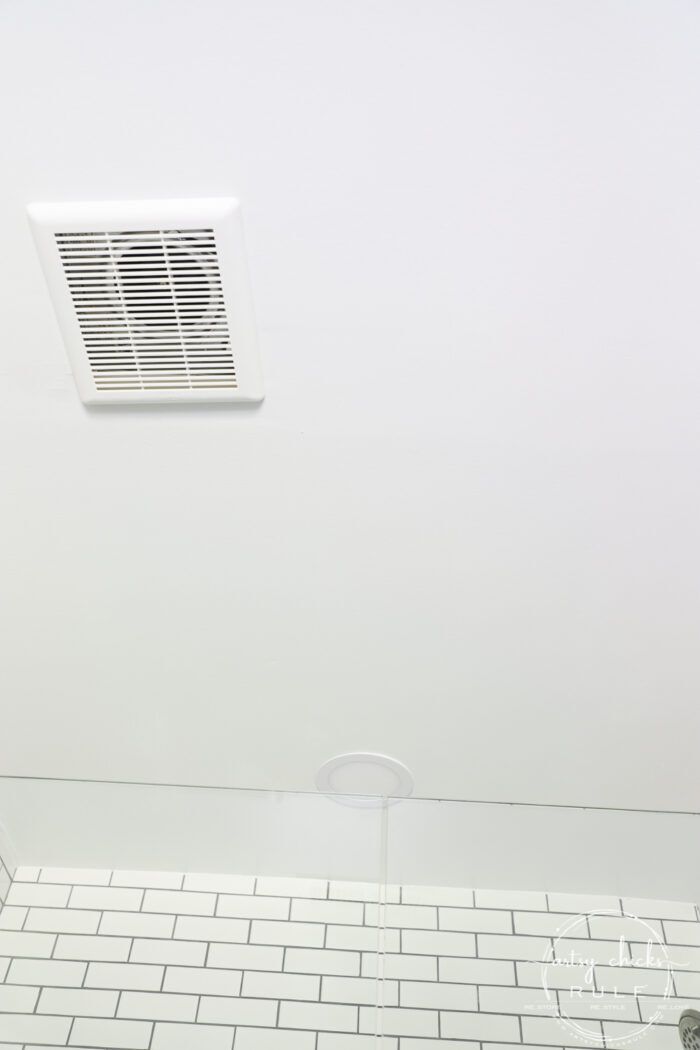 A close-up of that pretty green/blue glass tile I loved so much. (I'll have all the source links at the bottom of this post)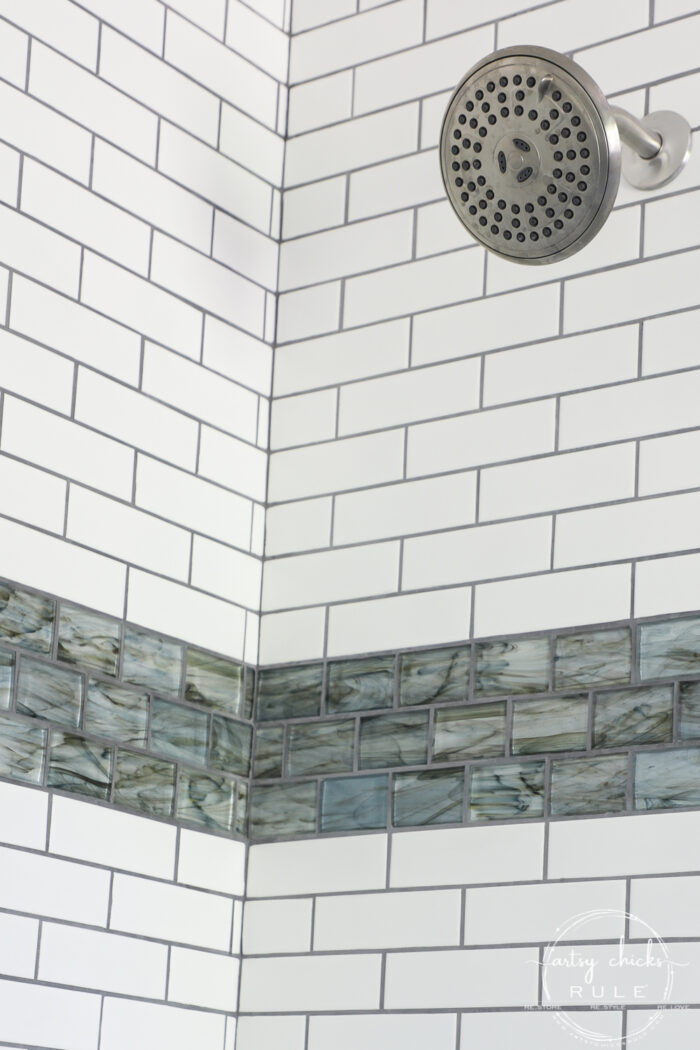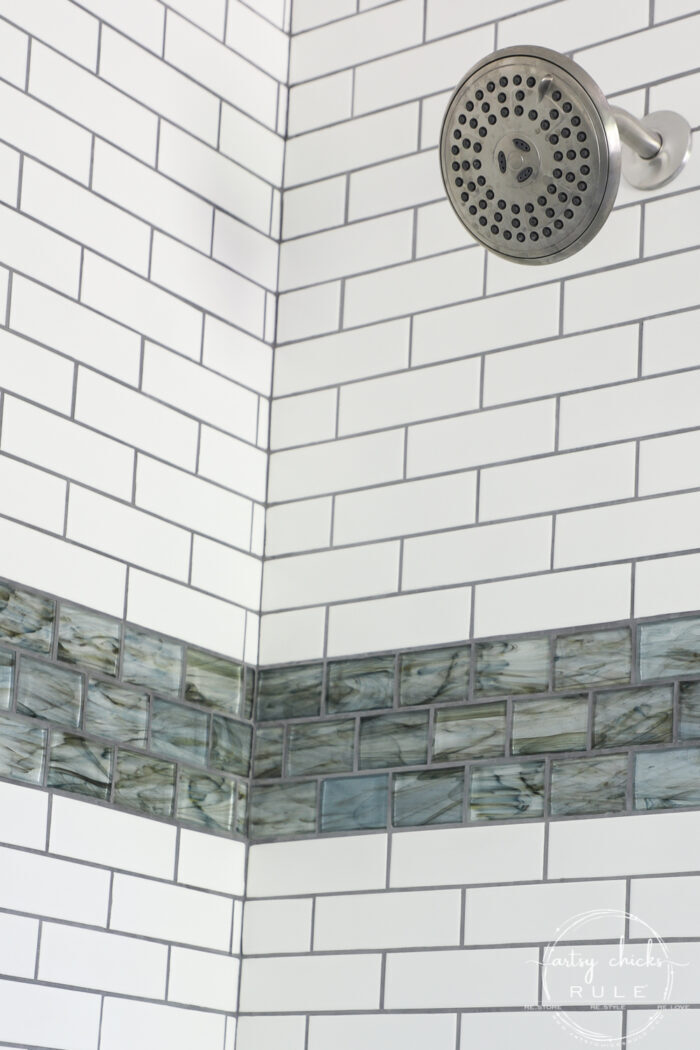 Looking out from the shower.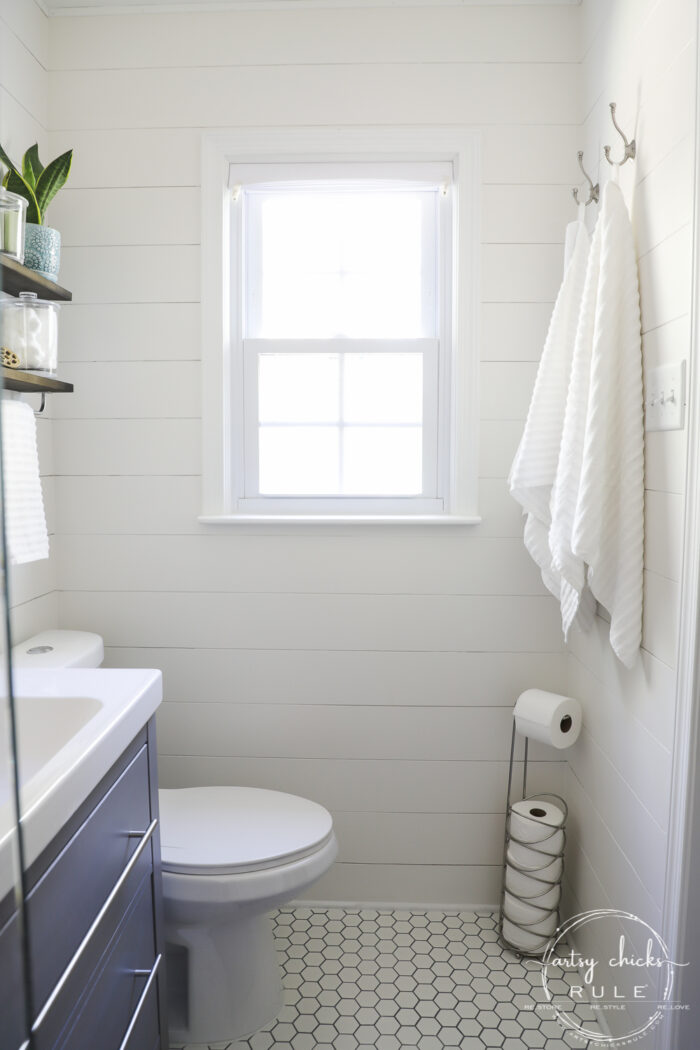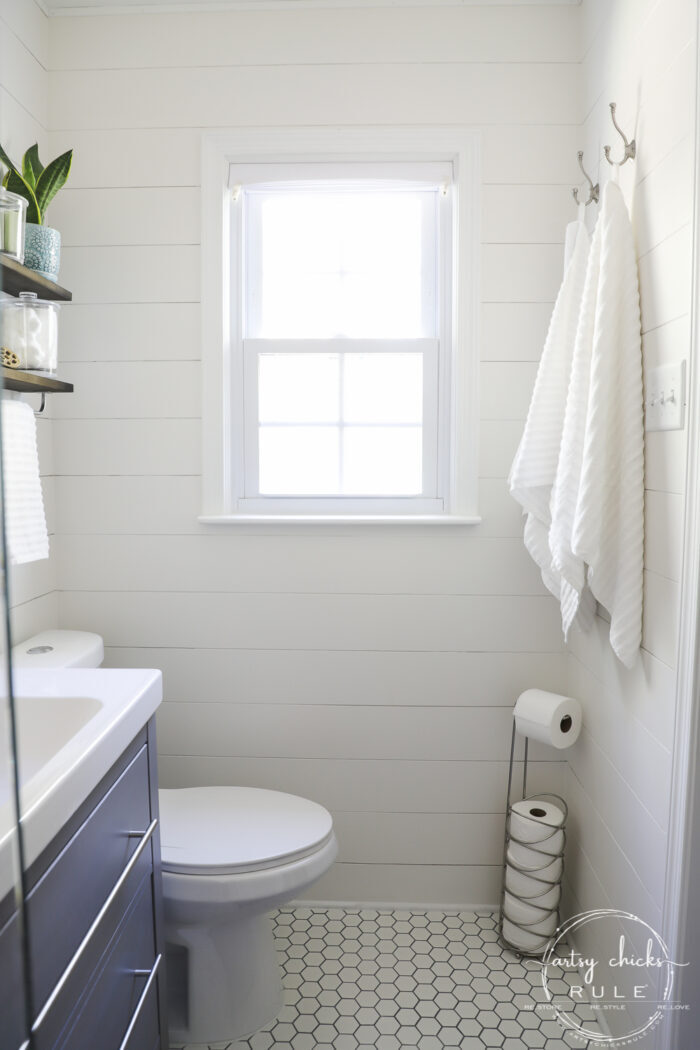 Since it is a small bathroom, we really were thoughtful about making it as functional as possible. Like not putting a toilet tissue roll holder on any of the walls that would "stick out" in the space. Instead, we opted to use that bit of corner space with a toilet paper roll holder that not only held the roll you are using but stored more for later.
And also adding these bath towel hooks on the small wall space to the right.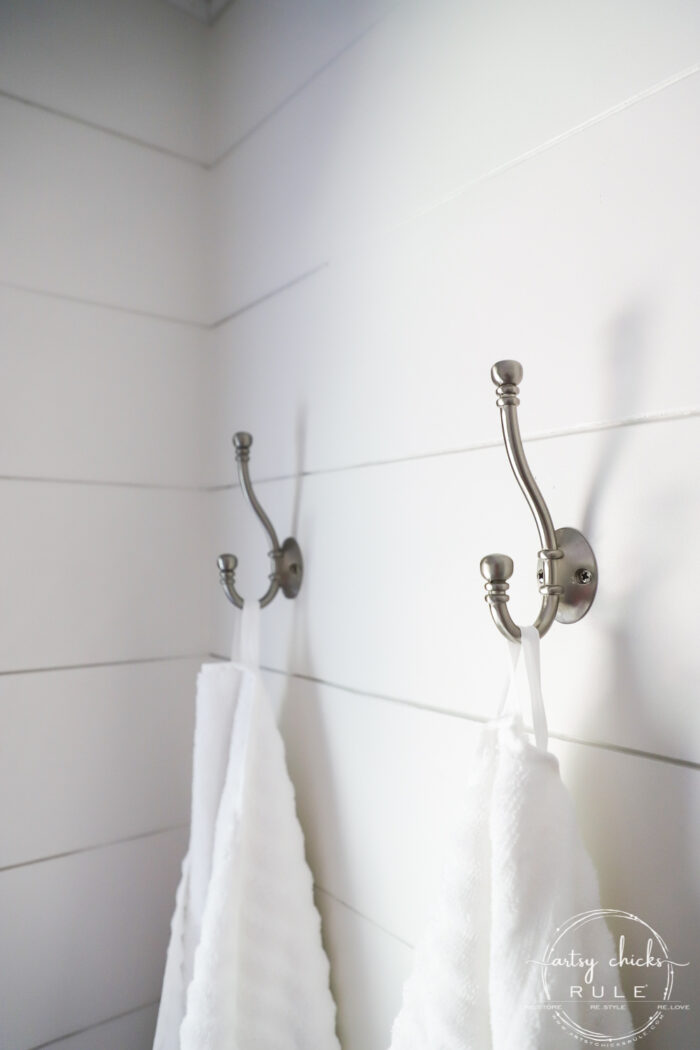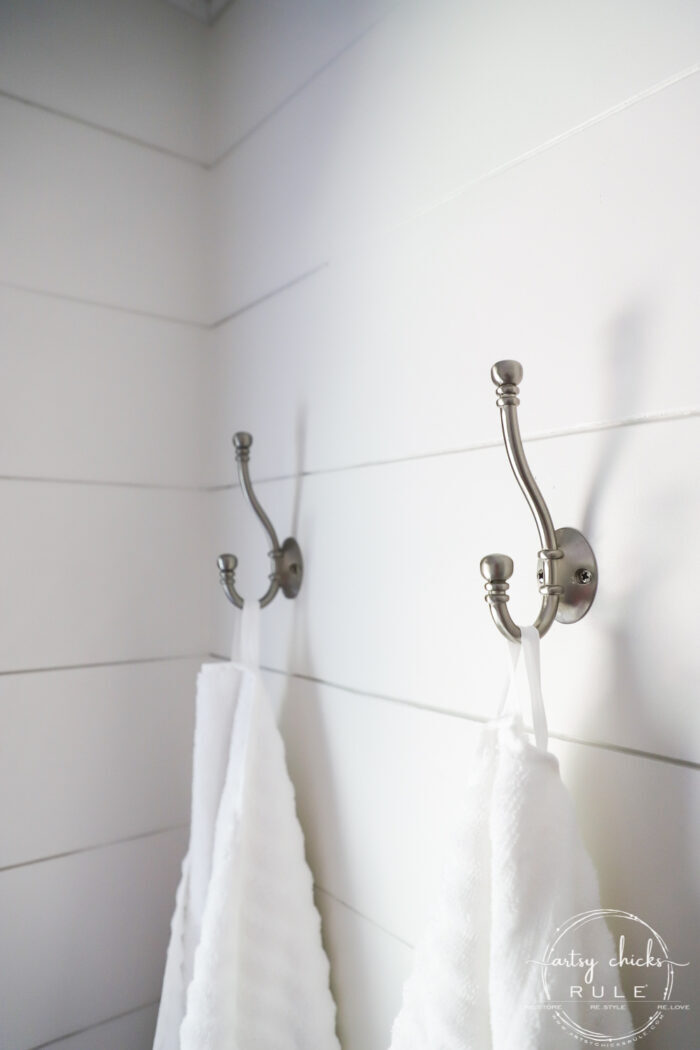 Not really space for a wastebasket so I found this narrow one that fits perfectly (and out of the way) beside the toilet.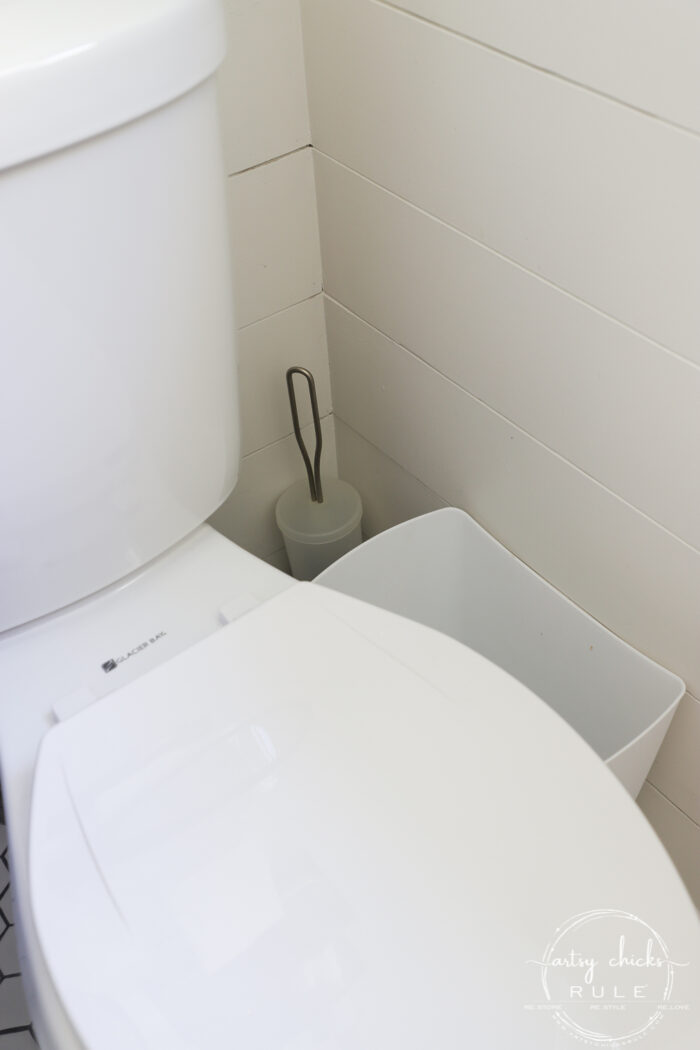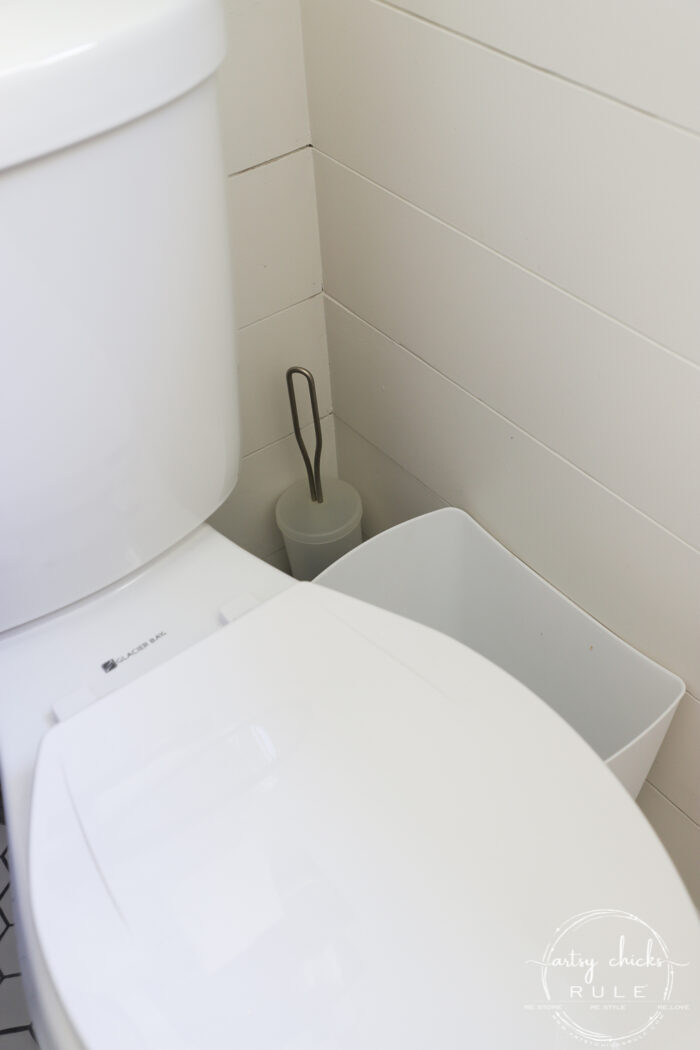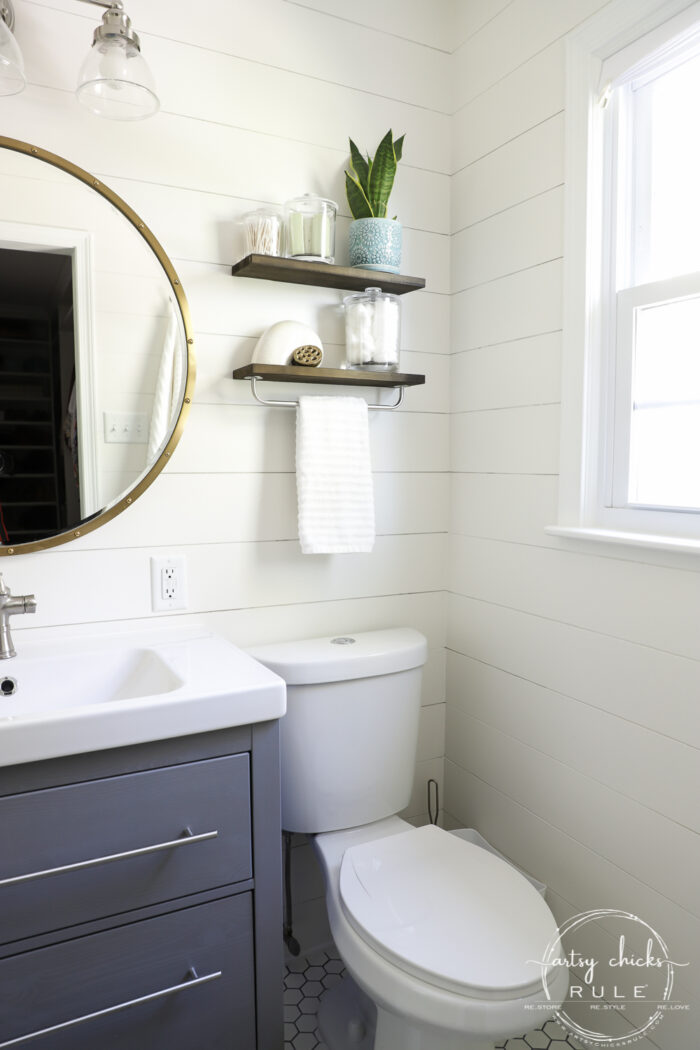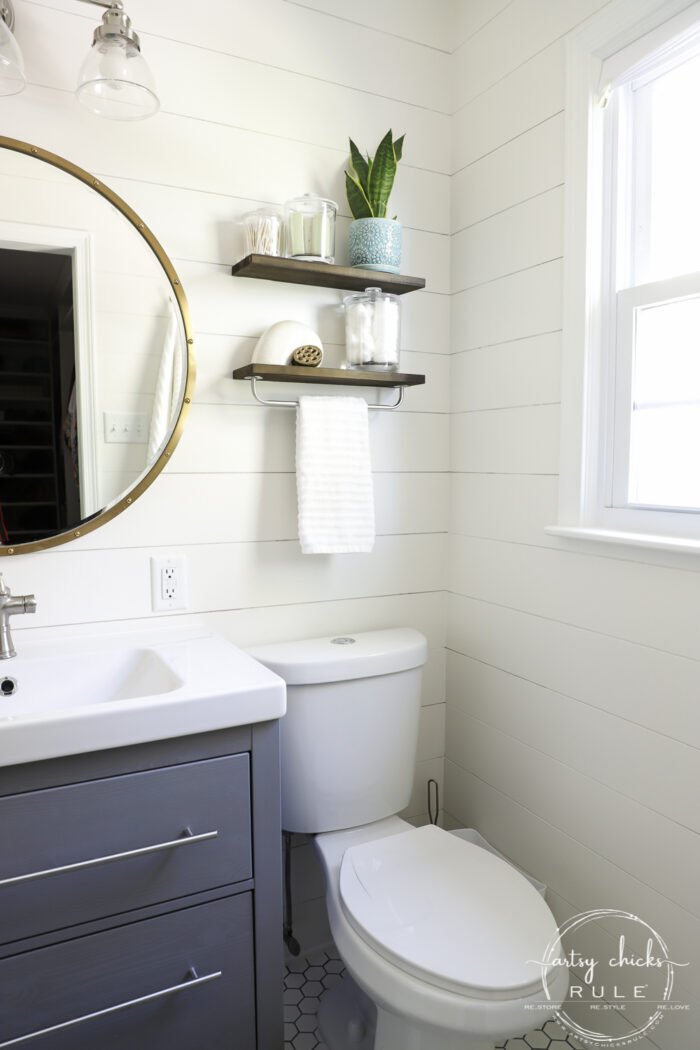 I found this simple shelf and sprayed the black metal towel holder with brushed nickel to go better with the rest of the metals in the bathroom.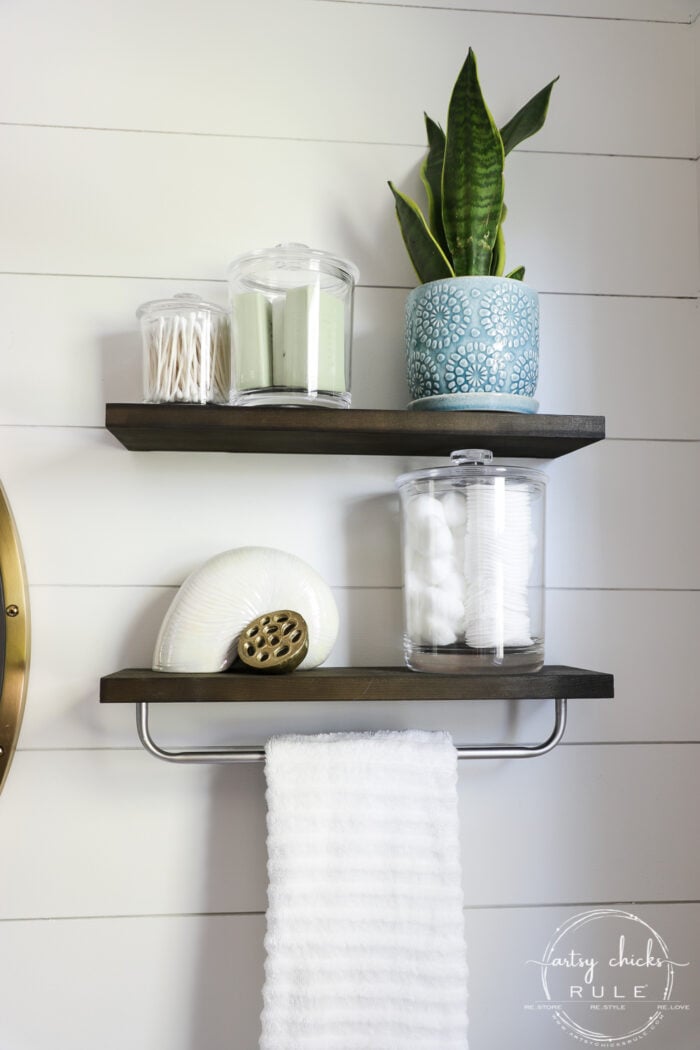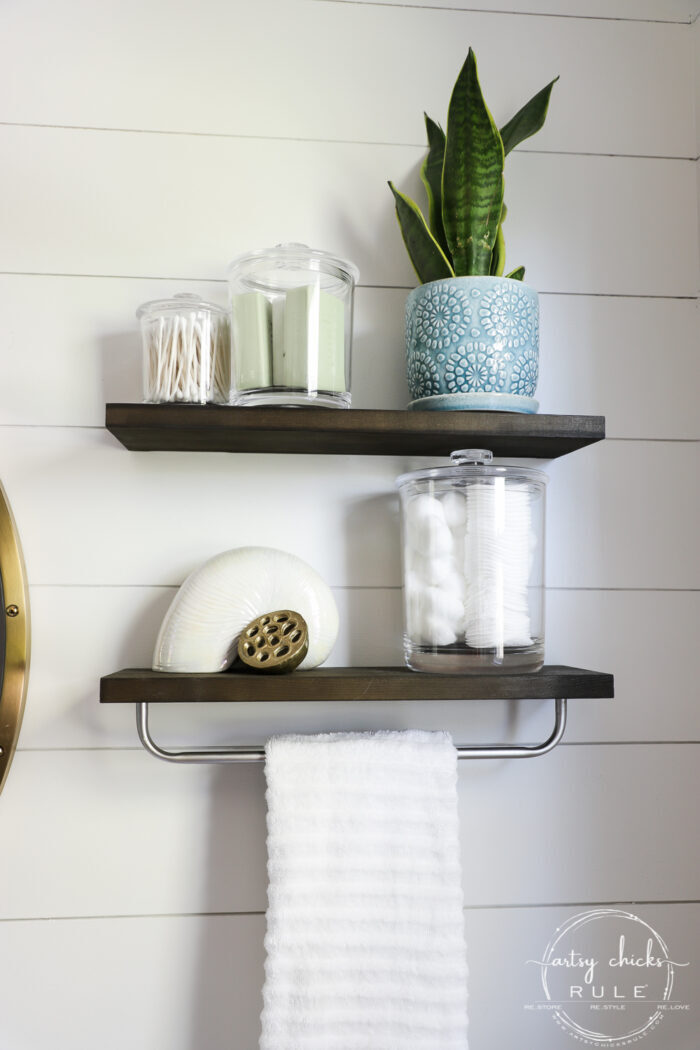 It's decorative but also is more for purpose than looks. It holds things we use a lot.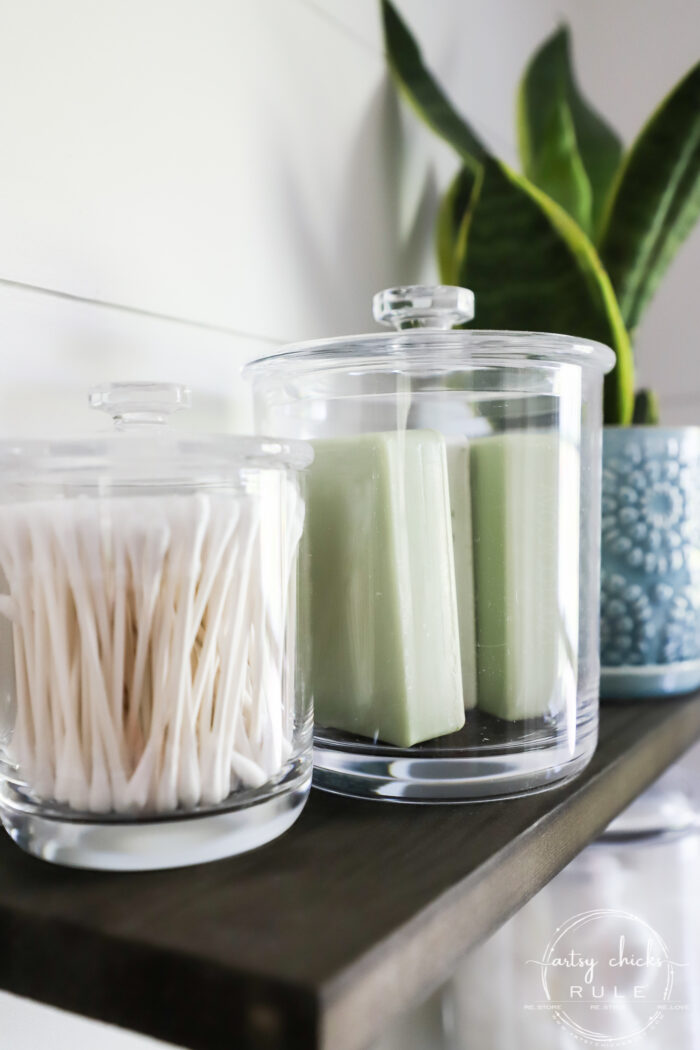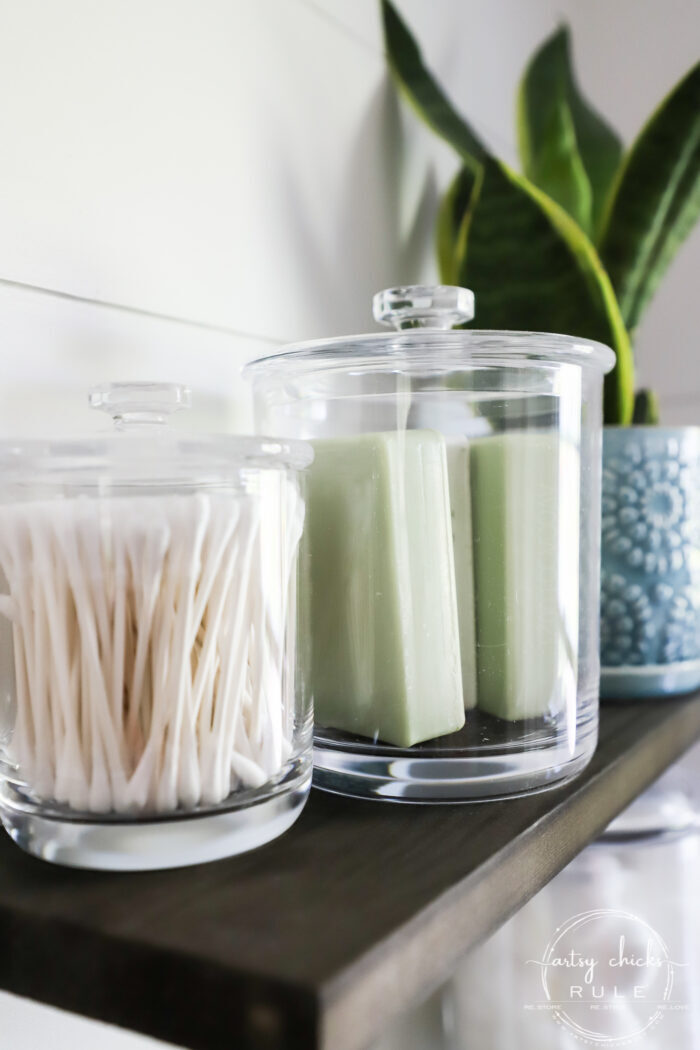 The bath cabinet is from IKEA and I just love it. We knew we wanted something with drawers and this one is perfect.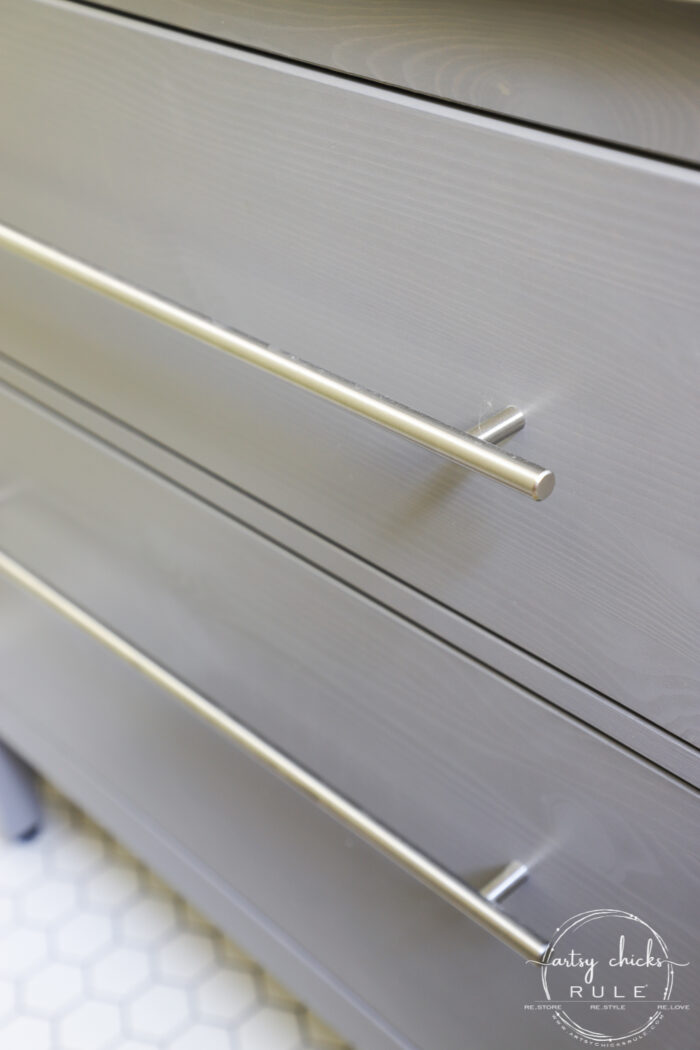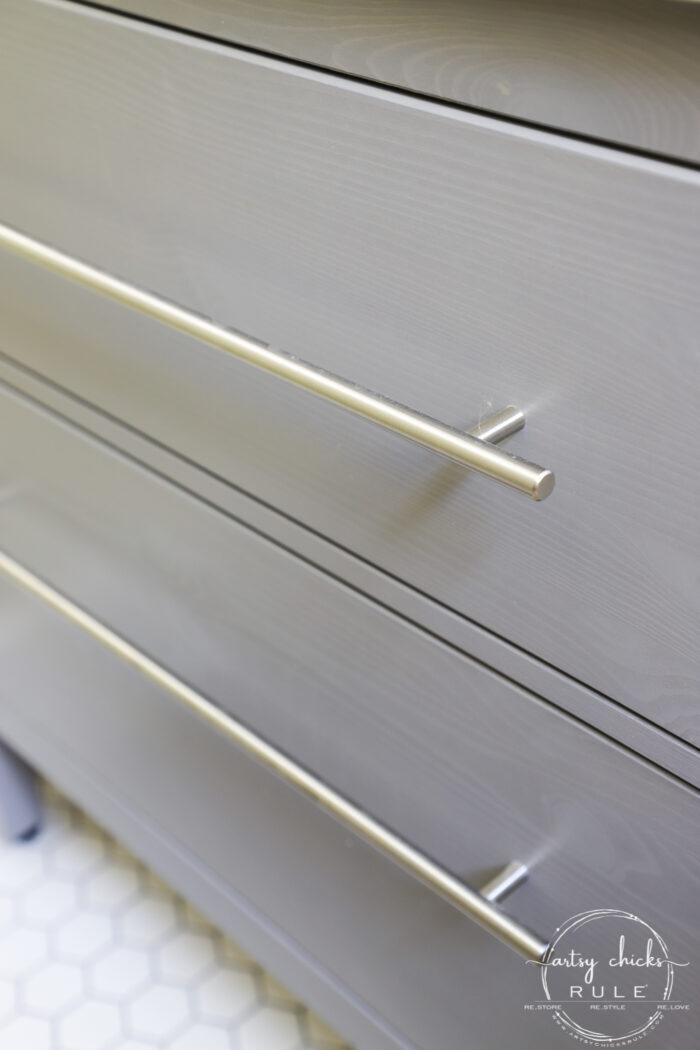 I didn't love the hardware that came on it so I changed it to these. (there were originally 4 flat black knobs)
Inside the drawers are large and hold a bunch.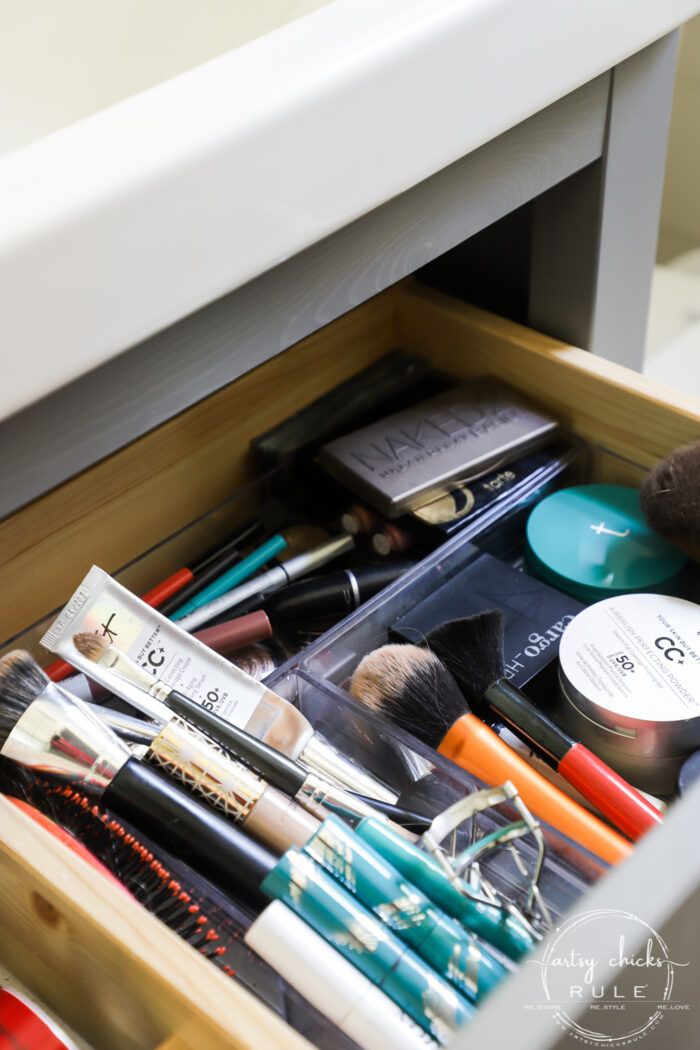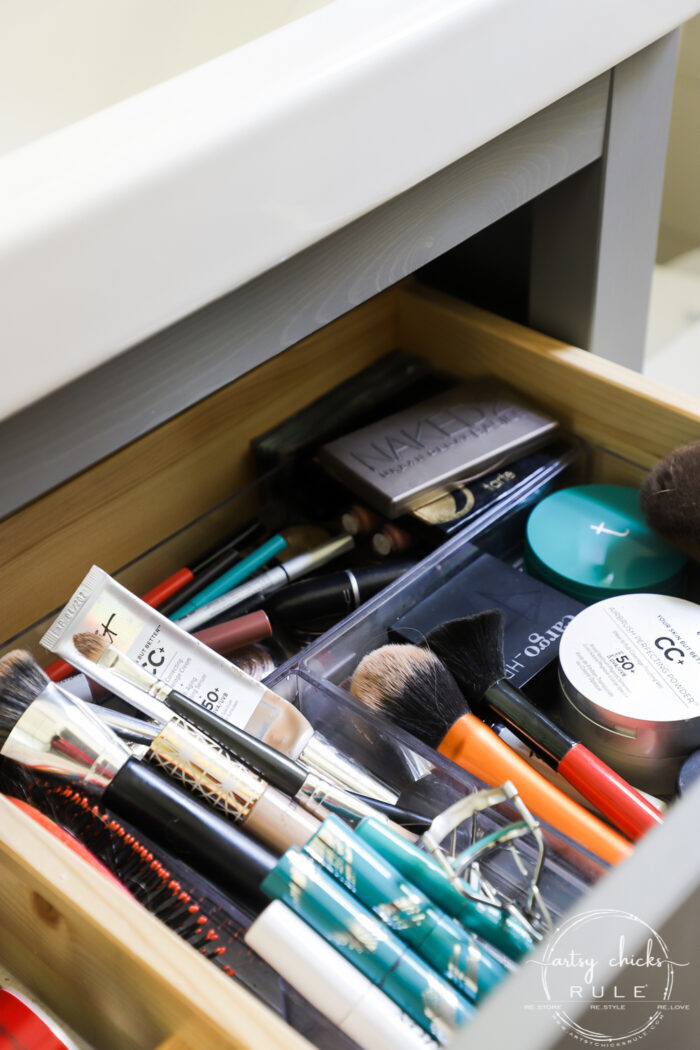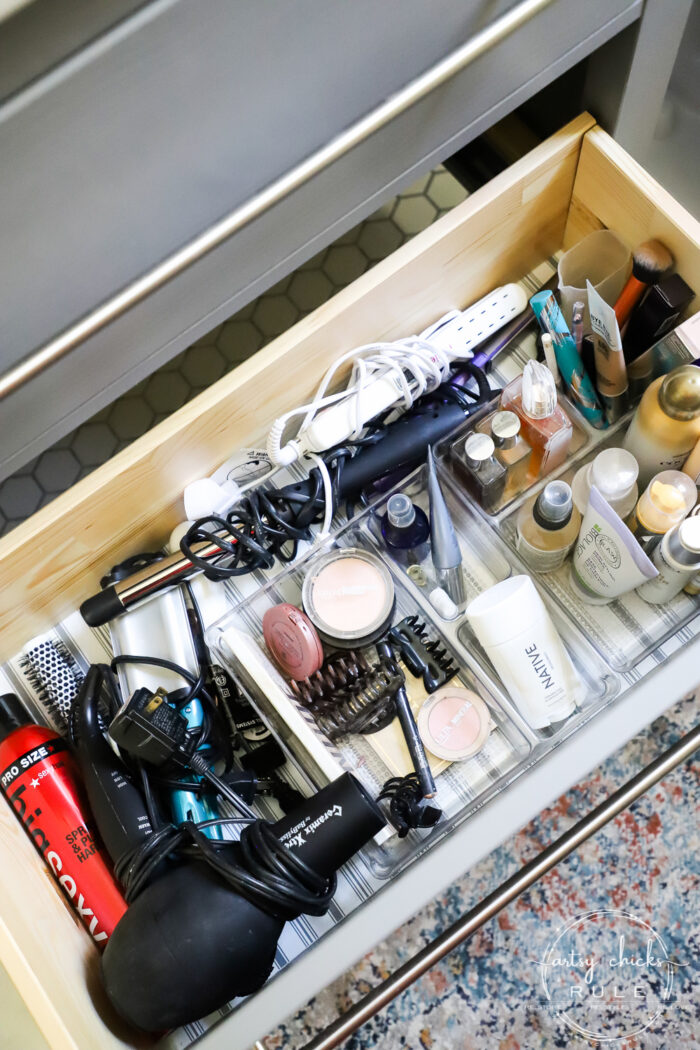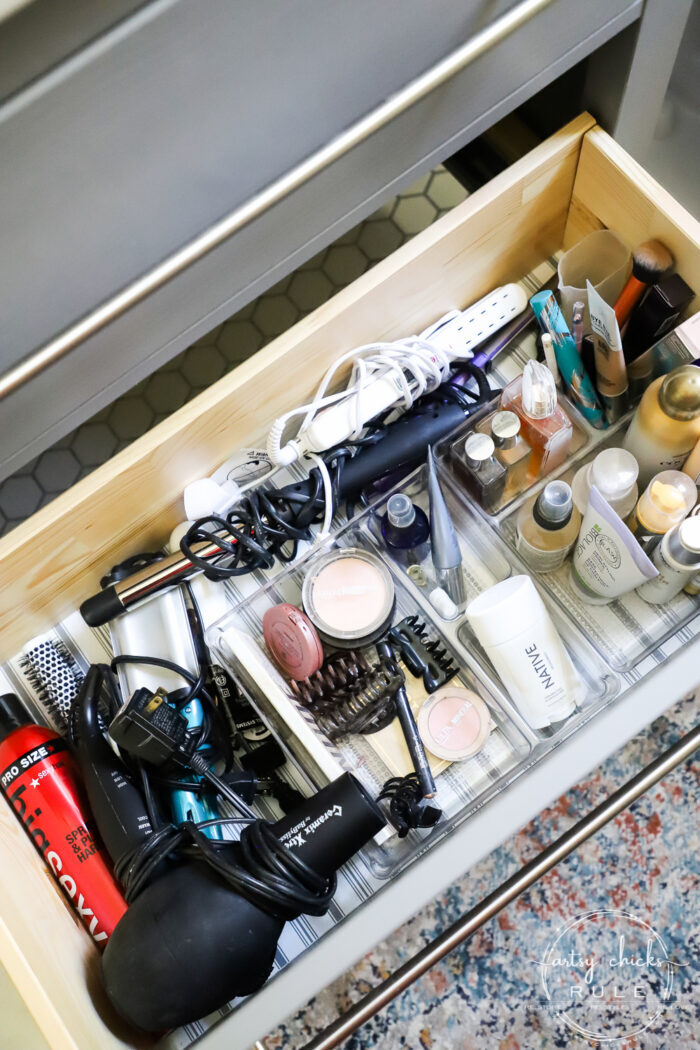 The mirror? I looked and looked and finally found this one for $60 on Amazon. The last one they had but I'll link it at the bottom anyway because you could maybe search it and find it elsewhere.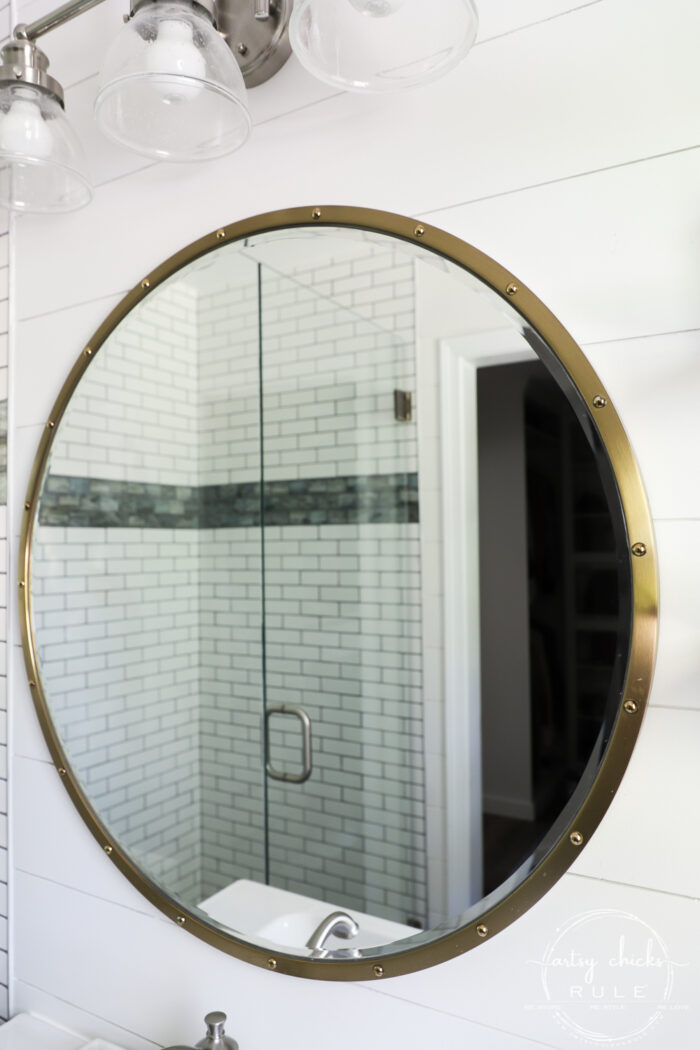 I thought it went perfectly with our coastal theme and I loved the muted, brushed gold color.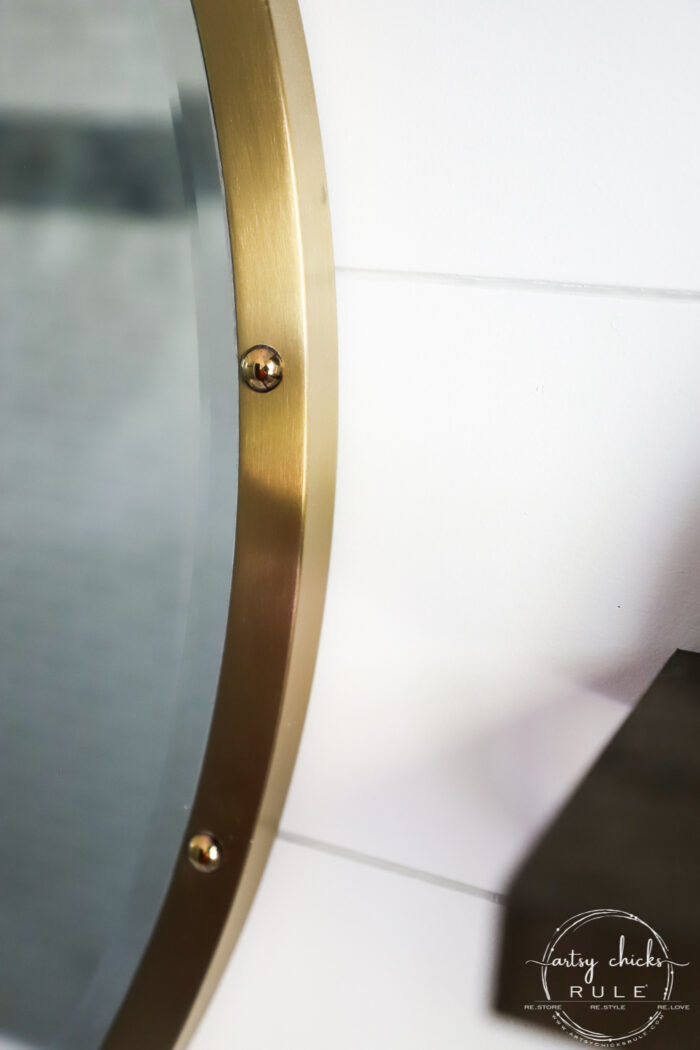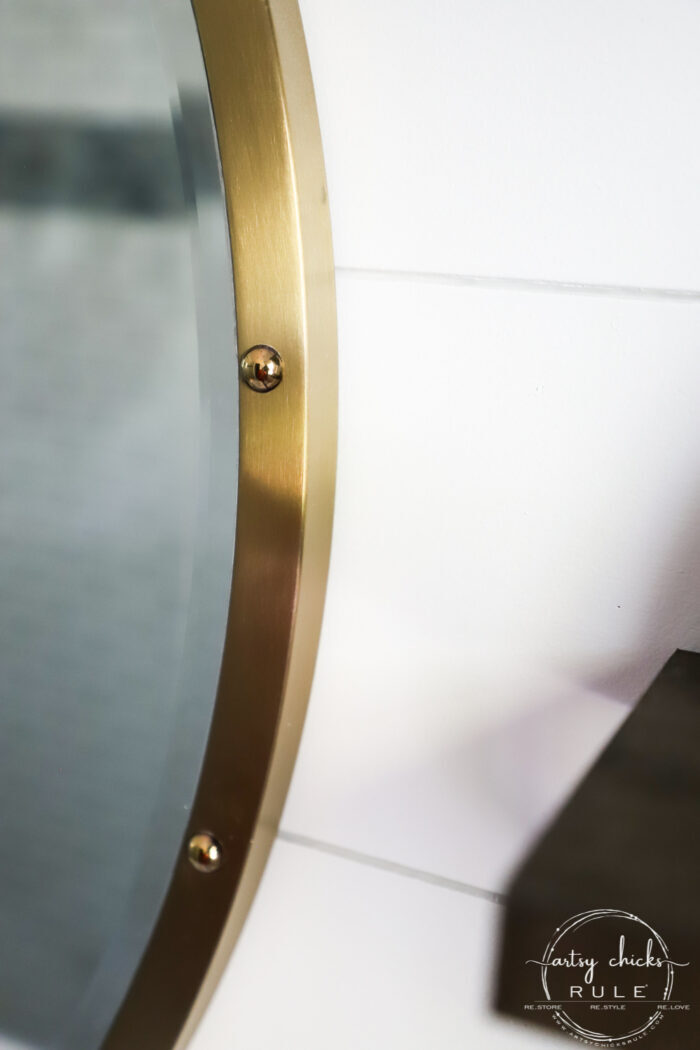 I thought this light fixture would also go perfectly with our coastal style.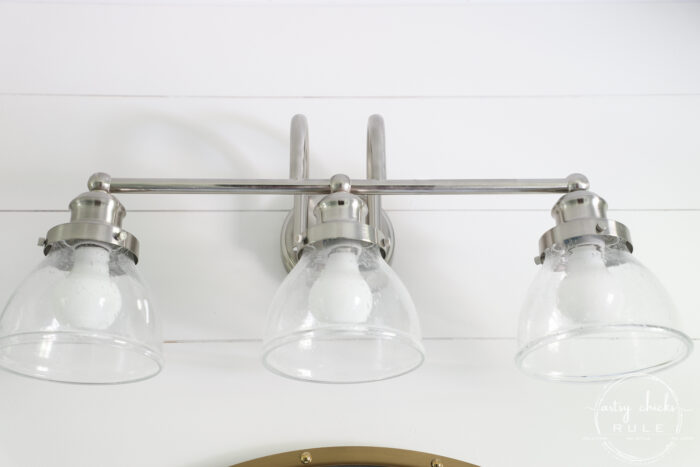 A simple one-knob faucet, less fussy, for our small bathroom.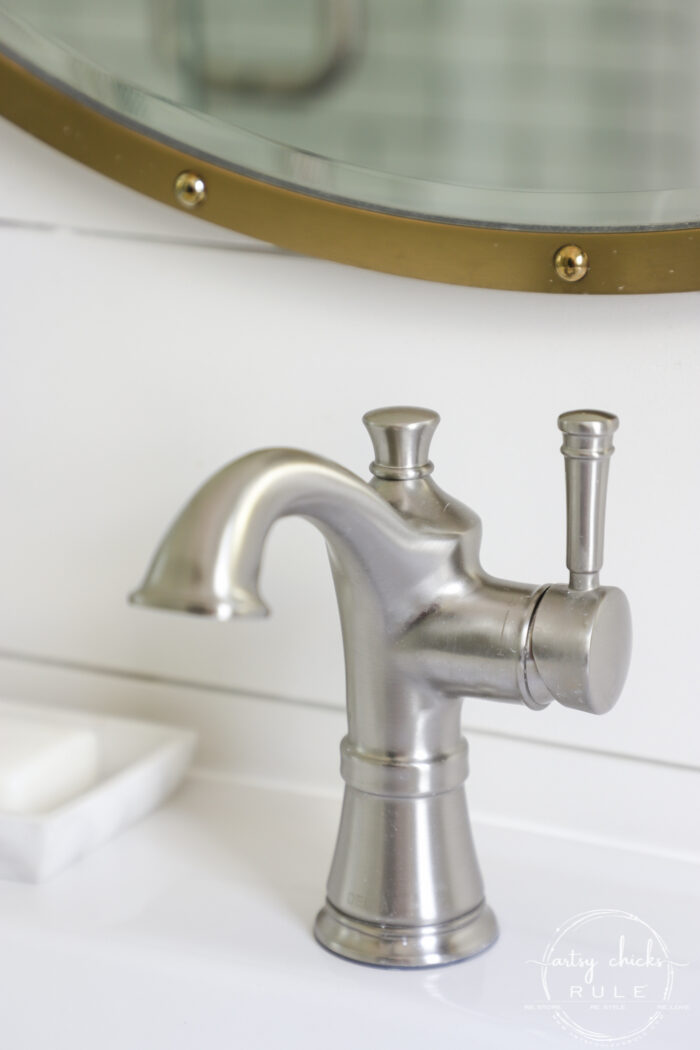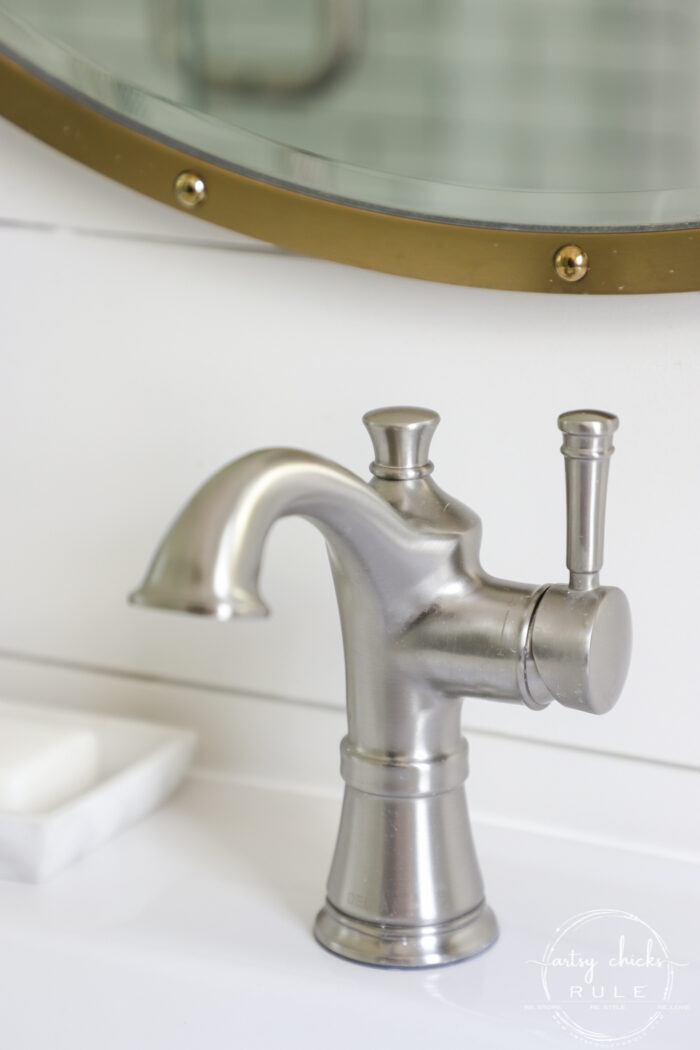 Our rug, which I just love. (I used the same one, bigger, in the closet)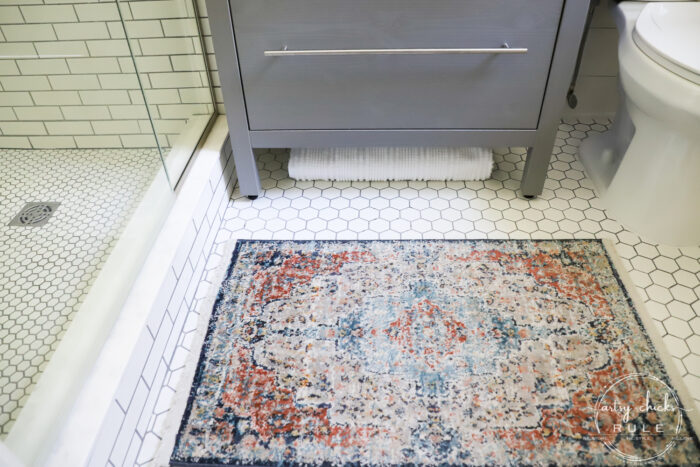 And for getting in and out of the shower, we use this…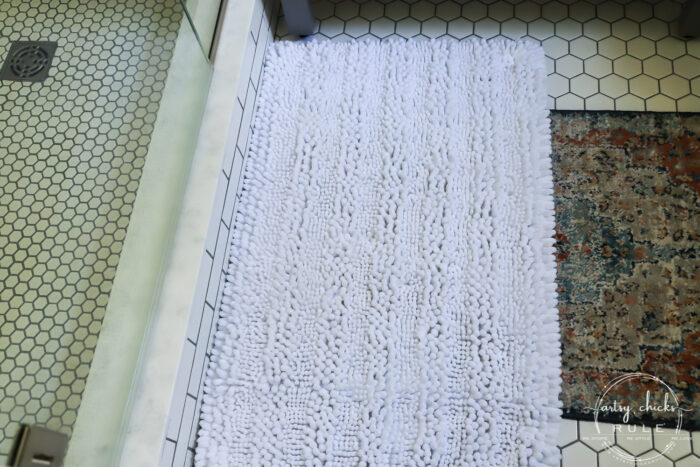 And simply roll it up and put it back under the cabinet when not in use. (gotta use all the space in a small bathroom)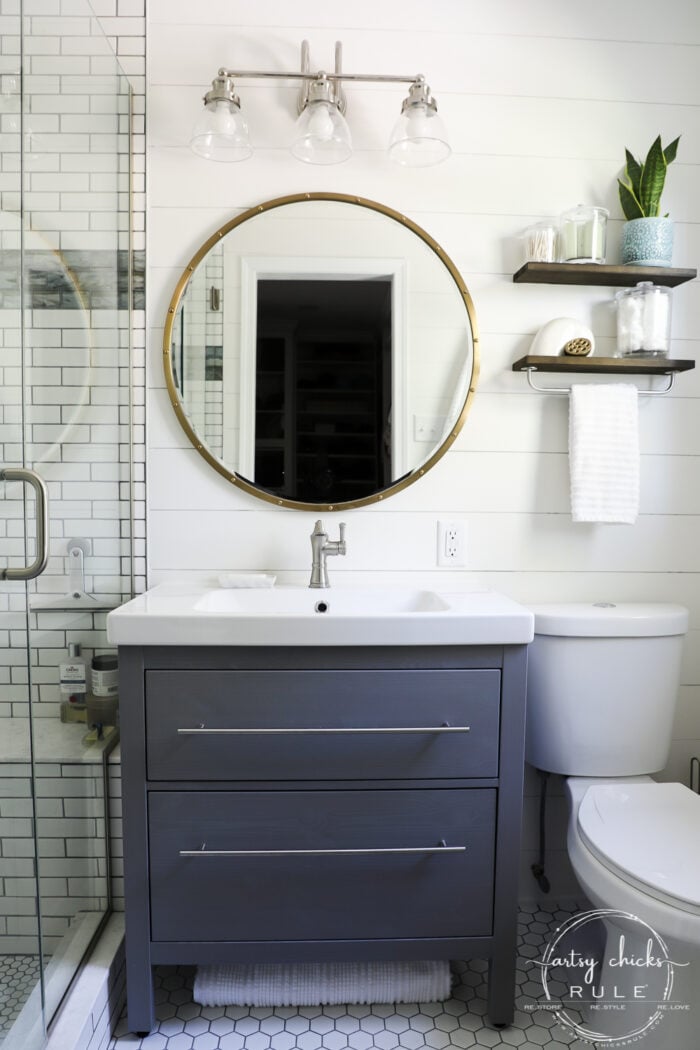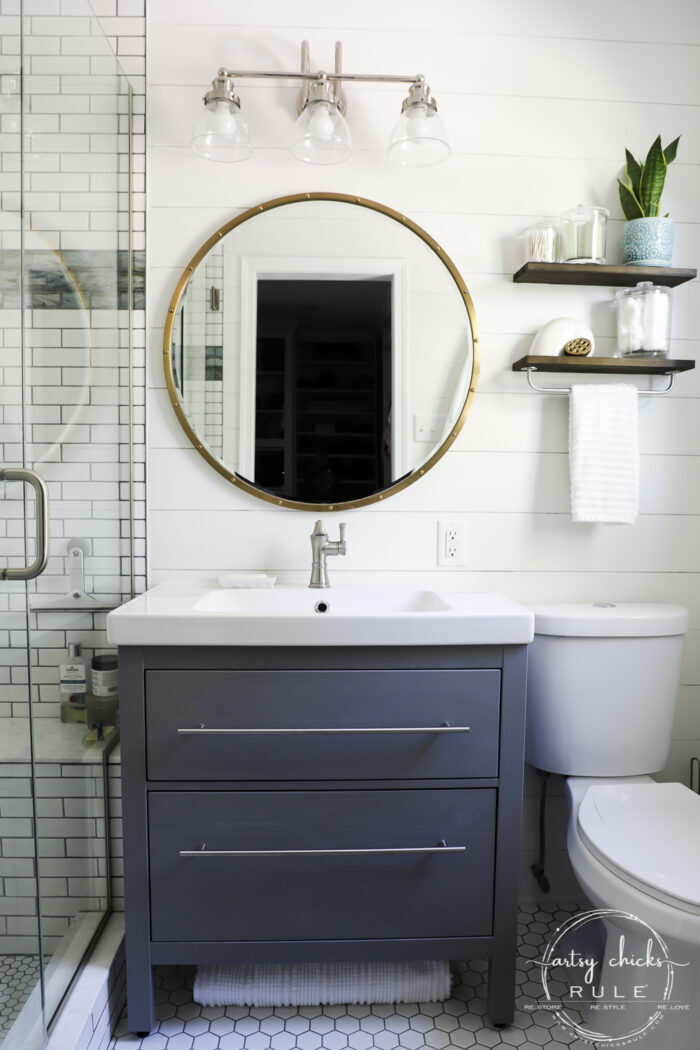 We are planning to put a barn door to the bathroom and to the closet, from the master bedroom. We have to build those so I will be revealing those at a later date.
I know this is not a big, fancy bathroom makeover but it's the most amazing thing in the world to us! We are thrilled with it and so happy to finally have this space DONE. It might have taken 15 years but it was so worth it.
I'll be sharing my closet as soon as I can get those last few things done so be on the lookout for it. AND we will be sharing my husband's closet/built-in we are in the process of building now. Keep an eye out over on Instagram stories because we also share over there what we are doing. You can follow along on this build there until I post it here when it's done.
SOURCE LIST FOR COASTAL BATHROOM MAKEOVER
Want to see more of our full-room remodels??
And a few full-room makeovers…
Living Room (will be updating this one with new photos soon)
PIN it to save it!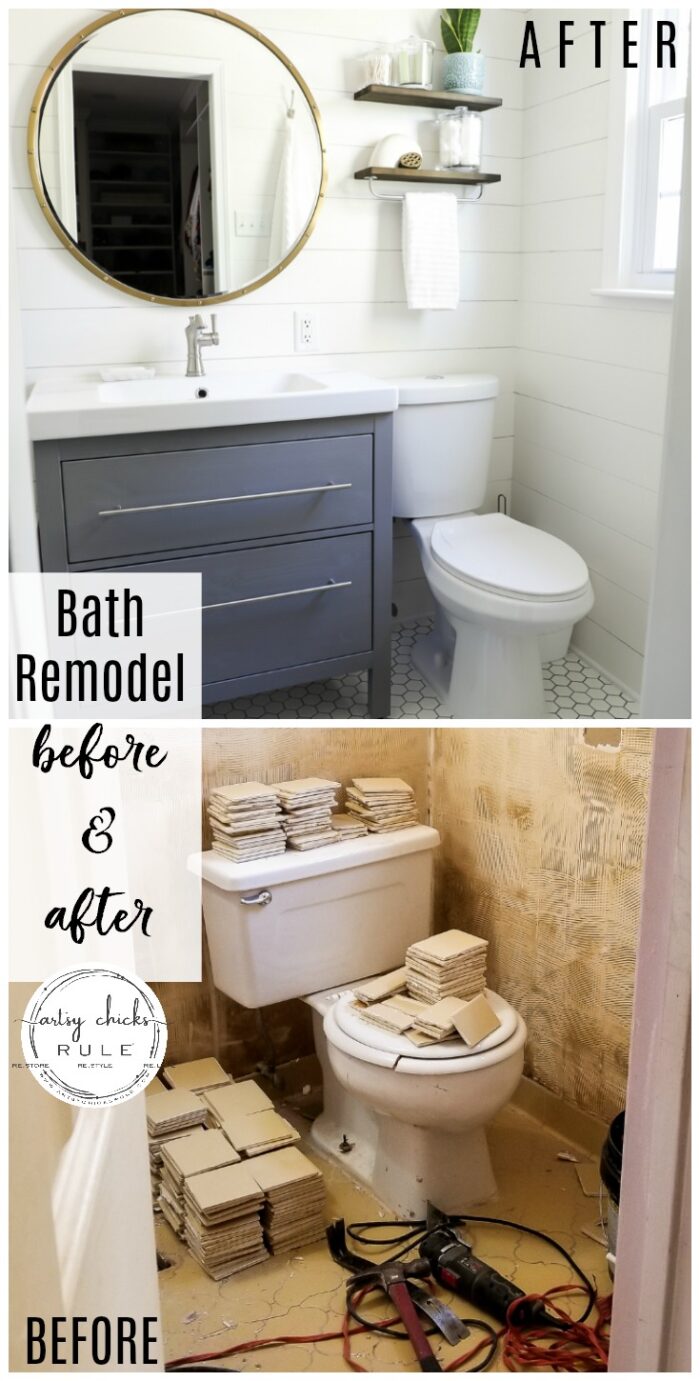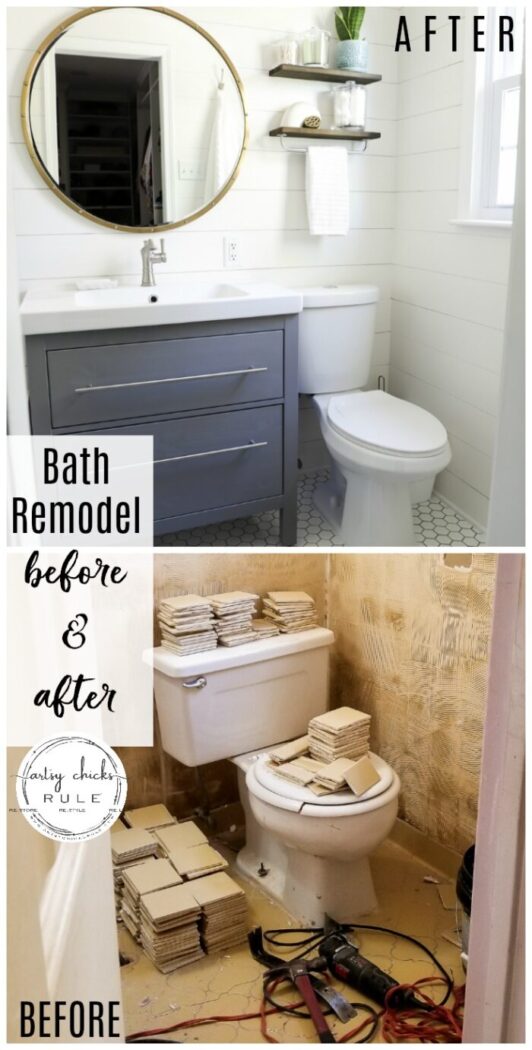 I hope you have a blessed weekend, friends. Please stay safe.
Big, virtual hugs to you all!
xoxo