Morning Room Reveal!! (Coastal Glam Style)
This post may contain affiliate links. Please see disclosures here.
Transitioning a dining room into a morning room makes for a lovely space to relax in and enjoy with family!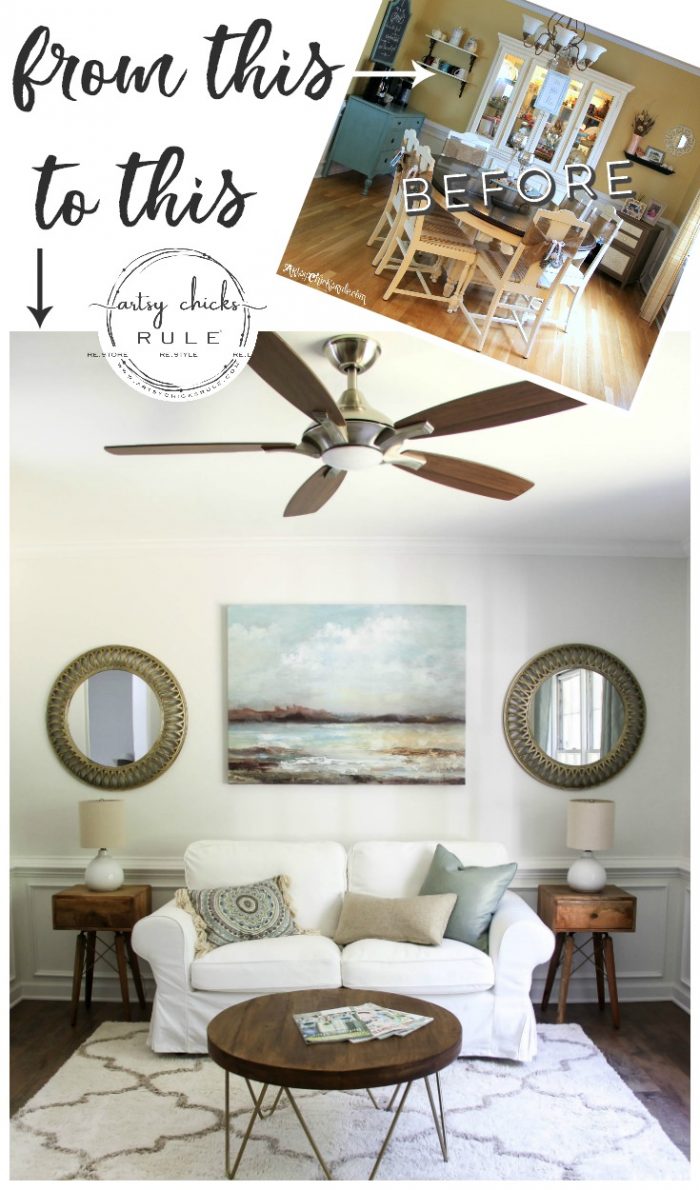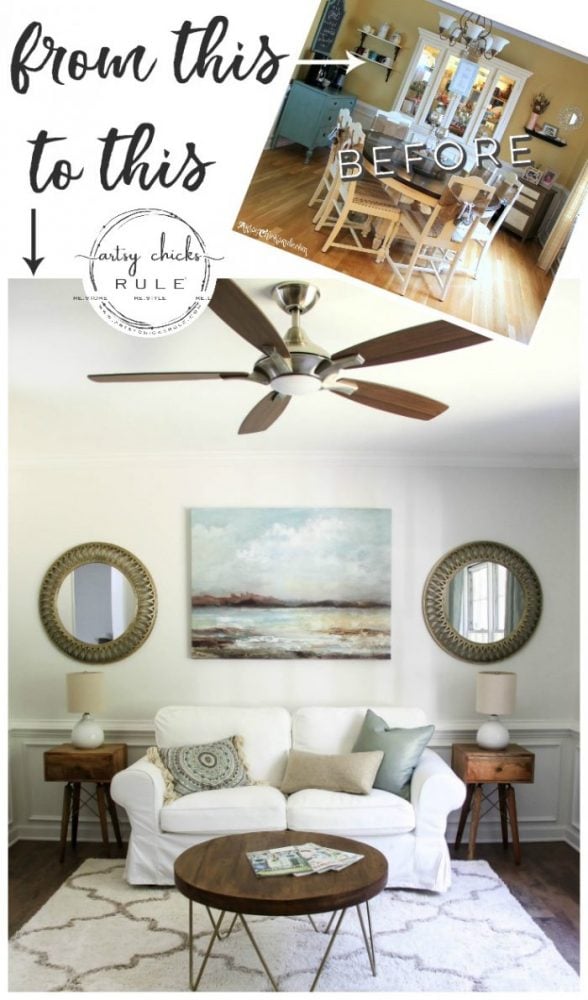 Yippee!
I'm finally able to start sharing some of my room reveals with you. :)
Today I'm sharing the "Morning Room".
You might remember this room. It used to look like this….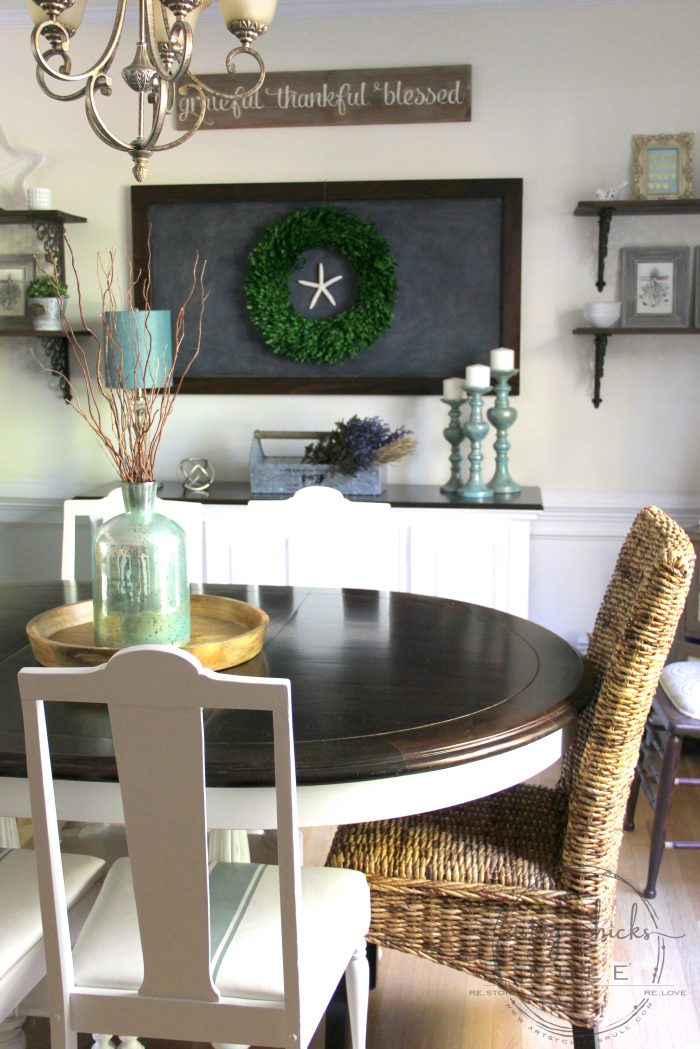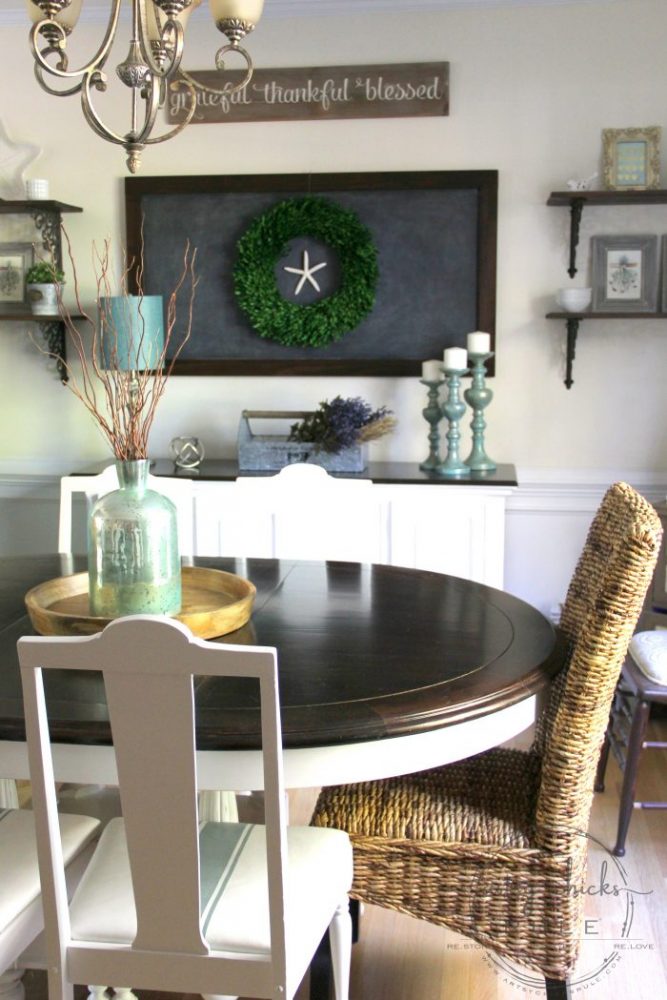 Yep, formerly known as… the dining room.
Well actually it started out like this….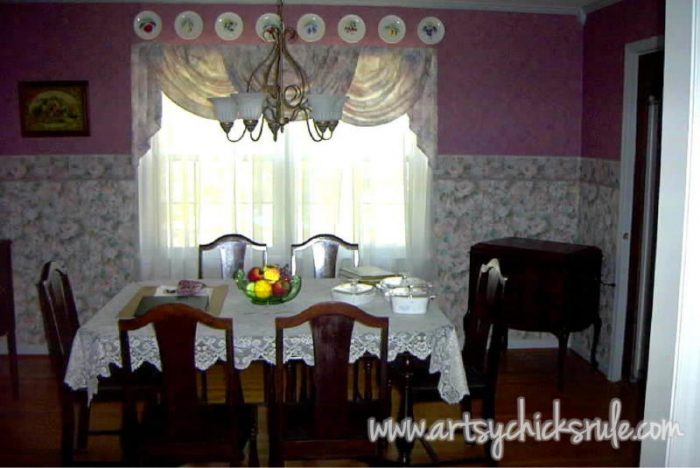 This photo was taken by me on our very first walk-thru of this house when we were looking for a new house.
This is the previous owner's decor.
But we did inherit that pink wallpaper when we moved in.
This room has gone through so many transformations over the 14+ years we've lived here.
We turned it into a study/office first.
I actually pulled all that pink wallpaper down and put some right back up (not pink though)! haha
Next I pulled it all down again, cleaned up the walls, added some trim, wainscoting and new paint.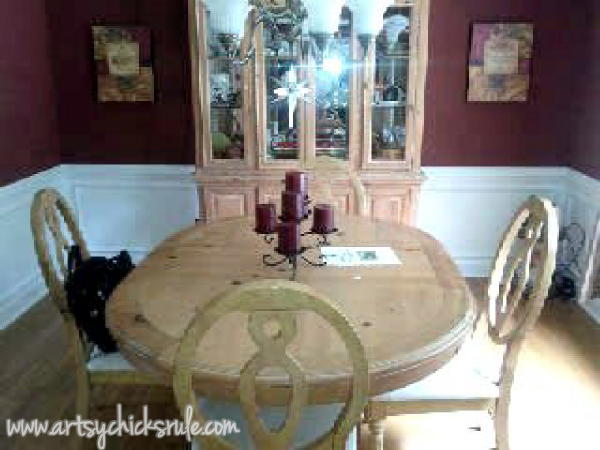 (the only picture I have of the room like this)
I quickly tired of the dark color and wanted light, bright, and happy…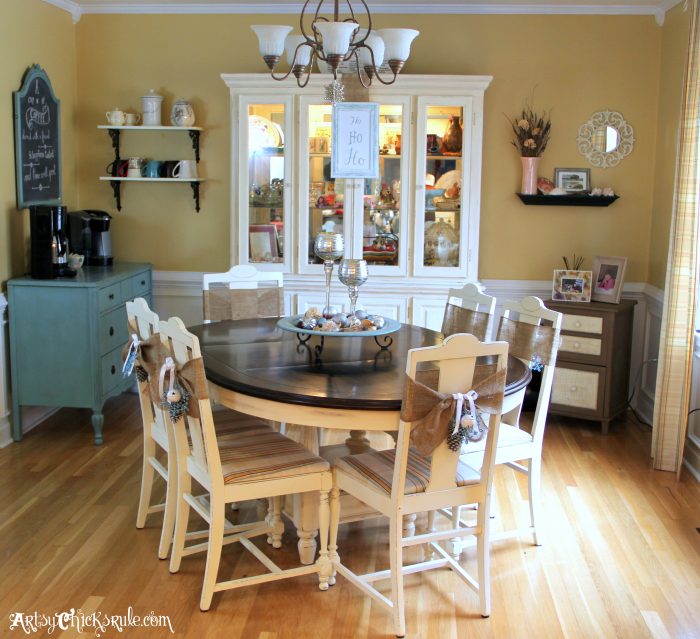 So I painted it in Blonde by SW. The table got a makeover and I added a coffee bar and new curtains and chairs.
Finally, another wall paint color (Navajo White by SW) and another dining furniture makeover…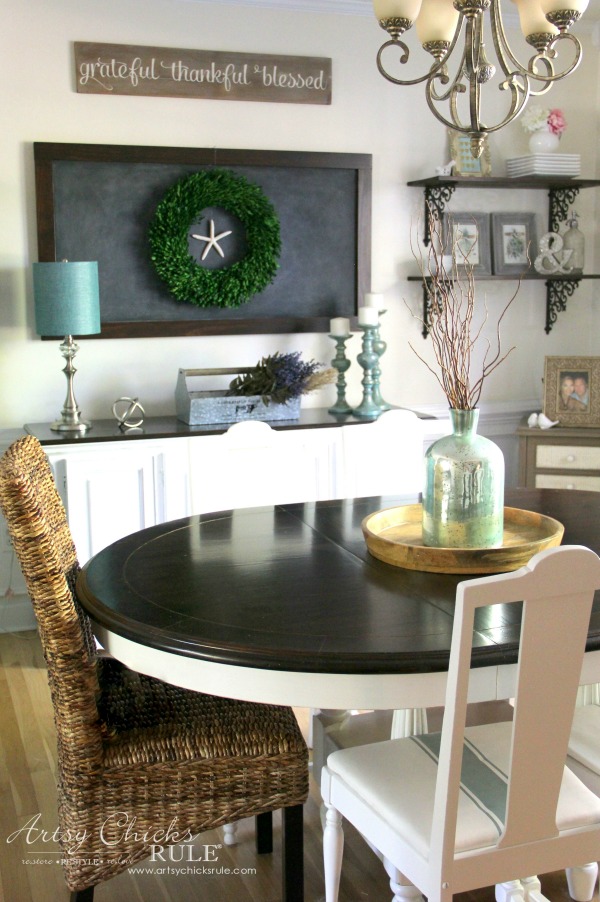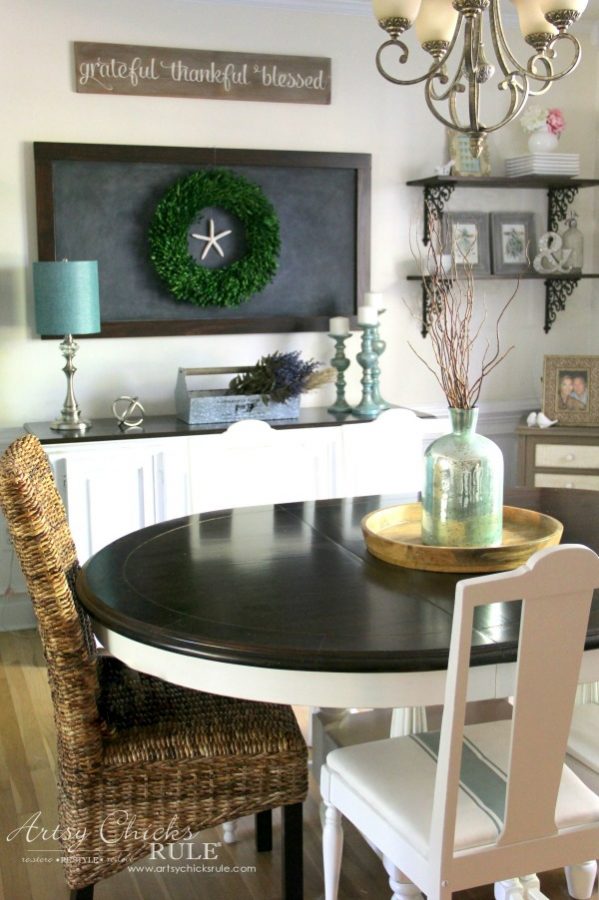 I know, I know, I like change! lol
Well, this time I really changed things.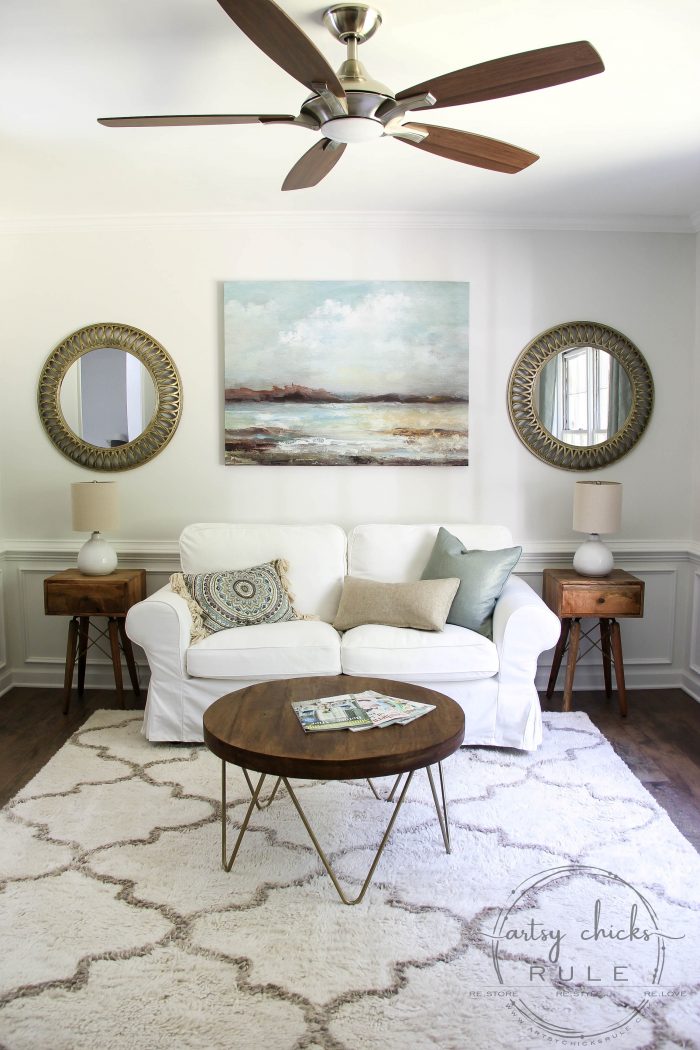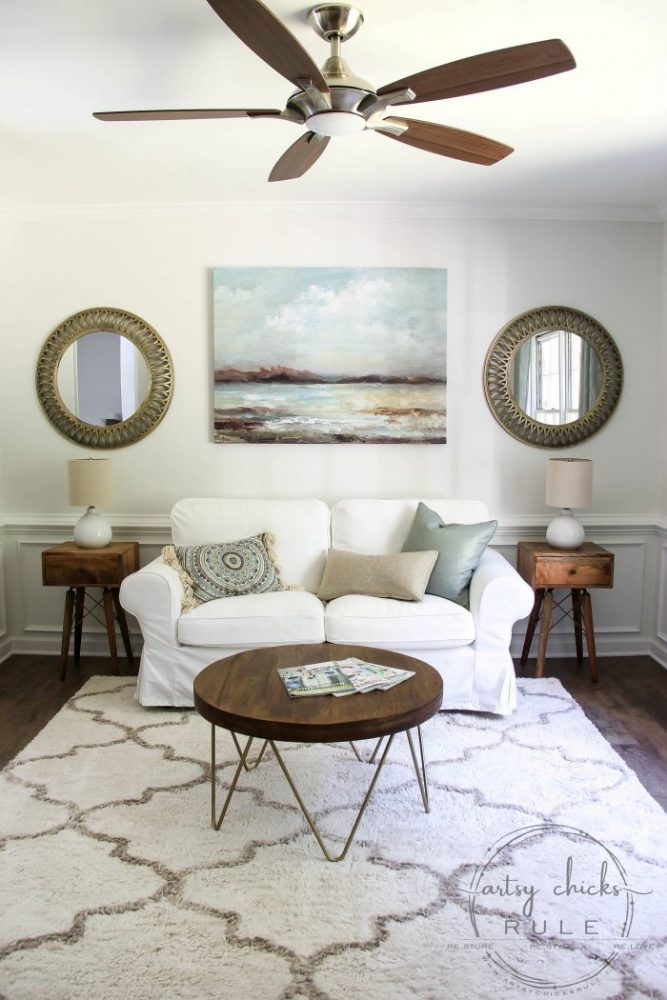 I turned our dining room into a "morning room", right off the kitchen.
As a reminder, the new wall paint color is Benjamin Moore, Pure White. (color matched by Sherwin Williams in their Harmony line)
It has a very slight hint of gray, but more on the warm side of gray without having any "yellow".
If you don't really love gray (I don't) but don't want any yellow or warmth and want to stay white without being stark "white", then this is the color for you! That's a mouthful!! haha
I searched long and hard for this color. I think I sampled every single white/off white/neutral from every paint supplier out there.
I'm just thrilled to have found it.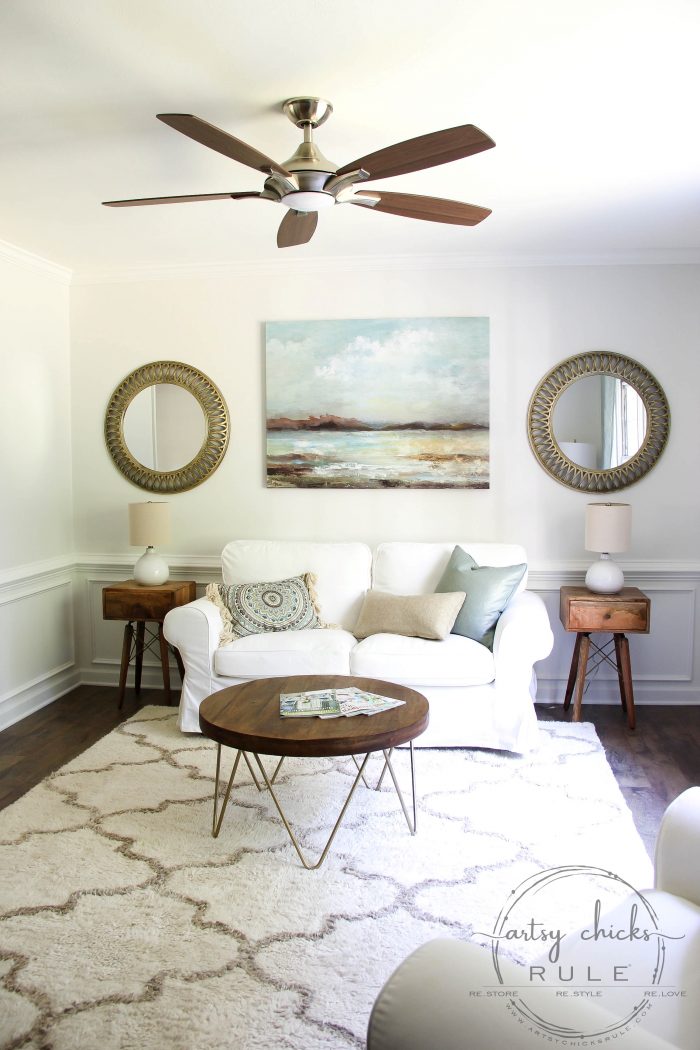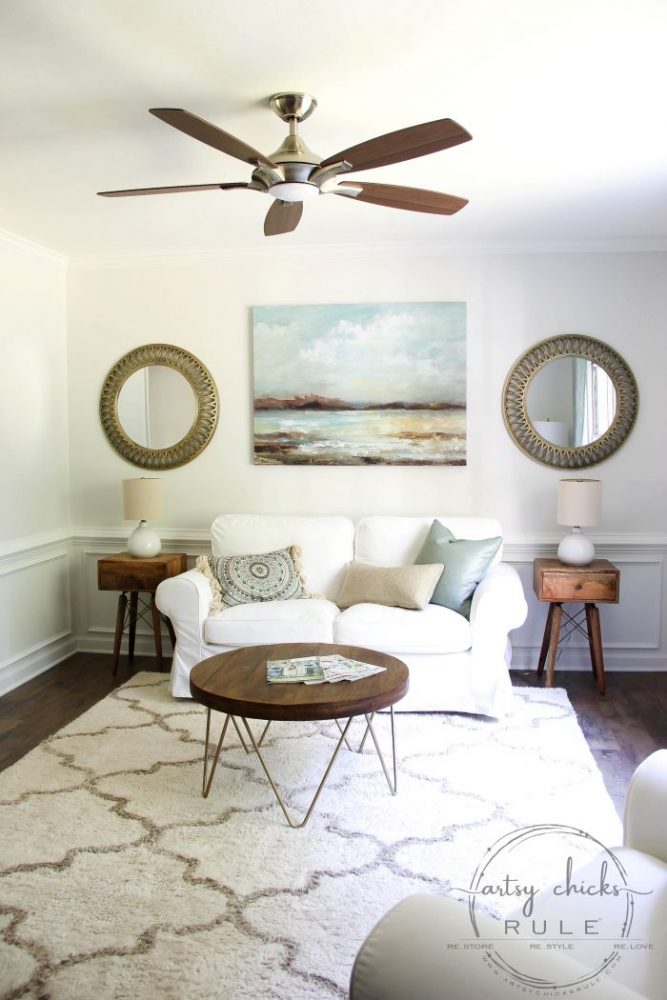 The ceiling fan is from The Home Depot, and you can find it, here.
I love it! I'm putting 2 more in our family room.
They are exactly what I was looking for. With 8-foot ceilings, I wanted something that was sleek and didn't hang down too much.
OR anything that was too fussy, either. These are just perfect.
This is a great spot to sit and relax and hang out with whoever is in the kitchen.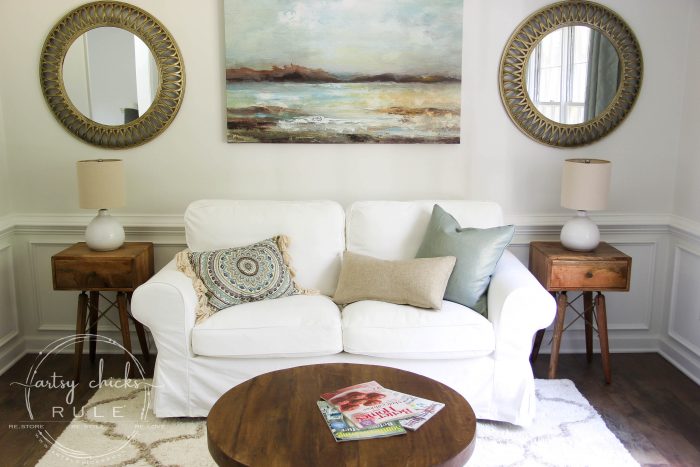 I'm calling it the morning room because it is bright and sunny here in the mornings and it's also going to have a coffee bar.
I don't have photos of that yet, but you might remember this piece…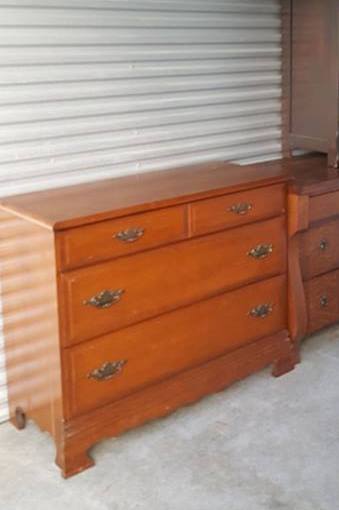 '
One of 3 pieces of furniture I got from a friend of mine.
I have made over one so far, you can see it here.
Well, that one is going to get a big ole makeover and become our coffee bar.
I can't wait! I'm about halfway done with it so hopefully I can reveal it soon.
It's going to go on the left of the room…..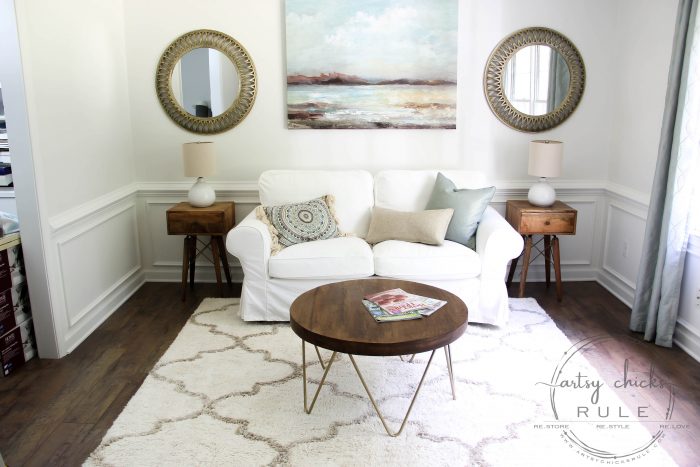 ….this back left corner (that I'm not showing in any of the photos because it's actually sitting there right now, unfinished! lol).
It's the same spot I used to have my bar cart sitting in.
But I can share the other corner with you…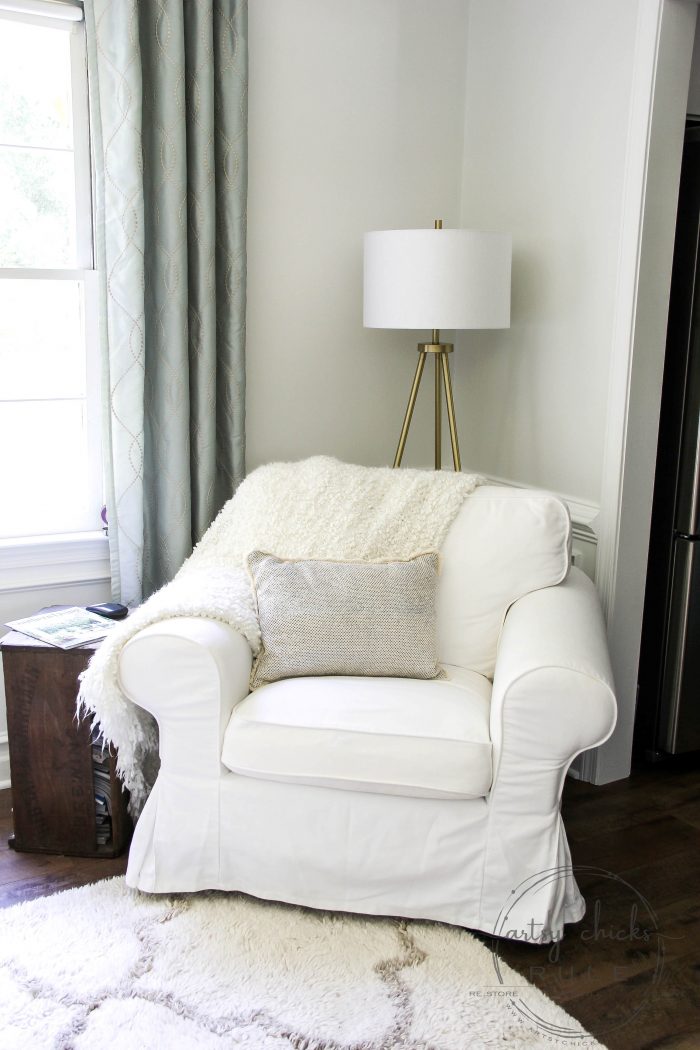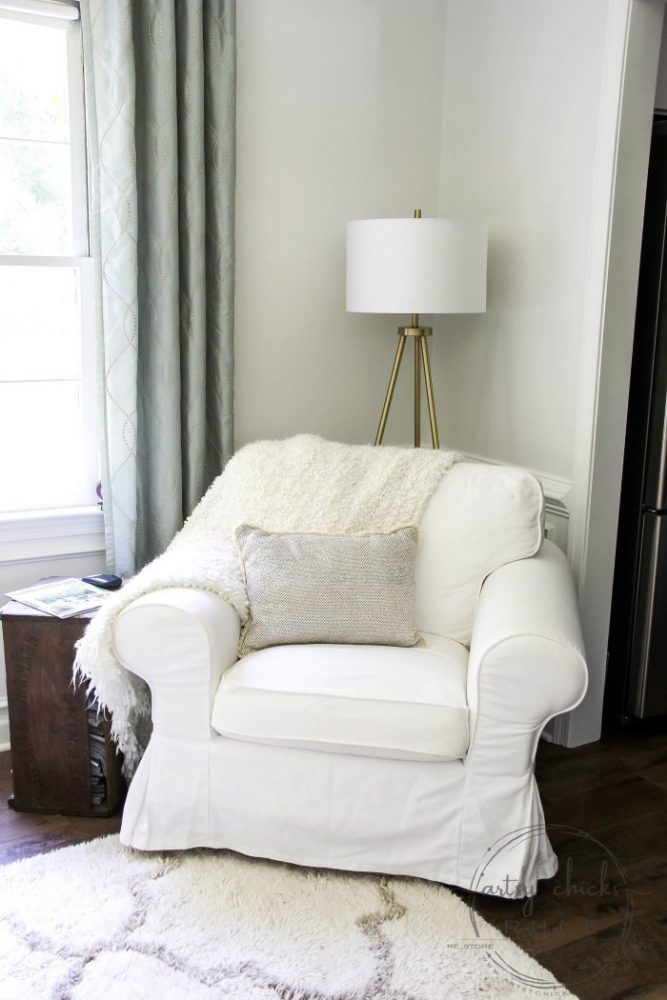 Perfect little nook to curl up and read a book in.
Beside the chair is that old crate I found at an antique festival last year. I have it sitting up on the end, filled with magazines.
Sweet little impromptu side table.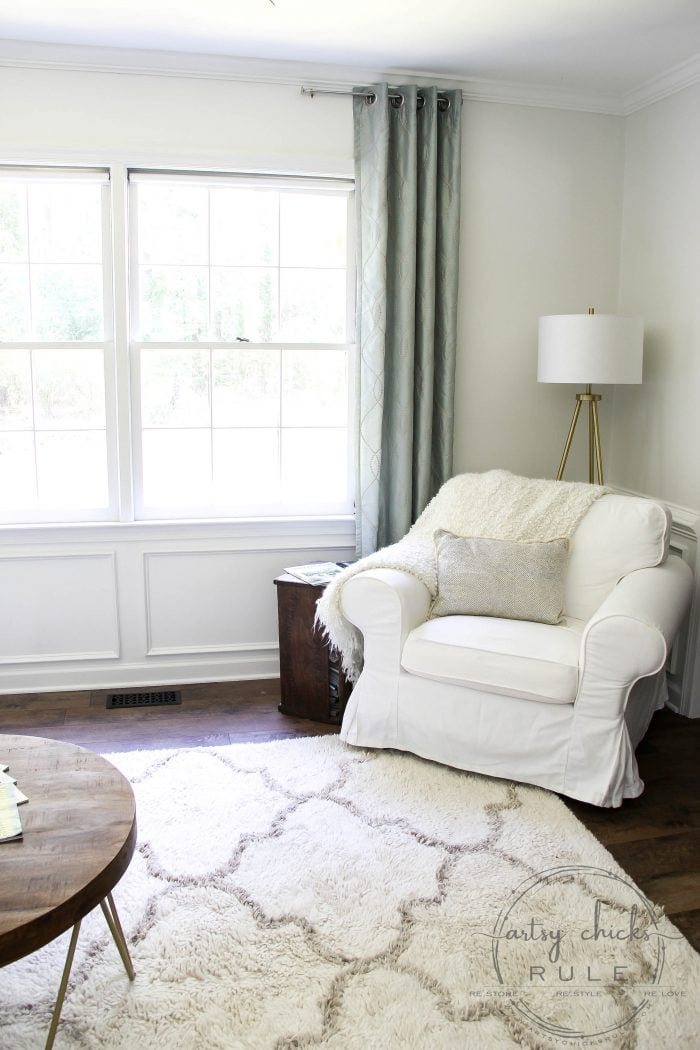 And as a reminder, here is what has sat in that exact spot over the years…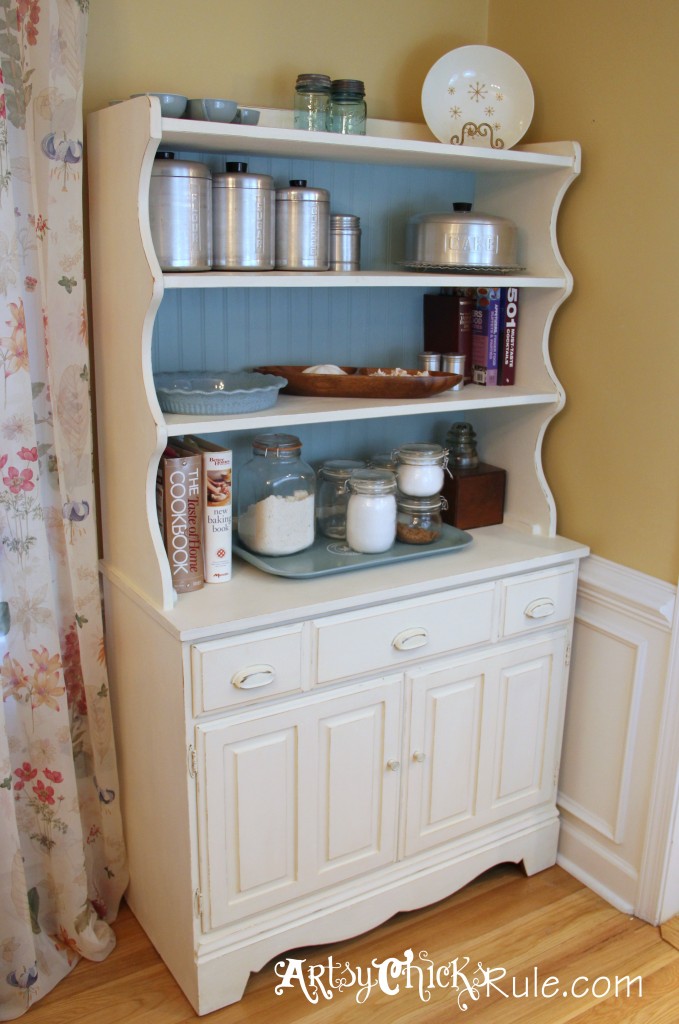 My old "baker's hutch" $35 Craigslist makeover.
And another coffee bar…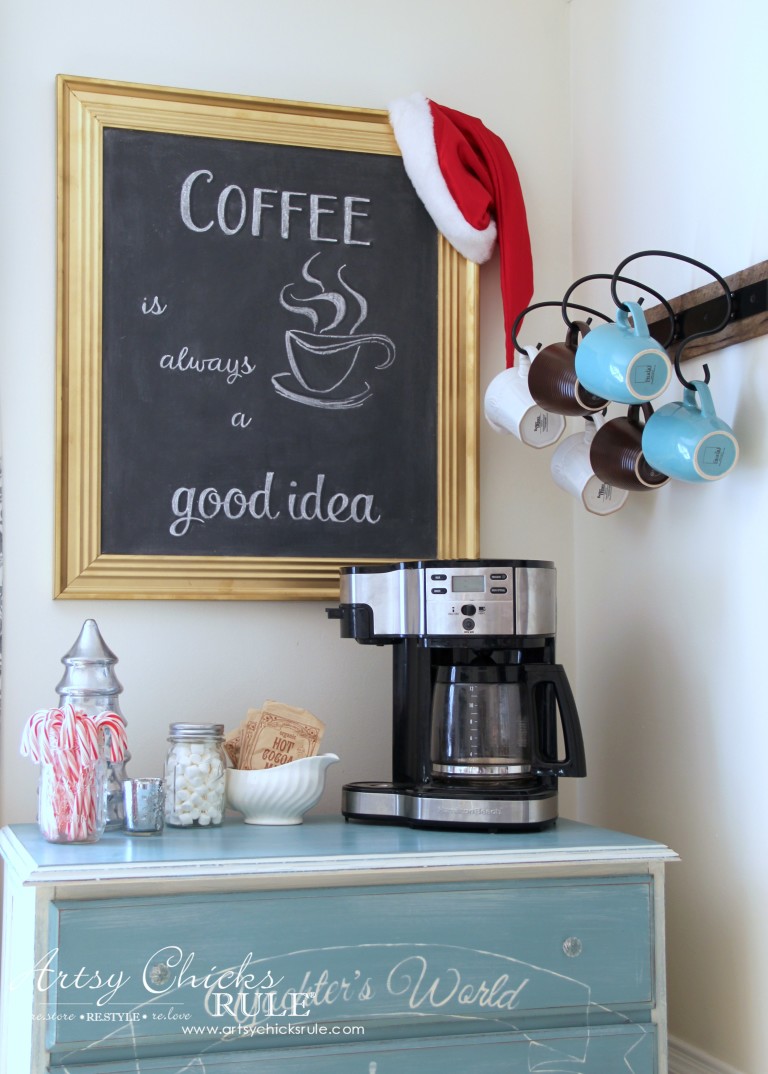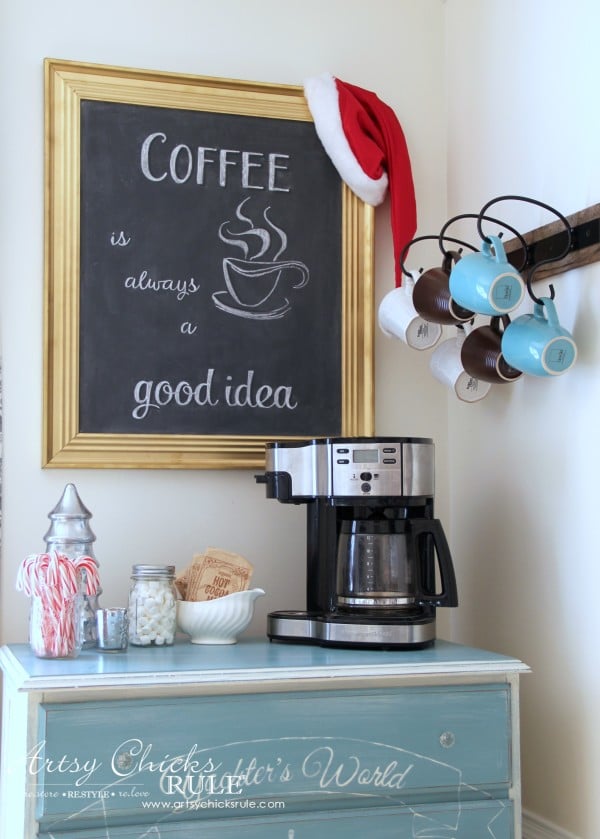 I'm actually reusing some old curtains I had. They were used in here when this was a dining room and I also had them in my family room for a time.
I thought the colors went perfectly with the painting I'm using in this room.
They are originally from Kohls but I was unable to find a link for them as they are several years old now.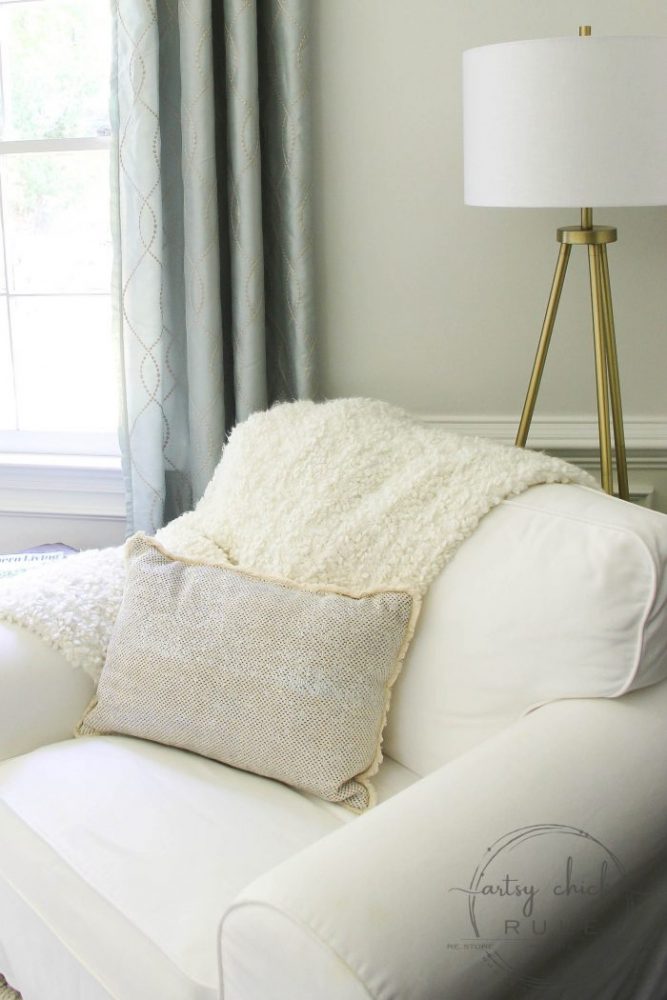 You can find the lamp, here, and the pillow, here.
And remember these mirrors I found at Tuesday Morning in the Outer Banks? ( I think they were $29 each, win!)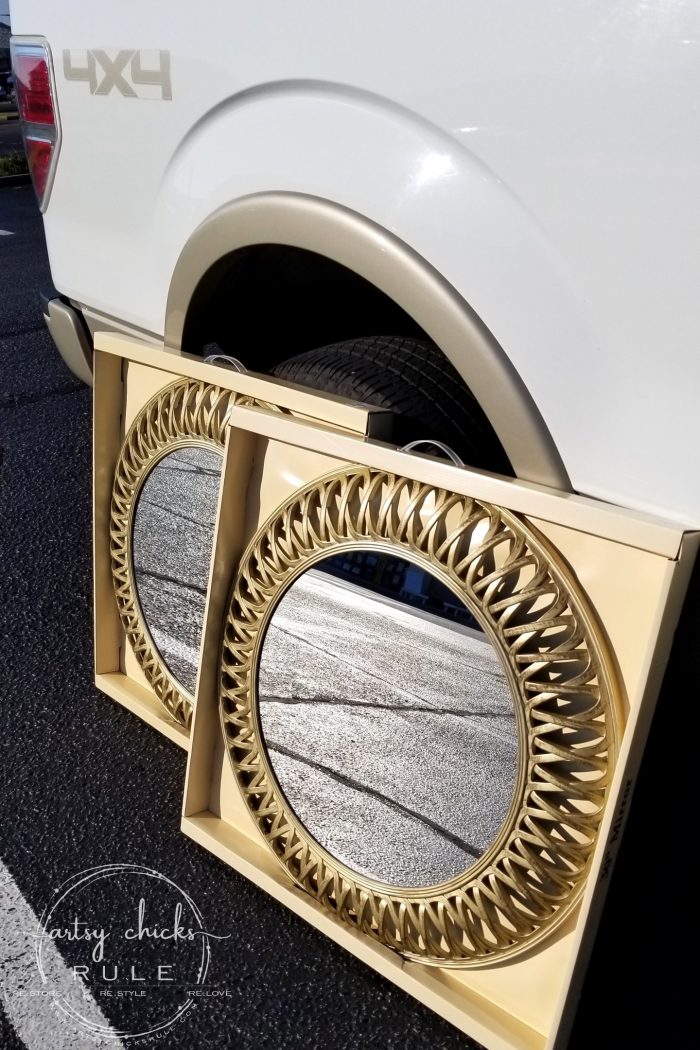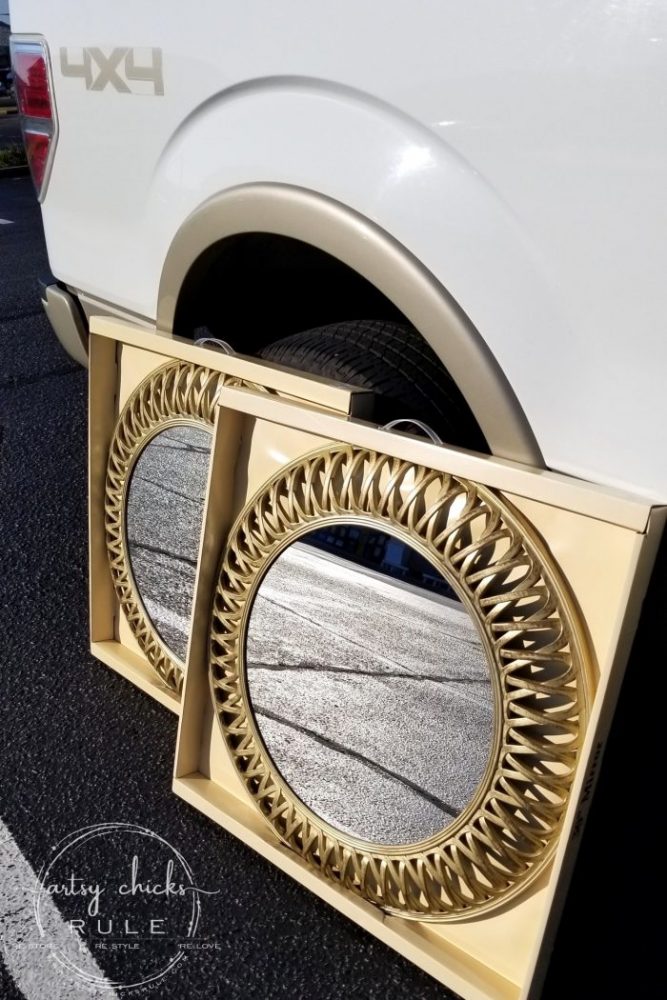 The wall art can be found, here. (it's on sale as of the writing of this post, less than $100!)
We are going to build a small wood frame to go around it at some point.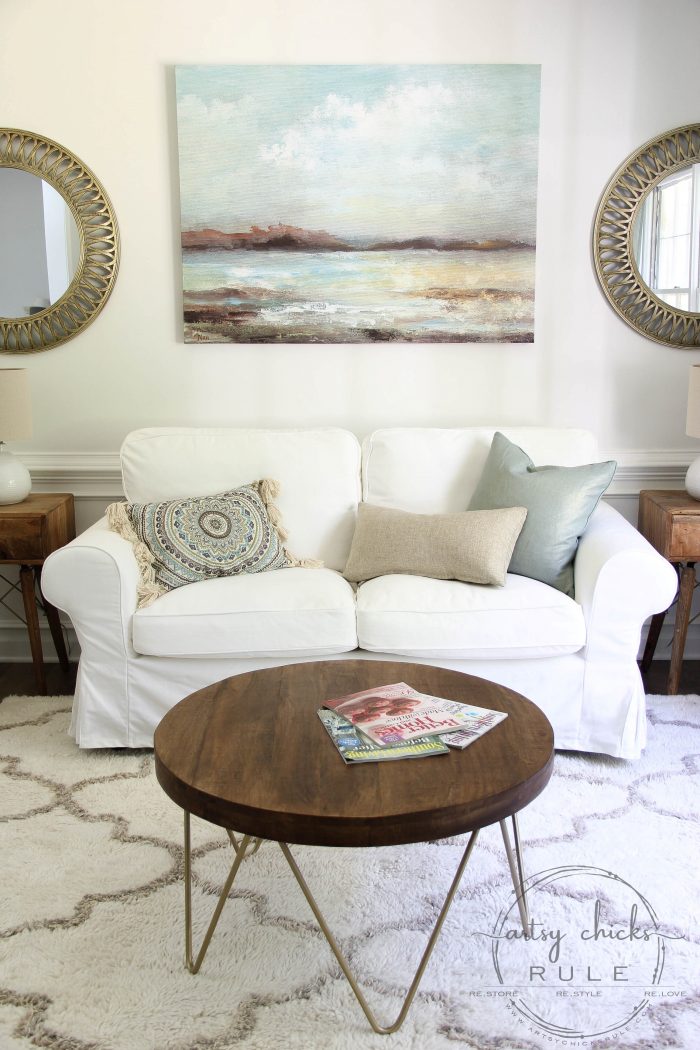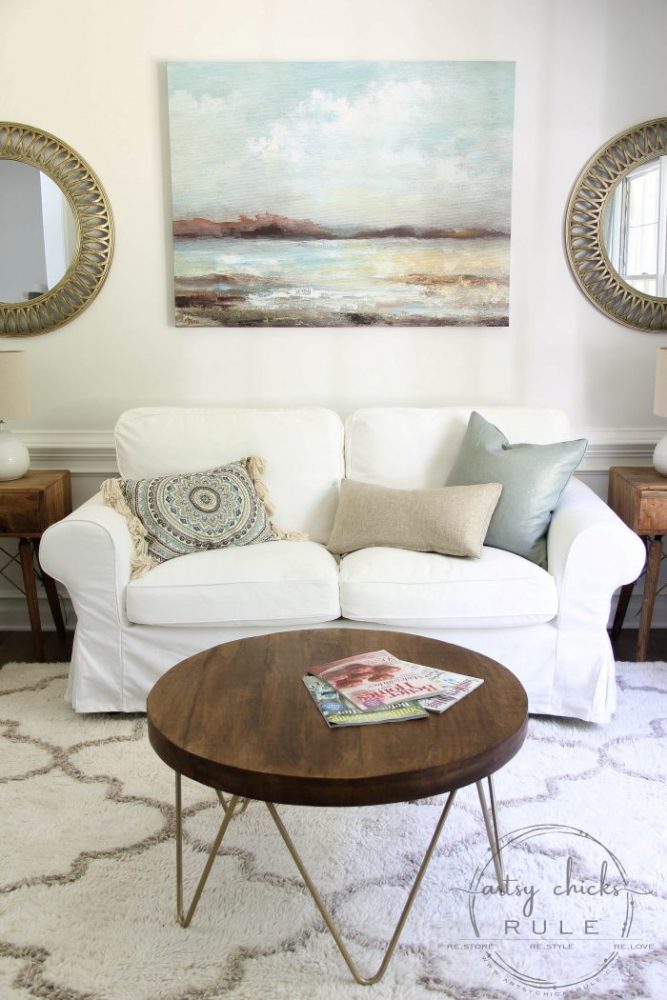 And that little coffee table was a Marshall's find just recently.
It started out looking like this…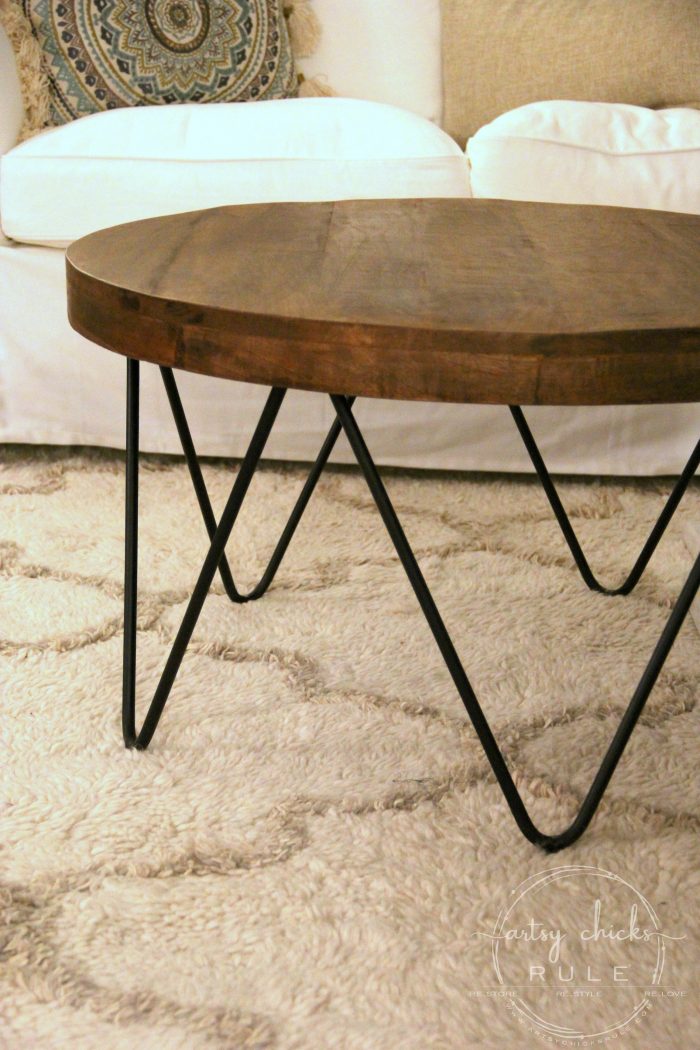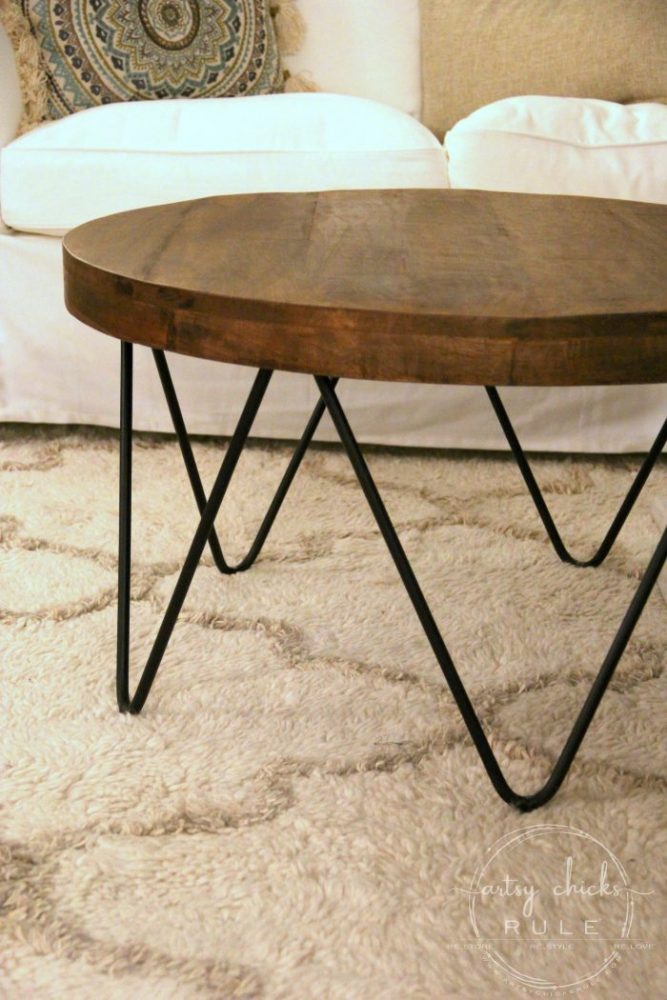 The black didn't really go with the room so I used this gold spray paint to change it up.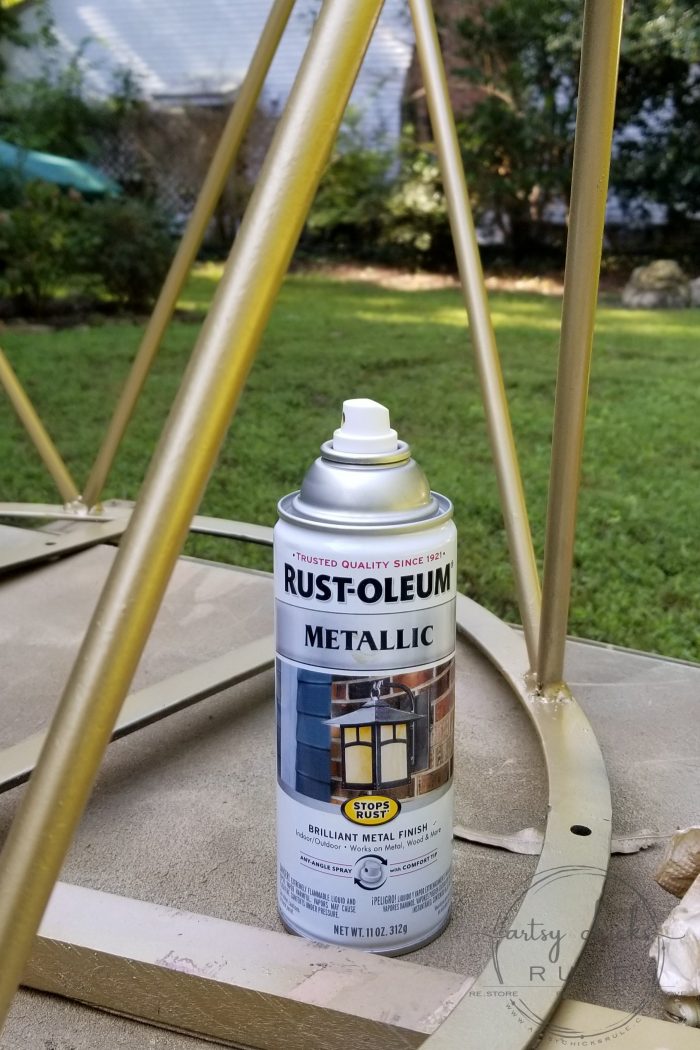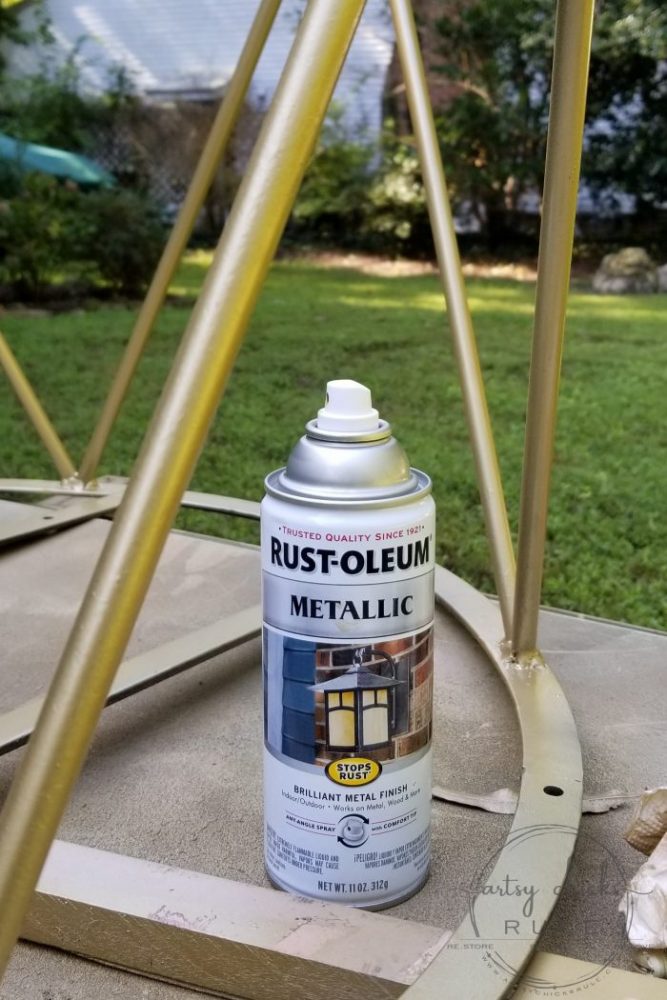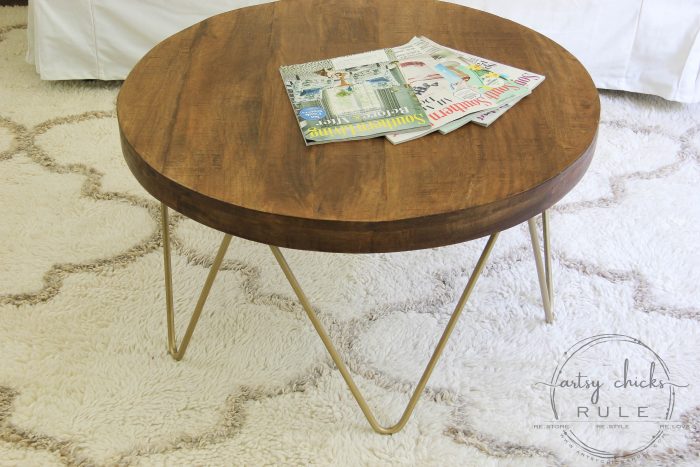 I am a pillow hoarder, I admit it. I saw this one and well, swoon! Had to have it.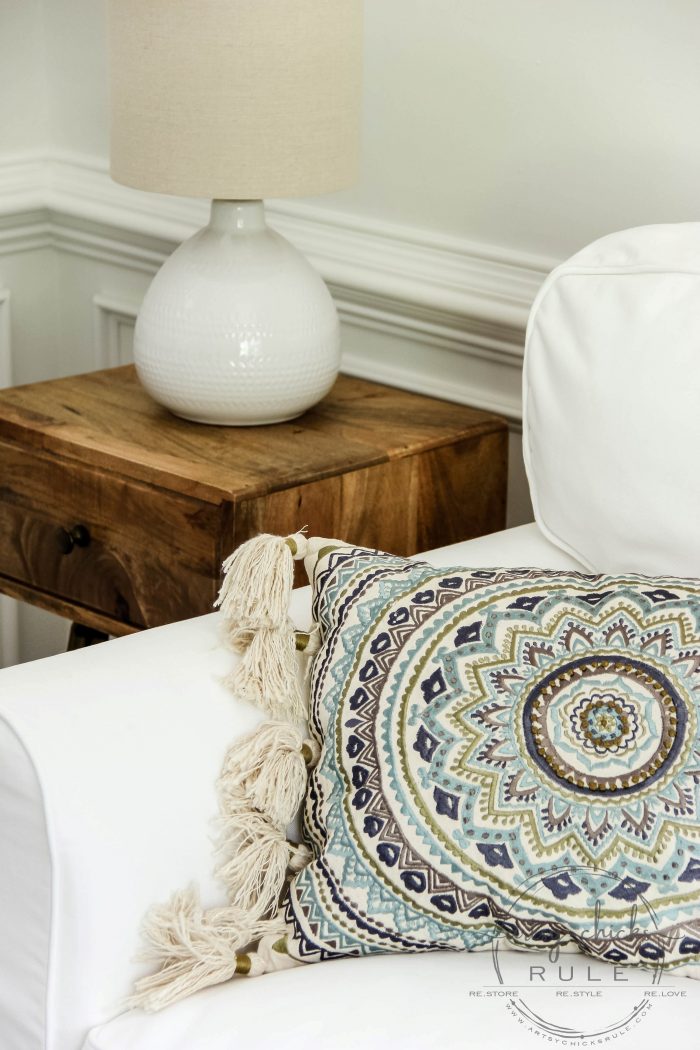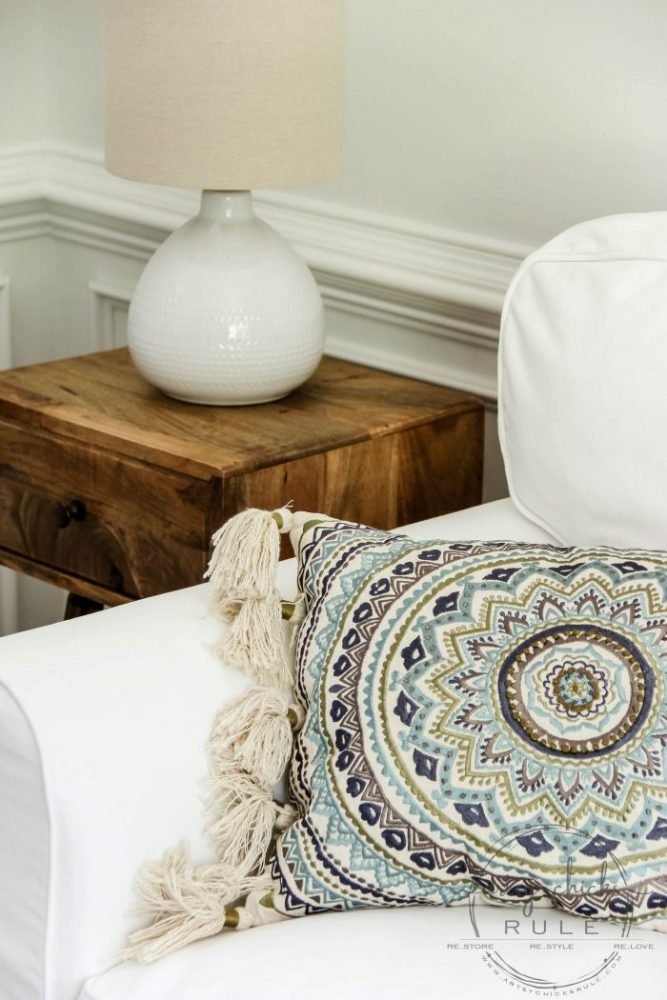 You can find it, here.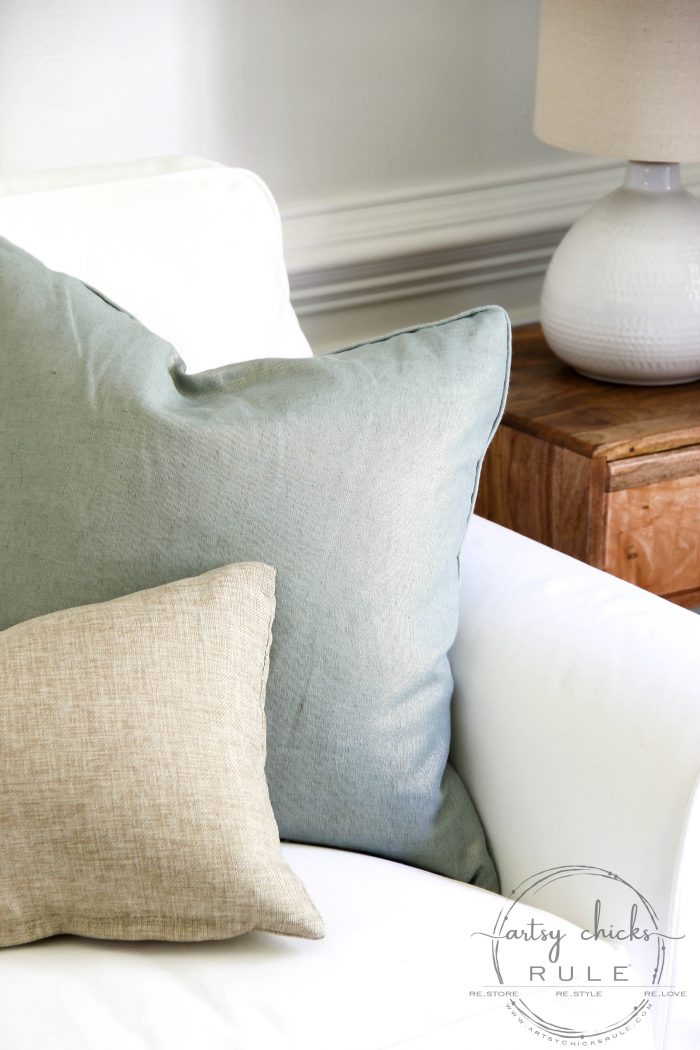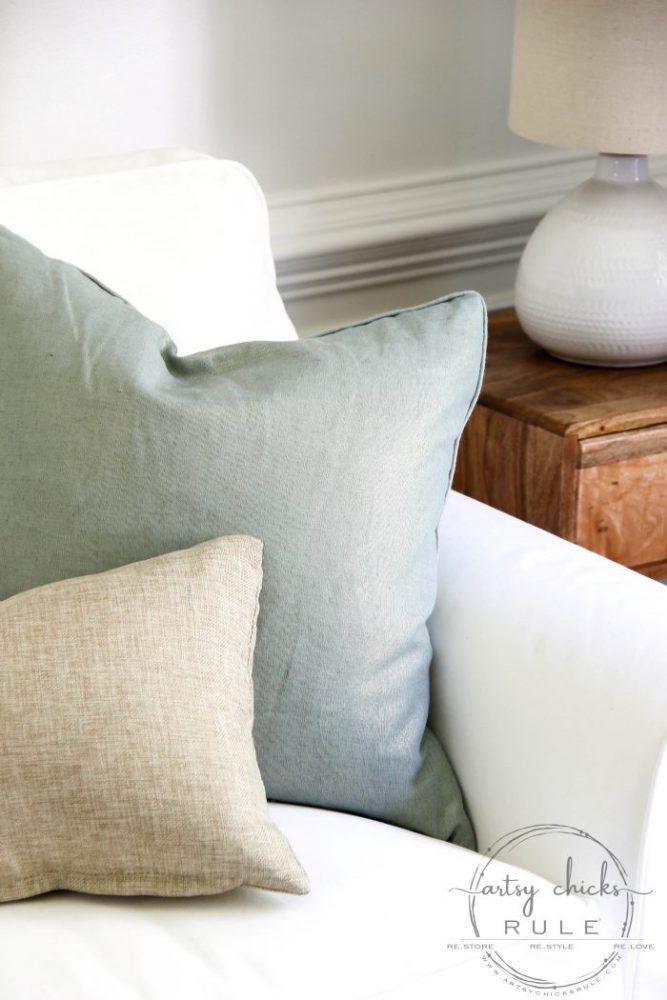 These 2 I've had for a while. I actually stole them from my bedroom decor.
I hunted down a match to this little side/end table I found at TJ Maxx…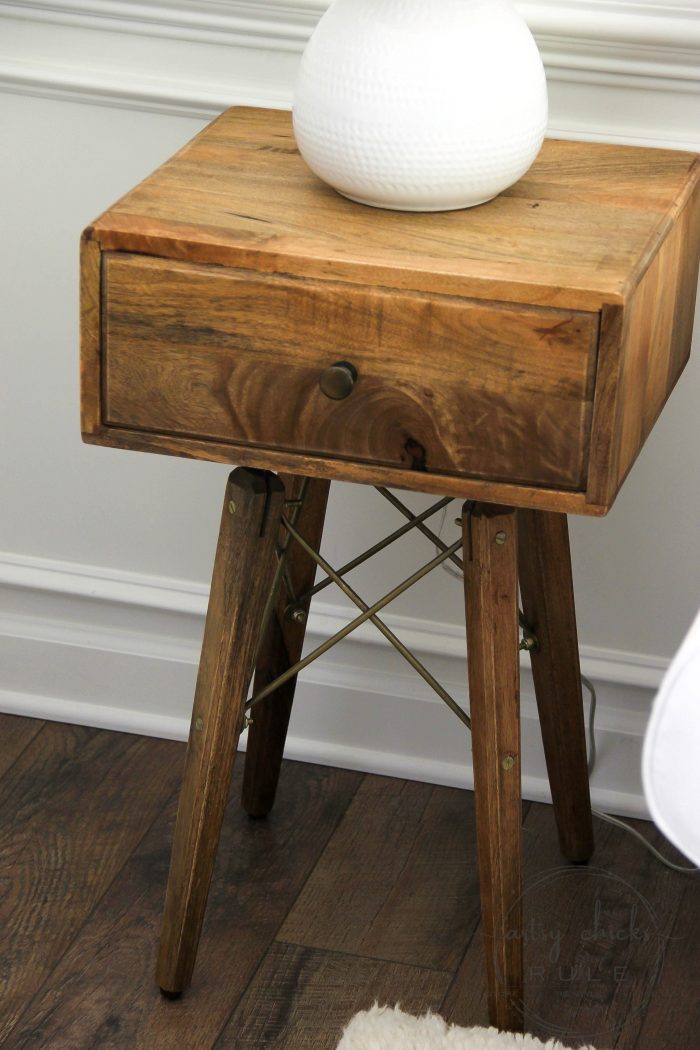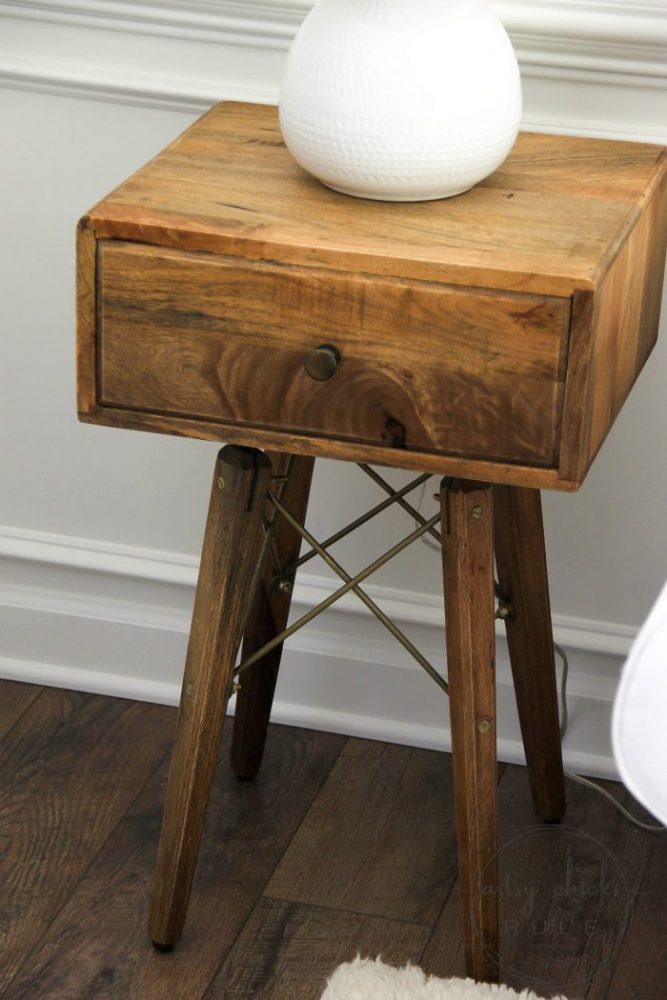 I found the one and was DETERMINED to find another!! haha
I called all 8-10 stores in my area and finally found one (on the very last call, of course!).
It actually had a different model number but the salesperson described it and it sounded right.
Sadly I couldn't pick it up until the next day at this point. (and they couldn't hold it for me either)
But it was still there the next morning AND it was the right one! Yay!
I was SO happy because I just thought they'd be perfect for the room. (and they were $69 each)
I love how the gold crisscross metal falls in line with the gold base of the coffee table I found.
Here's an end table that I found that is similar.
And isn't that flooring gorgeous? I'm really so thrilled with it.
You can read all about that, here.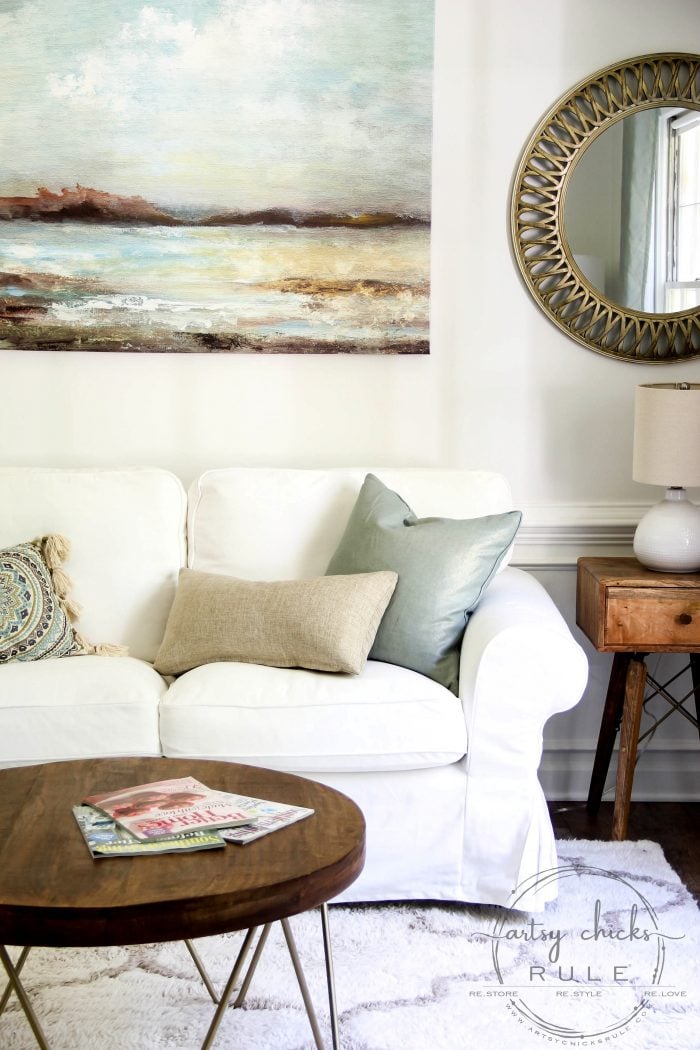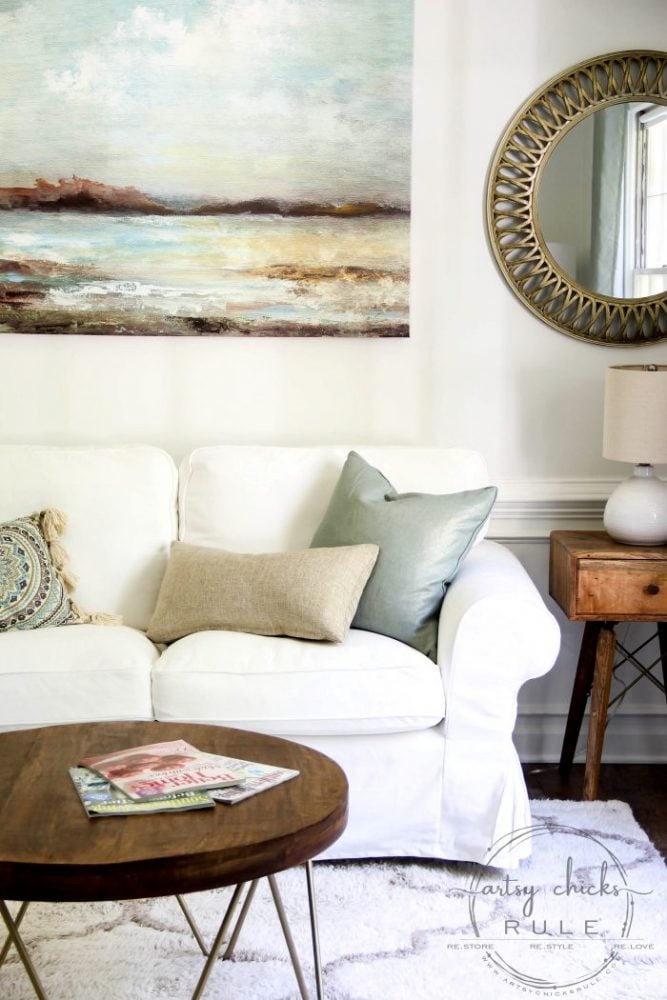 I couldn't be happier with how this room turned out.
It is so cozy in here. The perfect place to curl up and read a book….or take a nap. haha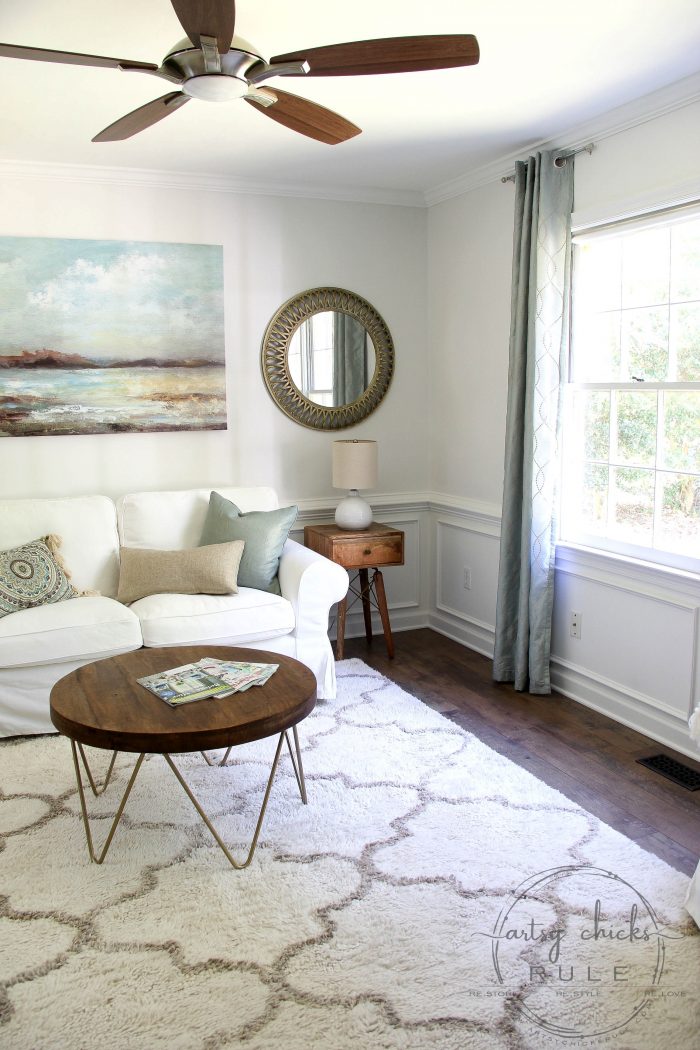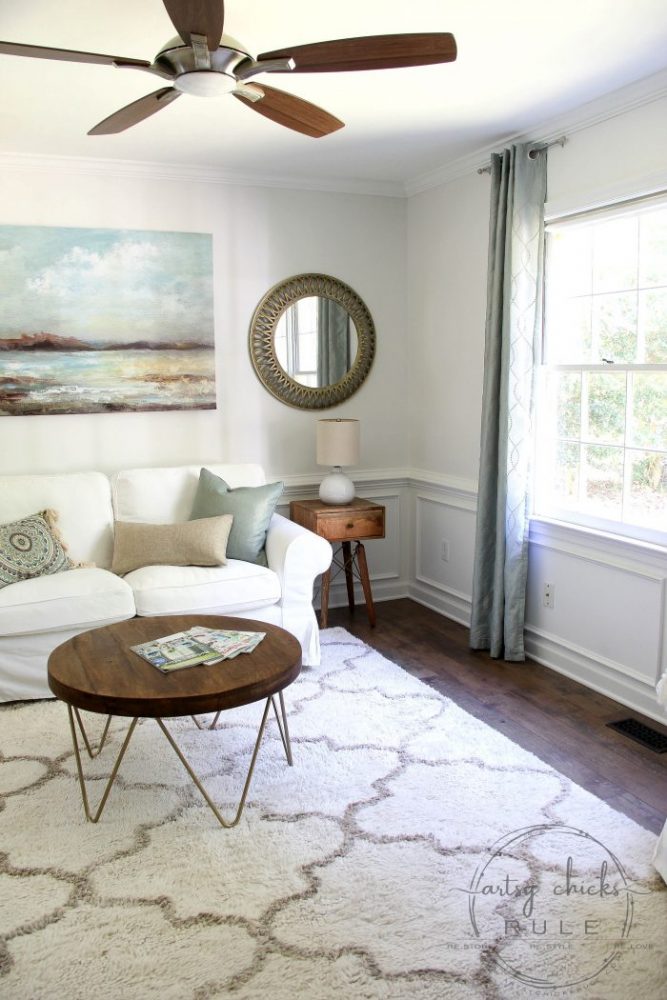 I'm calling this style "coastal glam" but it actually has a touch of mid-century modern, too.
For the redesign, I'm going for a more relaxed feel with less. A little bit minimalistic-ish. I'm just so tired of all the stuff.
And with less of the farmhouse, rustic style (which I still love, just ready for a change) I've been leaning towards previously.
I hope you enjoyed seeing our new morning room. We have really enjoyed using it!
AND will certainly enjoy it even more once our coffee/tea bar is up and running!
Be on the lookout for that.
I'll be sharing what we've done with our study next! Stay tuned!!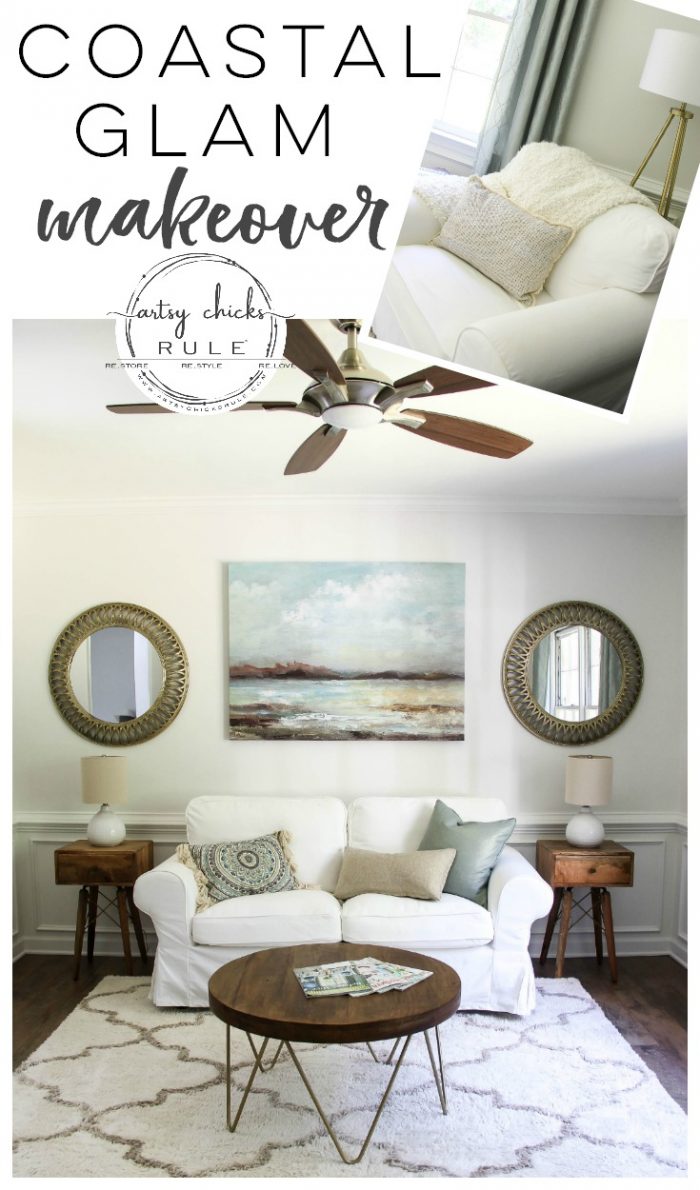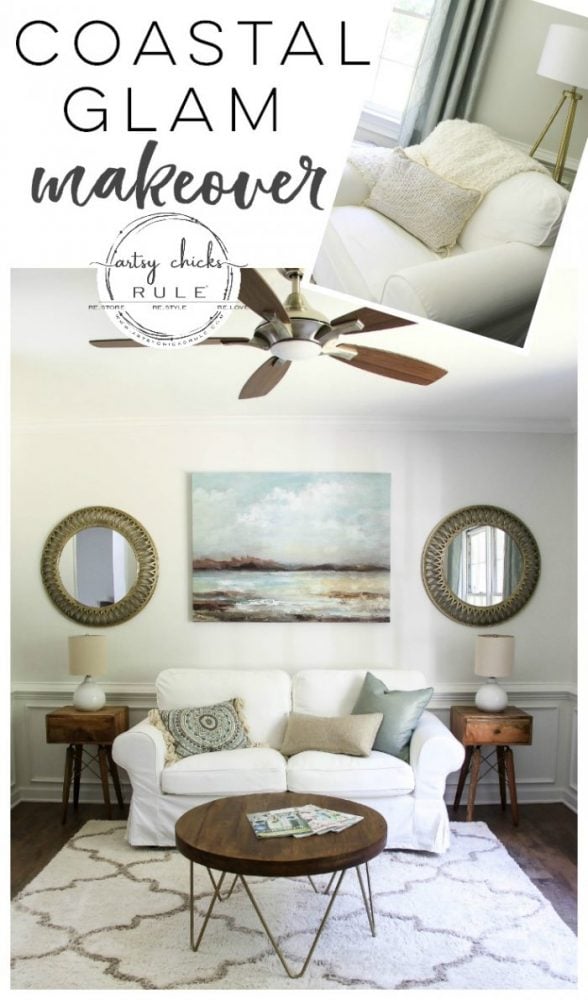 Have a wonderful weekend friends!
See you next week!
xoxo