New Dining Chairs, New "No Sew" Curtain Panels
This post may contain affiliate links. Please see disclosures here.
If you read my blog regularly you know I change things up and around quite often.
Or repaint  … or whatever.
So when I told my husband I wanted to change the fabric on the chairs in the dining room and make new "no sew" curtains he was not surprised.
Even though it was only last year that I found and made over the chairs I have currently. ( they were $35 in all so not too big a deal, you can read about them here)
And when I told him I would just find some "new" ones and redo those instead of changing out the fabric on the chairs I already had…..
…he was not surprised.
Because, you know, I do change my mind quite often and I may like to go back to those chairs/curtains at some point. I'm sure of it actually.
By the way, "not surprised" might or might not be the same thing as not happy.
He was not thrilled, let's just say. heh heh But not surprised.
So off I went on my hunt for "new" chairs…and I found some on Craigslist that would do.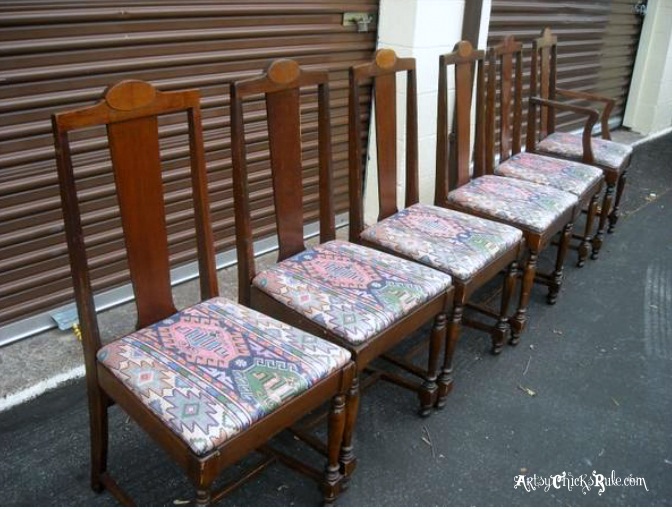 Not fabulous but not bad. They were cheap and they would satisfy my need for a little change up.
And I really liked the sleek look of them. (especially compared to my current caned back chairs)
That's the fabric I chose laying on the table. I found it at Hancock Fabrics in the clearance bin.
Enough to make new curtain panels and cover the chairs for less than $25.  Can't beat it.
Plus, the colors in the fabric are yellow, teal and coral. Perfect.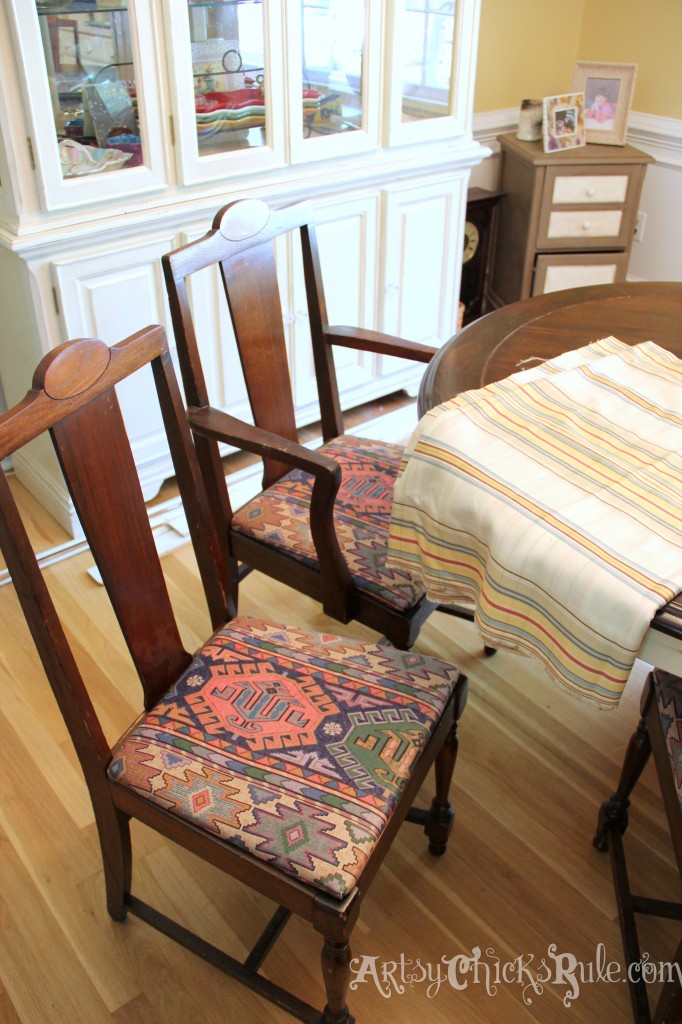 I painted the table and china cabinet in the dining room with a custom blend of latex paint. I painted my other caned back dining chairs in Old White Chalk Paint® and it ended up matching pretty well. (seen below)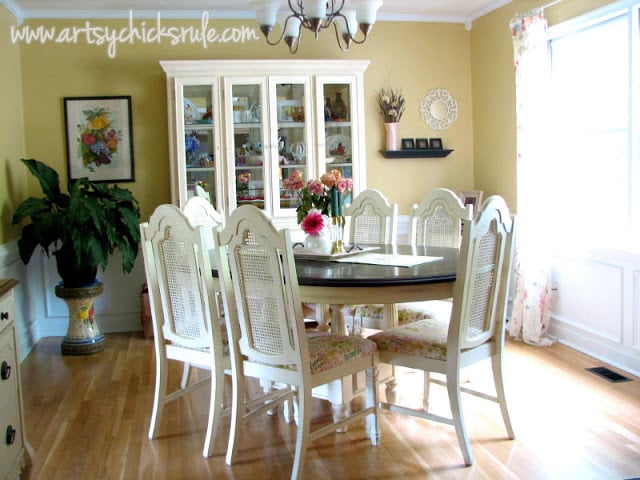 Since some of the chairs were pretty beat up, wood was chipped, scraped, etc., I decided to paint them.
I originally wanted to keep some of the wood element but it just didn't work out.
So I went with Chalk Paint…..and a paintbrush.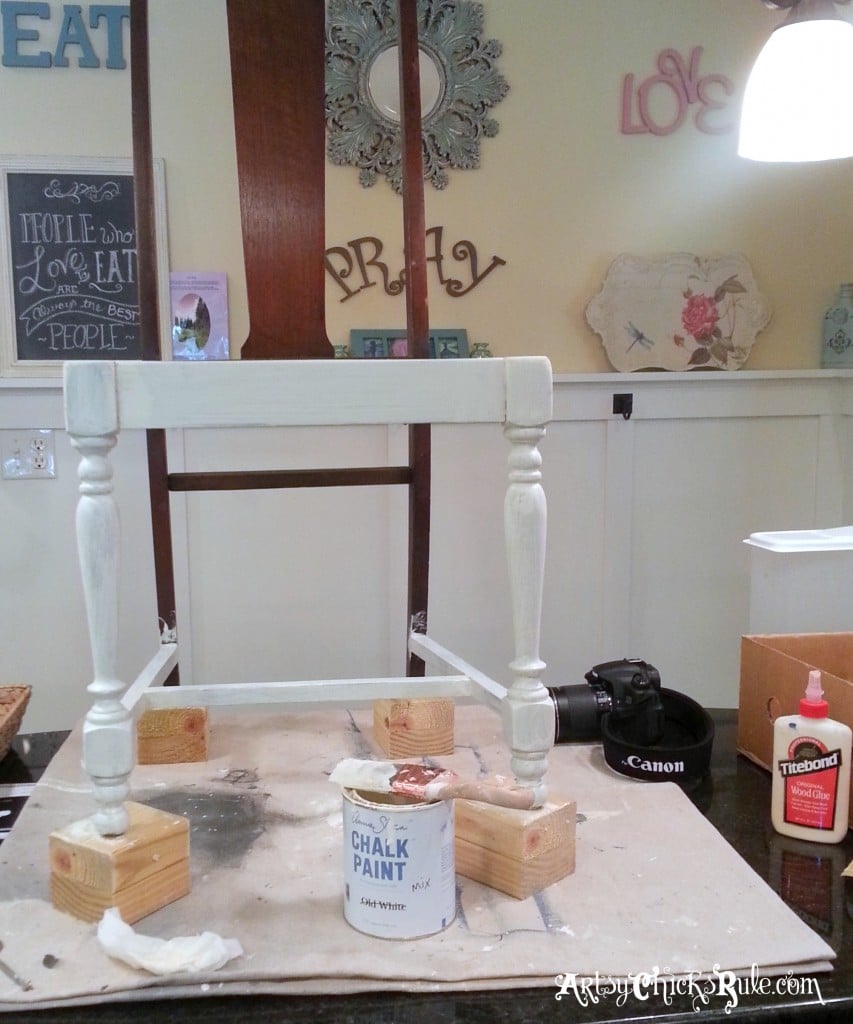 Yep….and that lasted until I got to about here…..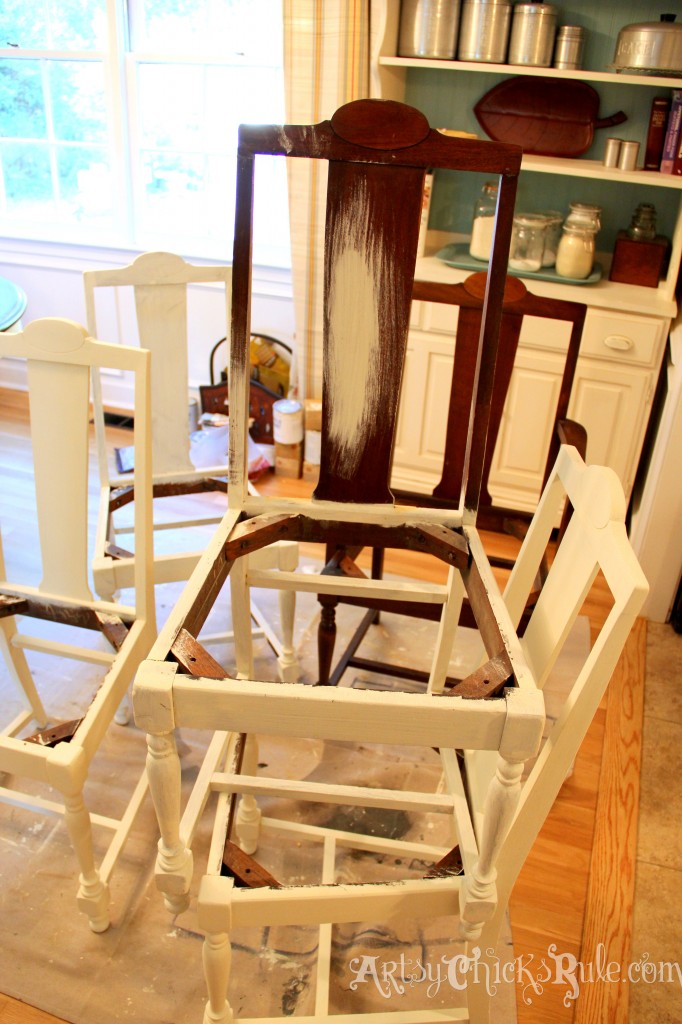 ….that's when I realized I was done. No, not done, done. Just done.
I hadn't finished painting all the chairs AND I still needed to go over with another coat.
Ugh. No.
I couldn't do another brush stroke. This paint loving girl?
Yep, that's right and not my proudest painting moment….no, but I am laying it all out here for you.
I highly dislike painting chairs. Ok.  I dislike it tremendously. One I can do….more than one…no.
So I resorted to this….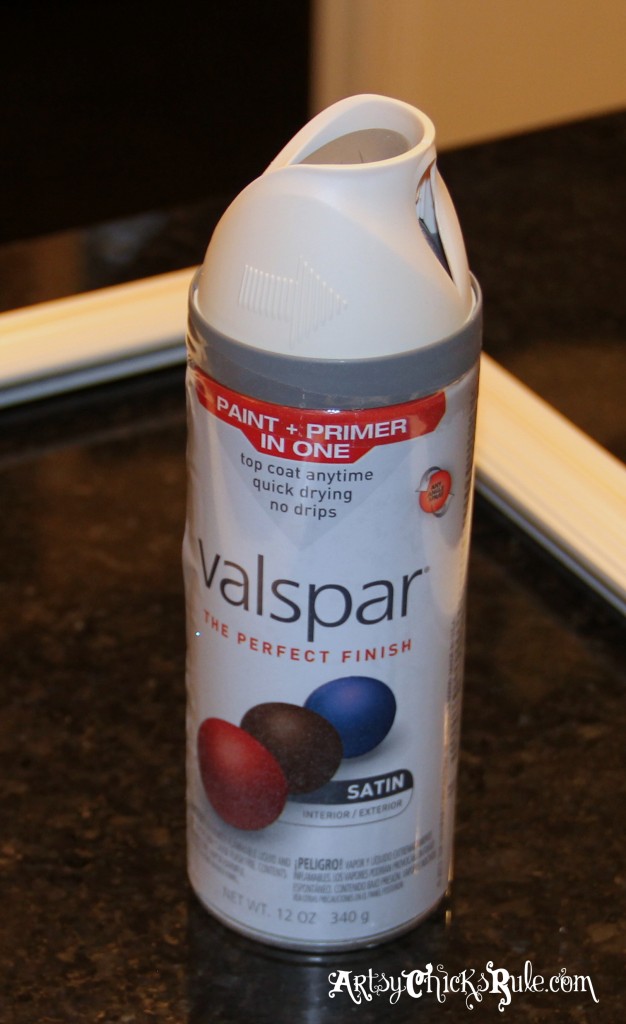 I know, what a cop out. But I wanted to let you all know because I believe in full disclosure. ;)
And don't think that was a cake walk either. It was a pain trying to cover that dark wood nice and evenly.
I won't be wanting to change out the chairs again anytime soon. I can tell you that!
And to top it off, I personally do not like to work too much around spray paint and such.
Small projects, yes, large ones? No.
So here's how that went…..
I went outside and sprayed, sprayed, sprayed…holding my breath all the while.
Ran back in the house like a mad woman to catch my breath. (picture that now, why don't you?) Over and over and over again.
I'm not sure I saved myself any work? I did get some exercise though.
Anyway, they did get finished….and even turned out pretty well considering.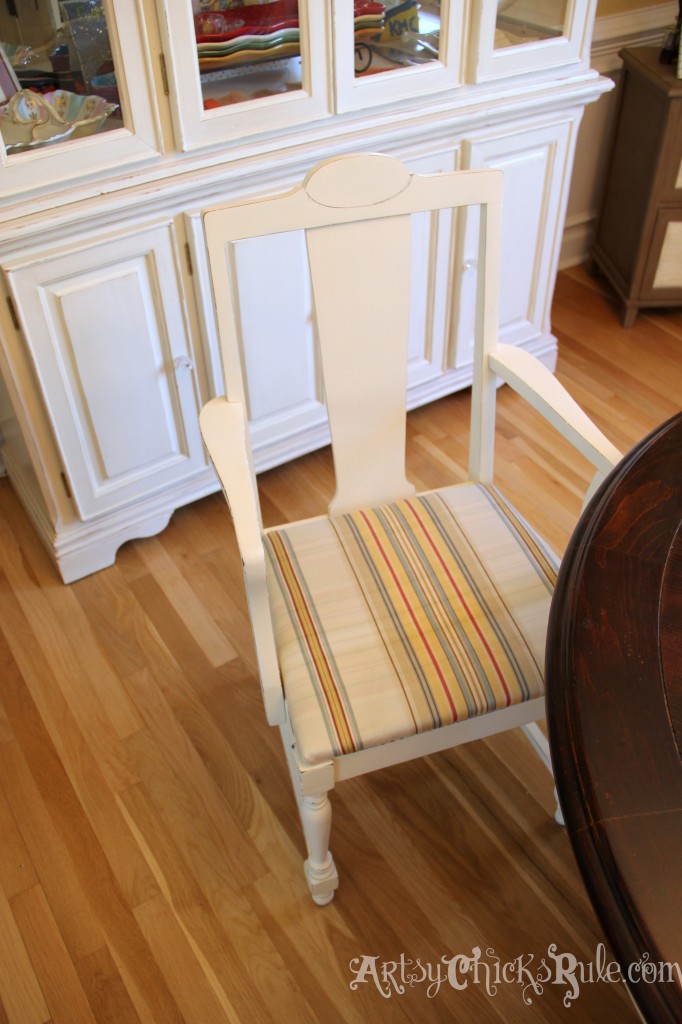 Paint and new fabric really make a big difference, right?
By the way, that paint color is Valspar Churchill Hotel Vanilla and matches everything else really well. Thank goodness.
A little bit of distressing and I sealed them all with a quick spray of this….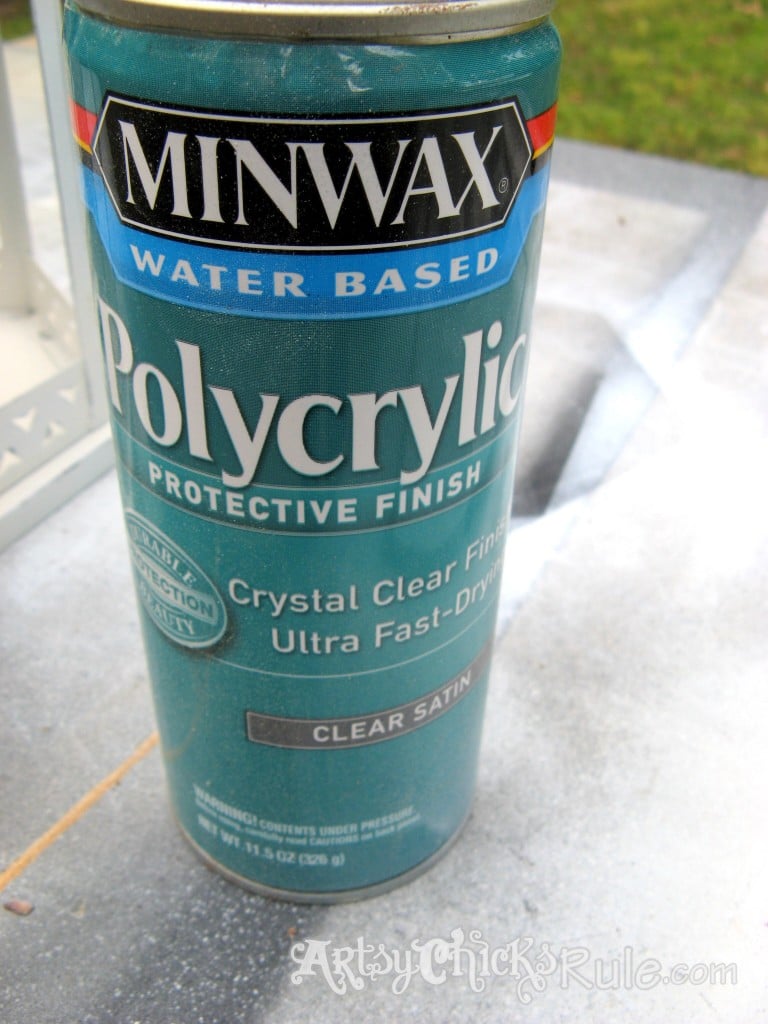 And complete…..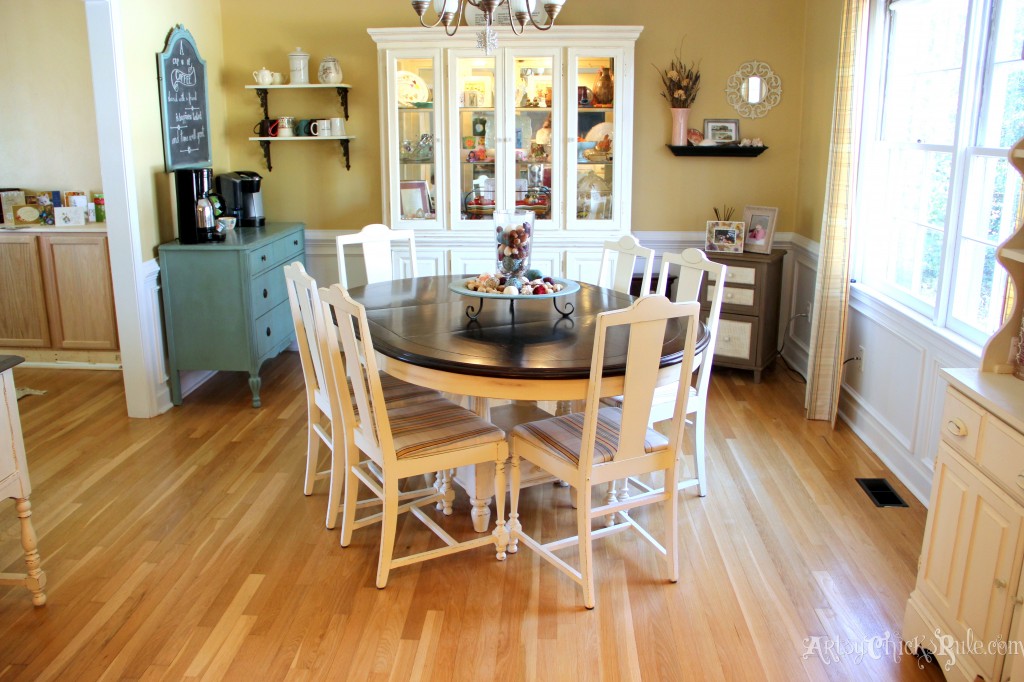 You guys get a little sneak peek of the built in we are building over to the left there in the Study. :)
Lots to do still. But it is coming along.
You can also see the curtain panels on the window I made for this room to match the chairs.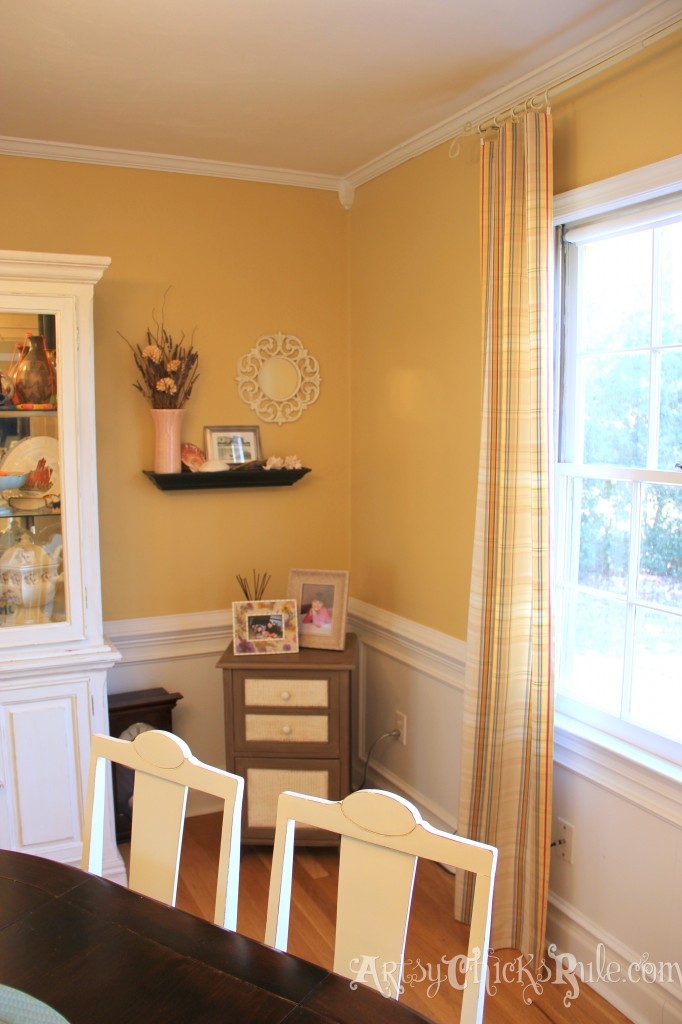 No sew, of course!!
I don't sew but I've never let that hold me back.
Here is a post for another set of curtain panels I made for my family room for less than $40. (with a full tutorial, if you are interested)
I made a super simple valance, napkins and place mats for the table in this post here.
Top section….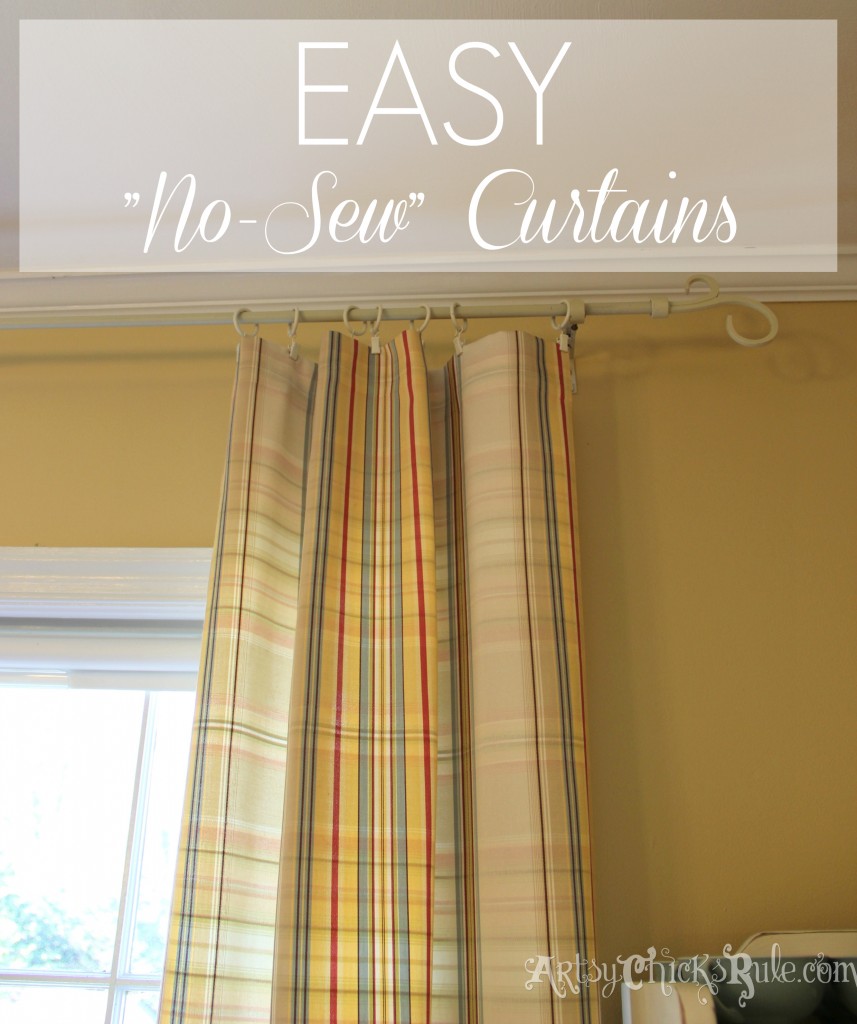 Bottom – I measured and cut accordingly so they would just skim the floor….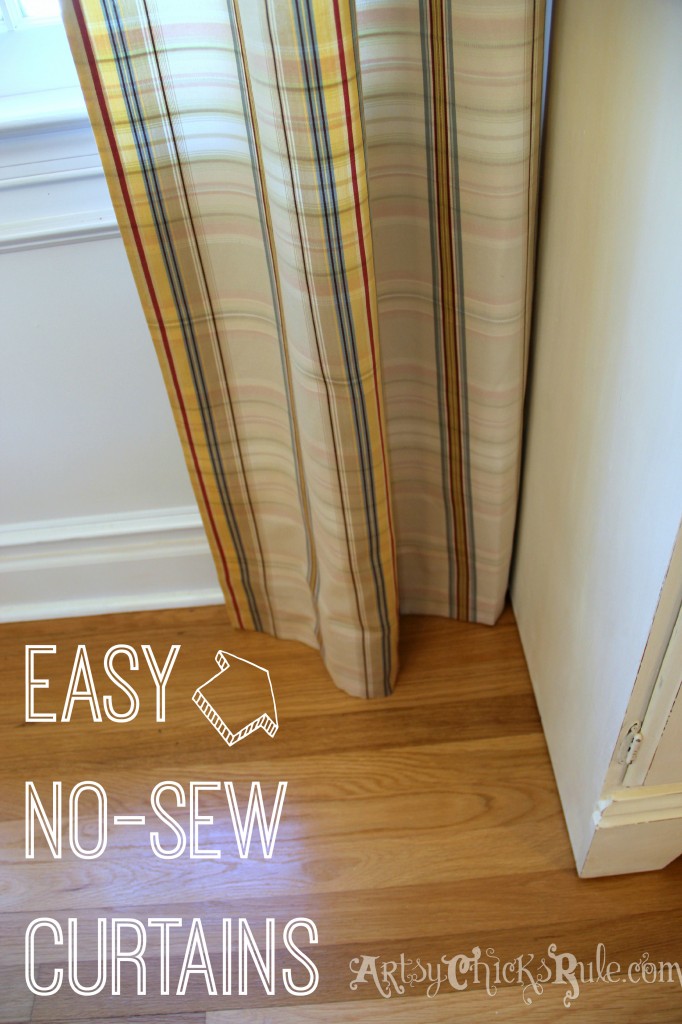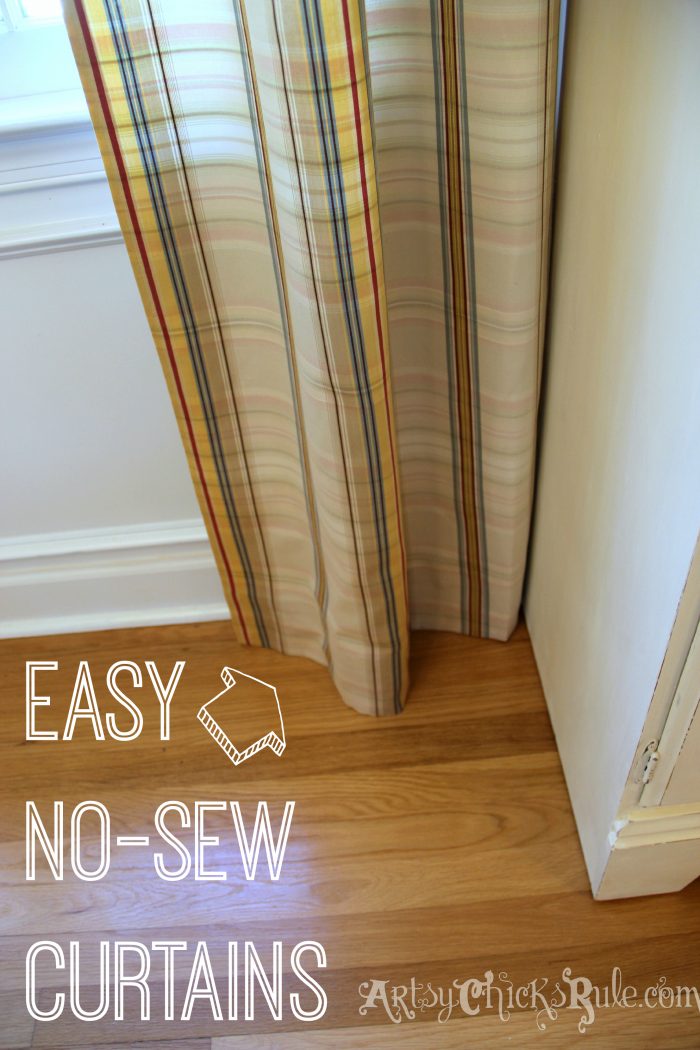 I have them "clipped"  at the top with rings because I like that look but I did "no sew" in a hem that I can put a rod through if I ever change my mind.
Like that would ever happen.  Ha! Me, change my mind….never.
No really, I always account for that. Usually.
Anyway, that's the "new do" for the dining room. A little change up. A little bit of a new look.
And I'm really loving it. It's a little less "french country-ish" and a little more traditional with the plaid style fabric.
And who can argue changing up your dining room…..with new curtains AND chairs for less than $100 total? I can't.
Do you like to change things up and around in your home every so often too?
If so, what have you done in yours recently?