Quinoa —> pronounced "keenwa". Have you ever had it?
It's good stuff….and good for you. I love it. YUM.
And I have a fabulous quinoa recipe to share with you all–> Quinoa Black Bean Dip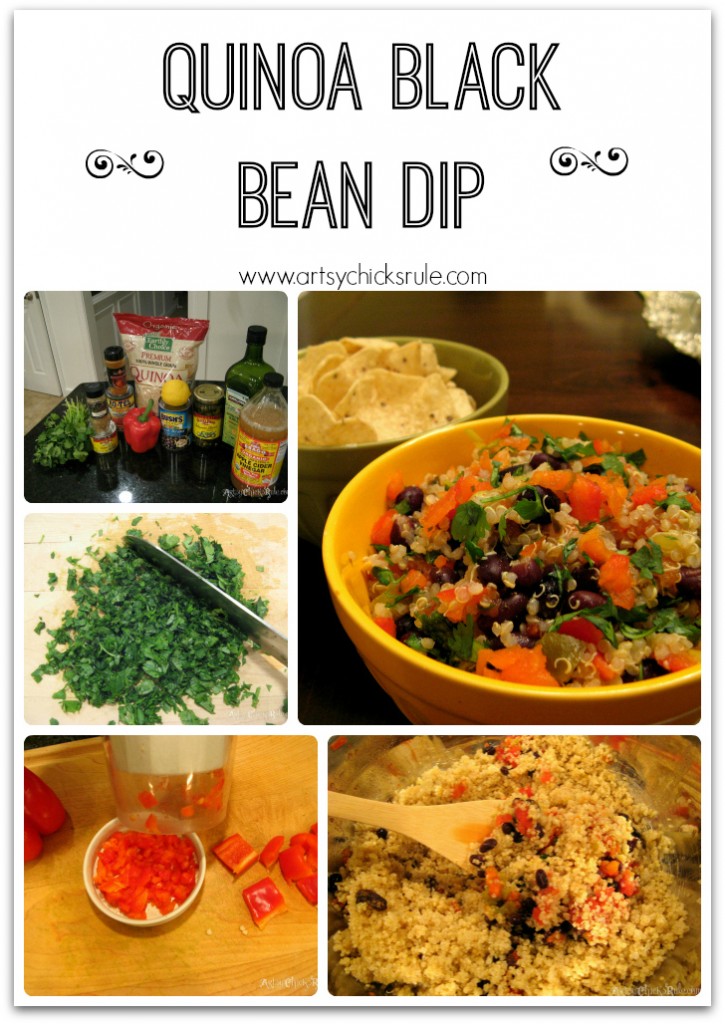 I haven't talked too much on here yet about my "diet" (not to be confused with a weight loss plan…but just the way I eat) :)
But today I'm sharing a healthy recipe and thought I'd venture out and talk a bit about it.
If you don't want to read this part, you can skip right on down to the recipe below. ;)
………………………………………………………………………………………..
For starters, here's a list of things I try to stay away from:
White flours, pastas, breads, etc
Sugar
Any kind of processed foods (shop the outer ring of the grocery store–>processed foods fill the middle)
Canned foods (unless specified they are BPA free in the lining, this is still somewhat hard to do as there aren't many options but I mostly eat fresh or frozen anyway)
So you may ask, what is BPA? Or you may already know…but in case you don't.
It's Bisphenol A, often known as BPA is a chemical found in hard plastics and the coatings of food and drinks cans which can behave in a similar way to estrogen and other hormones in the human body. BPA is used to make many products, including water bottles, baby bottles, dental fillings and sealants, dental devices, medical devices, eyeglass lenses, DVDs and CDs, household electronic and sports equipment. BPA can also be found in epoxy resins which is used as coatings inside food and drinks cans. source

So many reasons to steer clear.
The study focused on bisphenol A (BPA) and phthalates, both of which are known to act as hormone (endocrine) disruptors. BPA, which is used in hard plastics, resins lining food cans, and thermal paper receipts, has been linked to a wide variety of health problems including reproductive and neurological defects, cancer, obesity and diabetes. Phthalates, which are used to soften plastics and as cosmetic ingredients, have been linked to reproductive defects in males. source
Phthalates are bad news too…and also found in many commercial perfumes, fragrances.
Dairy (I do eat Greek Yogurt but am even considering dropping that)
Cheese (I LOVE cheese…I am not off of it all the way but I am trying)
And …I have eaten "Gluten-Free" by choice before and am doing that again.
Because I feel better when I do.
I used to try to only eat whole grain/whole wheat but I stay away from all of it when I can.
I don't think that means one should then fill up on all of the "gluten-free" foods/options however.
Now, TRY is the key word. I will be the first to tell you that I am by no means perfect and do not always stick to this way of eating. :)
I am only human…and I DO LOVE FOOD. So I am not 100% strict 100% of the time.
I am sure there are those that are but I feel I do the best I can…and still enjoy life—>and sometimes you just need a slice of regular, good ole apple pie with a huge scoop of vanilla ice cream on top.
Full sugar, full fat, full flour etc.
Real life, real living.
BUT I don't do that all the time. I try to stay the course much of the time for health reasons.
And because I do honestly feel so much better when I eat healthy! MUCH!!
Plus, fear drives my motives somewhat. I must admit to that.
I have been into a healthy lifestyle for many, many years now but being a recent cancer survivor really guides me in that direction as well.
………………………………………………………………………………………..
So how about this quinoa…..Quinoa has the perfect balance of all nine amino acids essential for human nutrition . This type of complete protein is rarely found in plant foods, though common in meats. Quinoa also offers a good dose of fiber and iron. source
It's good stuff. I use it all the time in dishes…or in place of rice or pasta.
This recipe is one I literally threw together, with ingredients I had on hand, one evening for a get together I was attending a few years ago.
(And yep, I know I just talked about BPA and cans. Those cans in the picture are probably most certainly lined with it . I had my husband run out and pick up some ingredients at our local grocery store I didn't have so I could take the picture for you guys. Plus there are some things that cannot be found with BPA free lining yet and most of those are found at specialty grocers. I don't often eat canned goods though because I think fresh or frozen is best, whenever possible.)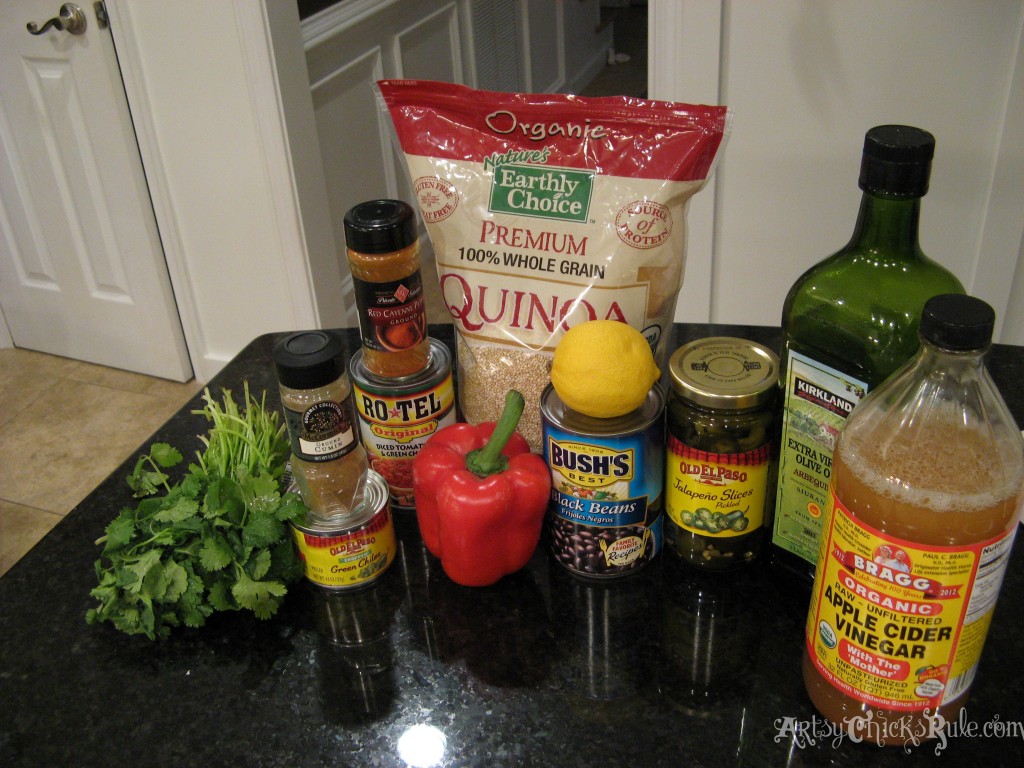 Cook your quinoa as directed and set it to the side to cool.
Chop cilantro, jalapenos and peppers….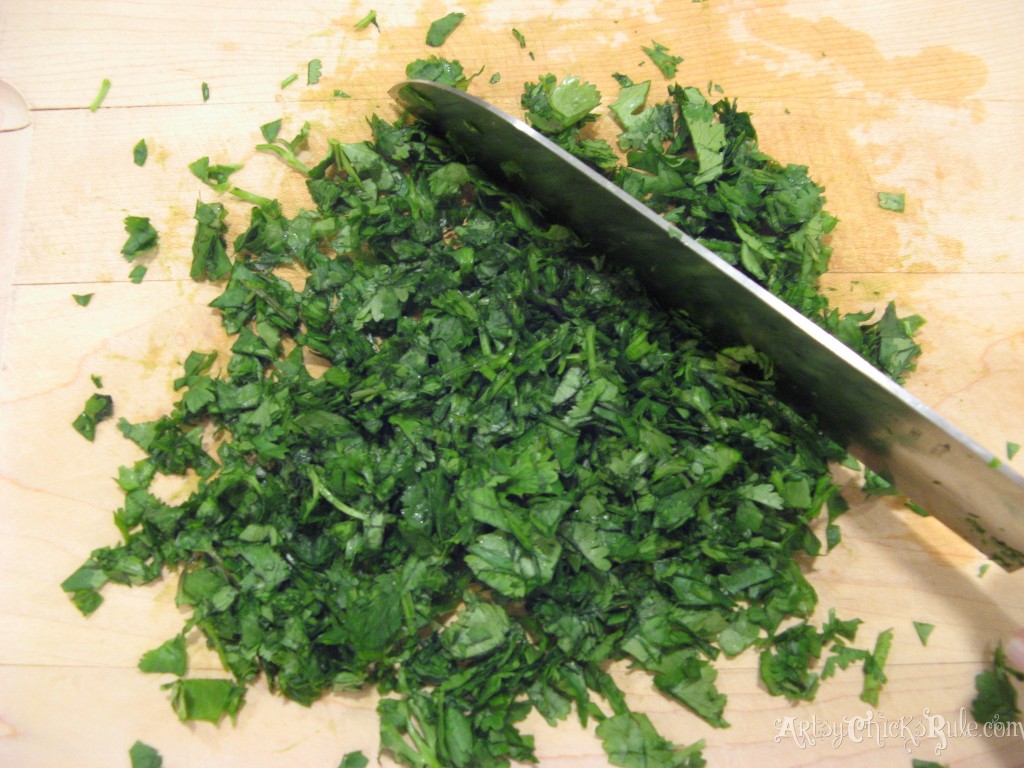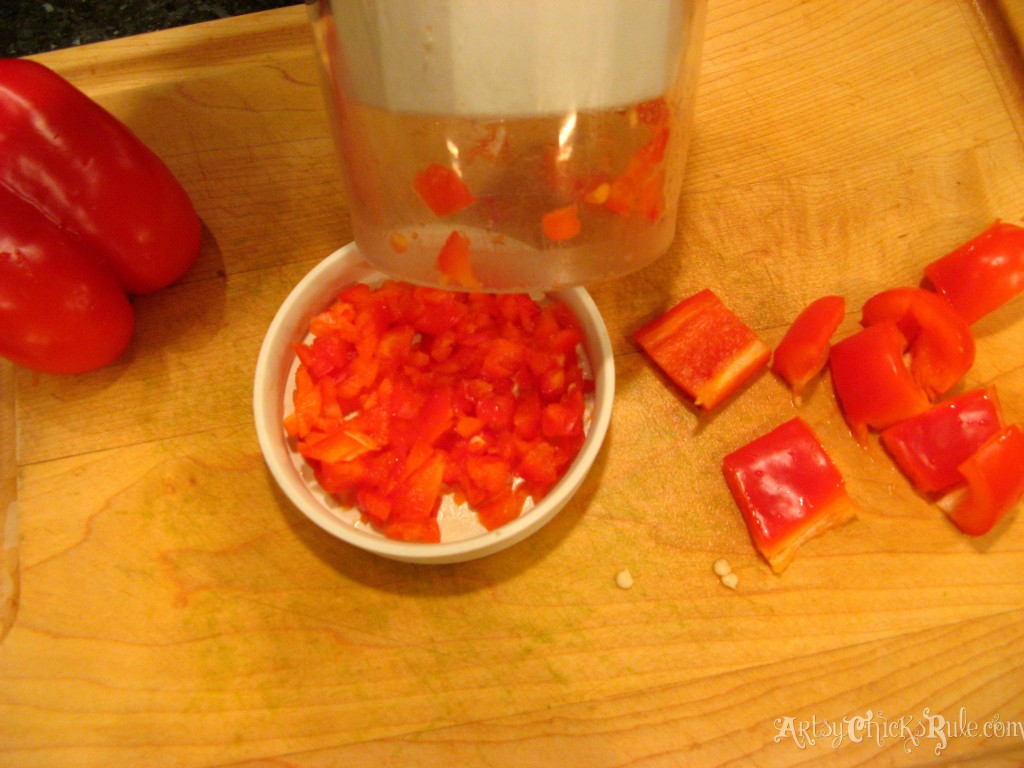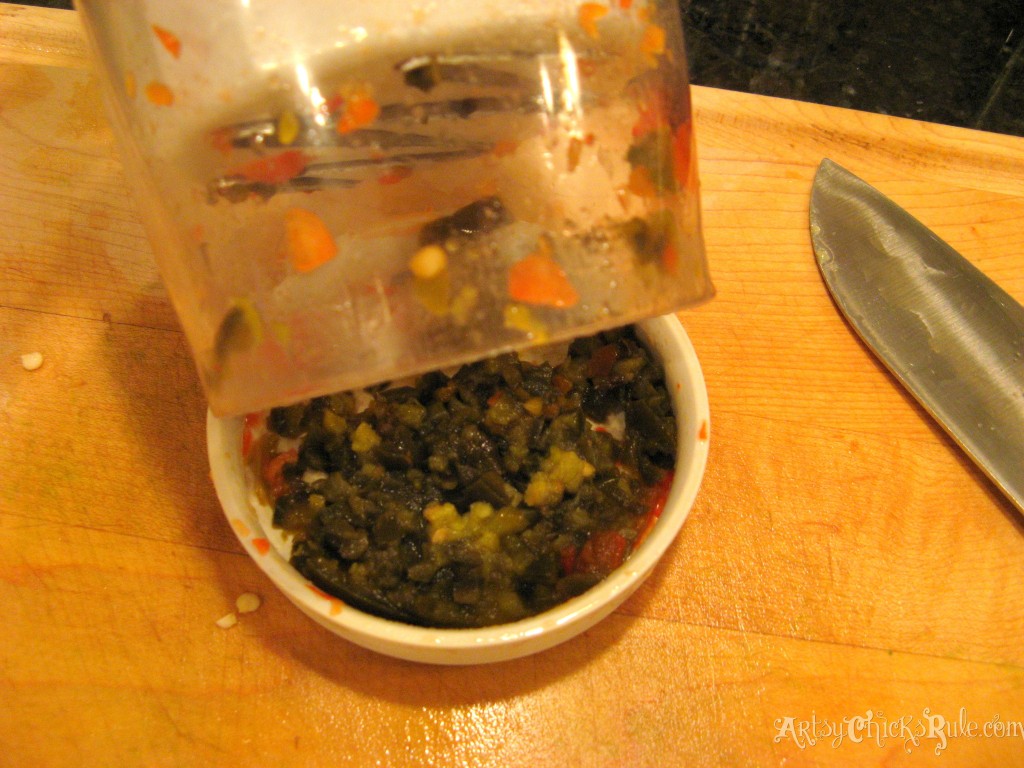 Rinse beans well under water. Add those along with the chopped ingredients to the bowl.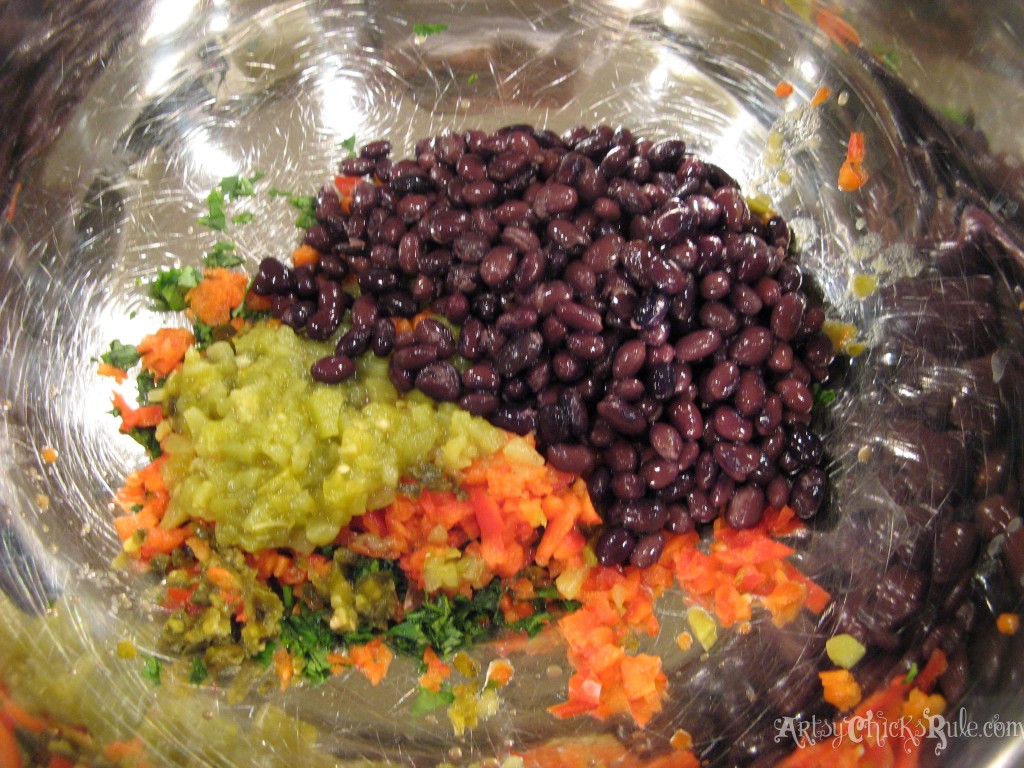 Add the lime juice (or lemon) and seasonings….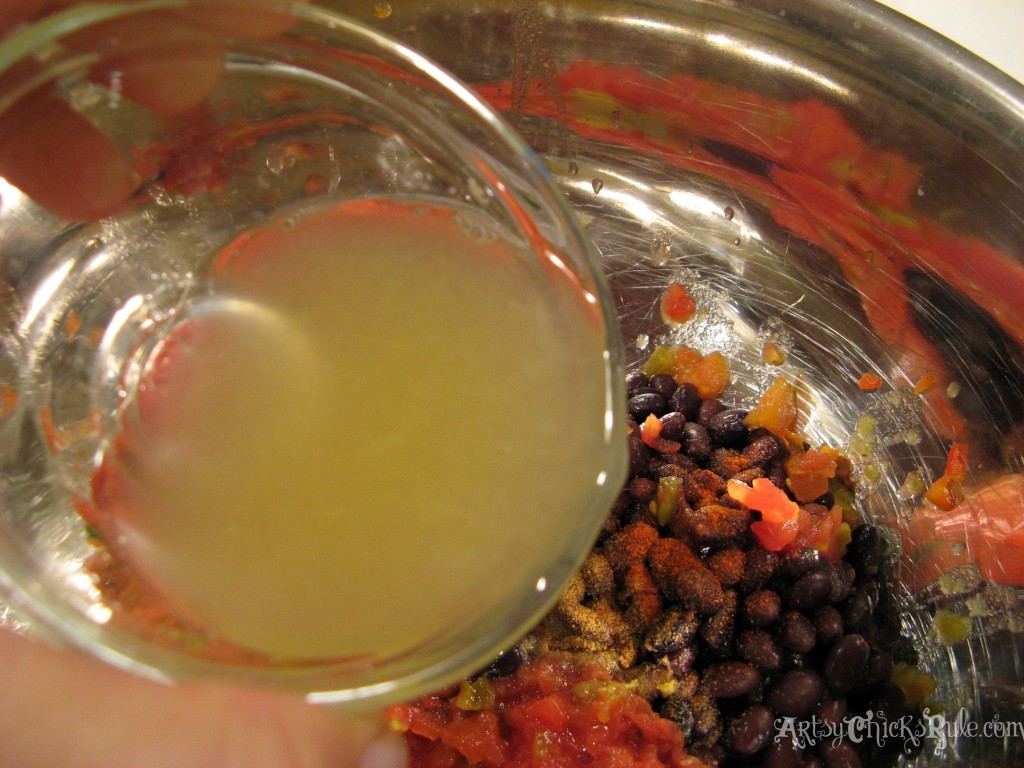 Stir in your cooked and cooled quinoa….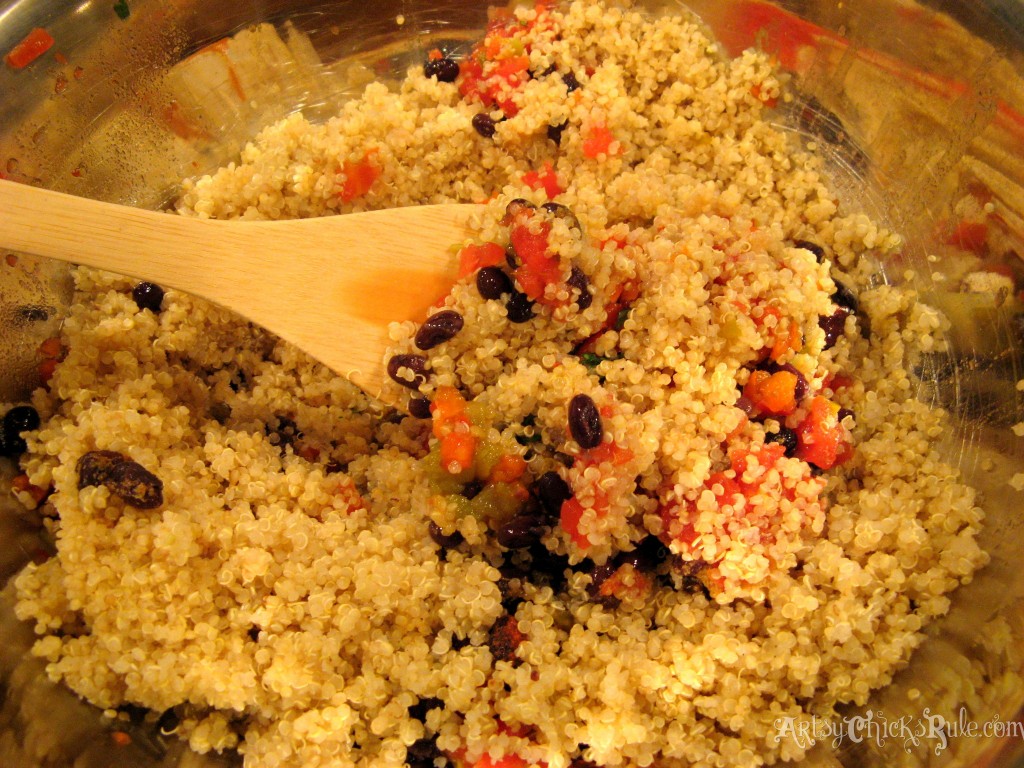 And there you have it. A really tasty, pretty healthy dip or side dish.
You can eat it by itself or with chips or veggies.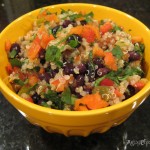 Quinoa Black Bean Dip
A healthy dish that can be eaten with chips or as a side dish.
Ingredients
2

cups

of Quinoa

cooked as directed

1

chopped Red Pepper

1/4

cup

chopped jalapenos

1

large bunch of cilantro

chopped finely

1

small can of green chilis

chopped

1

can of Ro-tel or petite diced tomatoes

drained

1

can of black beans

rinsed and drained

2

T

of Apple Cider Vinegar

juice from one lime

or lemon

approx 1/8 cup of Olive Oil

Cumin

Sea Salt, Red Pepper , all to taste

Sesame seeds

toasted, if desired

Chopped avocados

if desired
Instructions
Make quinoa per directions. Set aside to cool.

Chop pepper, cilantro, jalapenos, green chilis. Add to a large bowl.

Rinse and drain the black beans. Drain the tomatoes. Add both to the large bowl.

Add seasonings, lime juice, olive oil and ACV. Mix.

Add quinoa. Stir very well. Taste and adjust seasonings as needed.

If desired, add sesame seeds.

Also if you are adding avocados, do so at the end to keep them from mixing too much.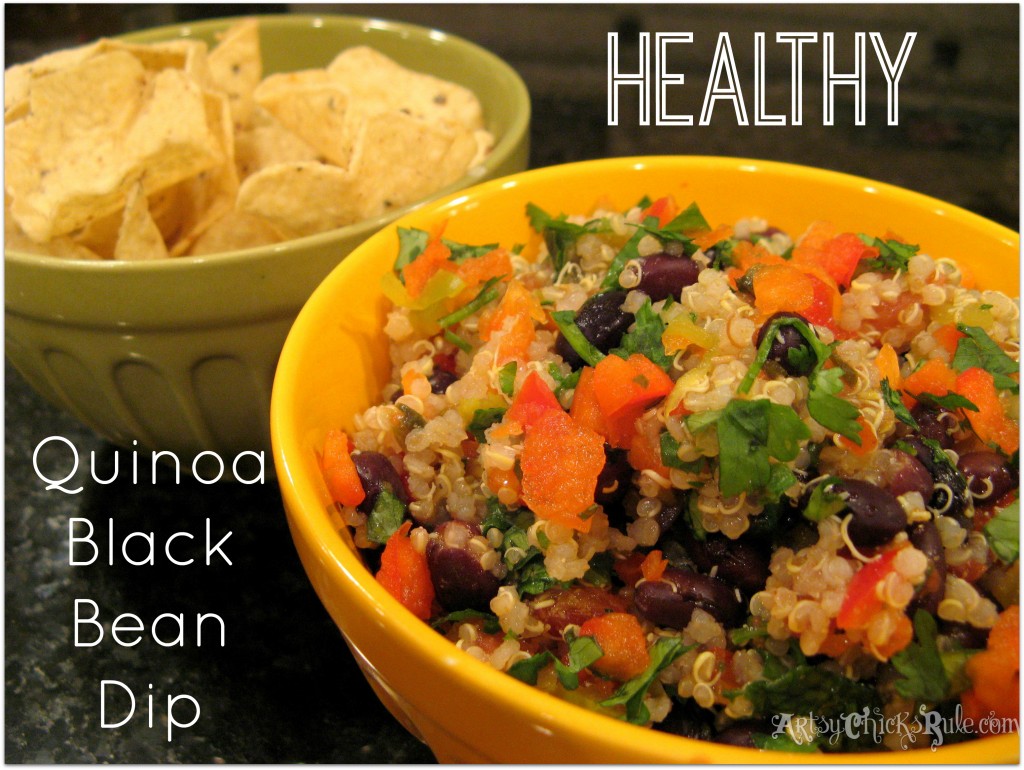 What do you think? Is this something you might try? or did I overwhelm you with all the health talk? ;)
I hope not. My goal with this blog is to help and to inspire by sharing my projects and my experiences.
And remember, I love reading your comments and hearing about yours as well. So please, always feel free to share here!
Hope you all have fabulous weekend! Can you believe January is almost over. Spring is right around the corner.
We can only hope, right?!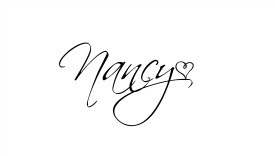 Follow along here! –> Instagram ~ Facebook ~ Pinterest
**Please visit my new FOOD blog over at www.foodiechicksrule.com for more recipes!**
Note: I am not a health professional or medical doctor. The information and directions given on this site are of my own opinions and my own experiences with such and not meant to take the place of medical or professional advice. You may choose to try any or all recipes, etc, I post at your own discretion.
Follow Along Here!