Welcome to our home tour!
We have DIY'd our way through our home in the last 18 years here.
Pretty much everything from top to bottom!
I've decorated our home with thrifty finds and done most of it on a major budget.
You can find some of the things we've done here:
One of our biggest transformations was our coastal kitchen.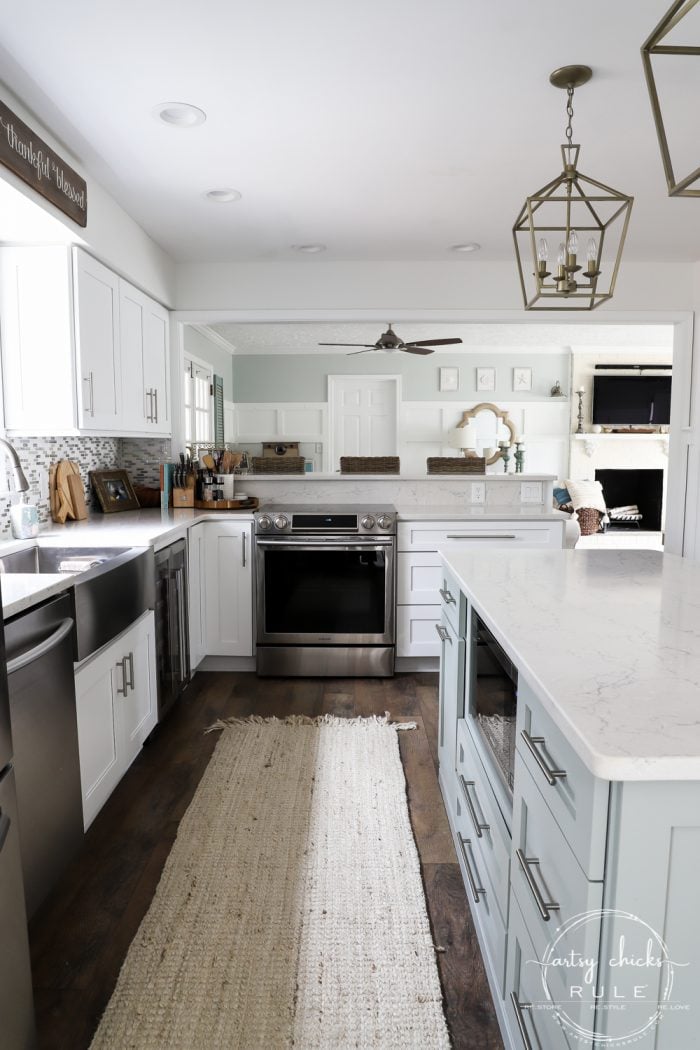 In the 18 years we've lived here, this space has seen several makeovers. You can find info on the DIY tiled backsplash, here.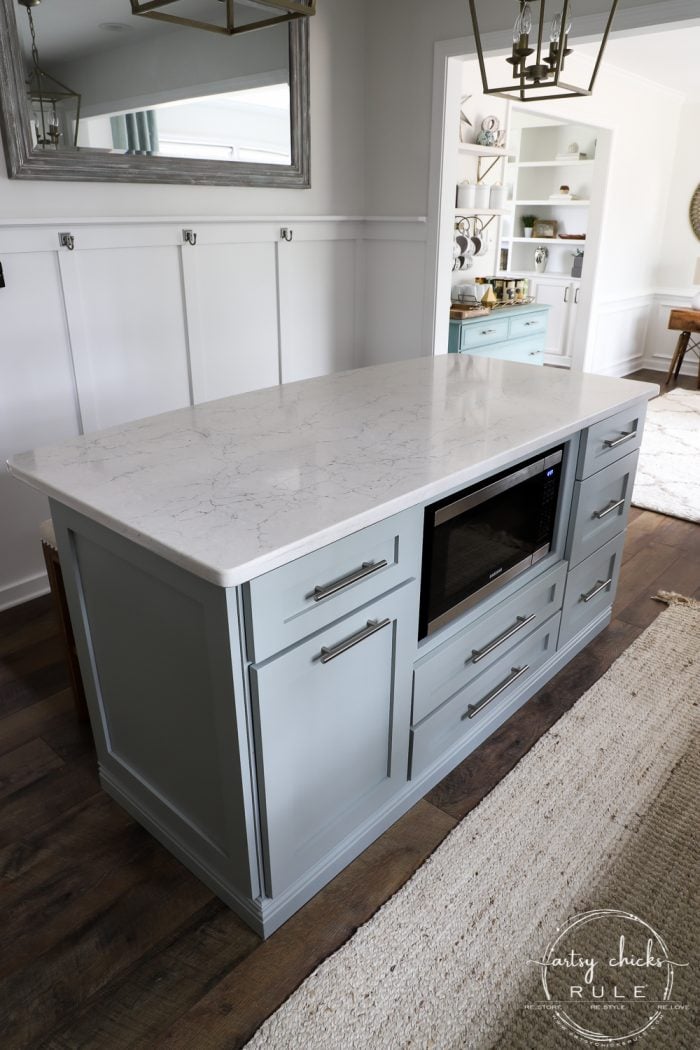 We actually made that island from big box store cabinets. It got another makeover with the recent kitchen remodel.
You can read all about that here.
The "dining room" is now the morning room. And we love it!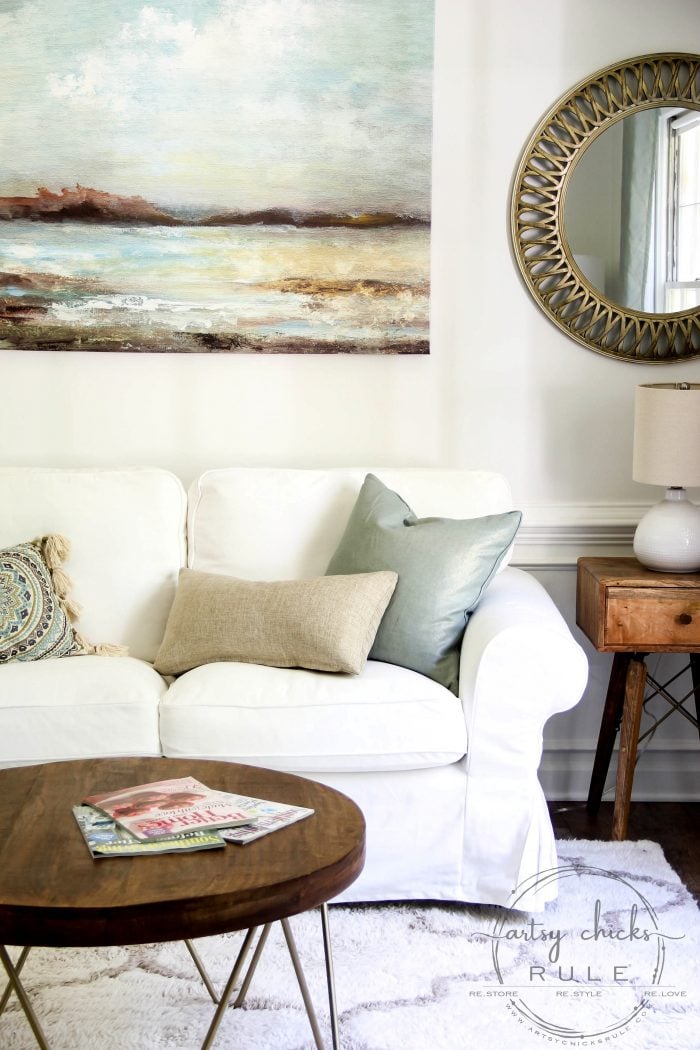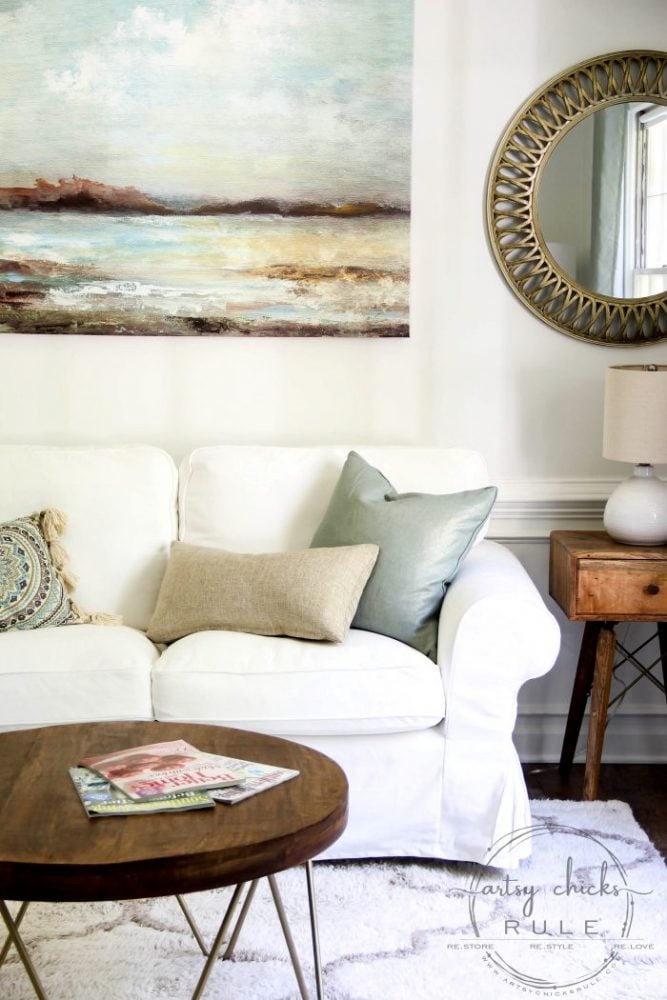 It's such a great place to sit and have a cup of coffee or tea, relax and read.
Our little coffee bar in here is a treasure. (and a thrifty makeover, you can read all about it, here)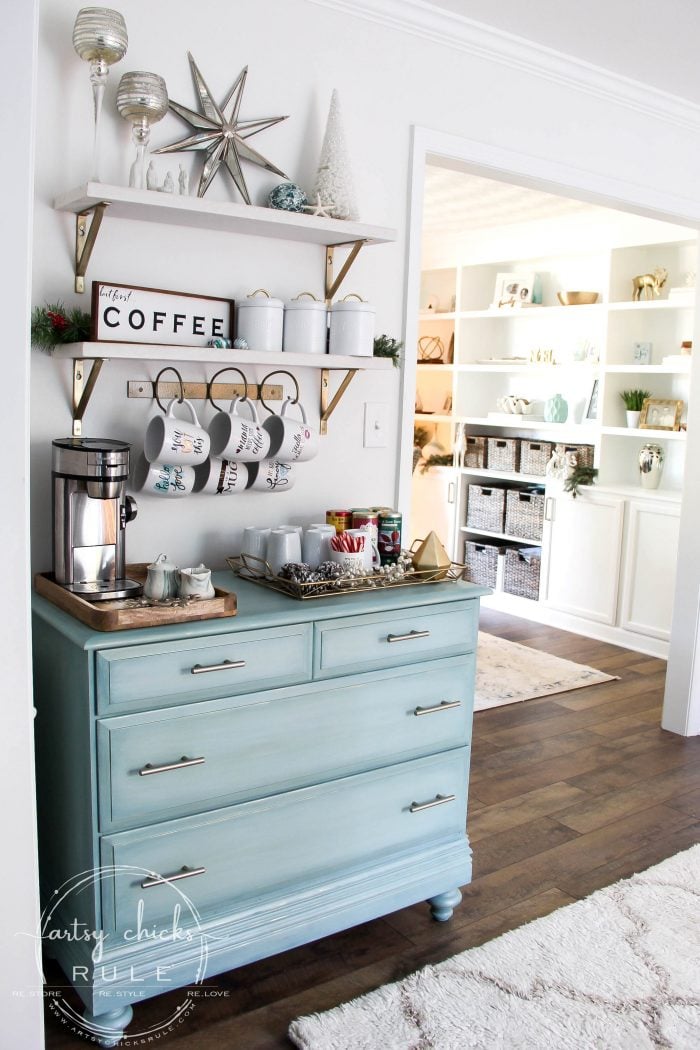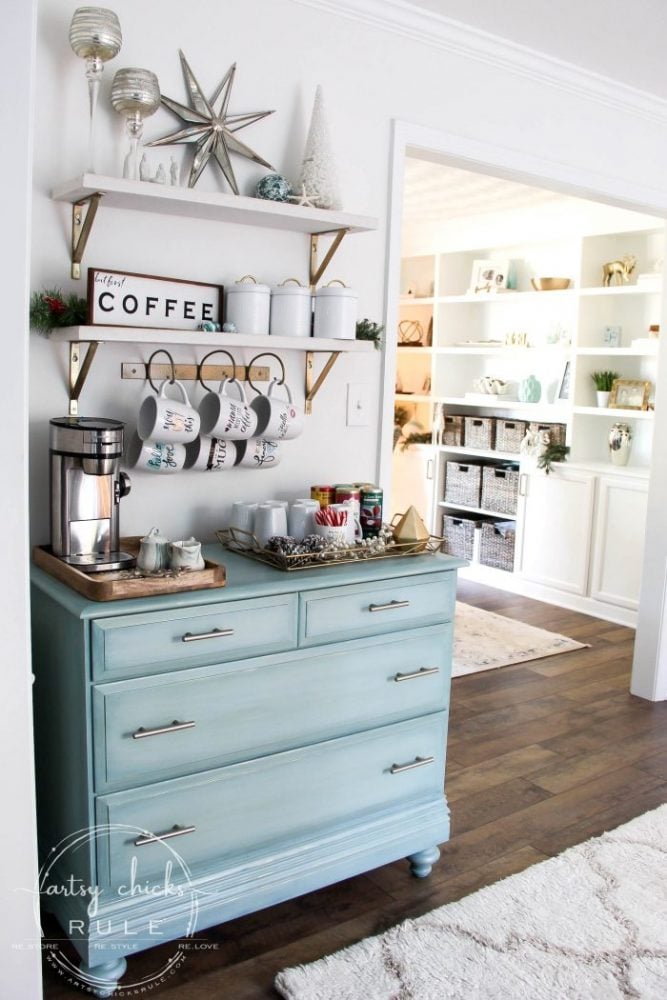 What would normally be the "formal living room" was never one in our home. But it has been the dining room and a study at different times.
And now it's a dining room again.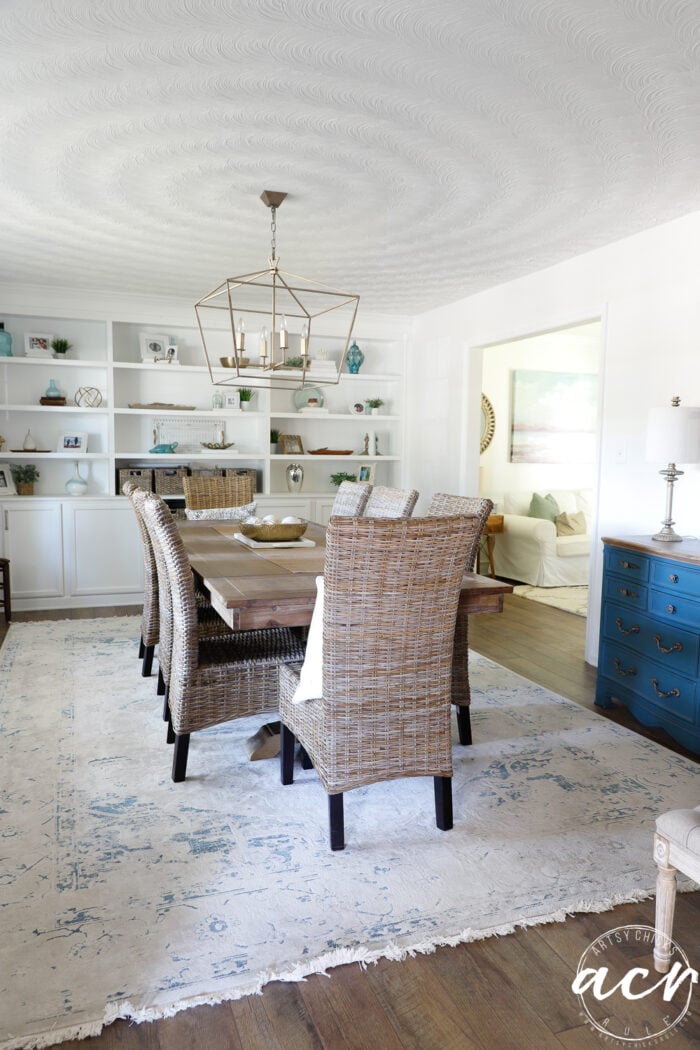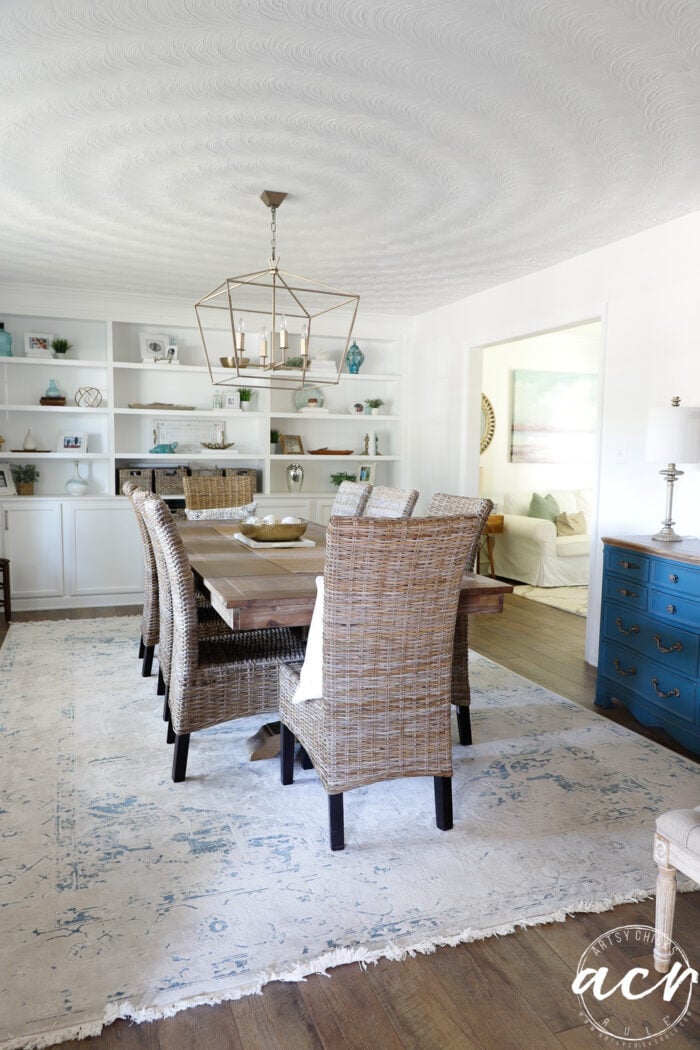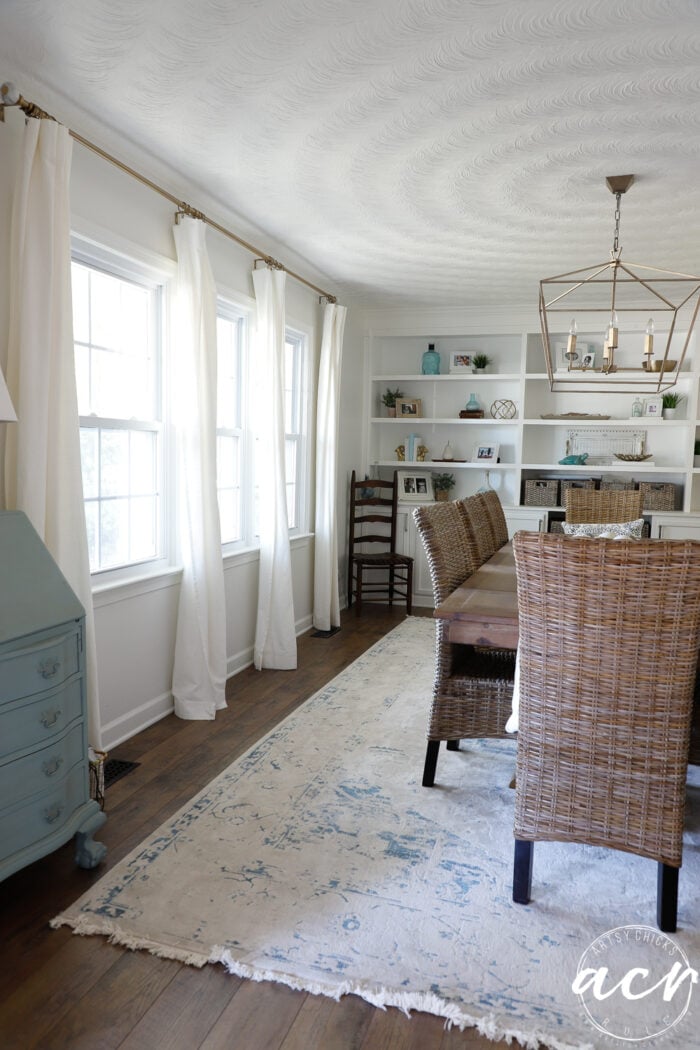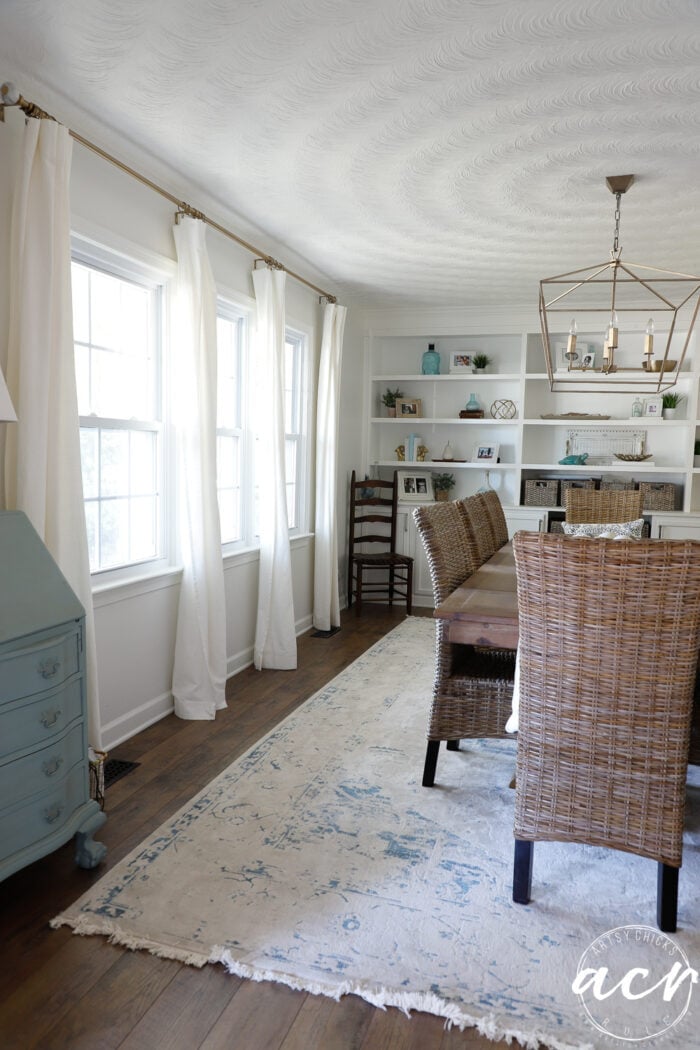 And a shot of our DIY built-in bookcases.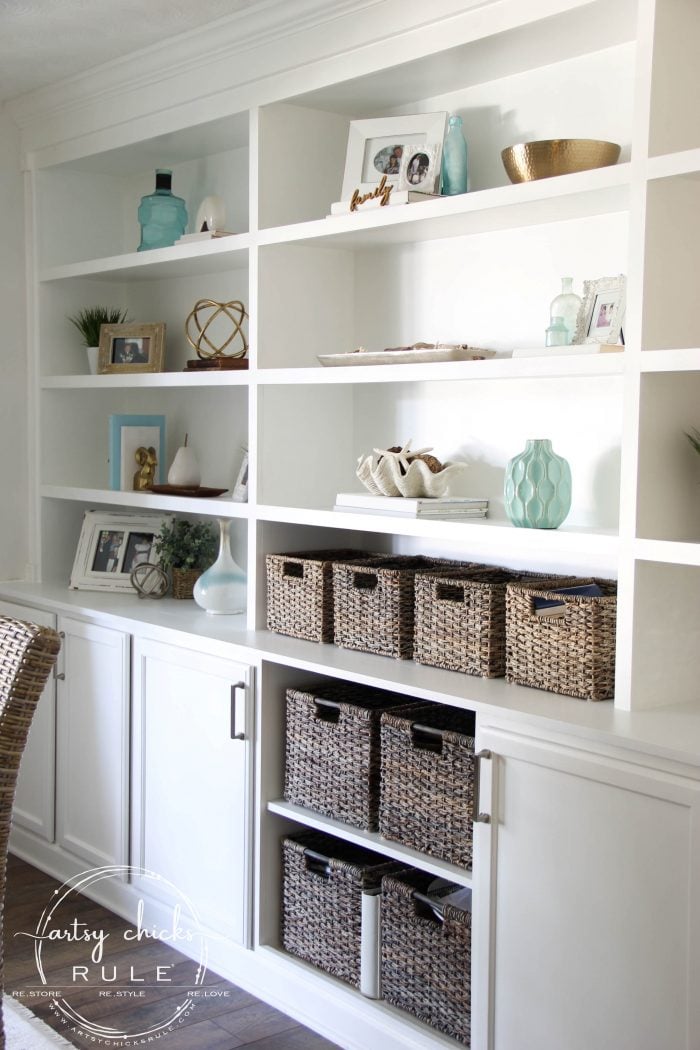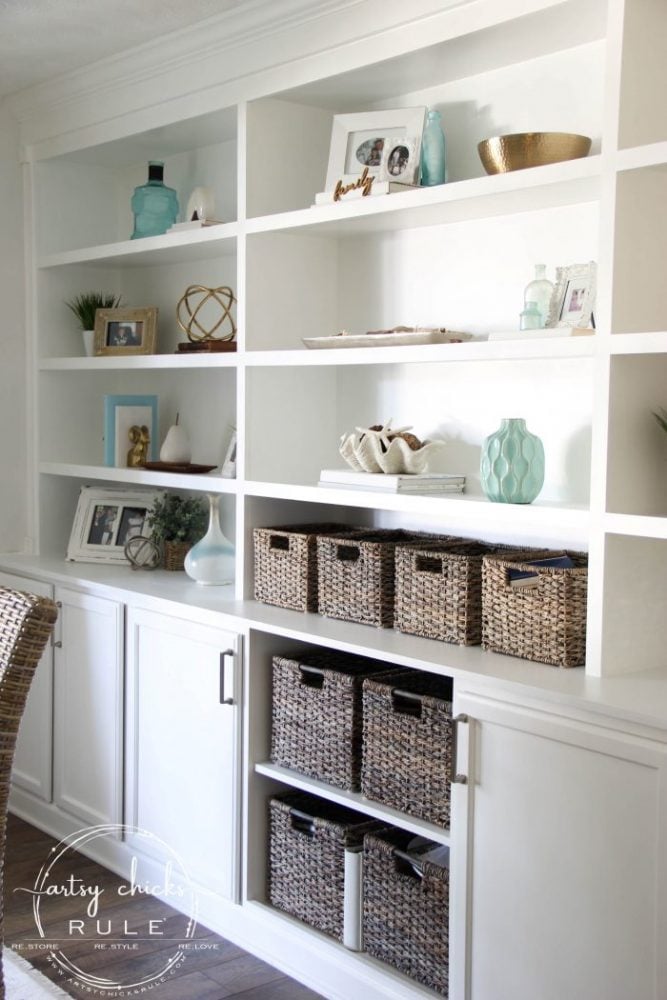 Need tips on shelf styling?? See this post, here.
A little short on space in our foyer, we decided to build a coat rack for the wall inside the dining room.
This otherwise wasted space became the perfect spot for a little "mudroom" action with a bench.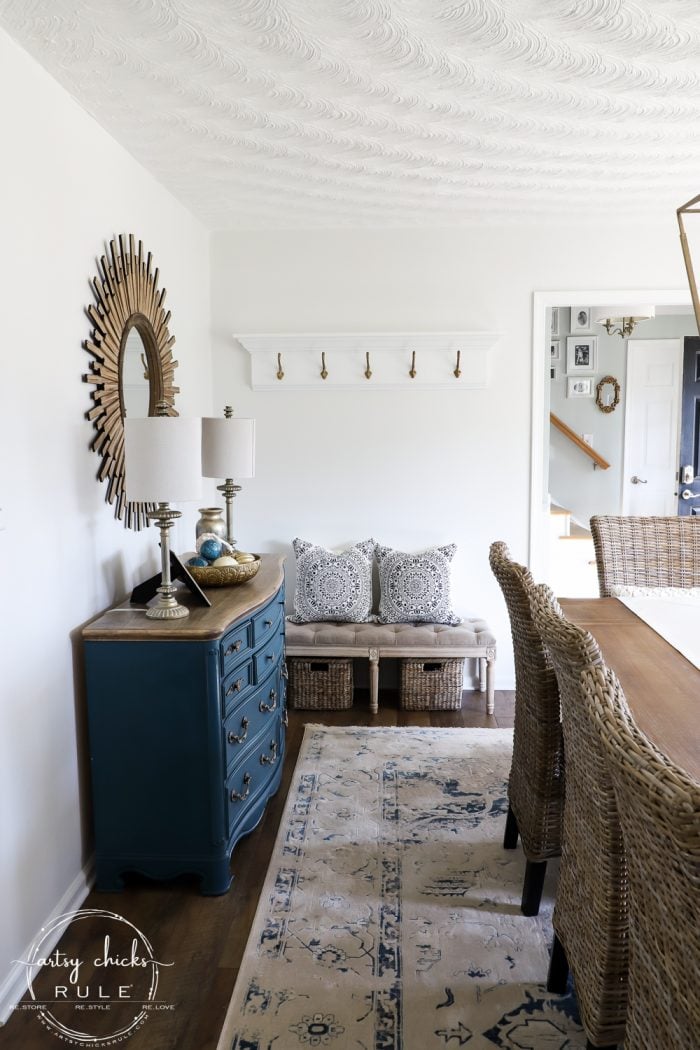 One of my absolute favorite furniture makeovers, the blue dresser above that I use in our dining room.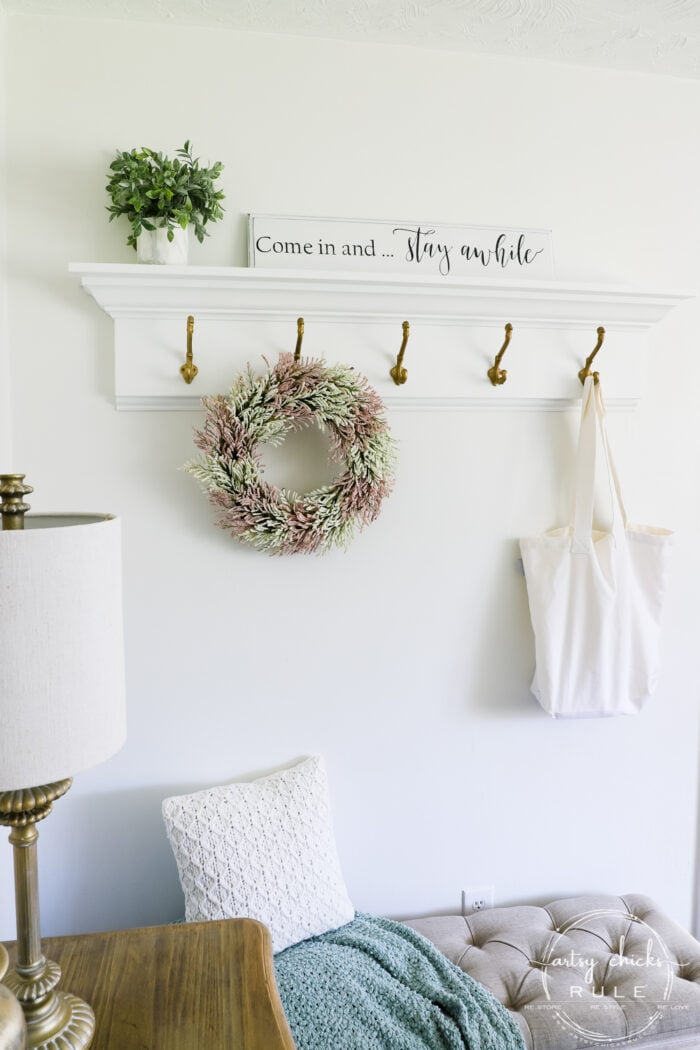 Our foyer has undergone several makeovers, but here's the latest.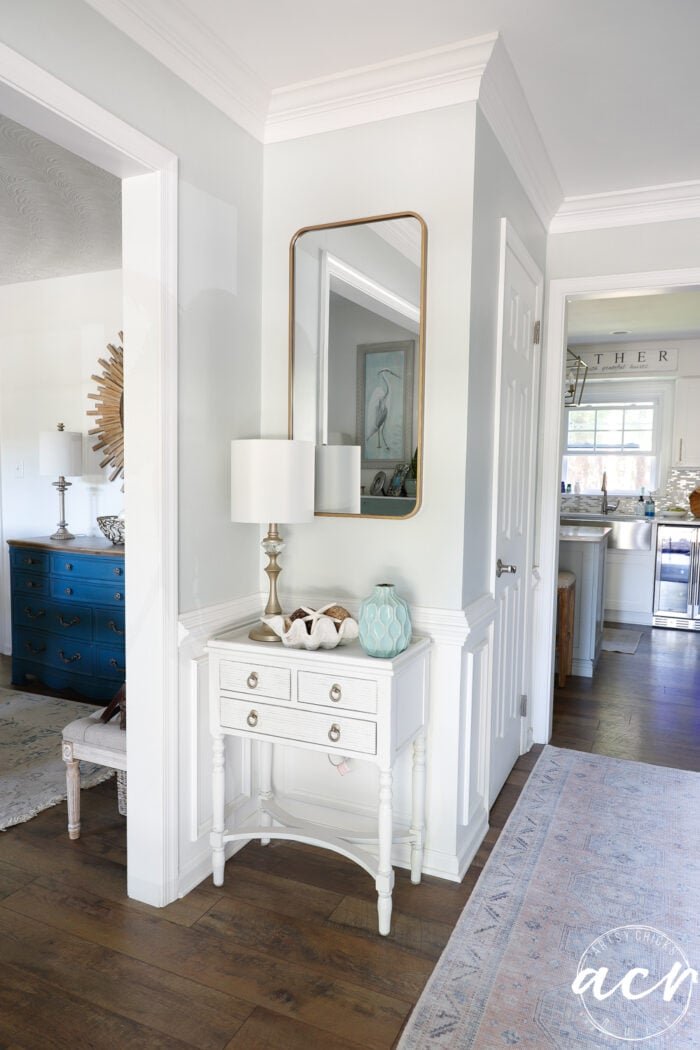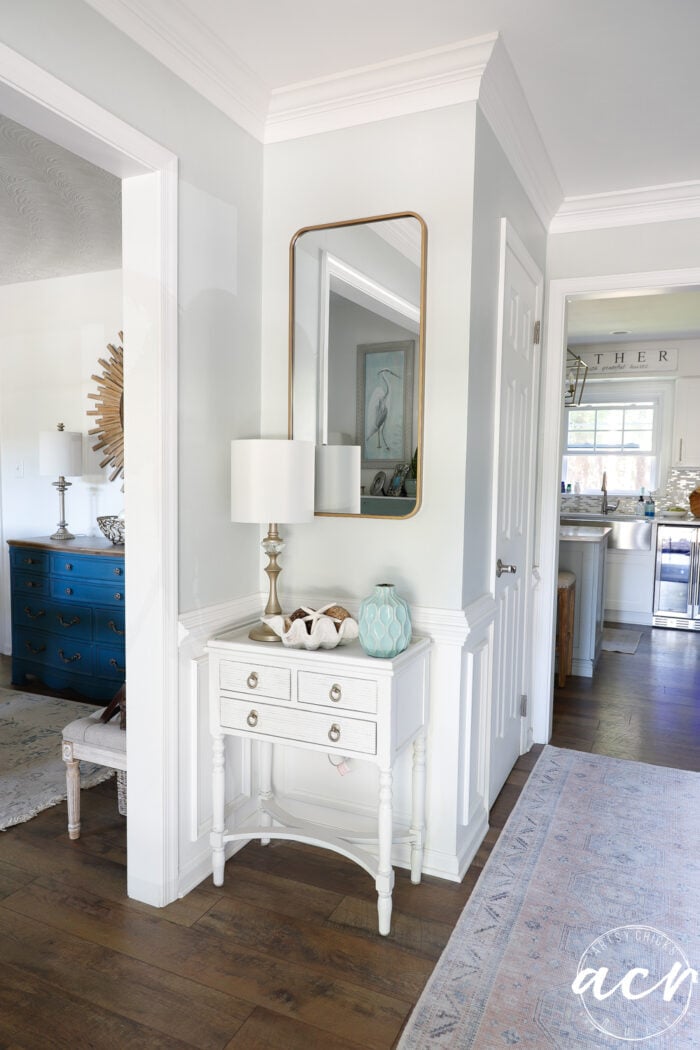 I love how you can see the DIY Blue Heron painting I did a while back in the mirror reflection.
We did DIY deep style crown molding and gel stain stair treads (below) updates in the foyer.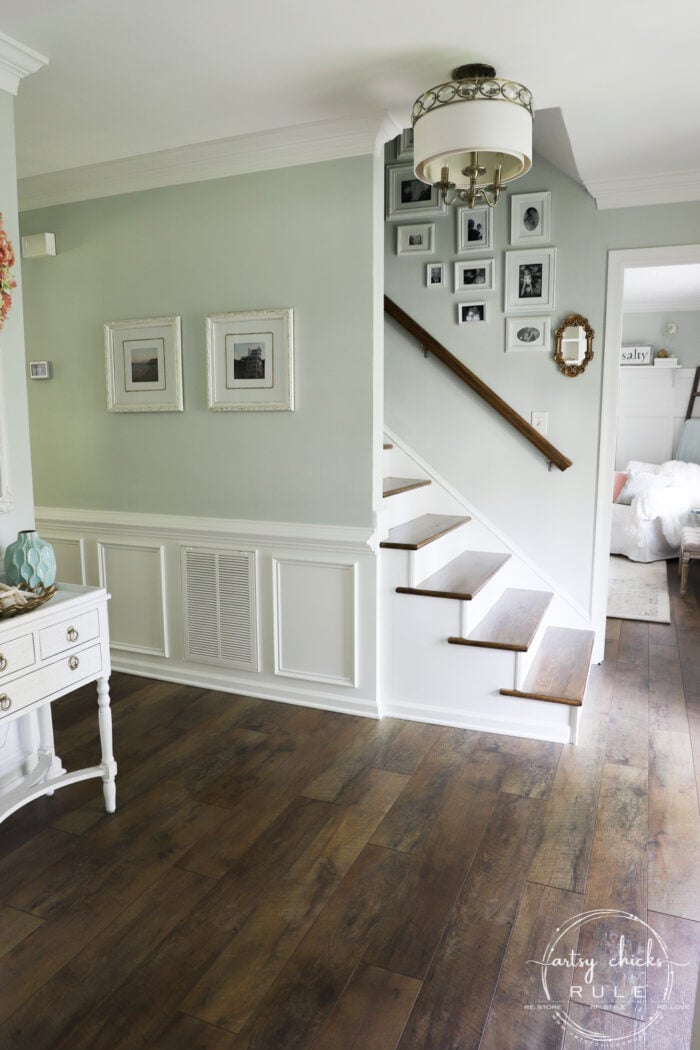 And I shared how to paint light fixtures for an updated look. (even while they are up!) This foyer light is one of them.
Check out more on that here.
The family room, AKA "the cave" as it was known when we moved in, with its very dark brown paneling, carpet, etc.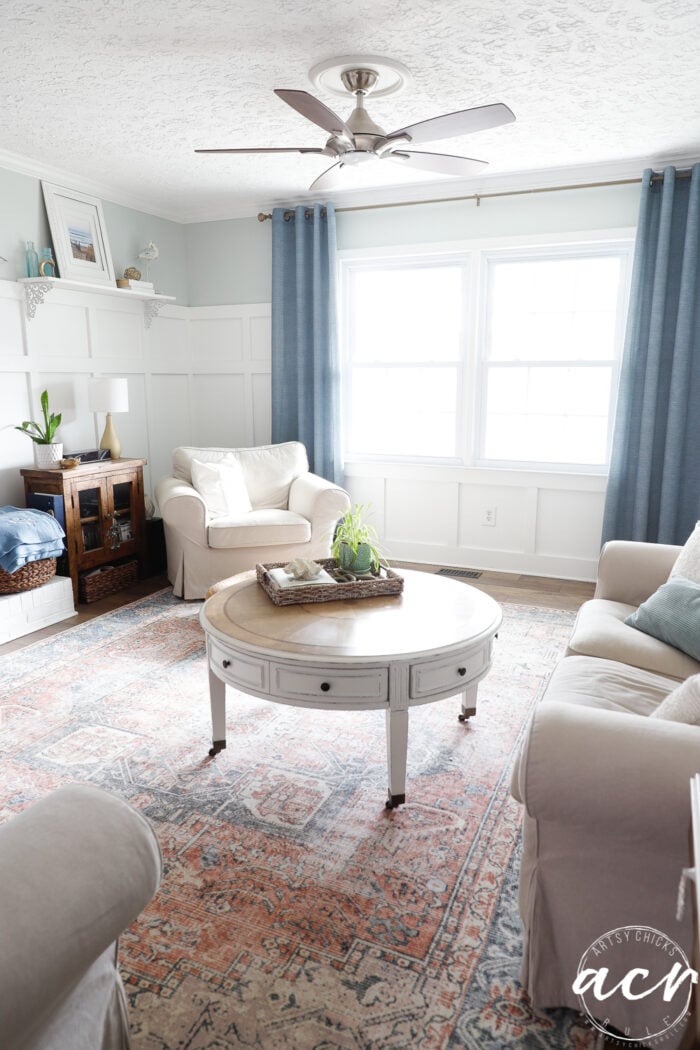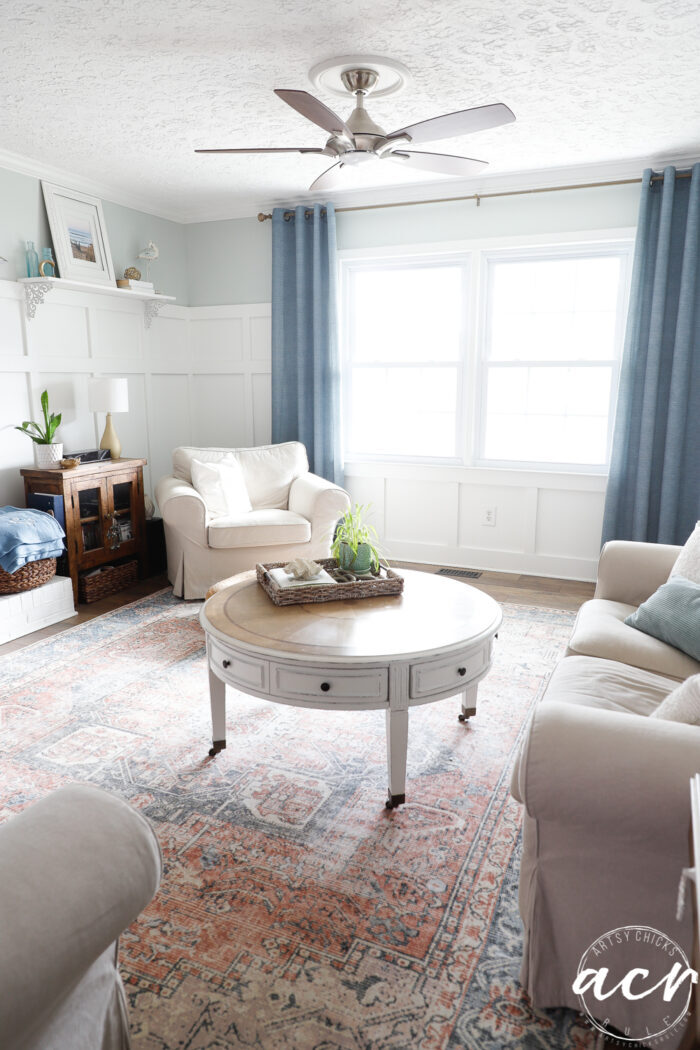 We took that stuff down in a hurry and replaced it with this DIY faux board and batten.
(That coffee table is one of my favorite makeovers, see it here)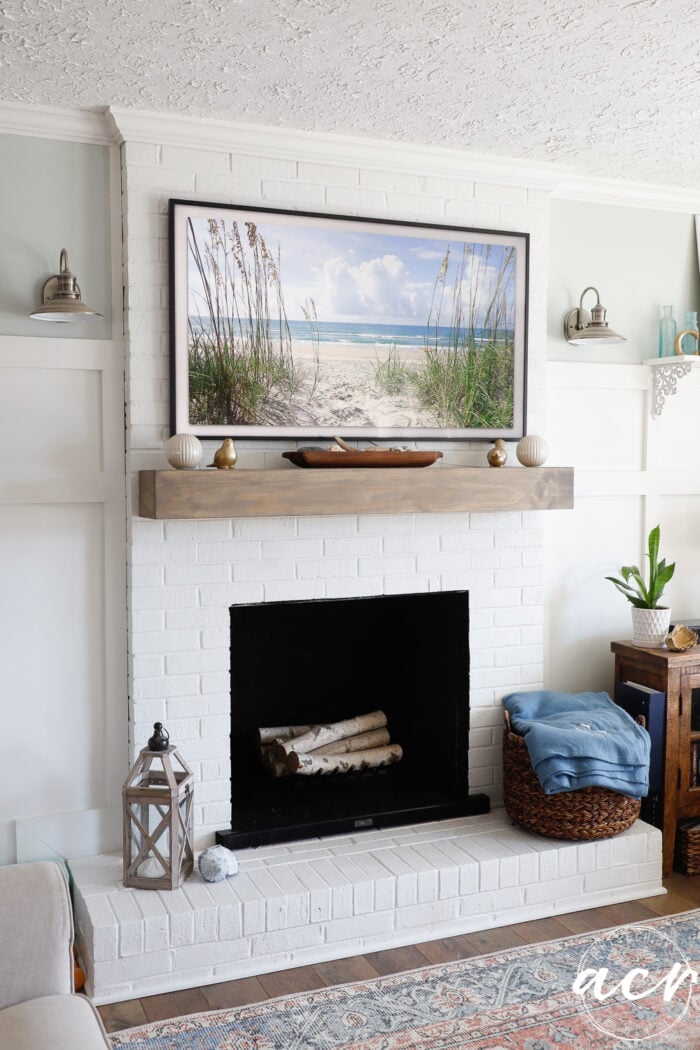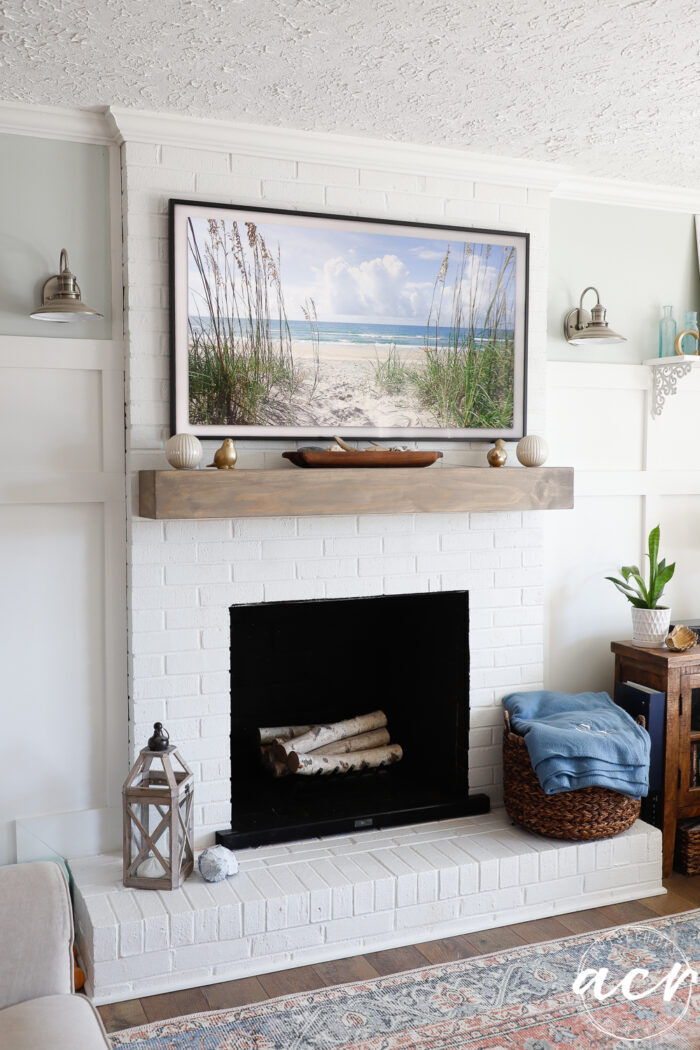 We created a faux wood beam for our mantel. You can get the DIY tutorial here.
Our laundry room got a big makeover 2 years ago.
We turned it into a coastal farmhouse laundry with DIY faux shiplap and a DIY wood countertop too!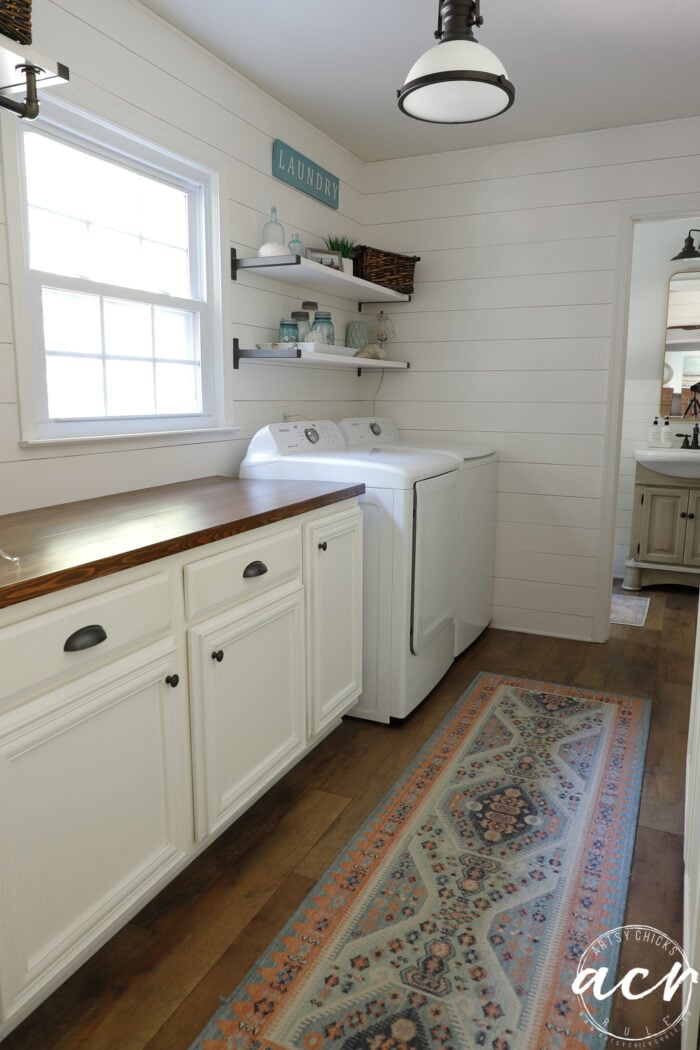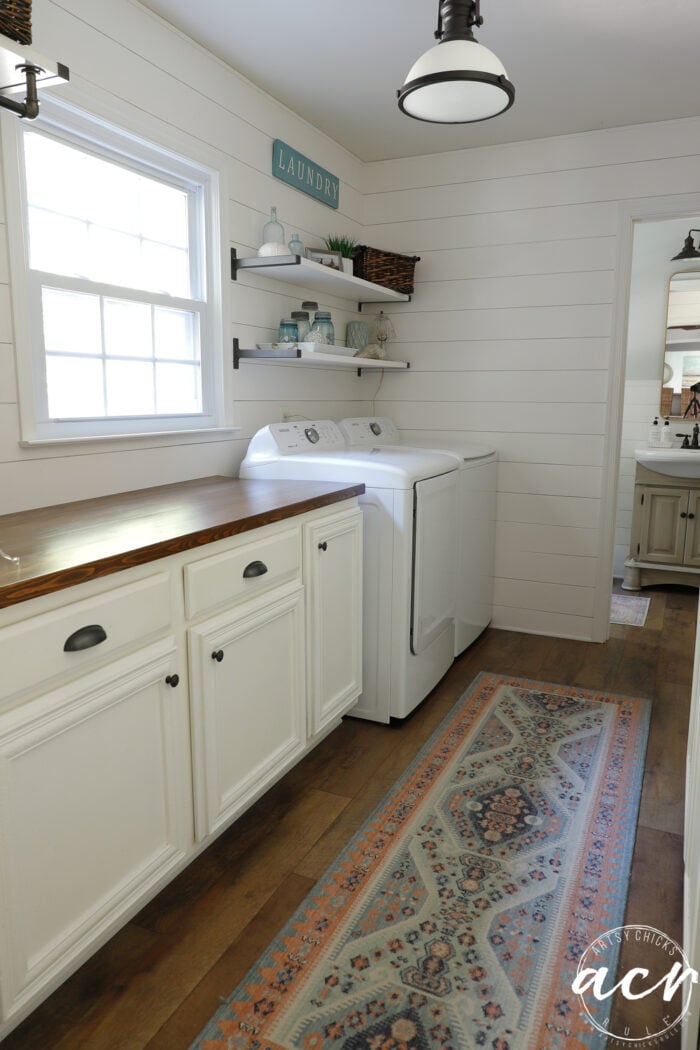 Our little coastal guest bath got (another) makeover recently.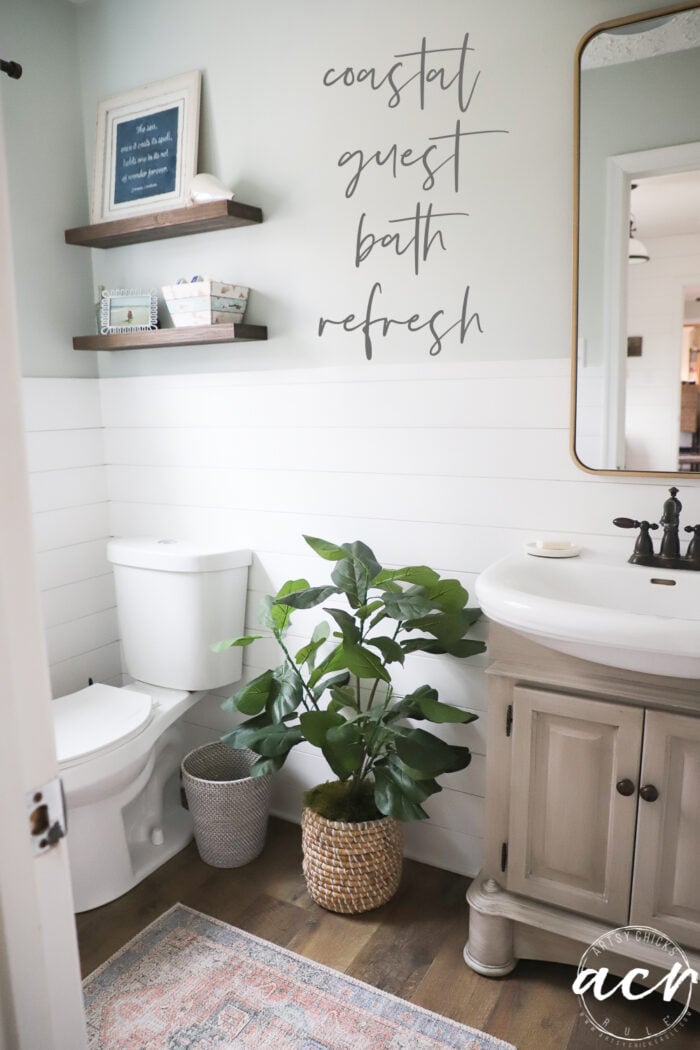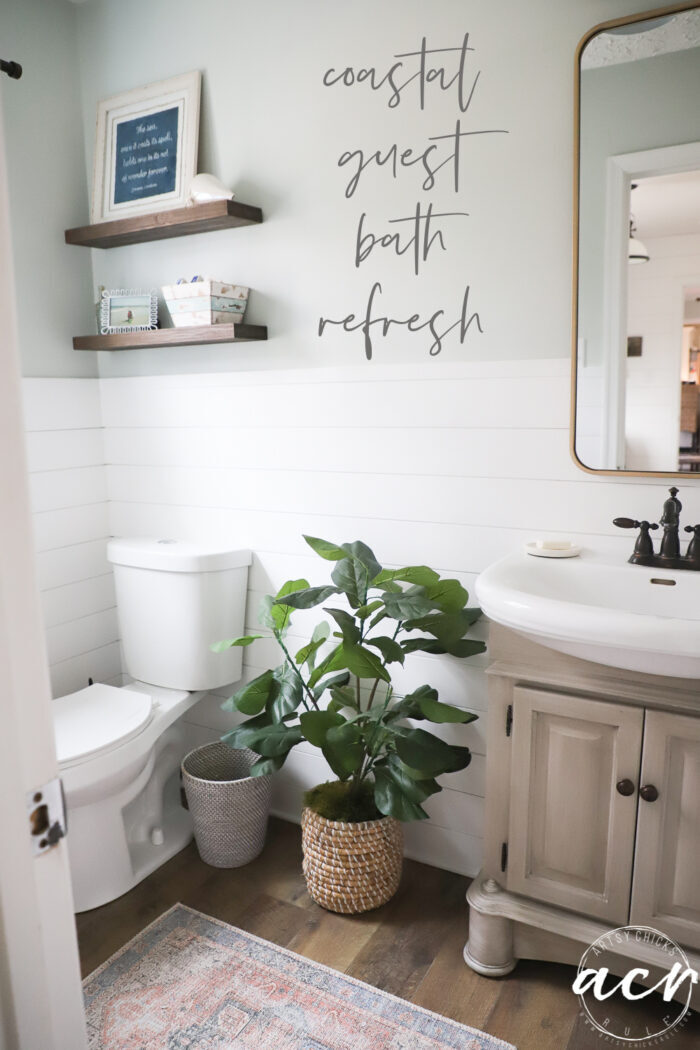 Our master bedroom is a work in progress still.
We only have a tiny bit to do to my husband's built-ins then we will be sharing how we did that and the rest of the room.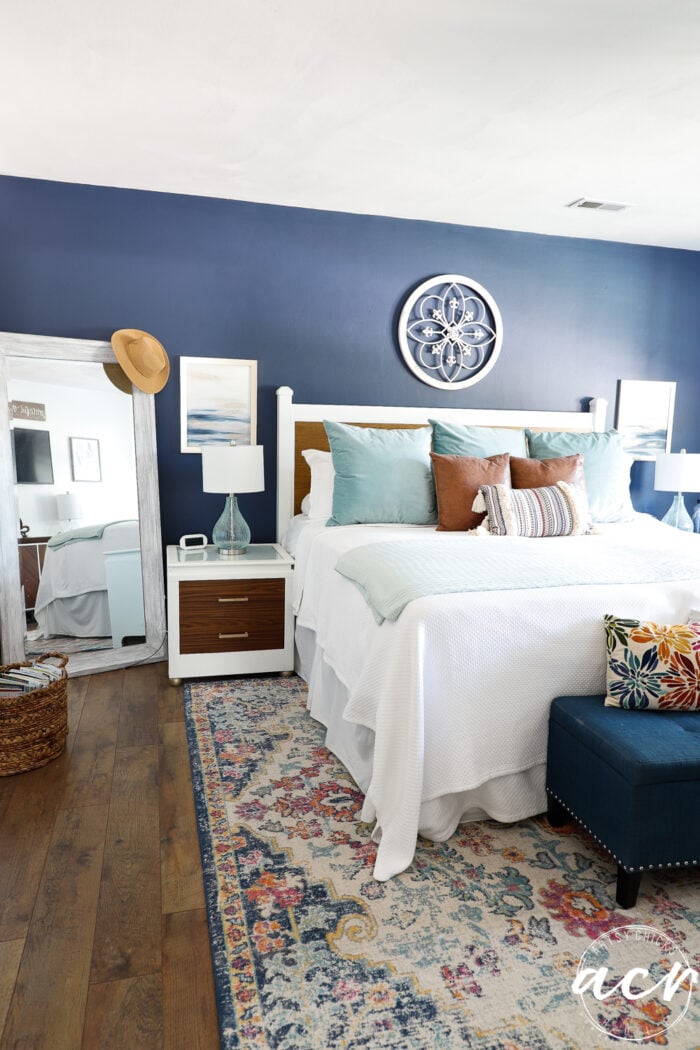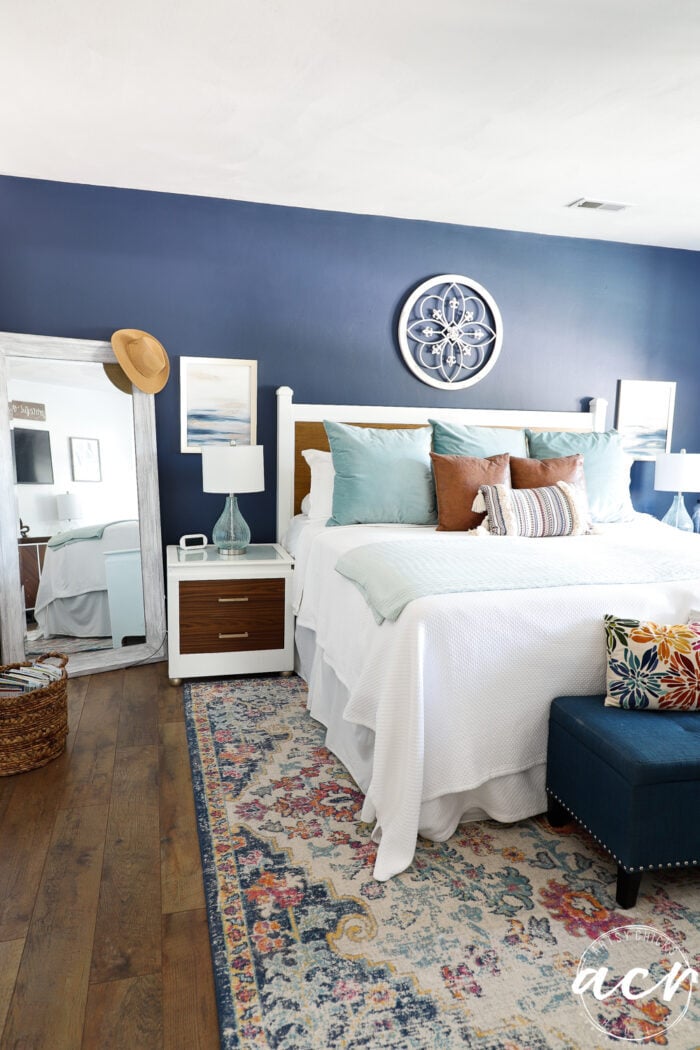 DIY Headboard, updated nightstands, painted mirror, and DIY abstract art.
We recently finished updating and remodeling our master bath/closet area.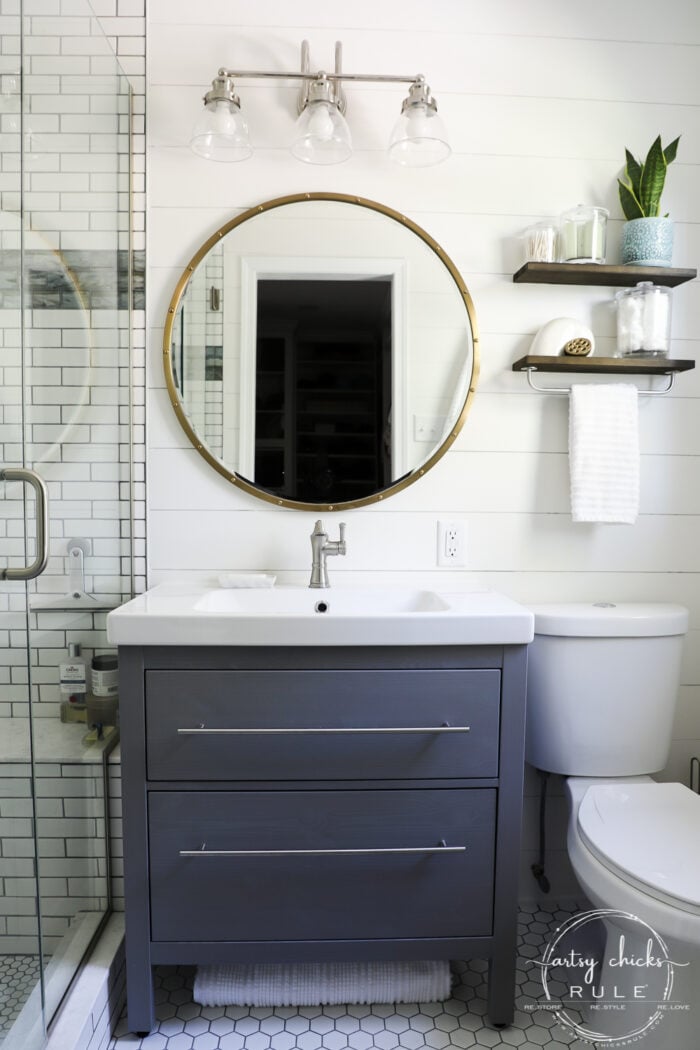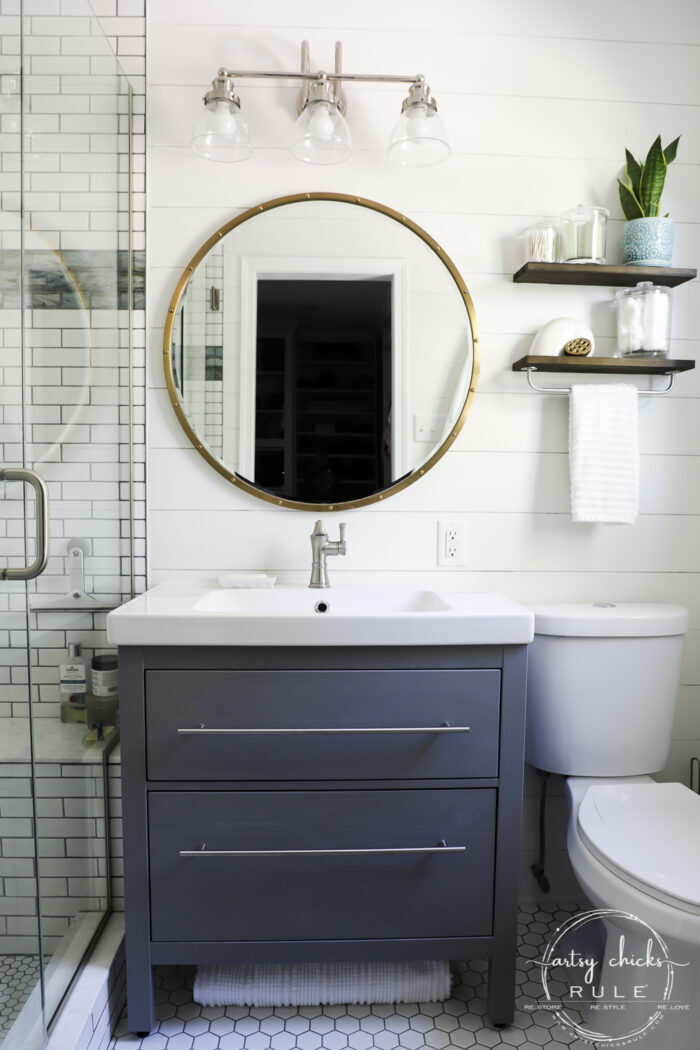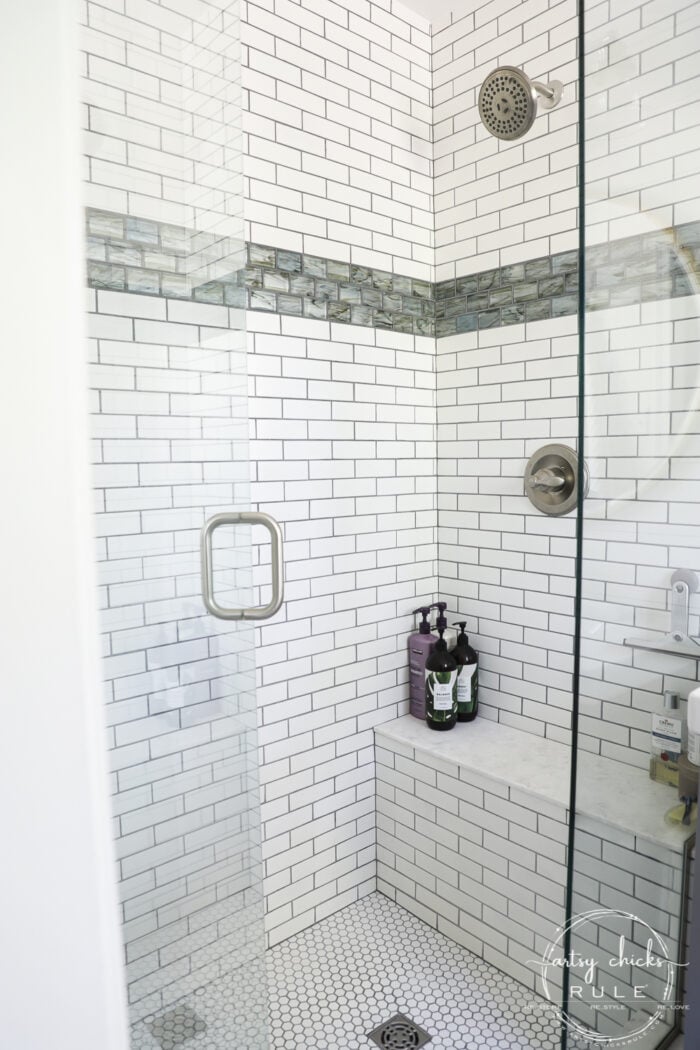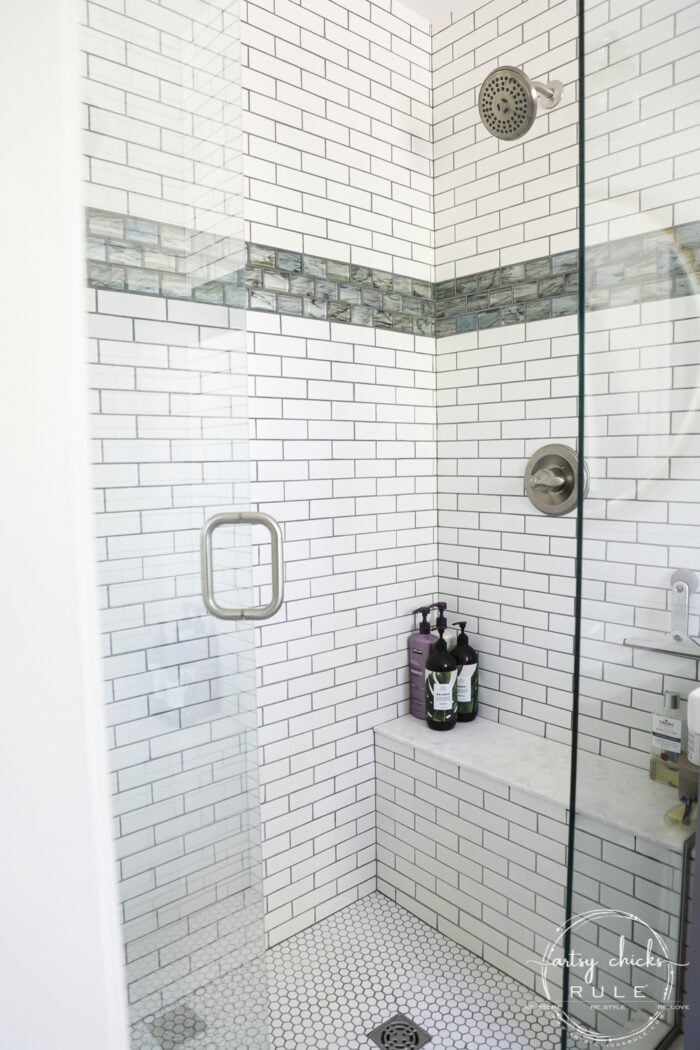 You can read about the makeover here.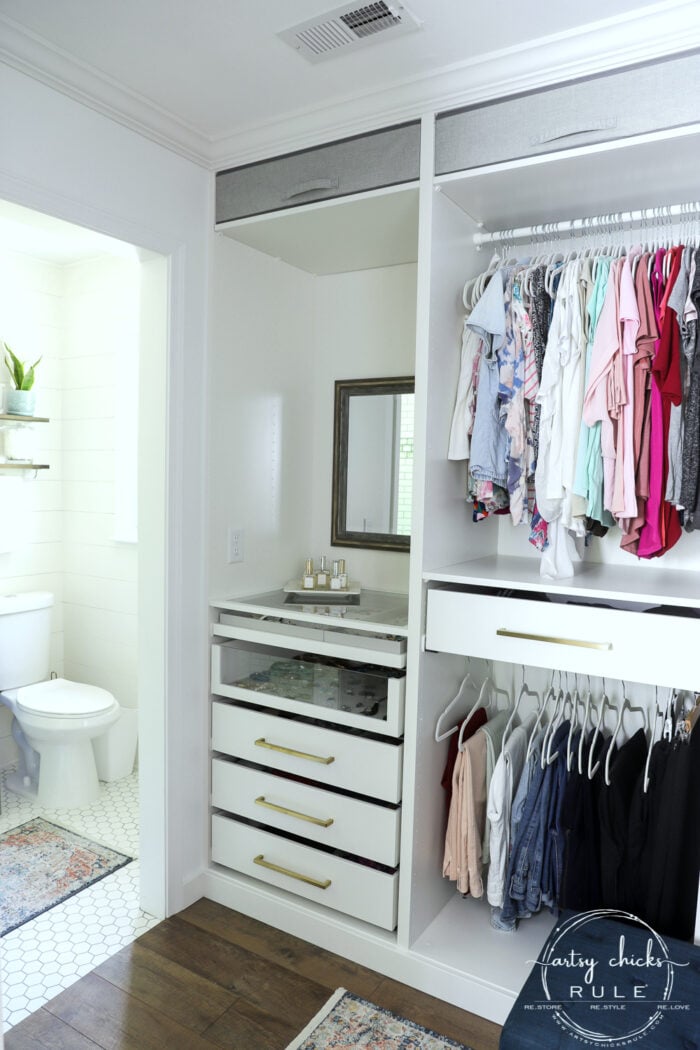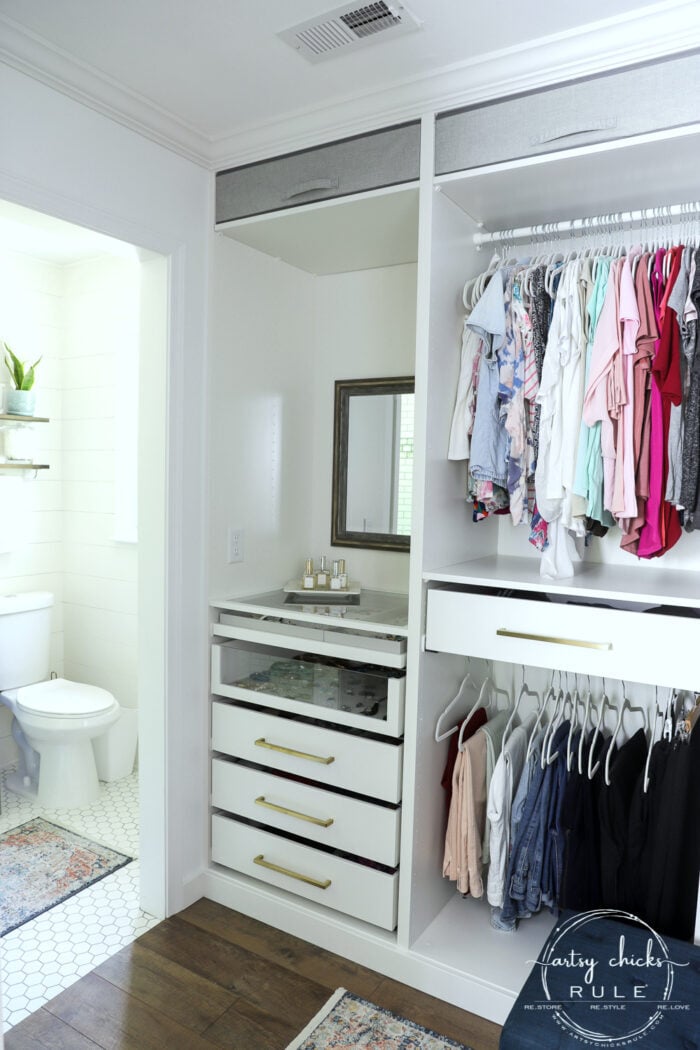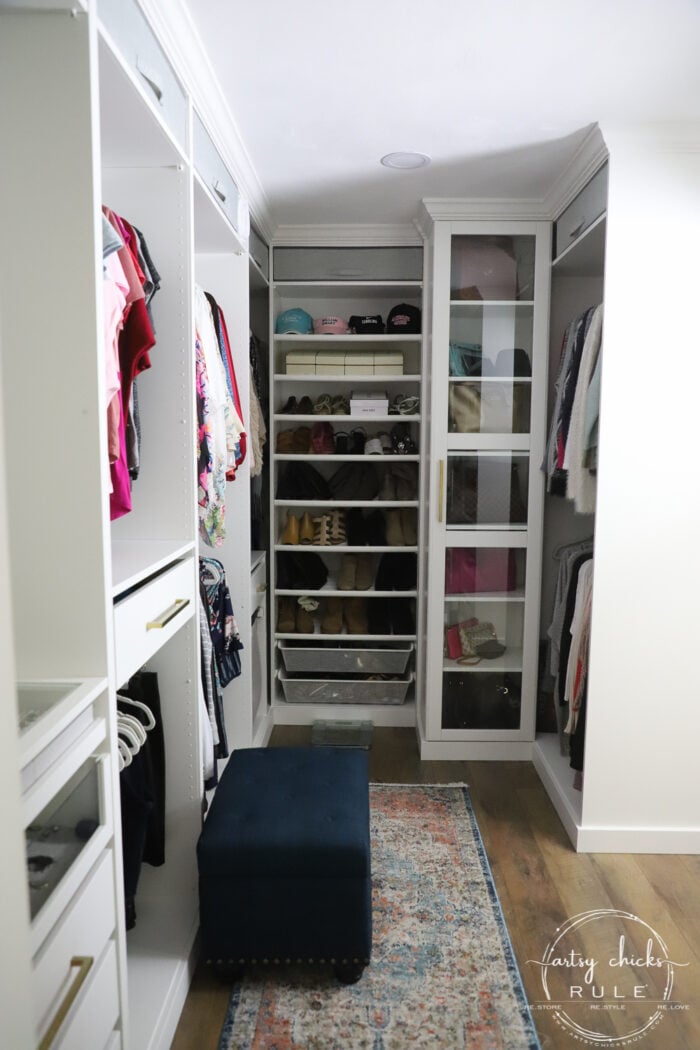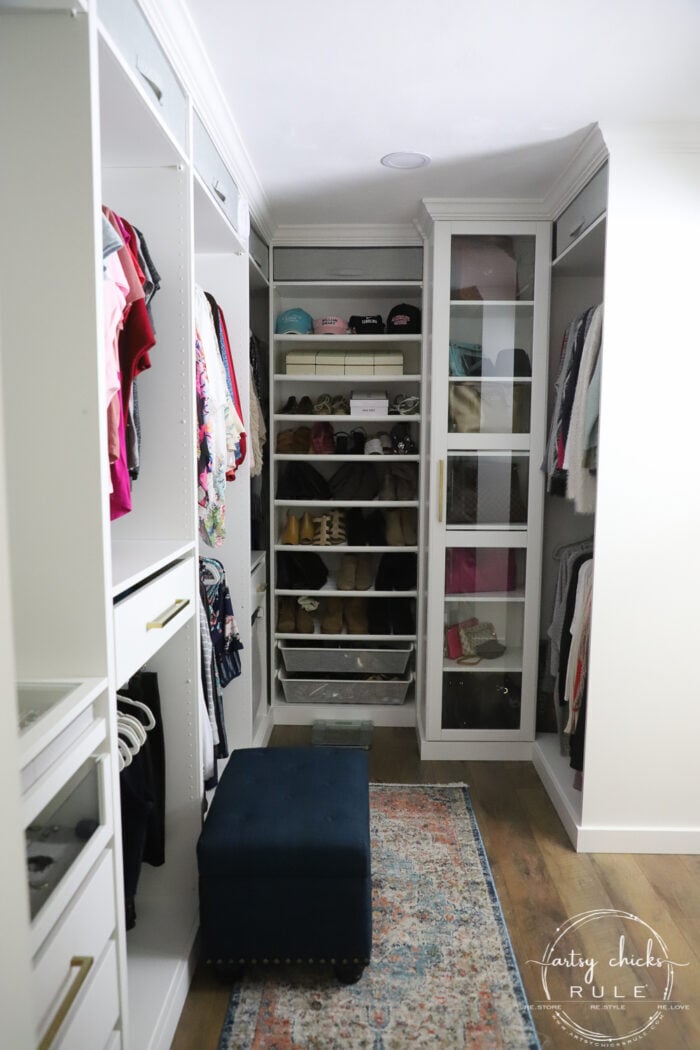 Want to see the rest of this closet makeover (all the nooks and crannies…"before and afters")?
Check out this post here.
Our home office (hubby has a desk on the other side), is finally done!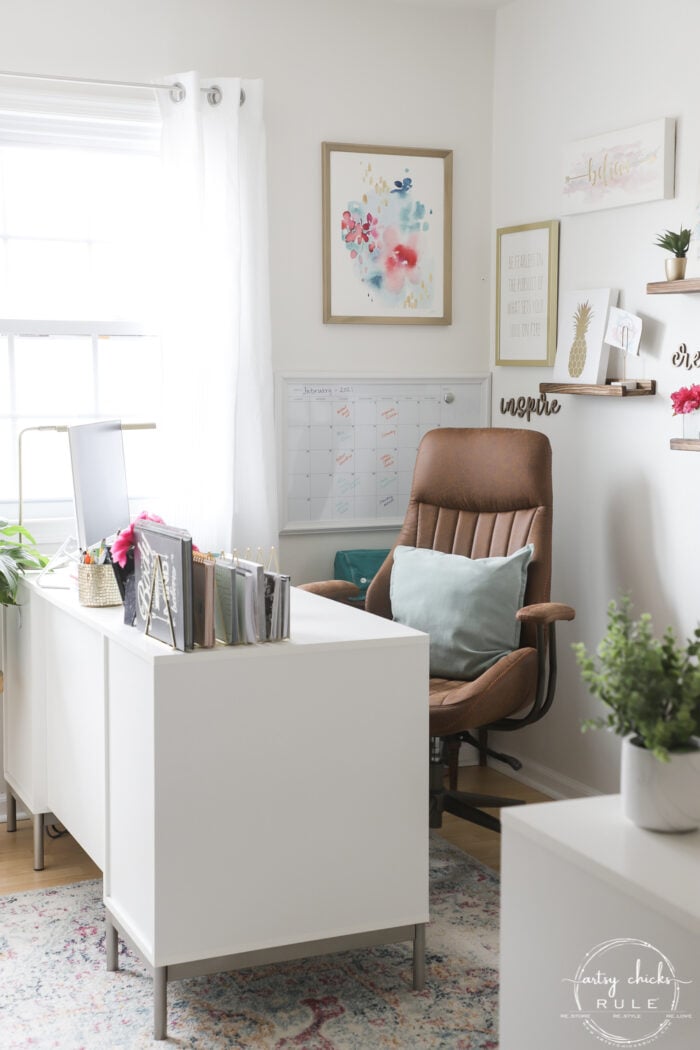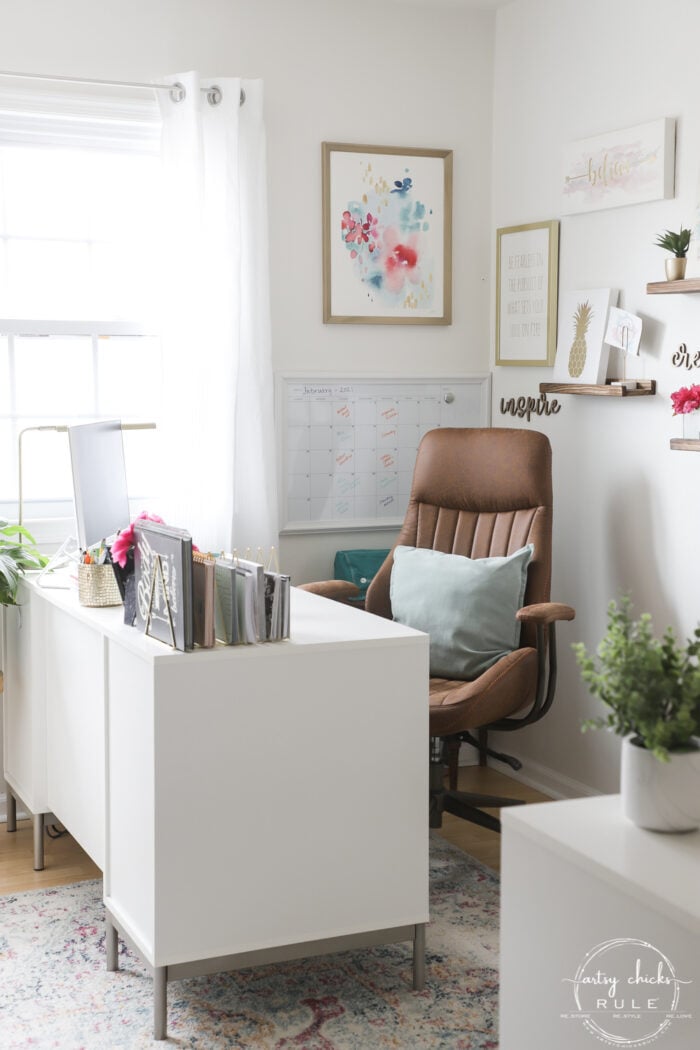 See the rest of the office and all the details, here.
Our hall bath had several updates over the years, we recently did the "big one" and just love it!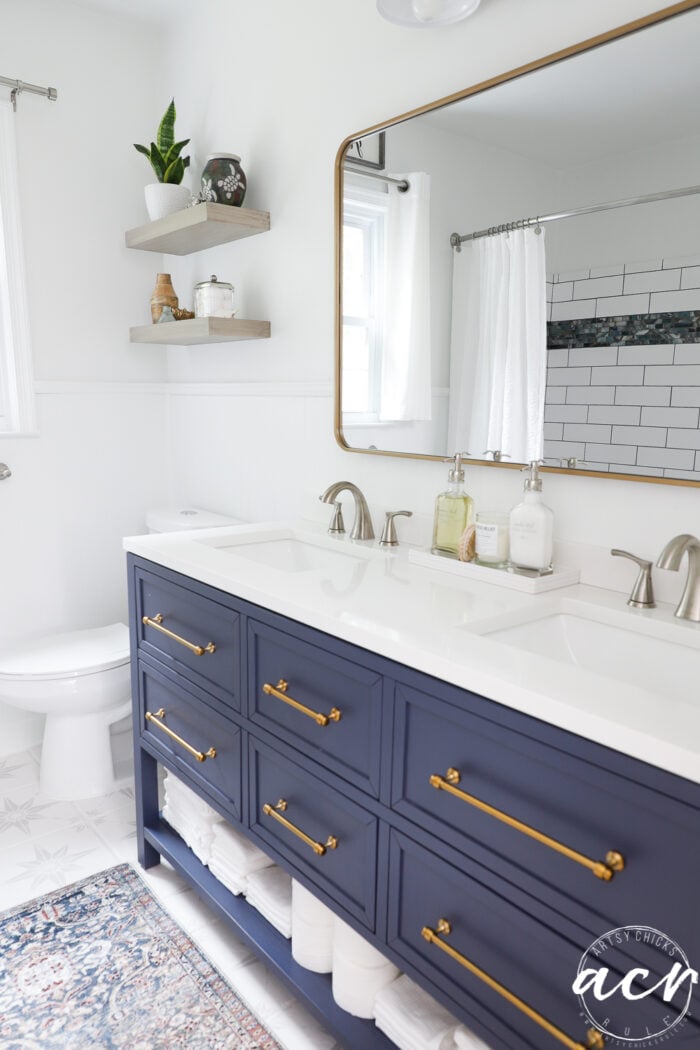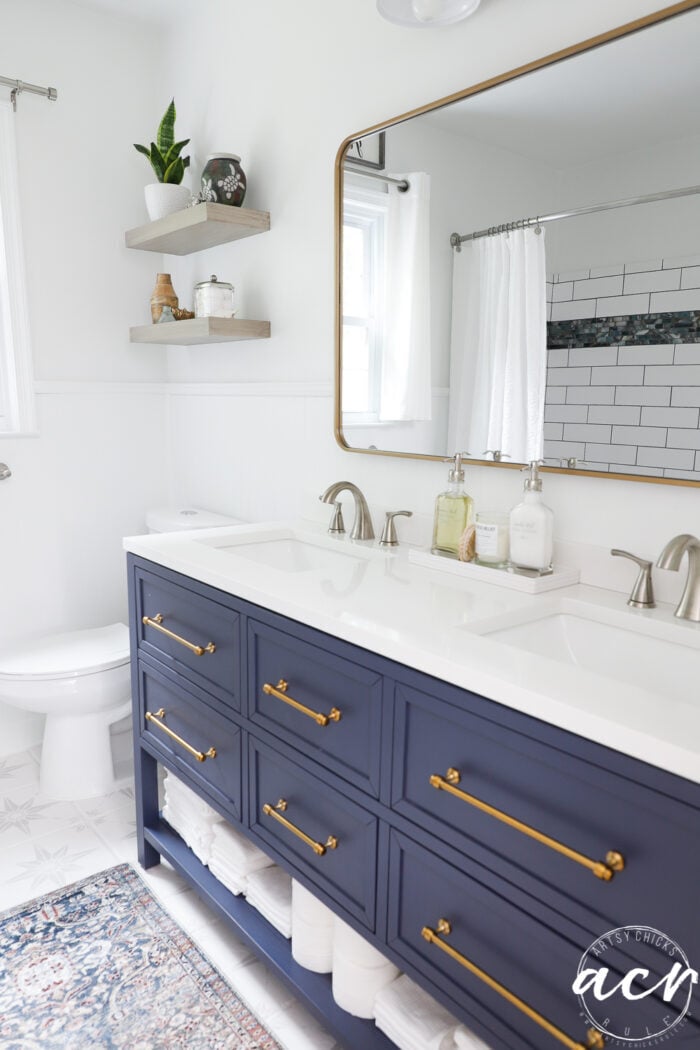 Read all about our hall bath makeover here.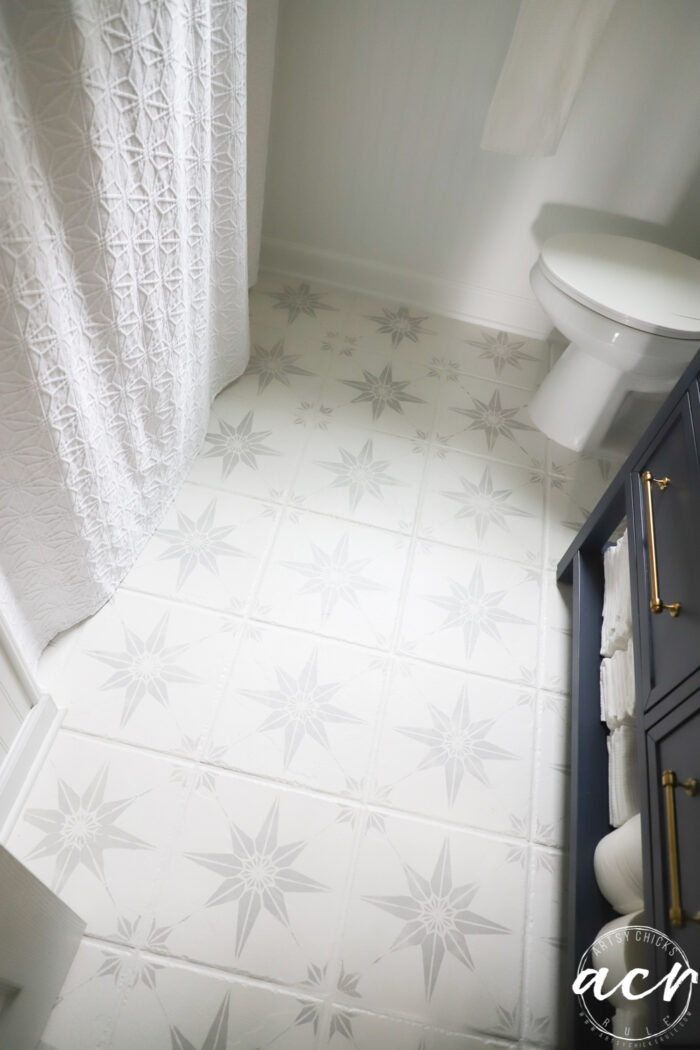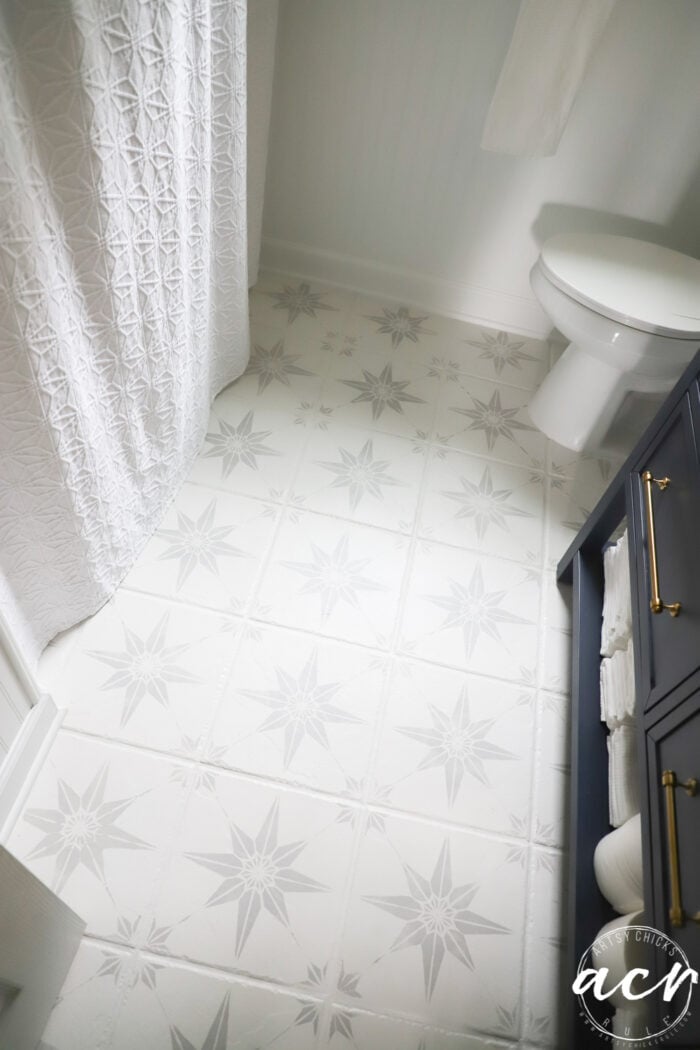 And how I painted the tile floor here.
We have a great outdoor space right off of our family room.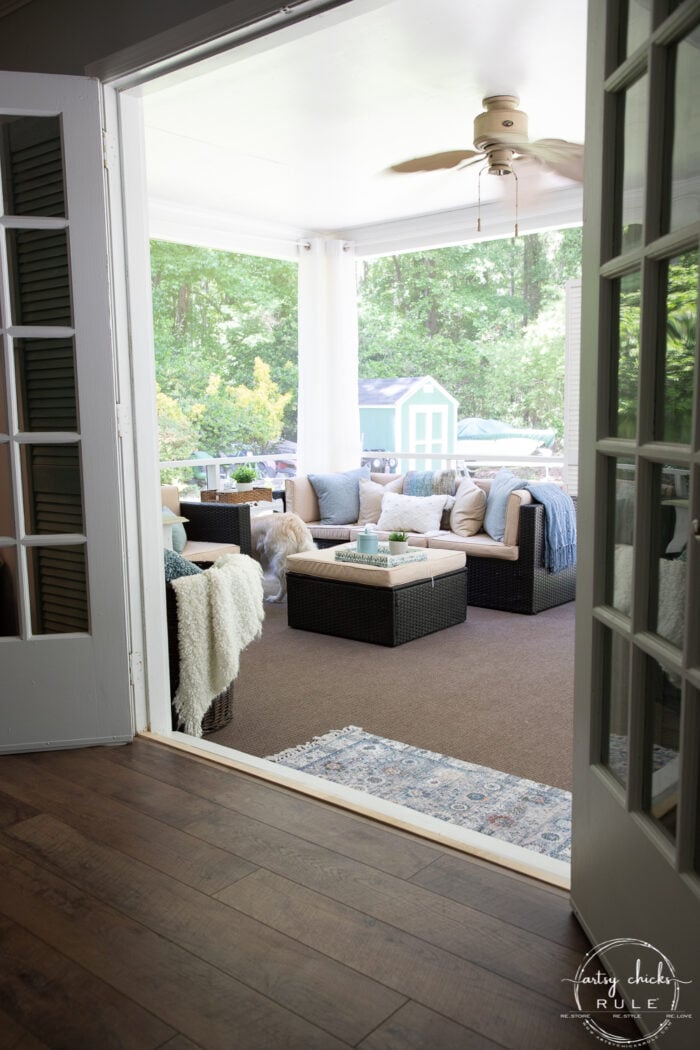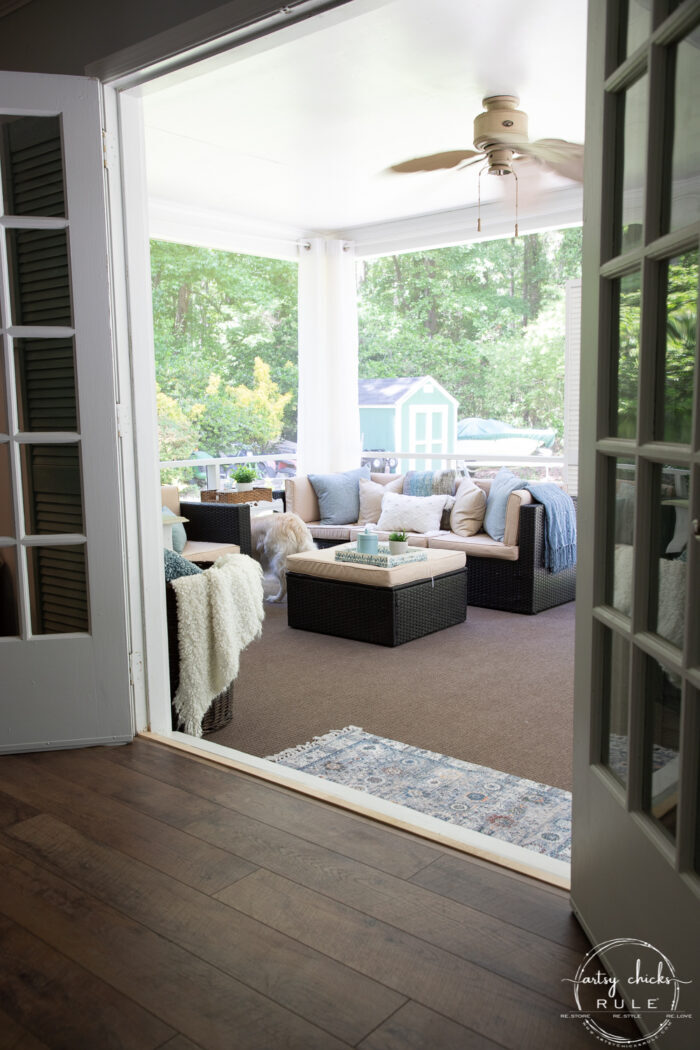 And a fluffy white dog, can you spot him?? haha!
Read all about the refresh I recently gave our screened porch, here.
We built this fire pit (and patio) some years back.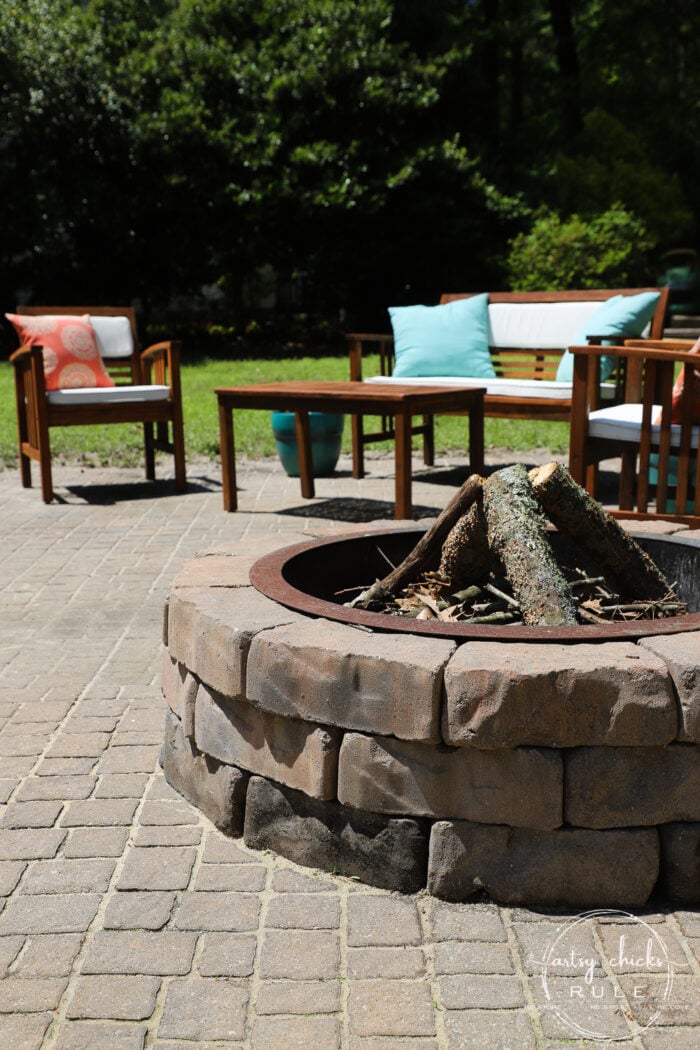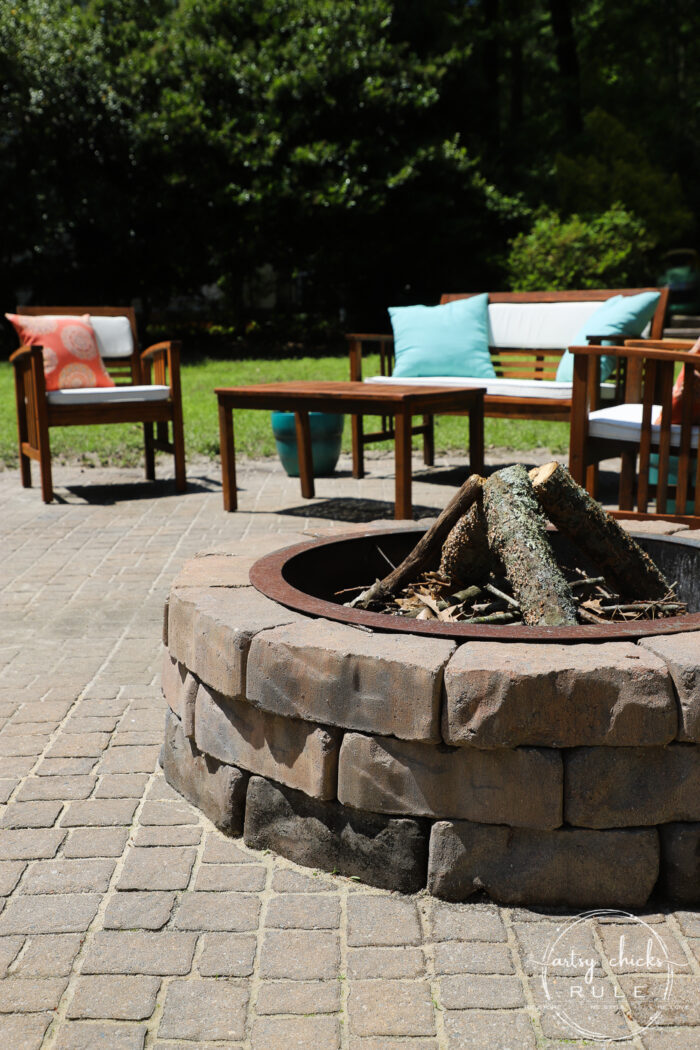 And I refinished that furniture that had weathered badly. You can read all about that here.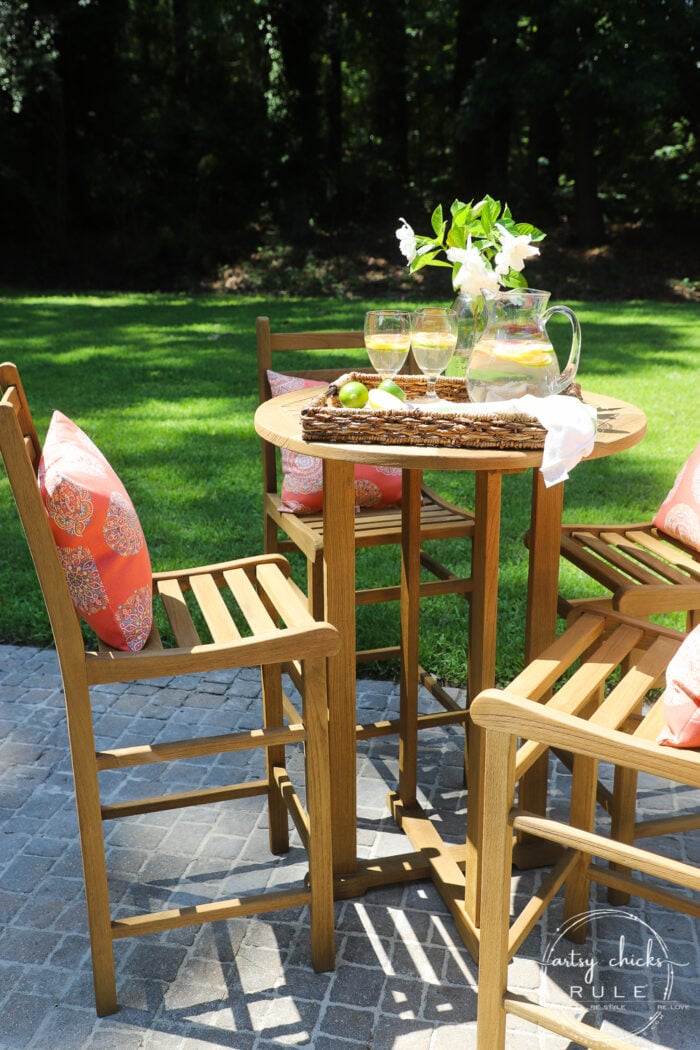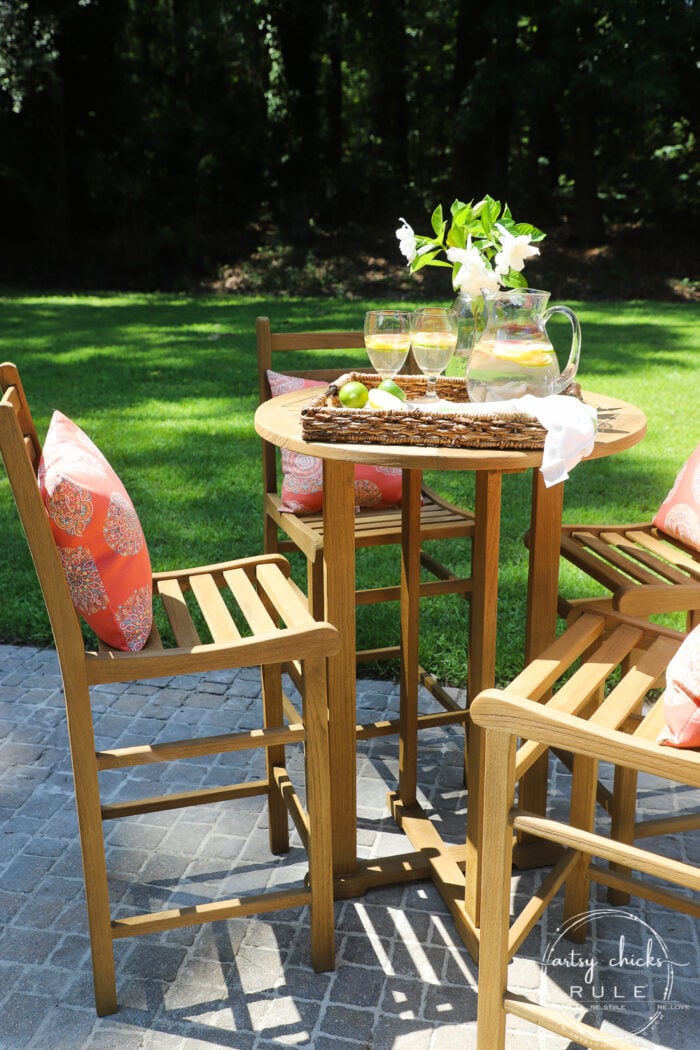 And read about how I restored this teak furniture here.
Our front porch is one of our favorite things about our house. And yes, we do spend lots of time rocking in those chairs!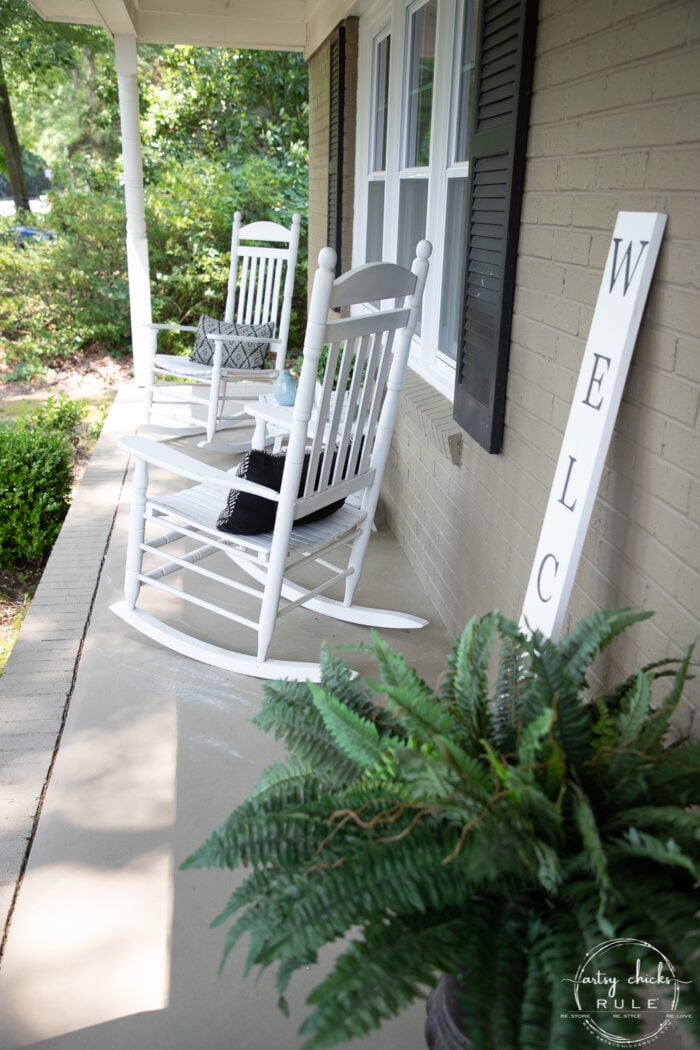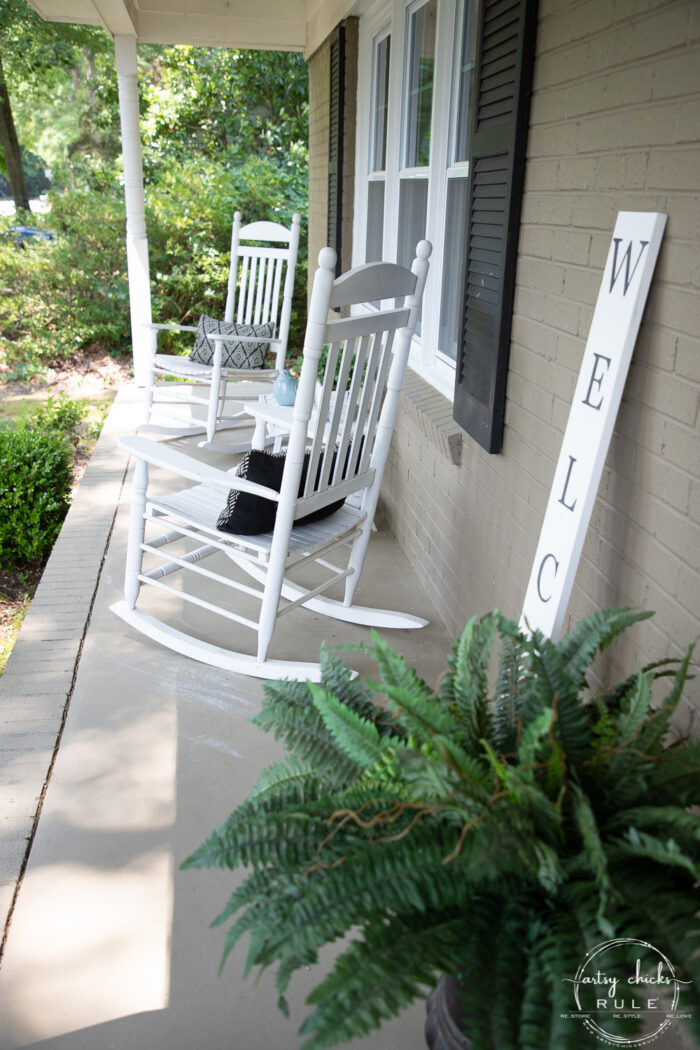 See more of our porch here.
And since the holidays are kind of a big deal around here (I love the holidays and love decorating!)
I thought I'd share a few photos of our home decorated for Christmas.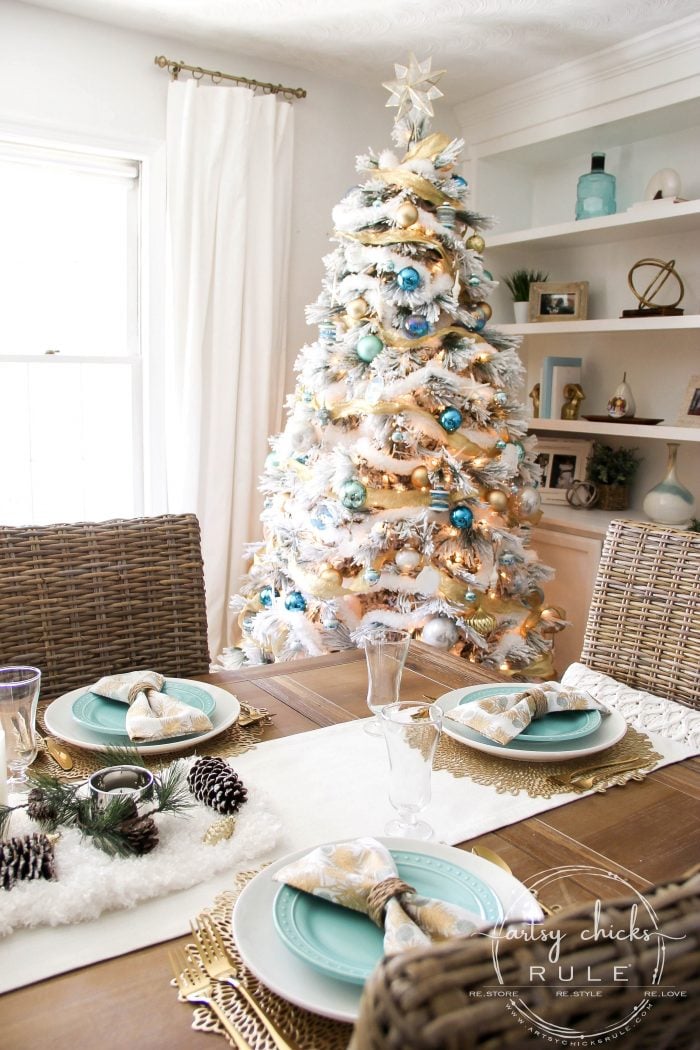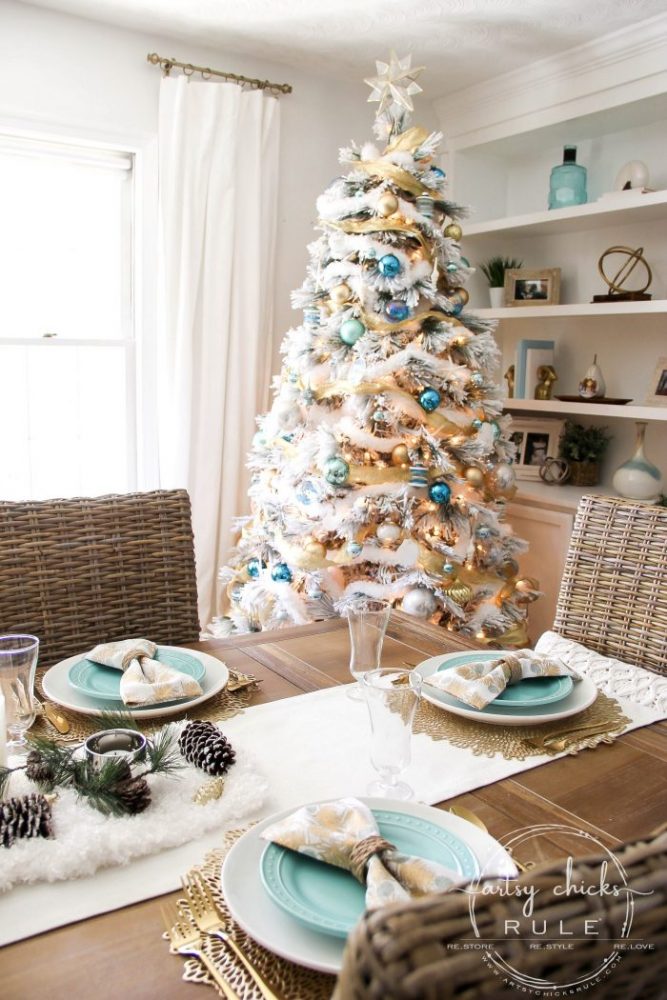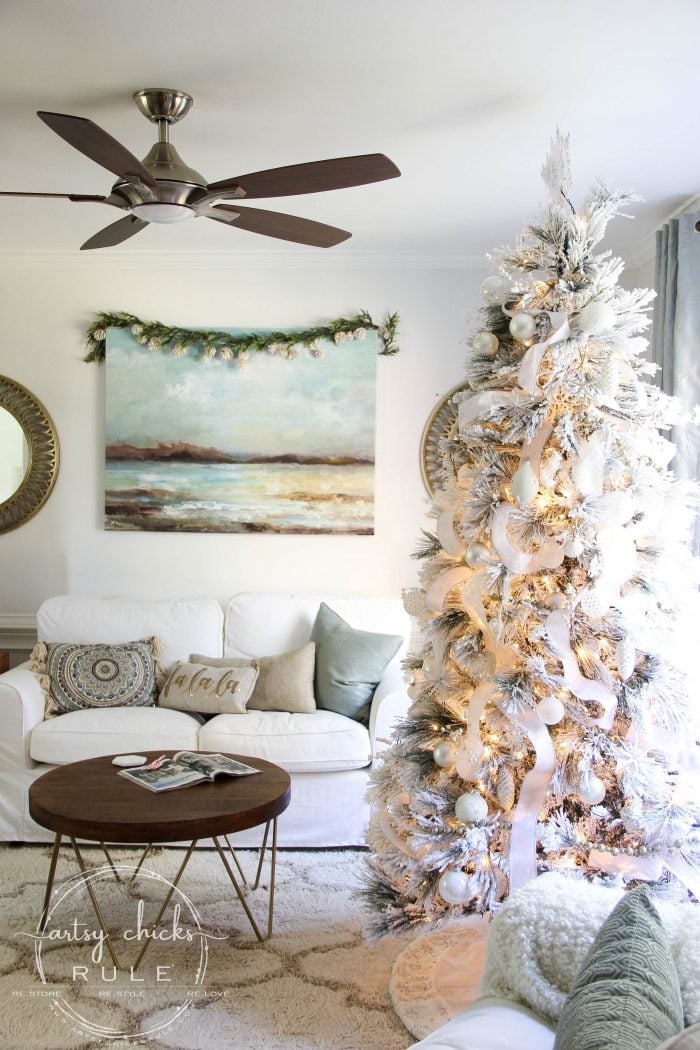 Our sweet fella, Ryder.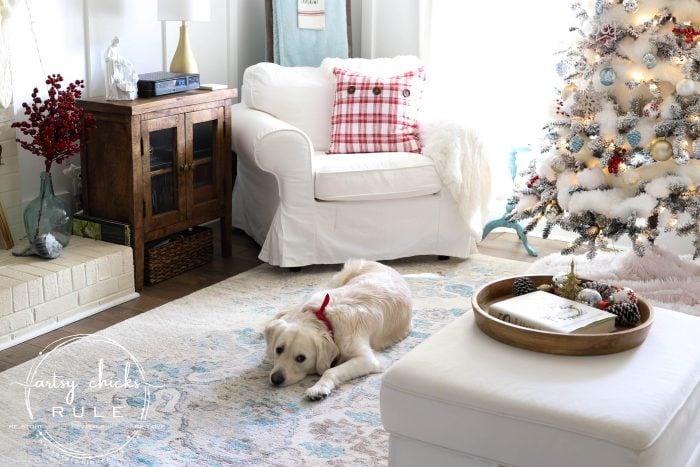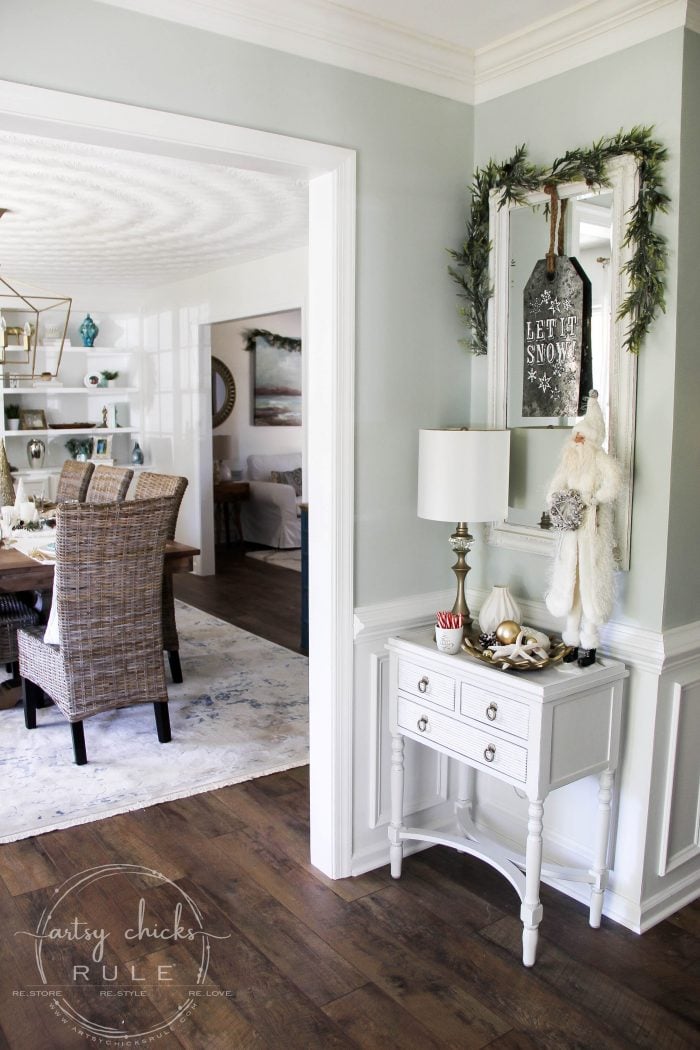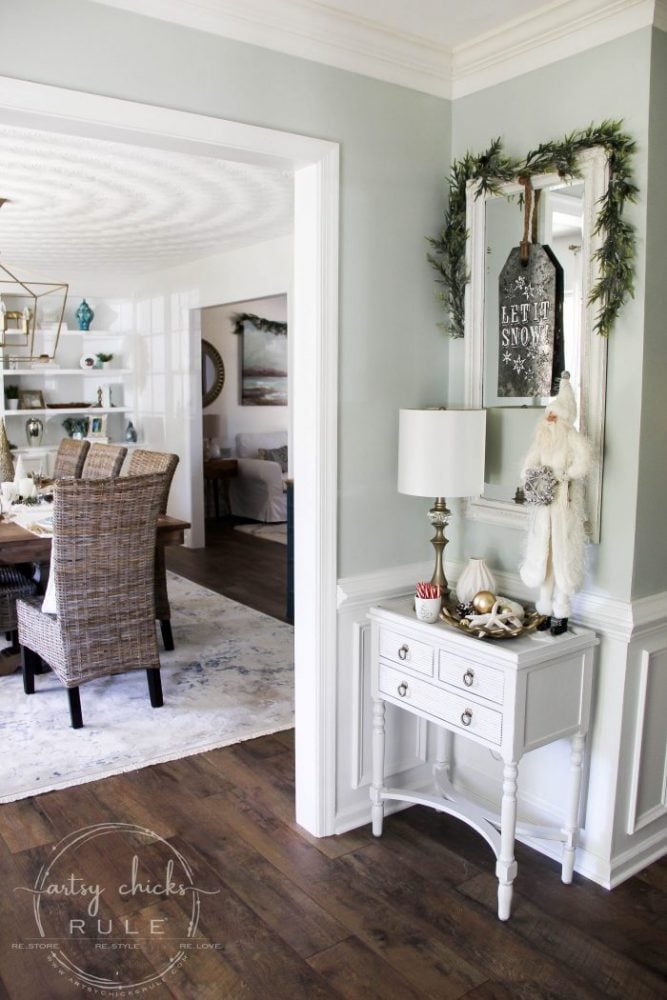 For any of the other projects you've seen in these photos, visit my project gallery, here.
To find some of the things in our home (rugs, chairs, etc), you can visit our "Shop Our Home" page, here.
I hope you enjoyed our home tour!
I'll update this page as we update the other rooms in our home.
xo