Colorful Mid Century Modern Office Makeover
This post may contain affiliate links. Please see disclosures here.
My colorful Mid Century Modern office makeover is DONE. Bright, fresh, and wonderfully inspiring new space to create in!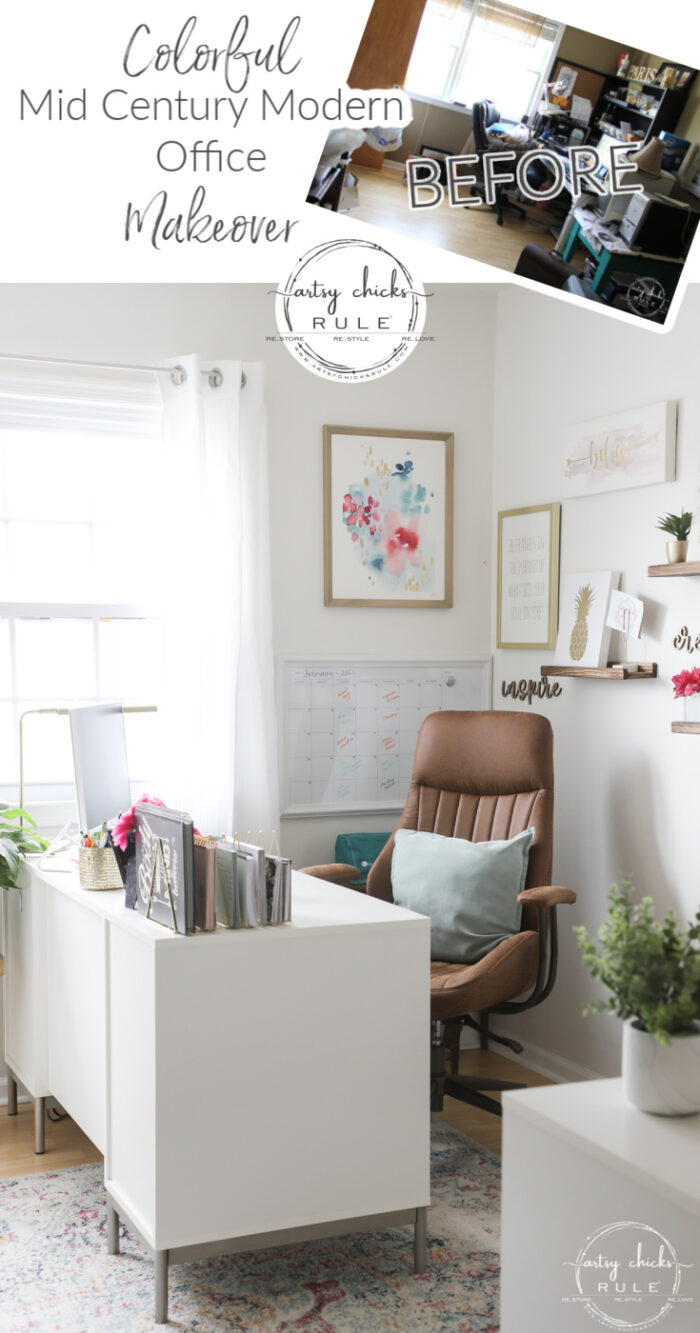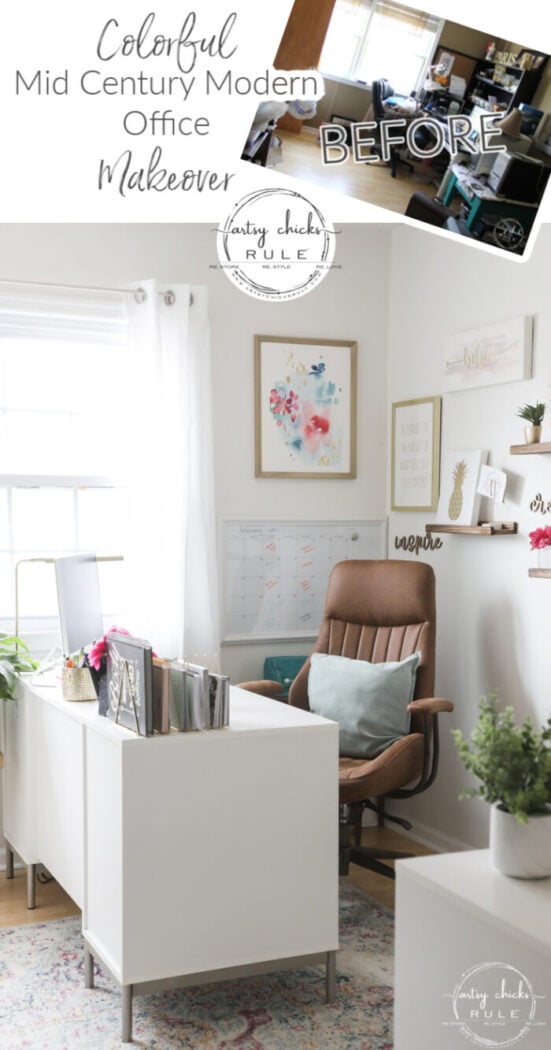 Oh my gosh, you guys, I am FINALLY sharing my office makeover.
I can not even tell you how long I have wanted this and how long it's been "in the works".
A really long time! lol
And you know how it goes, finish all the spaces that "are more important" and those that other people see.
Boy, let me tell you, I lived that right there.
All the spaces that people see got first dibs on every single makeover plan. Our master bathroom which was in major need of a remodel was one just like that.
We pushed it to the end of the list repeatedly.
I am SO happy to have that done as well. And our master closet too.
I'm super happy to report that we are also this close to finishing our master bedroom and my husband's built-in closet system too.
…………………………………………………………………………………………….
BUT before we get too far into this makeover reveal, let me first congratulate "Mother Deer" (J) for winning my latest giveaway!! Yippee!!
A huge congratulations to you, my friend!
And I have some fun news too.
Did you catch my stories over on Instagram this past weekend?? We were at the beach condo doing some work (trying to finish up the whole remodel by summer) and I went to my favorite shop on the Outer Banks… The Cottage Shop.
Well, I bought up a bunch of goodies for my next giveaway, in March!! I thought I'd do something special for you, instead of the regular paint/craft supplies, I put together a gifty/boutique style box instead. I can't wait to share it all and excited for this happy mail to land on one lucky winner's doorstep! So stay tuned for that!
If you don't follow along on Instagram, be sure to so you won't miss any of that, AND if you don't already, be sure to subscribe to the blog so you won't miss any of the fun stuff either!
…………………………………………………………………………………………….
Okay, now back to the big Mid Century Modern office reveal!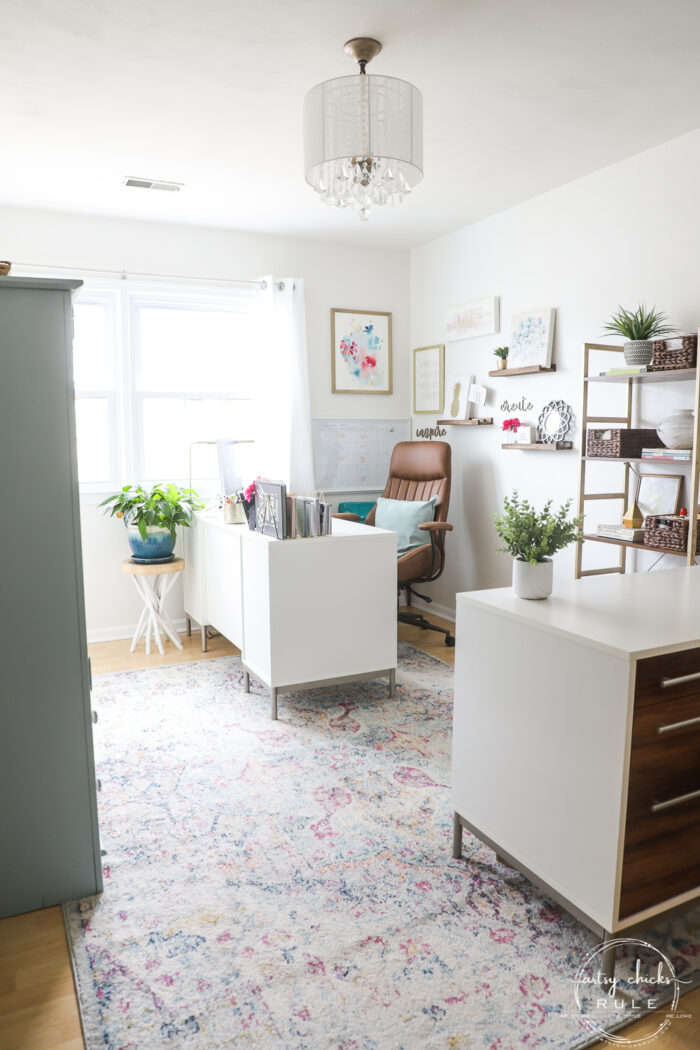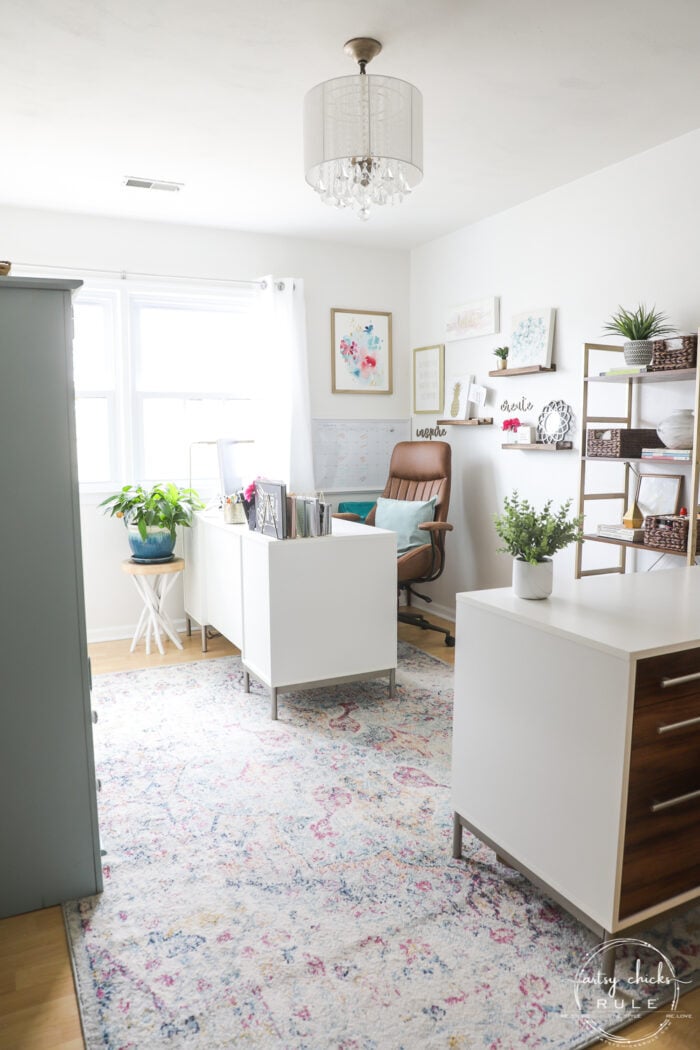 I'm so thrilled to be sharing it with you. I am also cringing at sharing the "before" photo. haha
But let's continue to keep it real around here so here goes…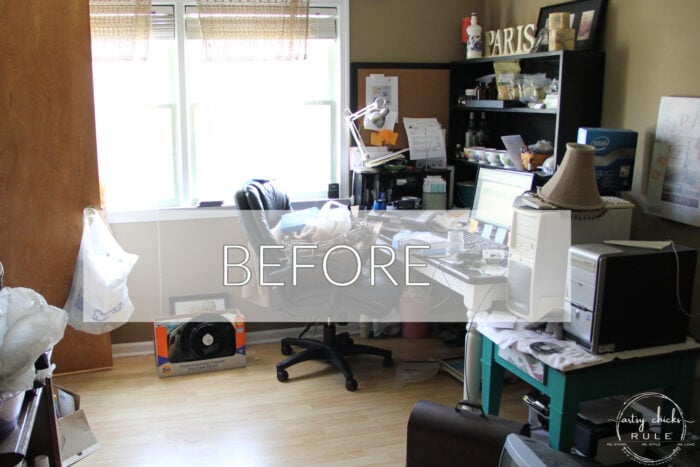 Now, this is a photo from 2014 a couple of years after I started my blog, and when I was determined to give my room a makeover.
I was in the midst of it here … but sadly it ended up not happening. Boo.
What you can see here (besides the mess) is the old closet door in this room that had yet to be changed. (all the rest had been changed out at this point in 2014)
The "desk" which is really a table that I am in the process of giving a makeover to.
And just generally dark colors, dark walls, etc.
And a more recent photo from just a couple of months ago when I began again.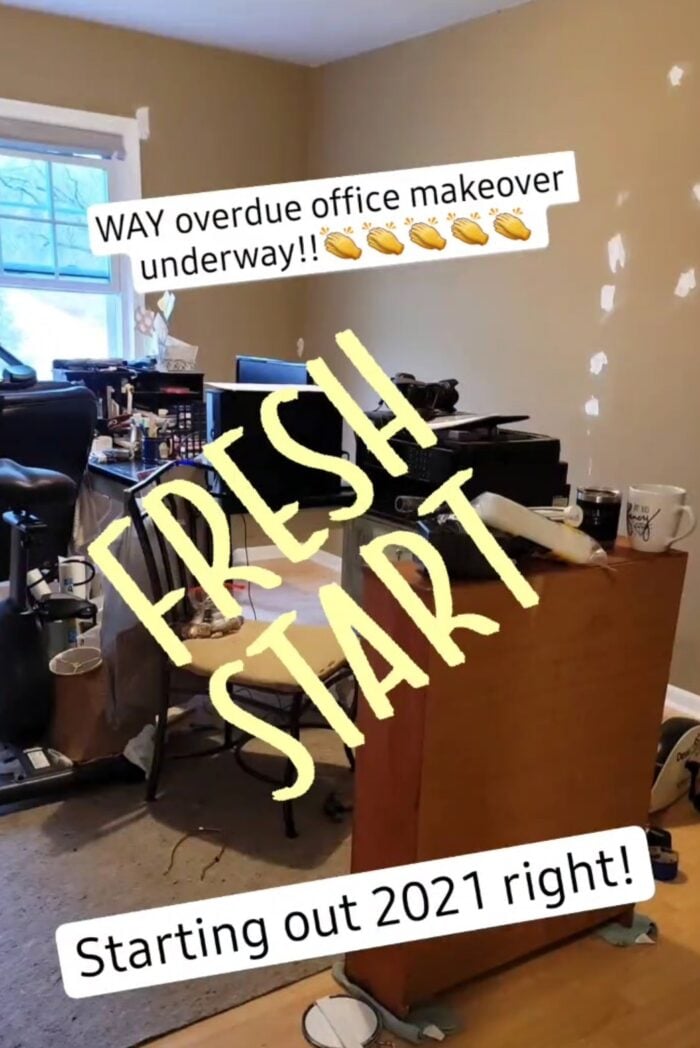 Getting ready to paint the walls here in this photo, etc.
This photo is one I shared on my stories over on Instagram, by the way.
I KNOW I took a "before" photo of it more recently but I spent over an hour looking on all my phones, camera, computers, etc and I can not find it.
So, that is why I had to share the one from 2014 instead. It's close enough but a bit messier since I was cleaning out the closet at the time, etc.
EDITED to say I found one! It's not the one I took most recently but it's from 2018 and pretty similar to how it looked now.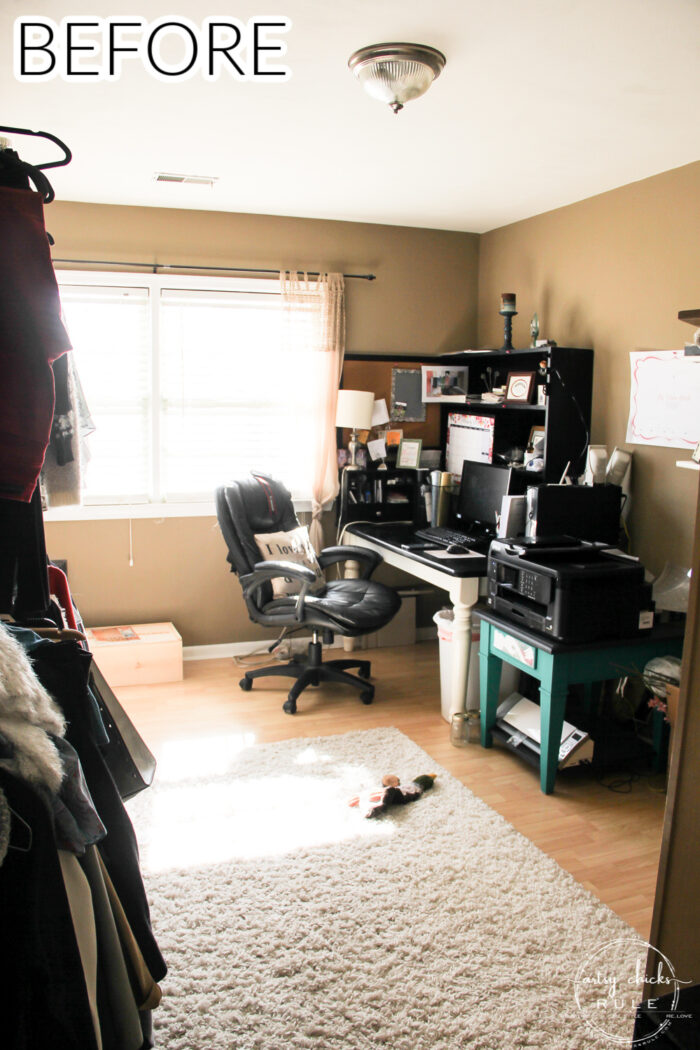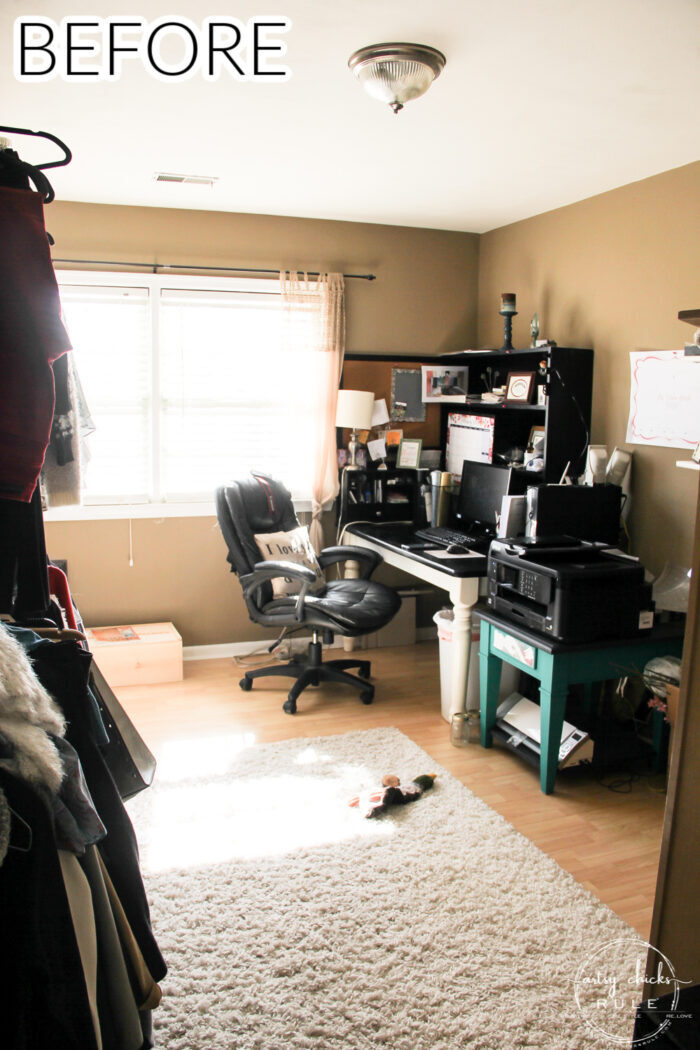 This was when my office was also our closet. Remember when we were building out my closet in our bedroom recently?
We had to hang all our clothes in here while we did that. (and this was taken also before I made over that little green end table…which you can see, here)
A little more real-life for ya! Including "duckie" there on the floor that now lives at the beach condo. AND the one toy Ryder gets totally excited to see when we get there! We always tell him when we are leaving for the beach, let's go see duckie! haha
Anyway, none of that matters because look!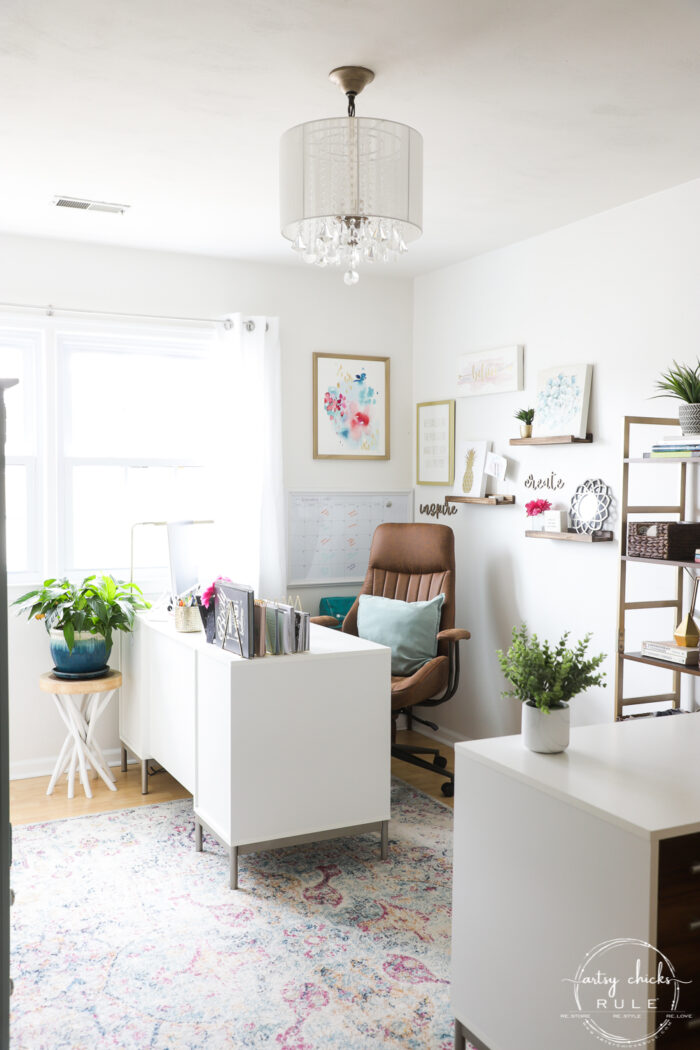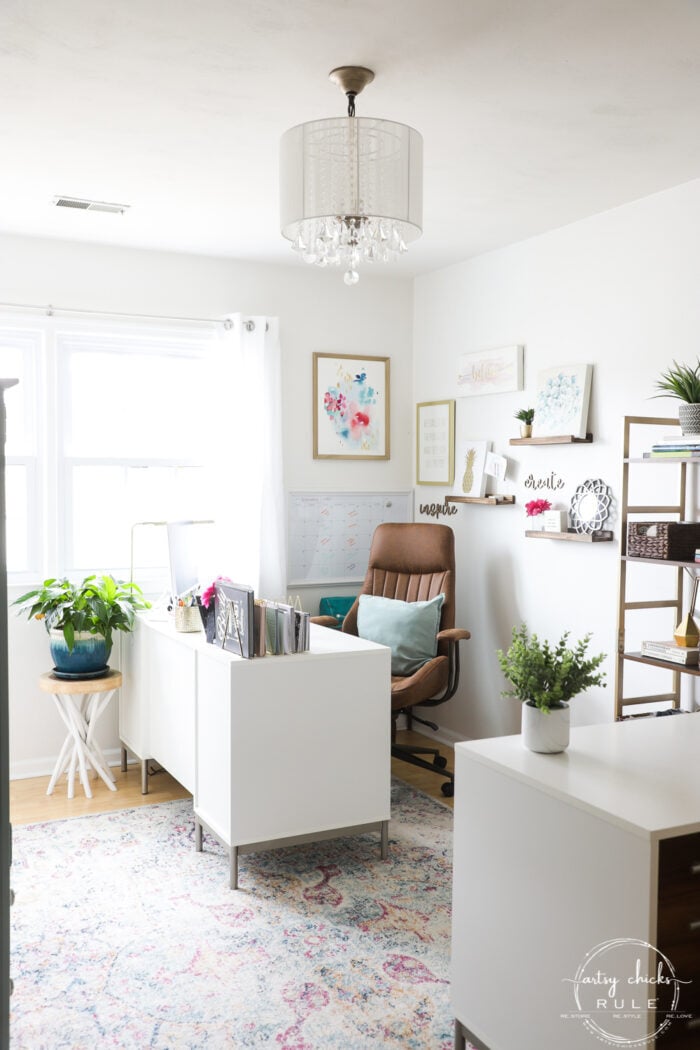 So bright and airy.
And so happy with lots of fun colors too.
I wanted to go in a completely different direction than how I normally decorate.
I LOVE color but keep it pretty soothing and spa-like downstairs for my coastal decor.
So I let loose up here in my office.
I think it leans a bit Mid Century Modern with the desk and chair choices so called it that.
I filled the wall behind me with lots of inspirational things.
Believe, inspire, create.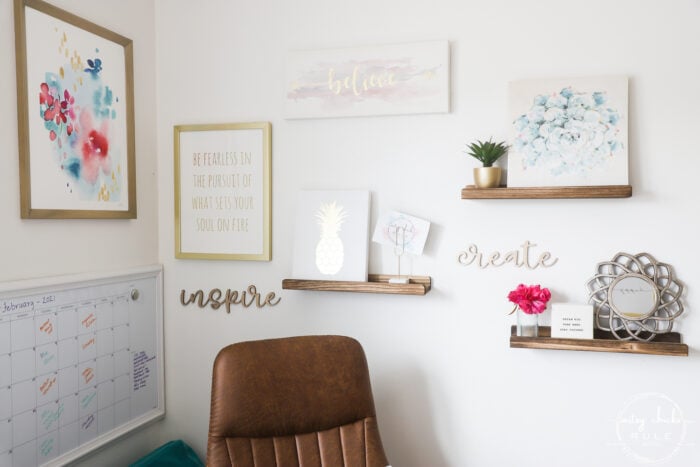 Most of that wall art came from At Home. I will link what I can at the bottom of this post.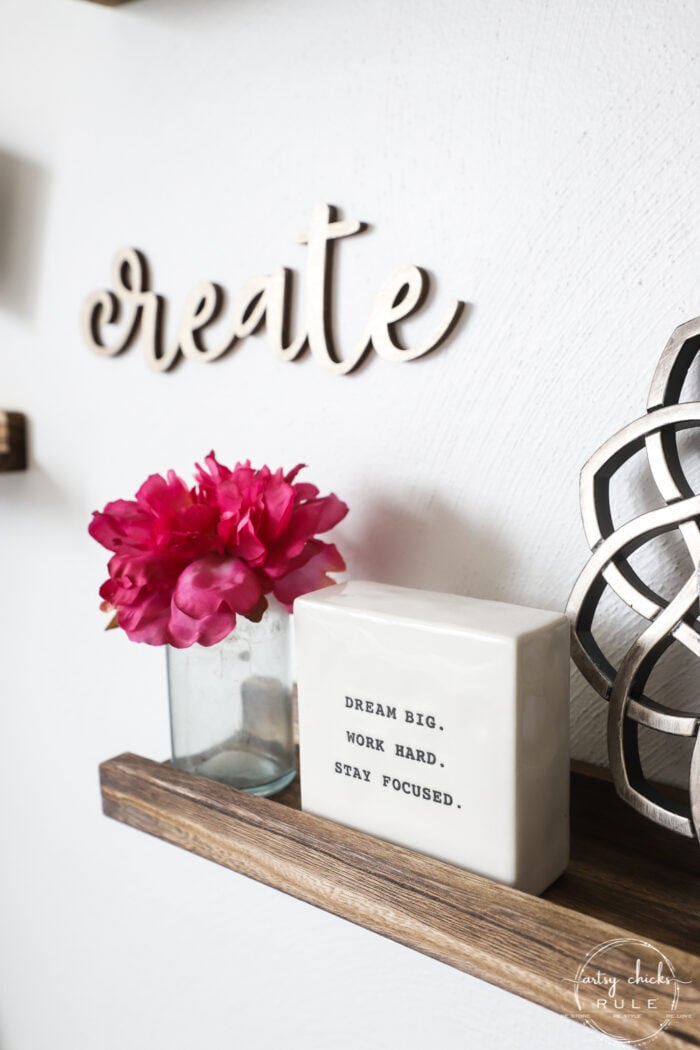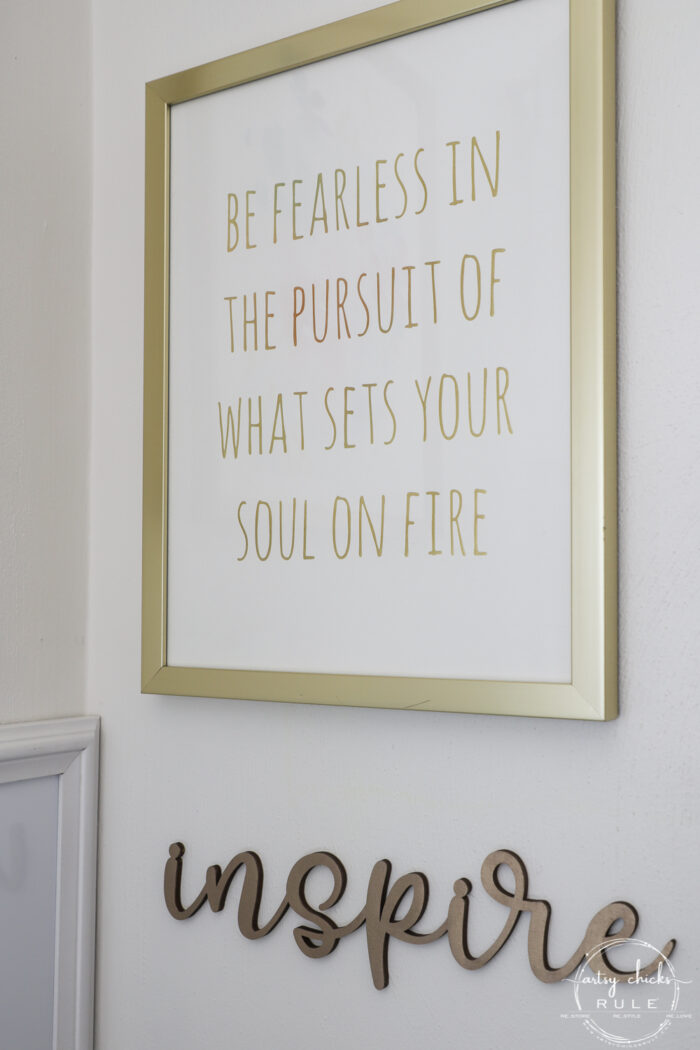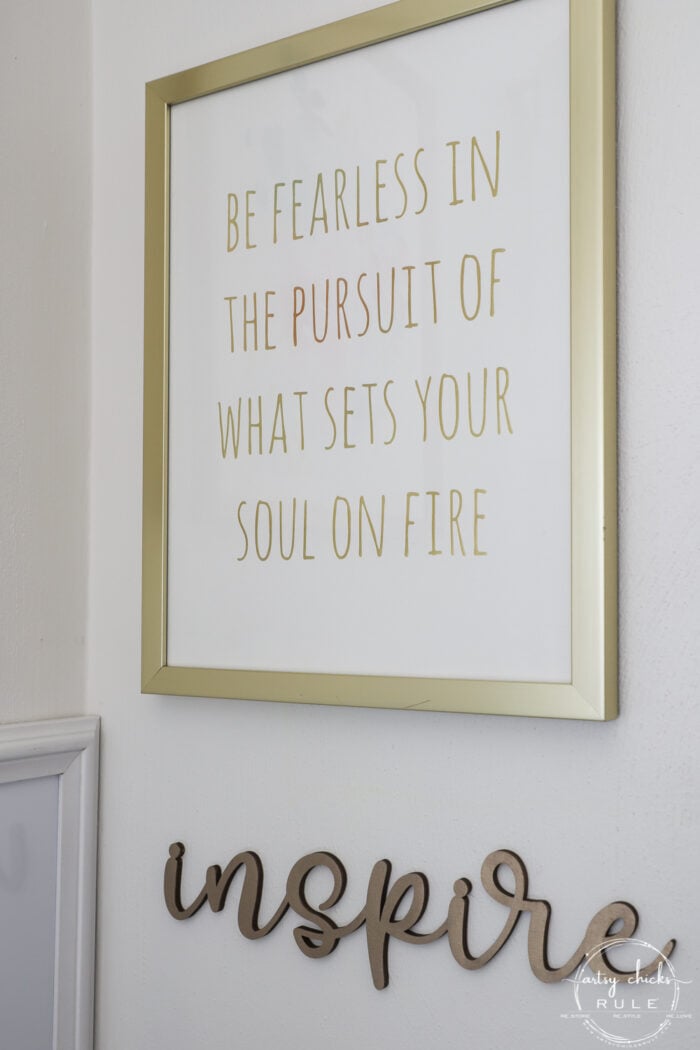 A place to inspire…and be inspired as well!
I even got a new computer to go with my new office. That's been fun too!
My dad has always built all of my computers for me so this is the first time I've actually gone out and bought one.
My dad is 86 now and still plays around a bit with rebuilding laptops and such but not as much as before.
(the old computer I had for years that he built for me is still kicking, by the way, but it was just time for something new)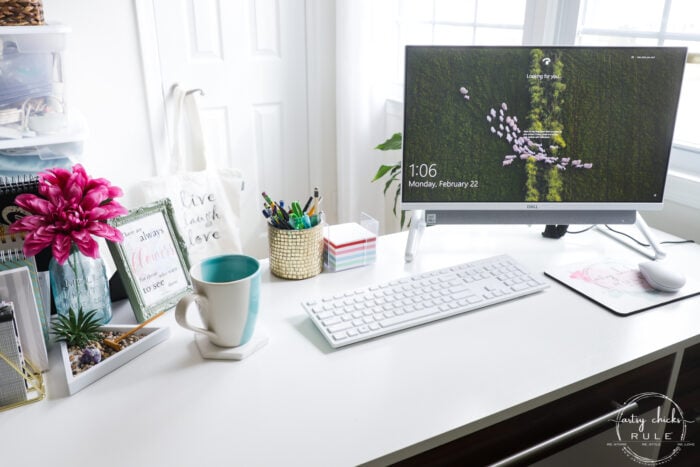 I like to keep positive reminders here on my desk too.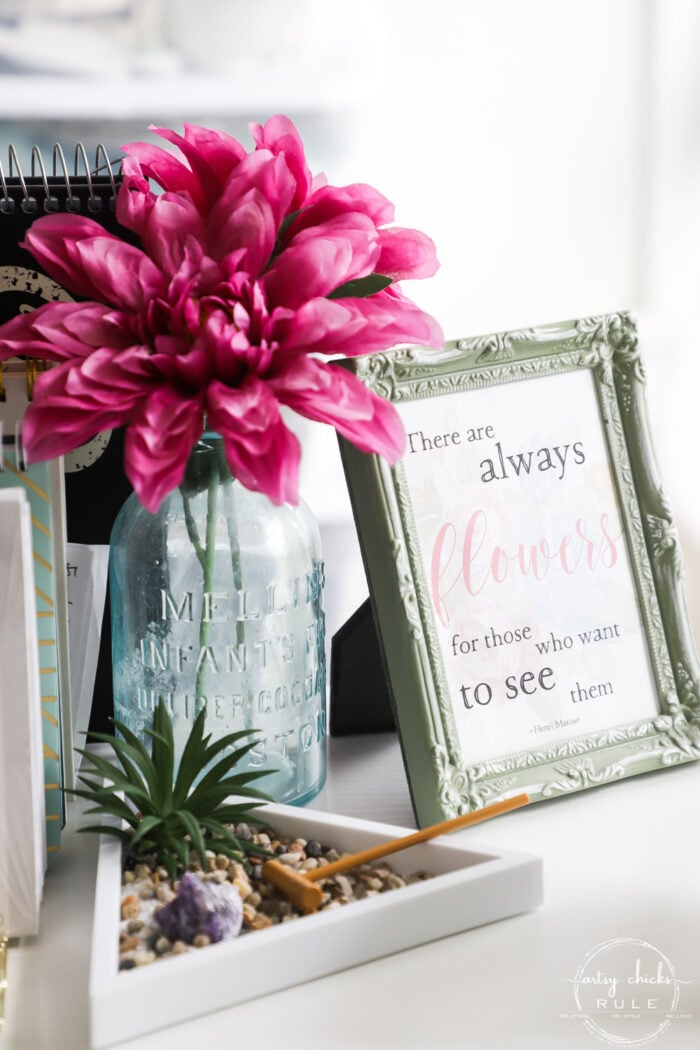 Like one of my free printables that's perfect for spring or anytime really, as I will keep this here year-round.
Want it to? You can find it, here.
How about the little triangle dish with rocks/white sand and plant? It's a "stress-reliever" (push the rocks/sand around with the wood rake) my son got me for Christmas.
And of course my love of old antique blue bottles that I plopped a bright and happy hot pink flower in.
Behind my chair is this small table that my dad actually built when he was in high school.
I am using it for the time being for my Silhouette Cameo until I can build something a little smaller for it.
I love having it right here because I can plug it into my computer as needed.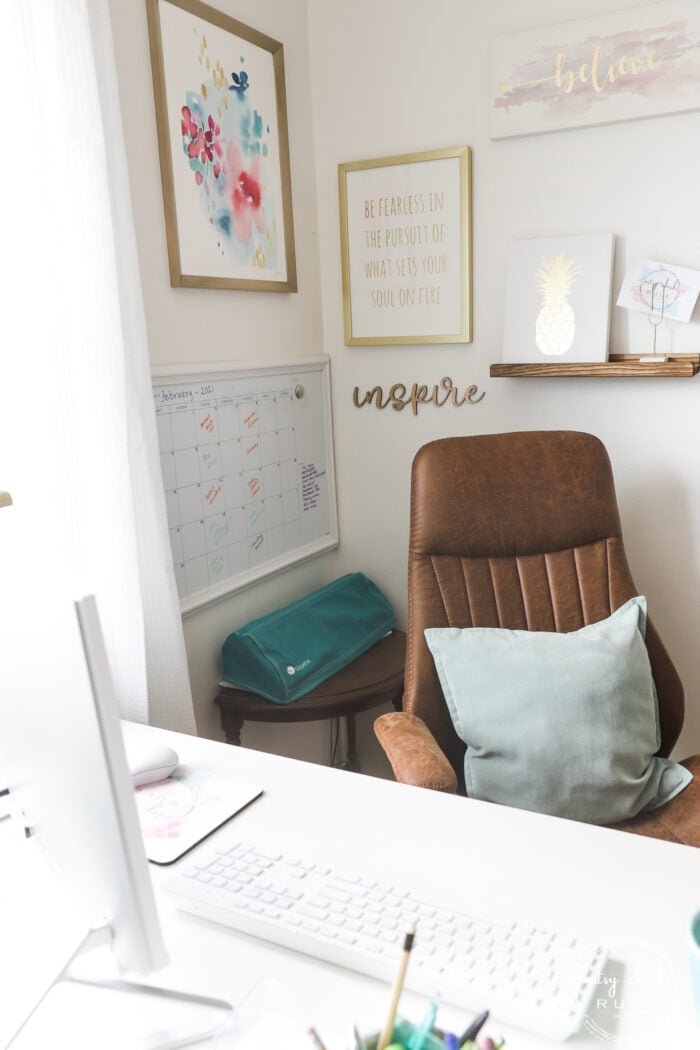 You might remember my plant stand? I used it as a side table downstairs for awhile.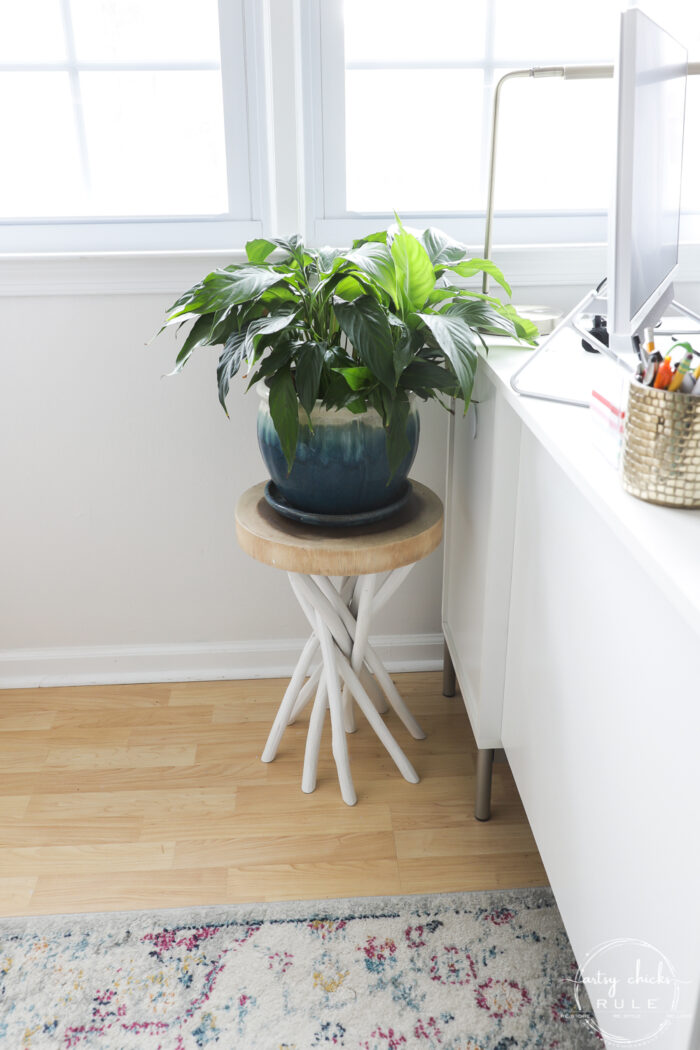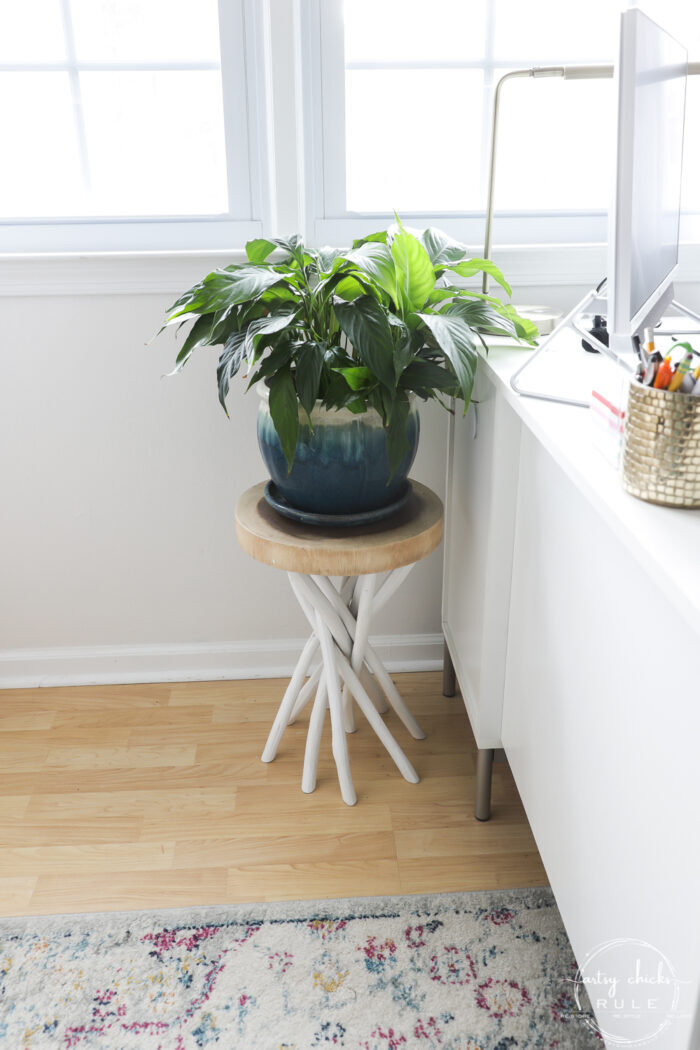 And you remember the pretty blue armoire, right?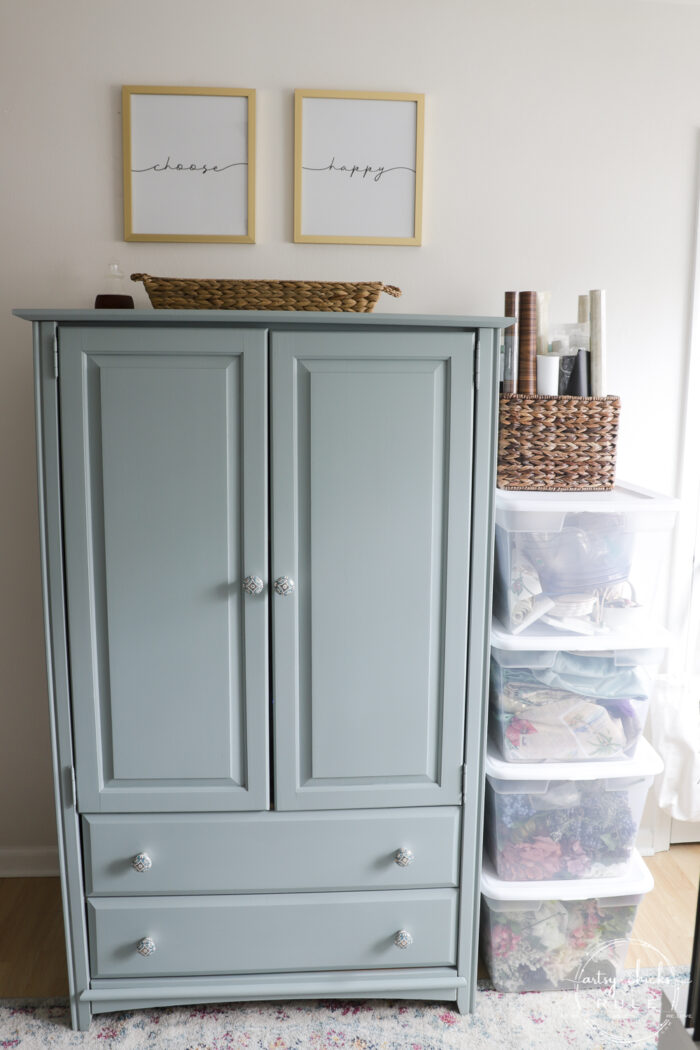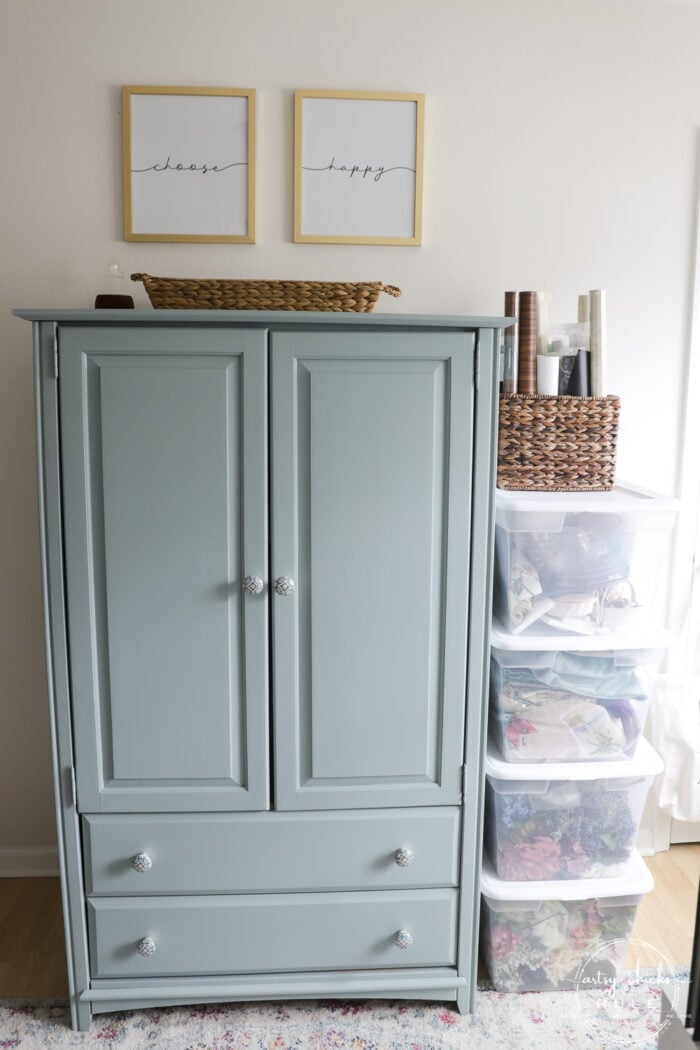 You can read all about that makeover, here.
I keep my faux florals, fabric, and extra odds and ends in these bins on the side.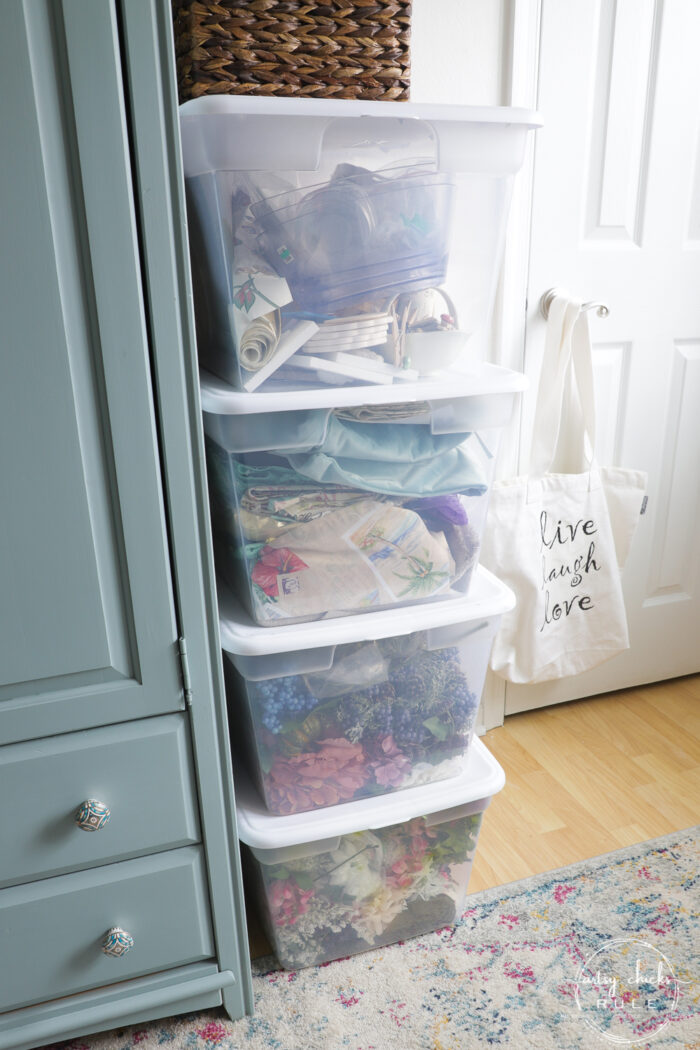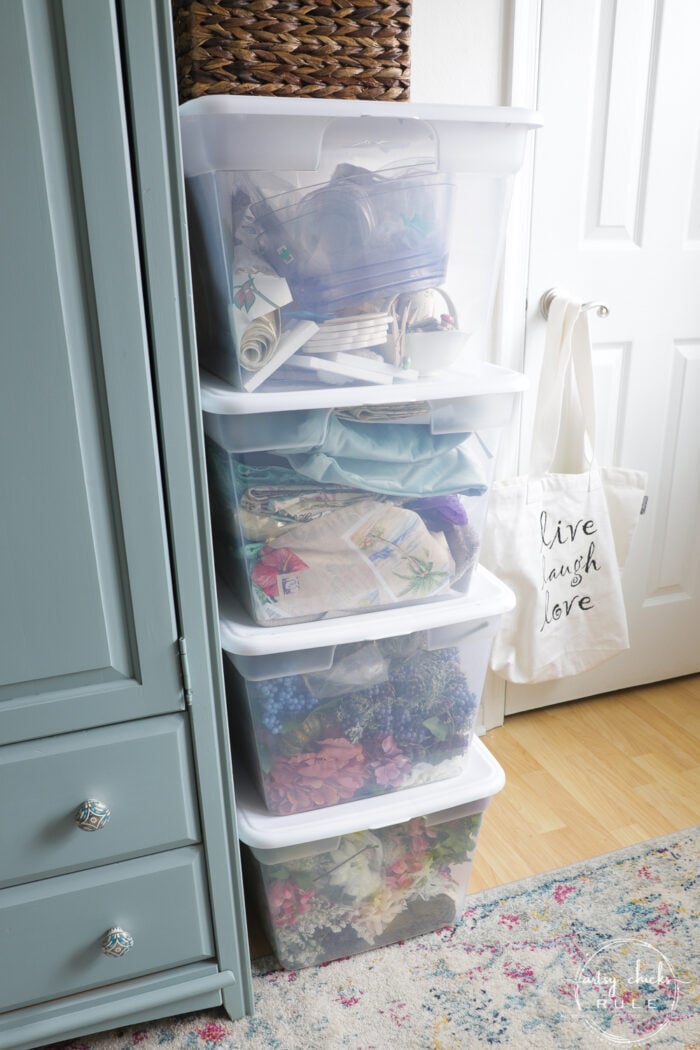 The basket up top is great for all my vinyl for the Silhouette. (and as you can see, we replaced the closet door too)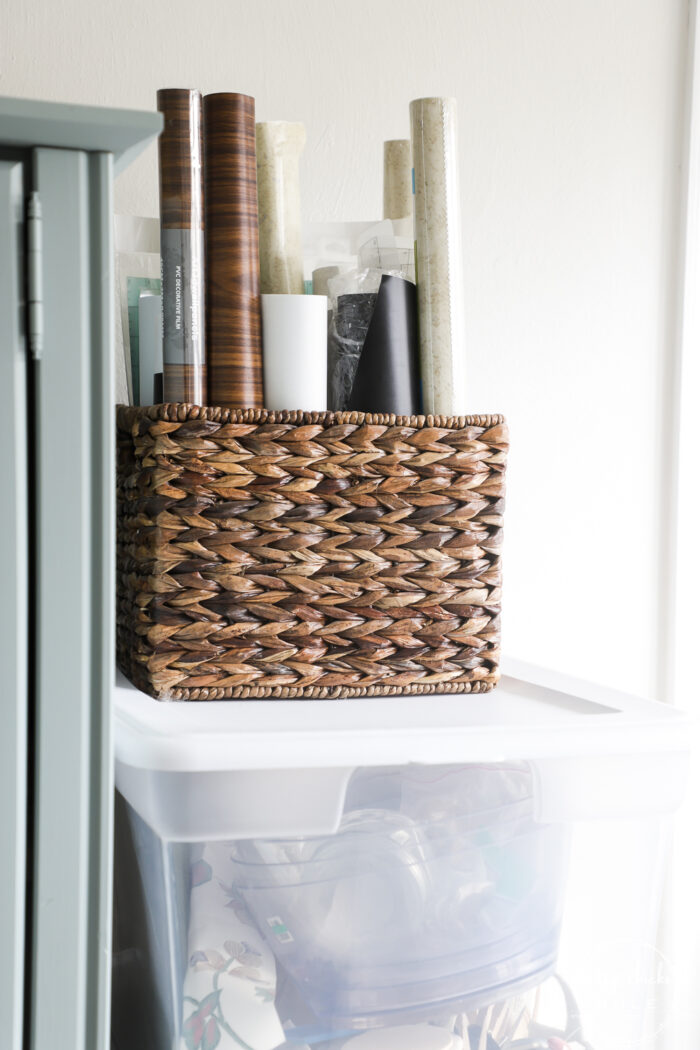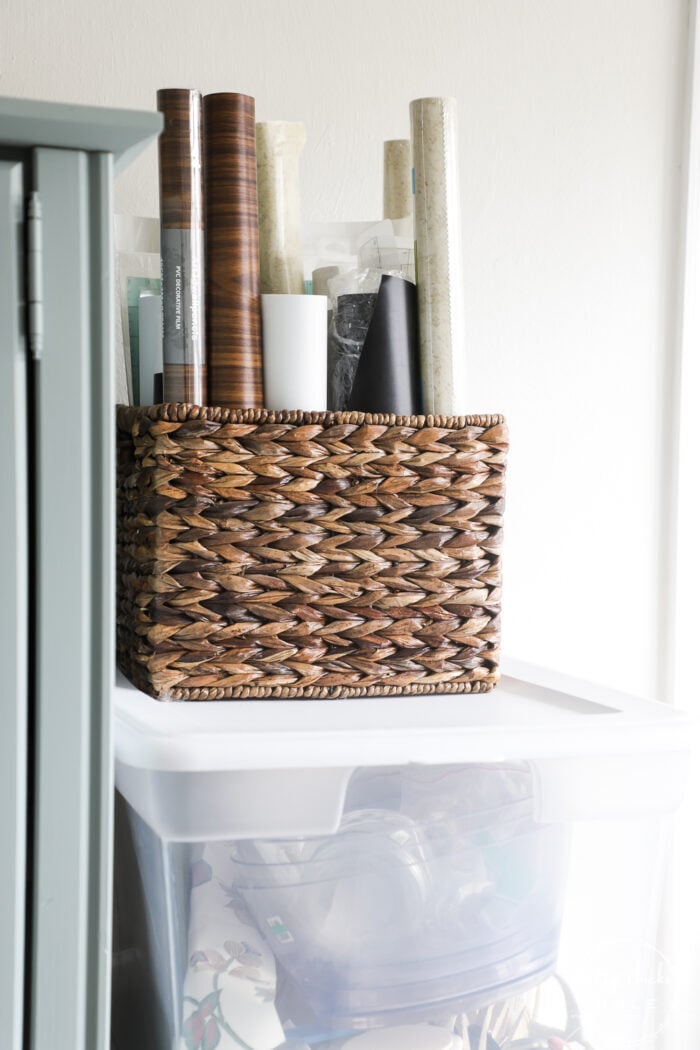 This office is small (smallest bedroom in the house) so I have to use space wisely.
Over the top of the blue armoire are these prints I found at TJ Maxx recently.
More positive reminders to surround me as I work.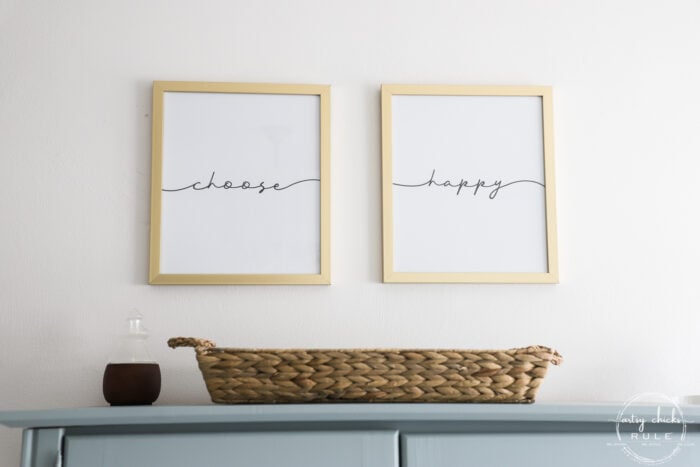 And that little glass/wood thing to the left is one of my favorite things, ever!
It's like an essential oil diffuser except it doesn't use water. It's called a nebulizer.
I will have everything linked at the bottom of this post.
I found this pretty bookcase on Amazon and painted the black metal gold.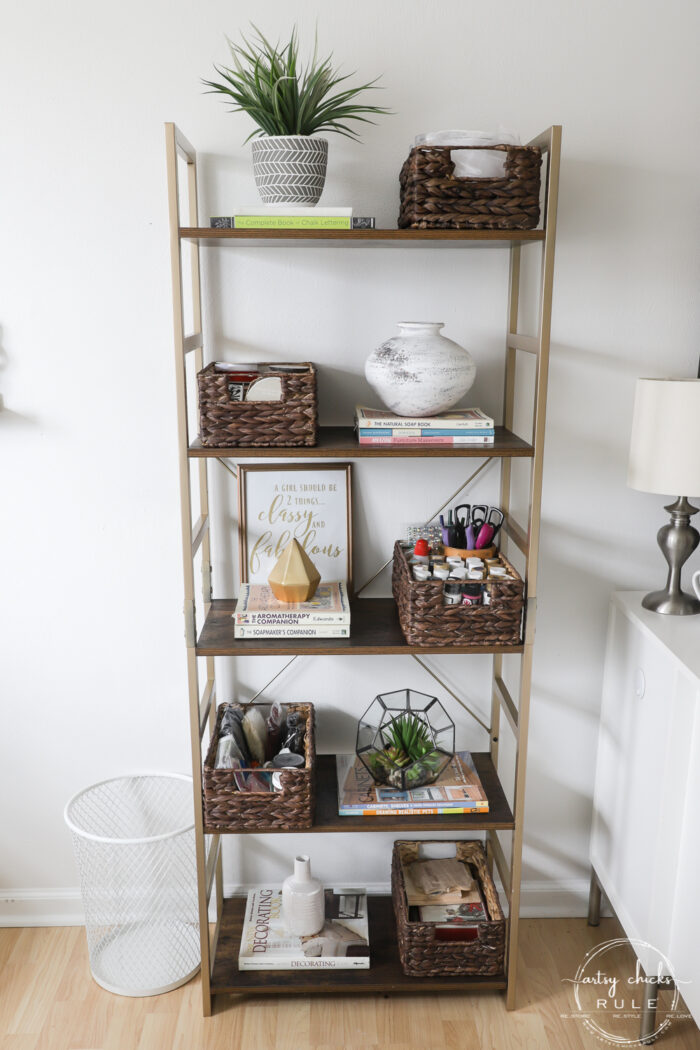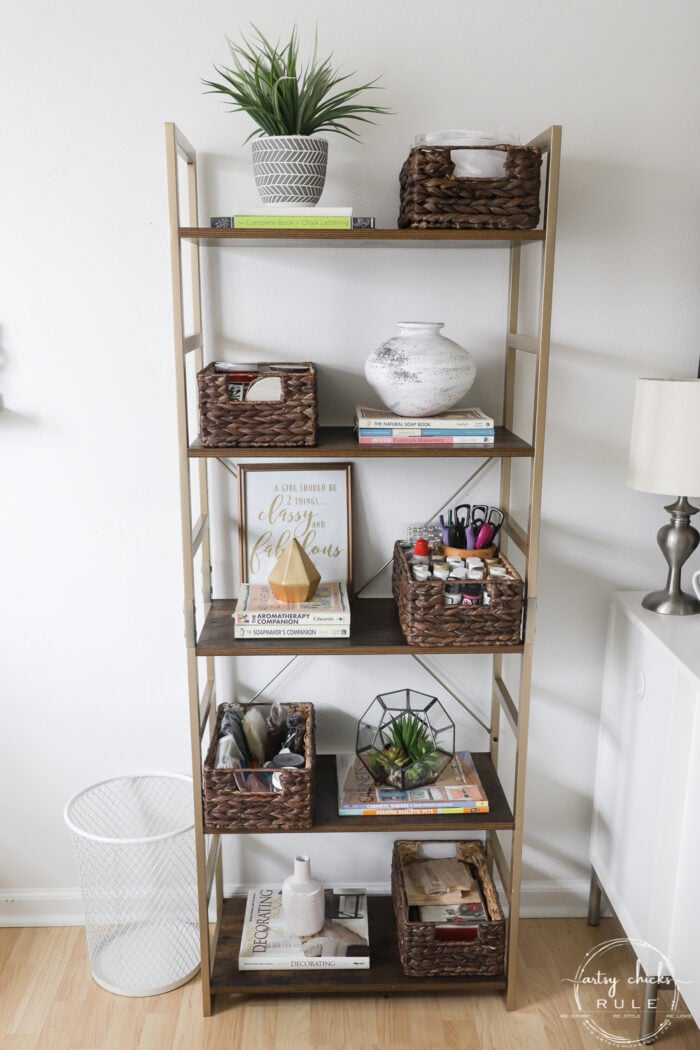 The baskets came from TJ Maxx and were $5 each. I gave them a quick and easy makeover which I'll be sharing on Thursday.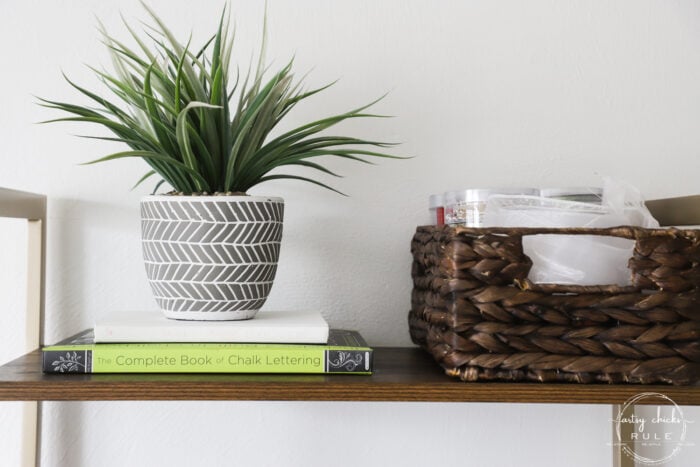 I am using them on the shelf to keep all my ribbon…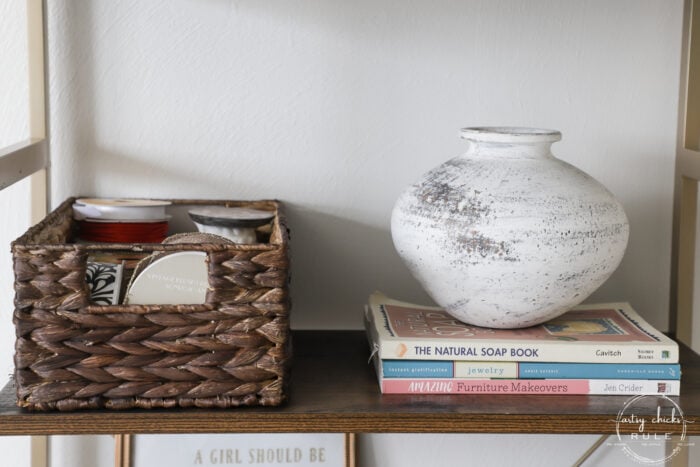 And craft paints, etc…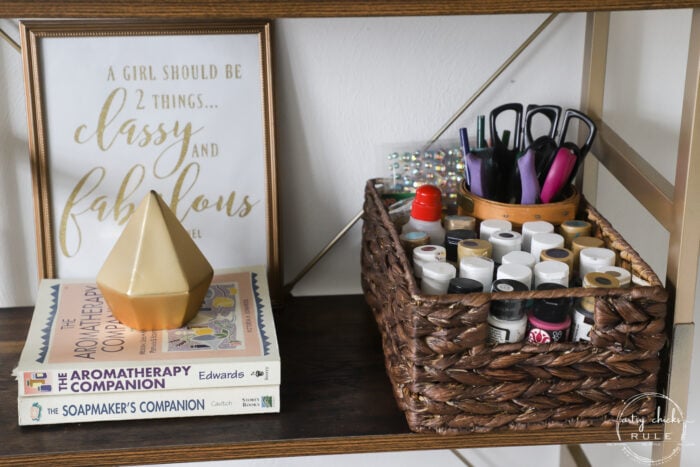 Glitter, cards, and more.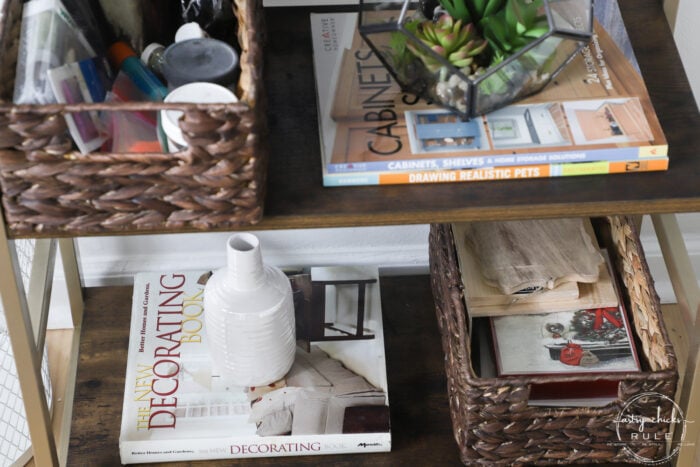 And how about that light?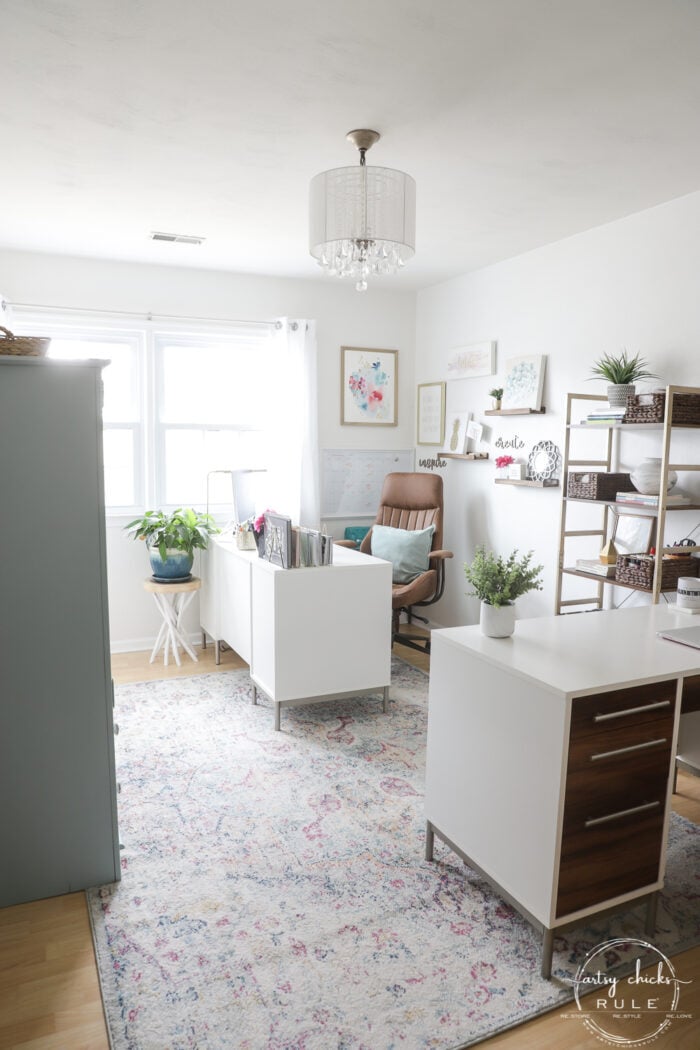 Now you see where I got my inspiration for my vinyl-wrapped drawers/nightstand makeover.
I originally had this in our laundry room before we gave it its latest makeover, here.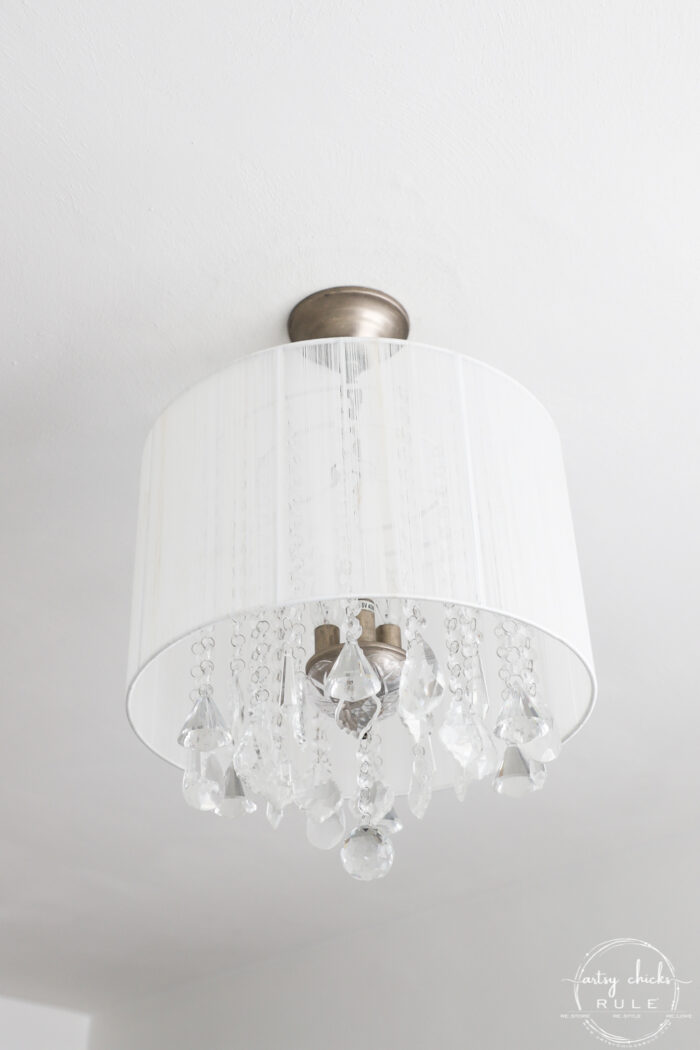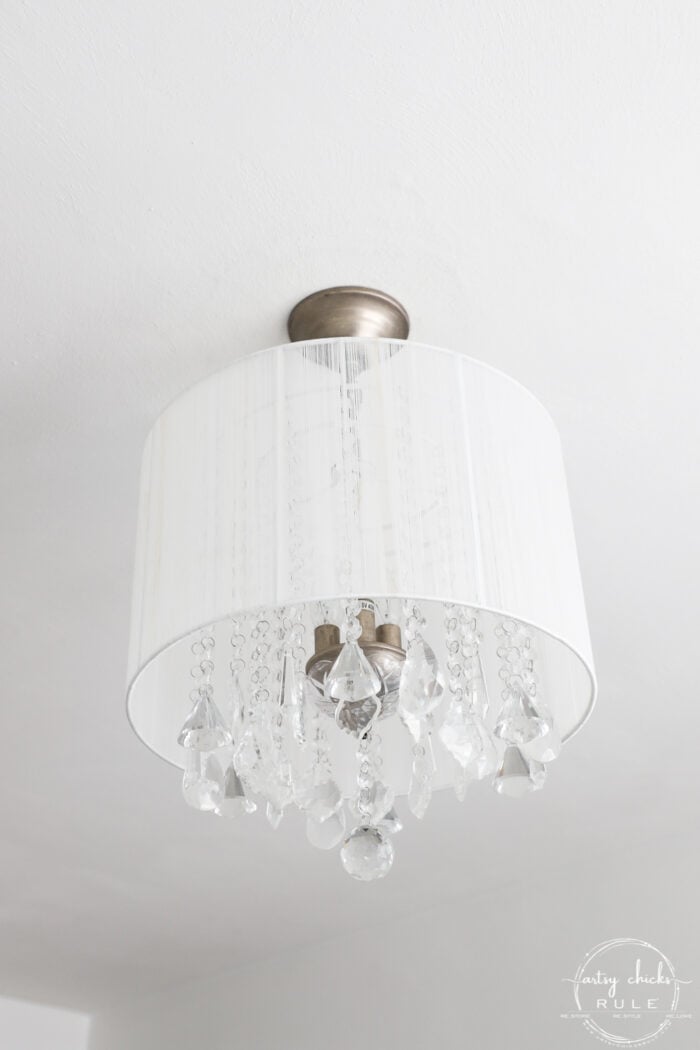 I think it's perfect in here!
I call it our office but as my husband says, I put a desk in my office for him. Haha…he's cute.
I mean hey, he has 3 other offices (his work locations) besides this one so I can make this one mostly mine, right?!
But when he's home, he's been using any space he can downstairs (dining table, island top, etc., not really ideal for him)
Want to see his side?
I wanted to keep his side flowing with the rest of the room but also make it a little more manly.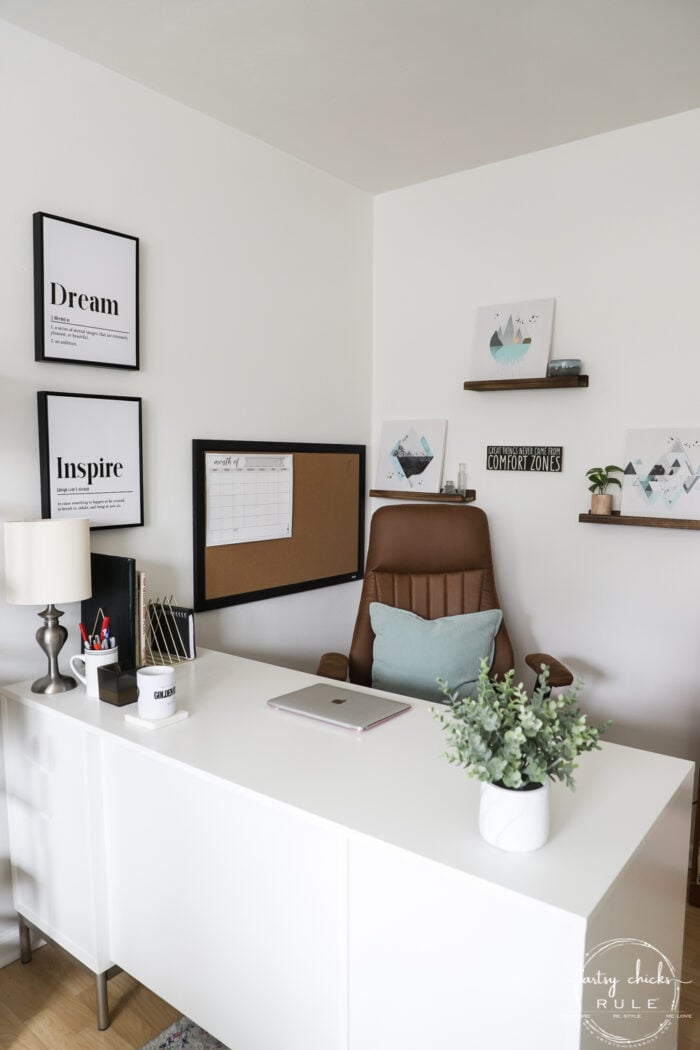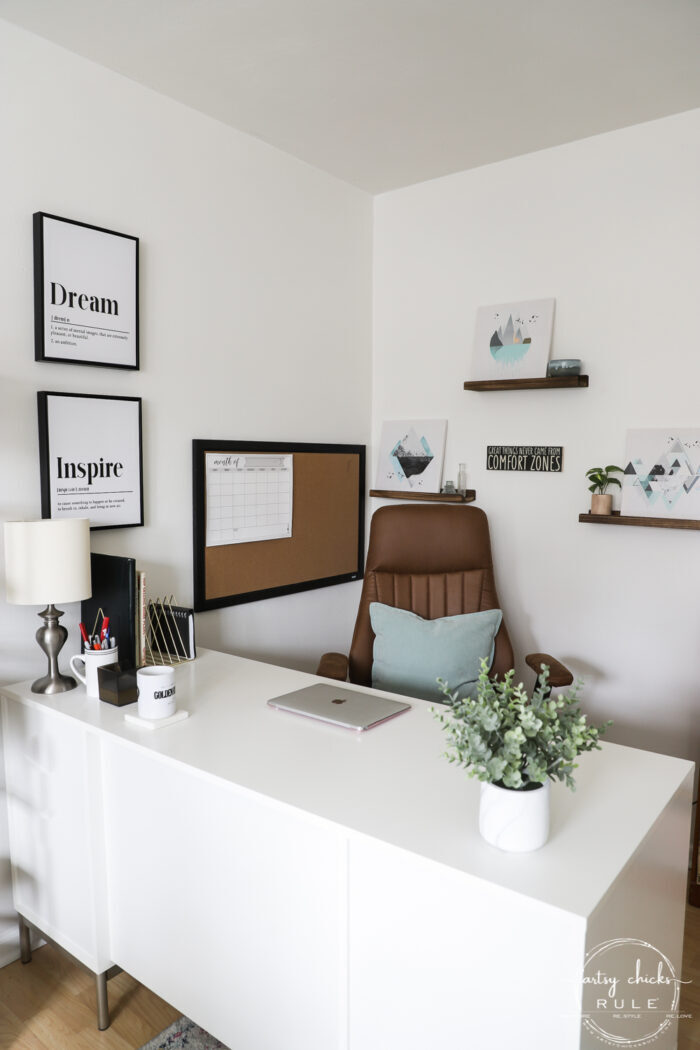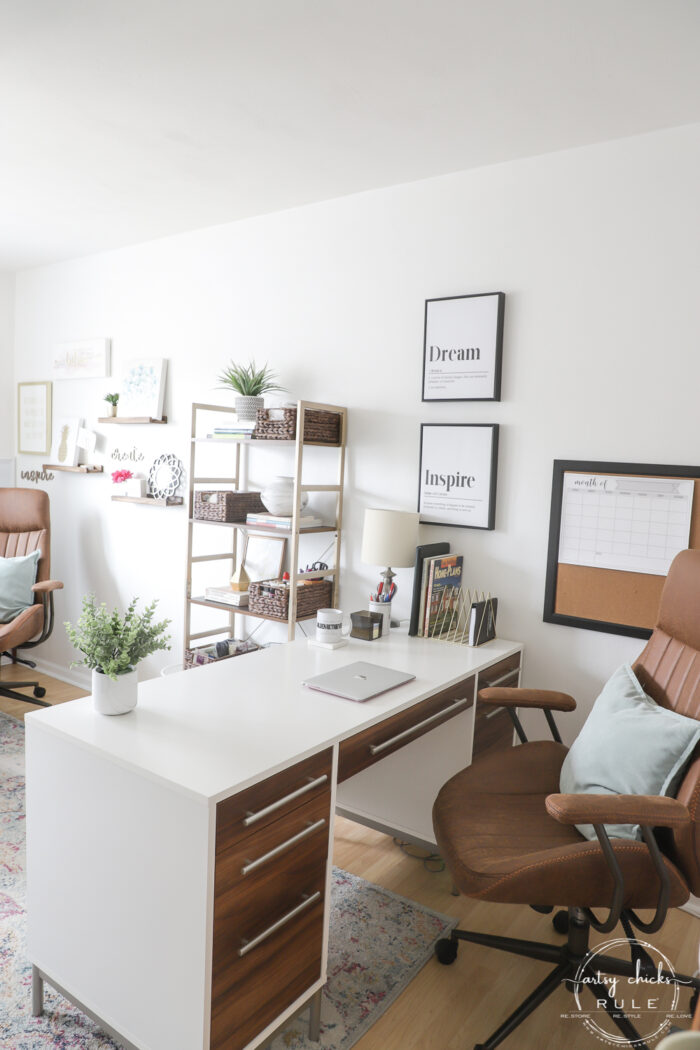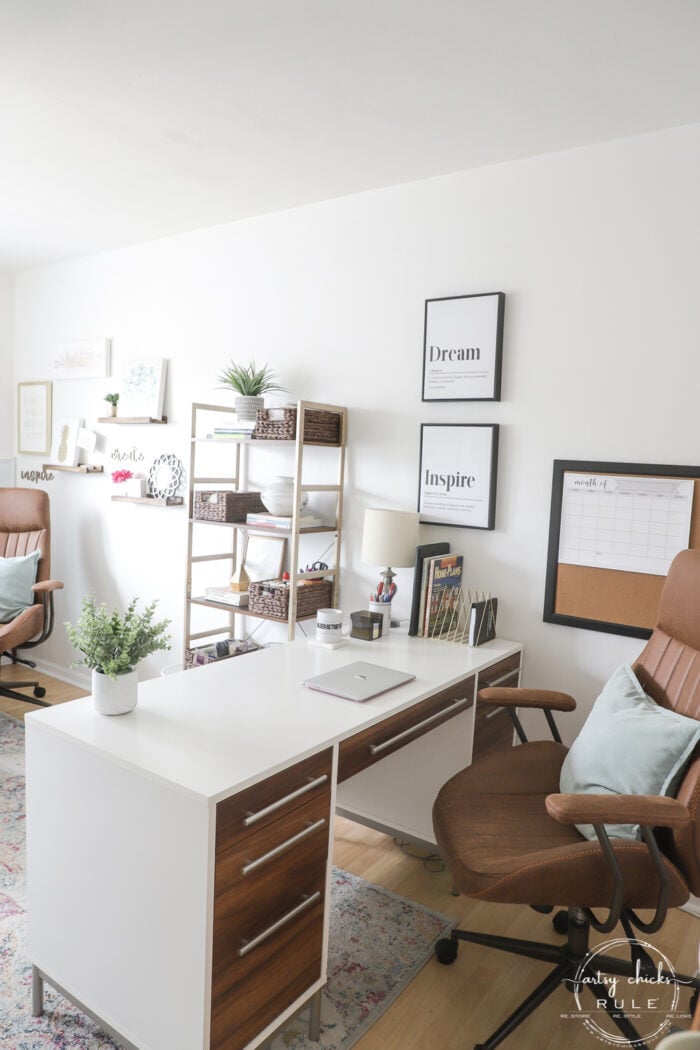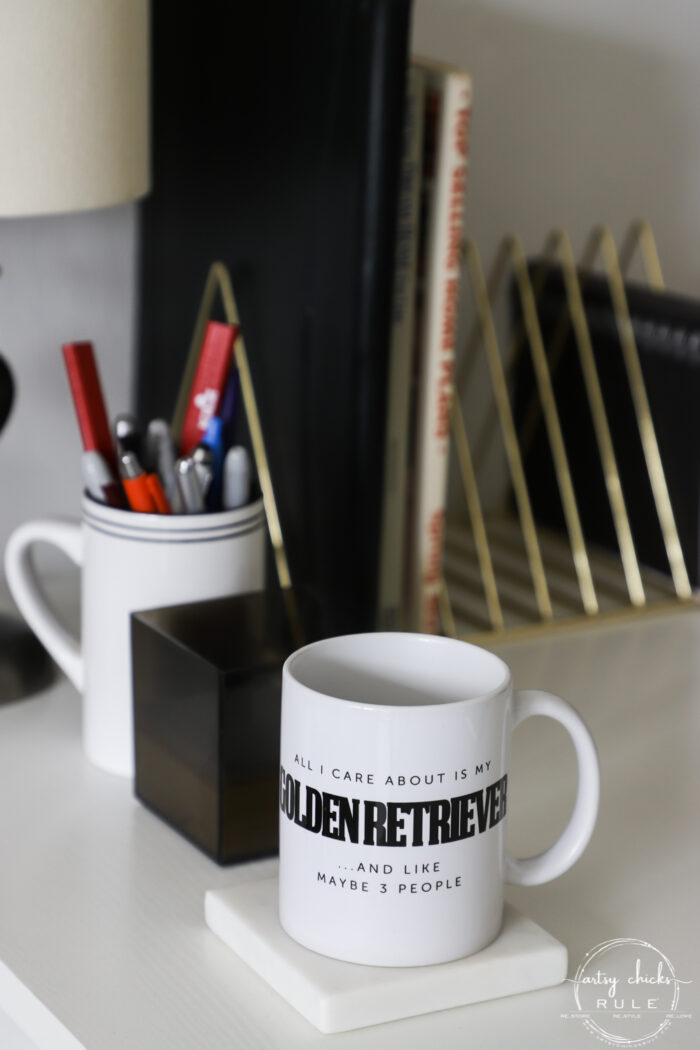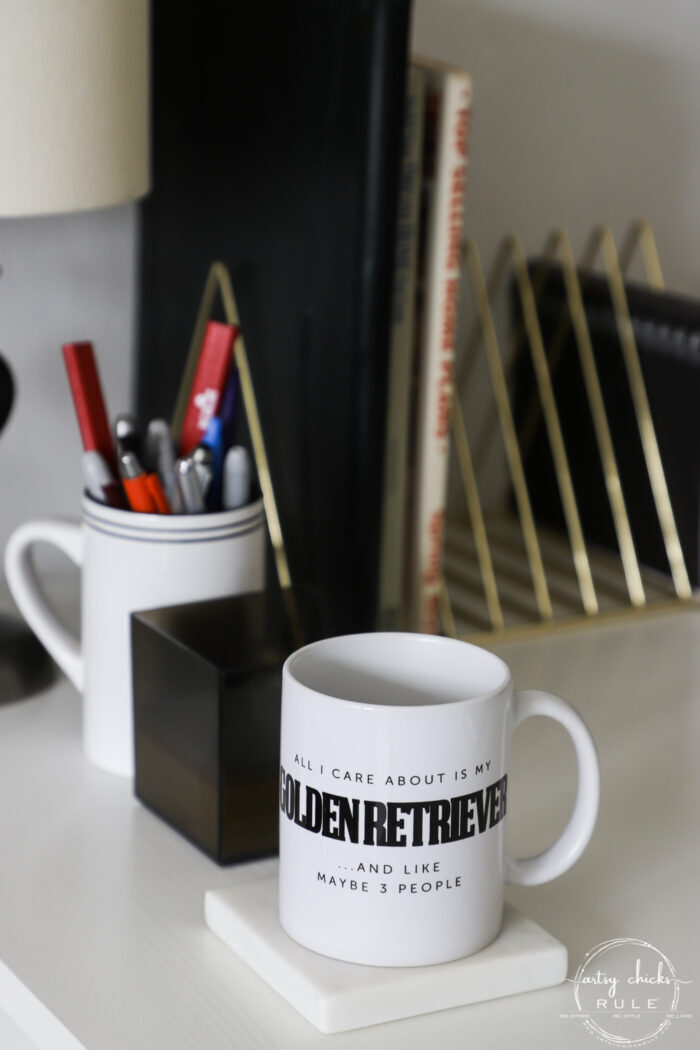 Heh, heh.
And it wouldn't be fitting to share it without sharing how it looks every day…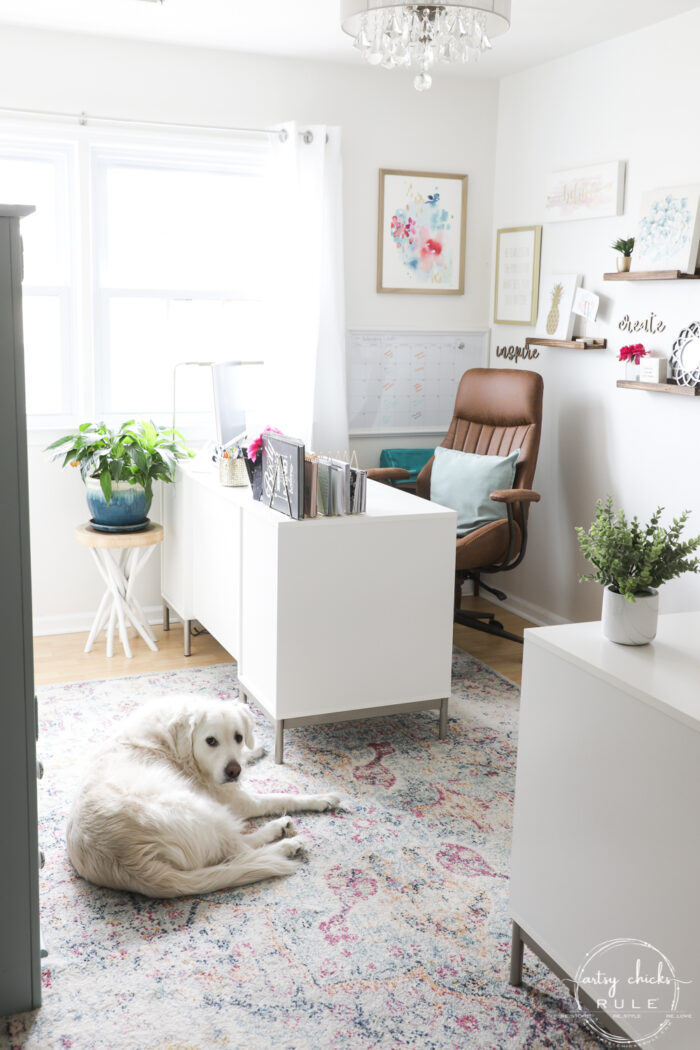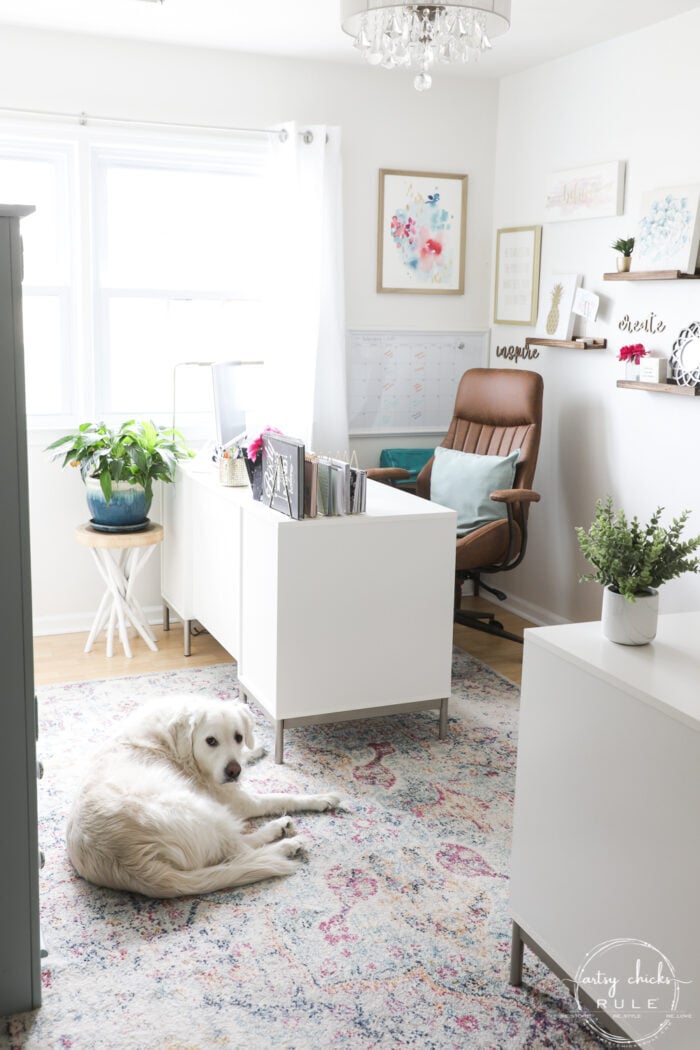 …the most important part, Ryder boy.
He is always by my side.
Okay, that's enough of that, Mom, I'm taking a nap. lol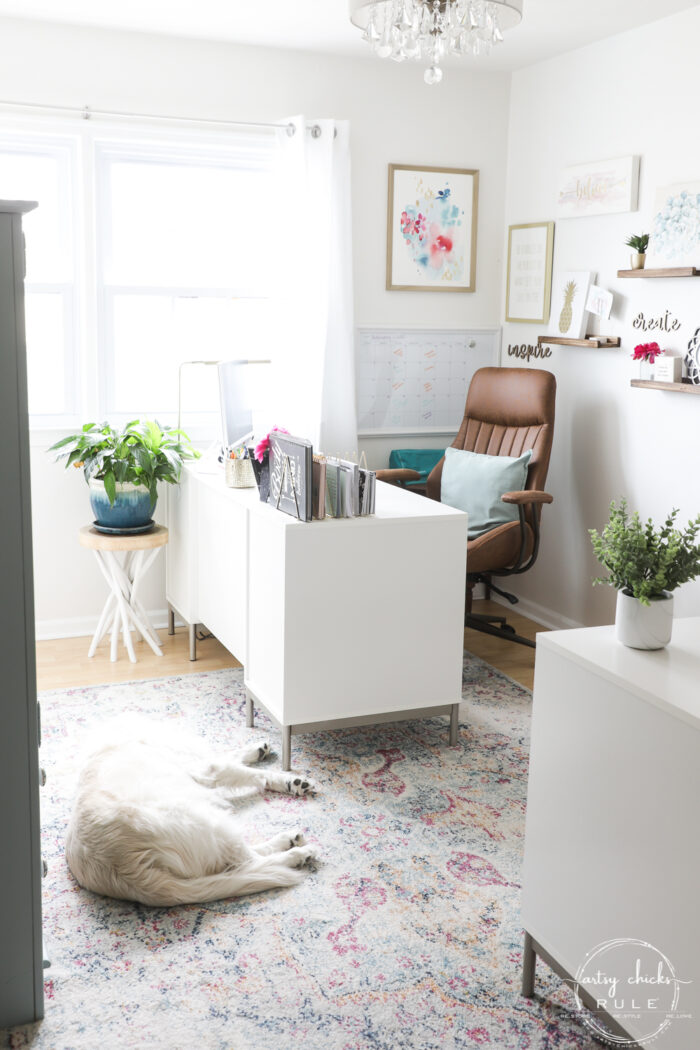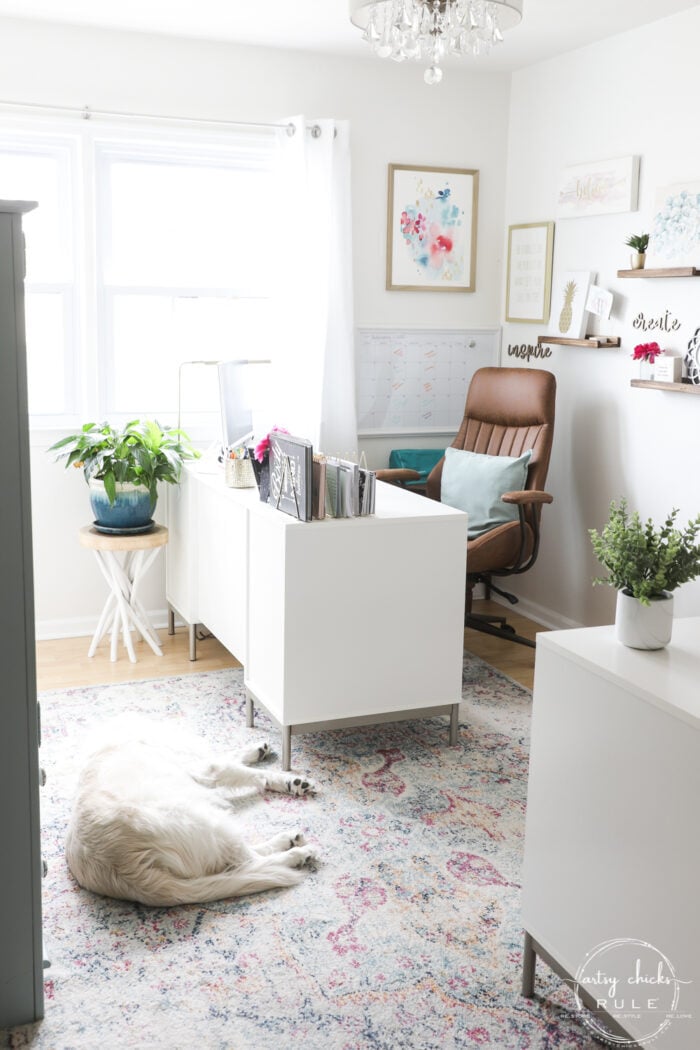 And one more, close up, just because.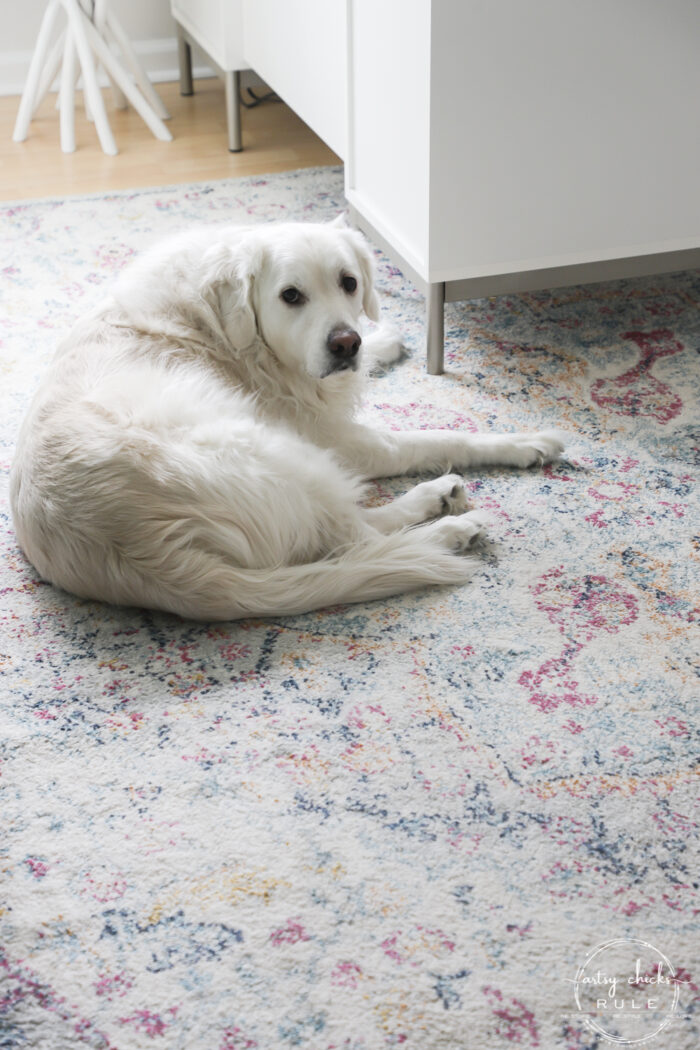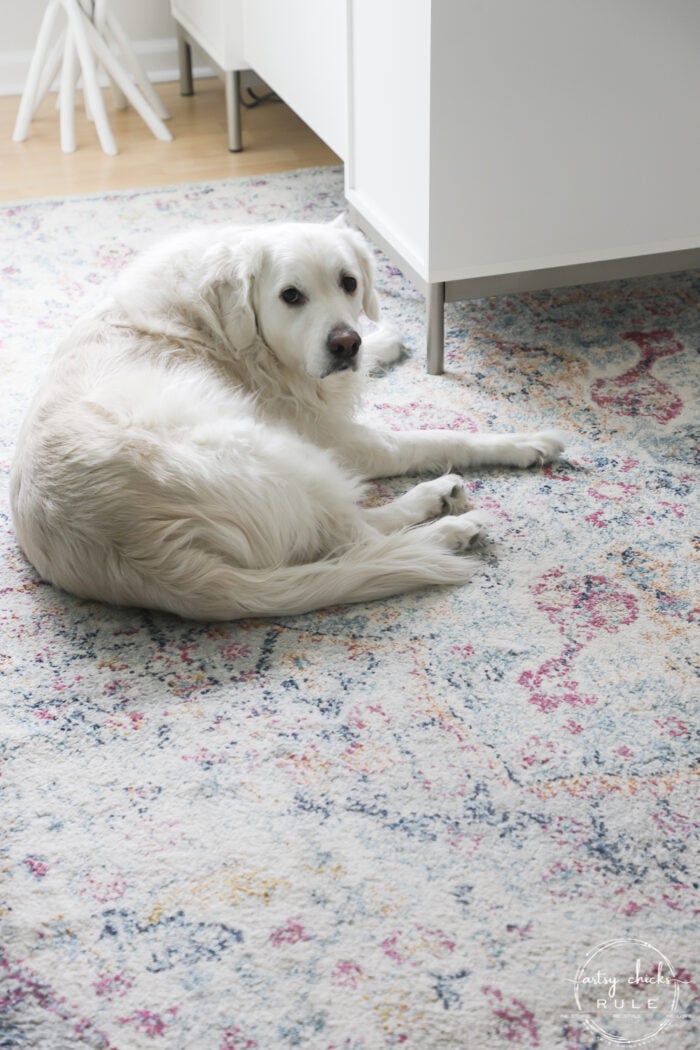 If you liked anything you saw in our office reveal, you can find most of it here:
PIN it to save it!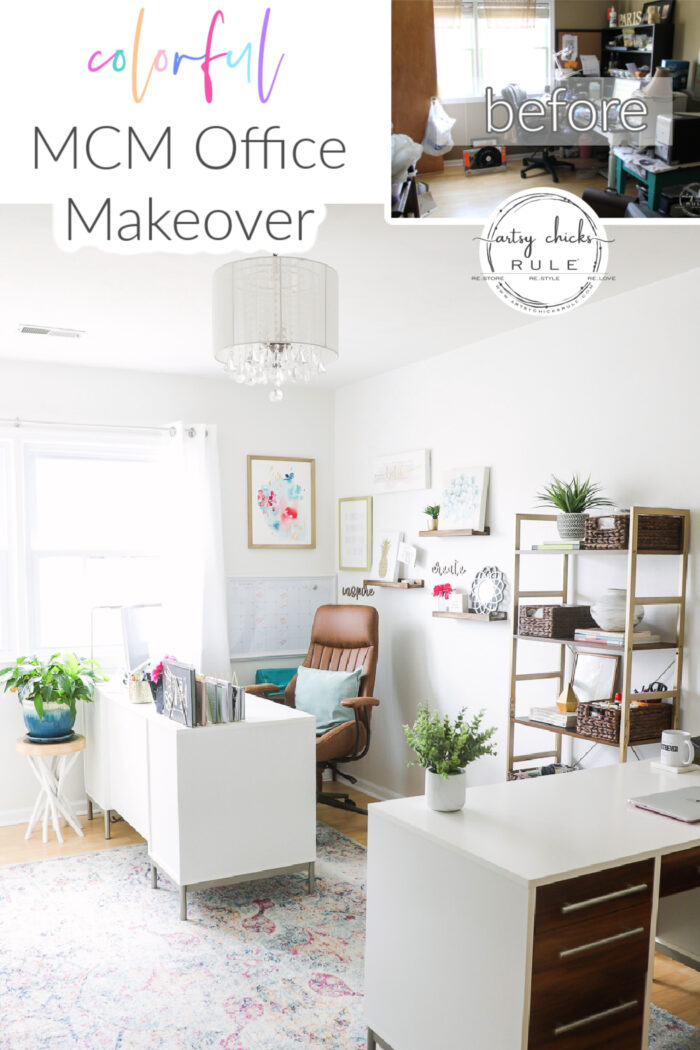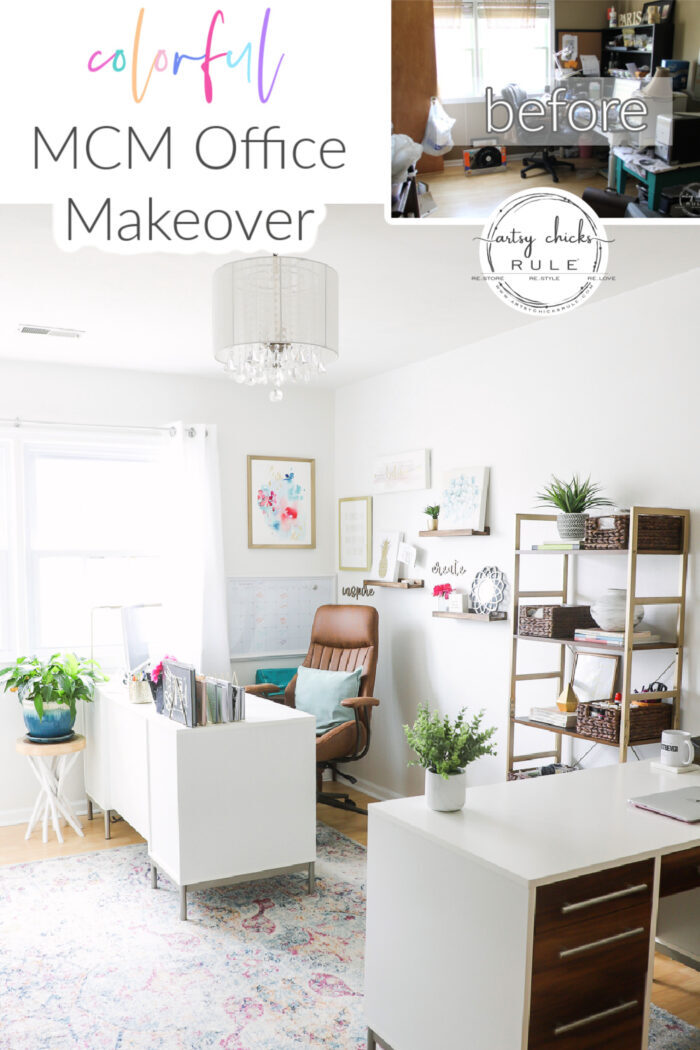 I hope you enjoyed seeing our little space here. It's a room I really thought I'd never share here on the blog.
But it is finally worthy! ;)
Whew…it's about darn time too. I spend a LOT of time in this little room and now I actually LOVE being in here.
Like an amazing breath of fresh air!
Lots of amazing things coming this year…this is the perfect beginning to it all. :)
See you on Thursday with a super quick and easy basket update!
xoxo