This post may contain affiliate links. Please see disclosures here.
I'm so excited to be sharing our new place at the beach with you today!
If you have been following along for a while, you might know we go to the Outer Banks of North Carolina often. Well, as you know, we bought a place down there.
It's something we've been wanting to do for a while and I'm so thrilled to have finally done it!
We ended up getting a condo so we don't have a lot of maintenance which was a huge plus for us at this time in our lives.
The condo we bought is called a 1- 1/2 bedroom. It has one full bedroom along with a small room with bunk beds.
It has tons of natural light and is incredibly bright and airy, which I just love!
Our plan is to fix it up and then possibly keep it as a rental and buy a 2 – 1/2 or 3 bedroom condo for our family in the next couple of years.
These smaller condos rent well since they are the perfect size for couples or families with one or two small children. Plus, there is a swimming pool and a lot of other amenities too.
We just love this community and have rented here ourselves more than a few times over the years.
When I show you the photos below, you may think it is all good to go.
But there are some things that need to be done (that's the fun part, right?). We found that some of the "remodeling" was done quickly and for "show" to sell.
We will have to redo a few things as well as update what hasn't been updated as of yet.
Basically, we want to make it "ours" and put our stamp on it, so to speak.
As I share the photos, I will share what our plans are for each space. (we may or may not do it all, these are just ideas right now)
But I'm telling ya, we are going to have the cutest little condo when we are done! And it's going to be so much fun to do.
Okay, so it came furnished, kitchen and everything, so that was a plus as we don't have to immediately buy every single piece.
Which means we have been able to start enjoying it right away. Win!
Here is the living area. We plan to replace that sofa. (it's old and VERY uncomfortable…it's a sleeper and we can feel every piece of metal when we sit)
I am going to get rid of that small end table and put a sectional here to maximize seating.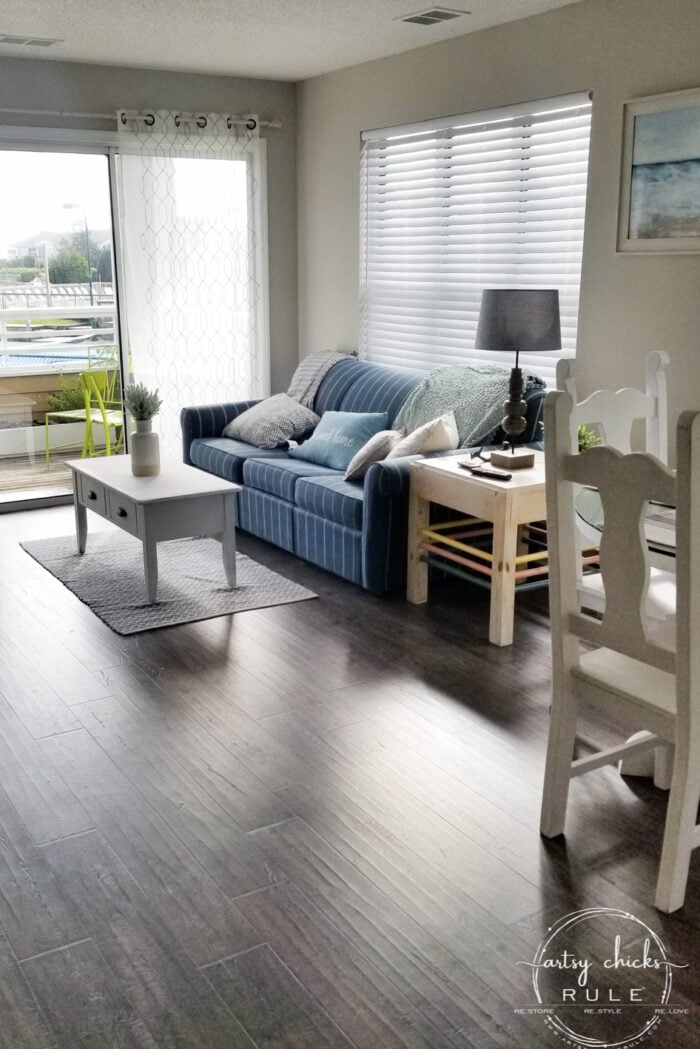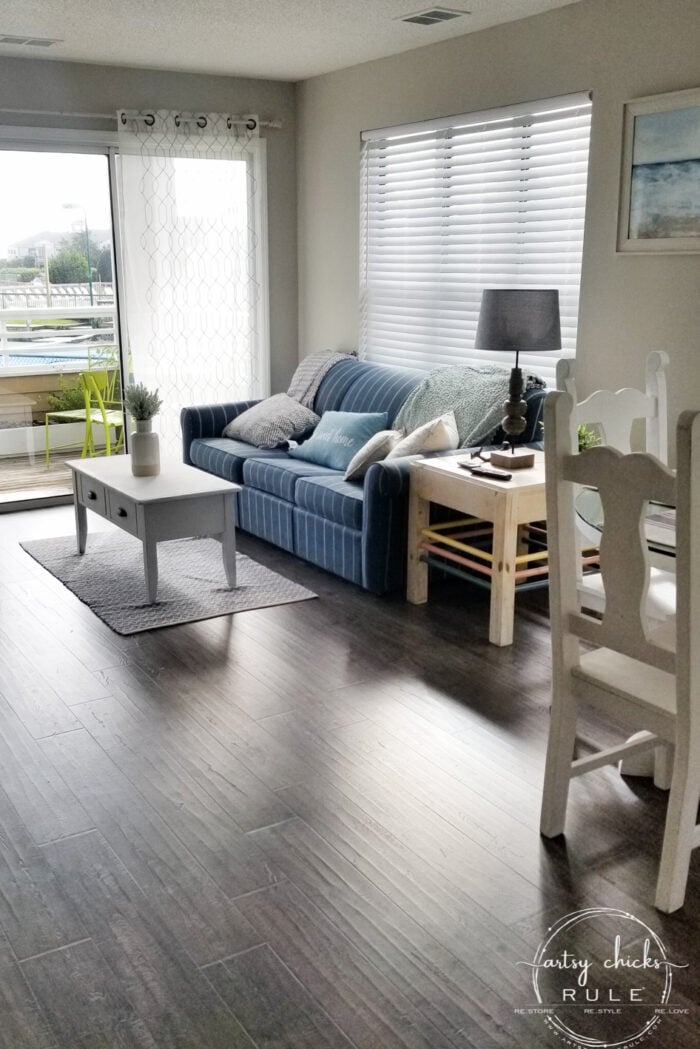 The ceilings are popcorn and I'd like to have them scraped. We'll see.
The walls are all recently painted gray but I'm not a gray lover as it feels cold to me so that will get changed.
I am undecided on wall treatments in here. I had considered doing board and batten 3/4 up the wall but I think it may be a bit much for this space.
Instead, I think I will paint it in my favorite neutral, Pure White. (same as our dining room, kitchen, and morning room)
We will add crown molding all the way around the ceiling.
The other side of the living area has a fireplace.
This is how it was when we first looked at it.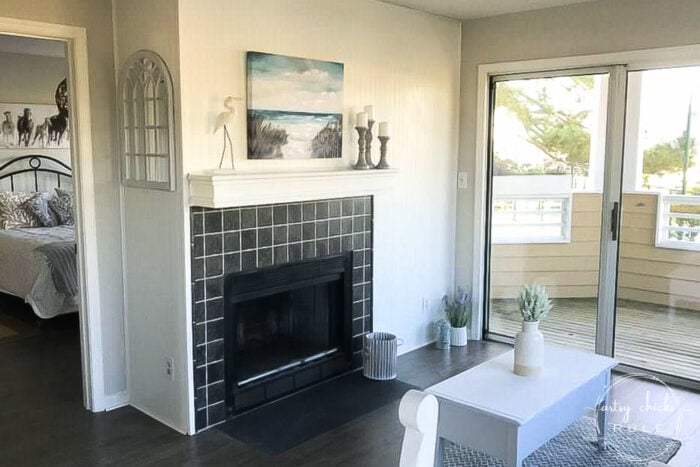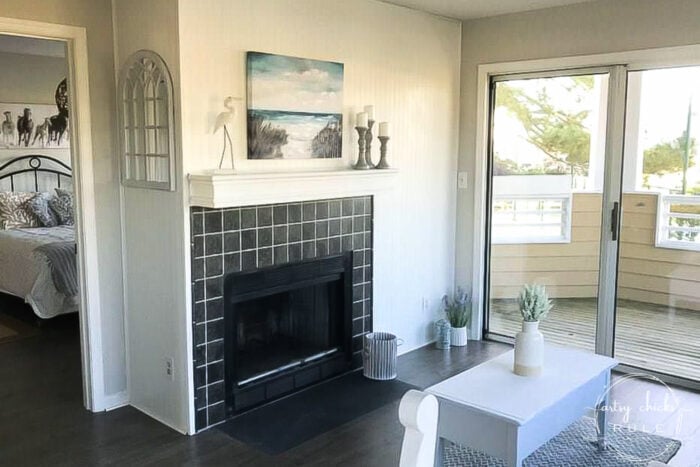 We've since added a TV over the fireplace and soundbar. (it still needs to be mounted)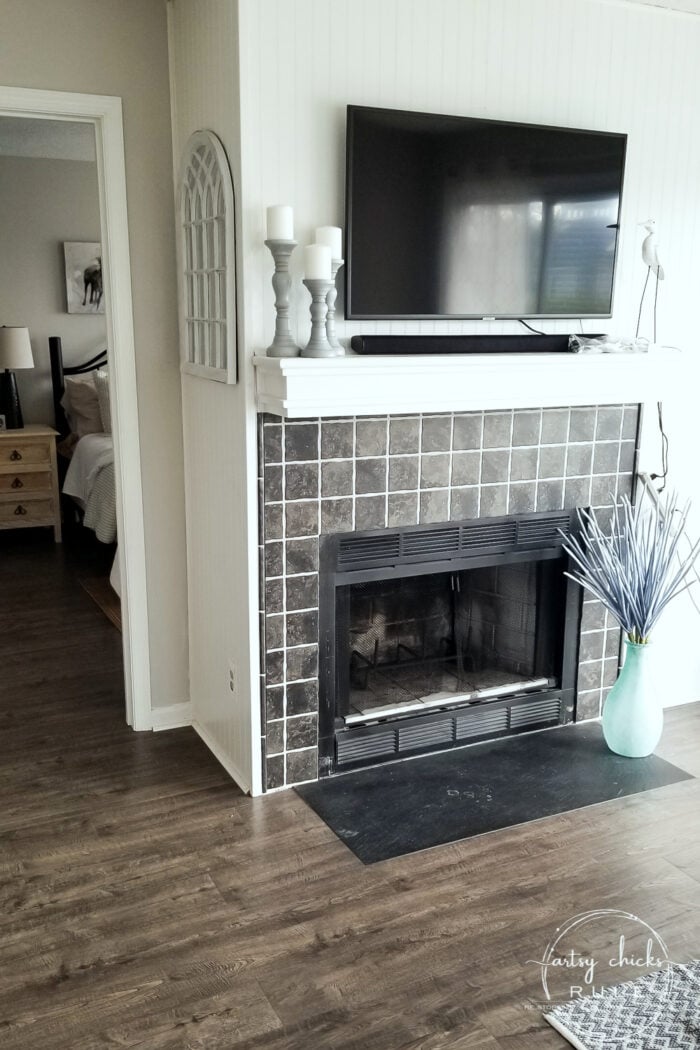 I don't know if you can tell, but there is a white beadboard around the fireplace wall.
I like it okay but I may end up replacing that with white shiplap instead.
I don't love the dark blackish gray tiles around the surround so I may end up replacing or painting them.
Painting them might be fun. Hmm, I've got a few ideas swirling around my head about that.
The flooring is new, and although it's a somewhat similar look, it doesn't match what's in the kitchen or bathroom. (it was clearly done at 2 different times)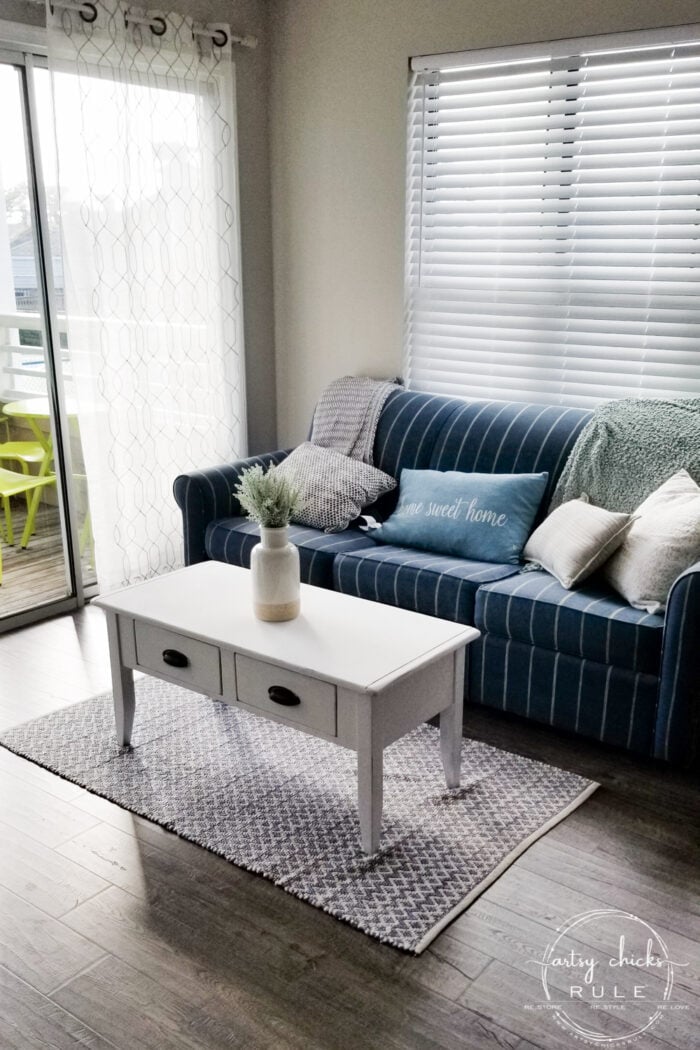 Not only that, but it's not what I would've picked as it's quite dark, gray, blackish in color.
I want something warmer in here, a warmer feel overall.
Plus the older of the 2 flooring types is not in the best condition.
To maximize space, we plan on building a narrow dining table (rectangle) and will probably use benches on each side that can slide under the table instead of chairs.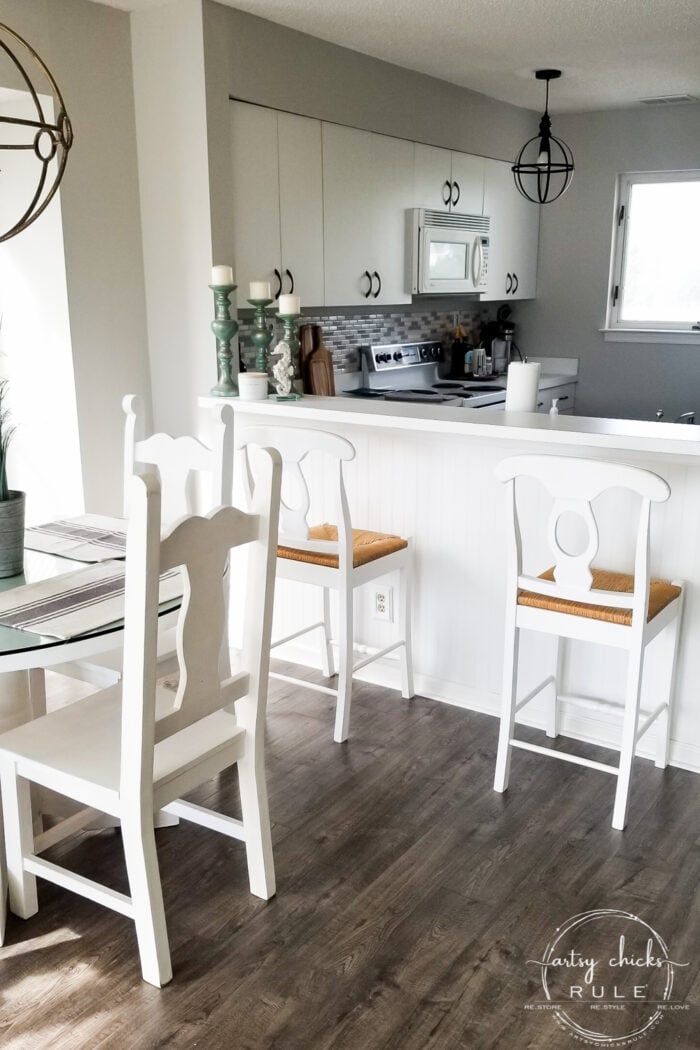 I'll still do barstools, but taller ones (those are too short) and maybe 3 instead of 2.
This little alcove is perfect for a window seat so we might build one there. (great for extra storage too)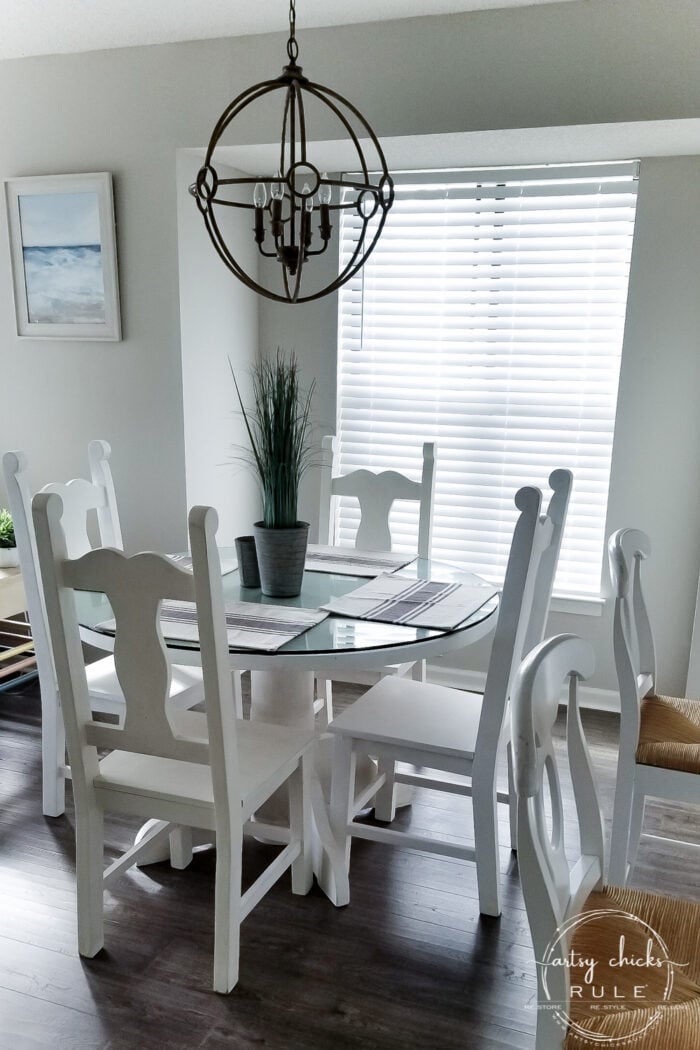 I haven't decided what to do about the lighting. I may be moving the light that is in the bedroom over the table here.
Because I'm a ceiling fan girl in the bedroom! As much as I love pretty light fixtures in a bedroom, I've gotta have my fan. ;)
I don't like that kitchen light fixture so it's going. I will put a recessed light in its place.
The cabinets are not in great shape at all and are going to be replaced with white shaker cabinets like what we did in our kitchen, here.
I will probably replace the tile backsplash as I'd love something different in there. (the receptacles all need replacing and adjusting too)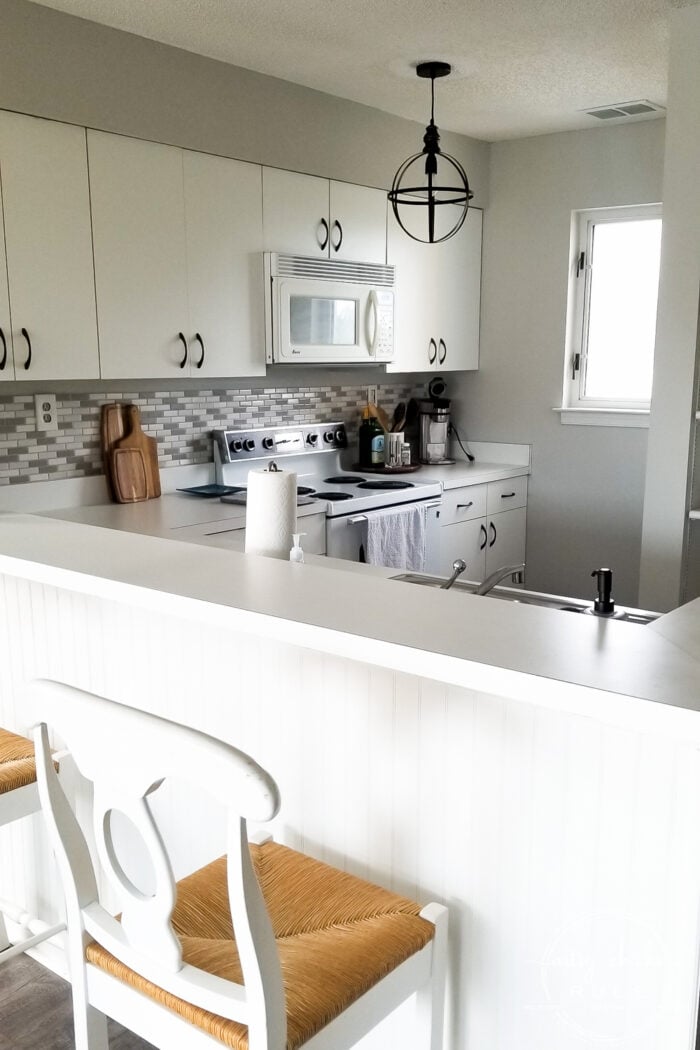 The countertops and appliances need updating as well. (for reference, this condo is about 30 years old)
We will do stainless appliances and some light-colored countertop. Maybe the same one I used for our house here.
(trying to not have an identical space here though! lol)
I'm pretty sure we are going to knock that soffit out and take the cabinets all the way to the top. Maybe.
I've seen some of the other condos remodeled that way and it looks amazing.
We also plan to put two pendant lights above the bartop there by the barstools.
To the right of the kitchen is the entryway to the little bunkbed room. We are removing the bunks and putting in a trundle style bed that expands into one large bed so that couples can stay as well. (like this one >>> here)
On the far left wall there (that has the coat rack) we will build a board and batten wall 3/4 the way up (or something similar) with hooks spaced evenly all the way down to the door. Perfect for hanging beach towels, bags, or whatever!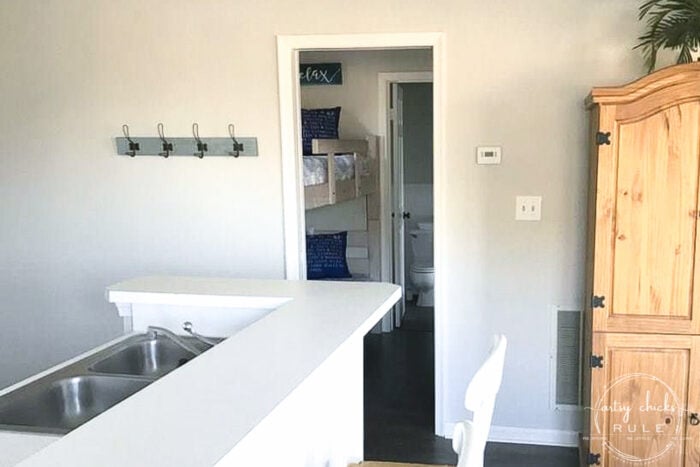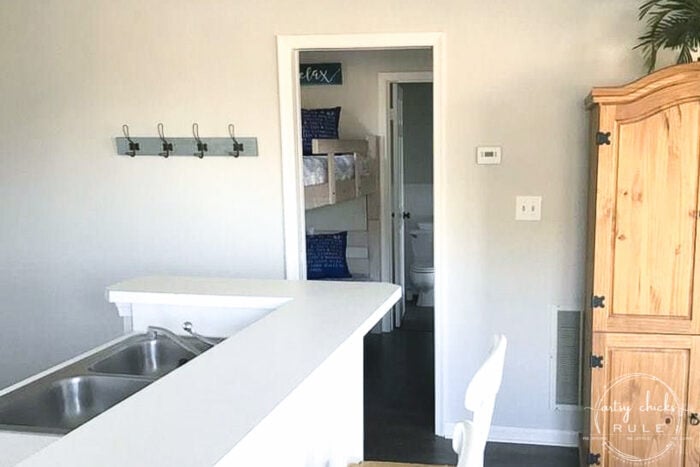 There is a pocket door in that opening for privacy, by the way.
(we've already replaced that tall armoire there with something I found at HomeGoods…stay tuned)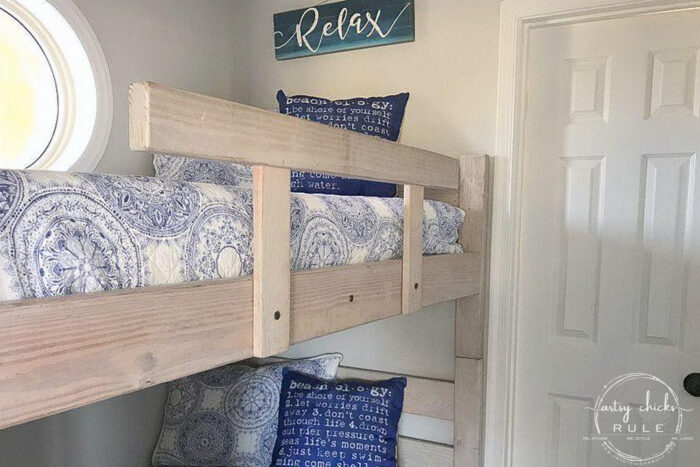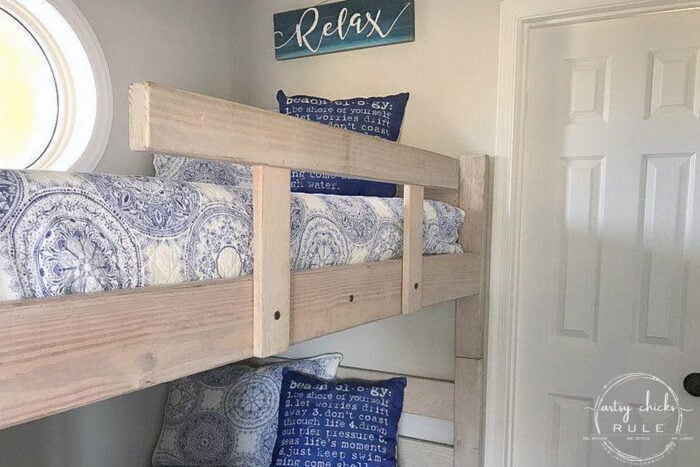 To the right are the washer and dryer and this cute barn door.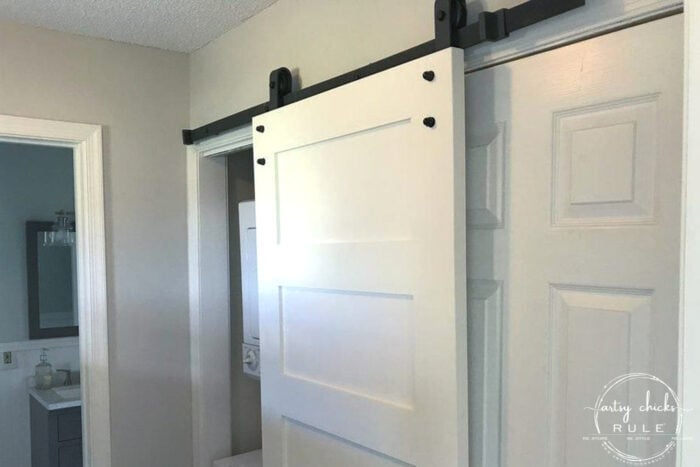 I like it but haven't decided if it is practical or not.
It takes up a bit more space than a regular door in an already tight space, AND it has a pretty good-sized gap that doesn't make for good sound deafening when washing clothes, etc. We'll see!
The bathroom connects to the bunk room and the master bedroom.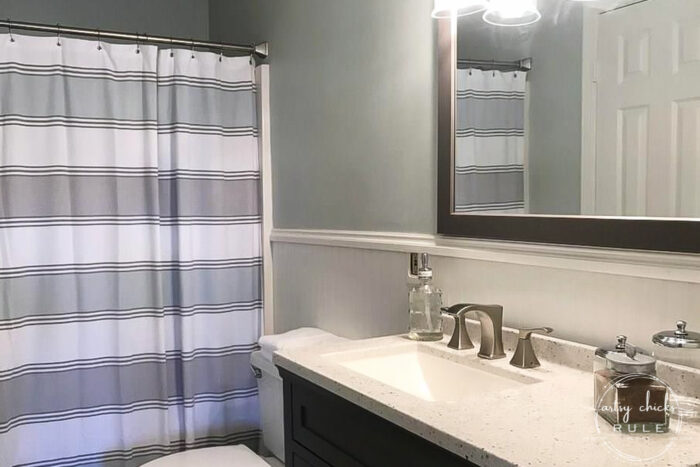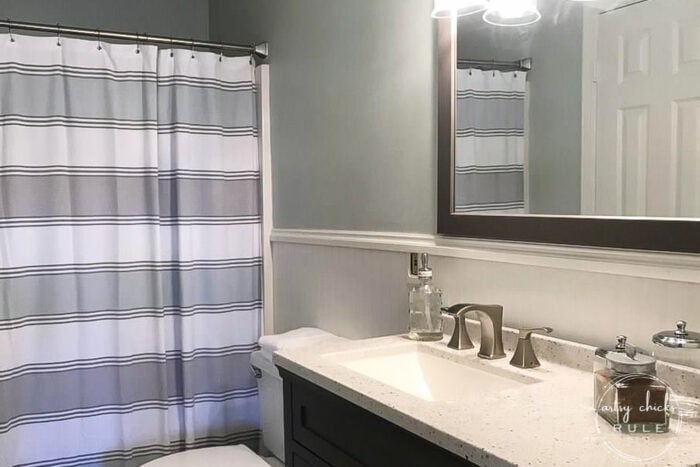 Which has been somewhat remodeled.
The cabinet is pretty nice although I may paint it…or change it out.
I love the light fixture although it needs to be moved up higher as it's literally sitting on the mirror.
And I don't know if you can see that receptacle over there but it's kinda jacked up! ( I can't even plug into the top one)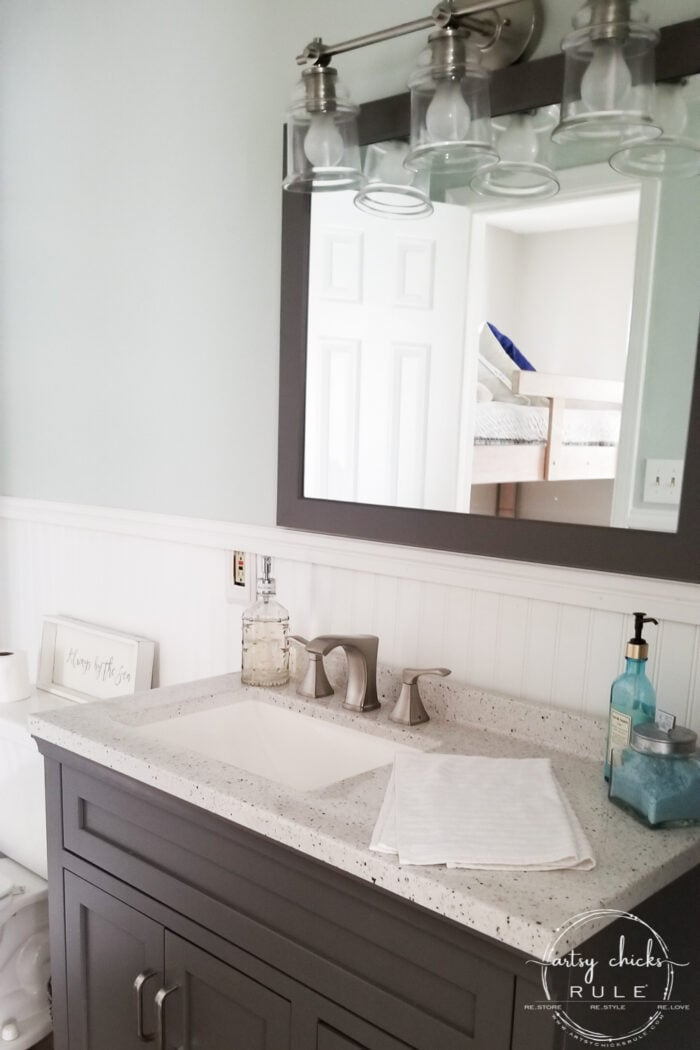 It needs addressing for safety if nothing else.
We might put white shiplap all the way around, or halfway up, the bathroom in here. Maybe vertical this time.
(do you see the pretty walls though?… Sea Salt, my fave)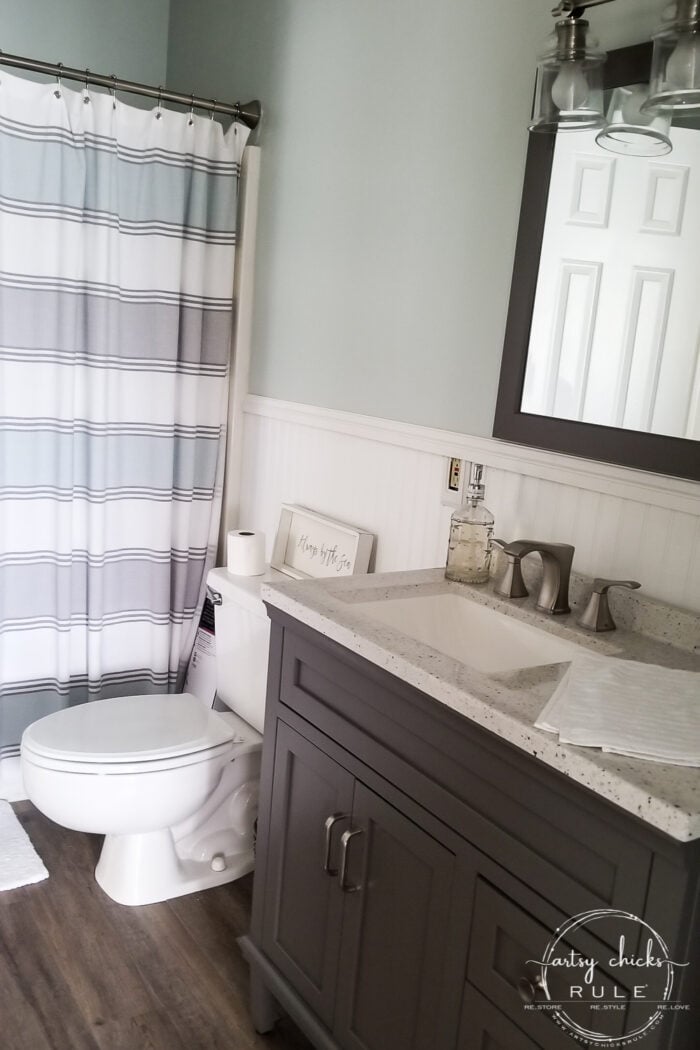 The bathroom and master bedroom. (And the light fixture I might move over the dining room table. I kinda love the fun coastal vibe and texture it has.)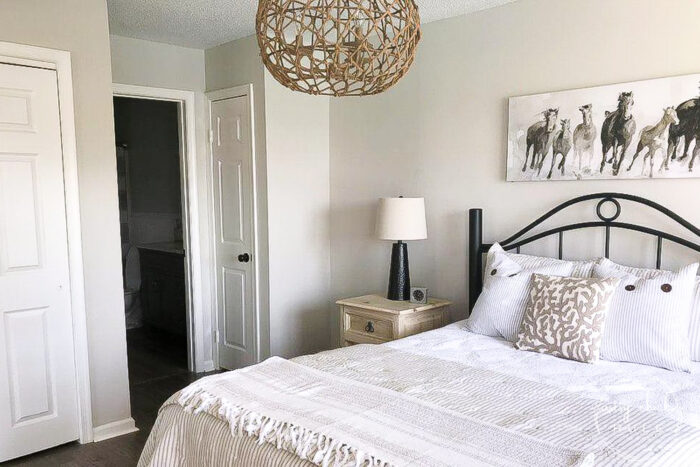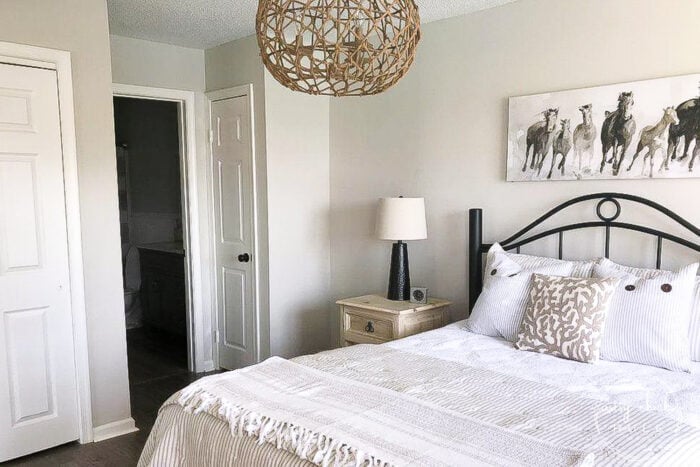 I have plans for all the furniture in here. I will replace the two pieces below with matching nightstands.
So you may be seeing some of these pieces made over on the blog at some point.
And we might add white shiplap on the entire back wall behind the bed in here. (that wall only)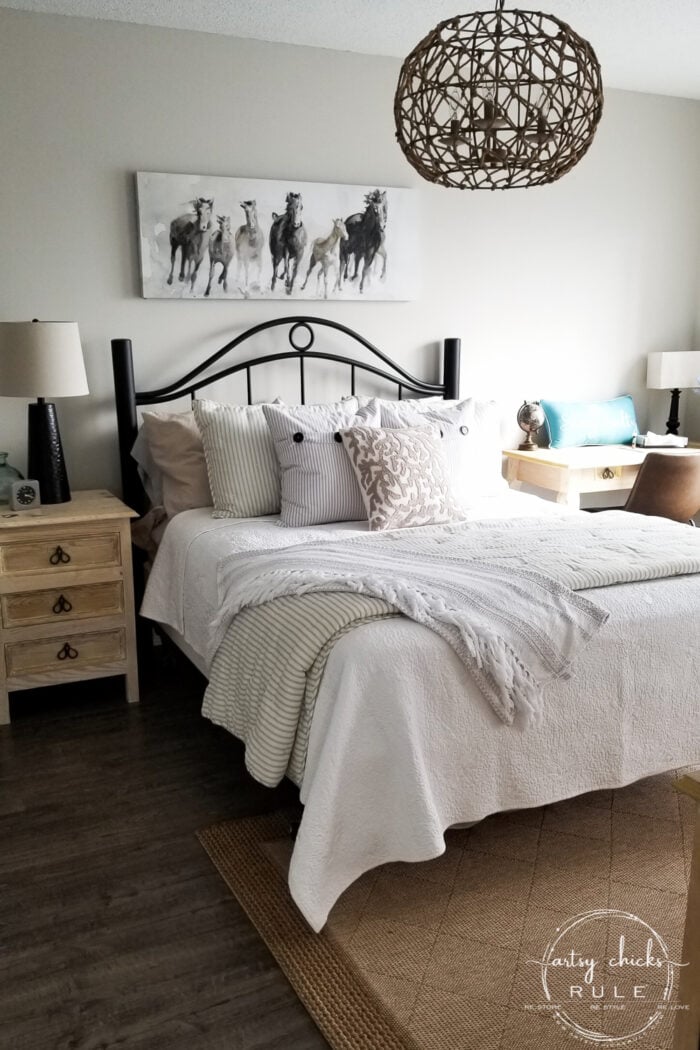 We may paint the remainder of this room in Sea Salt. (these walls below)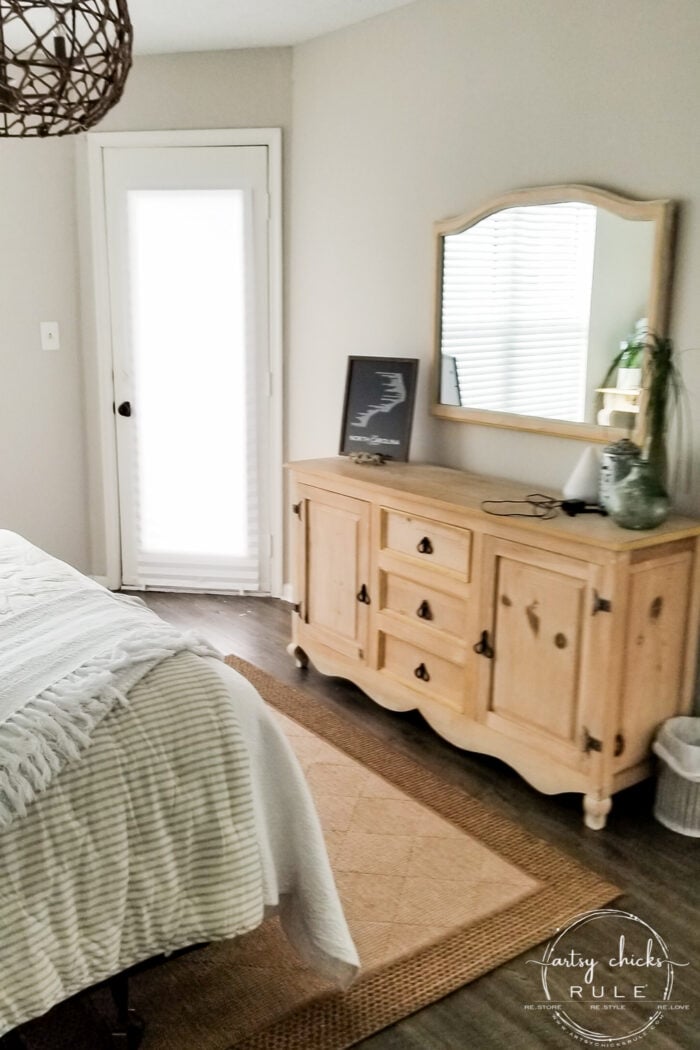 I'm painting or whitewashing this dresser and probably changing out the hardware, but will keep it.
We are in no hurry on any of these things, but I'll be sure to share as we update and decorate.
Here's a little peek at our deck. We would like to put a swing out here on one side and 2 tall polywood chairs and a small (tall) table on the other. (that's one of the many canals back there) This is one little space I can't wait to cozy up as I know we will spend a lot of time out here.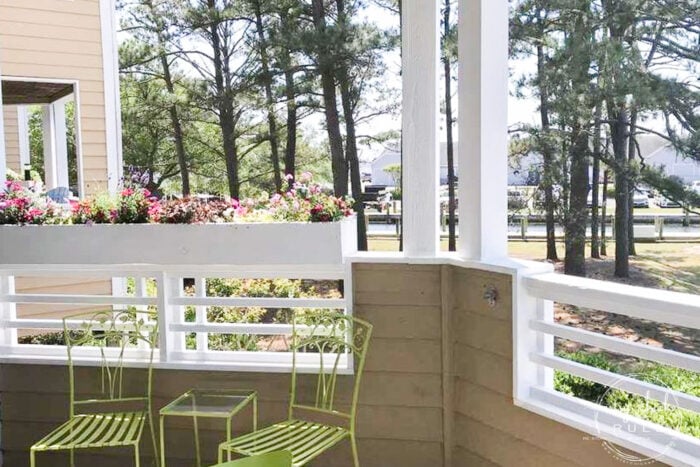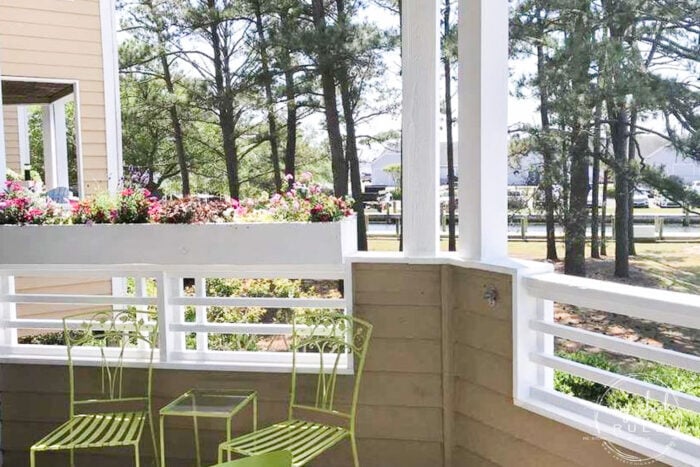 Looking into our condo from the deck.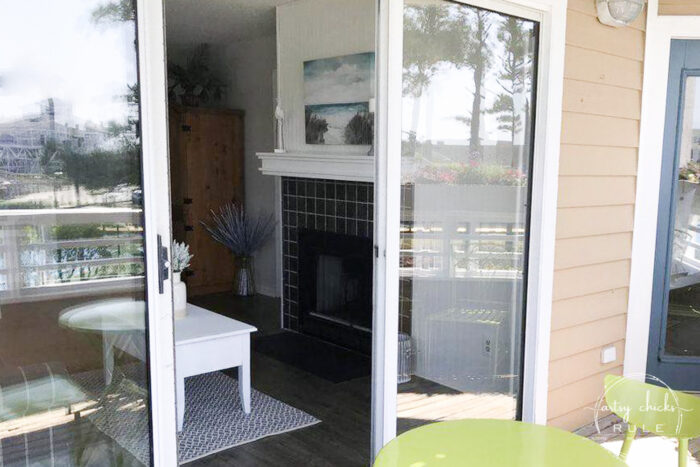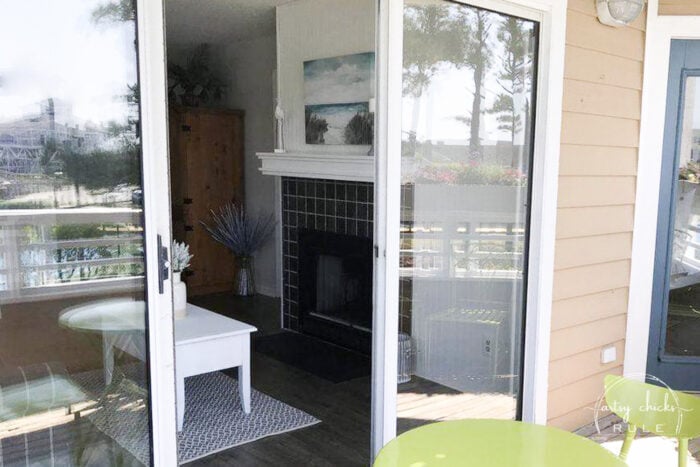 There's space under the condo on the ground level for grilling etc, and we have a good-sized storage room down there also.
I created a mood board with how I think we will decorate it, or somewhat similar. Always subject to change! ;)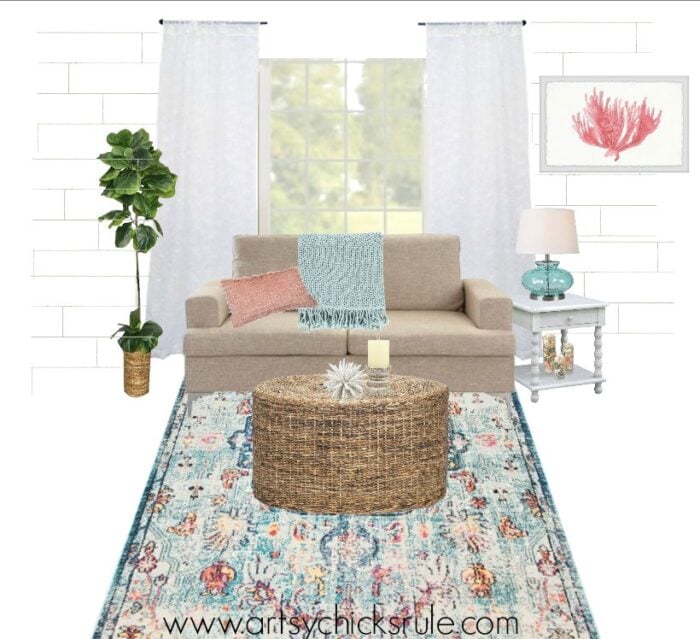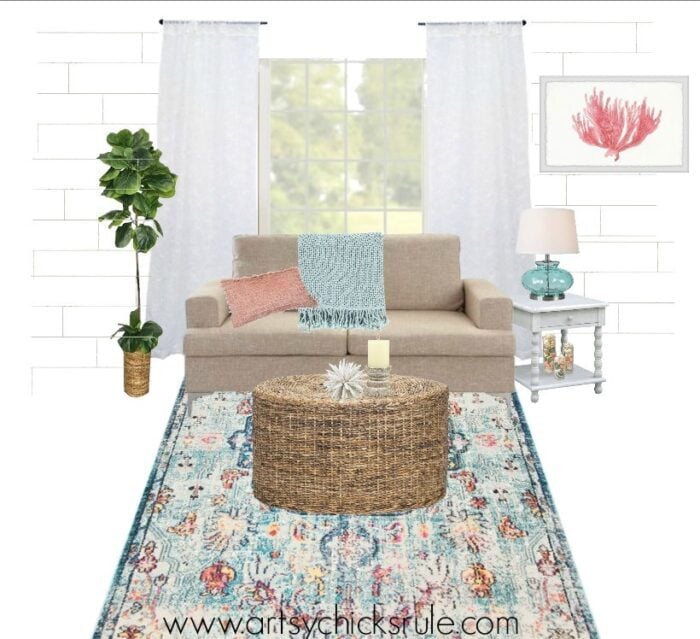 Colorful coastal!
That is what I am going for and why I want so much of the background to be more neutral. (Pure White paint color, white shiplap, white cabinets, etc)
I want warmer tones in general (instead of the current gray/black). I envision lighter, warmer colored floors, baskets (same color as above) for texture, and pale beachy aquas, pinks, corals, etc.
UPDATE!
Follow along with our latest beach condo updates here:
I hope you'll enjoy following along!
Have a great week, my friends!
xoxo