Robin's Egg Blue Beach Box Makeover (Budget Friendly Decor)
This post may contain affiliate links. Please see disclosures here.
Old flatware boxes are perfect for creating little decorative storage boxes, like this beach box I recently made for our master bedroom.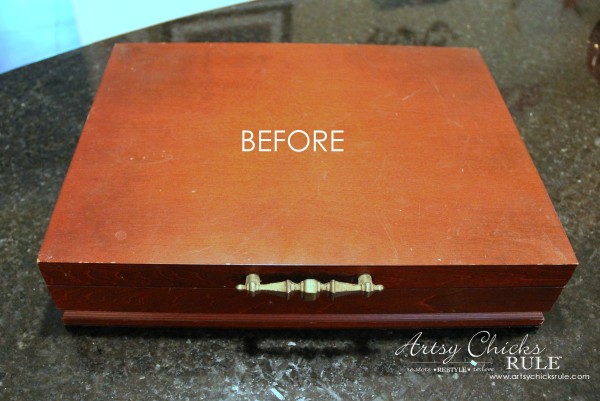 The master bedroom is rolling along.
So excited to be putting all these pieces together for it.
I've got several other things to share yet but hoping the room will be done very soon.
In case you missed it before, or are new here, this is the mood board for the room.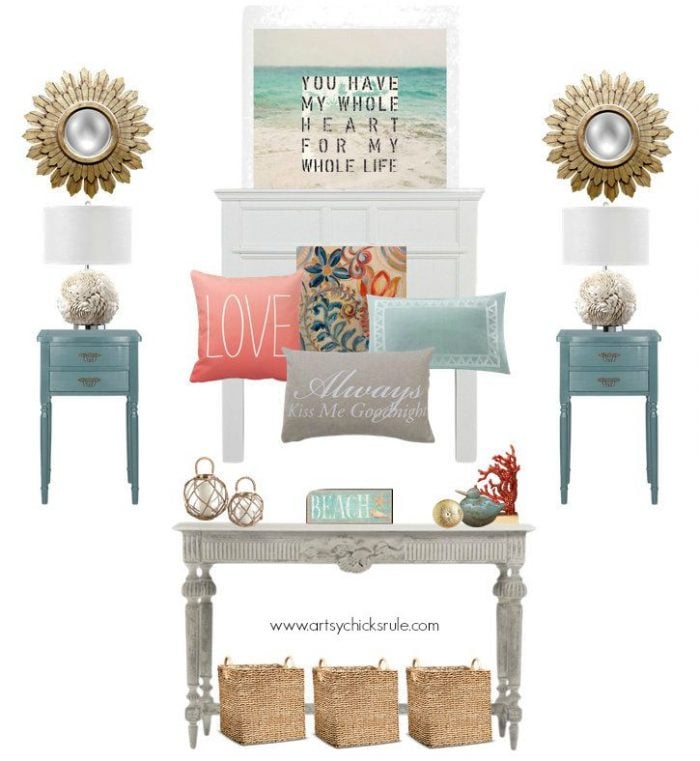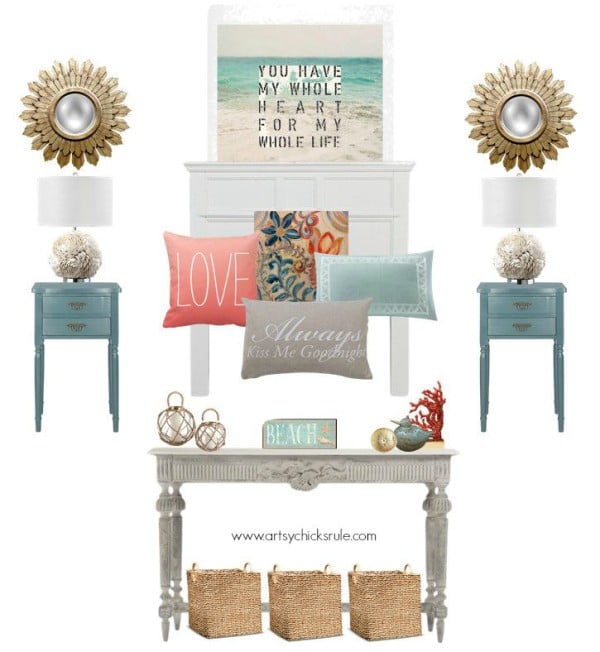 You can read more about my plans and see more here. –>> "Master Bedroom Plans"
I've already posted about the lamps I'll be using on the night stands.
They were a super thrifty find that I made over recently. –>> "Coastal Lamp Makeover"
I've still got two "love" signs to make and a picture that I'm using from our Florida trip as a huge centerpiece over the bed.
I'll be sharing all of that soon.
But first, I found this silver/flatware box at the thrift store last week for a few dollars.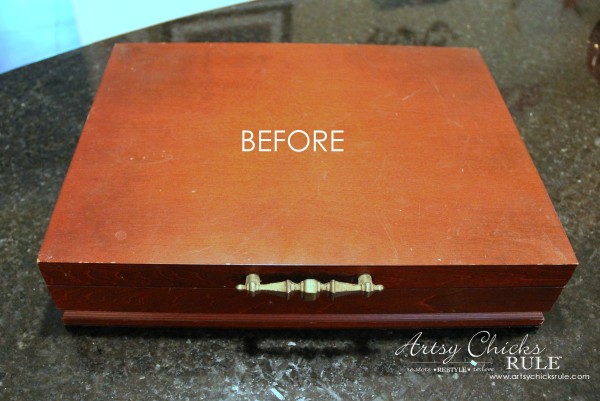 I come across them all the time, those and old cigar boxes.
They are great to makeover and use for storage or just pretty decor for the home.
And I turned it into this pretty Robin's Egg Blue Beach Box….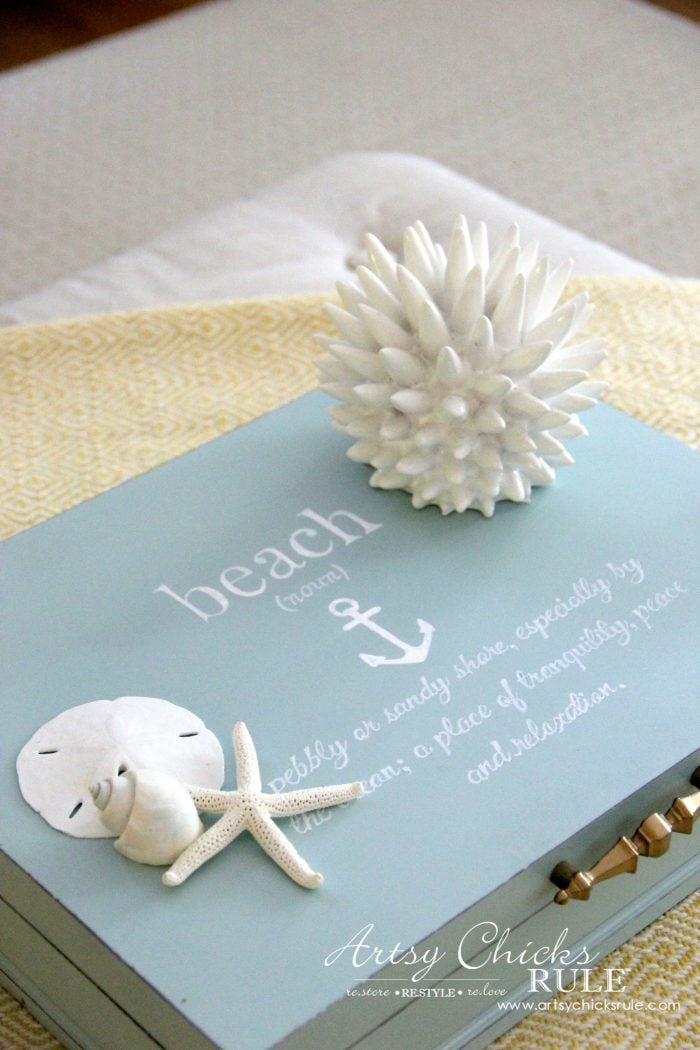 Quite the difference. Like I always say, a little paint changes everything.
And yes, I know it's basically Fall and Summer is past but my home is decorated in a coastal style all year long.
Plus, this will be perfect in the master bedroom.
I gave the box a light sanding and cleaning.
Then I taped up the edge on the inside (I didn't want that part painted)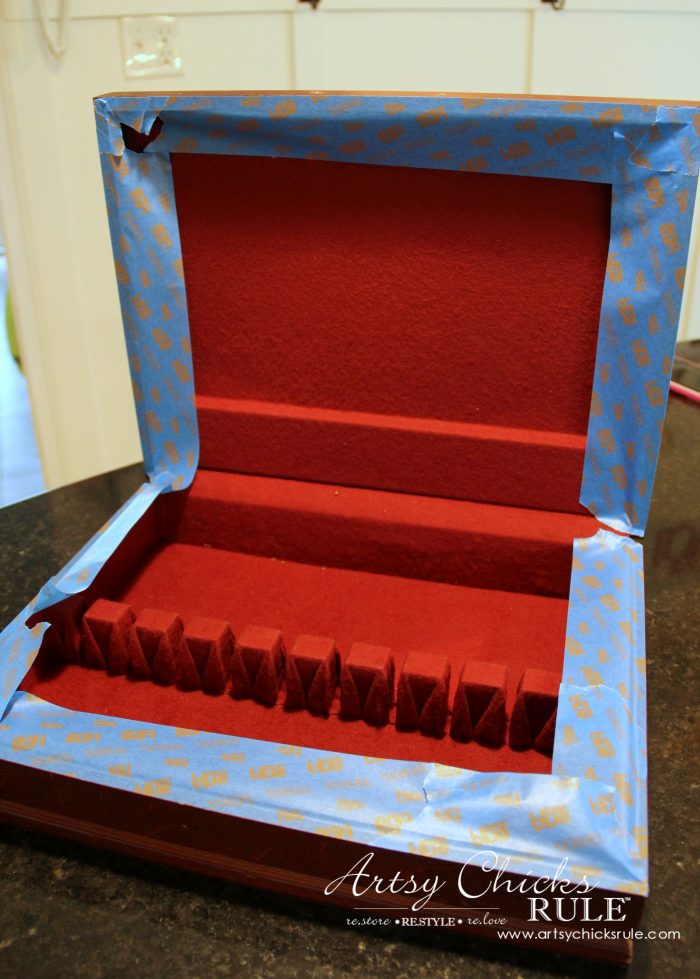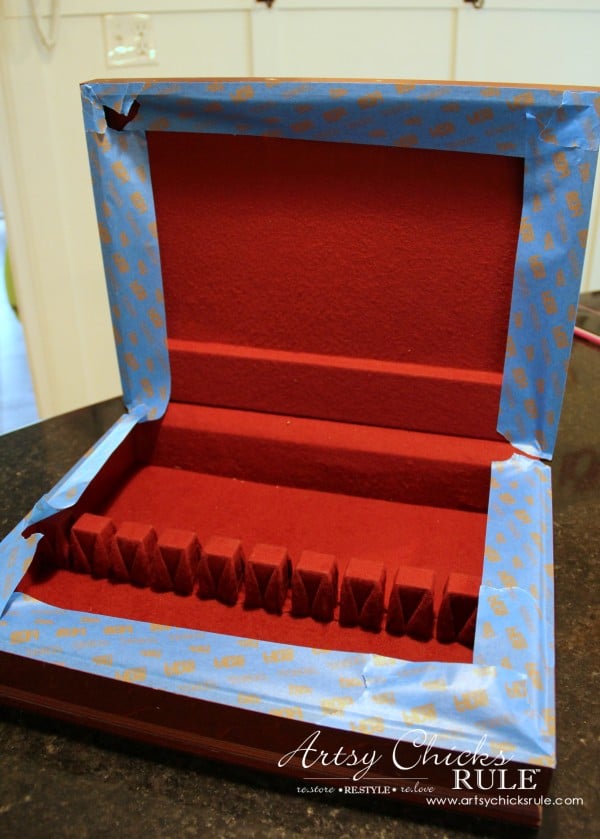 After that was done, I took it outside and sprayed with Rust-Oleum Matte Robin's Egg
Blue Spray Paint.
I had seen my friend Christy (over at Confessions of a Serial Do It Yourselfer) use this paint a few times too.
This is my first time using it and it's a very pretty color. It looks similar to the Duck Egg Blue and Persian Blue I use often.
AND it's the prettiest blue color you'll find in a spray can! ;)
Then I created this graphic for the top…..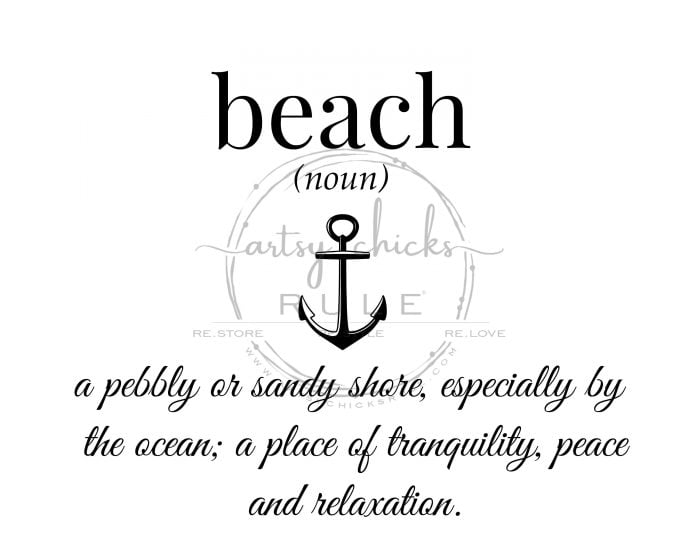 I printed it out to the size I needed/wanted for the top of the box and then positioned to transfer the image…..
(You can see this post, and this one for more details on transferring images this way)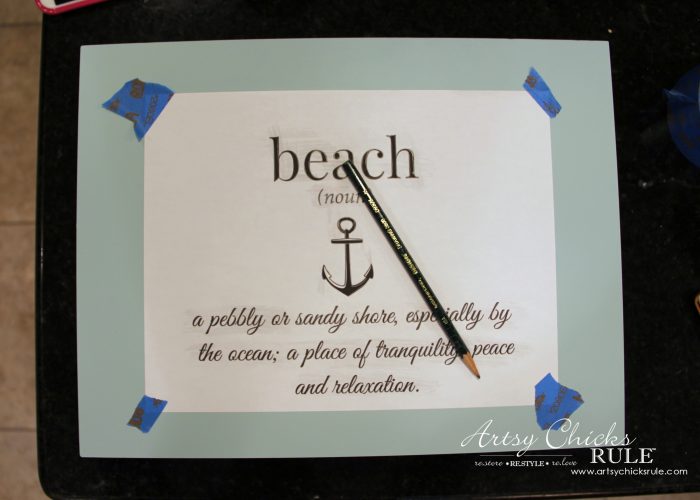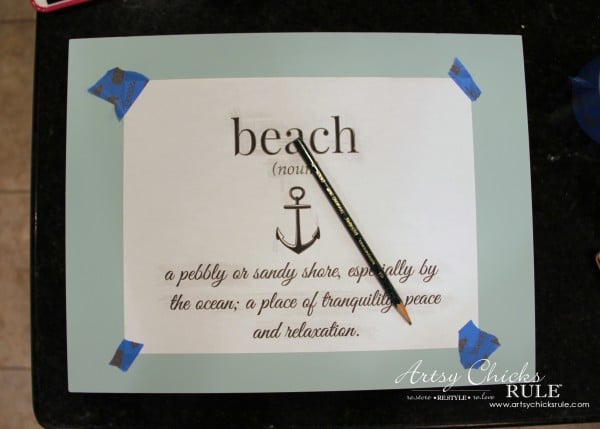 I sometimes transfer using this method, however. (yet another way to do it)
For more transfer methods, see this post I've created of all the ones I use.
Click here, "How To Transfer Graphics"
If I'm going to be painting with white for the lettering, I will usually use chalk or a white watercolor pencil (for the back transfer area).
But I went with pencil since I had such small writing at the bottom of this graphic.
I really wanted to make sure the bottom print would be visible enough to paint/color in.
Here it is transferred….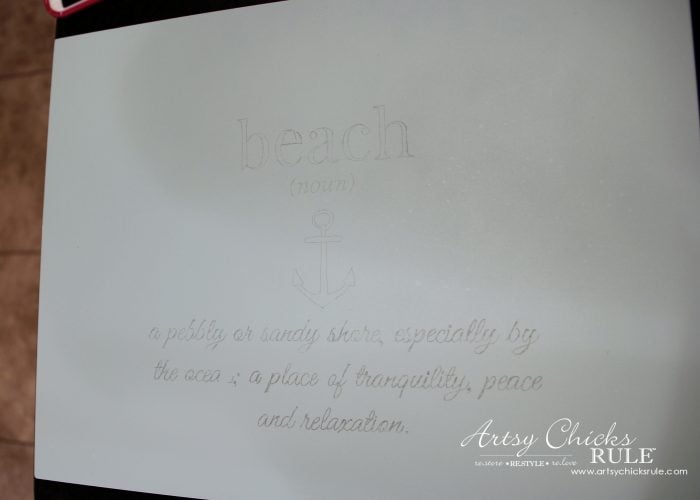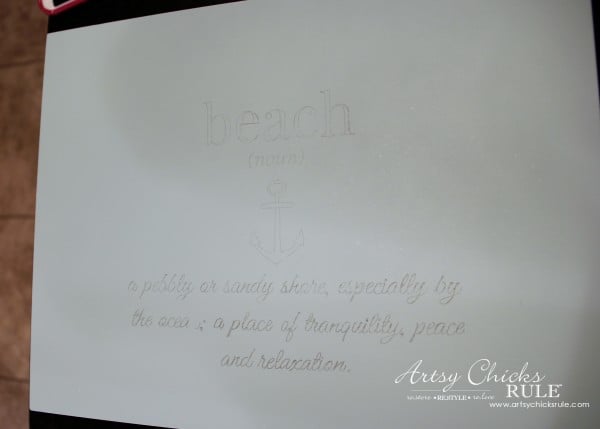 Now all that's left to do is "color it in".
I sometimes use a tiny artist's brush and hand paint it in but I used a Chalk Ink Extra Fine pen
this time instead.
You could also use a paint pen.
The Chalk Pen is washable (meaning you can remove it) so it needs to be sealed if you don't want it to come off.
I liked that it was removable since I was doing such small lettering.
I'd be able to easily fix any mistakes, re-do and then seal when done.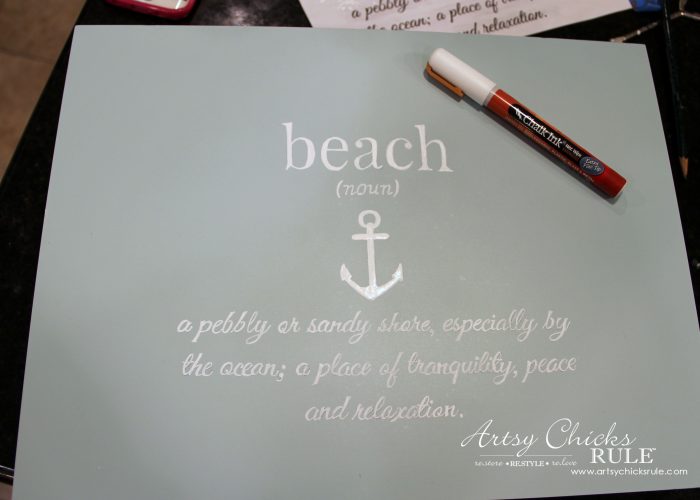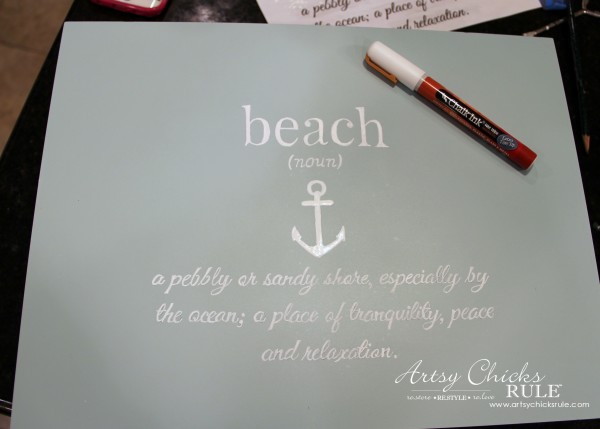 It actually didn't take all that long to do this with the pen. Love that!
It would have been much more time consuming if I had been using a small artist's brush and paint.
I lightly sanded the lettering (and edges of the box to distress) and took it outside to spray with Rustoleum Pearl Mist (sooo pretty, I want to spray everything with it!).
Yep, I wanted it to have a pearly finish …..but oooops!!!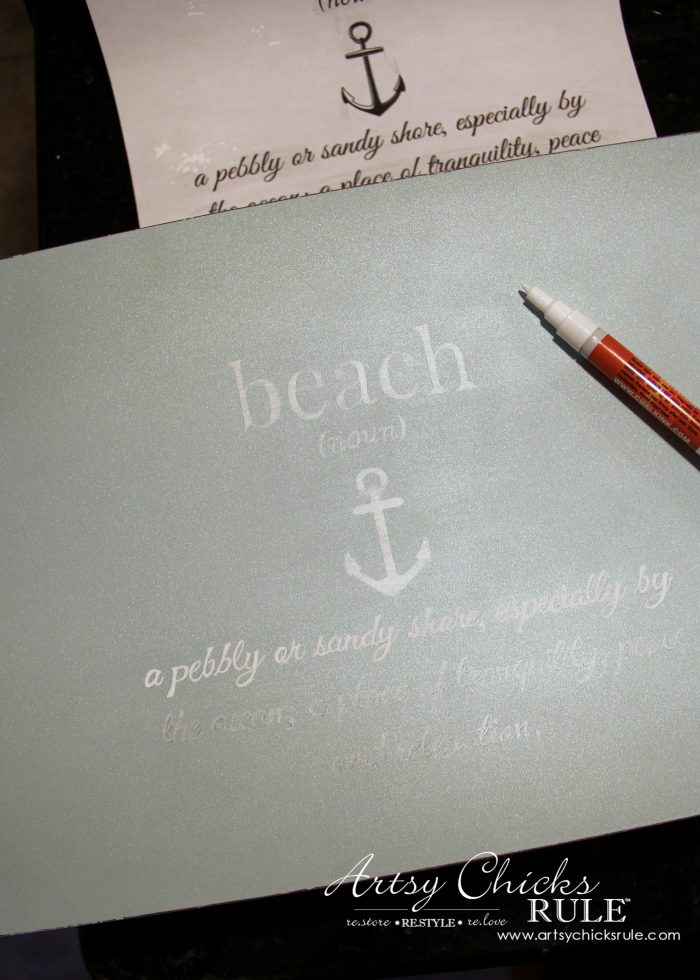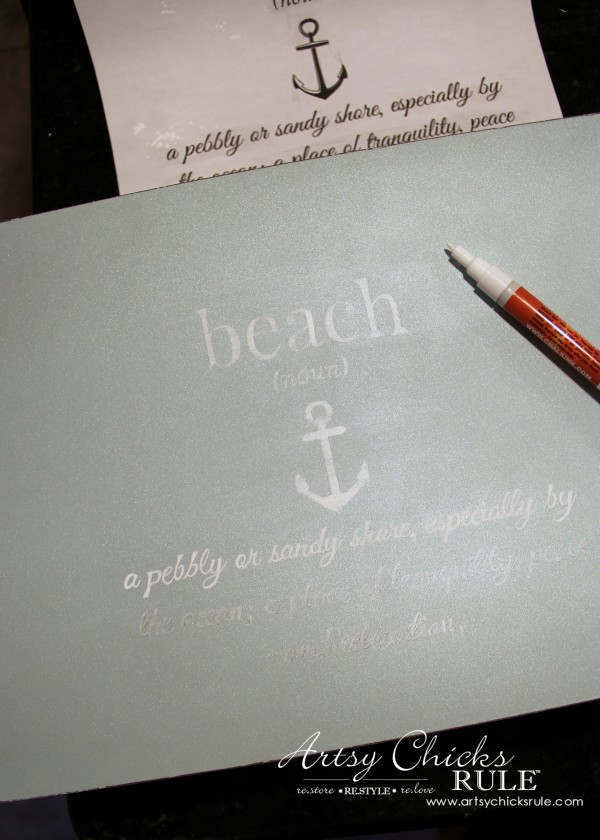 Darn. The pearly spray is so pearly my white lettering was all but invisible.
So I had to do it over. (you can see where I've already done the first line again)
Thankfully, like I mentioned, it didn't take long to do. (or I might have cried!! ;) )
So I finished redoing the letters and then sealed with Krylon Crystal Clear Spray Paint.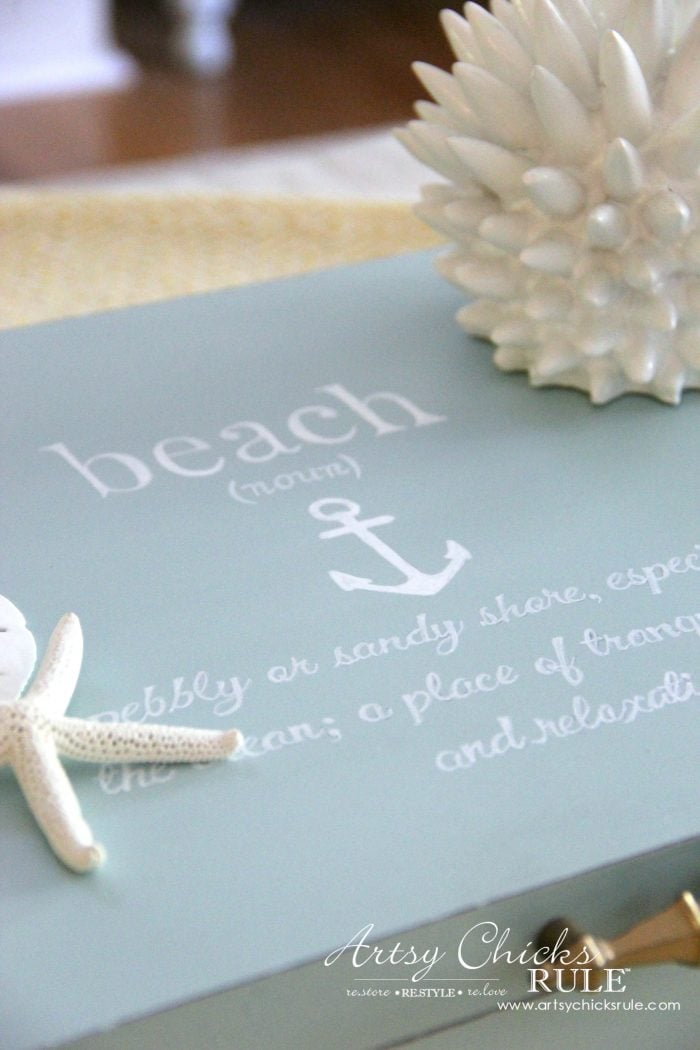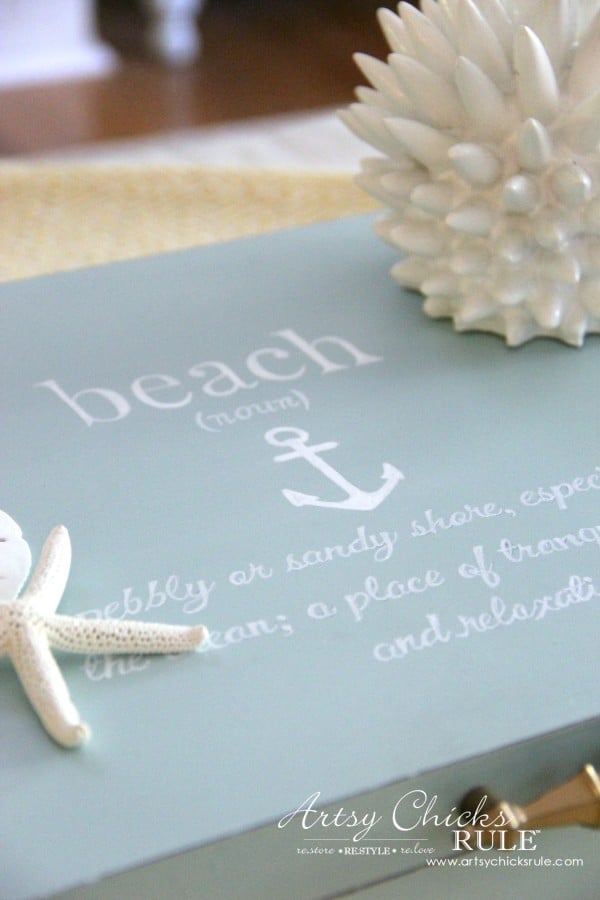 All is well that ends well, right? ;)
Sometimes things don't go as planned but that's okay.
Either fix it, start over or throw it out the window!! Haha…okay, don't do that last one. ;)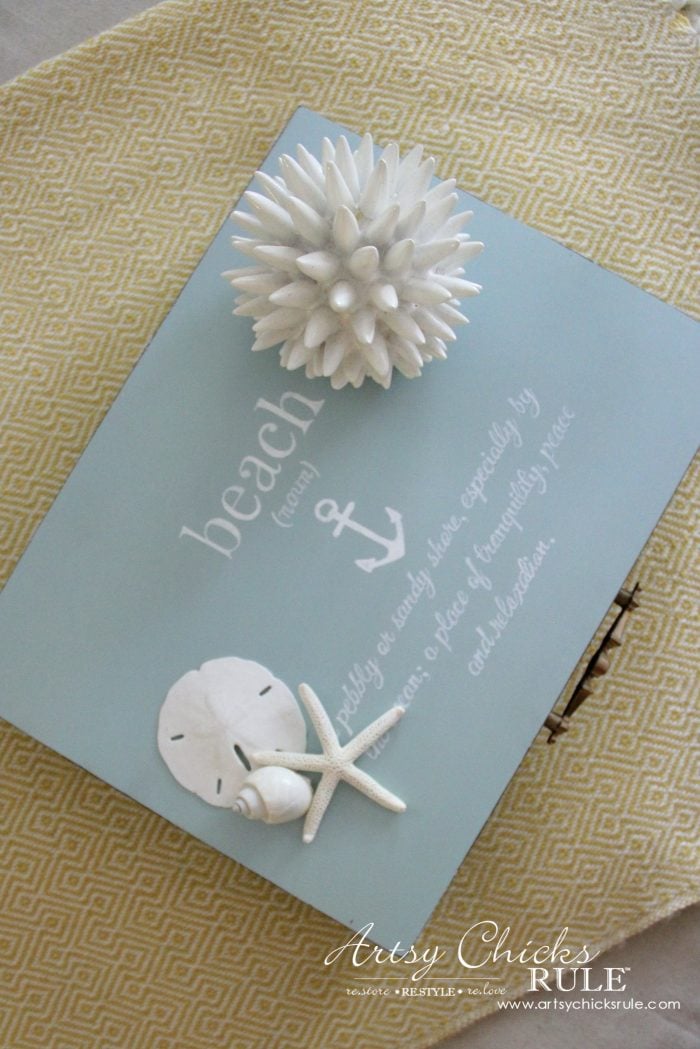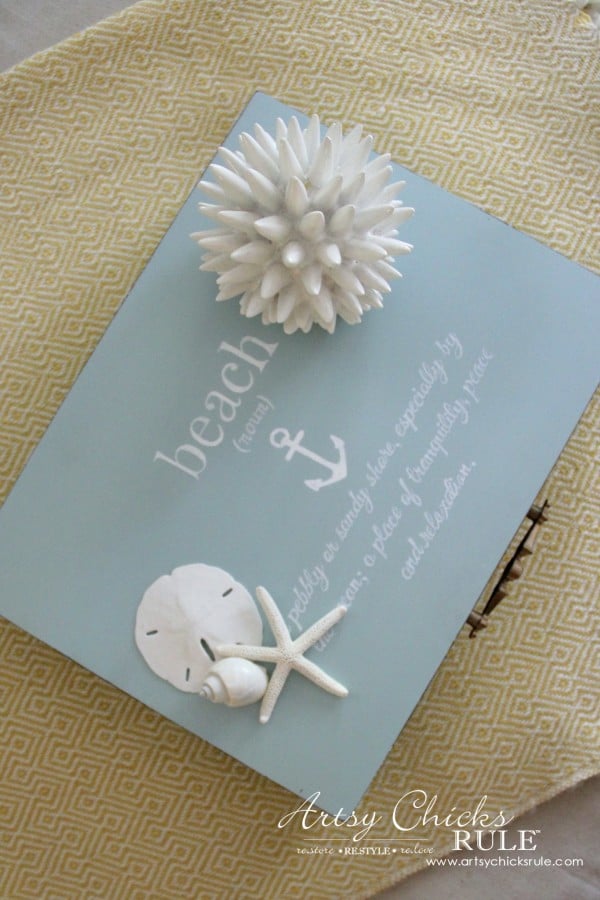 I sprayed the handle with Valspar Gold Brilliant Metal spray paint.
Love it, it's a beautiful shade of gold.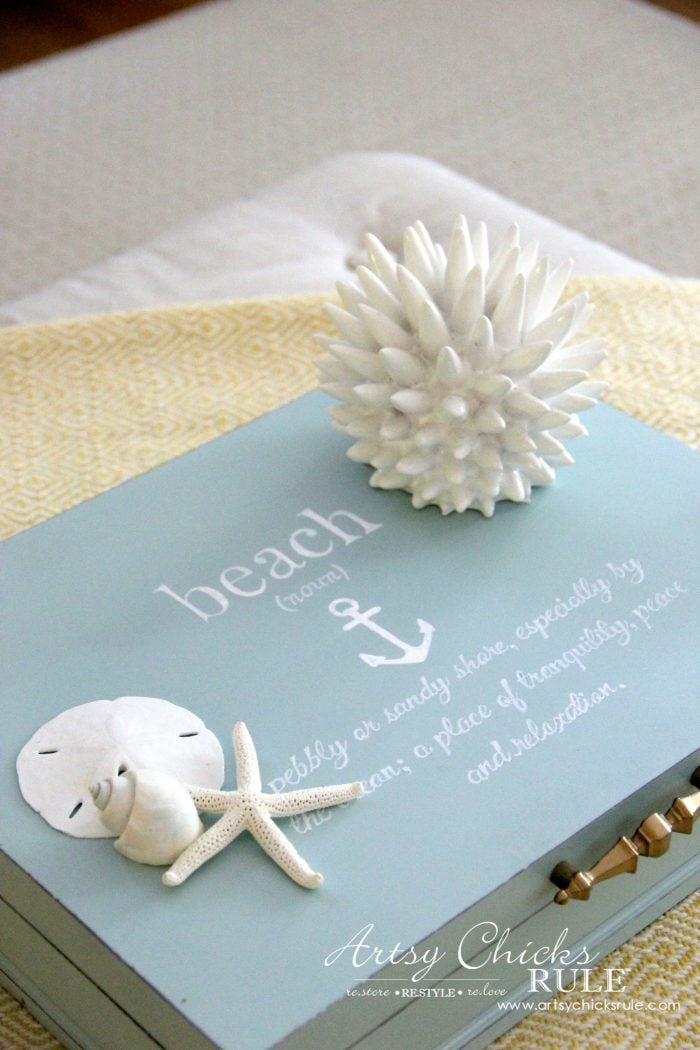 I decided to go ahead and replace the inside with new fabric AFTER I finished painting the outside.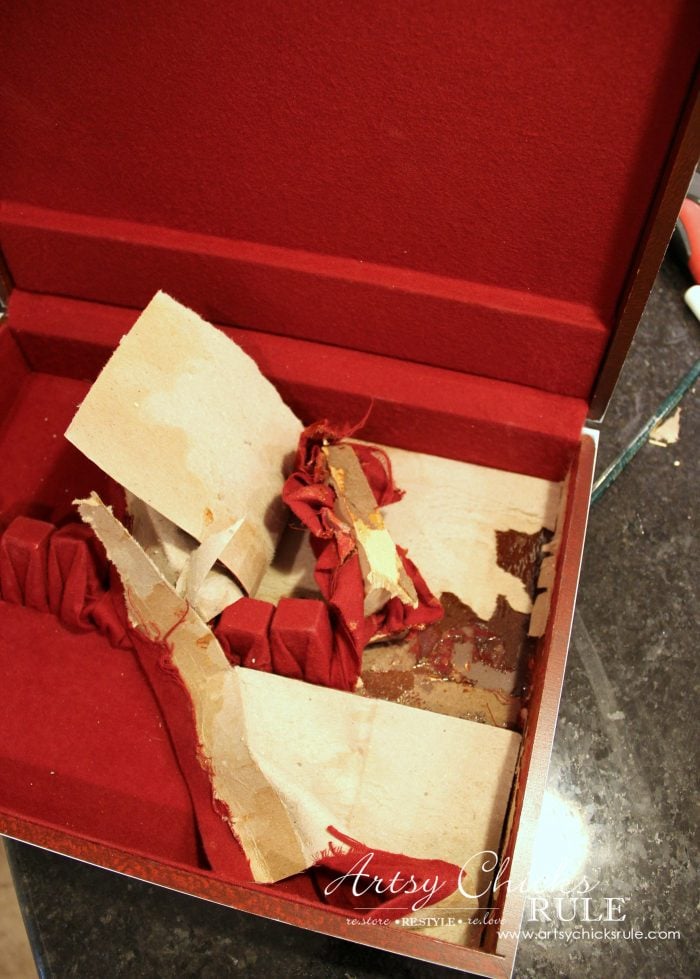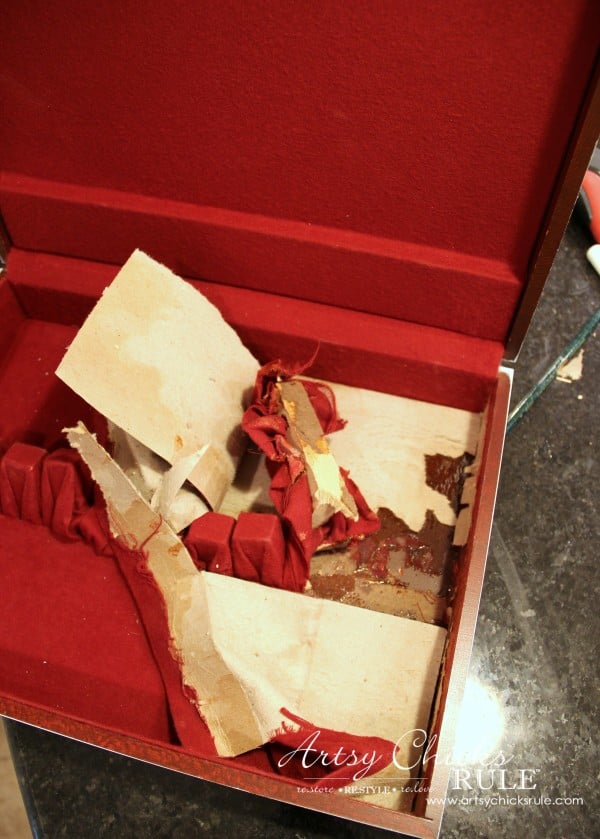 Okay, and let me tell you, that is no joke! (I had to get the hammer out)
They really wanted that interior to last….and last and last. ;) Wow.
I am a little sad (and embarrassed) to say I knocked my (5 month old) phone off the counter while trying to do this.
TWICE. Because apparently once wasn't enough of a lesson –> to move my phone elsewhere.
Nope, I picked it up off the floor and put it right back in the same spot and got back to the removal process.
(which was tough…and quite jerky with the box…which then hit the phone again to the floor)
Can you guess what happened on the second fall? Yep, cracked screen right across the entire length of the phone.
Boo.
Just take a look at the above photos where you can see the edge of it (right by where I'm working)….and right by the EDGE of the counter.
Risky business. ;)
Oh well, it still works just fine and I don't really notice the crack that much but I'm not thrilled that my nice, new phone is "ruined".
It's such a small thing in the scheme of things but darn that box and that stubborn interior. ;)
I told my husband when he came home from work and he said "why don't you put your phone away from where you are working?".
Haha…he's so helpful. But it's true, I should have.
Okay, back to the box, I got WAY off track there but I just had to share.
Keep the phones away from the work space, y'all.
So I finally got all of that out but it was still a mess inside.
No way all that glue was coming out and it was bumpy.
I decided to cut a piece of an old car cloth to use on the bottom to hopefully smooth that bumpy bottom.
If I would have had some felt, or something similar, I'd have used that instead. (it would have disguised the bumpiness better)
But I wanted to go ahead and finish this thing up.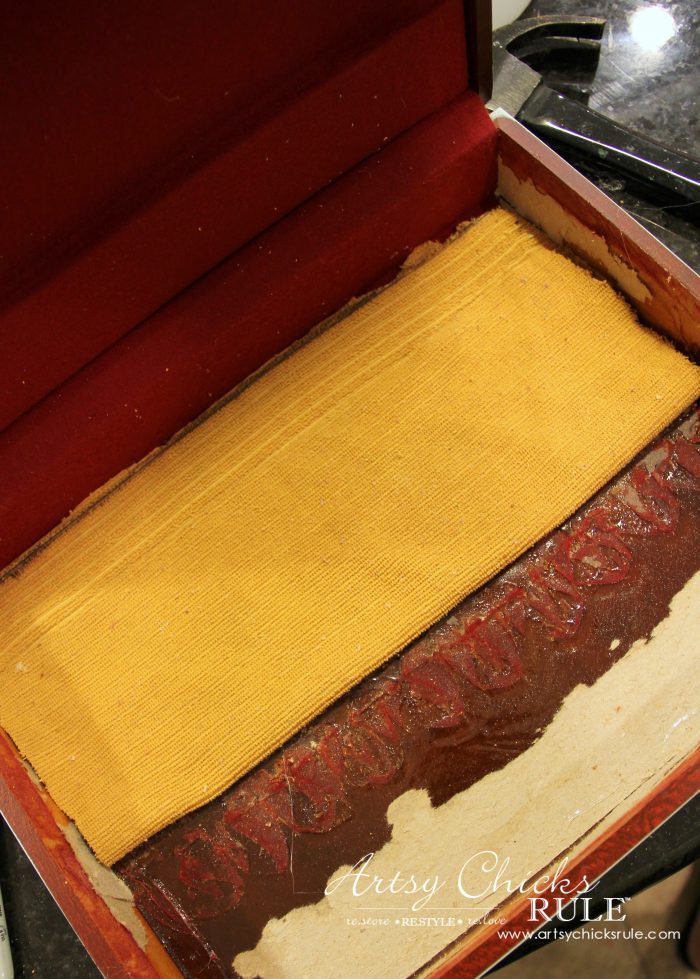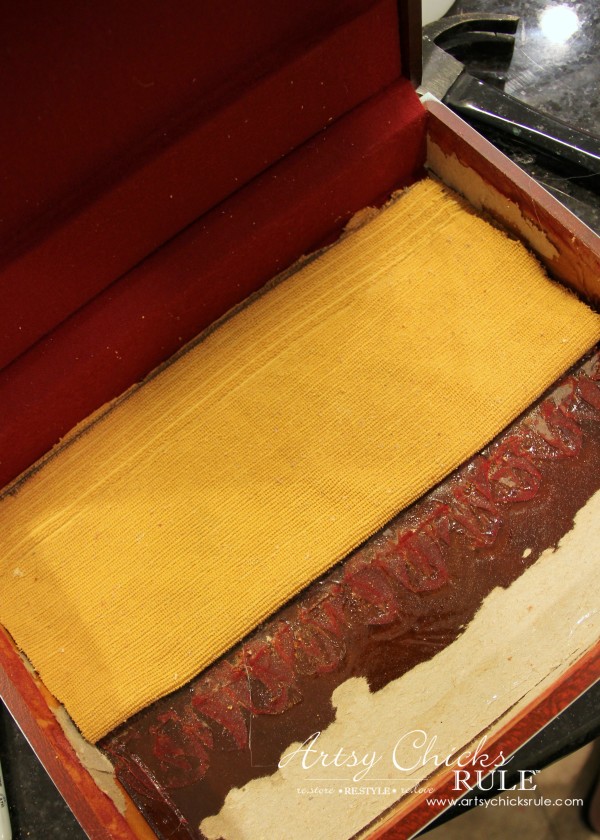 I hot glued it to the bottom and then cut the fabric to size and hot glued it over it and the rest of the interior.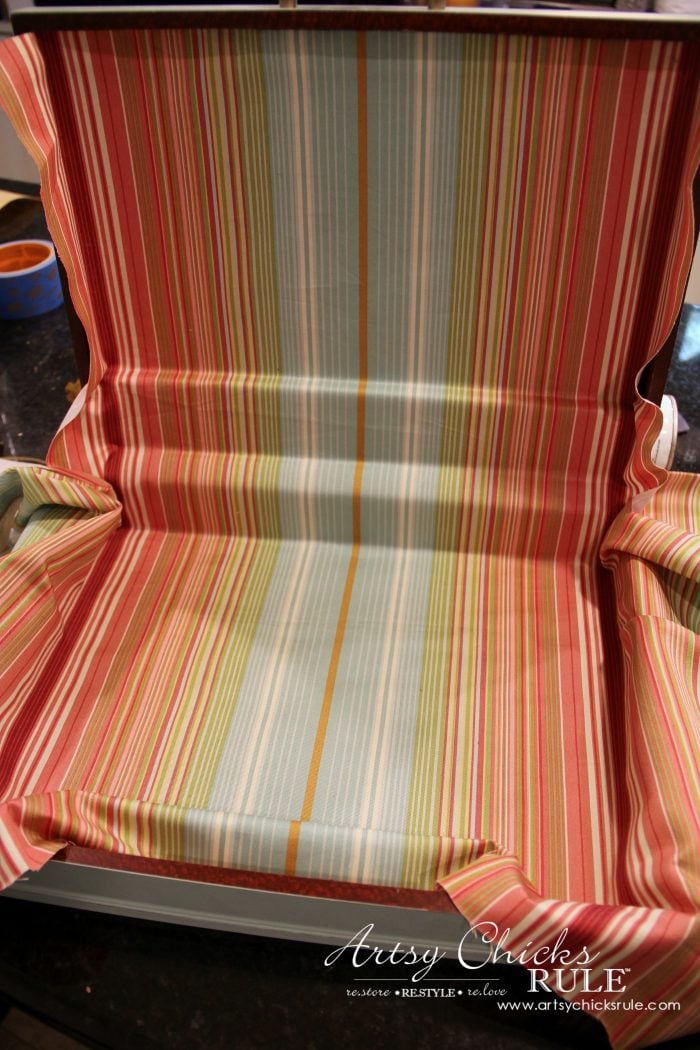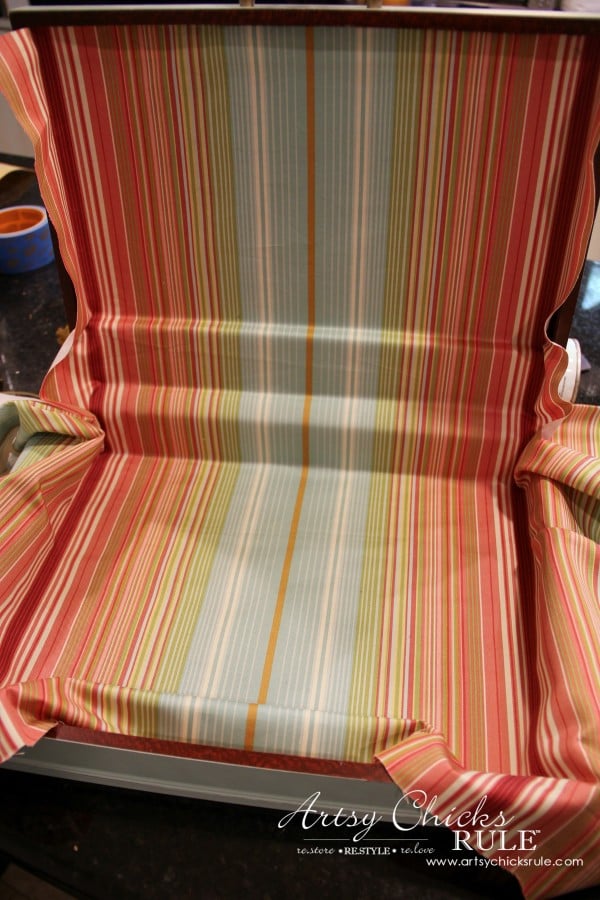 No real tutorial here as I winged it!
I laid it in and folded it under at the edges. Then I ironed those edges so they'd be thin and tight.
I came back and hot glued it methodically down the box.
I did have to cut a bit more but I just went bottom down, side to side.
Sorry I don't have a tutorial for this. Next time. :)
Does that fabric look familiar, by the way?
It's a Waverly fabric and the same one that I used on this little chair here –> "Vanity Chair Update"
Here is how it ended up…..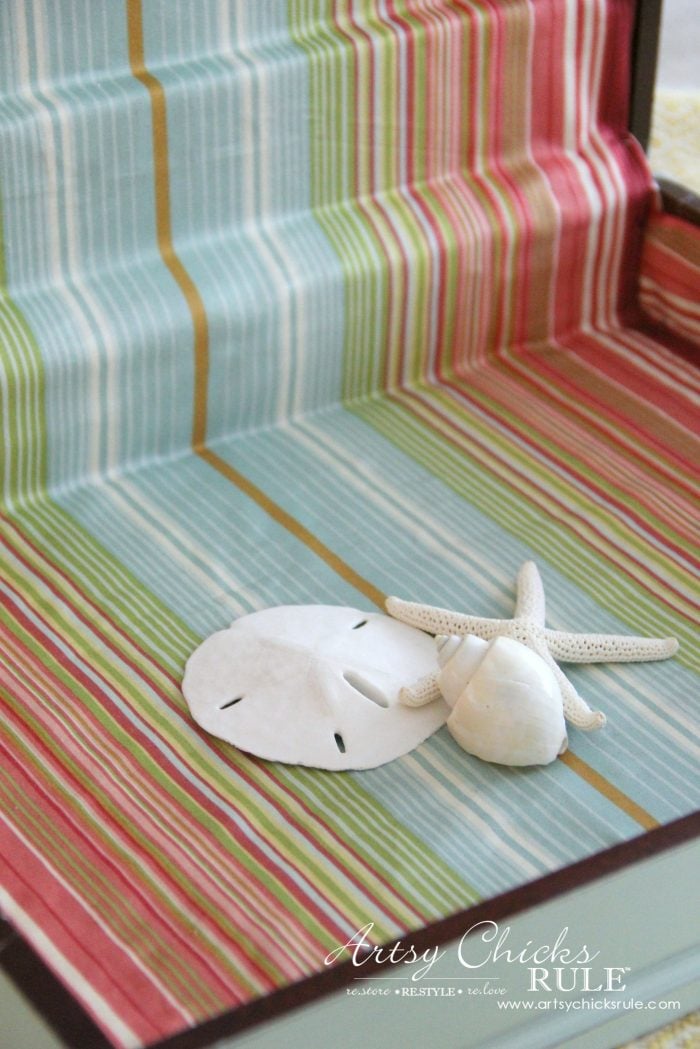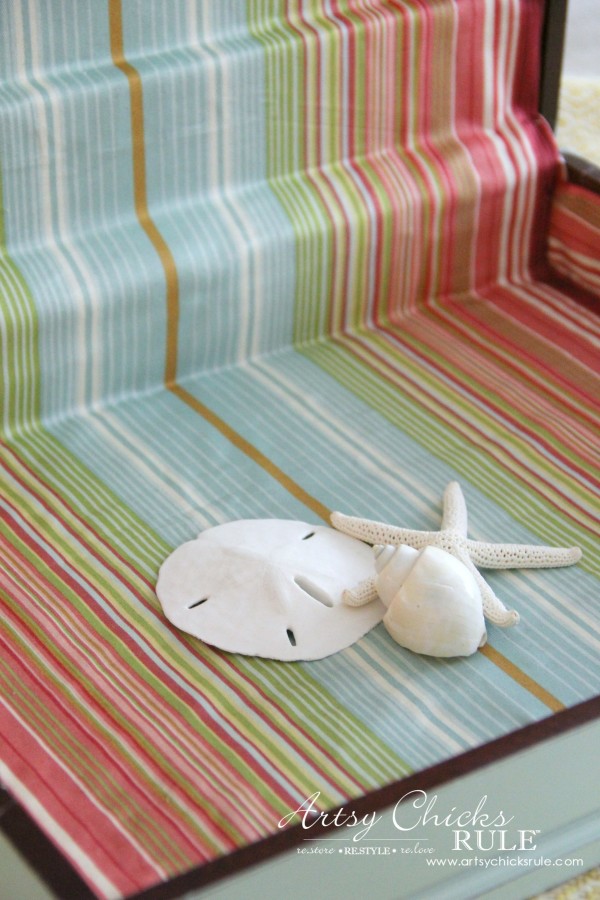 Not too bad.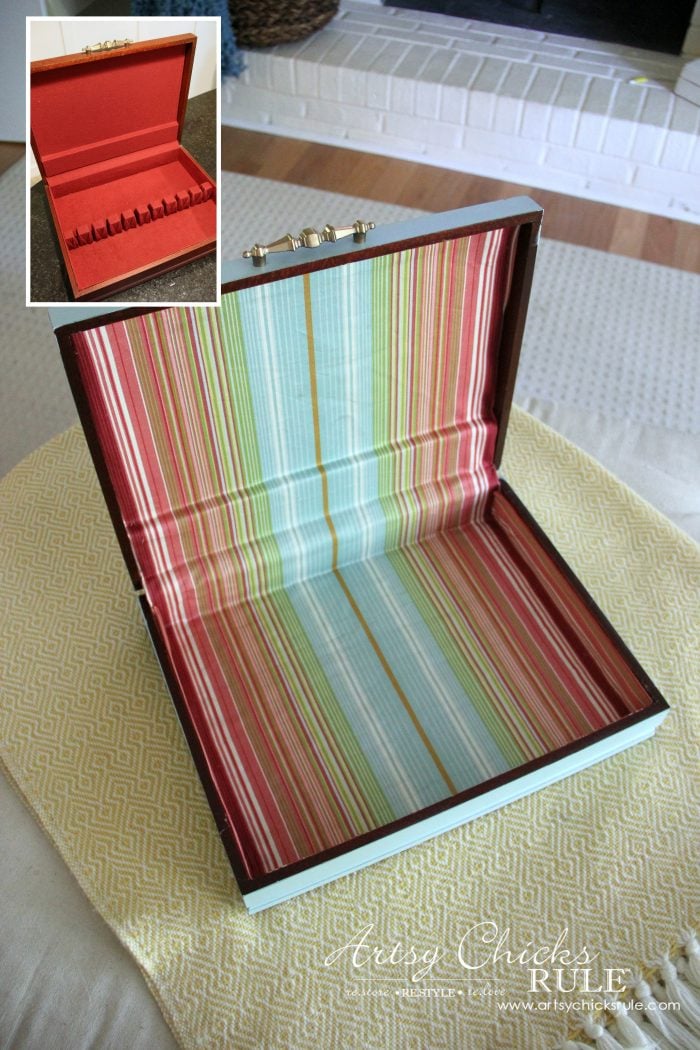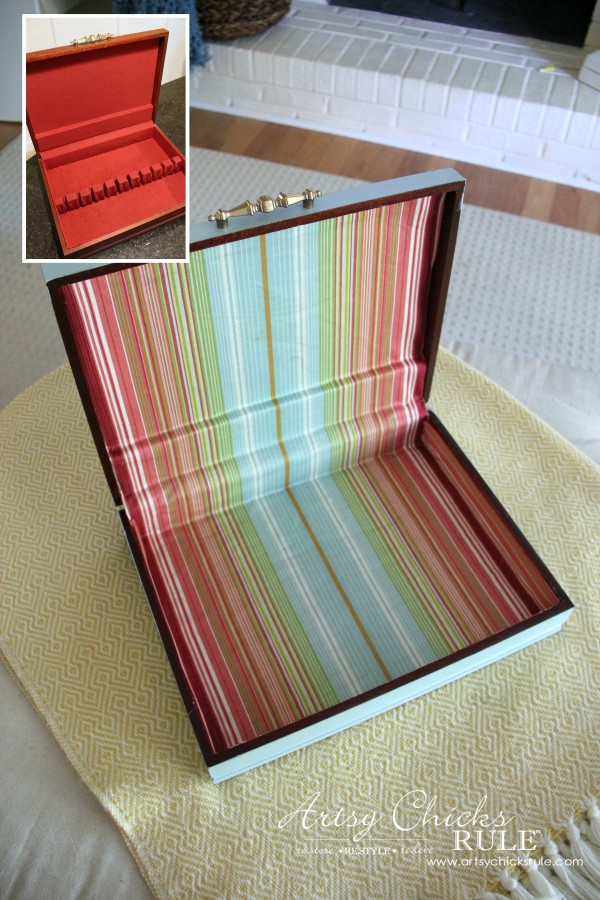 And much better than what was there…for my purposes anyway.
I plan to let my husband use this for his wallet, watches, rings, glasses, change, etc in our bedroom.
It will be a nice spot for him to keep his stuff tidy. (although I don't think he was thrilled with the pink interior, hee, hee!)
Oh well, it matched, it was leftover material and no one else will ever see it or know….except all of you! ;)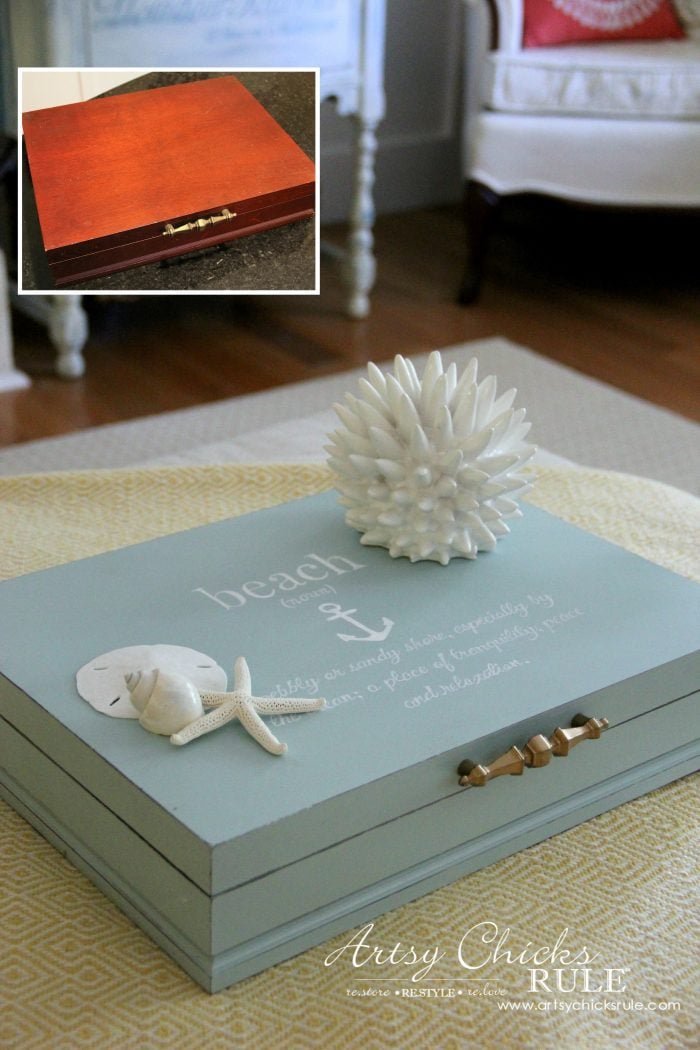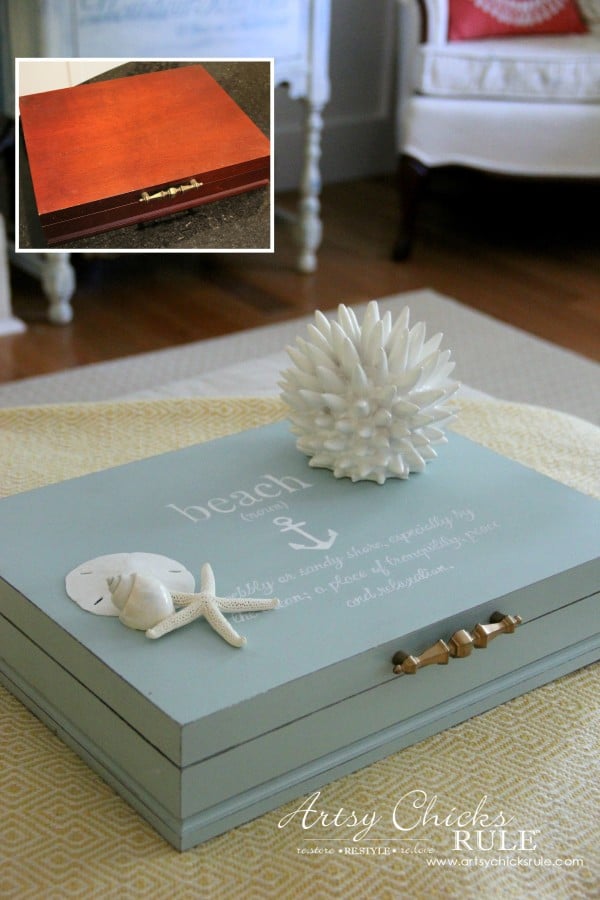 The master bedroom is coming along nicely.
I have mirrors, yay! If you don't follow along on Instagram, you may have missed those.
I found them at the HomeGoods/TJ Maxx store but they were the wrong color (but the RIGHT price).
I posted over on Instagram the other day showing the new gold shade they are now (same as the handle on the box). :)
Sadly, I'm still on the search for nightstands. I'm hoping to find them soon so I can wrap this room up!
Want to see how I turned this printable into a pillow?
Click here to see!
PIN it to save it!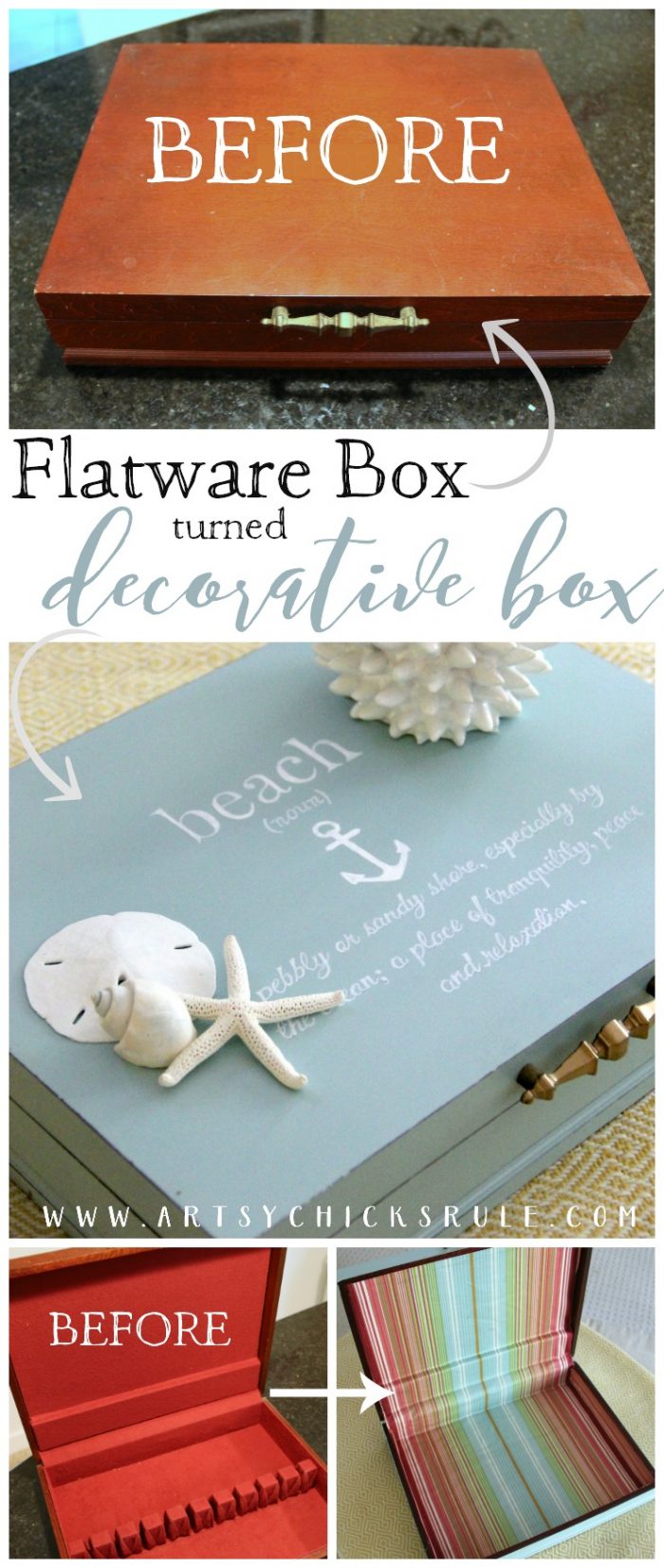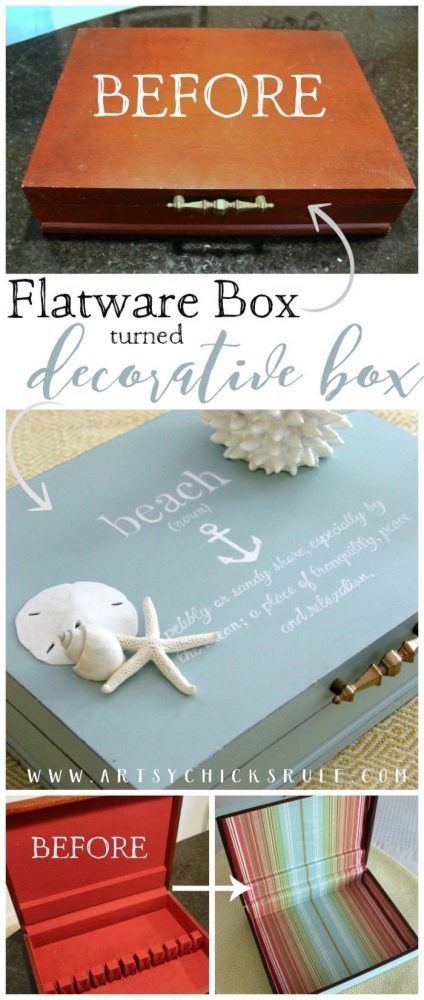 I'll see y'all next week with a "coastal themed" Fall tablescape/vignette.
I'm loving the colors I used this year. (and it was budget friendly too)
There's a sneak peek of that on Instagram too.
Happy Weekend Friends!
xoxo