All You Need Is Love & the Beach (Thrifty Sign Tutorial)
This post may contain affiliate links. Please see disclosures here.
Here is the sign I promised you all last week! ;)
All You Need Is Love & the Beach….I'd say that's pretty much true. How about you?
I'd had this old (cheapy print) picture hanging on my back screened porch for a few years. (it was very faded and did I mention, cheap?)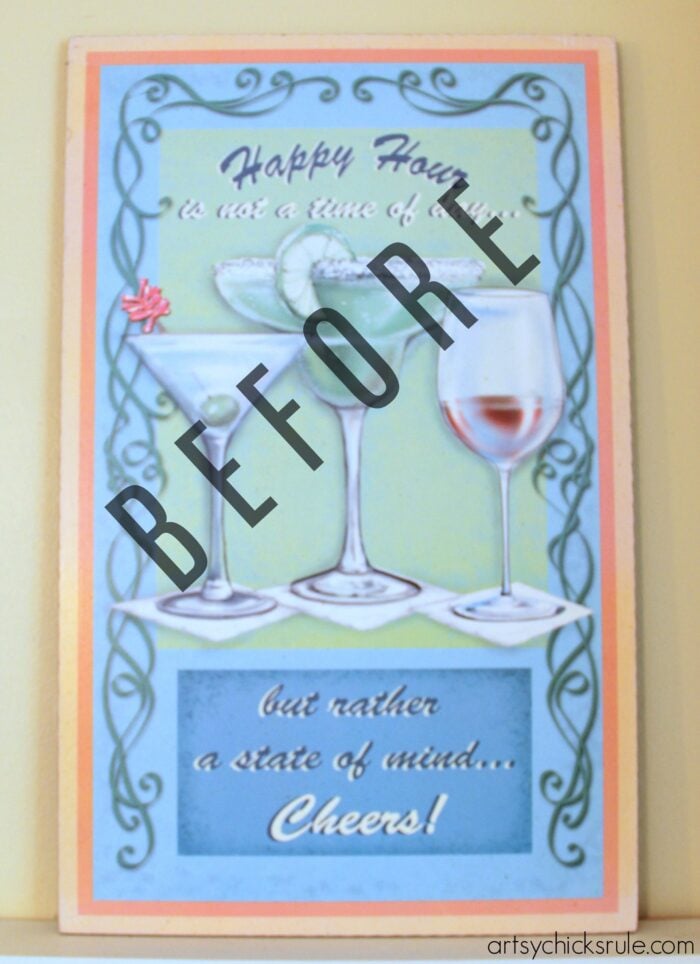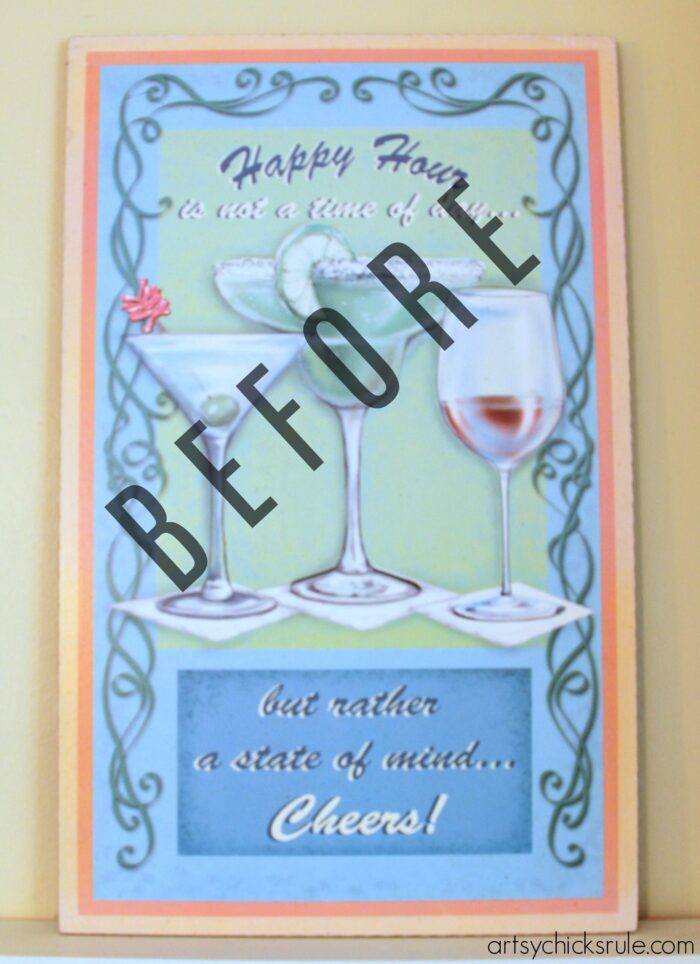 This was so easy…I promise.
You can do this…and I'm going to show you how.
Time for the old to go!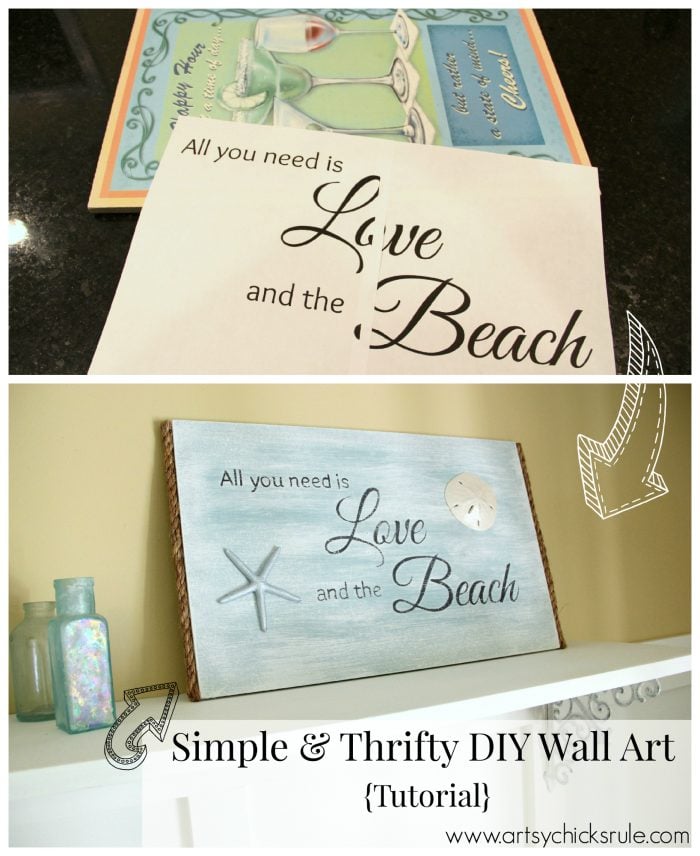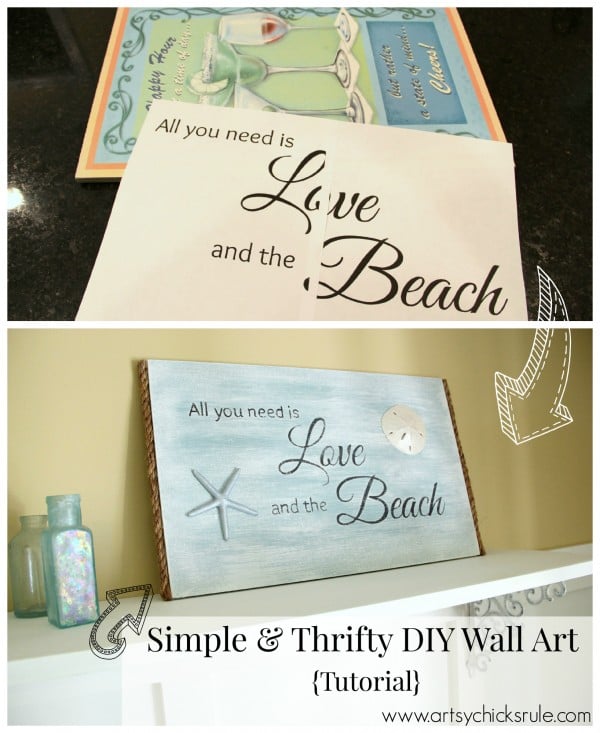 Perfectly good board so why throw it out?
I didn't, I decided to paint right over it and re-use it.
The first coat was Duck Egg Blue Chalk Paint.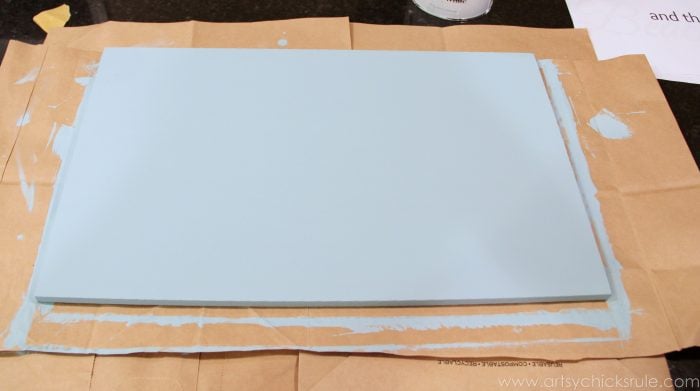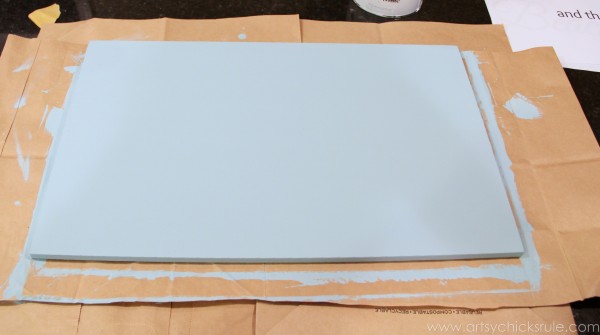 Then I took a dry brush and did a very heavy dry brushing with Pure White (also Chalk Paint) over the top of the whole thing.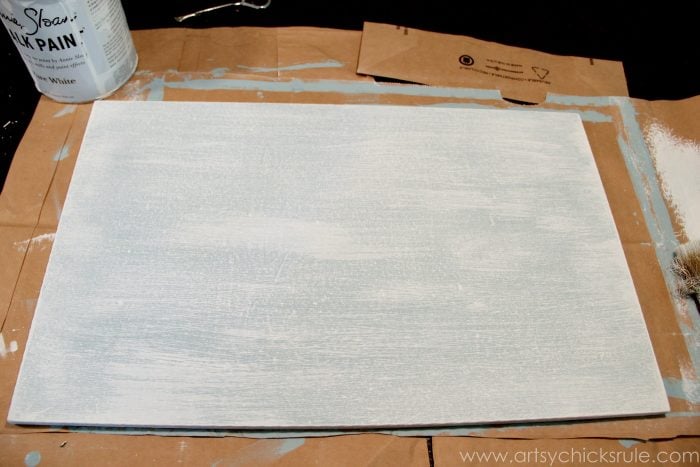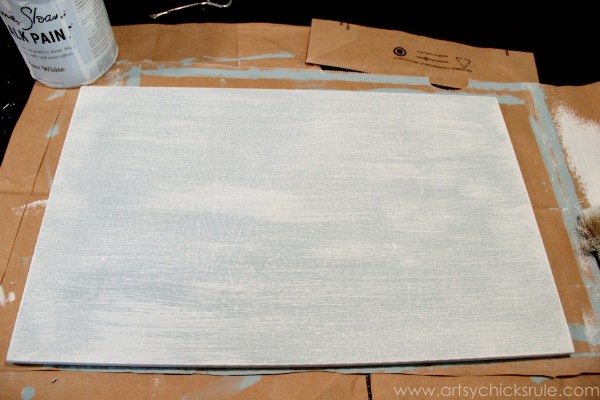 I really only wanted to see bits of blue and have a kind of washed effect.
Want to see a video/post I created on "dry brushing", check it out here.
Next, I created my graphic….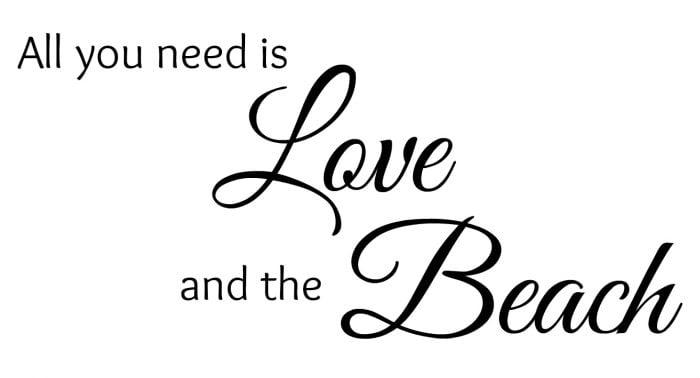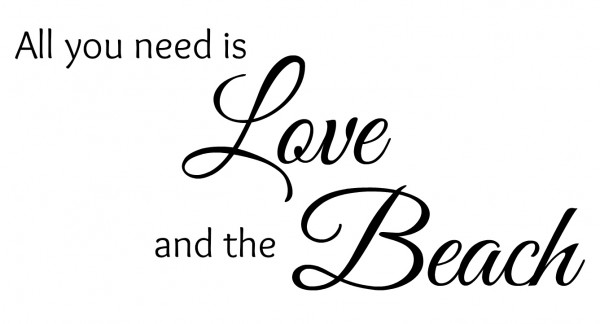 I printed it out in reverse, mirror image, taped to the board and transferred the image.
(I just rubbed on this side of the lettering with a spoon)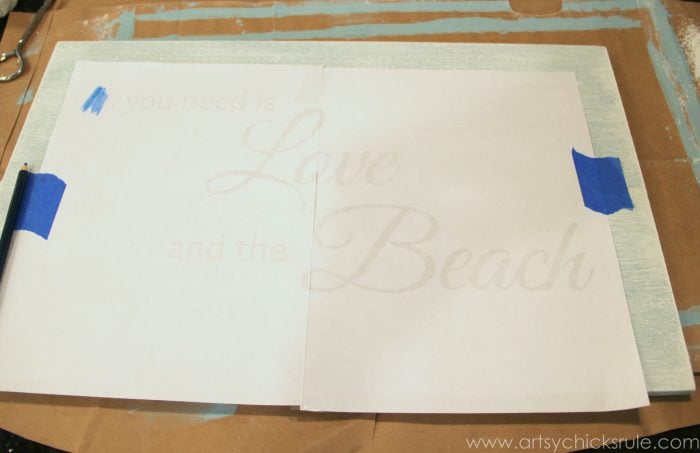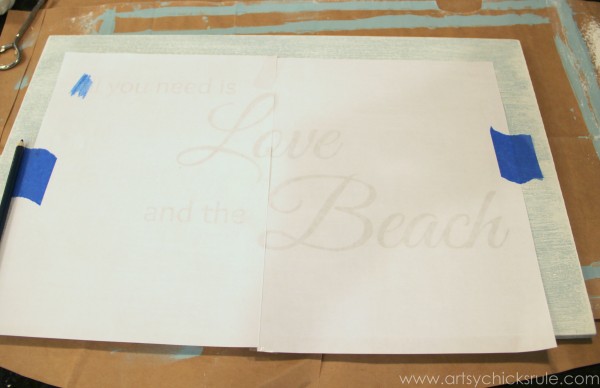 Don't like this transfer method?? I've got a bunch more other ways to do it, here!
The ink is all transferred and ready to paint…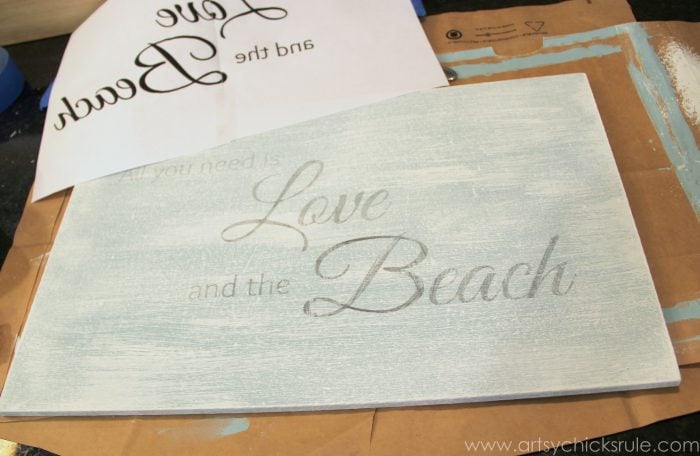 Looking at my design I realized I had a lot of space left over. I hadn't planned for anything else on the board but decided to add something to the area at the top right and bottom left.
I hand-painted the lettering in with a little watered down Graphite Chalk Paint.
(tip: it's easier to handle and work with if it's watered down just a little..especially on small thin letters)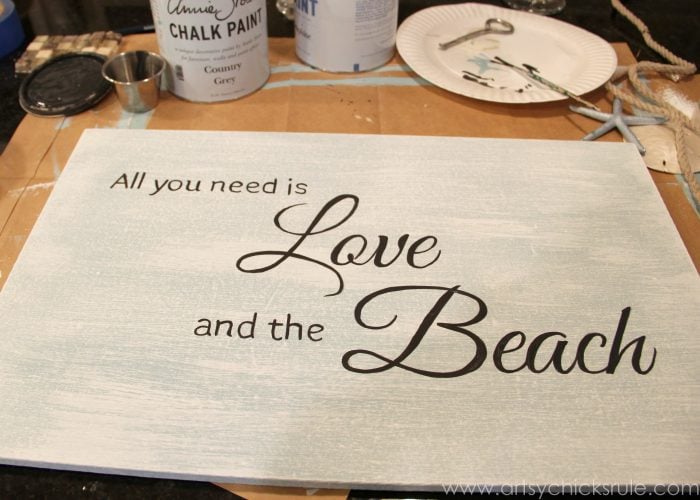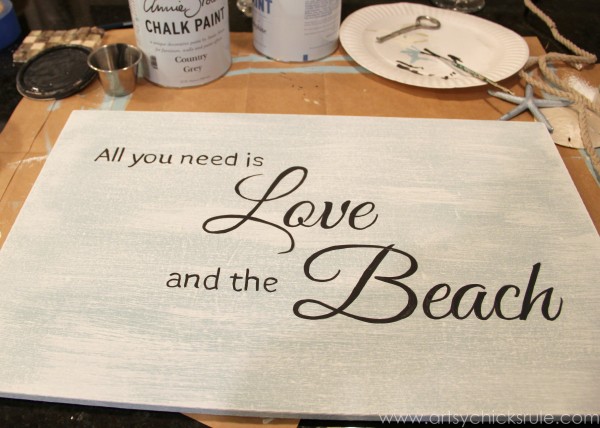 I use an artist's script liner brush to do the lettering.
After that was dry I lightly sanded the lettering.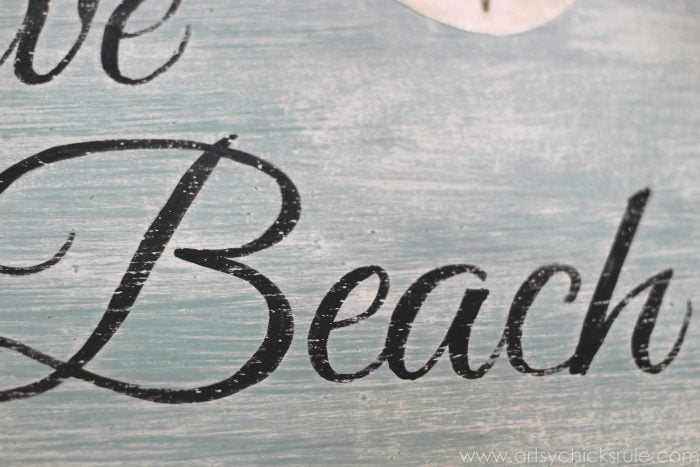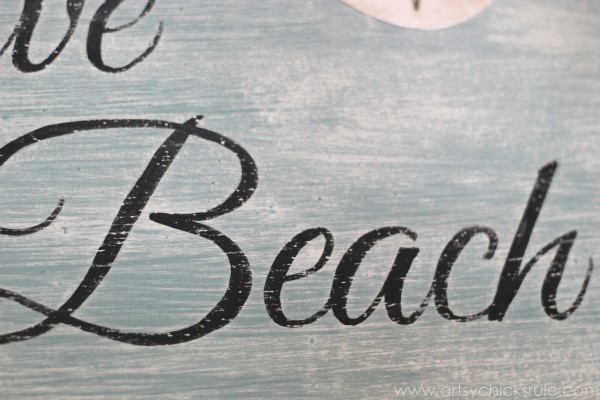 I gave it a quick spray of Minwax Polycrylic to seal it.
Then I attached the sand dollar and starfish with a hot glue gun. (I painted the sand dollar and starfish with "Oyster" colored metallic paint)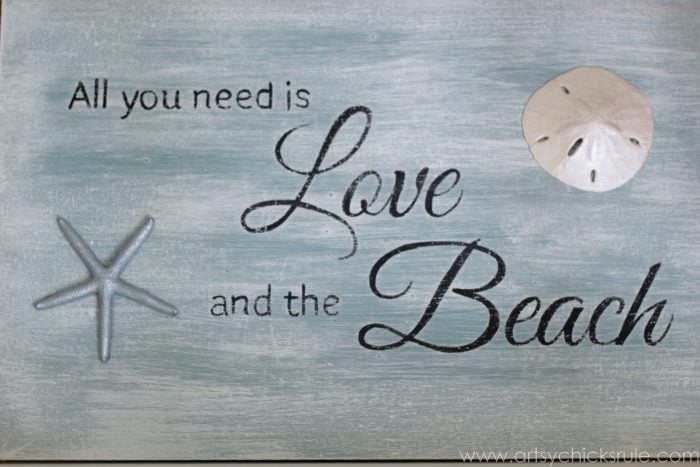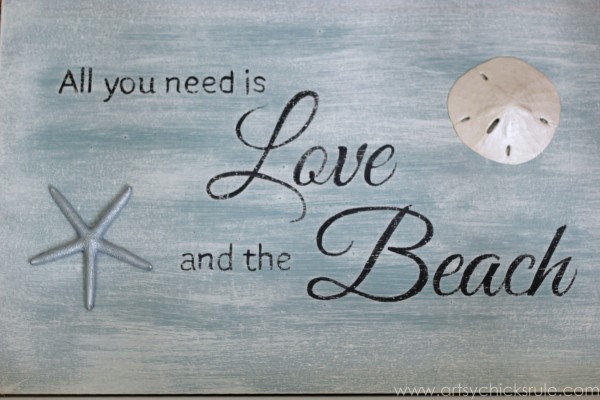 Aren't they pretty painted with that shimmery metallic paint? I am just loving the seashells painted with it.
See the rope in the photo below? That was an afterthought too.
I was thinking I'd wrap it around the whole thing but then decided I only needed it on the sides.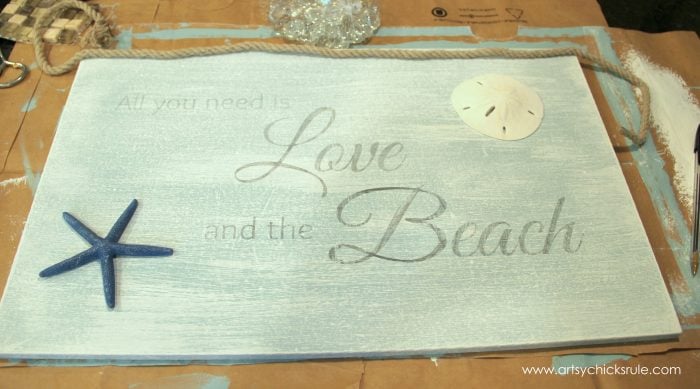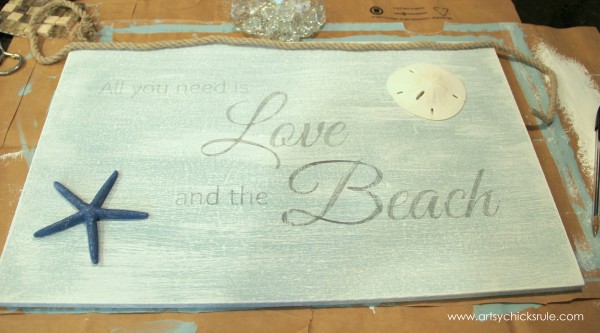 Here it is all finished and displayed where it's going to "live" in my home.
For now, anyway.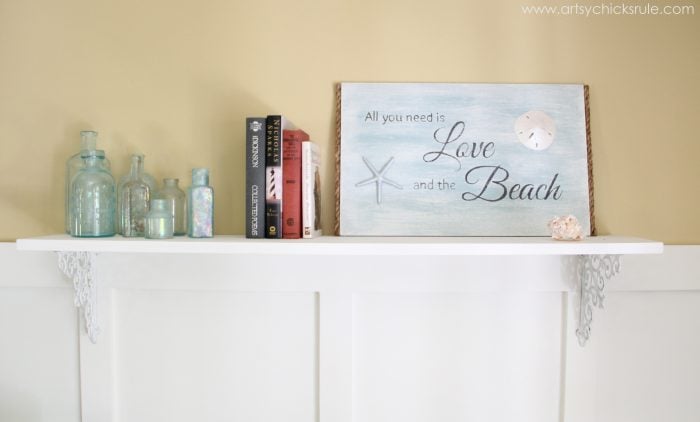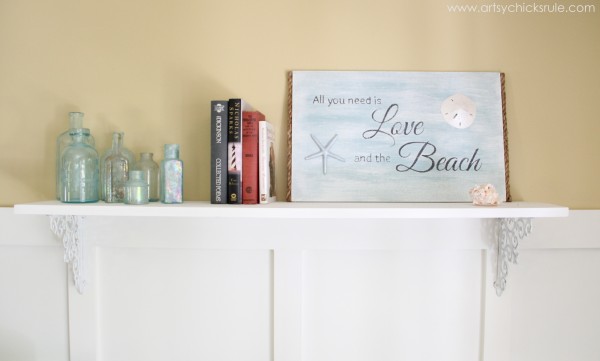 Right up on my new shelf along with my collection of vintage blue bottles.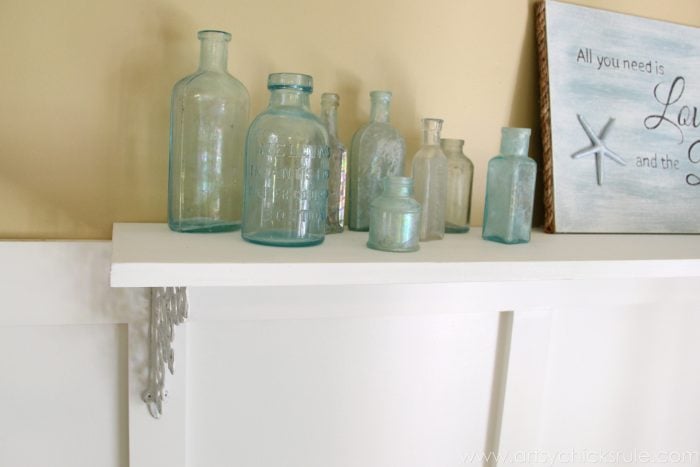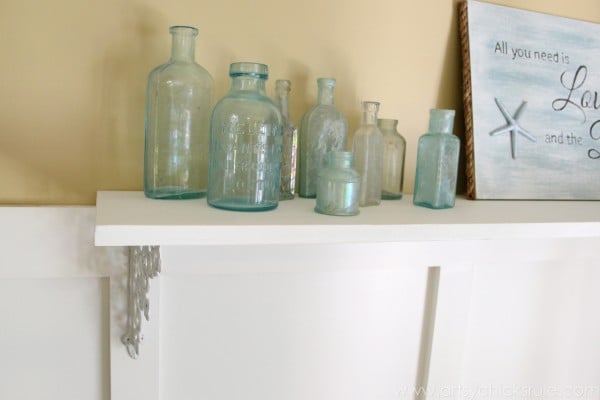 Love these bottles…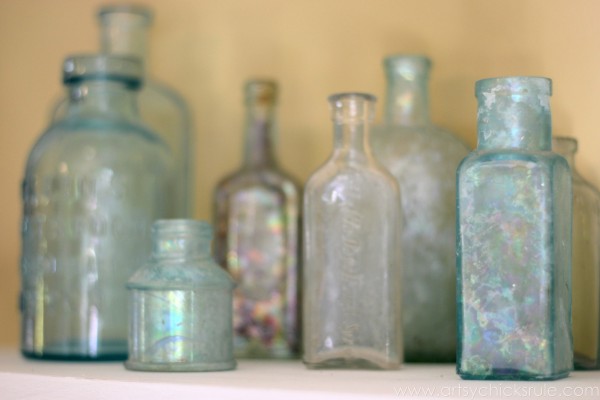 …and my new shelf.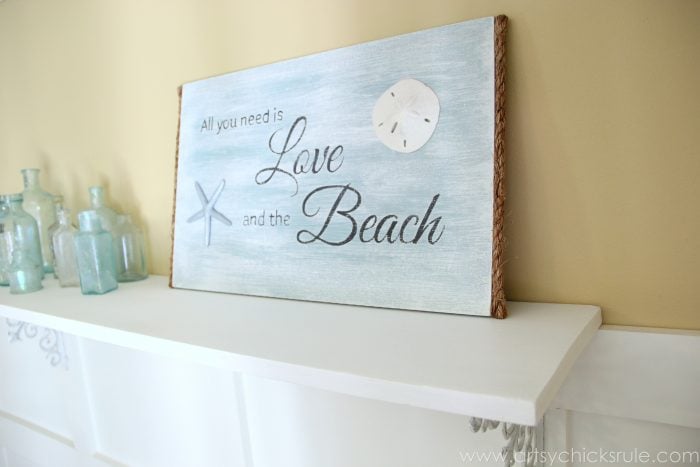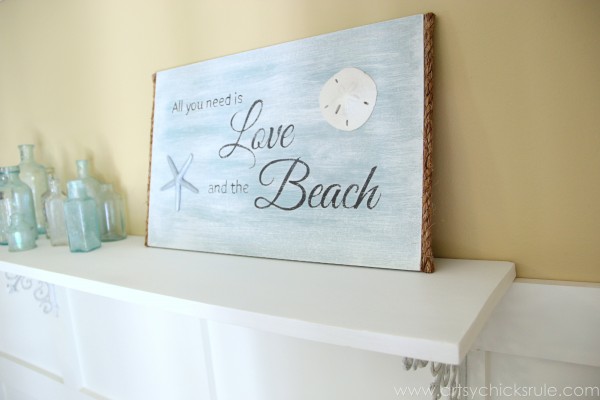 This sits right over the top of my Chalk Painted French Arm Chair.
But I can't show you the full photo yet because I have a little French graphic/grain sack cabinet (right beside the chair) to share with you all first.
Soon. :)
But for now…this DIY, super easy, anyone can do it, re-purposed thrifty beach sign.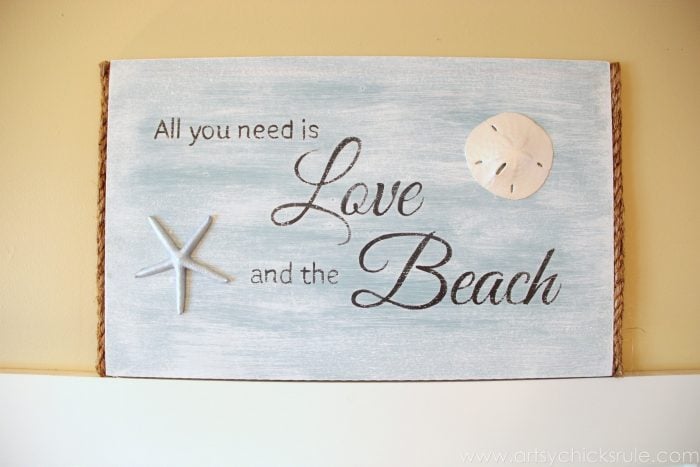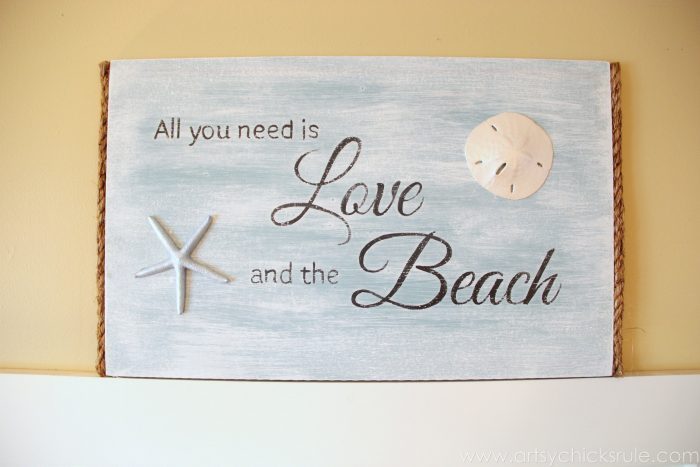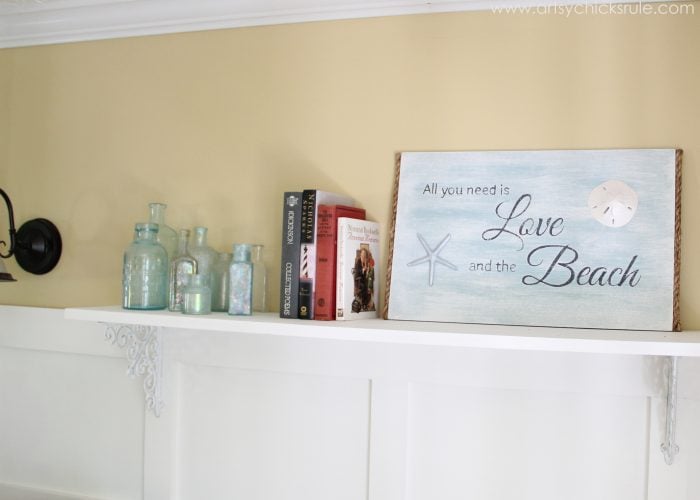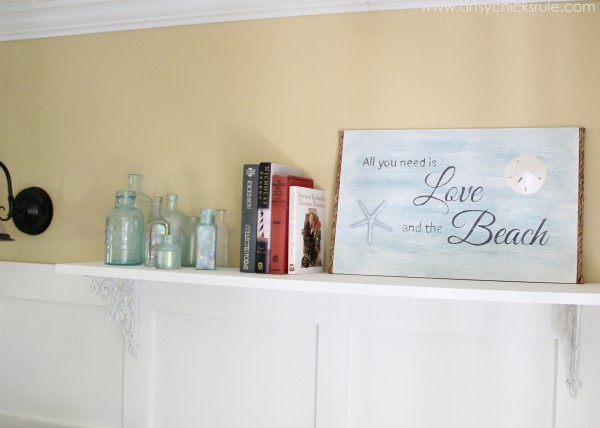 Do you have any old things laying around that you can turn into something else and re-use?
I love taking what I have and creating something entirely different. It's fun and good on the budget!
PIN this to save for later! :)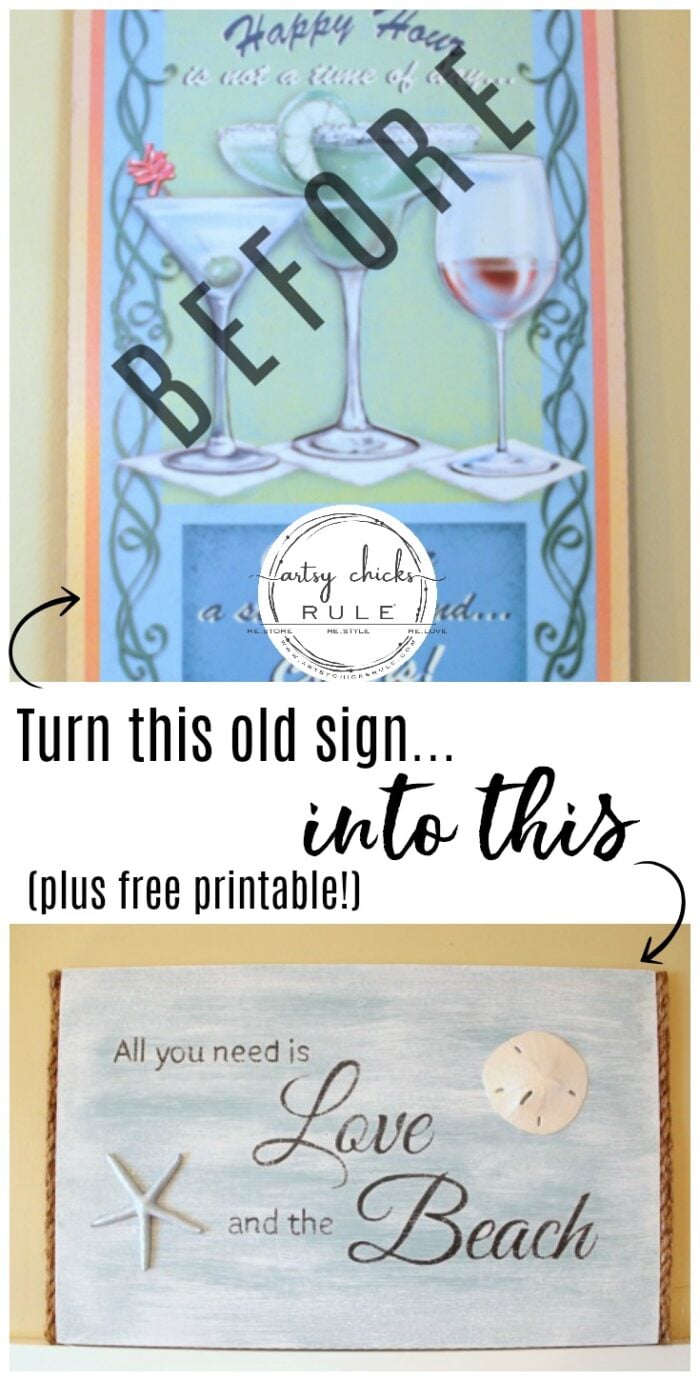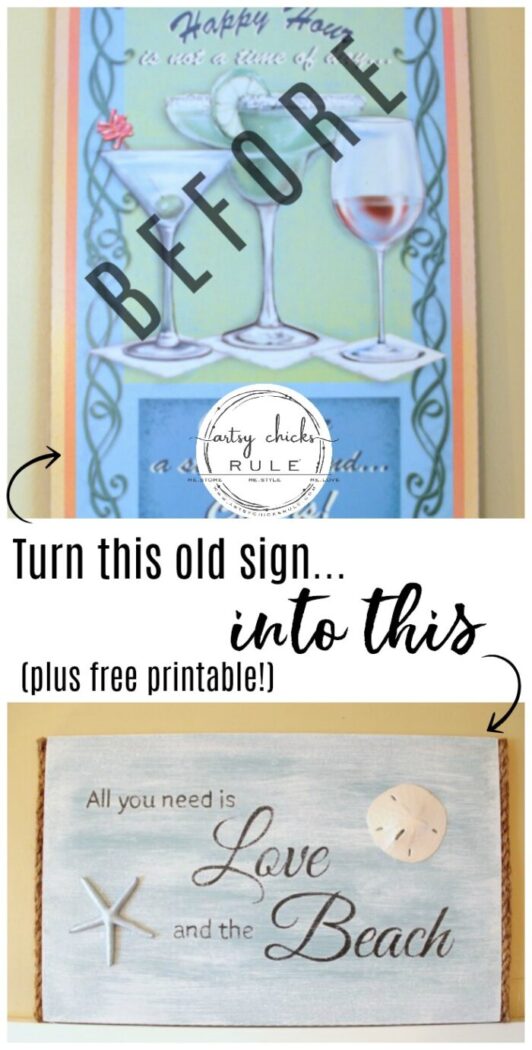 If you missed my "How to Decorate on a Budget" post last week you can see it –> here.
I share similar things like this, furniture, thrifted items, etc, that I have decorated with very inexpensively.
It's a new series I've started and will be sharing all the thrifty decor in each of my rooms as I complete them.
If you love to decorate thrifty or re-invent things, I'd love to hear about it…or see it!
Send me a message or let me know in the comments below.
Want to see what I'm working on next?? Nope, I did not paint that, I found it that way at the thrift store.
You won't believe how it looks now!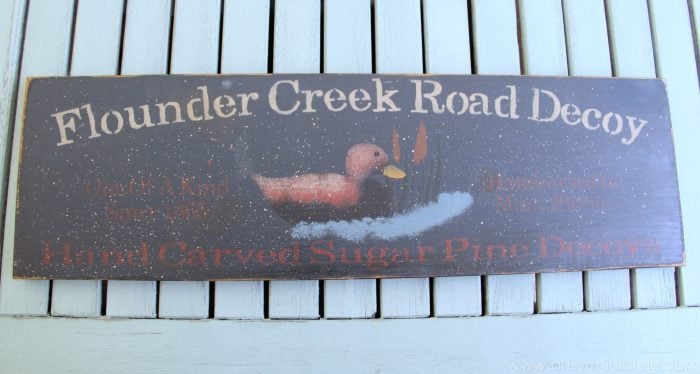 Update!! See it now, here!
xo