Vanity Chair Update with Chalk Paint
This post may contain affiliate links. Please see disclosures here.
Update with Chalk Paint and a little fabric (and a wood embellishment ;) ) to give a vanity chair a brand new look.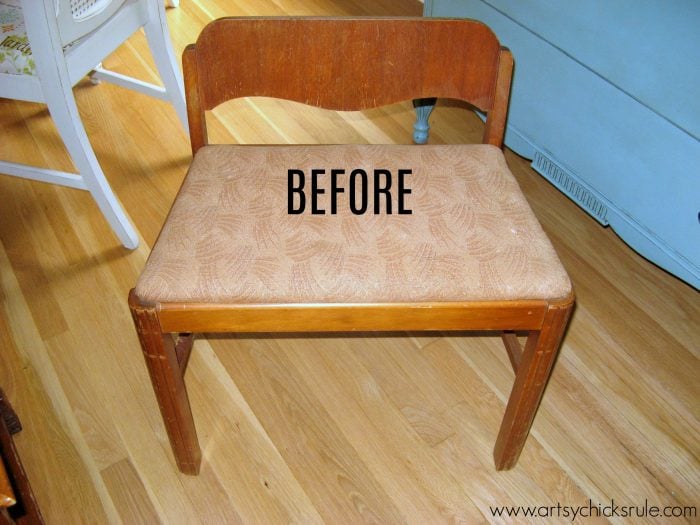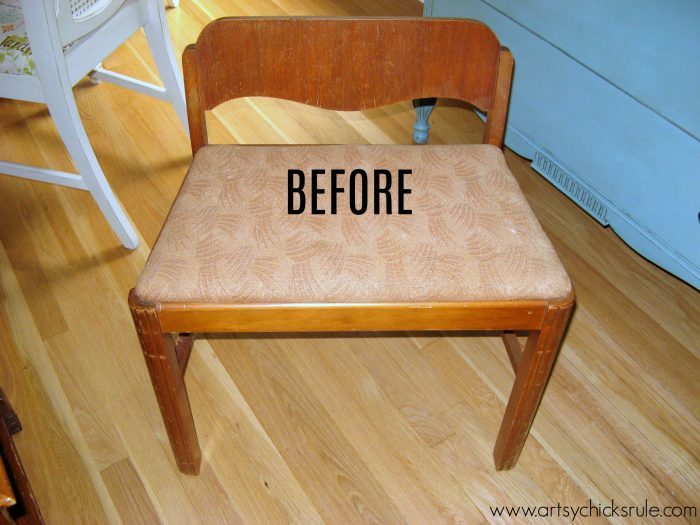 Today I thought I'd share a fun little vanity chair update with Chalk Paint.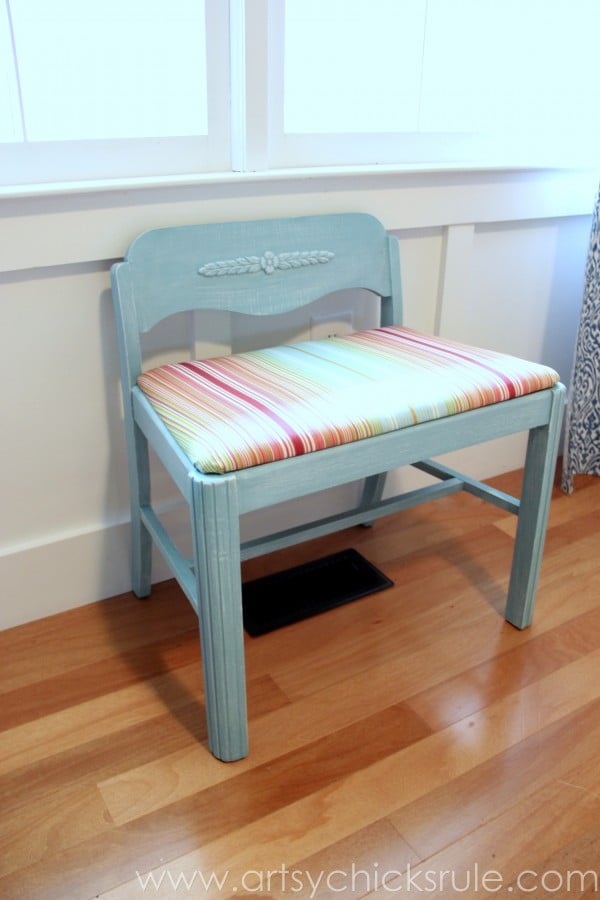 It's about time I did something with it.
It sat in my spare bedroom/office/craft room for a little over 2 years.
A sad little unfinished project. (shameful!)
Around here I always have tons of projects going on at once, so this poor little chair got pushed to the side.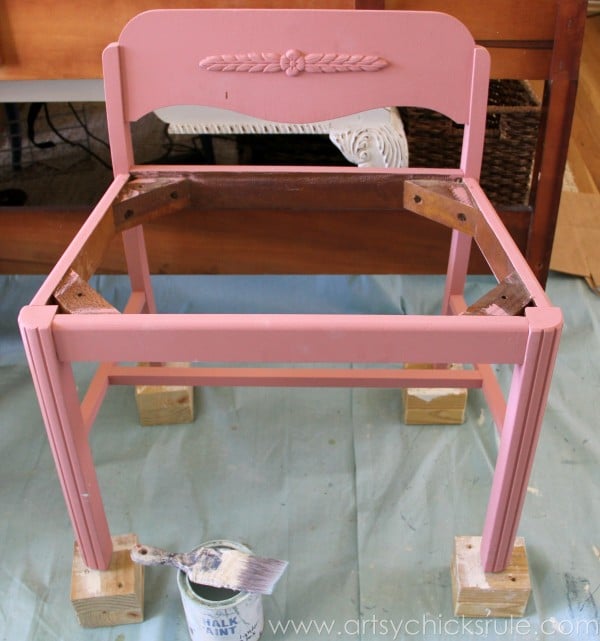 I painted it in Scandinavian Pink – Chalk Paint because, of course, I originally thought I wanted it that color.
Well, I did want it that color 2 years ago.
Until last week…when I decided it was time to finish it.
And change the color. ;)
I used Provence Chalk Paint and added a bit of detail with a little dry brushing (with Pure White, also Chalk Paint).
After that was dry I sealed it with a coat of Annie Sloan Clear Wax.
Want to know about 26 other chalk style paints?
I've got the low down for you right here! >>> 26 Types of Chalk Style Paint For Furniture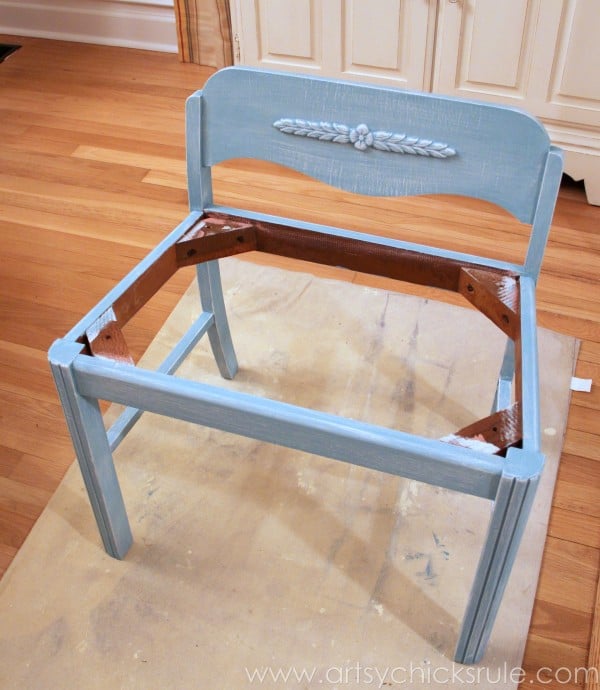 I picked it up at the thrift store for….I think, $3.00. In need of love and a little embellishment for this sad little vanity chair update.
You might have noticed there is something missing on the chair in that last picture that is there in the other photos above.
That would be this sweet flower/leaf embellishment here…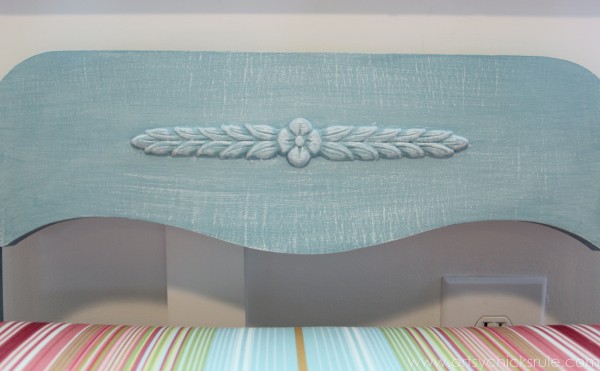 It's just a little wood trim piece I glued to the front (and back too!) of this chair to decorate it up a bit.
Much better right? It needed that. I think so anyway!
I found this gorgeous Waverly fabric awhile back in the clearance bin at my local fabric shop.
I cut it to fit the chair and recovered it. (See my helper? She's holding it for me…I think. ;) )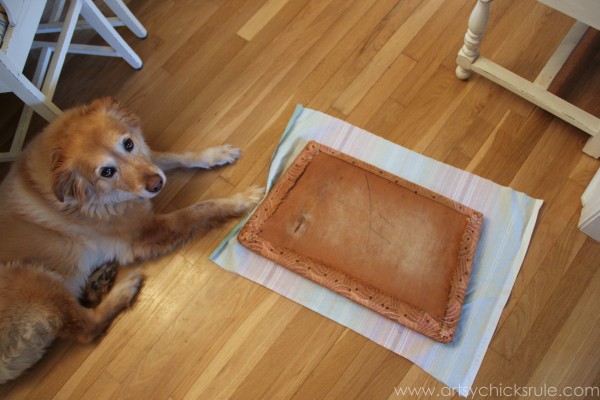 As I said, I painted it (again) with Provence Chalk Paint and dry brushed the white over top.
Want to see a VIDEO on exactly how to dry brush? All the ins and outs, here >>> "How To Dry Brush – Video"
A few close ups of the dry brushing…..I love the delicate wash effect that gives.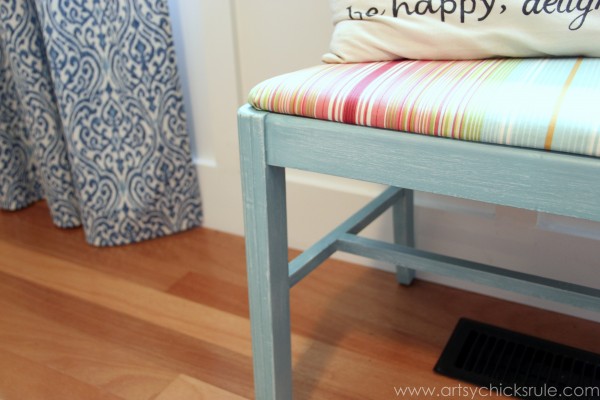 Styled with this fun pillow I picked up last year.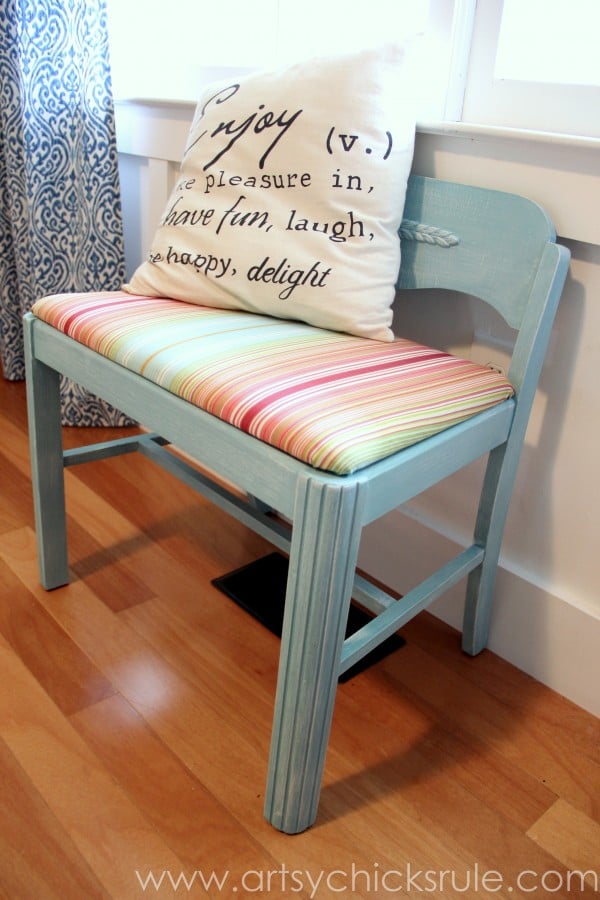 And those blue curtains you see…I made those –> NO SEW! You can read about them here.
So, finally, this little vanity chair update has a new look and a new home. :)
I put it there to take photos of it but then decided I loved the way it looked there.
So it's staying put.
For now. ;)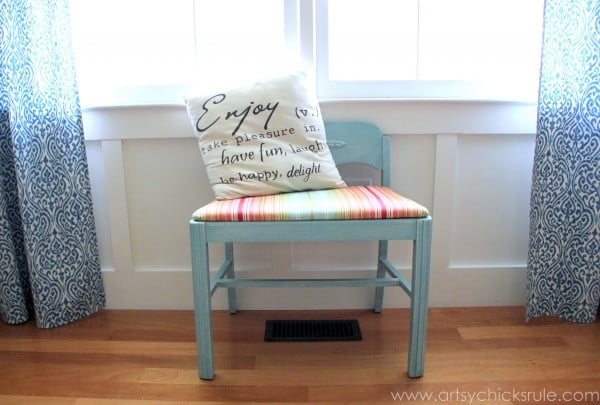 A very welcoming little chair, I think.
It's screaming "come sit on me!".
Can you hear it?
Well, anyway, it's at least reminding you to "enjoy, be happy, laugh and have fun". :)
And I LOVE that little reminder every time I walk into the room.
So glad I didn't let it sit upstairs all lonely any longer.
Love this vanity chair update with Chalk Paint? PIN it to save it!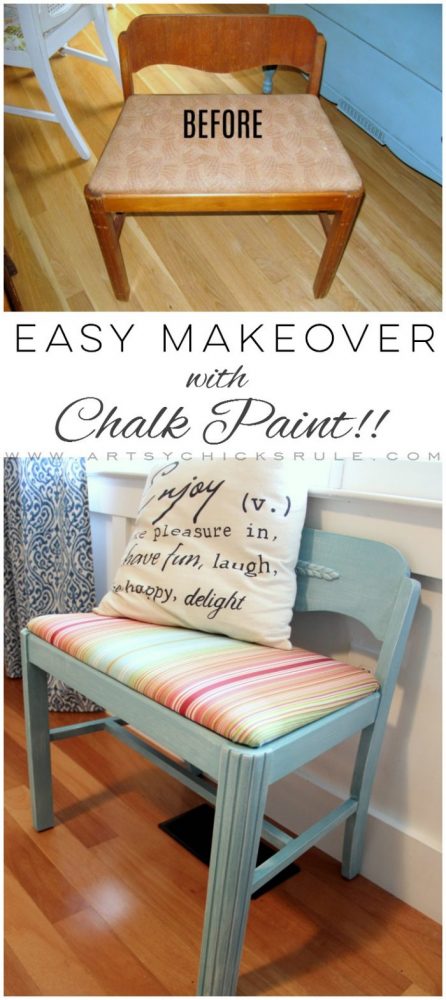 Lonely…well, that's not quite the right word since I spend so much of my time in there! ;) But I did have my back to it every single day.
Poor thing. No more!
It's in a happy place now.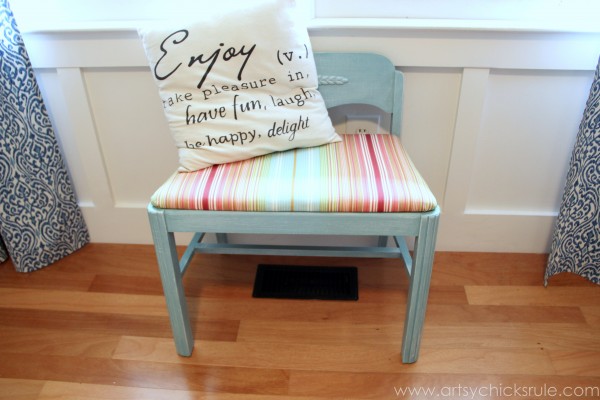 So…just a little reminder. Don't pass up those ugly pieces at the thrift store. They are super simple to update most of the time. This project is one that anyone can do.
Have you come across any fun finds lately? I'd love to hear about them!
Wait til you see what I did with my next project!!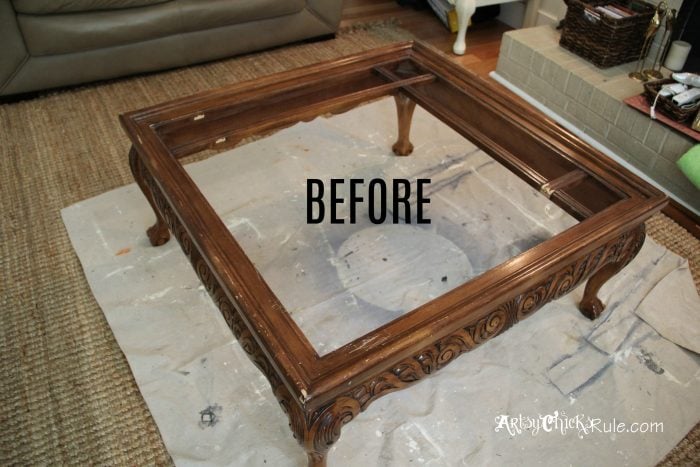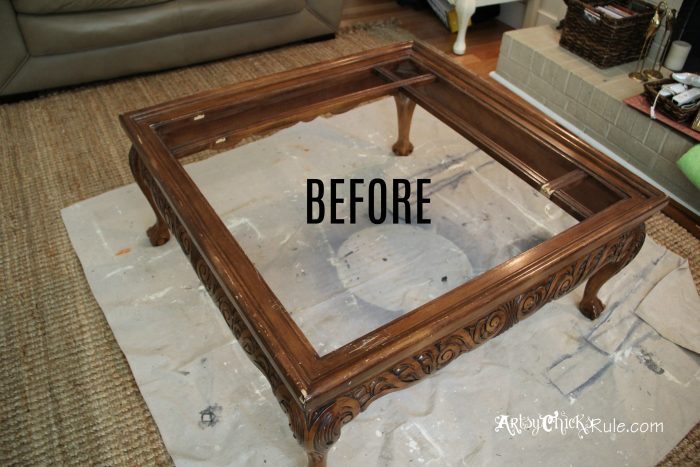 UPDATE!!! See it now, here!!
Want to see even more furniture makeovers? Click here