Grain Sack Side Table (Chalk Paint & General Finishes Milk Paint)
This post may contain affiliate links. Please see disclosures here.
I've been trying to venture out a bit lately. If you read my blog …at all….you know I LOVE Annie Sloan Chalk Paint.
But I do love to use more than just that.
I know, it doesn't seem like it, but I do. I still even use latex on occasion. ;)
Today I'm sharing this…..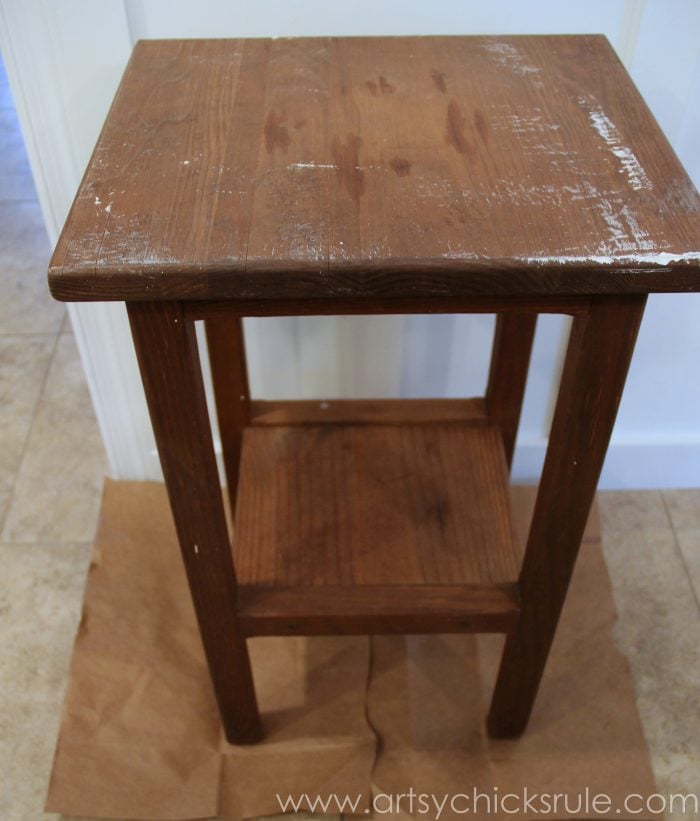 Turned into this….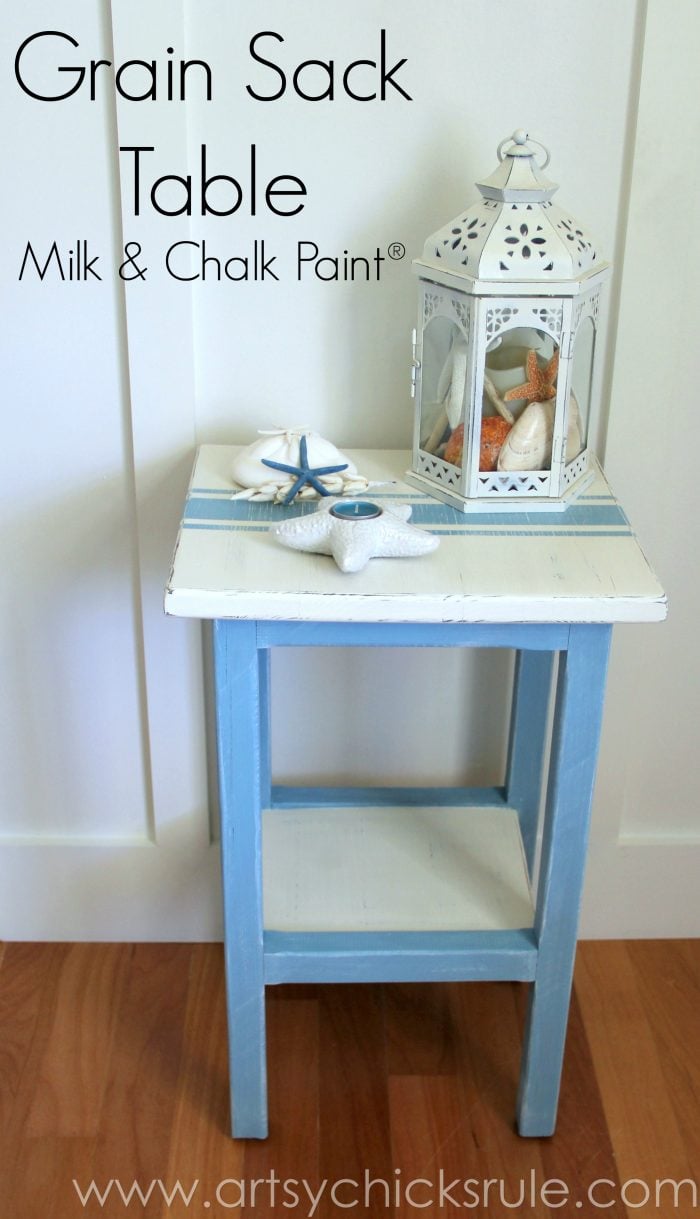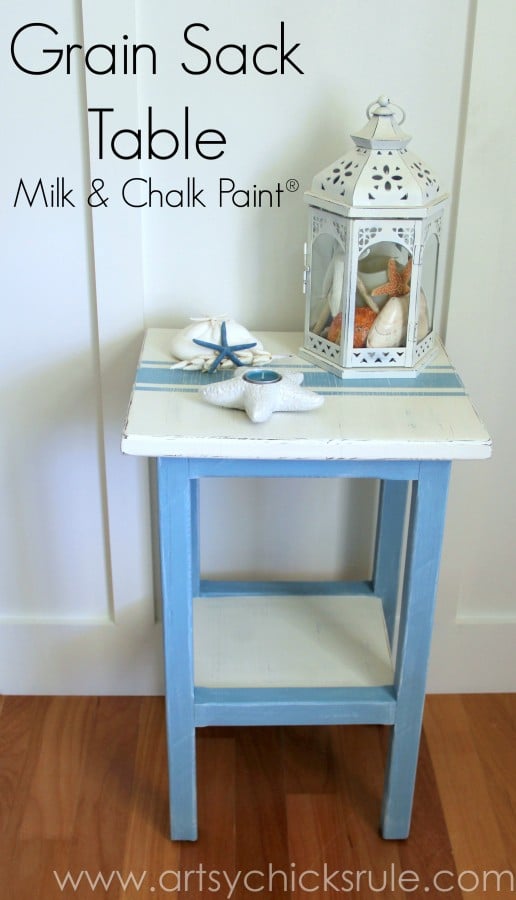 ..tiny little grain sack table.
And I painted it with this …. General Finishes Halcyon Blue Milk Paint….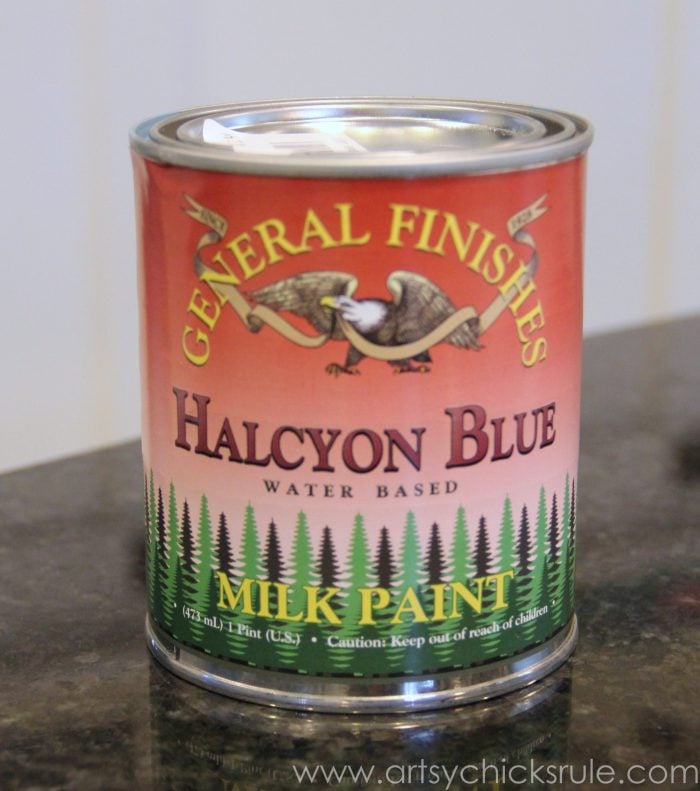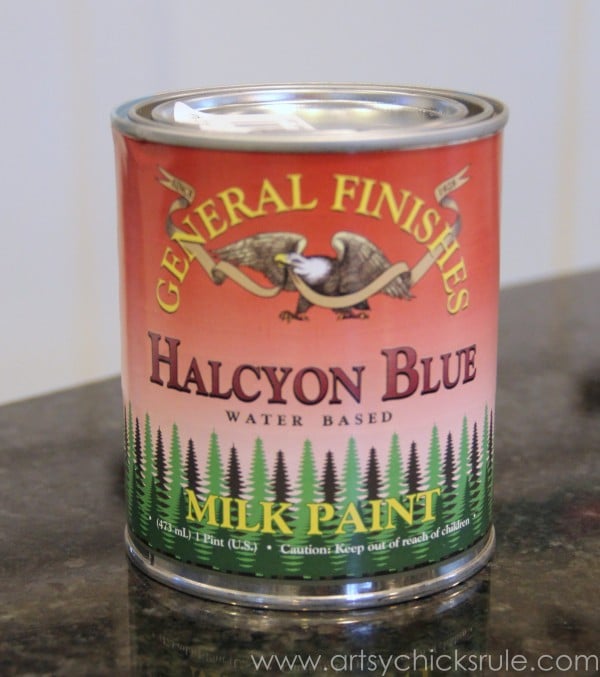 ….and Chalk Paint. This "milk" paint is not your typical milk paint however.
It sort of reminds me of a mix of Chalk and latex paint.
I wanted to try it out on a small piece of (inexpensive) furniture first and this was the perfect piece.
I picked it up for a few dollars last summer at a garage sale.
It certainly has come in handy since then! I've used it as a "table" to paint things on.
As you can see by the paint marks. ;)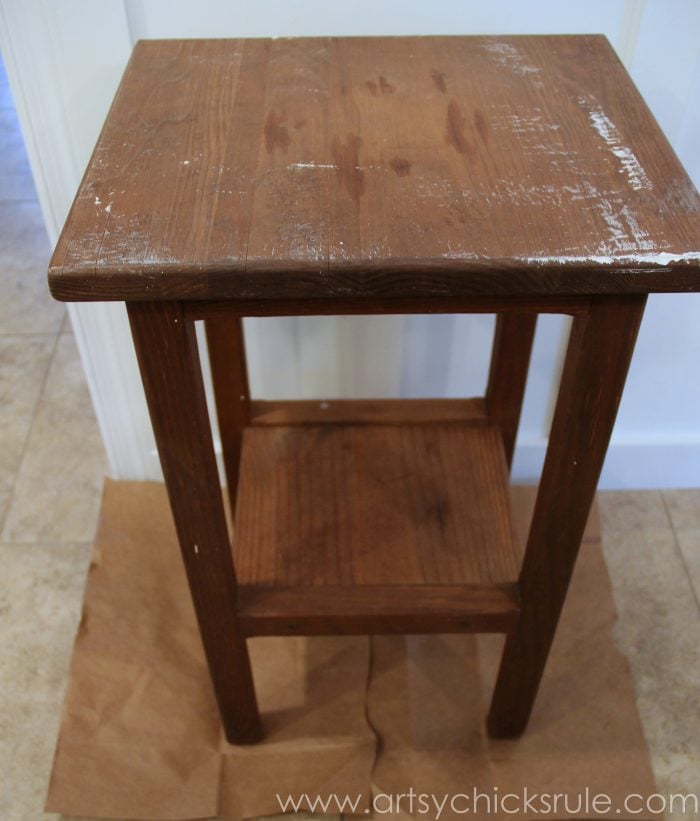 I decided to use Chalk Paint in Old White (mixed with Pure White) on the 2 flat areas so I could create the grain sack stripes with the Halcyon Blue.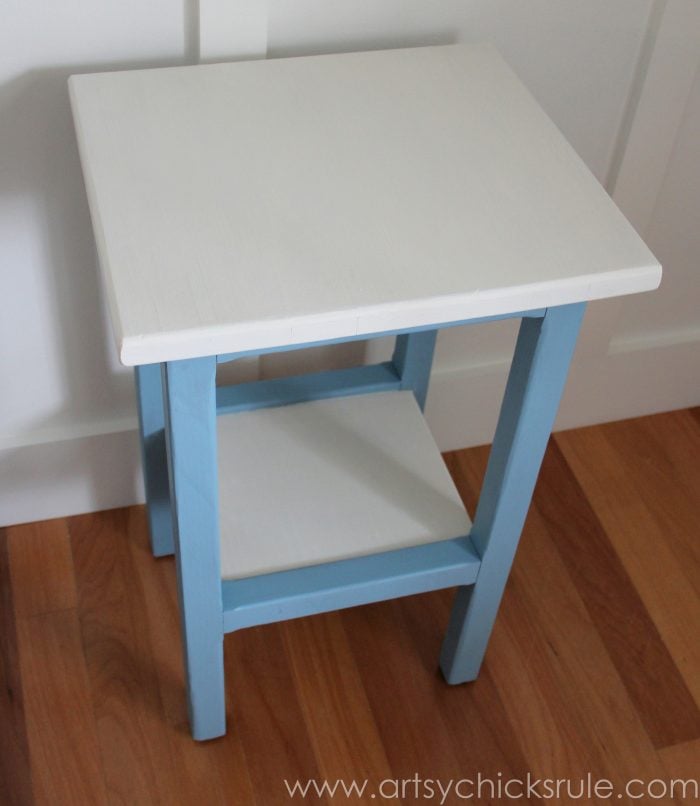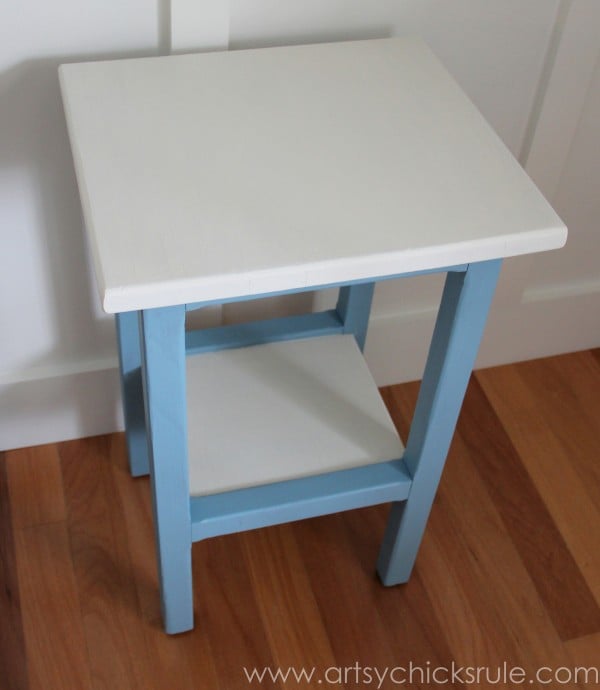 So how did the General Finishes Milk Paint apply?
Like a dream.
Really, just fabulous and coverage was amazing.
One coat. That's it!
Want to know about 26 other chalk style paints?
I've got the low down for you right here! >>> 26 Types of Chalk Style Paint For Furniture
I measured for my lines….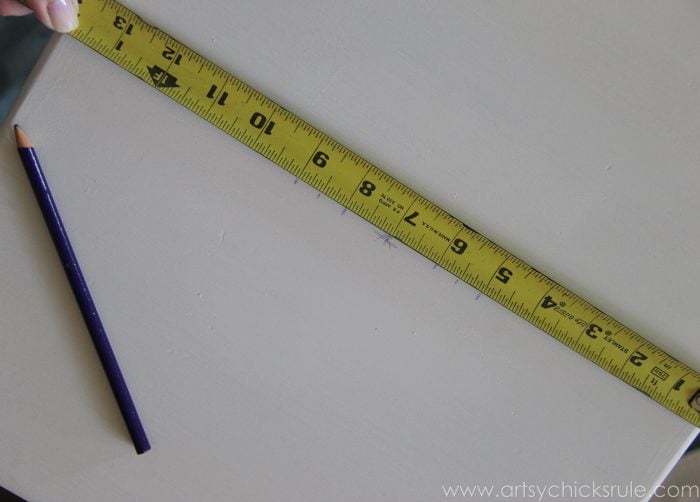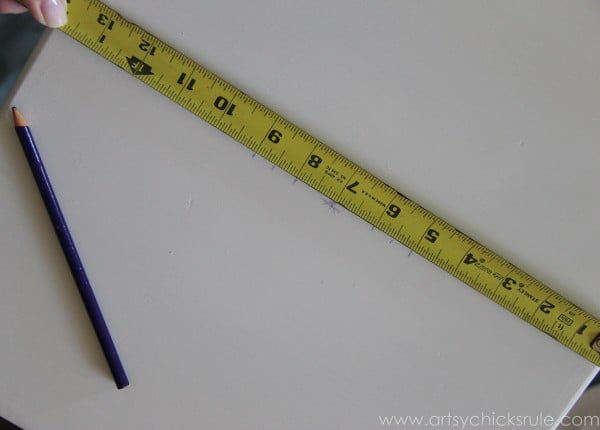 I hate measuring…and I hate math. BUT I wanted straight lines. ;)
Taped it off to paint. Easy!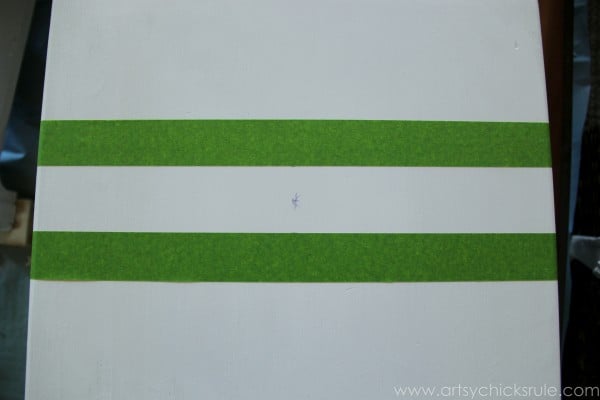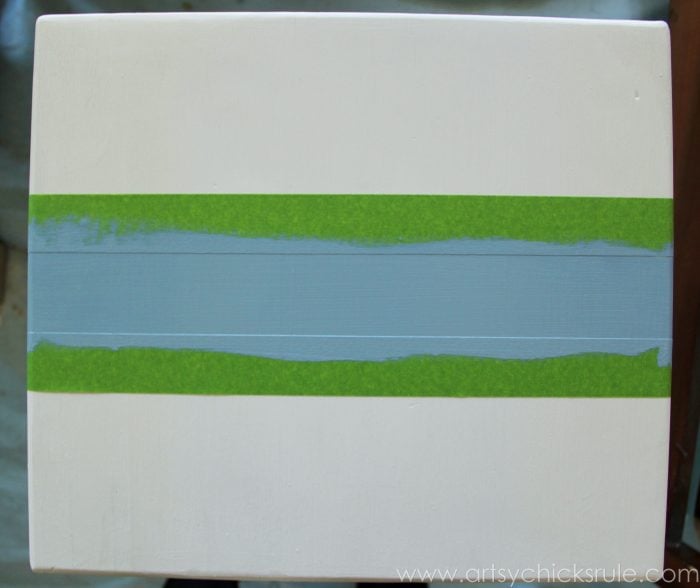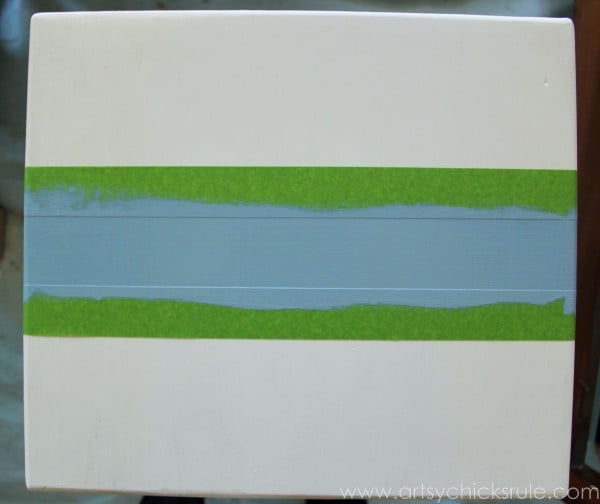 I repeated the process for the other 2 stripes.
Done and before distressing. This table most definitely needed some of that.
It was a little too "clean" looking.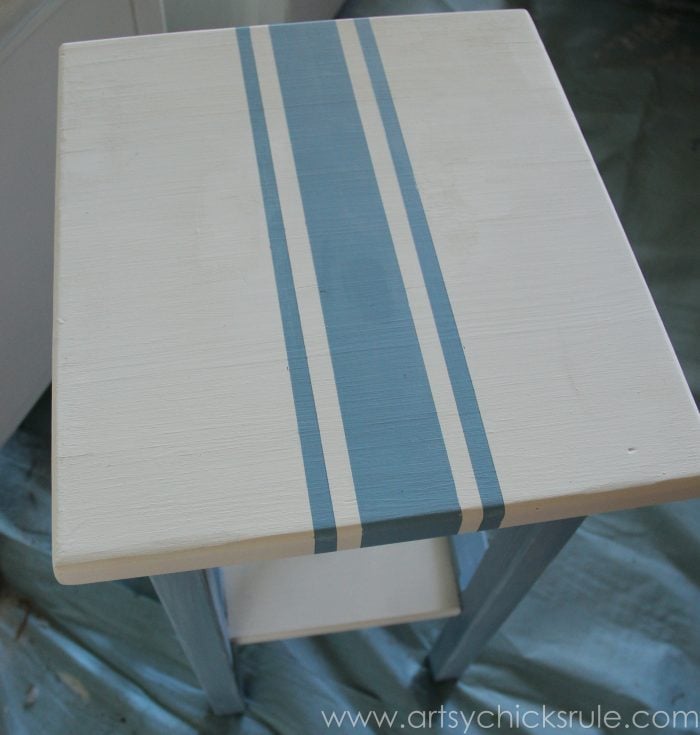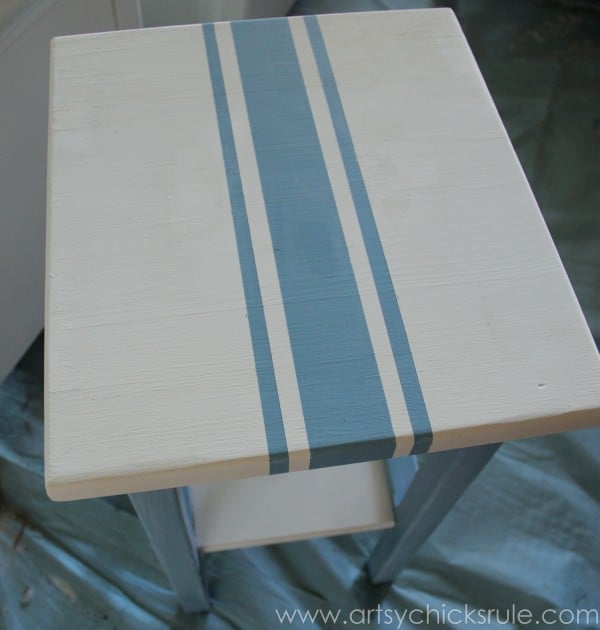 Distressed (much better!) and I decided to give the Halcyon Blue a dry brush with the white instead of sanding/distressing.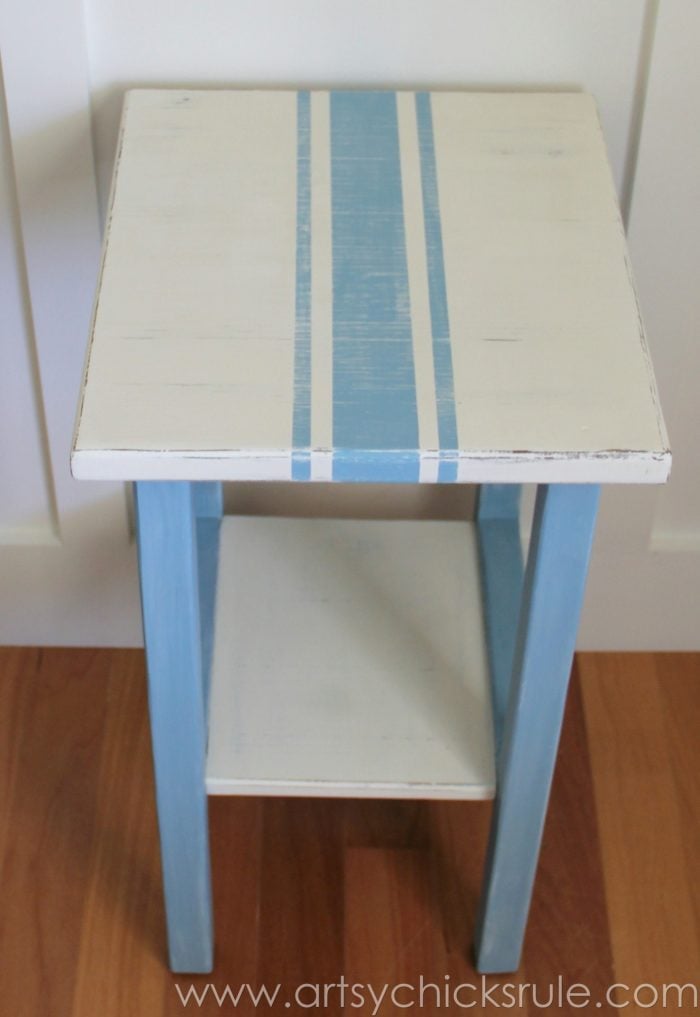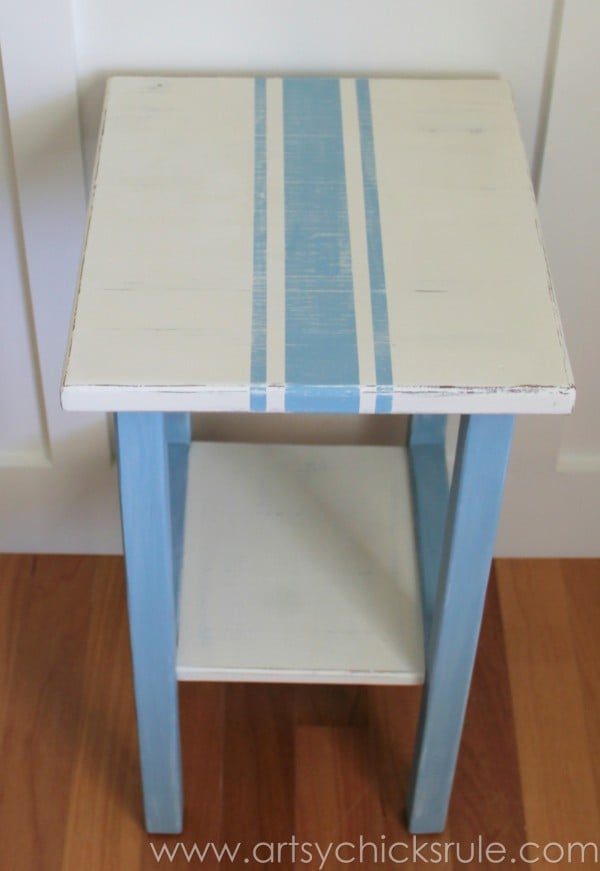 Here are a few close ups of the white dry brushing over that pretty blue….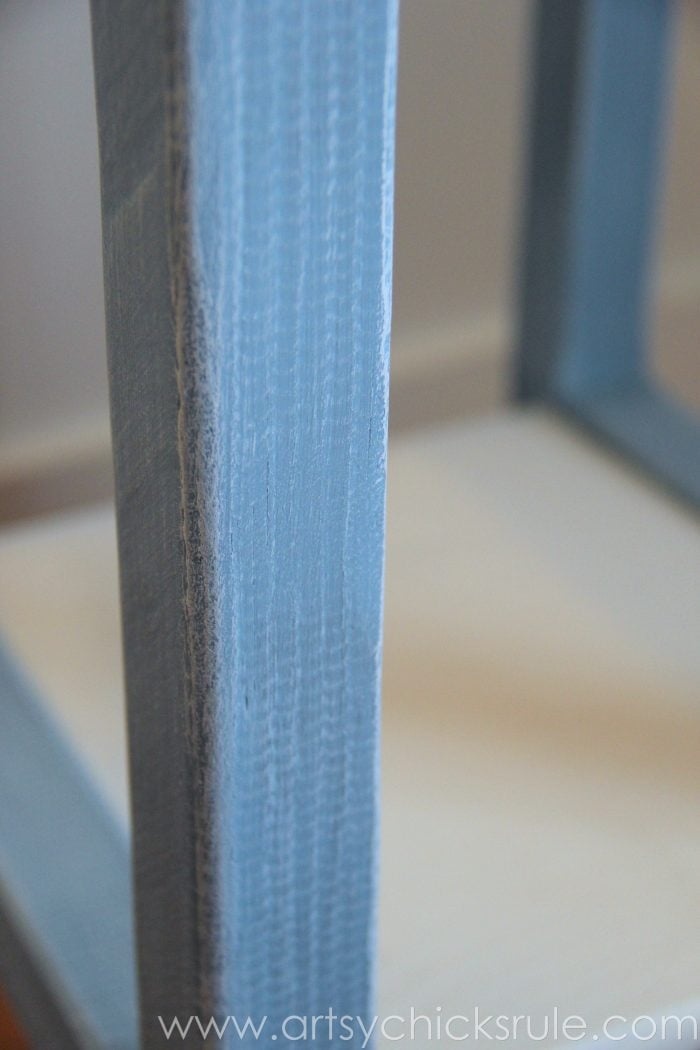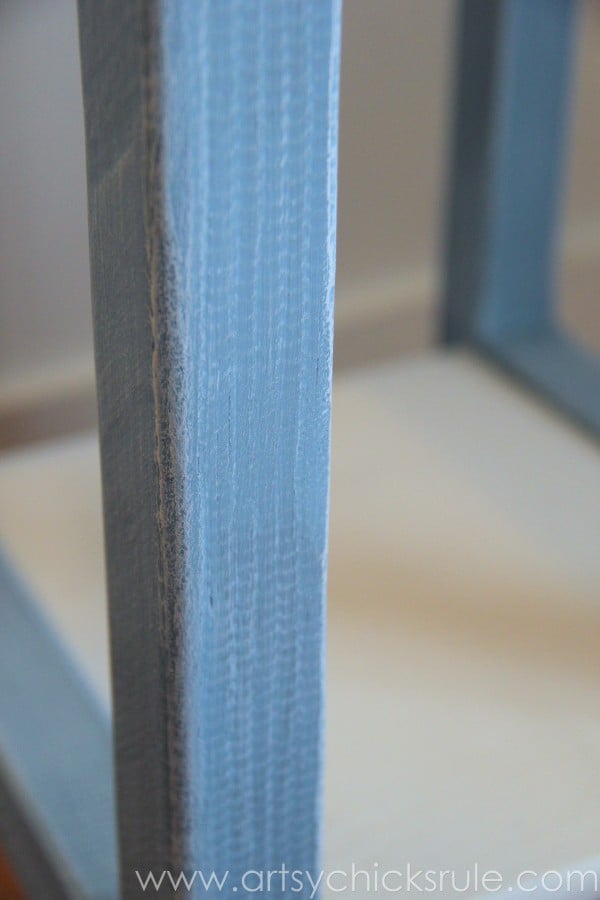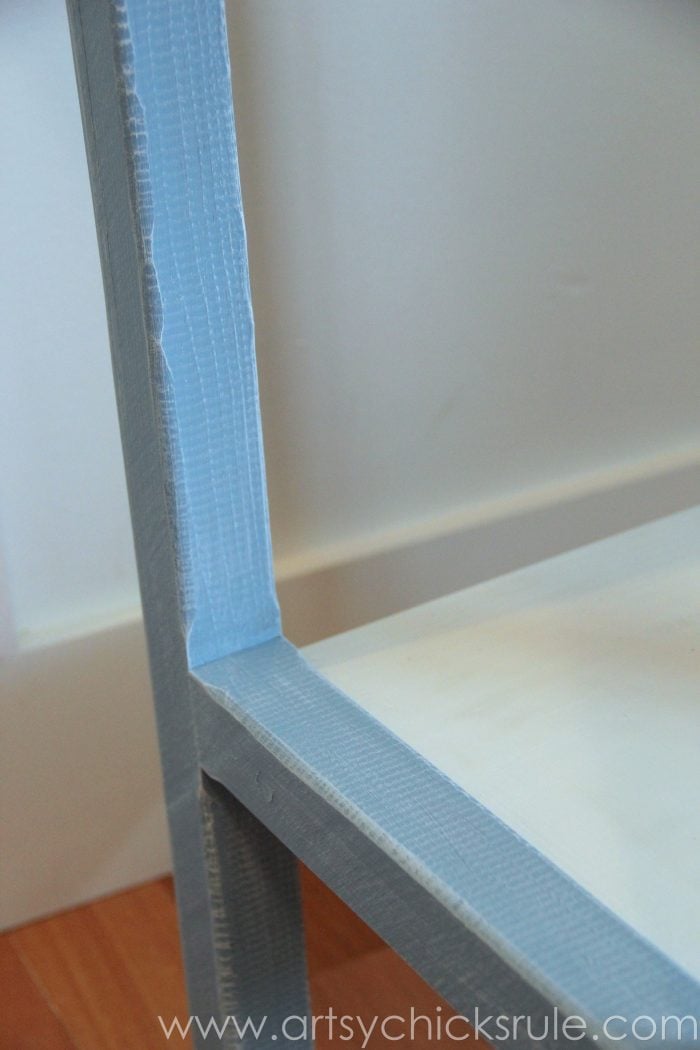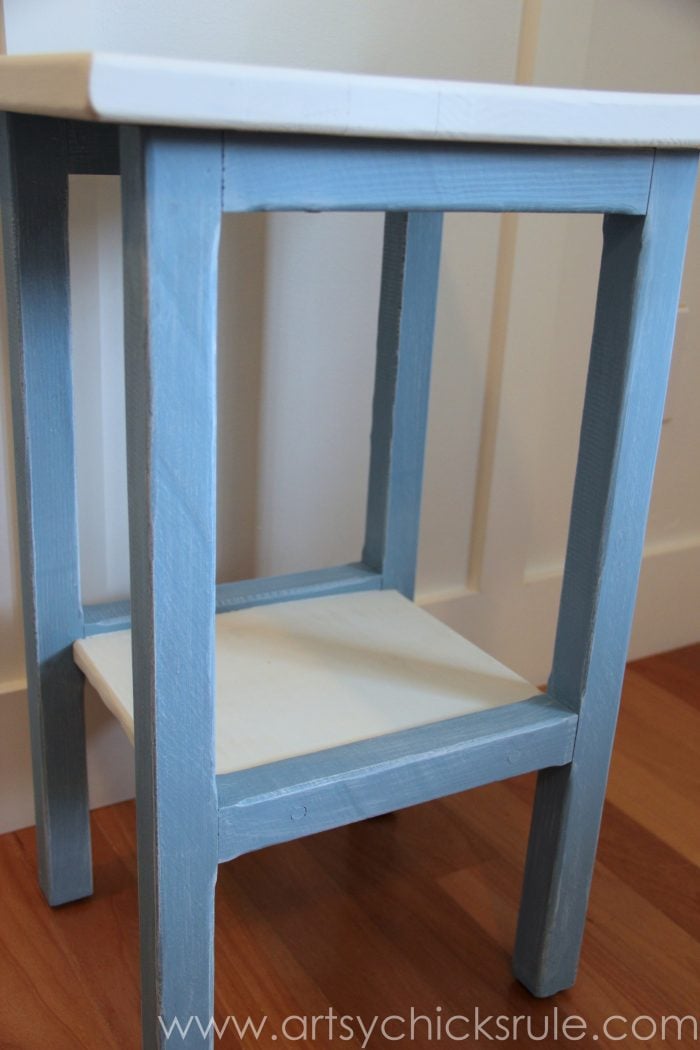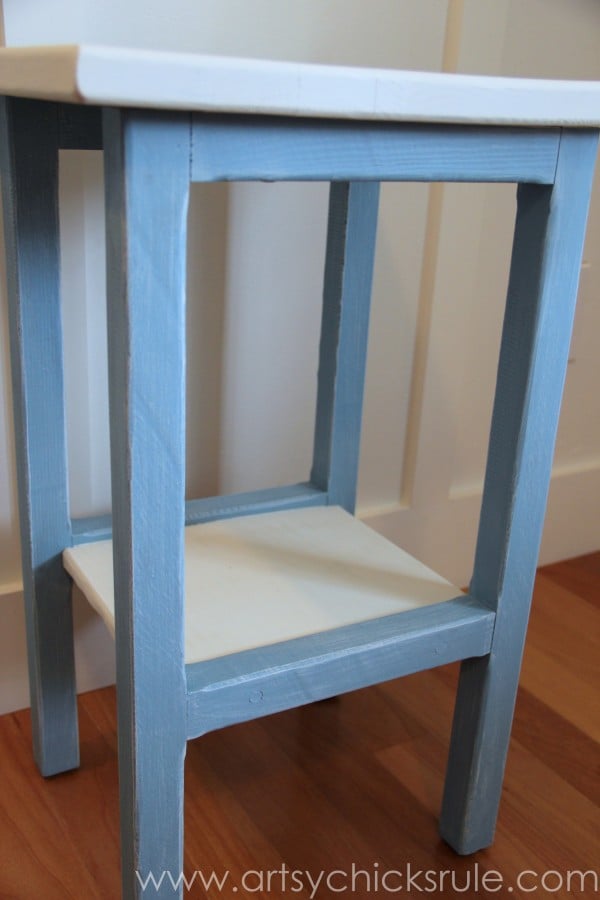 And some close ups of the top….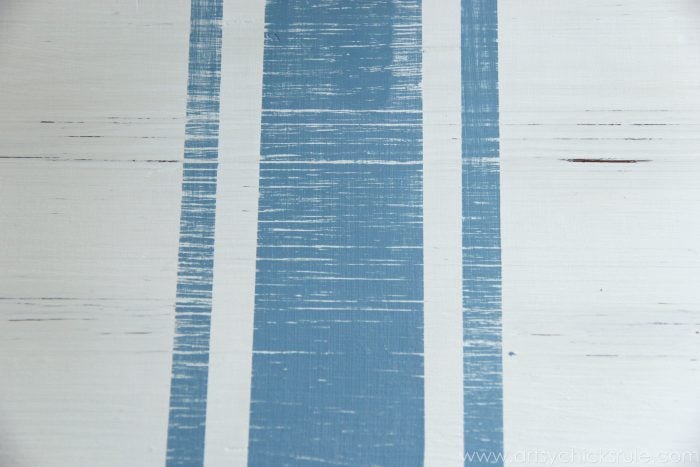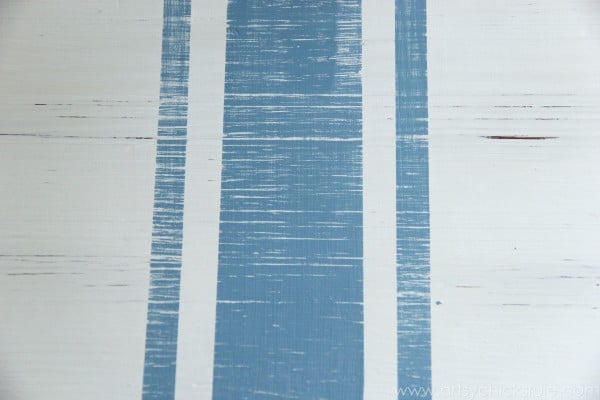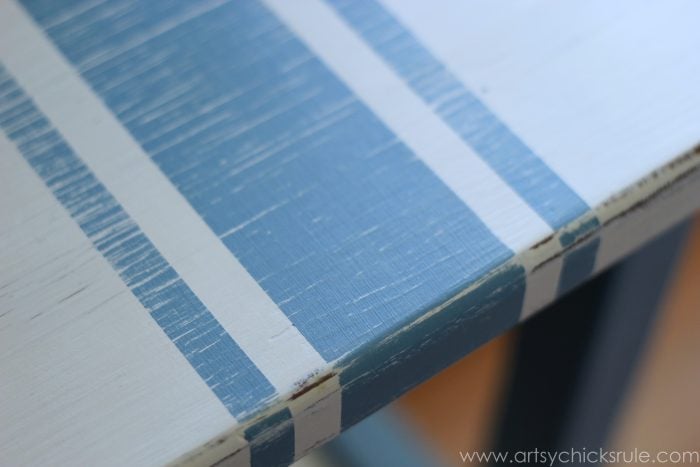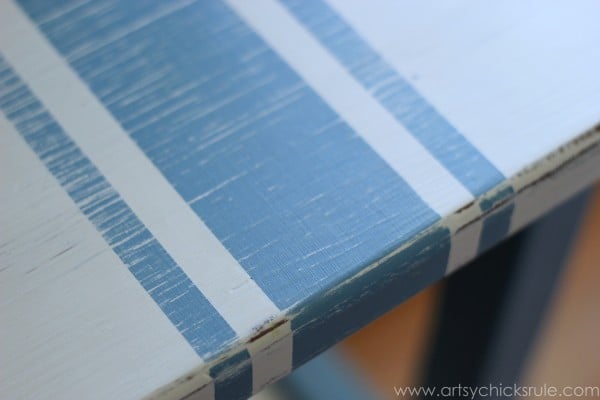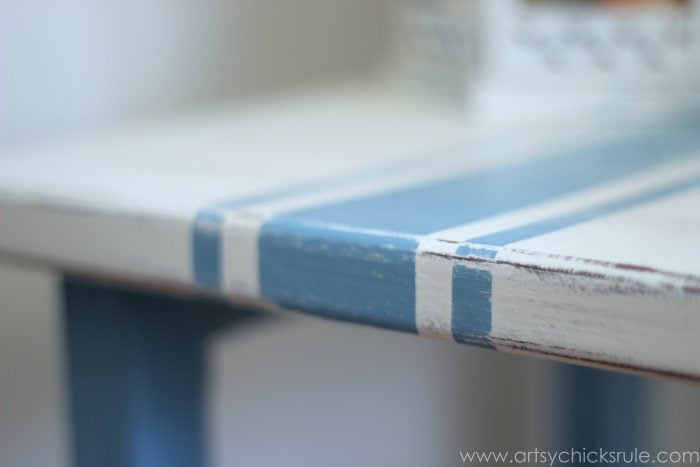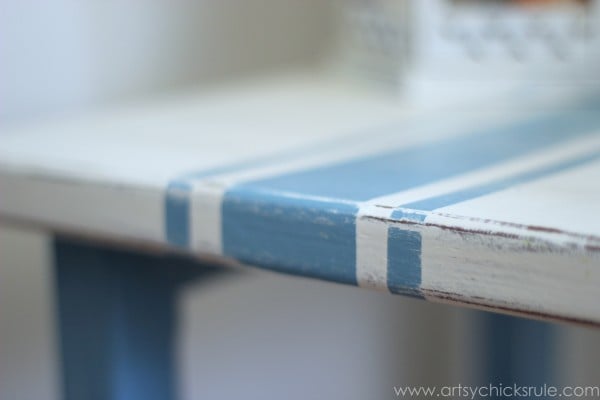 Before and after :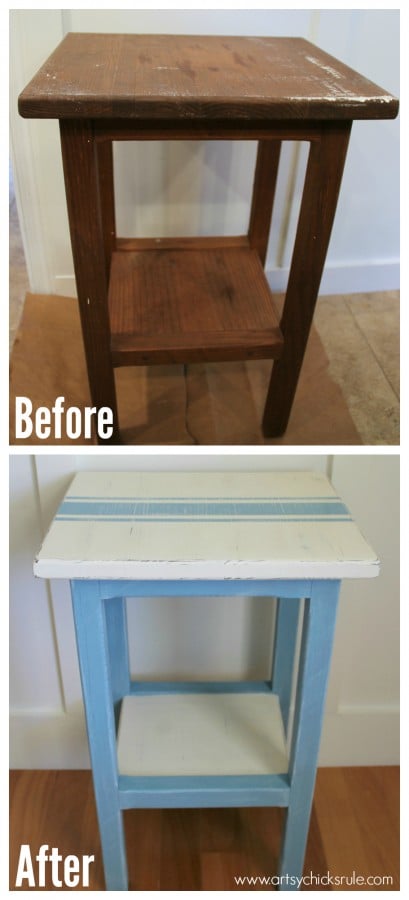 I sealed this table with Howard's Citrus Shield Paste Wax. The verdict is still out on that.
I'll talk more about that later and let y'all know. ;)
So there ya have it! A little painting fun with some new paint. Not too exciting of a piece but still better than before.
That's my lantern, by the way, that used to be black! (you can see that project here)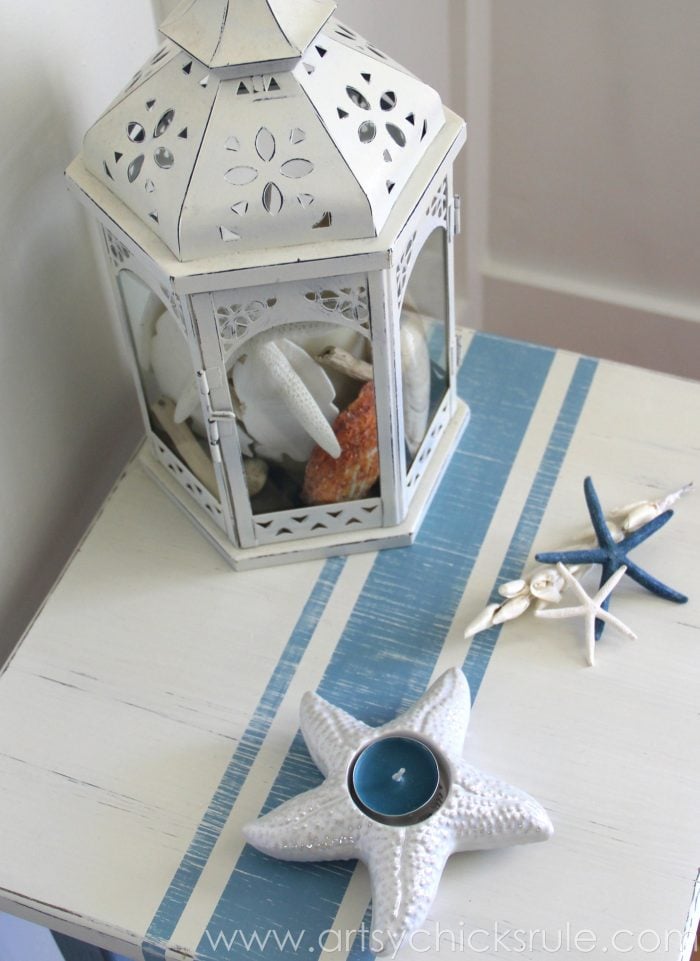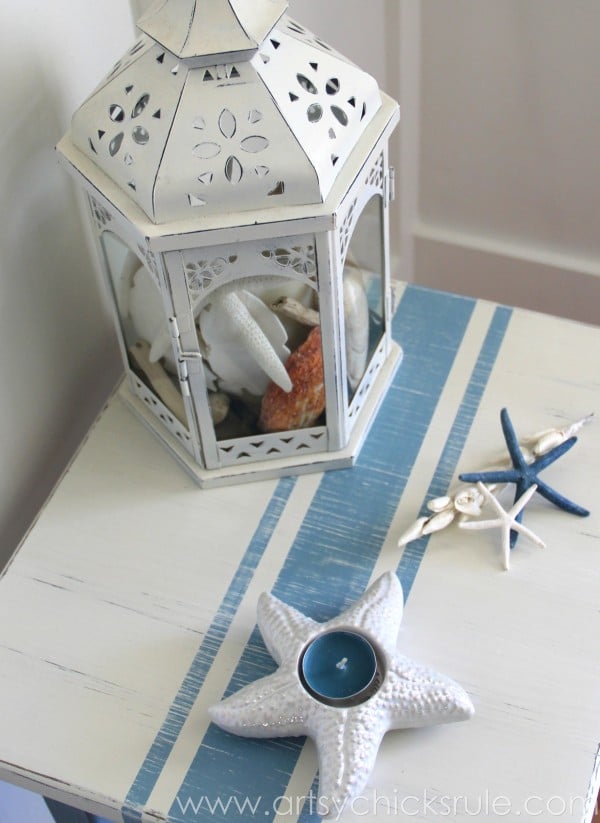 Kind of fun and nautical. I think I'll be using this one on my back screened porch.
Have you guys tried either of these products before? What do you think?
I will be painting another, totally different, piece with the General Finishes Milk Paint soon.
I also bought the "Lamp Black", which is a nice, true black shade. I'll be posting to let you all know what I think once I do!
So far it's a win. :)
Be sure to check back in when I share this little vanity chair update!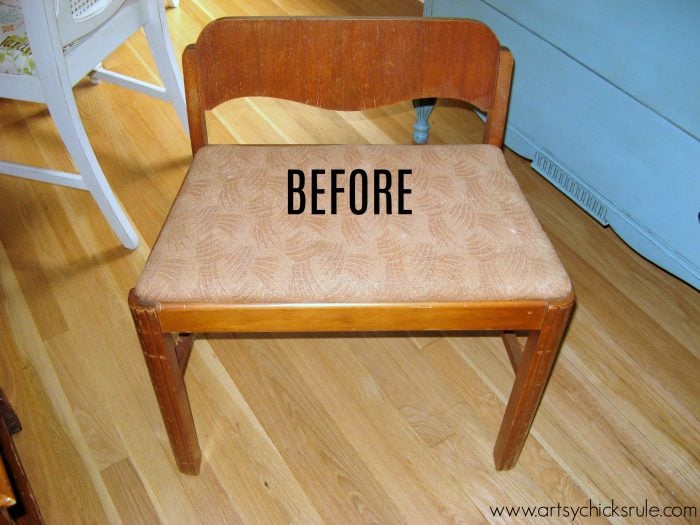 UPDATE!!! See it now, here!!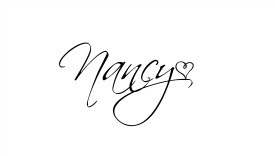 Be sure to follow me on Instagram if you don't already!
I always post projects and things I'm working on plus lots of fun (silly!) random dailies.