How To Paint Leather (easy with the right products!)
This post may contain affiliate links. Please see disclosures here.
Hello beautiful friends!
I have a really fun post for you all today! It's something that I have been wanting to do for a long time now.
And I finally found a piece to do this one…yesterday! Hah!
I got this project done so quickly. But that just goes to show you how absolutely easy this is. Of course, it was not a huge piece so something larger will take a little longer.
But I am telling you, it was EASY!
What was it?? Painting leather.
I've been known to paint anything and everything. Remember this chair I painted years ago??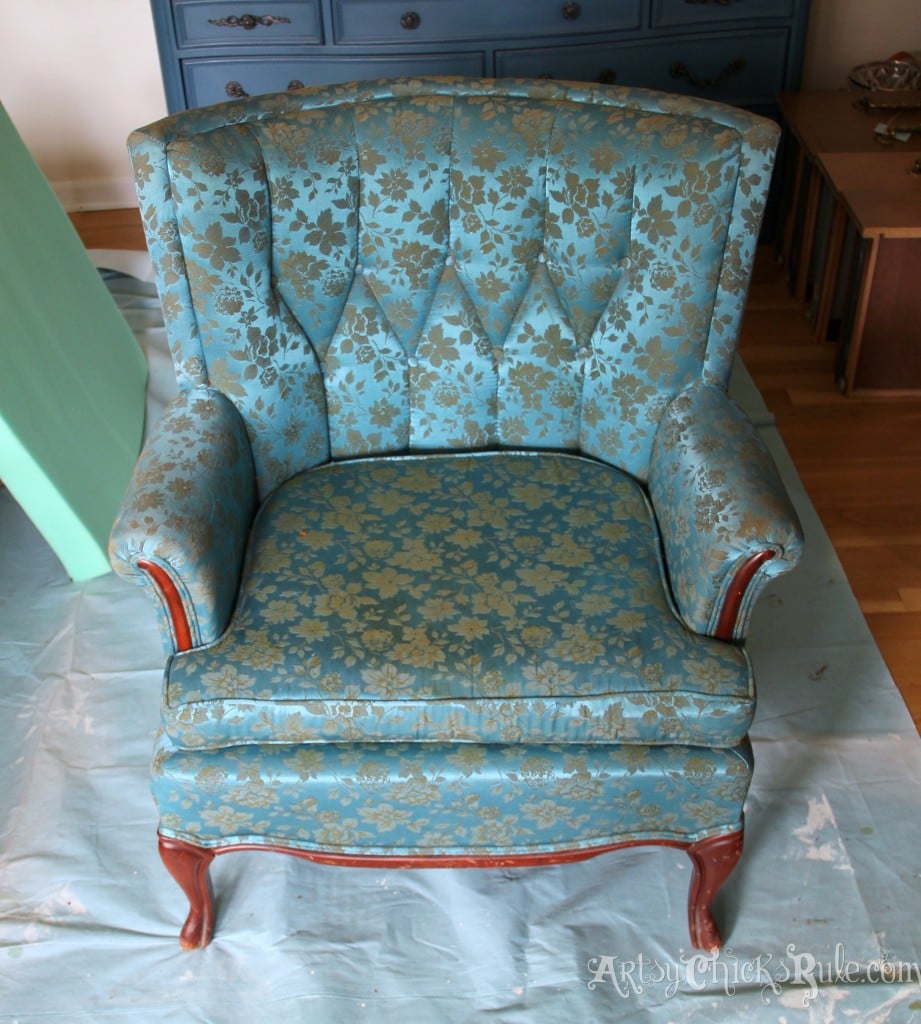 All the paint details for this chair are here.
It turned out so well, I did it again a couple of years later…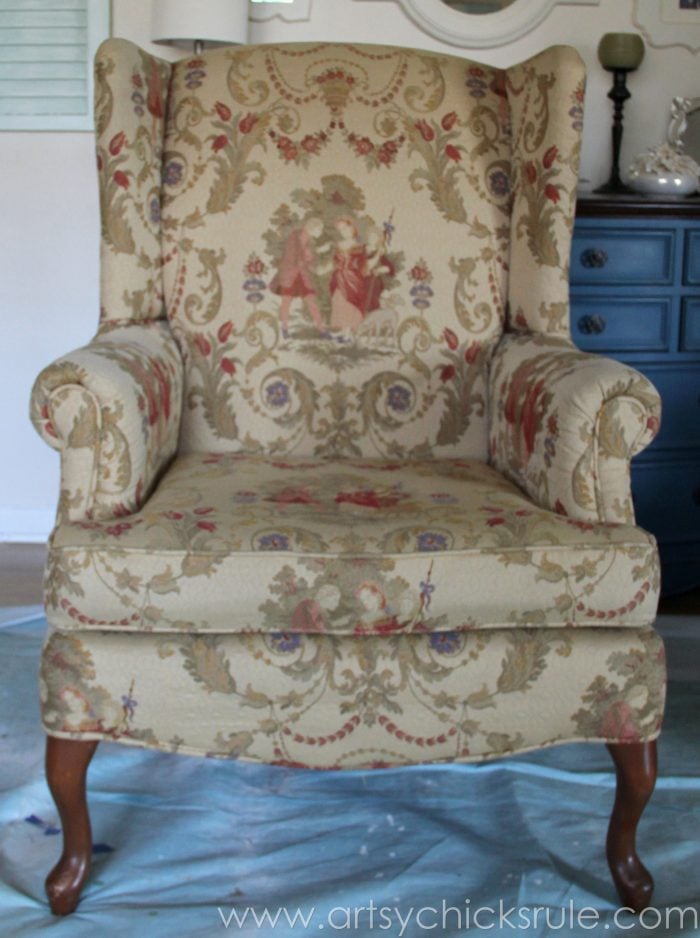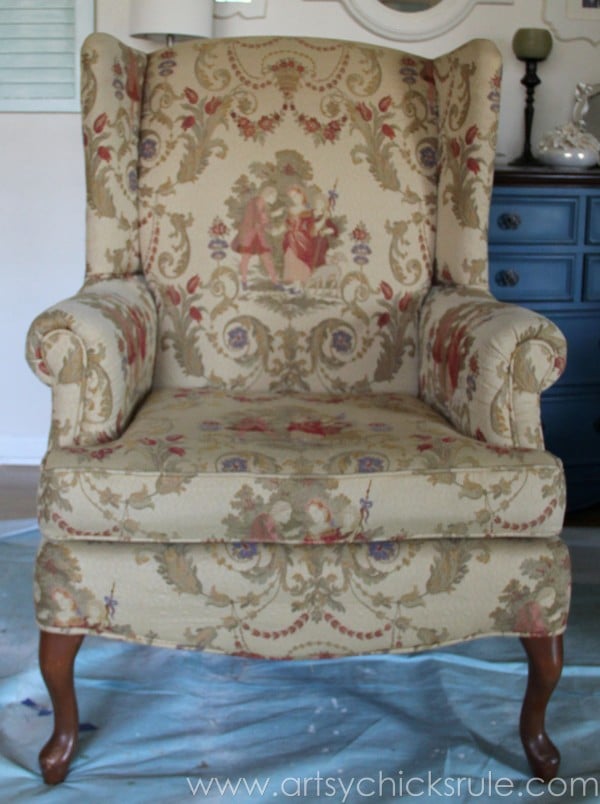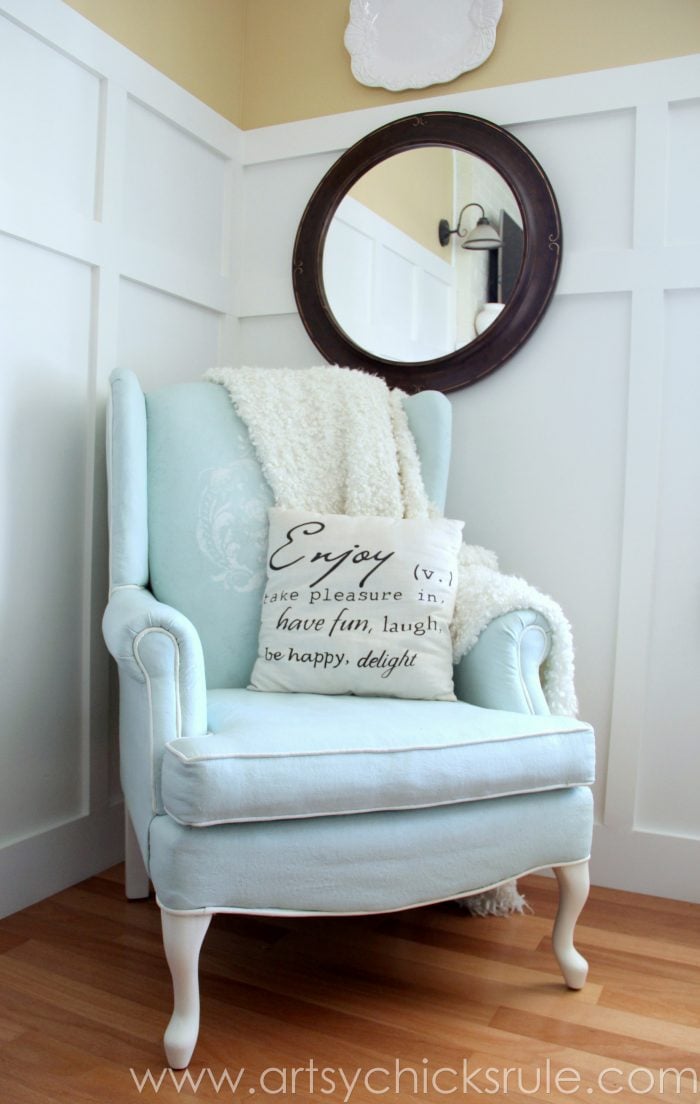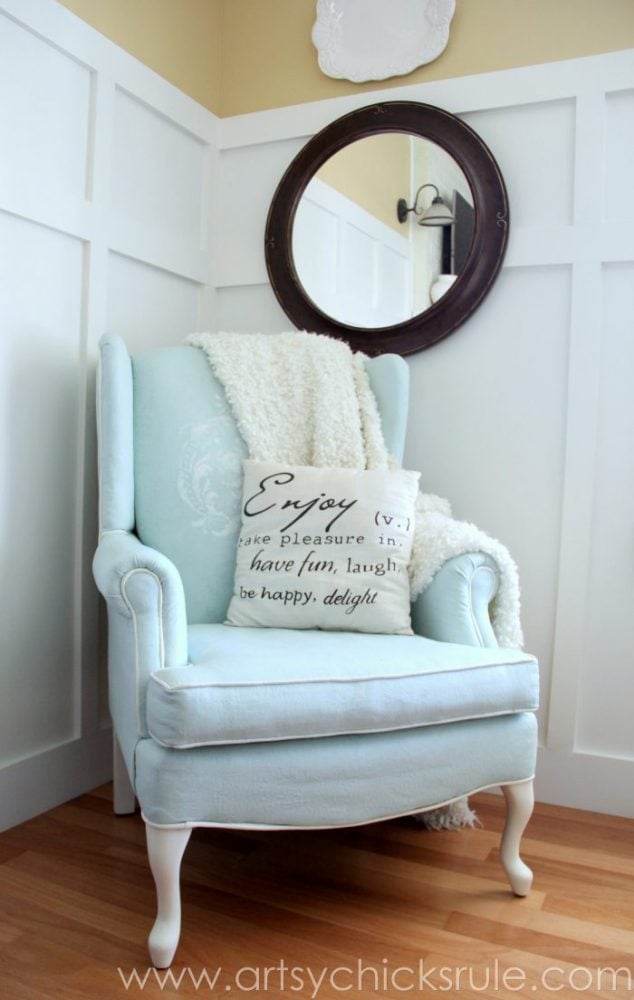 All the paint details for this chair are here.
Both of them held up great!
I also painted these fabric seats…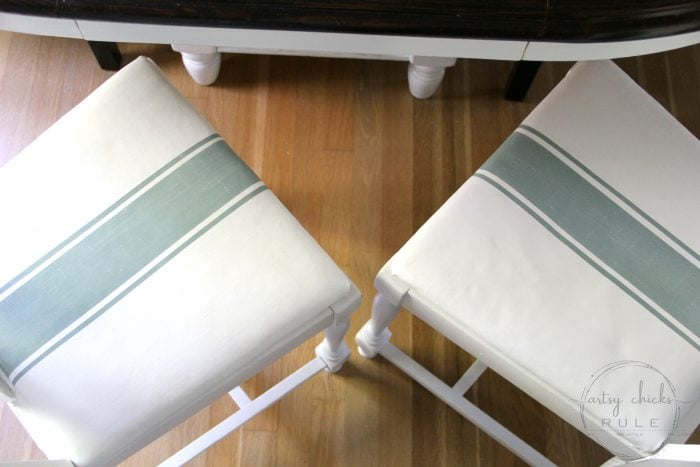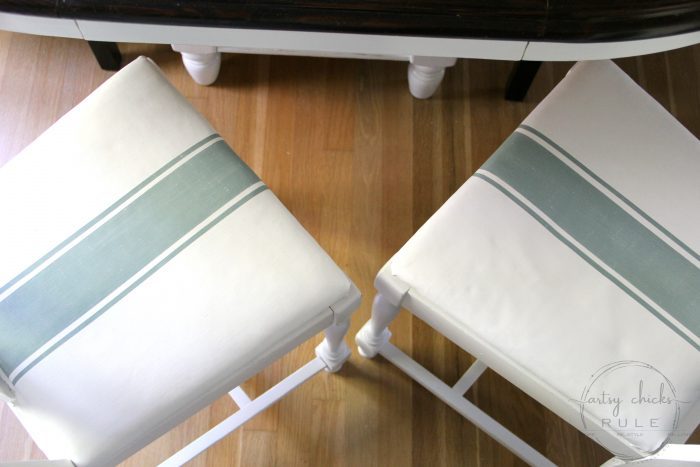 So clearly I am not afraid to paint it all! lol
Chair cover paint details are here.
**If you are interested in painting fabric/upholstery be sure to hop on over to those tutorials I linked for each above. The process is a little different than what I did below. I used chalk-style paint on the painted fabric projects above. I would not use chalk-style paint to paint leather.
With that, I have not tried Fusion paint on fabric but will have to do that next.
However, I had heard that the paint I love and use (and sell in my shop) Fusion, worked very well for painting leather. I'd been wanting to try it for a good while but never came across anything leather worthy of a makeover. I certainly didn't want to buy an entire sofa to do it on. Ideally, something small like an ottoman. And yay, I finally came across one yesterday at the ReStore.
How To Paint Leather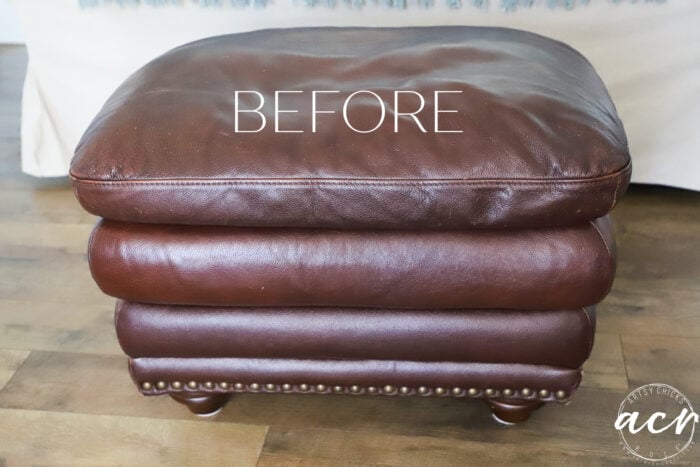 When I say this was simple, I mean it. It really and truly was.
And it went quickly.
I picked this up yesterday afternoon and got to painting!
Before we get too far along, here are all the materials I used for this project in case you would like to try it too.
MATERIALS SOURCE LIST
Paintbrush
Old T-shirt or other soft lint-free cloth
Clean
I began by mixing up some of the TSP Alternative and began by wiping down the top section.
Unfortunately, I quickly noticed that the dye was coming off. Oops! I'm not kidding when I say I almost always have an oops or run into a hitch on my makeovers. So if you do too, don't beat yourself up, it happens. And it happens often!
So, I used water only and a tiny bit of dish soap on the rest.
Paint
Next, I pulled out these 3 colors (Mustard, Chocolate & Cranberry) and began mixing.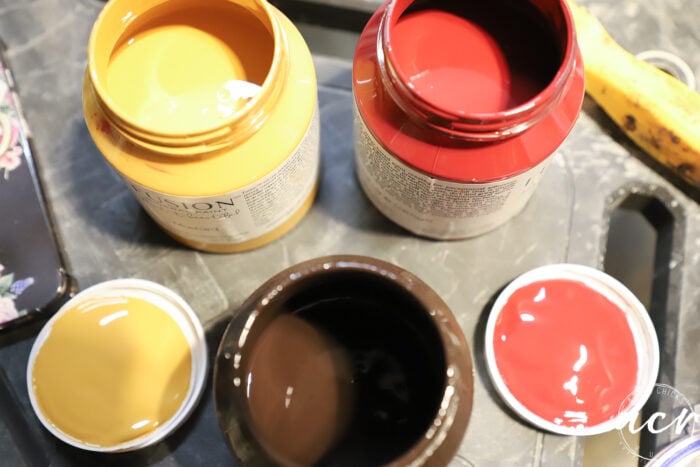 I wanted a color like "cognac tan", etc.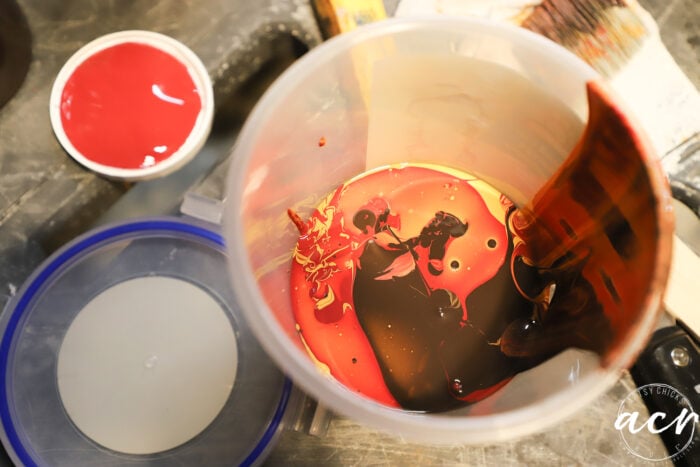 I started out with equal parts.
Nope! Way too reddish-brown. I should've known better as the Mustard color is actually the closest to the color I was trying to achieve.
Which means I would need more of that than the rest.
So I kept adding more (and more) Mustard. What I ended up with as far as a formula, if you like this color, was 5 parts Mustard to 1 part Chocolate and 1 part Cranberry.
I began on the sides and worked my way to the top.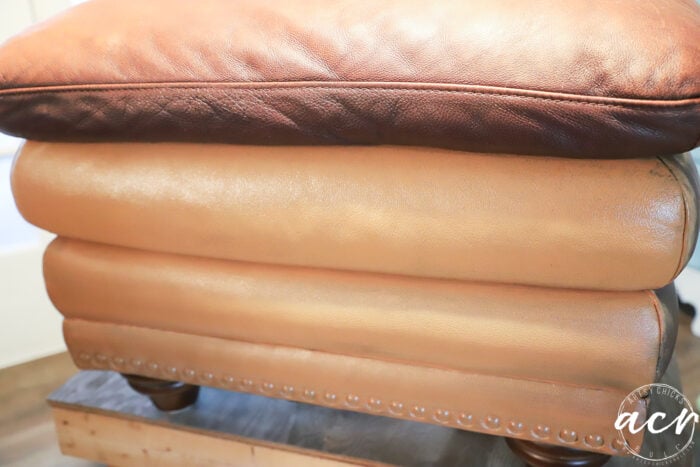 I ended up painting right over the tacks as they were not coming out. I'll show you what I did with those further down.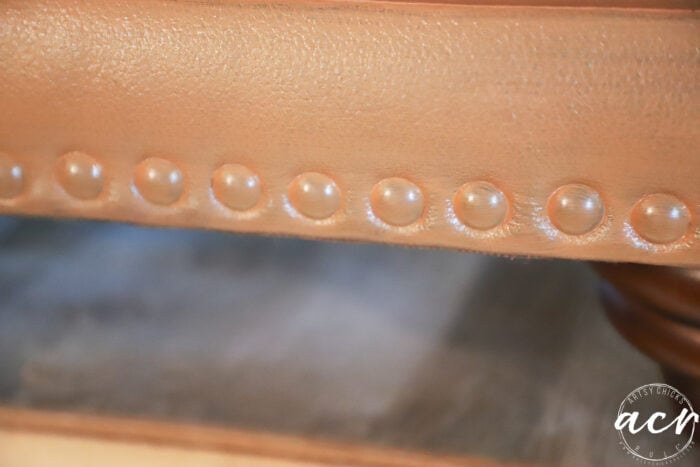 I brushed on the paint and then went back over it with this microfiber roller.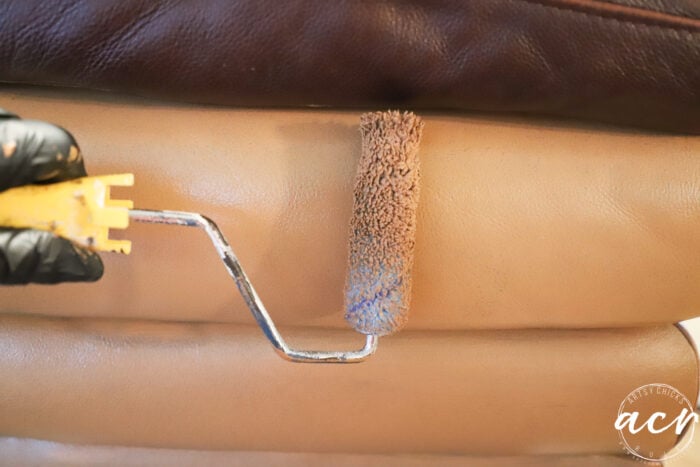 TIP: Don't apply the paint too thickly. You want to apply a thin, even coat. Then apply subsequent coats as needed, drying for about 4 hours in between.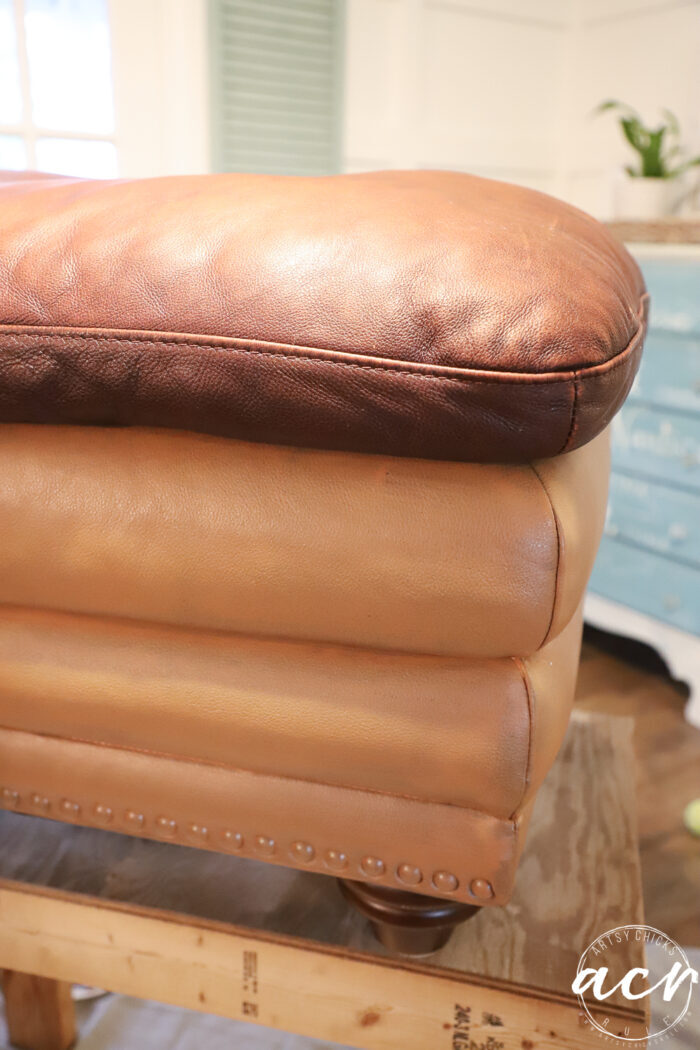 You can see the difference in color where the dye came off below.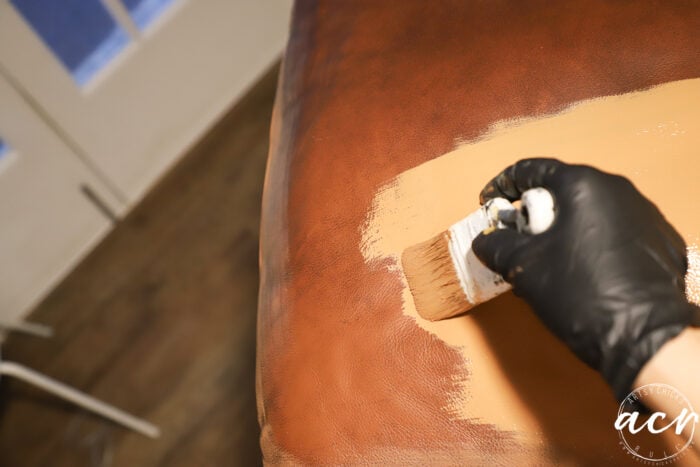 After the whole thing was covered, I let it sit for 4 hours before giving it a second coat.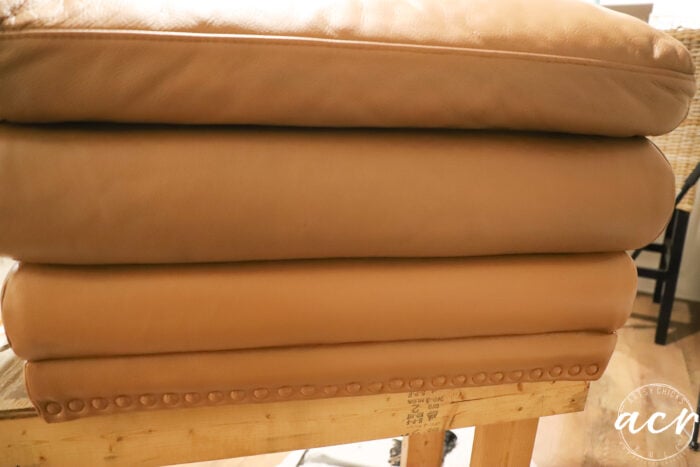 Which was all it needed, 2 coats and done!
You can see where I've applied the second coat above and the full coverage it gave. (the bottom 2 sections)
TIP: Let the paint dry at least 4 hours in between coats.
I did also remove the feet as it was easier to give them a new look apart from the ottoman.
They were sort of a reddish brown colored stain and kind of clashed with the new color.
I felt like they needed to be more brown. I didn't want to try to sand them with all those curves and such, so pulled out my Cappuccino Stain & Finishing Oil and applied a coat of that. It toned down the red perfectly.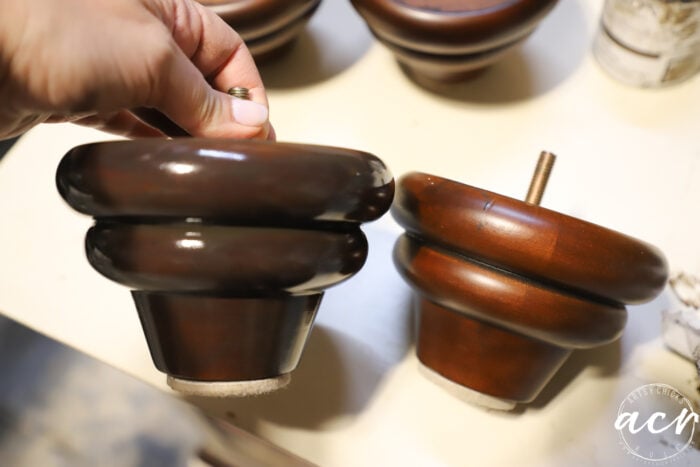 I must tell you, that I was highly impressed by this point. The paint went on like a dream and covered SO well. Even that dark color underneath.
And this morning it was so flexible too! Wow.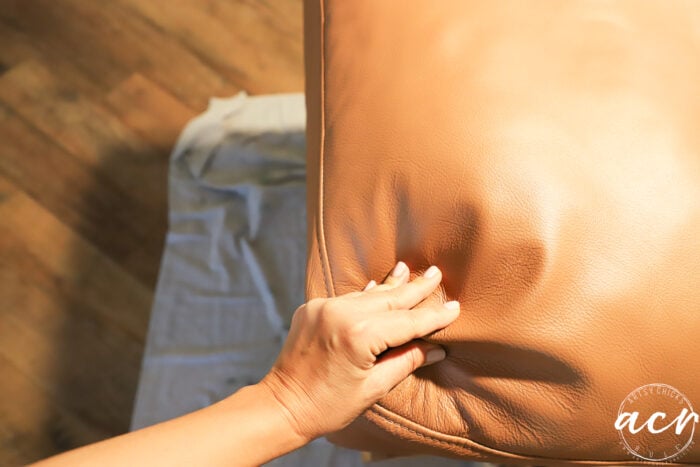 Isn't that amazing???
Gilder's Paste (Upholstery Tacks)
So remember those tacks??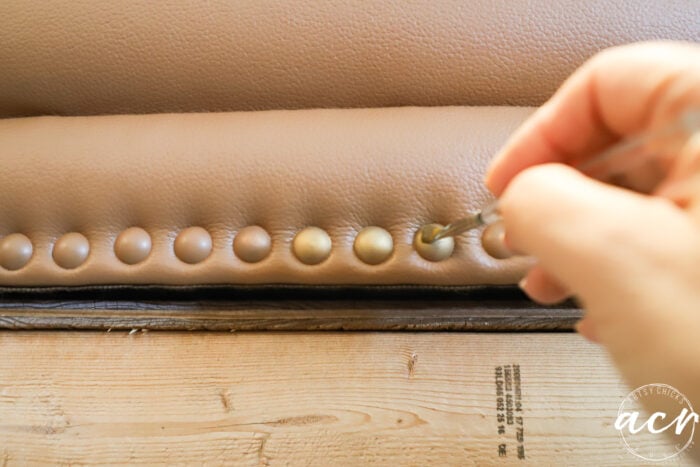 I simply pulled out my Bronze Gilder's Paste and brushed it on each one.
You can see here the difference it made.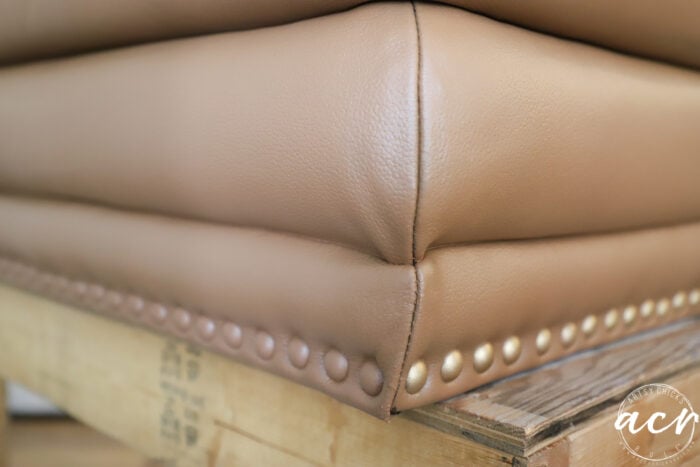 So easy as well! Did take about 45 minutes to do them all but not too bad.
Certainly better than trying to remove them and put them back. Yikes.
Wax/Finish
Lastly, to seal it and give it a softer finish, I used our Beeswax Finish. However, I'm not 100% convinced it even needed it. It was already soft and very flexible and Fusion does not require a seal/top coat. But I figured it would help protect it so went ahead and applied it.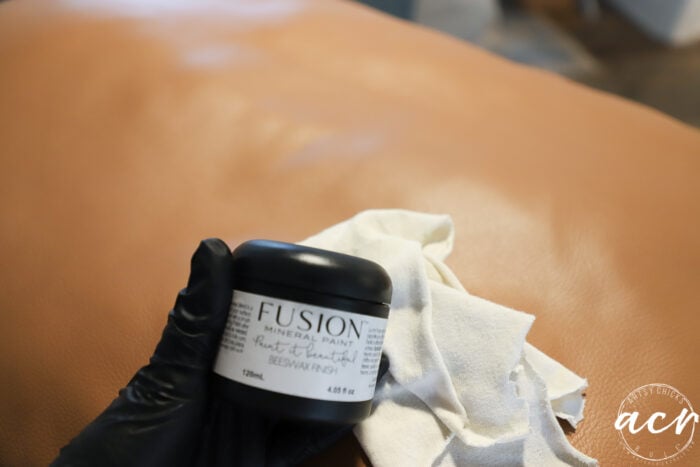 I used an old t-shirt to apply.
I simply rubbed it in all over…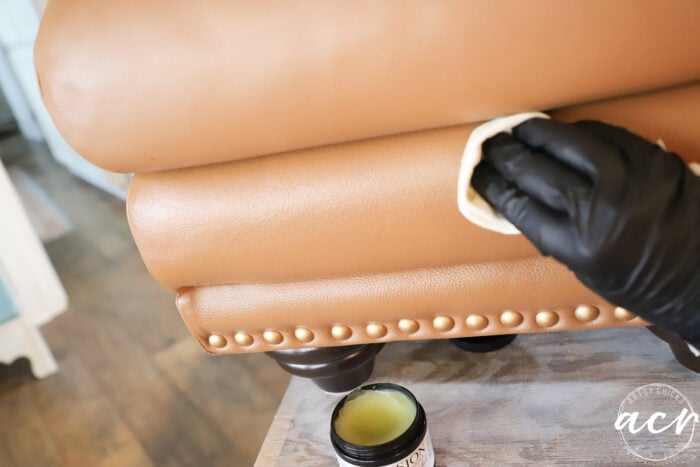 You can see the difference the wax makes (besides giving a nice, protective layer). The top two sections have yet to be waxed in the photo.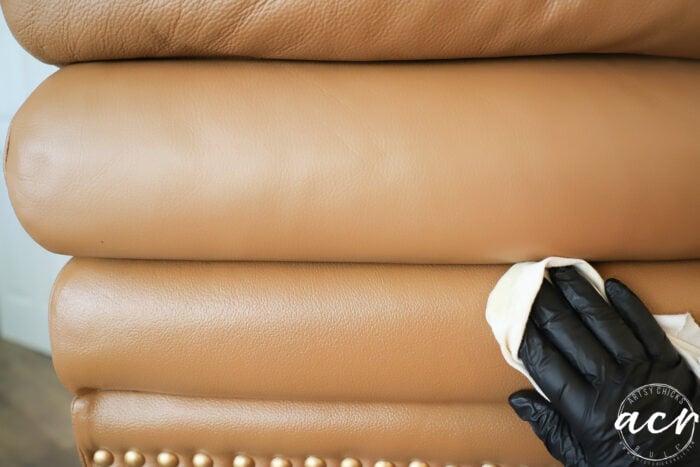 Then went back over the whole thing with another clean cloth to wipe away the excess, if any.
And done!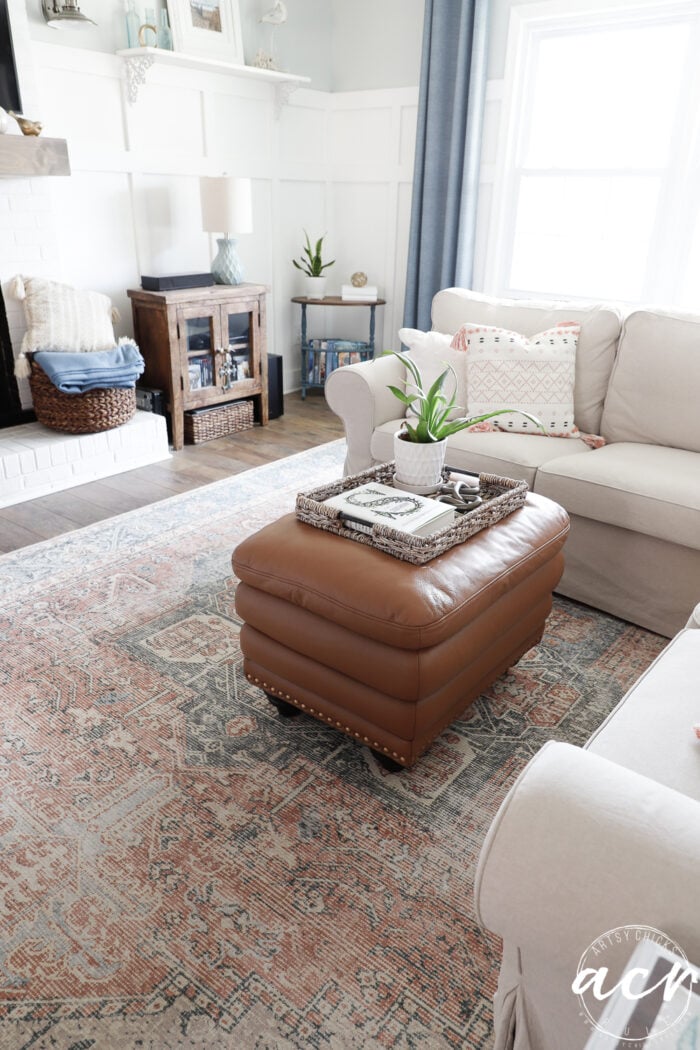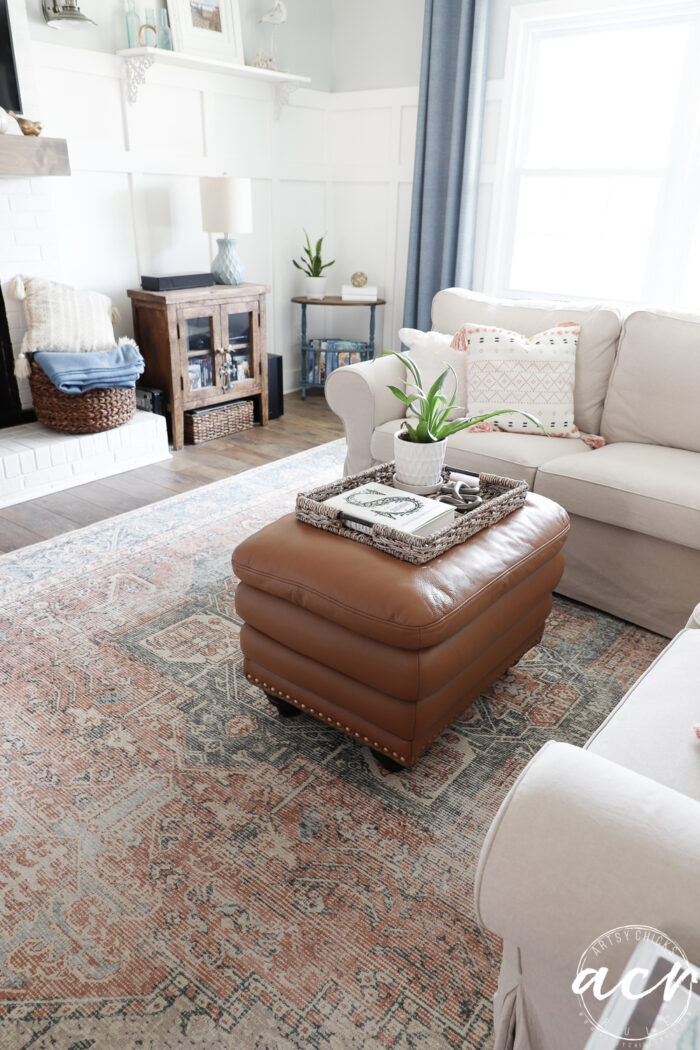 For those interested in the rug, you can find it here.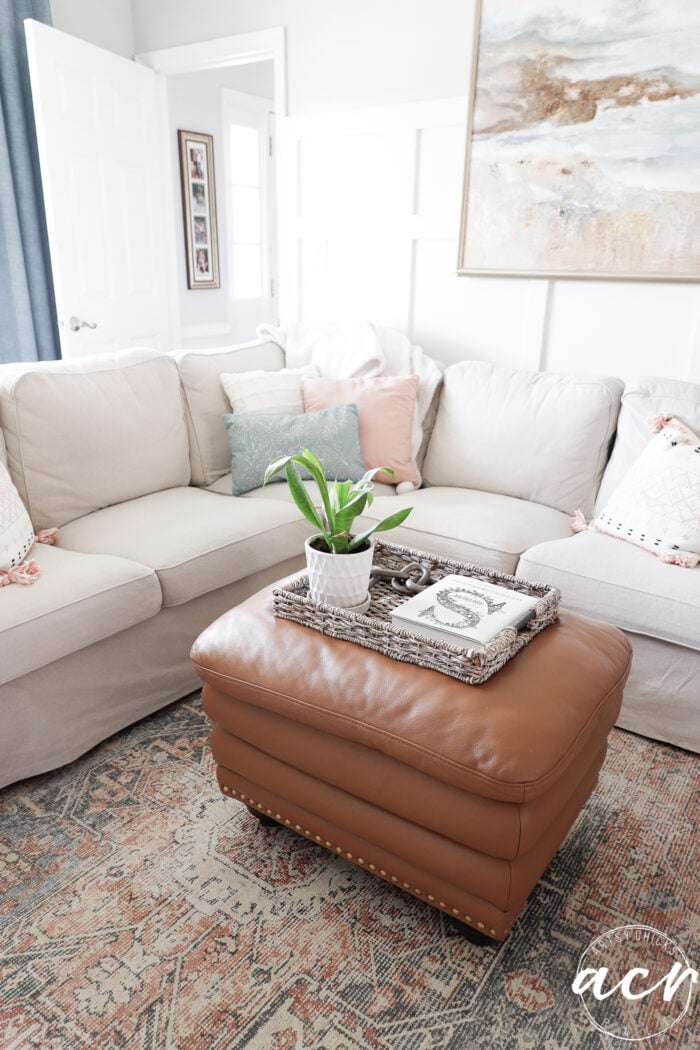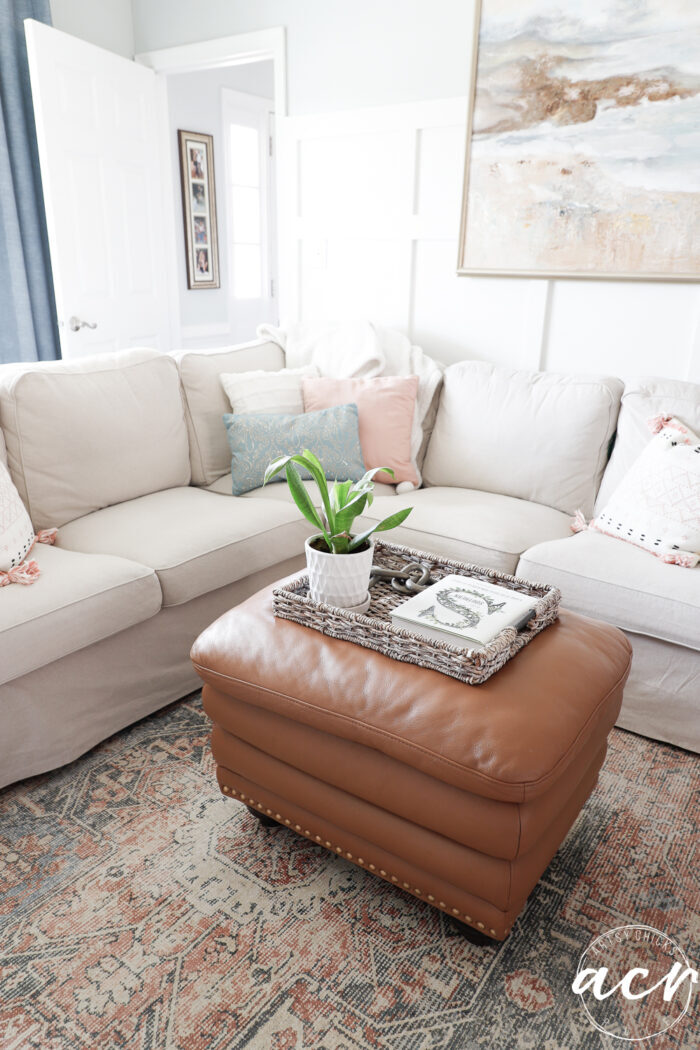 Those pictures above make it look a bit more orange than it does in real life.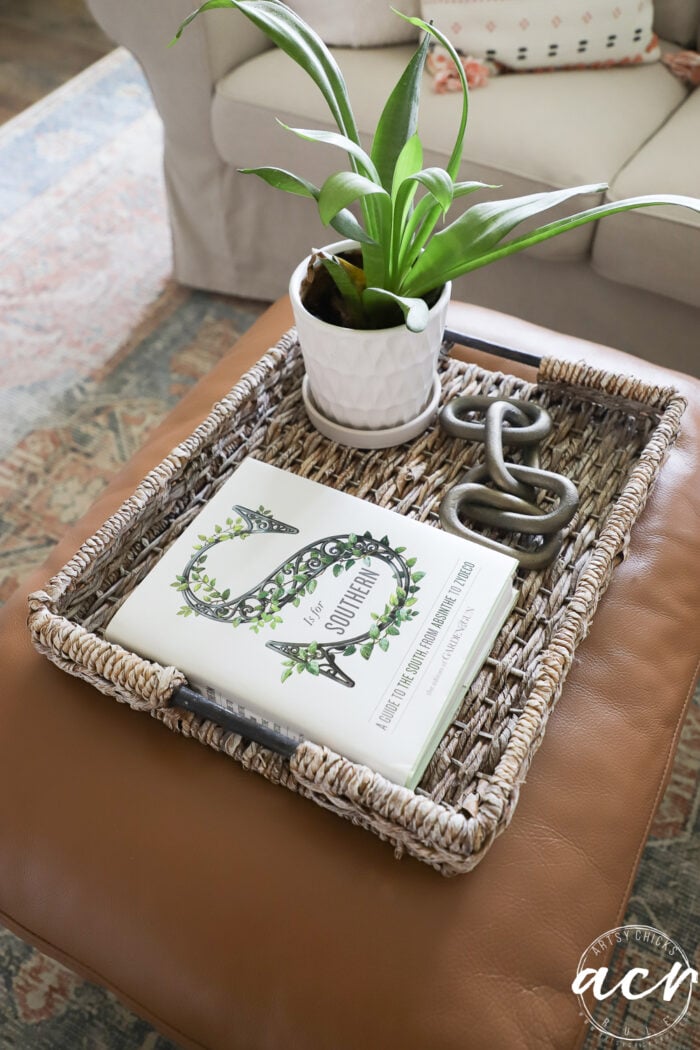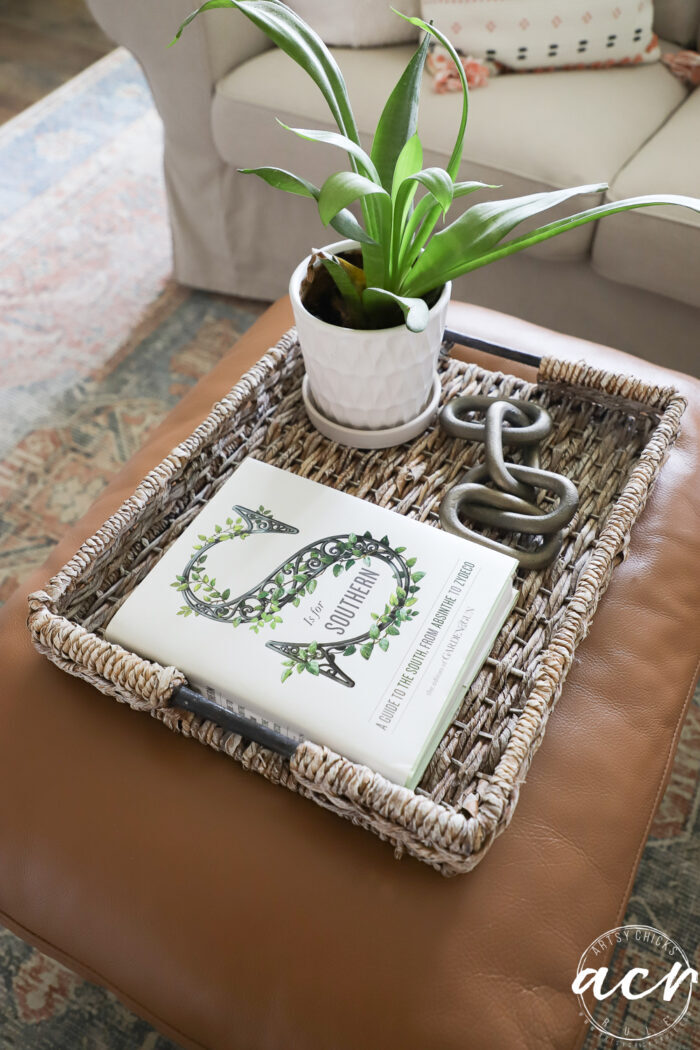 It really looks more like this…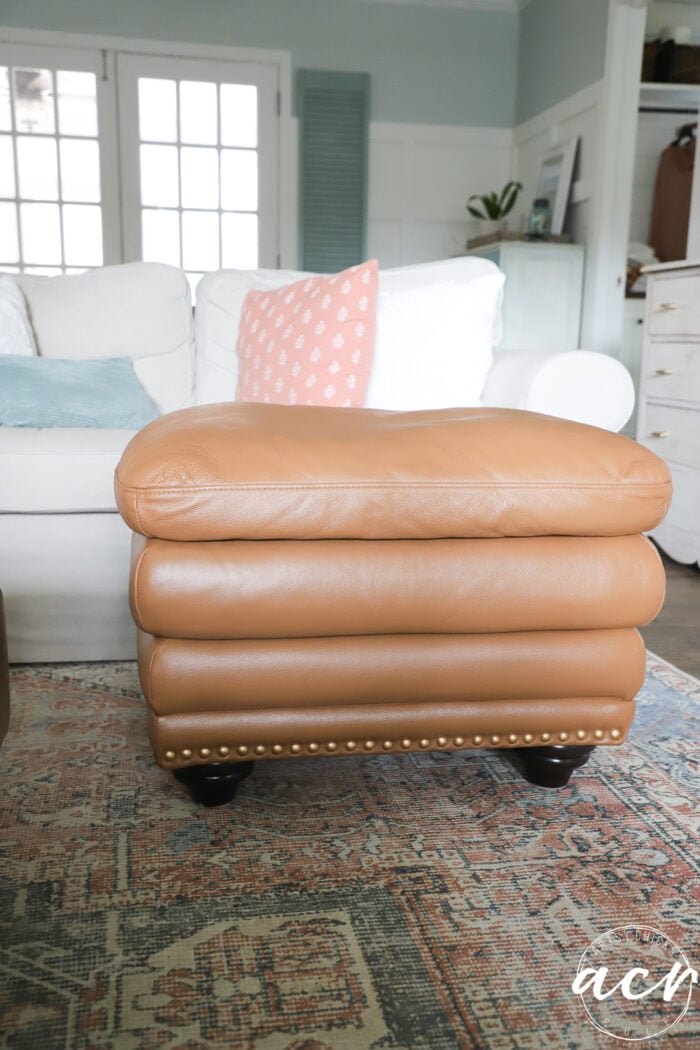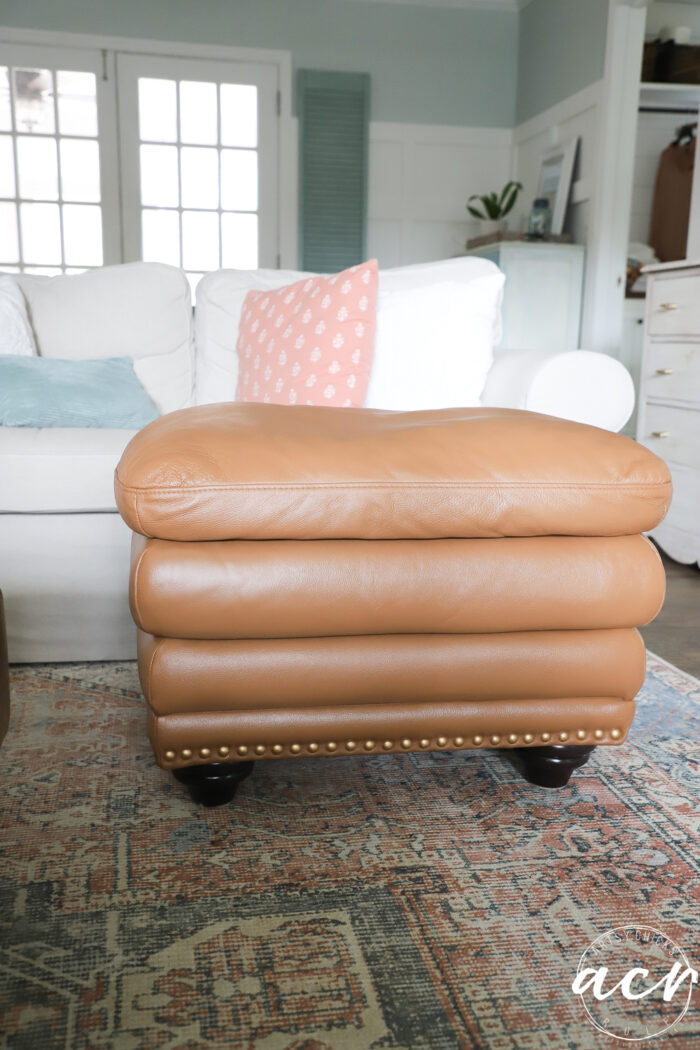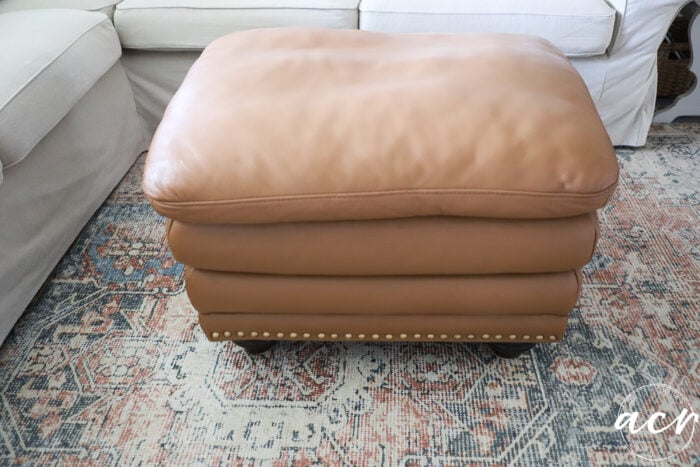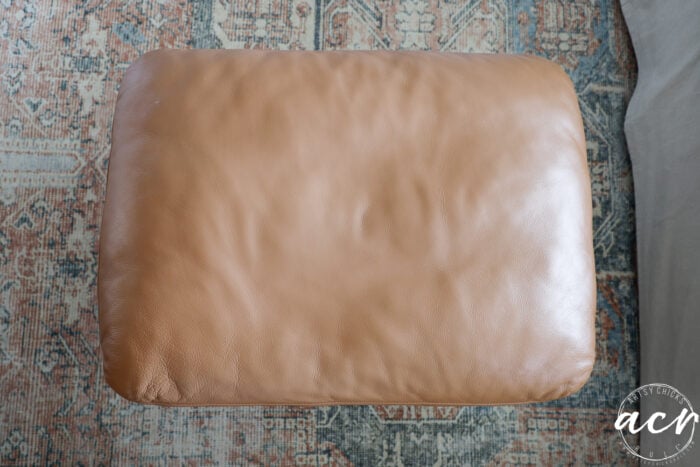 Up close of the tacks and feet.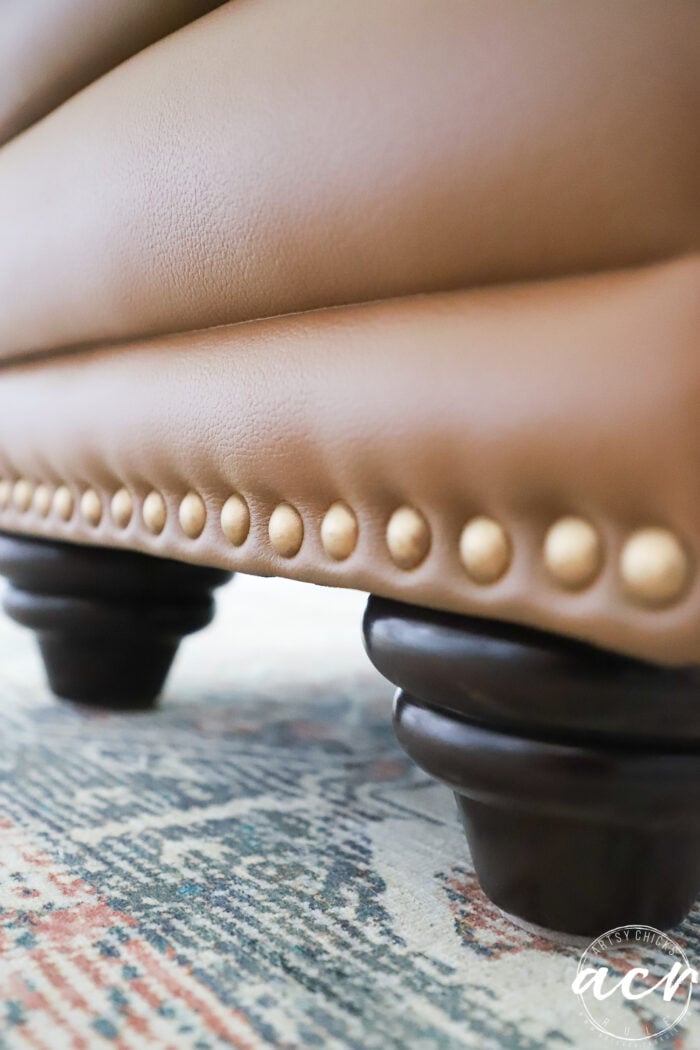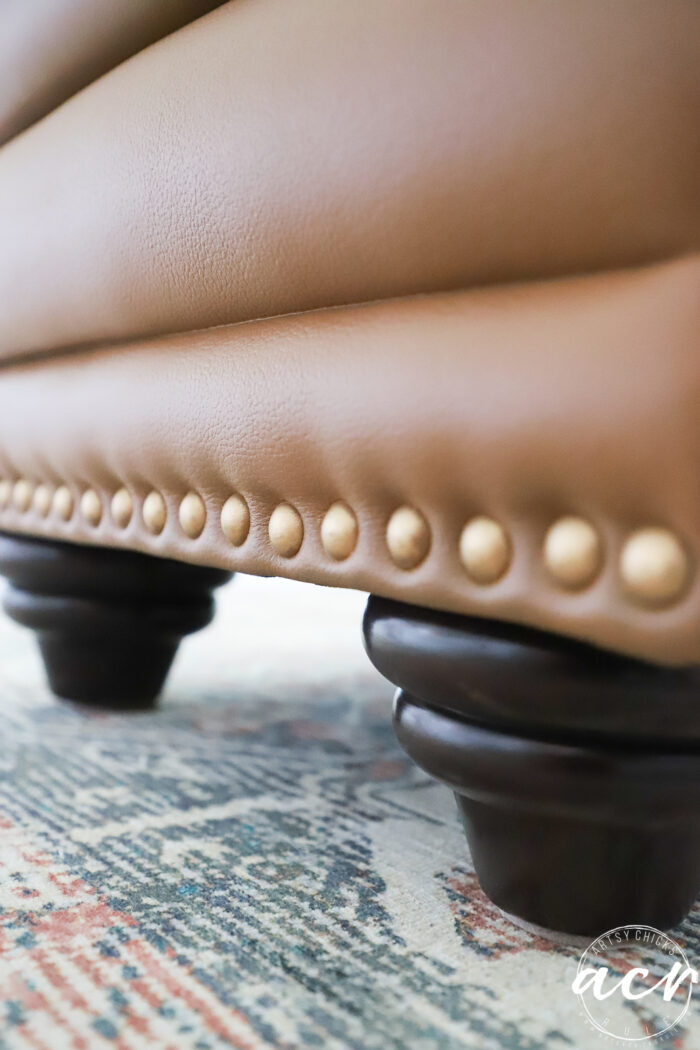 And that cutie, Ryder, begging to come in here where I'm at.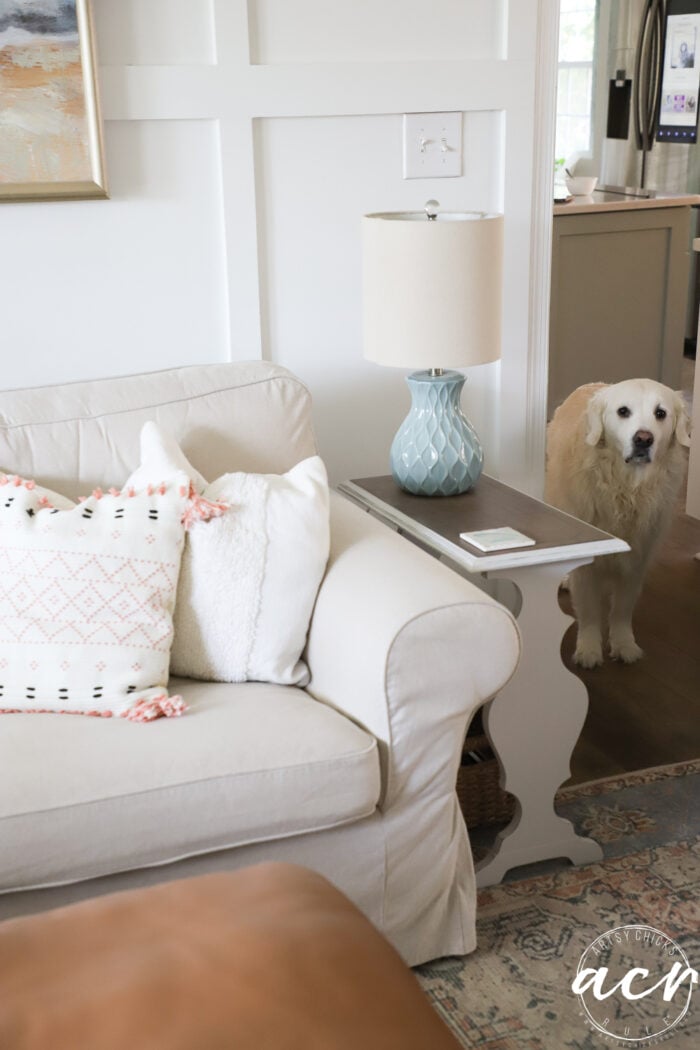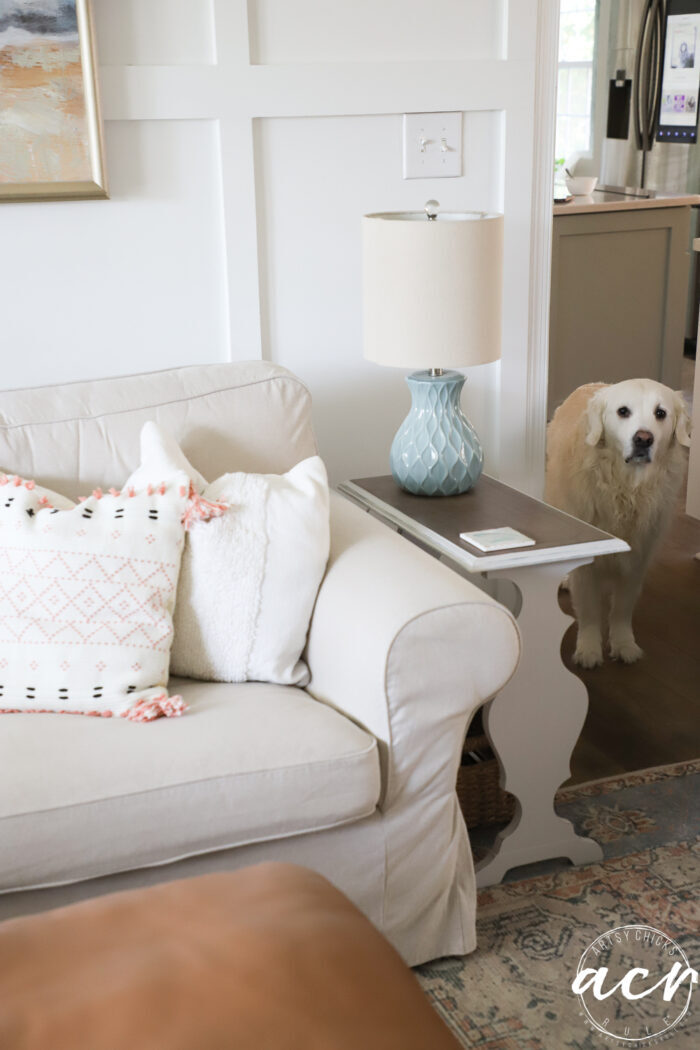 Oh, I give up, Mom, I'll just wait here.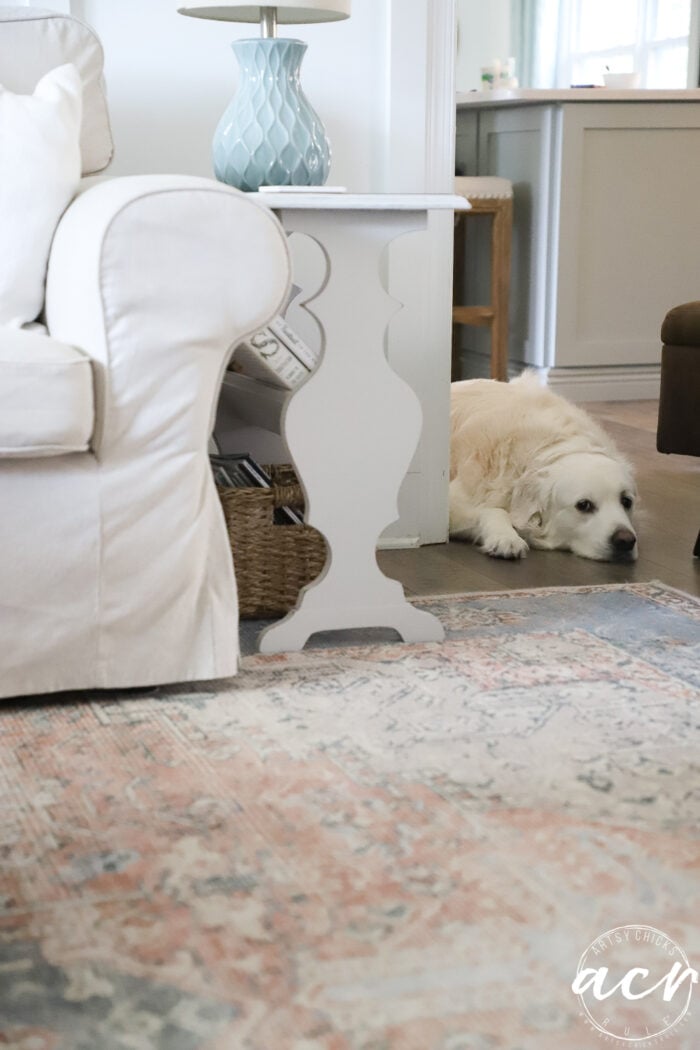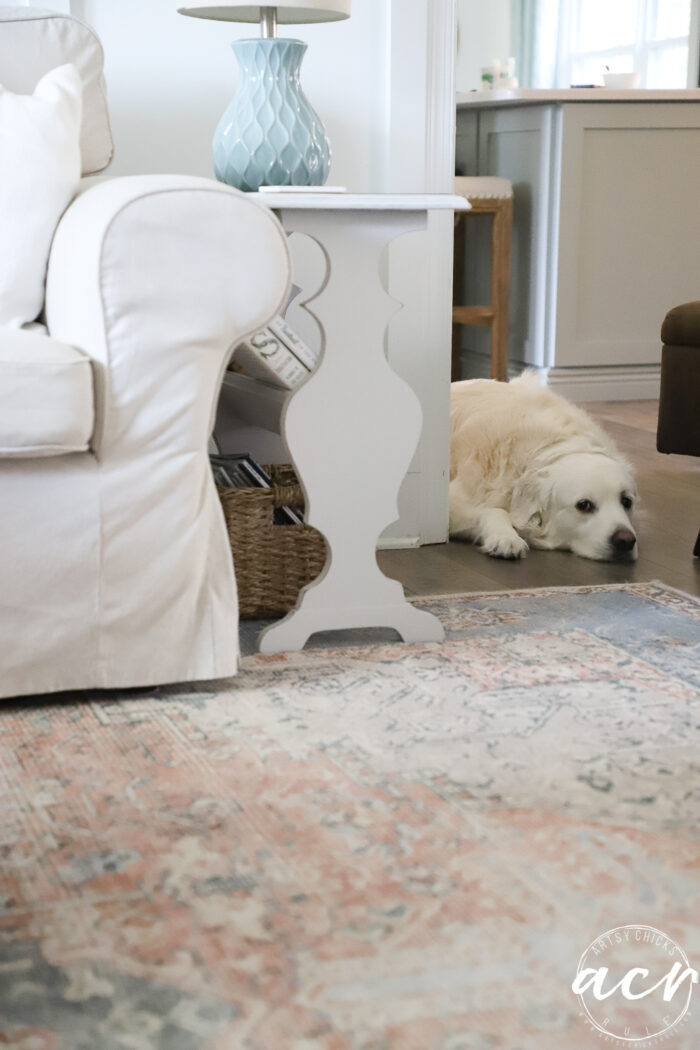 He's the best boy.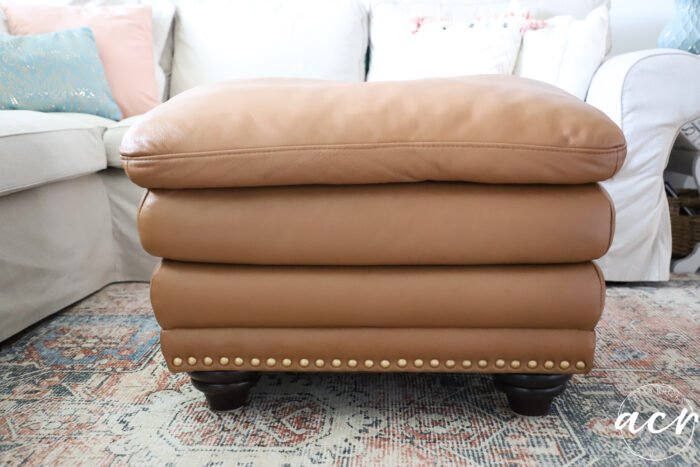 Isn't she a beauty now?? I sure think so!
I LOVE this color leather. But you could also do brown, red, black, etc.
Whatever your heart desires!
Think you'd give painting leather a try???
OH! I also meant to show you my shoes!
Before I found the ottoman, I actually did go ahead and try it on a pair of my own shoes. They were leather but not a color I loved so they didn't get worn much in the last few years of owning them. So I thought, I'll give it a go!
Here they are "before"… (well one of them, not sure why I didn't photograph both lol)
See, it's just a very pale beige color that didn't go with much. You'd think so but not really.
The color I wanted at the time (Cognac-ish) was out of stock so I settled for these.
Well, I was determined to make them that color! And I did…and I'm in love!
So I mixed up a small bit of color and came up with this…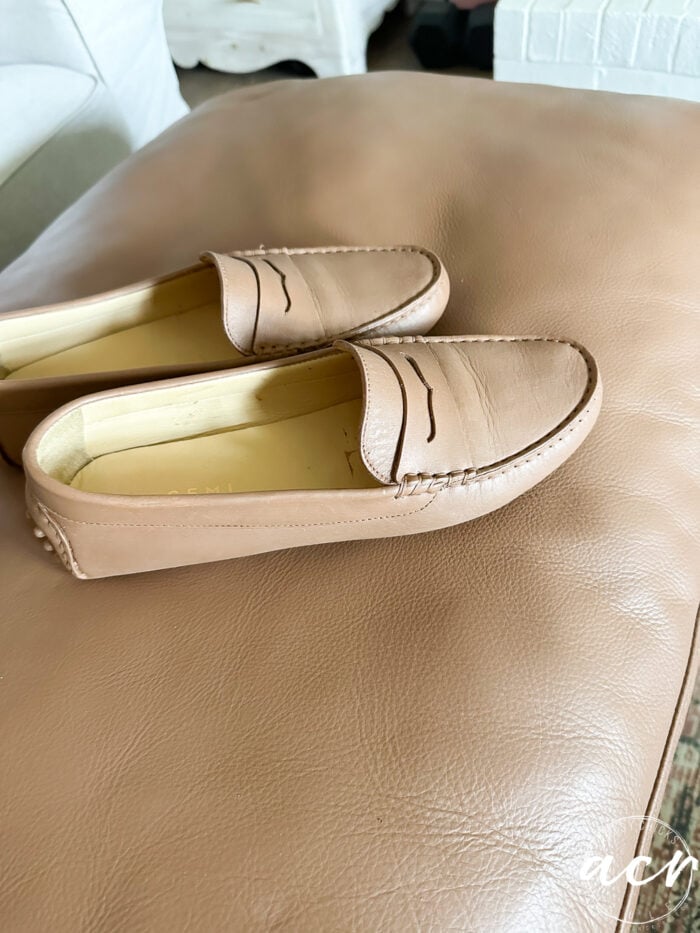 Funnily enough, I did not measure anything when mixing that first small batch of color. But when looking at the two mixes (the ottoman and shoes) they look almost identical!! Too funny.
Aren't they so pretty now?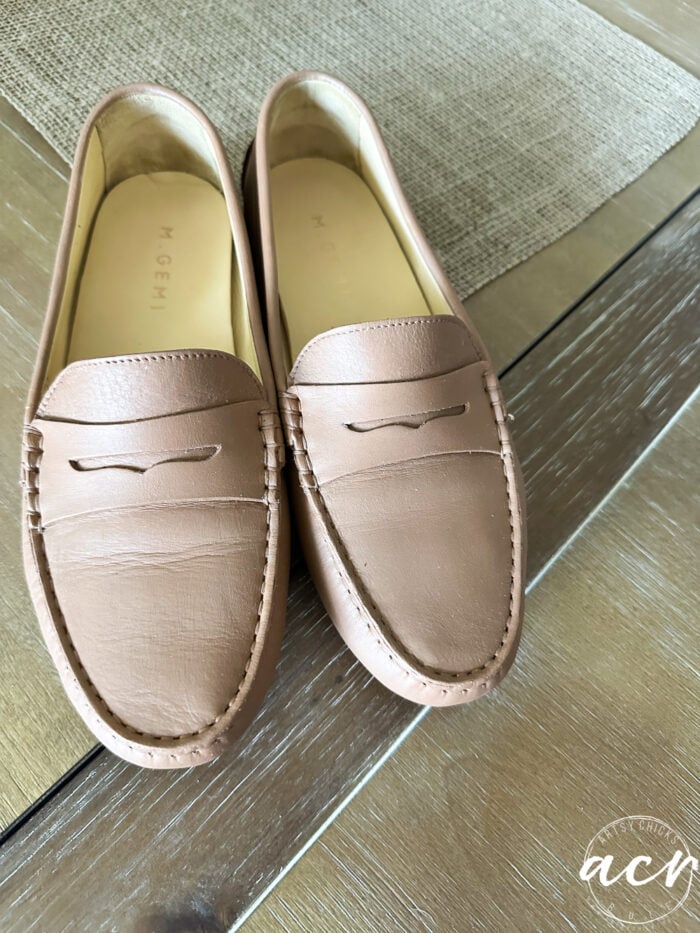 A Final Note:
If you have fake leather, "pleather" or vinyl, just know that yes, it can also be painted with Fusion Mineral Paint, however, you may run into a couple of challenges (that can be overcome). One, some vinyl products may resist the paint. If you see the paint bead up, then you will need something like Ultra Grip underneath before painting.
Also, sometimes after painting faux leather, you can have a sticky finish. If you do, you can add a coat of Tough Coat Topcoat. That should alleviate the issue.
Now, those are recommendations I have read, not what I have personally done as of yet. I think I will find a few different things done in various faux leather/vinyl just to see how it goes. I will post about it here when I do! Stay tuned.
……………………………………………………………………………………..
I'm just thrilled with this process. I can not praise it (and the paint) enough.
You all know how I am…lol…I am wanting to paint all of the leather things now!!
Nothing is safe! ;)
PIN it to save it!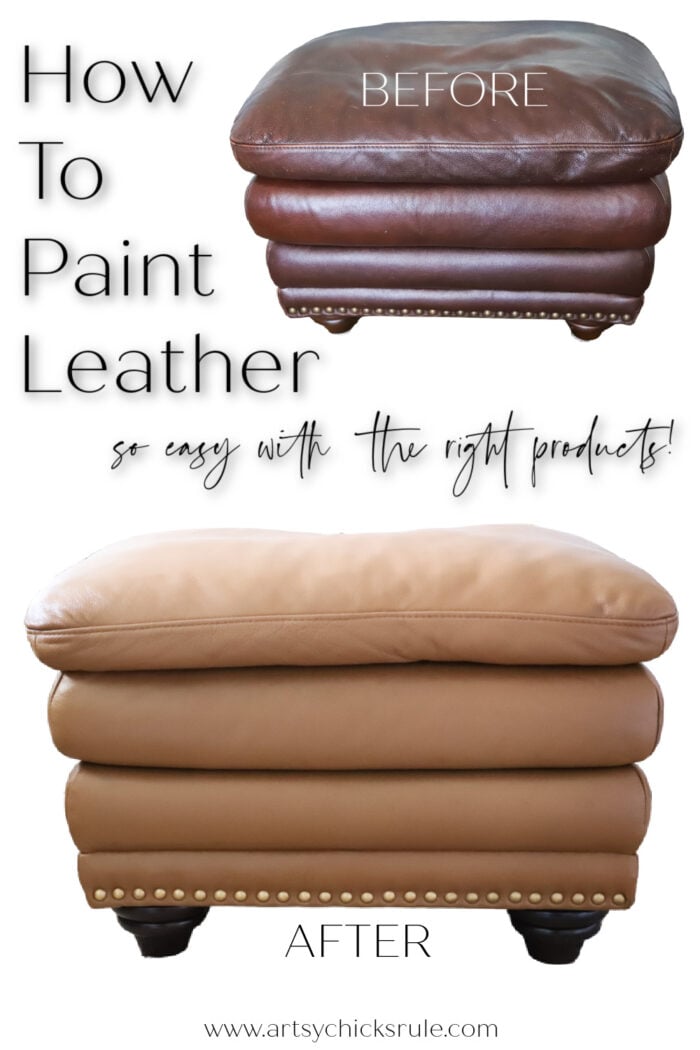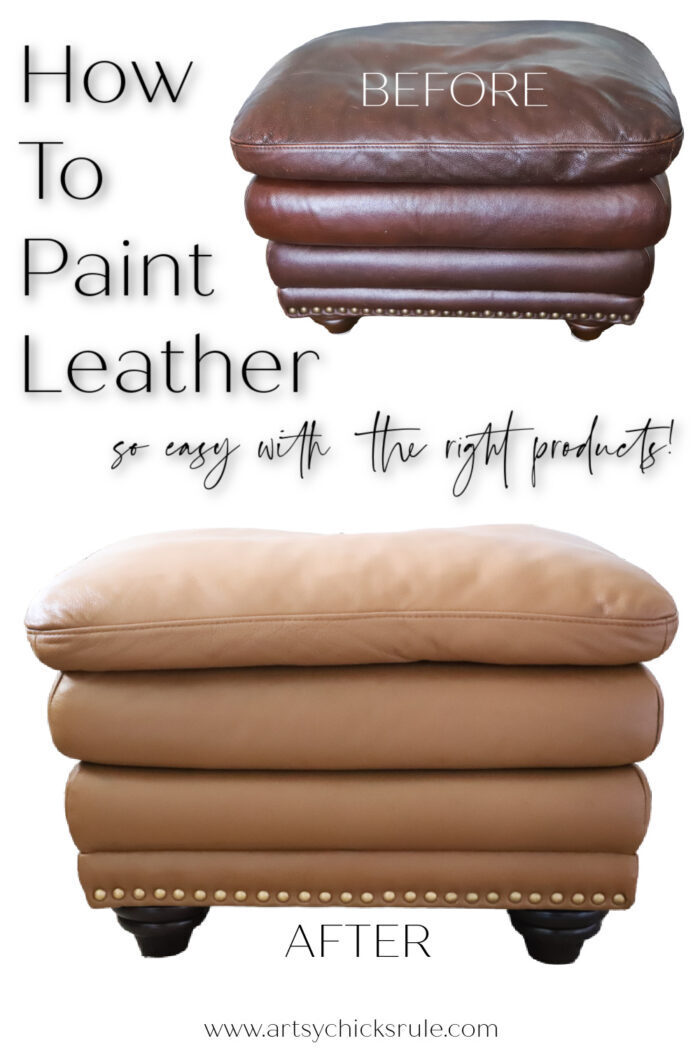 Think you would give this a try? I've seen full leather furniture sets done like this and they are amazing! Let me know if you try it!
See you next time with this furniture makeover!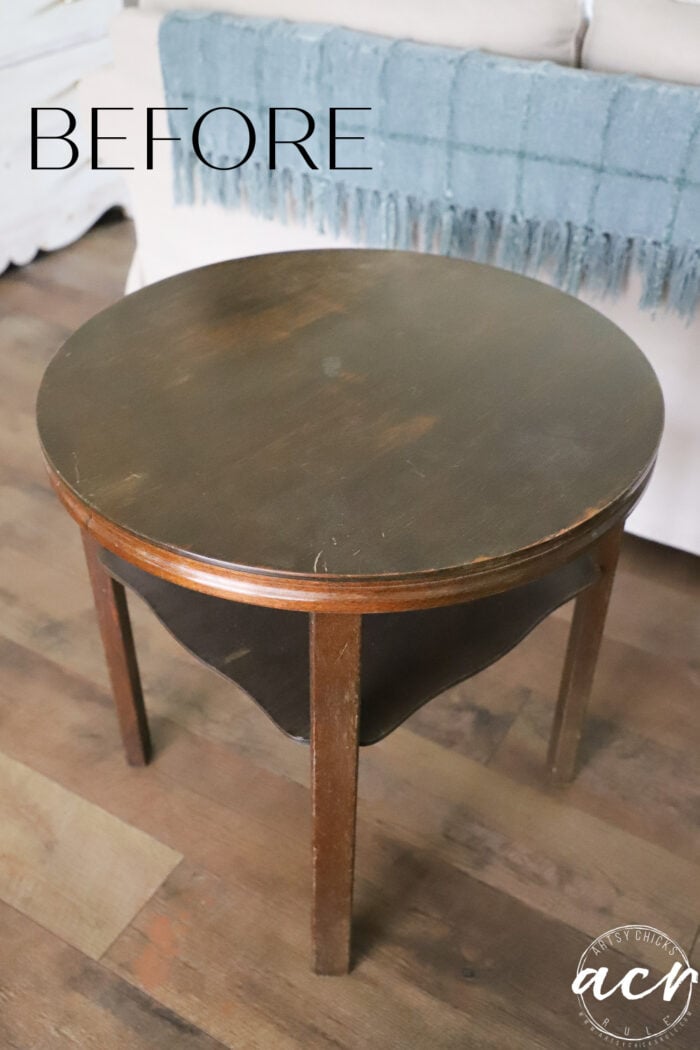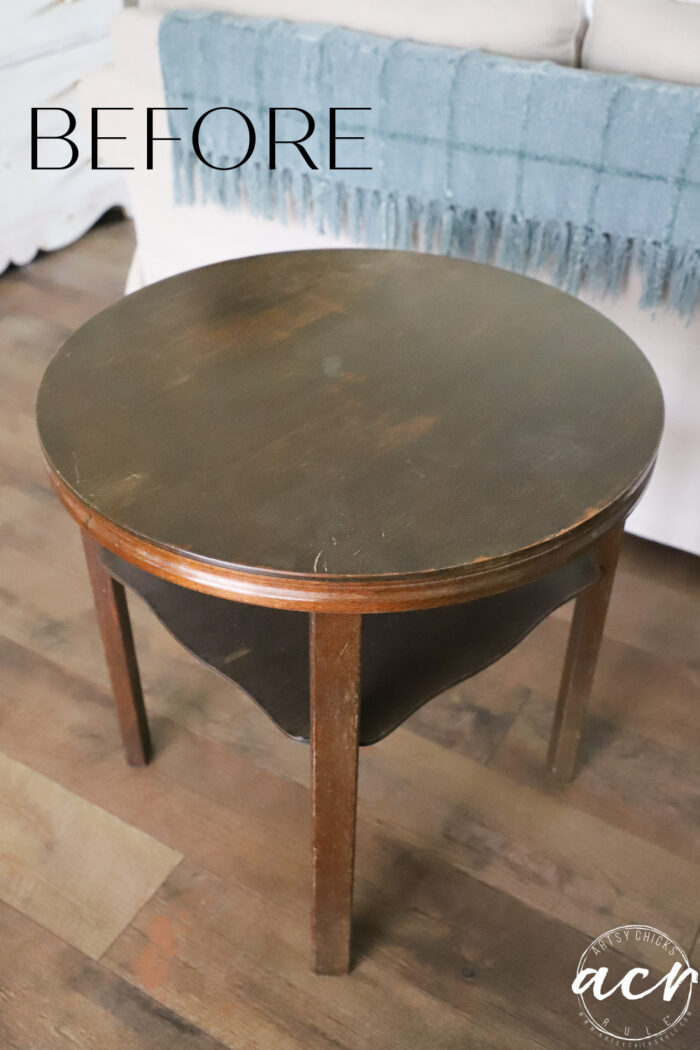 UPDATE!! Go see it here now!!
xoxo