Pretty Blue and White Chair Makeover
This post may contain affiliate links. Please see disclosures here.
A little paint and some really pretty blue and white fabric creates a stunning result on this chair makeover!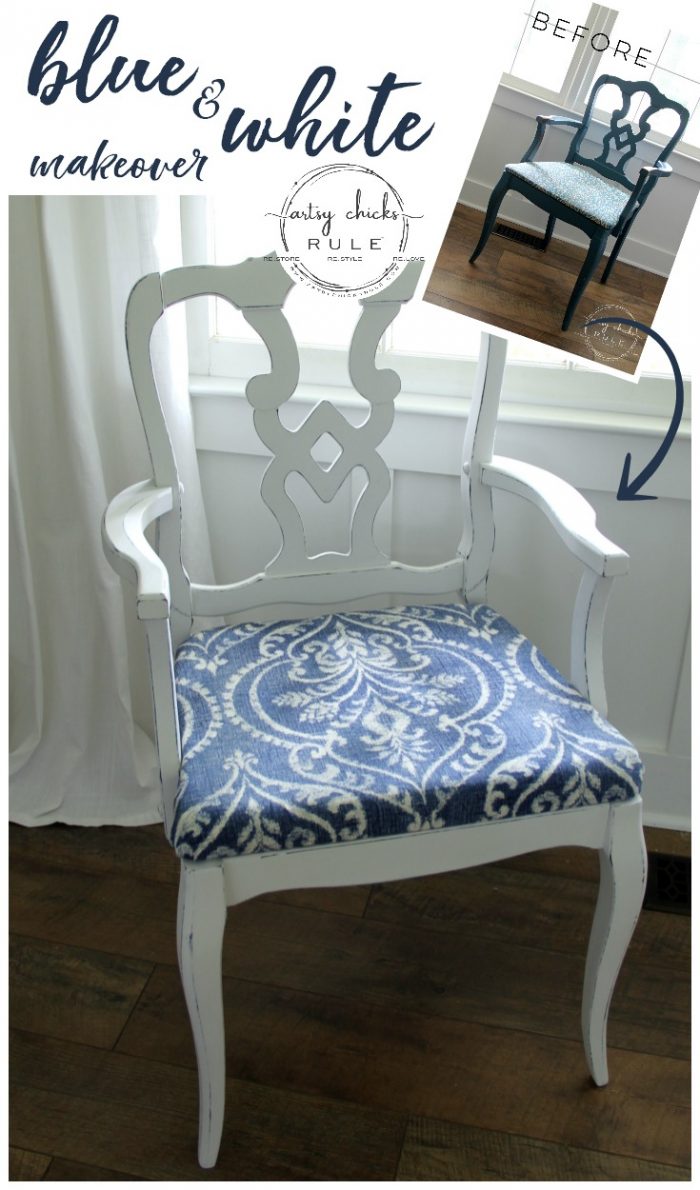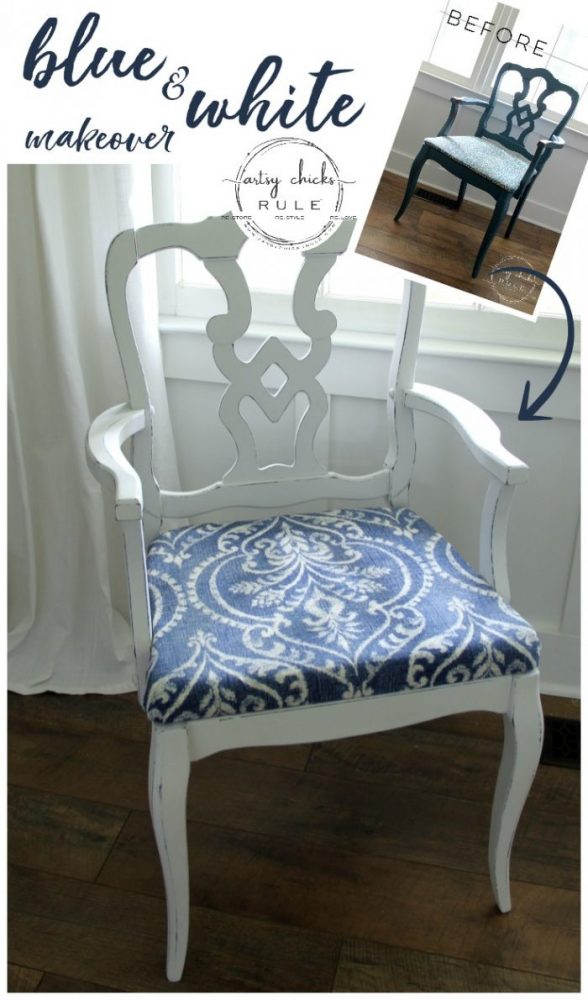 Hey friends!
It's that favorite day of the month again.
Trash to Treasure Transformation Tuesday with my friends.
If you are new around here, my friends and I get together every month to share "trash" we've turned into treasures.
You can see more trash to treasure makeovers, here >>> Trash to Treasure Archive
(be sure to scroll all the way to the bottom to see their makeovers!!)
This month I'm sharing this old chair makeover…..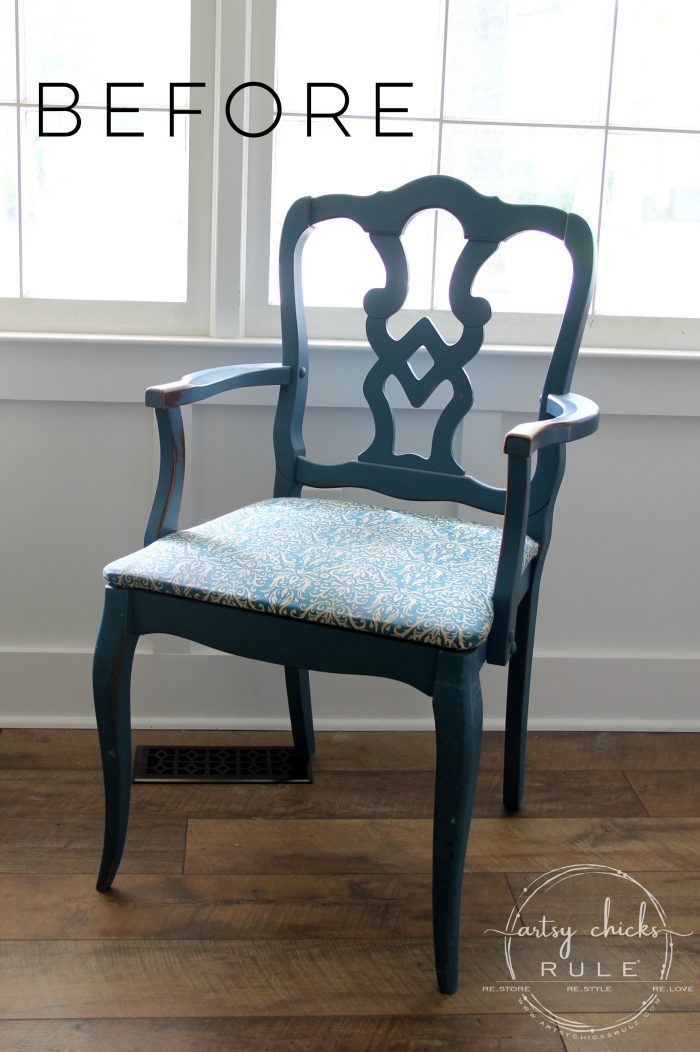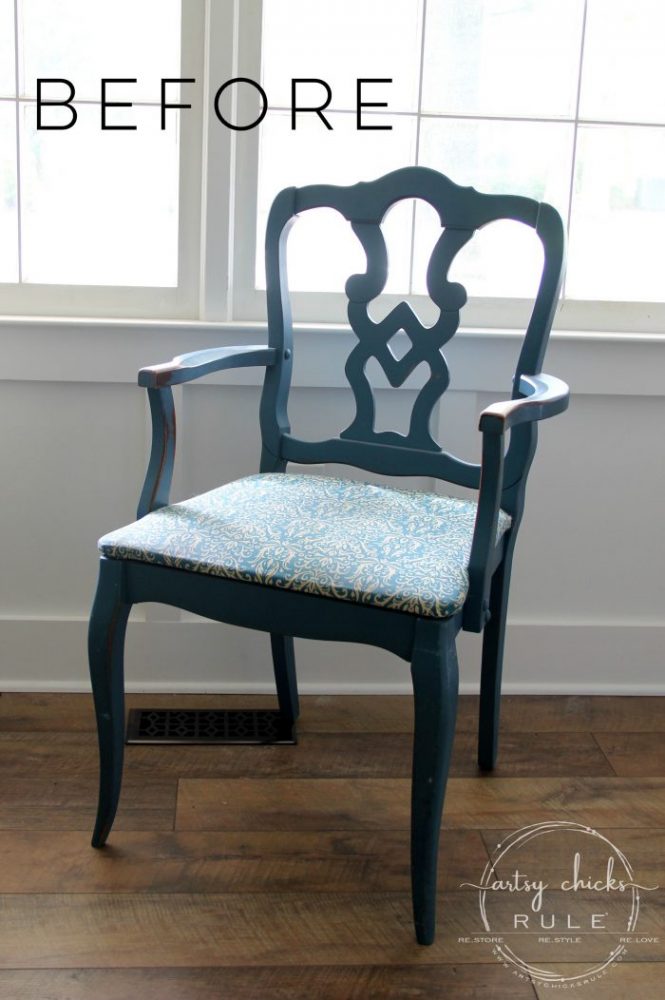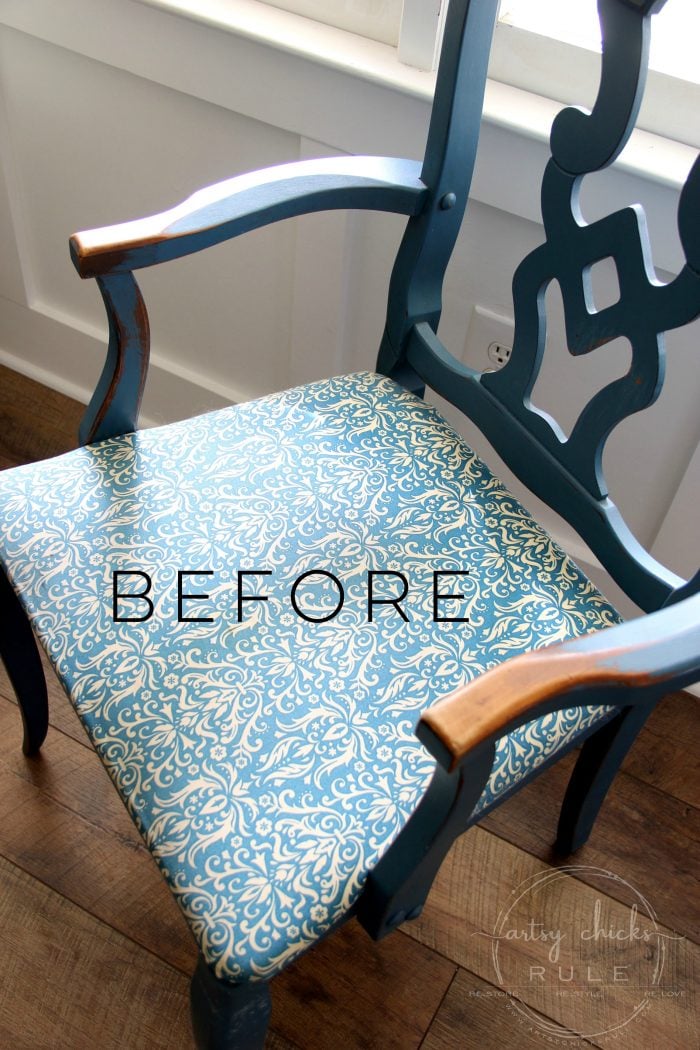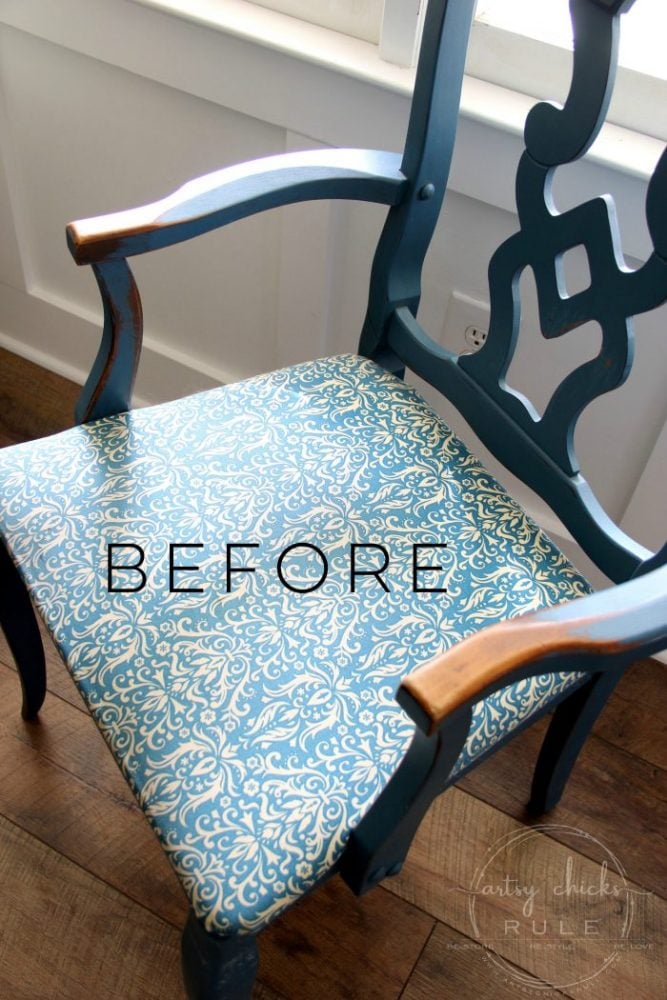 So, let me first say that I'm not being totally truthful when I call those "befores".
They are for this since I'm giving it another makeover BUT that is actually the first makeover I gave this little chair.
It's a thrift store chair (I think I paid $5) that I gave a makeover to probably 7-8 years ago now.
As you can see, it has been well-loved…. and used. haha
My husband used it at the desk in the study for years and wore the paint (and stain!) off the arms.
That's pretty Aubusson Blue paint, by the way.
Want to see how it really started before the first chair makeover???
Check out this post here >>> A Collection of Before and Afters
Okay, now let's talk about this chair makeover. I'm excited to tell you all about it!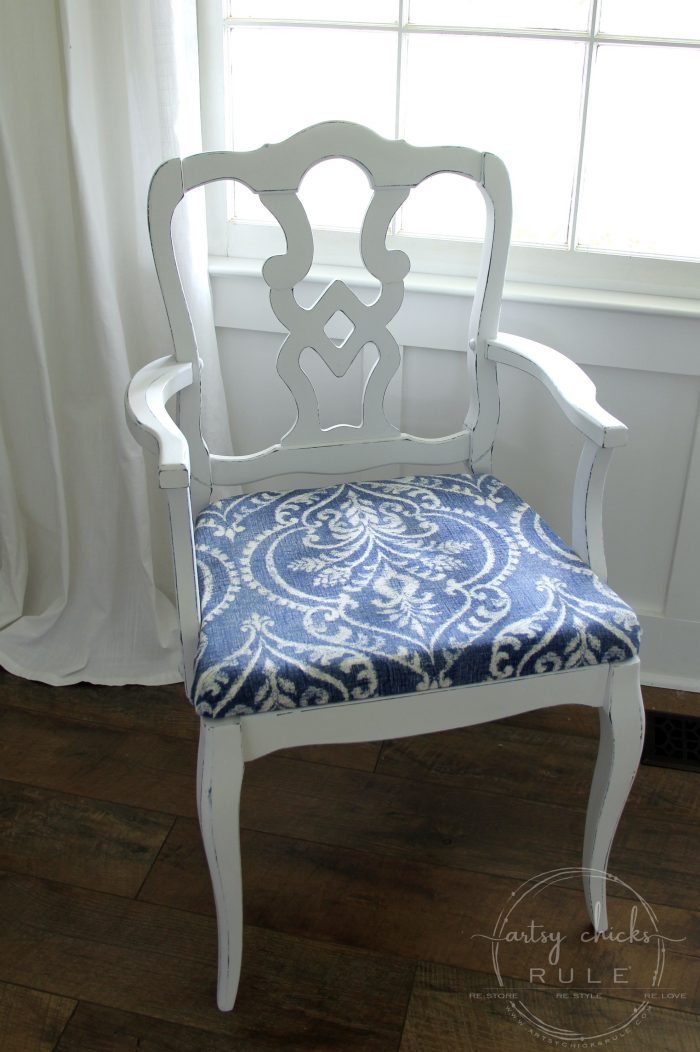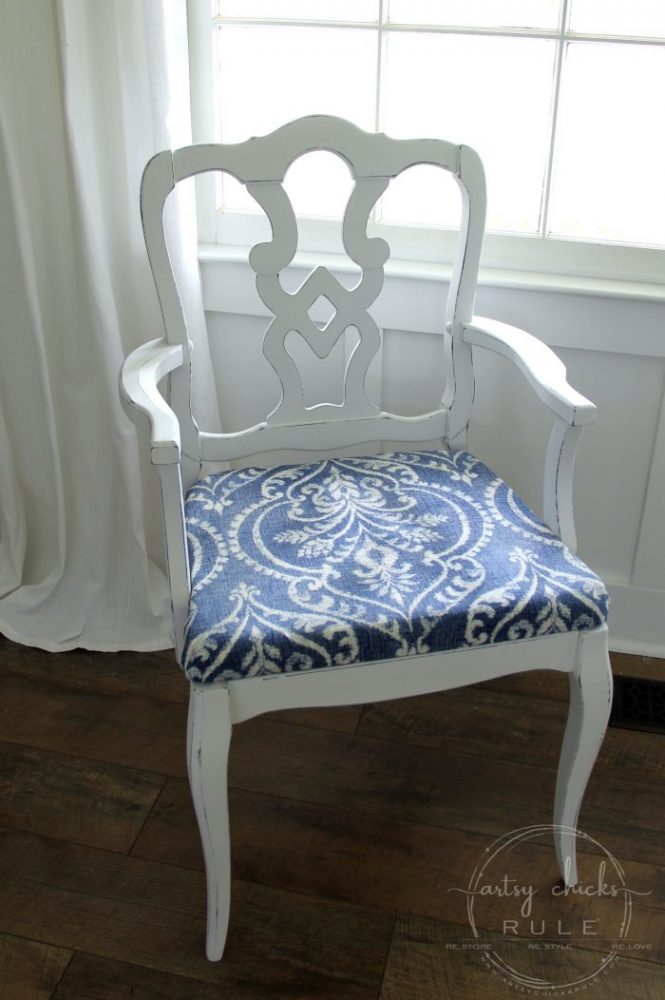 The last time I gave this a makeover, I added the fabric right over the vinyl (pleather?) seat there was that.
This time I decided to take it all off and start from scratch.
Who knew there were 4 layers??!! There were.
2 layers of the off-white vinyl (you can see it in that post I linked above), this green fabric layer…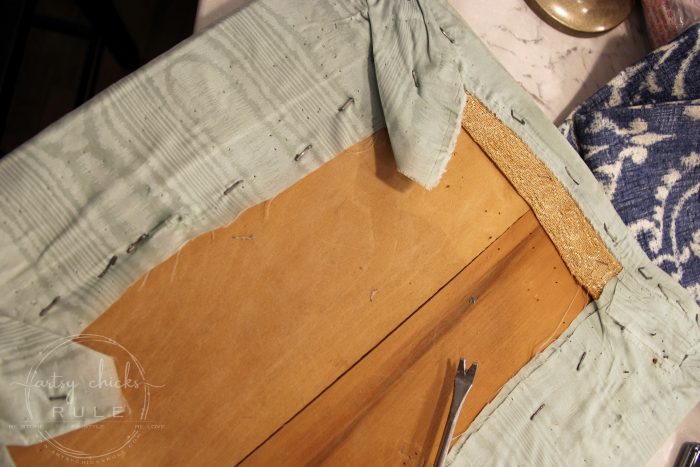 …and this original gold layer…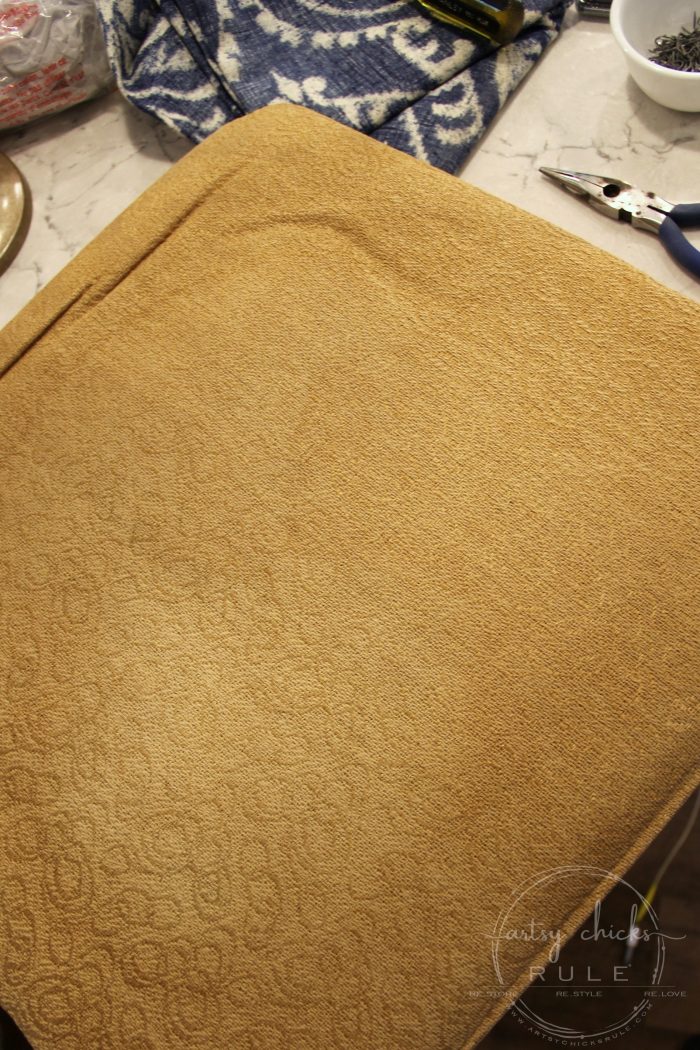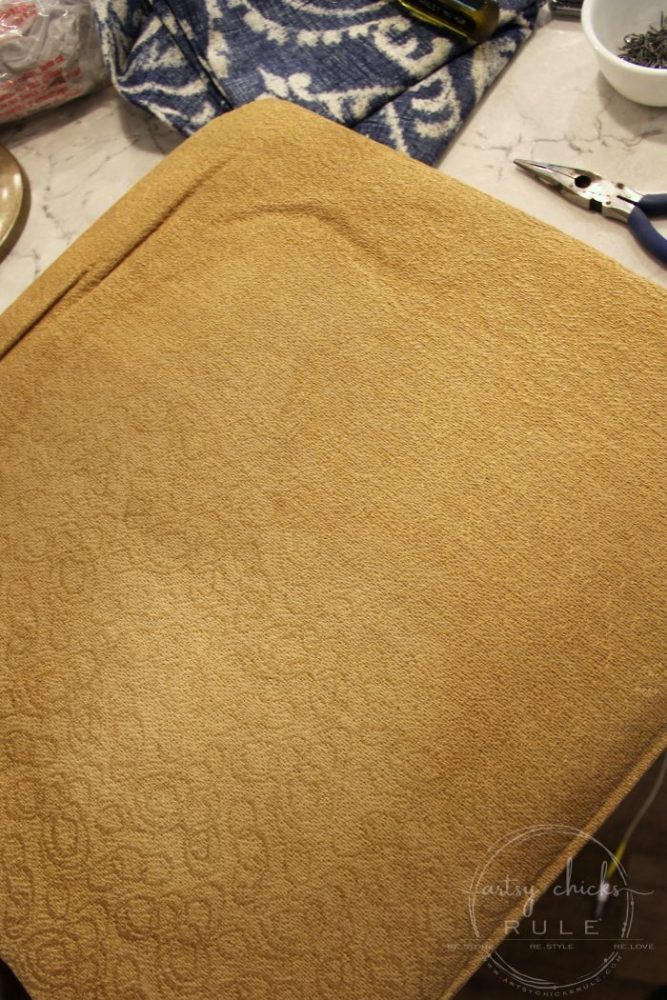 Removing all those staples is not fun. But using that handy staple lifter I have pictured above made it so much easier!
This one is similar to mine.
And the icky, old insides.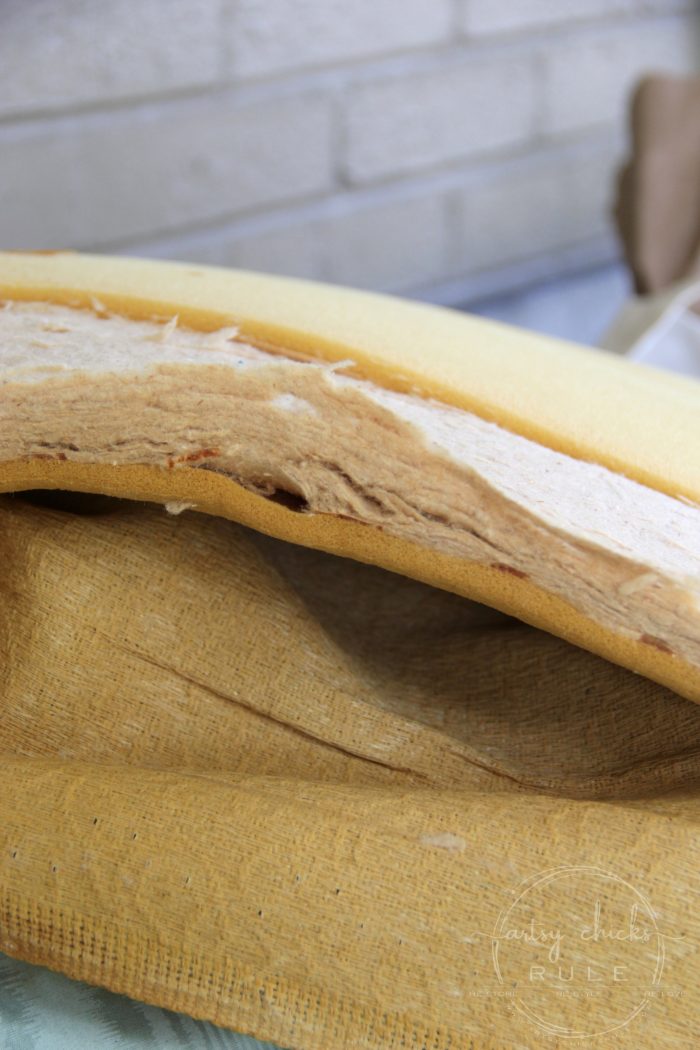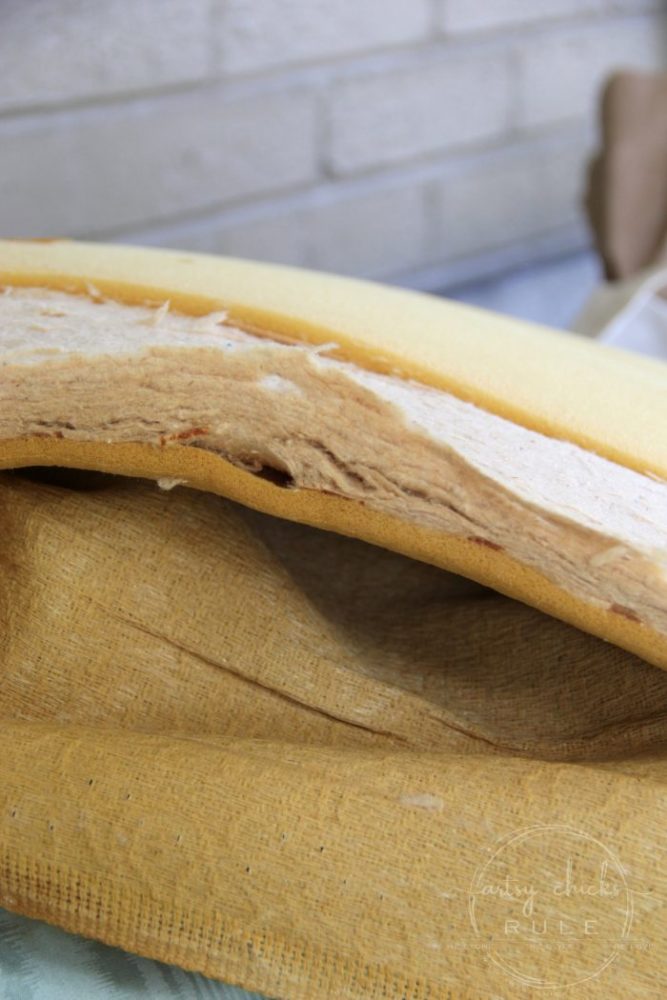 Long past time for it to go! Yuck.
So it was going to need all-new foam, too.
My husband opened up a new office and had bunches of new furniture delivered. Some of it was packaged with this awesome foam.
He brought it all home to me without even asking me about it. He is definitely the husband of a blogger, crafty, artsy girl!! lol
Do you know how expensive any of that foam stuff is? It's pricey.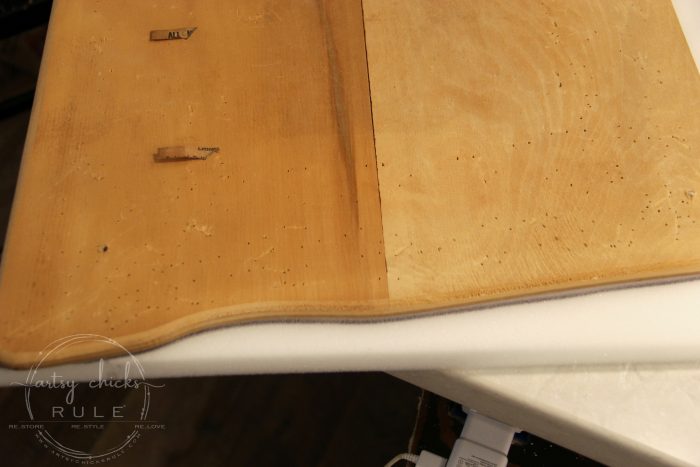 I laid the seat board on it and used a black marker to trace around it so I could cut it to fit perfectly.
I ended up doing 2 layers so it'd be nice and cushion-y.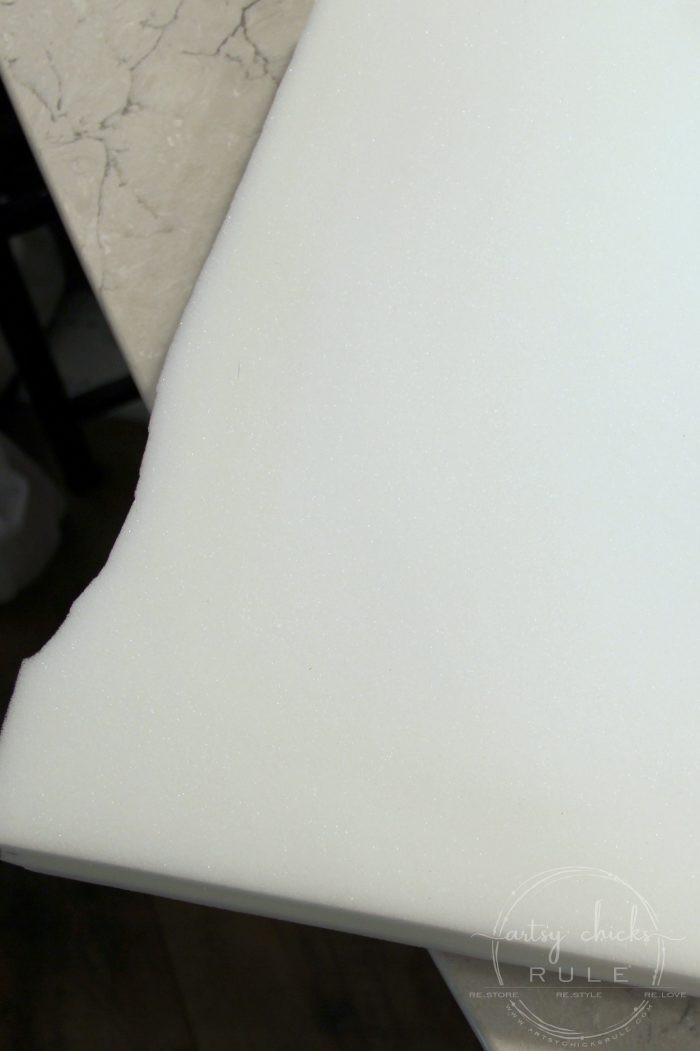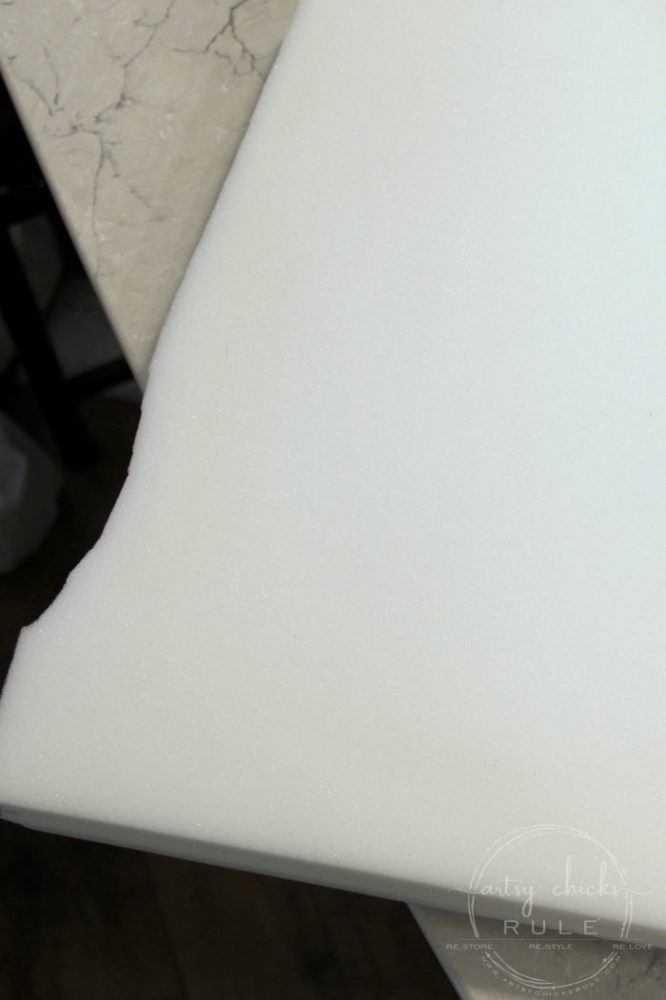 Free is awesome. So happy he brought that home to me! He's a keeper.
I've had the fabric I used on this chair for a long time. I don't even remember why I bought it now.
But it was in my stash and I thought it'd be perfect for this project.
I did find it online for sale here >>> Pretty Blue and White Fabric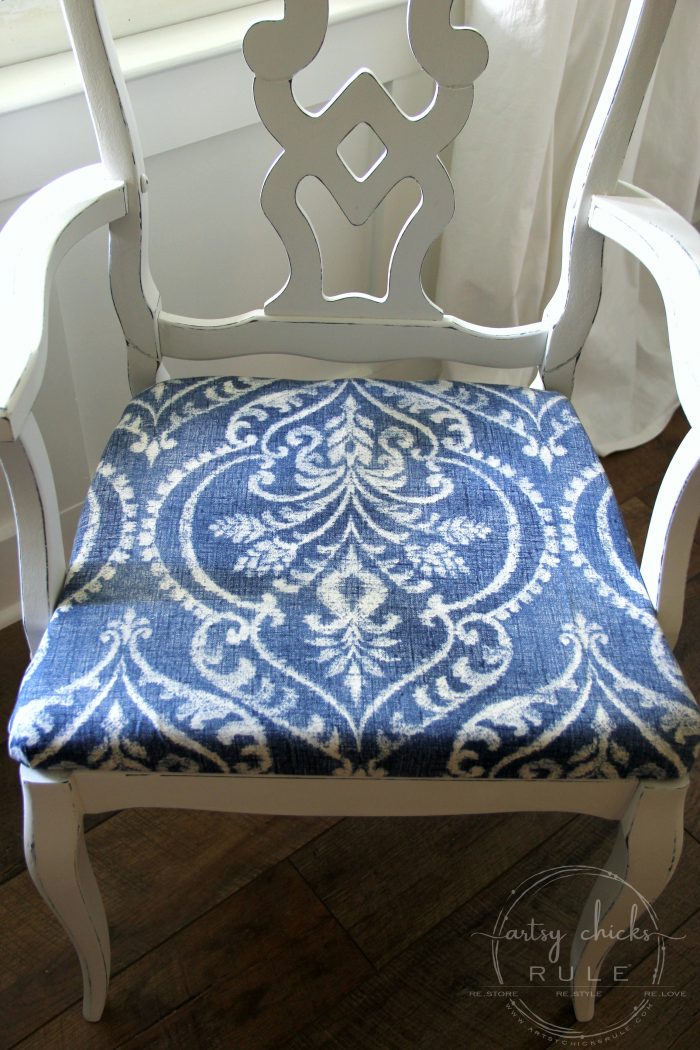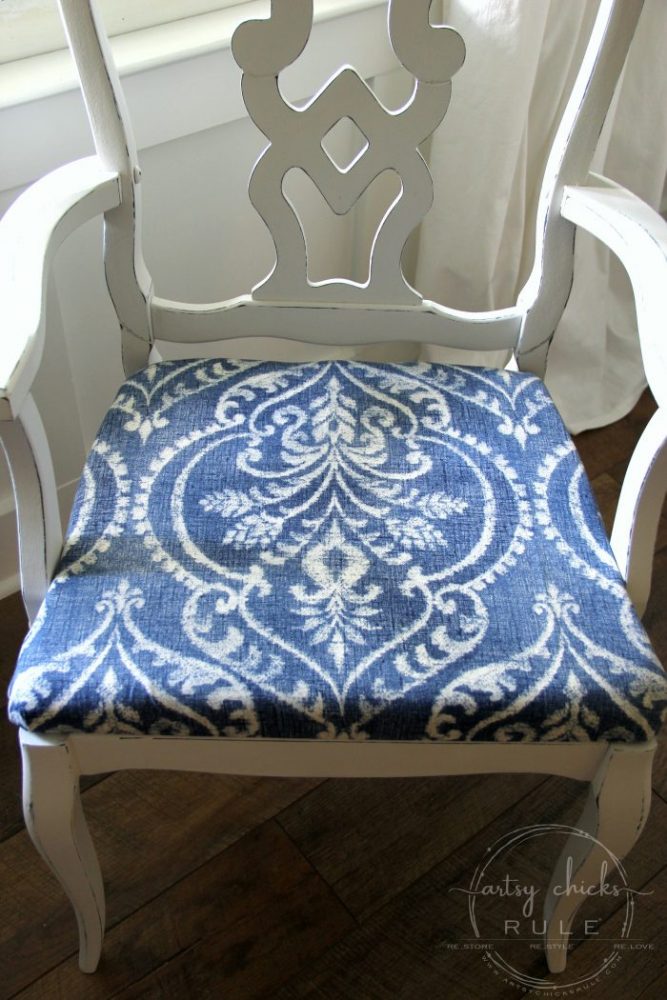 I just LOVE it! Would make beautiful curtains too. (That might be why I bought it. Who knows!)
Anyway, I did prep the chair a little by repainting some of the Aubusson Blue back onto the arms (so I could distress and pull it through after).
Plus I lightly sanded it all. (like a very quick run-over with very fine paper)
I used this white paint to repaint it.
AND my handy, dandy paint sprayer that I LOVE.
I hugely dislike painting chairs. One of my least favorite things to paint!
So using my paint sprayer makes it such an enjoyable job. I love this paint sprayer because it paints so well AND is a breeze to clean up after.
It would have taken me so much longer to paint this chair by hand and I was done in no time.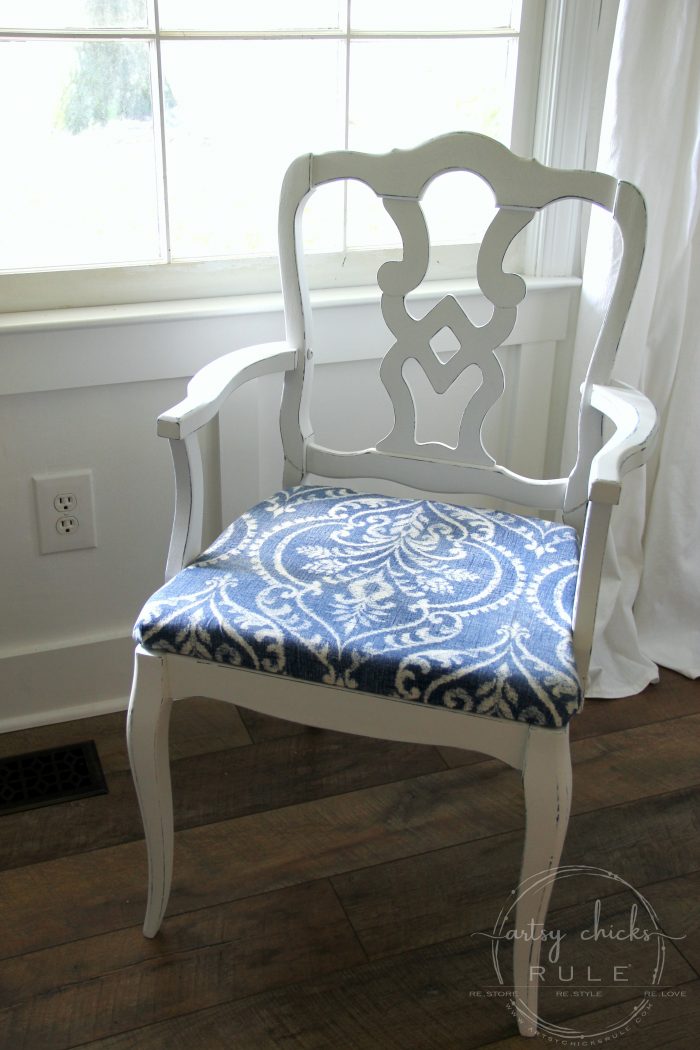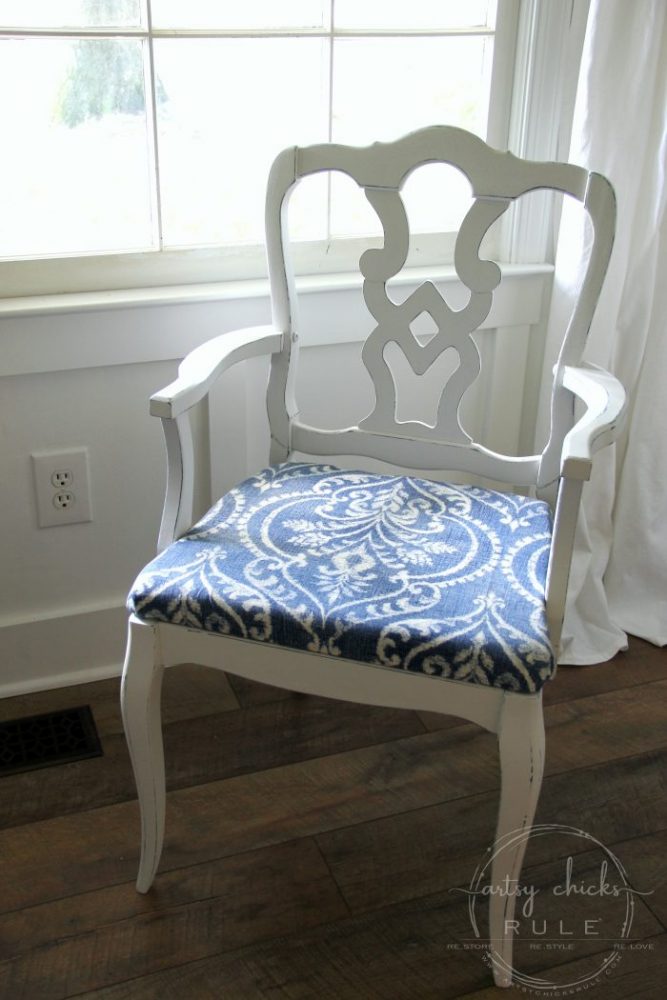 Next, I took the same very fine sandpaper to lightly sand through the white to reveal that pretty blue.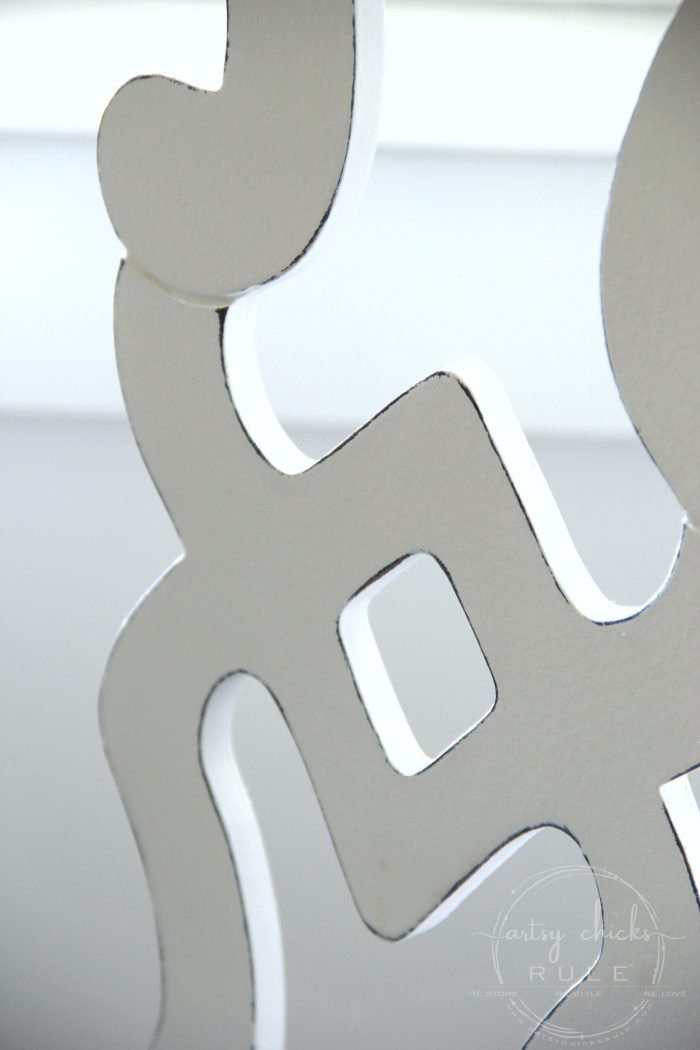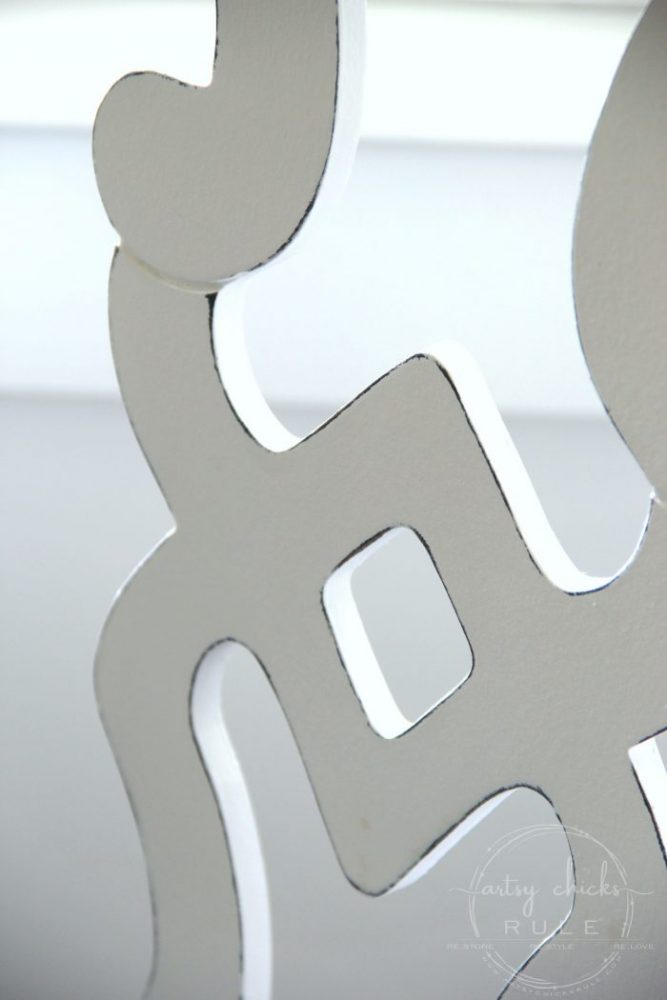 Every inch of edge or raised area…..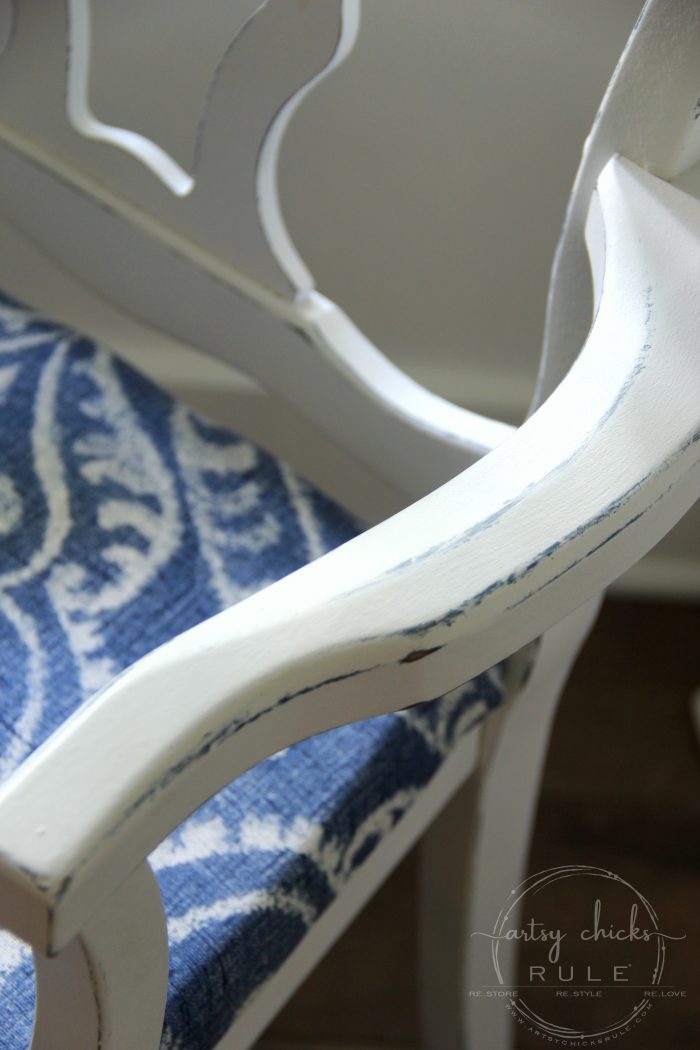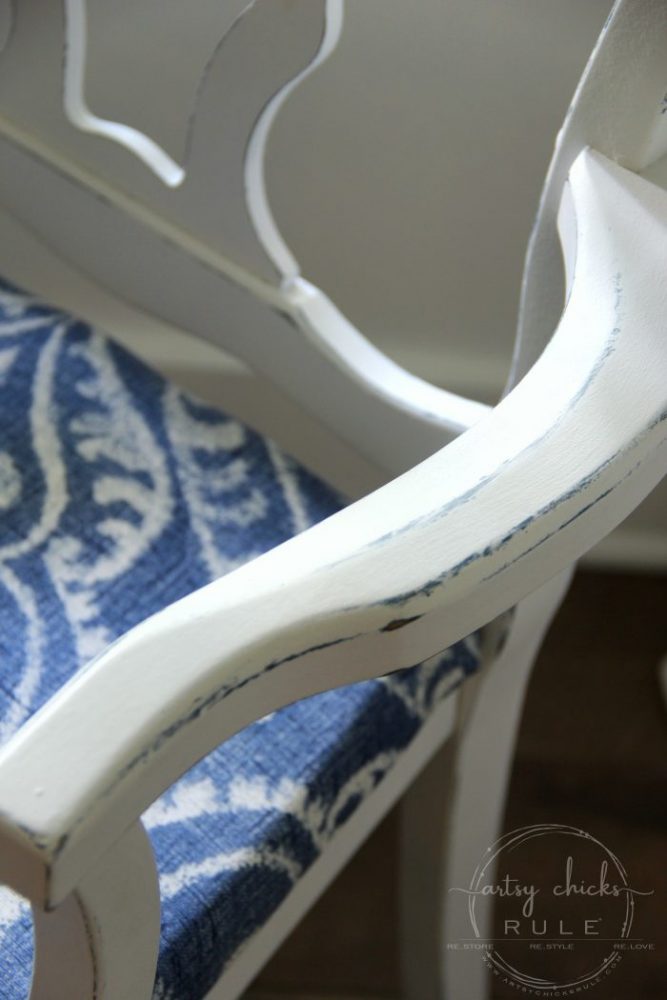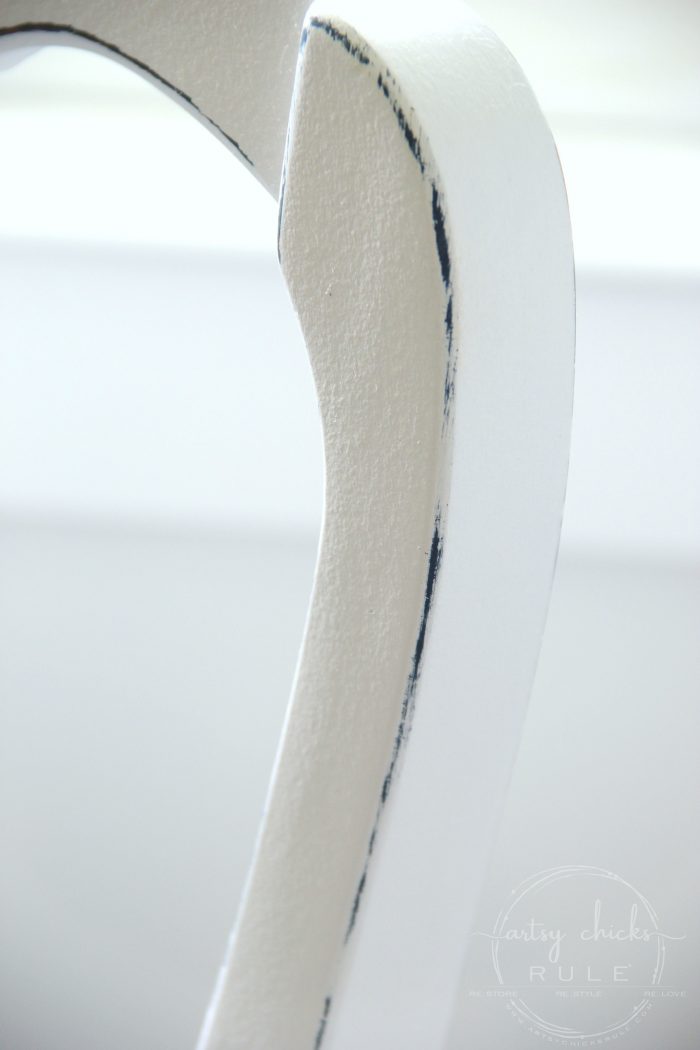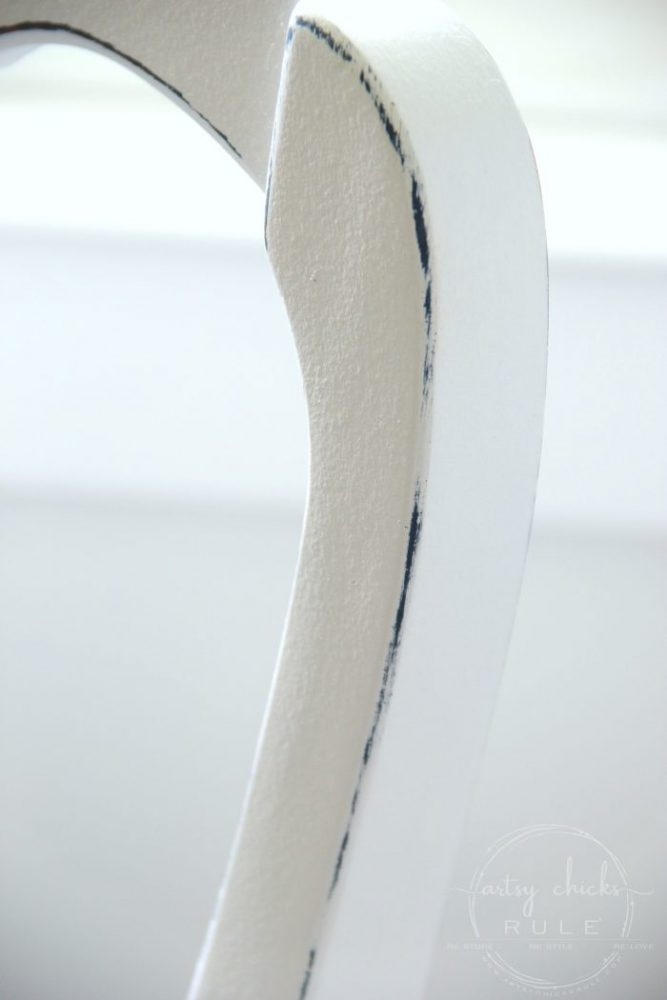 I then went back over it with clear wax.
Want to know about 26 other chalk style paints?
I've got the low down for you right here! >>> 26 Types of Chalk Style Paint For Furniture
Then I attached the seat back to the chair.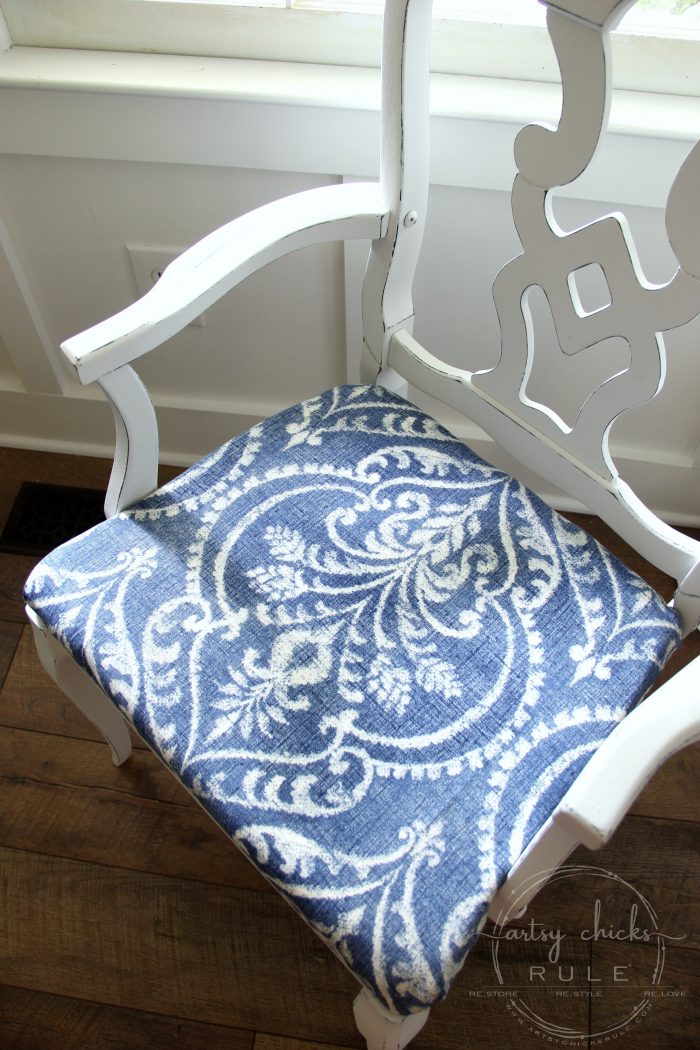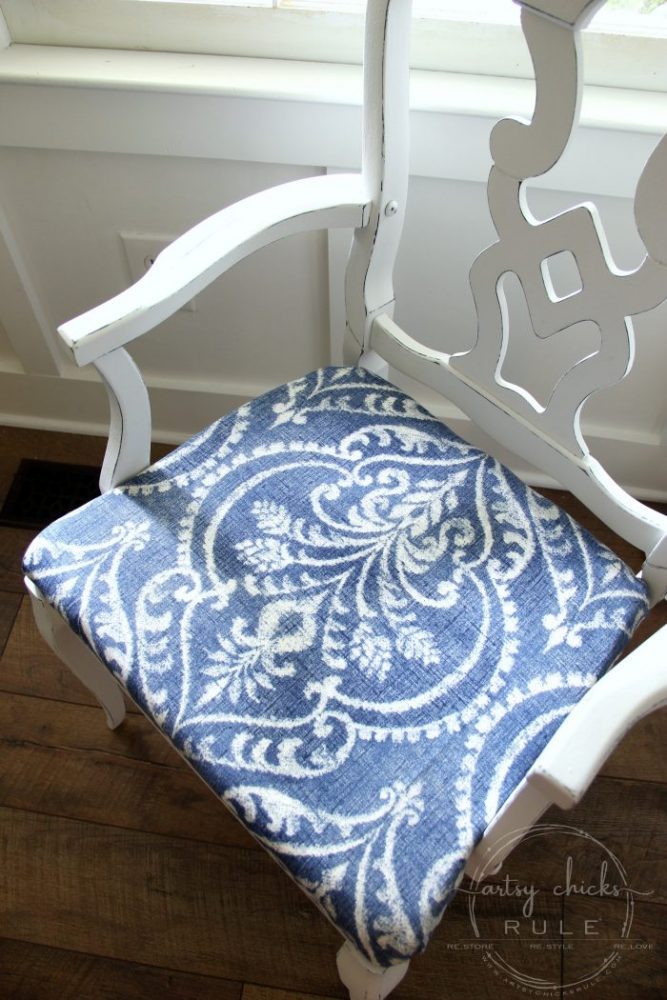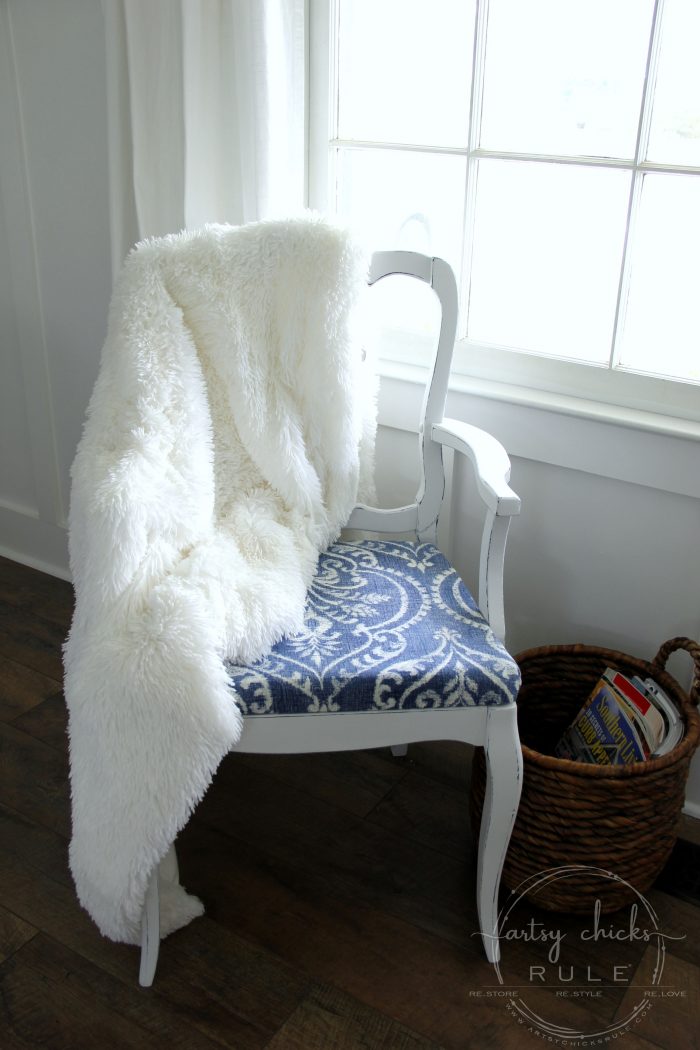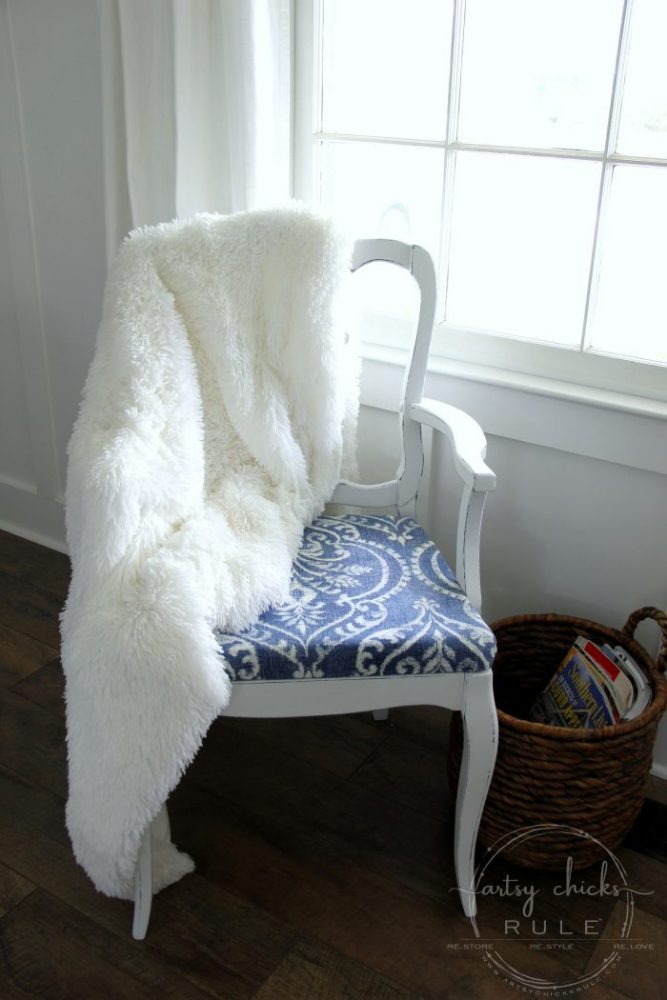 I love that throw…I just picked it up this week. It's SOOO soft and reversible!
I shared it on Instagram this weekend.
I tried to find a link for it for you guys but I think it's only available in store. It was in our newly redesigned store in the "Christmas Shop" section.
You can find the basket, here. I plan to use it for some kind of green plant, maybe a fiddle leaf fig.
But it's great for magazines or other things too.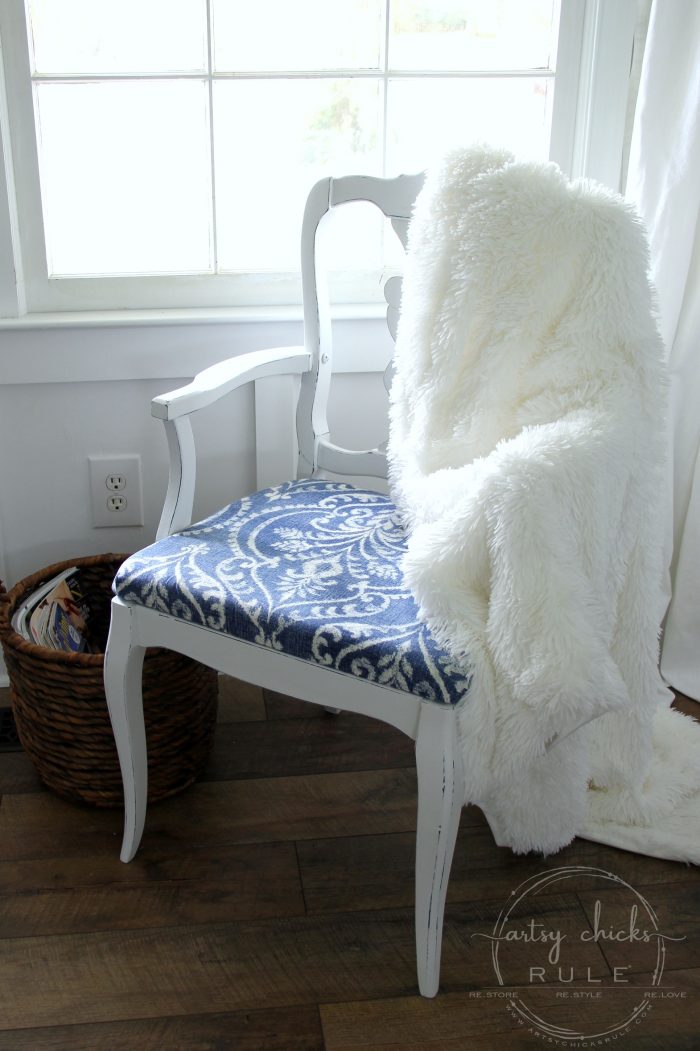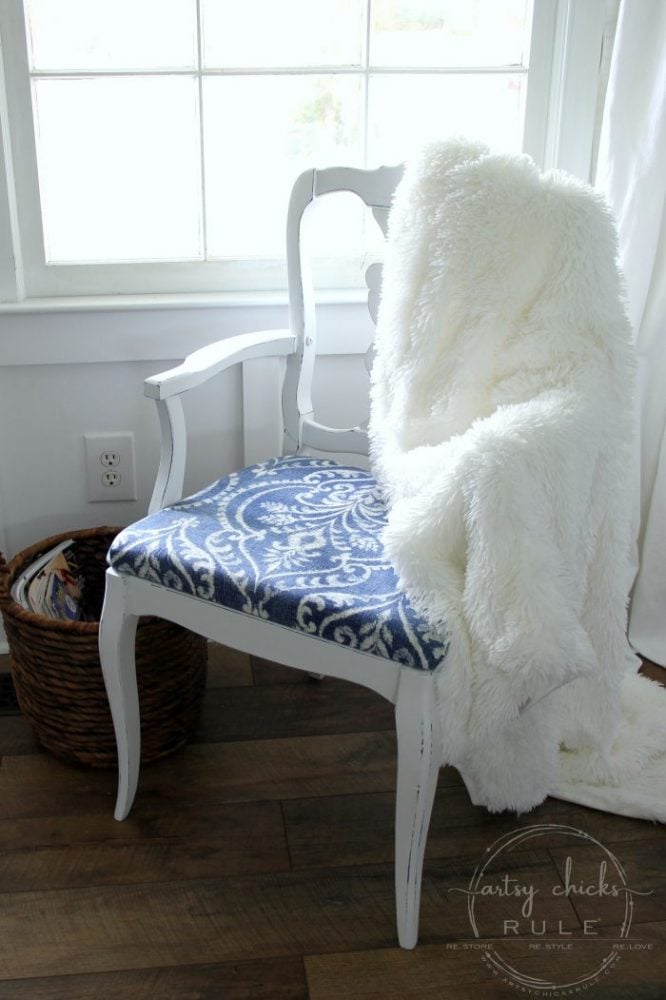 It's "shaggy" on one side and smooth and satin-y on the other.
Goes with my shaggy pillows I got a couple of years ago at Big Lots!! haha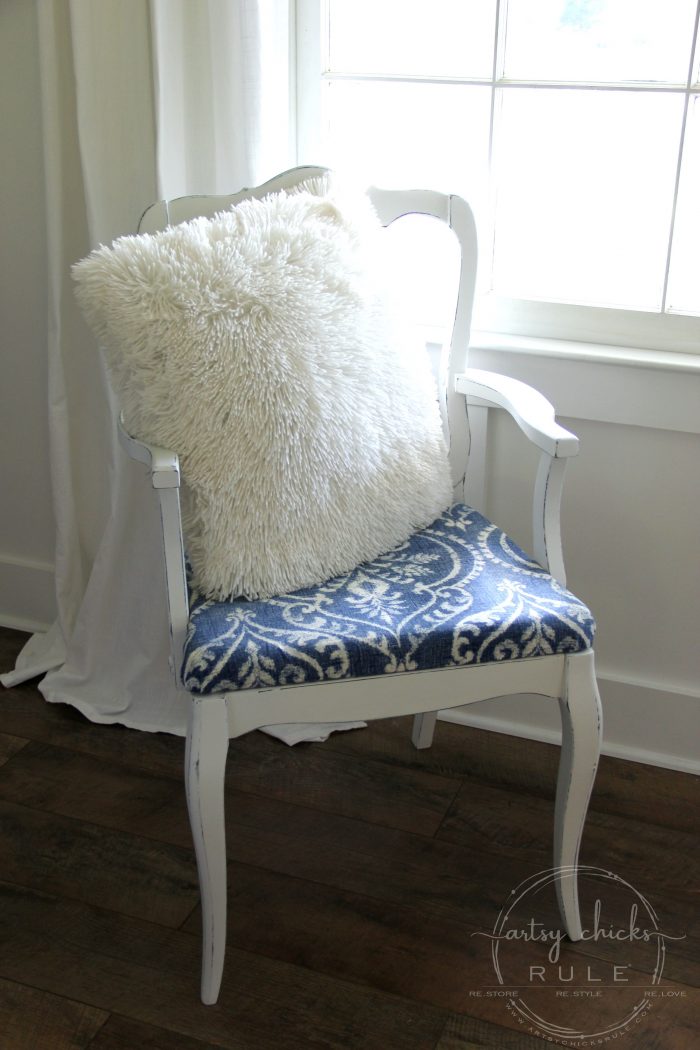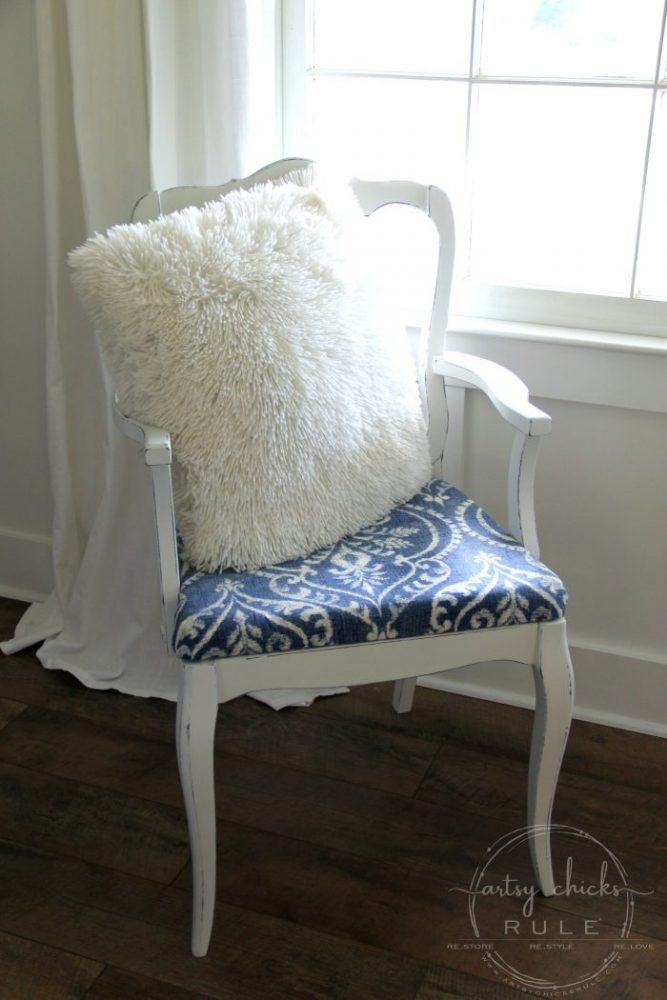 So there it is.
It's a brand new look.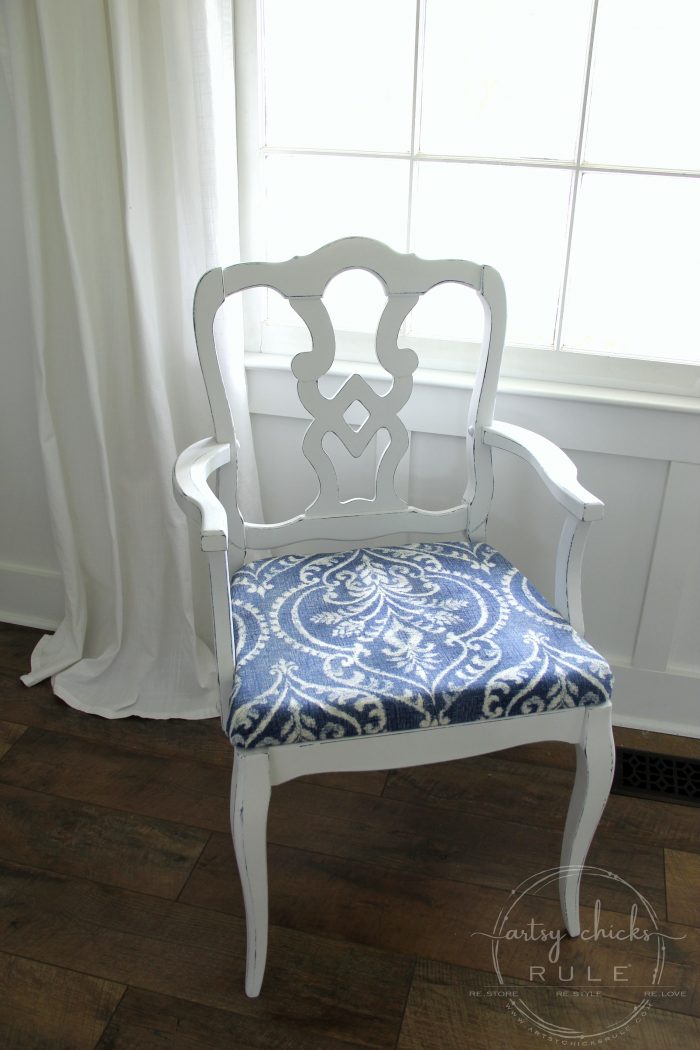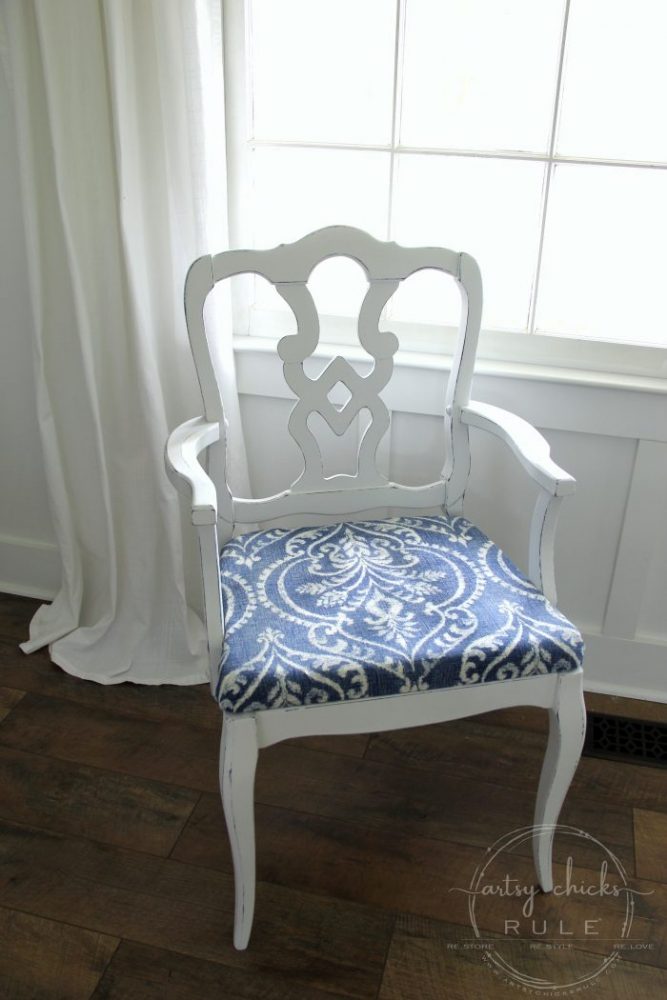 No, this one doesn't really qualify as "trash". BUT I did originally find it at the thrift store and it was looking pretty trashy lately! ;)
Now it looks like a pretty blue-and-white dream.
I'm so thrilled with this brand-new chair makeover but I haven't decided if I'll keep it or not.
Not sure where I have for it to go.
We'll see!
But it does go to show, just because you've given something a makeover already, nothing says you can't do it again.
I give things multiple makeovers at times.
Sometimes for a refresh (like this one) or sometimes for a completely new look to match any decor changes I may have.
And I'm getting ready to share something that I have done just that with…a little makeover action to one of my very favorite pieces!
Can you guess which of my pieces I gave a mini makeover to?? You'll see it soon.
PIN it to save it!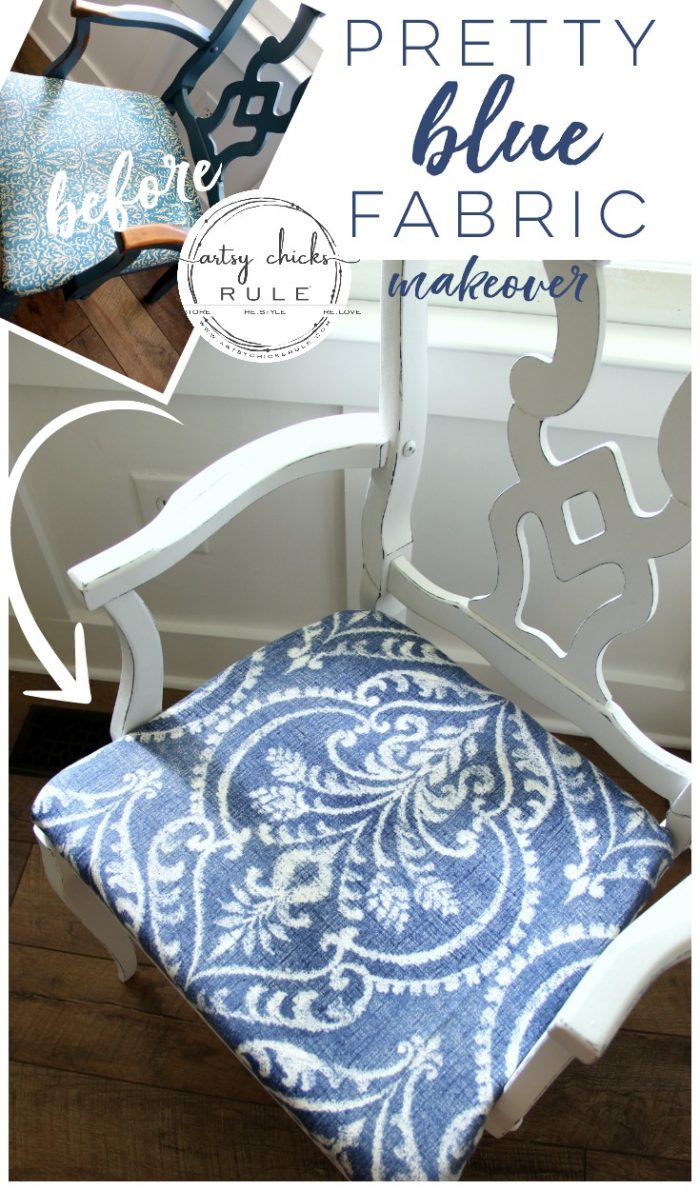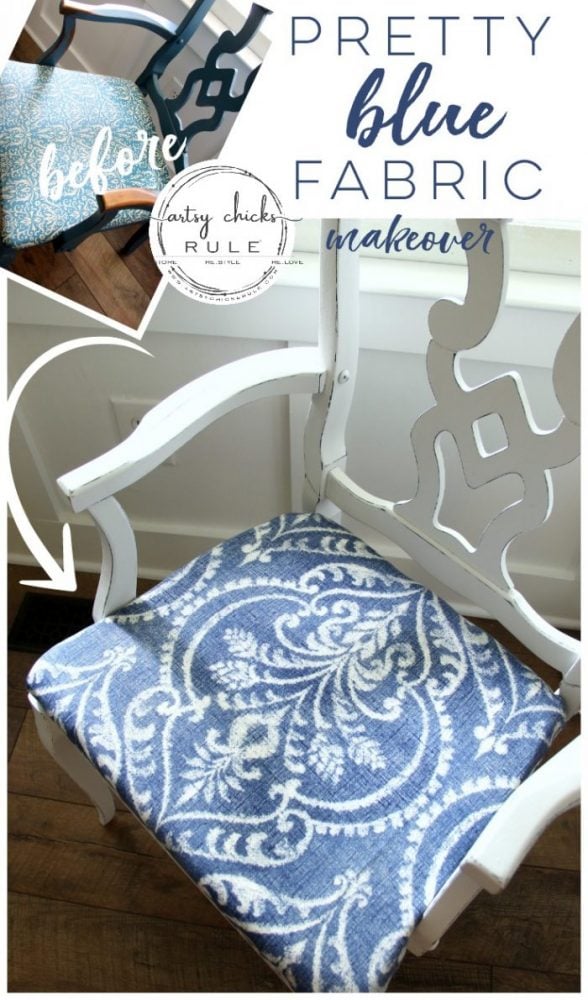 Hop on over and visit my friends to see their treasures below! (links are below the photo)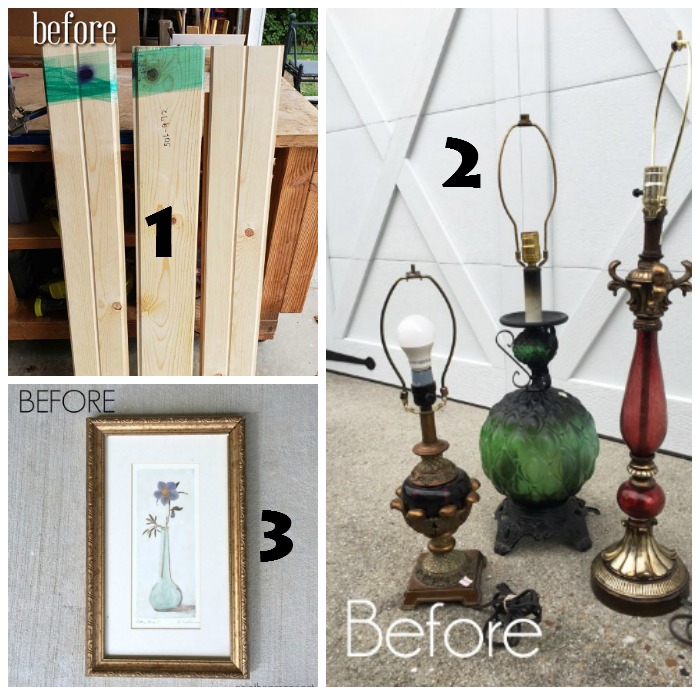 We are missing Lauren from Bless'er House this month because she is home with a brand-new baby girl! Big congrats to her and her family.
I'll see you back here later next time with this! My absolute favorite makeover….that I'm giving a makeover to! Eek!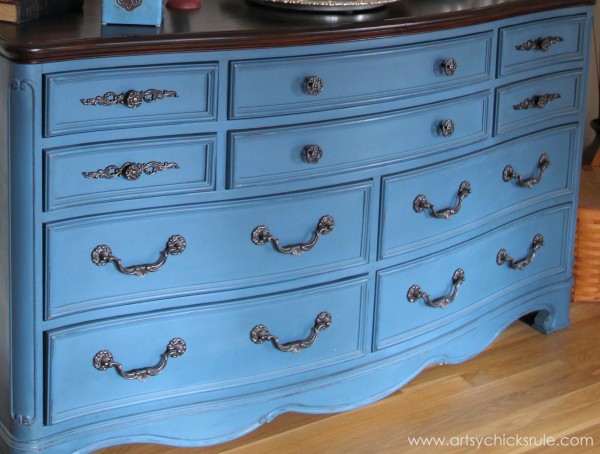 UPDATE!!! See it now, here!!
xoxo