A Collection of Before & After Furniture Pieces
This post may contain affiliate links. Please see disclosures here.
Painting, refinishing and giving makeovers to furniture is so rewarding! Before & after furniture transformations are my favorite.
These before & after furniture pieces are some of the early makeovers here on the blog. I actually didn't do any tutorials for these pieces but do give what I used for each makeover.
So, just a nice collection of fun before & after furniture photos.
That's the best part of it anyway. The transformation.
I don't know about you but I just love looking at before/after furniture photos…one of my favorite things to do.
It always amazes me how different things can look with a little paint…or pretty new, fresh stain.
The photos are "working" photos and not pretty staged photos because at the time I took them, I just wanted to capture what they looked like before..and then after. I didn't know I would be blogging about them. ;)
A Collection of Before & After Furniture Pieces:
1)
First up…end tables. (sorry the picture is so blurry, that's all I have of these)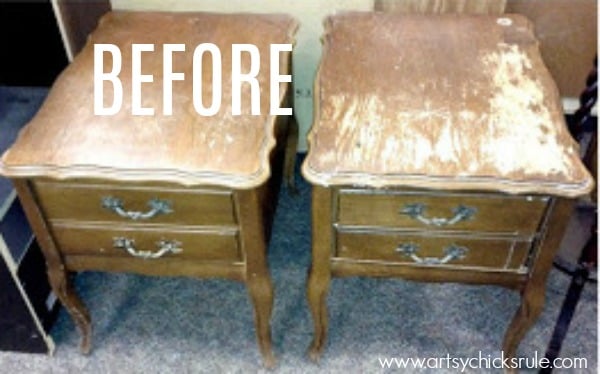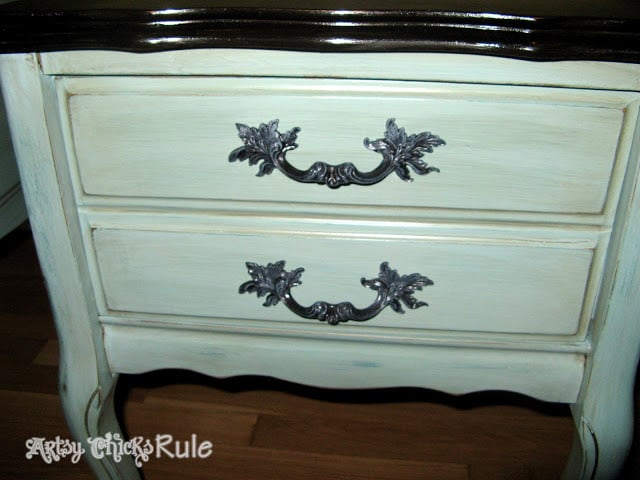 I sanded the tops completely down.
(that was te-di-ous on these!…all those curves around the edge, took forever, ugh)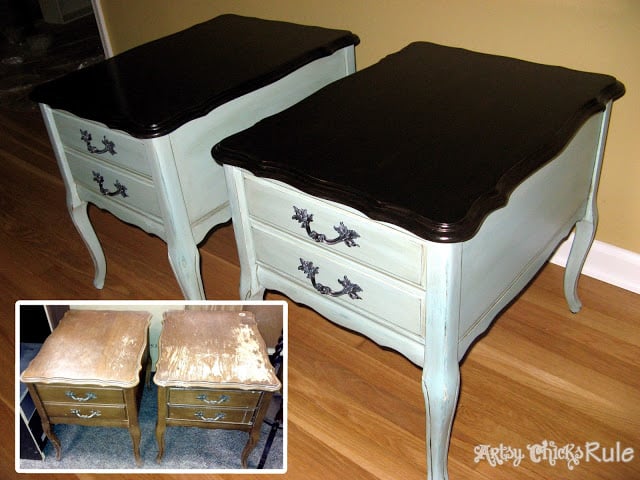 I then used a very dark stain on the tops (Rustoleum Kona) finishing up with Minwax Wipe On Poly in Satin.
It's hard to tell in the photo but you can see some wood grain.
The paint on the base is a blend I came up with mixing some white (Sherwin Williams) and a small blue sample (Valspar). I made a darker and lighter version and layered them to get the effect.
Darker underneath with the lighter on top. I sanded back to let the dark show through in places.
I then distressed and added a glaze..brushing on and then wiping most of it back off.
I love how this finish came out!
I dry brushed the handles in the same paint and then sprayed them with Minwax Polyacrylic to protect them.
(ok, that was a mini tutorial ;) )
$15 for the pair. Can you believe that? Well, probably since they were so sad to begin with! ;)
They went to live with my wonderful sister in law and look great in her guest room.
2)
This sofa table was painted in a blend of Antibes Green & Pure White with a dash of Graphite– all Annie Sloan Chalk Paint.
I finished this one by distressing a bit and using Clear wax to seal.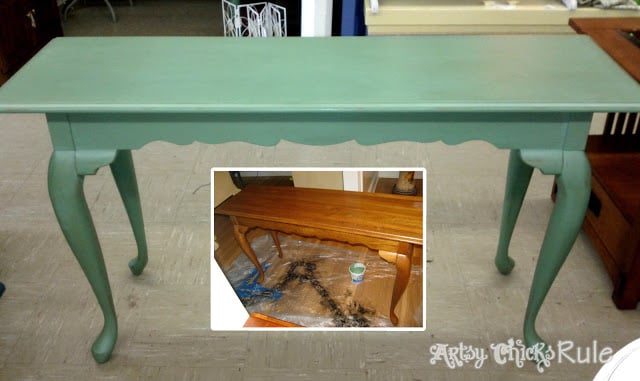 This one came from a garage sale for $7.
I don't often use green these days but maybe I should give it a go again!
3)
This is a jewelry armoire that my mom bought me quite a few years ago.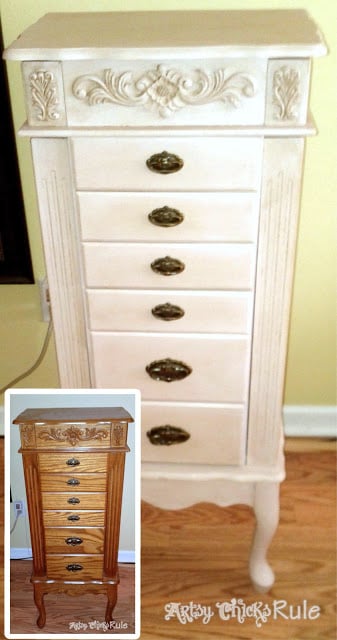 I was tired of the oak-y color so painted it in Antoinette Chalk Paint.
I used a blend of clear and dark wax for this one to finish it up.
4)
I painted this one in Old White and a blend of Antibes Green/Old White – all Annie Sloan Chalk Paint.
I sealed this one with Minwax Polycrylic.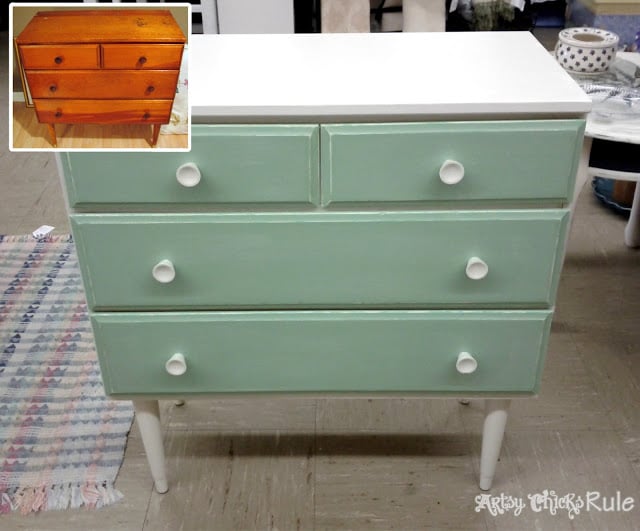 I had stenciled the fronts of the drawers originally but ended up not liking it.
So I painted over them and dry brushed the white over the green as you can see below…..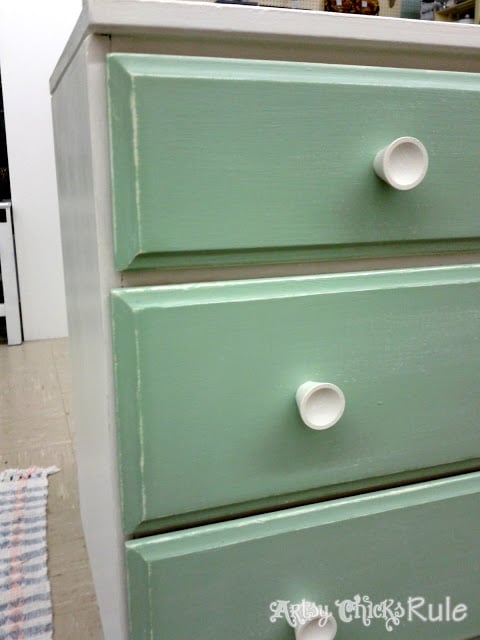 This small dresser was picked up at a garage sale for $5
And here's a little tip…..
Use old styrofoam to paint knobs and such. This worked very well for painting the legs on this dresser.
(they actually screwed in and out of the bottom)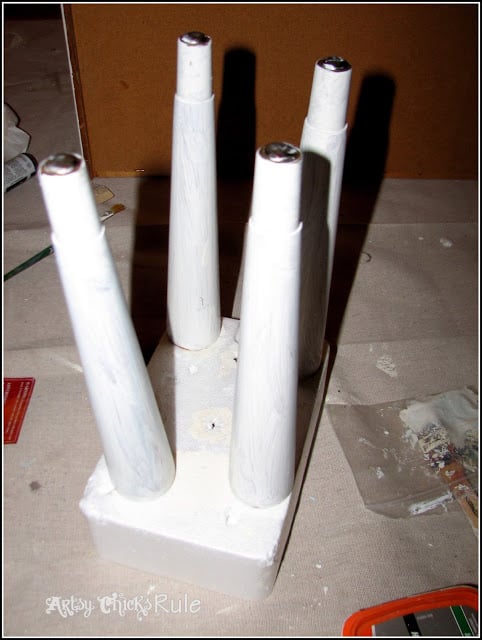 And another tip…I wrap my brushes in plastic wrap or zip them up in a little baggy (like above) while I'm waiting to paint consecutive coats.
5)
This one is painted in a blend I made from Sherwin Williams paint.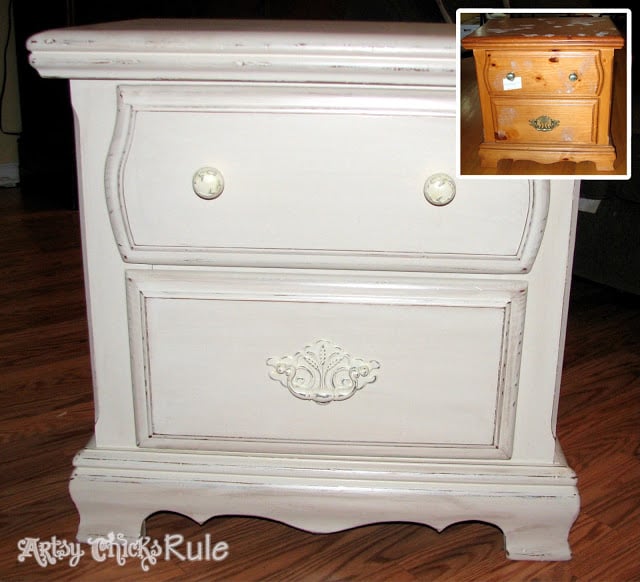 I actually painted the handles in Old White Chalk Paint since they were metal.
Chalk Paint works great on metal!
I finished it up with some distressing, a little glaze and Minwax Polycrylic.
I got this nightstand at the thrift store for $10.
Want to know about 26 other chalk style paints?
I've got the low down for you right here! >>> 26 Types of Chalk Style Paint For Furniture
6)
I'm actually working in the garage here…surprise of surprises, I know.
I'm always painting in my house, it seems, in all of my photos.
But not for much longer, we are building a workshop outside (for my husband and all the tools, etc) and the garage will be empty…and all mine! ;)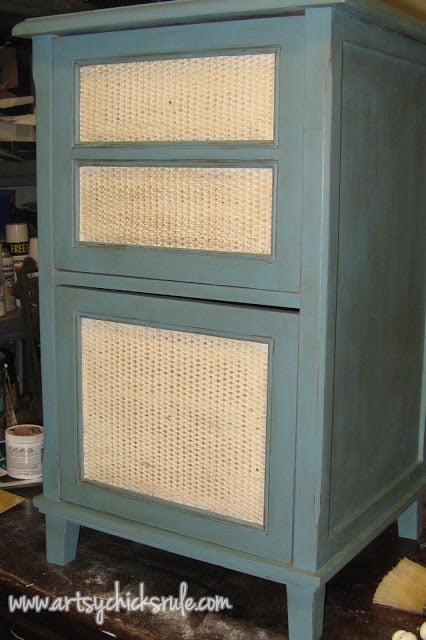 You know what this little cabinet is sitting on??
My pretty blue Aubusson Blue dresser before I refinished/painted it…you can see it in this post here. It was used as a workbench for a bit first. ;)
(knowing, of course, that I would be sanding and refinishing the top anyway, so no harm done)
Have you ever had one of those pieces that you painted and then decided, oh no, that's not right?
And so you repainted it? lol
Well, this is one of those pieces….and then some! ;)
Sooo…this one was pretty in that turquoise shade.
I don't remember what I used, it's been awhile…I think it was Napoleonic Blue, Aubusson and Old White mixed, most likely.
BUT when I originally painted it that color I didn't take into account the color of the coffee server I had done for the same room in this post here.
Probably because I hadn't found the dresser ….. or painted it yet.…at the time.
Once that was done….in the lovely teal shade that it is…this little cabinet just looked ridiculous in the same room.
So thinking I wanted to bring some "coral" into the room, I painted it Scandanavian Pink…also Annie Sloan Chalk Paint.
It's a lovely Salmon-y color.
And no, I don't have a picture of it that color. Know why? Because it didn't stay that way long. haha
Nope, it was the WRONG color as well, for this room. Well not really the wrong color….just too much of it.
One colorful focal piece is all you need in a room, trust me on this.
The creative process is so fun sometimes!!
I believe it stayed that color all of about 10 minutes and I was on to Coco Chalk Paint.
(Old White is on the weave/rattan areas and that was not repainted)
Coco is a nice, neutral beige-y/cocoa/brown color. I coated it heavily in dark wax after to darken the color even more.
That was such a fun painting day. Yeah…. No.
Can I just say how glad I am that you can paint right over the finished wax with more Chalk Paint?? Very glad.
So this is how it ended up and I love it.
And it's still this way, many years later.
Perfect. Whew.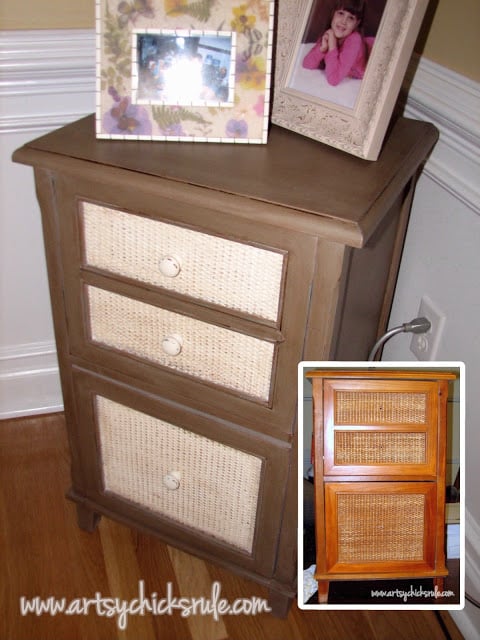 This little "file" cabinet holds our cable modems, etc, over in the corner of the dining room where the outlets are.
(remember I had made this room the study at one point so had the cable outlet put in here.)
Since we are staying here for a few more years and redoing so many things. This is on the list.
It's time for these outlets to come out of this room. We are planning to move them to the family room in the far corner by the raised bar top/kitchen.
Basically, completely out of the way! I can't wait to empty out this corner in the dining room.
Poor little thing went through 3 colors before I got it right.
Yep, that's what it's like to live in this house. ;)
Oh and that small piece of furniture was the most expensive item in this post and more than I usually spend on something that size.
$20 from the ReStore.
I had been searching for awhile for something to "hide" all the junk associated with the modems and this fit the bill.
It's wonderful that it all fits so nicely in the drawers not to be seen again!
By my guests anyway.
7)
Our desk got a makeover too…. (with Old White Chalk Paint)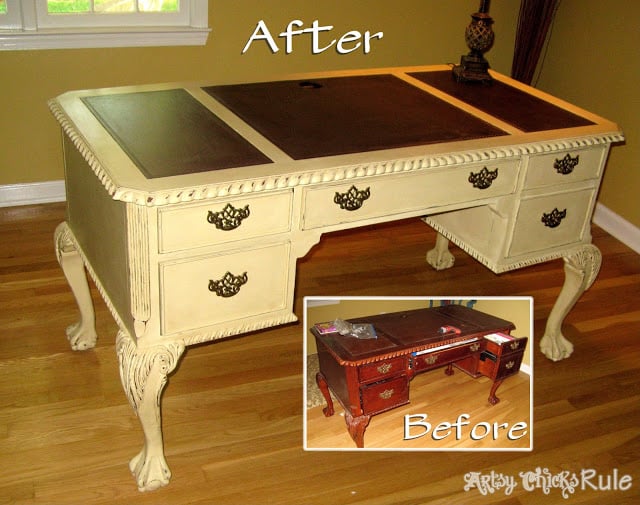 I've actually repainted this desk again since originally writing this post.
It was a little too yellowish and I decided to use Pure White Chalk Paint on it to brighten it up.
You can see it in this post, here.
…and so did the old computer cabinet….. (which is now gone, sold)
Same color as the desk, with clear wax, and then dark wax applied to seal.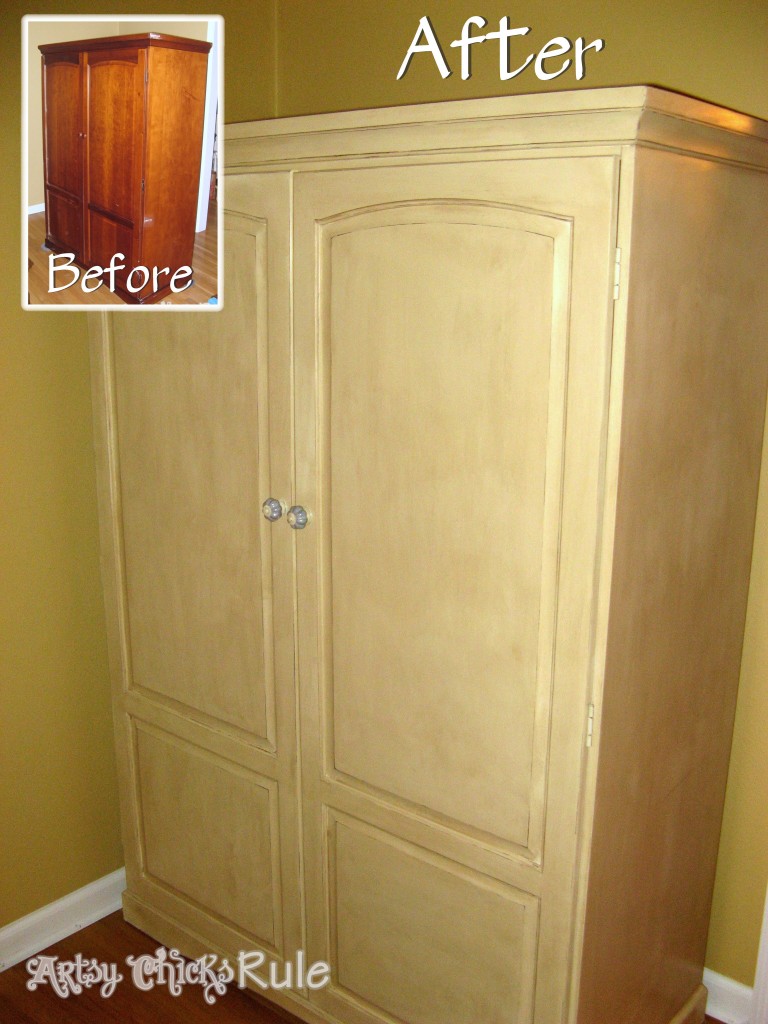 8)
This $5 retro desk got a new lease on life with a little Chalk Paint too….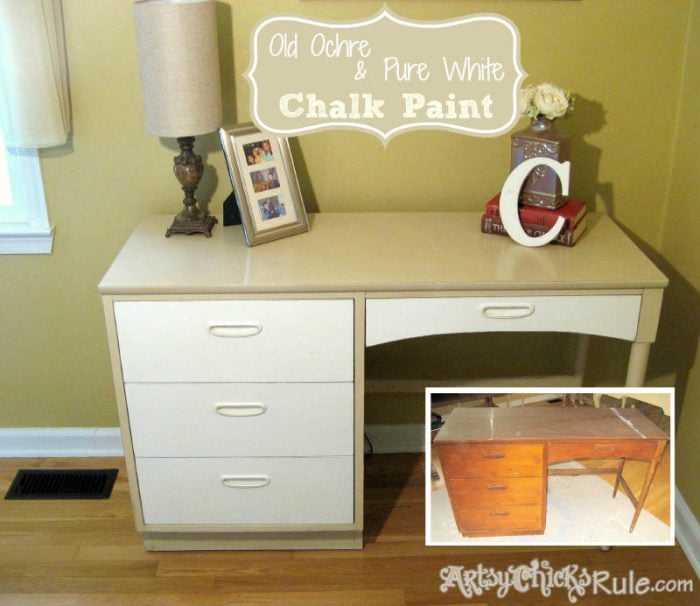 Old Ochre and Pure White. Great combo, really.
Also, that top is slick laminate. I simply sanded it lightly and painted on the Chalk Paint.
Chalk Paint works great for this but…you do need to sand a little.
9)
This small sideboard cabinet got one of my very favorite colors in Chalk Paint….. Aubusson Blue…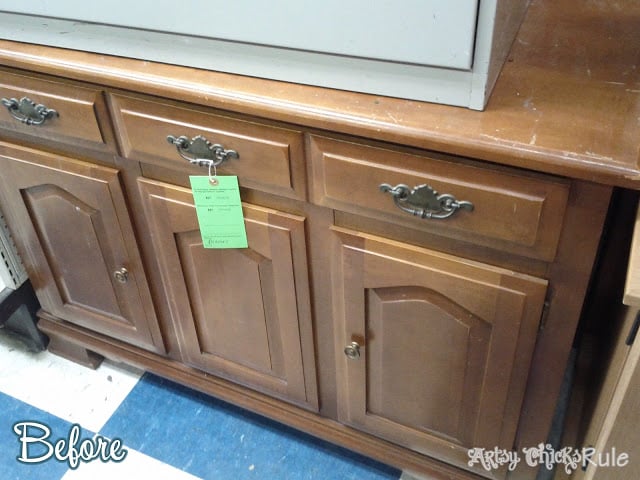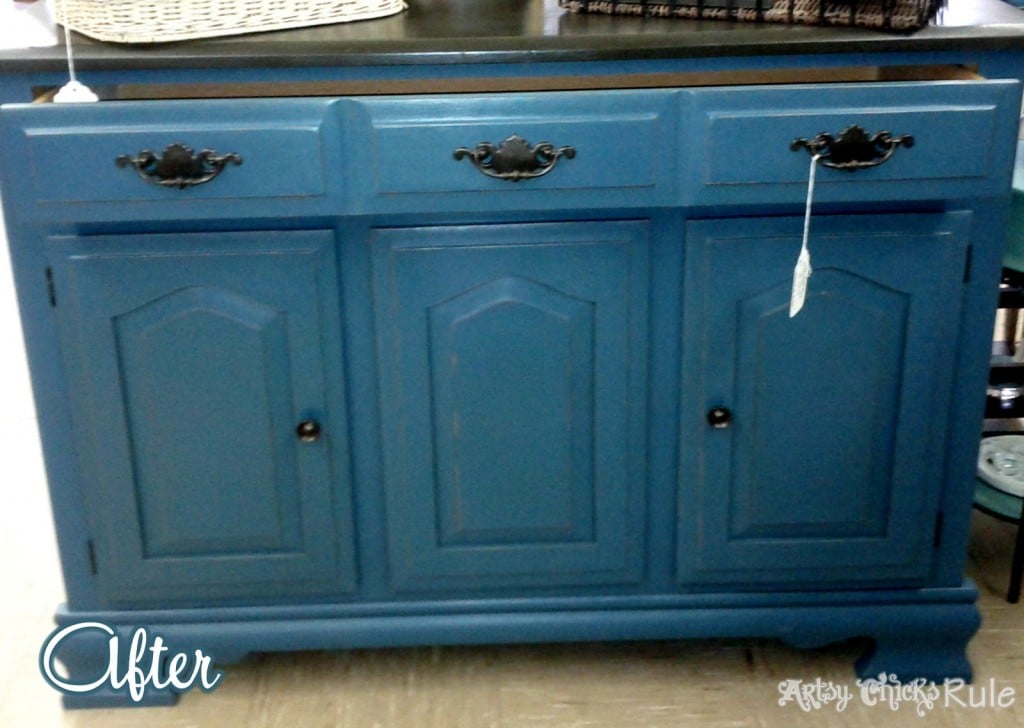 And instead of sanding and/or staining the top, I decided to paint it with Graphite Chalk Paint.
The whole thing got a coat of clear wax to seal. The hardware got a spray of Oil Rubbed Bronze.
I loved the blue/black combo on this one.
I found it at the thrift store for $10. A steal. Can't find em like that these days!
10)
And lastly, this $5 chair I found at the thrift store ….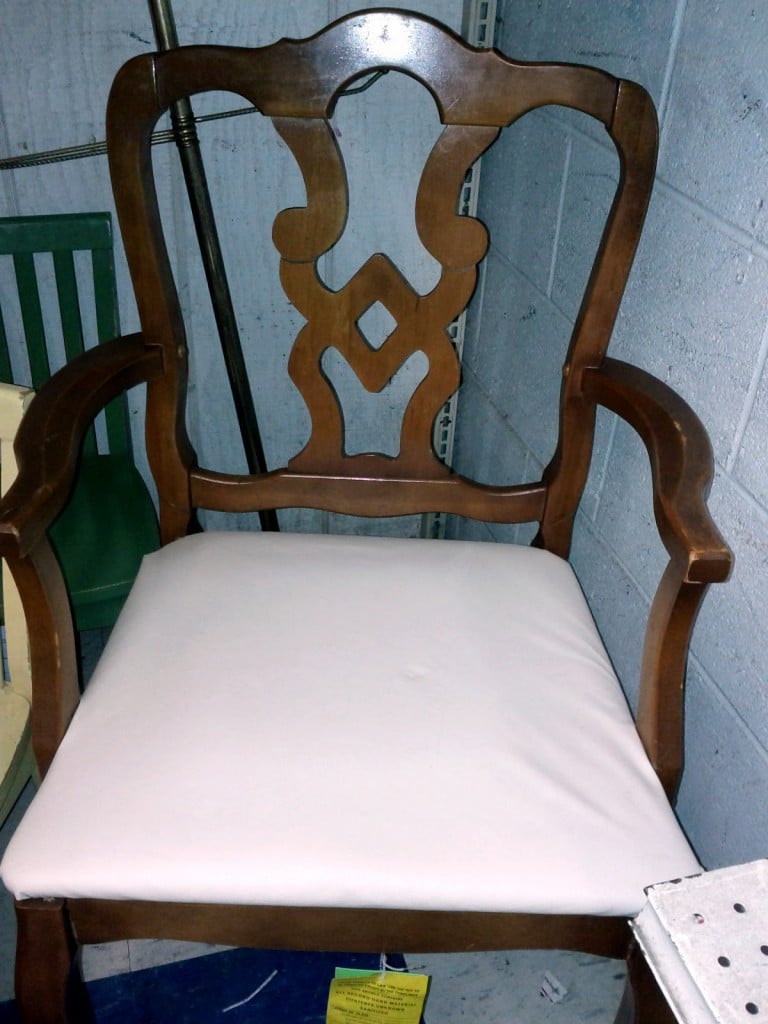 I used Aubusson Blue Chalk Paint on this one, too. And gave it a new look with new fabric for the seat.
We still have this chair. :)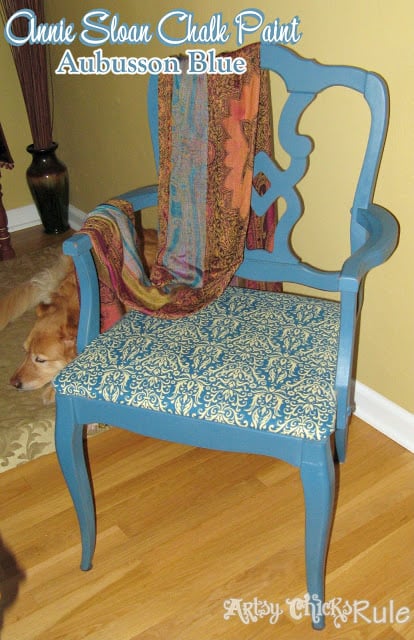 And I have to mention my sweet, sweet Lexi girl sleeping on her bed there beside the chair.
Miss her so! xoxo
………………………………………………………………………………………………………
I hope you enjoyed this small collection of some of my old before & after furniture pieces.
It's really taking a look back for me! ;)
Do you want to see even more painted/refinished furniture?
Then you might like this post with another collection of makeovers, mostly with stain.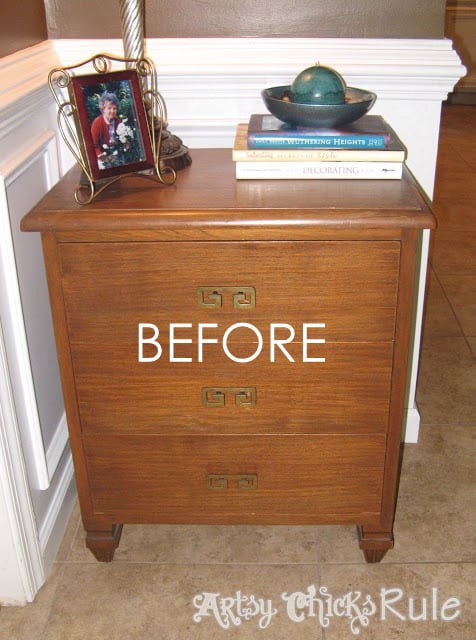 See this post and furniture makeovers, here.
And stop in next week to see how you can use CHALK PAINT on other things besides furniture! Be you didn't know!! ;)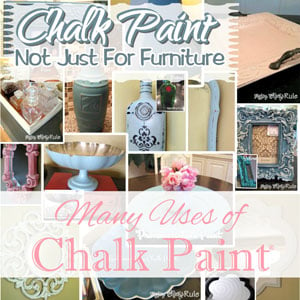 UPDATE!!! You can see it now, here!
Have a great weekend friends!
xo