I'm getting ready for my move to WordPress soon so today I thought I'd share some of the pieces I've done for myself, for others and the shop.
No tutorials here just a collection of some fun "Before & After" photos.
I do list the products I used however.
I don't know about you but I just love looking at "before/after" photos…one of my favorite things to do.
It always amazes me how different things can look with a little paint.
Even when I'm the one who's doing it.
First up…end tables.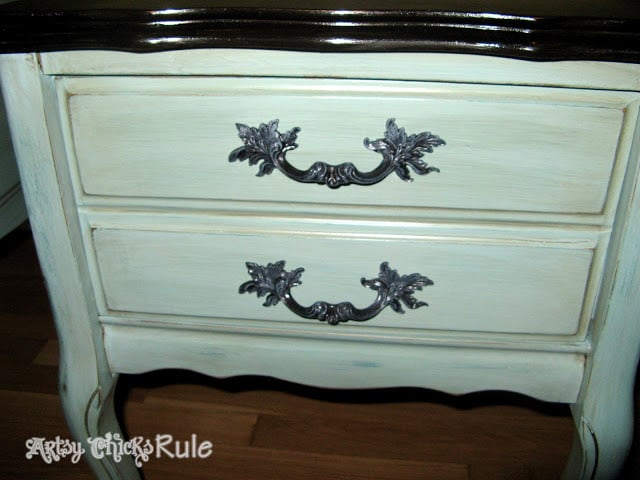 But this is the "after" photo……here is the "before"…….
I sanded the tops completely down.
(that was te-di-ous on these!…all those curves around the edge, ugh)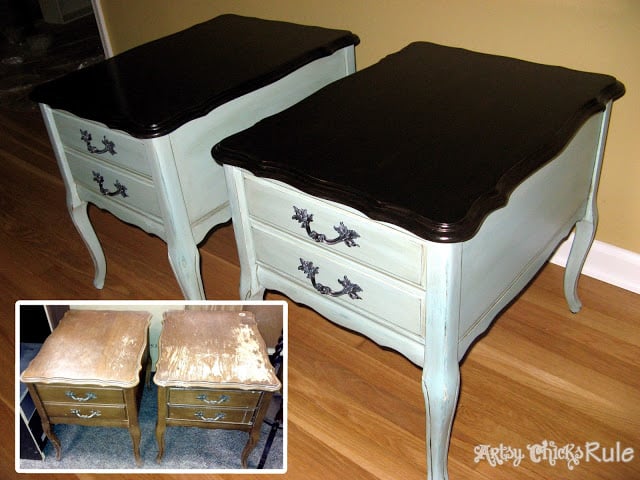 I then used a very dark stain on the tops (Rustoleum Kona) finishing up with Minwax Wipe On Poly in Satin.
The paint on the base is a blend I came up with mixing some white (Sherwin Williams) and a small blue sample (Valspar). I made a darker and lighter version and layered them to get the effect.
Darker underneath with the lighter on top. I sanded to let the dark show through in places.
I then distressed and added a glaze..brushing on and then wiping most of it back off.
I dry brushed the handles in the same paint and then sprayed them with Minwax Polyacrylic to protect them.
(ok, that was a mini tutorial ;) )
They were sad to begin with though, huh? $15 for the pair.
They went to live with my wonderful sister in law and look great in her guest room!
This sofa table was painted in a blend of  "Antibes Green & Pure White" with a dash of "Graphite"-Annie Sloan Chalk Paint.
Distressed and Clear waxed. (Also Annie Sloan)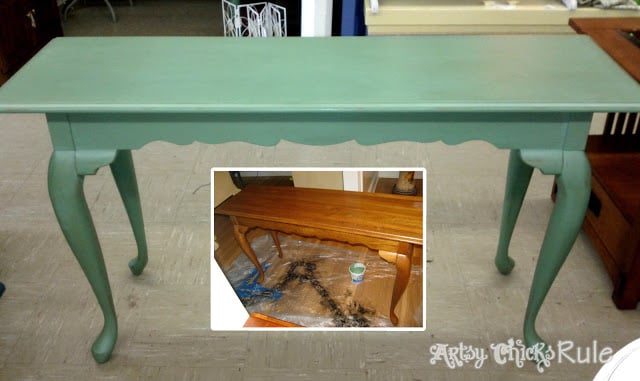 Bought at a garage sale for $7. Sold at the shop.
This is my jewelry armoire that I've had for years.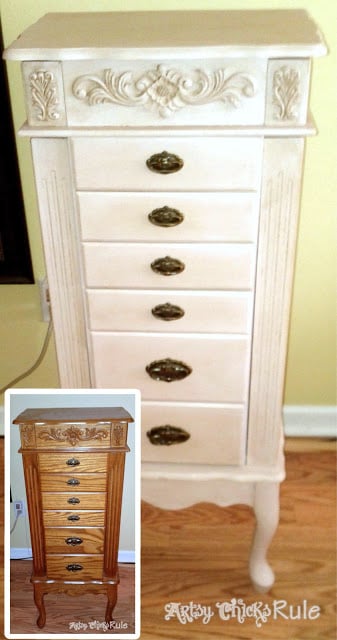 Tired of the oak-y color so painted it in "Antoinette"- Annie Sloan Chalk Paint.
I used a blend of ASCP's Clear and Dark wax for this one to finish it up.
This old, small dresser was picked up at a garage sale for $5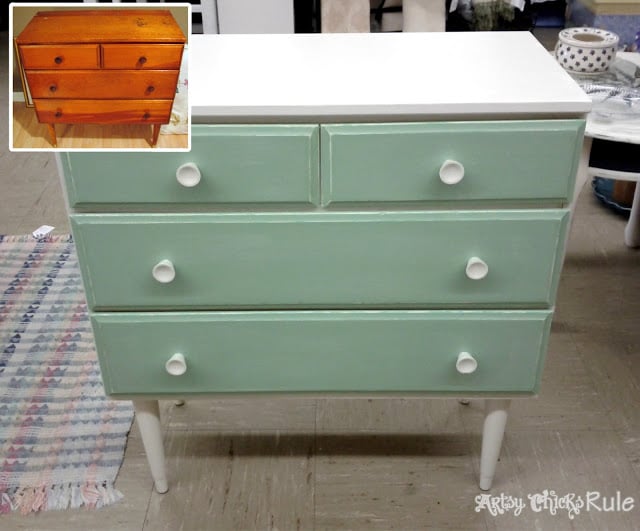 I painted it in "Old White" and a blend of "Antibes Green/Old White" – Annie Sloan Chalk Paint.
I put a coat of Minwax Polycrylic over this one.
I had stenciled the fronts of the drawers but ended up not liking it.
So I painted over them and dry brushed the white over the green as you can see below…..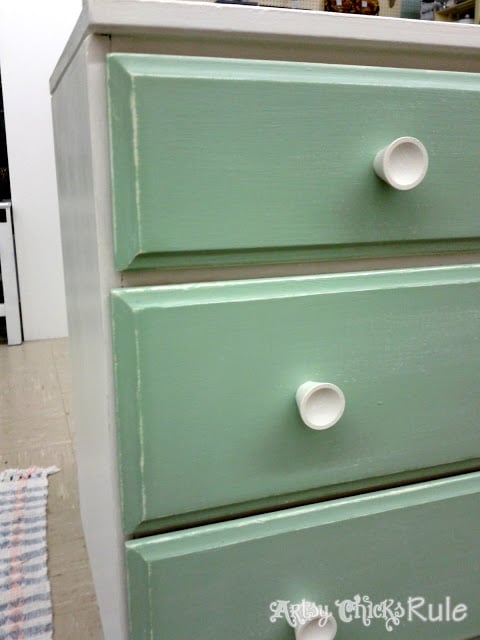 This one went to the shop and is sold.
And here's a little tip…..
Use old styrofoam to paint knobs and such. Worked very well for painting the legs on this dresser.
(they actually screwed in and out of the bottom)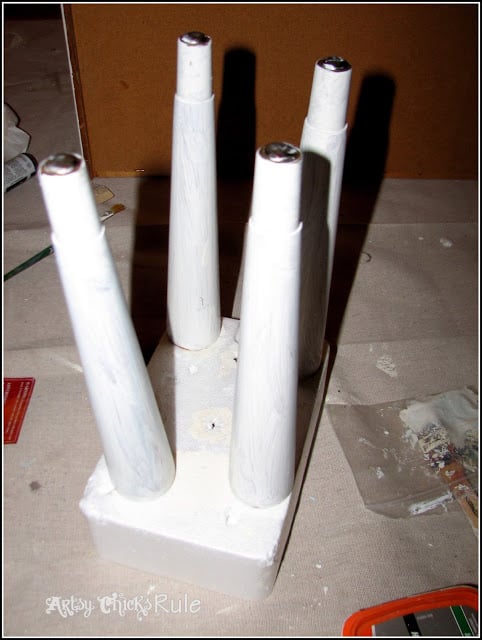 And another tip…I wrap my brushes in plastic wrap or zip them up in a little baggy (like above) while I'm waiting to paint consecutive coats.
I got this nightstand at the thrift store for $10.
It is actually mine, on my side of the bed. The MBR re-do is still underway.
I'll have a post about that at some point. One of the MANY projects I have going on as I type this.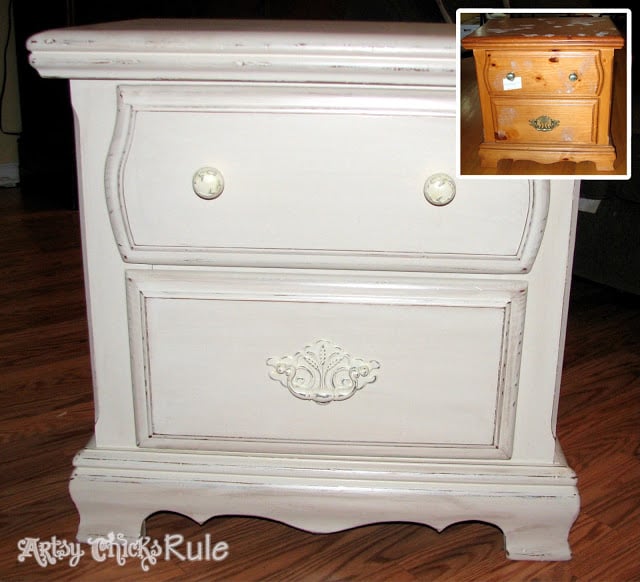 It is painted in a blend made from Sherwin Williams paint.
(the same I used on my China Cabinet in these posts here and here.)
I actually painted the handles in "Old White" Chalk Paint since they were metal.
Chalk Paint works great on metal!
I finished it up with some distressing, a little glaze and Minwax Polycrylic.
And then there is this…..
I'm actually working in the garage here…surprise of surprises, I know.
I'm always painting in my house, it seems, in all of my photos.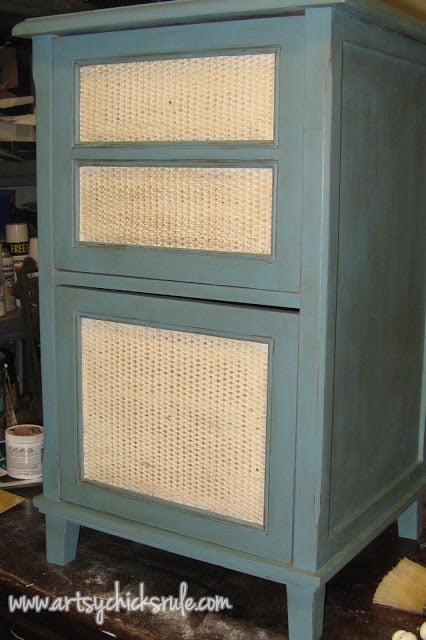 You know what this little cabinet is sitting on?? My pretty blue Aubusson Dresser before I refinished/painted it…in this post here. It was used as a workbench for a bit first. ;)
(knowing, of course, that I would be sanding and refinishing the top anyway)
Sooo…this one was pretty in this turquoise shade.
I don't remember what I used, it's been awhile…I think it was Napoleonic Blue, Aubusson and Old White mixed, most likely.
BUT when I painted it that color I didn't take into account the color of the coffee server I had done for the same room in this post here.
Probably because I hadn't found the dresser ….. or painted it yet.
So once that was done….in the lovely teal shade that it is…this little cabinet just looked ridiculous in the same room.
So thinking I wanted to bring some "coral" in I painted it "Scandanavian Pink"…also Annie Sloan. It's a lovely Salmon-y color.
And no, I don't have a picture of it that color. Know why? Because it didn't stay that way long.
Nope, it was the WRONG color as well for this room. Well not really the wrong color….just too much of it.
One colorful focal piece is all you need in a room, trust me on this.
The creative process is so fun sometimes!!
I believe it stayed that color all of about 10 minutes and I was on to "Coco" (ASCP)
("Old White" is on the weave/rattan areas and that was not repainted)
Nice, neutral beige-y/cocoa/brown. I coated it heavily in Dark wax after to darken the color.
That was such a fun painting day. Yeah…. No.
Can I just say how glad I am that you can paint right over the wax with more chalk paint?? Very glad.
So this is how it ended up and I love it.
Perfect. Whew.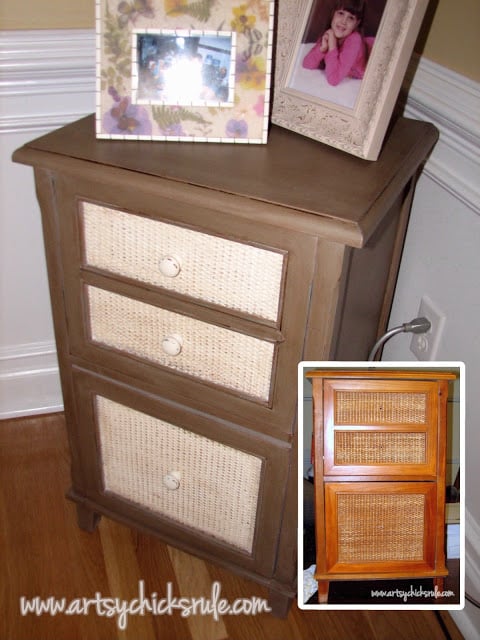 This little "file" cabinet holds our cable modems, etc, over in the corner of the dining room where the outlets are.
(remember I had made this room the Study at one point so had the cable outlet put in here.)
Poor little thing went through 3 colors before I got it right.
Yep, that's what it's like to live in this house.
Oh and that was the most expensive item on the page. And more than I usually spend on something that size.
Just $20 from the ReStore.
I had been searching for awhile for something to "hide" all the junk associated with the modems and this fit the bill.
It's wonderful that it all fits so nicely in the drawers not to be seen again!
By my guests anyway.
My desk got a makeover too…. (with Chalk Paint)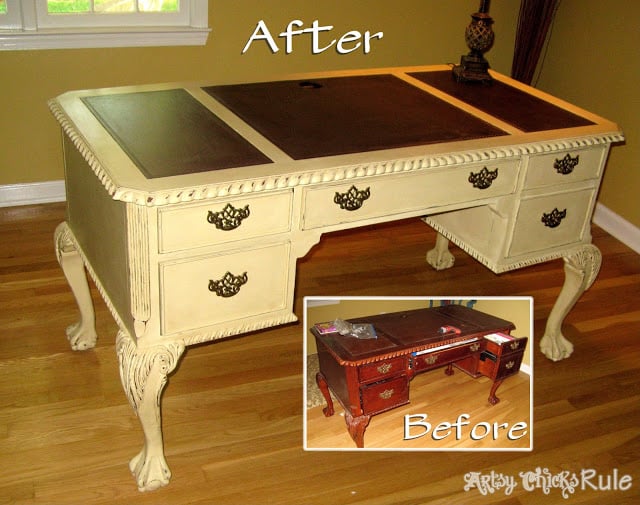 …and so did the old computer cabinet…..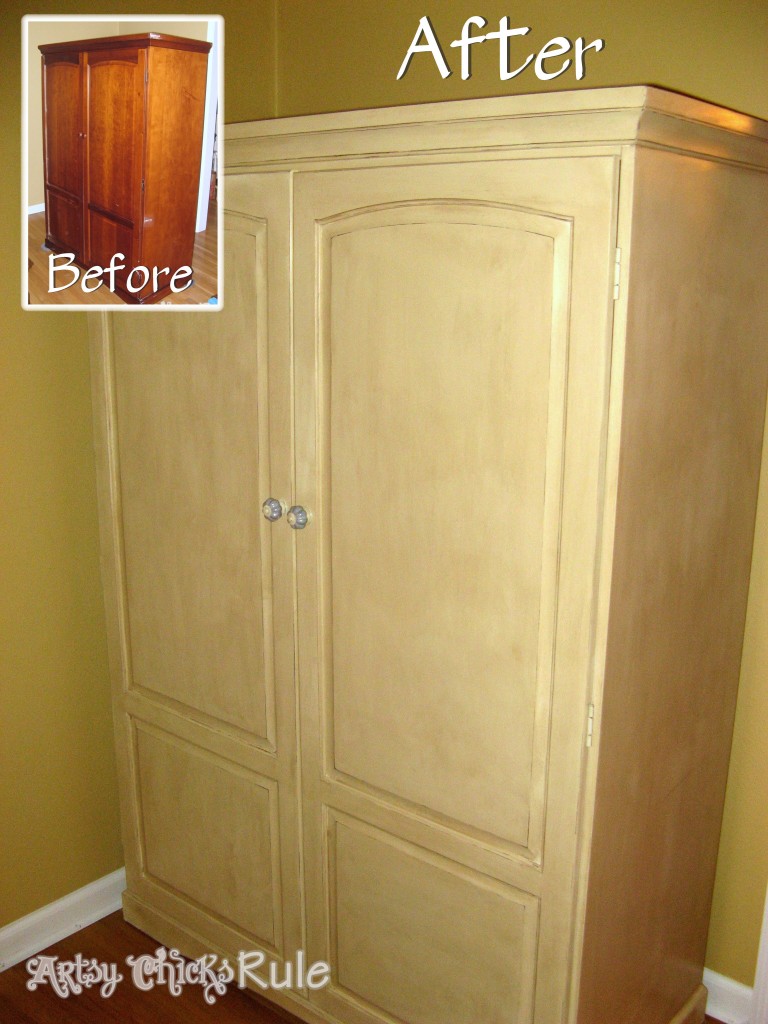 This $5 retro desk got a new lease on life with a little Chalk paint too….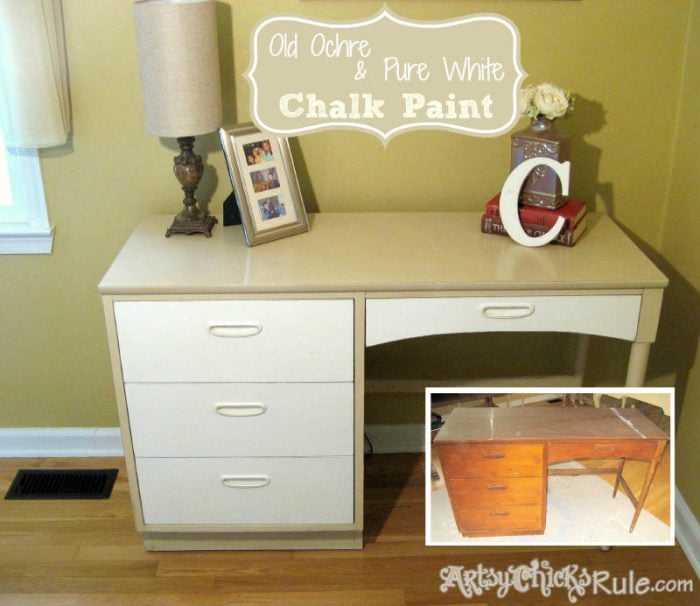 And lastly, my favorite color! (right now anyway ;) ) Aubusson Blue makeovers….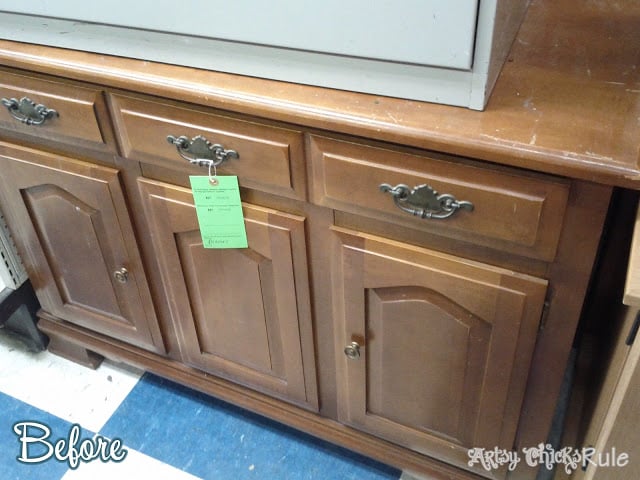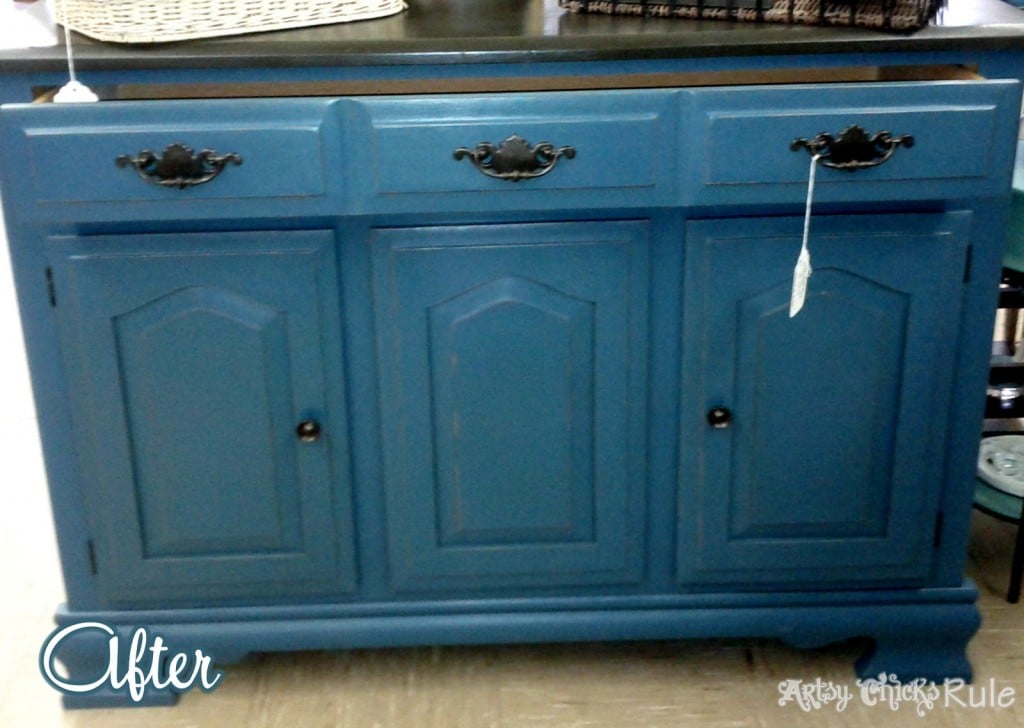 (it has a "Graphite" colored top)
And lastly, this $5 chair I found at the thrift store ….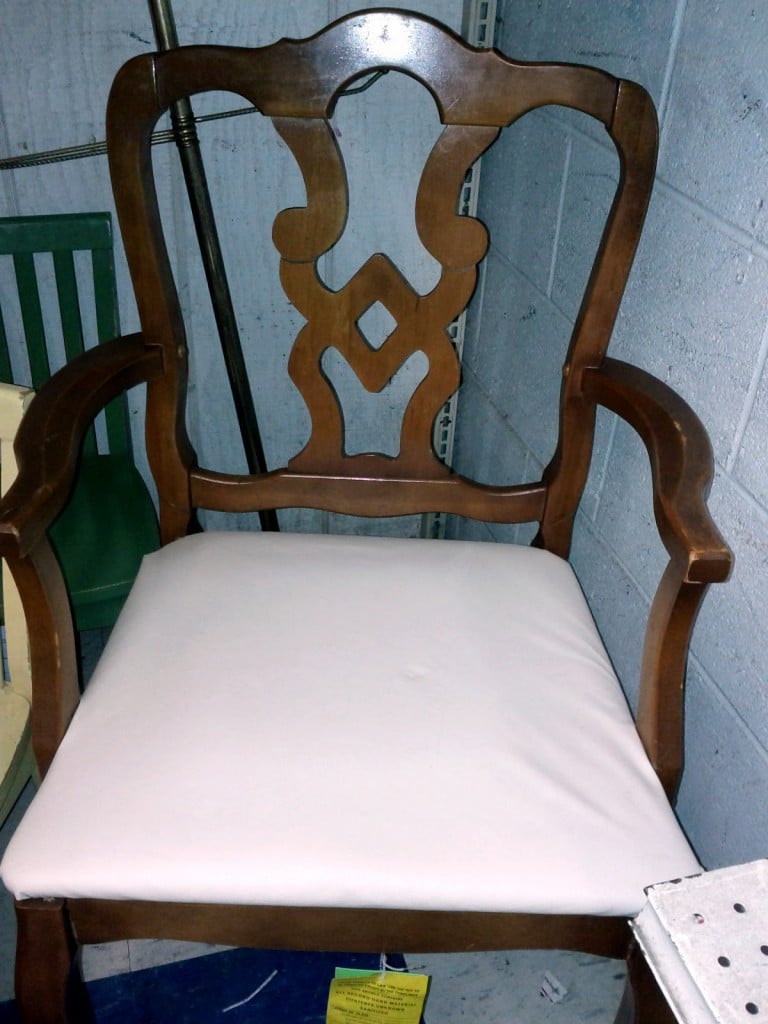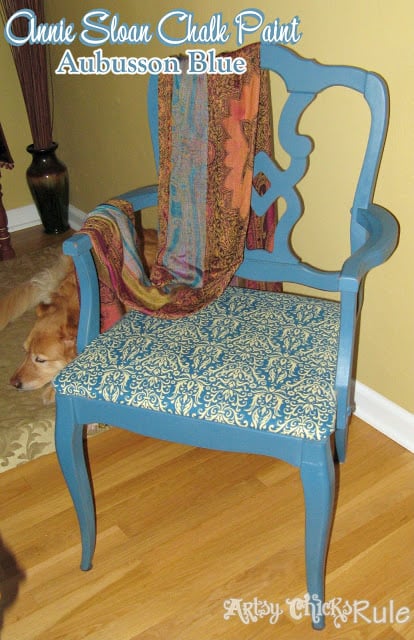 So there you have it. A small collection of  some of my "Before & After" pieces.
I hope you enjoyed seeing them as much as I enjoyed painting and sharing them!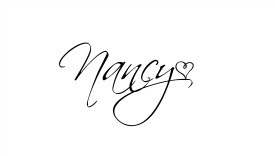 Follow along! –> Instagram ~ Facebook ~ Pinterest ~ Bloglovin
© 2012, Artsy Chicks Rule. All Rights Reserved.
Follow Along Here!

Related affiliate links you may like: