Annie Sloan Chalk Paint…. It's Not Just For Furniture (paint all the things!)
This post may contain affiliate links. Please see disclosures here.
It's true, Annie Sloan Chalk Paint is not just for furniture. That's one of the great things about it! It's great for use on so many things besides furniture.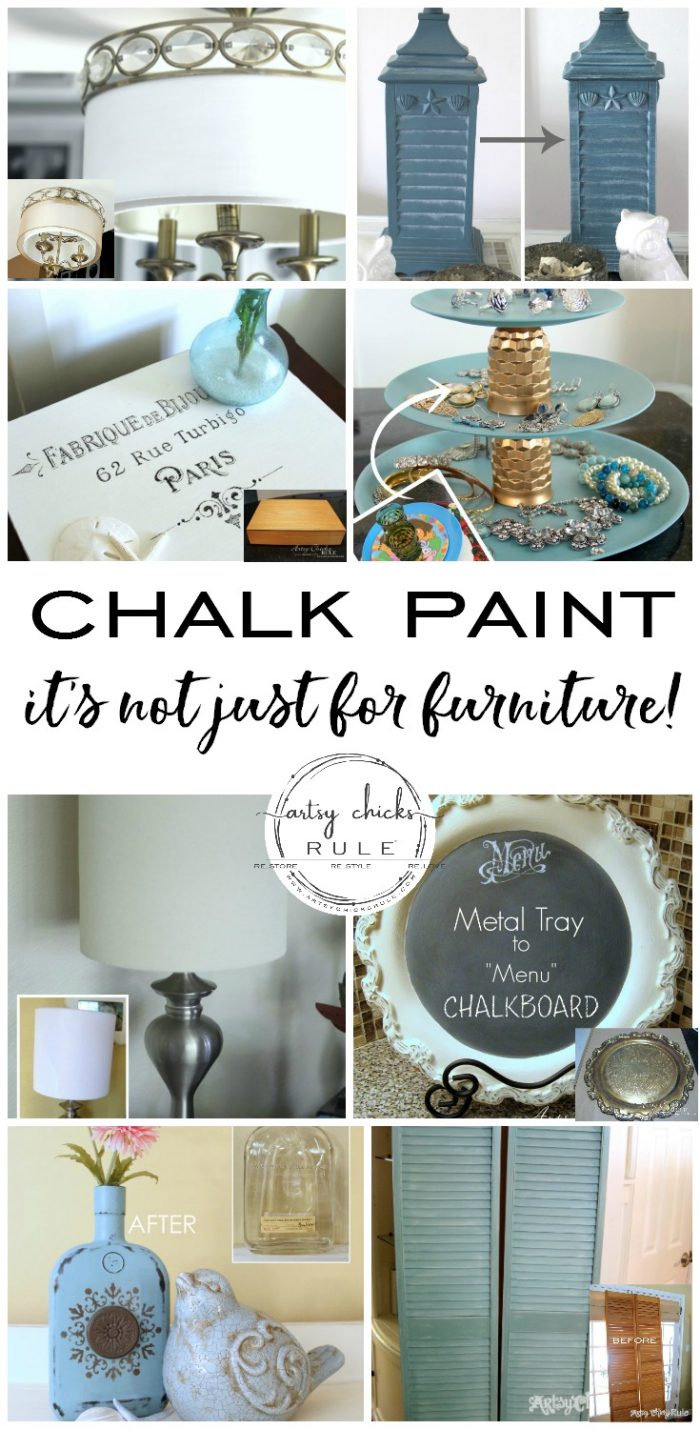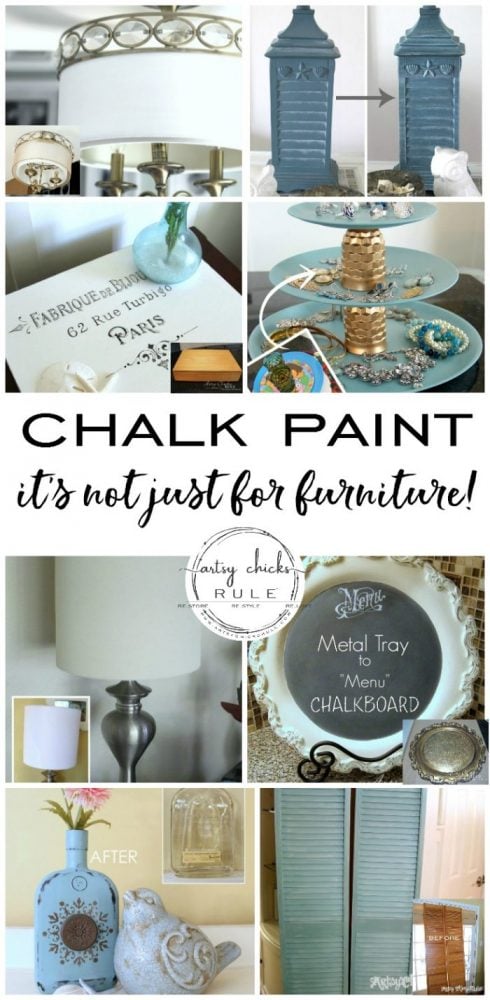 Nope, it's not.
My house is covered in it. Really.
I can't look around without seeing it on something. I love it and use it all the time on furniture.
BUT I also use it on all kinds of other things too.
Come take a look…..because Annie Sloan Chalk Paint really is not just for furniture!
This thrifty tray was the perfect find for Chalk Paint….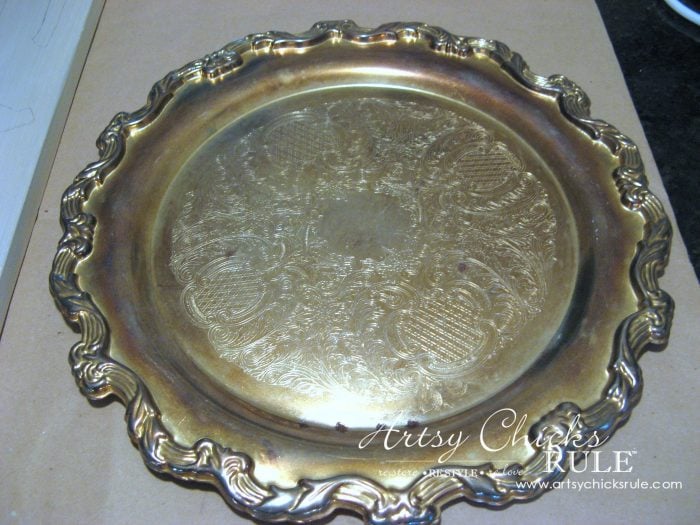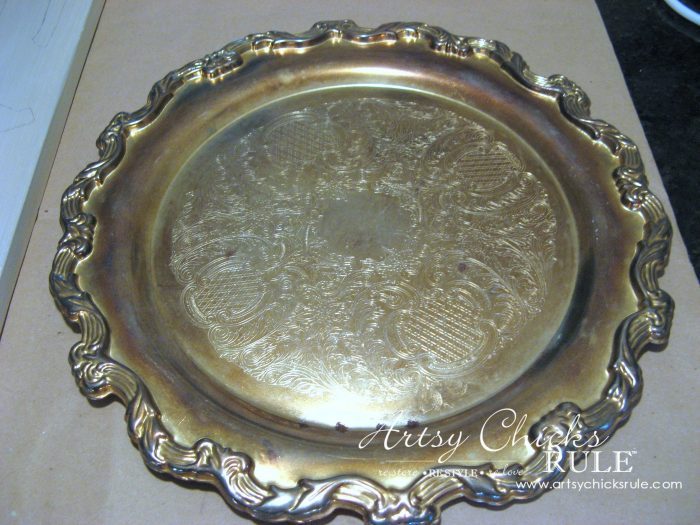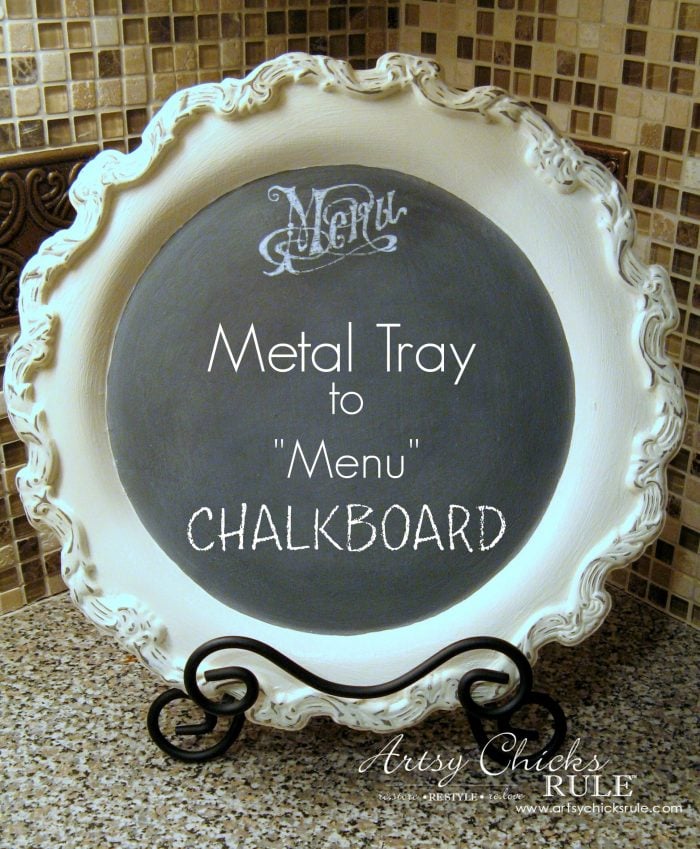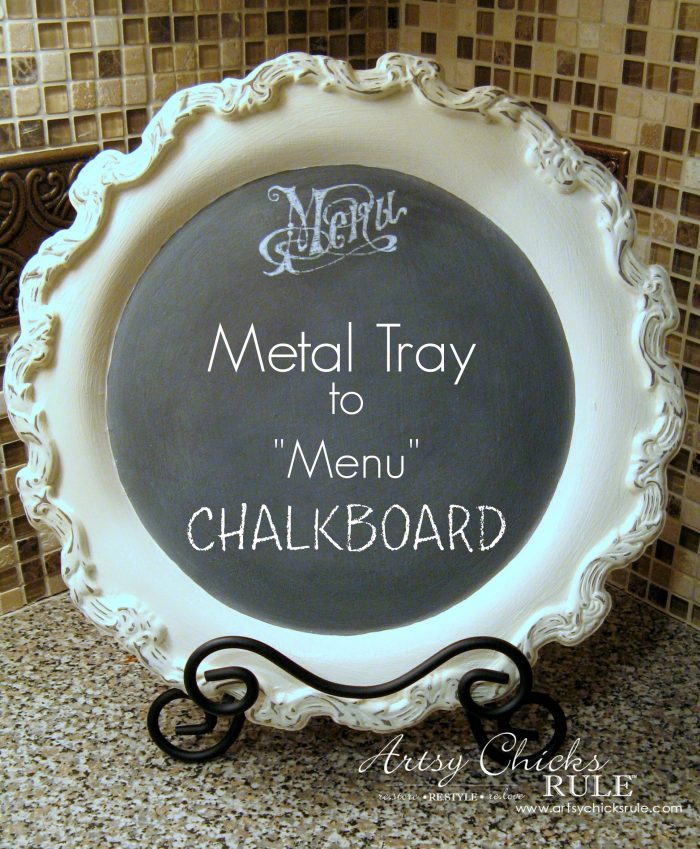 I even created the chalkboard out of Annie Sloan Chalk Paint.
You can read all about this makeover, here.
Have lamps you don't love?
Like these that looked a bit "flat" to me…..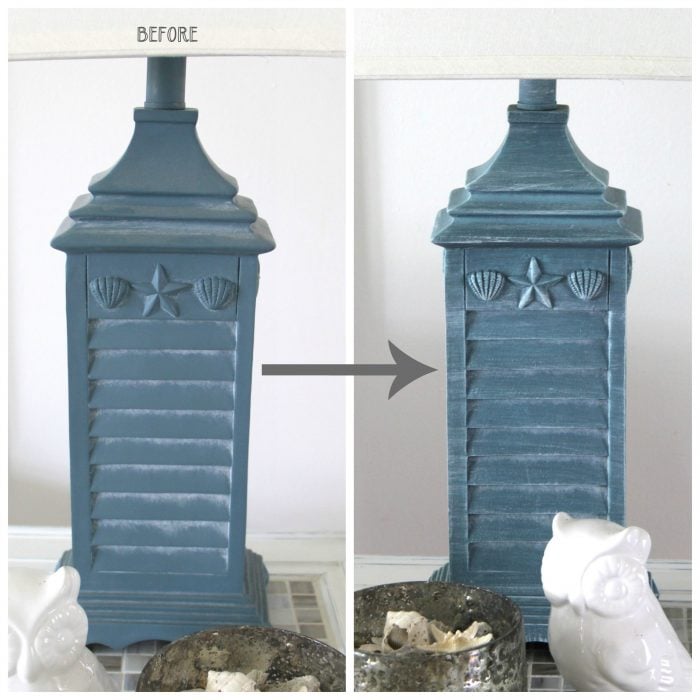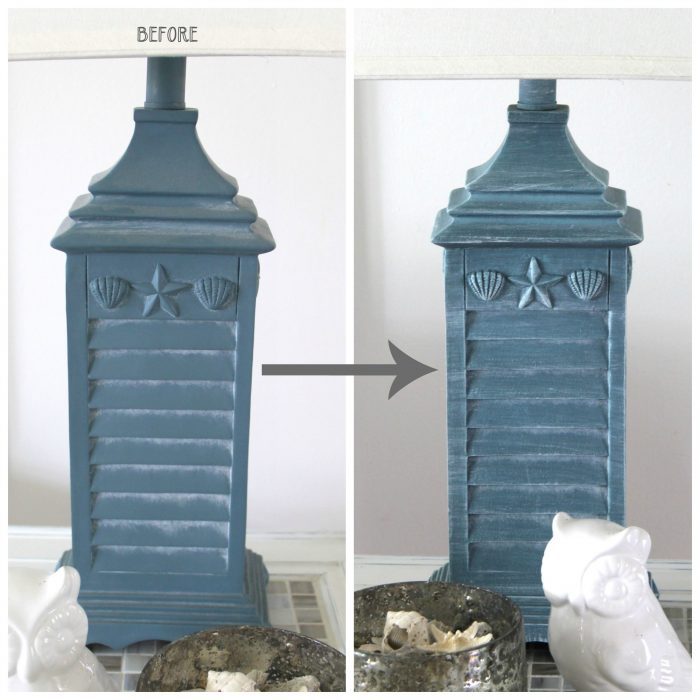 I added a little dry brush and just look at the difference.
See all the details on this mini makeover, here.
Is a kitchen island considered furniture?
I'm not sure so I included it…because it is also painted with Chalk Paint! ;)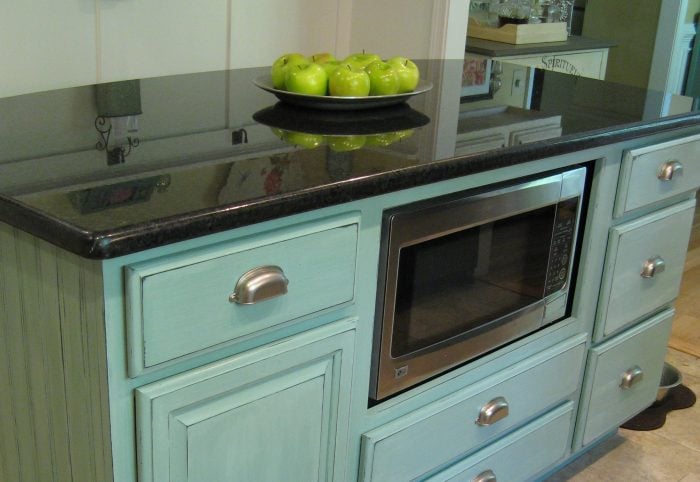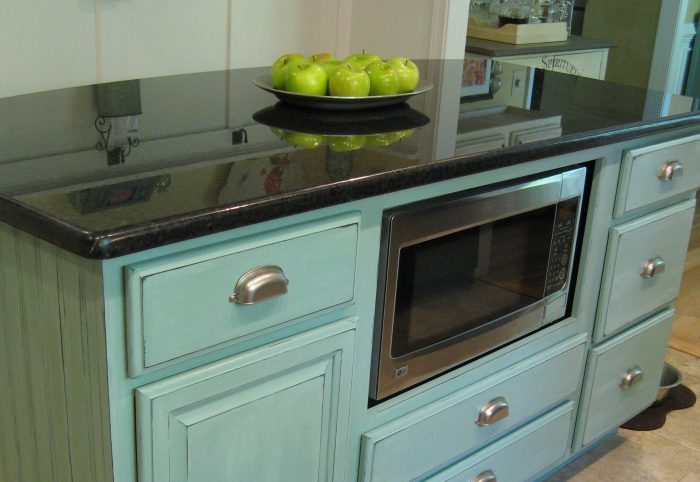 Get all the details, here.
And since I threw in the island, here's more…..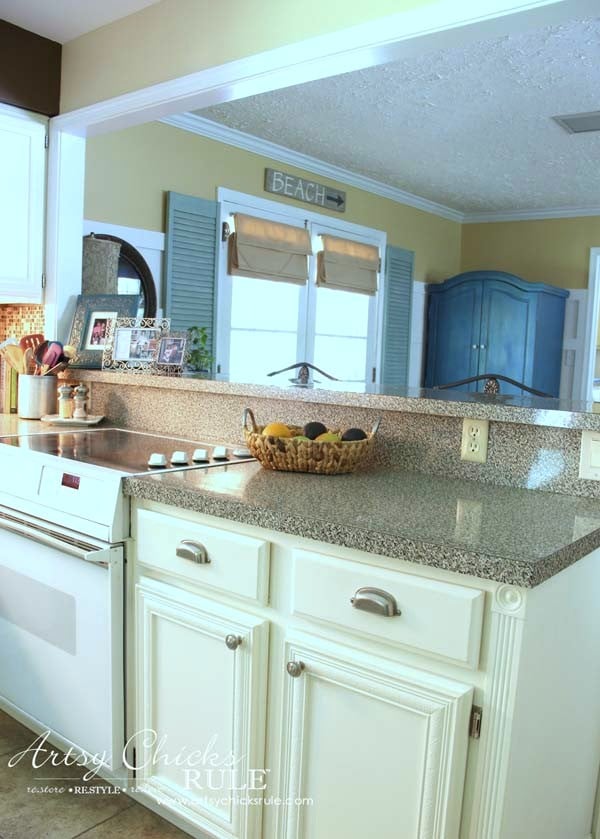 Kitchen cabinets painted with Annie Sloan Chalk Paint.
I did! You can read all about it, here.
Or read about how they've held up, 4 years later, here.
Nothing is safe, I tell ya! ;)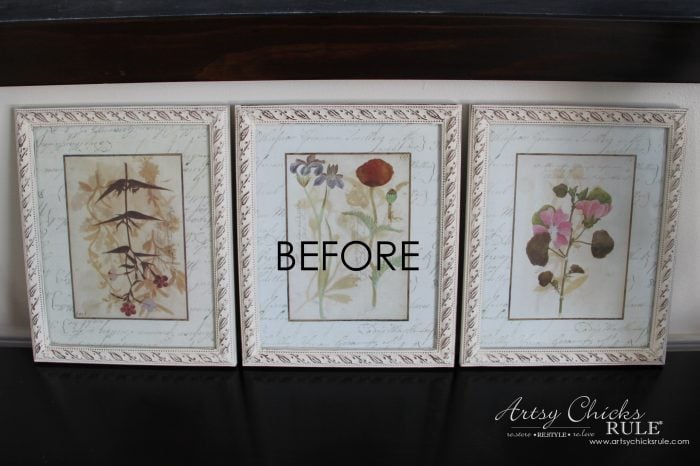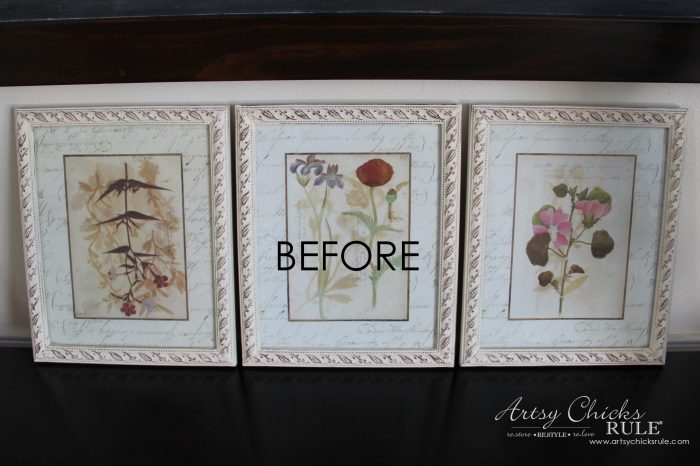 I turned those old prints/frames into brand new artwork with the help of a little paint….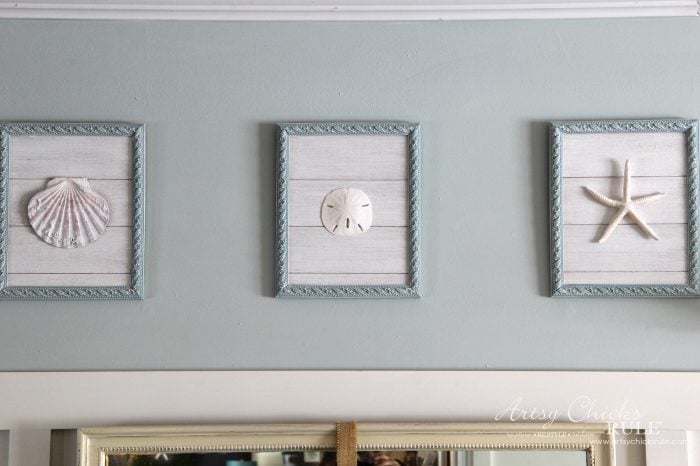 See the full tutorial and details, here.
This little cutie got Chalk Paint…and jewels. :)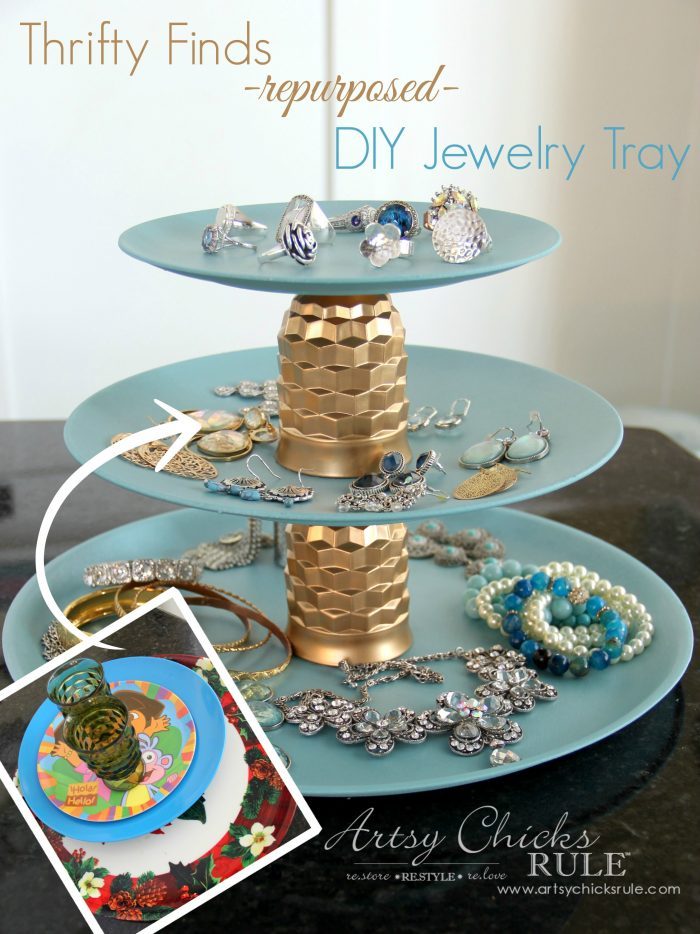 Get the makeover details, here.
I'd had these old framed prints for years. I pulled them out of a box and gave them new life….with Chalk Paint, of course! ;)


Get all the details on this easy to do, "faux" weathered finish, here.
How about old flatware boxes?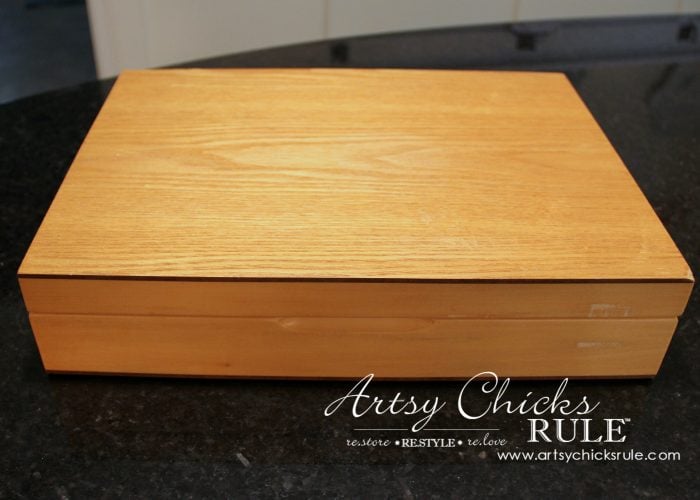 Chalk Paint makes everything easy to make over.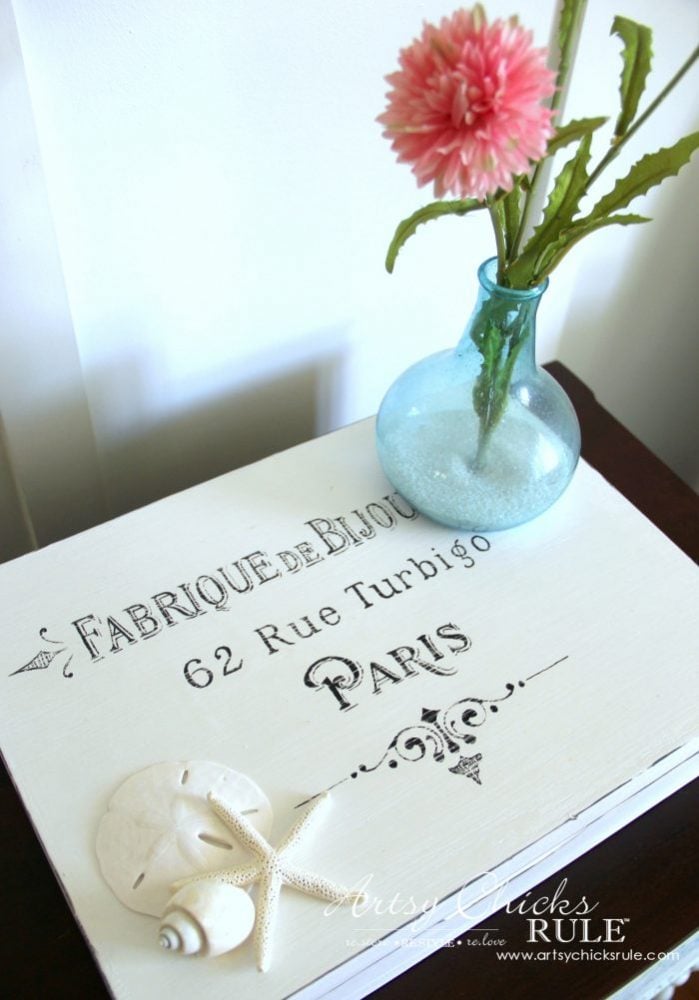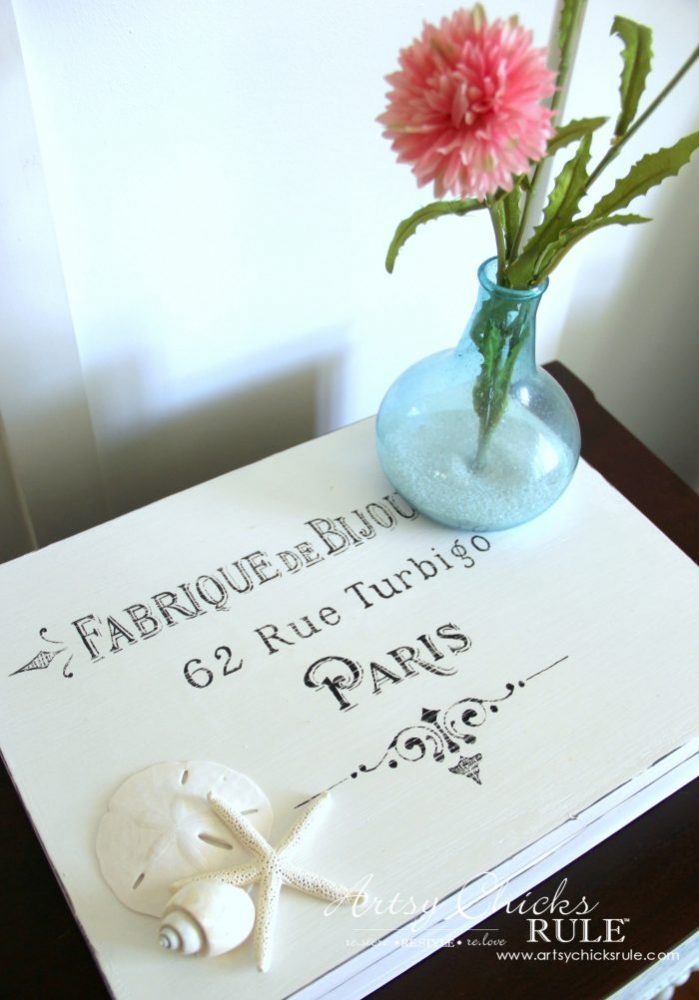 Get the details on this project, here.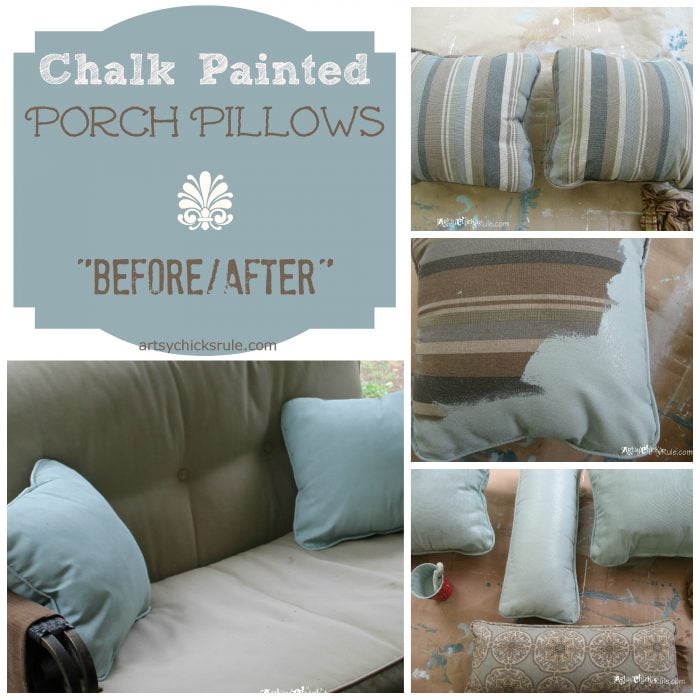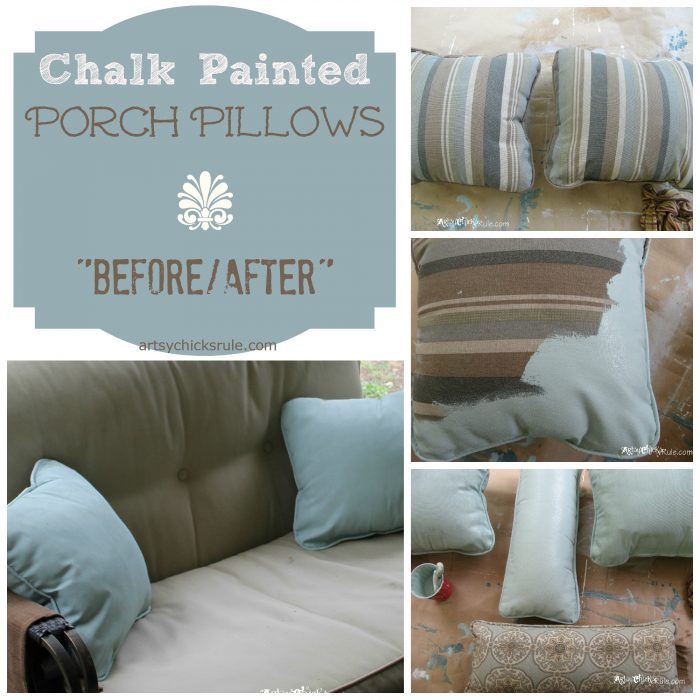 Porch pillows??? Yep!!
See this fun project, here.
Old bi-fold doors? All they need is a little Chalk Paint.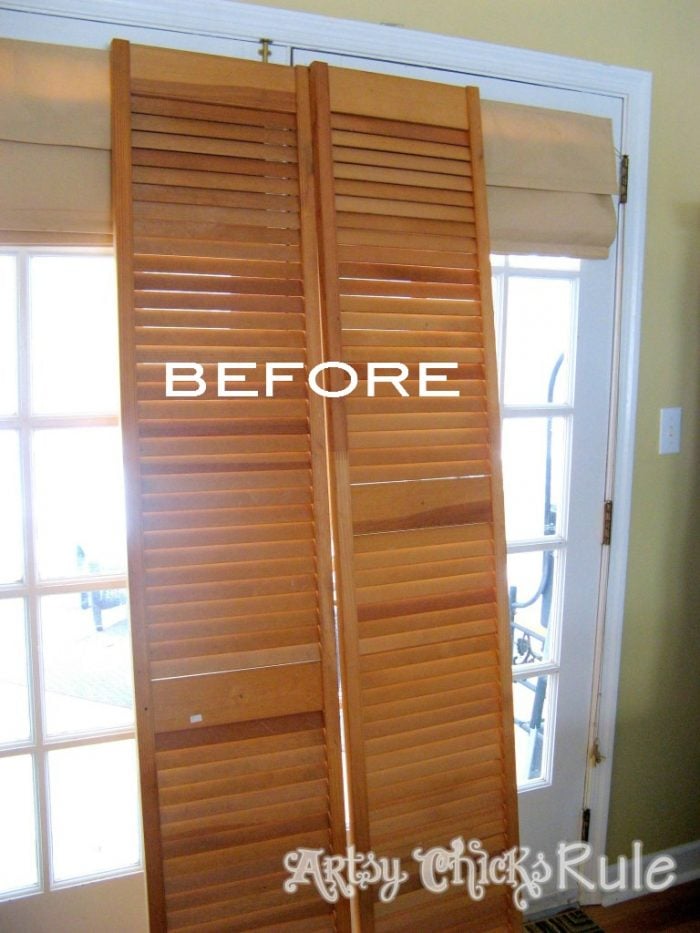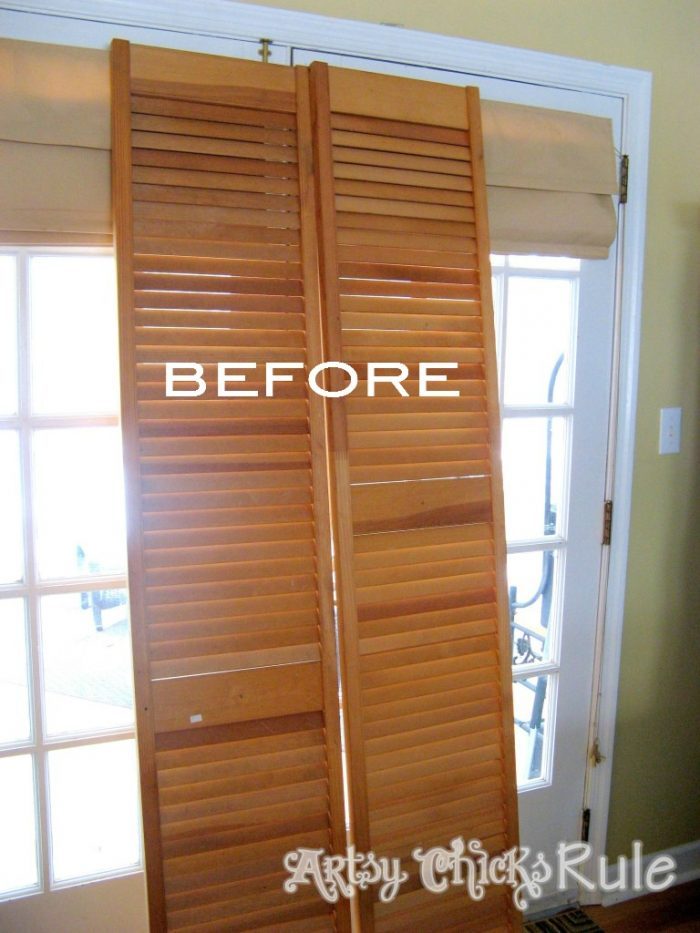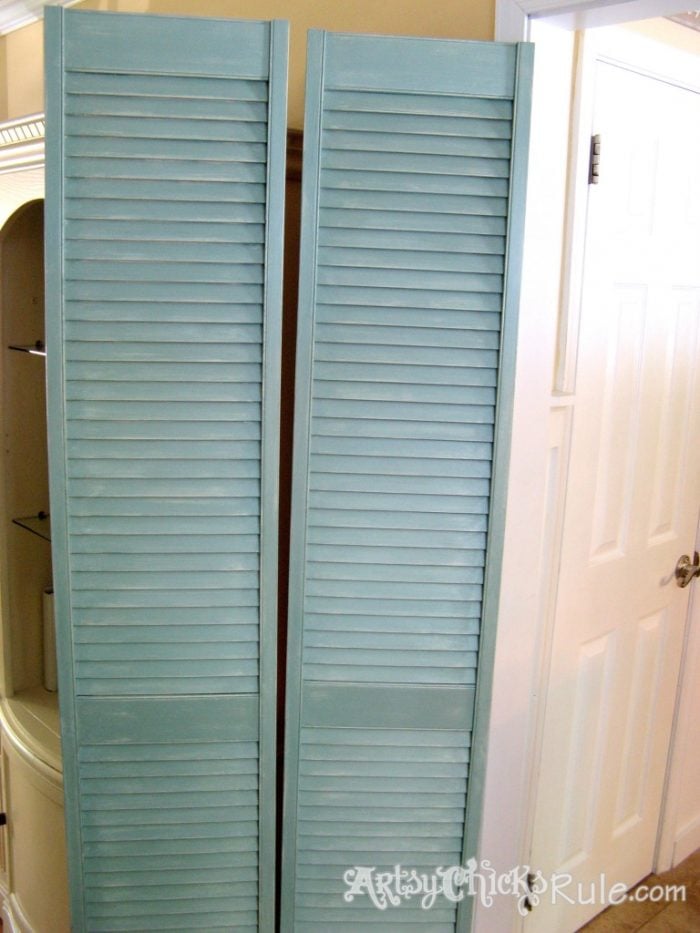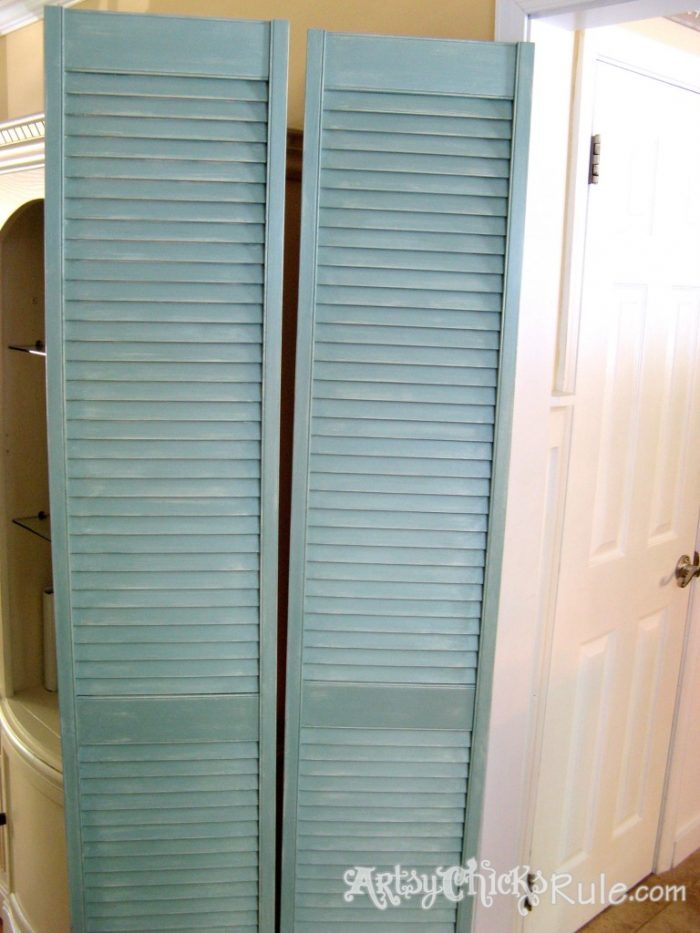 See the project and where (and how) I used these, here.
Old bottles? Don't throw them out…pull out the Annie Sloan Chalk Paint, instead!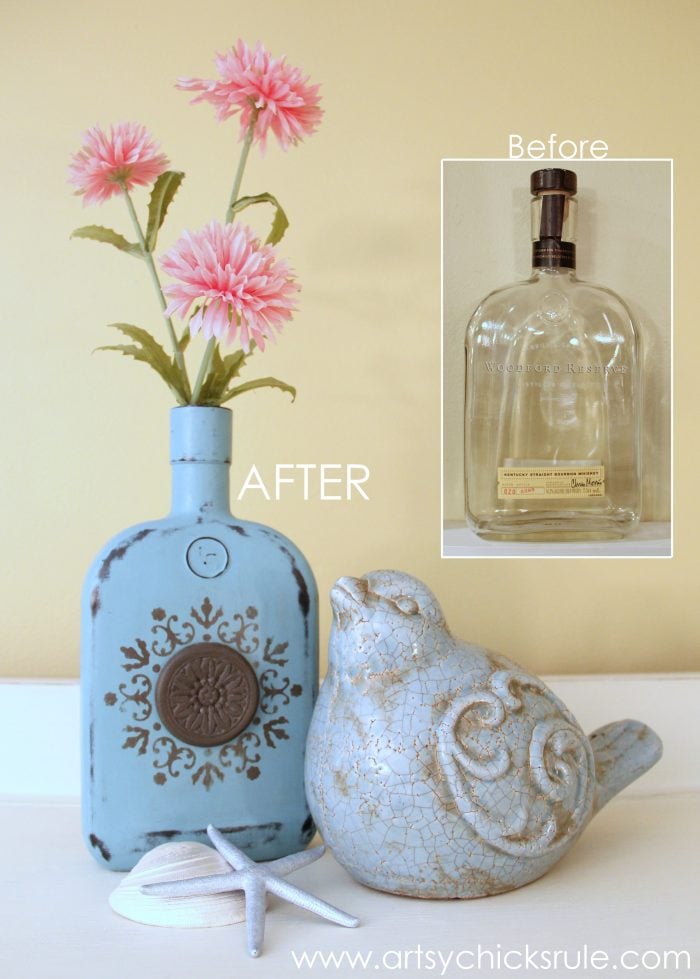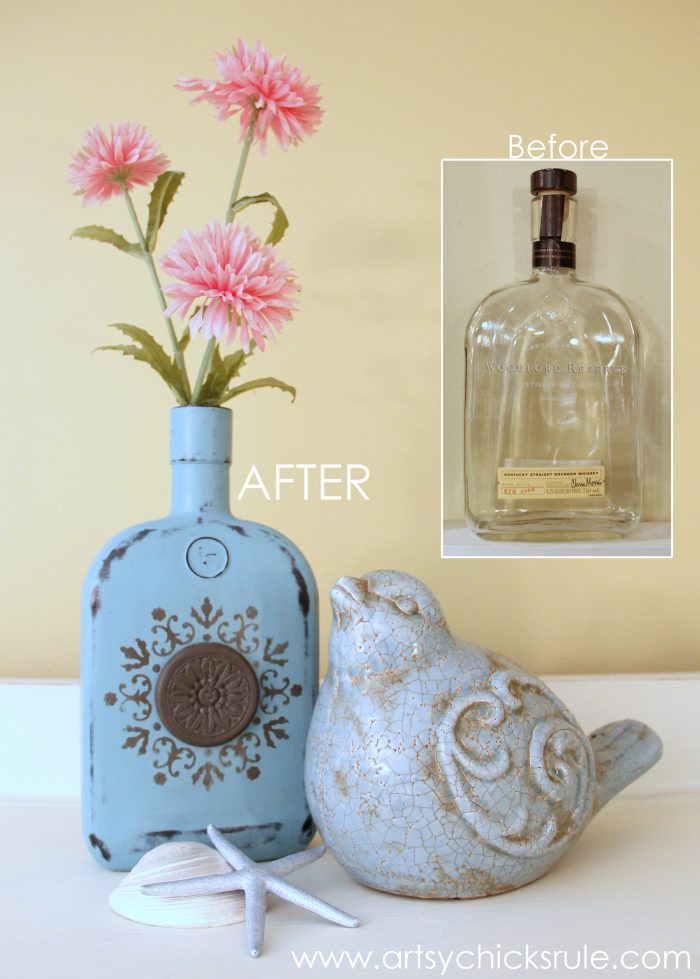 See the project, here.
Another bottle makeover.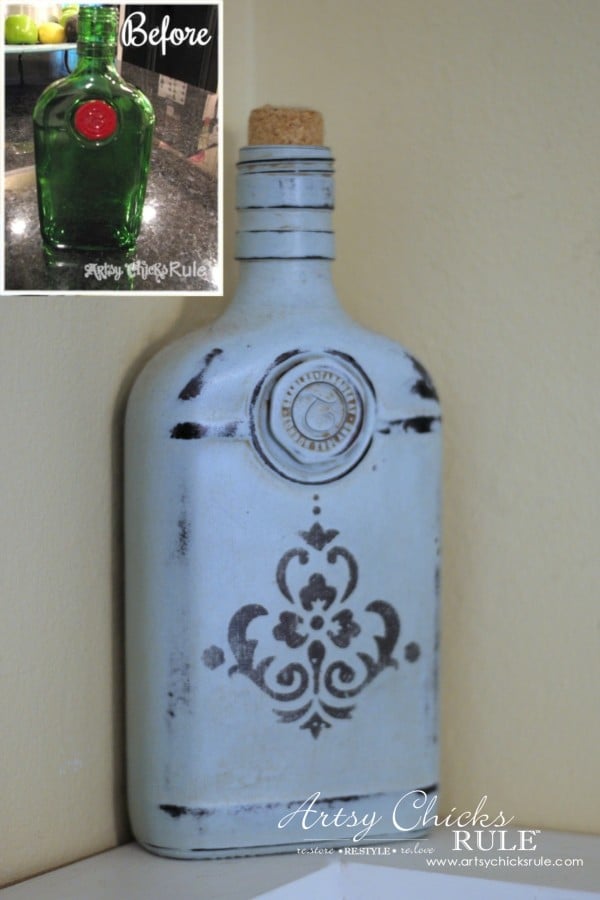 Lampshades, yep!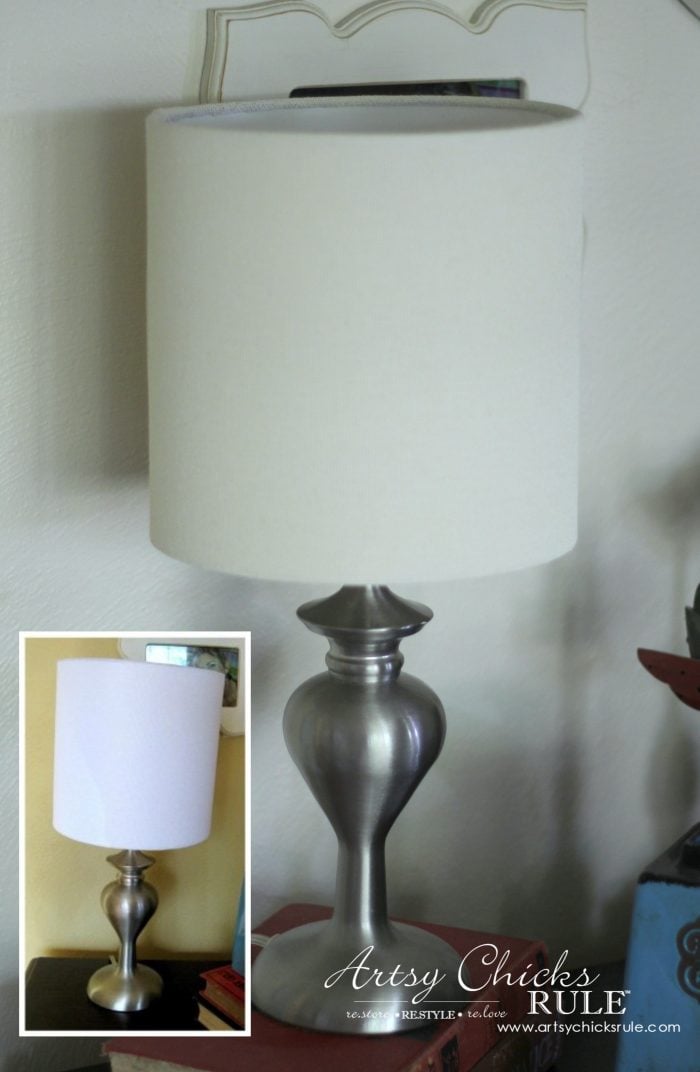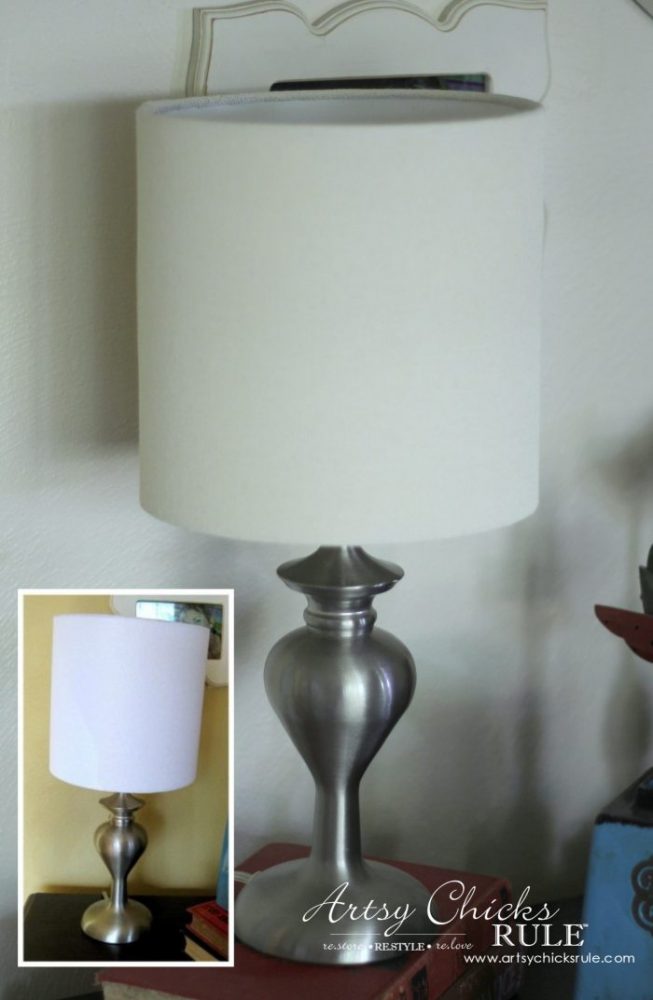 And another one….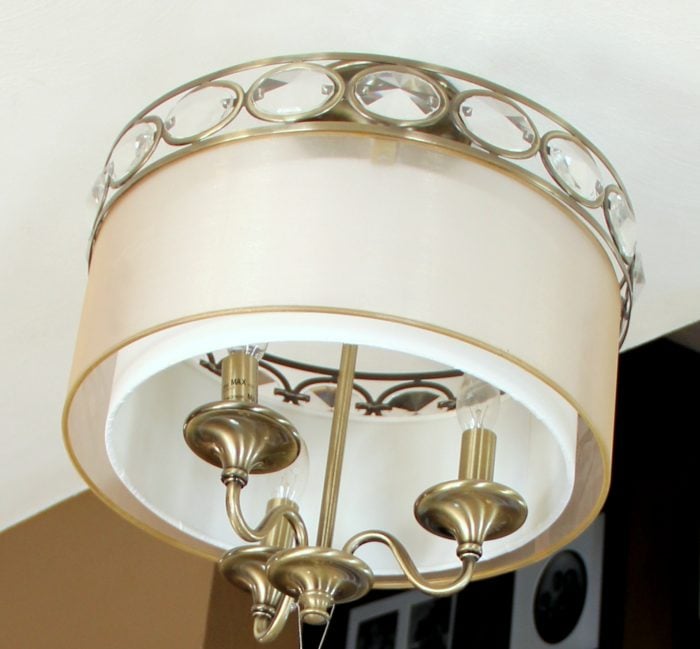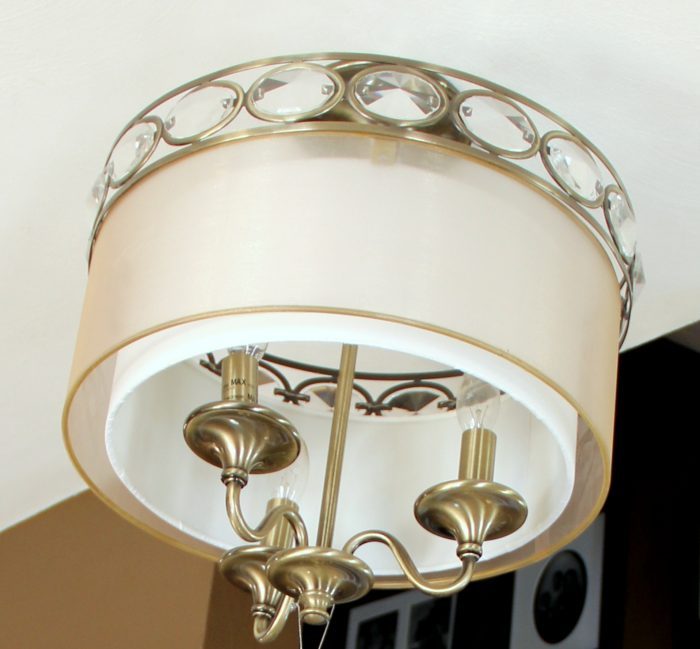 …got a little paint with a similar chalky paint.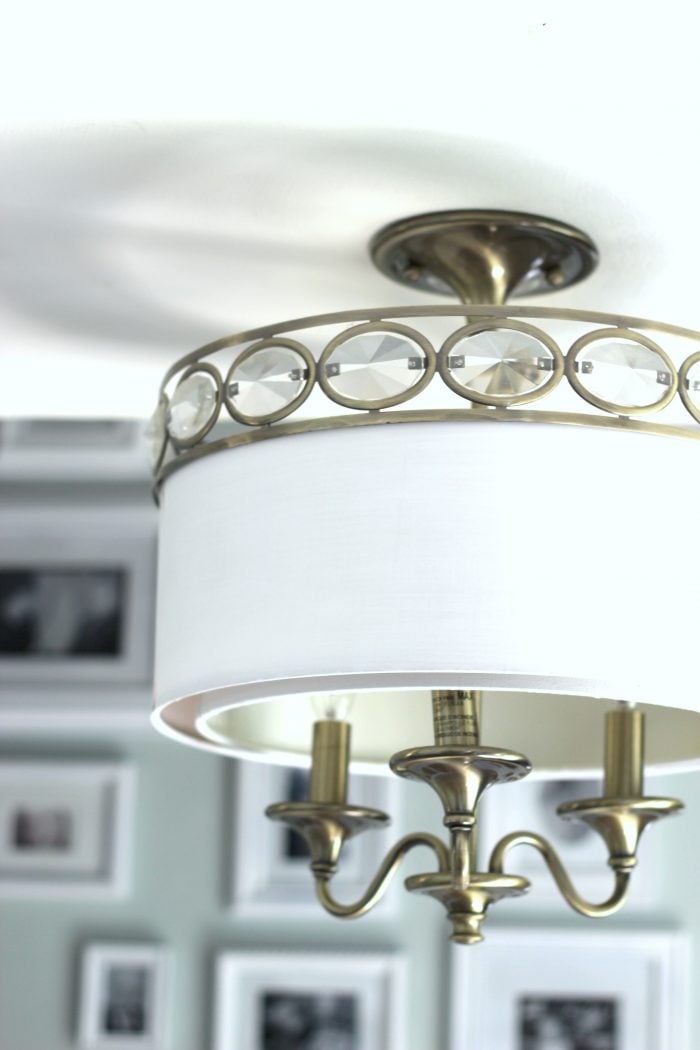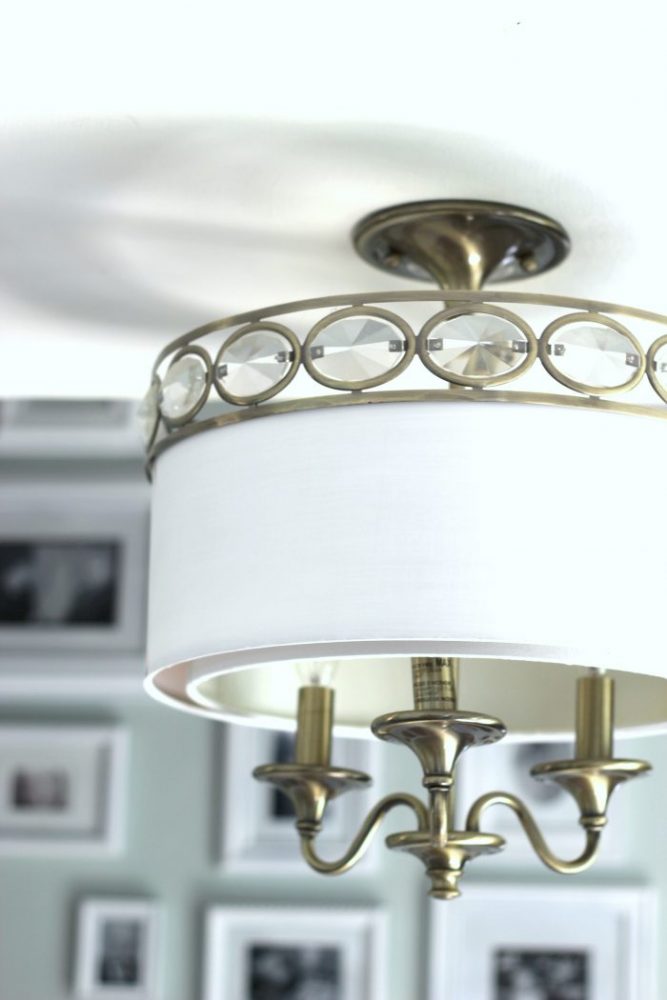 More details, here.
Metal? Yep sure can.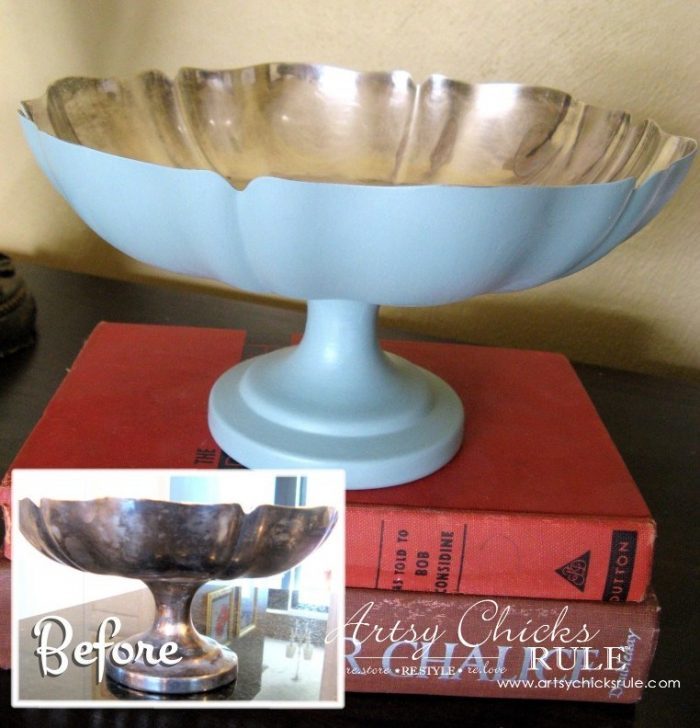 Here's another one….it used to be a rust color and is now Antoinette Pink.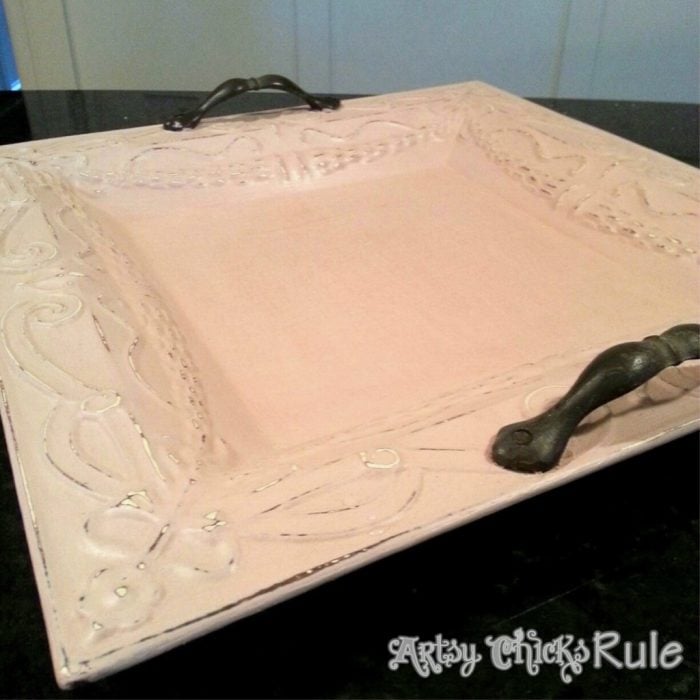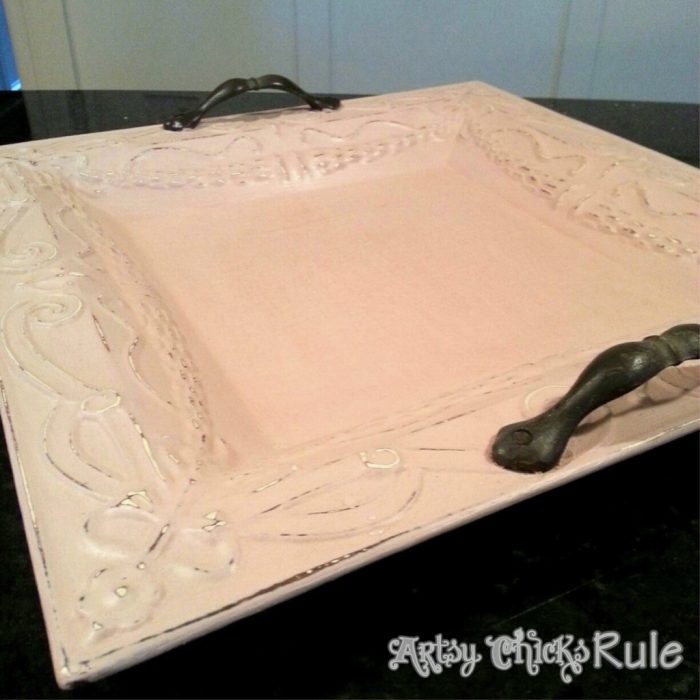 And this one….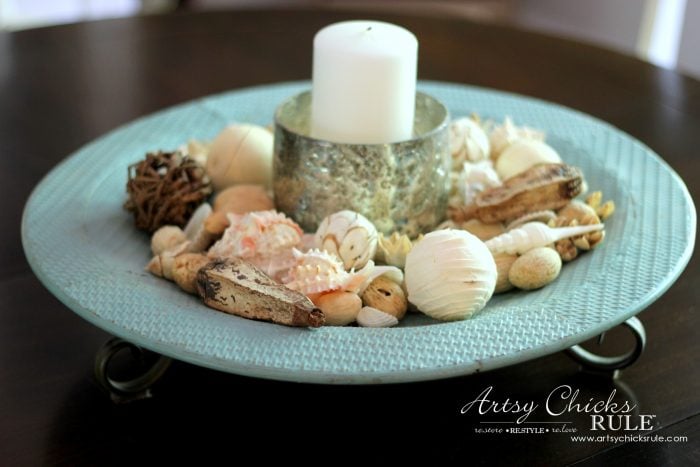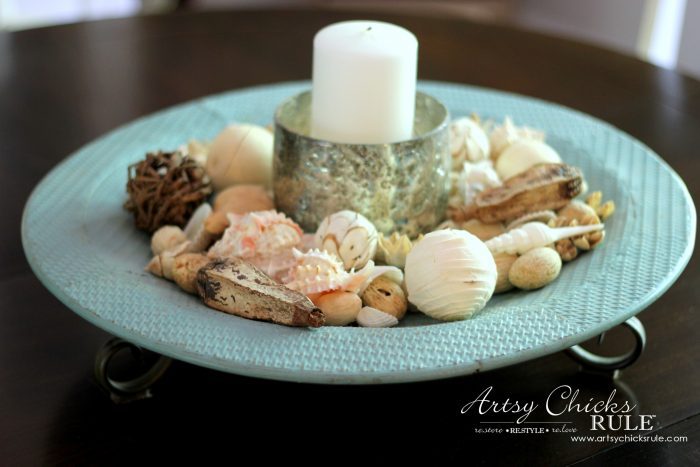 It used to be dark bronze colored but is not Provence.
And this one, in Scandinavian Pink.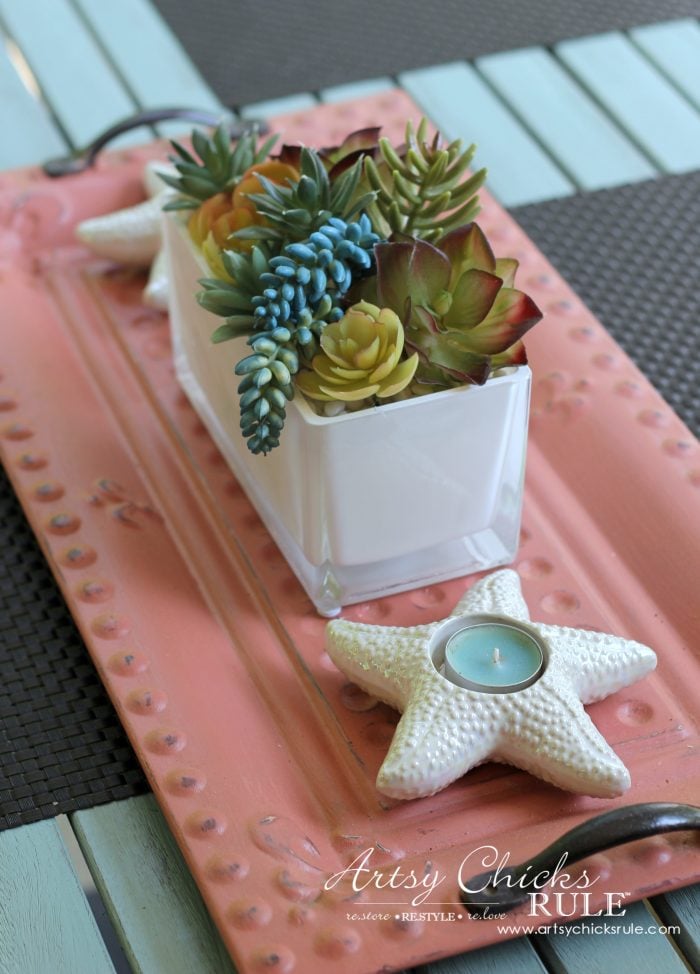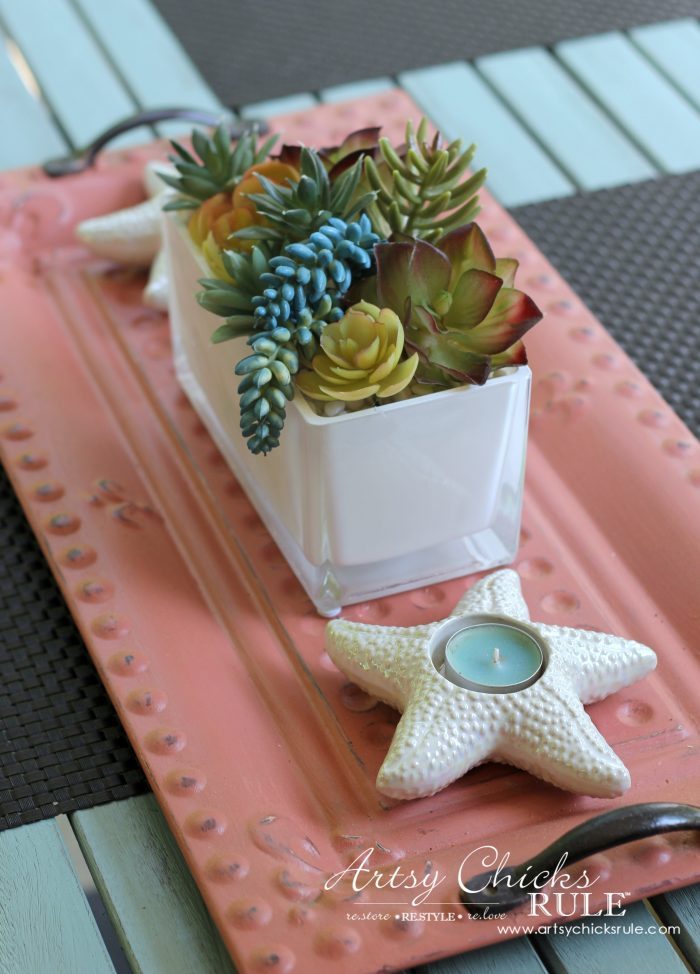 How about this lovely?? It came from HomeGoods..and started out GREEN.
I mean really green.
I really liked the design & detail…and knew it would get painted.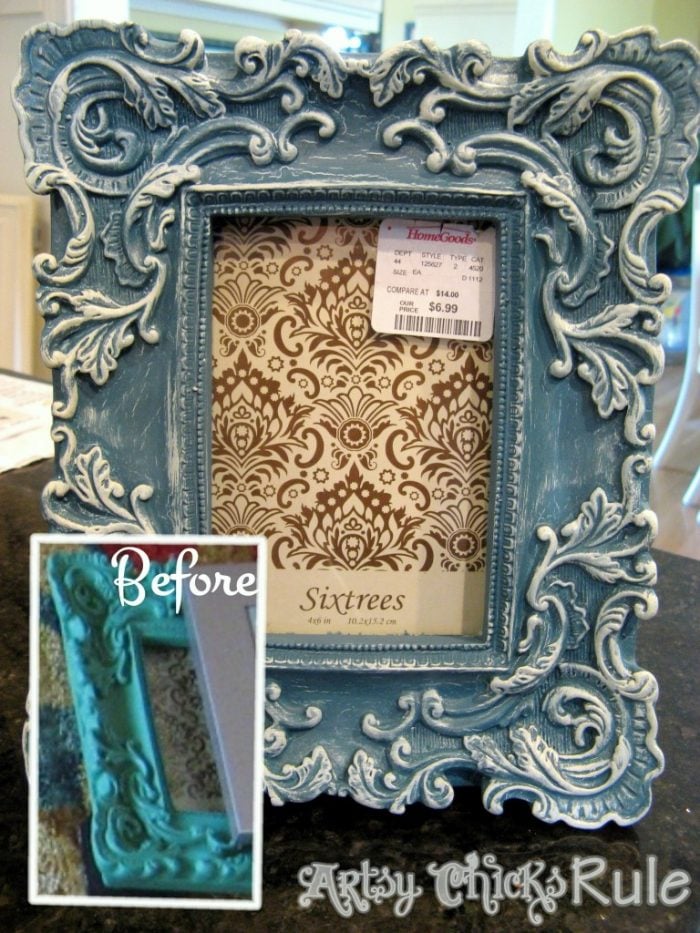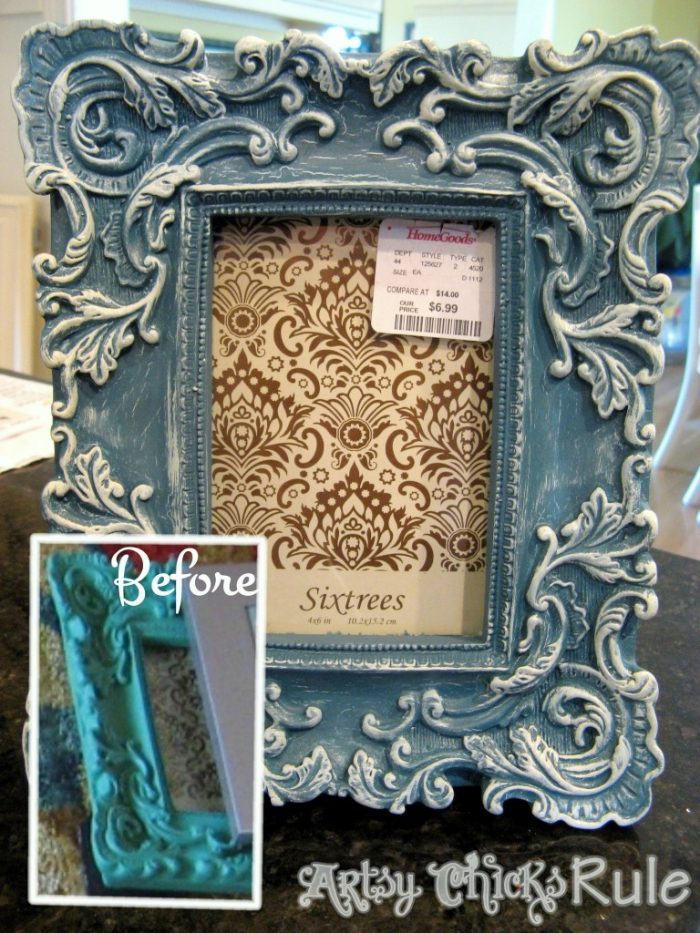 Ok…and a cool effect I didn't plan on but love. I sprayed it with white primer first.
Then applied the chalk paint while it was still a bit sticky and it gave it a crackle finish!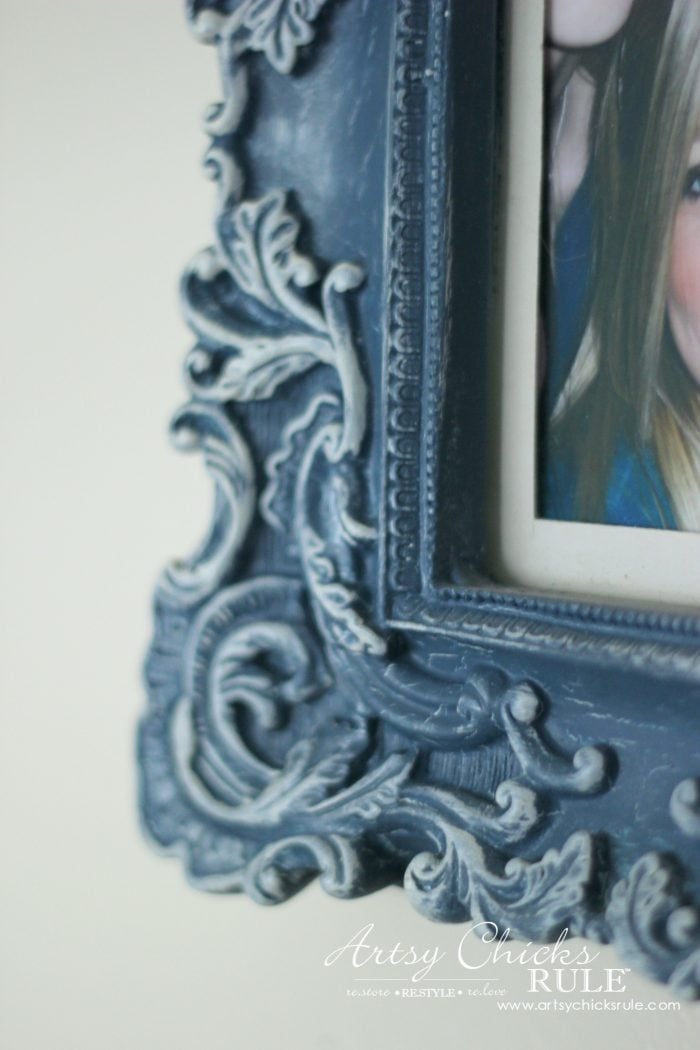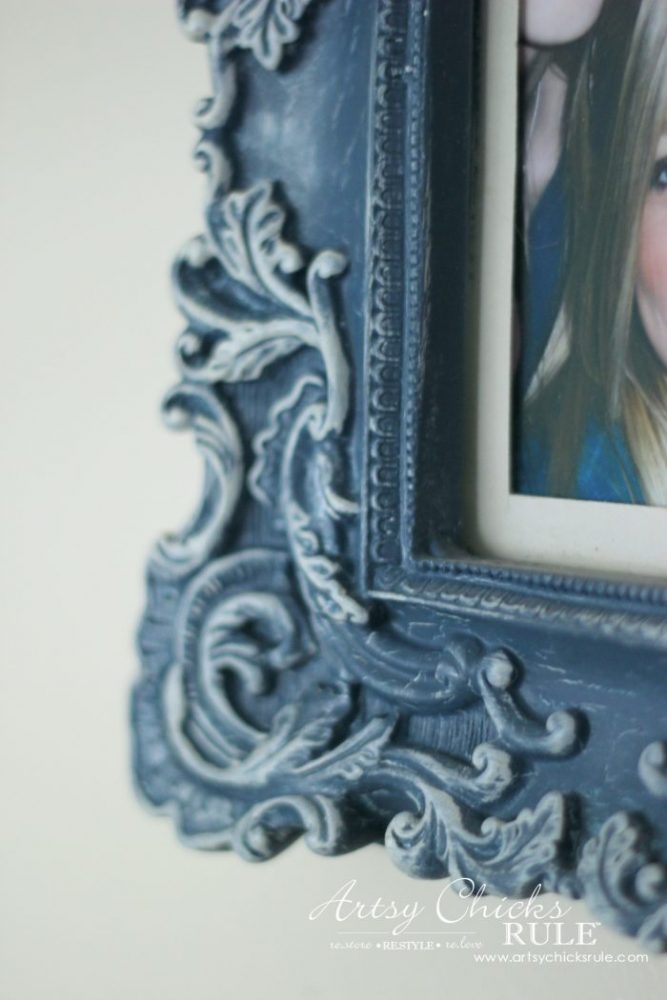 How cool. I love little surprises like that!
This one got Aubusson Blue with a dry brush of Old White.
Want to see a VIDEO on exactly how to dry brush? All the ins and outs, here >>> "How To Dry Brush – Video"
Mirror frames…..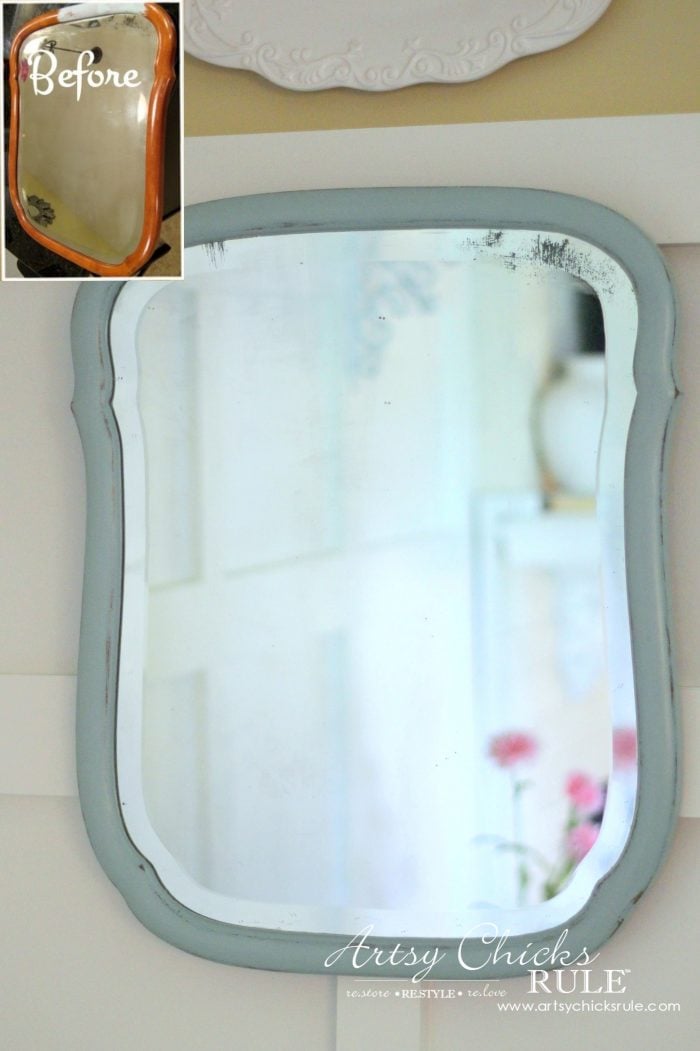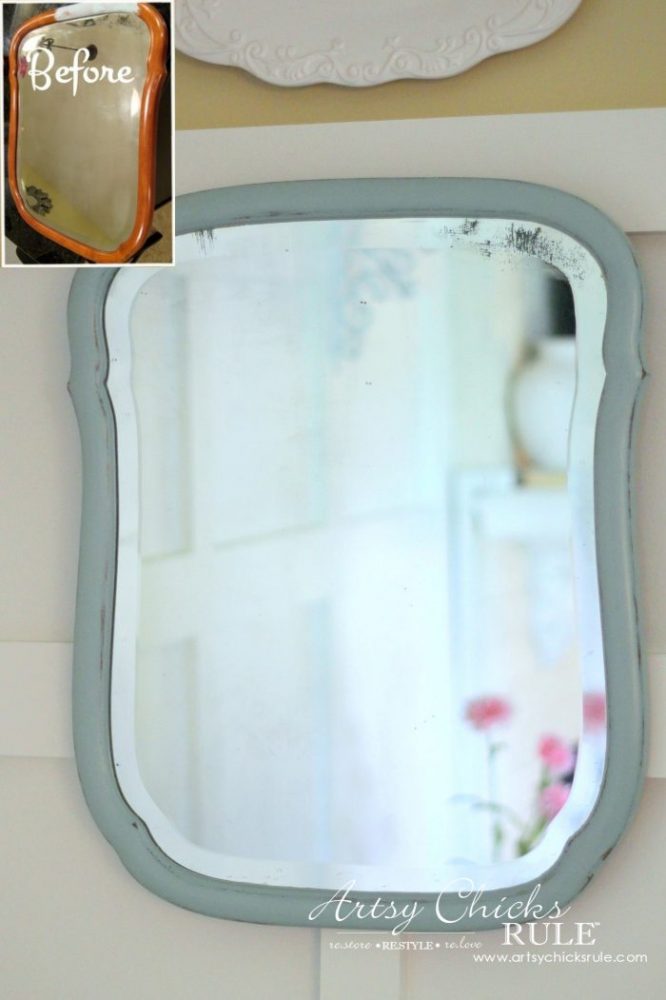 Okay, and lastly, let me share this.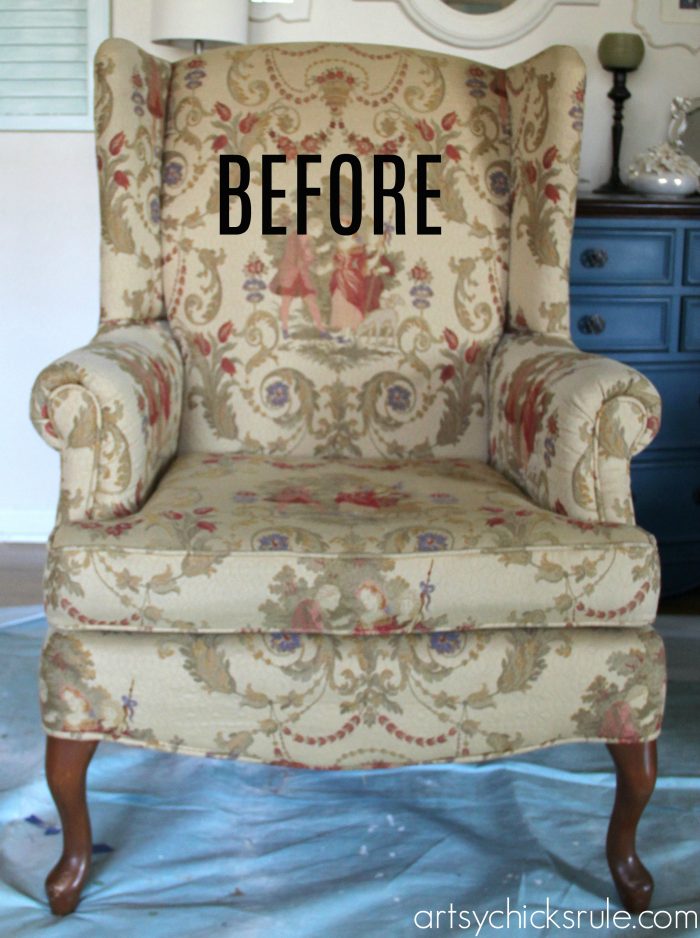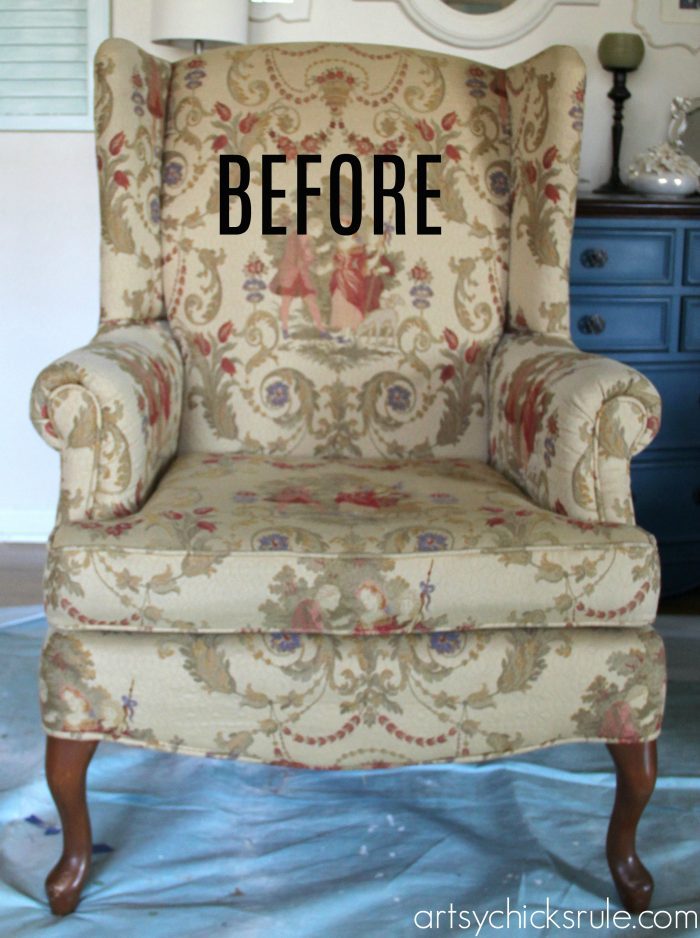 I know that technically it is furniture but would you ever think of upholstered furniture being painted?
Yep, you can do that, too! And I did, twice. ;)
See this one, here.
Want to know about 26 other chalk style paints?
I've got the low down for you right here! >>> 26 Types of Chalk Style Paint For Furniture
…………………………………………………………………………….
Clearly I love to paint. :)
But I also love how easily it is to paint with Annie Sloan Chalk Paint.
This paint is durable and beautiful. It comes in some of the most gorgeous shades and the possibilities with it are endless!
Have I given you some ideas? I hope so!
Be sure to check in later this week to see what I did with this old thrifty find!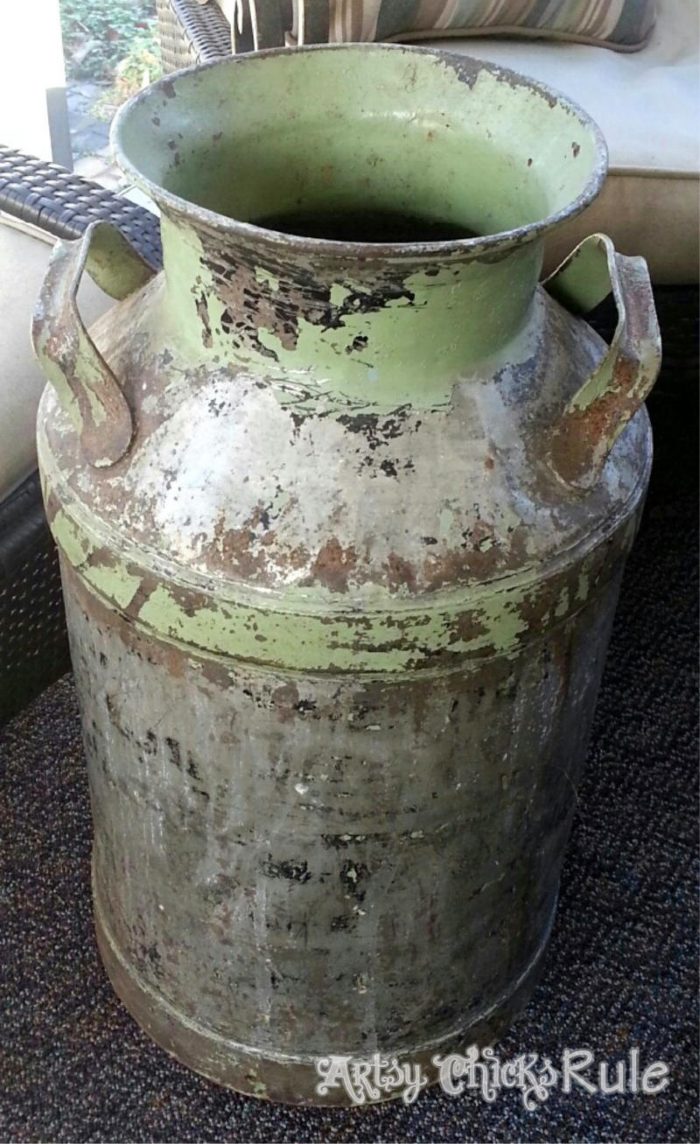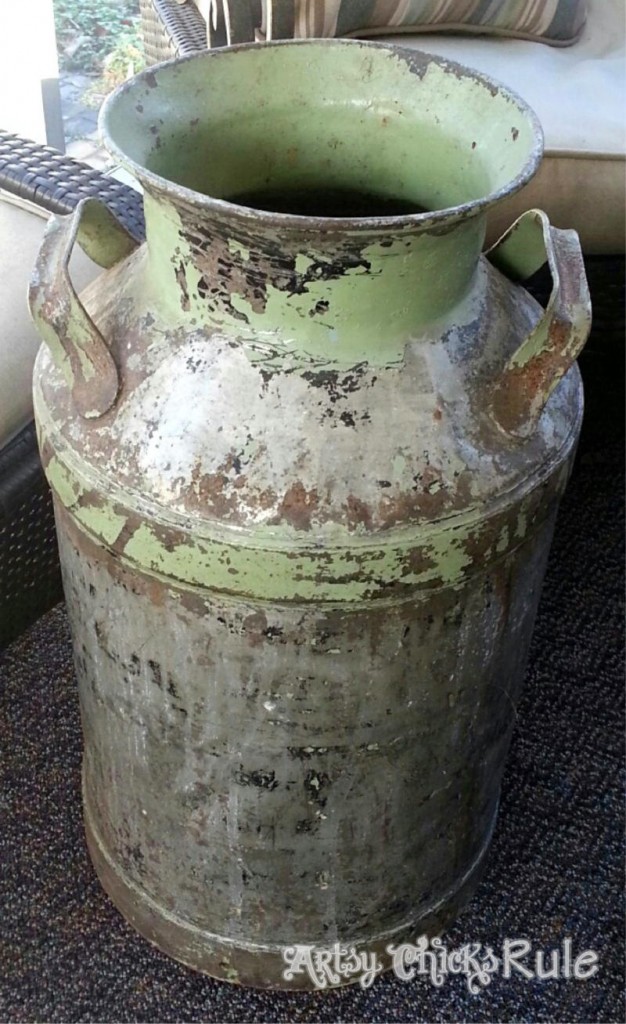 UPDATE!!! See it now, here!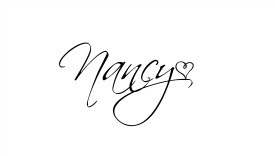 Get the "behind the scenes" and more when you follow along with me on Instagram!
PLUS be sure to sign up for our newsletter so you don't miss any new projects or products I'm sharing!
Click here –> Yes, I'd like to join.