Nope, it's not.
My house is covered in it. Really.
I can't look around without seeing it on something.
I love it and use it all the time on furniture.
BUT I also use it on all kinds of other things too.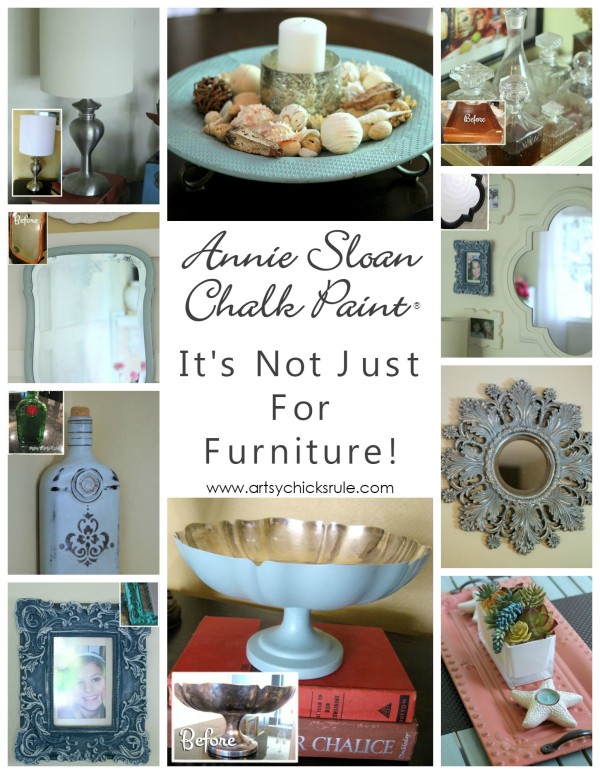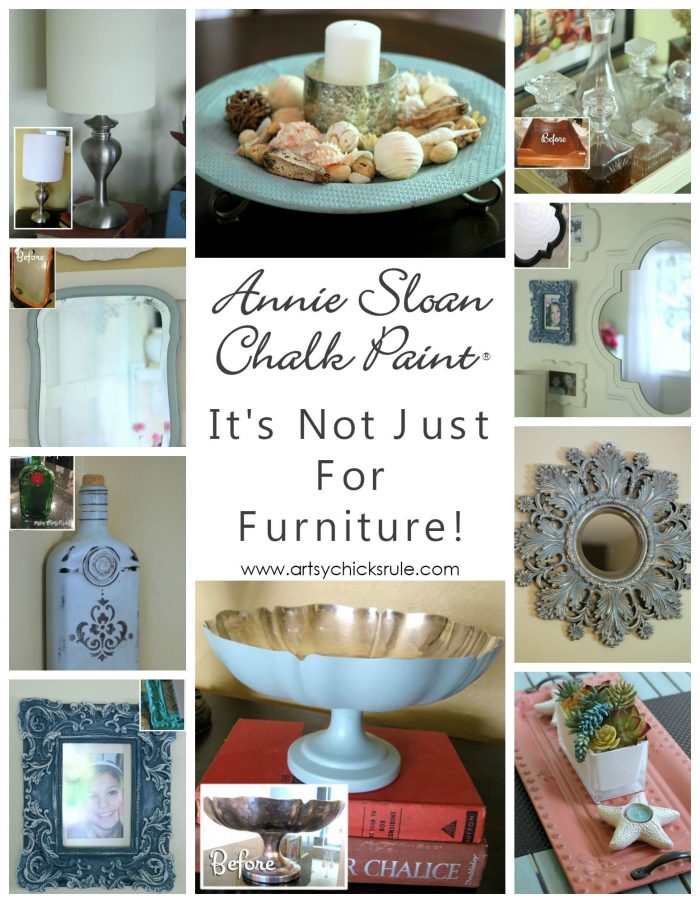 Come take a look…..because Annie Sloan Chalk Paint really is not just for furniture!
"Before" picture of two of the things I painted with chalk paint…..some of my thrifty finds…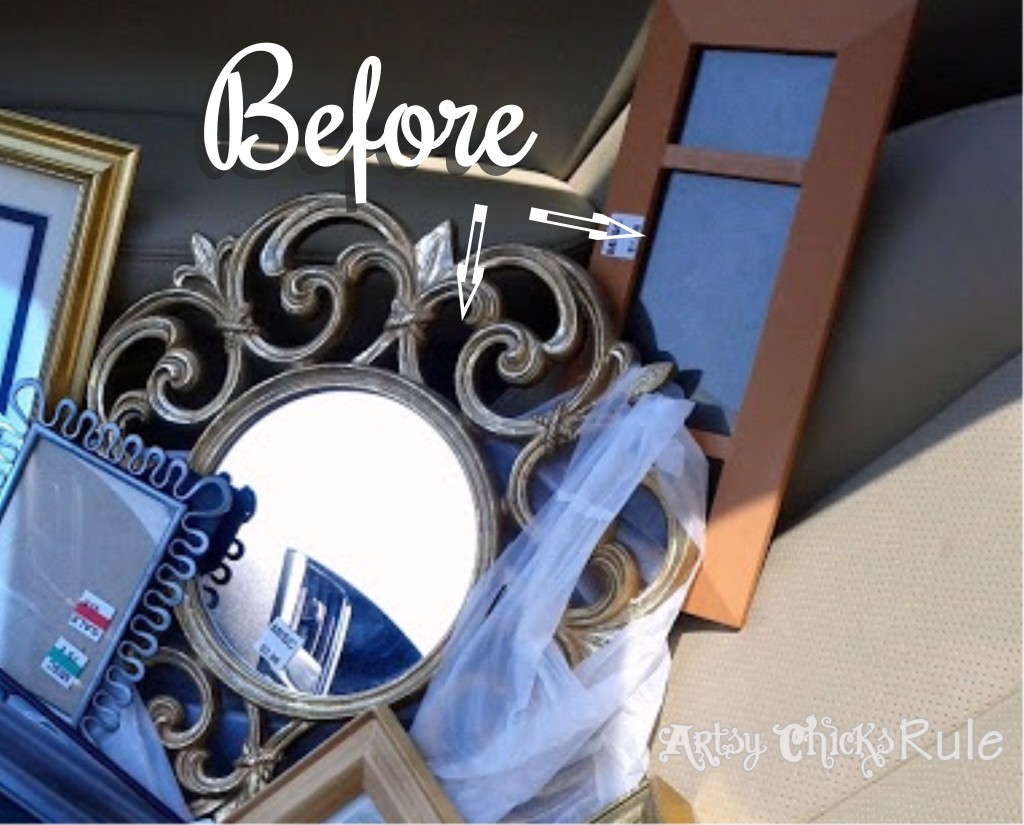 The ugly orange picture frame I got for .45cents…..(pictured above "before")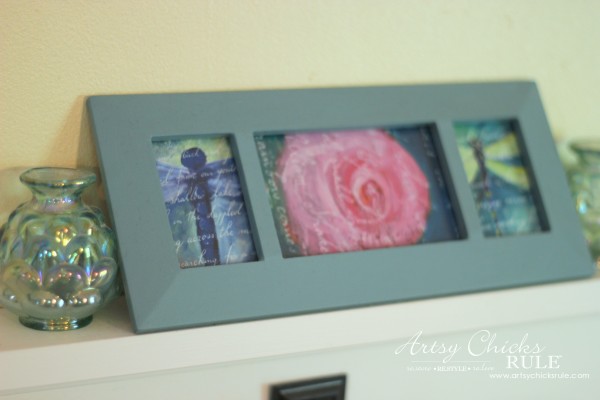 And the mirror that was $2.00 (also pictured above "before")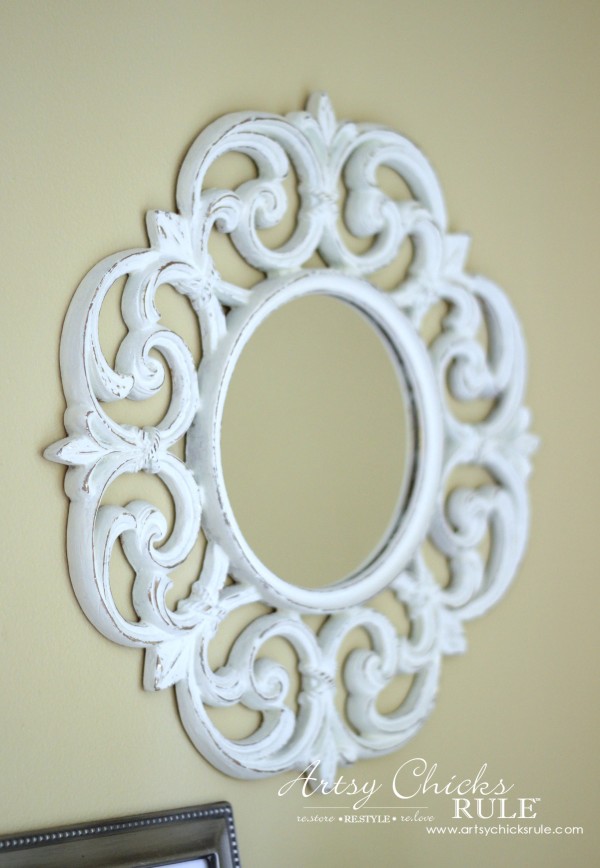 "Old White" Chalk Paint with the gold rubbed through.
Or how about this Olive Oil bottle I've had for ages…it was a mustard yellow color before…..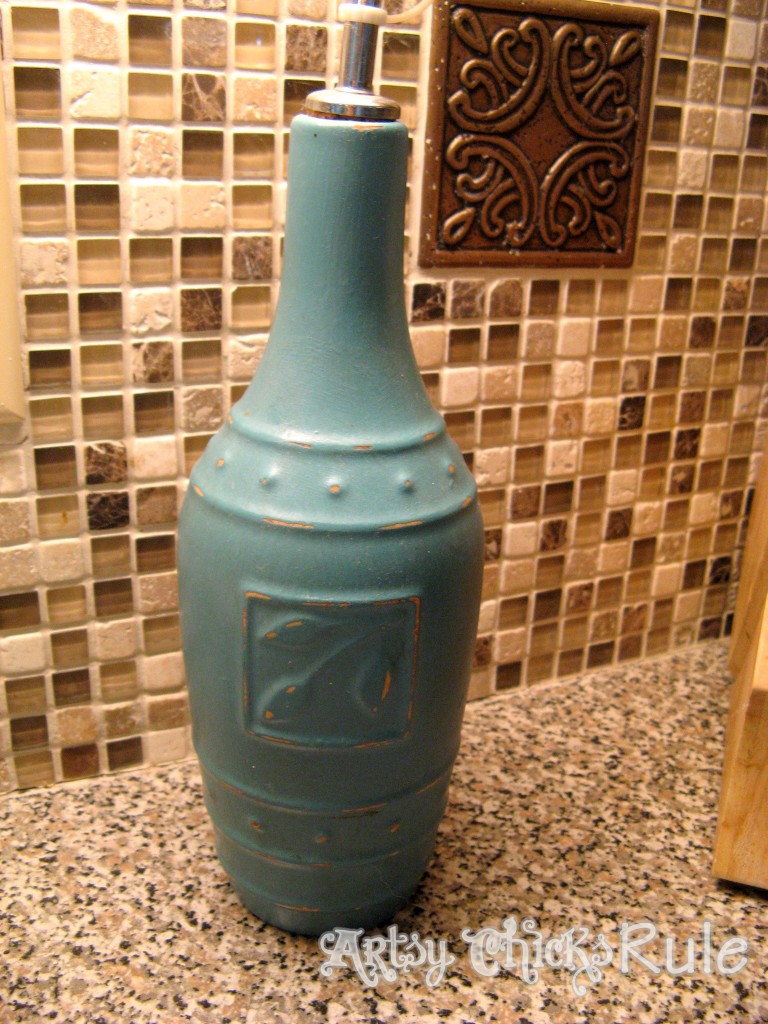 You can see the mustard color where I "distressed" it.
That's my pretty tile backsplash I did in June/2010. I will have a post about that soon. (update: see here for the backsplash)
It was super easy to do. Can't wait to share some of the tricks that made it so.
How 'bout this pretty little thrifty find?
It was an unfinished, unfired pottery dish for $1.00.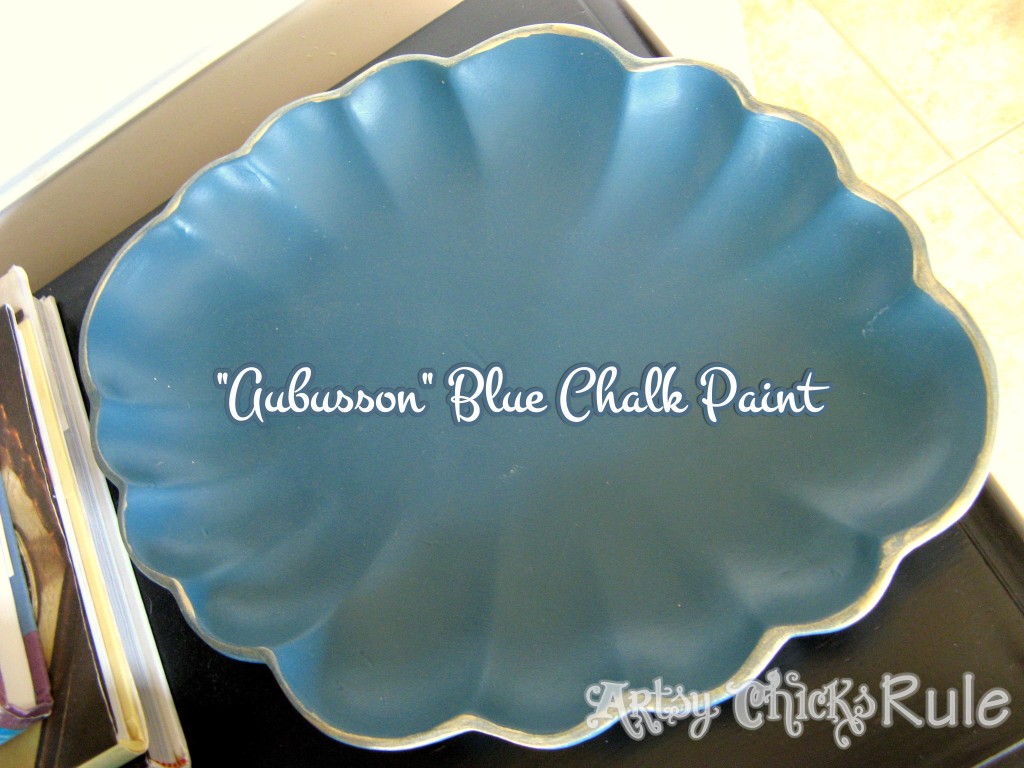 Just begging to be painted.
So I did, with Aubusson Blue Chalk Paint and applied gold to the rim.
This went to the shop but didn't sell so I brought it home after a month or so…silly people.
Now that it's here it's not going back. I love it. :)
Lamp I bought at a garage sale for $5.00.
I sprayed the base with my ORB and the lampshade was painted in a custom blended shade of Annie Sloan Chalk Paint ® (it was beige to begin with).
No wax or sealer used.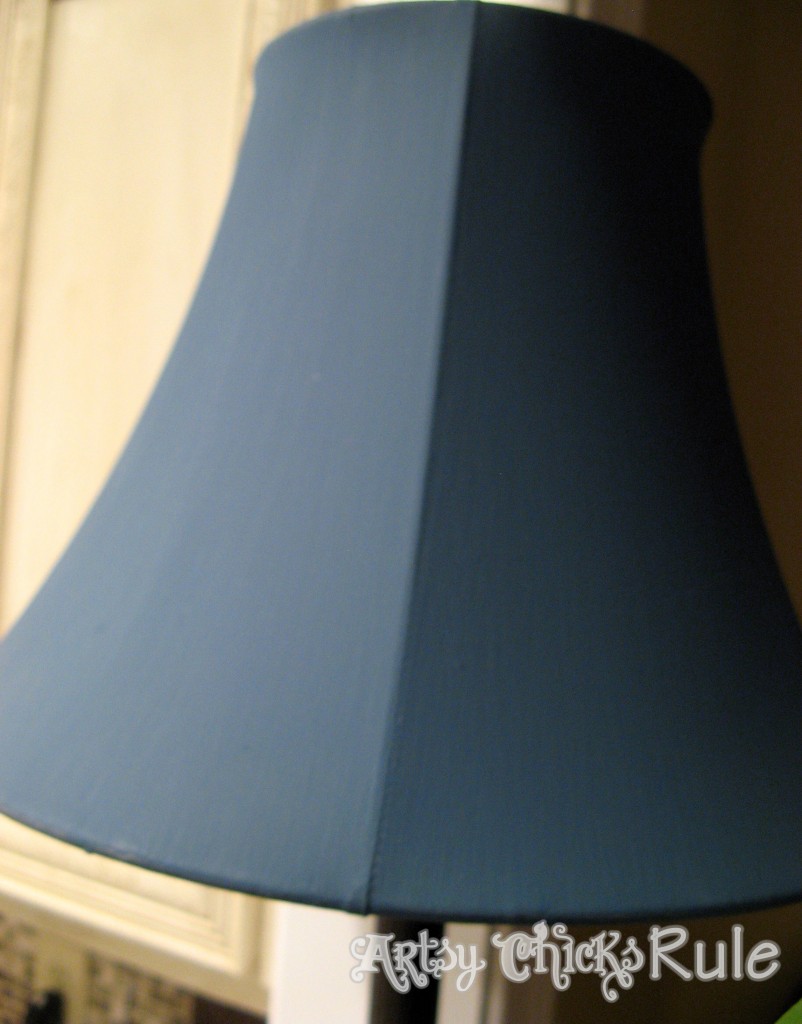 I blended up Napoleonic Blue, Aubusson Blue & Antibes ( all Annie Sloan colors) to come up with this gorgeous turquoise color,
So yes, you can even paint lampshades with it.
And this lovely antique mirror I picked up at my favorite thrift store…..for $6.00.
Look at the curves. I love this so much. $6? Crazy.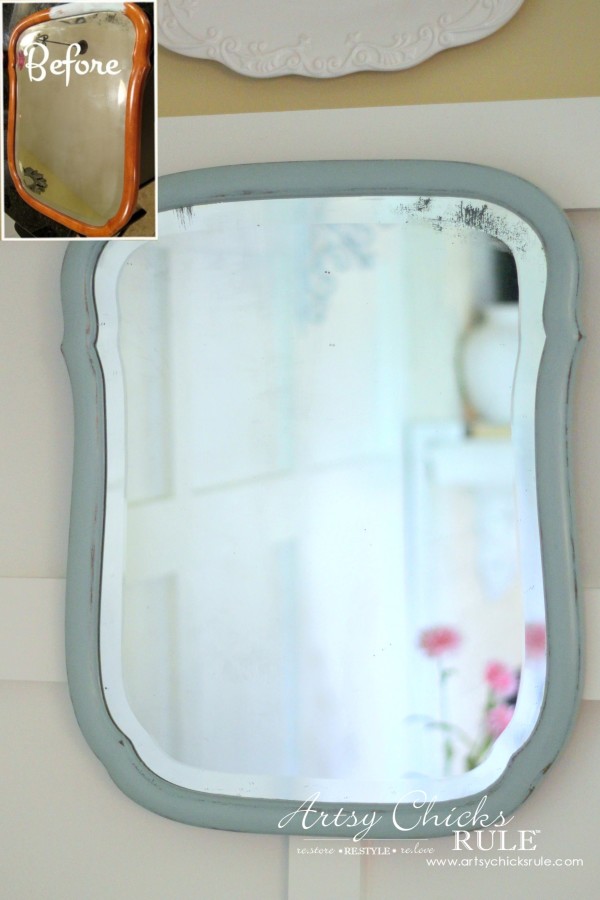 In a blend of Aubusson, Old White and Antibes Green…to come up with this lovely color.
And yes, I started painting before I took the "before" picture….I always do.
I just always get so excited and jump right in. Sorry!
Magazine stand in my guest bath.
Wood stained, very 70's piece here but so nice with a little paint.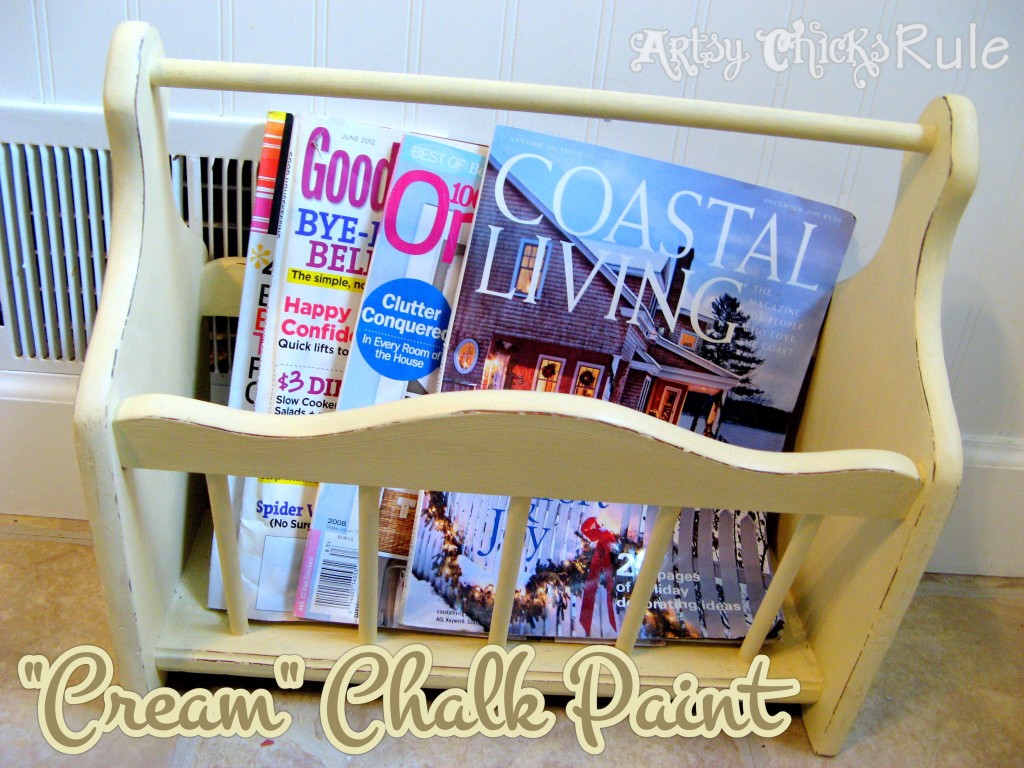 Painted in Annie Sloan "Cream".
And of course this little thrift store mirror that is on my Gallery Wall pictured here.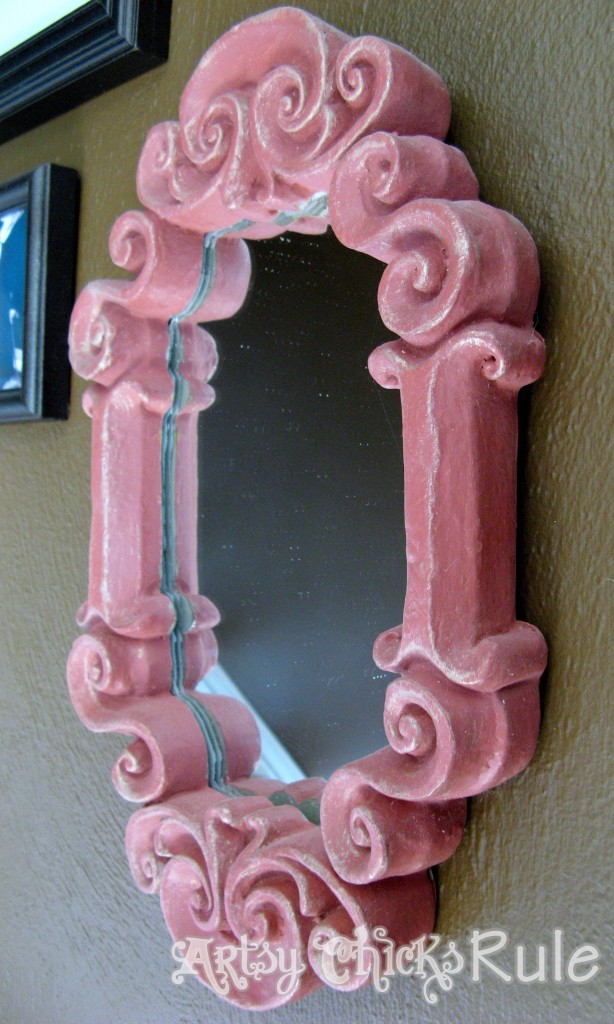 A blend of Scandinavian Pink and Primer Red Chalk Paint.
Rimmed in gold again.
A mirror I picked up at HomeGoods for cheap.  $25, love that.
(and yes, I also started painting this before I took a photo again)
PLASTIC framed mirror, I might add.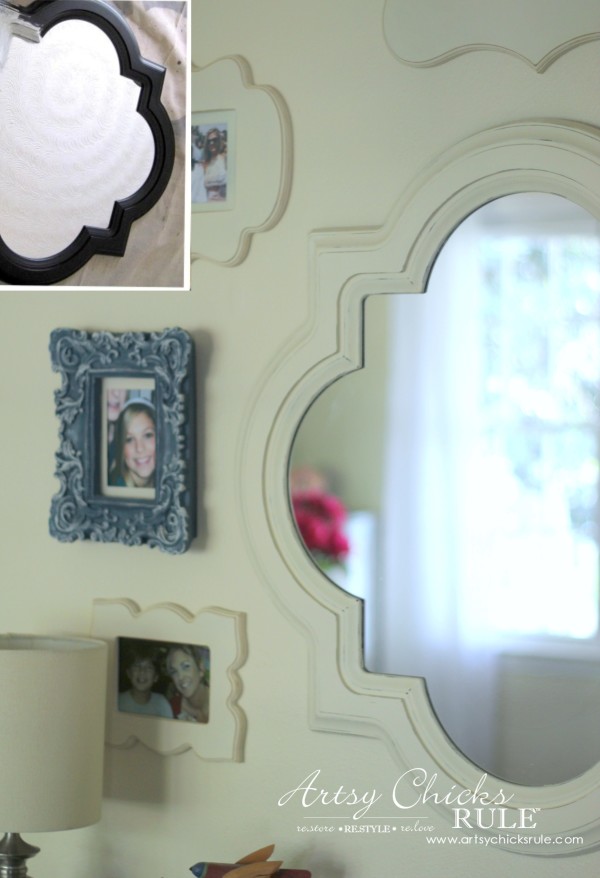 It was black…but I changed it to "Old White".
This is in the middle of a gallery wall over the top of my Aubusson Blue dresser in my study.
How about this lovely?? It came from HomeGoods..and started out GREEN.
I mean really green.
I really liked the design & detail…and knew it would get painted.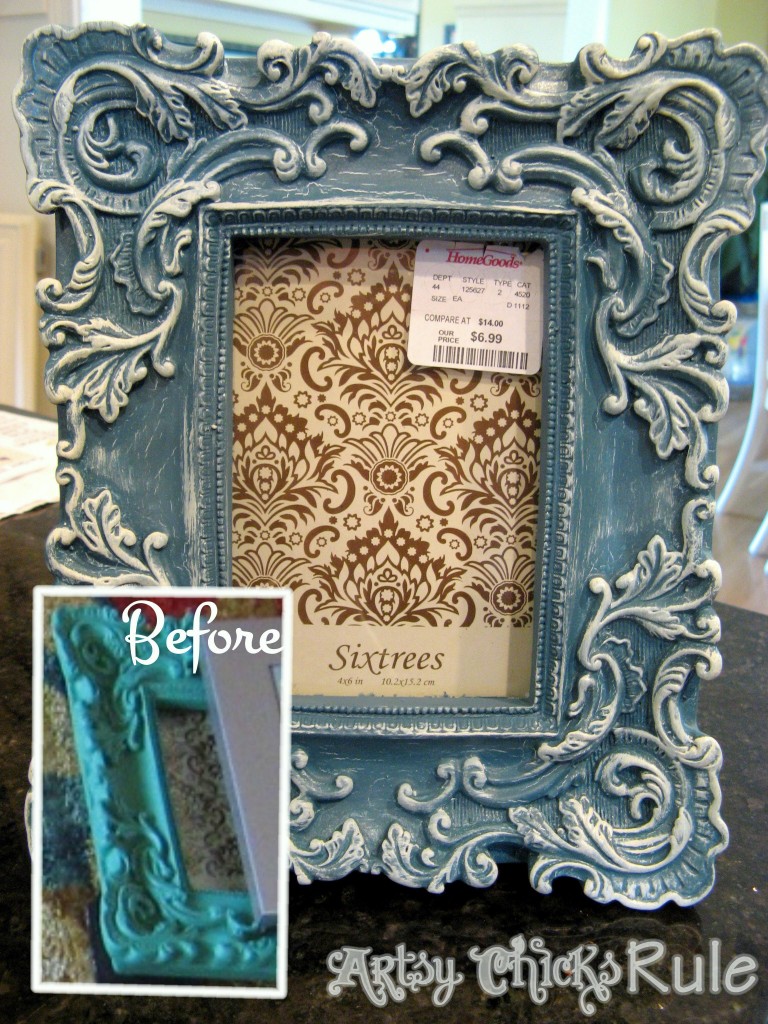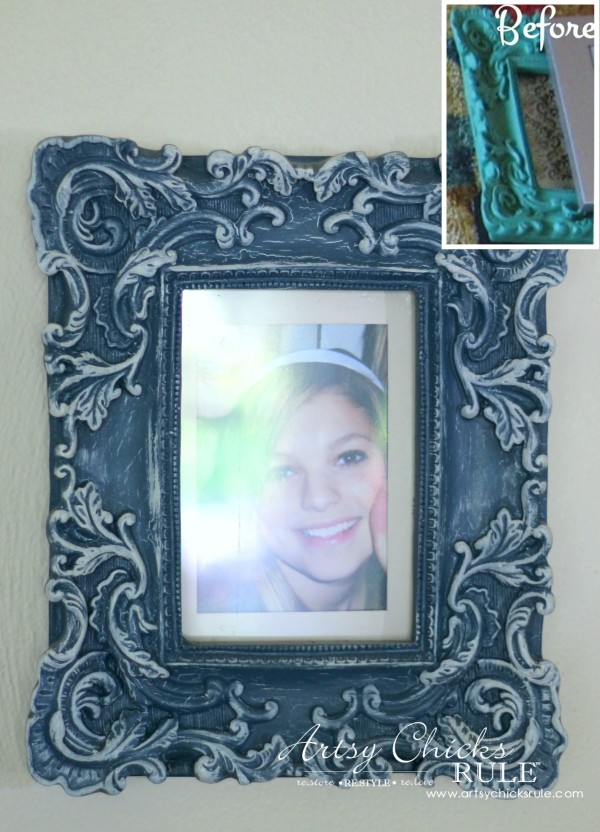 Ok…and a cool effect I didn't plan on but love. I sprayed it with white primer first.
Then applied the chalk paint while it was still a bit sticky and it gave it a crackle finish!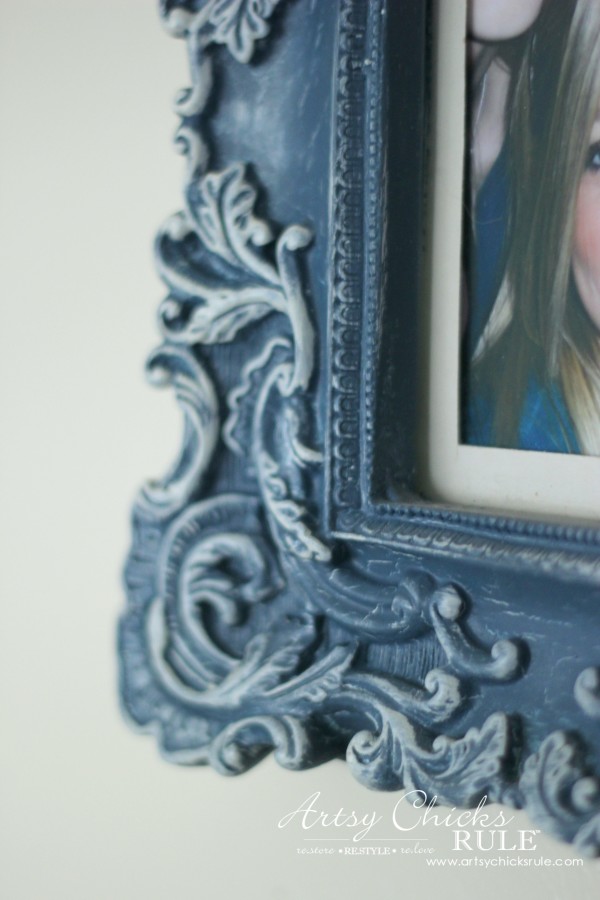 How cool. I love little surprises like that!
This one got "Aubusson Blue" with a dry brush of "Old White" Chalk Paint.
Look how beautiful all that detail is the Old White paint brought out.
And another "Aubusson Blue" frame.
It started out completely gold and is another thrift store find.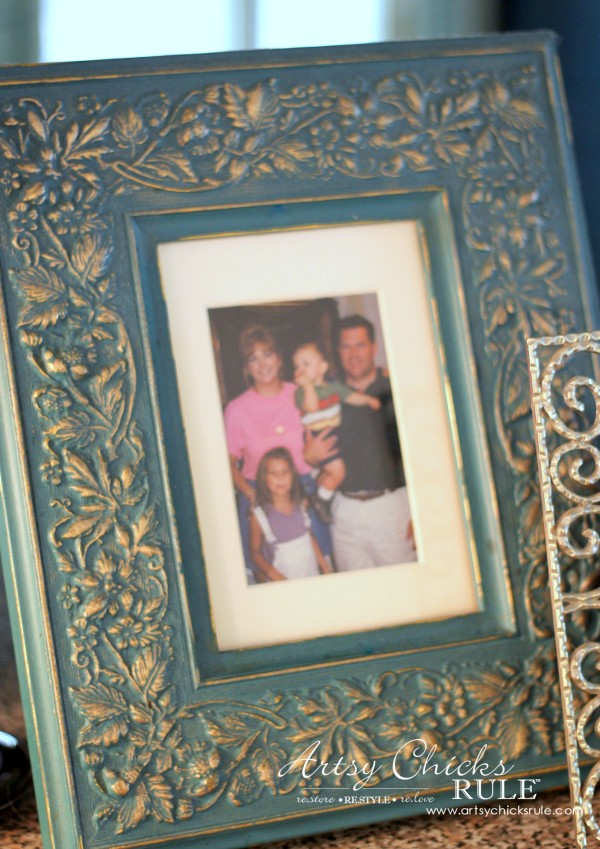 I painted it and then rubbed a cloth over the edges to remove just a bit to let the gold show back through.
That's me, my guy and my little ones, by the way.
Who aren't so little anymore.
At all.
My little guy there is taller than me now. Time goes so fast!
This is a "Southern Living at Home" metal tray I picked up at a garage sale for $3.00
It was an orangy, brown metal color and all chipped up.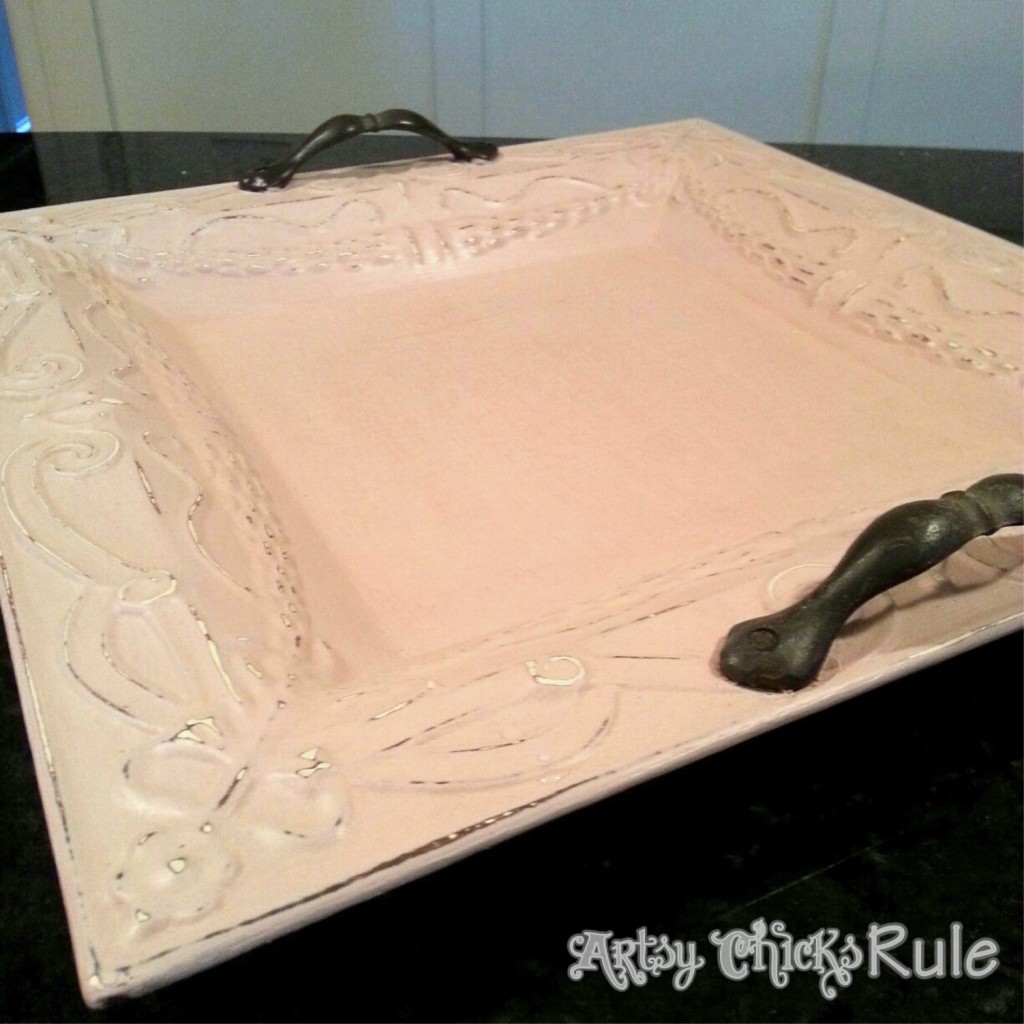 I painted it in "Antoinette" Chalk Paint. Antoinette is the perfect pink with a touch of brown so it's not too "pinky".
It's a very sophisticated pink.
This metal tray I bought years ago. It was a dark brown to begin with.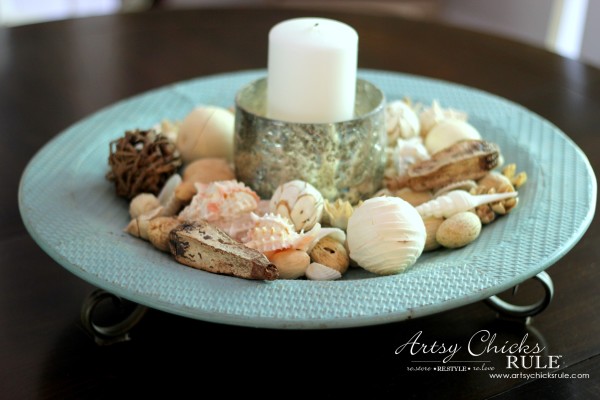 Until I painted it in "Provence" Chalk Paint.
So much better….and Provence is such a gorgeous color.
This is actually a letter/paper tray. I picked this up at the thrift store for $1.00 if I remember right.
Wasn't much….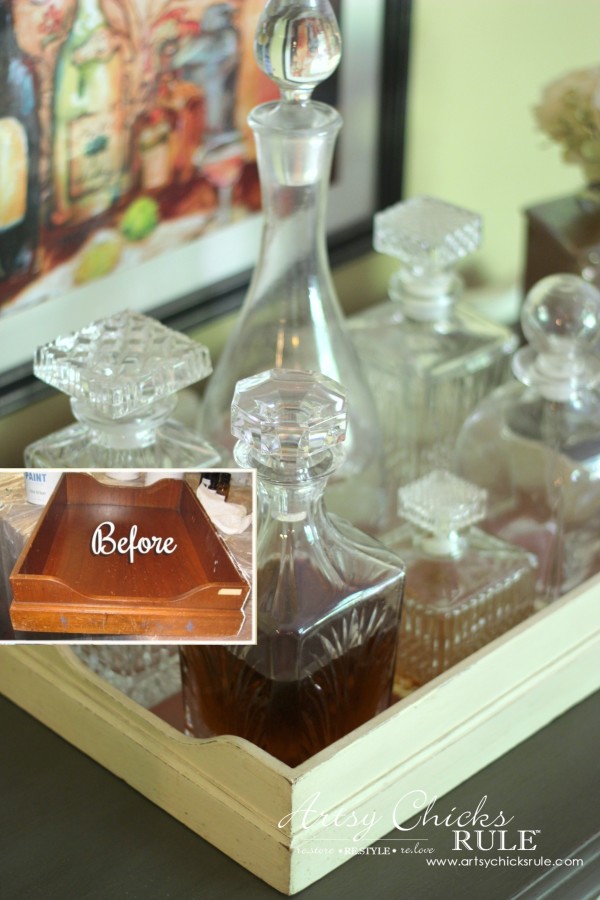 I painted it with "Old White" on the outside and "Scandinavian Pink" on the inside.
I use it as a tray to hold my decanters on my "bar cabinet".
You can see the bar cabinet post here.
It went through several transformations. But the last transformation is a KEEPER.
Gin bottle. Nothing special…just empty. Ha!
So I painted it with my favorite spray first…Oil Rubbed Bronze …..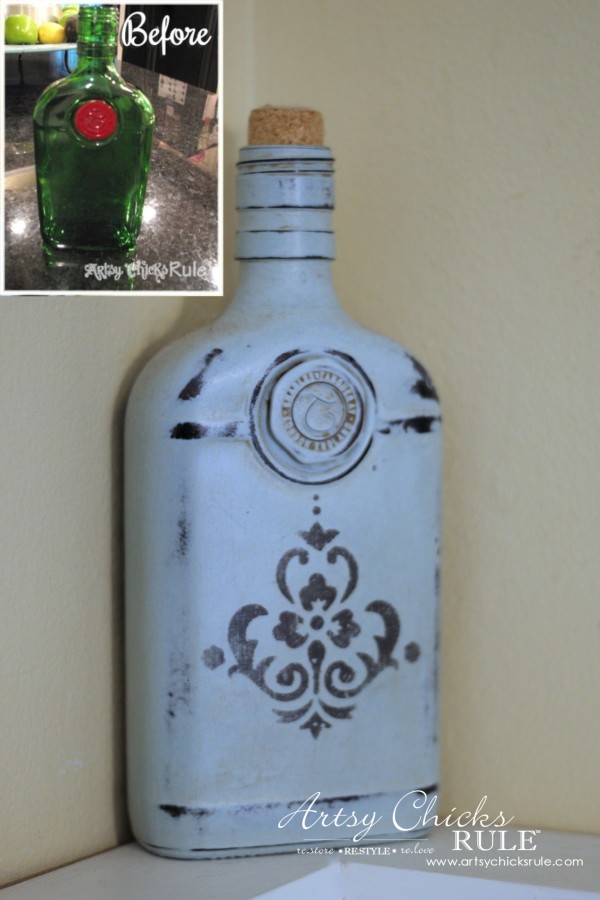 Then I painted it with Annie Sloan Chalk Paint ®…added a stencil, waxed & distressed it.
How cool is that?
I love how this turned out so I have it displayed on the ledge of the board & batten in my kitchen.
A cute little lamp I picked up recently.
I decided to use it on my Aubusson Blue dresser but the white was not working with everything else in there.
So….I painted the shade with "Old White" Chalk Paint.
Same as the frames on the wall behind it.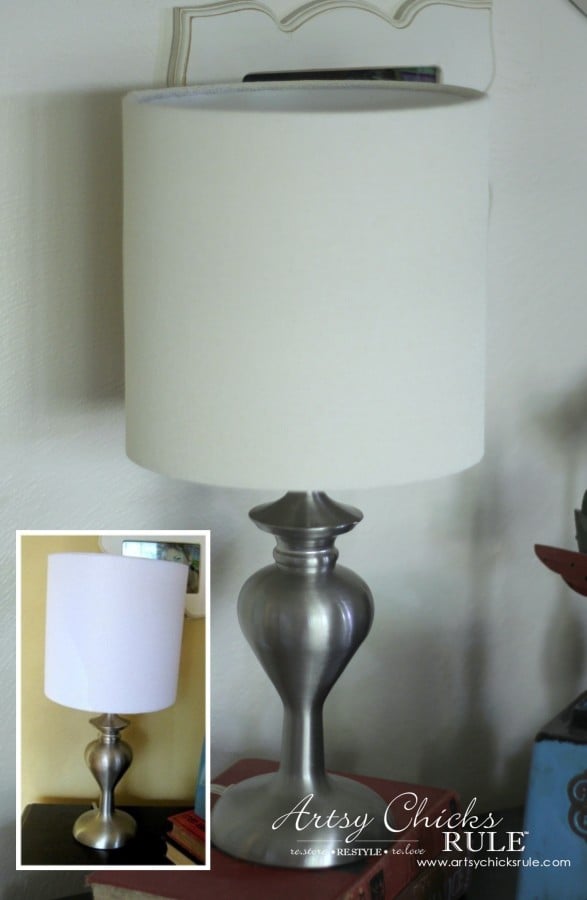 Perfect.
I love how this paint has that chalky, smooth finish.
Works so nicely for things like this!
Again, no wax or sealer on the shade.
And lastly, this old silver dish my mom gave me recently.
It was in her china cabinet and had gotten tarnished.
So I cleaned it up and decided I'd paint it.
Who me? Paint it?? NO….
Yes. Of course….it's what I do. ;)
I paint everything… Almost.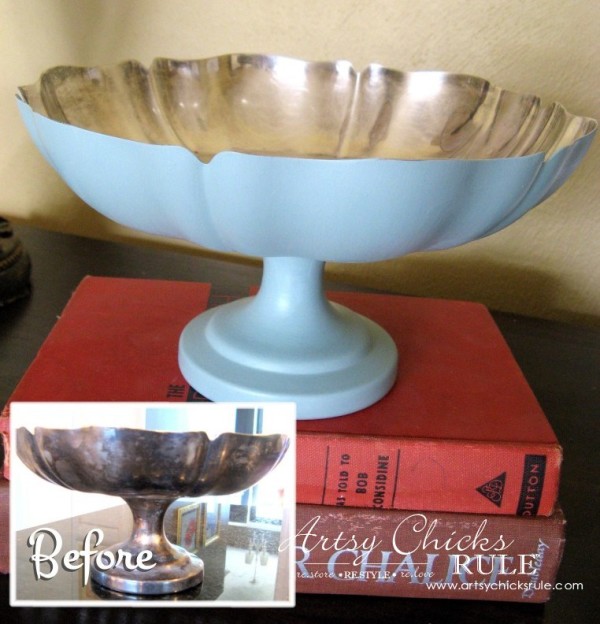 I love how the outside is painted and the inside is all silvery & shiny.
One of my favorite pieces.
No distressing on this one, just a bit of clear wax to seal the paint.
So clean and smooth and lovely.
This is another metal tray (also found at a garage sale).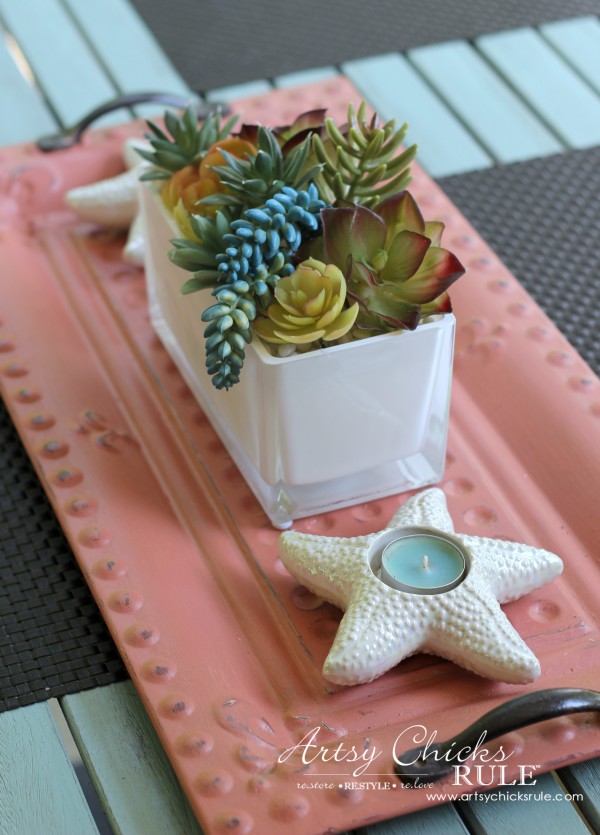 I painted it twice, the first time Primer Red, the second time with a blend of Scandinavian Pink.
I use it outside on my table that was also painted with Chalk Paint.
You can read about that here –> Rescued Patio Table with Duck Egg Blue
And this mirror I got at HomeGoods …came home and dry brushed some blue over it!
(Provence, I think)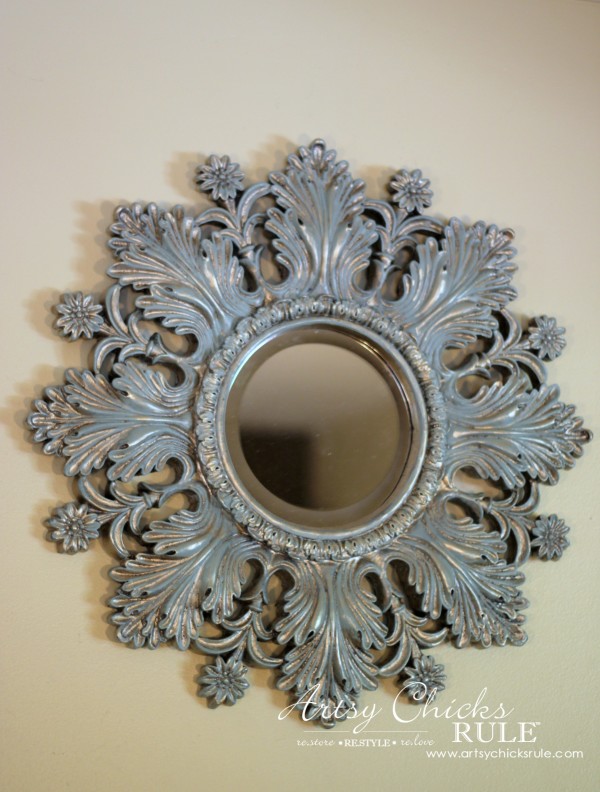 I can't leave anything alone…or as it comes. ;)
You can see the gallery wall I created around this pretty mirror here. –> "Eat, Pray, Love Gallery Wall".
Clearly I love all shades of blue. ;)  But these are all treasured pieces in my home.
I love them all.
And I LOVE how I was able to transform them ALL so easily!
They've all held up beautifully I might add because that is important to note.
Durable and beautiful.
Have I given you some ideas? I hope so!
Want to know more?? —> Check out this live Google Hangout where I, along with other Chalk Paint Pros, discussed Annie Sloan Chalk Paint.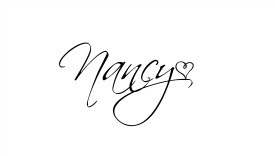 Get the "behind the scenes" and more when you follow along with me on Instagram!
PLUS be sure to sign up for our newsletter so you don't miss any new projects or products I'm sharing! 
Click here –> Yes, I'd like to join.
You might also like these posts: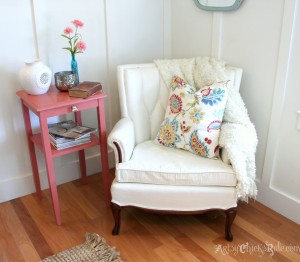 Thrifty Chair Painted with Chalk Paint® (it was BLUE!)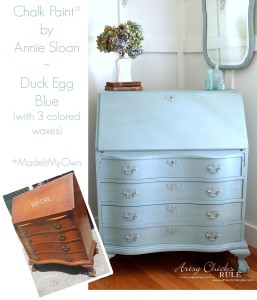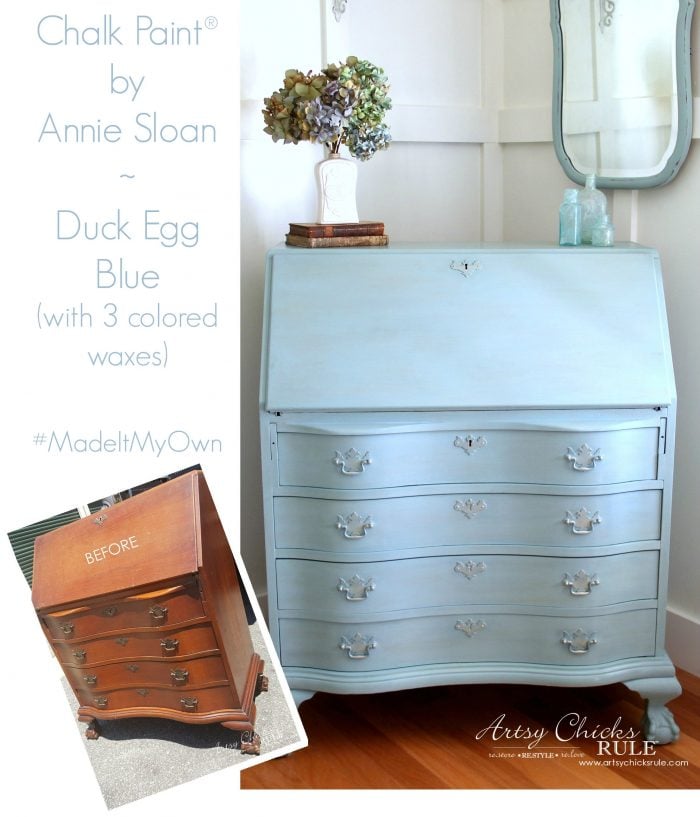 Chalk Painted
Secretary Finished with 3 Colored Waxes
Follow Along Here!

Related affiliate links you may like: