Old Prints Repurposed Into Coastal Wall Decor
This post may contain affiliate links. Please see disclosures here.
Old prints repurposed ….and turned into brand "new" coastal wall decor!
Hello Sweet Friends! :)
My Trash to Treasure friends and I are starting the new year out right. ;)
What better way to get this month (and year!) going than with our very first "Trash to Treasure Transformation" of 2017.
Today, I'm sharing…
"Old Prints Repurposed Into Coastal Decor"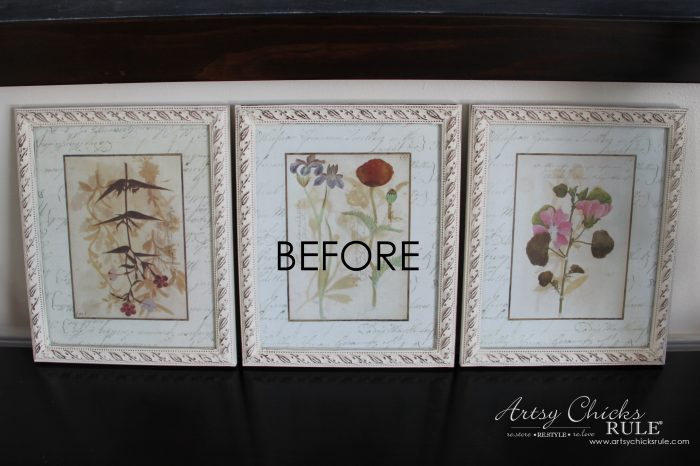 These were old, gold-framed prints I used to have hanging in my "botanically themed" master bedroom some years back.
I painted the frames a cream color a few years ago.
They, along with a bunch of other stuff, were stored in my spare bedroom.
And since we got dumped on with the most snow we've seen here in years, and since I was not on the ball as I'd hoped I'd be, I had to go rummaging through the room for some old "trash". ;) (I was housebound because of the crazy snow)
Plan A for these was to remove the glass and print, paint the frames, add a wood backing, and "galvanized" letters that spell… E A T.
I needed a couple of things from Michael's to complete Plan A, however. I was stranded until Sunday and so off we went.
Unfortunately, having not been out, I had no clue how bad the roads still were and how s-l-o-w we were having to drive over very snow-packed highways.
Thank goodness for 4 wheel drives!
We sure aren't used to this around here.
Thankfully we arrived safely, but sadly we didn't make it to Micheal's before they closed. :( (they closed early)
So, Plan B was…
Switching gears, I decided to paint the frames in Duck Egg Blue (Annie Sloan Chalk Paint)… (here's a >> similar color I also use and love)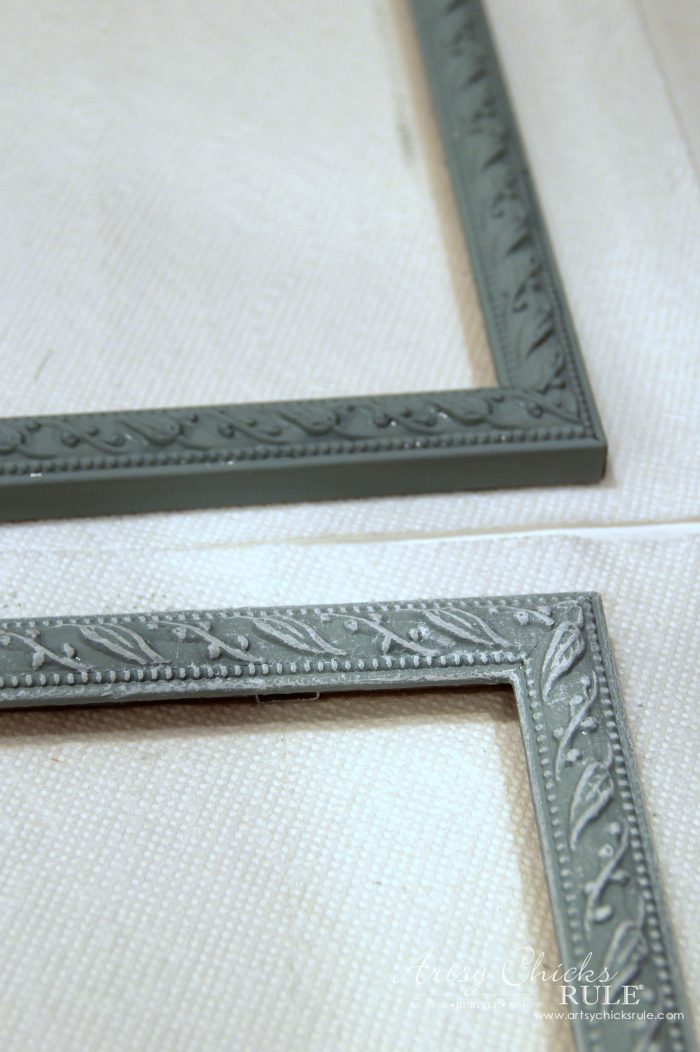 As you can see, the top frame in the photo is painted and the bottom is painted and also lightly whitewashed.
I wanted to bring out a bit of that detail so I took a dry paintbrush (chip brush, to be exact) and dabbed a small amount of paint on the bristles, wiped most of it away on a paper plate and brushed over the details there.
I just love how whitewashing brings out the details and takes it from flat and boring to fabulous.
New to dry brushing?? Let me show you how in this video here >>> How To Dry Brush
Next, my husband measured and cut some old wood flooring we had stored in the garage.
This is the flooring that was leftover from our family room floor makeover.
I also used it on my coffee table top here >>> "Coffee Table Makeover with Driftwood Finish"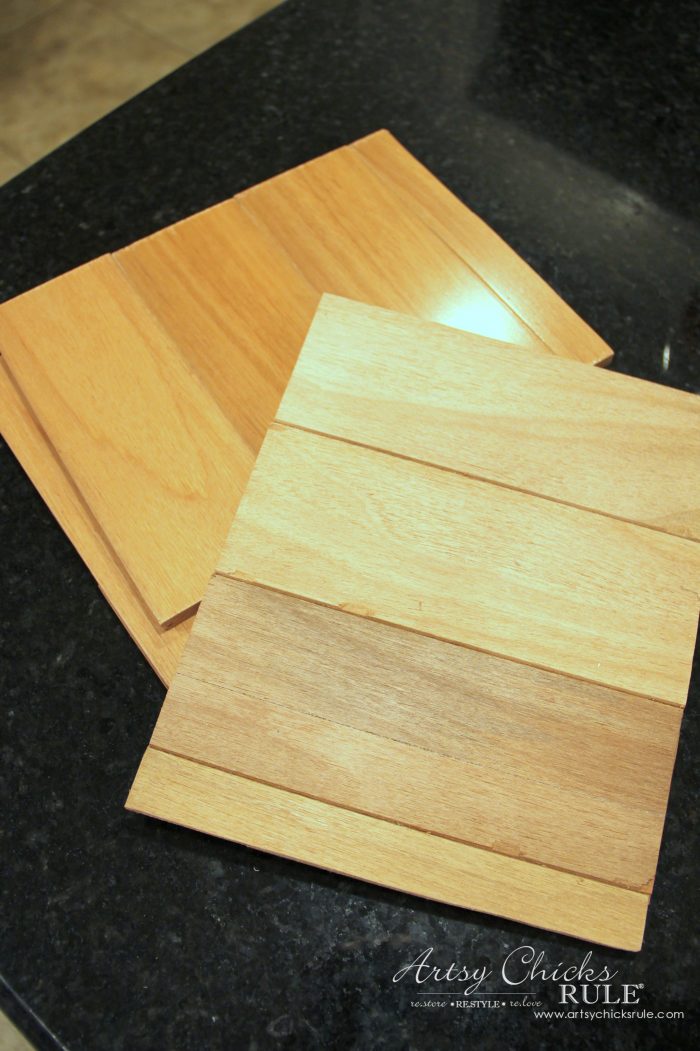 You can see the finished side and the unfinished side here.
I wanted to use the unfinished, rough, side for this project. (like I did with the coffee table above)
And since it is flooring, the pieces just snap right together.
They fit nice and snugly into the back of the frame but I put a thin line of wood glue all the way around before popping them in.
I started out dry brushing Pure White Chalk Paint (like described above) but it wasn't giving me the color I wanted. (too much wood color showing through)
So I ended up adding a bit of water to a cup, dipping the bristle in the paint and then in the water, and painting.
No real rhyme or reason, just very wet paint. This way the paint would cover more of the wood but because I added water, it won't look thick or too white.
I like Chalk Paint for this effect.
(here's an alternative to that white paint that I use all the time now >>> Linen White)
And once done, the wood look and texture shines on through. (as you can see below)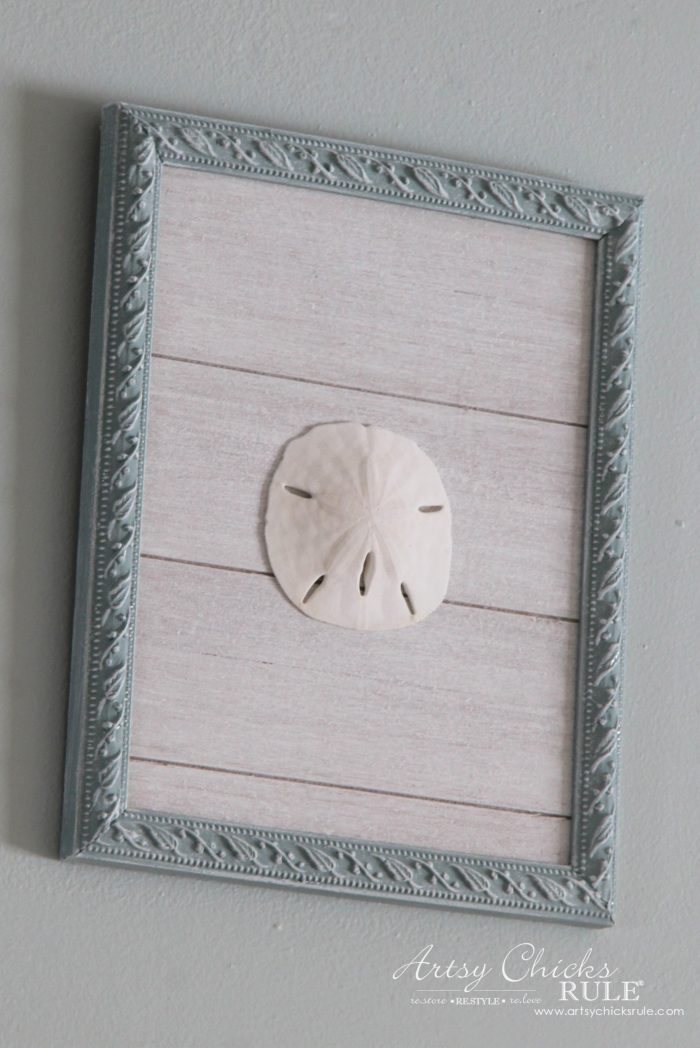 See how the paint is a bit opaque? Adding the water made it that way.
You can still see the texture and a bit of the color of the wood.
I'd love to have had a larger sand dollar but had to use what I had on hand. (snowy roads and early closings! )
But it'll do for now.
Here's all 3 transformed…..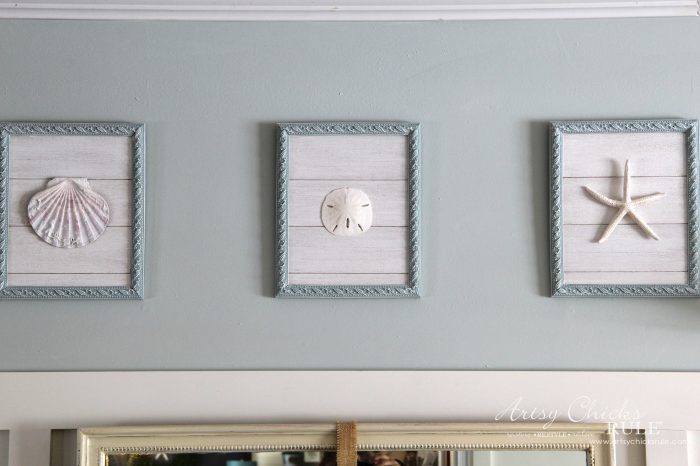 The seashell was pink and orange so I very lightly painted it white too, to match.
Then I went back over it with a cloth and wiped a bit of the paint away so it wouldn't look painted.
Which, by the way, per my husband, is upside down. haha
He really messed me up with that one! ;) It was finished and on the wall when he told me that.
But clearly I liked the look of it "upside-down" because that was how I applied it.
I did do a quick search online to see how others are though….and I found that they were positioned both ways in the artwork I saw.
So there! The other side up reminds me of all that shell motif favored 80's decor anyway.
By the way, I left the frames and the wood backing unsealed.
I liked the flat, dry look and thought they'd be okay since they are on the wall.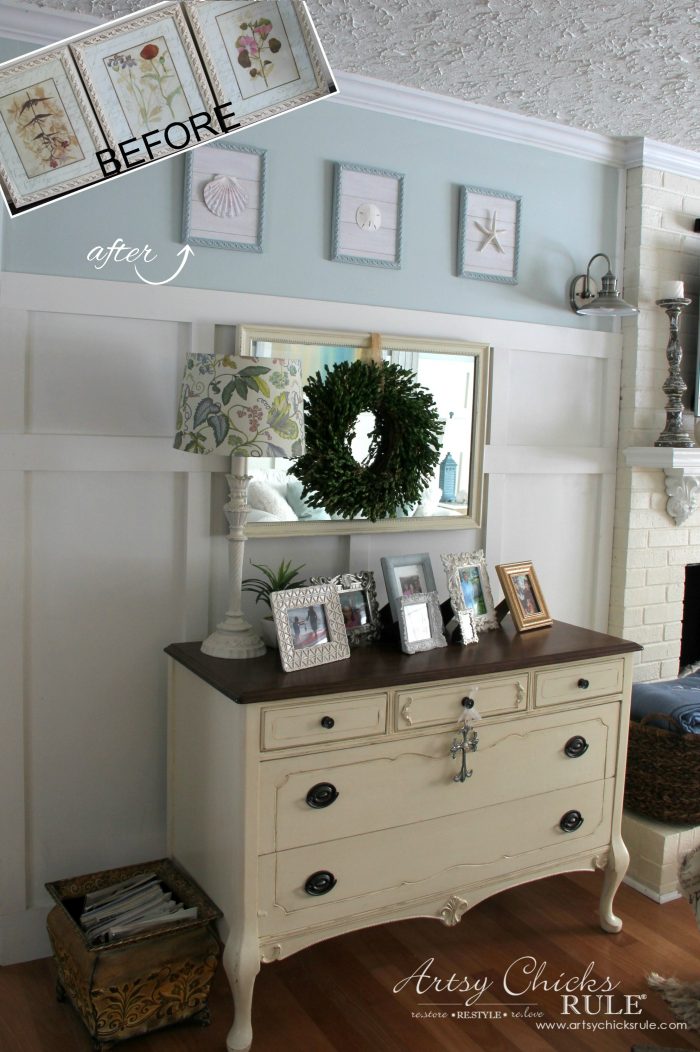 You might remember the 3 other photos I had here before….. (and the old yellow paint )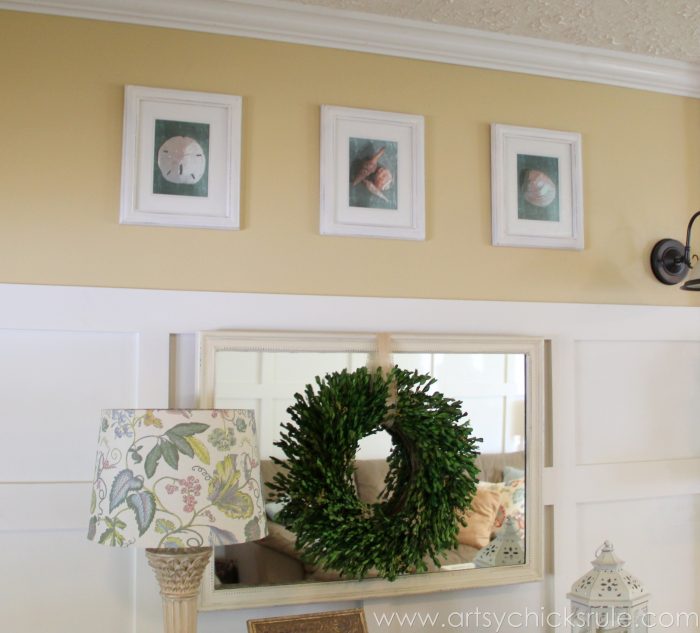 I created those from old thrifty prints too.
The photos are actually taken of real seashells…with my camera phone…and edited with a watercolor app.
This was a simple project but really looks like something you would buy in a store.
You can see the full tutorial here >>> "Simple & Thrifty DIY Coastal Wall Art"
I haven't decided if these will stay here or not but I'm really liking them here. (update 2020…they stayed!)
I didn't think I would because they are blue and so is the wall but they look so soft and serene.
And I think it's because they are both blue.
What do you think? Should they stay?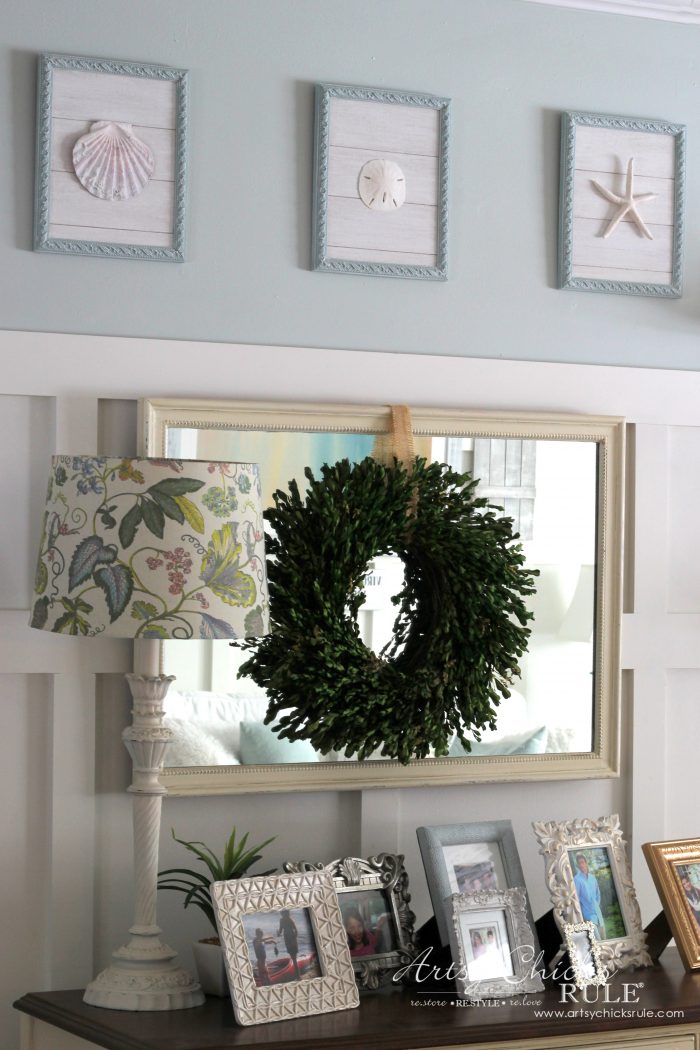 What I do know is changing, is the dresser/mirror I have here.
I will either paint it a whiter shade or color or remove it altogether.
I haven't decided just yet but I do have another piece (waiting on a very fun makeover!) that I would really love to put there instead.
We'll see!  (Update 2020…want to see what's here now? Check out this post >>> here)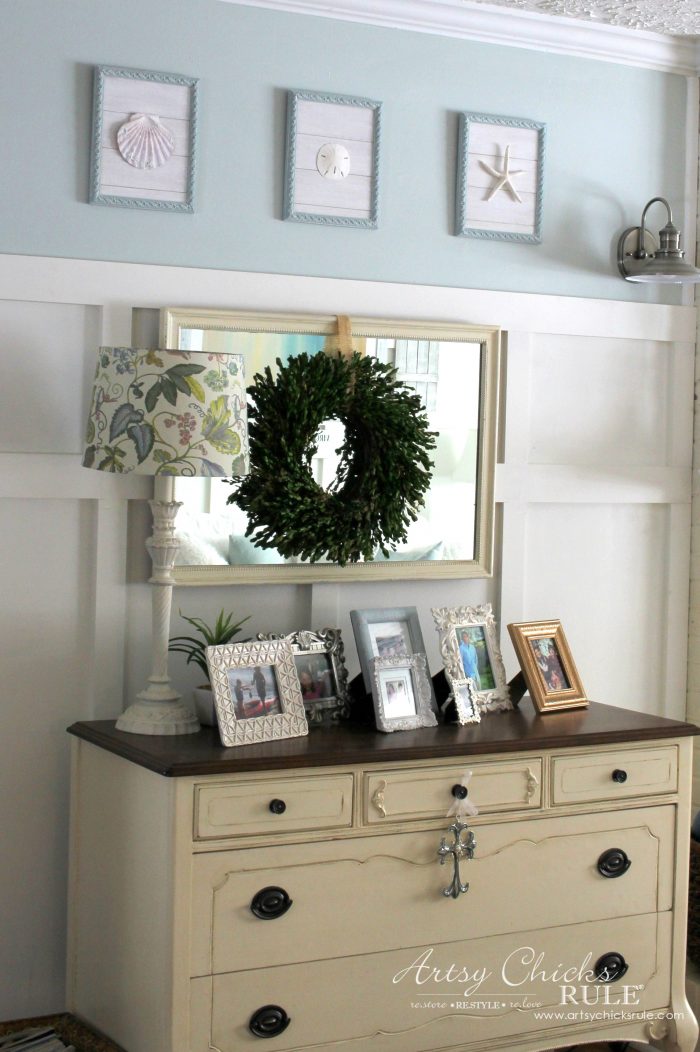 Old dressers like this are great for storage though. I use every single inch.
As a matter of fact, I've even done a post about all the dressers I use in our home (and peeks inside them) in this post >>> here.
So that's my very first "Trash to Treasure Transformation" for 2017.
PIN it to save it!

And go grab that ole junk you are hiding away in a spare bedroom and make it over too!
Maybe you might find some old prints to repurpose too.
Have fun creating "brand new" decor out of all those old goodies.
Now let's see what my friends transformed this month…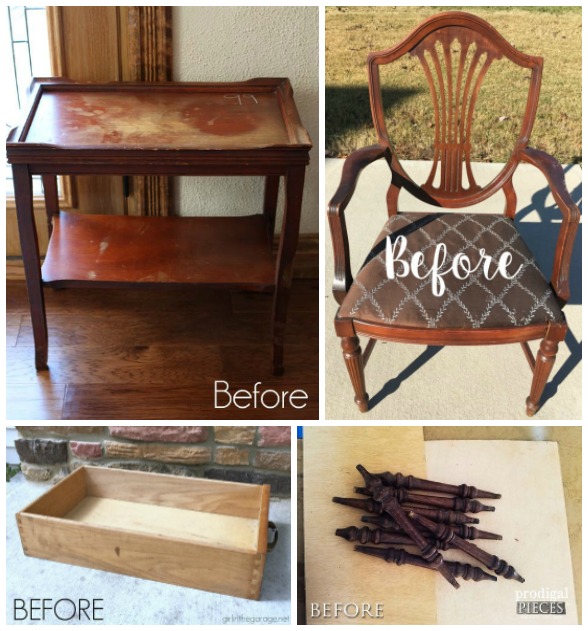 Clockwise from top left …..
Confessions of a Serial Do It Yourselfer
Bless'er House
Prodigal Pieces
Girl in the Garage
See you next week with more! (and Wednesday over on the food blog … Foodie Chicks Rule… I'm sharing the best Shortbread Cookies ever! ;) )
Stop on by over there if you'd like to print the recipe and make some. :)
Or if cookies are a no-no right now for the new year, you might like this post instead. >>> "Green Smoothie Recipes" :)
xoxo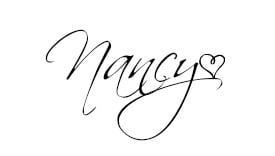 Here are more old prints repurposed.
I'd been hoarding these for years (but not using) and transformed them into a brand new makeover…

….see what I did to them and how I'm using them here >>> "Weathered White Wash Finish"