Repurposed Dresser Ideas (perfect for storage!)
This post may contain affiliate links. Please see disclosures here.
Repurposed Dresser Ideas – SO many uses, such great ideas for storage and decor! Get a sneak peek of how I use mine in my decor (4 of them!) and what I keep inside!
Updated 7/2023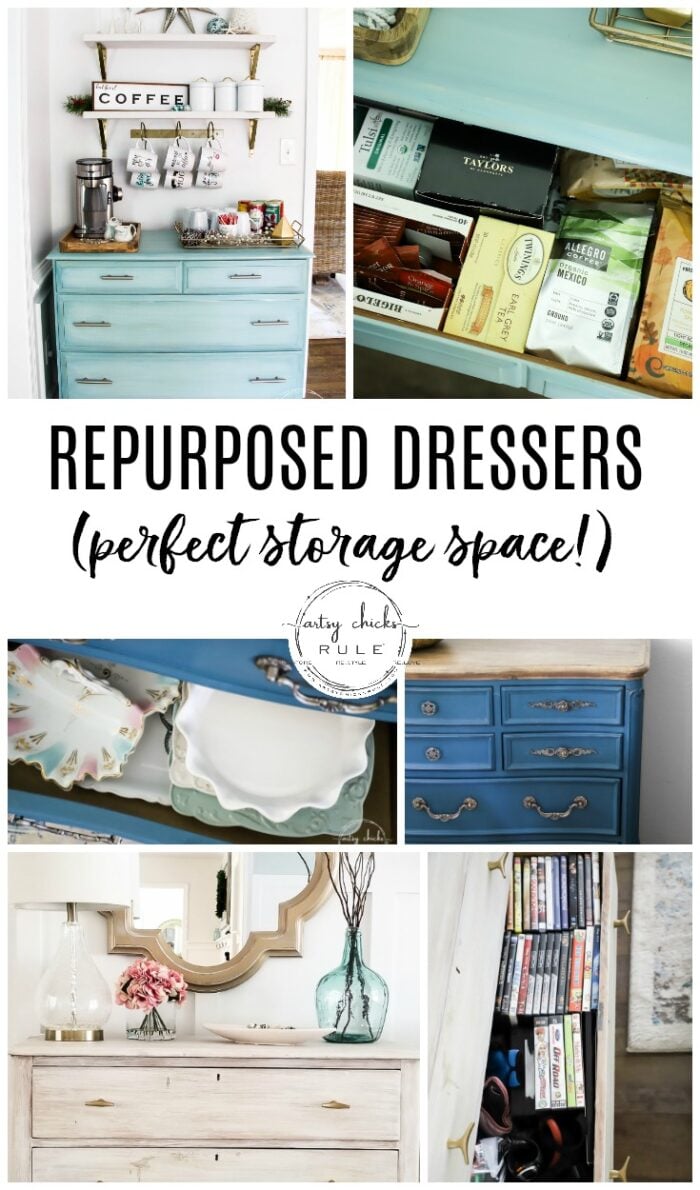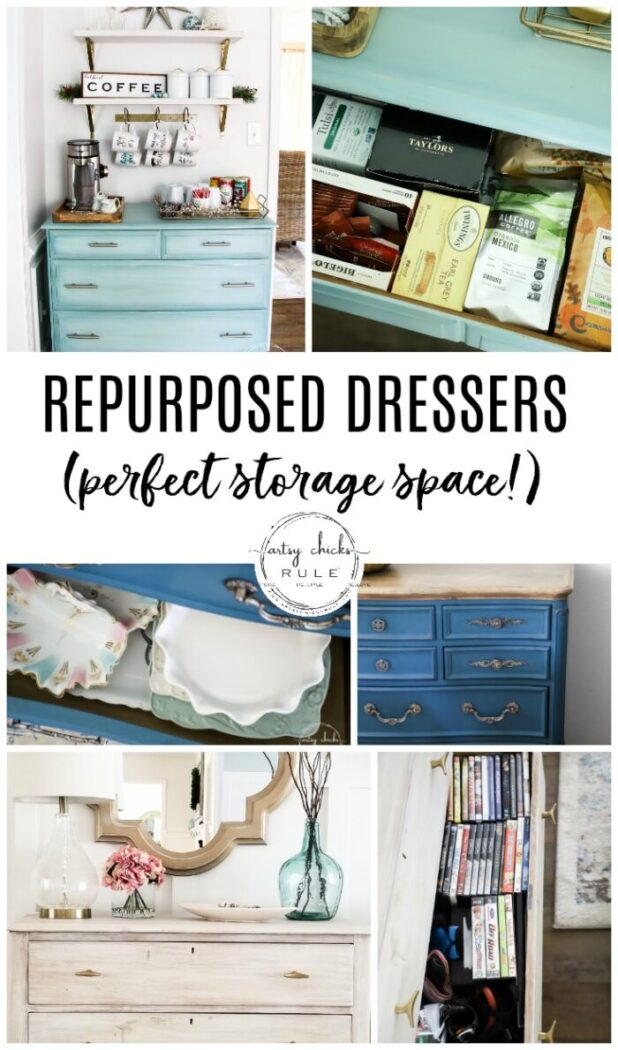 Hey there beautiful friends!
Today I'm sharing all about repurposed dresser ideas. Things you can use them for and ways you can use them in your home.
Besides clothes in a bedroom! Right?!
I love using dressers for other things besides clothes. They're just really great for storing so many things.
I should know, I have quite a few in our living area. lol
Repurposed Dresser Ideas (for storage, decor, and more!)
Buffet/Dining Cabinet
And as you all know, probably my absolute favorite dresser turned dining room/study, buffet/cabinet is my Aubusson Blue dresser.
This one…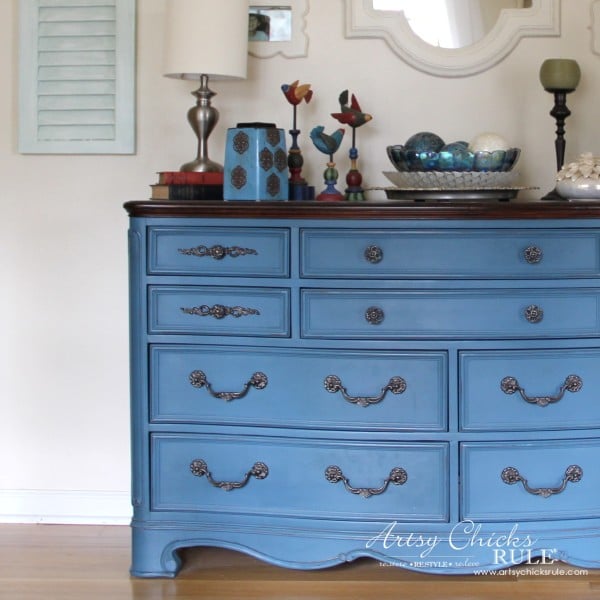 It's the one that I found at the thrift store for $35 many years back now. You can read all about the original makeover, here.
I did give it another mini-makeover recently…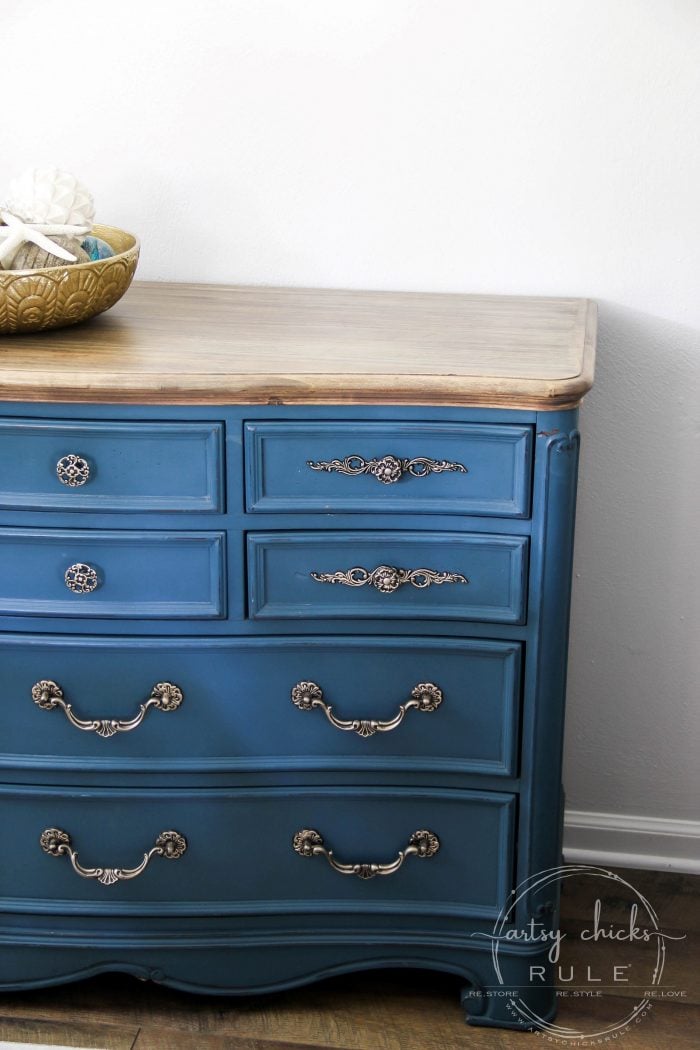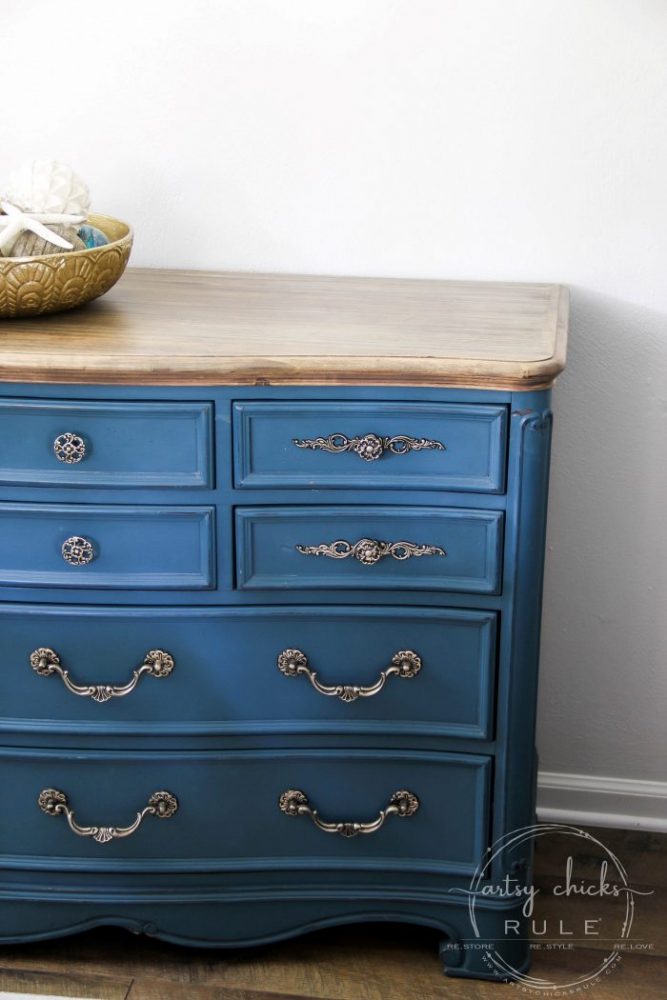 Which you can read all about, here.
But as I mentioned above, I've had this in my dining room and my study. (this room was both at different times)
I hadn't really used it as a dining hutch/cabinet until now, however. I just stored other random things in those drawers.
And wow, what a fabulous place to store all the things. Who would've thought it?
Well, now it's all about dining! Here's a peek at some of the things I store in these drawers.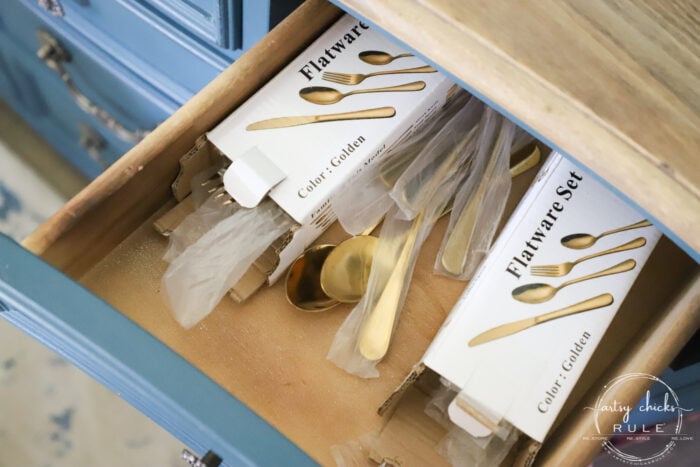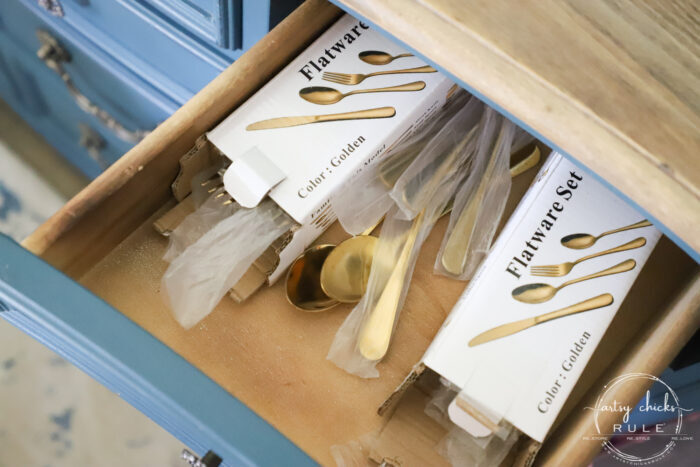 Fancy silverware. That I don't use often but when I do, it sure is pretty.
Platters and dishes…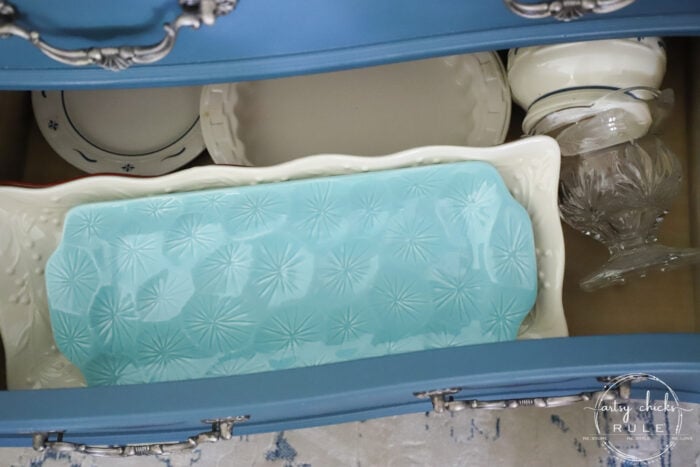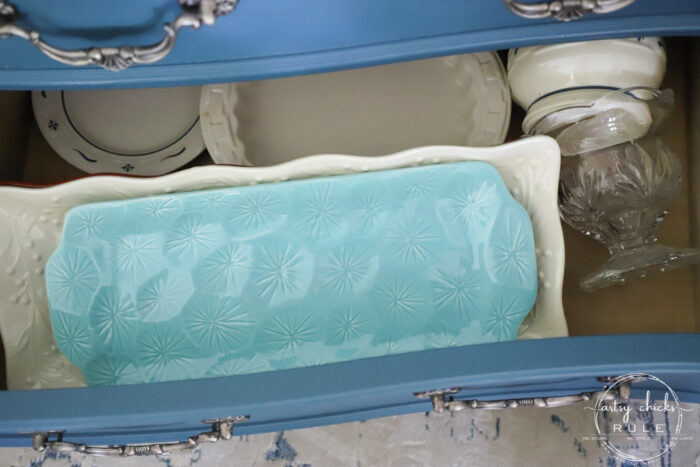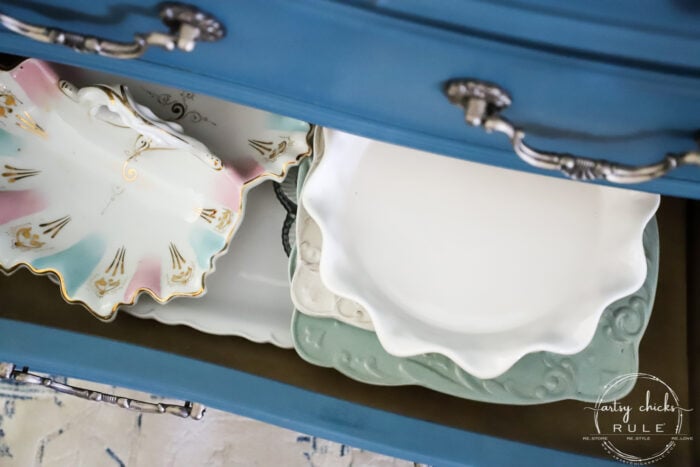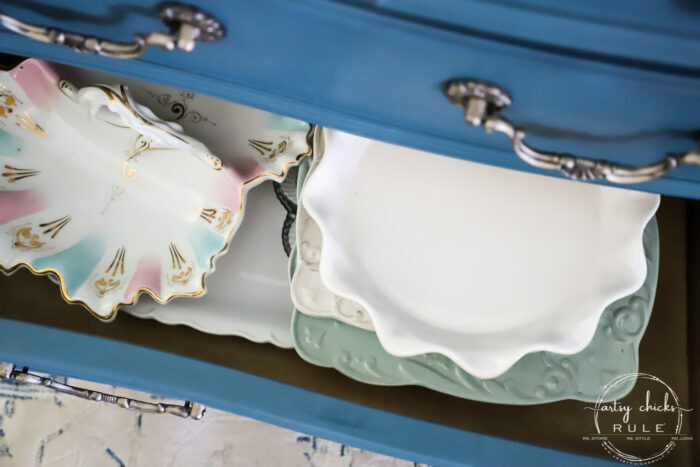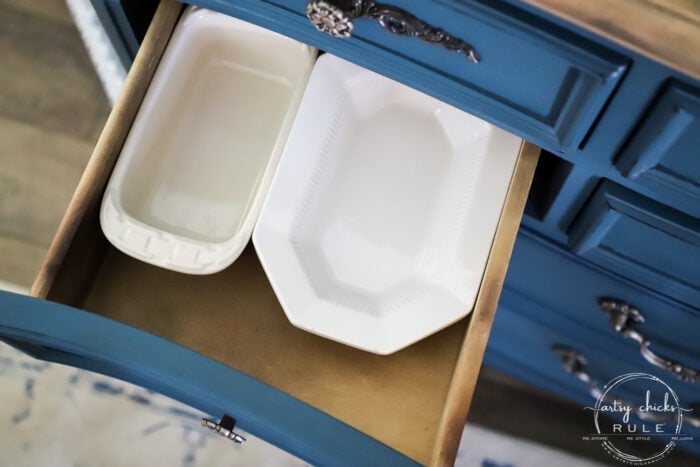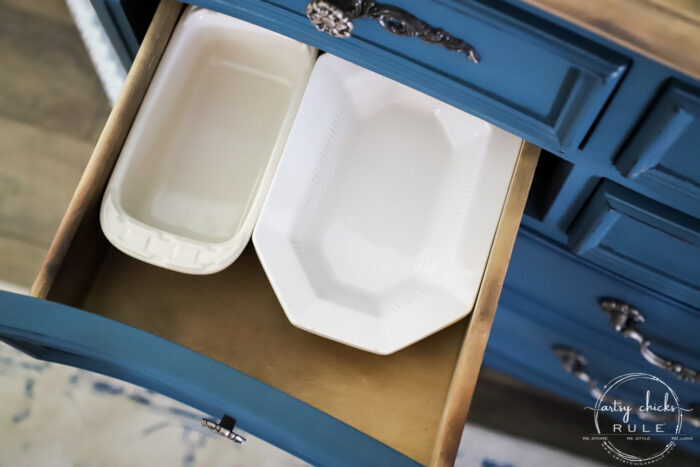 It really works nicely for this.
Placemats, tablecloths, napkins, etc.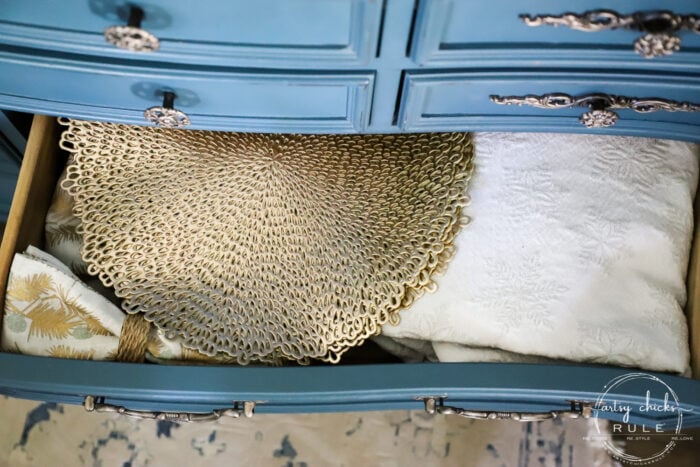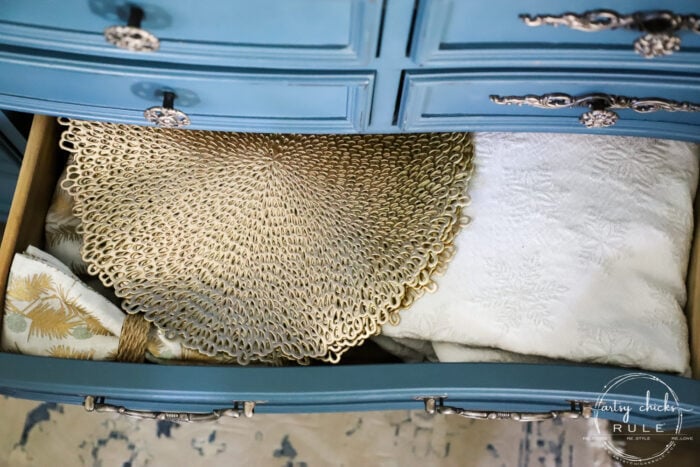 Who said dressers had to store clothes?!
Tea towels & coasters.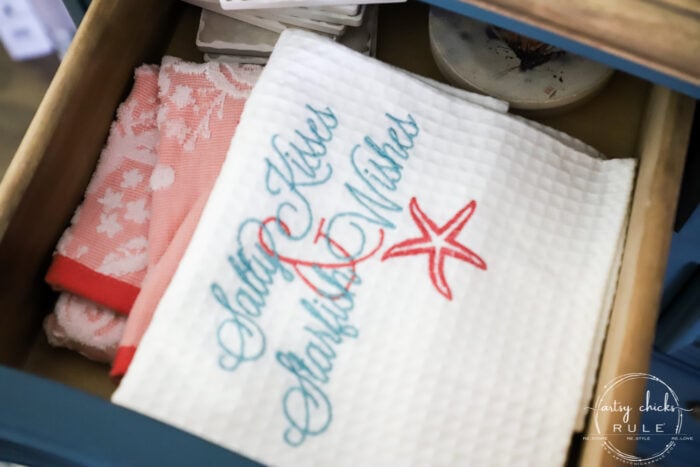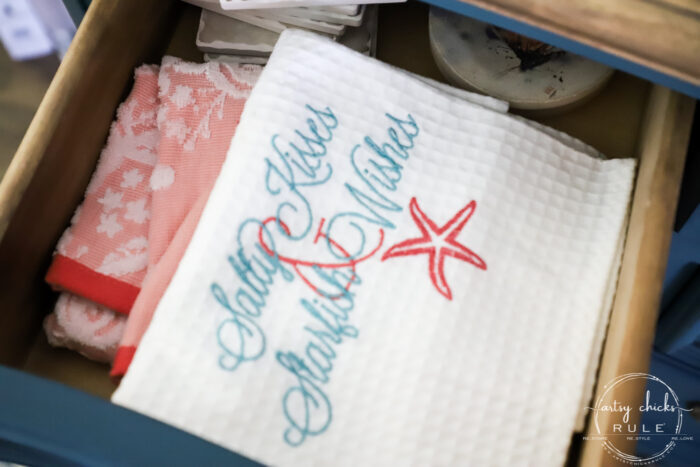 Would you ever have thought of this?? Dressers are beautiful pieces of furniture.
And using them in this way brings beauty to your space.
Did I mention that I have 4 repurposed dressers in my downstairs living area??
Yep, I really do!
Here's another idea.
Repurposed Dresser Turned Coffee Bar
This little lovely was a gift from a friend.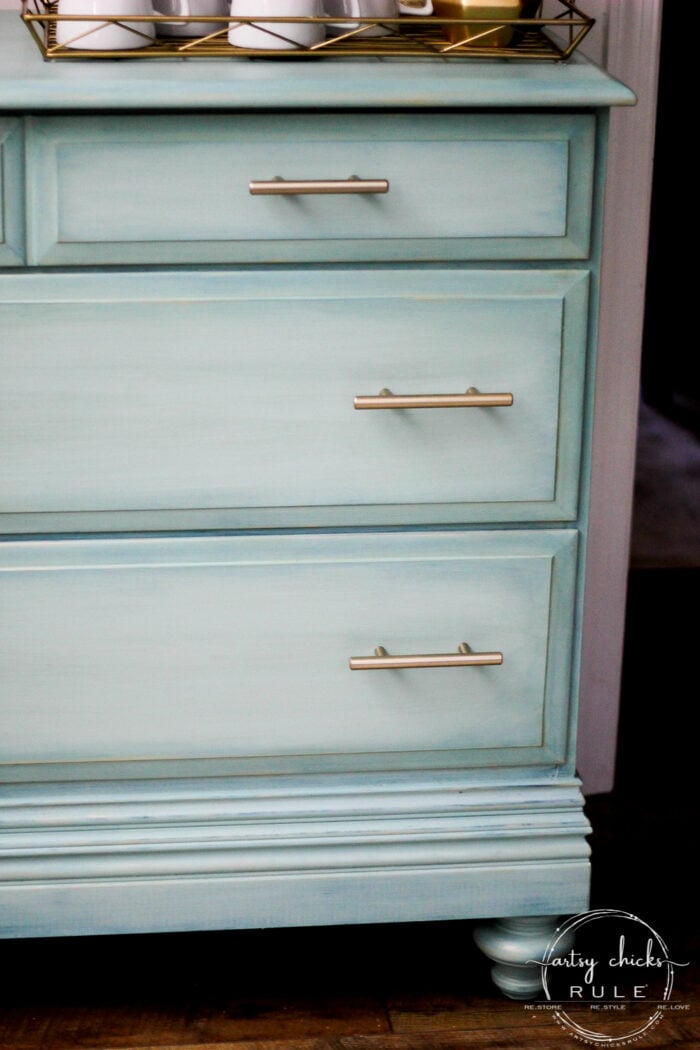 She was moving and offered several pieces to me.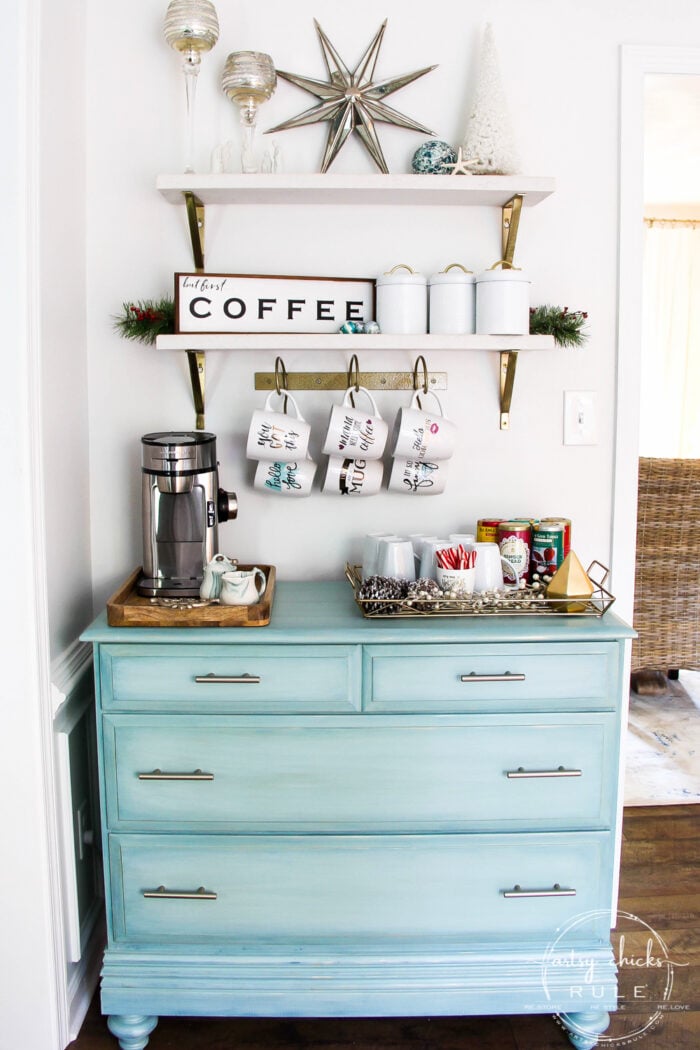 Of course, it didn't look like this when I got it. None of the ones that I'm sharing today did.
You can see the "before" AND all the trim/legs and paint additions I made to this one above, here.
Want to see what I use those drawers for? Okay, I'll show you!
Top drawer, coffees, and teas.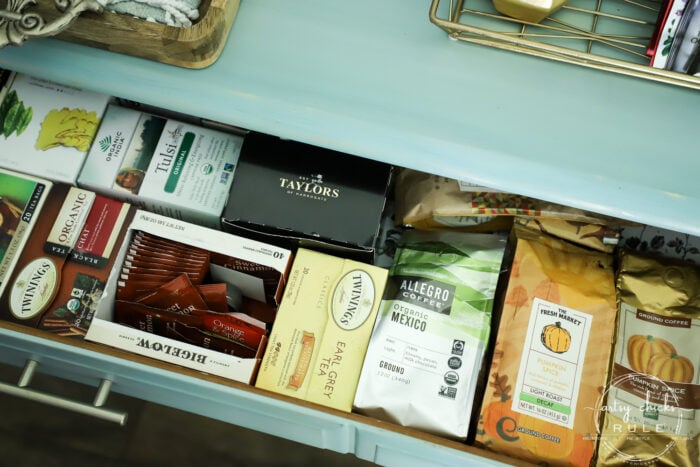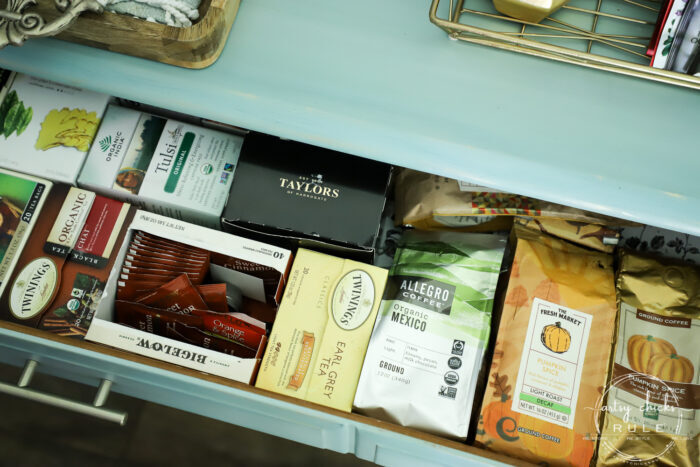 So, so perfect for this!
Second drawer, extra tea, cups, and tea towels.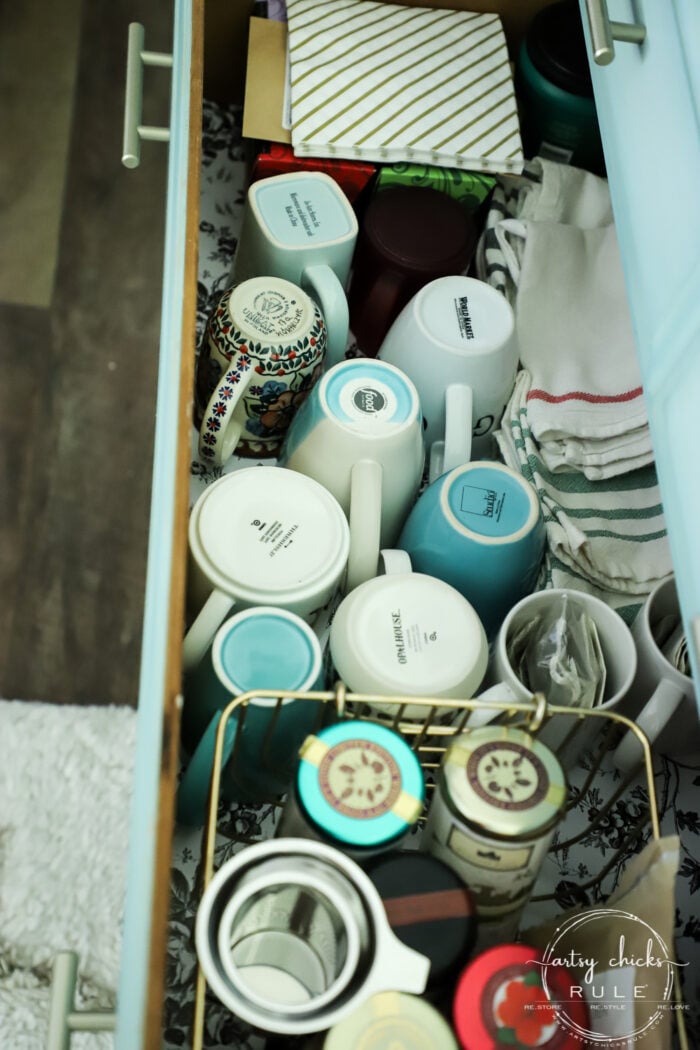 This dresser has nice deep drawers on the bottom two so I am able to store taller things which is really nice.
The bottom drawer is leftover bakeware and things from the kitchen.
I don't have a ton of storage in our kitchen so having these repurposed dressers around here certainly helps that situation.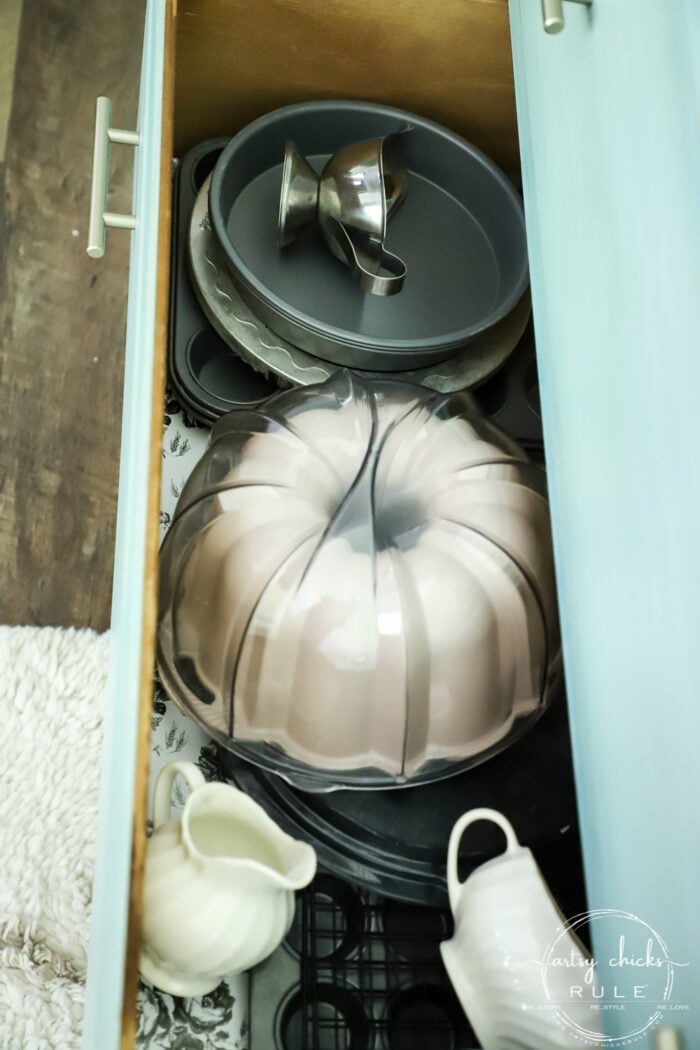 And it's close by to the kitchen so works out perfectly.
Another Repurposed Dresser (more universal, it's been in every room at this point!)
This one…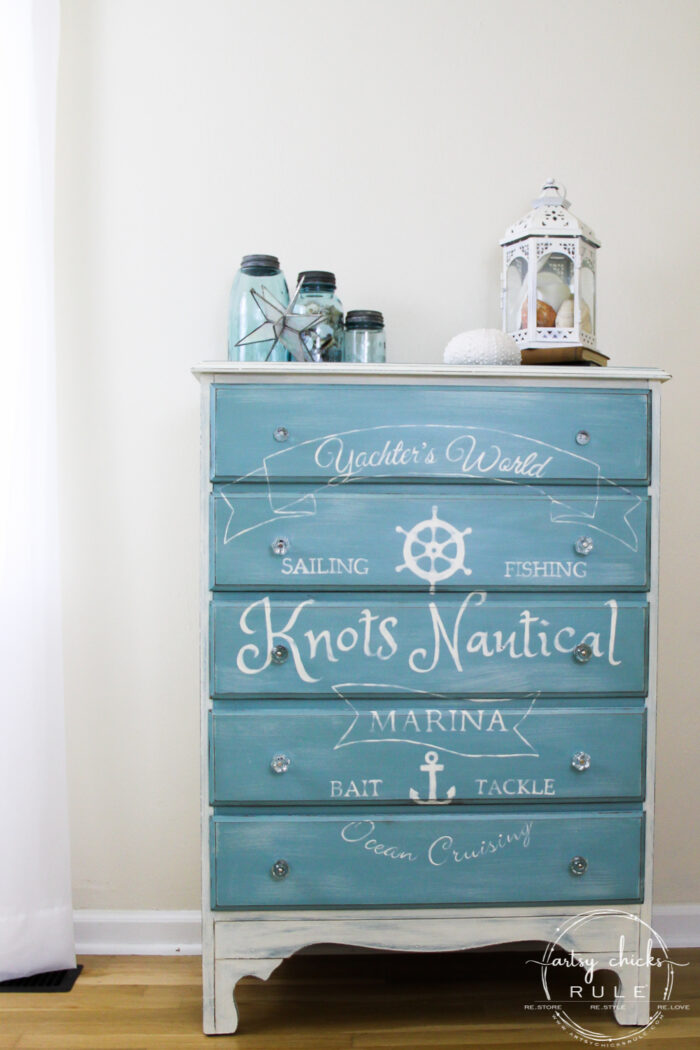 I created that fun, nautical graphic for the front of this pretty Provence and White dresser.
This is one I painted quite a few years ago too. You can read all about this makeover, here.
I have seriously had this in almost every room. It was in the dining room at one time, then became the "coffee bar", in what is now the morning room, for a short time and it's now in the living/family room.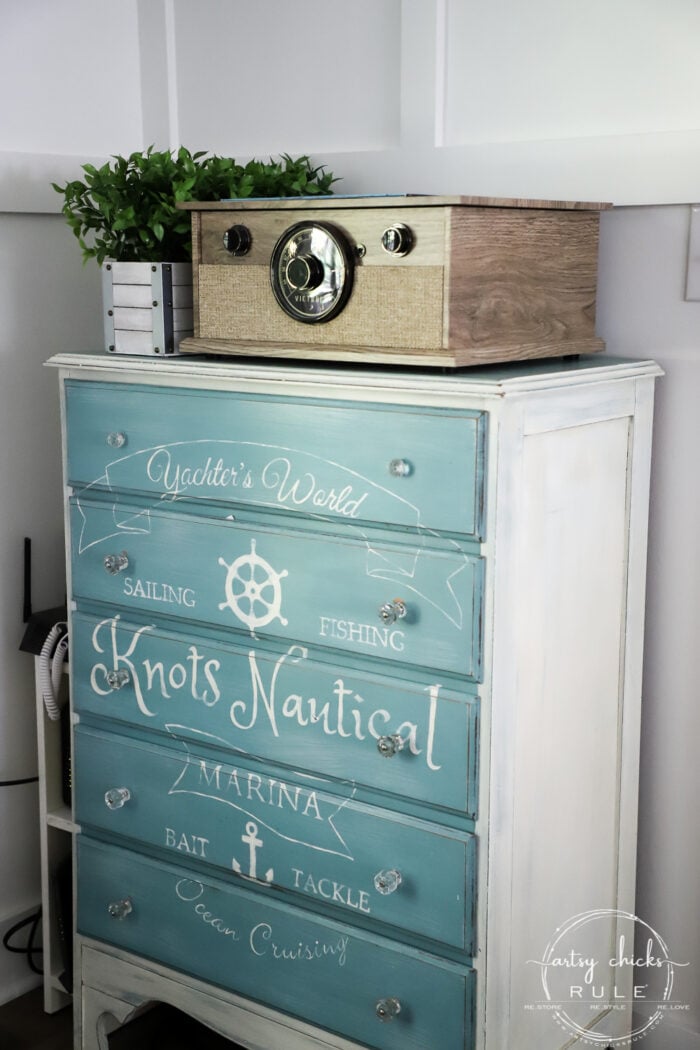 In this awkward little corner, we have in here.
Don't mind that mess on the left, that's our Wi-Fi, etc, etc, and on top is an old retro record player my son bought my husband for Christmas.
Now he can play all his old albums. Remember those?? lol
Here's a sneak of some of the drawers here.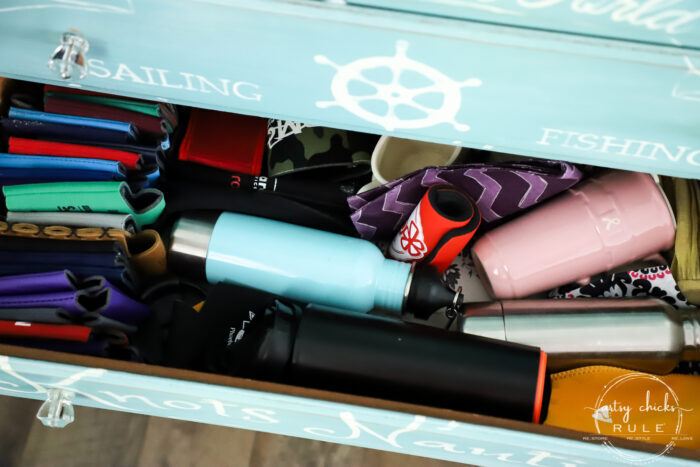 Why do we have so many koozies?? I mean who needs that many?
But for some reason, they are like collector's items. haha
Waffle makers, coffee grinder and electric knife, etc. (more kitchen items)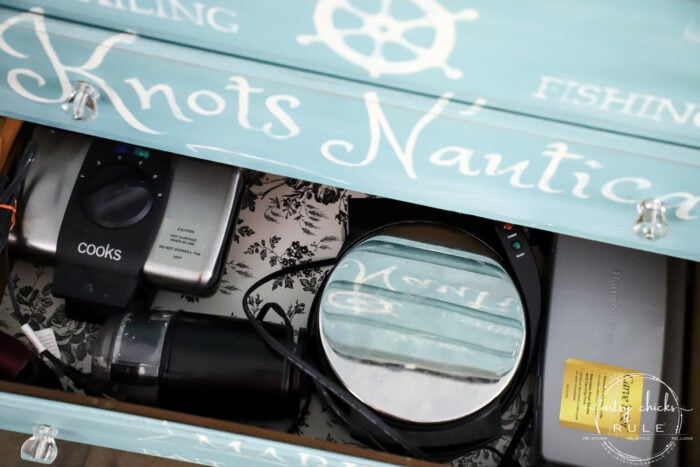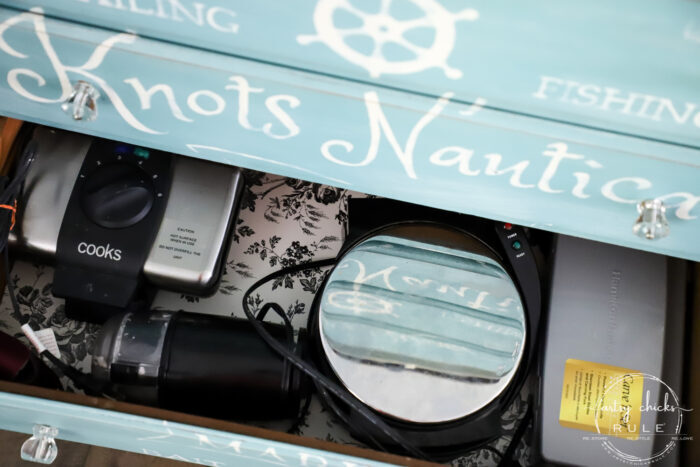 Want to hear something funny?? I actually forgot I put these items here and thought I must've gotten rid of my coffee grinder when we redid the kitchen…so I bought another one!! haha oops.
Living Room Dresser
Remember this lovely?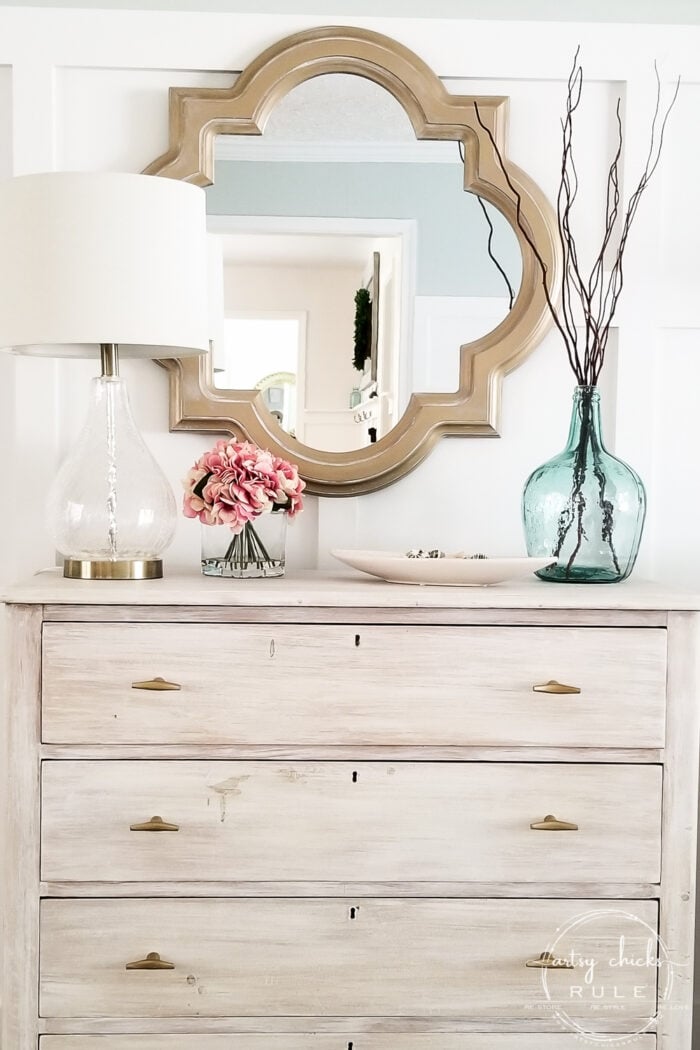 The first makeover I gave it was this…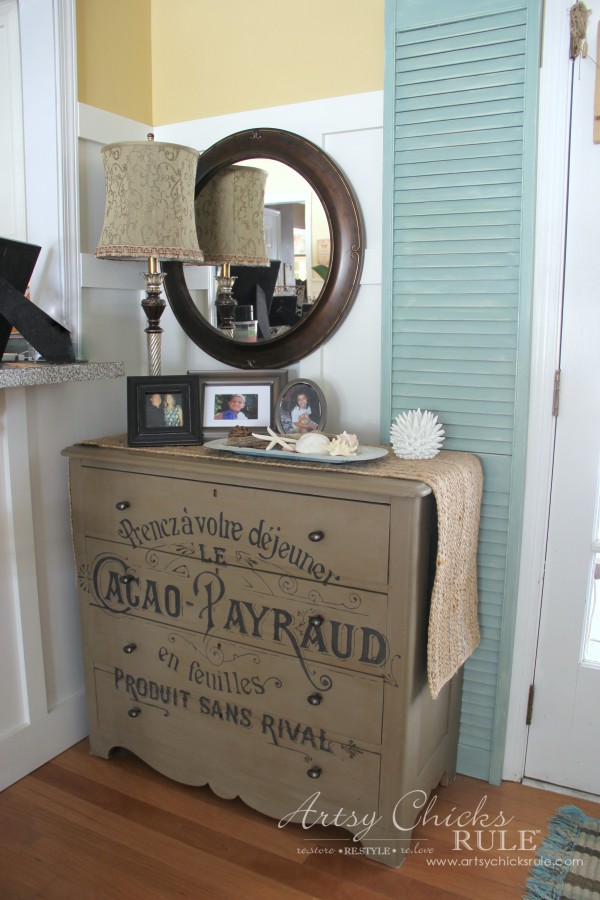 Which was nice for many years but it just didn't go with my decor. BUT I did use it in my living room and still do.
It's sitting here in the other odd corner of this space, opposite the dresser I shared just above.
I recently gave it a brand new makeover (the white stain one you see above). Want to see all the details on that??
Click here to read all about it.
Here's a peek at what I use these drawers for.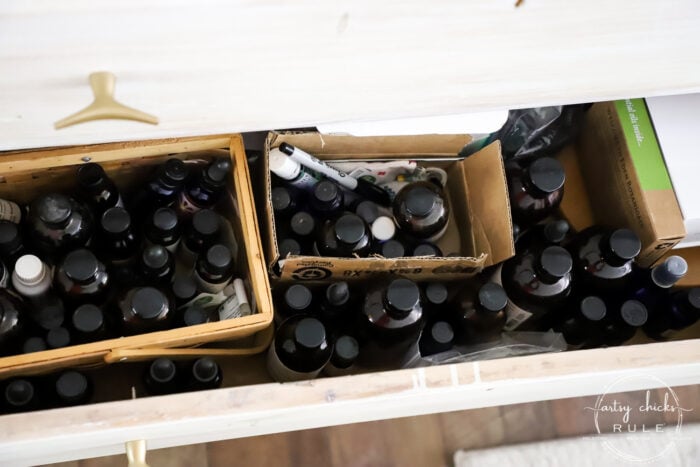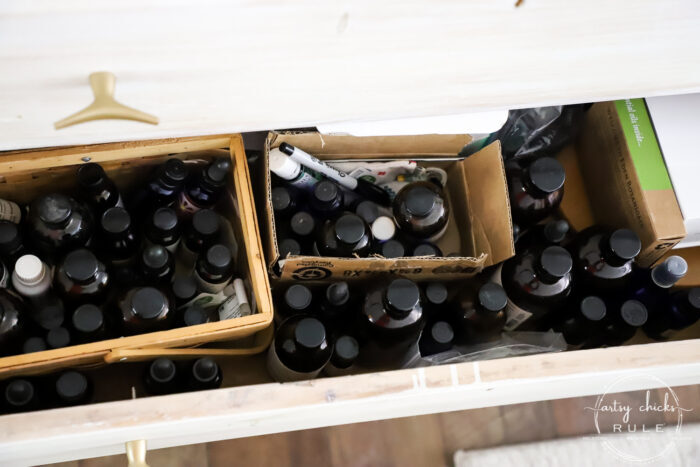 Essential oils.
Lots and lots of essential oils. I used them all the time and for everything.
All-natural perfumes (I love to make them!), home scenting, cleaning, natural bug spray, etc. I just made some lovely perfume blends this past weekend. If you follow along on Instagram, you probably saw my story I shared when I was making them. That is all I wear. I had thought I'd maybe make some pretty blends for the shop but haven't gotten around to that yet. Maybe one day!
I should probably organize that drawer a little better though. One day I'll have a nice, big cabinet for them because this is only some of the oils I have.
More are upstairs. haha!
Interested in learning more about that? I have a post dedicated to essential oils, here.
Old movie DVDs, games, workout videos, workout items.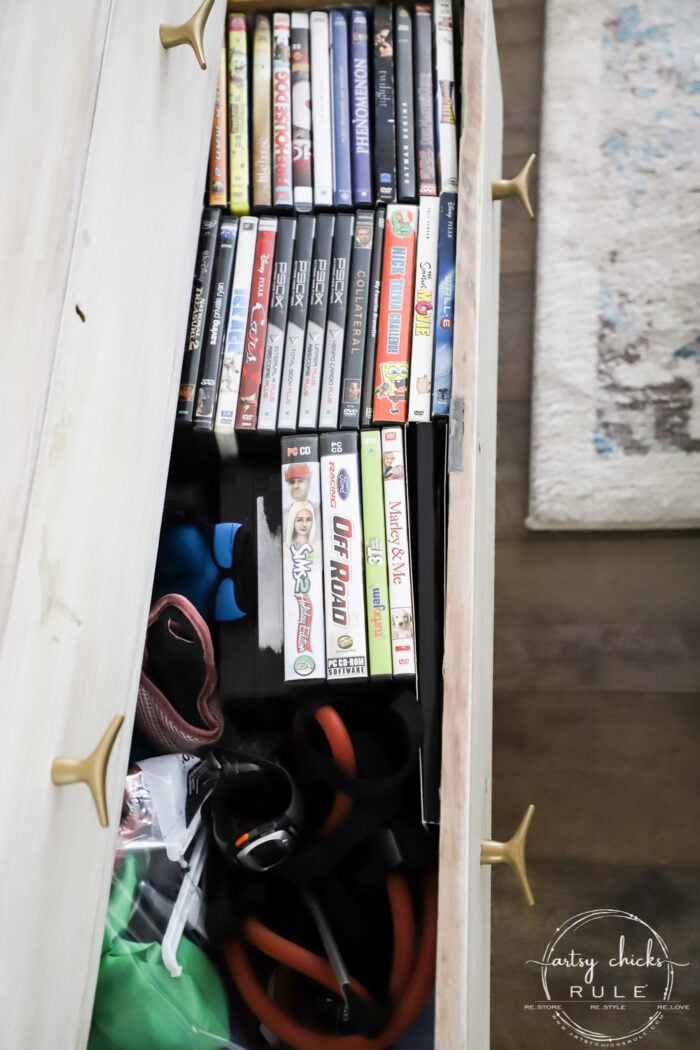 More tablecloths and things.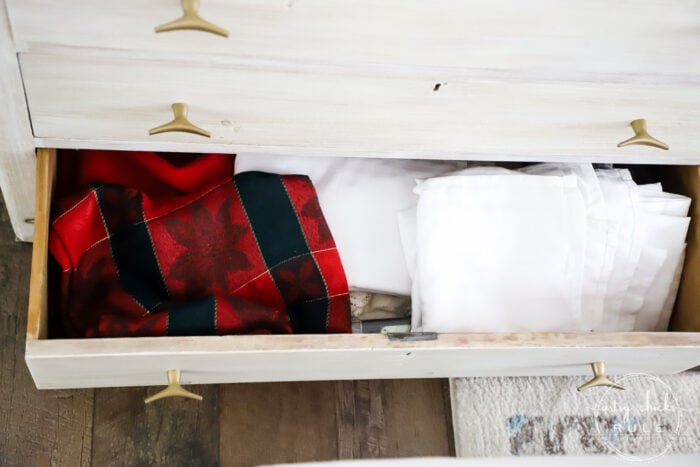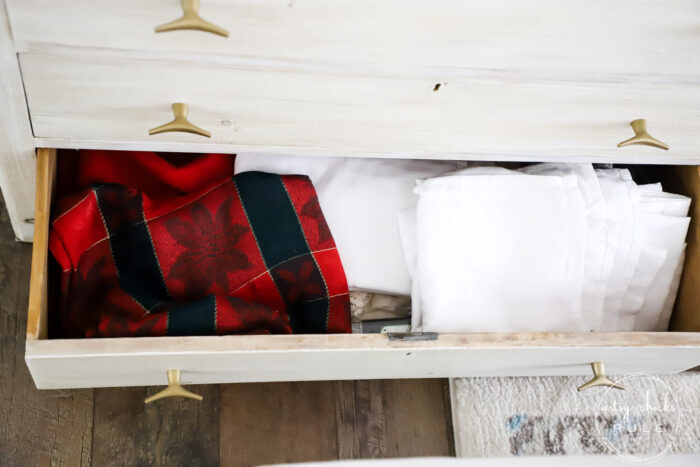 Dressers are just the perfect thing to add to a room, in my opinion. Form and function.
And okay, I know this is not a repurposed dresser but it is similar and I do use it to store items so I thought I'd share it here too.
Secretary Desk (not a repurposed dresser!)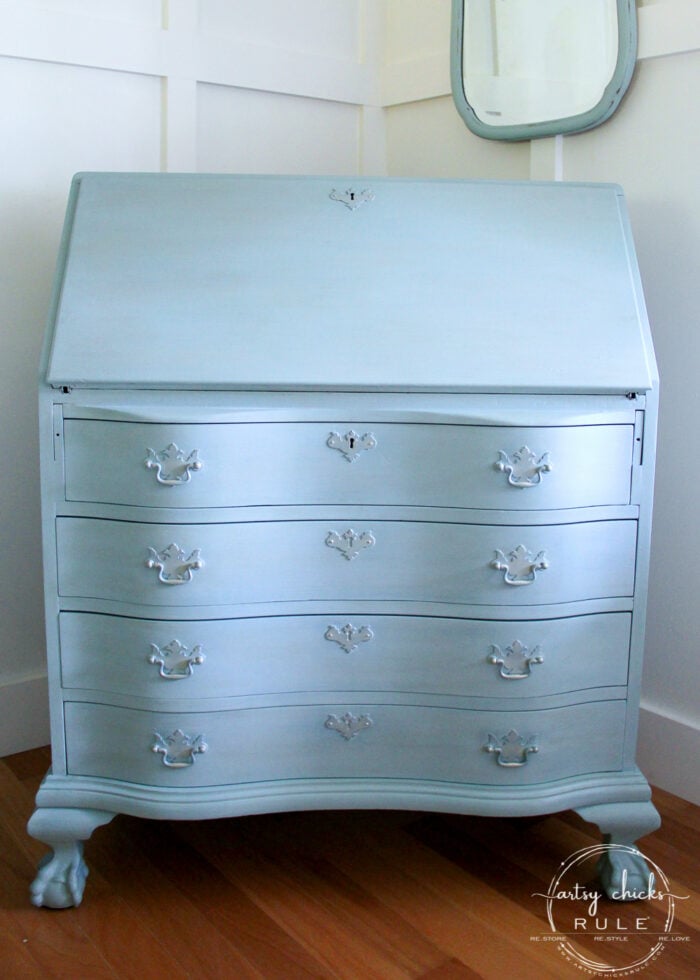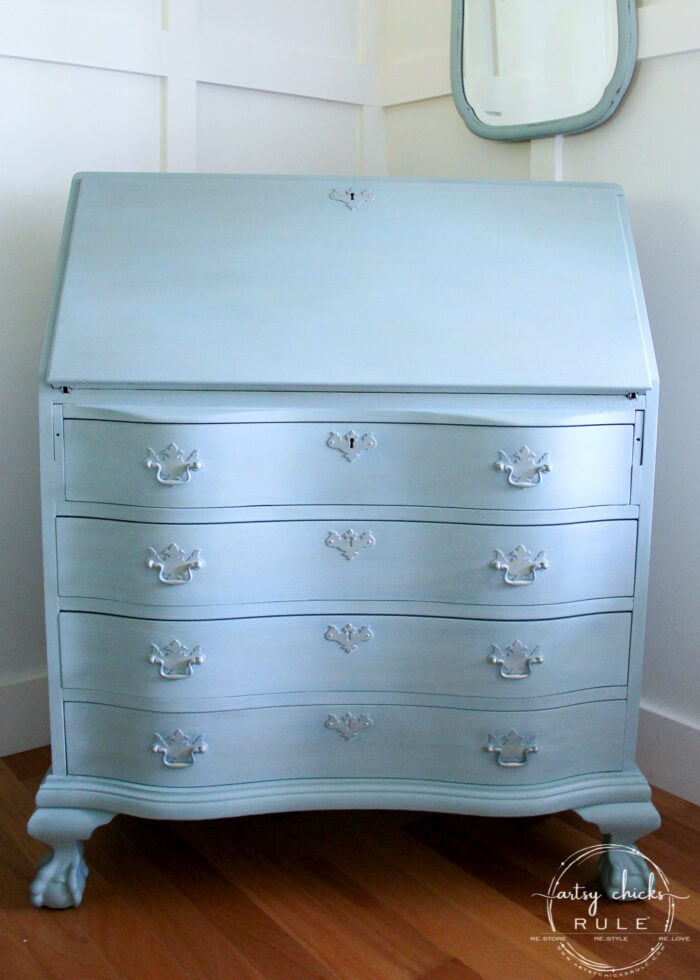 I love this sweet little secretary and use it in our dining room.
This is one I gave a snazzy paint job to with 3 colored waxes and a touch of gold too. I never intended to keep it but fell in love with it after I finished it so here it is still.
Click here for all the details on this makeover.
Here's some of what I use these drawers for…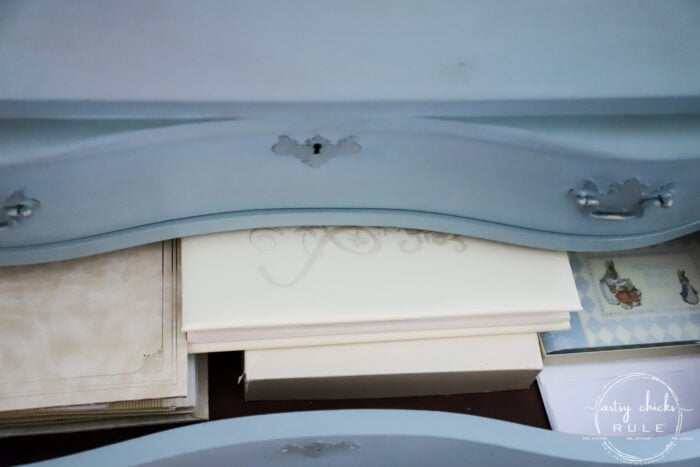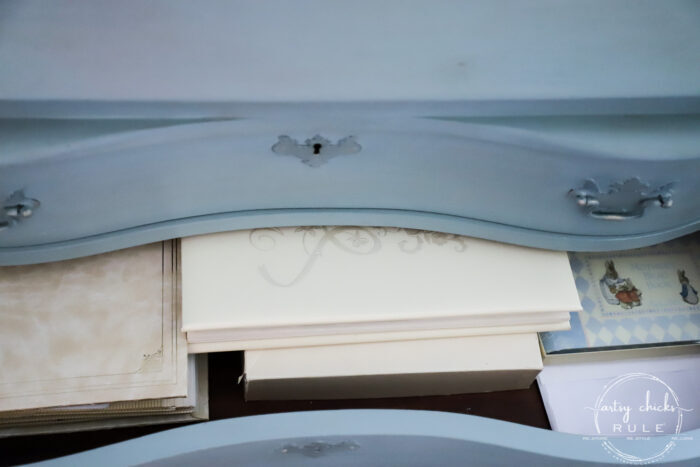 Photo albums.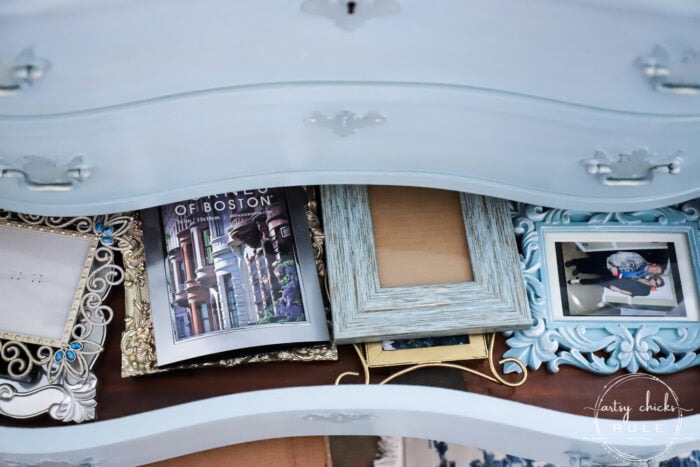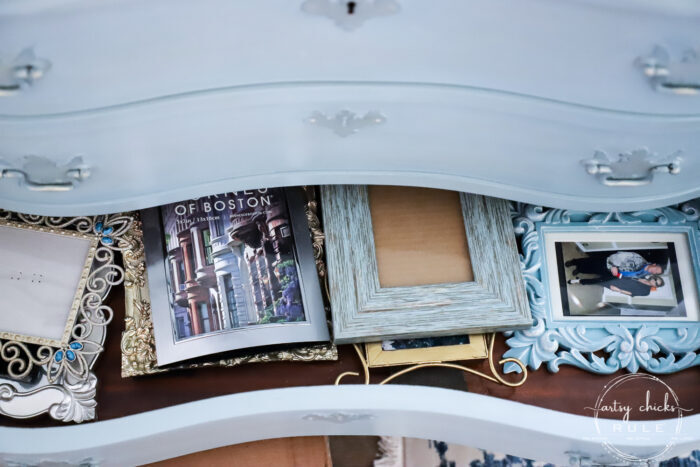 Extra photo frames.
The other drawers have papers and things I want to keep handy.
I can not tell you how nice it is to have all of these repurposed dressers around here to store all these things. Otherwise, where in the world would I keep it all?
I like a tidy house that doesn't look cluttered (it's a struggle! lol) so this truly does help that cause.
Do you also use old repurposed dressers in your home this way??
If not, maybe you might now, right?! :)
PIN it to save it!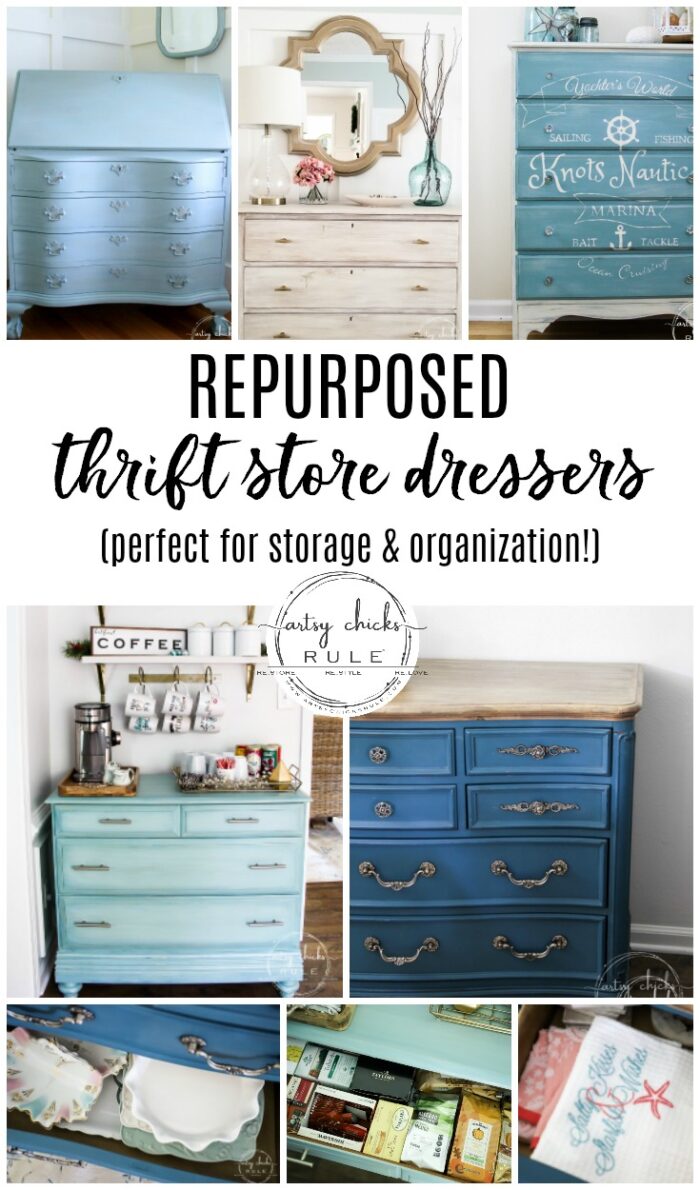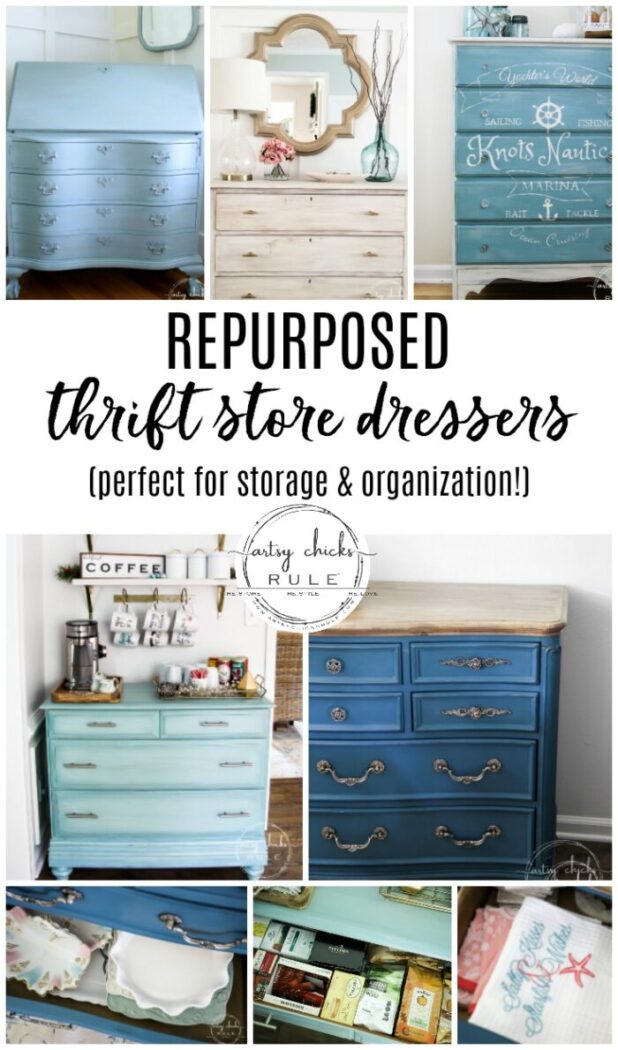 I hope this post has inspired you to look at things a little differently. It seems kind of crazy when I say I have FOUR dressers in my downstairs living area.
But it's really not!
To me, it makes perfect sense. They are lovely additions to our decor as well as providing much-needed space for things we have and use.
Let me know if you also use dressers this way…or if you are going to give it a go!
Wishing you a wonderful week, my friends!
xoxo