Coastal Themed Chest w/Custom Graphics & Annie Sloan Chalk Paint
This post may contain affiliate links. Please see disclosures here.
I am SO excited to share this super fun project with you all today!!! I mean really excited. It might just be my all time favorite painting/graphics project to date.
For real. Coastal themed chest, Chalk Painted & BLUE? All things I adore.
If you follow me on Instagram (I'm addicted to Instagram…I love it!) you've already seen this in action and little snippets of the finished piece before now. I post pictures there as I go long before they get here. Plus fun, random things too.
So ya ready?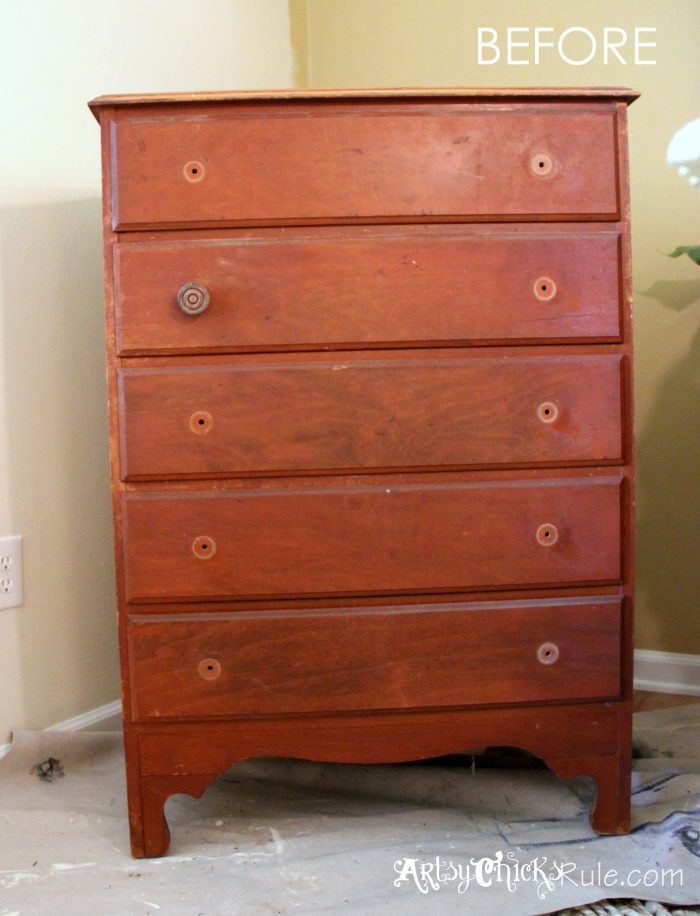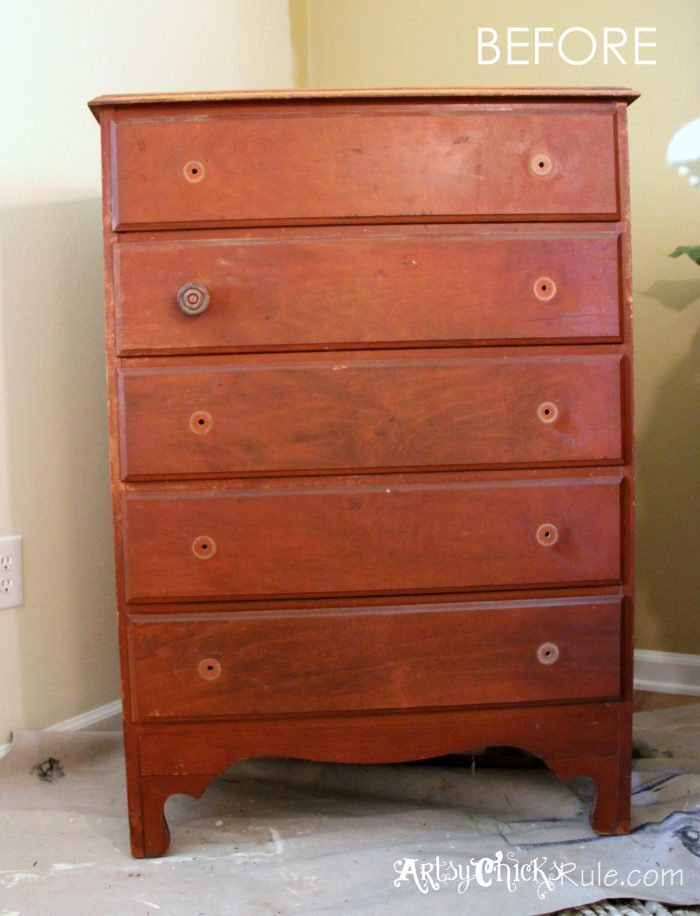 I picked up this dresser at the thrift store for $50. More than I usually pay but it was made well and in good shape. And I'd been wanting a tall chest type dresser for awhile to do something like this on…so I took it home with me.
I created a new custom graphic on my computer about 3-4 months ago…just waiting for the right piece to use it on. I had originally planned to take this up to the shop once complete but um, no, it is still with me.
I couldn't part with it.
Now, before I get going on the tutorial part, let me warn you, this is a photo heavy post. Hopefully it will load okay for you all. :)
The "before" is shown above…and yes, it did come with all the knobs attached but I had already removed them when I remembered I had forgotten to take a "before" pic.
I mean, really, I never forget to do that. (ha)
Paint Process:
First coat – "Provence" Chalk Paint
(and PLEASE disregard my lovely paint job on the wall behind it -half white-ish/half yellow. I recently repainted this room (more pics also on Instagram ;) ) and didn't have to paint all the way around because we are in the process of building an entire wall of bookcase/cabinets on that back wall )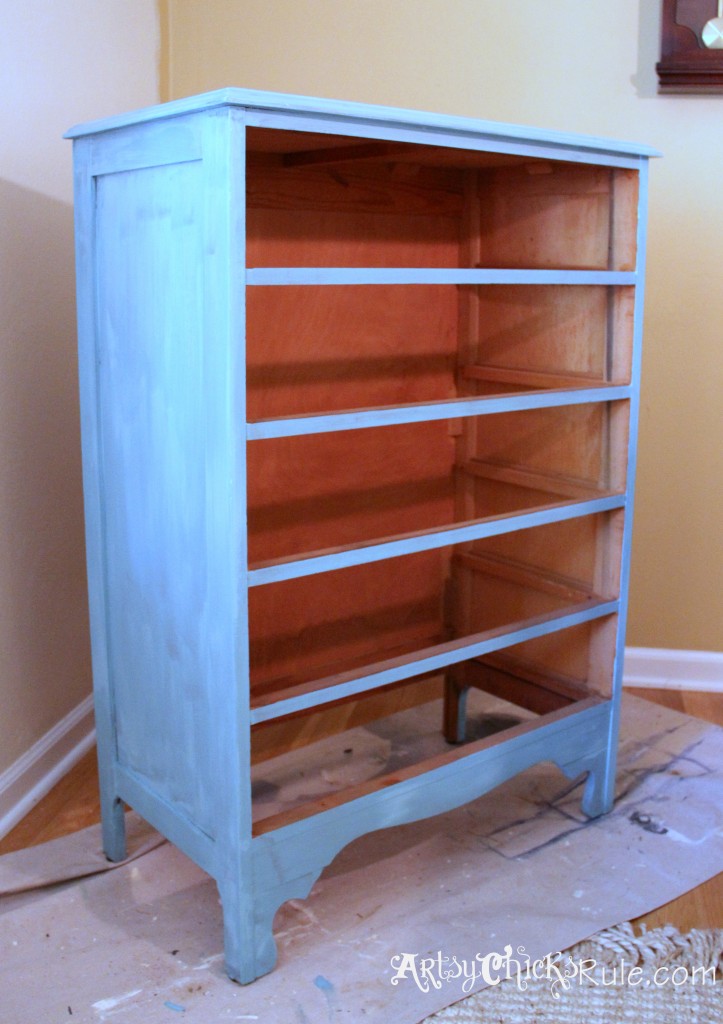 Second Coat– A blend of Old White & Pure White Chalk Paint (I left the middle section slats Provence because of the graphic I'll be doing there)
I painted the Provence underneath because I wanted it to show through when I distressed it.
I did only one coat of the Old White/Pure White blend on top so the Provence color would show through a little bit all over.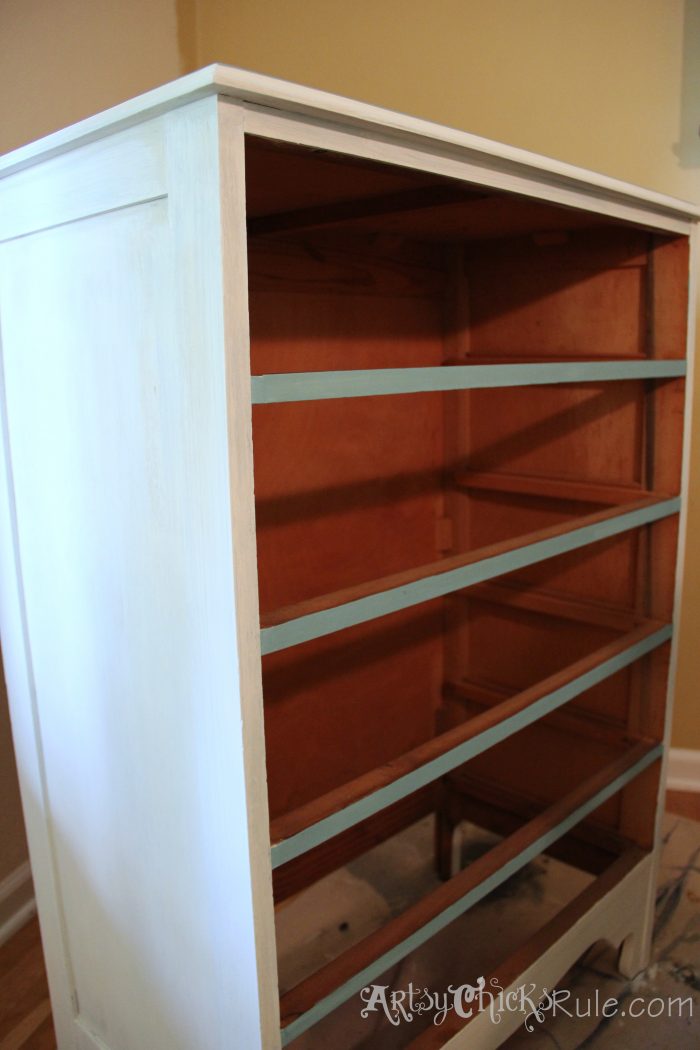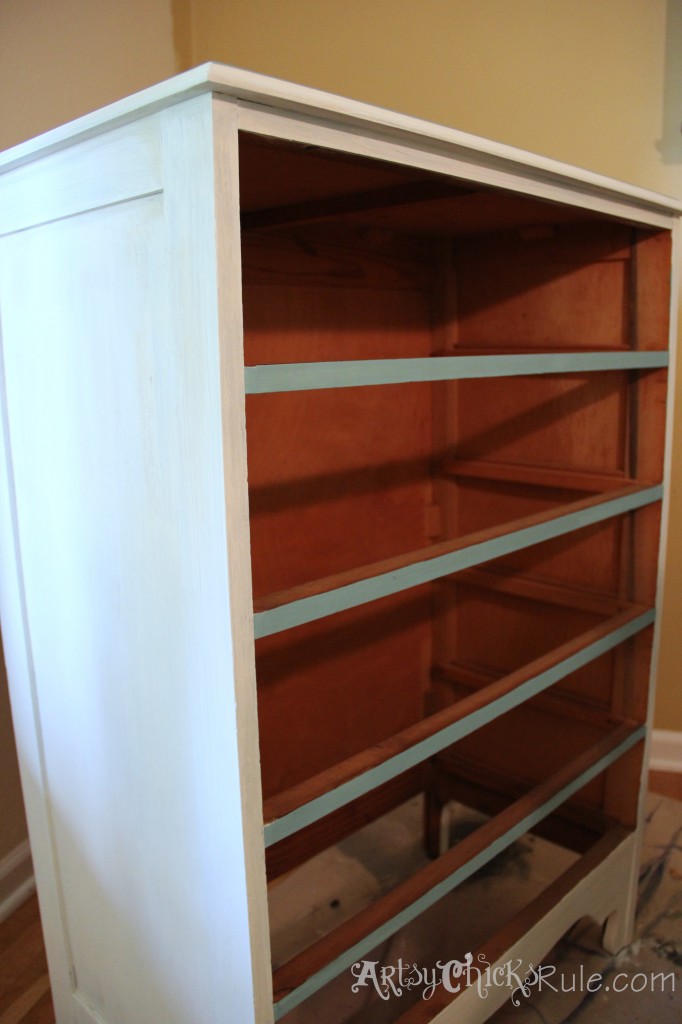 I dry brushed the drawers (and the top)
To dry brush, I used a blend of Provence, the White blend I mixed up & some water to give dimension and a more weathered appearance.
(Dry brush is just that…taking a dry brush and putting only a small amount of paint on the edge of the bristles…then wiping away most of it before applying to the furniture piece)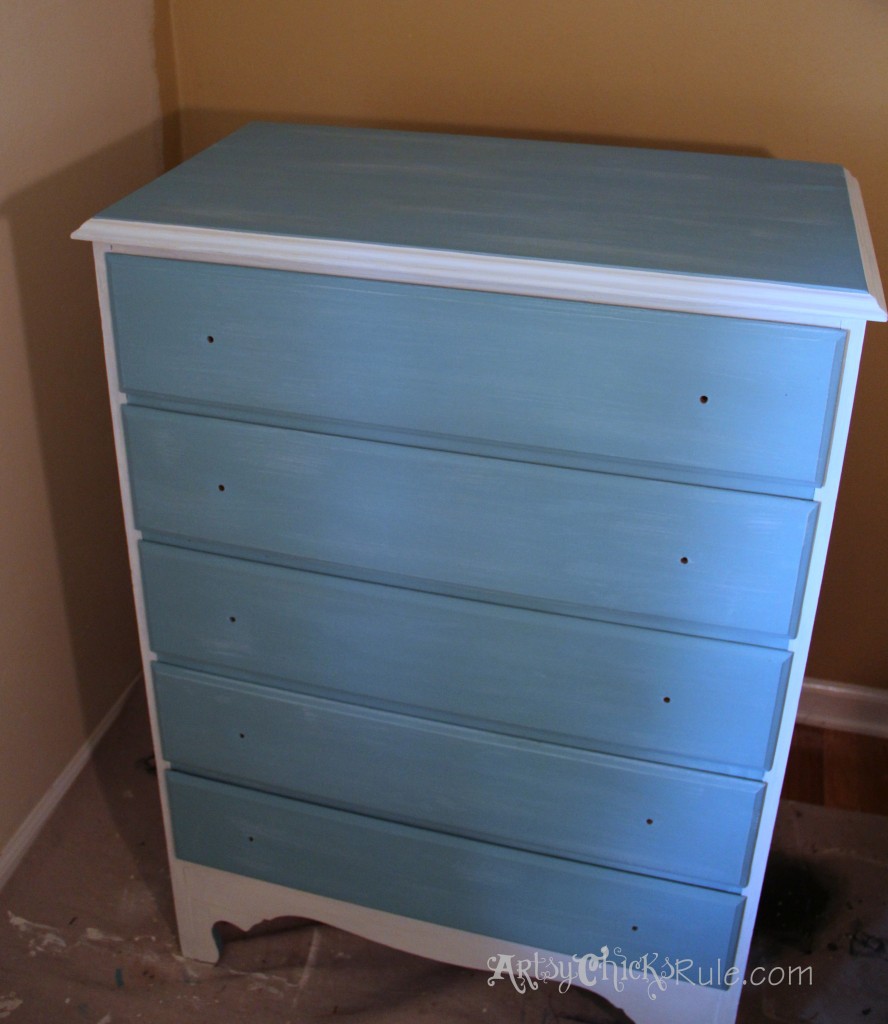 Want to see some of these projects in "live" time? Hop on over and follow along with me on INSTAGRAM. I'm always sharing in my stories as I'm doing projects, finding new furniture, fun finds….just all the day to day behind the scenes.
I went back a few times and kept adding until I had it how I wanted it. Multi step process.
After that dried I started putting on the graphic with the help of my projector.
I use this method of transfer quite a lot, like on this Chalk Painted Estate Sideboard —>here)
Want to see ALL of my favorite transfer methods?? You can find them all in one post, here.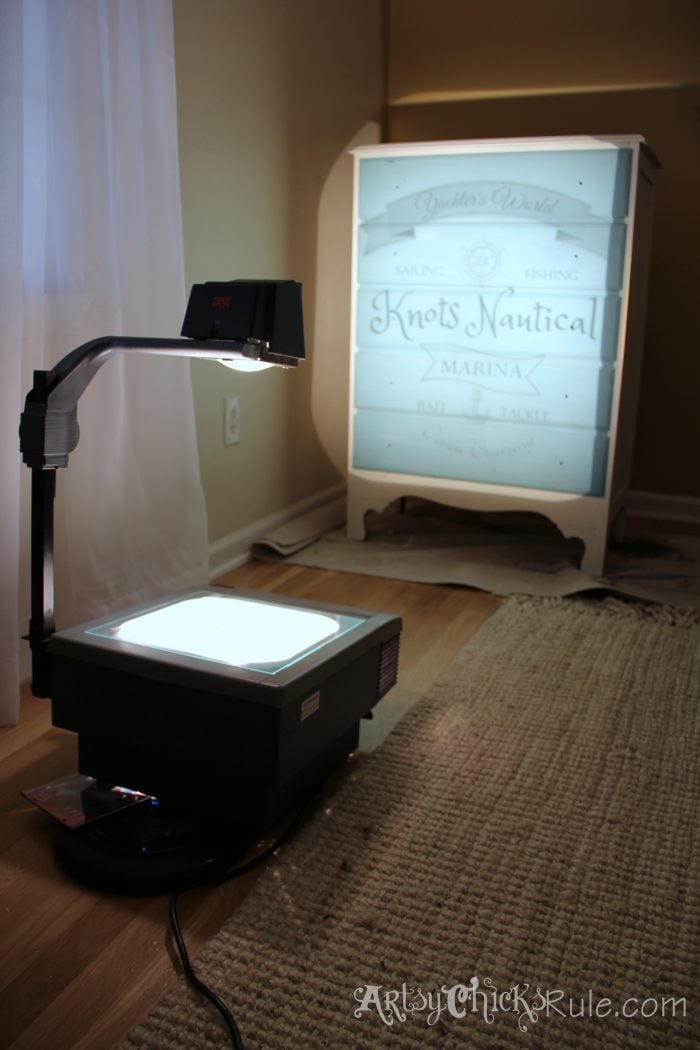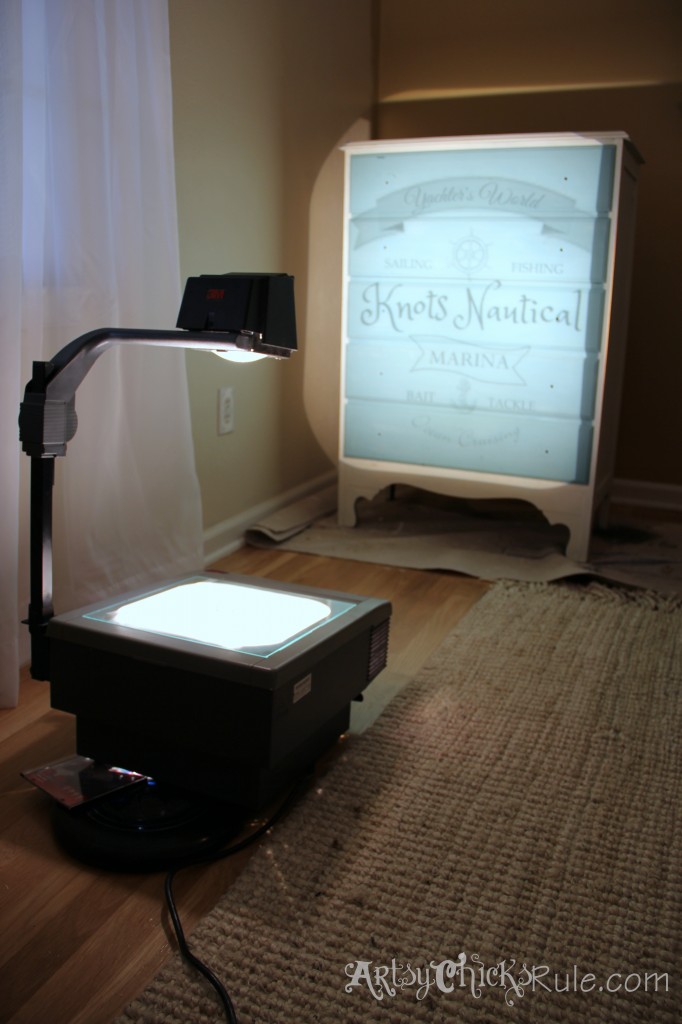 This is the time laborious part ….but it's mind therapy for me. ;)
You can see the dry brushing I did better in this photo.
Want to see a VIDEO on exactly how to dry brush? All the ins and outs, here >>> "How To Dry Brush – Video"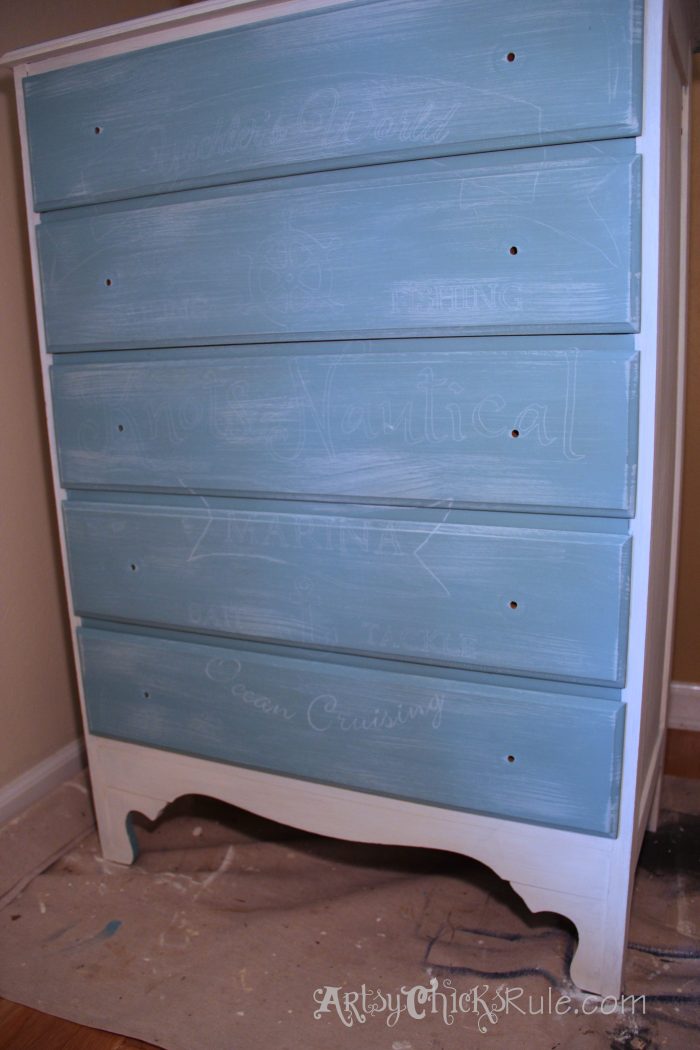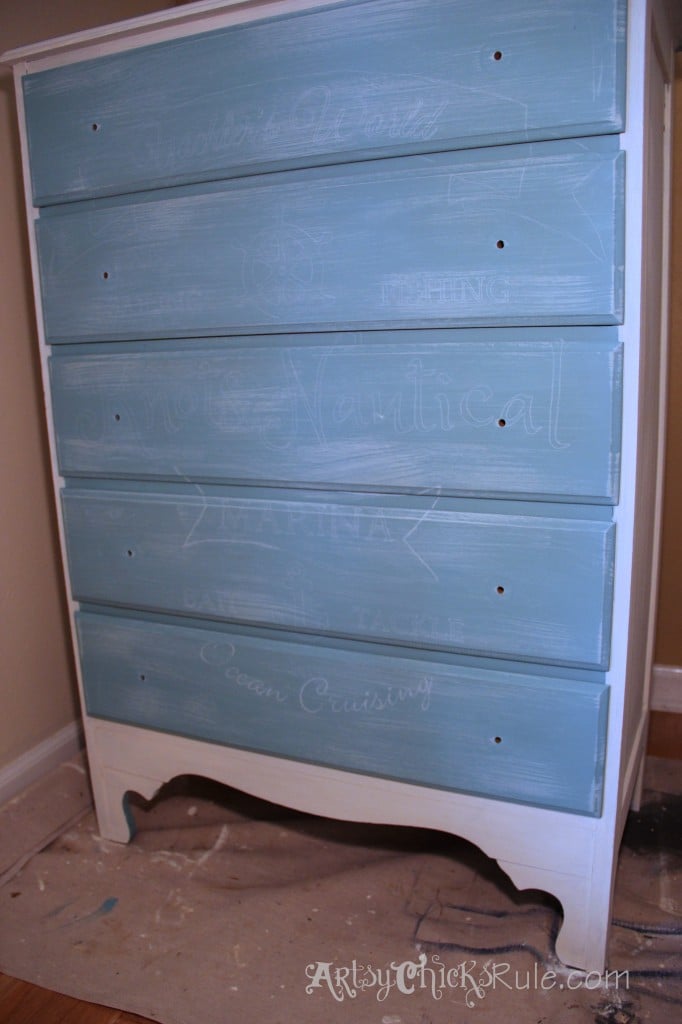 Up close….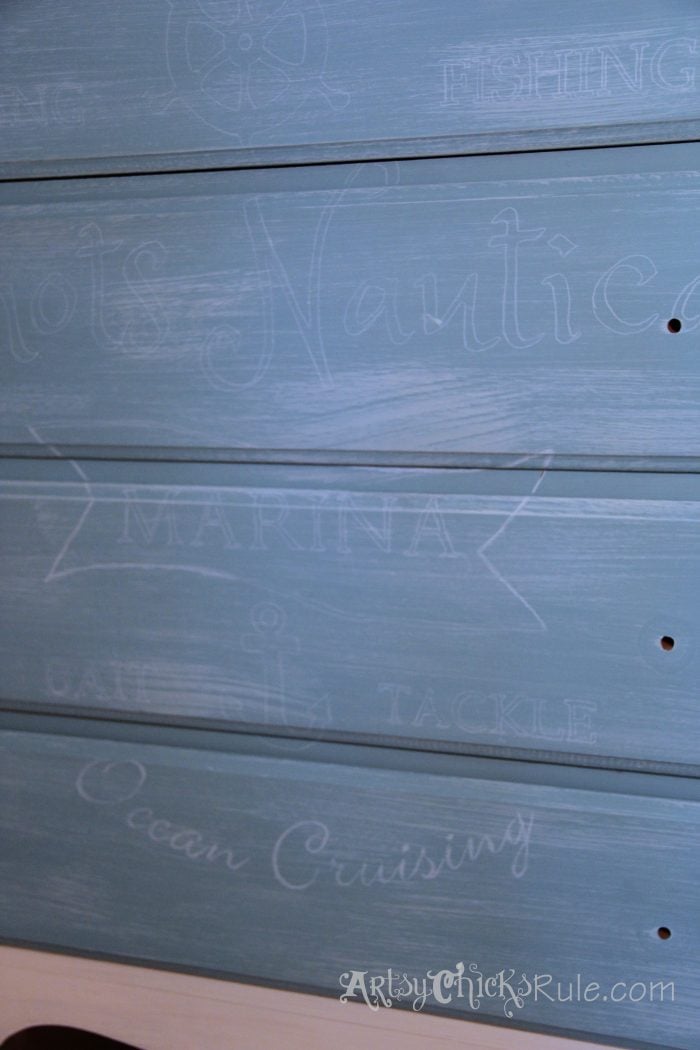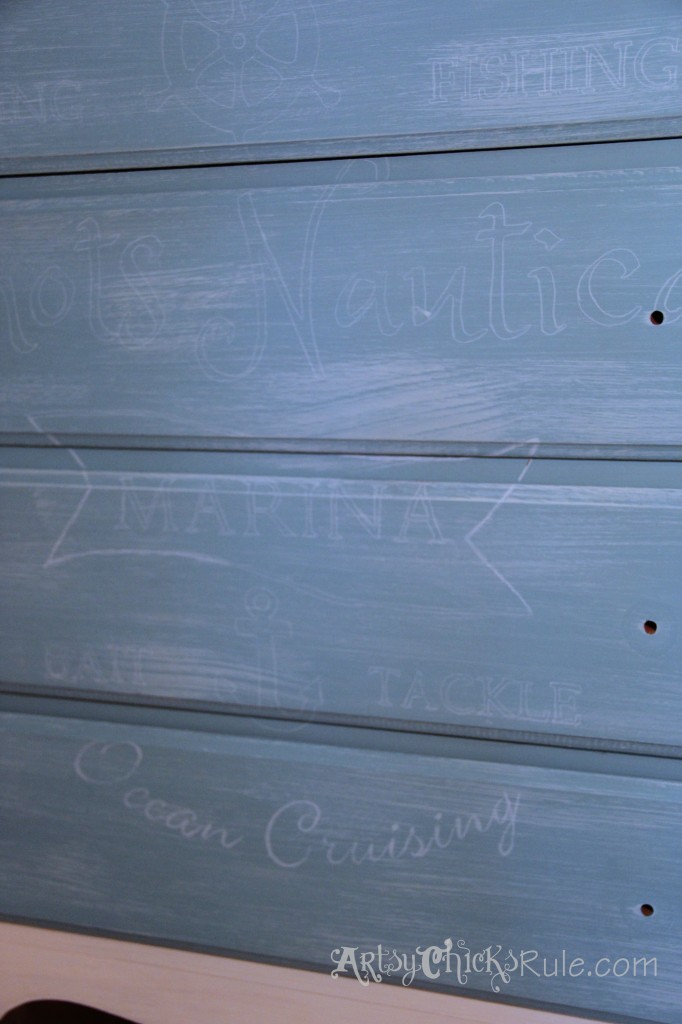 I used a white watercolor pencil to draw in the graphic since I was going to be painting the letters white.
I then used the same white blend of Chalk Paint I used on the rest of the piece to paint in the wording.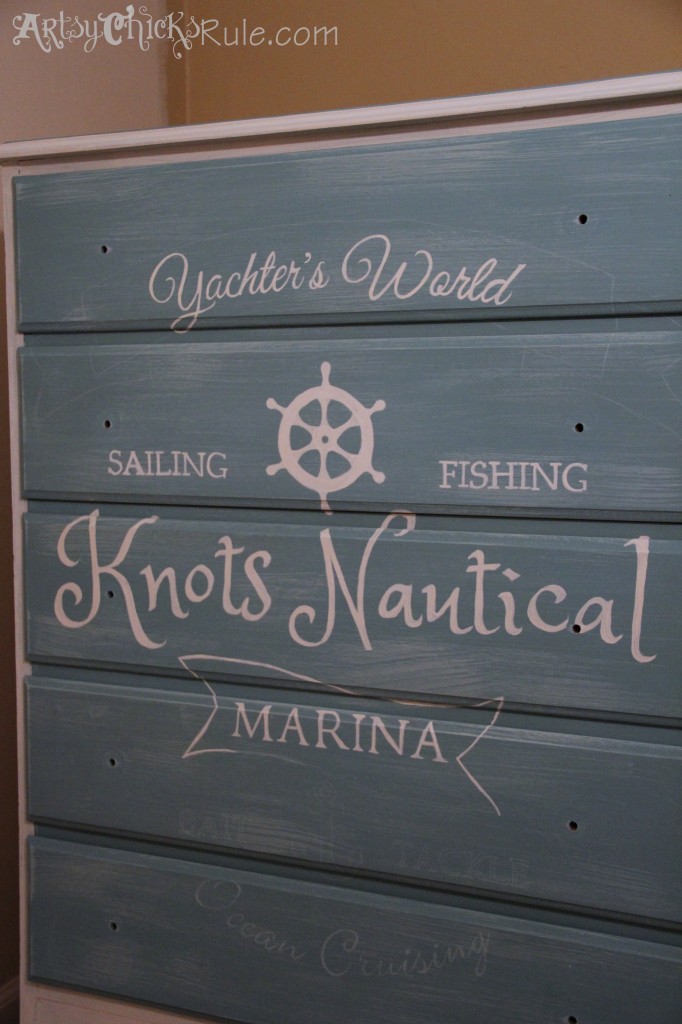 Finished painting the graphics on my little coastal themed chest…a little light sanding (with a fine grit sandpaper) to distress –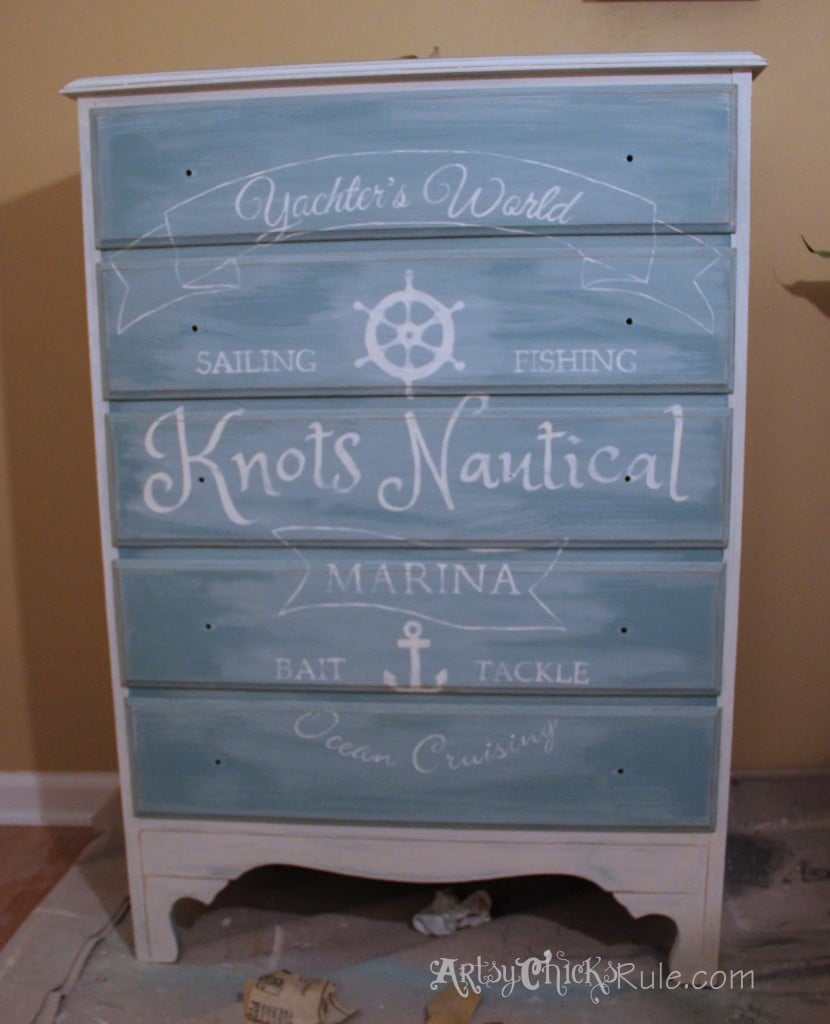 Looks like the paint color is a mess from sanding but it will be okay.
And now…see the blue peeking through the white on the sides? I finished it with one coat of Clear Wax.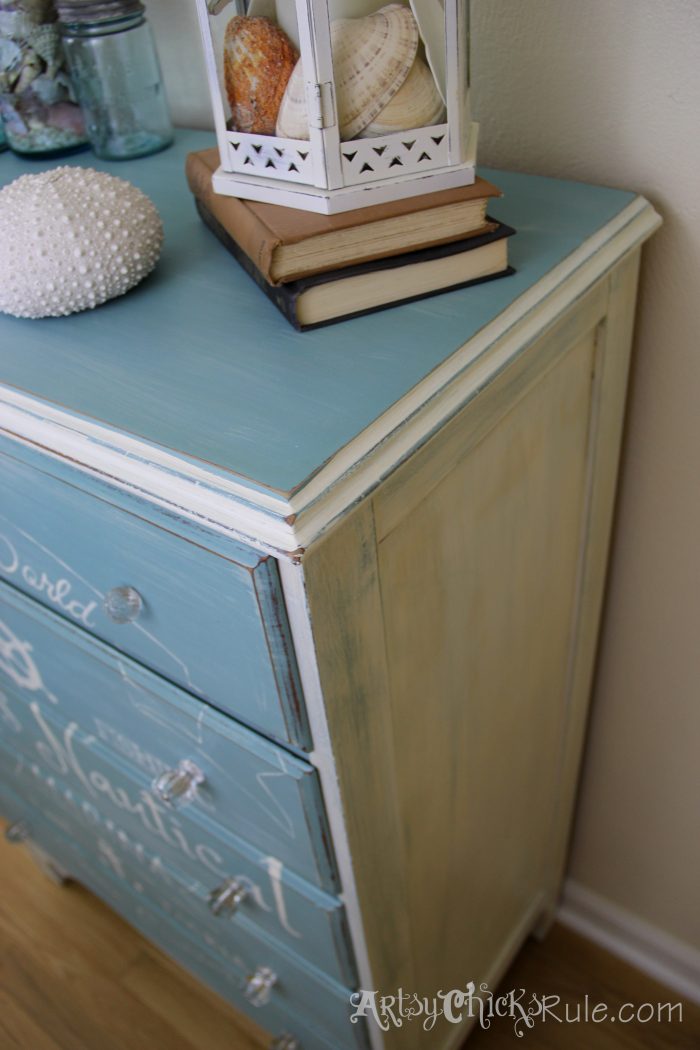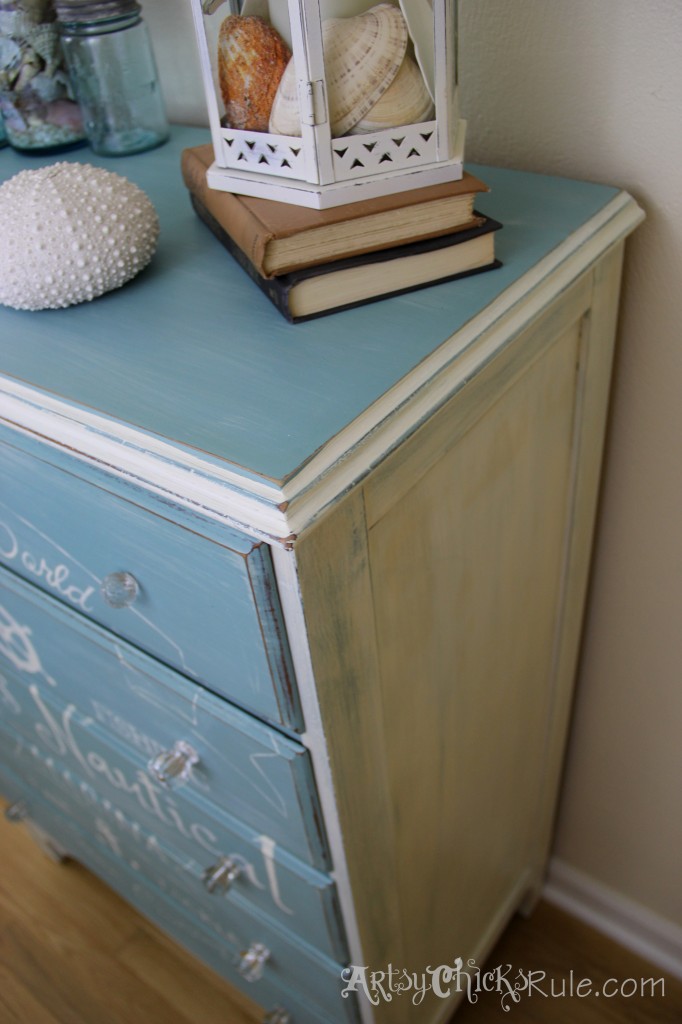 Want to know about 26 other chalk style paints?
I've got the low down for you right here! >>> 26 Types of Chalk Style Paint For Furniture
Love this blue….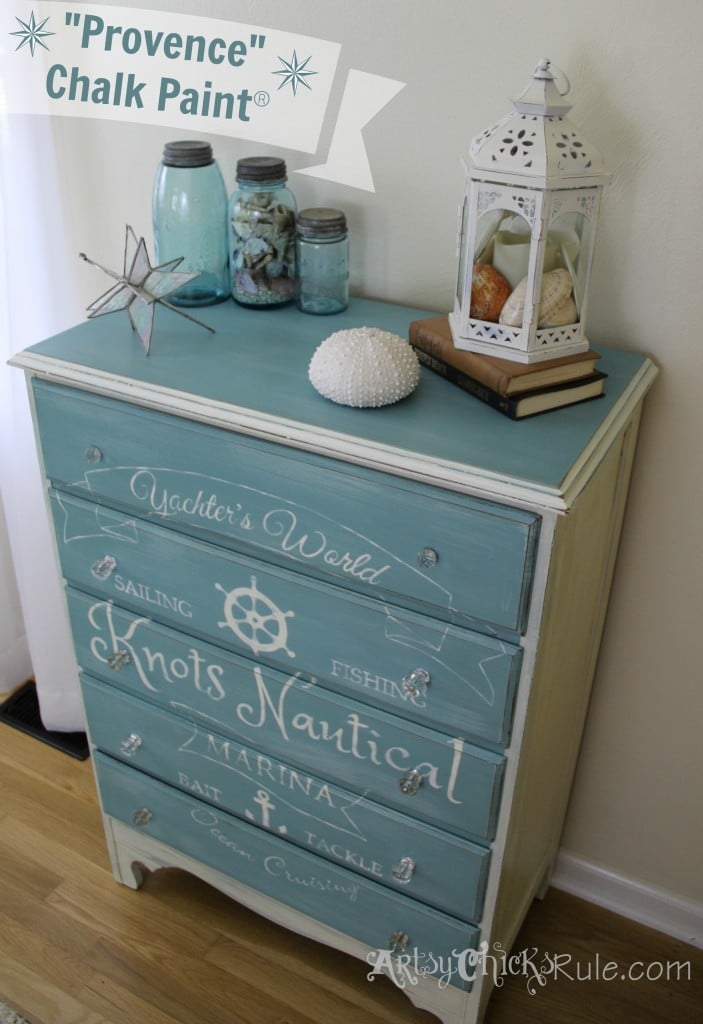 Close up of the distressing, graphics and dry brush.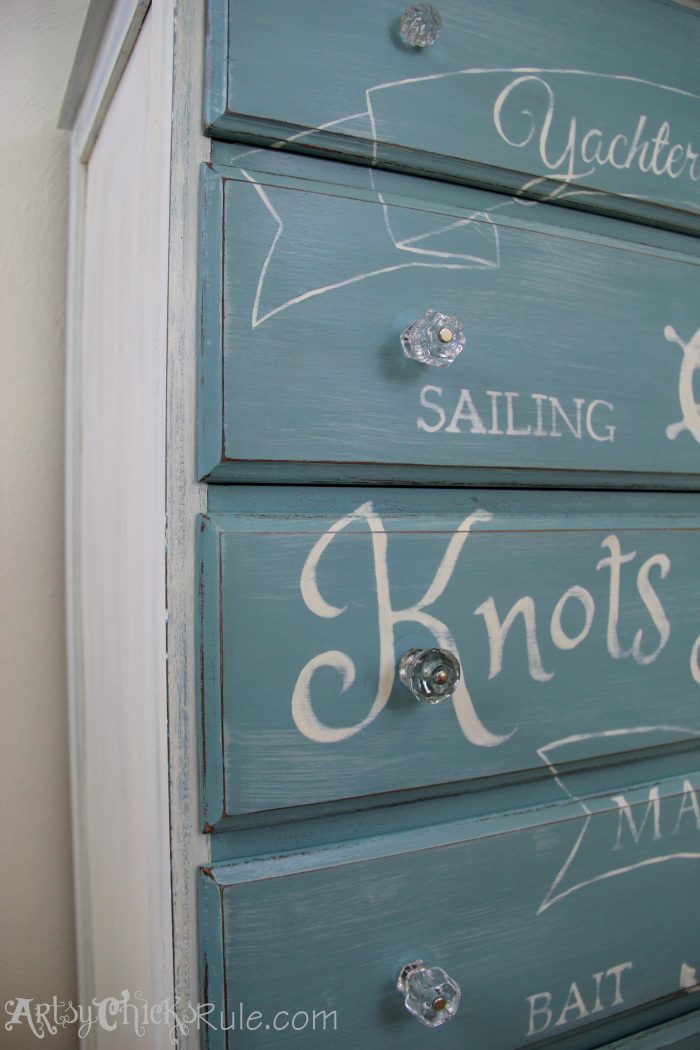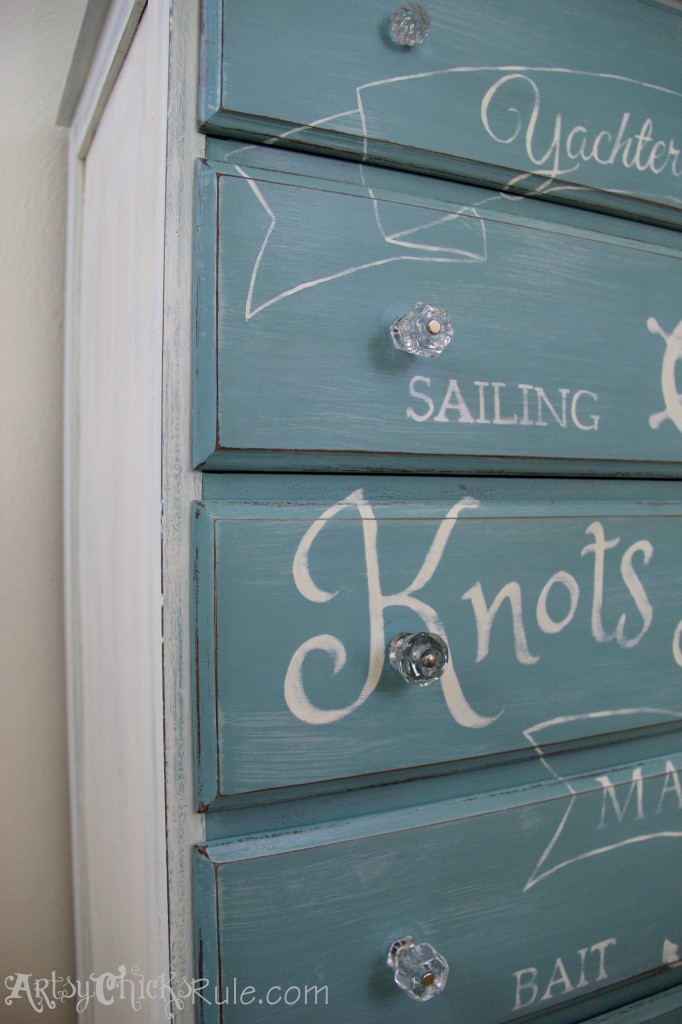 And yes, those are different knobs. (in case you didn't notice) I wanted crystal style but didn't have enough of one type….so I mixed it up a bit.
I was thinking I would do it for picture taking purposes only and change them out to match later…..but I actually like the look of the mixed knobs now.
I believe they will stay.
A little nautical styling on my "brand new" coastal themed chest….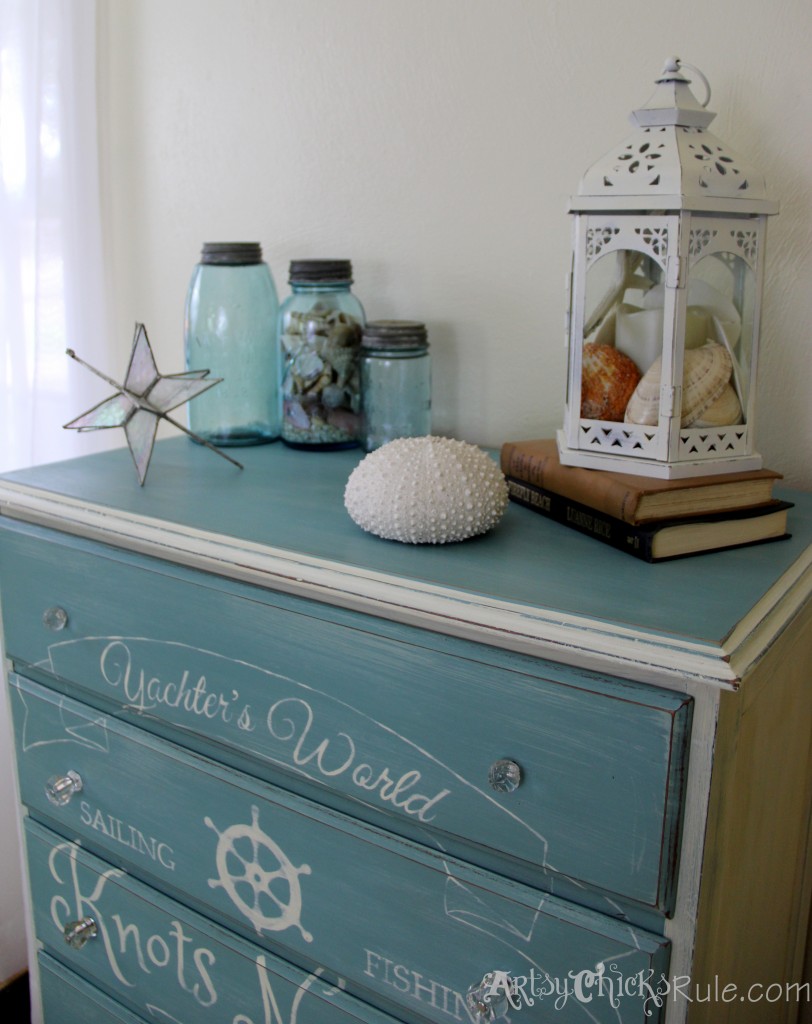 And a full frontal ;)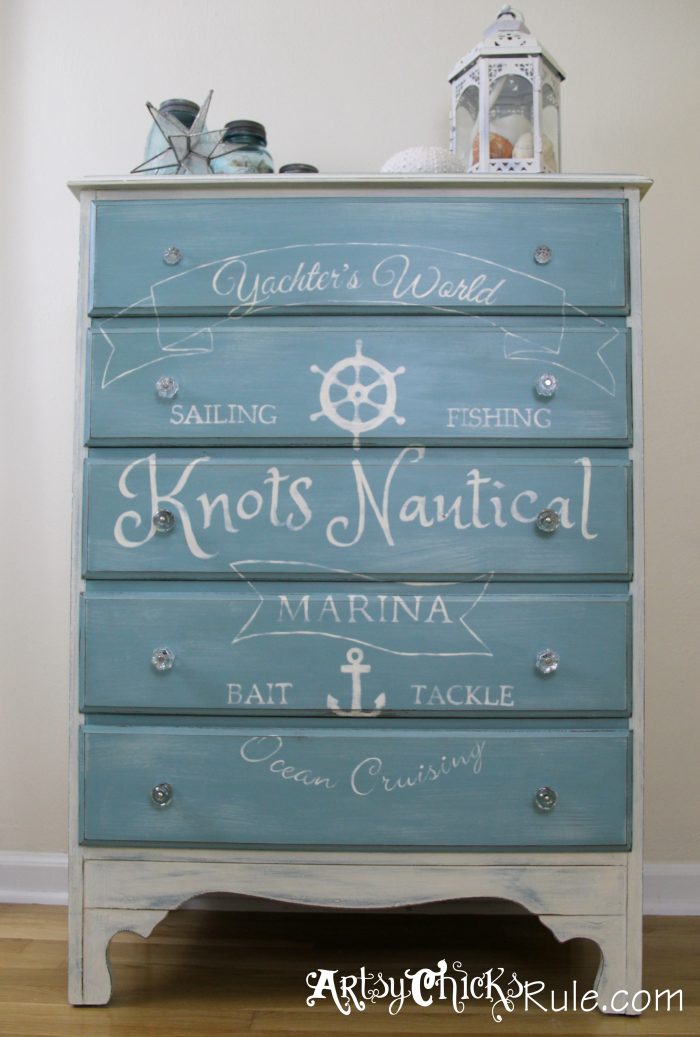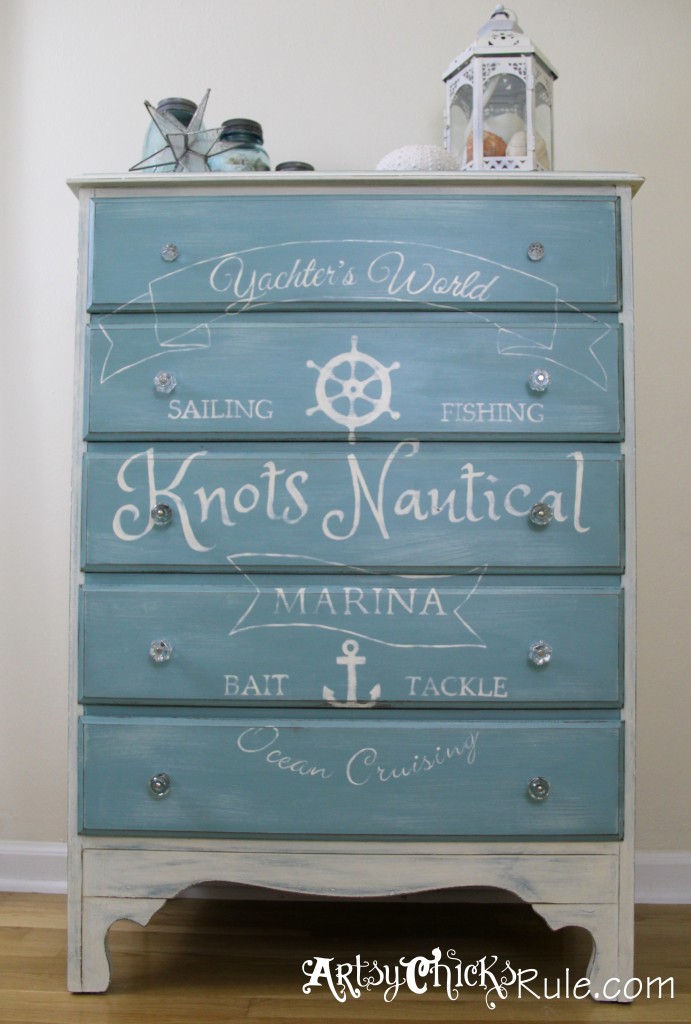 I really do like the knobs mismatched…it's a bit whimsical & eclectic to me and I like that.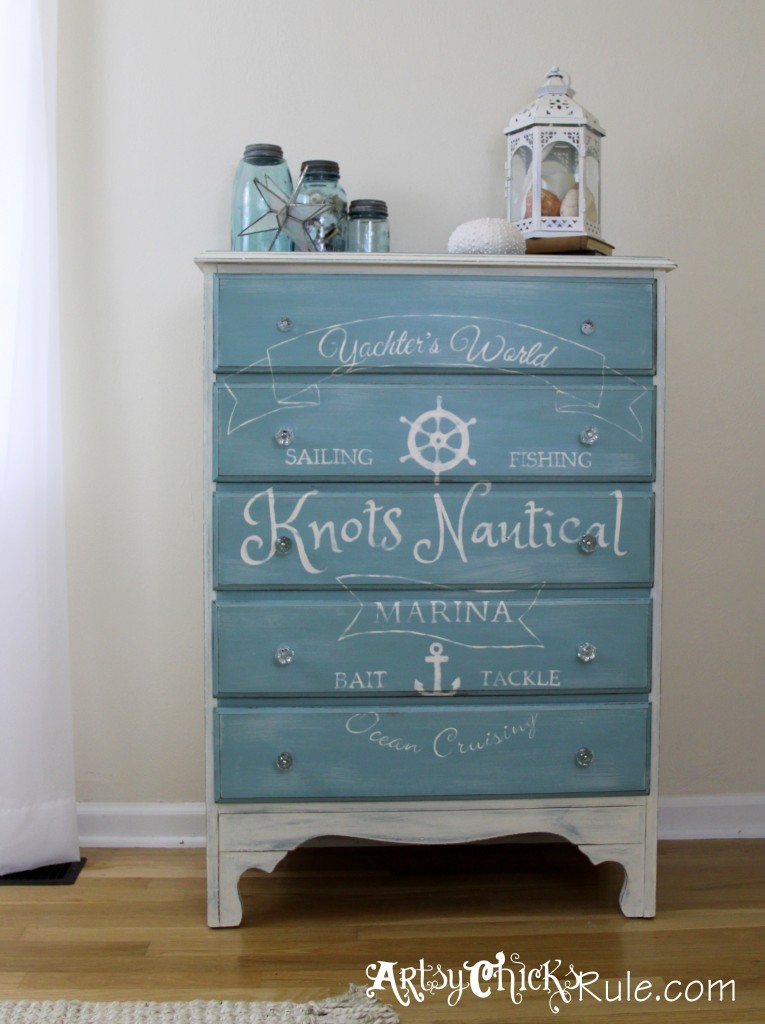 Such a super fun piece! And a keeper….cause I'm keeping it. ;)
Want the free printable?

PIN this coastal themed dresser for later! :)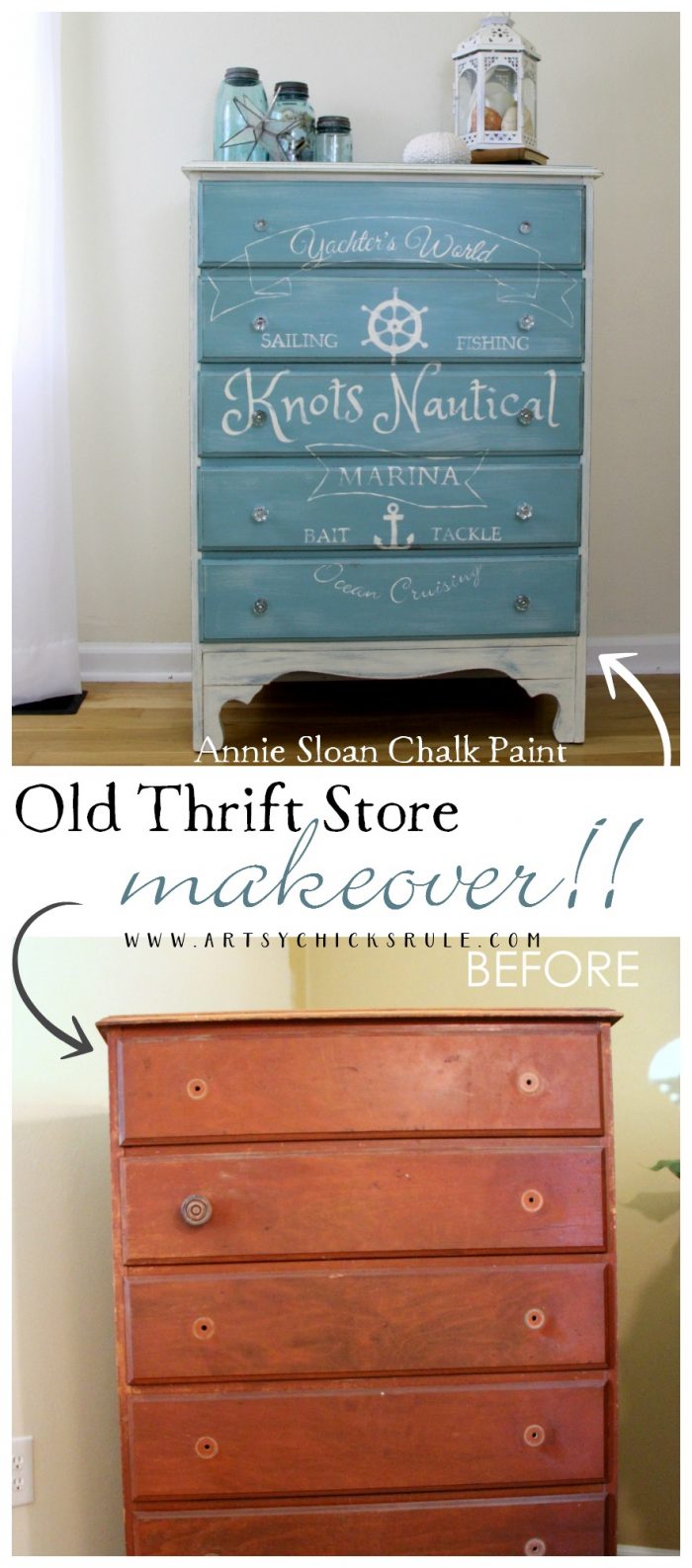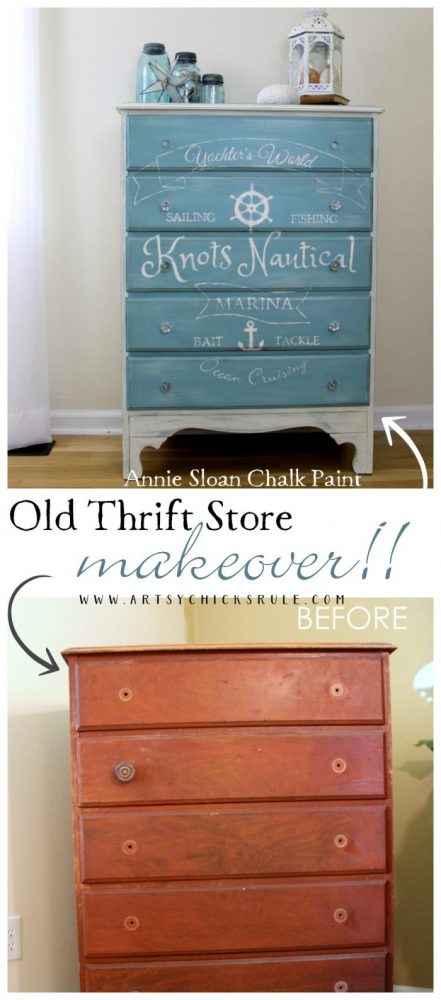 So what do you think? You like? How about the mismatched knobs? Yes or no?
Be sure to check in next, when I share what I did with this old table!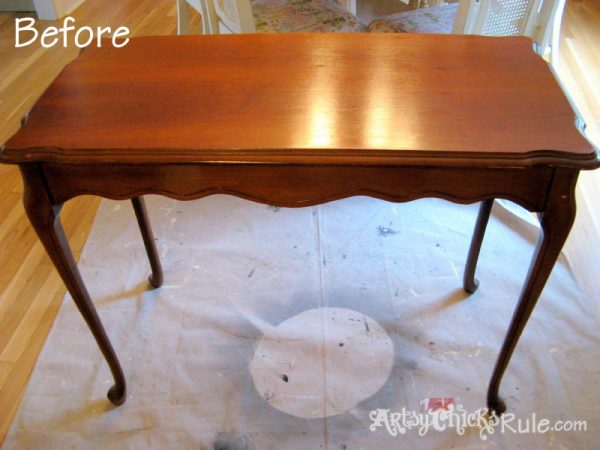 UPDATE!!! You can see it now, here!!