Update Old Wood Stained Furniture – Easily & Quickly
This post may contain affiliate links. Please see disclosures here.
Today I have another quick and easy project for you all.
A great way to update old wood stained furniture … and one that won't wear your arm out from sanding OR take you a week to finish.
Remember this post? –> Super Easy Way to Update Wood Stained Furniture or this one? –> Old Thrift Store Coffee Table Transformed with Chalk Paint & Polyshades?
Yes, those were super easy projects that ended with majorly transformed pieces.
I'm all about easy AND quick for a fun new, updated look. Who wouldn't be?
And both of these products below do just that!
The table I'm going to talk about today is one that I got from my mother in law about 17 years ago. When I got it, it had been in storage and the top was a bit messed up. I sanded it (the old fashioned way), stained and put a few coats of poly on top. The legs were fine so I just matched the stain and refinished the top only.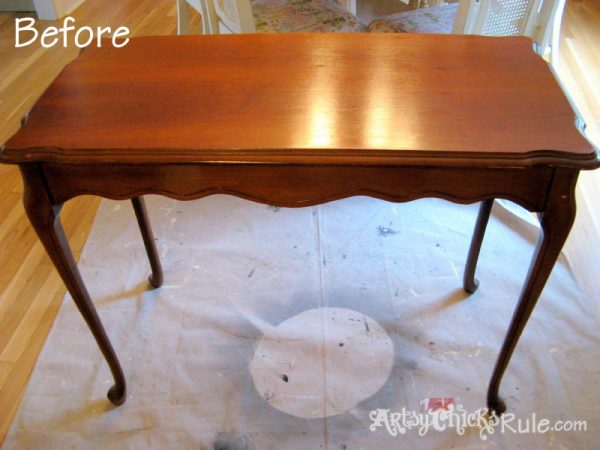 It was a beautiful table and well loved for many years after.
But I wanted to revamp it up a bit.
So, a little bit of Annie Sloan Chalk Paint & Minwax PolyShades later……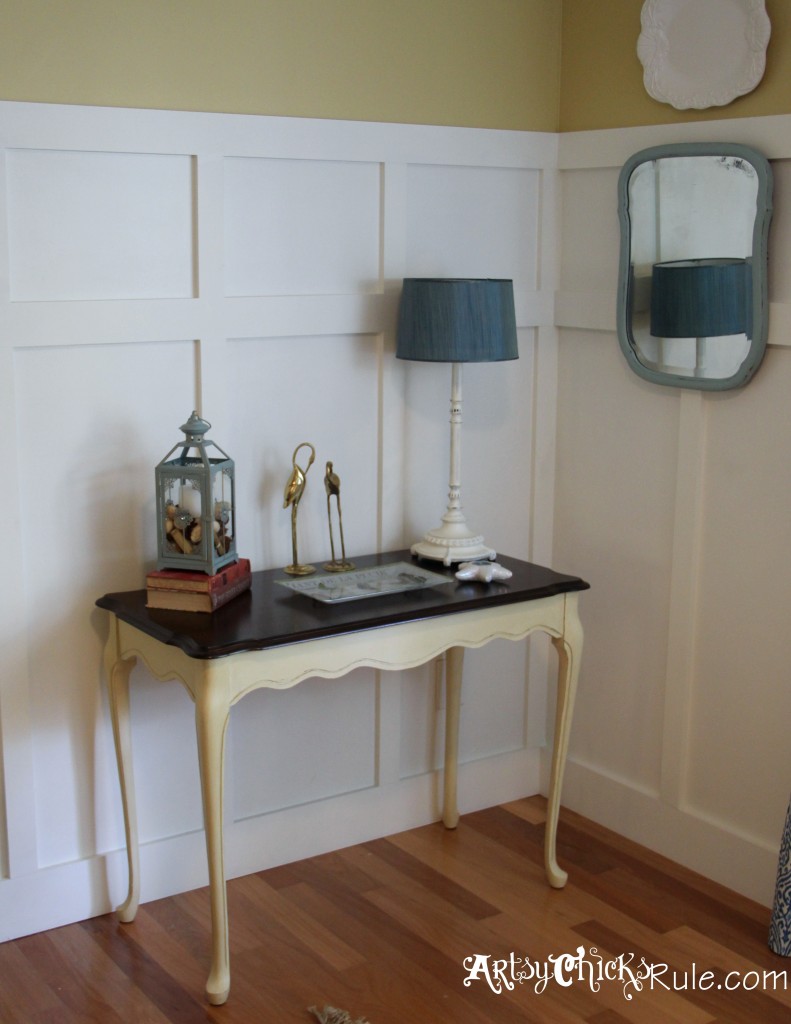 If you've taken a look at the 2 posts I linked above, you'll know that I'm loving the dark stained wood lately. So I decided to darken up the top on this piece and paint the bottom section in Old Ochre .
I actually completed this little table many months back but just recently got around to taking the finished pictures to share here with you on the blog. I've had so many projects going on, as well as some personal things, so it's been a bit tough to take & edit photos AND write the posts for them. But I have a ton of stuff to share with you (and I can't wait to show you all that I've been up to around here).
So be on the lookout for it. (plus some fun Christmas crafts/projects and decorating coming very soon too, can you believe it's almost here?)
Below is the table pictured 'before' (well, after I refinished the top 17 years ago but before I hit it with some fab Minwax PolyShades — love that stuff)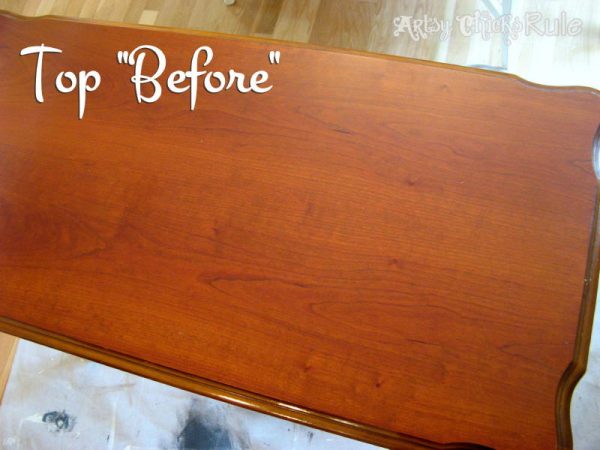 Not bad….just not in keeping with my current decor.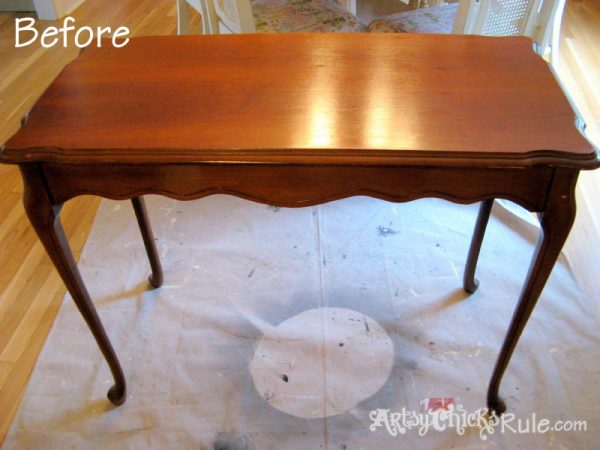 To begin to update old wood, you want to first give it a light sanding….with fine grit sandpaper. (always stay with the grain)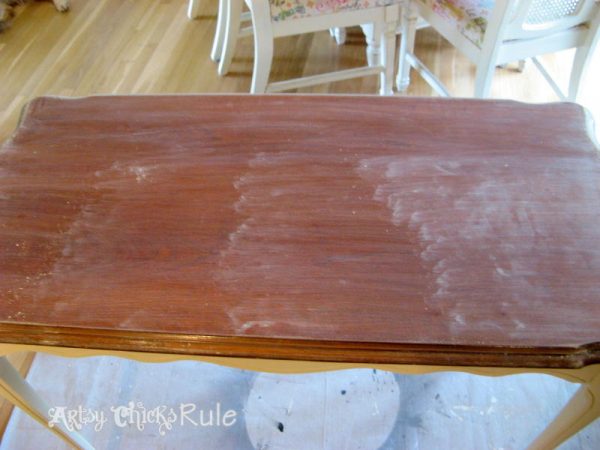 I painted the base first….not the usual choice and I don't remember why I did now.
Just keep in mind, it would be best to refinish the top first and then paint the base last.
Here it is with one coat…just to show how easy it is to give a slight color change and a nice shine to old wood stained furniture with the Minwax Polyshades product.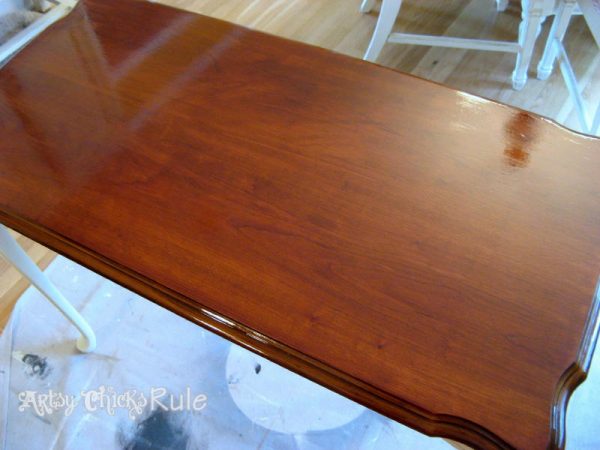 I decided I wanted it darker …so went darker for the next couple of coats. (I used the same shades as in the posts I linked up at the top of this post)
Be sure to very lightly sand in between coats for a nice smooth finish. (very fine grit sandpaper) Be sure to clean dust, etc, well before applying your next coat.
And, as always, it's best to use a high quality bristle brush to apply the Polyshades for the best results.
I finished up the base with 2 coats of Old Ochre Chalk Paint, a very slight distressing and Clear Wax.
All finished. What easier way is there to update old wood than this?
Want to know about 26 other chalk style paints?
I've got the low down for you right here! >>> 26 Types of Chalk Style Paint For Furniture
Look at the gorgeous shine on the new, deep colored top and those lovely colored legs.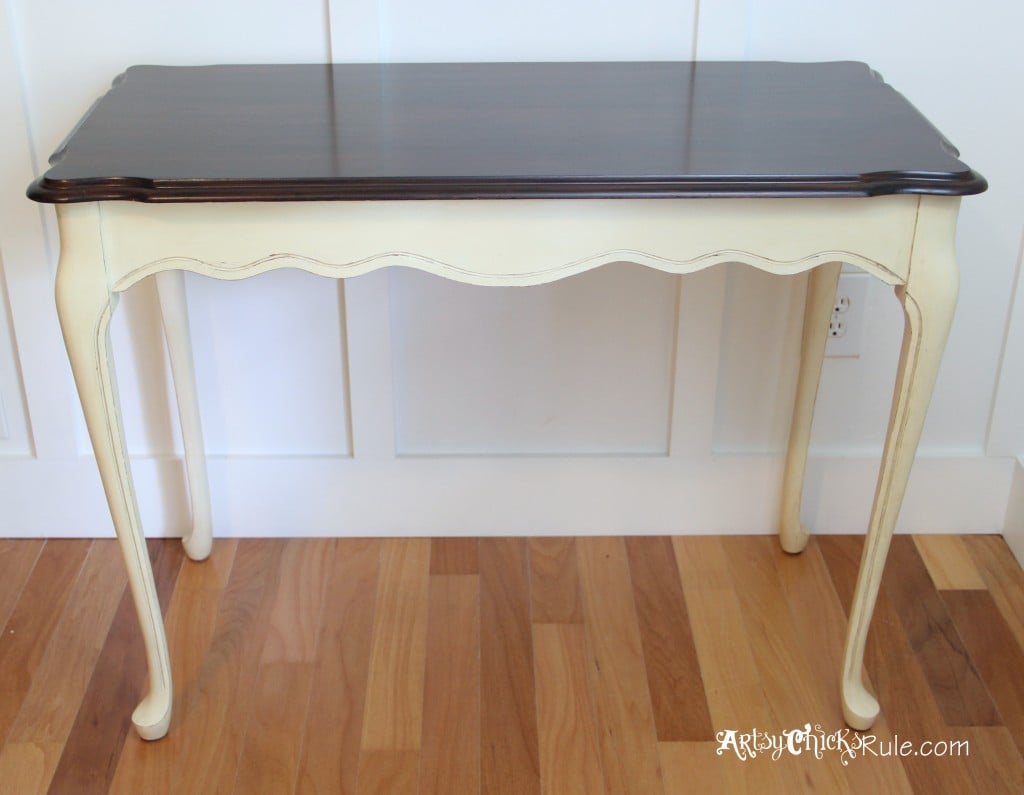 Side view….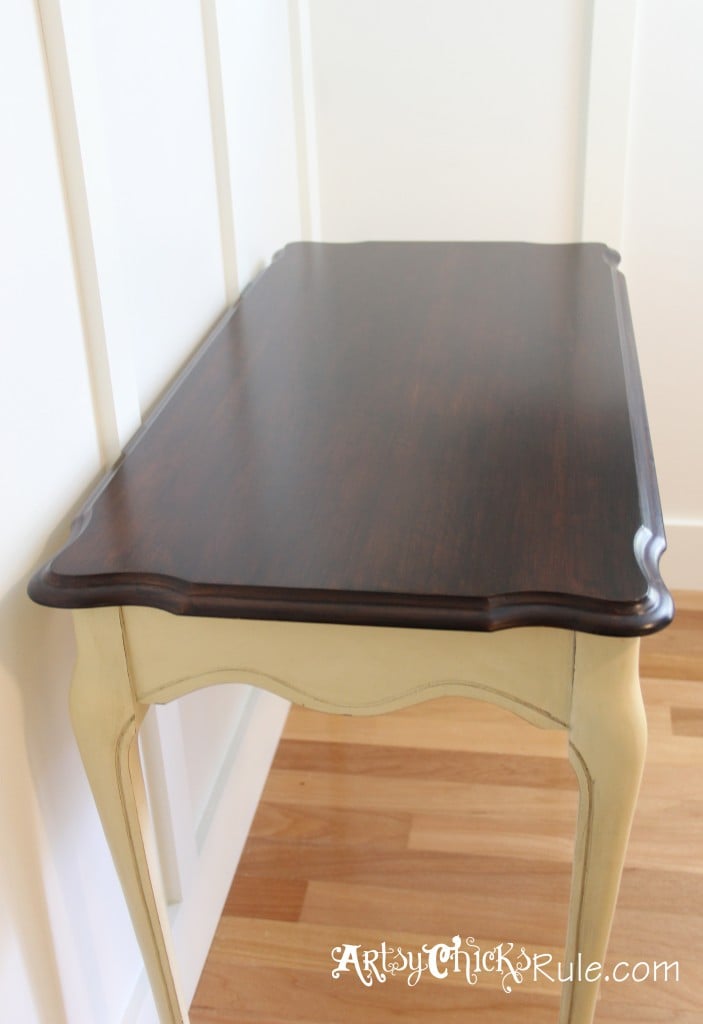 Like I've mentioned before, nothing beats a real sanding/staining/poly job BUT this is great for the home DIY-er or someone short on time, skill…or just patience! ;)
Not at all describing myself on that last one. Nope.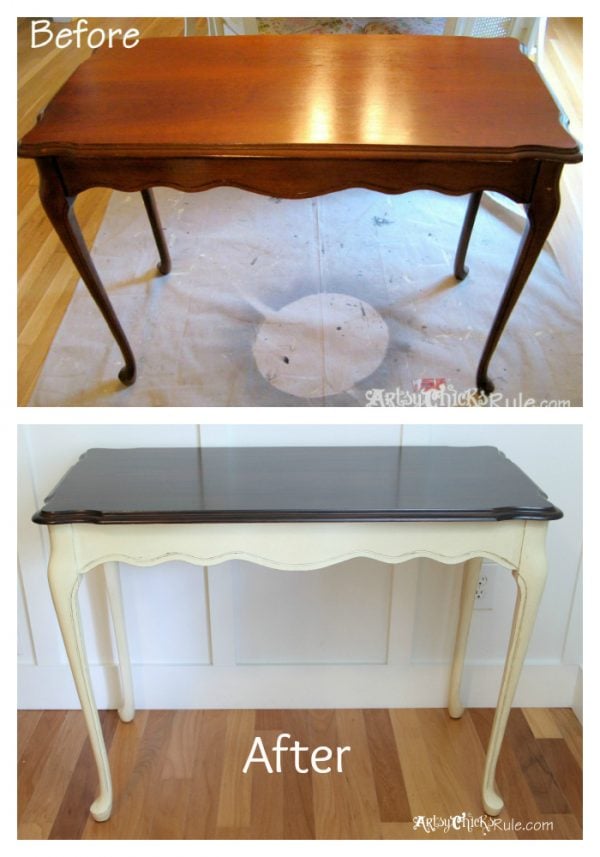 All prettied up…… (oh, big sneak peek on the faux board & batten walls we did a few months ago…post coming soon on how we saved a bunch doing it this "faux" way)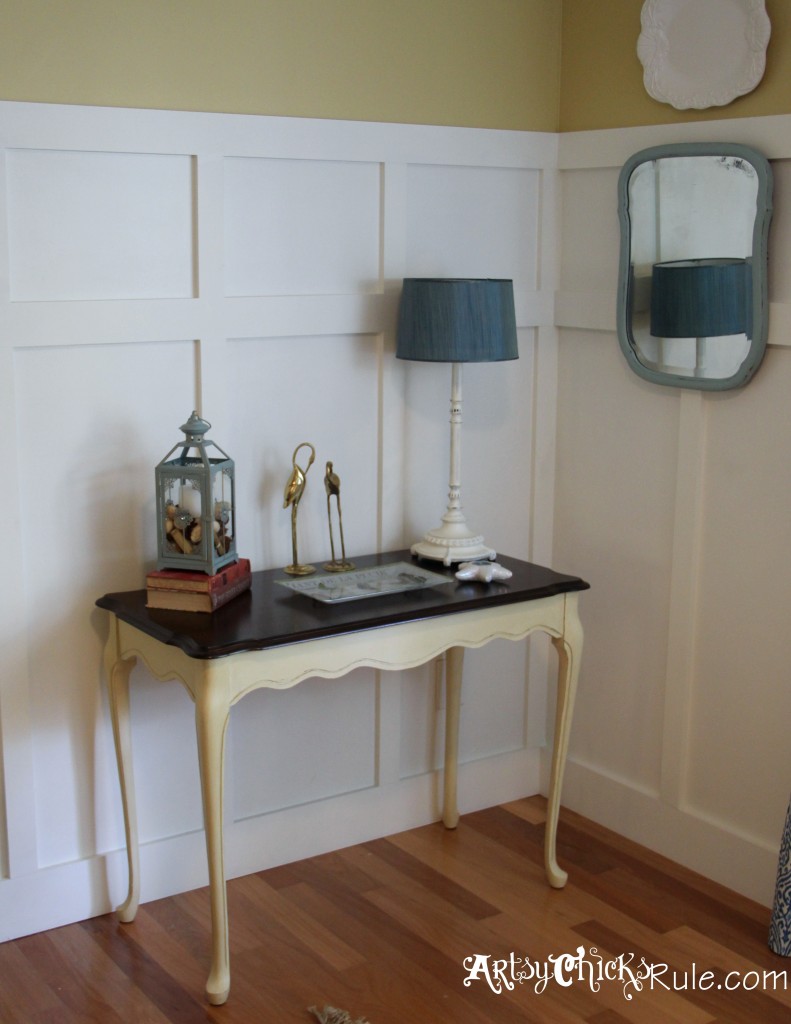 One more…. (and why yes, that is a Chalk Painted lamp in the photo – Pure White over Oil Rubbed Bronze Spray Paint– a $5 garage sale find)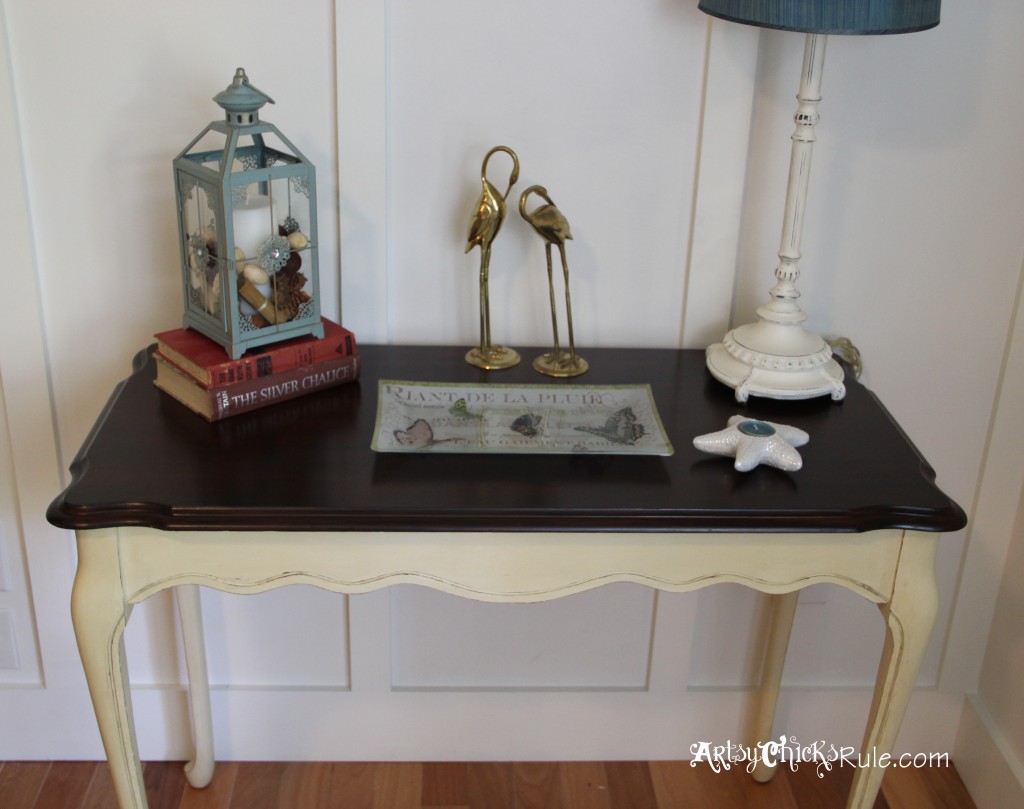 What a difference, right?
So quick….so easy….REALLY.
PIN this for later so you can update old wood furniture pieces too! :)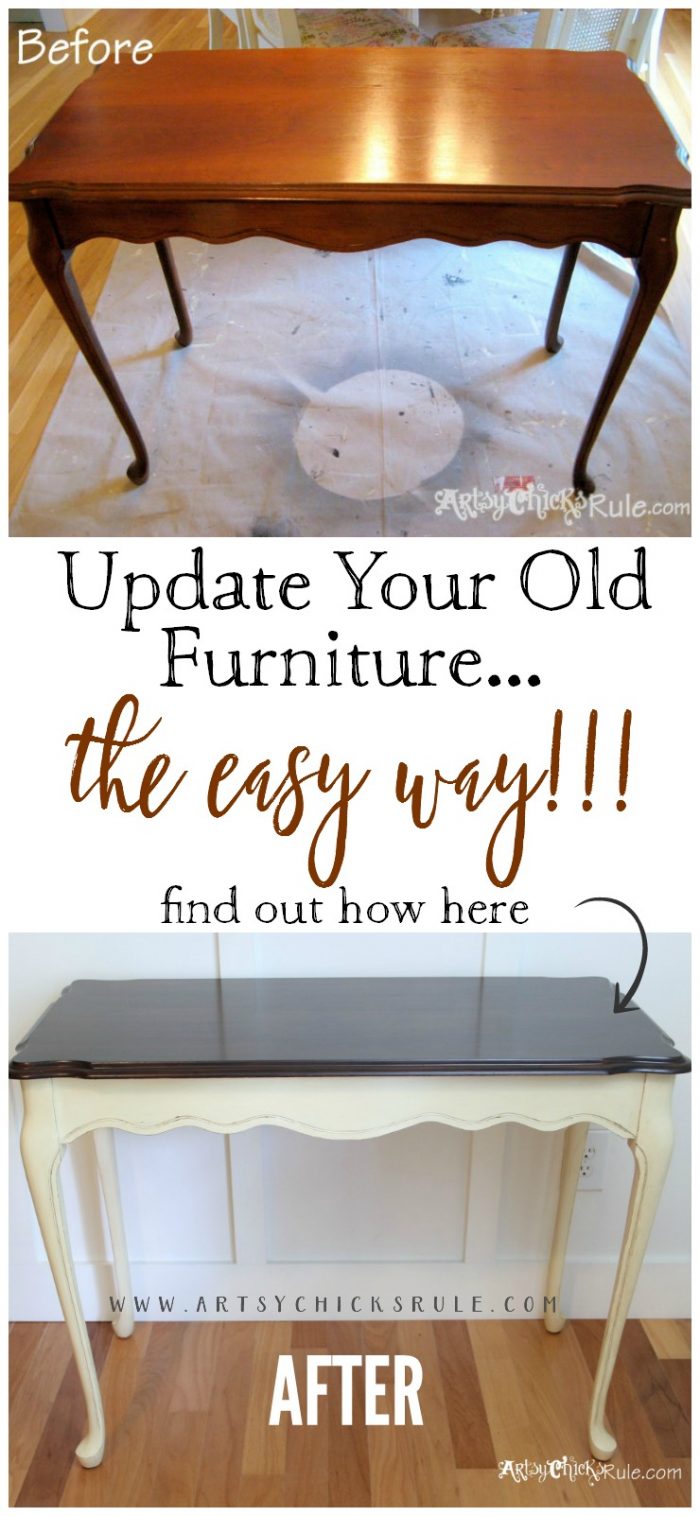 Have you tried either of these products to update old wood? Think you might give it a whirl??
Be sure to check in later when I share how I gave this old Craigslist hutch a brand new makeover!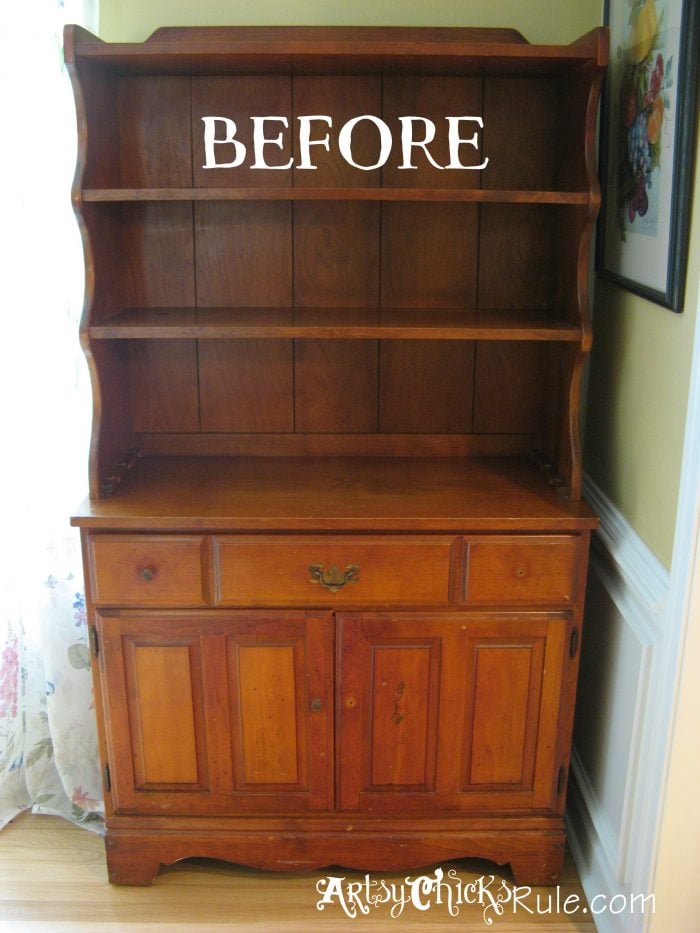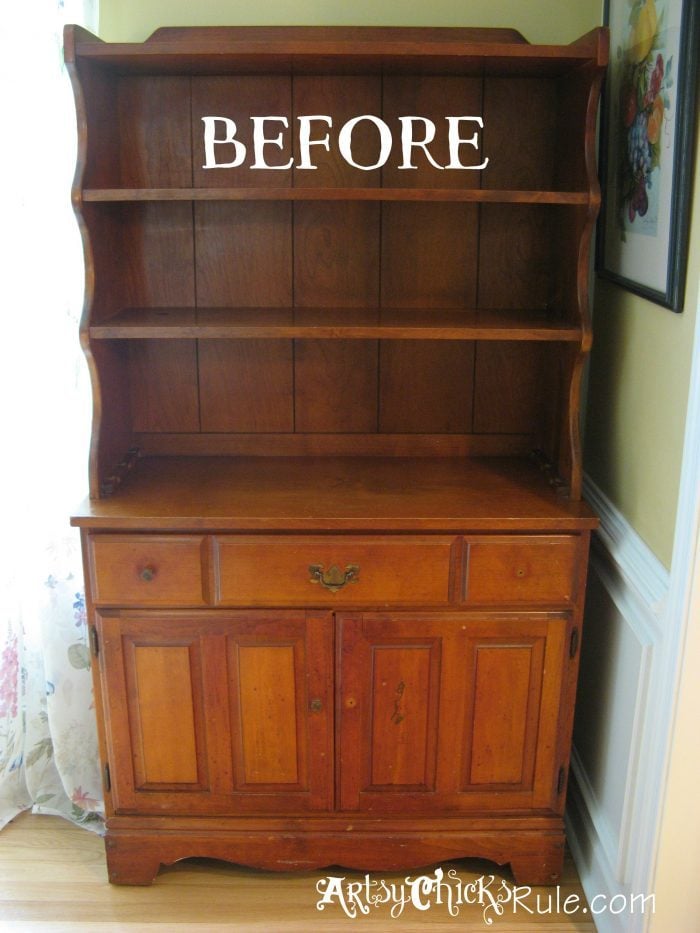 UPDATE!! See it now, here!