A coastal bookcase makeover today with pale blue paint and white glaze!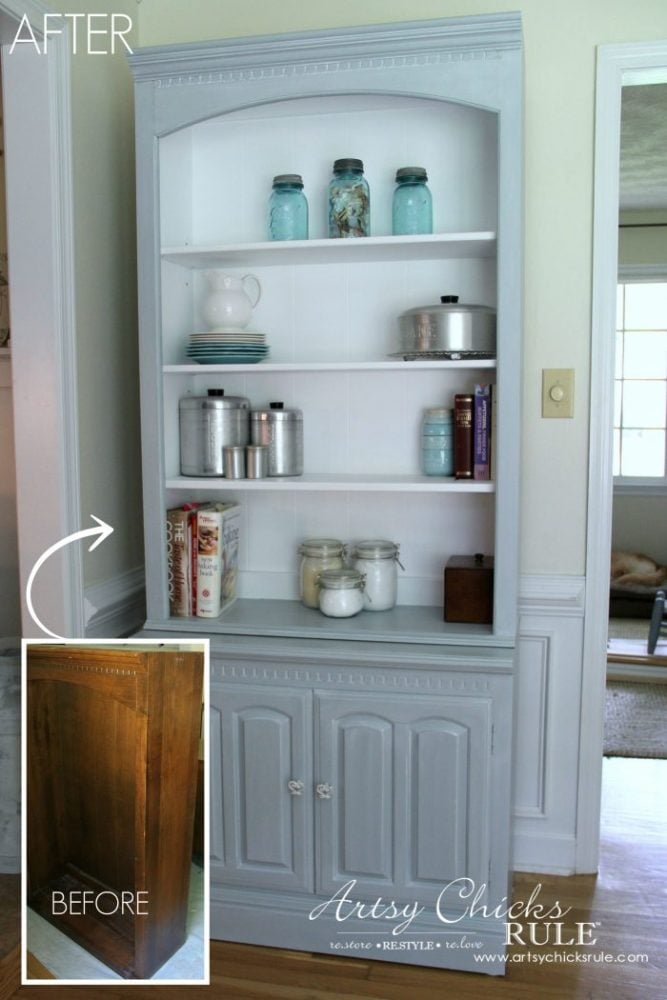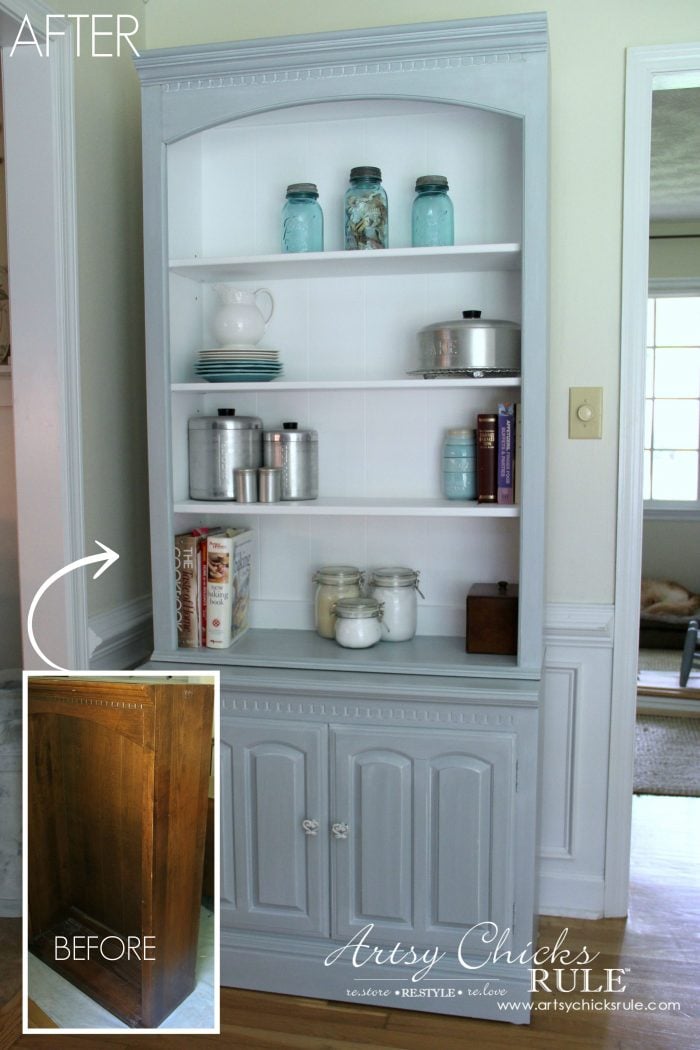 I'm so excited to be sharing a bookcase makeover with y'all today!
But first, I want to share the flooring I'm undecided on.
I love them both and both have good points and not as good points.
If you follow along on Instagram, you probably have already seen this on my "stories" over there. ;)
Okay, first up, this one works great with our home, the look and coastal feel.
It doesn't show much, if any, dust, dog hair, etc. ;) Good points!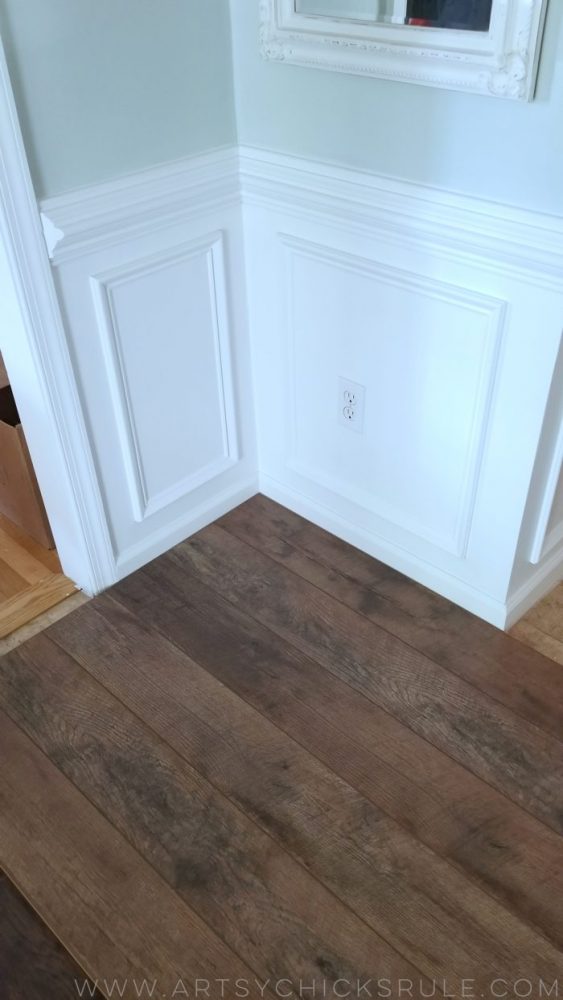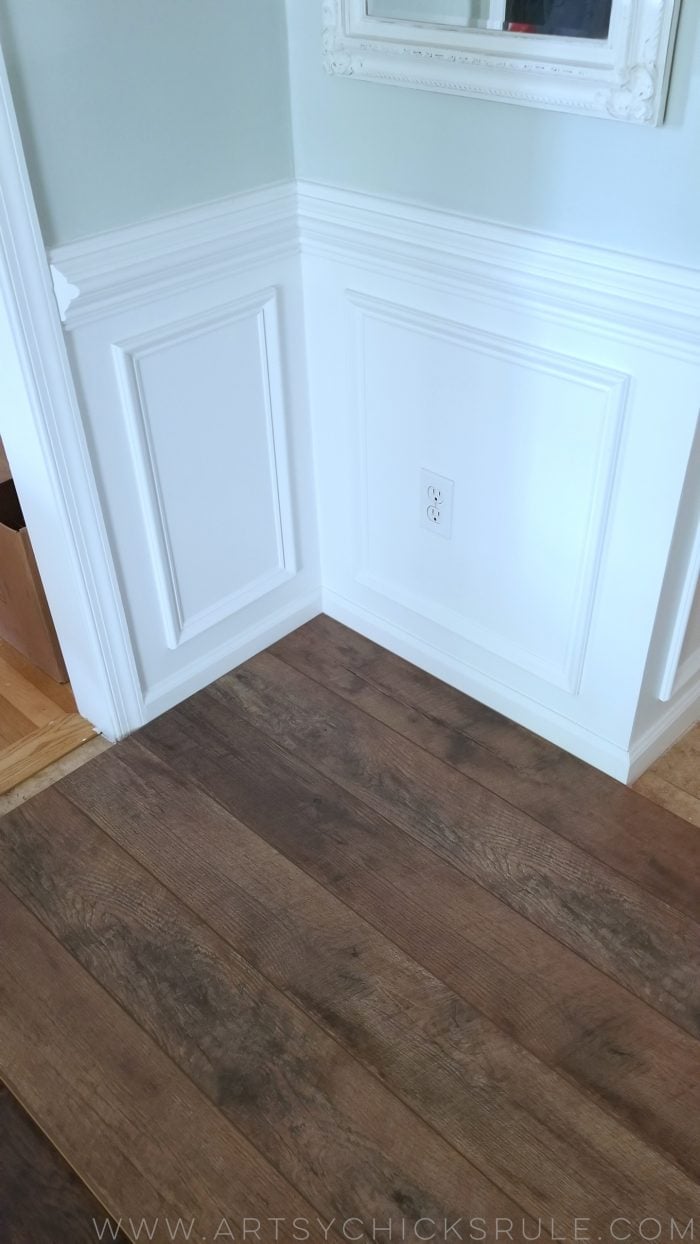 I was just thinking I wanted to get away from the rustic a bit but I really do love this one and the nice, medium shade of brown it is.
This one is dark and yes, it does show the dust and dog hair, etc.
BUT it is so rich and pretty!
I really love them both for different reasons and have not been able to decide yet. Help! ;)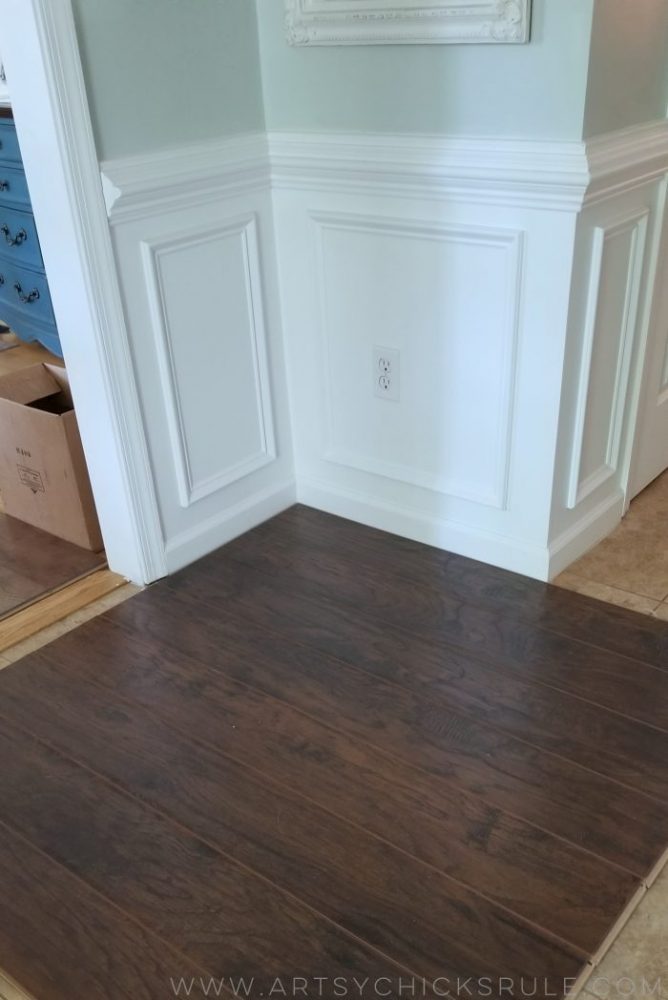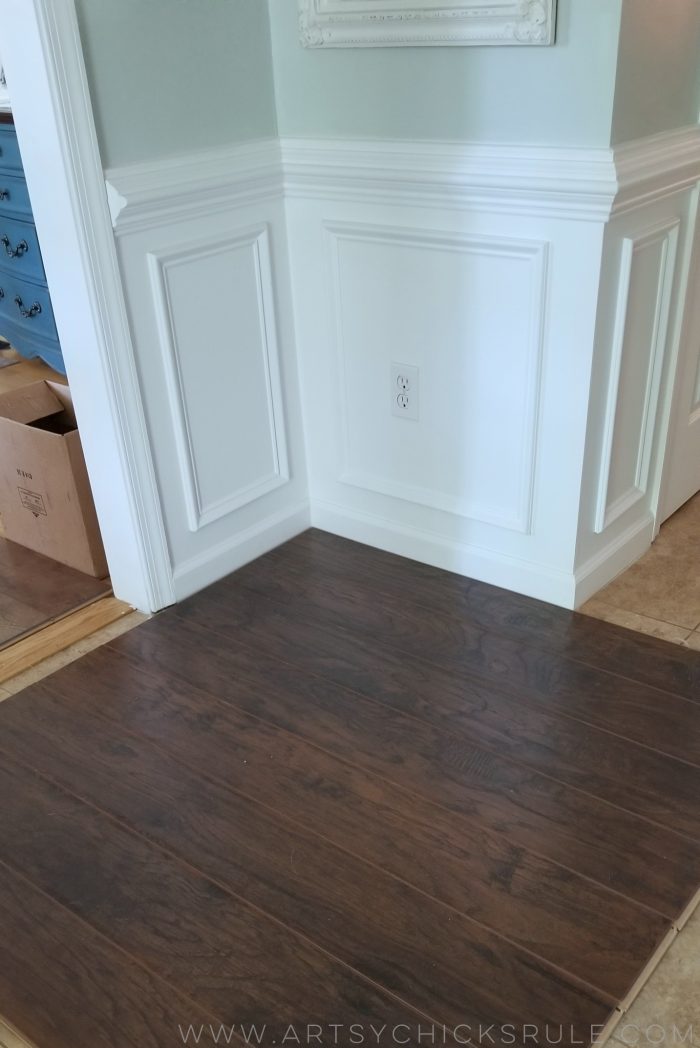 And yes, I know, it's almost impossible to decide an entire first floor of flooring by just looking at this!
I've been moving it around and around. (no help either, lol)
So….tell me, which do you like best and which do you think works best in our home and why?
Thanks friends!
Okay, back to the makeover………………………
I LOVE doing furniture makeovers but I've been so busy lately I haven't been able to do many as I'd like.
I have a ton of great furniture in my storage unit to makeover so I need to get busy.
Lots of creative ideas are rolling around in my head for those…..
But first, this Bookcase Makeover that I recently completed.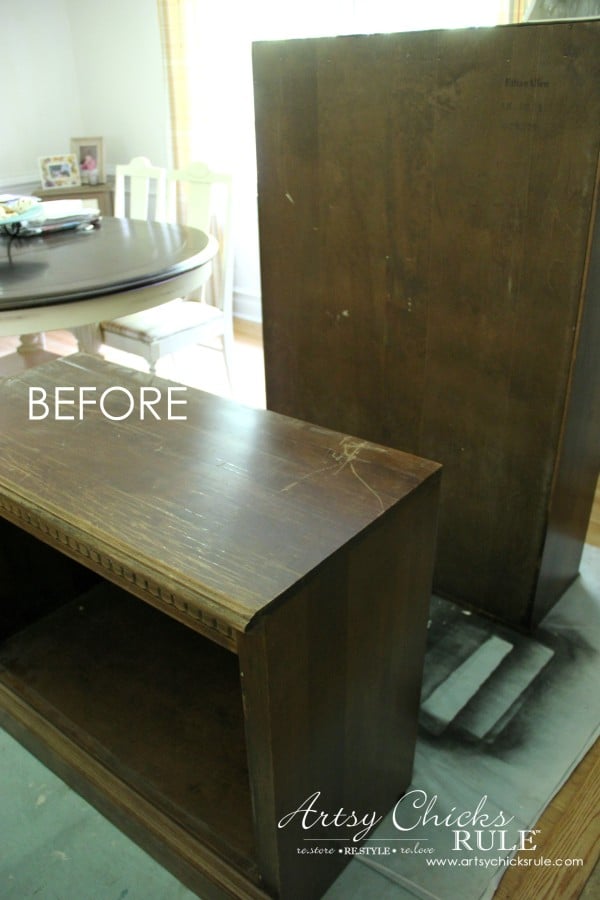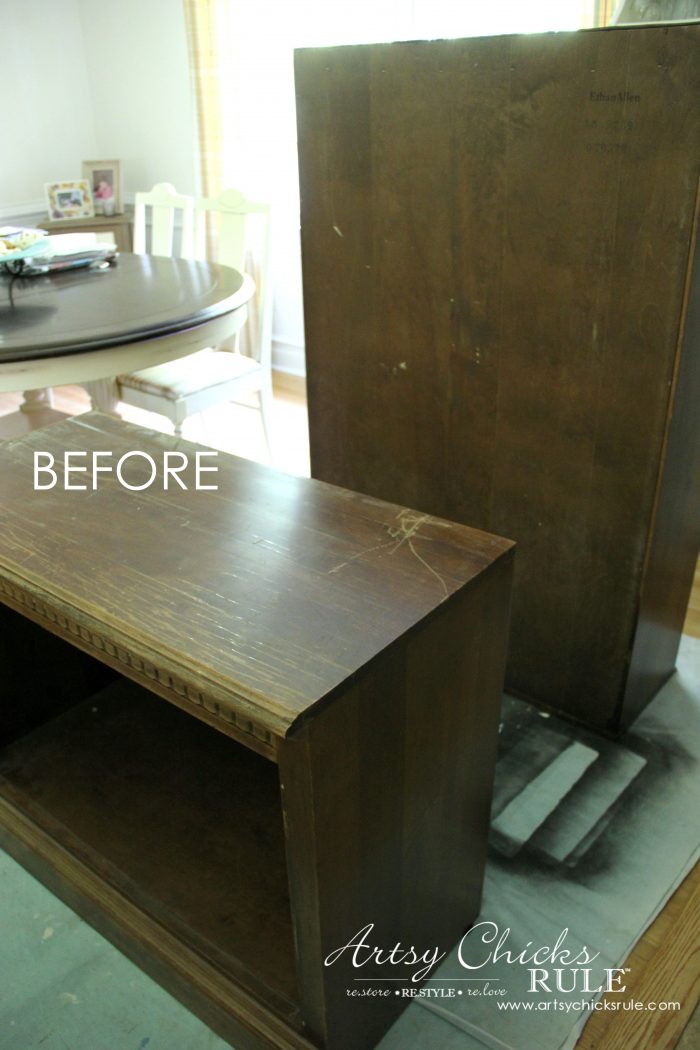 …which now looks like this….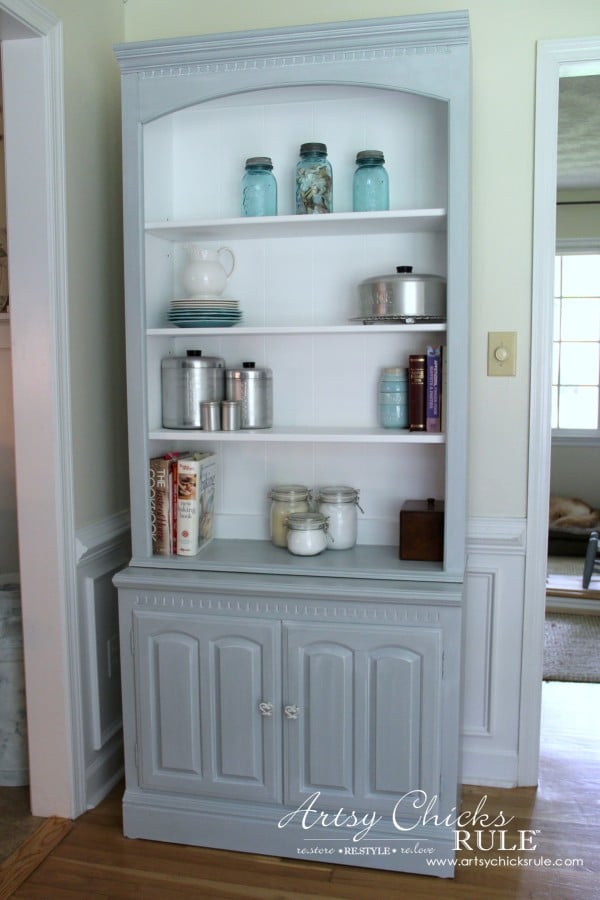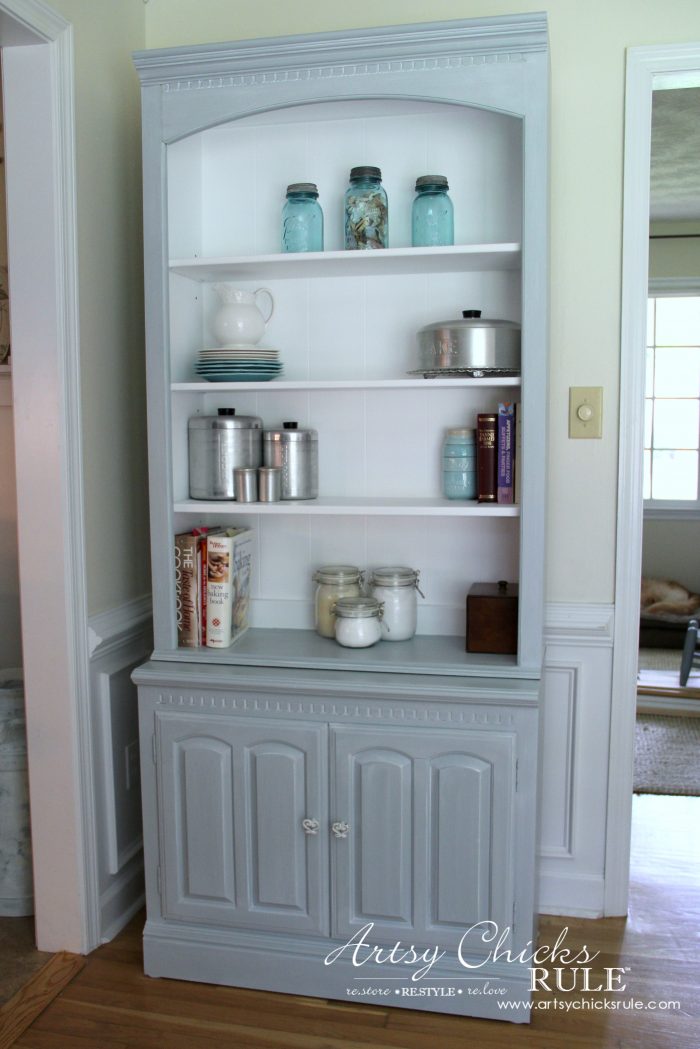 I have actually had this piece for about 3 years but never got around to painting it until now.
It has been up in my office with the intention to be used in that space.
AND … since we have a bookcase/shelf styling challenge coming up in our Decor Enthusiast Facebook group I thought this would be perfect for it.
I'll actually be restyling these shelves for the challenge I mentioned so be sure to check back! (and join in also, if you like)
My friends and I will be posting our styled shelves and bookcases on September 10th so you still have time to get in on the challenge.
It's fun and I hope you decide to join in with us! Just click the Facebook link that I put above and join the group. (if you aren't already a member, that is)
So, since I bought this piece so long ago, I was unable to find the photo of it all together.
It was already in pieces upstairs waiting for me to paint it.
I didn't really want to put the shelves back in and doors back on for the photo….so here are the "before" photos I do have.
The "I'm getting ready to paint you" photos…..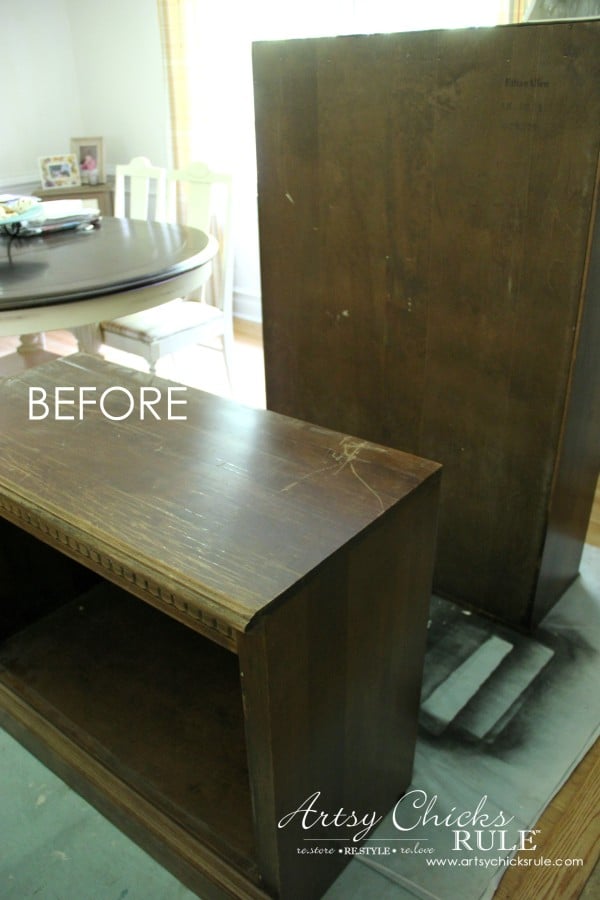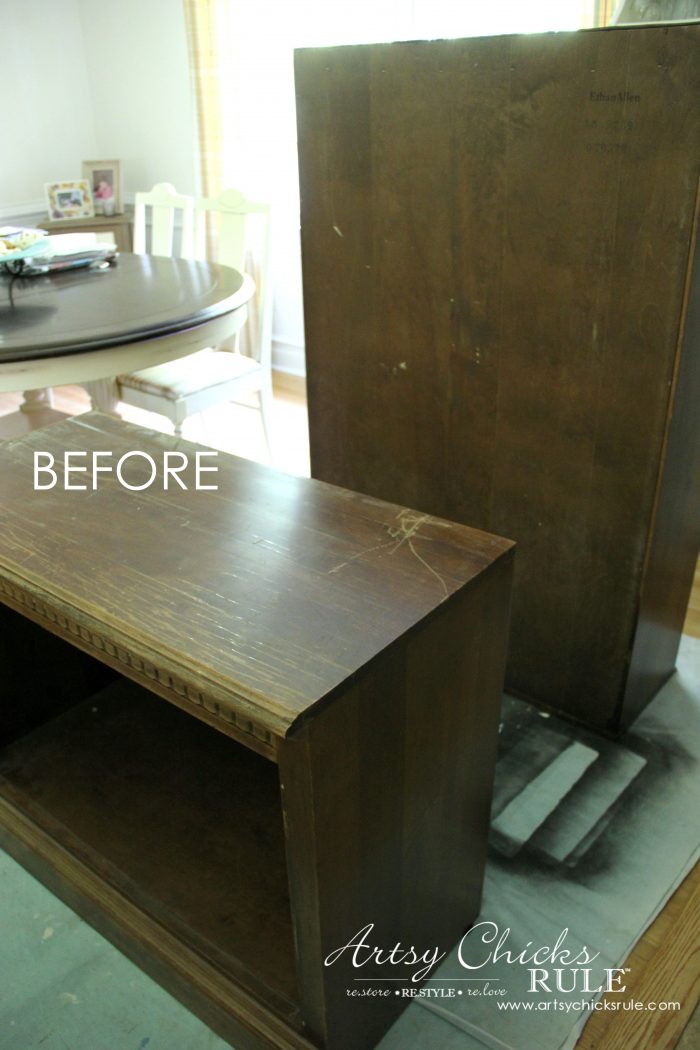 I don't know if you can see on the back there but this is an Ethan Allen piece.
The date is from 1979.
I found this one at the thrift store for around $25.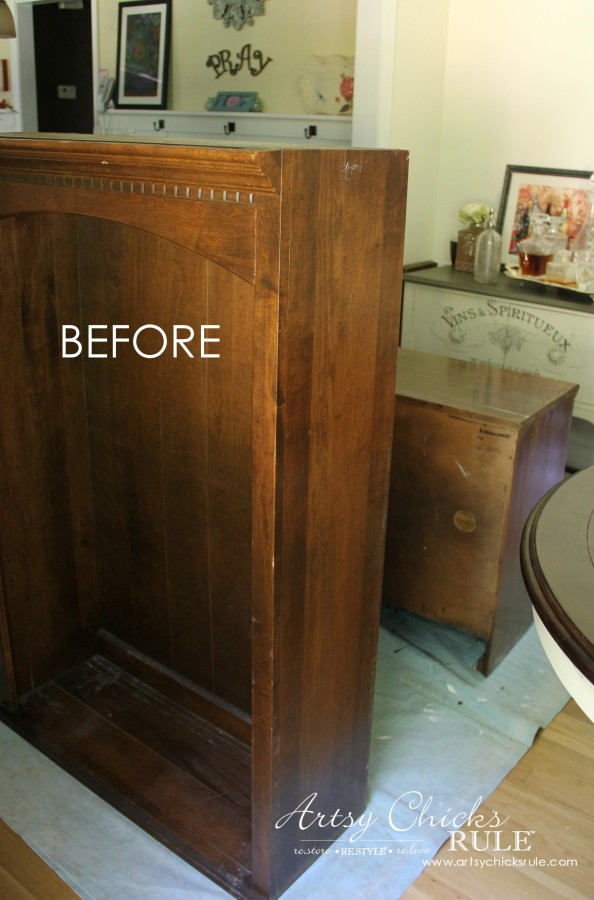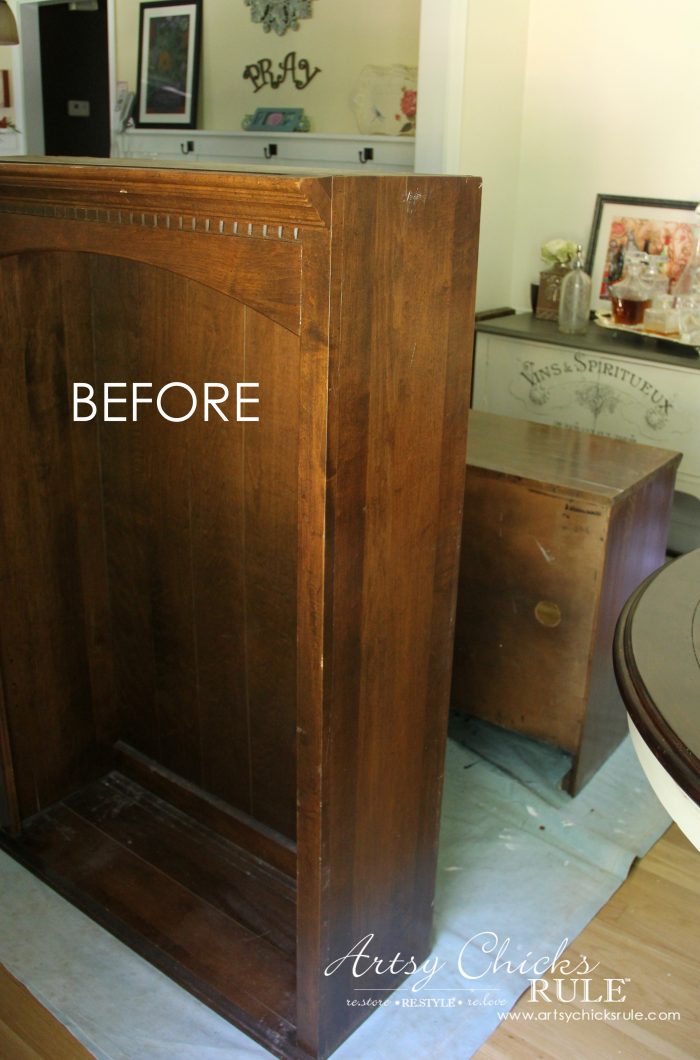 Nice solid, well made piece of furniture. But had some wear and repairs needed.
I also had to do a bit of sanding on this one to smooth things out before I painted.
Here are the doors before I lightly sanded and painted them.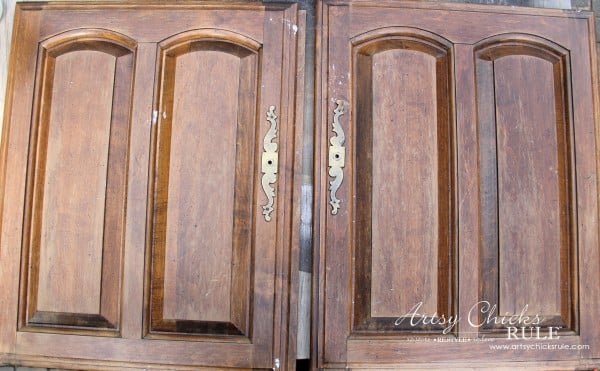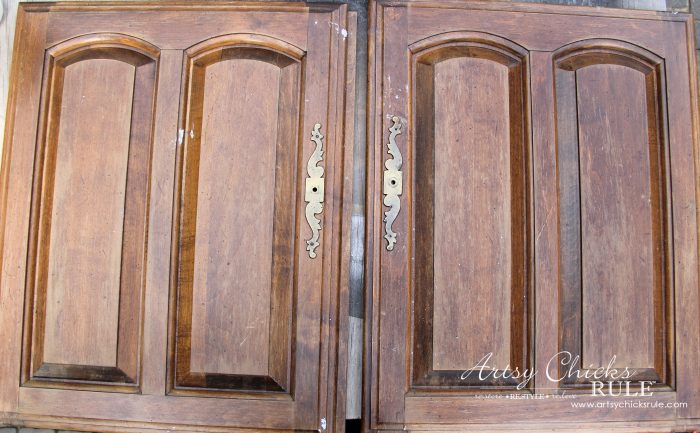 I used (*affiliate links, disclosure here) General Finishes Persian Blue Milk Paint (mixed with General Finishes Snow White Milk Paint and a tiny touch of  General Finishes Lamp Black Milk Paint)
I wanted a pale version of Persian Blue with a nice, bright white interior.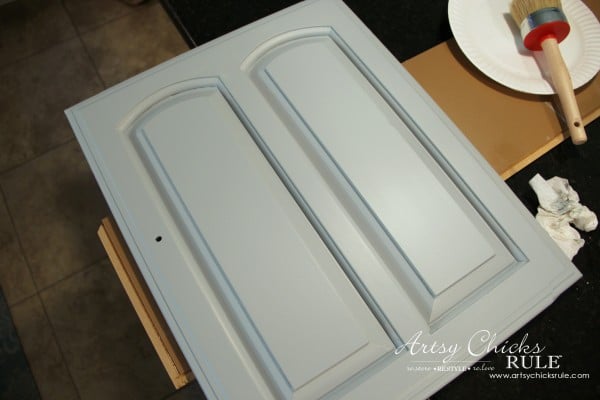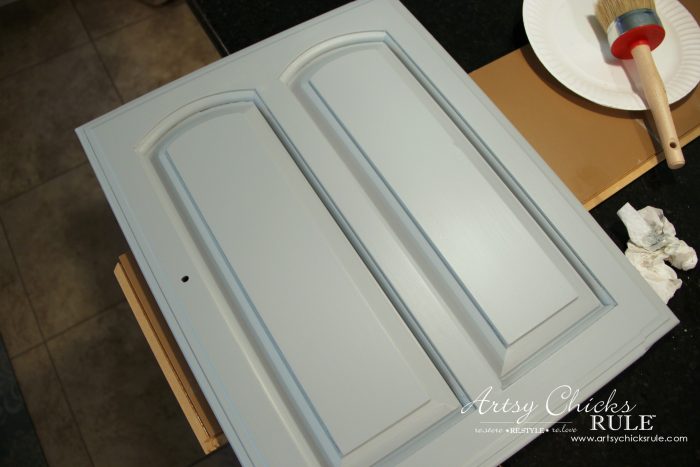 Isn't that a pretty color?
Then I decided to finish it with  (*affiliate link) General Finishes Winter White Glaze.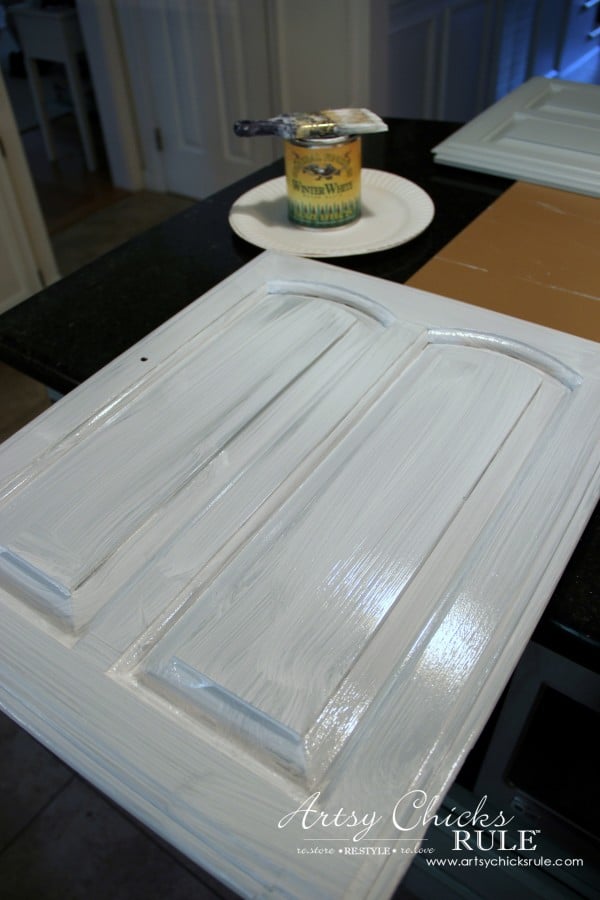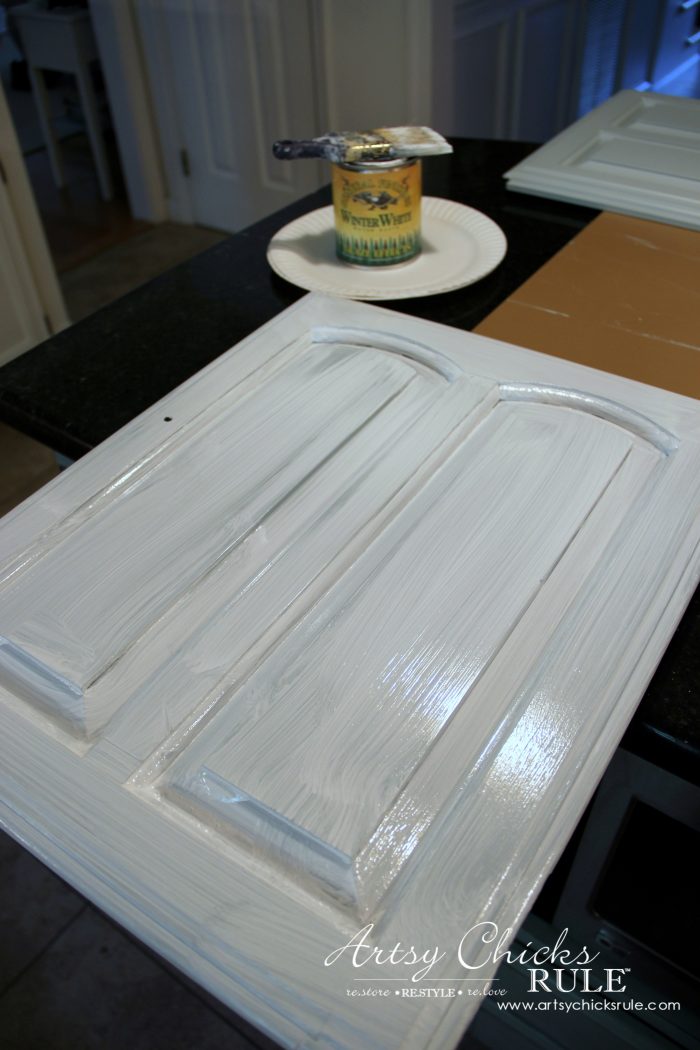 Isn't it lovely??? Kidding!! ;)
That is how I applied it and then wiped away with a dry brush.
NOTE (added for a few people who emailed and asked for more details):
– depending on how much glaze you apply, you may need to wipe away some of the glaze with a clean cloth before you dry brush.
– AND be sure to keep your dry brush "dry" by wiping away all excess glaze from the brush as you brush the piece.
– Be sure to leave some of the glaze in the corners and crevices by not brushing too much in those areas. Use a light hand.
I may do a full tutorial on this at a later date.
So it ends up looking like this……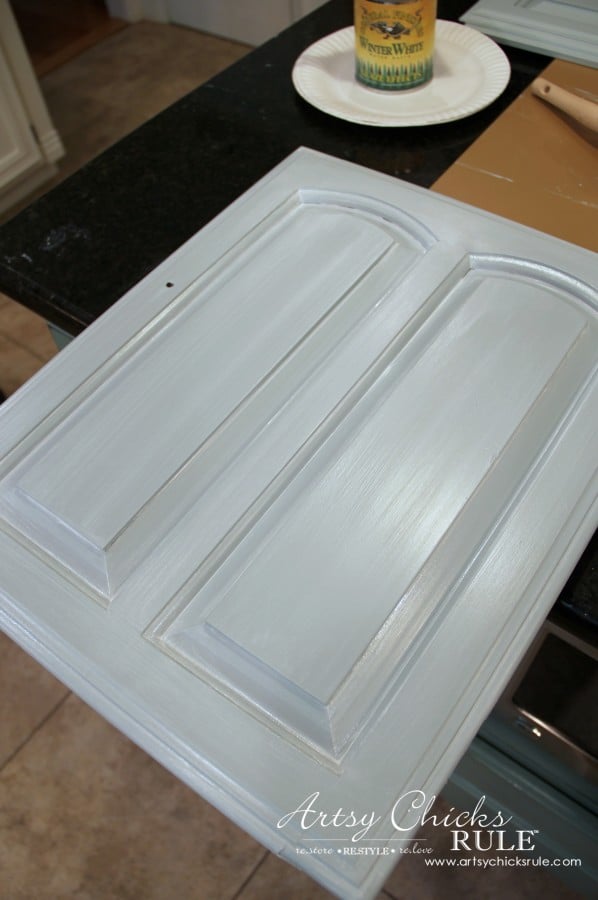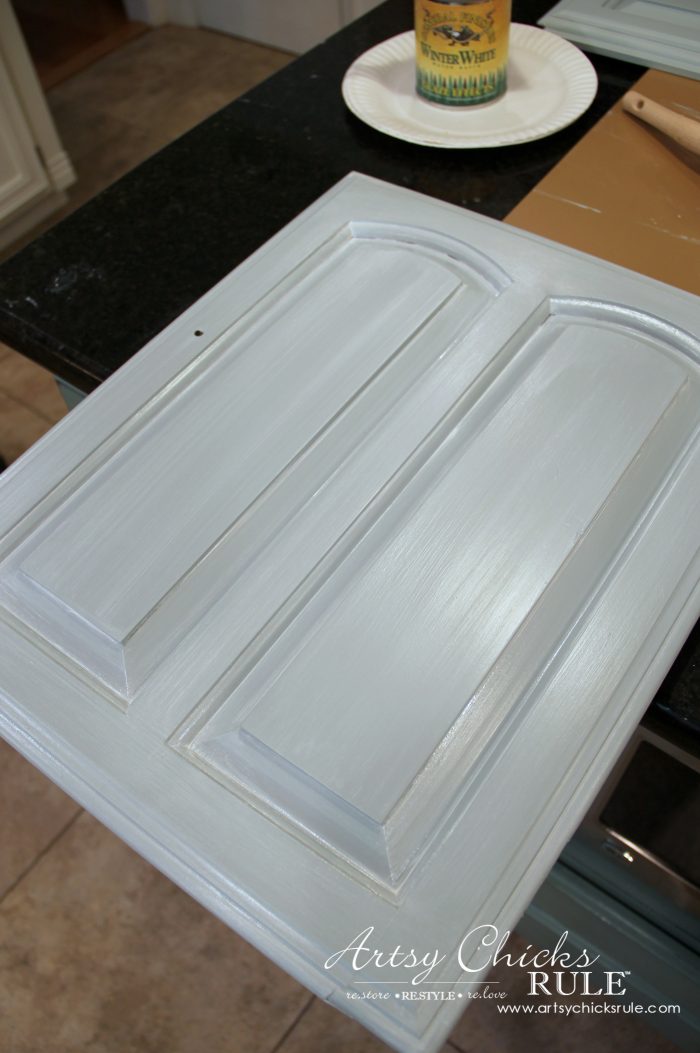 I LOVE the whitewash/glaze effect and feel it really gives it the coastal feel I was after.
And just so you can see the difference a bit better….side by side (with glaze and without)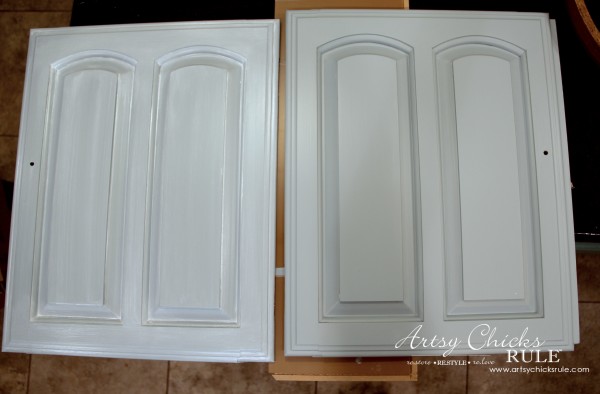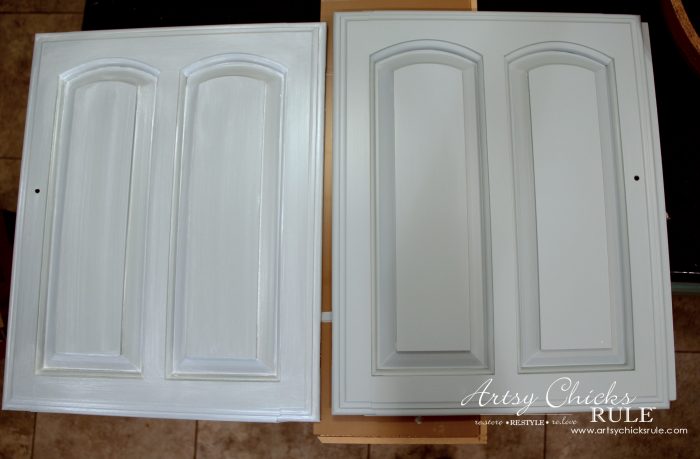 Those long, long sides are not fun to do this technique on…..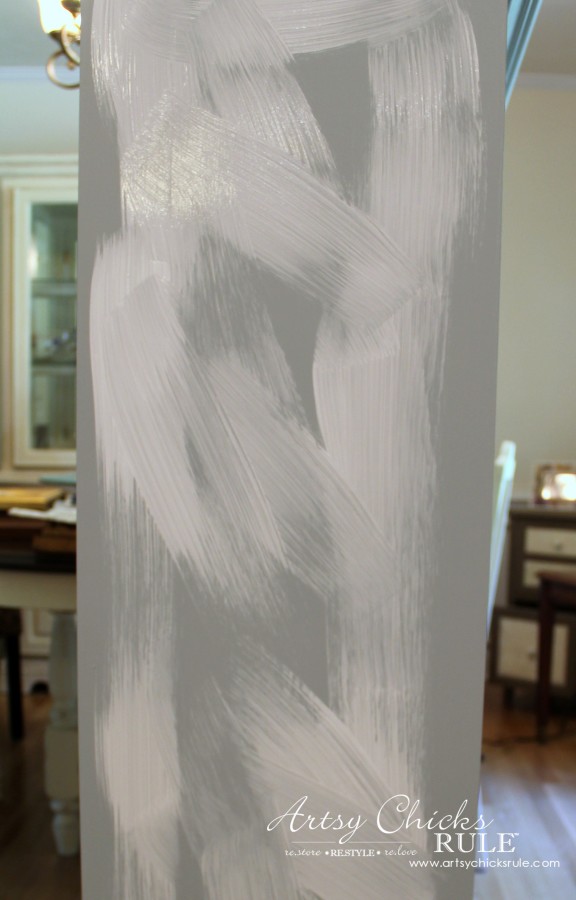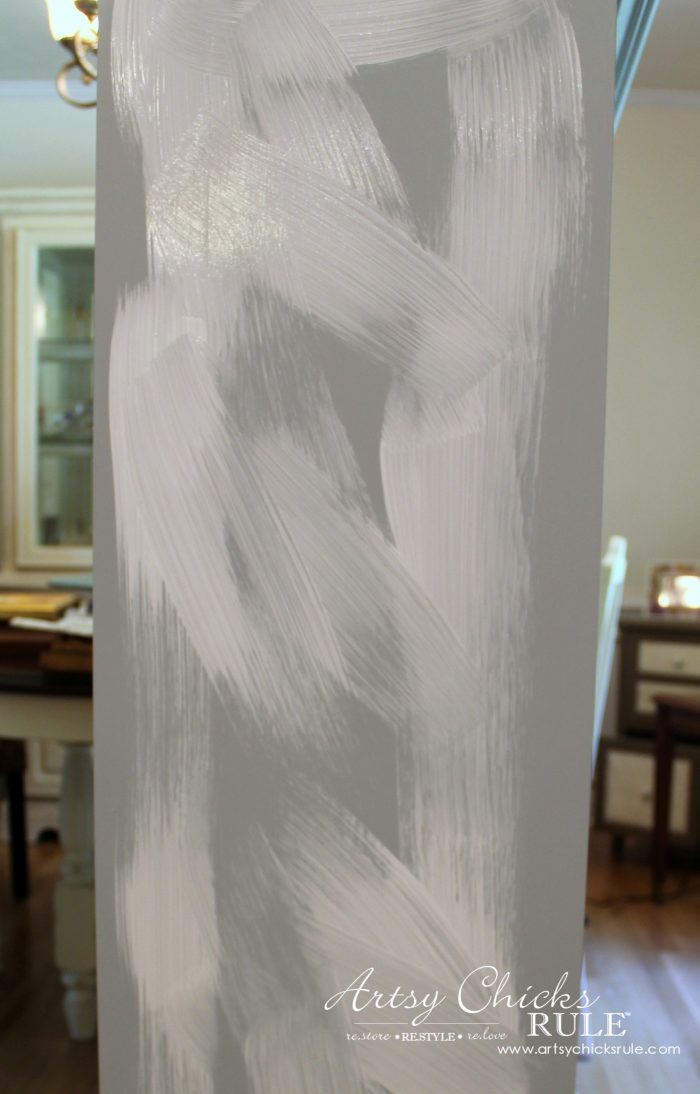 I just applied it quickly all over and then moved it around so it had good coverage…..
(dark photo, but when I tried to lighten it, the detail was lost)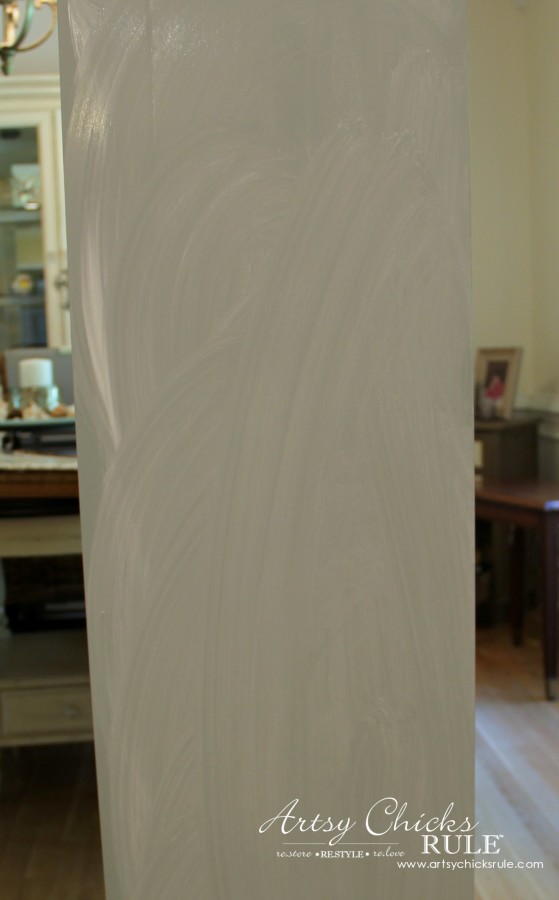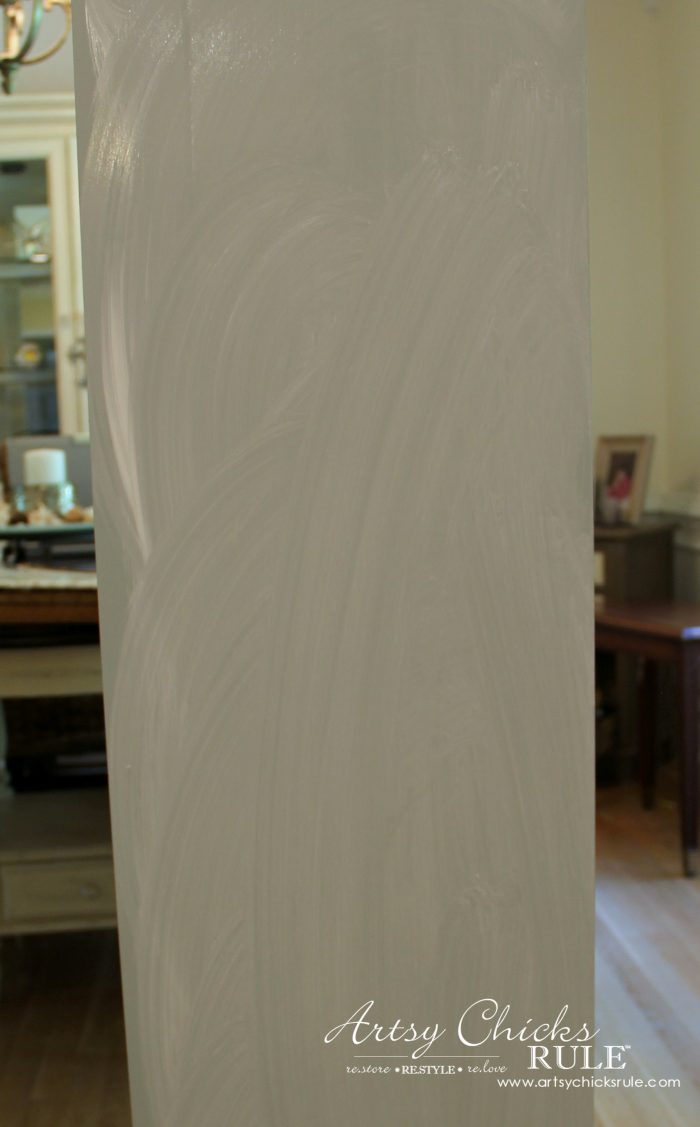 Then I just dry brushed it from the top to the bottom for an even, finished look.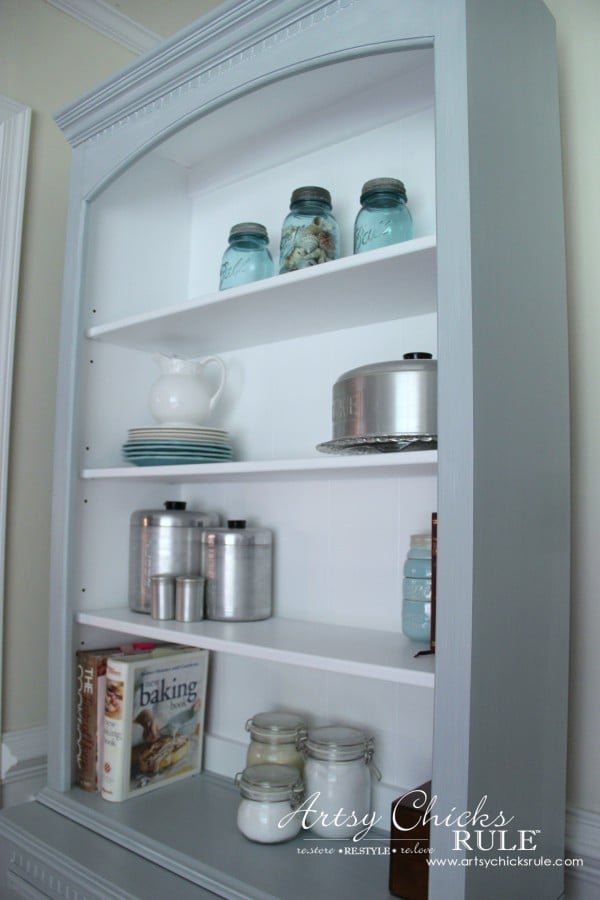 Hard to see the details well in the photos. Sorry!
This room is not as bright as the other room I usually take photos in….and it was overcast both mornings I tried to get the photos.
I took a few up close shots so hopefully you can see the white glaze a bit better.
It's very subtle but does add a lot of character and beauty to the piece.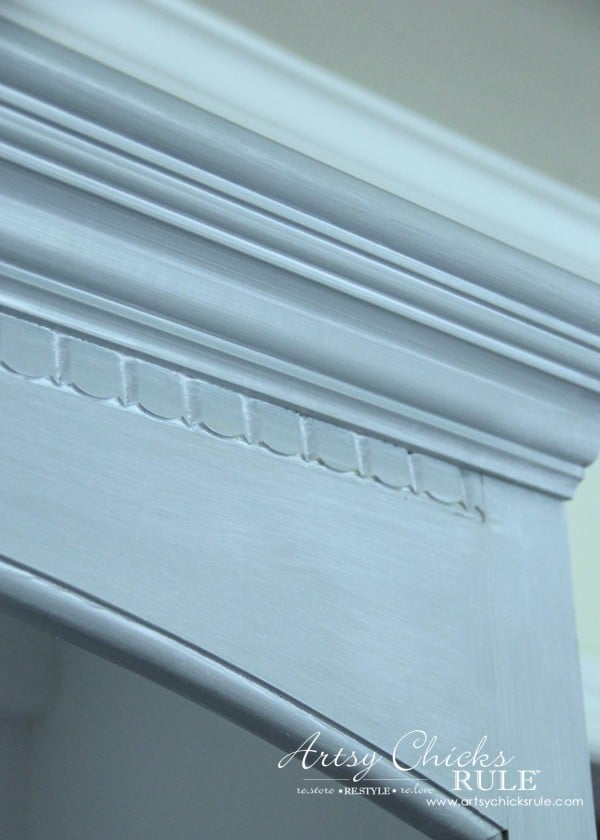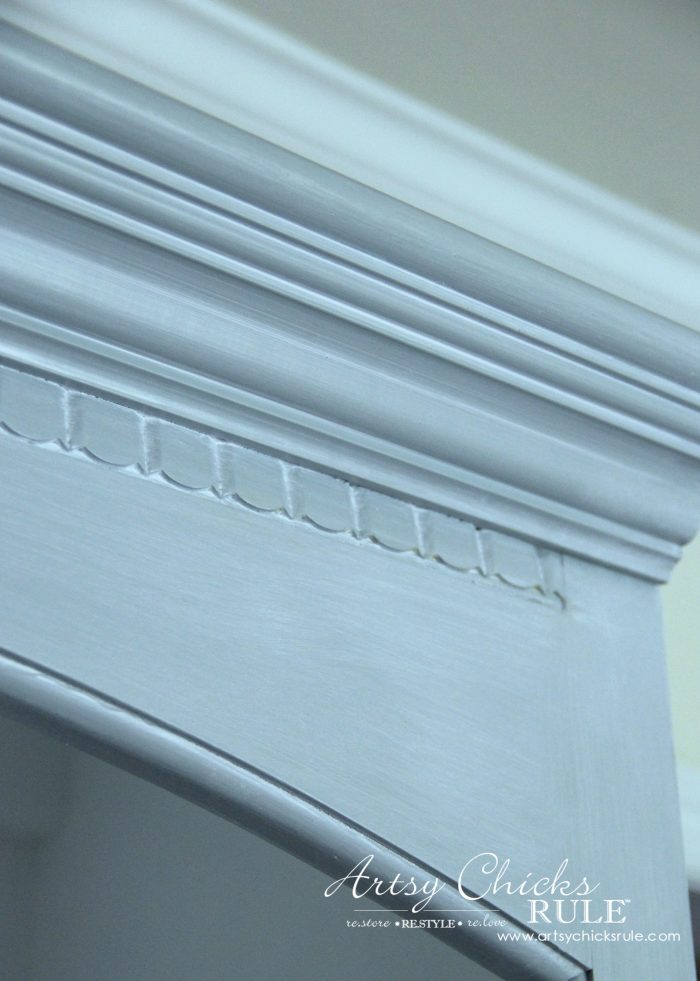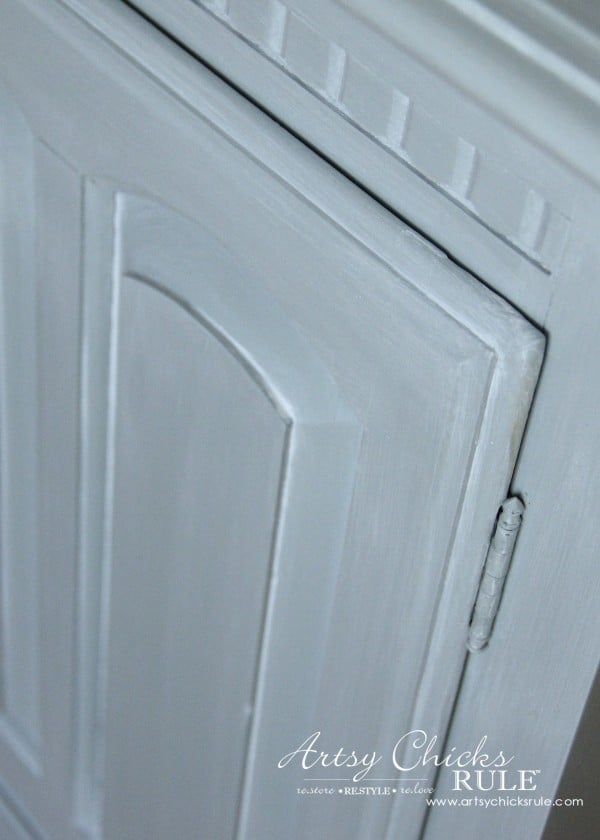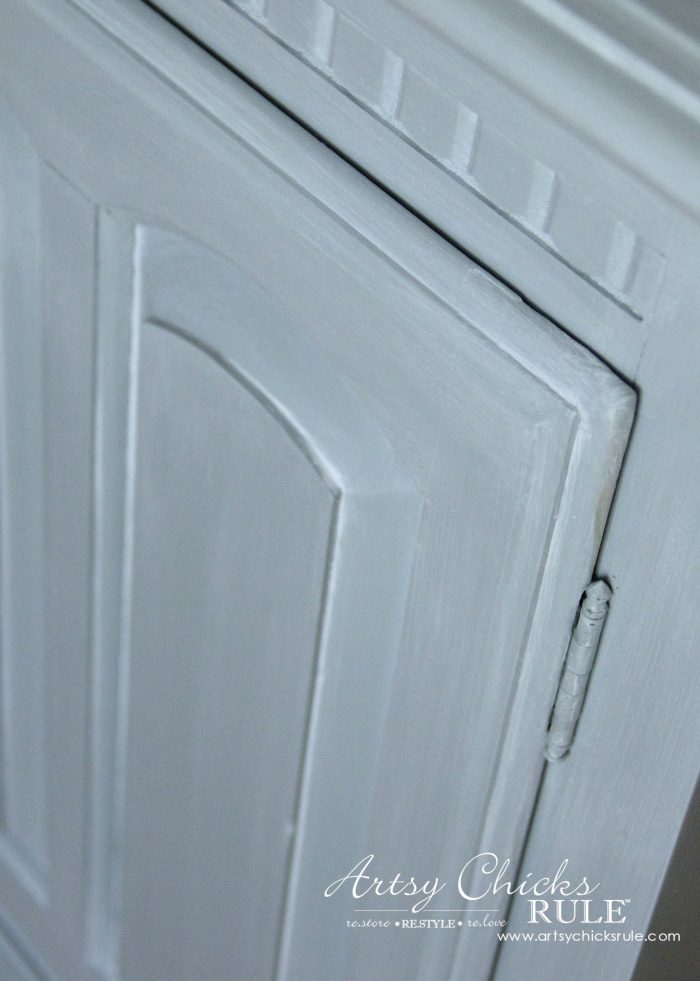 I just adore that Winter White Glaze! I'm looking forward to using it again.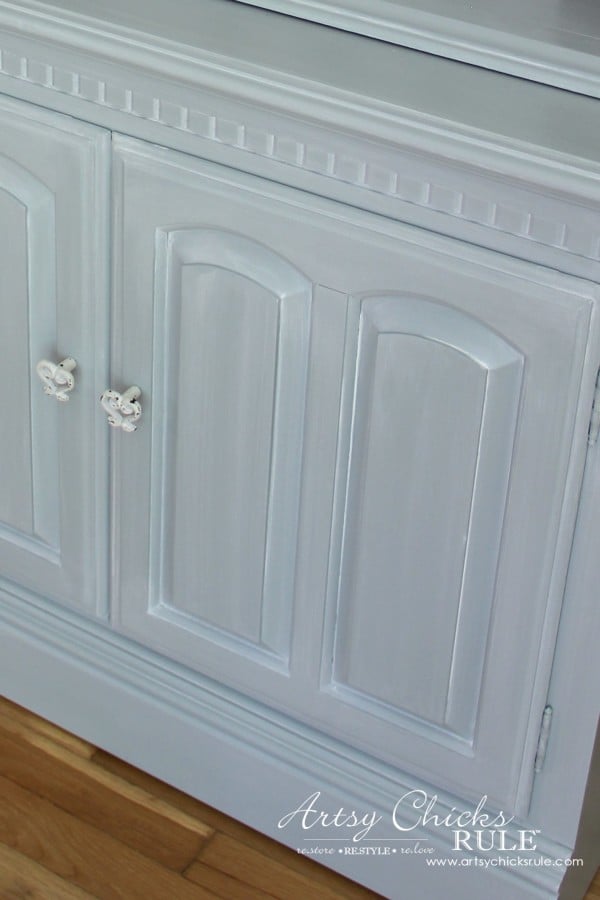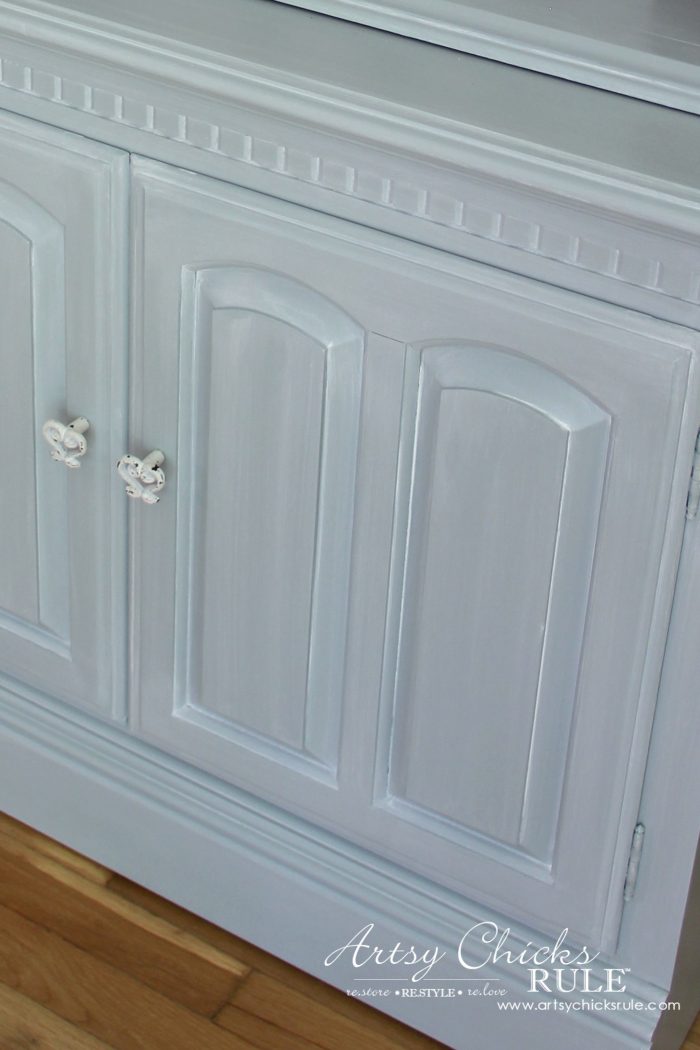 I've had these knobs for awhile but never found the right piece for them.
I think this is finally the one! Yay!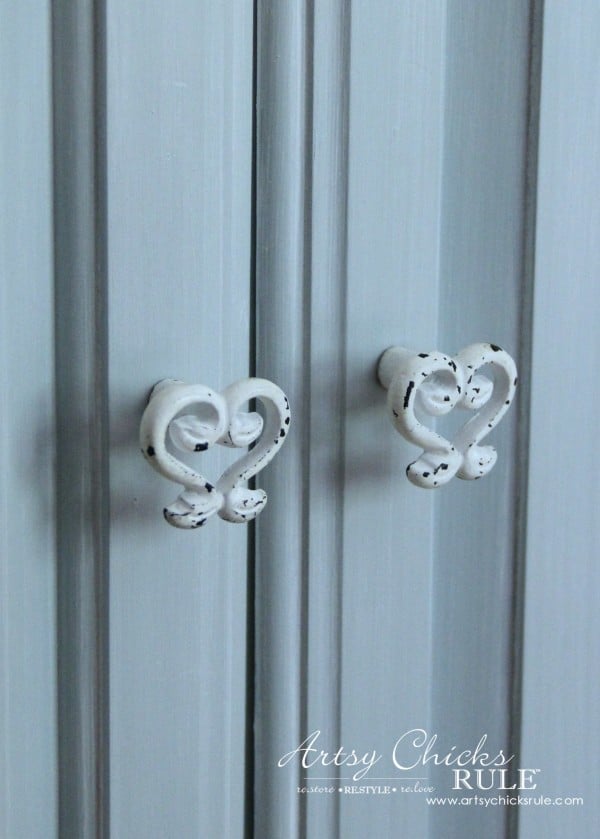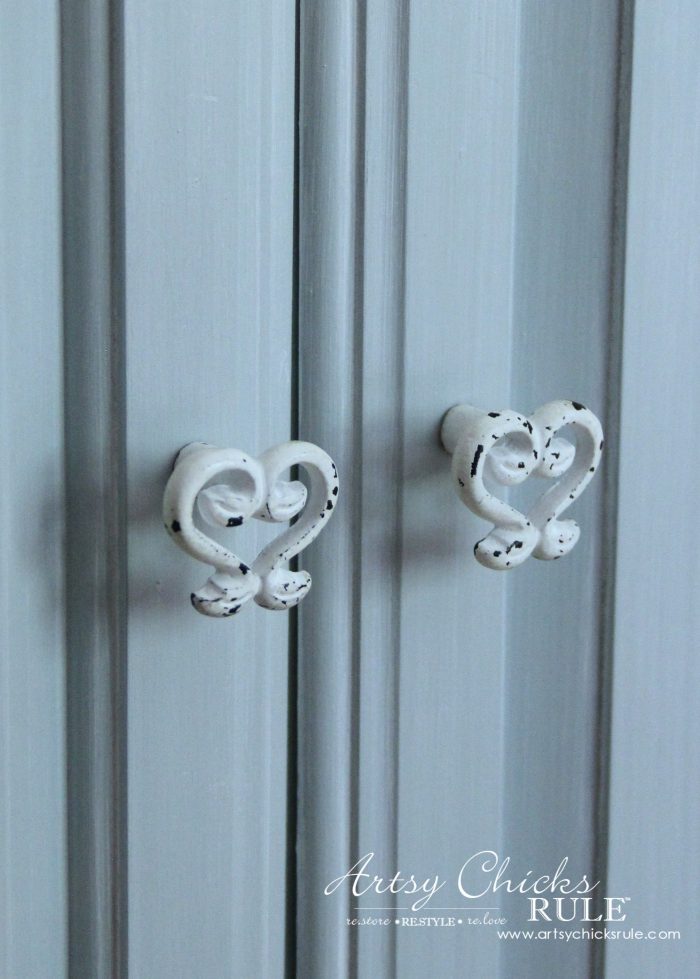 Painting the inside was fun…not so much.
And the shelves too…also, not so much. ;)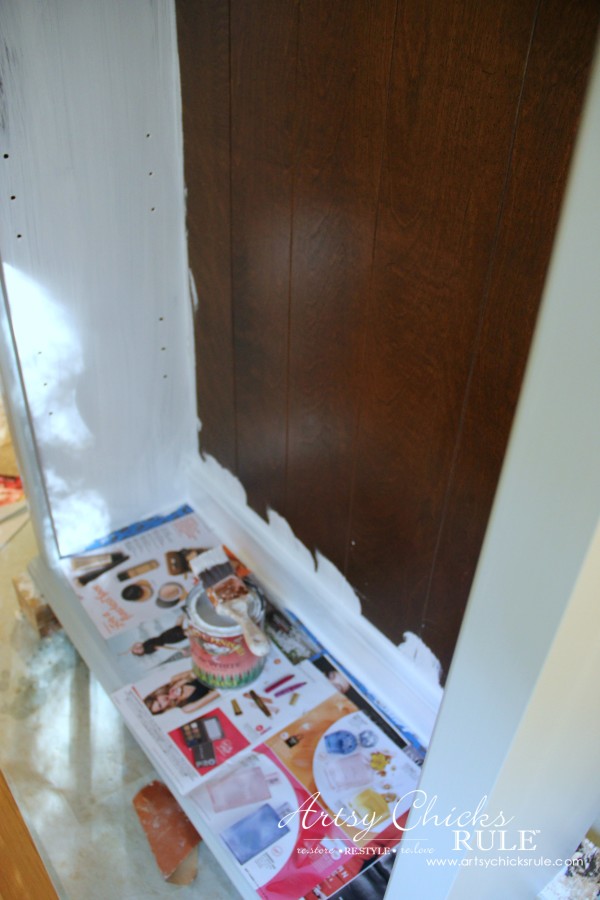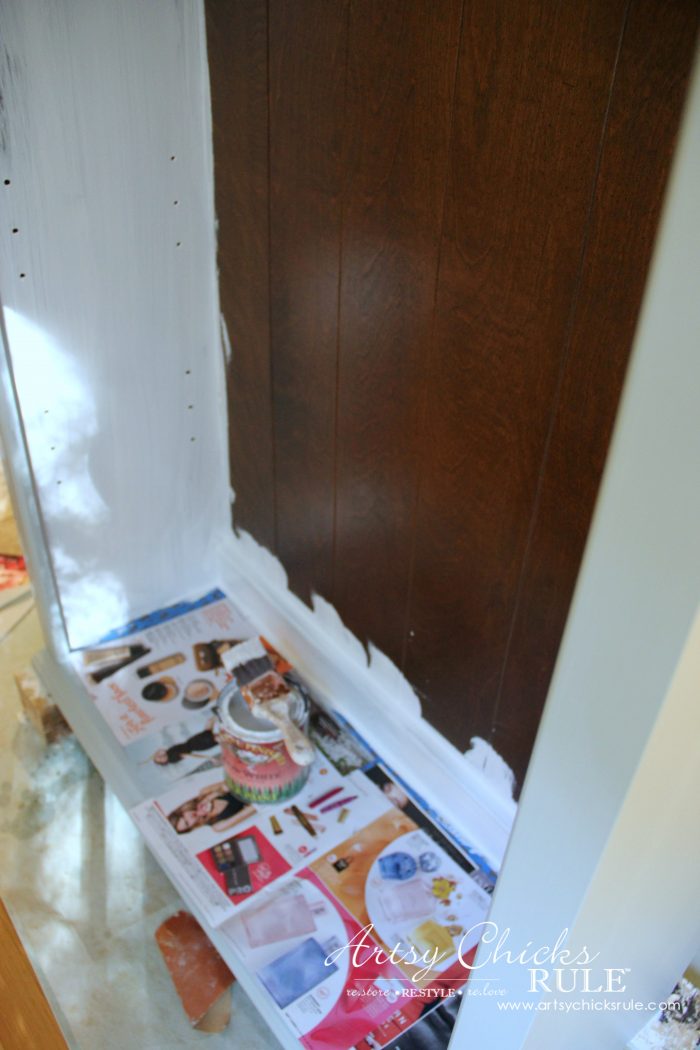 I spent hours on this piece. Many.
I hate to say blood, sweat and tears because that's a little dramatic. But it's close. ;)
I'd have to say it was worth it though.
I'm really loving how it turned out. So much so, that I'm sad I won't be keeping it.
We are going to be listing our house for sale next year so we are in "downsize" mode.
We'll be buying another house to renovate (just smaller) and decorate! Yay!
And I will take all of you along for the ride! ;)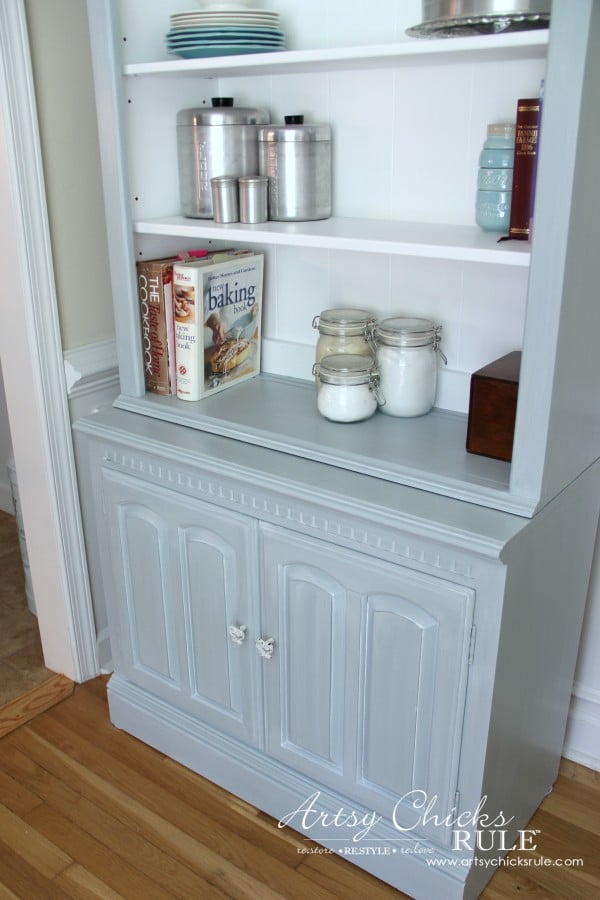 Some up close shots of the decor I decided to use for this shoot.
Love my vintage tins. One is "missing" from my set because I'm now using it as a utensil holder in the kitchen.
It's the one that says "SUGAR". :)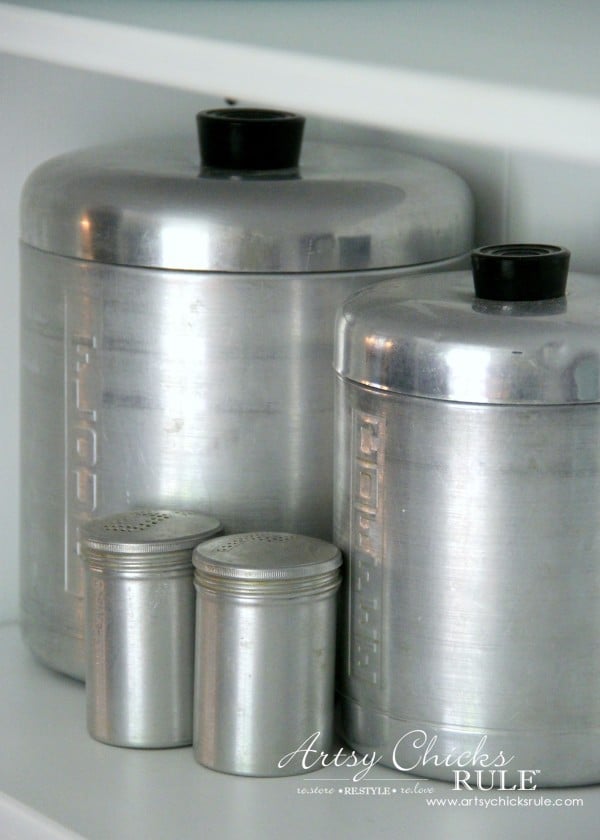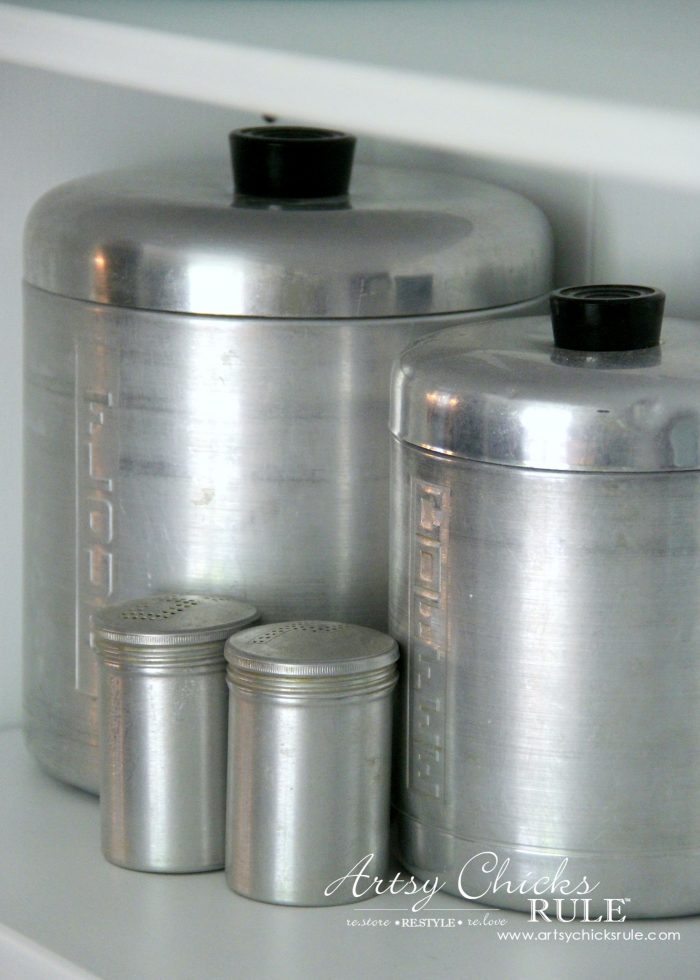 My well loved and treasured blue Ball Mason jars…..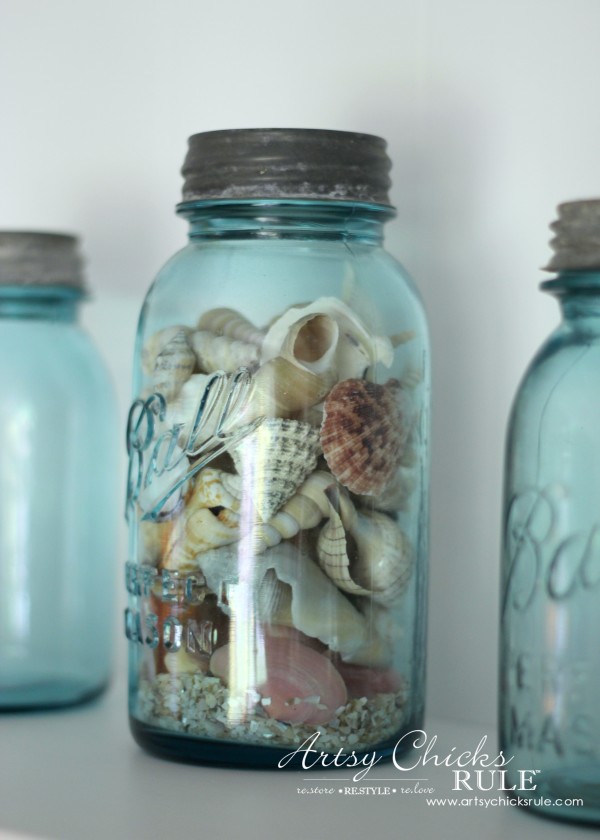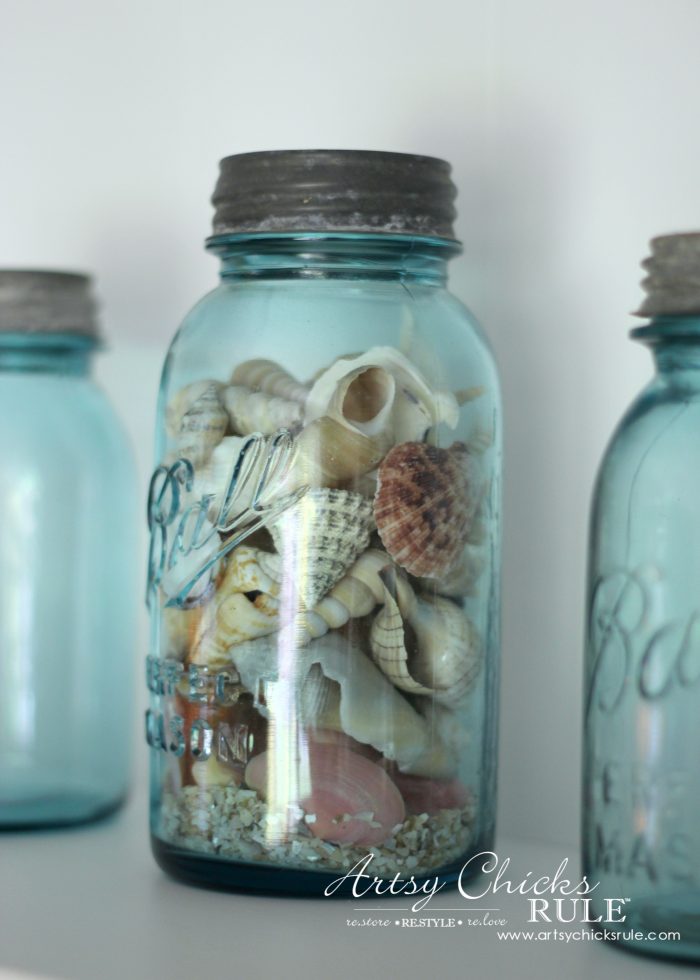 …filled with pretty shells.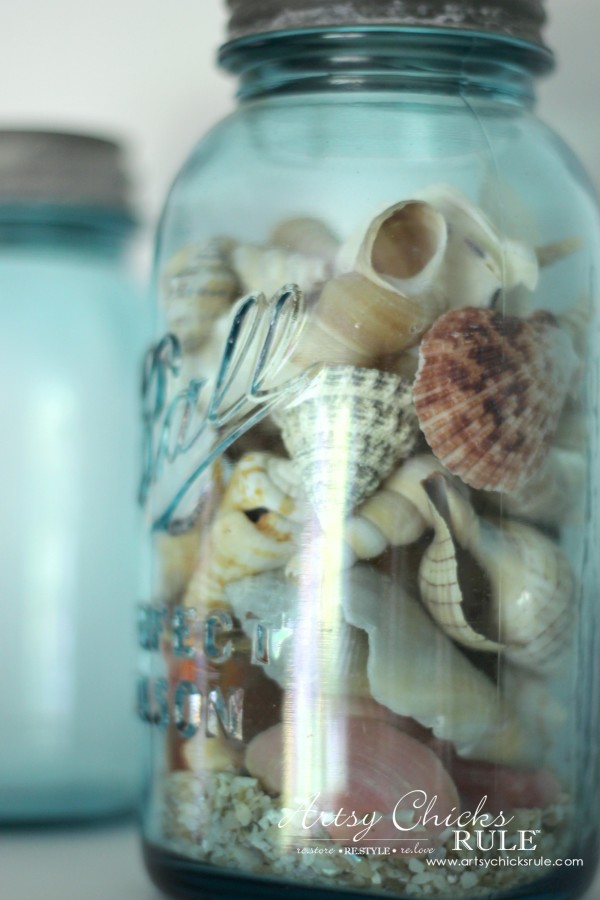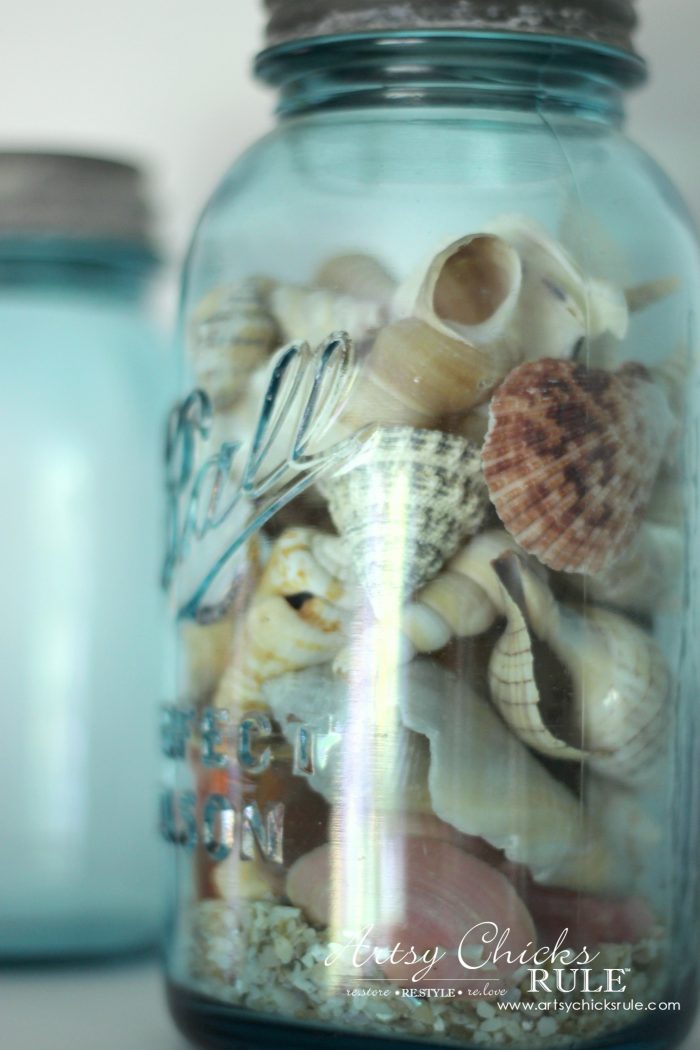 So much to love.
Baking items….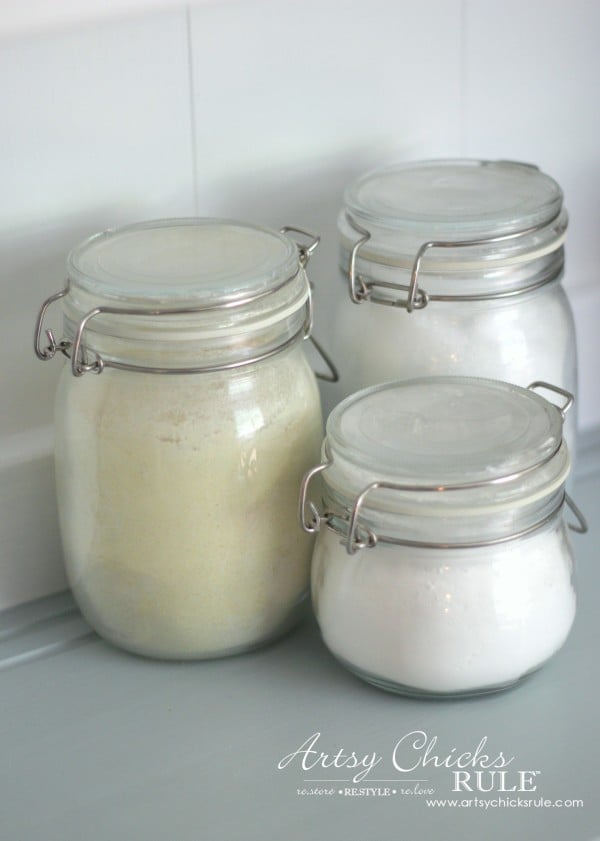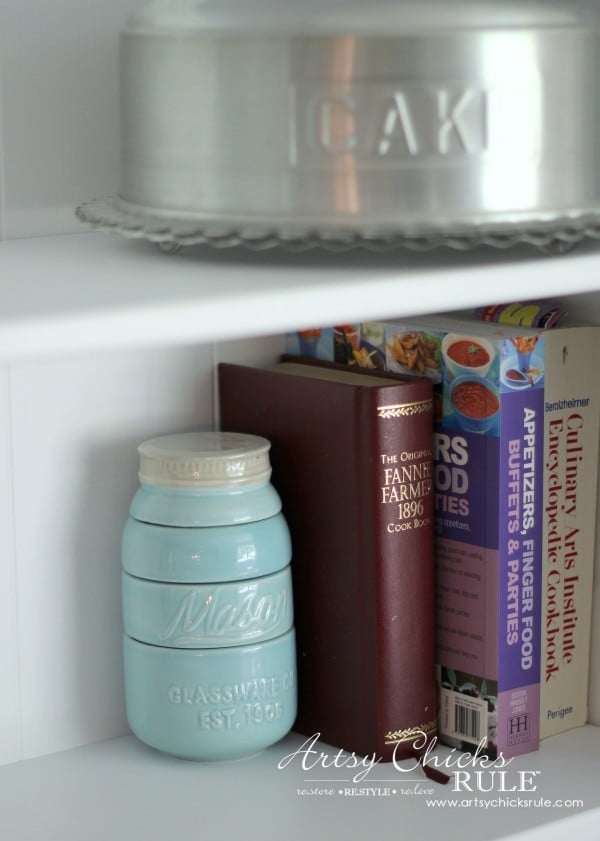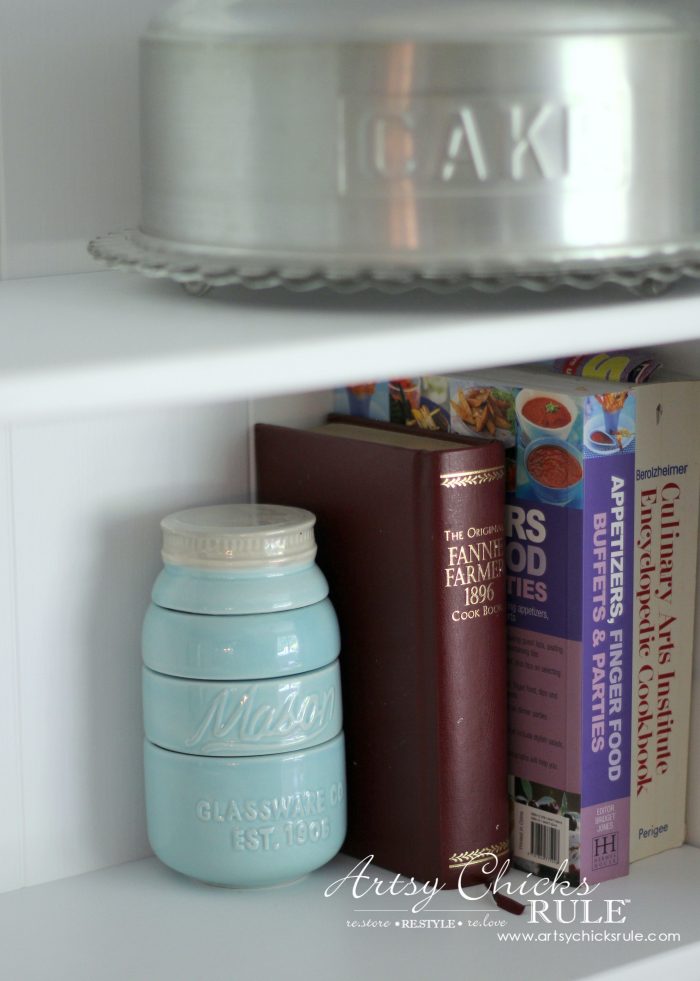 I will be sad to see this one go, for sure!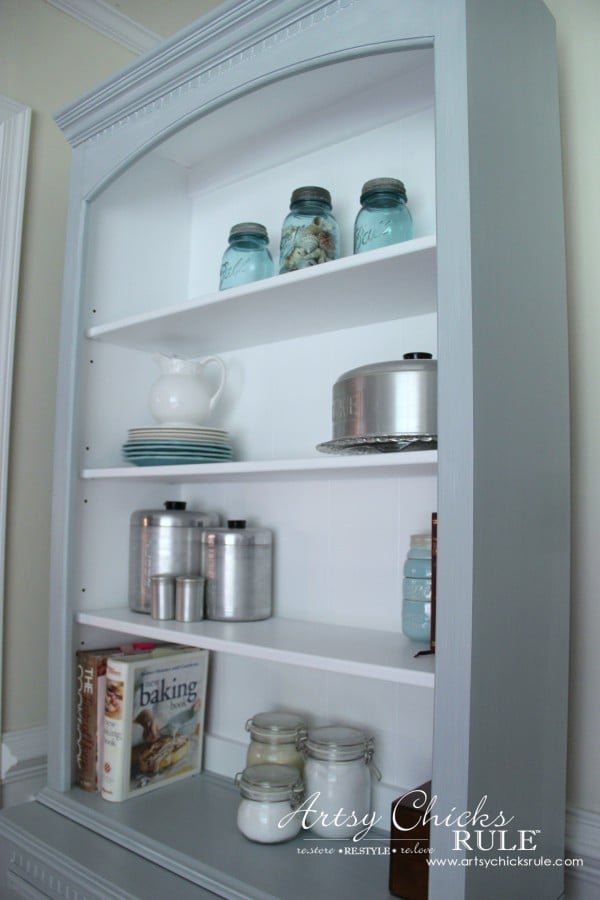 But I'm hoping it will find a good home and someone who loves it as much as I do.
PIN this bookcase makeover for later!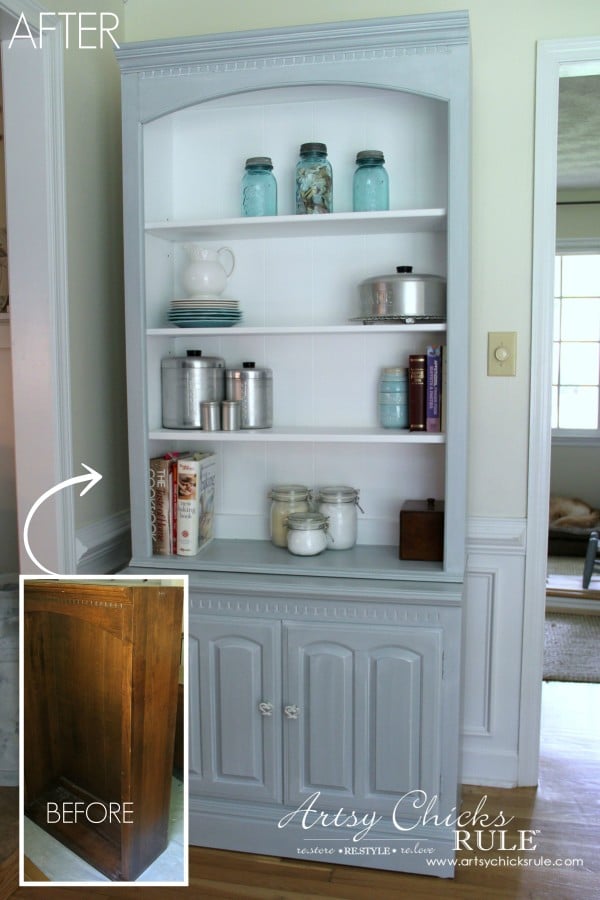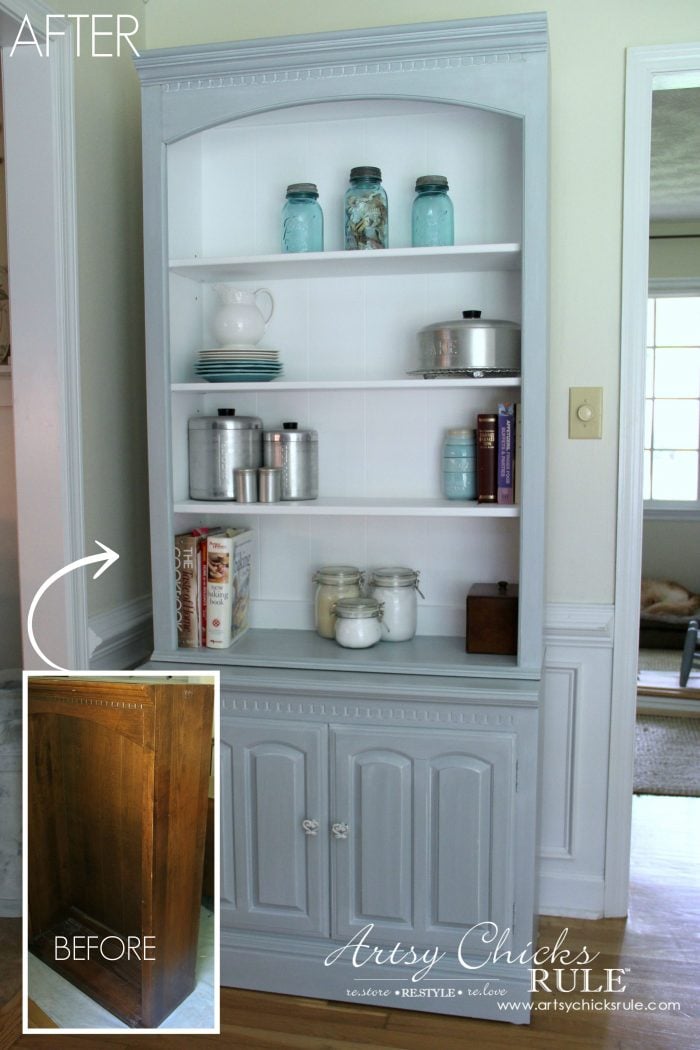 (and don't mind that ugly, old light switch and switch plate…it's getting changed to white soon!)
I hope you enjoyed this makeover…..and learning a bit about that pretty Winter White Glaze I shared here today.
If you've never tried it, you should. I bet it would be beautiful over a dark blue too!
Might have to try that next. :)
I'll be back next week with part 2 of the Florida vacation AND hopefully another furniture makeover that I'm working on now (this time with Chalk Paint by Annie Sloan).
Lots of exciting things coming up next month. Stay tuned!!
And also, be sure to check back in next week for this beauty! (it's a KEEPER!!!)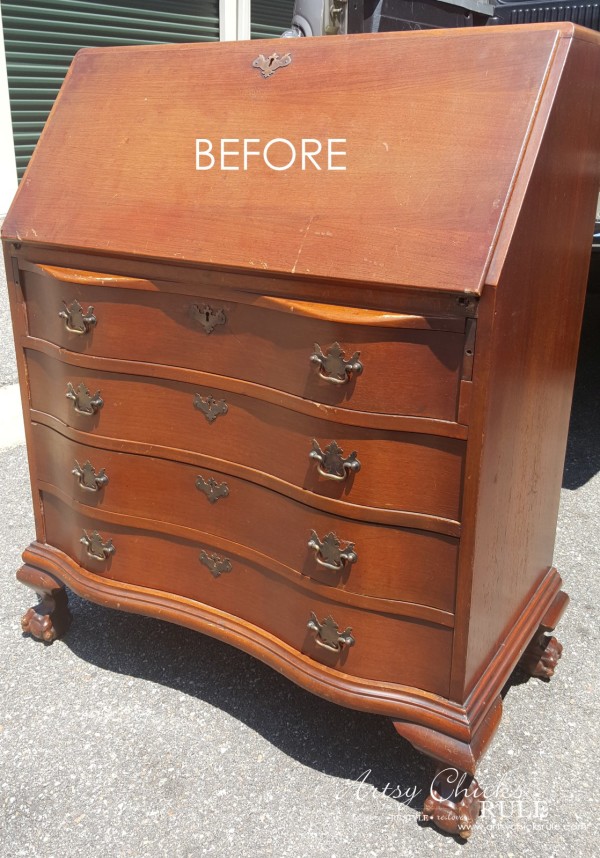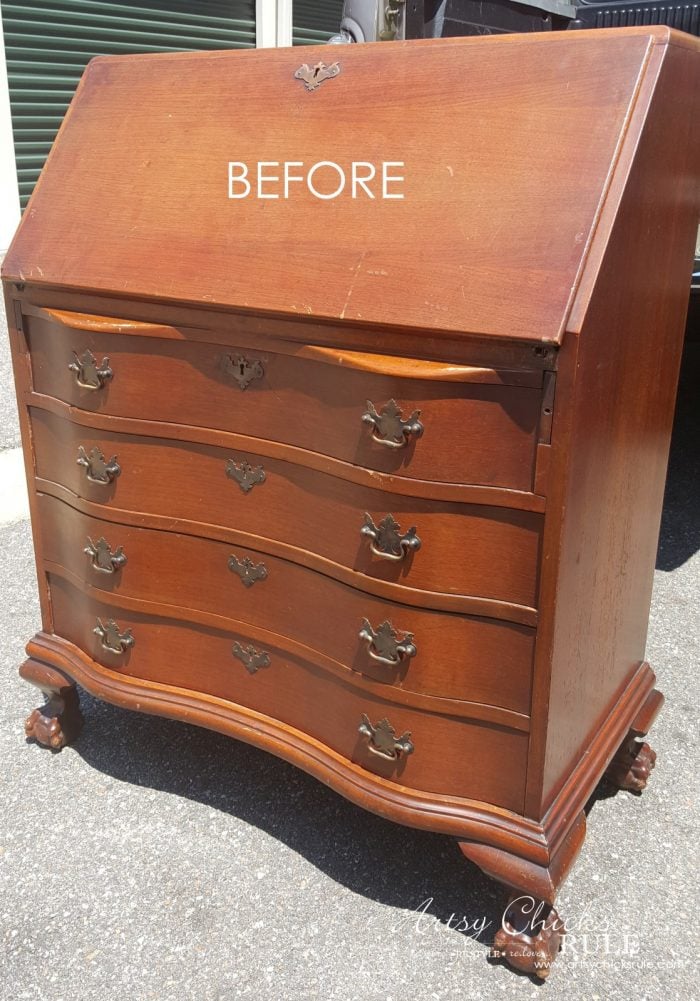 UPDATE!!! See it now, here!!
Happy weekend friends!
xoxo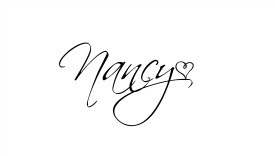 Follow Along Here!