This post may contain affiliate links. Please see disclosures here.
This antique cabinet makeover got a gorgeous color, Willowbank, and some glaze to top it off and provide depth! A little surprise inside too!
Hello wonderful friends! Today is Trash to Treasure Tuesday and I'm so excited to share this long-time-coming makeover!
I actually found (I think it was the ReStore) this one almost TWO YEARS ago. What?!
Yep!
I started on it and life happened and it got pushed to the side (and buried in the garage, haha, so I couldn't get to it!).
But we unburied it and cleaned out the garage a bit and decided it was time to finally her done! (and get some space back in my garage)
I'll be sharing this makeover in 2 parts since there's a lot I want to share on this one. I replaced trim (I'll be sharing that part on Thursday so be sure to check back for that), repaired chipped wood, painted, glazed, decoupaged the drawer and shelf, etc. So lots to see and talk about!
Don't forget to scroll all the way to the bottom to see what my friends are up to this month for Trash To Treasure too!
Antique Cabinet Makeover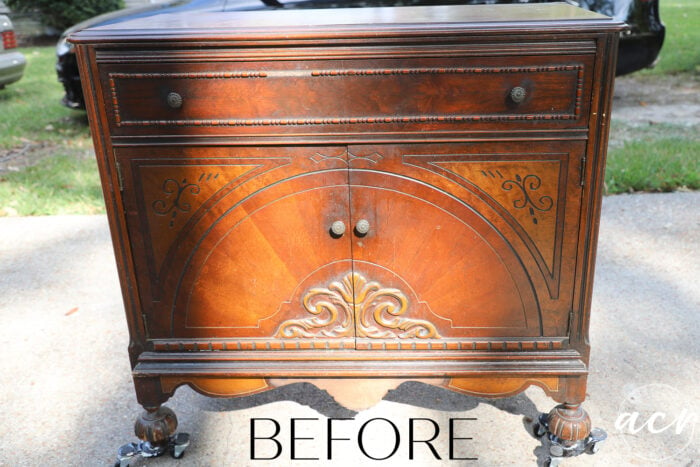 This is how it looked when I found it.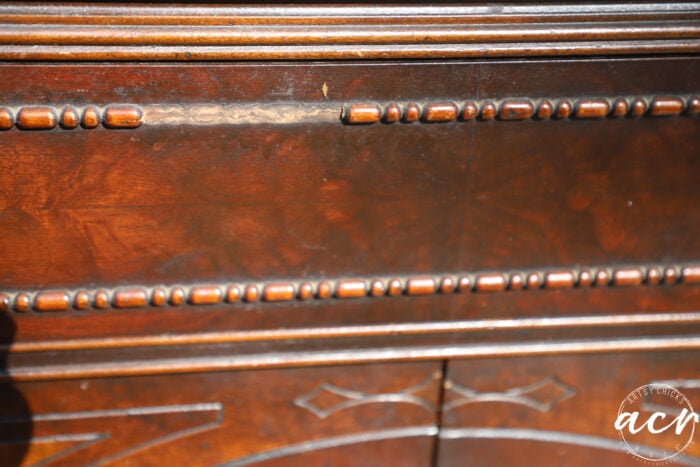 Missing trim in two places. (on the drawer and the very bottom trim)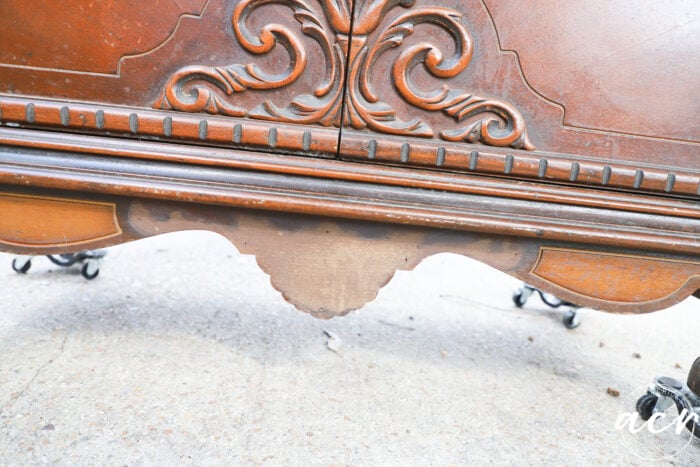 I didn't really think I'd miss the bottom trim once it was painted so just filled the nails holes and left it as-is.
But still had lots of imperfections to be repaired/filled.
Loose veneer…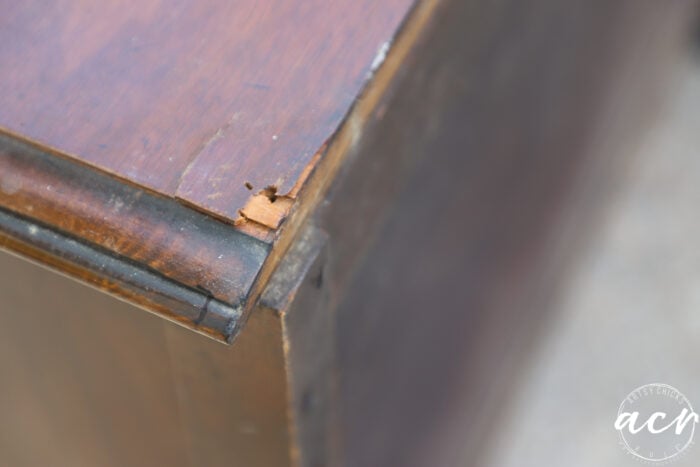 Nail holes all the way around the top…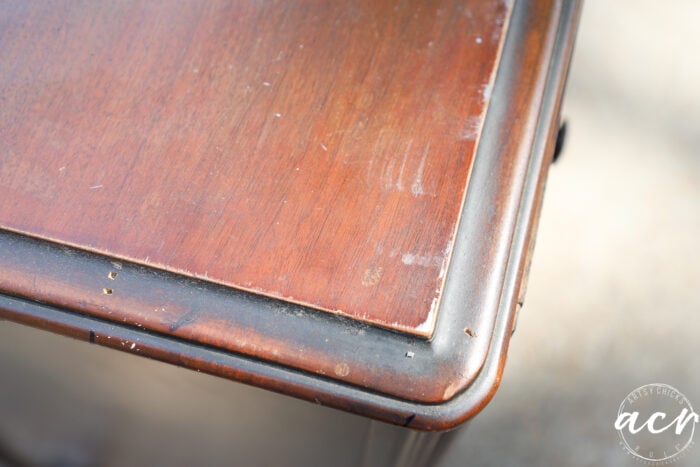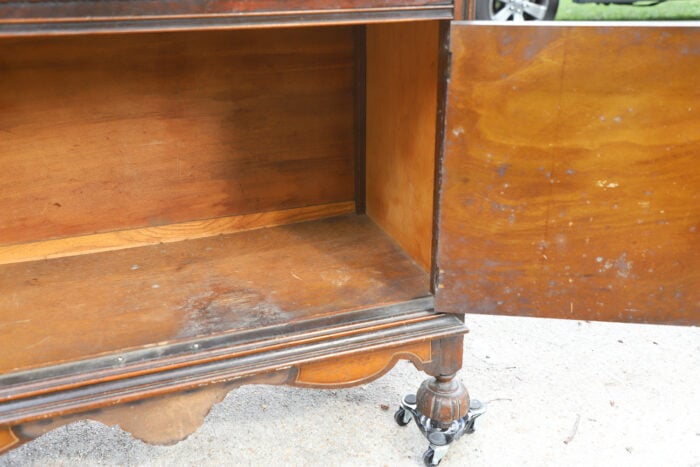 Inside was looking a little rough.
Ink stains in the drawer…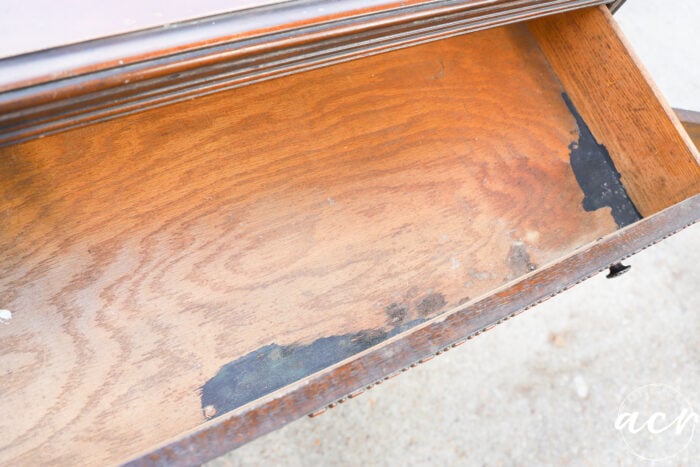 Step 1. Clean
I used TSP Alternative to wipe it down all over.
Step 2. Fix and Repair
I glued loose trim and created trim to replace what was missing. (see my post coming up on Thursday)
Step 3. Paint Exterior & Interior
I used a new color in the shop! It's gorgeous!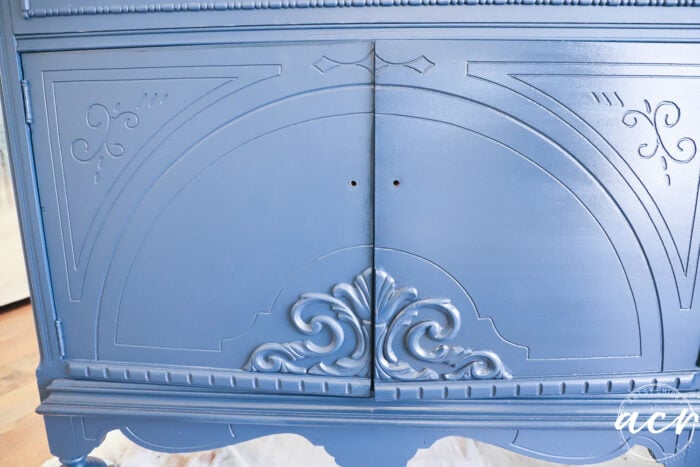 So pretty!
I painted the inside with Renfrew Blue for a fun pop of color!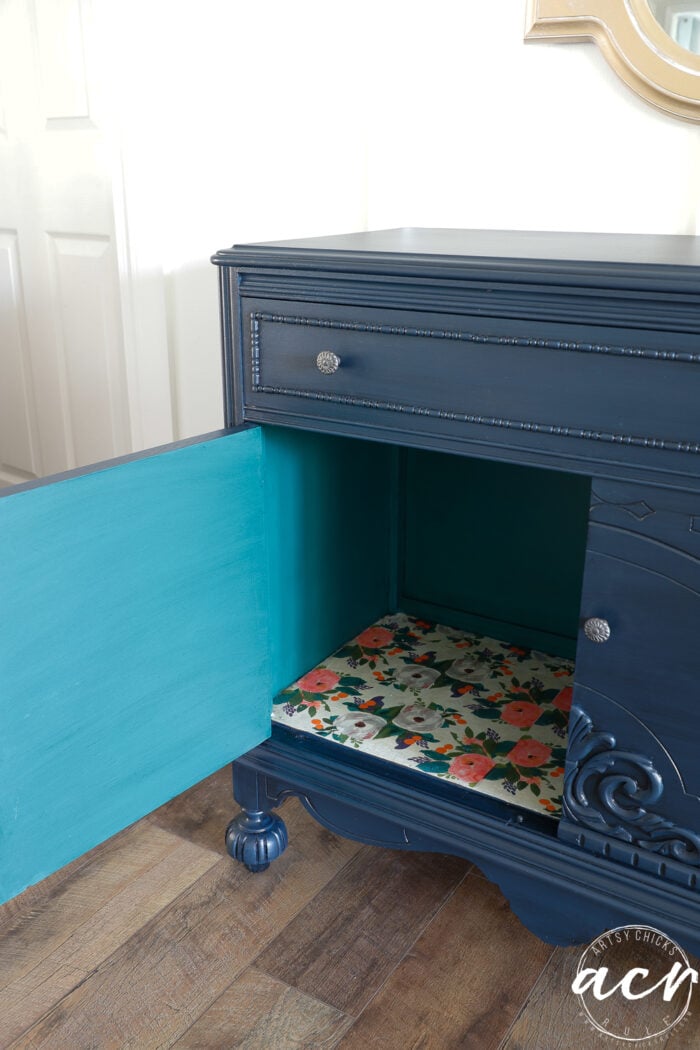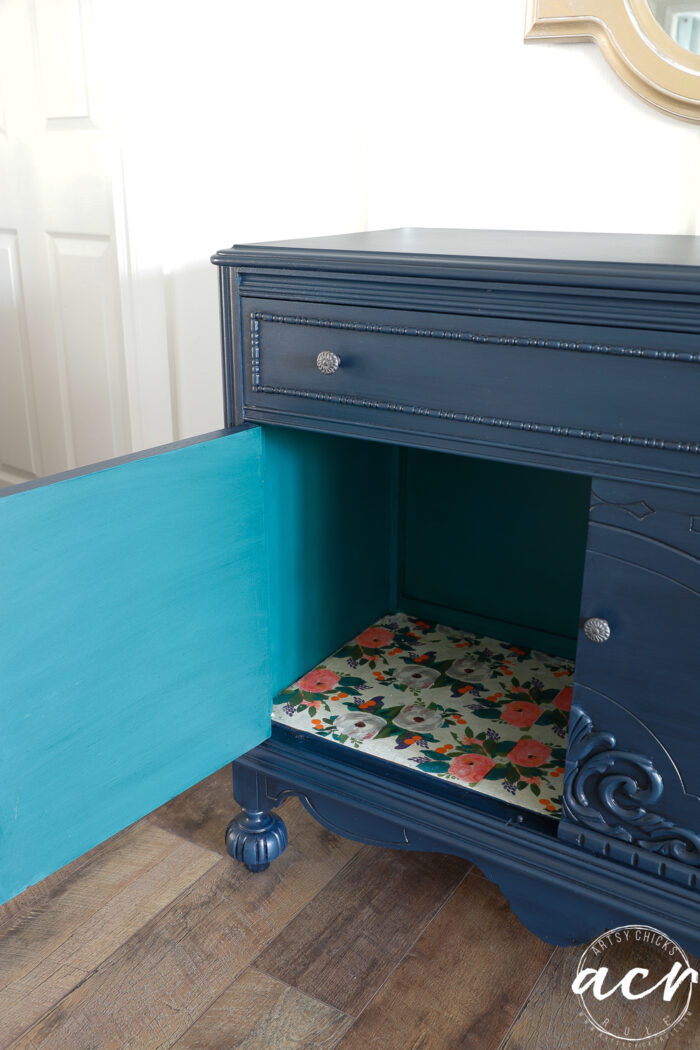 Step 5. Decoupage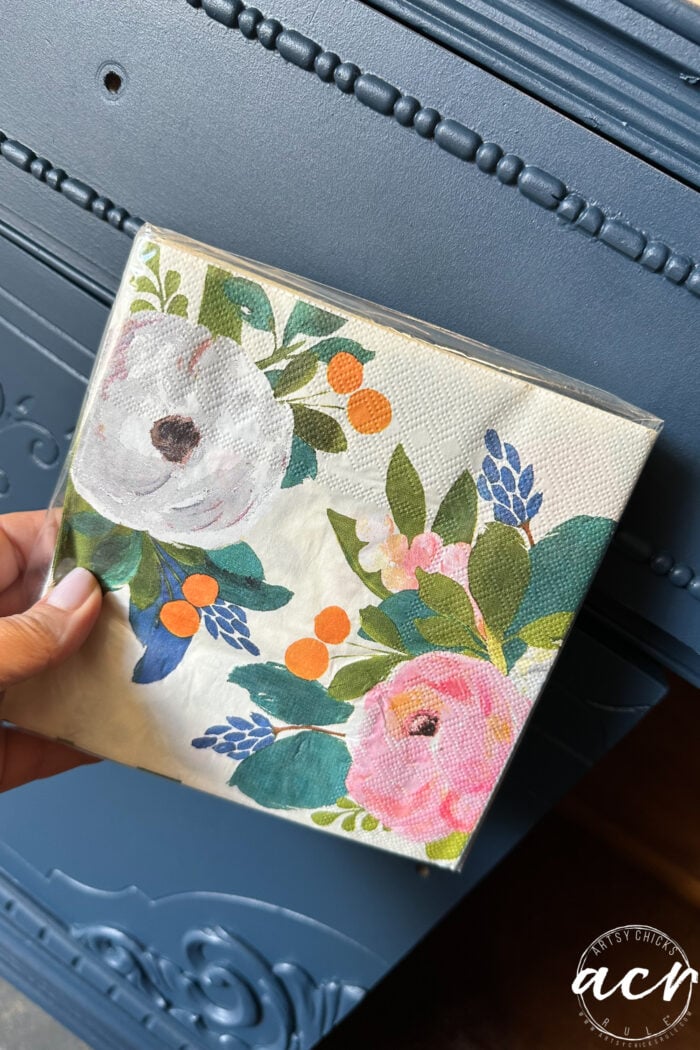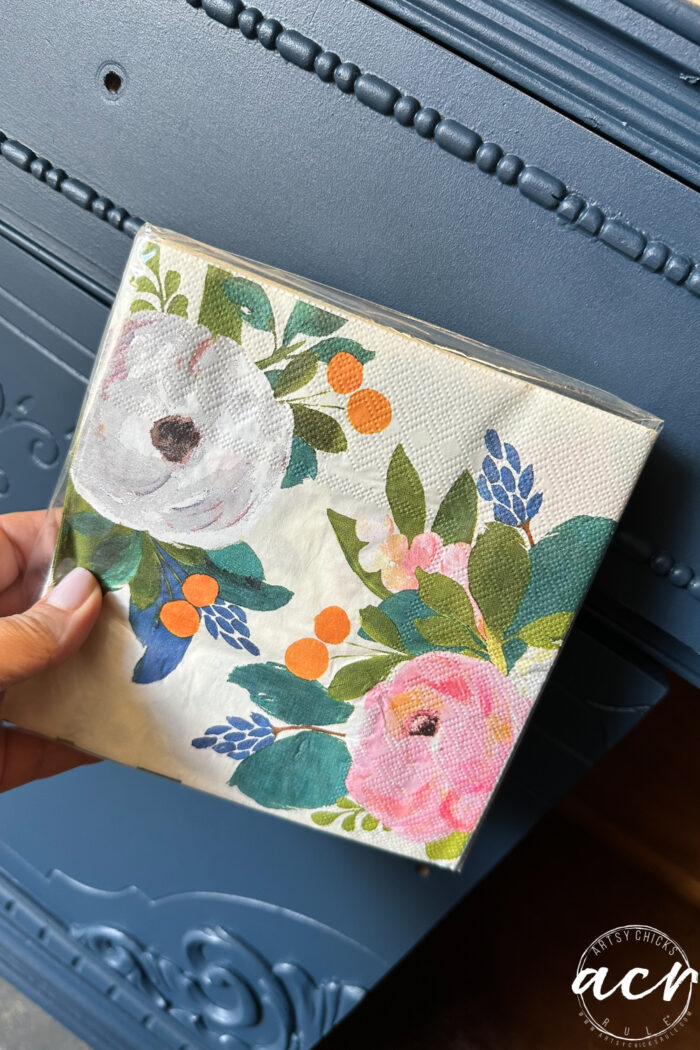 I found these pretty and colorful napkins here. That is actually how I decided upon the interior color. Some of that same color was in the napkins I chose along with the pretty blue shade.
I decided to line the drawer and inside cabinet both.
I used our Decoupage & Transfer Gel to attach the napkins.
Step 5. Seal Decoupage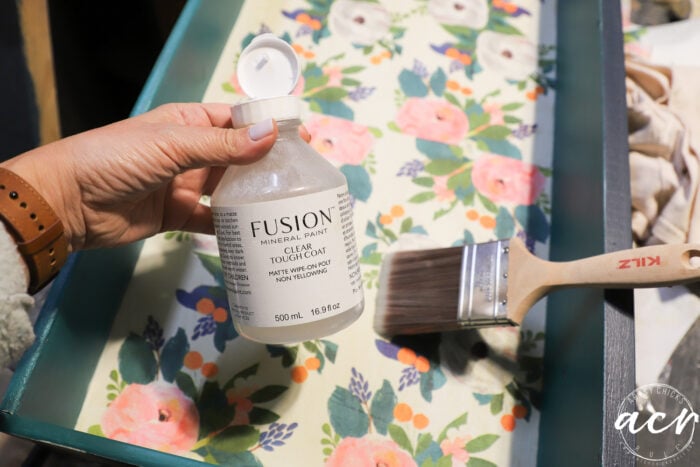 Once that was dry, I finished the decoupaged areas with a coat of Clear Tough Coat Topcoat.
By the way, I used Shellac Zinsser primer to seal the ink stains in the drawer and base of the cabinet. I painted the drawer and base of the cabinet in Raw Silk before decoupaging which matched the cream color of the napkin perfectly.
Step 4. Glaze
But I wanted to give it a little depth so I glazed the paint with a tinted black glaze I made.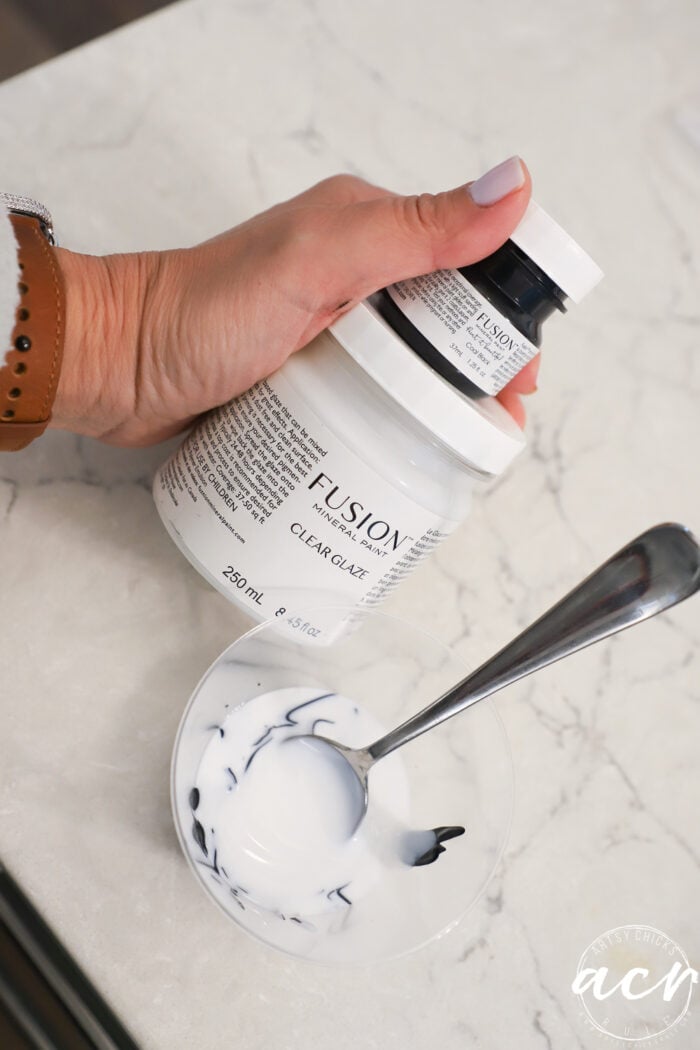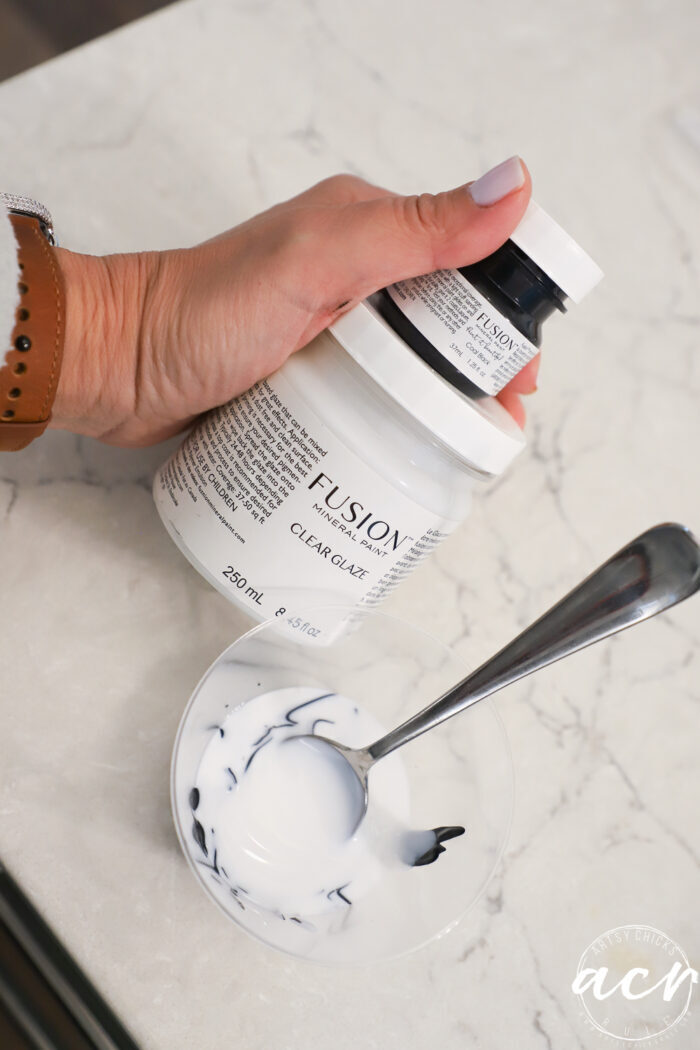 I used Clear Glaze and Coal Black Paint, 3 parts glaze to 1 part paint.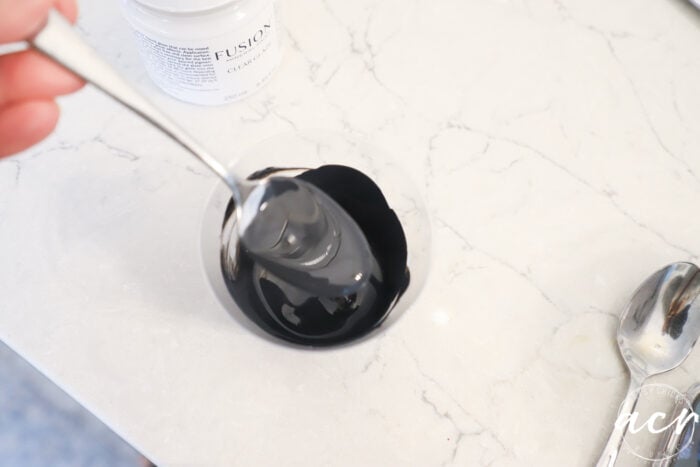 I applied it with my brush …
…and then wiped back somewhat.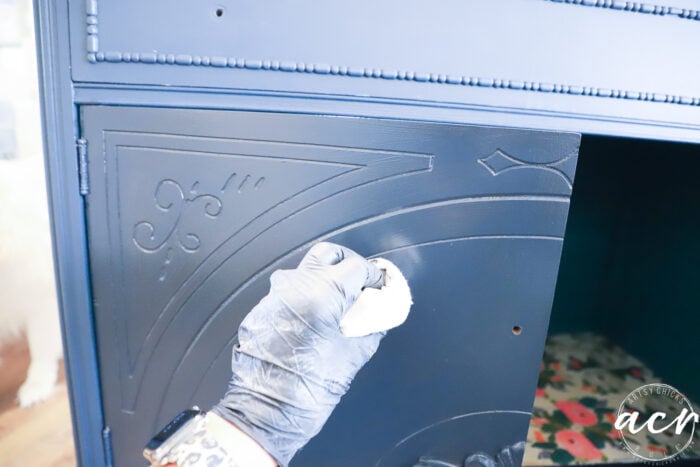 You can tell, however, how different the glaze makes it look by seeing the drawer above (unglazed) and the door (glazed).
See the difference it makes?? Isn't that wild?
I did the same to the top and sides.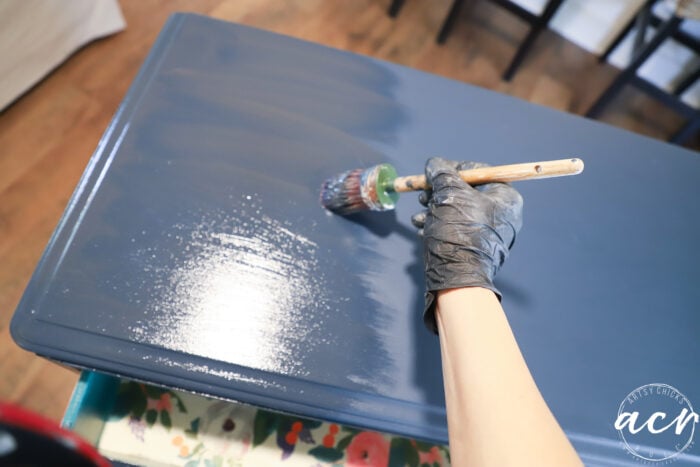 I added glaze to the inside and outside paints.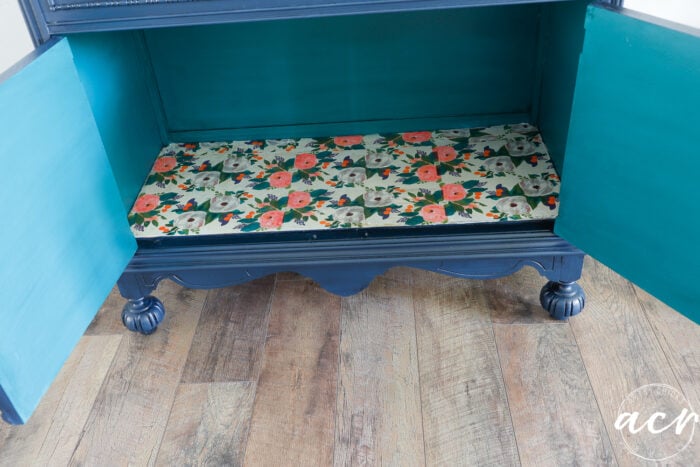 I like that it toned down the Renfrew Blue a bit. It is a pretty color but can be somewhat bright.
I'm pretty happy with how it turned out.
I've been really loving wood and wood-stained, bleached, natural furniture. But sometimes it is just best to paint.
Plus, I do still love painted furniture too! I think there is a place for all kinds.
Old ones with this kind of beautiful detail can be so pretty painted. But I also love to leave it with the wood showing whenever possible.
I feel like this one just had too many obstacles to overcome to leave natural. I did consider it.
Anyway, I think she's a stunner in that blue.
And love the pop of color surprise you get when you open it up. Not to mention the napkins for another pop of fun!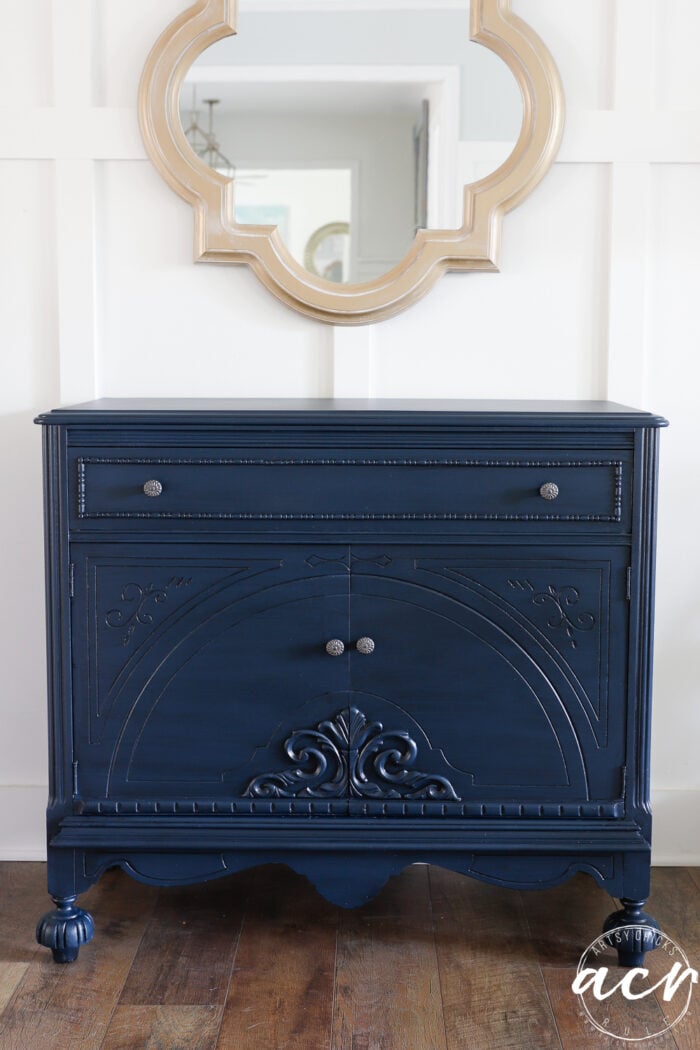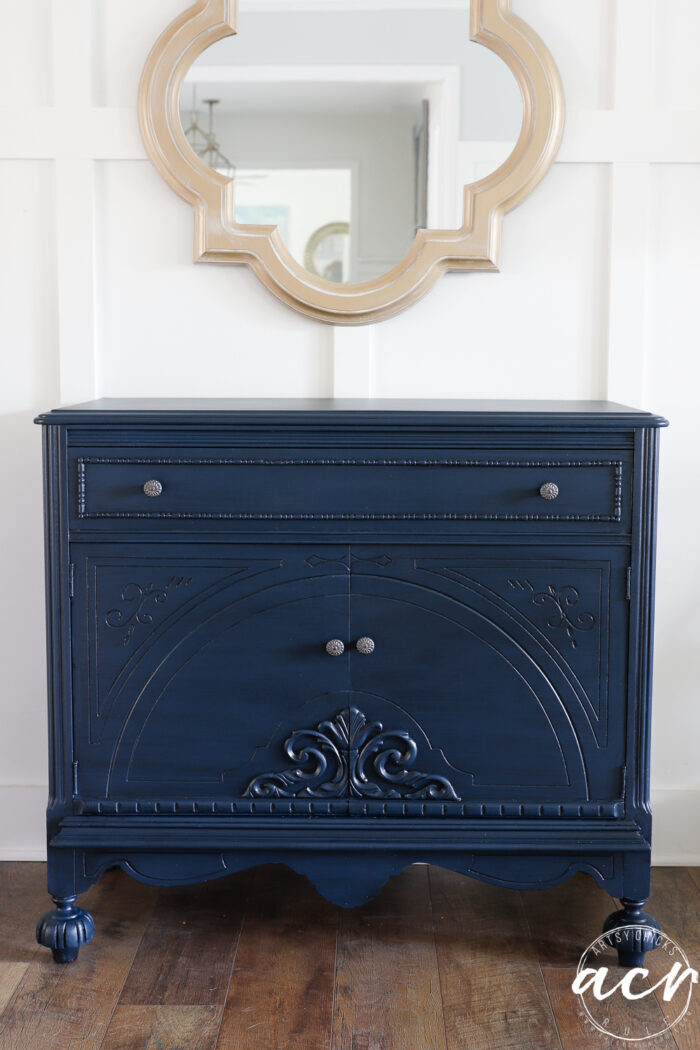 Oh, I forgot to mention that I kept the same hardware. I just gave them a quick spray with this spray paint (Soft Iron).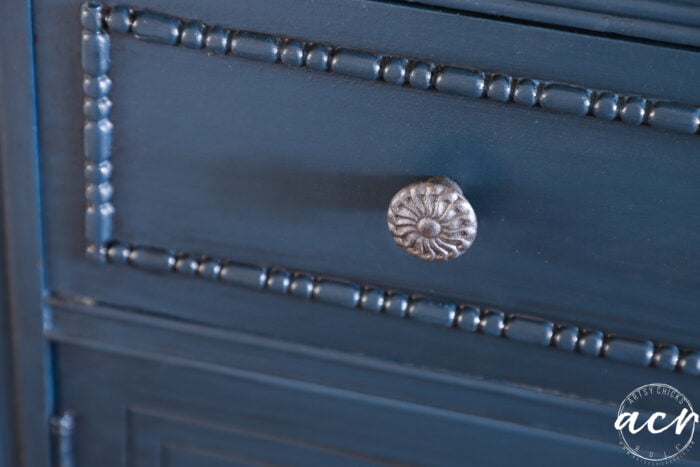 My one tip would be to wipe back more than you think you need to. When the glaze is wet it doesn't really look dark at all. The darkness comes when it dries. So you might not realize how dark you're leaving it.
So, I do wish I had wiped back just a bit more to just leave a hint of shade on the main areas of the cabinet and dark in the crevices, etc. The glaze does have longer workability which is nice, so I will definitely do that next time.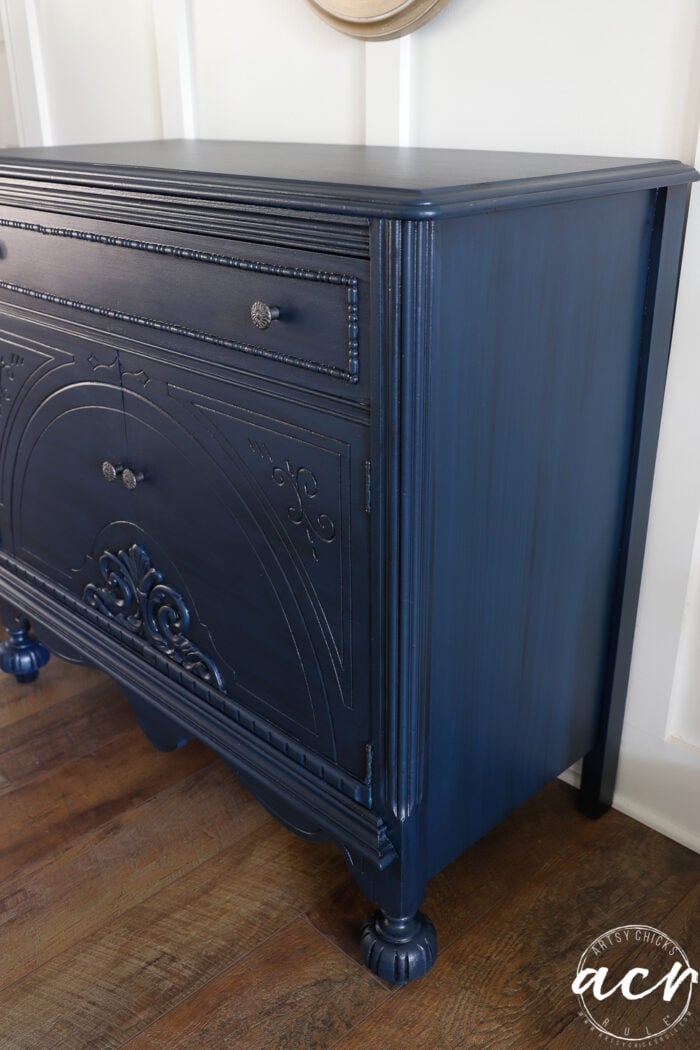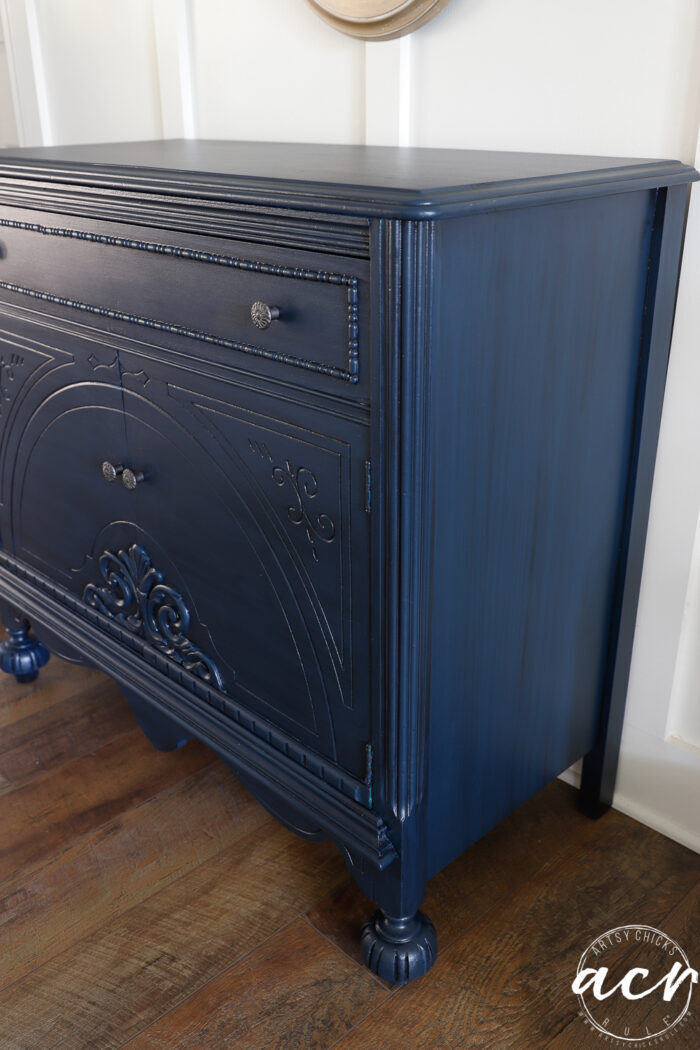 I just love the depth that the black glaze gave this piece…and that sheen!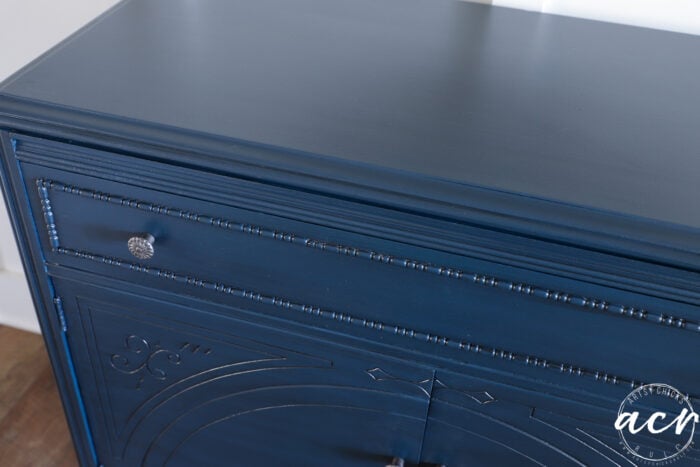 I decoupaged the sides and bottom of the drawer so you'd see it from the outside when the drawer opens.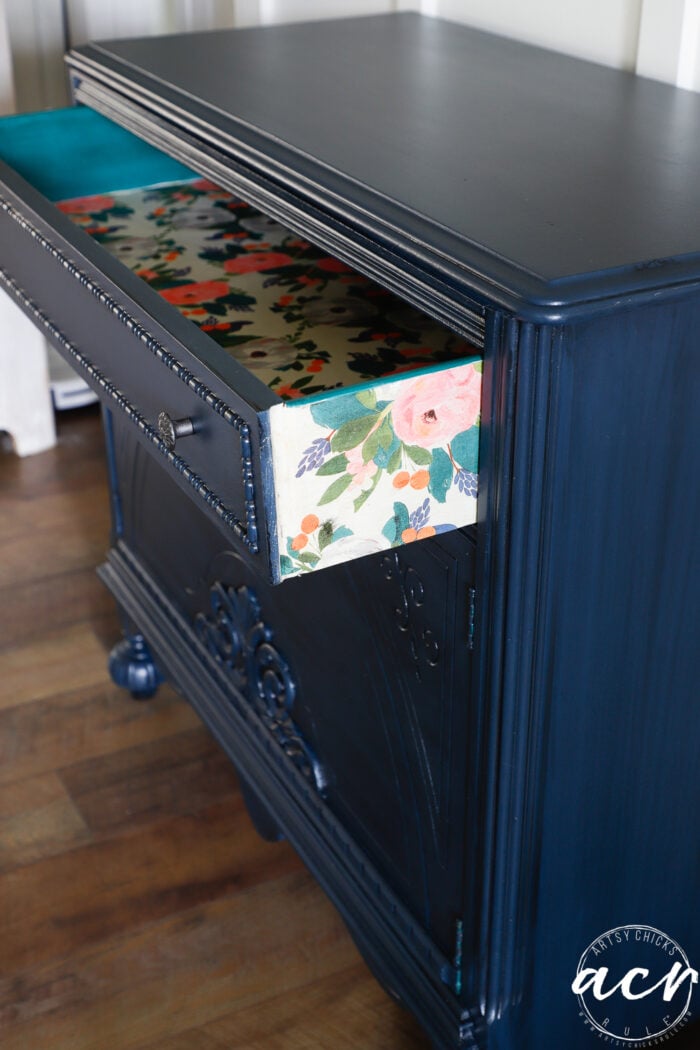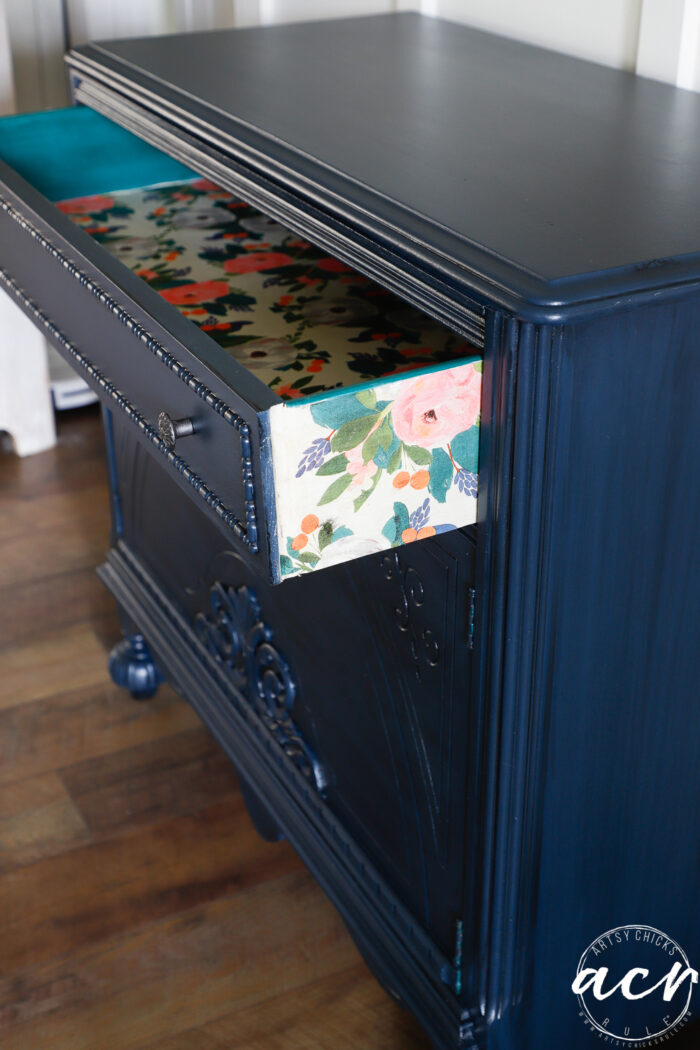 Fun, fun.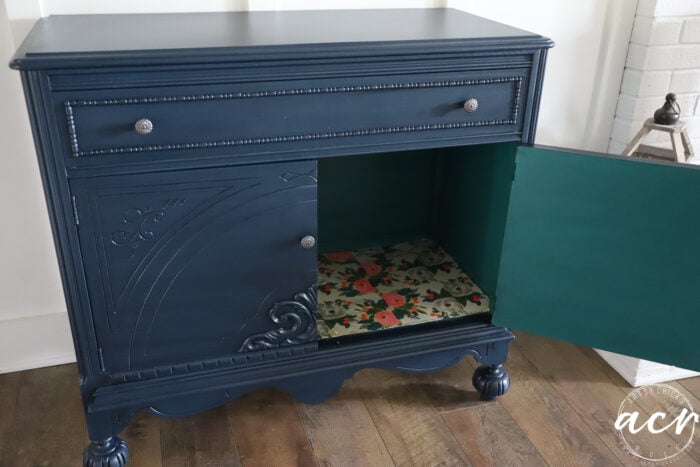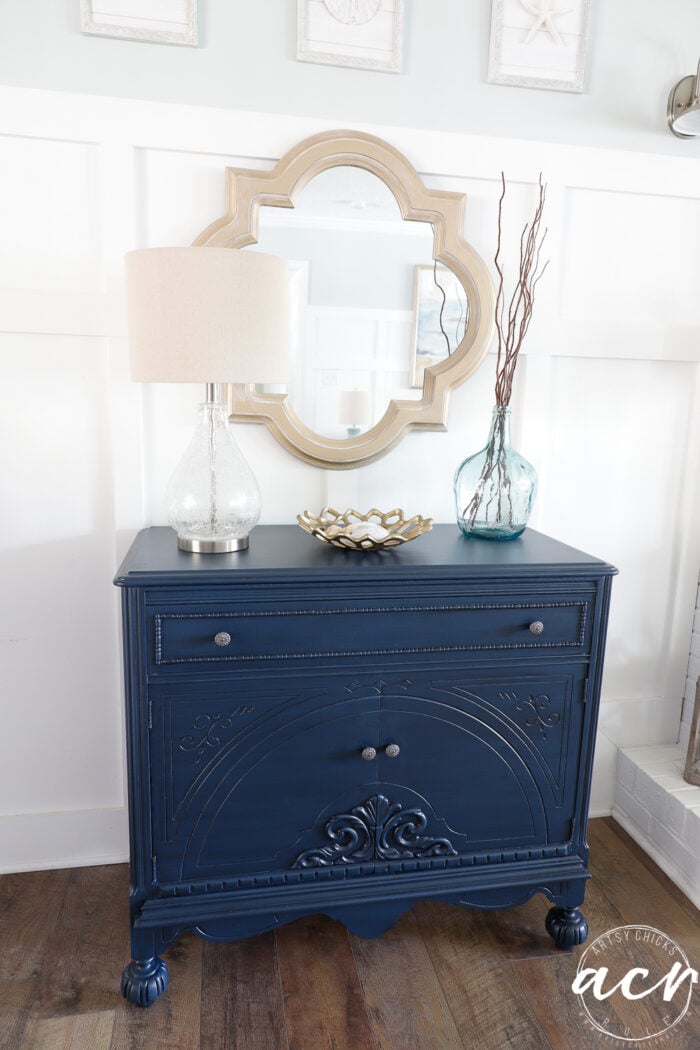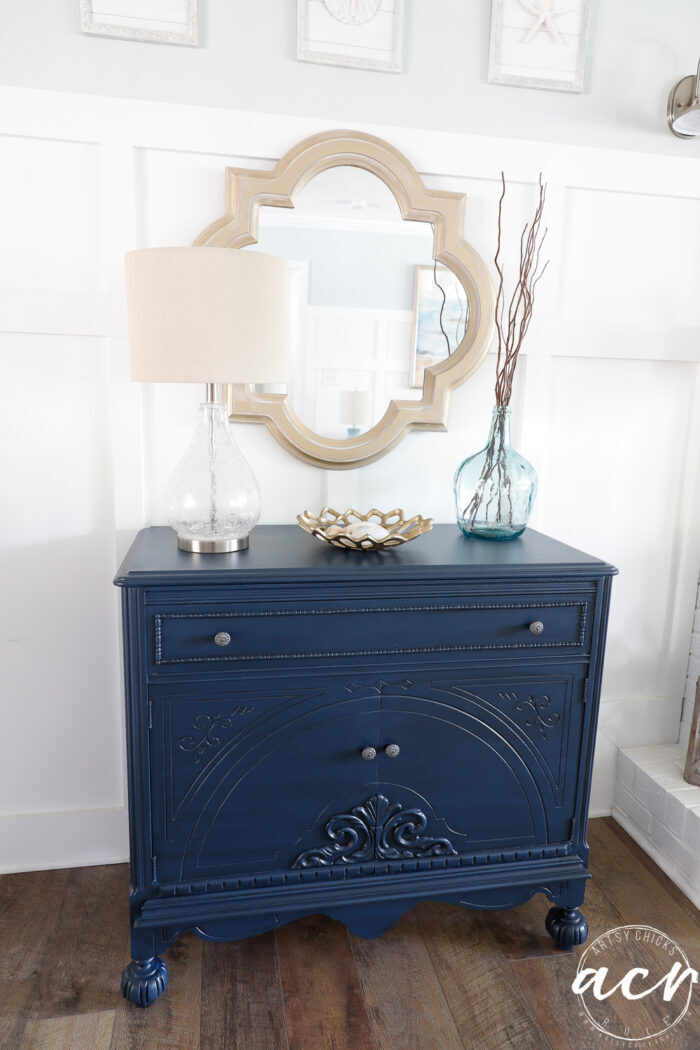 And although I'm not keeping this one, she sure looks pretty right here and goes great with the colors in this room.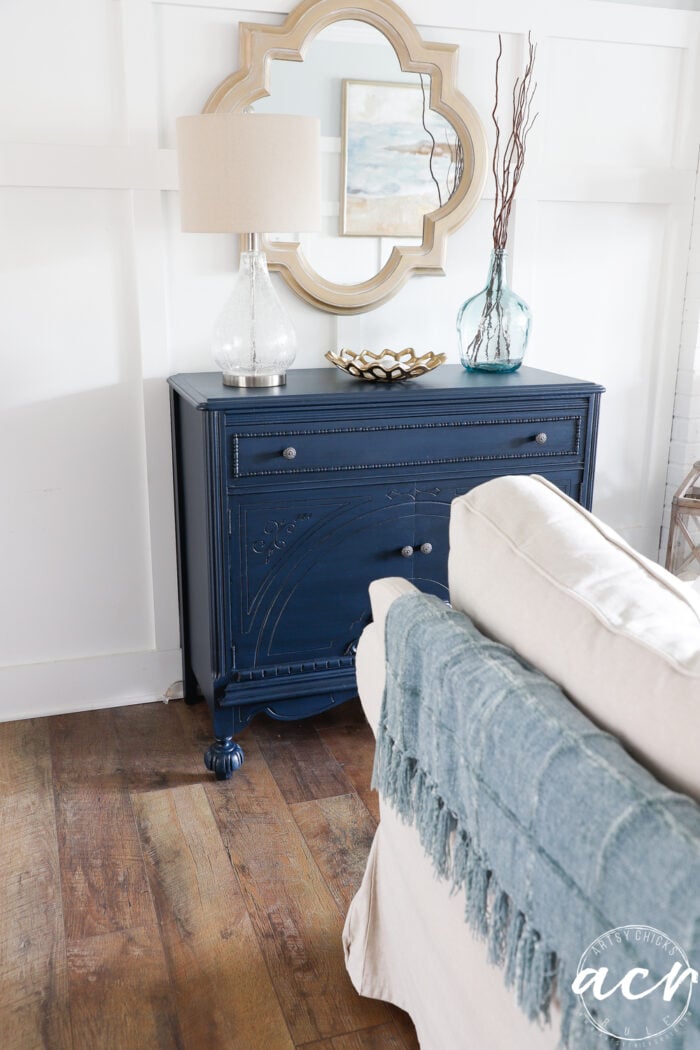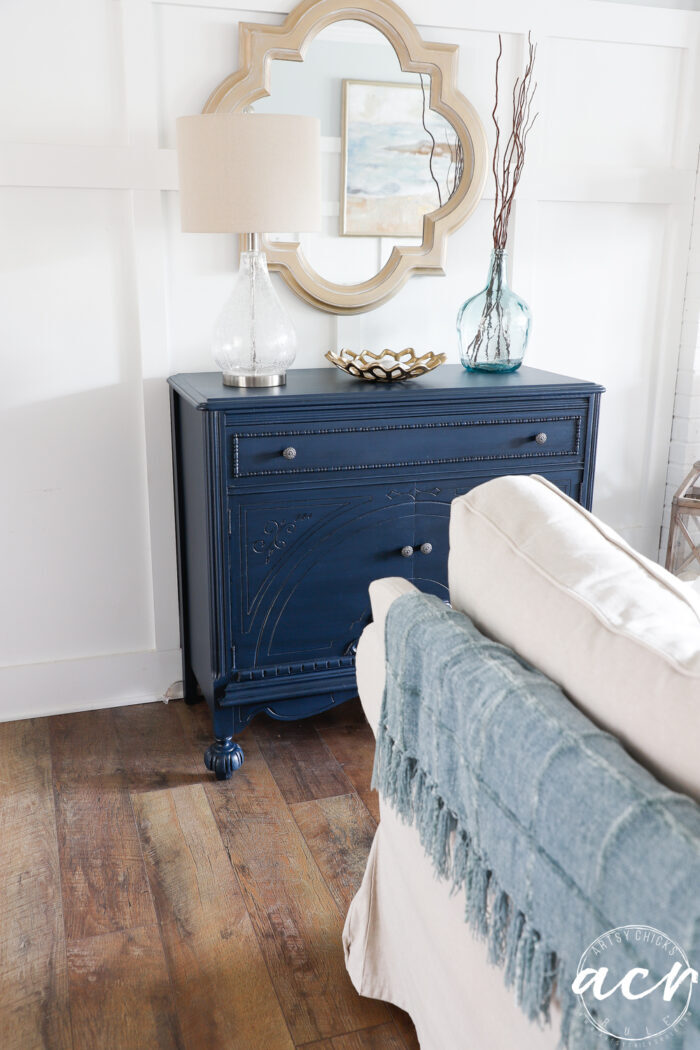 This was Ryder as I was snapping photos. Haha!! See the eye roll?? He's so content and half asleep!! lol (with his "paci" in his mouth…his very first baby bed when he was a tiny thing!)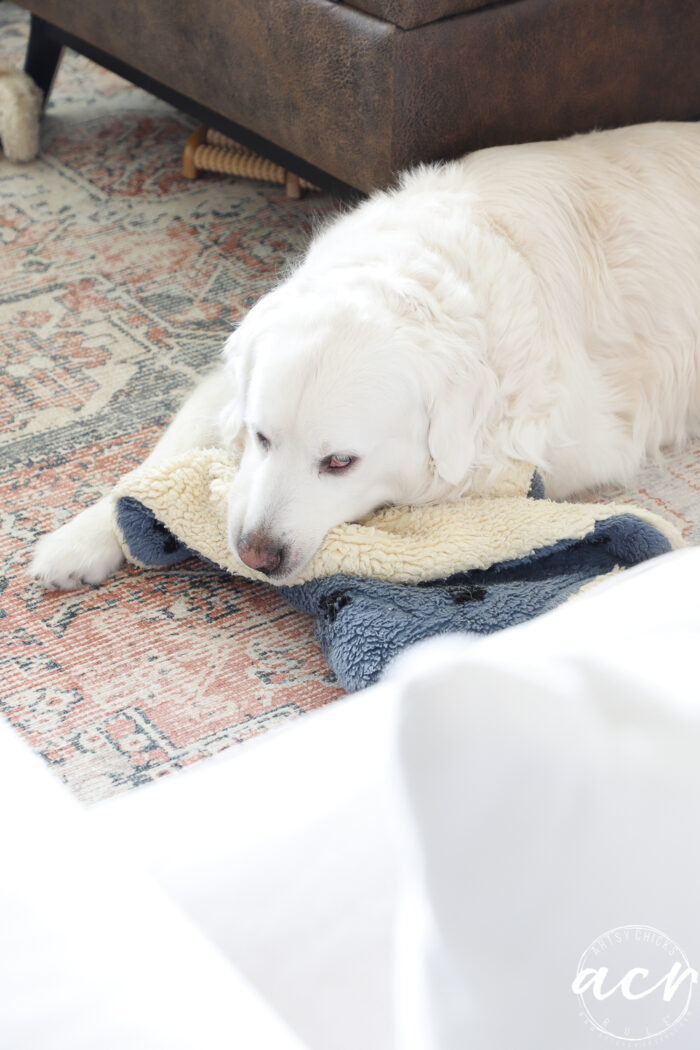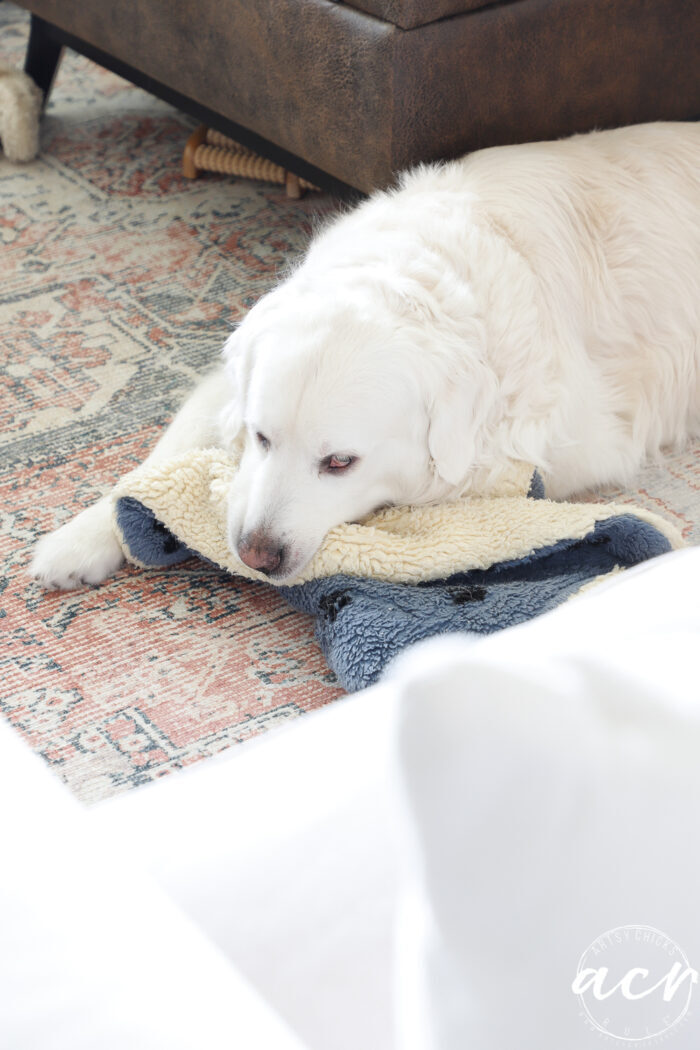 Then I disturbed him when I had to come over and take this angle. Oops! Sorry, Rydey Roo!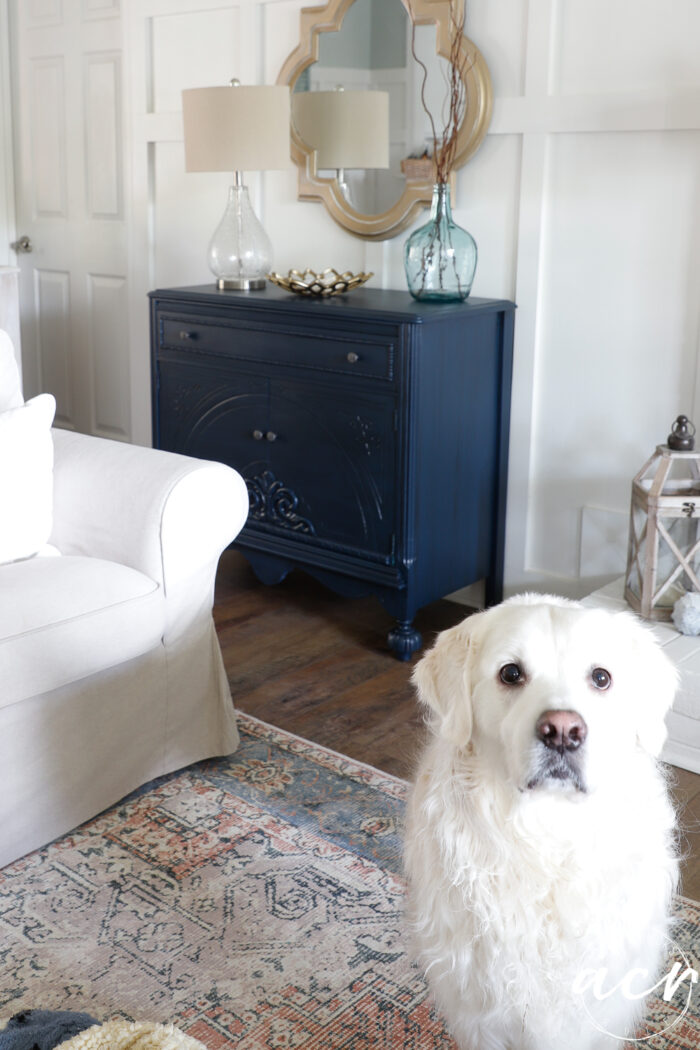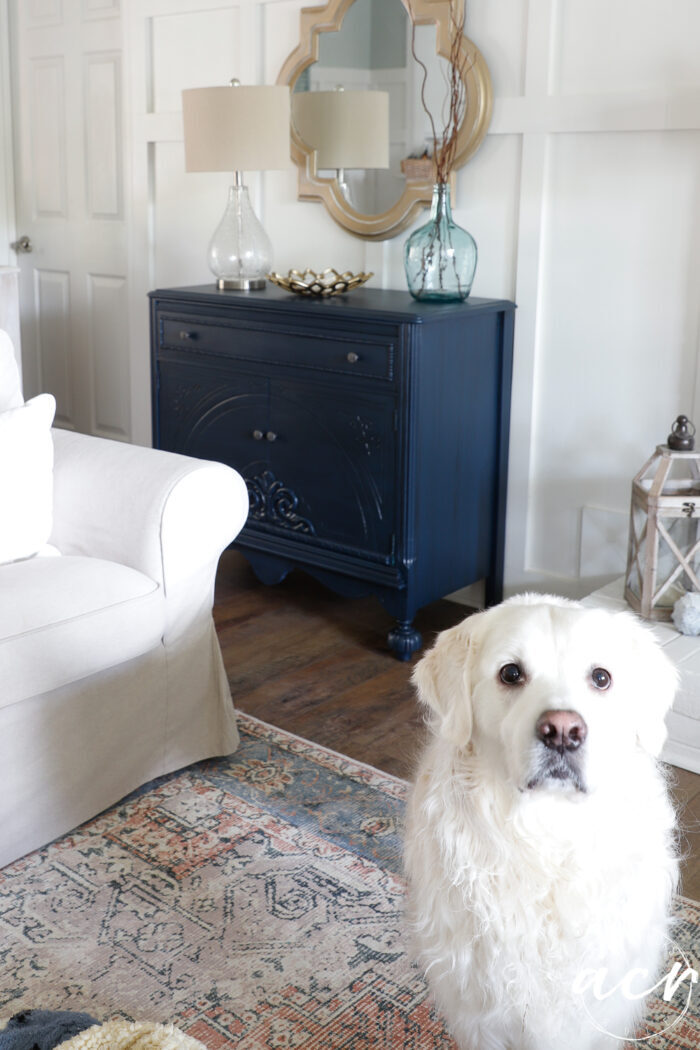 Scootch outta the way big guy!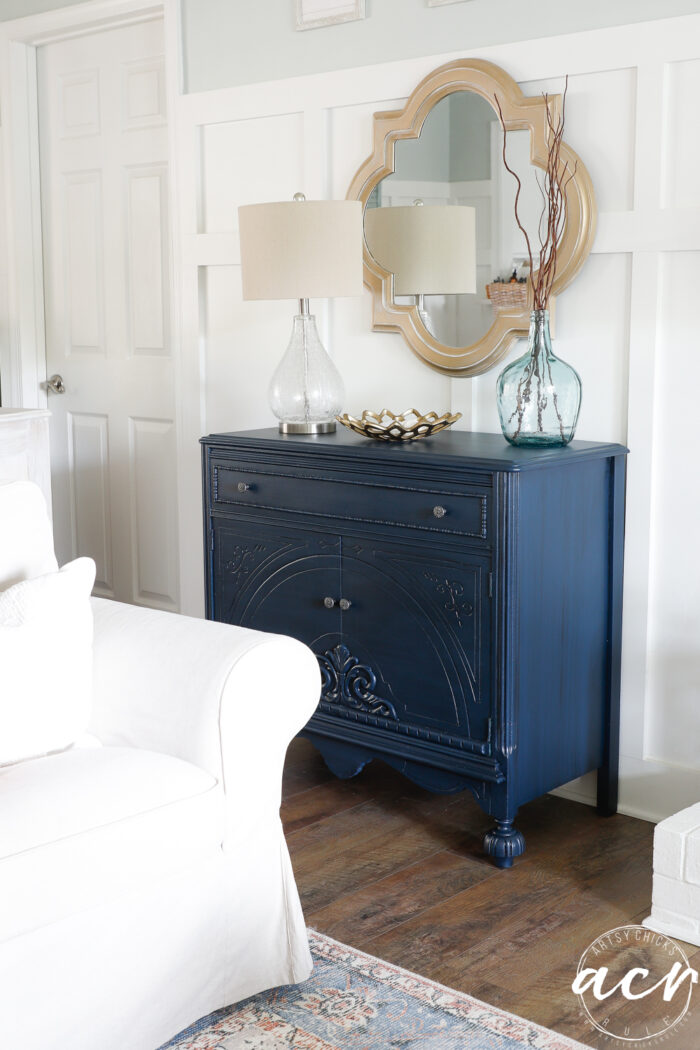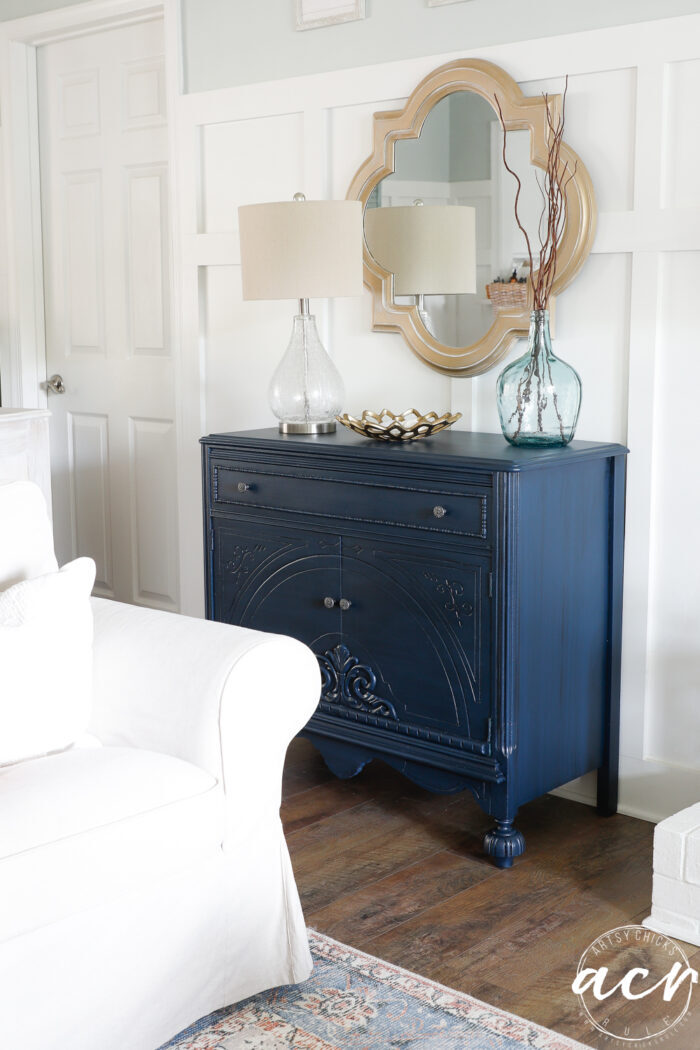 Really love it there! But I have to keep the whitewashed dresser I usually have there as it is a special meaningful piece to me.
Hmmm, maybe it's time to repaint that one?! Ohh, that is a thought!
This is the one that I'm speaking of, in case you don't remember…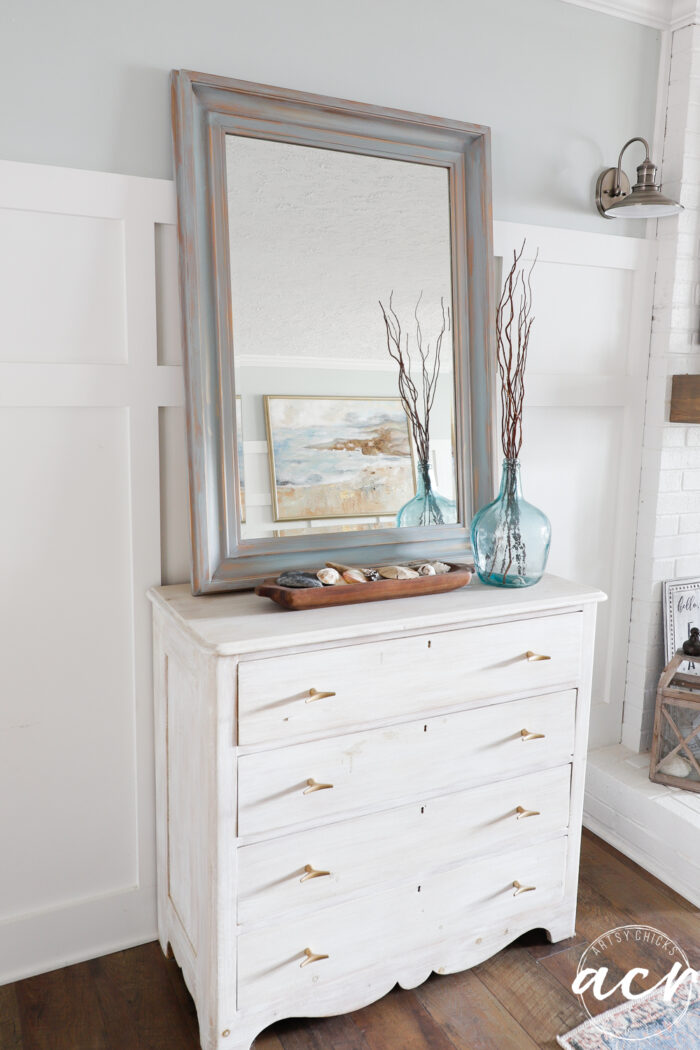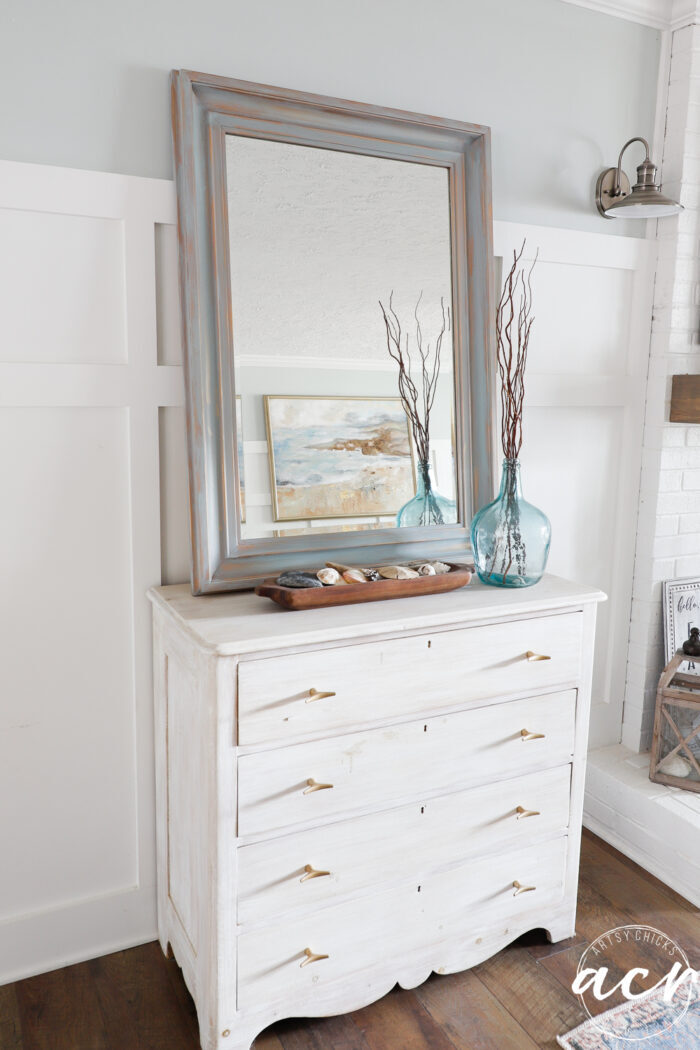 We'll see, maybe I will!
I hope you enjoyed this one! (and that gorgeous new blue paint I recently added to the shop)
PIN it to save it!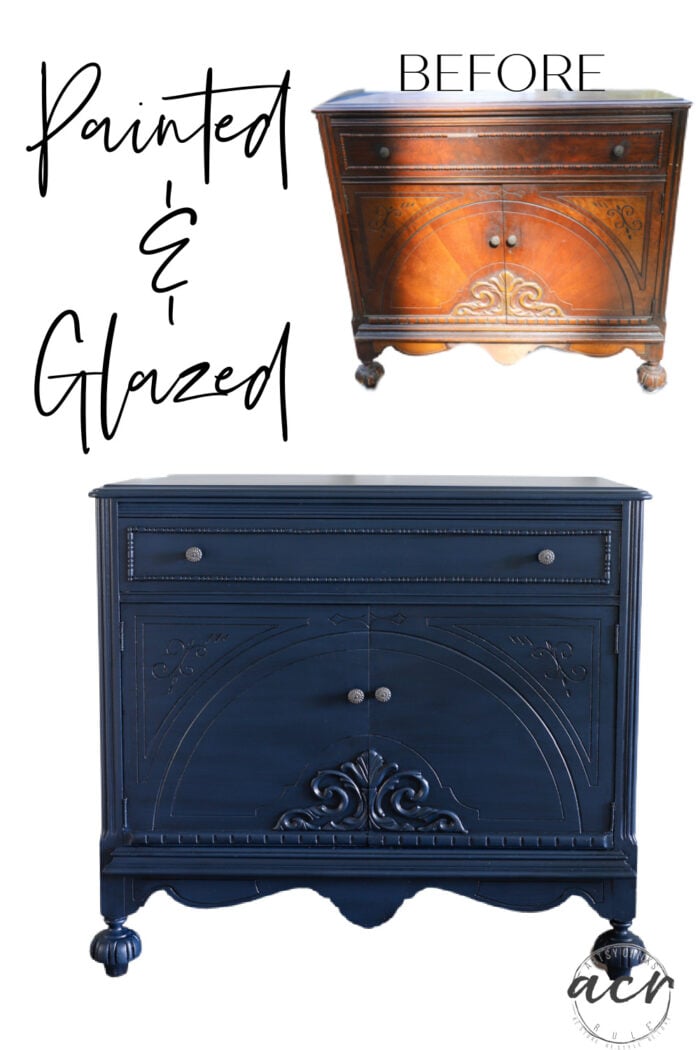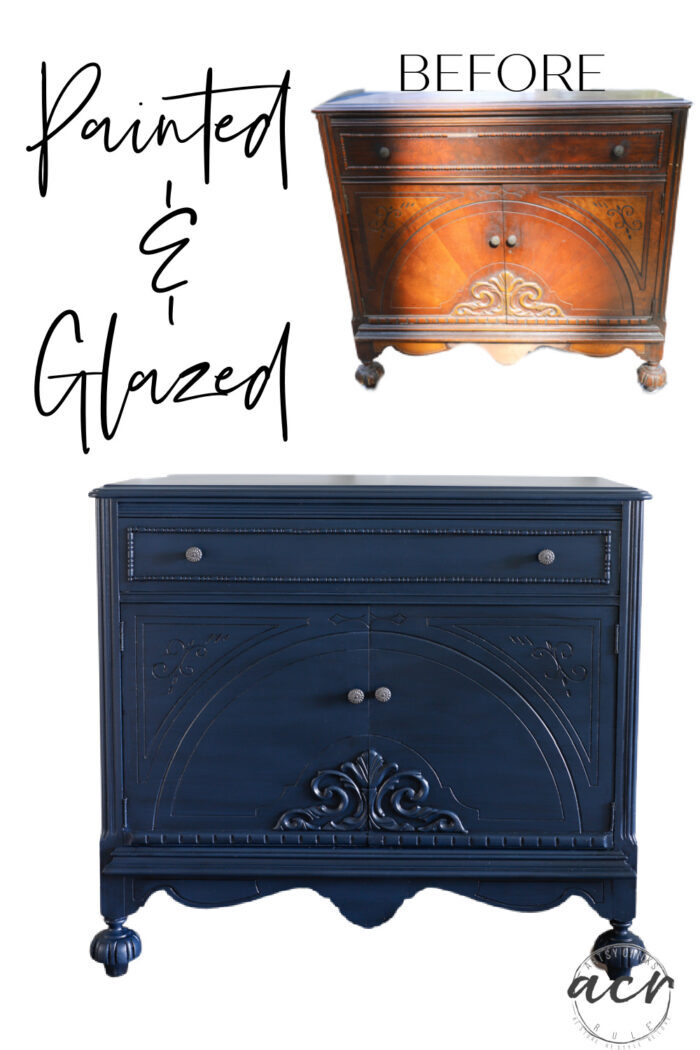 Don't forget to hop over and see my friends' new makeovers too!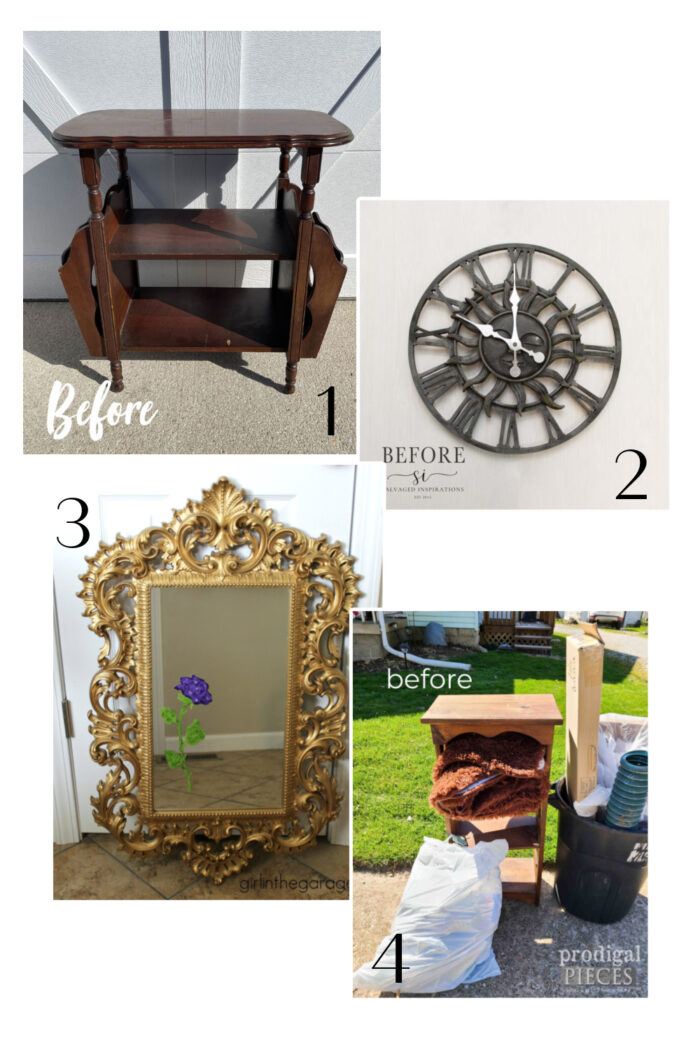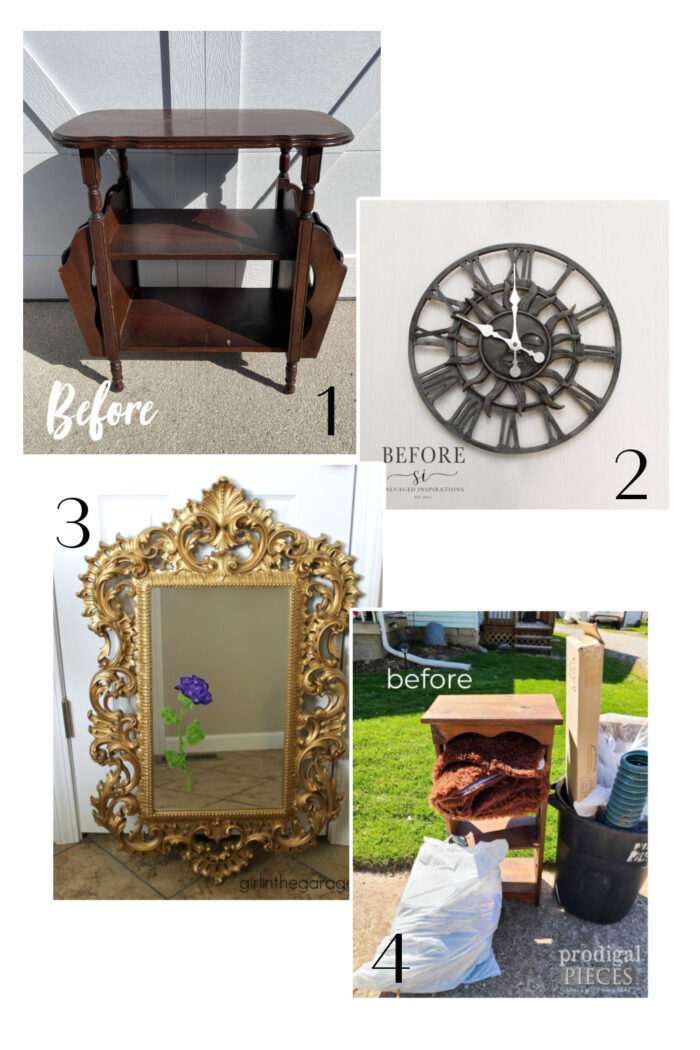 Remember to check back in on Thursday for all the details on the missing trim and what I did! If you are new around here, you can subscribe right here so you won't miss a thing.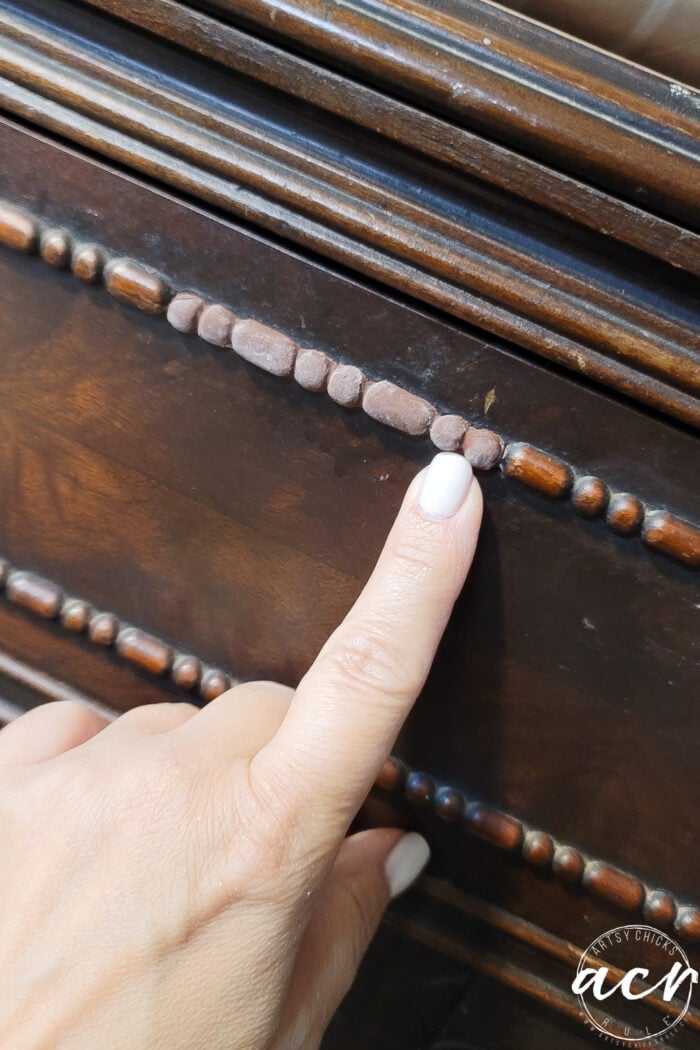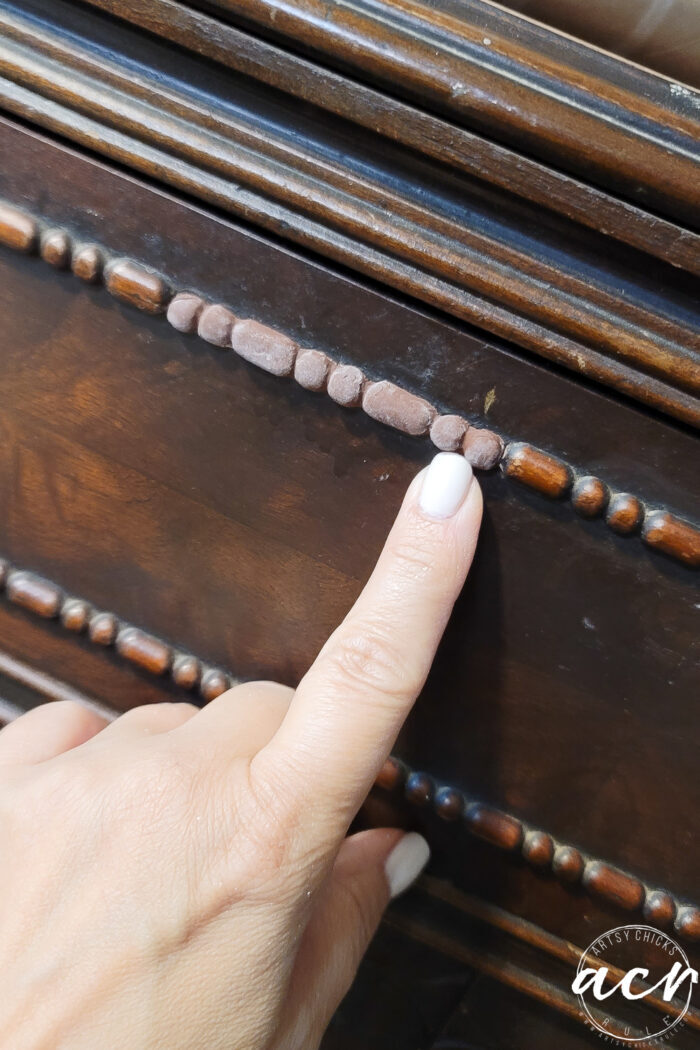 UPDATE!! Come find out how here!
See you then!
xoxo