Mini Butterfly Cabinet Makeover with Decor Transfers
This post may contain affiliate links. Please see disclosures here.
This mini butterfly cabinet is perfect for keeping all kinds of treasures in. So easy with paint and butterfly decor transfers!
Hello friends! Today I'm sharing a sweet little "cabinet" that I found at a new ReStore I stopped in at last week. I walked past and thought "isn't that the cutest little thing…but wow they sure tried to make it ugly!" Haha!
But before we get to that, I have to mention today is my and my sweet hubby's 32 wedding anniversary! Wow, time sure has flown! I created a video of our life together for our 30th and shared it here a couple of years ago and over on my Facebook page. If you are interested in seeing it, click here to hop over to Facebook to watch. :)
Mini Butterfly Cabinet Makeover with Decor Transfers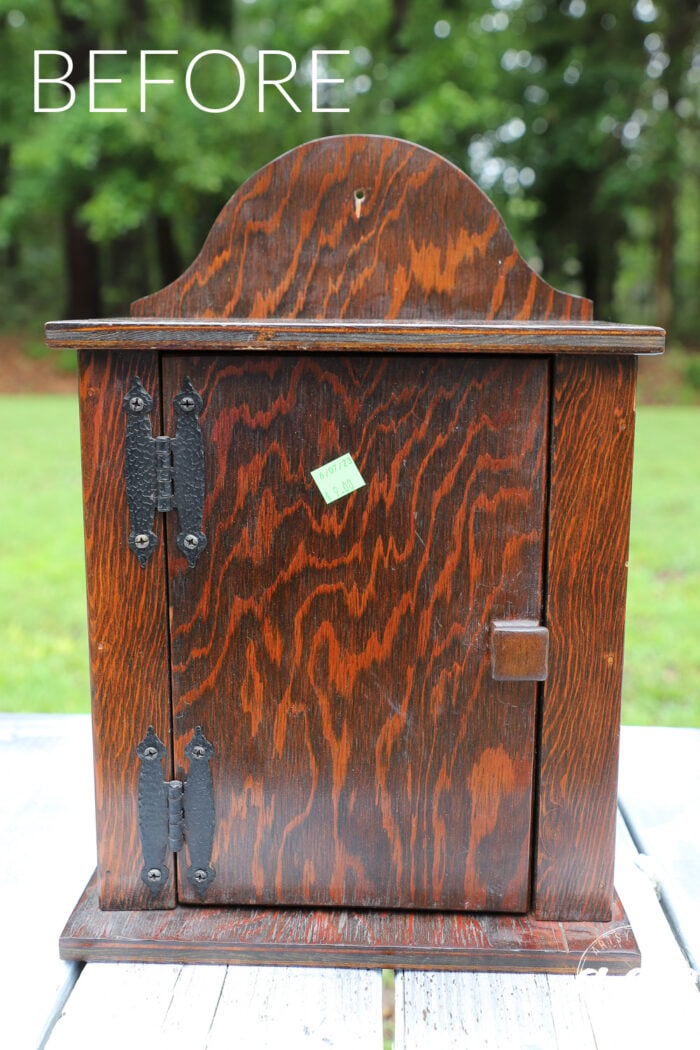 It was $9.
Here's the inside.
Very basic! I guess it did the job, whatever the job was.
But I am here to doll it up. And doll it up, I did!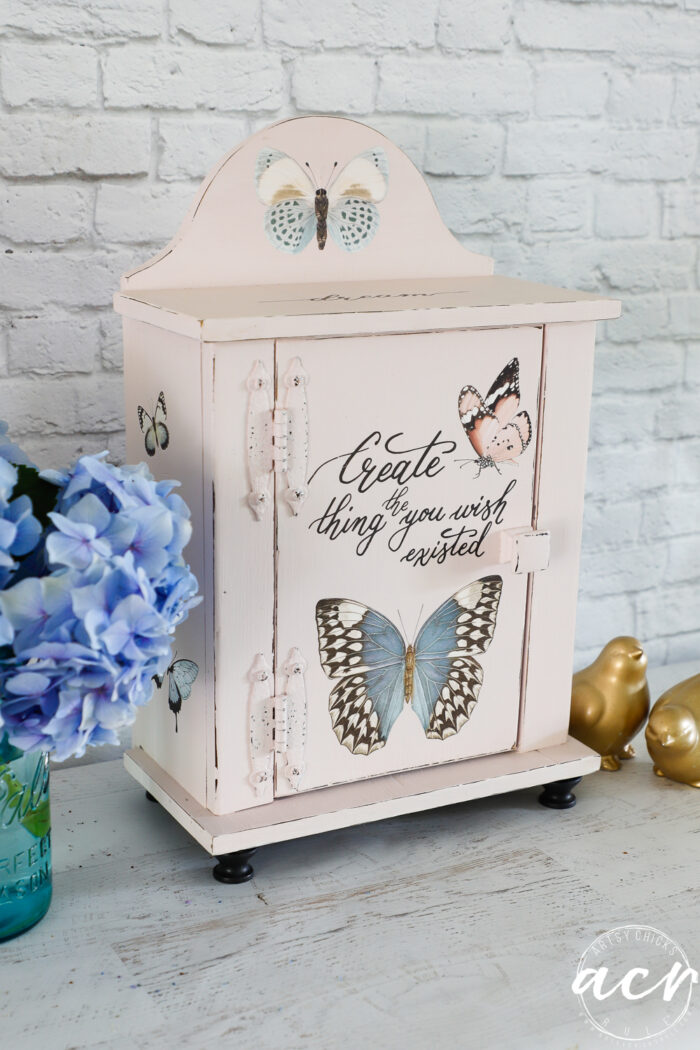 By the way, my hydrangea bushes have all gone crazy this year…those are some from one of them! I shared the 4 jars of flowers I put together (all in varying shades of blue/pink/purple from the same bush last night in my Instagram stories, maybe you saw it?!)
Let me begin by saying I just added a bunch of gorgeous brand new decor transfers in the shop! (and restocks on old ones are coming next week) Hop on over and check 'em all out right here.
Since the wood had a glossy-ish finish, I lightly sanded it all over. Then I wiped it down well and painted two coats of white, drying well in between coats. (Picket Fence)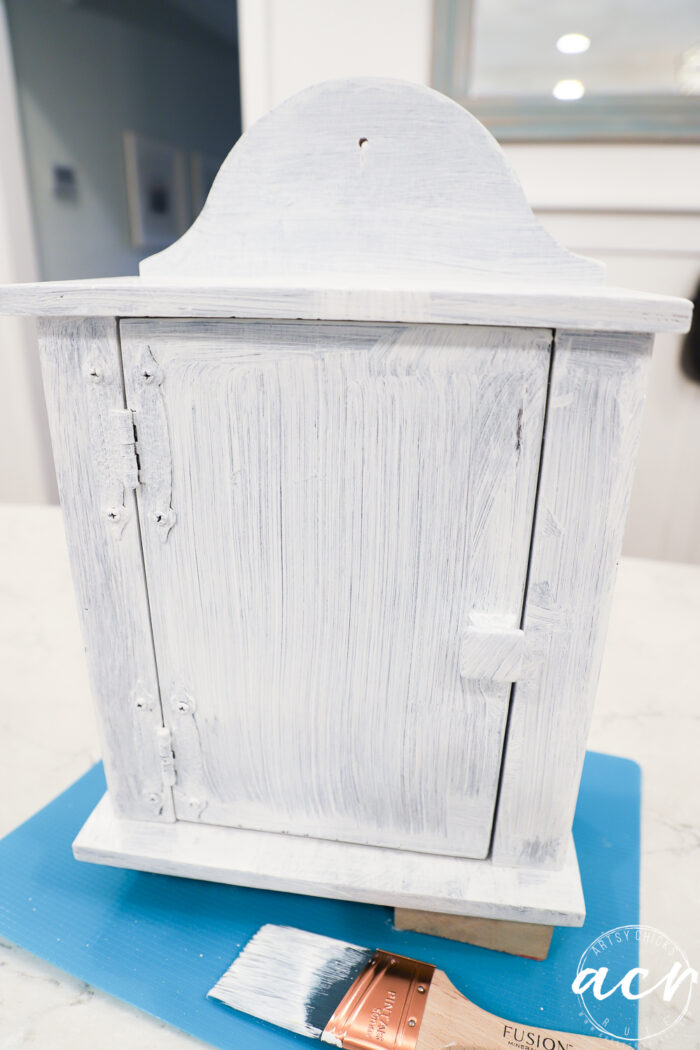 Inside and out. (I also filled in that hole with wood putty. I'm guessing it used to hang on a wall but I'm adding feet so no need for the hole)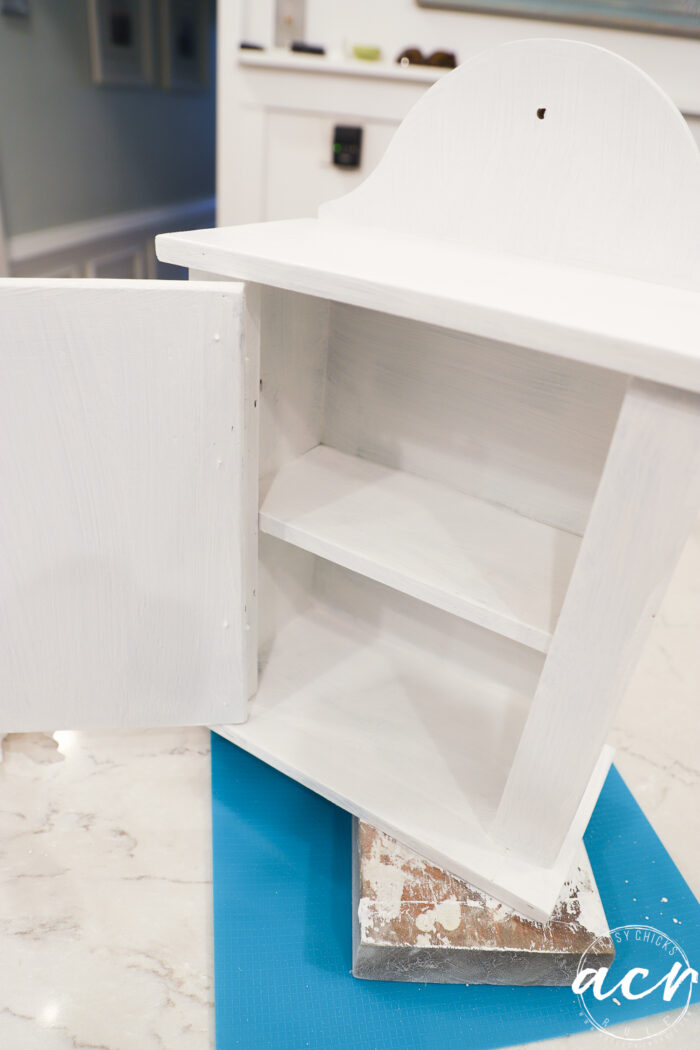 Then I mixed up a bit of Picket Fence and Rose Water. (about 3 parts white to 1 part pink) I wanted a mostly pale pink for this butterfly cabinet.
I painted the outside in the pink mixture and the inside got blue. (Champness …everything is linked above in the gray box marked "Materials List")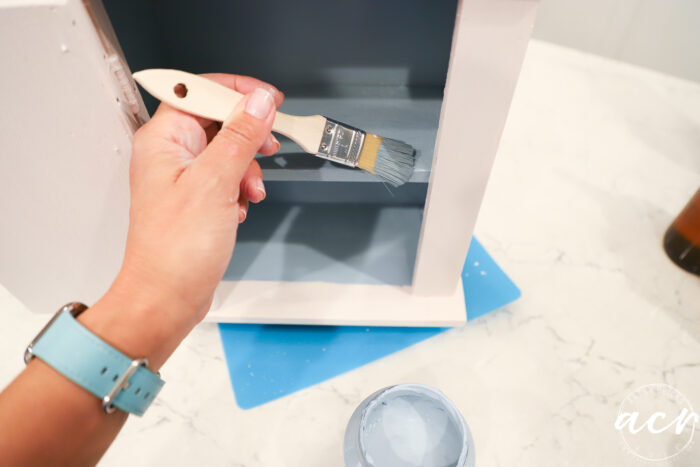 I just love these two colors together! Pink and blue. Obviously! As these are the colors of my theme/brand here on Artsy Chicks Rule.
Always some shade of aqua/pink. :)
Anyway, I did one coat of the pink and two of the blue. Then I pulled out this new set of decor transfers. (they are in the shop here)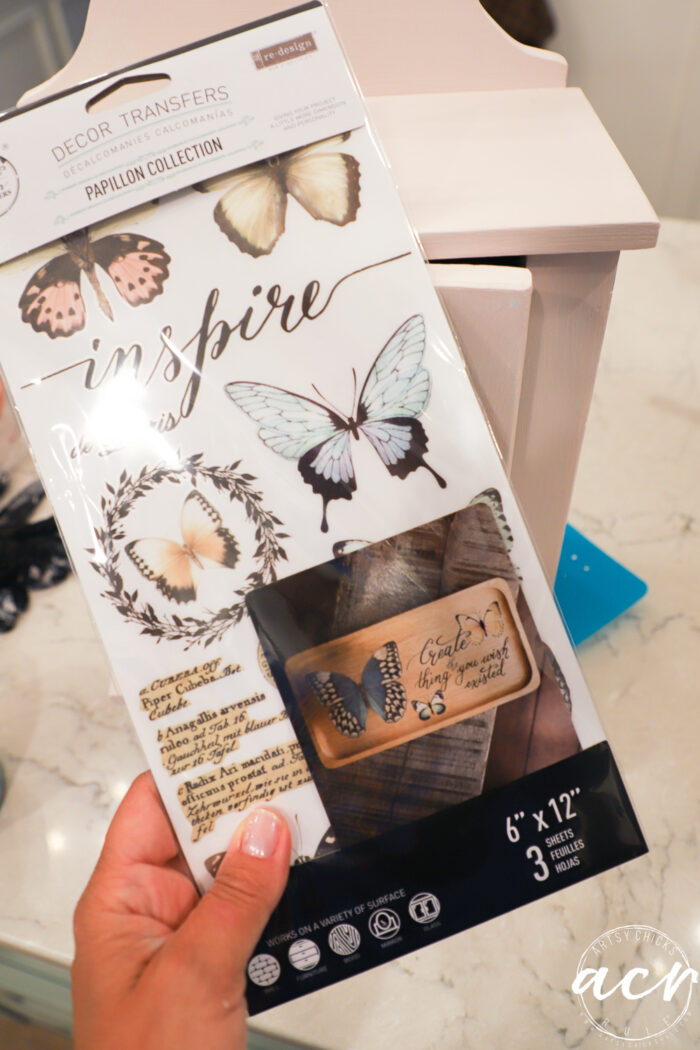 I just love this set!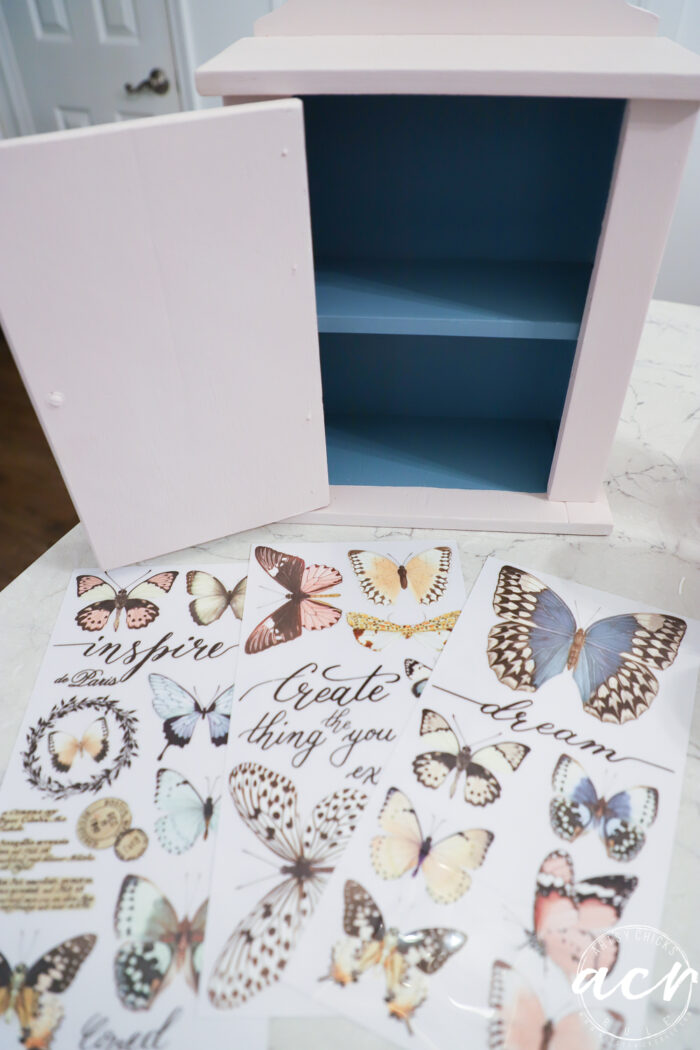 SO many pretties to choose from.
I started laying things out and creating my design…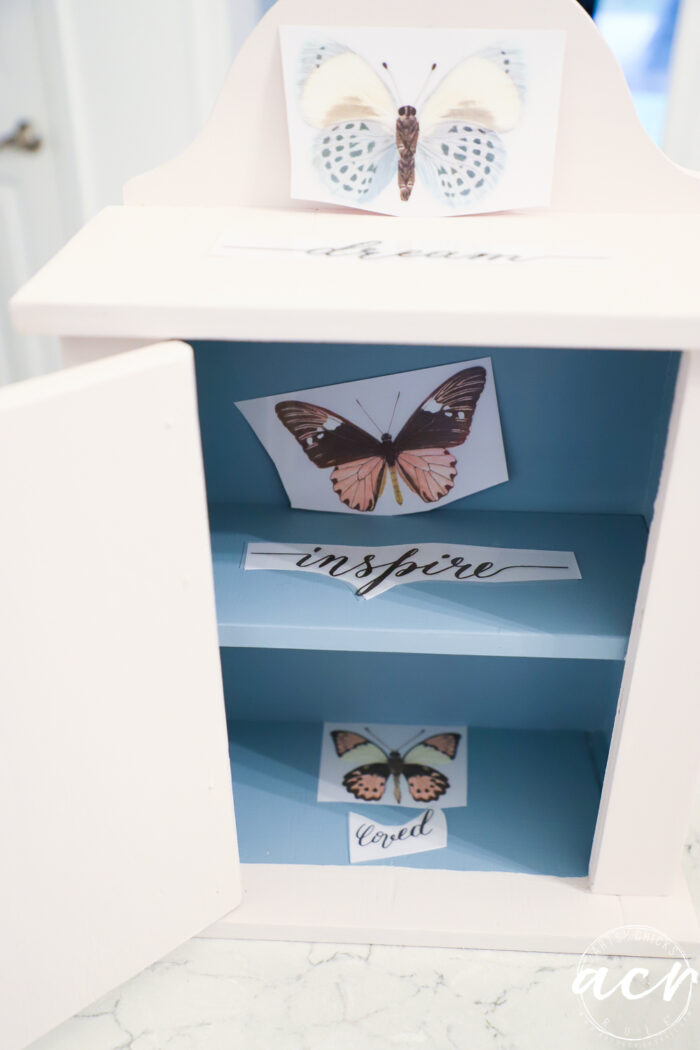 On the front, I used this one.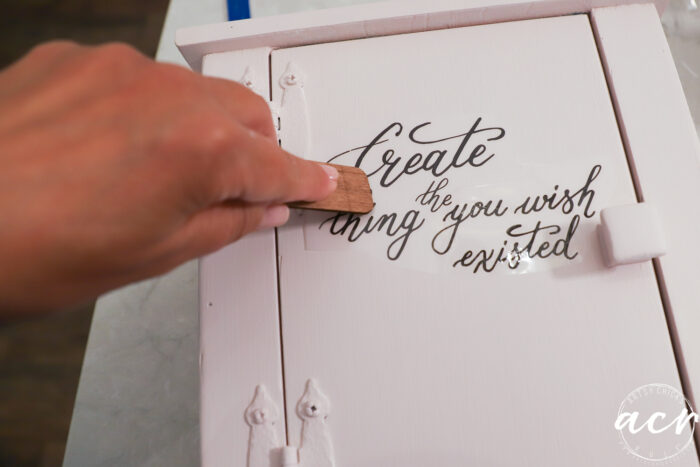 I added more butterflies on the front and sides then found some old wooden knobs in my stash.
I spray painted them gloss black but didn't love it!
I sanded down the tops of the knobs to apply the glue. Before I applied the glue, however, I set the cabinet on top of the knobs and positioned them where I wanted them to be.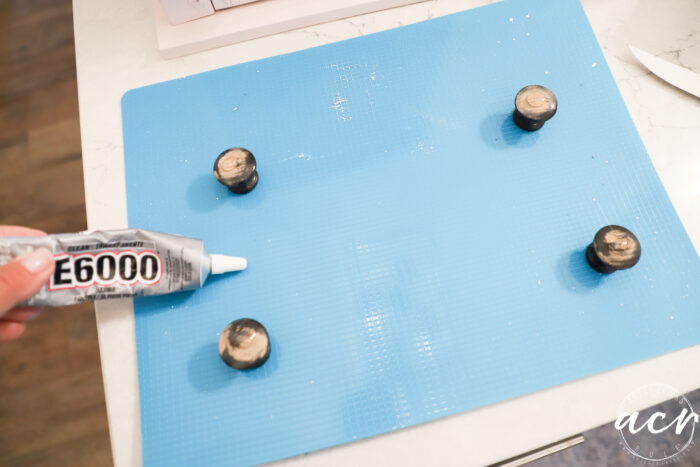 Then I applied the glue and carefully set the cabinet back down on them. I did a final check to make sure all were in the right place before I left it to dry overnight.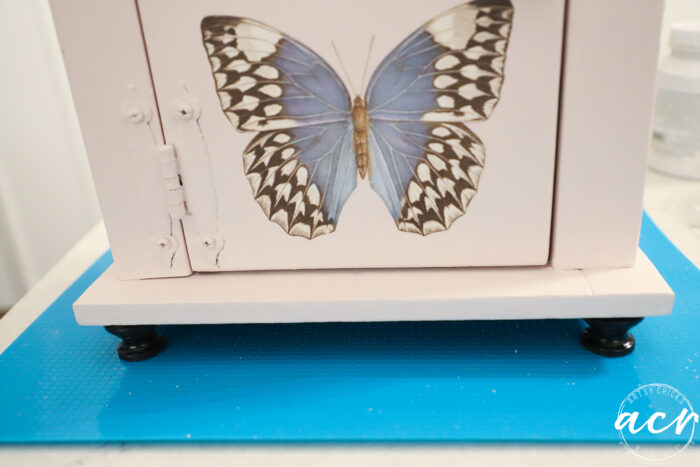 Isn't it so much cuter with tiny feet?? I think so! It needed those.
Once they were set, I painted over them with my Ash black paint which I like so much better.
It's such a nice, soft black.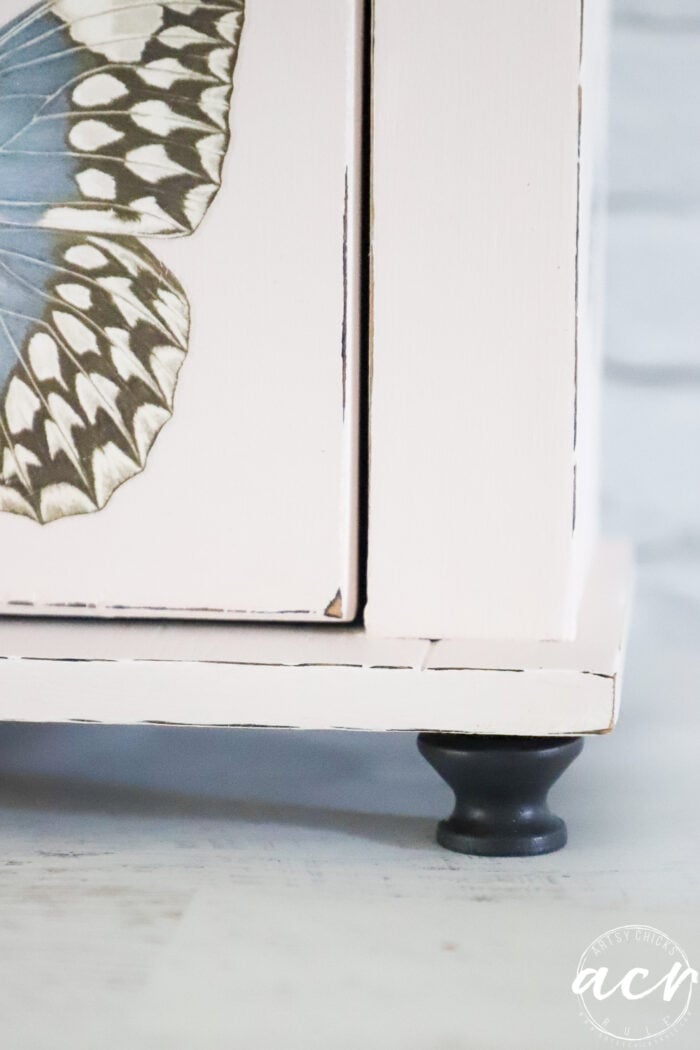 I took some fine grit sandpaper and went over all of the edges to distress. I thought this cabinet should look a little "aged".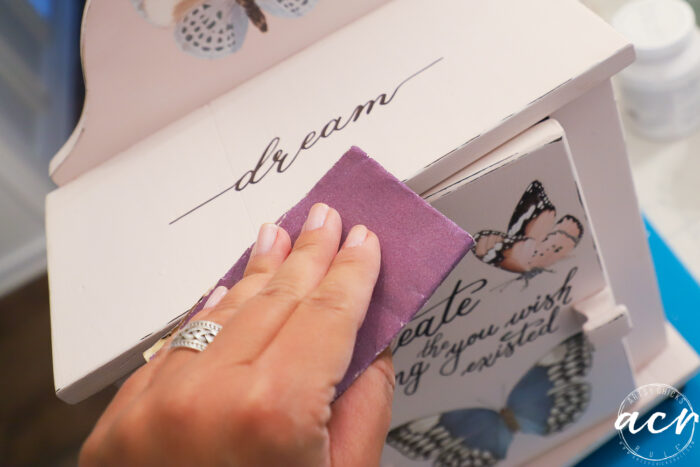 I wiped it down and applied one coat of Tough Coat Topcoat. (see the box above for links to products)
And done! So simple but look how different it looks.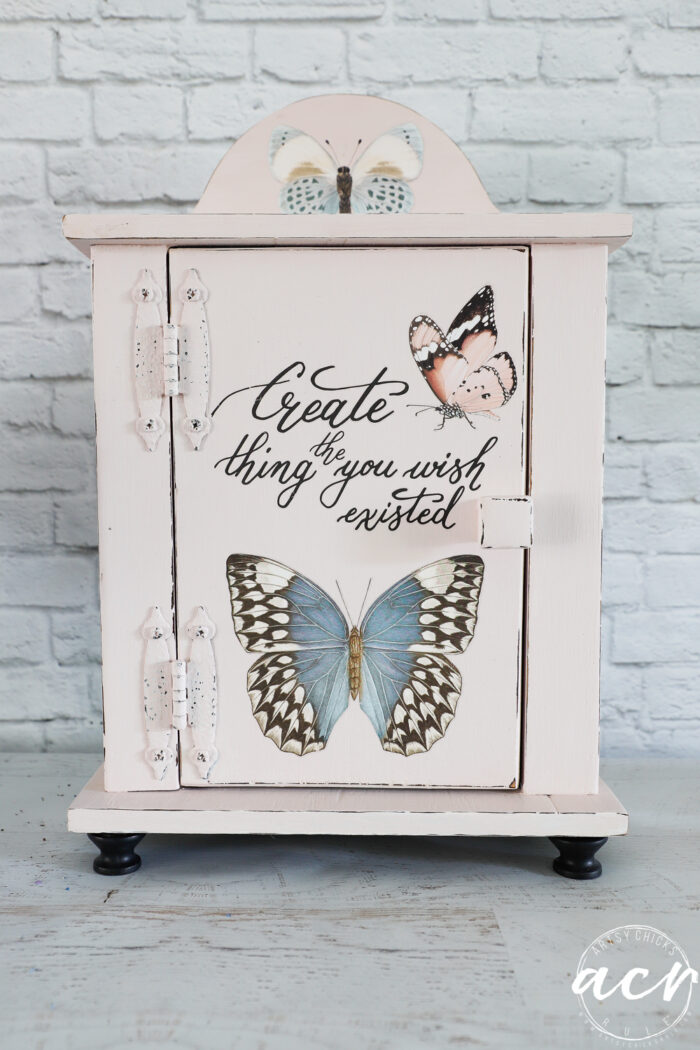 I decided to keep the original hinges and knob and paint them the same as the rest. I didn't really want them to stand out. I wanted them to blend in so the script and butterflies drew the attention instead.
And I just love the inspirational script included in this set.
Isn't it the sweetest??
And a fun little pop of color inside with even more surprises.
I decided to leave the inside of the door plain since there was something going on everywhere else. Plus, I really wanted to draw attention to what I put on the inside instead.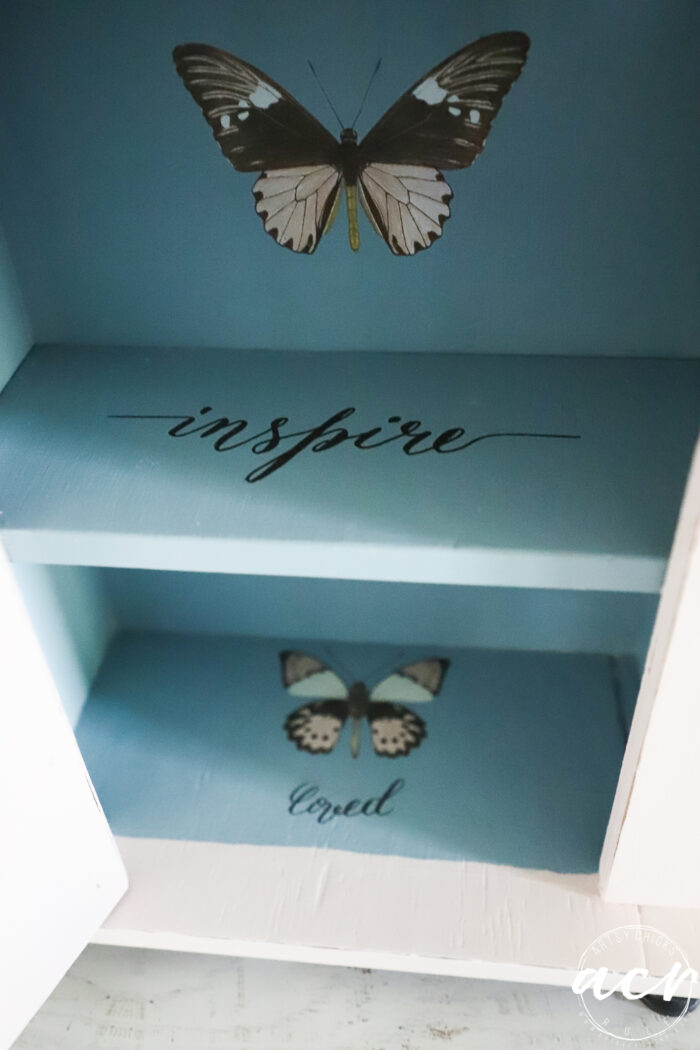 Peekaboo.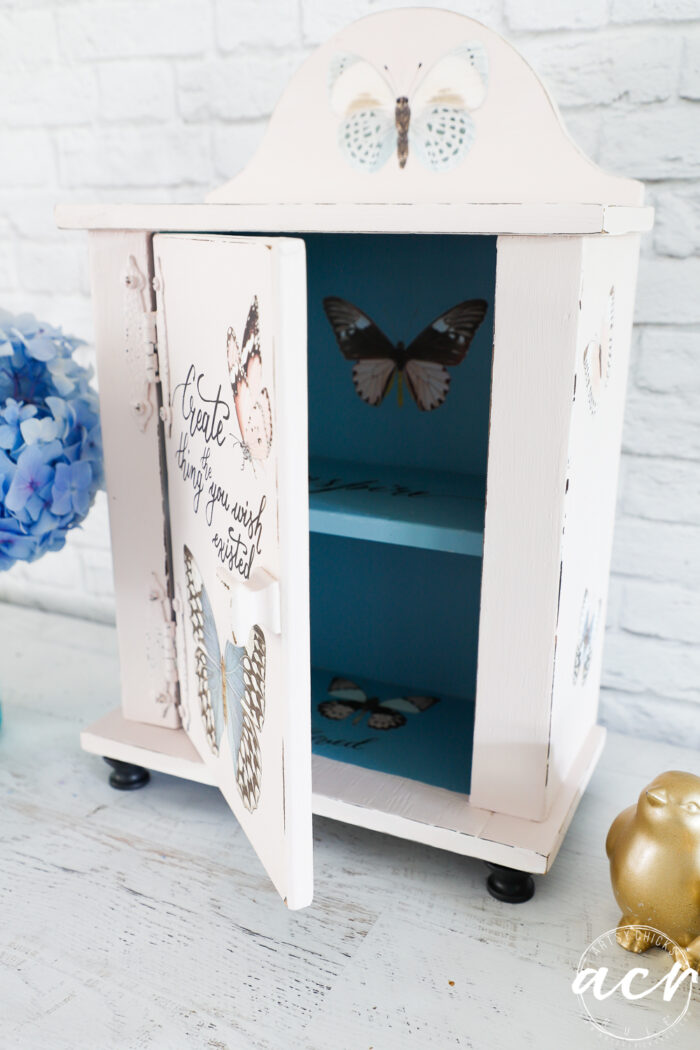 Knob feet are a winner every time.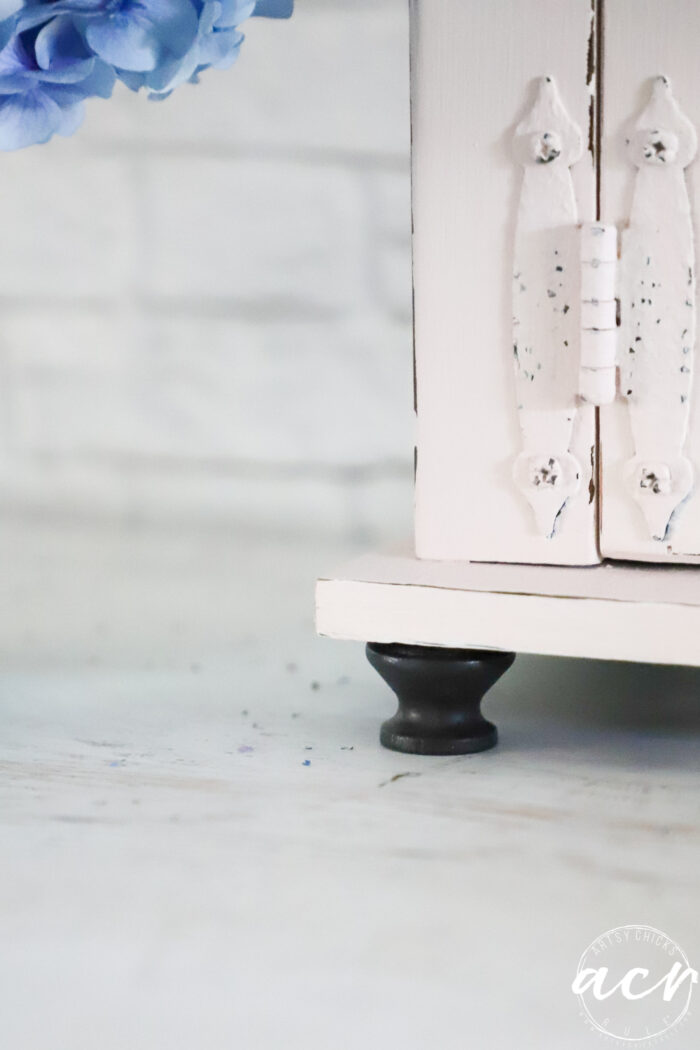 The sides got butterflies too.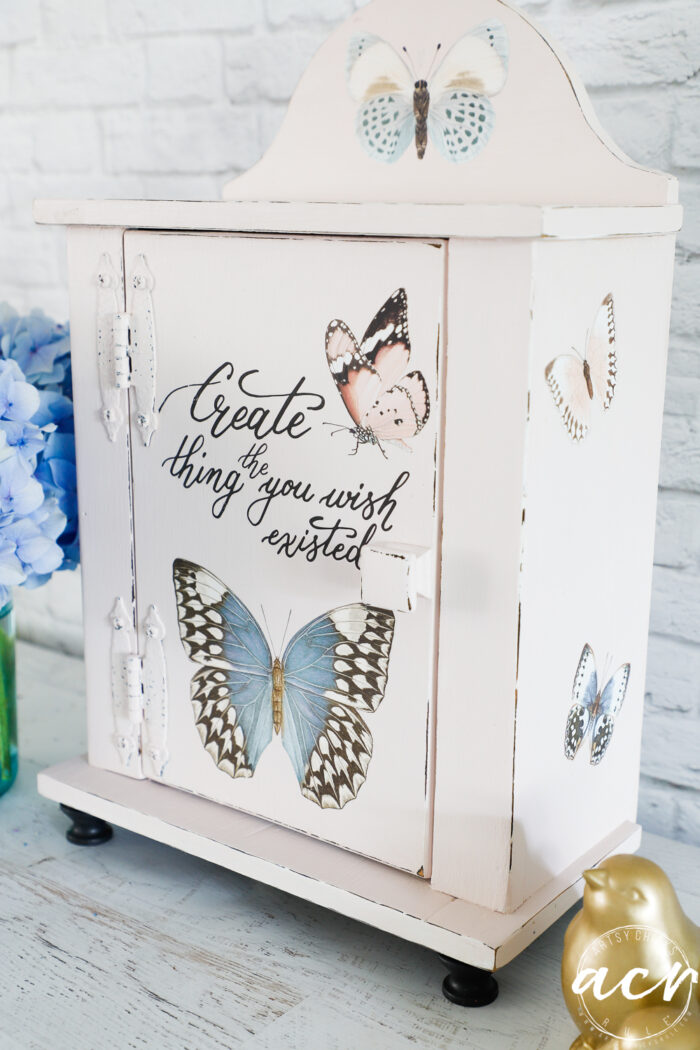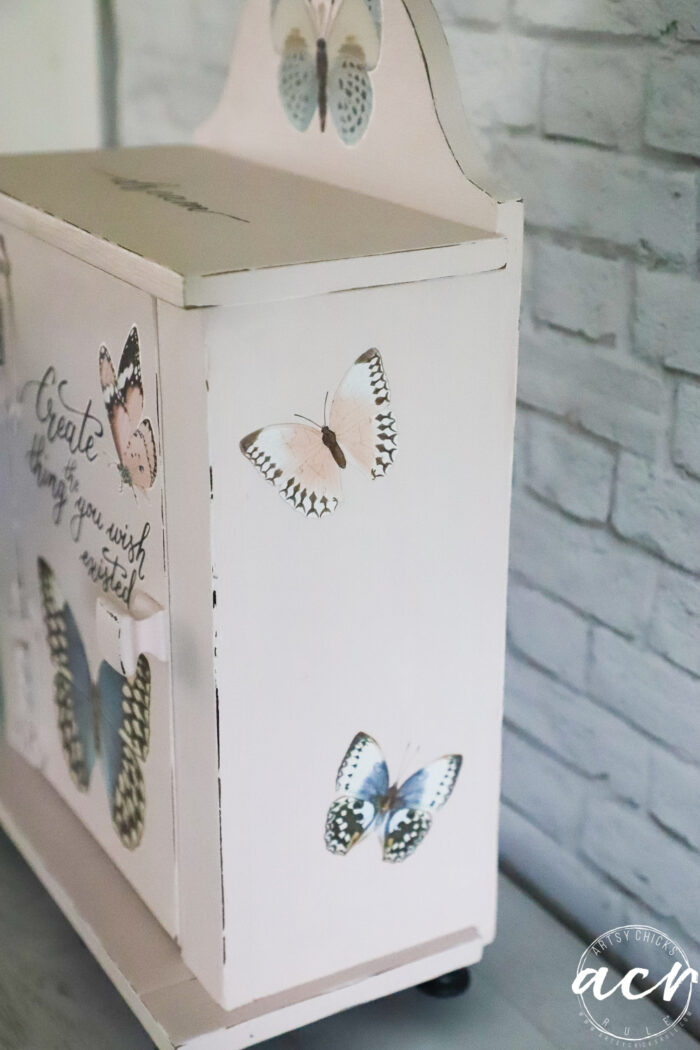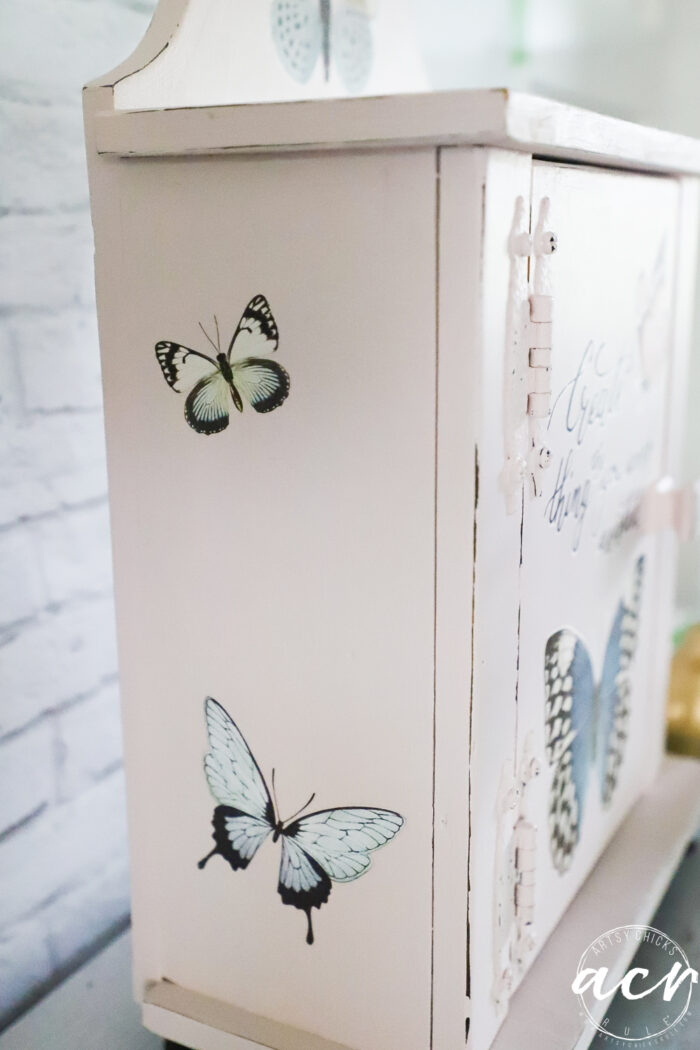 And the top…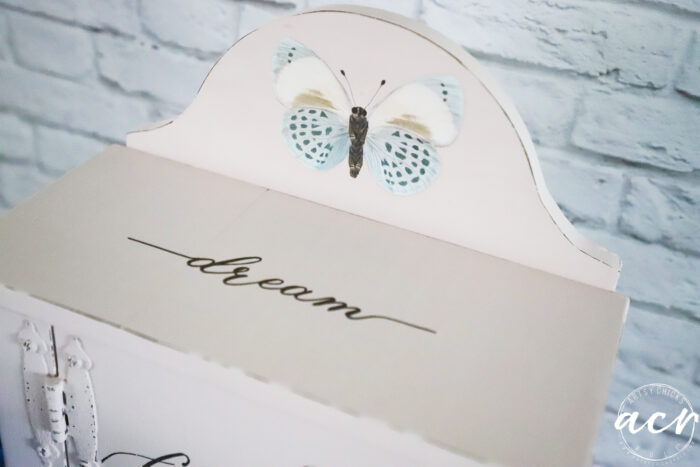 Wouldn't this be so sweet and inspirational for a young girl to have in her room? A fun place to keep all of her treasures in?
I'm glad I didn't leave this one behind! How fun to change it up with a little paint and these pretty decor transfers.
PIN it to save it!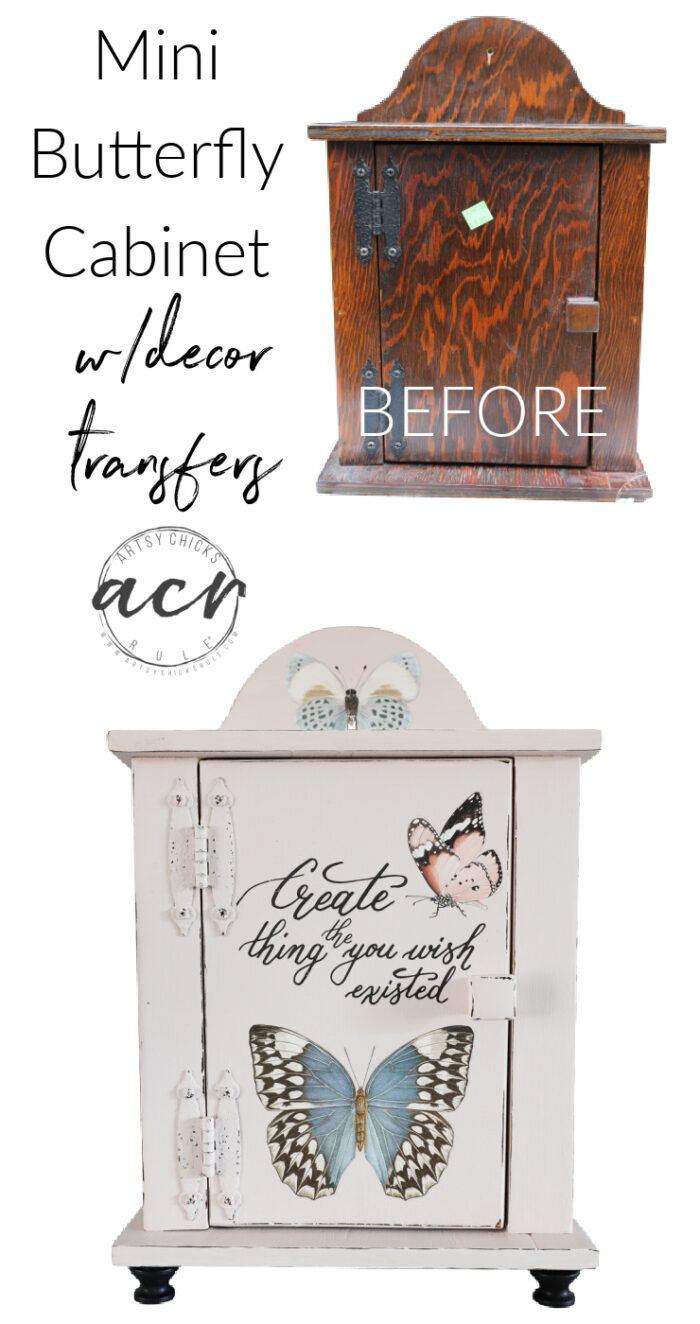 Have an amazing weekend, friends!
xoxo