Creating a Gallery Wall (Decorating Challenge)
This post may contain affiliate links. Please see disclosures here.
Hi Friends!
It's time for our "Decorating Challenge" again and this month it's – "Gallery Wall".
I'm sharing the one in my study that is above my Aubusson Blue Dresser (<–see it here).
You've seen glimpses of it in photos but I've never talked about it or shared it here on the blog…..officially.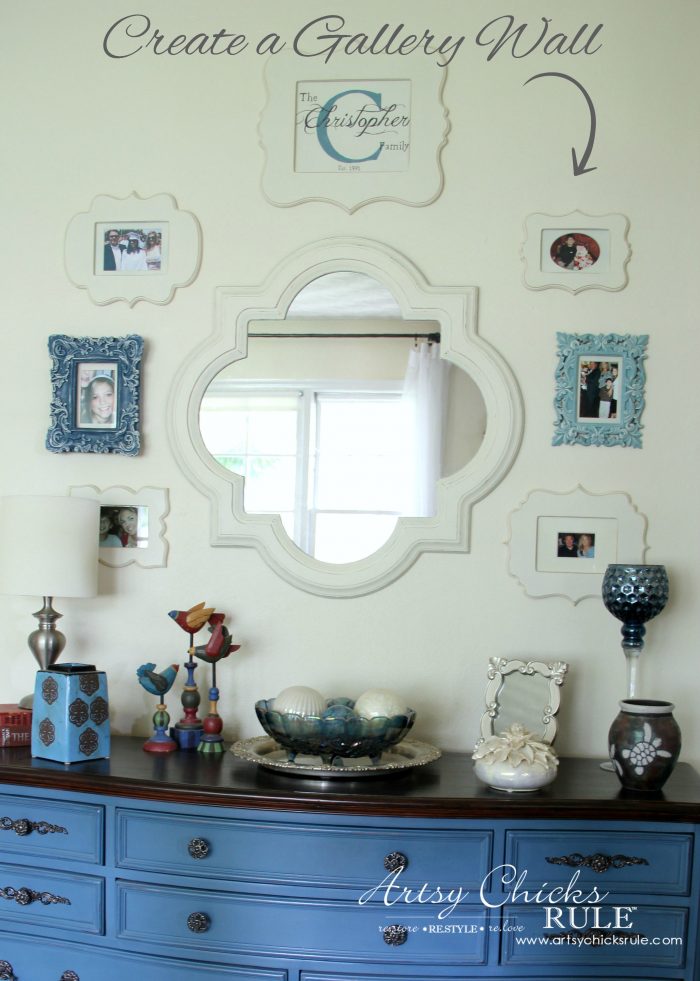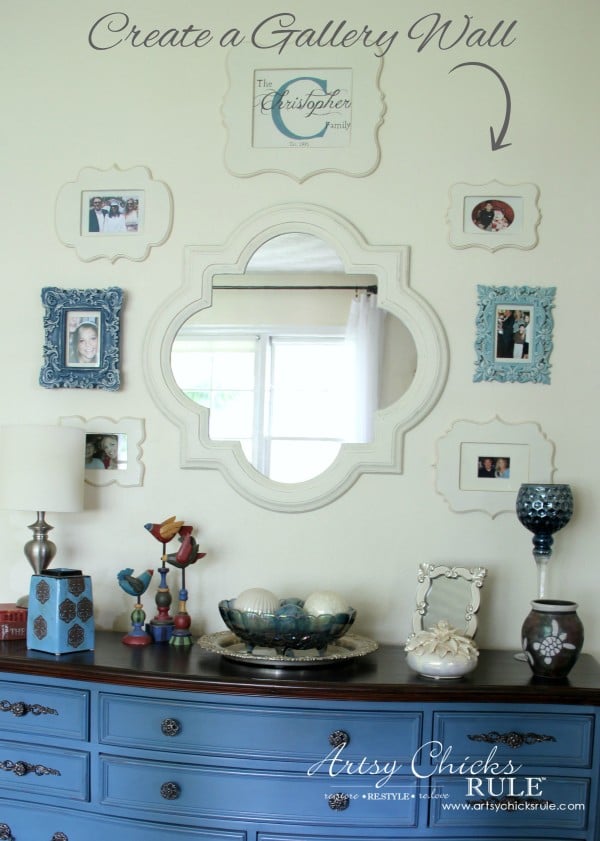 I love gallery walls and have created a few in my home.
Before I get started talking about all of the gallery walls and ideas, let me just say how much I LOVE 3m adhesive hanging strips!
They are awesome and I used them on all of these projects.
You can find them here (affiliate link) >>> 3m Adhesive Strips
This one in my kitchen….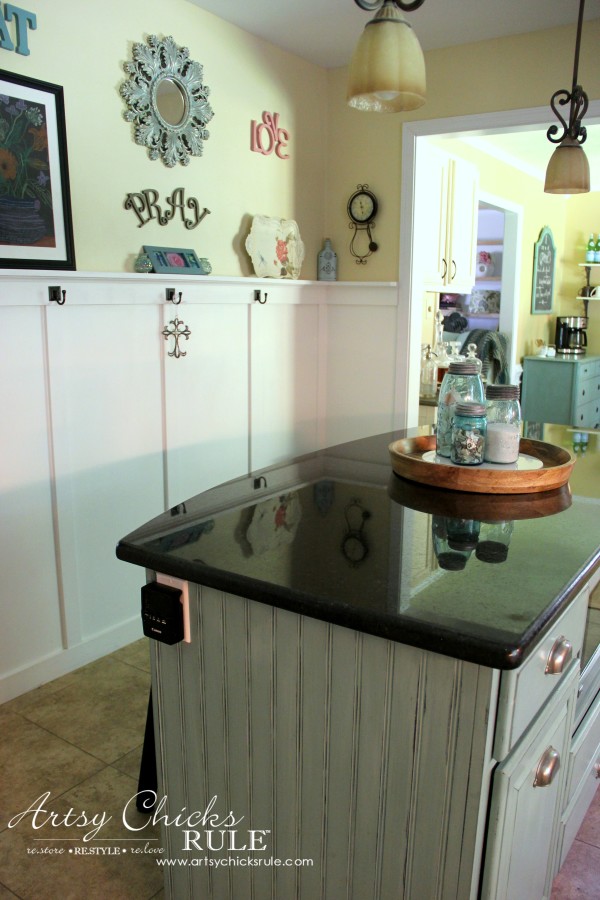 Eat, Pray, Love (<–see it here) … so fun and whimsical.
And this one in the stairwell with black and white photos…..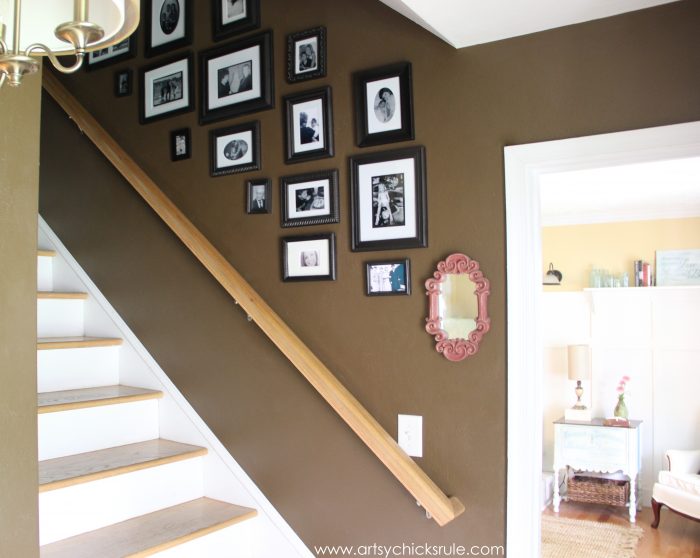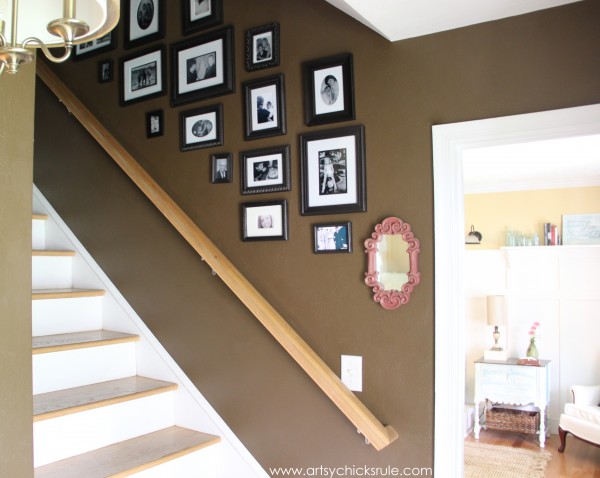 Thrifty Gallery Wall (<–see it here) (very thrifty, I did this one for less than $20!)
And of course this one that I'm finally sharing today.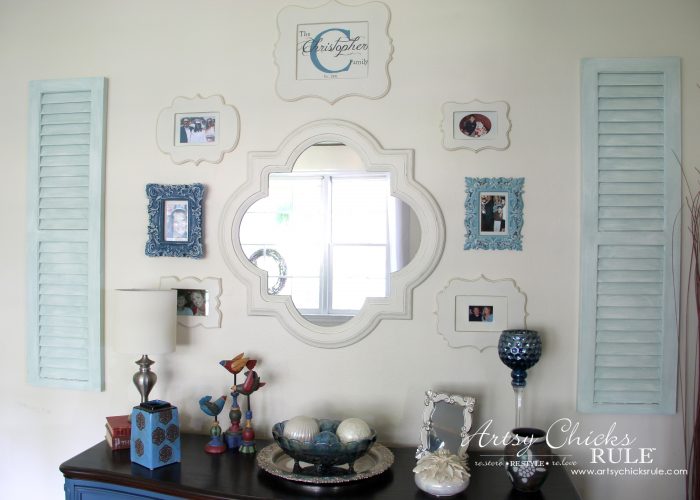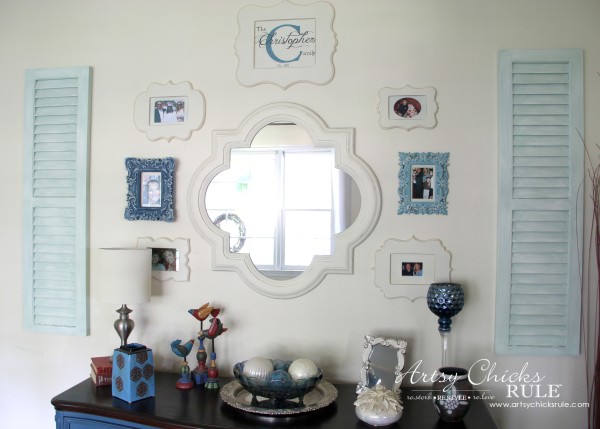 Those "shutters" were a set of small bi-fold doors just like these…..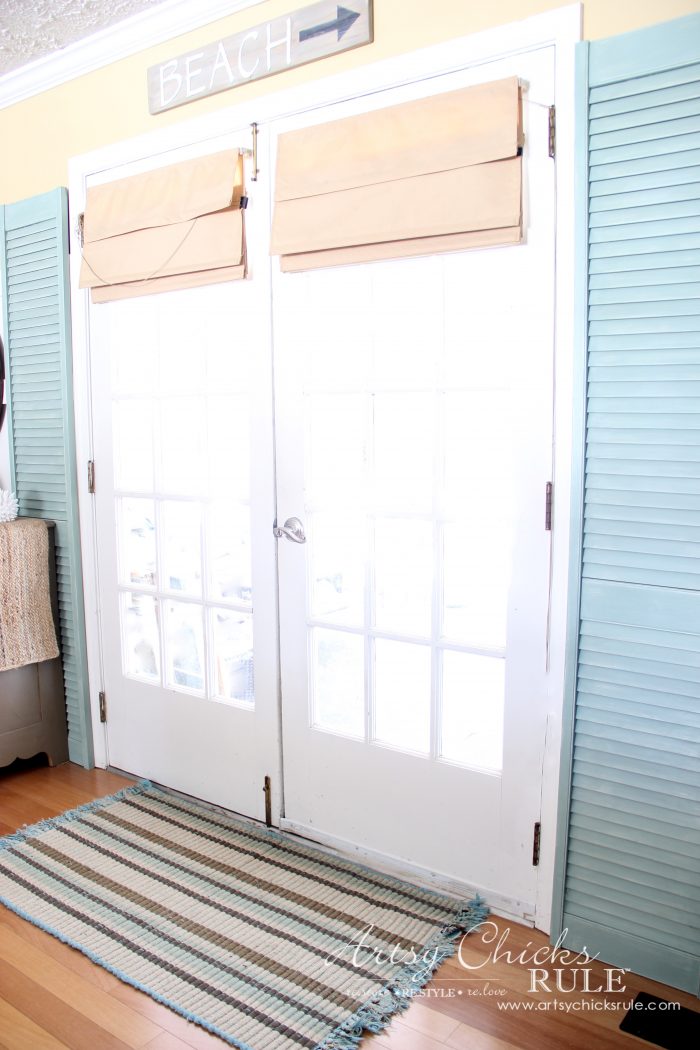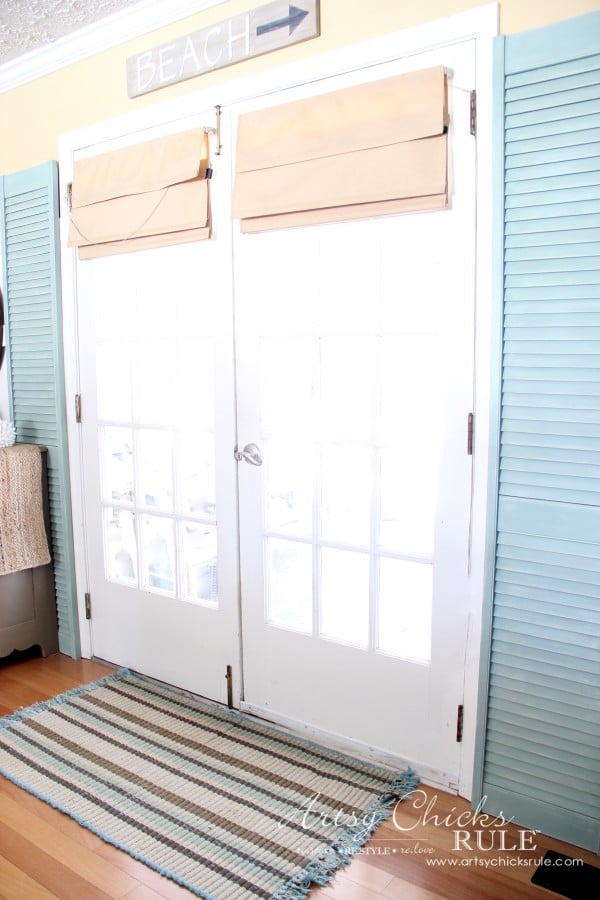 Here's a better look at them.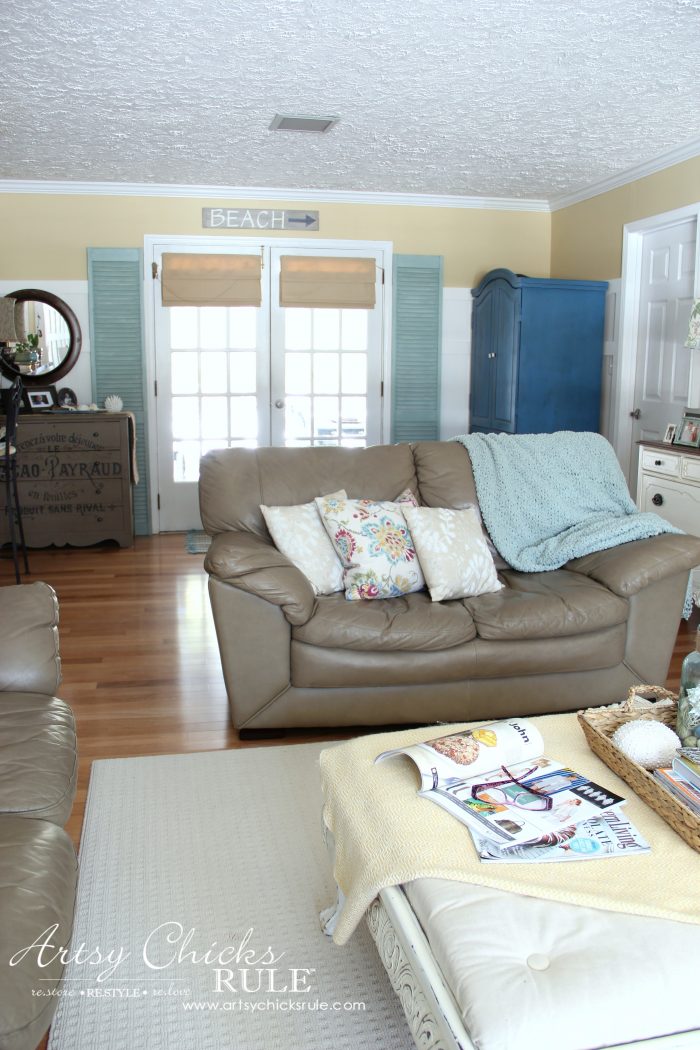 So, exactly like these larger bi-fold doors – turned – "shutters" but smaller.
I paid $5 for the large ones and I believe I paid $3 for the small set.
They came from Habitat ReStore.
Anyway, I painted them with Duck Egg Blue Chalk Paint (I think, it's been awhile now)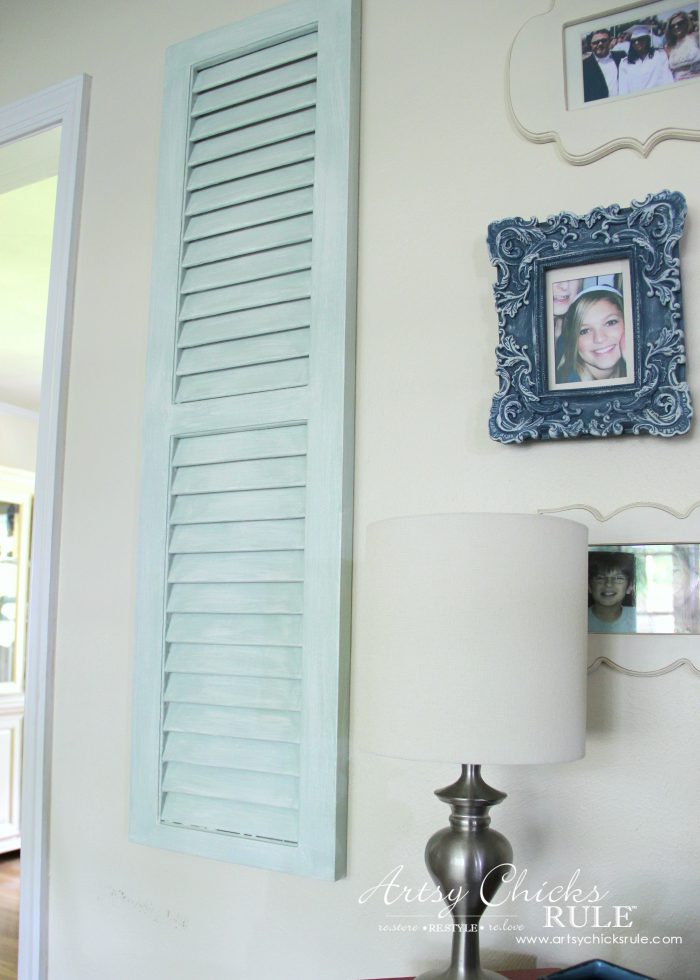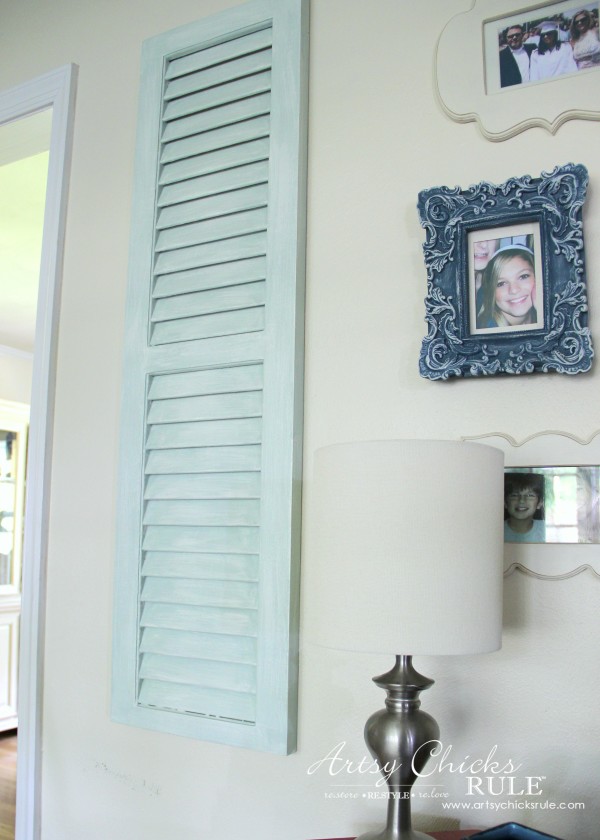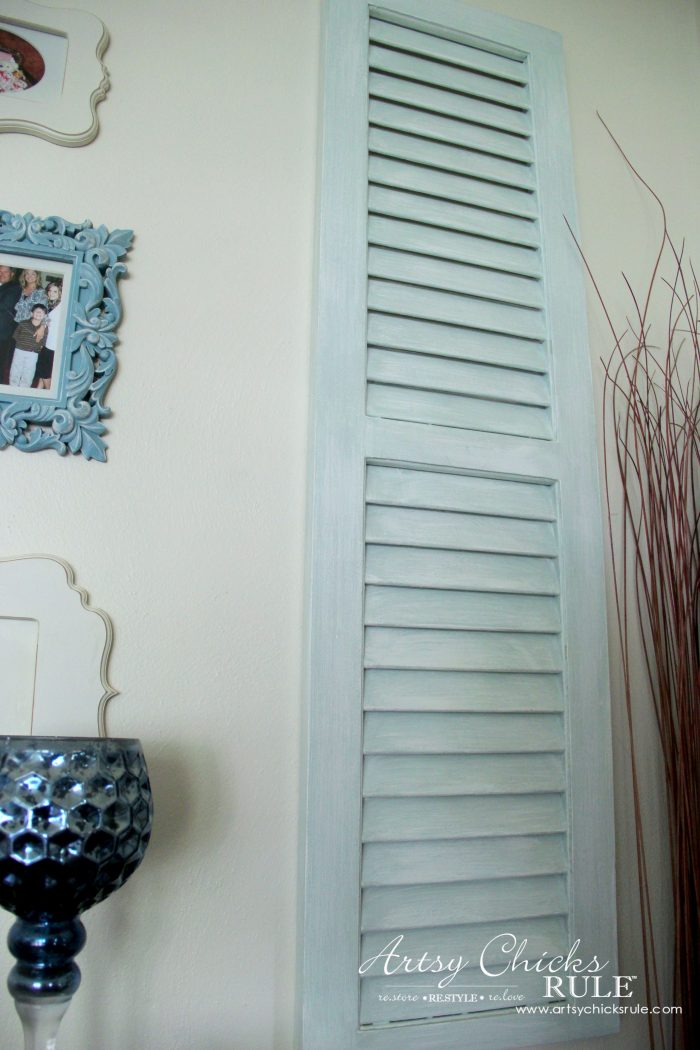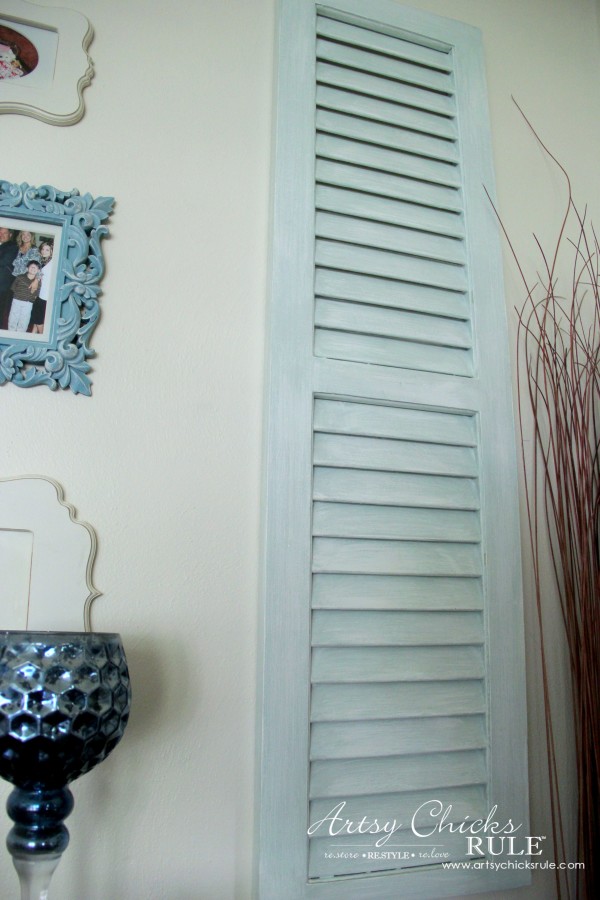 …and I also applied a bit of white with a "dry brush" for a weathered look.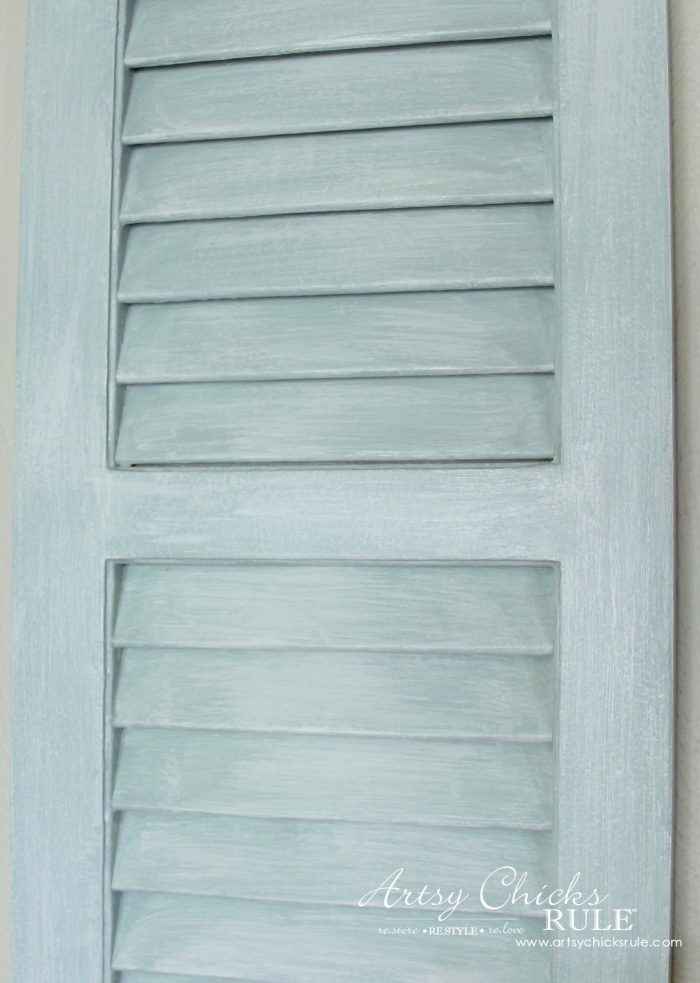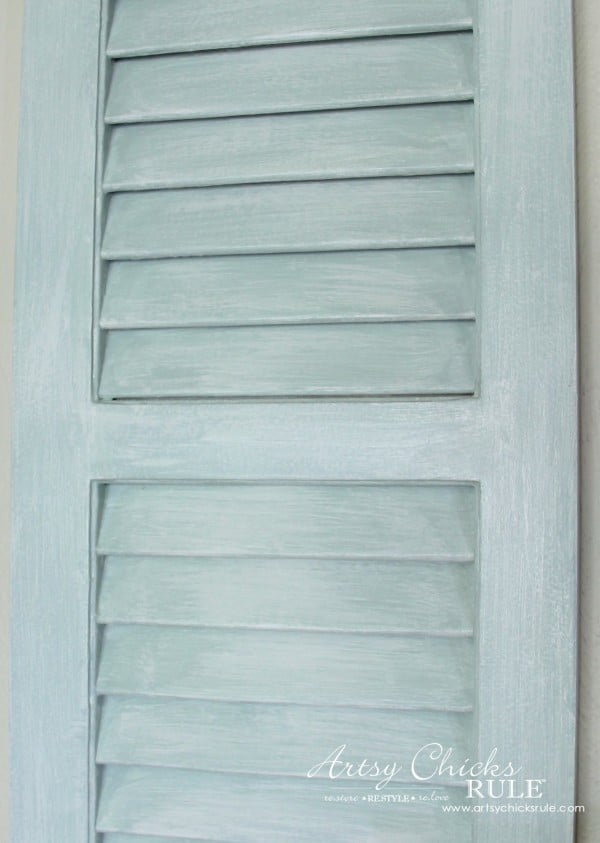 The following are older photos I took when I had originally planned to share this wall.
Years ago now.
So you will see old rugs and paint colors on the walls. ;)
This was what color the mirror was when I bought it.
I believe I got it from HomeGoods for around $20.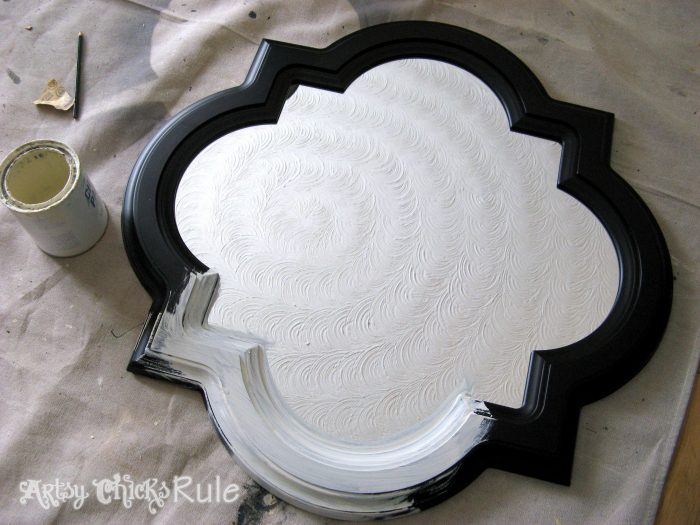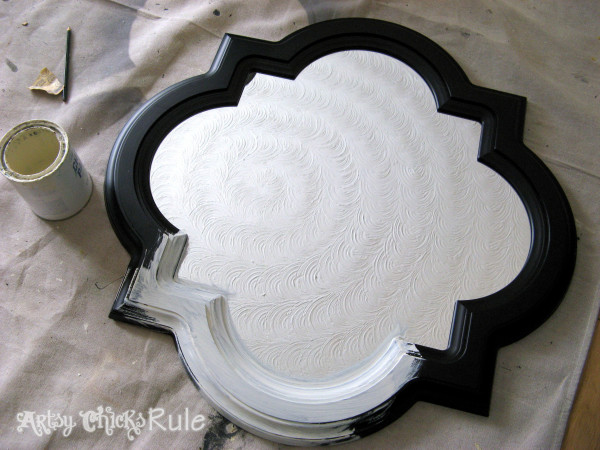 And painted.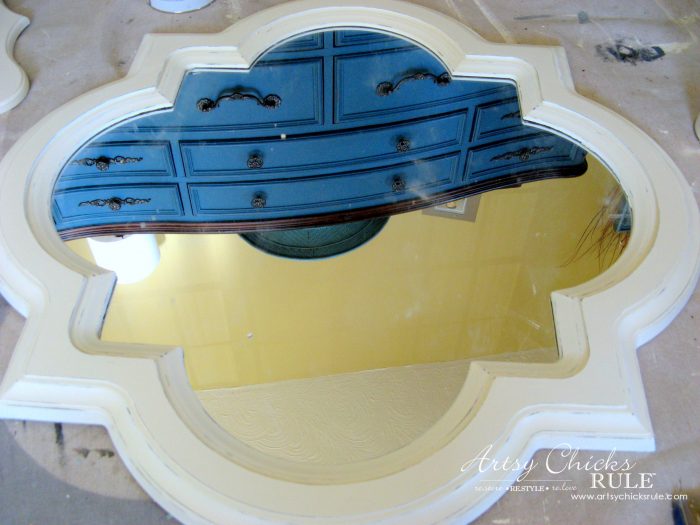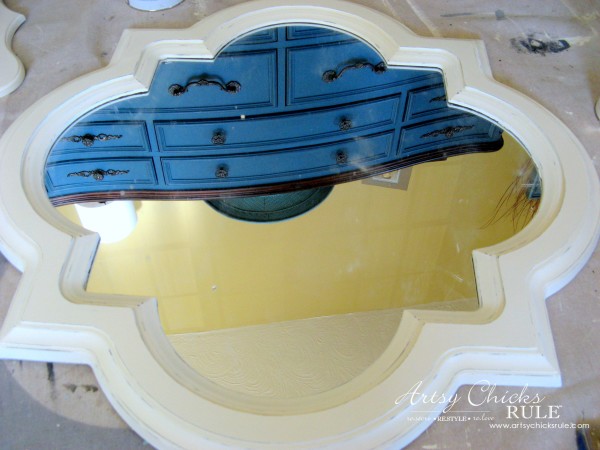 The color is Old White by Annie Sloan.
Here I was laying out the design to get an idea of how I wanted to arrange things.
I had planned more photos/frames as you can see below….but then I found the "shutters".
As you can see from the above finished photos this is similar but not exactly what I ended up with.
BUT this is a good way to get a feel for what you are after before putting them up on the wall.
How about that rug? ;) I am a color loving girl after all. hee hee
But I did tone things down a bit since this photo. (we also refinished those worn wood floors since then too! ;) )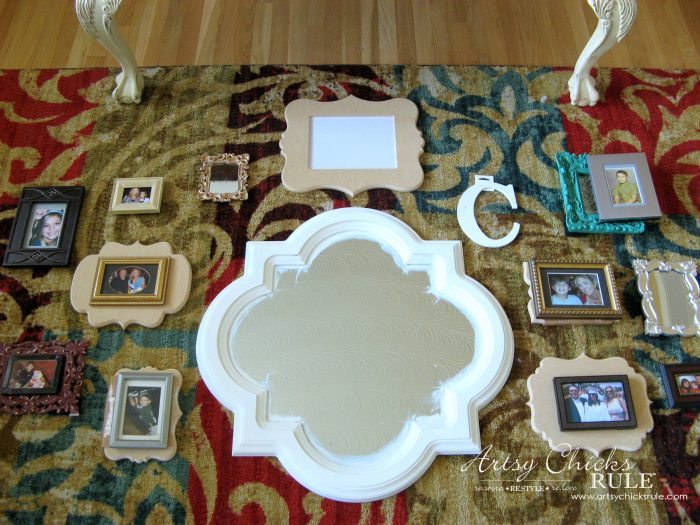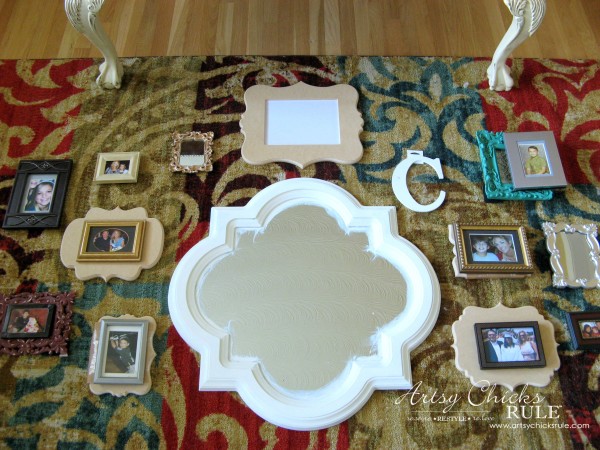 I also painted these "Cut It Out" frames with the same Old White.
Since they were natural wood I painted, sanded and then applied a bit of stain where I had "distressed".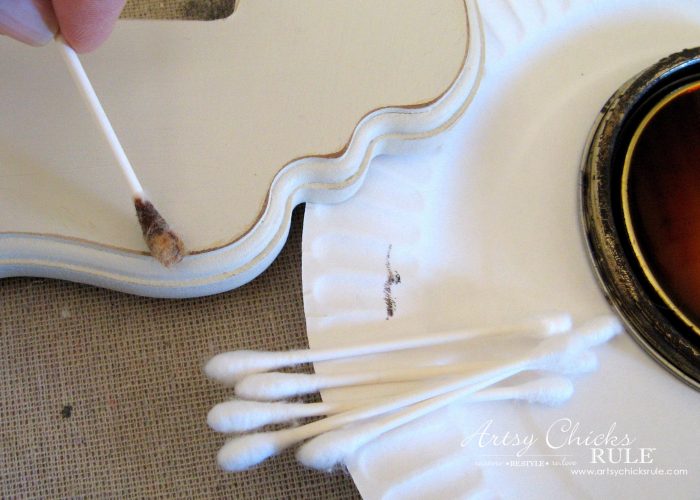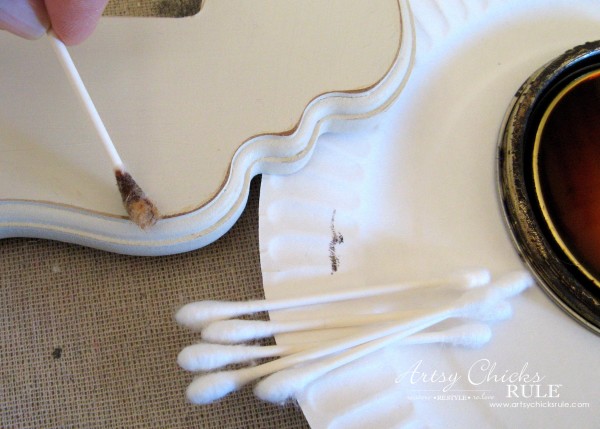 That way it gives it some definition as you can see below.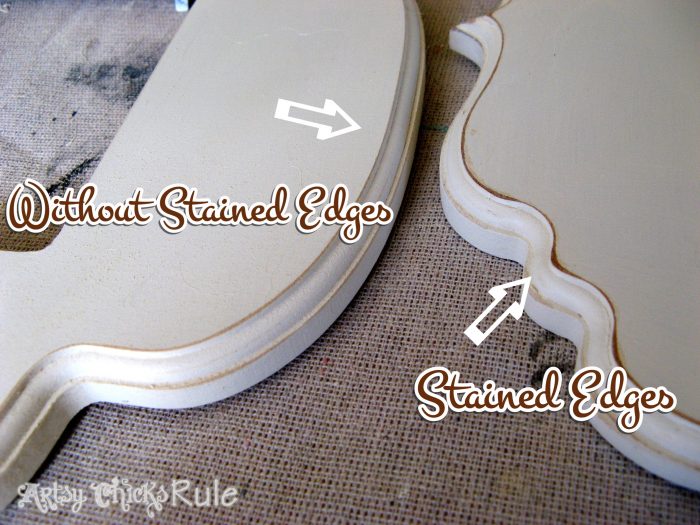 The two blue painted frames are both painted with Annie Sloan Chalk Paint.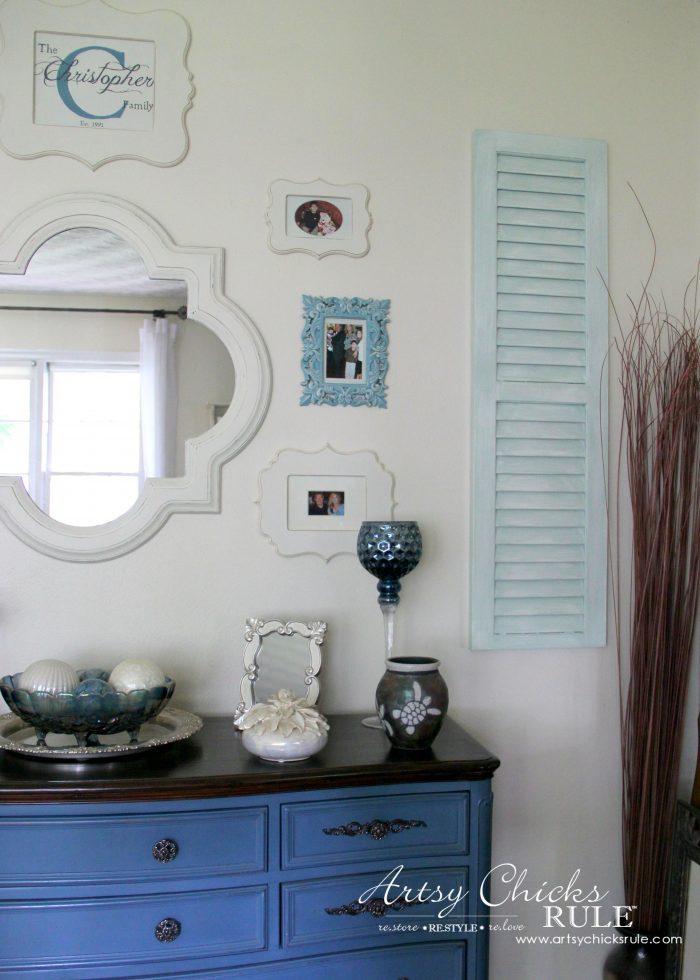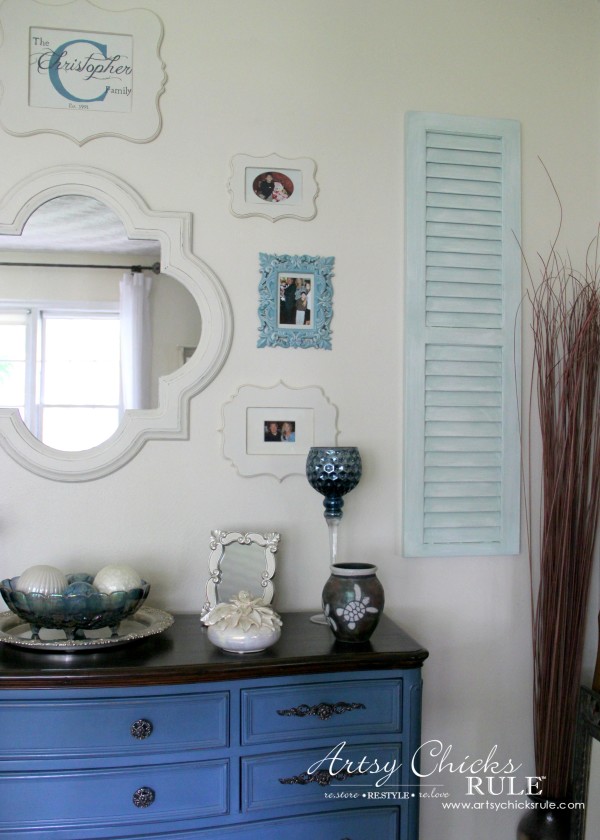 BY THE WAY, this is the same color I just painted my Dining Room! Yay!
Well, sort of. I used half white although it doesn't really look like it.
I can't wait to share it with you all. (the color is SW6126 Navajo White….or "White Sand Beach" as I call it)
If you follow along on Instagram you've already seen a sneak peek!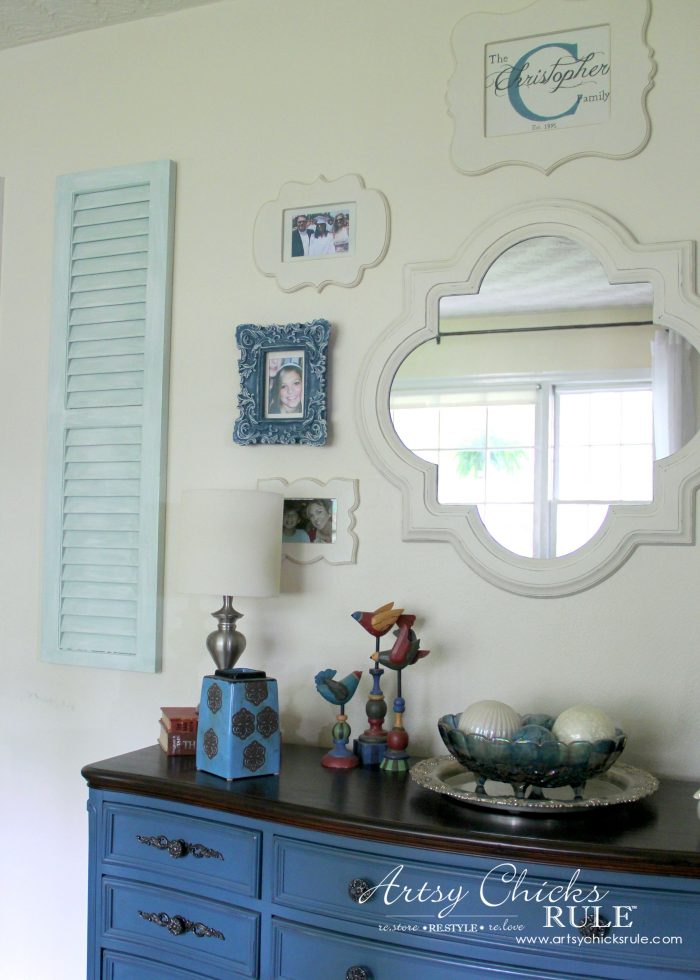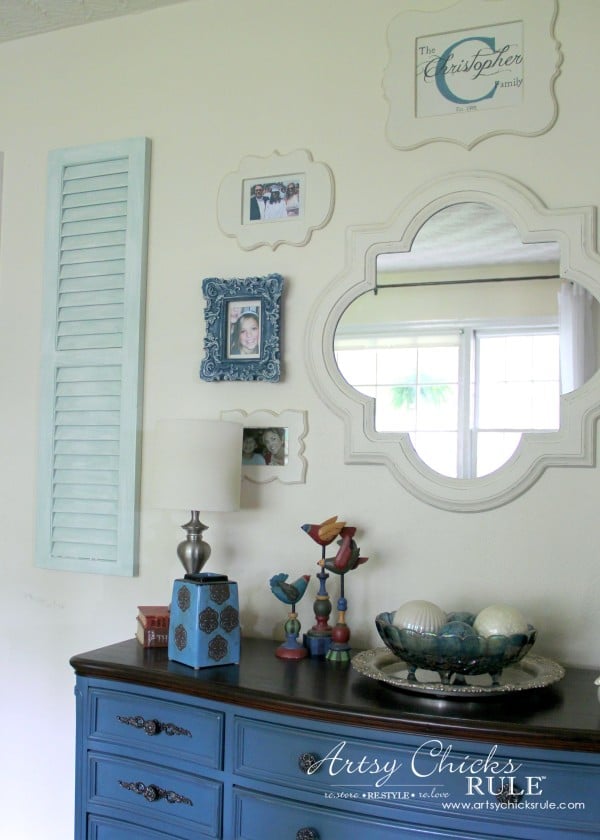 I didn't intend for the frames to be so similar in color to the wall color.
The wall was actually a bold yellow when I painted them. (you can see it in the reflection in one of the photos above)
But I love the neutral look of the rest of the frames against the wall. (and how they seem to "blend" but not completely)
I also wanted a bit of color so painted two of the frames with varying shades of blue.
This one is painted Aubusson Blue like the dresser. (that's my sweet daughter)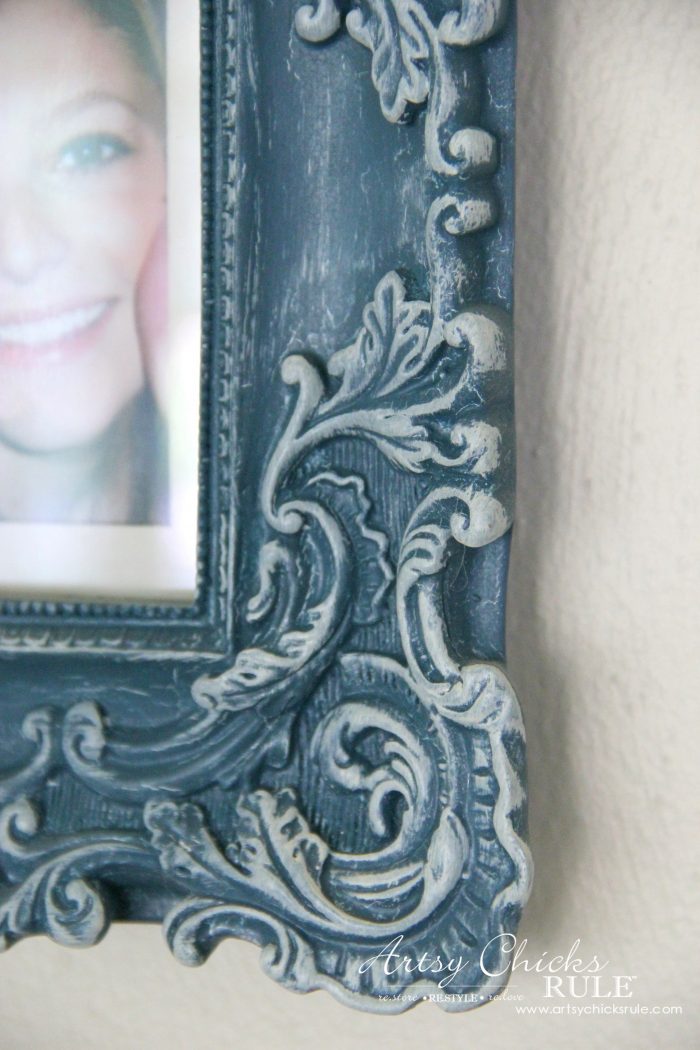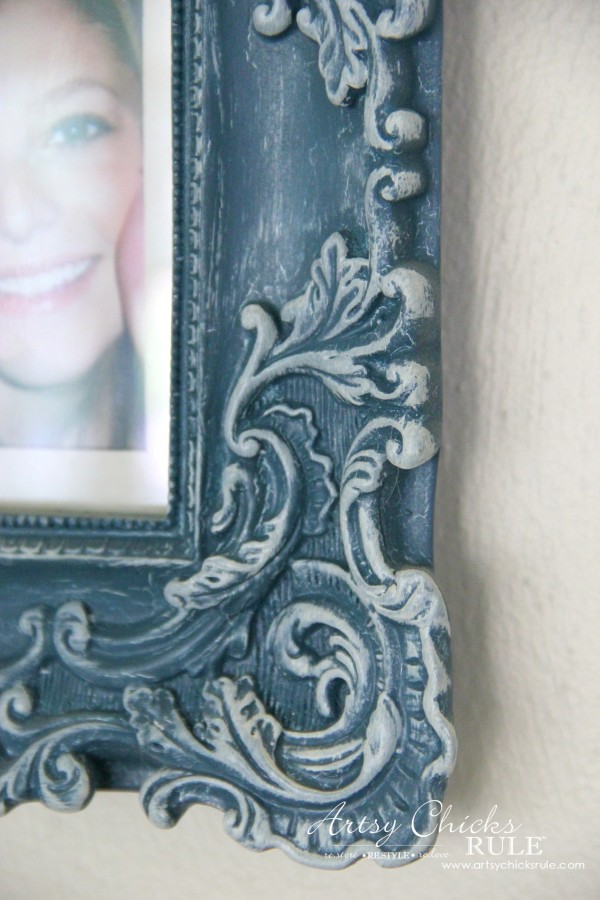 You can read more about this frame and that paint crackle/white finish –>here.
And this one that is painted in Provence Chalk Paint, I think. (that's my sweet son and daughter..oh, and me)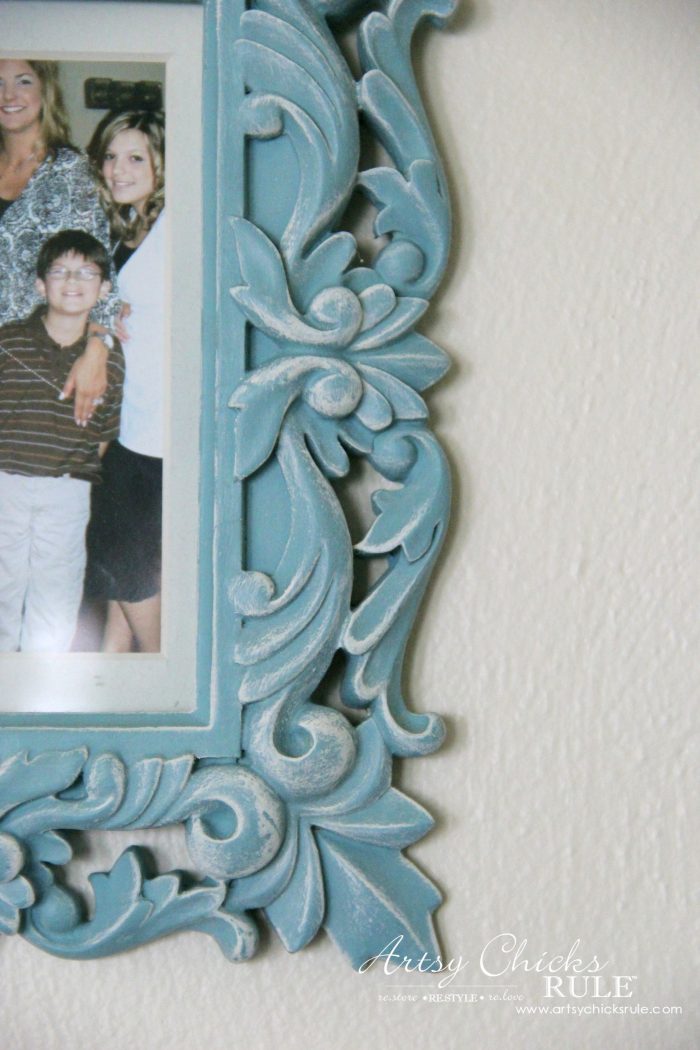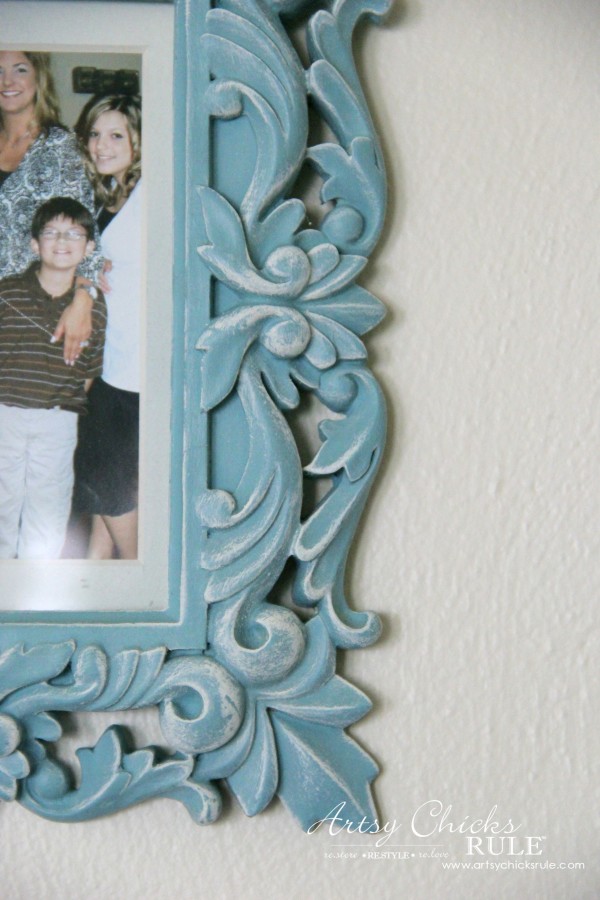 I did a simple "dry brush" over this one. LOVE this effect!
And this fun Monogram Art I created for the very top.
I had originally planned an updated family photo in this larger frame but I found it impossible to get my family together to do so! ;)
I wanted to do it at the beach but it never happened. Maybe one of these days!
So instead, I decided to create this….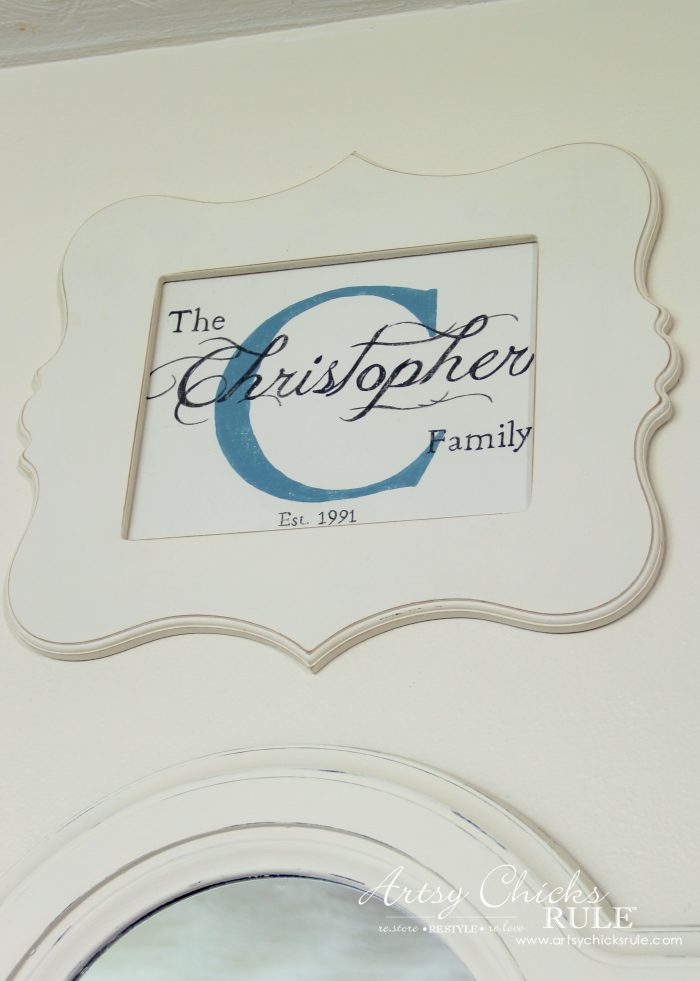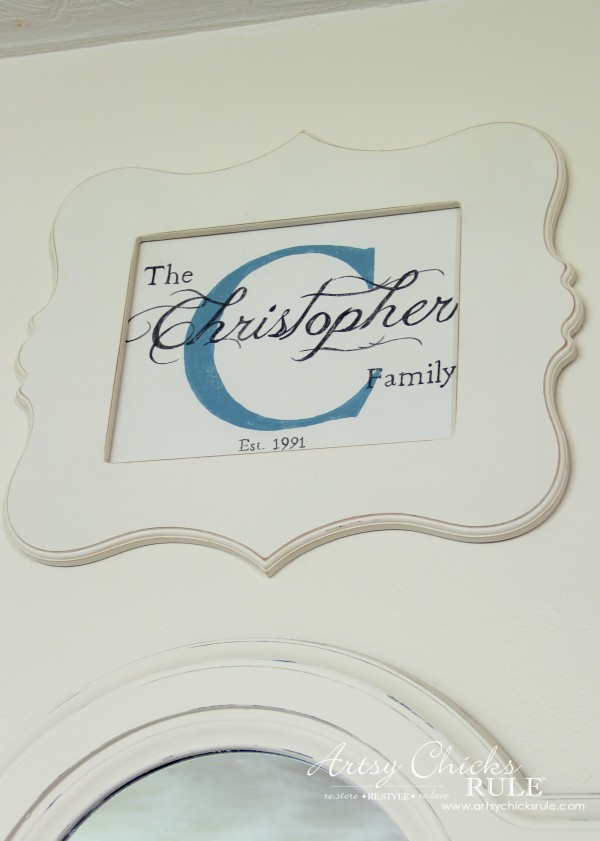 I have never blogged about this sign. I didn't even take photos as I was making it.
I should do another and create a tutorial for y'all!
I really love this sign.
I also made one for my brother in law, sister in law and nephew.
I included their names at the bottom of theirs in the same font as "Christopher".
Anyway, that's another post for another day! :))
I love the varying shades of blue here. I'm a "blue" lover anyway (bet you guys can't tell that! ;))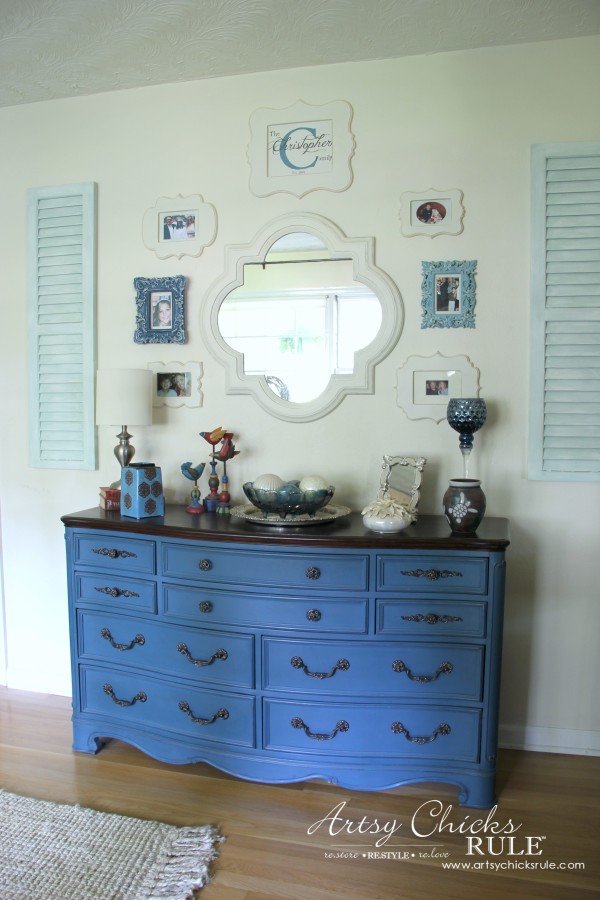 To see even more Gallery Wall inspiration, visit my friends below:
Confessions of a Serial Do It Yourselfer
Top This Top That
And don't forget to share YOUR gallery walls with us over in the Facebook Forum.
Decorating Enthusiasts —> here.
If you are not a member yet, just request to join and get it on the decorating fun!
We have a great group over there.
…………………………………………………………………………
Also, we have another fun challenge for you all!!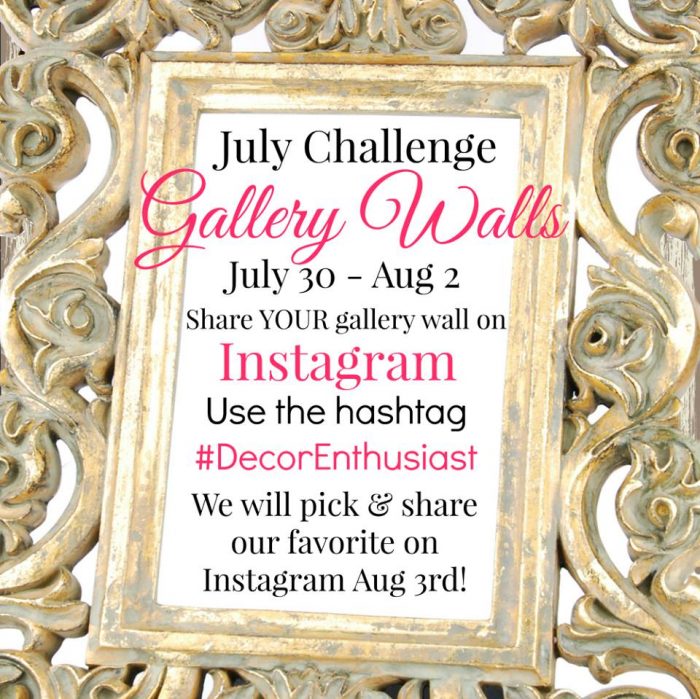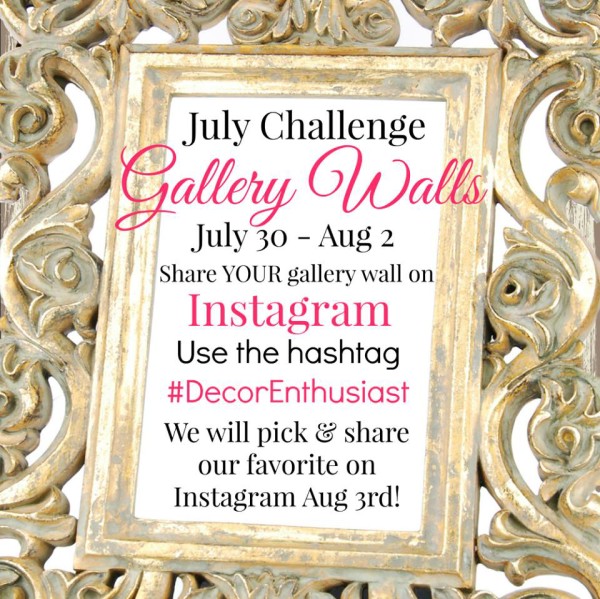 If you have Instagram accounts, we'd love for you to join in over there too!
This is how it will work:
1. Add your own post (Gallery Walls)
2. Tag it with #DecorEnthusiast hashtag so we can find you
3. Follow all 6 of the hosts over on Instagram
We will choose ONE winner that will be featured on all 6 of our Instagram feeds on August 3rd!
Follow here:
@artsychicksrule (me!) @confessionsofaserialdiyer @oursouthernhome @restorationredoux @refreshrestyle @dukemanorfarm
AND I have another exciting surprise for you all! Our little group is growing……
Do you guys know Shannon from Fox Hollow Cottage? Well, she is joining our little group here!!
How great is that?! I just love her and I'm SO excited.
She will make her official debut next month with all of us. :)
Okay, that's it!
…………………………………………………………………………
Next month's challenge is decorating BOOKCASES or SHELVES.
Get ready! :))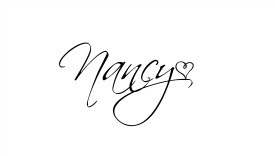 Follow along! –> Instagram ~ Facebook ~ Pinterest ~ Bloglovin
I've included an affiliate link for your convenience in finding one of my favorite products! :) See my full disclosure, here.