Haven 2015 (a Recap with Photos)
This post may contain affiliate links. Please see disclosures here.
Happy Sunday Friends!
Since I'm a blogger…and this is my blog…I thought I'd share a bit of the "behind the scenes" at our recent conference.
The Haven Blogger's Conference.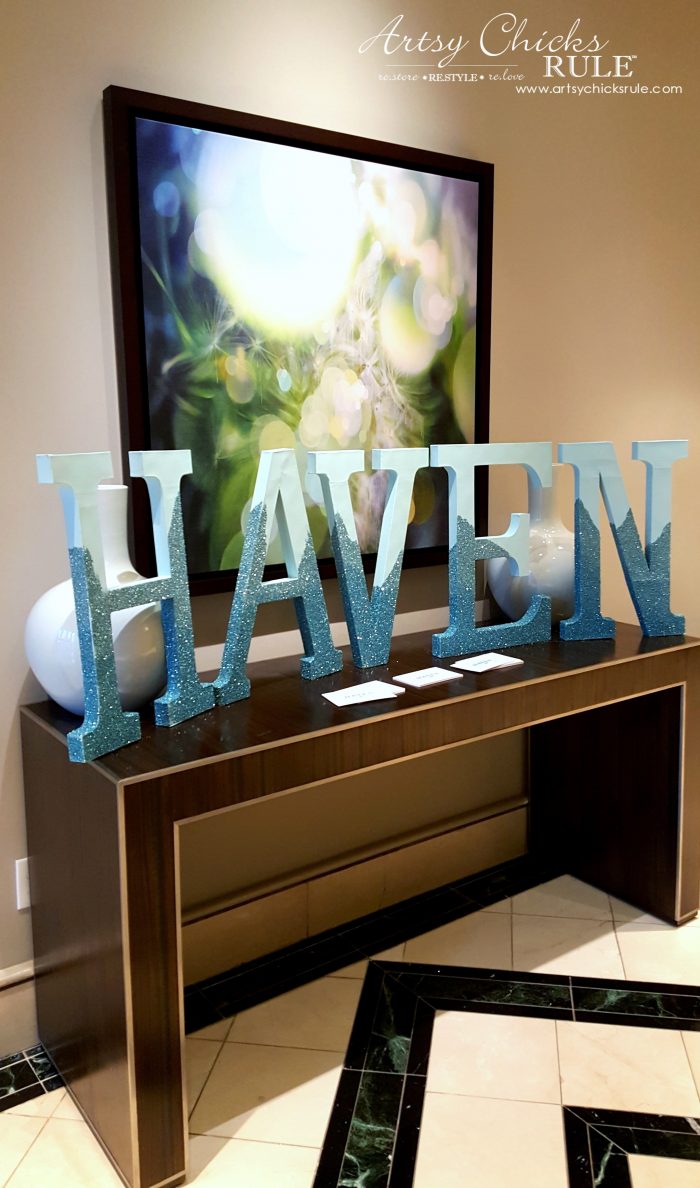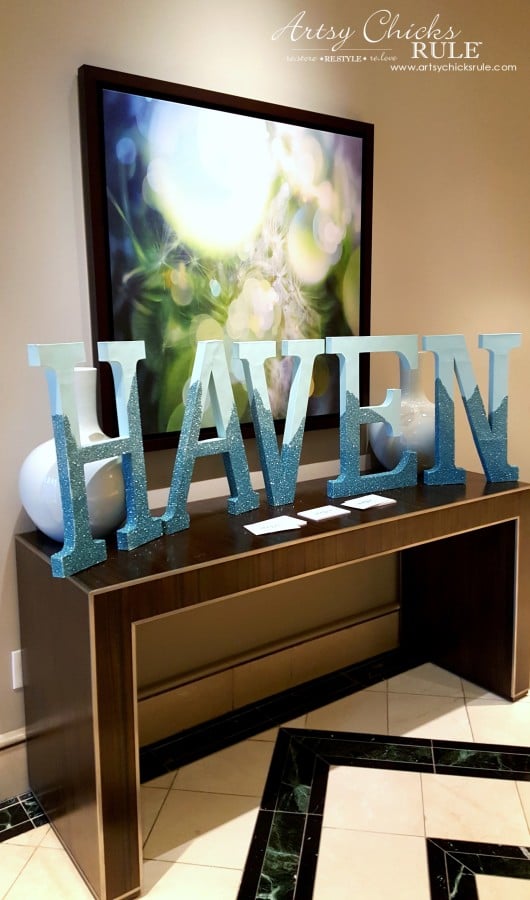 I'm quite sure, if you follow other bloggers, you might have seen a post, or 50, about the conference by now. ;)
But I wanted to share a few photos from the event with you all.
…and some of my favorite blogging buddies!
If you follow me on Instagram, you've probably seen a few of these photos already.
I won't talk too much here of what it means to me to be a blogger.
I did that last year and I think that post pretty much covers how I feel to this day!
If you are interested in that, you can read it here –> "Haven 2014 – A Really Fun Blogger's Conference"
Now on with the fun photos.
My day started out with a flight to Atlanta.
Upon arriving I, along with a bunch of other bloggers, raced over to eat pie with Porch.com.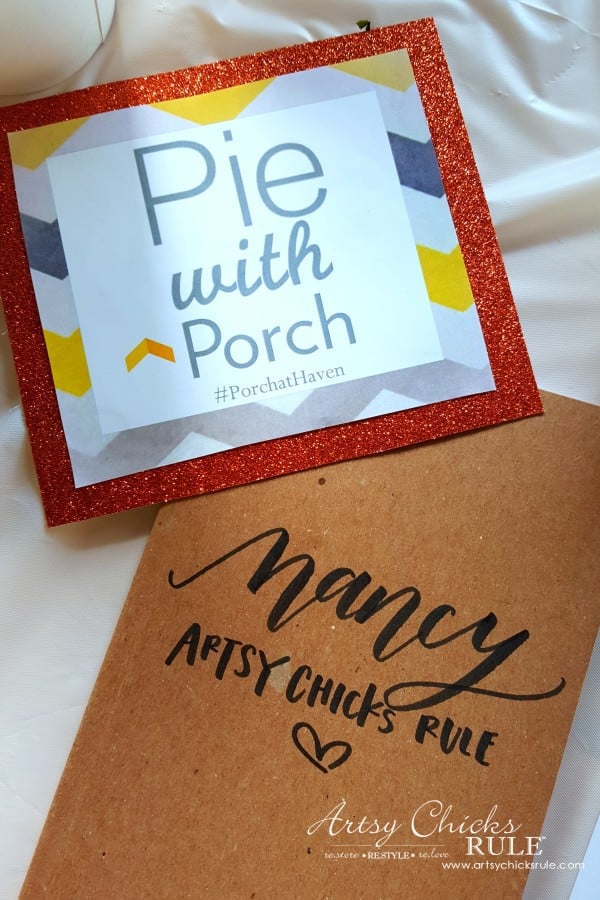 They had created this fun meet and greet, with pie! YUM
And a bit of a calligraphy class. I LOVE calligraphy and can't wait to learn more.
Oh my, can you imagine the pretty signs I could make???
And they even were generous enough to give us a bag full of goodies too.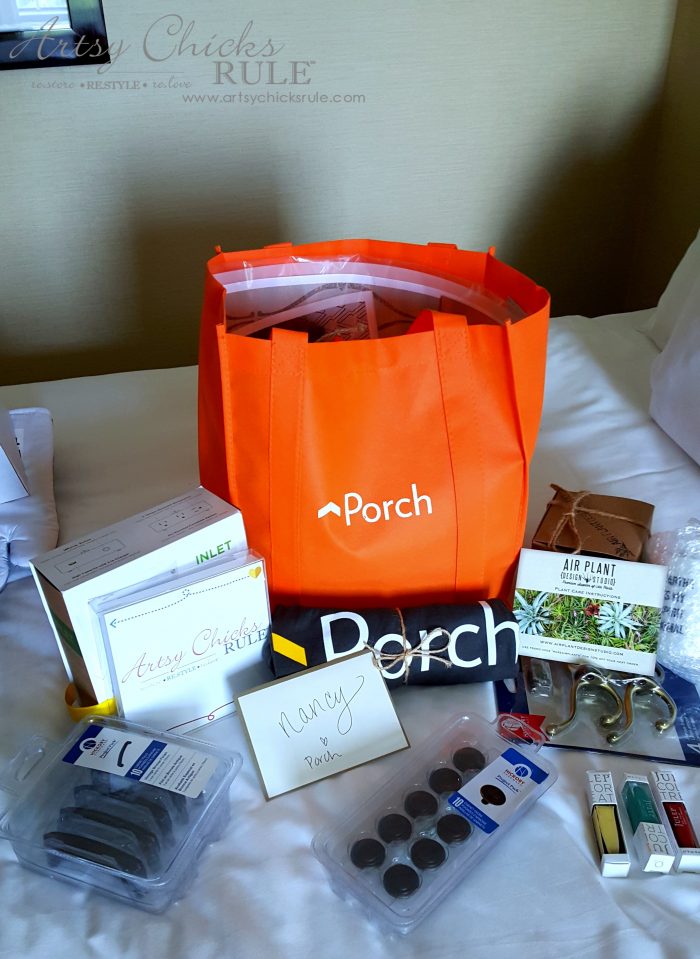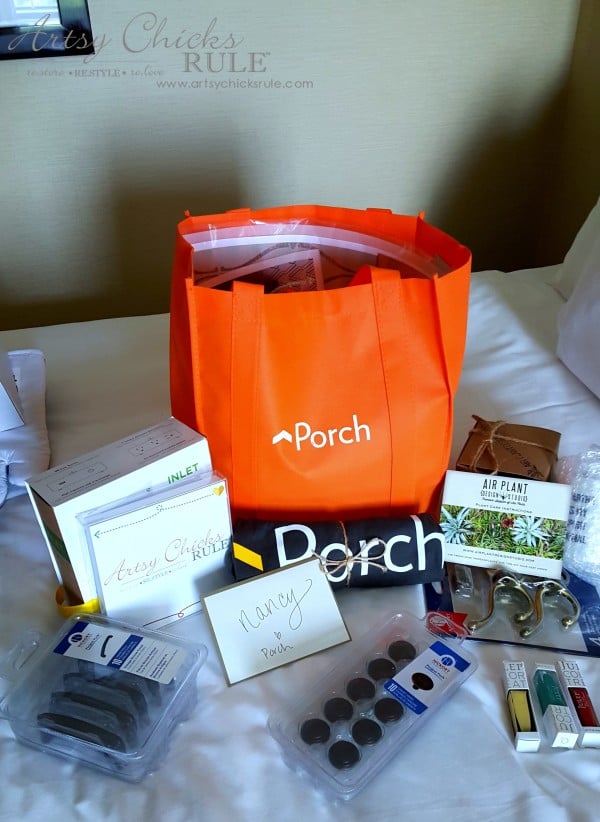 We also got "swag" bags from The Home Depot….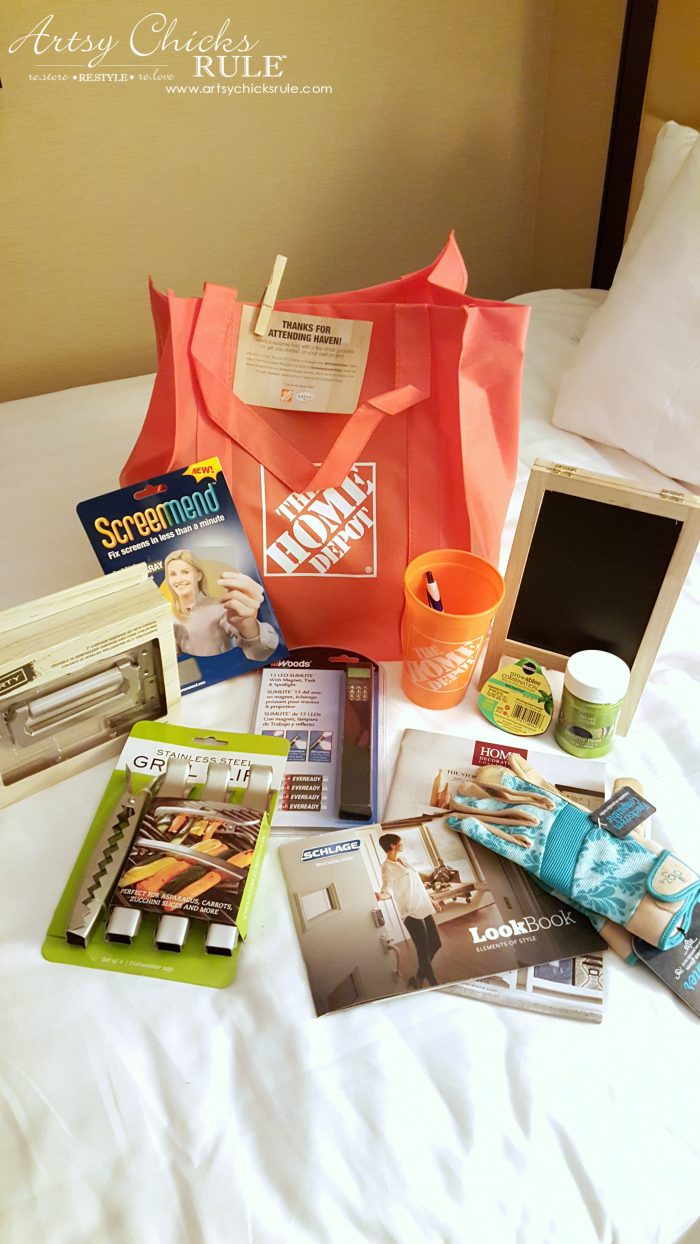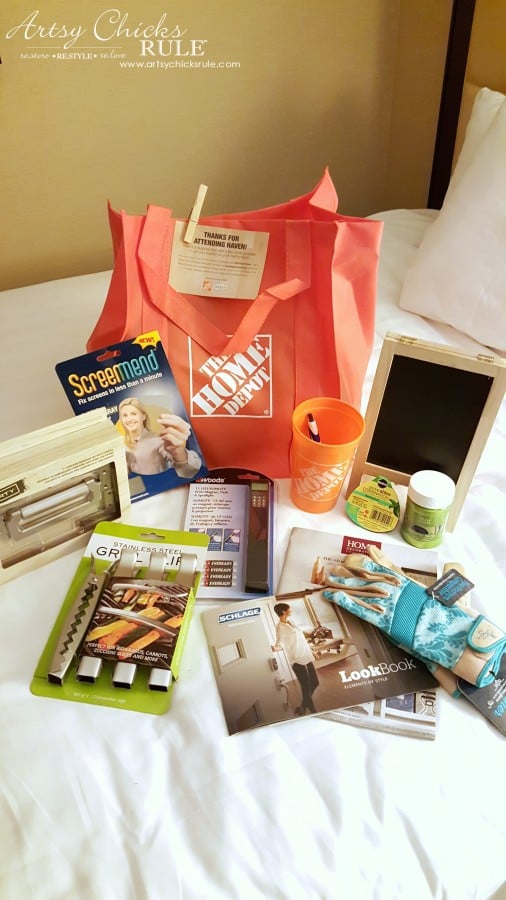 …and all of the other wonderful sponsors!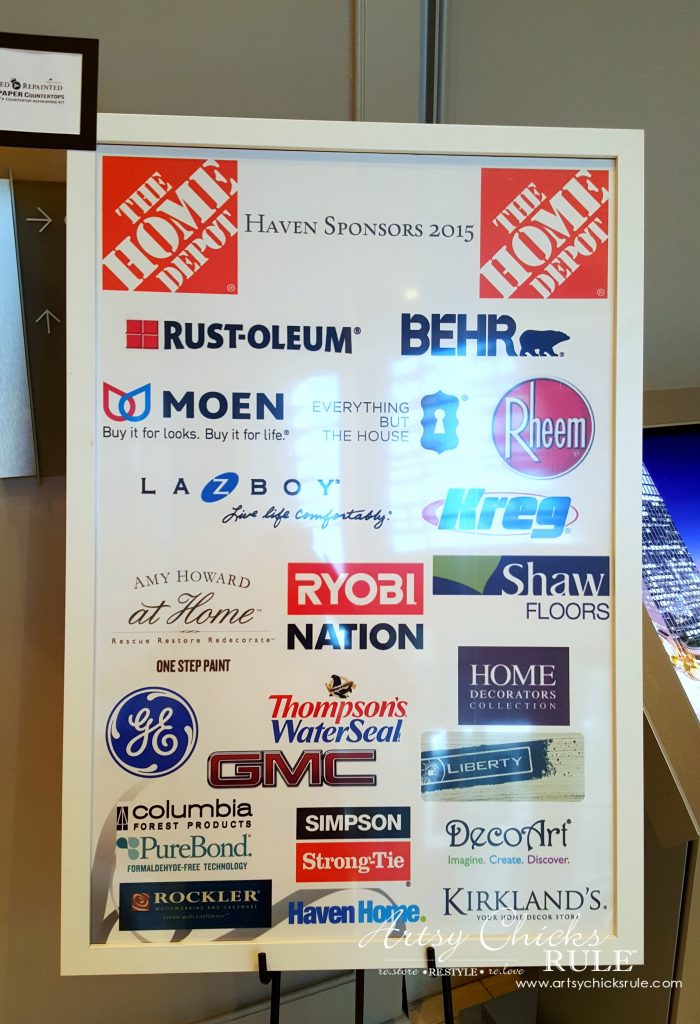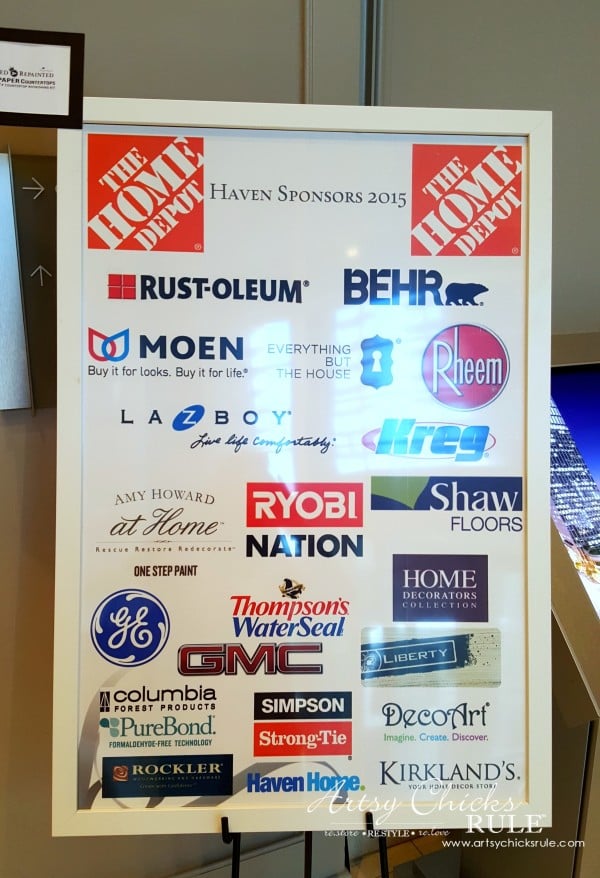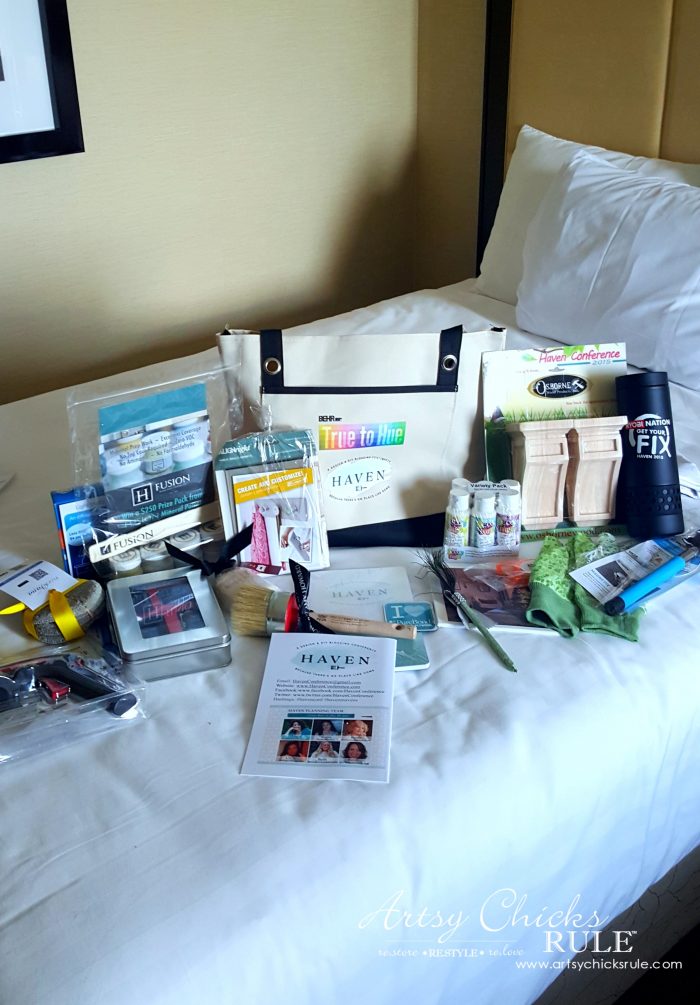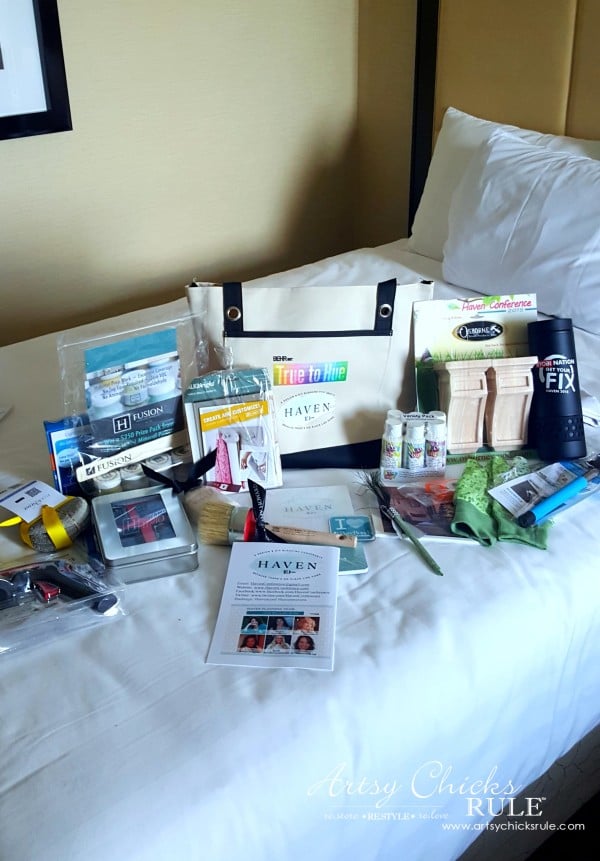 I even won a basket full of goodies from GE. :)
When you go to a conference, it is non stop, go, go, go.
I cannot even explain how busy it is!
From one event, class, more classes, cocktail party to the next.
But fun!
(and "fun" trying to fit all that swag into our suitcases to fly back home! We get really creative y'all! )
Our first morning there started off with our keynote speaker….Jon Acuff.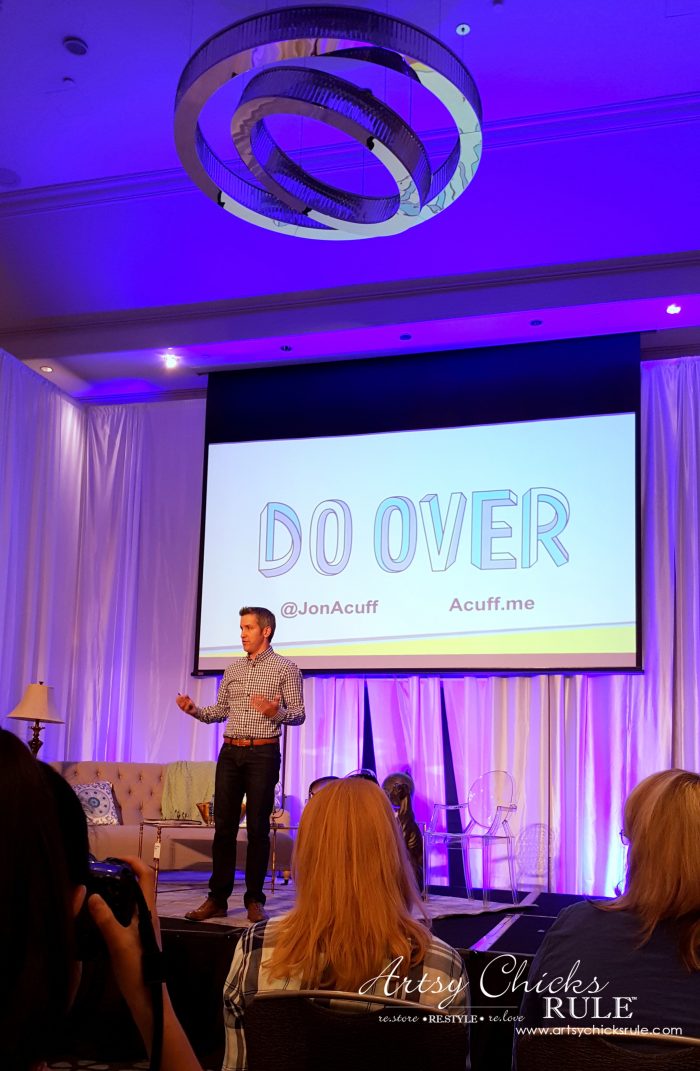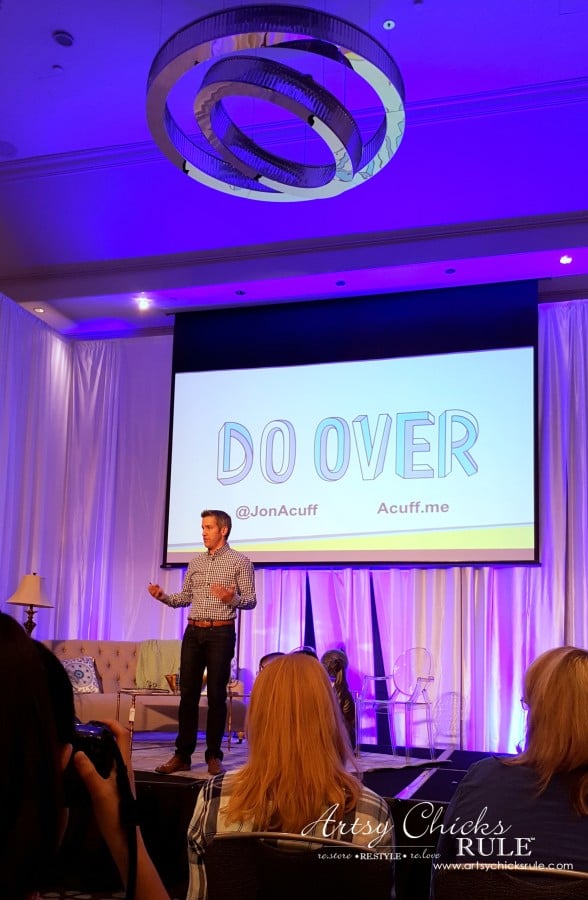 Oh my, I cannot tell you how amazing of a speaker he was!
Ahhhmazing and funny too. Loved his presentation.
If you don't know him, be sure to check him out. (and his new book there, called "Do Over")
One of the best parts of this conference is getting to meet your "work" friends…in person, finally!
AND getting to see those you met at previous years again.
I love it!
These lovely ladies are my very best blogging friends.
The four of us talk literally every single day!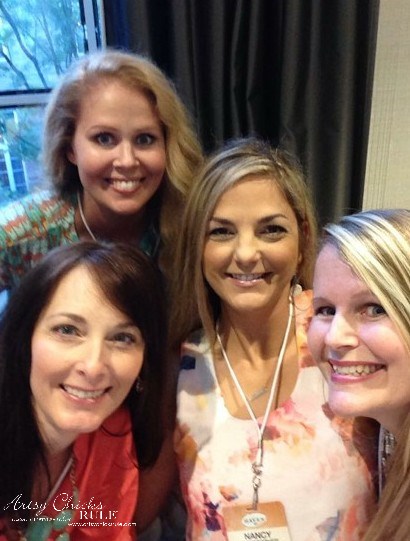 Shanna (Restoration Redoux), Christy (Our Southern Home), Christy (Confessions of a Serial Do It Yourselfer) <– my flying buddy & roommate. She lives close by me and we have some exciting things in store for you guys!
And another…which also includes a close blogging friend who I just adore!
Debbie from Refresh Restyle.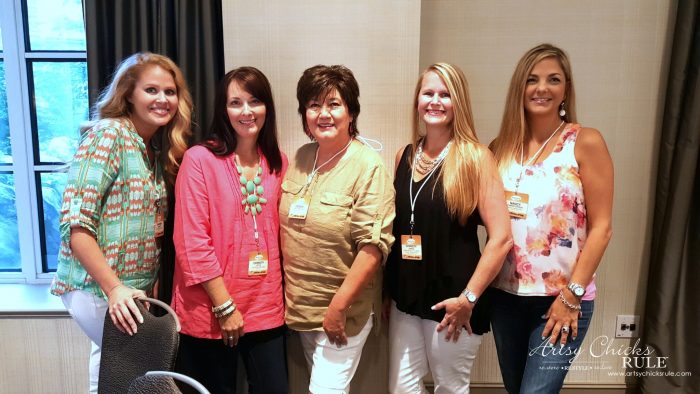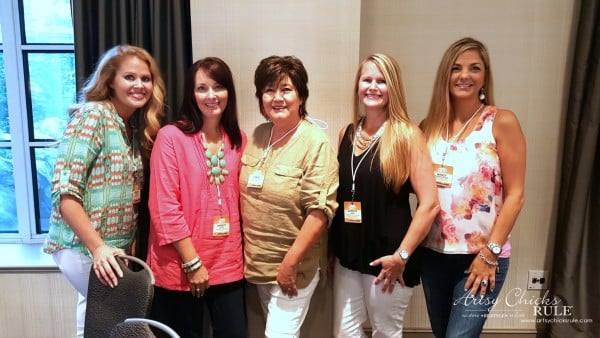 We had quite a few photo ops….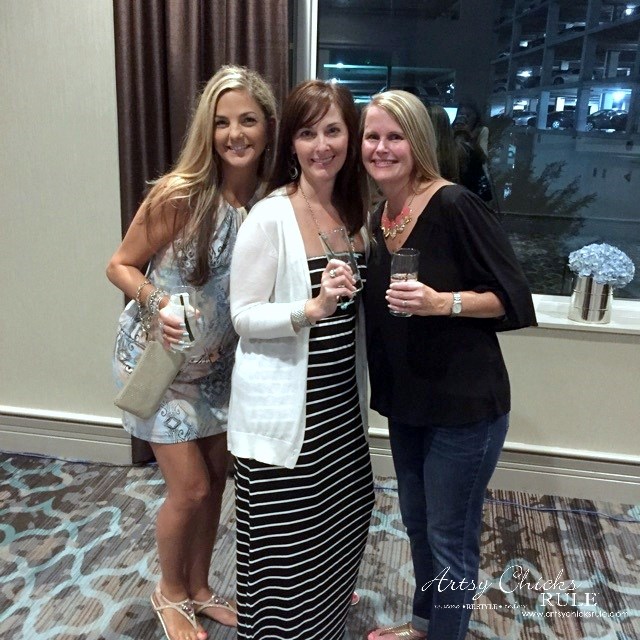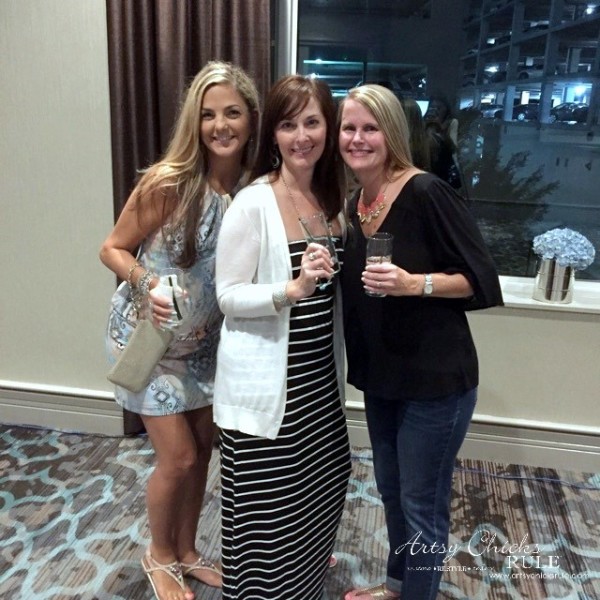 This photo is us…again ;) … and other friends Mandy (The Hankful House) and Kim (Sand & Sisal)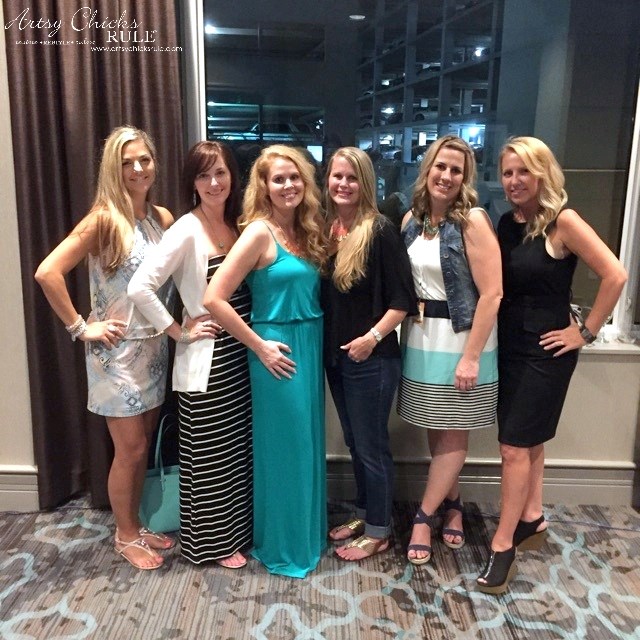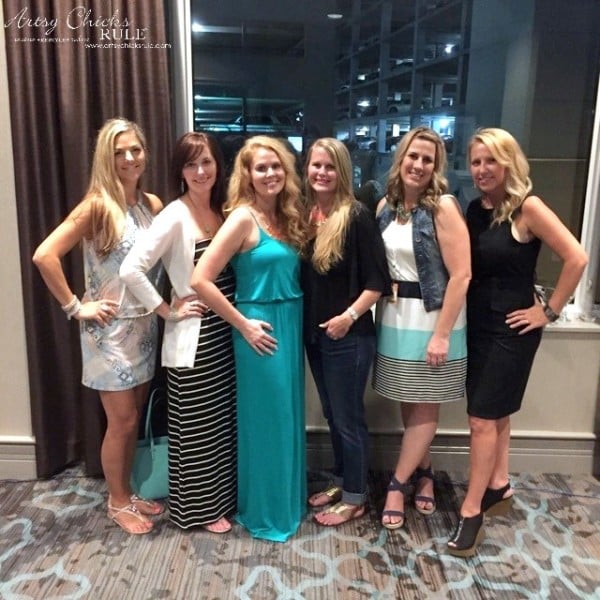 Blogging is such a unique experience in where you work, on a daily basis, with other wonderful bloggers.
We have so much going on behind the scenes every day.
You'd probably be surprised how many of us interact and collaborate through the many Blogger's FB groups daily.
It's like having office mates, long distance.
Christy and I had so much fun visiting the vender's booths.
And there were so many great ones.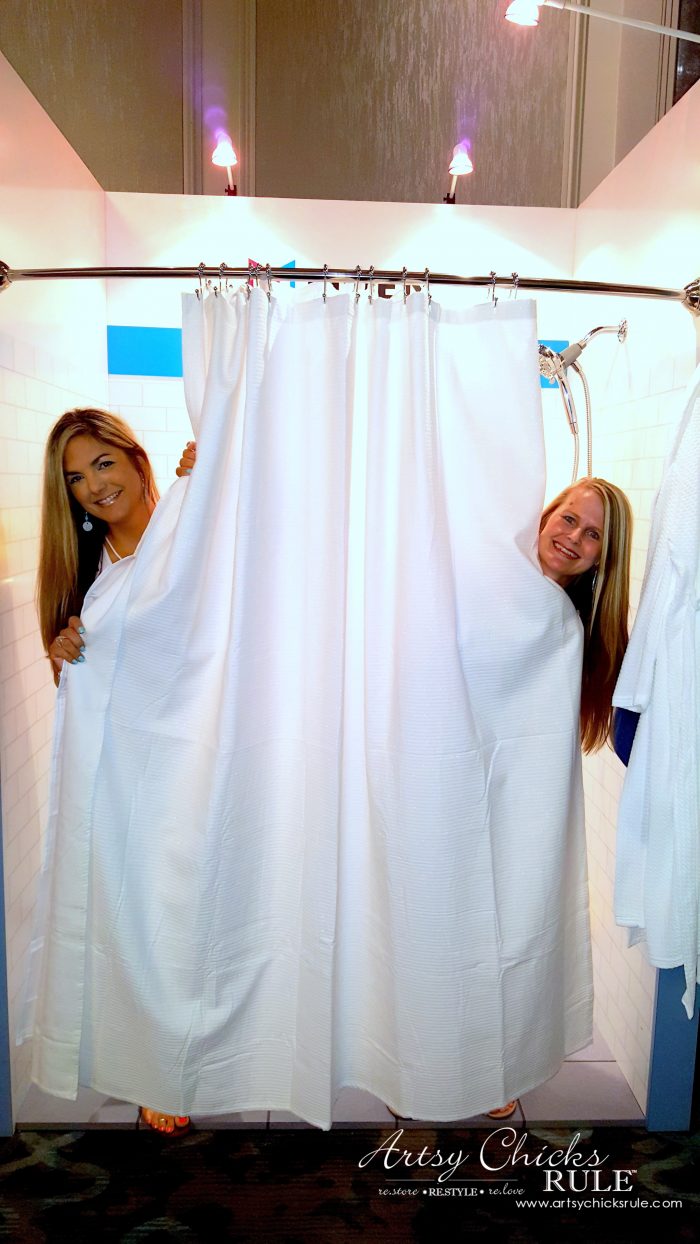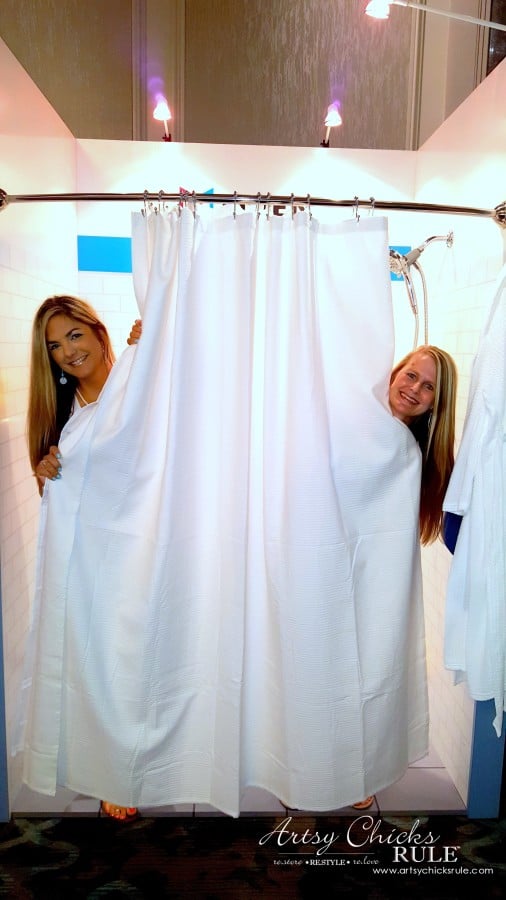 Moen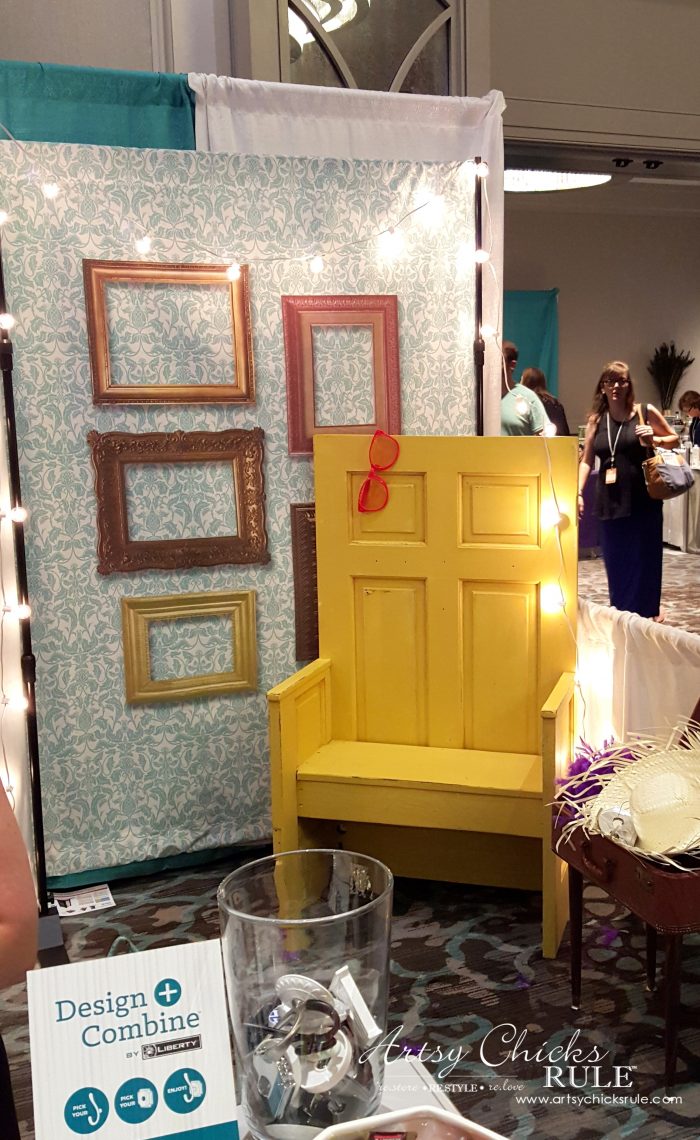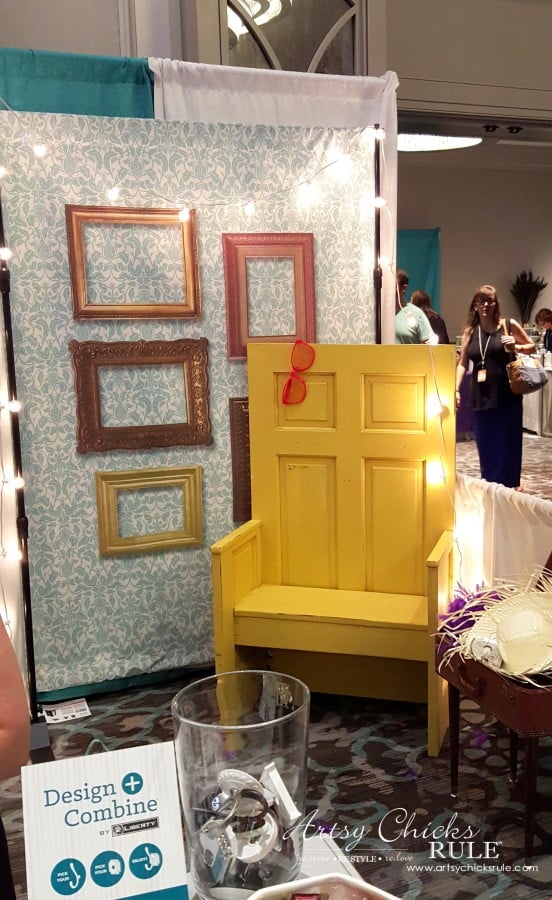 Love this repurposed door turned chair in the Liberty booth.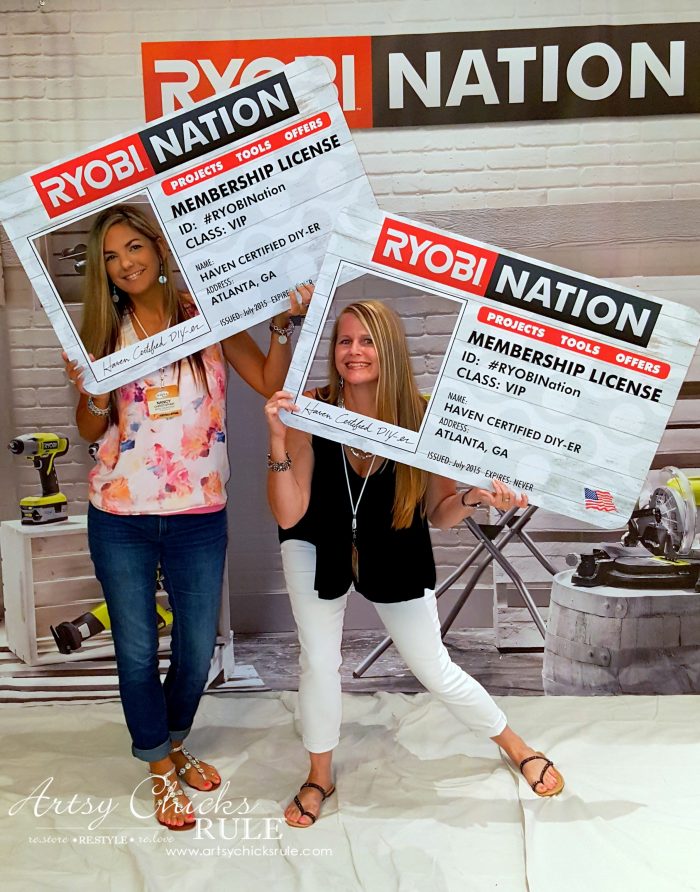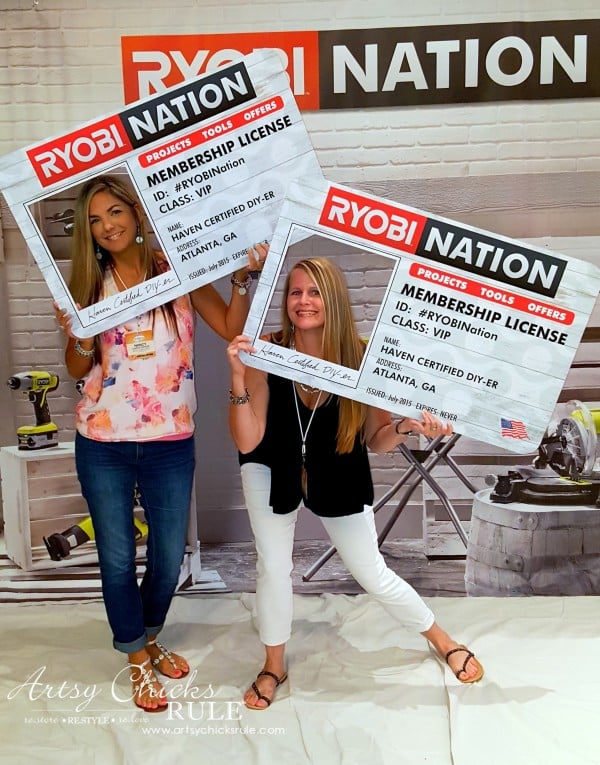 Ryobi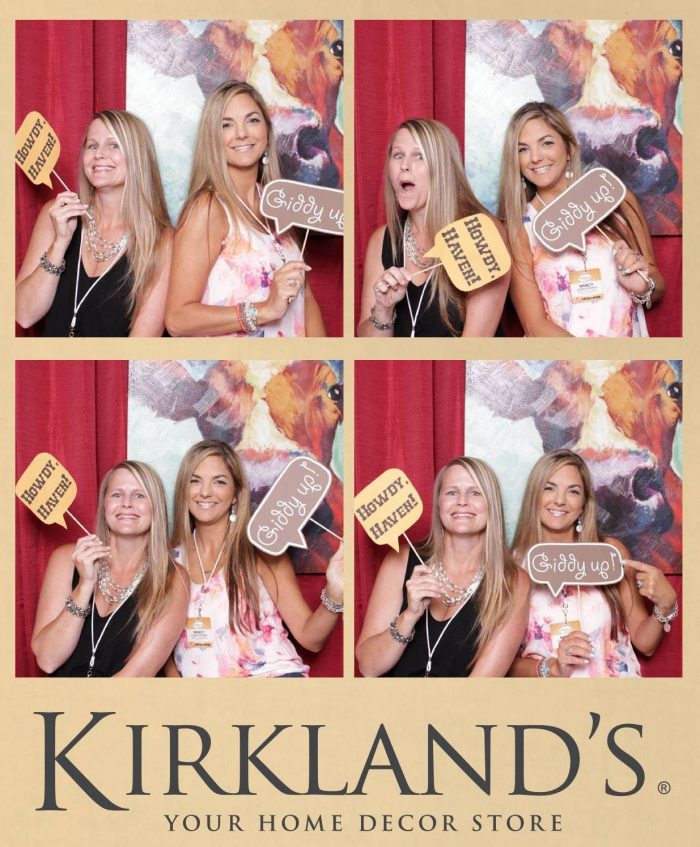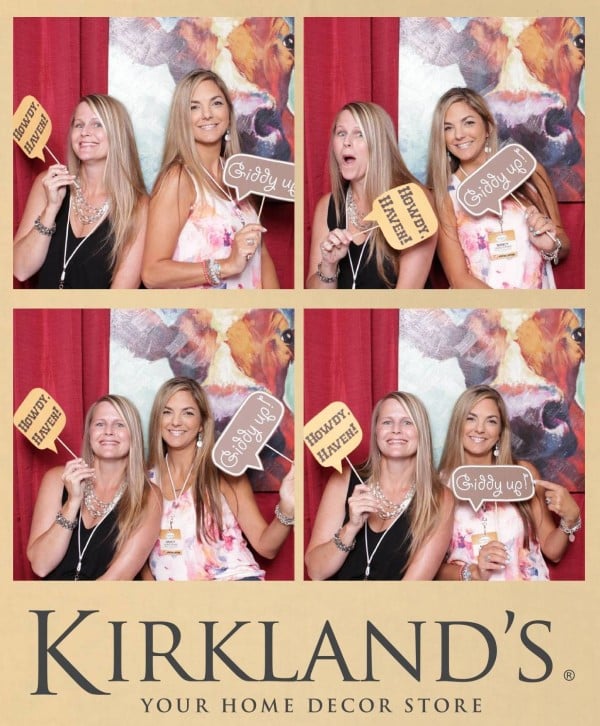 Kirkland's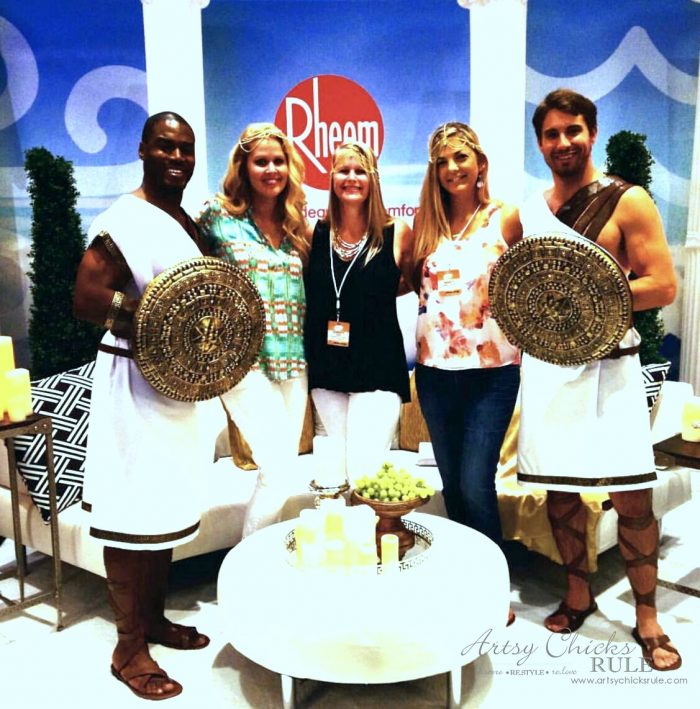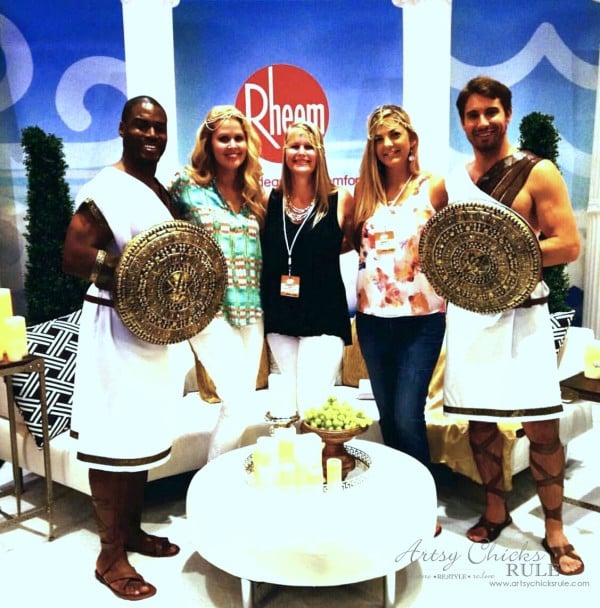 Rheem (gotta love their outfits!)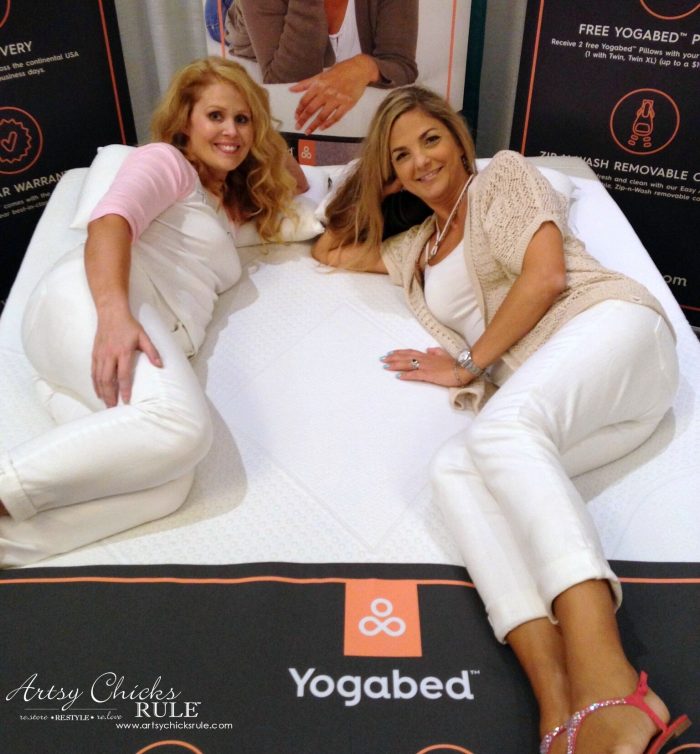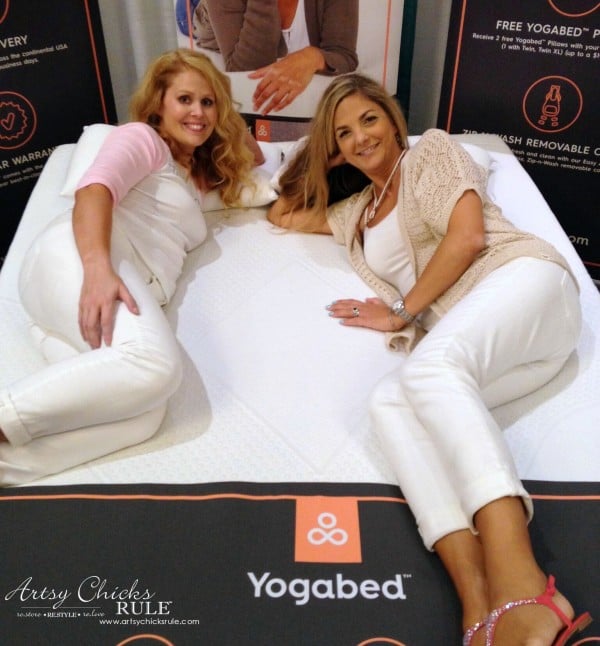 Yogabed….oh my! I loved this bed so much! I could have stayed here all day long.
Loved this DIY Hall of Fame wall.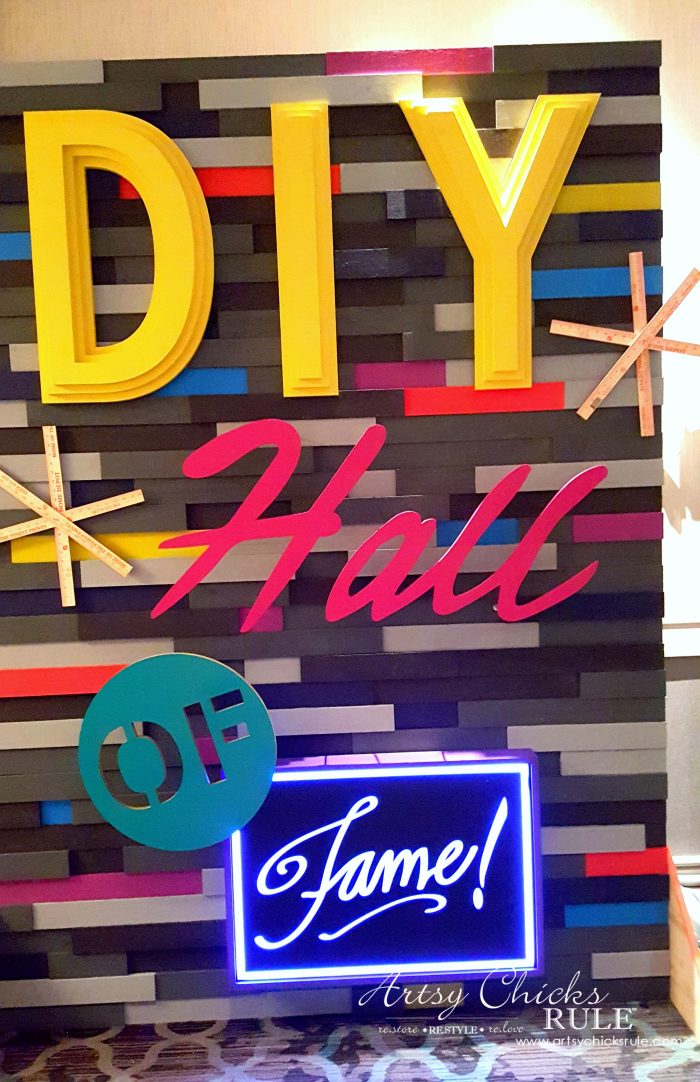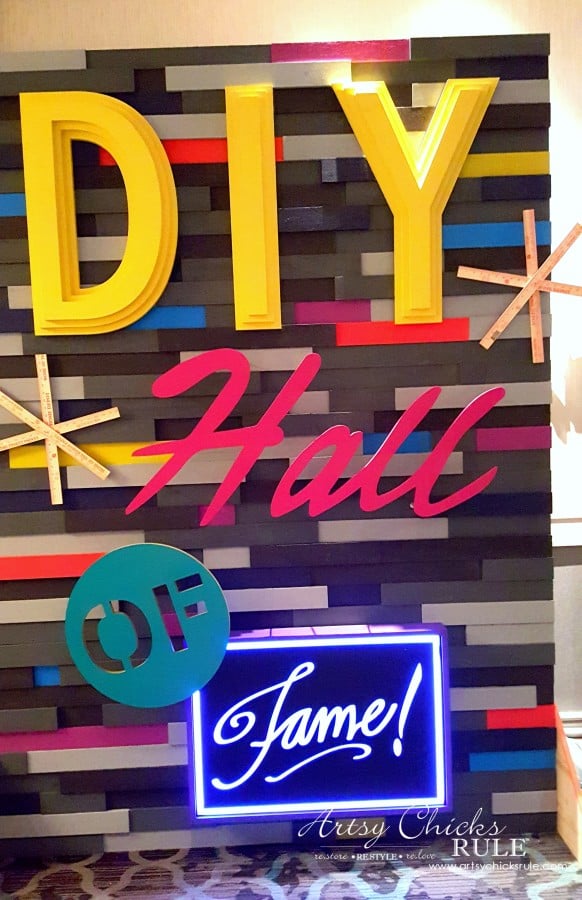 And I have to show you some eye candy too!
Like this gorgeous light fixture in the Grand Hyatt Buckhead hotel…..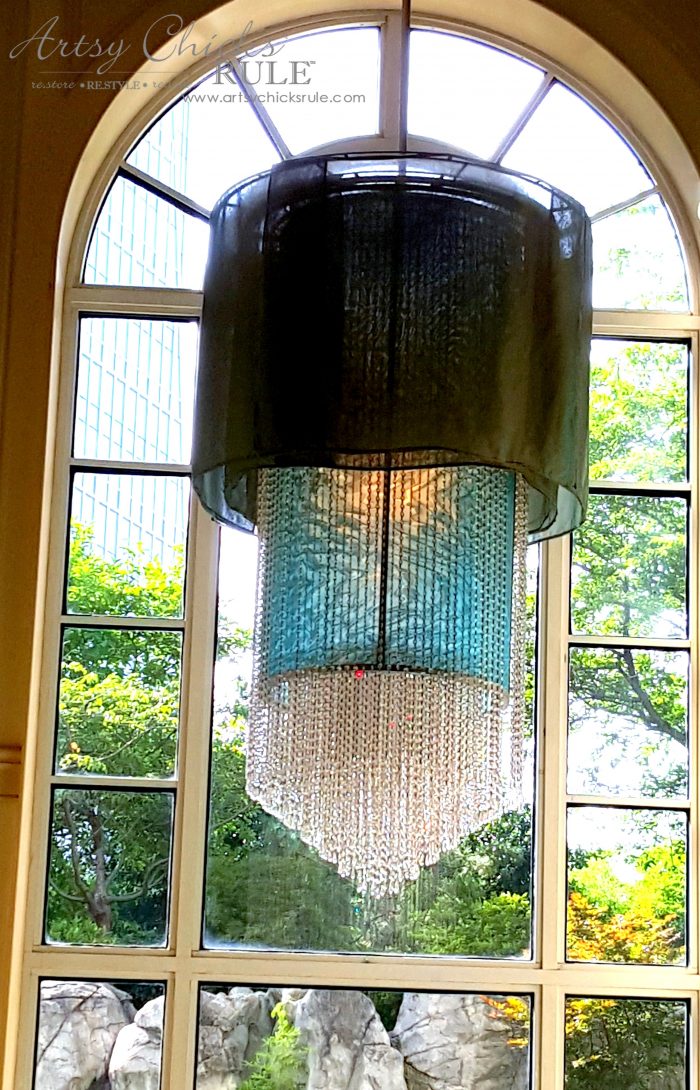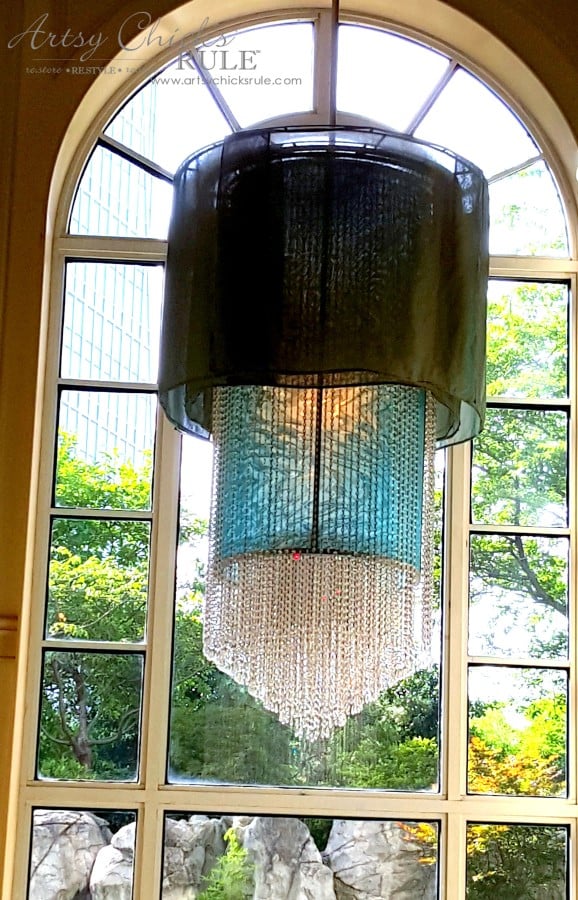 I don't know if you can tell, but it was HUGE.
And there was one in each window! (I think about 4-6)
So sparkly and beautiful.
And this one from the main conference room…..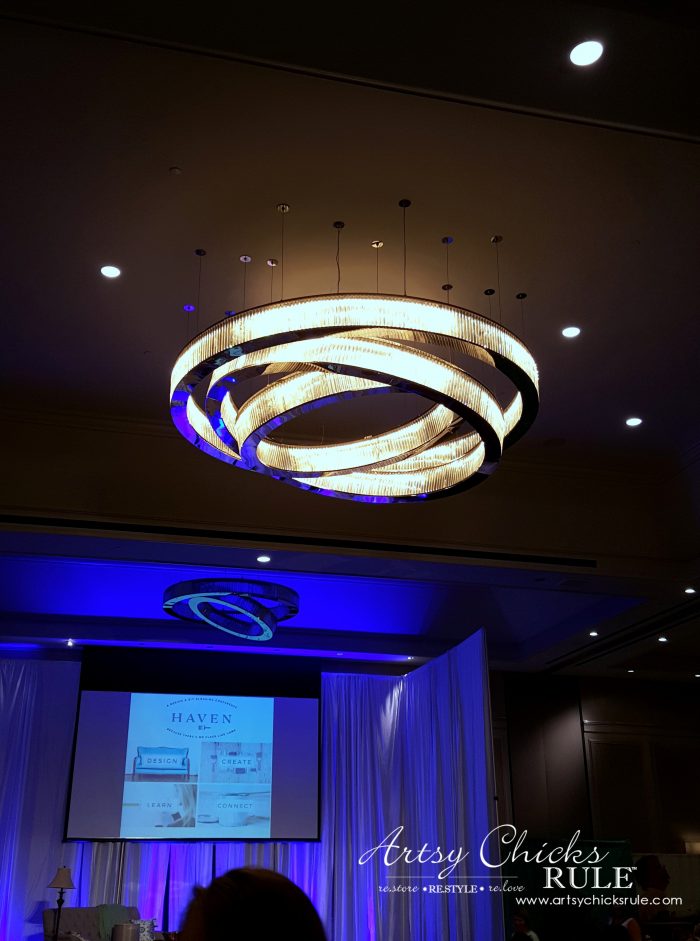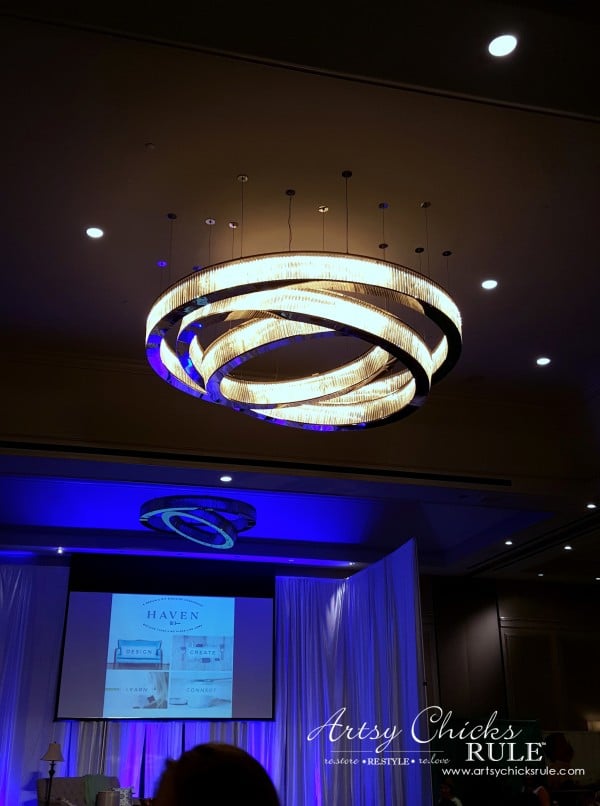 It was huge too! And they had many along the ceiling.
They never look as pretty or grand in the photos.
This one is from a restaurant that we ate at one evening called Southern Art.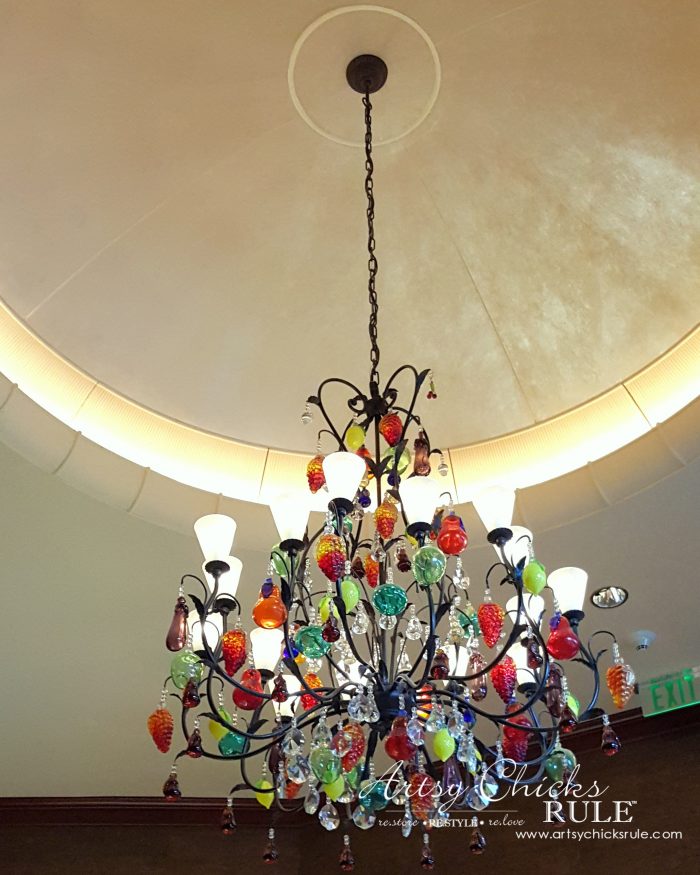 So pretty and colorful!
This restaurant was gorgeous….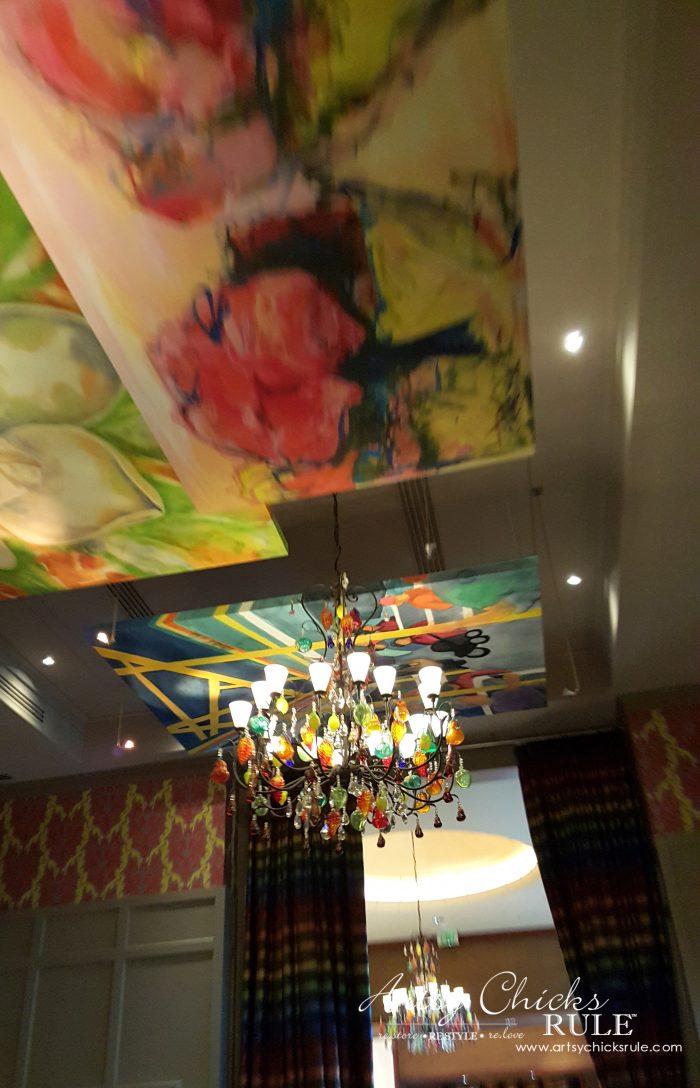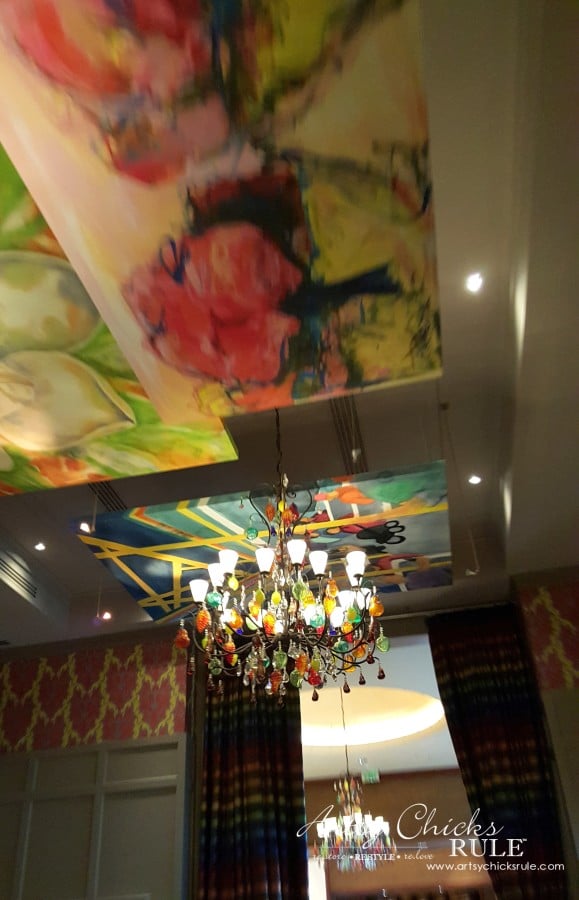 Restaurant goers, don't mind me walking through snapping photos of the ceiling. ;)
And so, no matter how much fun it is, it's always nice to come back home.
Christy and I took a photo in this "LOVE" sign last year (in the airport) on the way home.
(you can see that in the Haven 2014 I linked up above)
We decided to recreate it again this year!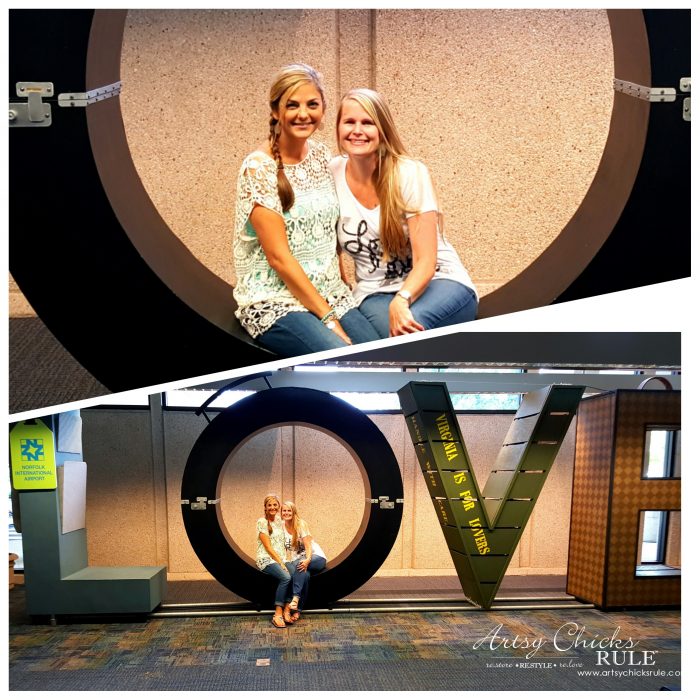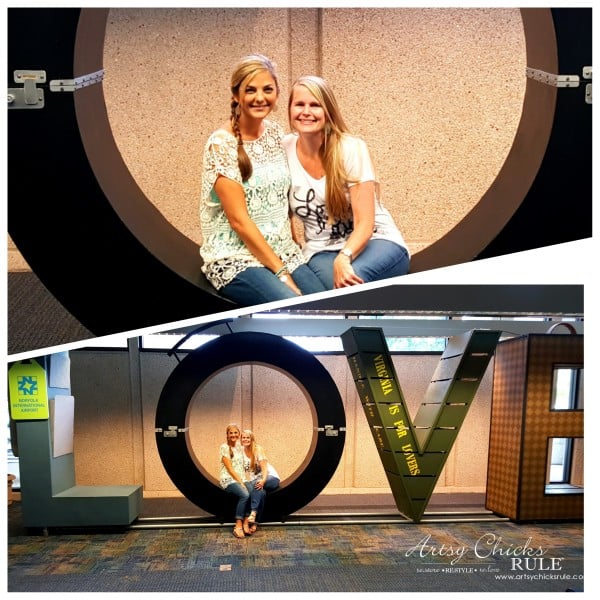 LOVE…. because Virginia is for Lover's (in case y'all didn't know ;) )
Not Christy and I….just the Virginia saying! ;)
You can read a post I wrote about that here. It was the very first post I ever wrote on this blog!
I hope you enjoyed the recap and a bit of behind the scenes!
Stay tuned for some exciting things that are coming up (Christy and I have something really fun planned for y'all!)
I love being able to share here with all of you! You are the best, most supportive readers ever.
I am thankful for the opportunity to inspire by doing and sharing the things I love.
And I am thankful for the opportunity to have YOU share with me as well.
I love getting emails from you guys with the projects you've completed!
It makes my day. :)
OH! and do you Periscope? Do you have any clue what that is? Don't feel bad, I didn't either before last weekend.
It's a new live stream video (ack!) app that lots of people are using to share things.
Things like how they do things (tutorials), their surroundings, a project, and so on.
I think the video stays on for 24 hours and then disappears.
I'm still learning…and nope, I've not been brave enough to do a LIVE stream video just yet!
But download the app to your phone (it's available on iPhone & Android) and watch.
All you do is follow whoever you like and the app will notify you when they are live.
You can even interact with them….in real time! It's kinda neat actually.
(I'm @artsychicksrule, if you'd like to follow me. If you do, you can see the list of who I follow for an easy way to follow other bloggers you know.)
I'll bet some of your favorite bloggers are on there already. It's a really fun way to "get to know" them!
Live and almost in person. ;)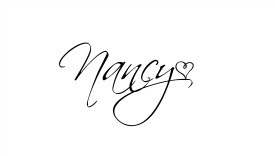 Follow along! –> Instagram ~ Facebook ~ Pinterest ~ Bloglovin