Things to Do, The Abacos, Bahamas
This post may contain affiliate links. Please see disclosures here.
Things to do in The Abacos (and places to see!) Bahamas. All the details!
Hello friends! Today I'm sharing all about our trip to The Abacos, Bahamas.
It was so beautiful, these pictures do not do it justice. I tried to share how amazing the water was but you really just have to see it with your own eyes!
By the way, the water truly was that green, that blue, and that clear. You could see all the way to the bottom in 21 feet of water. Wow! It was so weird.
And it was wild to see it go from clear pale aqua to a glowing green, to emerald green to the most amazing shade of clear but medium blue, and finally deep sapphire blue. Beautiful beyond words.
If you saw my post the other day, you'll know that I mentioned going on this trip with my sister and brother-in-law. (and my hubby) They had it planned and invited us to go along with them a couple of months ago. I'm so glad we said yes!! What an experience. Neither my husband nor I had been to the Bahamas before so it was a treat!
We stayed on Elbow Key and my brother-in-law rented a boat for all of us to go out on (he's a yacht broker so that was right up his alley! ;) ). We had it for 3 days and I'm telling you, that is the way to go! We saw SO much more because of it. So many places we wouldn't have seen or even gone to. That gorgeous deep sapphire blue of the ocean out in the middle between islands and so much more!
We visited several of the other small islands around us in the boat, swam, had lunch, etc.
Little Harbour – Pete's Pub & Gallery
Great Guana Cay – Grabber's
Tahiti Beach – a huge sandbar that goes out into the water
Firefly Resort – sunset dinner
Scotland Cay – the MOST beautiful beach I have ever seen
More places are below.
I hope you enjoy the photos. I took about 300 more (I'm not kidding!) but way, way too much to share here.
The Abacos, Bahamas
I love to sit by the window on the plane and see all the beauty below. I took bunches of photos but I'll just share this one of some of the islands and the pretty aqua water.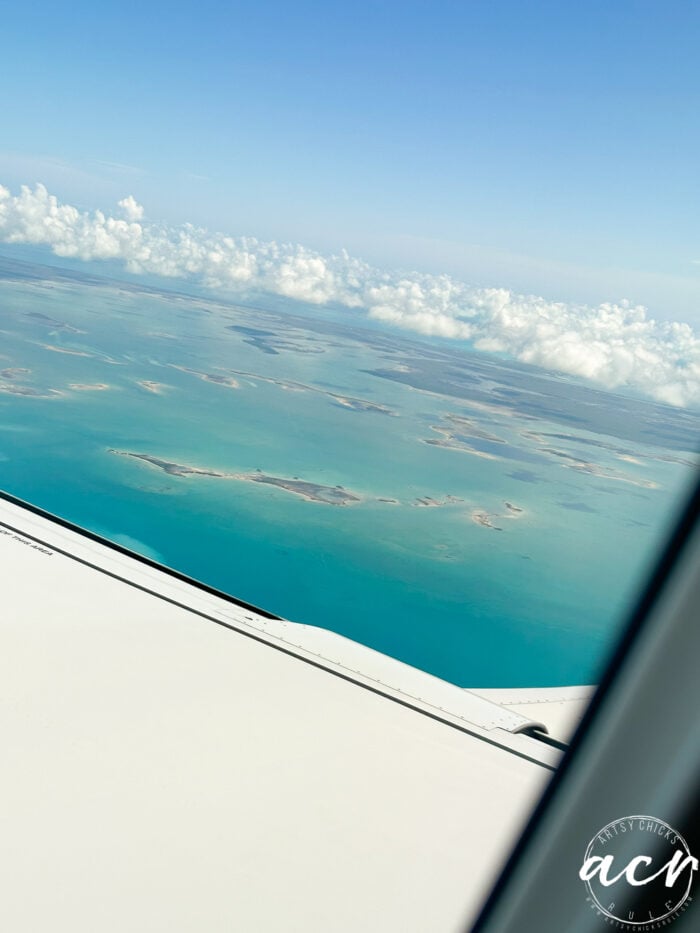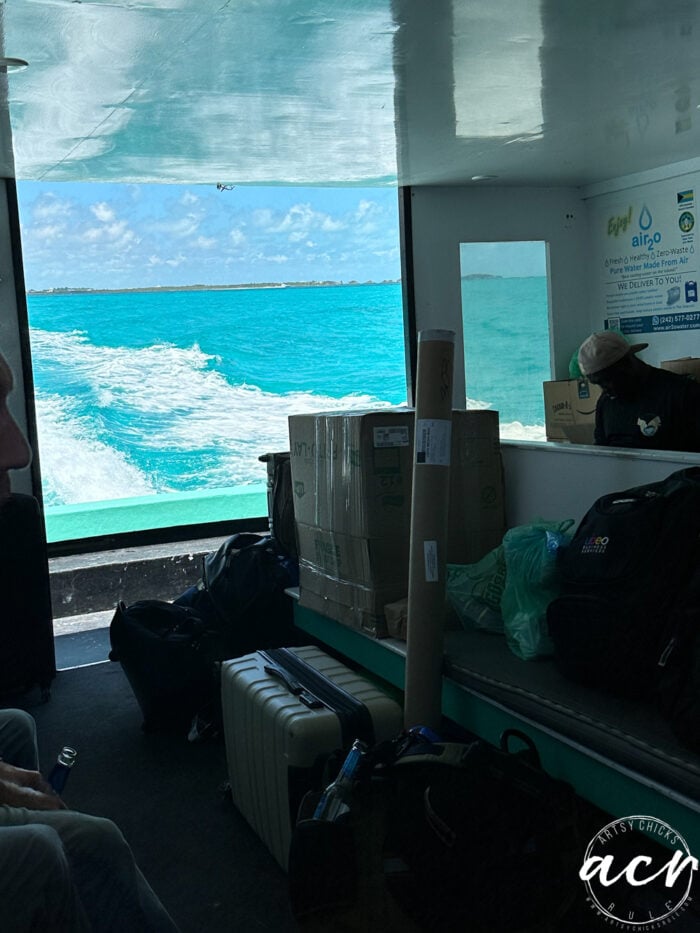 We landed in Marsh Harbour and had to take a ferry over to the island where we stayed. (see that water?!)
Flora and More
There were so many beautiful plants native to the island. And I took pictures of them all! lol
This was one but I also thought this little house was so sweet.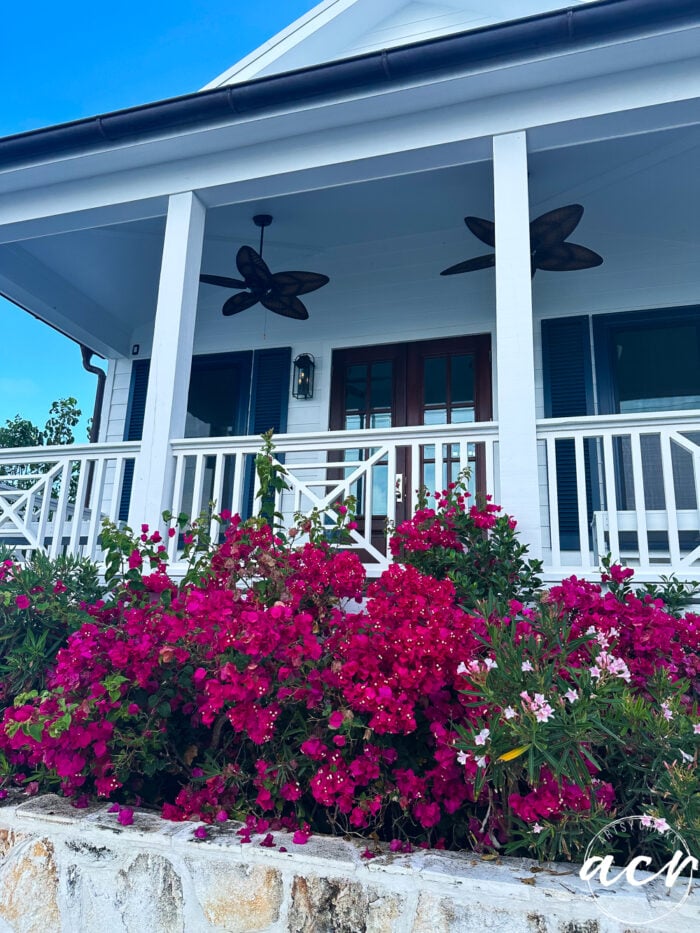 Pod seeds on the palm tree.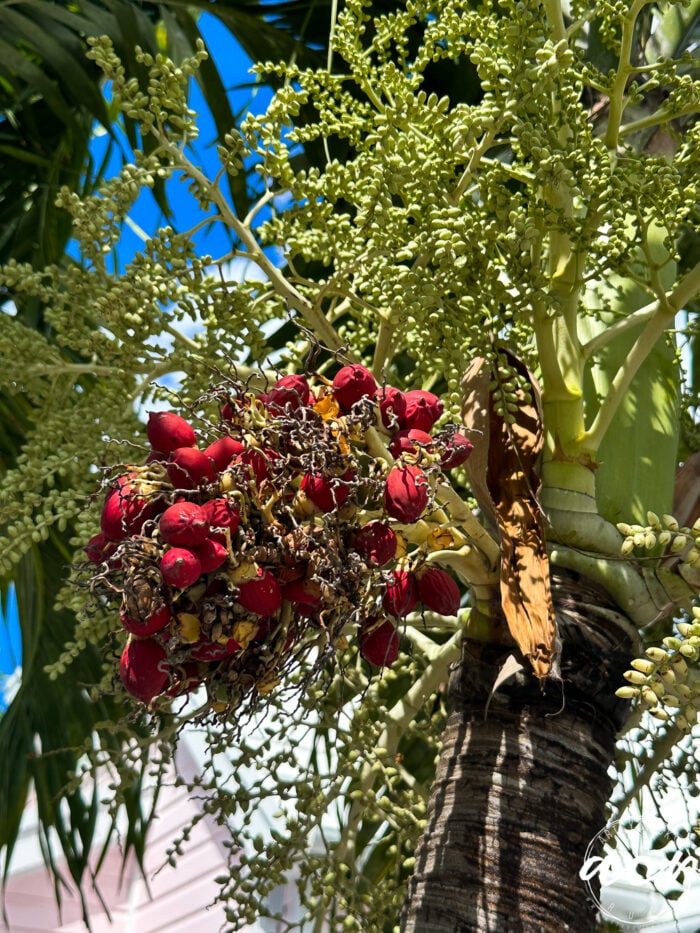 So vibrant!
Beach Houses
Elbow Cay is a small island with mostly tiny little houses everywhere.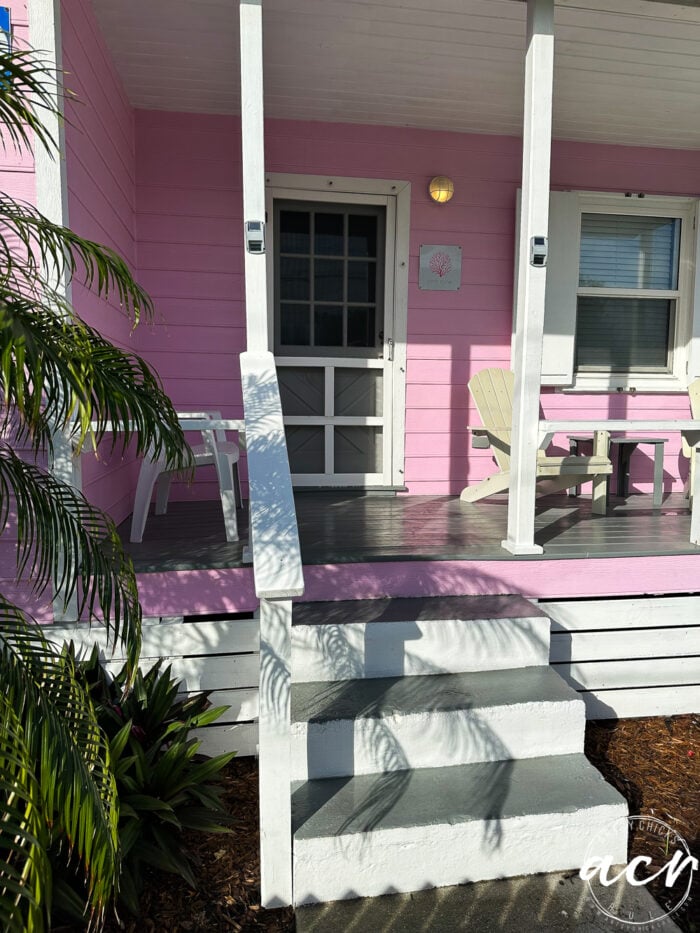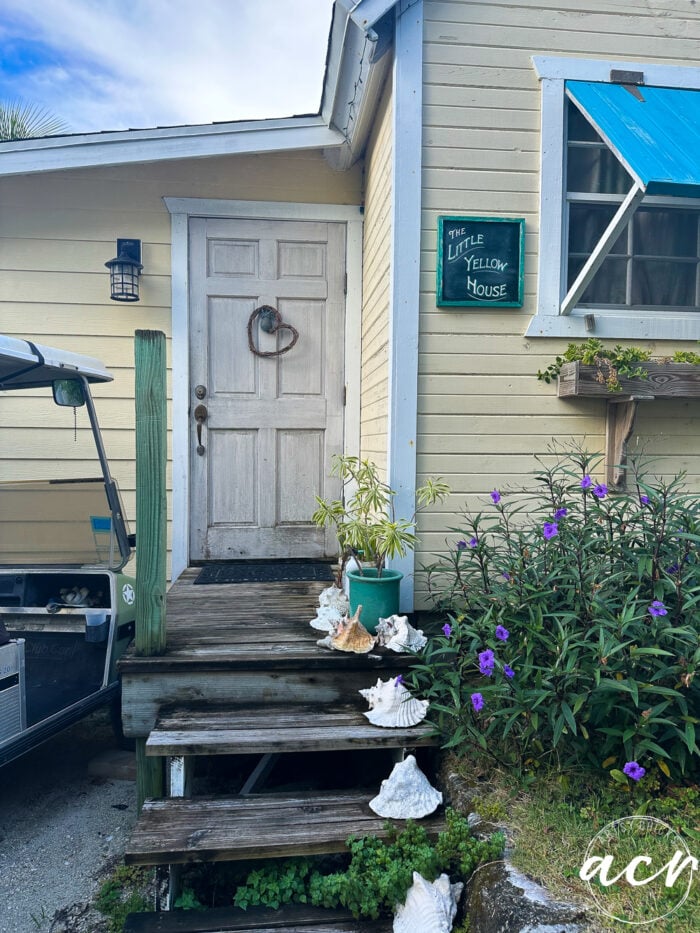 The JIB!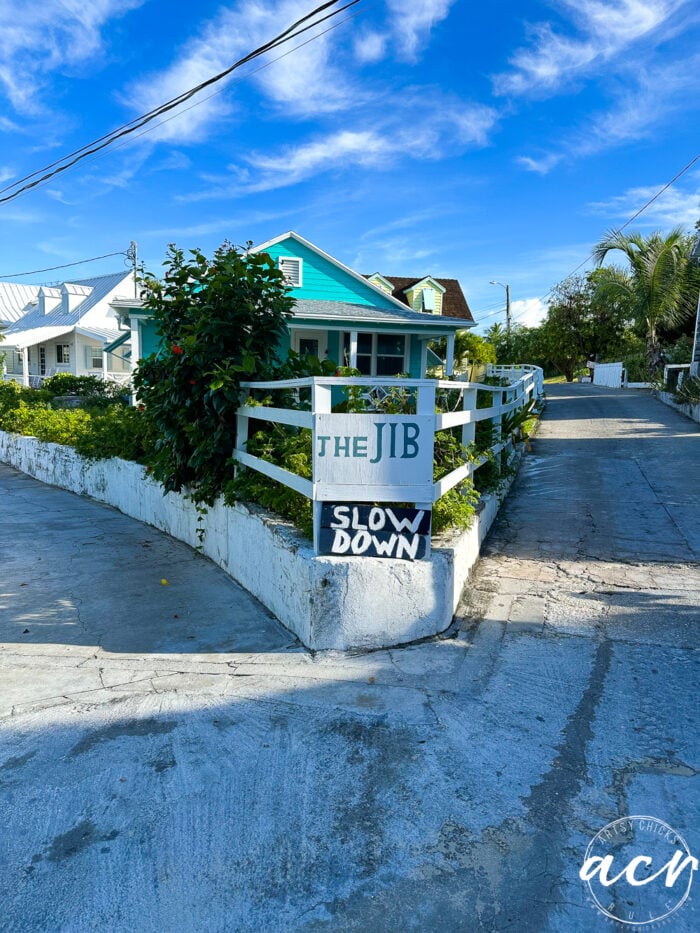 We walked a bit and rode in the golf cart a bit too. That was very nice to get around the island.
Cap'n Jack's
Cap'n Jack's was a favorite! Just a short minute or two walk from the house. We ate here several times and even played bingo one night!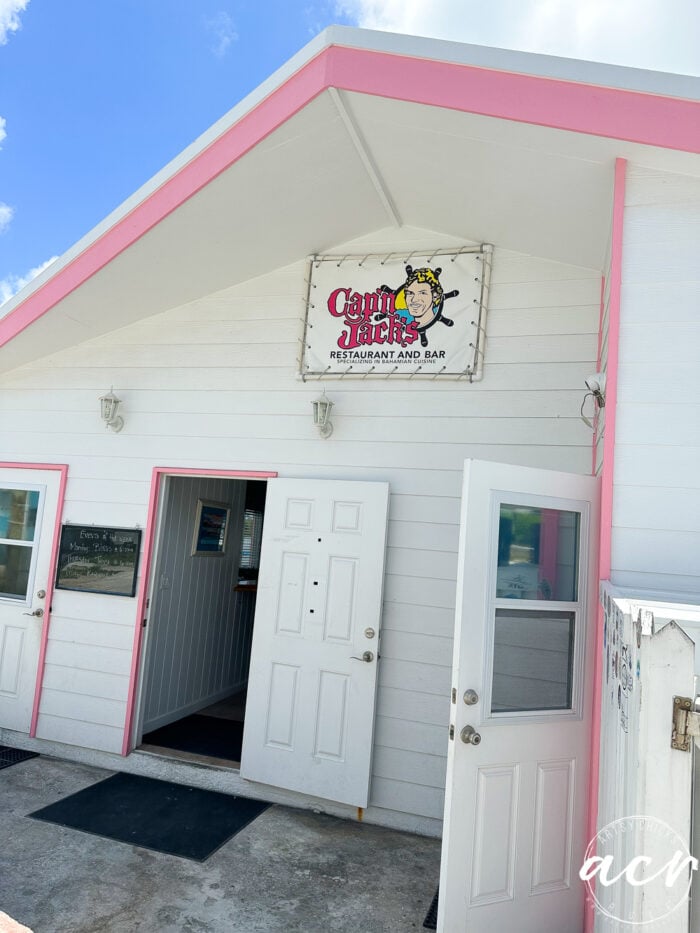 Sunrise
We went to see the sunrise one morning on the beach. (which was also only a few minutes walk from the house)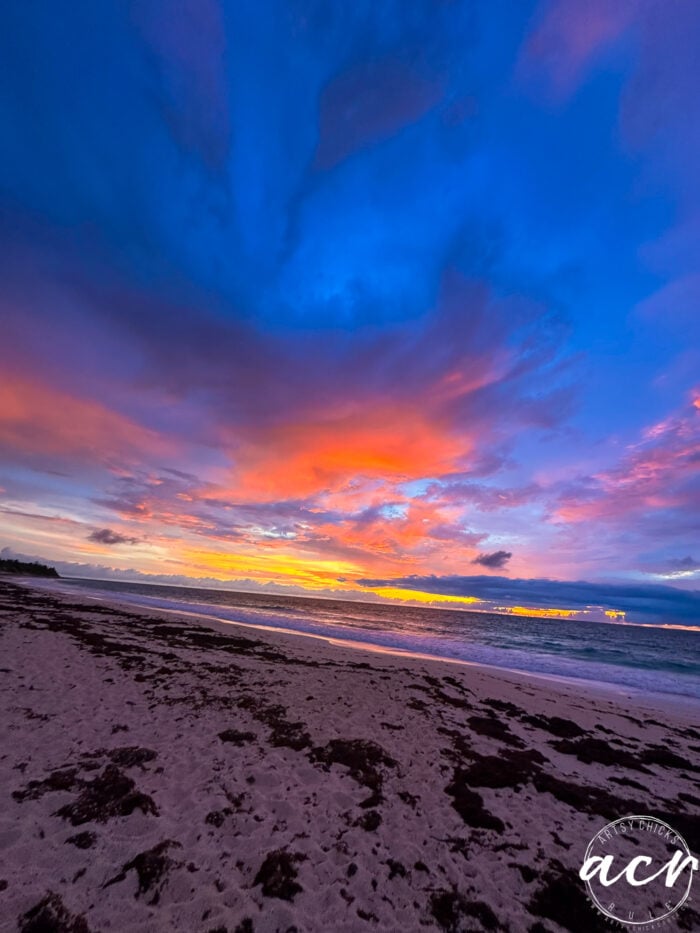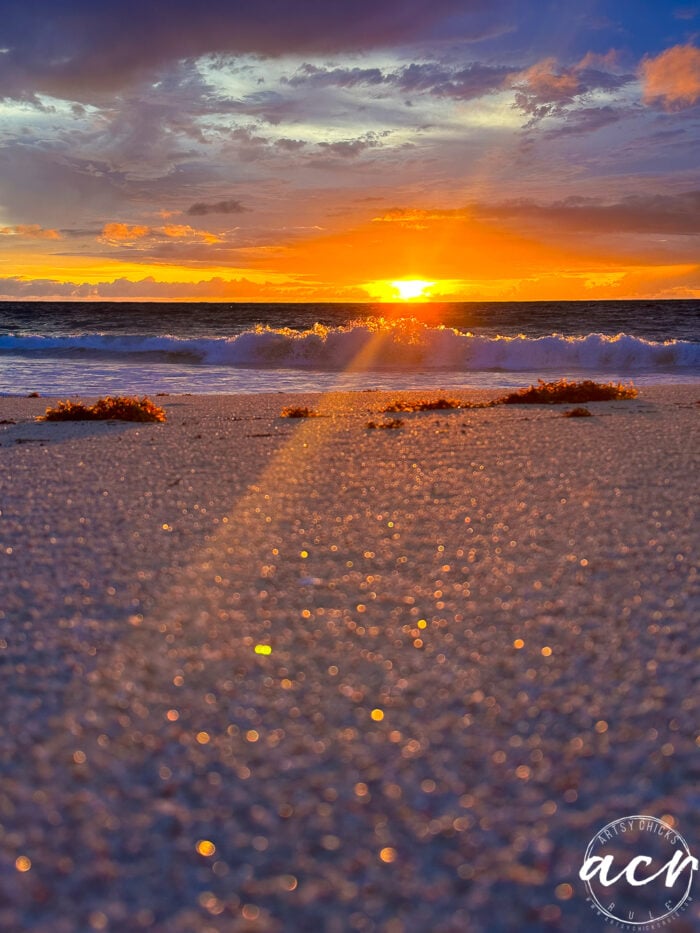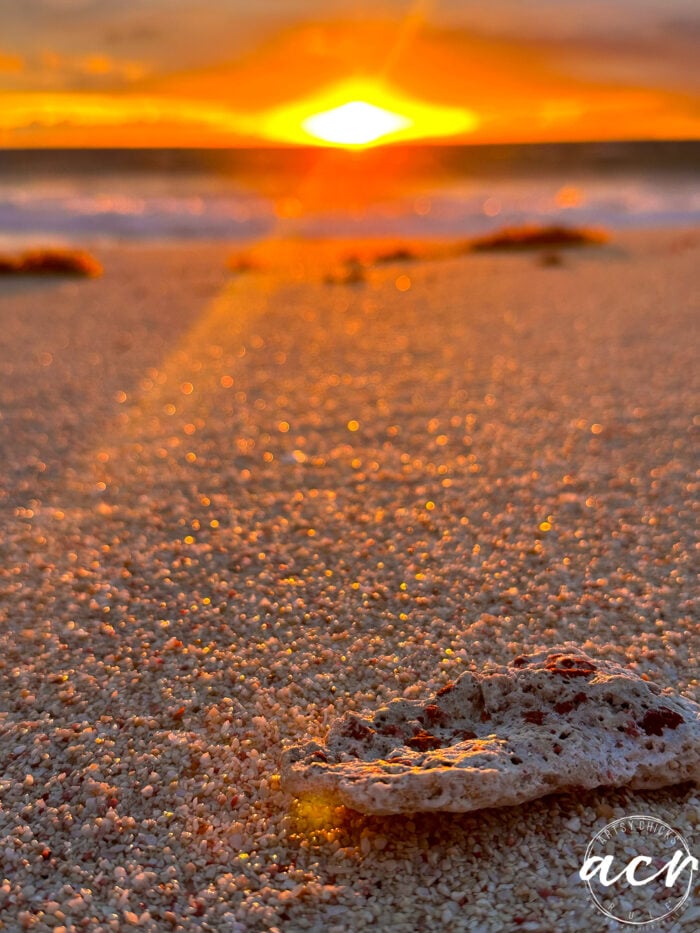 The "pink" sand was beautiful. And so was the coral everywhere.
Just a few of our beach finds.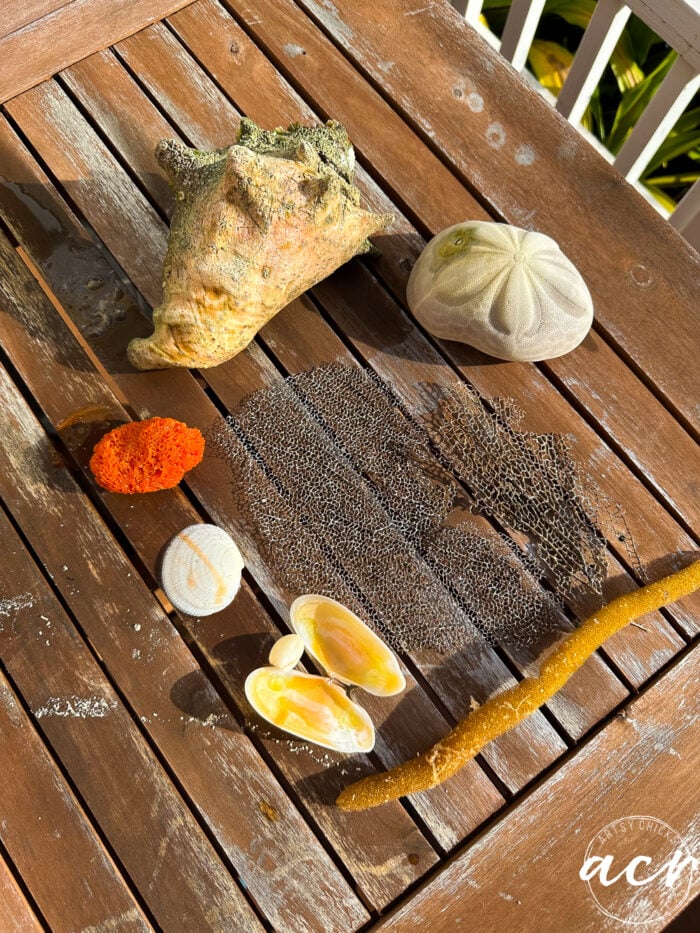 Walking, Shops, and History
From there we walked the island and checked out some of the places.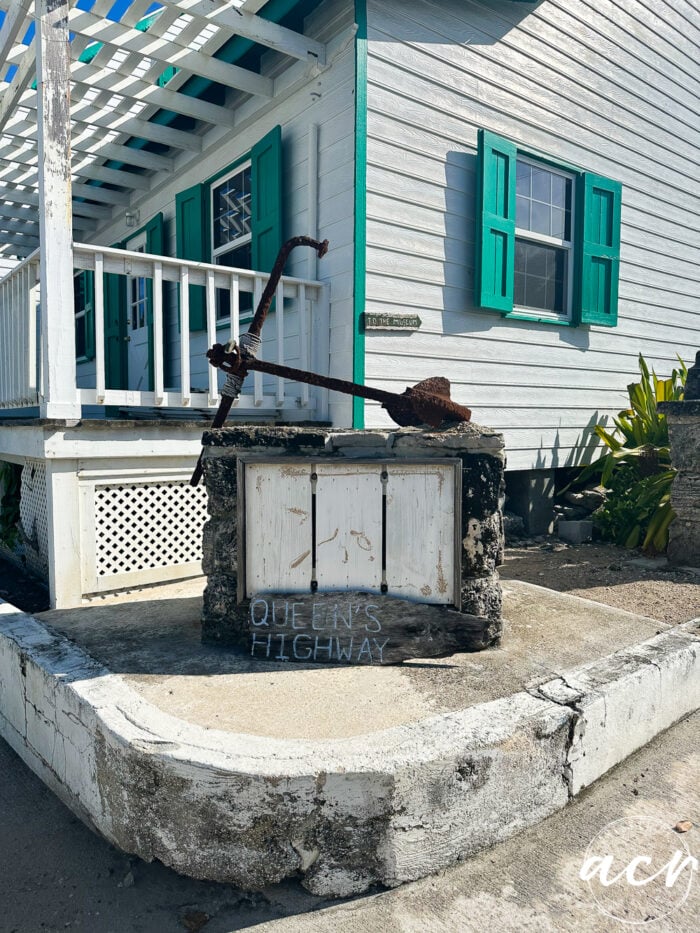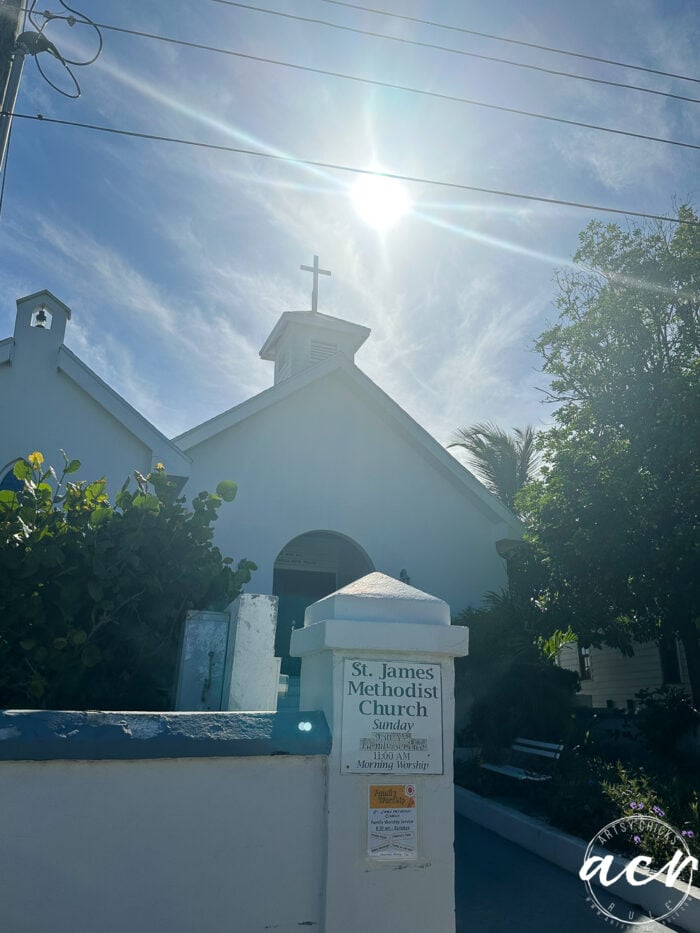 A small art boutique had this bird in it!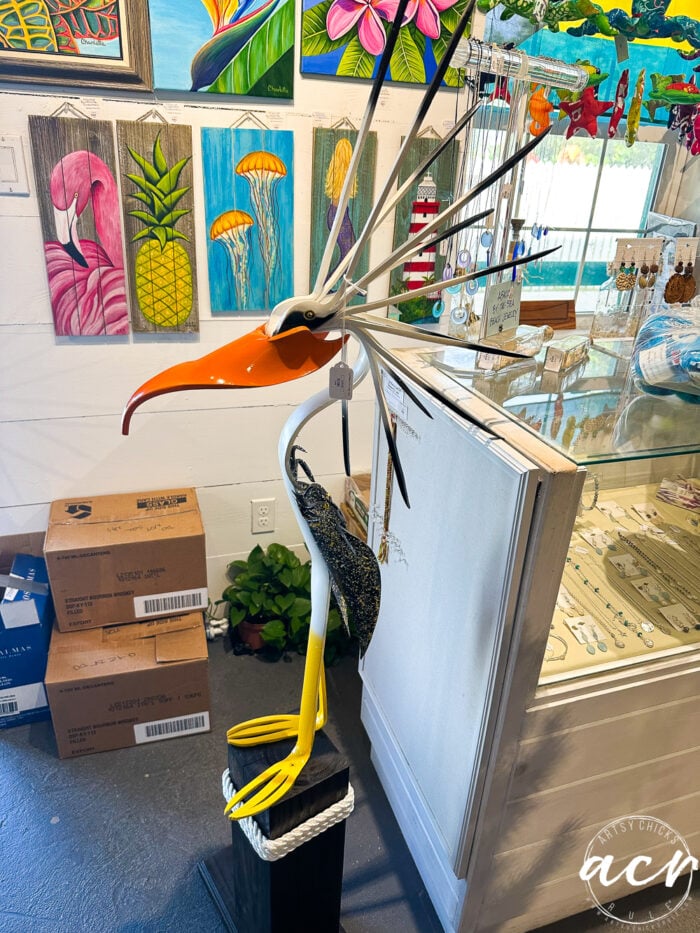 Isn't that wild?
And a real one, Yellow Crowned Night Heron. ha!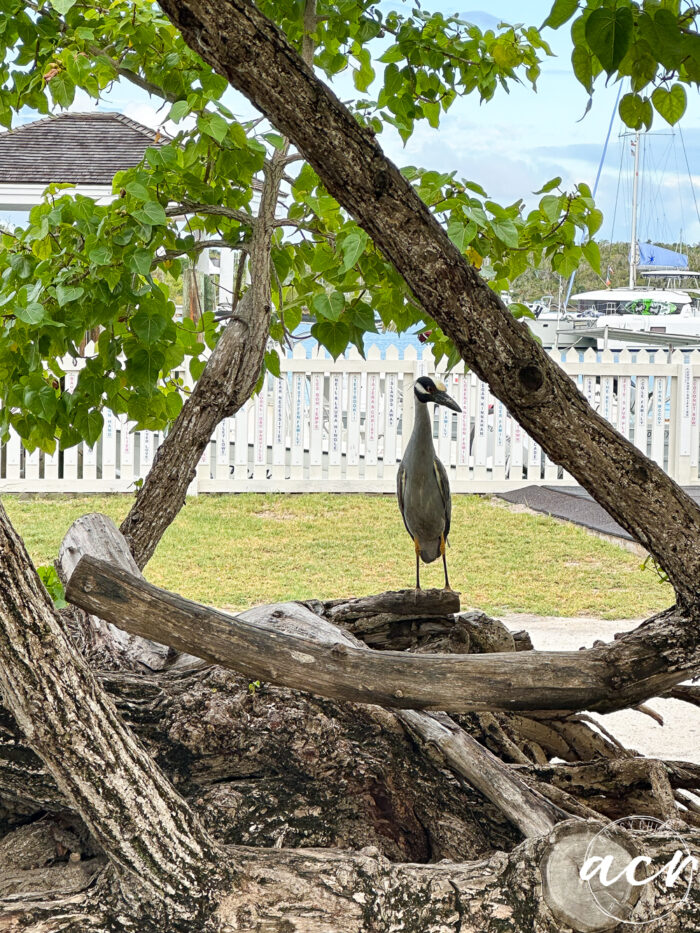 The Cholera Cemetary
There were several old (very old and falling apart, sadly) cemeteries right by the beach. This one was actually one from the 1850s when they had a Cholera outbreak. It is the Cholera Cemetary where about 100 people were buried.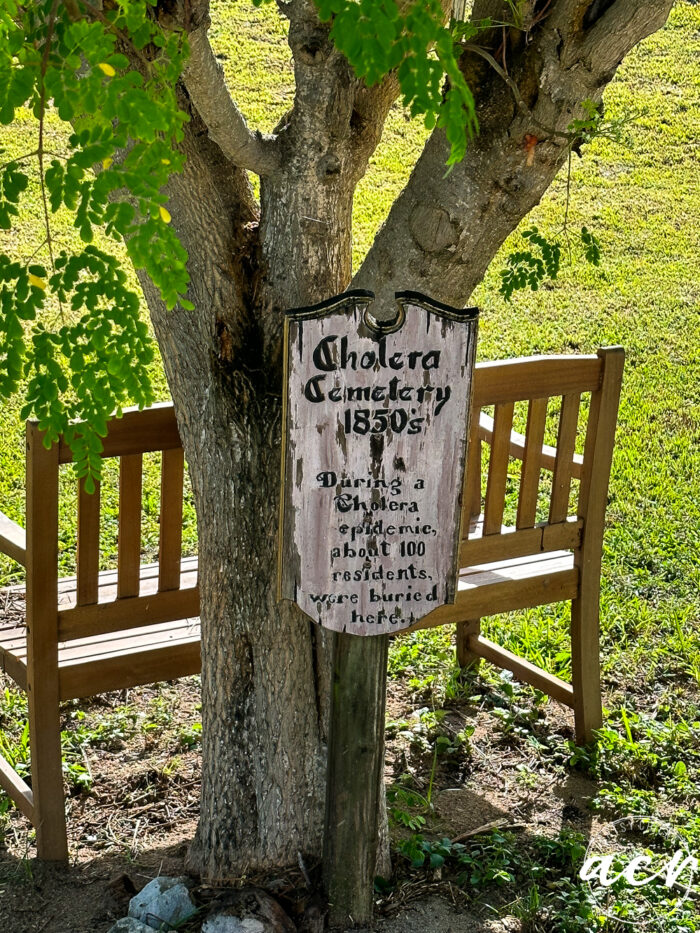 They are buried on a grassy "hill" where the other side is the beach and ocean.
We drove the cart to Mackey's for breakfast.
Mackey's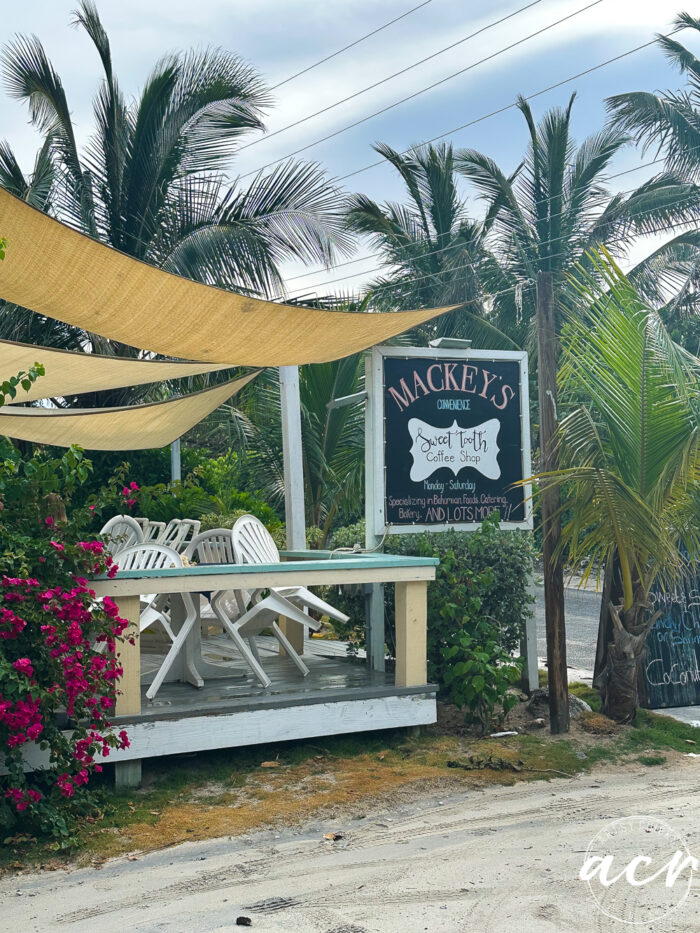 And met a friend. haha!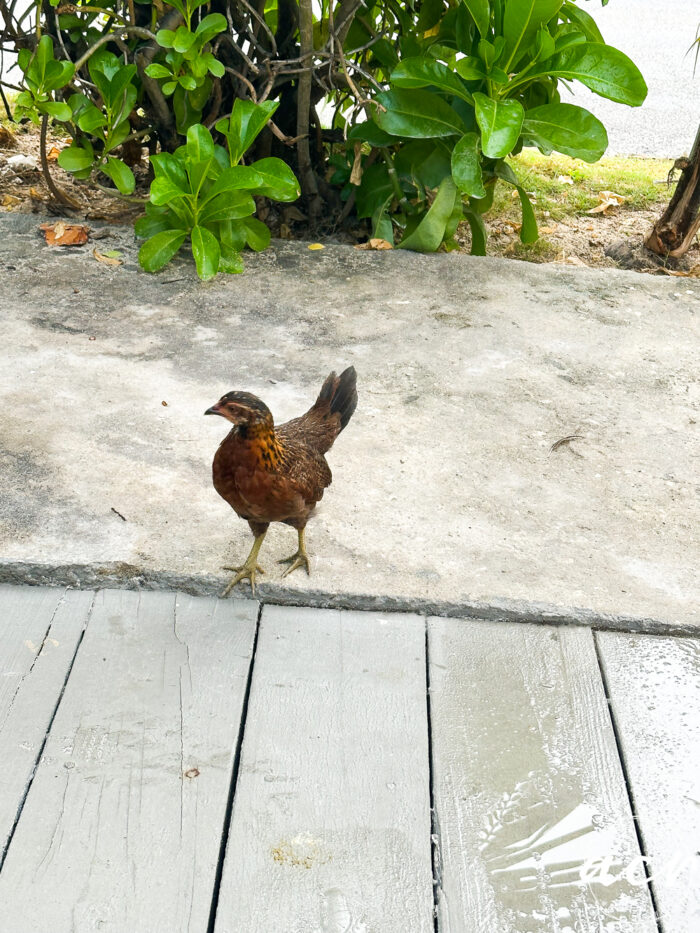 It's wet because we had a crazy, wild storm overnight the night before. Thankfully, the days were mostly sunny and beautiful!
Driving around the island we saw the Abaco Inn.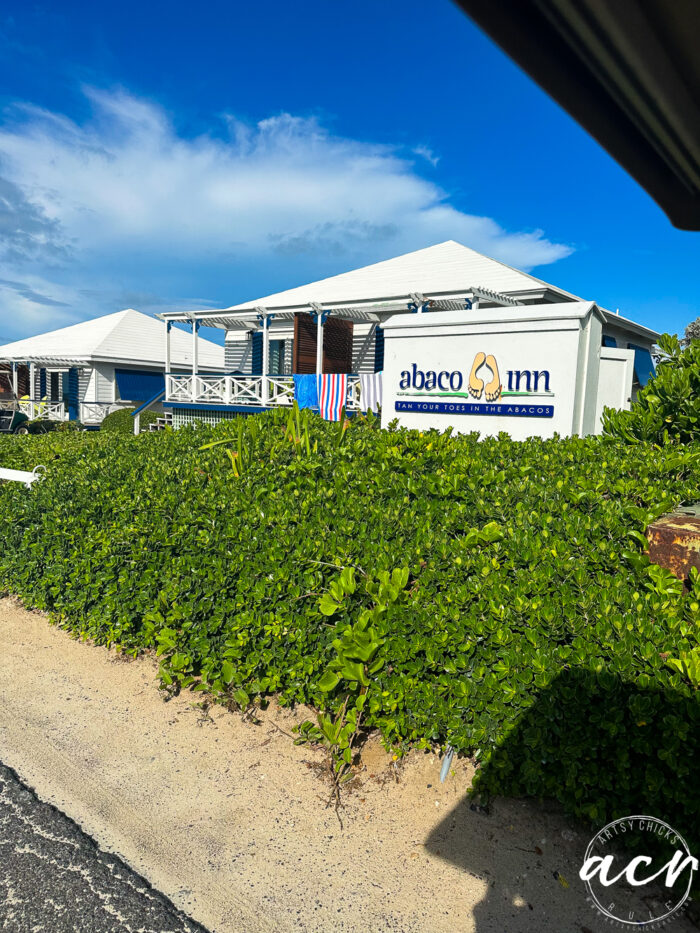 A beautiful resort to stay at.
Then we hopped in the boat and went to paradise!
Scotland Cay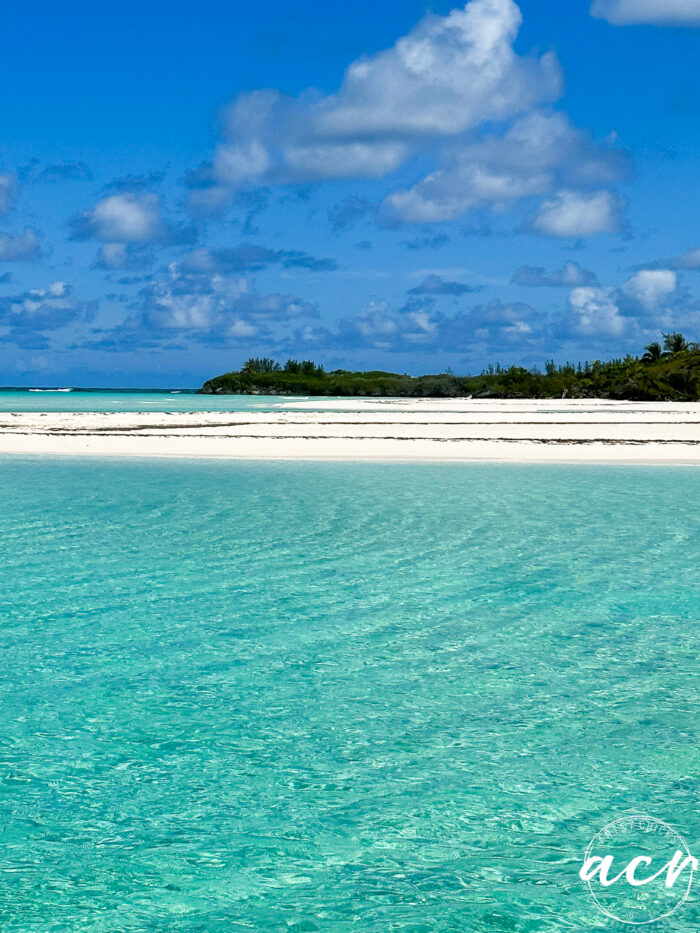 It was a "deserted" beach that had a second beach beyond it (all extremely shallow, easy to walk) and the ocean beyond that. (if you look at the far back of the photo where the water gets dark and you can see a white cap…that's where it goes into the ocean)
It was a STUNNING sight to see. It was my absolute favorite place of the entire trip.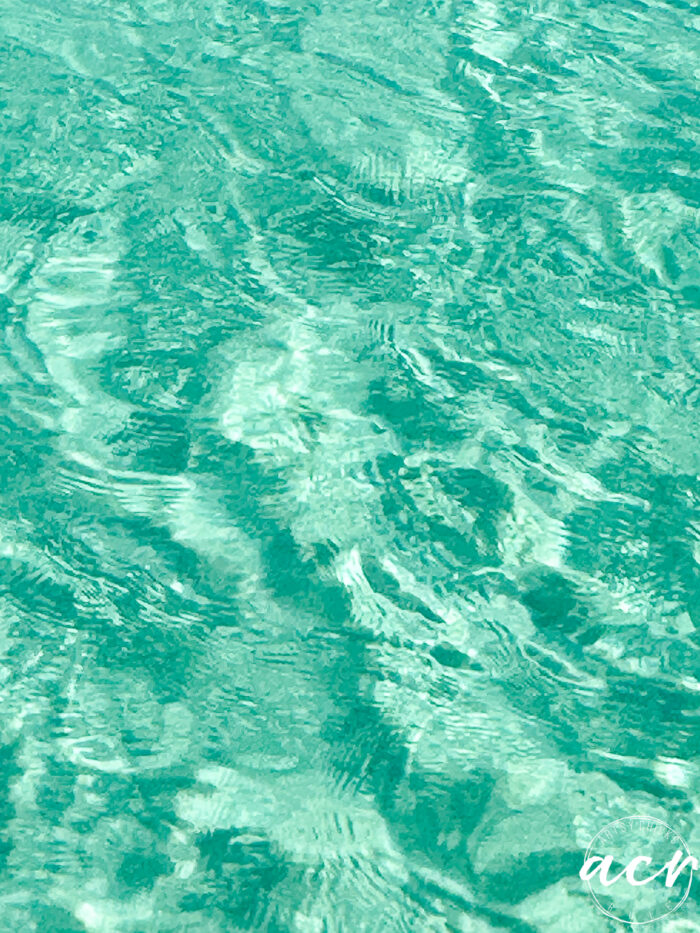 The water was unbelievable but the whole area was just like something out of a dream.
We saw several stingrays here.
I will tell you, I never saw anything but turtles, stingrays, and small fish at the dock…only!
And you can see all the way down and around in the water. We were out in the ocean all over and I looked everywhere (you can see clear down to the bottom no matter how deep) and I never saw anything. You know, like sharks, big fish, etc. I was surprised by that. Thought I'd see something somewhere!
I love living near the ocean here in Virginia. And I love owning a little place in The Outer Banks right by the ocean but our water does not look like this! lol
I sure wish it did! I can not even imagine. Sigh.
Saw lots of turtles out in the water in all different places. Caught these two swimming together at the dock picking up the boat. (there were two, you can see them in the video I took)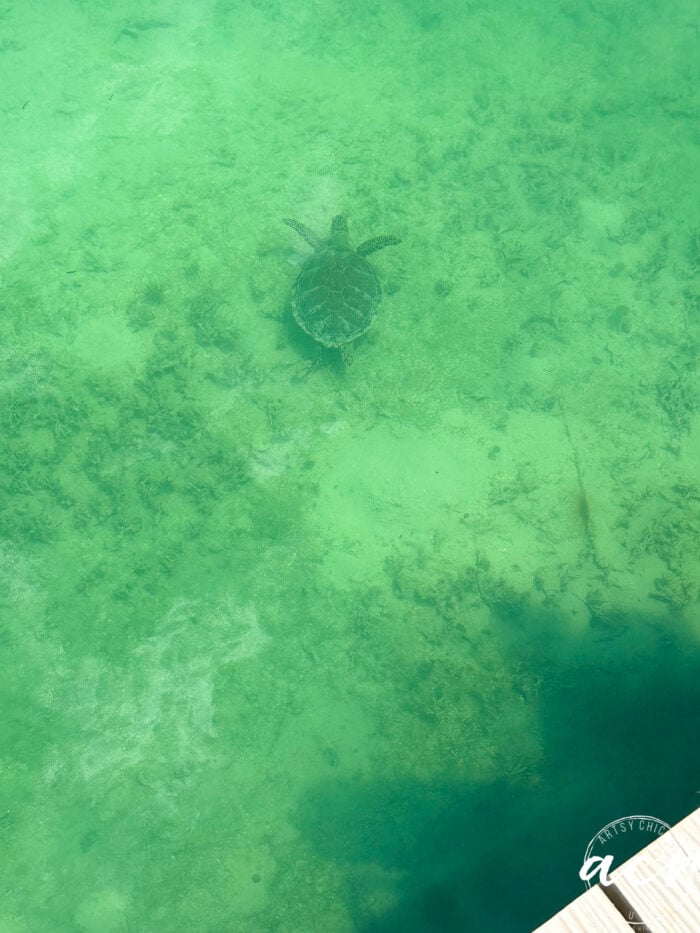 On Da Beach was just a short golf cart ride away.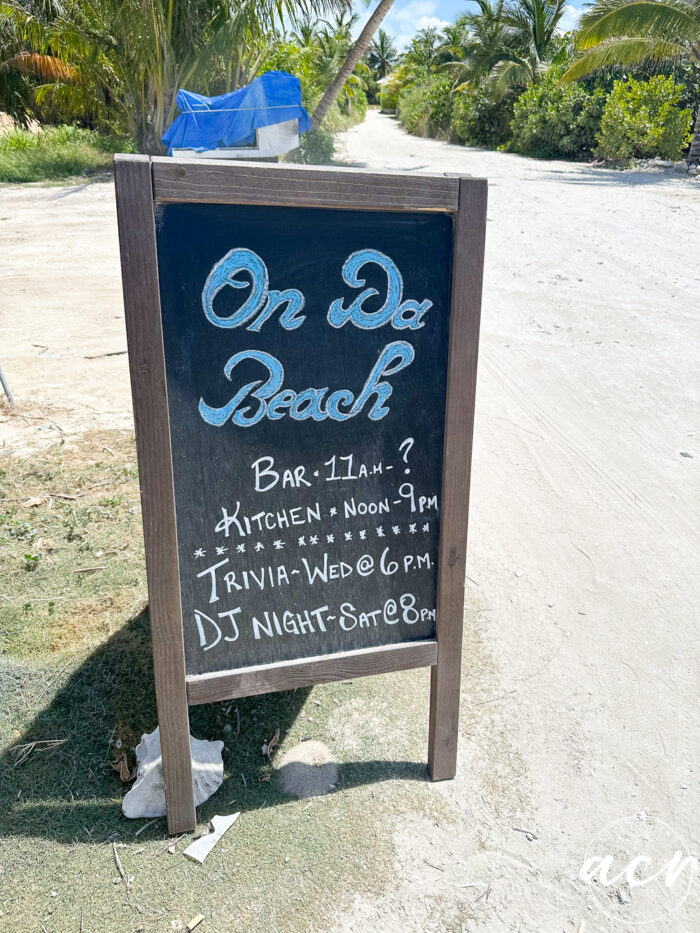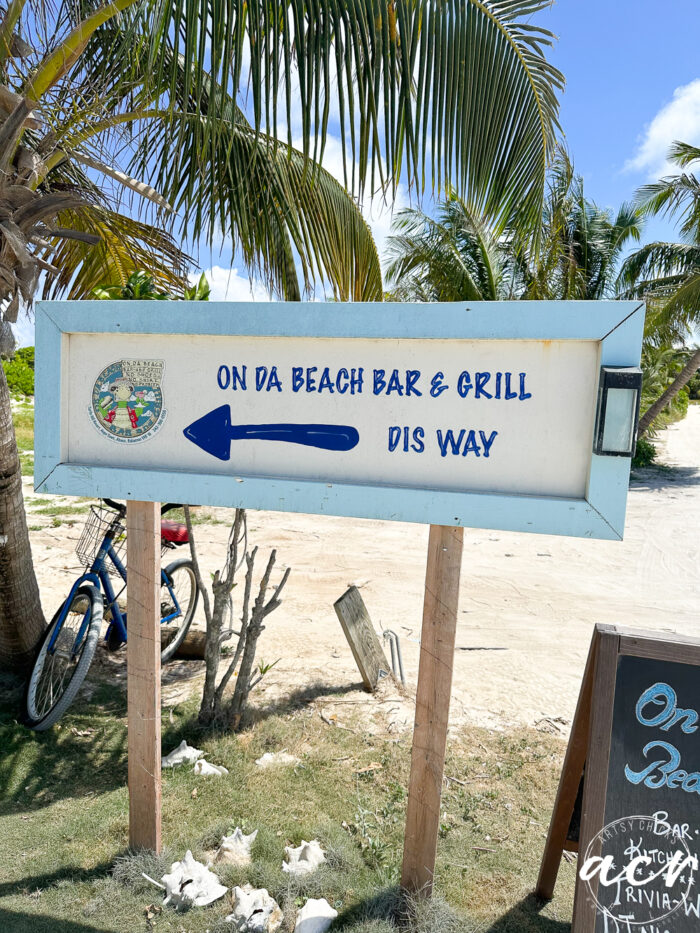 It's dis way. :)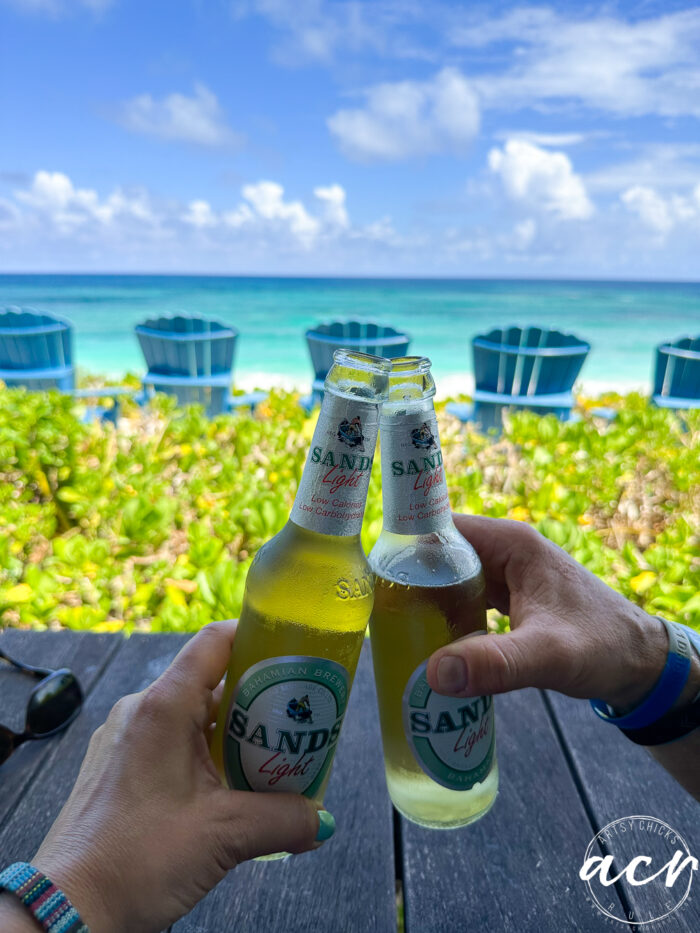 Sands beer, local!
The Sands Pink Radler (grapefruit) Oh my, it was delicious!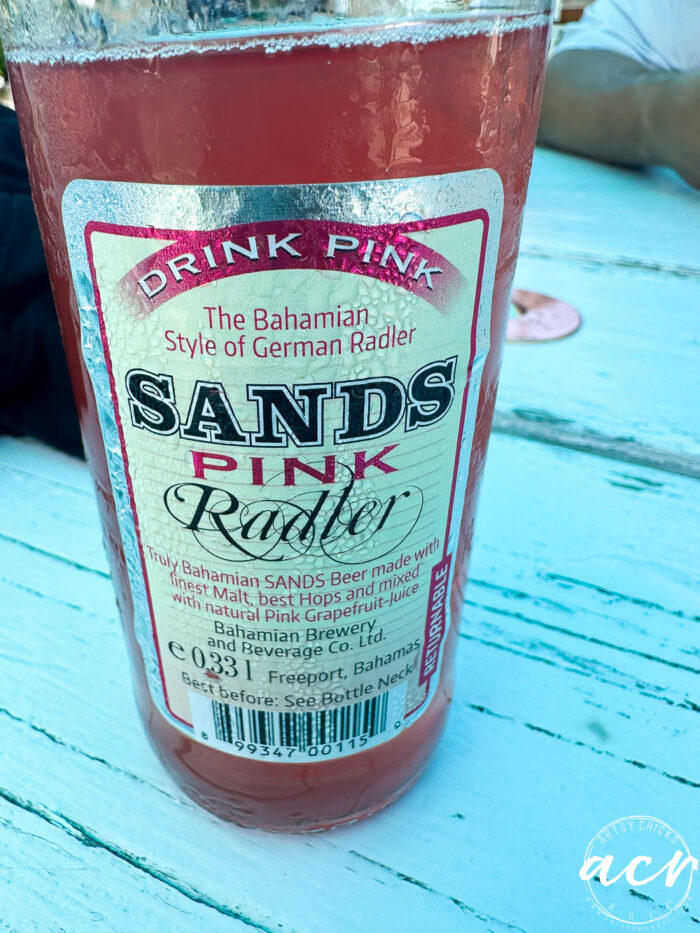 Another morning, another breakfast!
This time we went to Seabiscuit.
Seabiscuit Bakery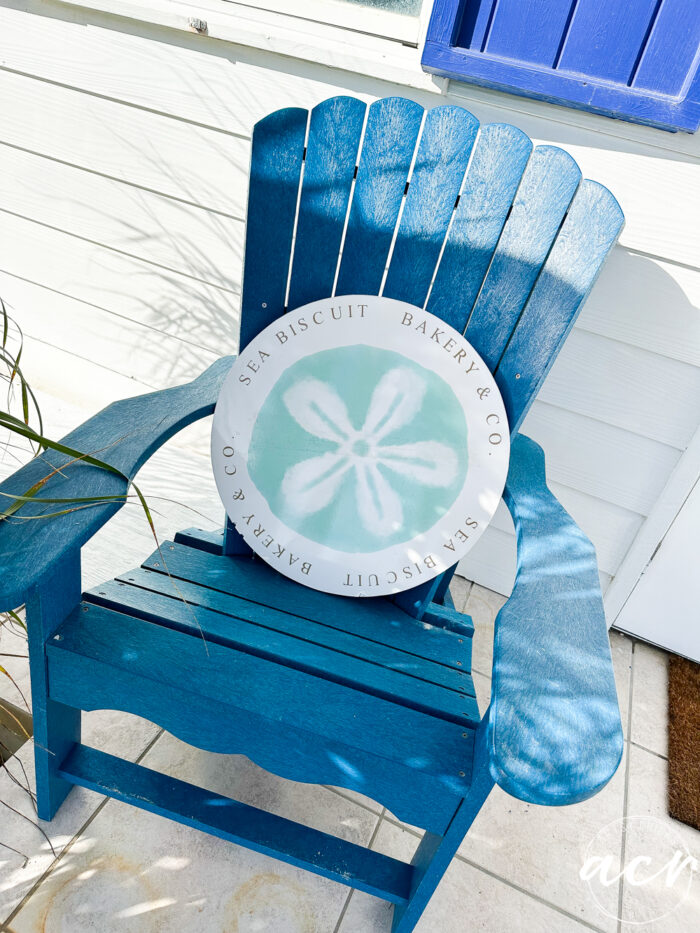 Delicious quiche, danish here, and the best coffee, yum!
On Da Beach
We ate it on the beach. I mean On Da Beach at On Da Beach! lol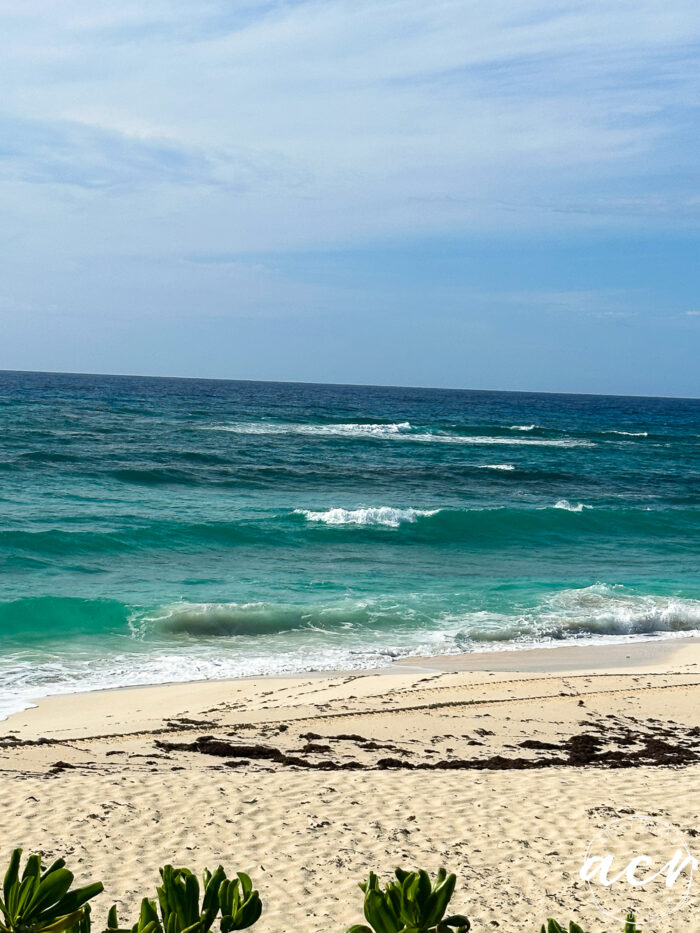 On one of the day's boat outings, we went to Grabber's.
Grabber's
This was not our boat but had to grab a shot as I walked past because the water is so clear it looks like it's just floating on air!
Looks like a great place to hang out!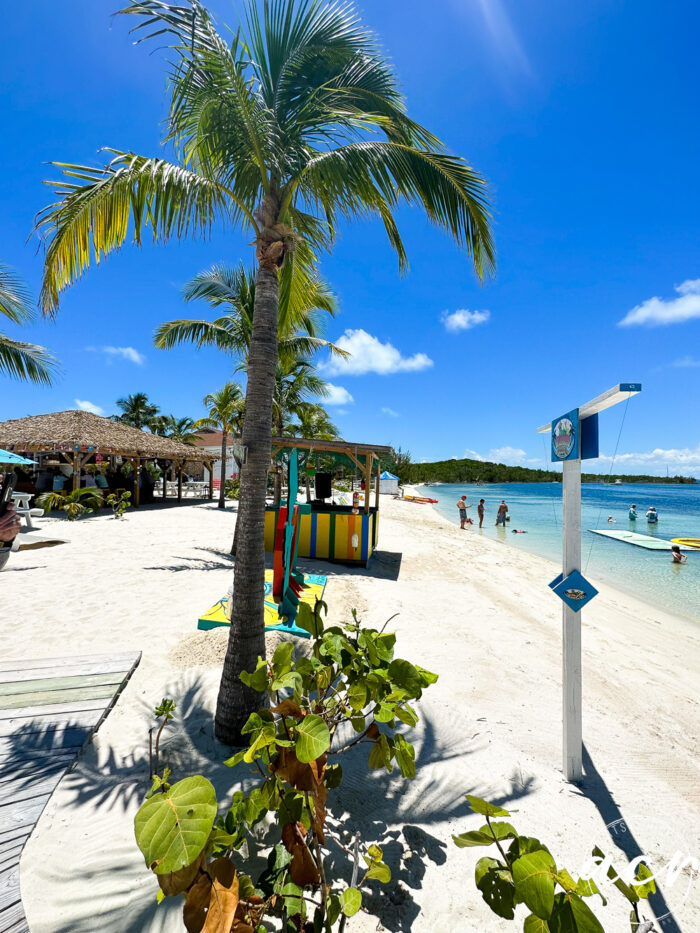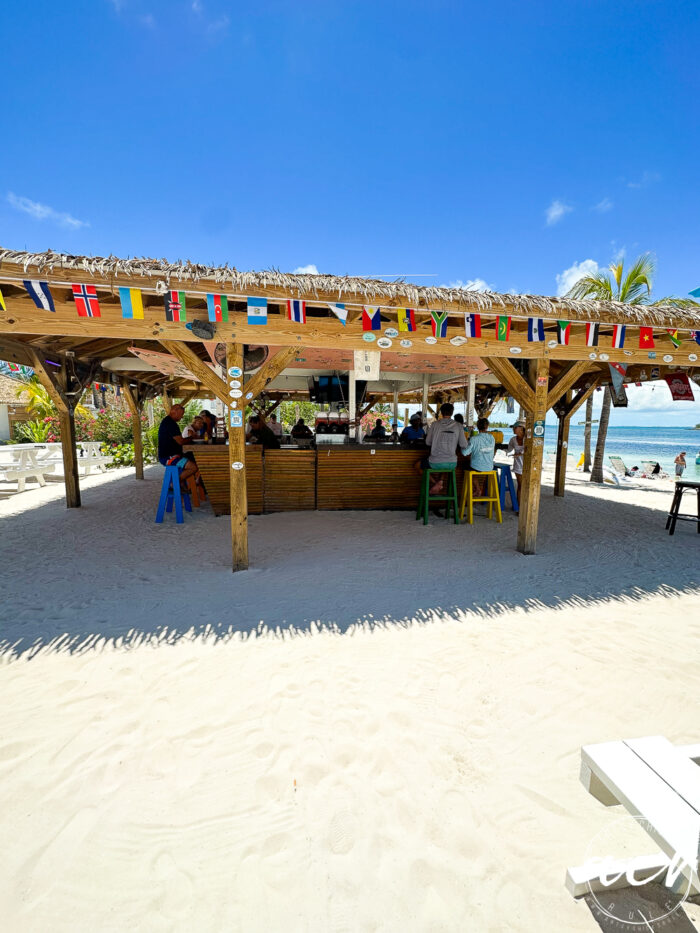 So we did!
And saw more chickens. haha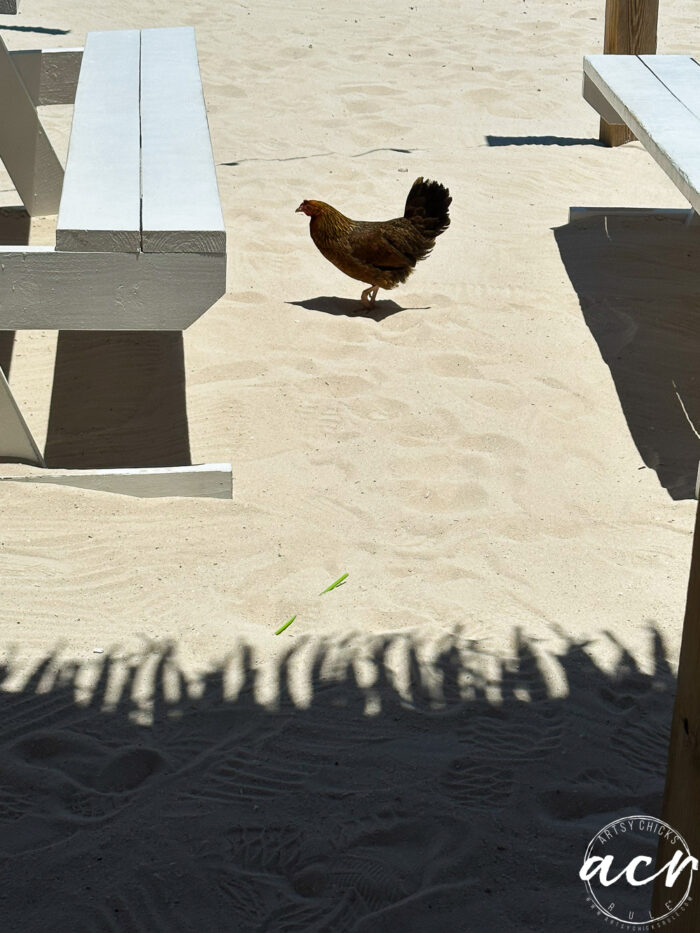 Saw these in several different places on the island. We kind of figured people from out of town added their own signs.
Notably for us, Pungo, VA (bottom right) is not far from us. :) So that was fun to see in the Bahamas!
A sunset dinner at Firefly Resort was next.
Firefly Resort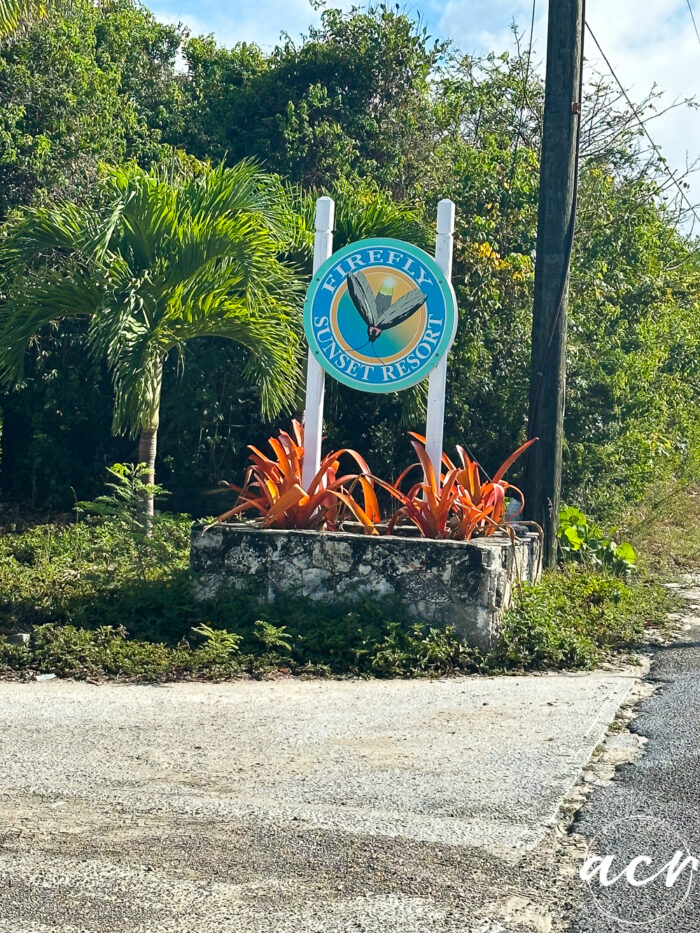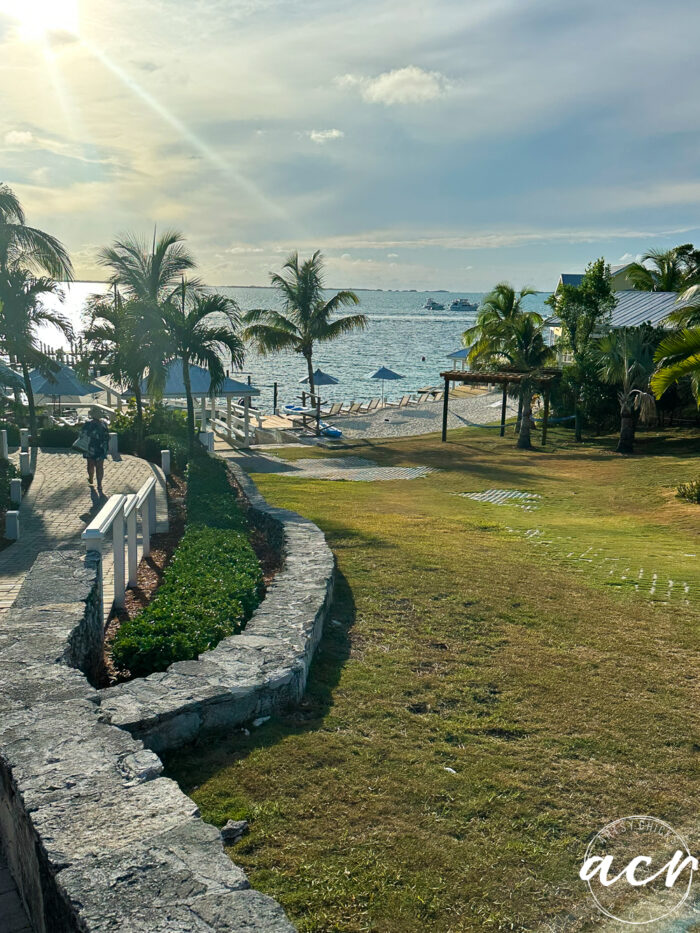 It was a truly beautiful resort. Would love to stay there sometime.
The next day we headed out for a new adventure.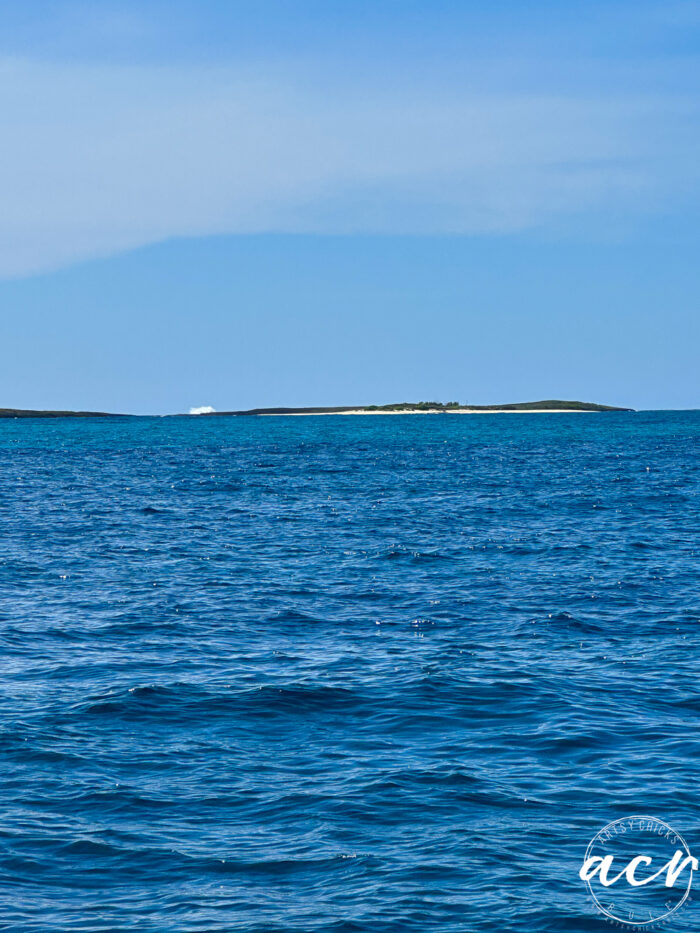 And what we found this time was this incredibly BLUE water. I mean I can't even describe it accurately.
Do you see where it is BLUE BLUE and back there, in the far back of the picture it looks like it might be a little bit more greenish?? Well, that is exactly how it looked in person. I mean it was STUNNING.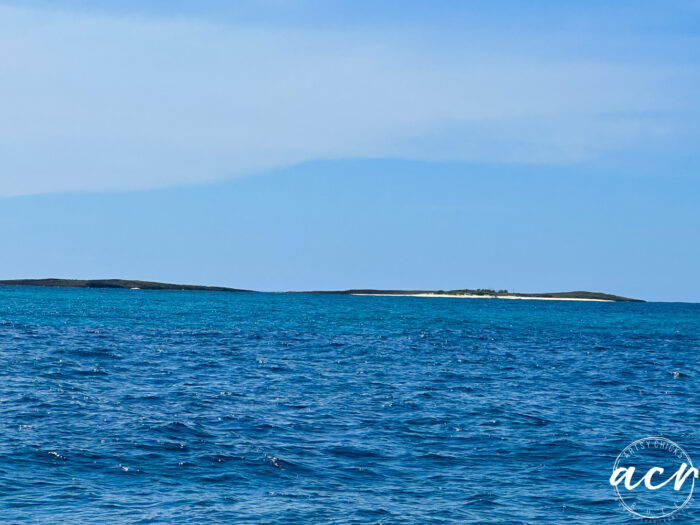 Do you see it, where it changes a little??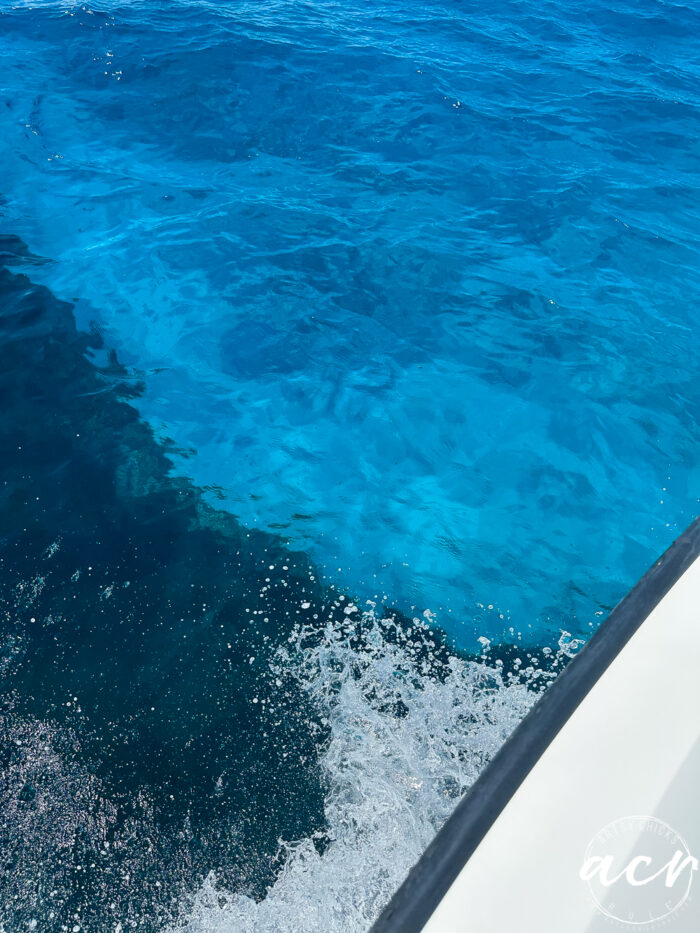 This is what it looked like when we stopped in the middle of the ocean! Clear and so BLUE.
Unlike the more greenish hue of the other areas, we had visited previously.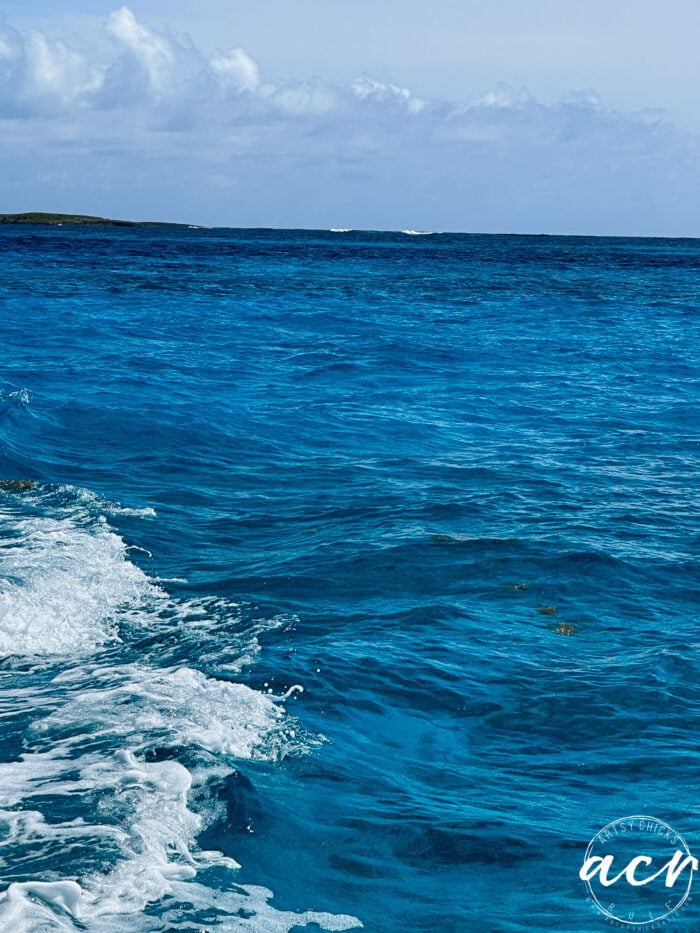 So blue. Please bear with me because I just could not get over this beauty when I saw it in person.
I was so in awe!
I mean, I adore the green and the pale clear green, but this blue was just a sight to withhold!
Pete's Pub & Gallery
We headed to Little Harbour, to check out Pete's Pub and found this "cave" along the way.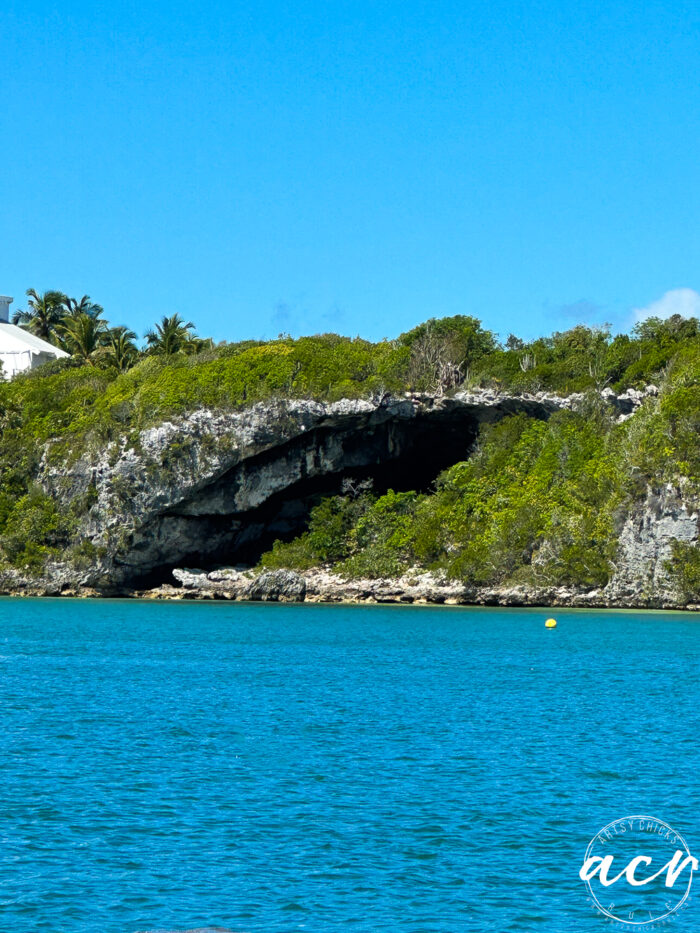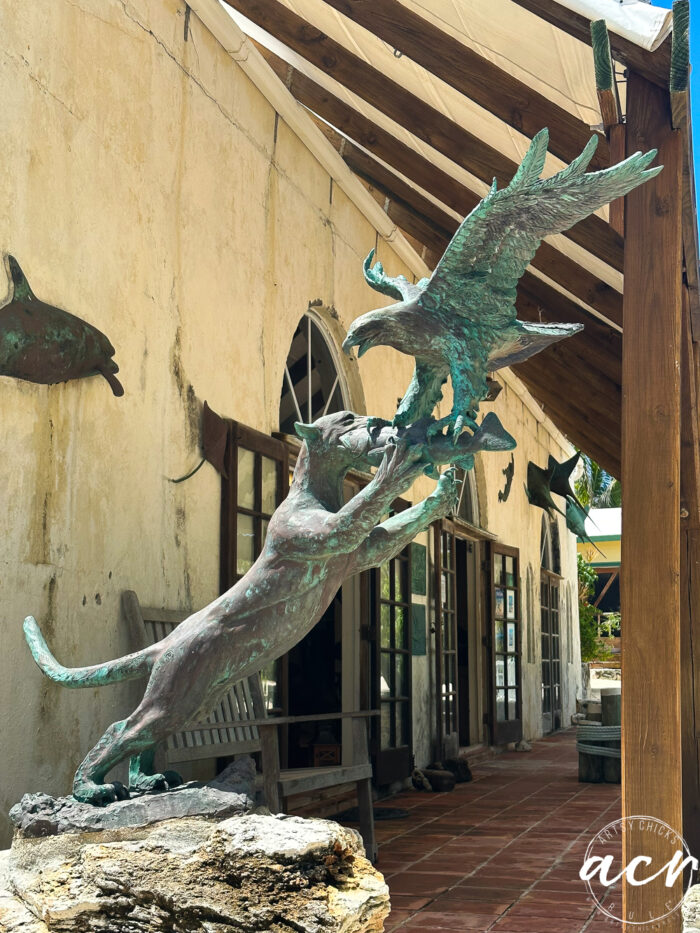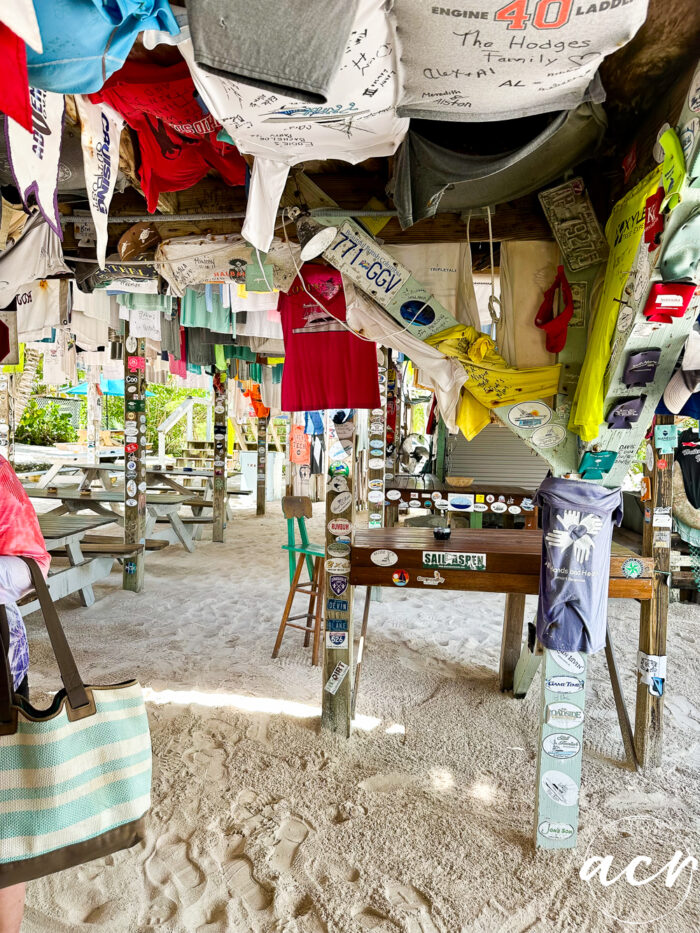 On the backside of Pete's was the ocean.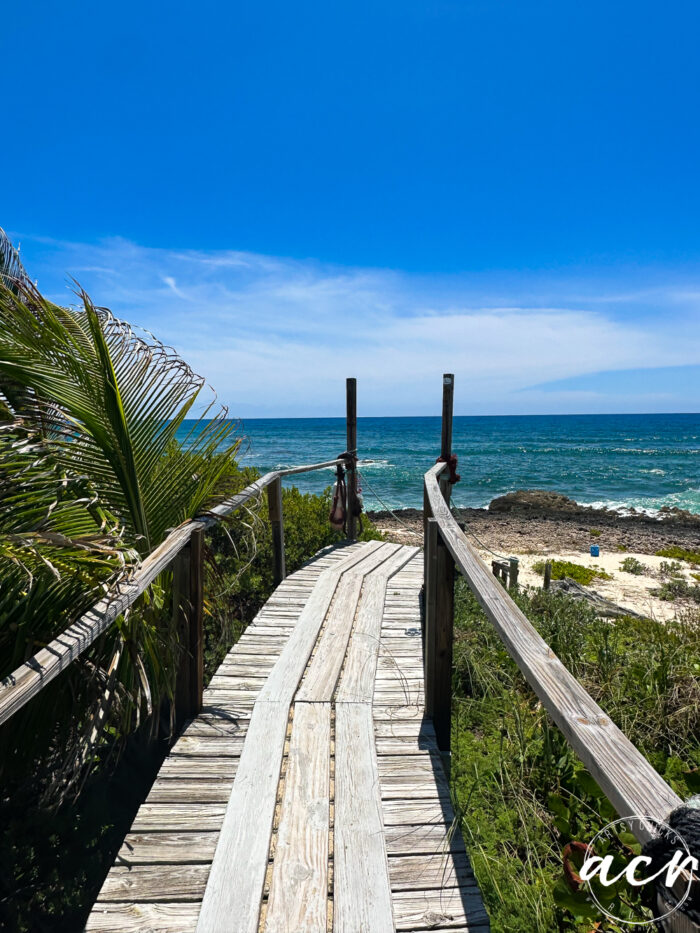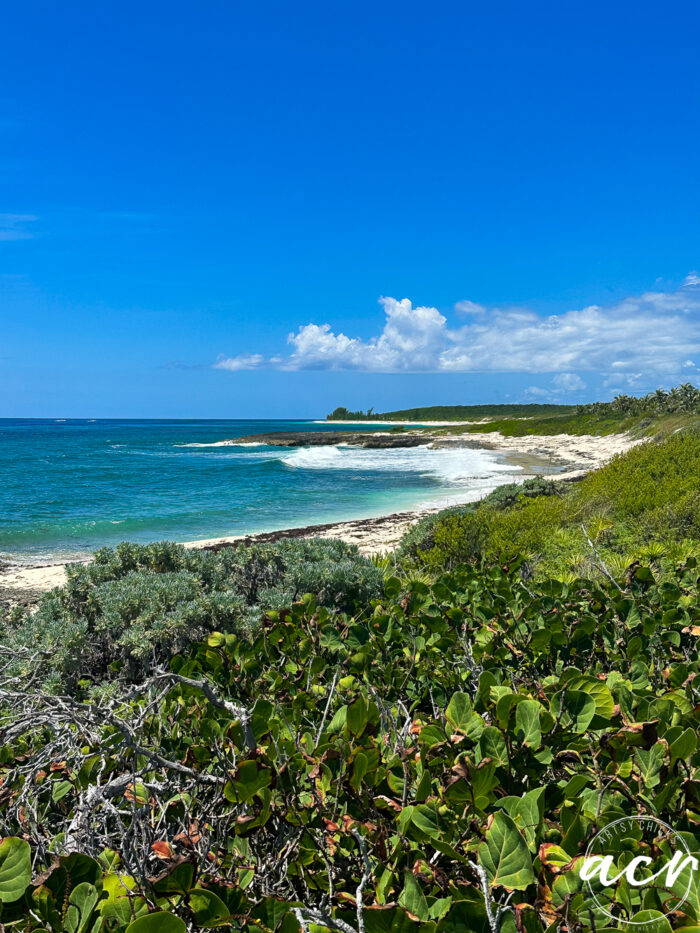 Nature's beauty right here.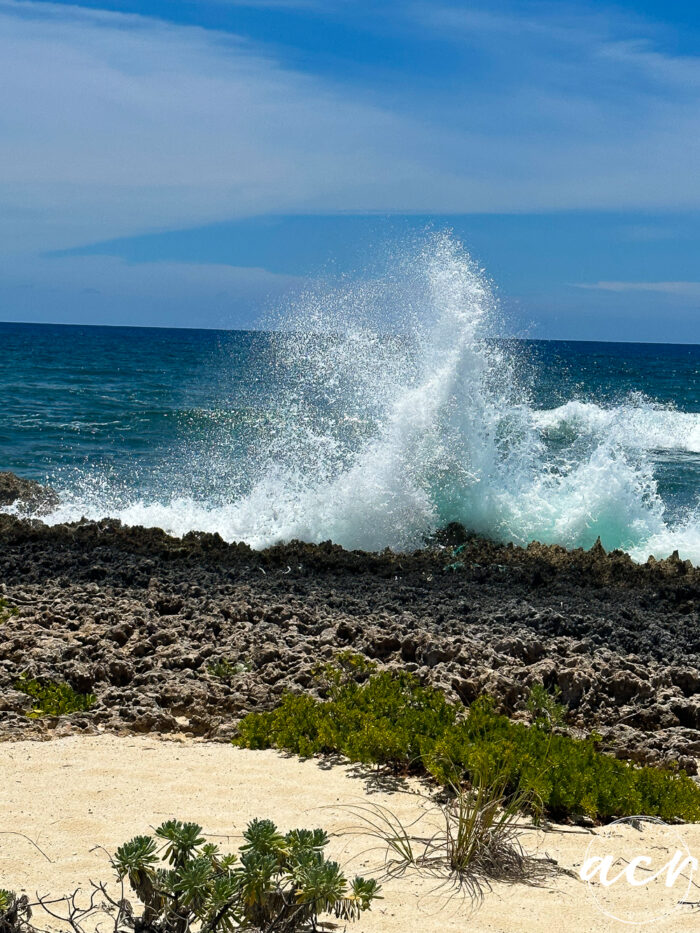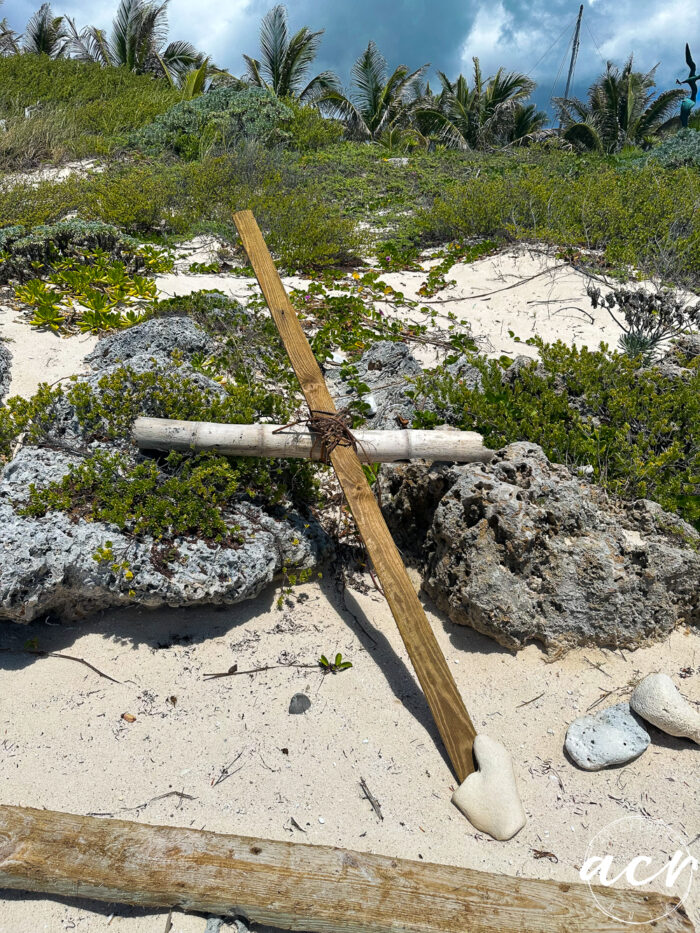 We came upon this cross on the beach while here.
On our last night there we went to Hope Town Inn & Marina for dinner. It required a short ferry ride over.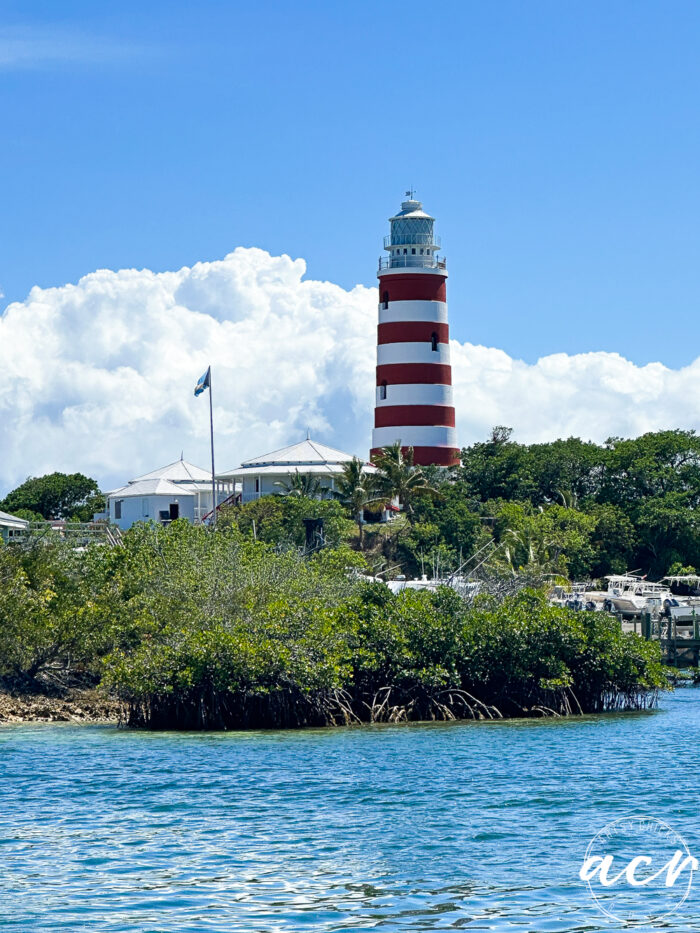 Elbow Reef Lighthouse is just across from where we stayed.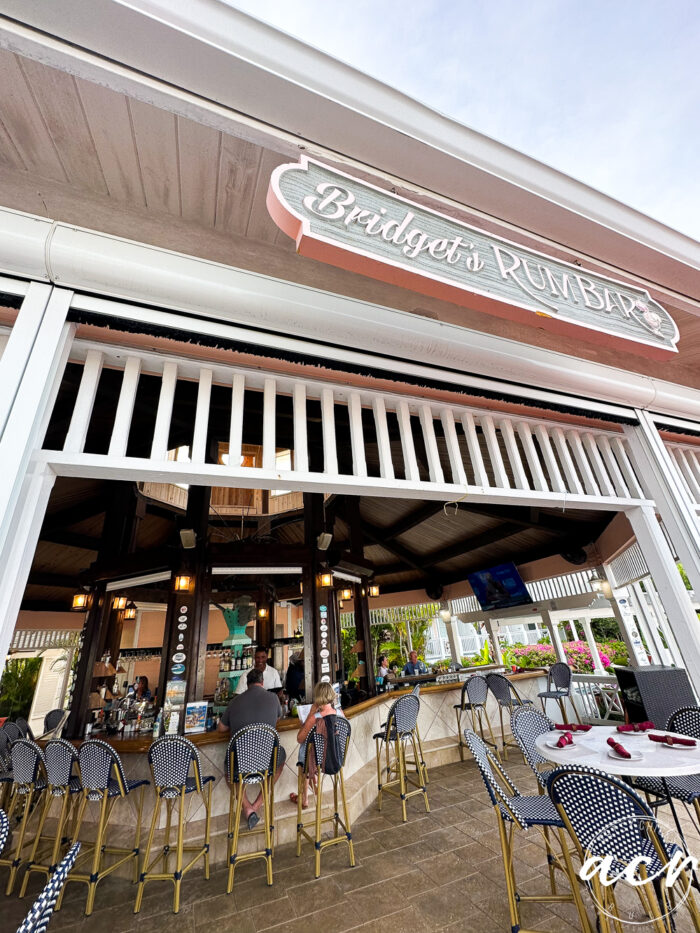 What an amazing trip! I would LOVE to go back someday. I never thought too much about the Bahamas but wow, was I missing out!
It's an amazingly beautiful place with wonderful people. A great place to visit!
Here's a video so you can see some "live-action"!
The biggest takeaway from this post…rent a boat! If you are not proficient at boating, hire a captain to take you around. That is the only way to see all this beauty. I mean it. Night and day! You must get out and explore to see all the wonder.
PIN it to save it!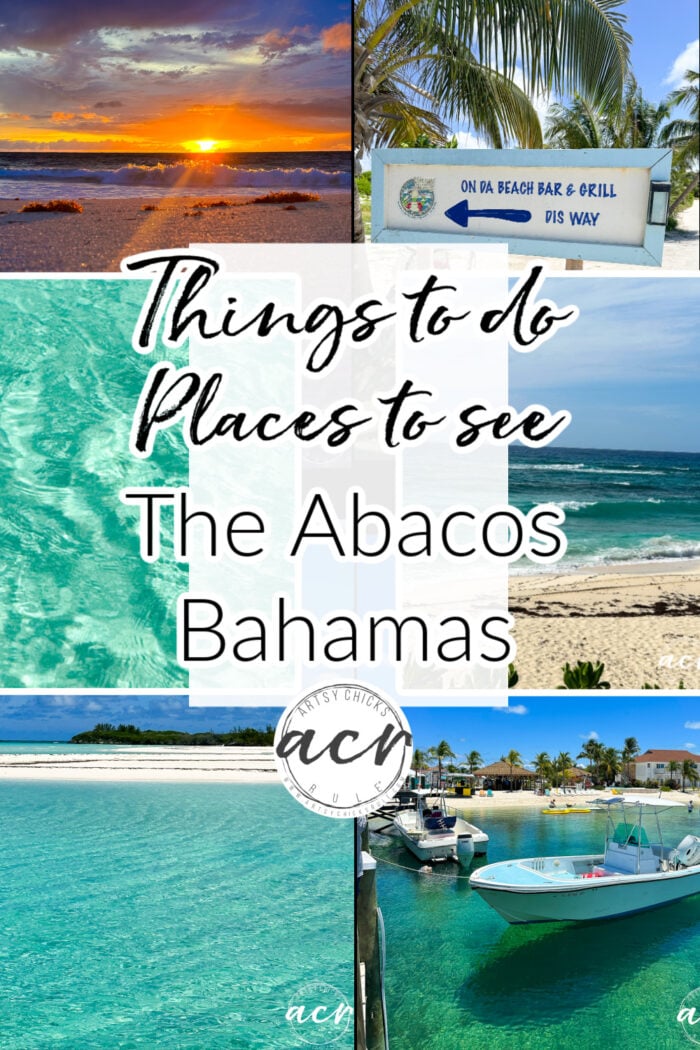 I hope you have a wonderful weekend!
xoxo