Healthy Ways to Scent Your Home Naturally (plus recipes!)
This post may contain affiliate links. Please see disclosures here.
Good Morning Friends! I'm not sharing the usual decor, thrifty makeover or furniture post today.
Instead, I'm sharing healthy ways to scent your home naturally! Yay!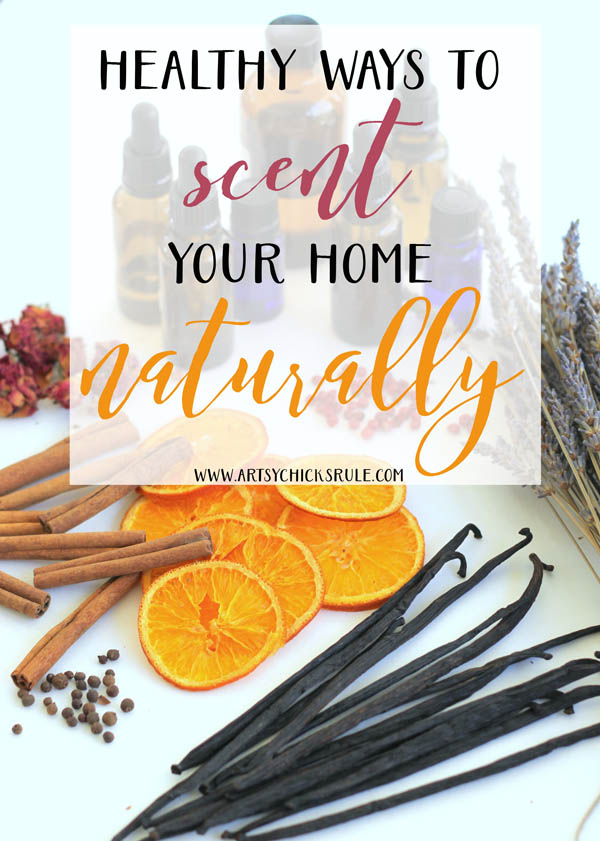 Everyone loves to have a good smelling home, right? ;)
Keeping a clean home helps, and is necessary, of course, but adding in a little fragrance is just fun.
Plus, natural scents and oils have health benefits, can be antimicrobial and antibacterial too.
Sadly, most of the "fragrances" you find out there are artificial and full of chemicals.
And because of my health history, it's something else I try to limit my exposure to (and my family's exposure to).
Nature creates the most beautiful smelling scents anyway!

And who doesn't want to scent their home naturally?
I'm here to tell you, once you stop using the "fake" stuff, you will not want to ever go back.
The fake stuff will smell too strong, too chemical-ly and just not natural.
Don't get me wrong, the natural stuff can be strong too.
But strong in a completely different way. :)
So, today I'm sharing some different ways you can scent your home naturally.
I love essential oils and have been using them for 15+ years now.
I can't wait to share a few of my favorite recipe blends and uses with you!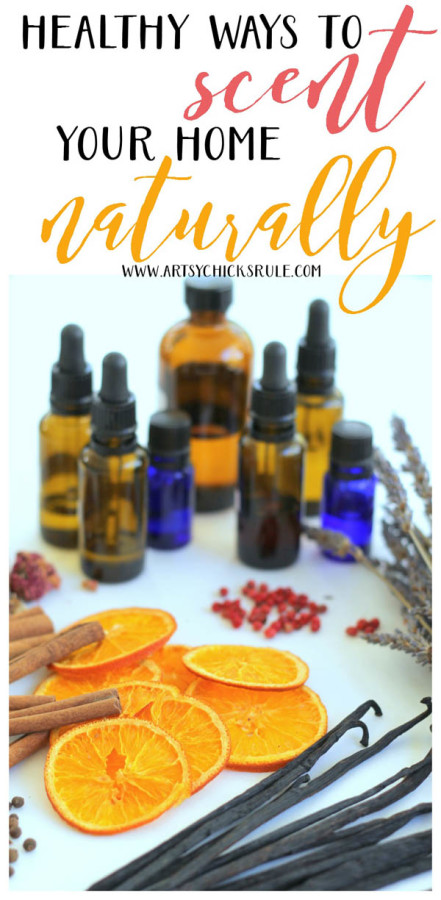 ………………………………………………………………………………….
**I've included affiliate links in the text below so you can easily find what I'm mentioning here. See my full disclosure here.
M a k e   Y o u r  O w n   P o t p o u r r i
Simmer fresh sliced orange or lemons (or the peels) with cinnamon and cloves in water.
Perfect for a quick lift or after cooking.
Make your own potpourri with dried fruits, cinnamon sticks, cloves, etc. (you can simmer this too)
Use the dried potpourri in and around your home in decorative dishes.
Freshen the scent from time to time with essential oils.
C a r p e t   D e o d o r i z e r
Mix 1 cup (or more, as needed) of baking soda in a bowl and add 20-30 drops of the pure, undiluted essential oil of your choice.
Store in a sifter shaker bottle or just shake it out by hand onto the carpet. (note: can by clumpy without the sifter)
Let sit for at least 30 minutes (or longer) and then vacuum the rug/carpet.
N a t u r a l   R o o m   S p r a y
Mix 4 oz of distilled water with the 60-80 drops of essential oils, shake before use… or….
You can also use 2 oz of high proof alcohol (vodka or perfumer's alcohol) with 2 oz of distilled water.
Be sure to mix the essential oils into the alcohol before adding the water.
Shake before use.
Use spray bottles like these to store the spray.
Label them with these cute chalkboard labels. (favorite recipes are below)
This can be used to refreshen the air or on linens. (test on linens as some essential oils can stain)
Good for freshening the carpet in autos too.
C l e a n i n g   &   D u s t i n g
I use the Swiffer Sweepers (the dry ones) to catch dog hair, dust and dirt tracked in.
They are quick and easy and great for hardwood or tile floors, which my entire downstairs is comprised of.
I will usually spritz the sheet with my "natural room spray" above before attaching it to the sweeper.
This gives the entire space a gentle hint of scent! (and remember, many essential oils are antimicrobial and antibacterial so you get that benefit as well!)
Another Swiffer product I like to use are the Swiffer Dusters.
I will do the same exact thing, spritz and dust! This is such a nice way to scent your home naturally!
A i r   V e n t   S c e n t
I will sometimes use drops of essential oil on a piece of paper and attach to the inside of my floor vents.
(I usually use heavier weight paper (these work good) and punch a hole in it, then tie a string through and around the underside of the vent.)
Be sure you make it secure so it doesn't slip down the vent hole!
When the heat/air blows through it, the scent will gently blow through the air as well.
Place a small piece of fabric or the heavy weight paper, scented with essential oils, on the corner of your filter in your return.
You don't want to cover the whole filter, just one small corner is enough to disperse some scent through the air.
Place one of the papers linked above, scented with essential oils, under the seat in your car.
And now my favorite way to scent my home…..
D i f f u s e r
This diffuser has served me very well. I recently came across this other style diffuser by the same company and it's functional and beautiful.
I have bought multiple of each for my home AND many for gifts.
I love them!
Diffusers disperse scent better than anything I've ever used.
These particular diffusers work better than any I've tried so far. (I've tried several) They work very well.
I also love the function of 'set it and leave it'. They turn off automatically once empty!
Did I mention how much I love this?? ;)
Just add water, essential oils and viola….beautiful, natural, oh-so-good smelling, healthy scented air!
R e c i p e s (these are all "one part" or "one drop", multiply accordingly for the recipes above)
8 – Orange
5 – Lemon
1 – Black Pepper
8 – Peppermint
3 – Lavender
6 – Lavender
4 – Lemon
2 – Geranium
2 – Cinnamon
1 – Clove
2 – Fir Needle
4 – Orange
6 – Orange
1 – Cinnamon
1 – Clove
4 – Lemon
1 – Frankincense
1 – Black Pepper
And now a recipe to make your own Vanilla "Essential" Oil and Extract (there's not a 'true' essential oil for Vanilla)
Extract: ( I use this one in the diffuser without any issues)
Place 8 vanilla beans (cut opened) into dark amber bottles and pour high alcohol content vodka (high proof) to fill.
Let it sit for about 2 months, or longer. Be sure to shake at least weekly.
Vanilla Oil: (for personal use, lotions or in potpourri, etc)
Place 4 vanilla beans (cut open) in a bottle and fill with Jojoba oil. Let sit for 3-4 months/shake weekly.
***You can use Madagascar or Tahitian Vanilla Beans. (I love and use both! I can almost promise you've never smelled anything so wonderful! ;) )
A note about essential oils:
Try to buy and use 100% pure, undiluted (and organic, if possible) therapeutic essential oils.
Keep in mind that essential oils will not smell the same or exactly the same every time.
They come from different sources, different times of the year, different regions, etc.
There are varying versions of many. Such as Lavender, I use "Fine French" because I love the scent best (it's a bit pricier).
The cheaper, 40/42 Lavender is a bit more medicinal smelling.
There are also varying versions of Geranium. I use and like the Geranium Bourbon. (Note: again, they may smell slightly different from each supplier)
You can use Litsea Cubeba in place of Lemon. It has a wonderful citrus smell and is a bit stronger than regular Lemon which can be faint and short lived.
You can also use Lemongrass in place of Lemon but I don't like it as well. It's a bit more grassy, pungent and overpowering to me.
Just because something is "natural" doesn't mean it's totally safe. What I mean is this, you still need to use caution with the oils.
They can discolor wood if spilled, ruin the finish, irritate the skin, etc.
Just use common sense as you would with anything. (remember, these are super highly concentrated oils from natural sources….consider the "water is super healthy (and needed!) but even drinking too much water is dangerous" analogy!)
And with that…PETS….again, just because it is "natural" doesn't mean it is safe for pets (dogs, cats, birds, etc) so be sure to keep that in mind when using essential oils. You can do a search on Google and find out what is and what isn't safe for each accordingly. As usual, just be mindful.
Relax, enjoy and have fun mixing and using nature's wonder! :)
………………………………………………………………………………….
PIN this so you don't forget (or one of the other photos here)! :)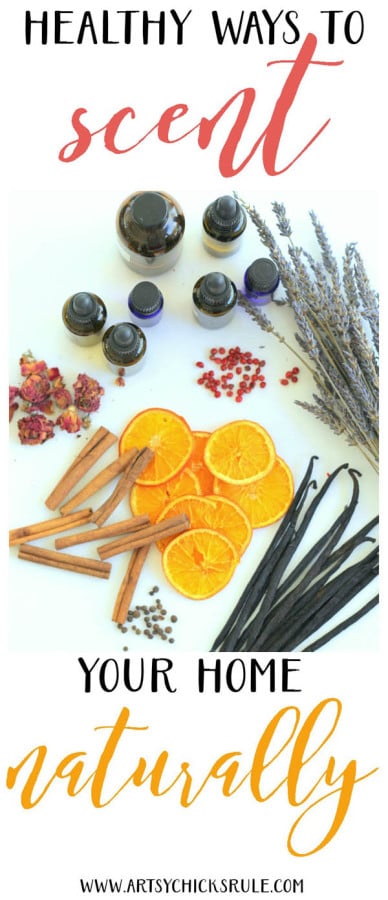 I'm planning to share my "whipped shea butter" recipe with y'all soon too. (UPDATE: it's linked below)
It's decadent. Really.
I think you'll love it. :)
Below are some of my other natural, healthy posts…..
Natural Homemade Soap
Natural Homemade Deodorant
Natural Sugar Scrubs
Natural Salt Scrubs
Easy Whipped Body Butter
Green Smoothies (I've got some good health info in this post)
Now go and scent your home, naturally. :)
Have a beautiful and blessed day, friends!
xoxo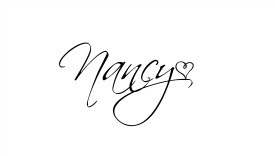 Note: I am not a health professional or medical doctor. The information and directions given on this site to scent your home naturally are of my own opinions and my own experiences with such and not meant to take the place of medical or professional advice. You may choose to try any or all recipes, etc,  I post at your own discretion.