Easy Whipped Body Butter Recipe
This post may contain affiliate links. Please see disclosures here.
Luxurious, decadent, and delicious (in a noneating kind of way) is the only way to describe this easy whipped body butter recipe.
UPDATED 12-23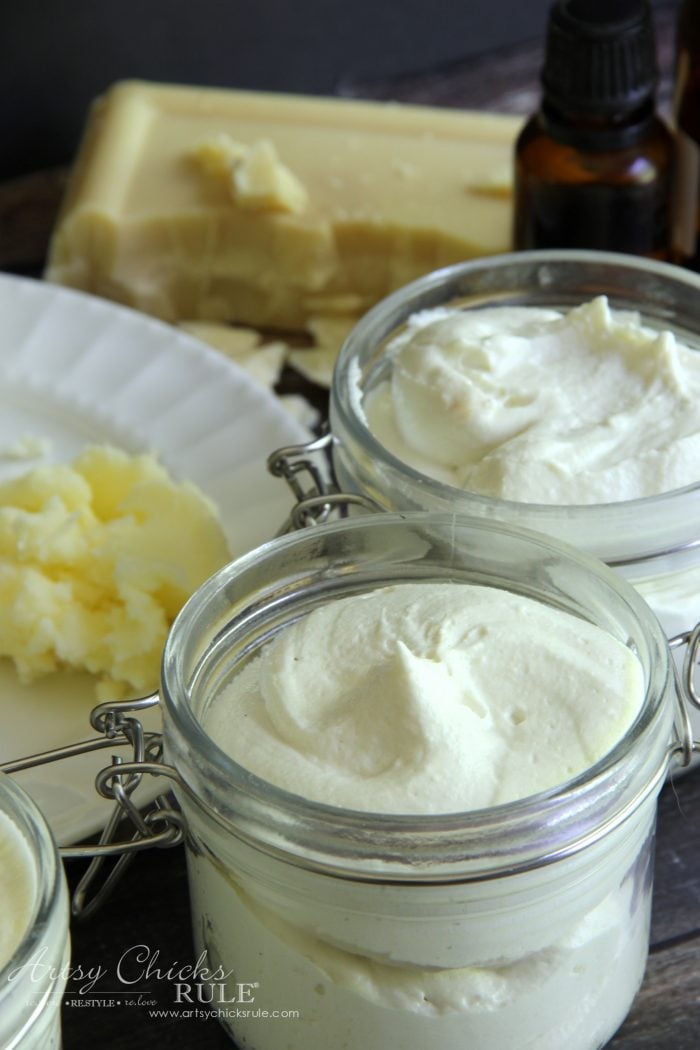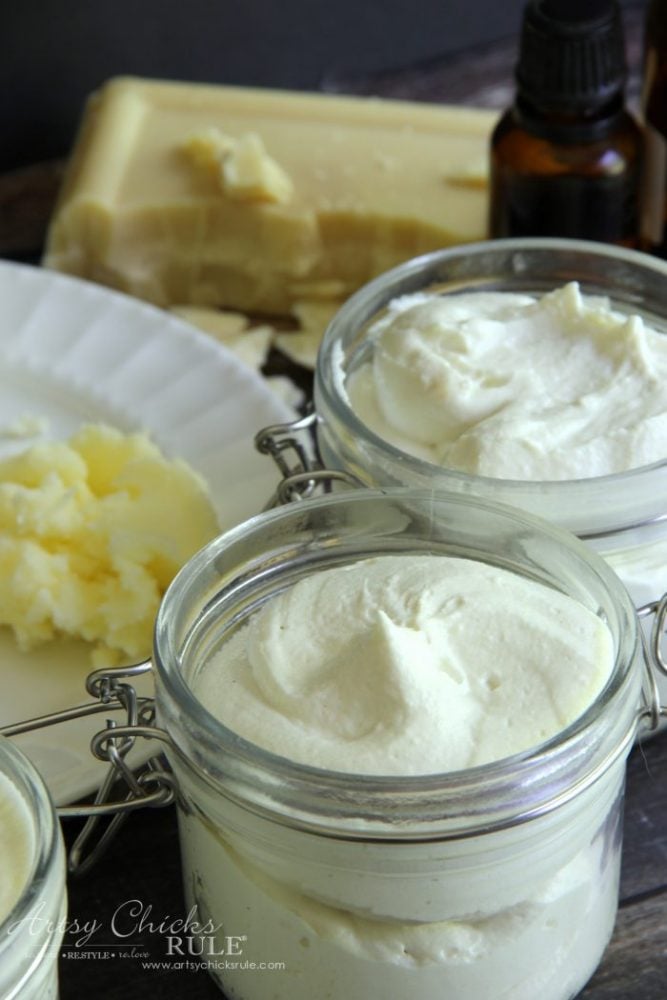 Today I'm sharing a really decadent goodie with y'all. How does an easy Whipped Body Butter recipe sound?
It sounds yummy! And it really is yummy.
All edible ingredients but I don't suggest eating it. hee hee
I do suggest slathering it from head to toe, however.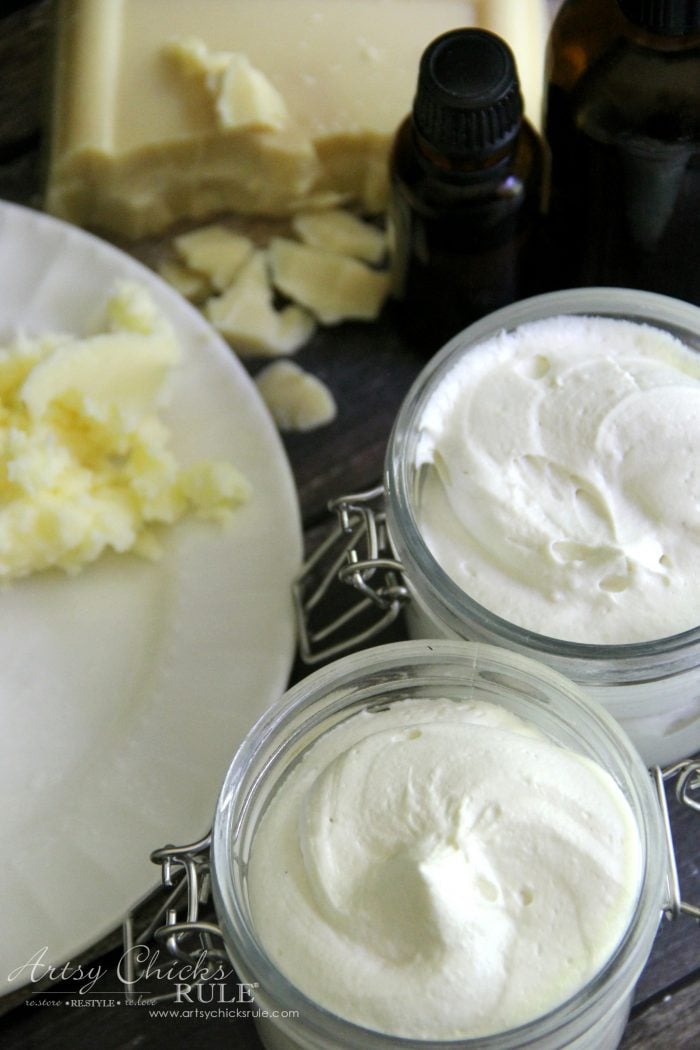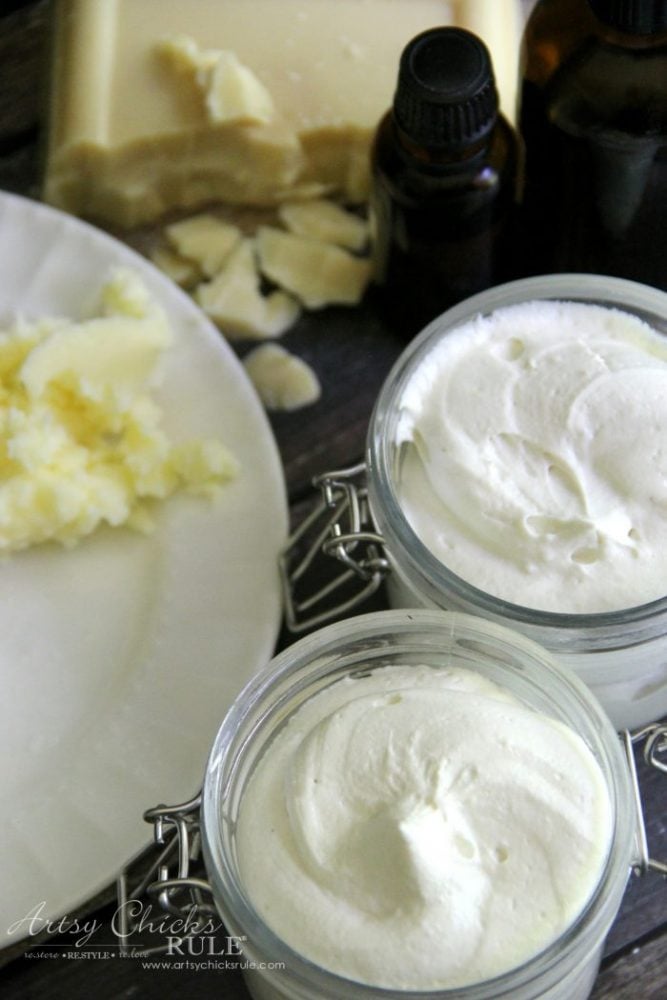 And it truly is about as easy as it gets. Plus, it's all natural.
That can't be beat!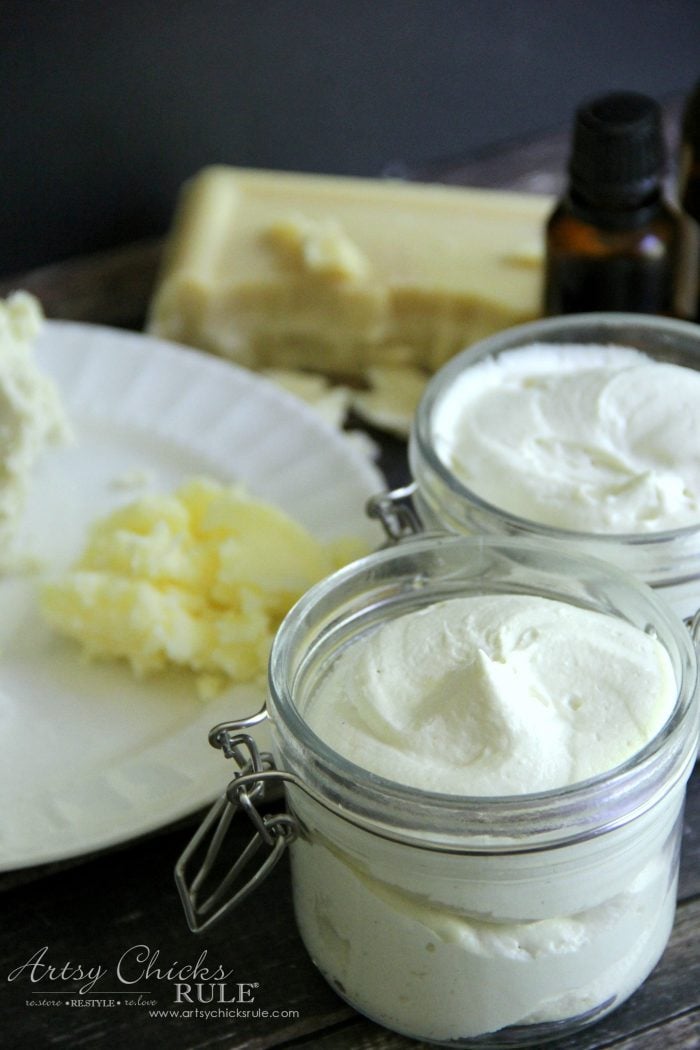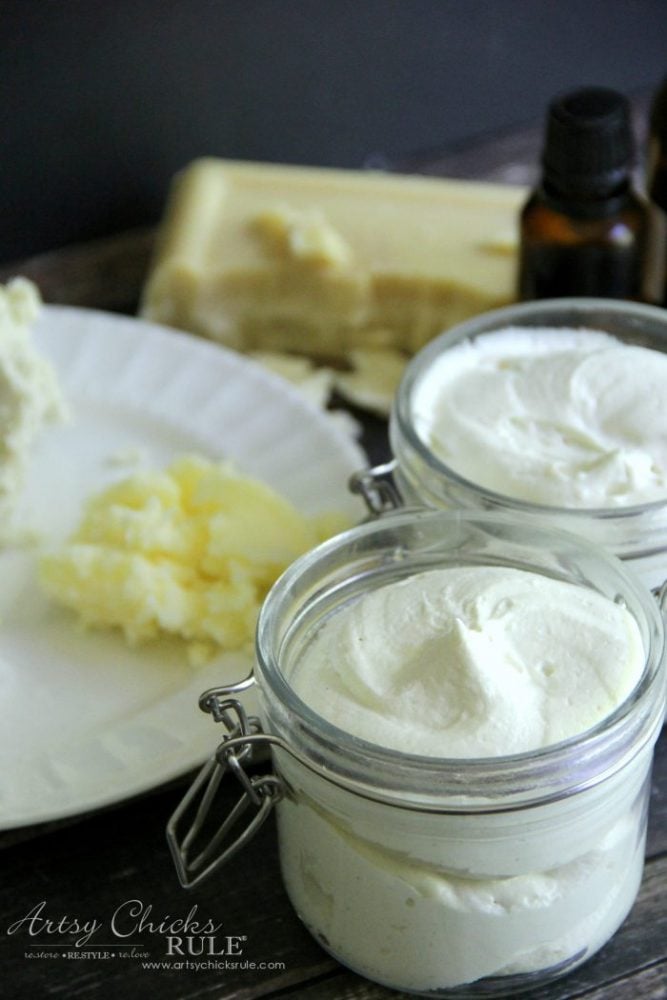 You can make this treat for you (I suggest you do, I do) and you can make it for a loved one for Mother's Day. (that's what I'm doing too!)
Have you ever made or heard of whipped body butter?
It's so creamy, light and smooth.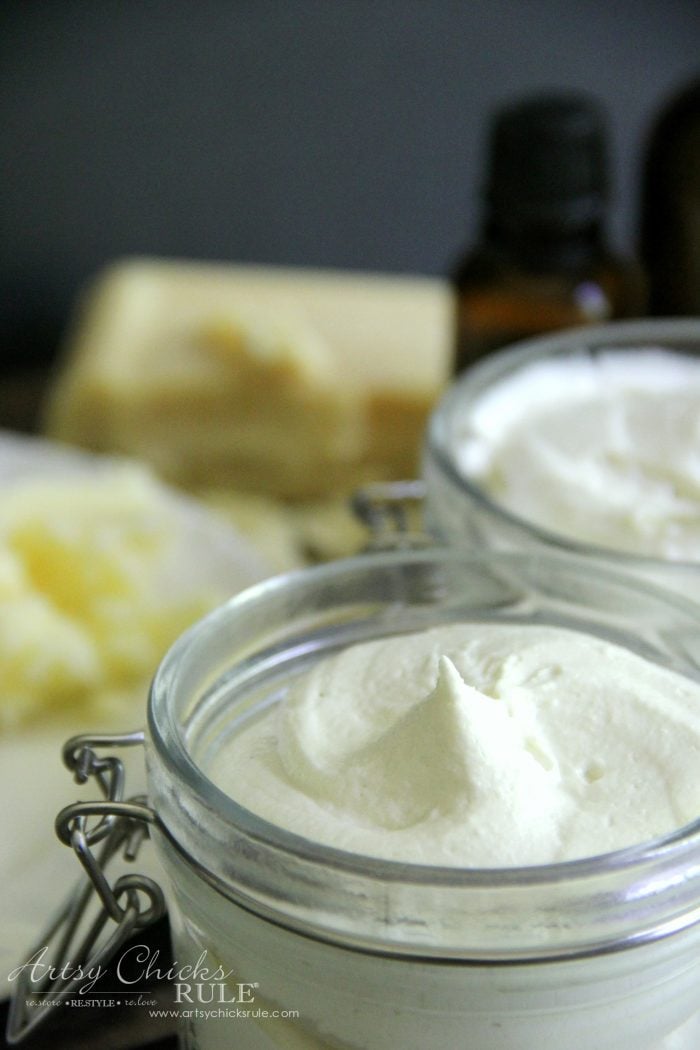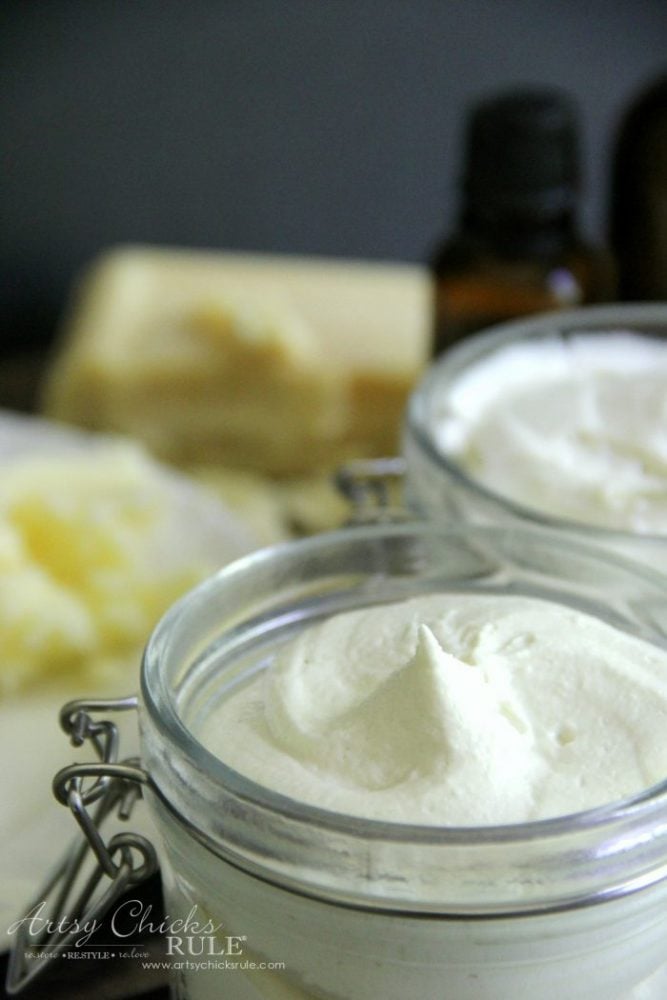 It's amazing how light and fluffy it gets.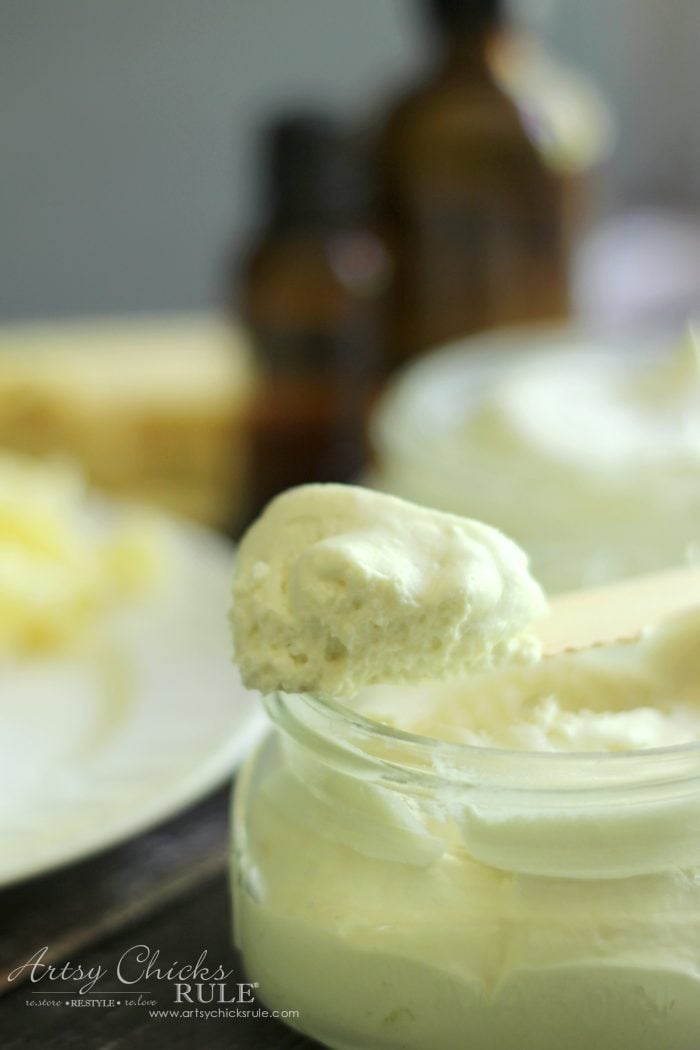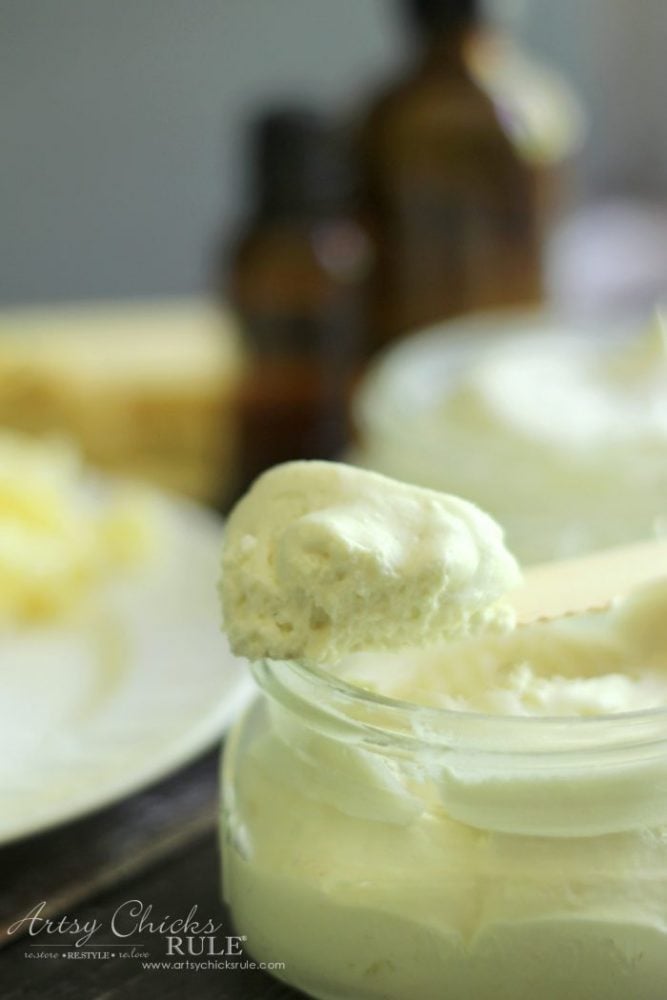 Good stuff.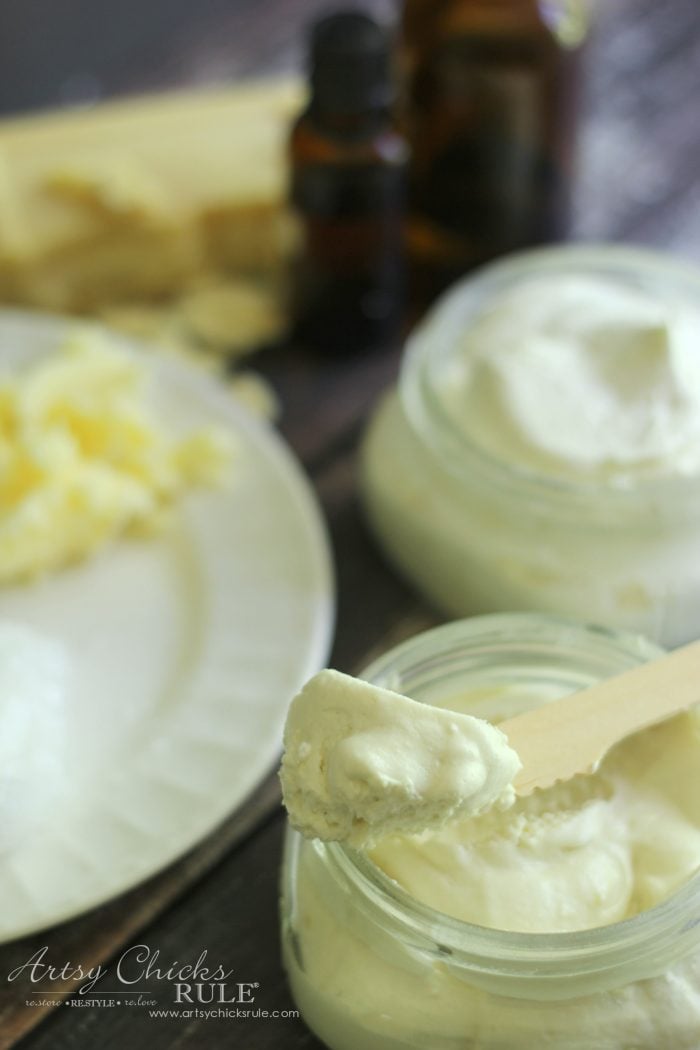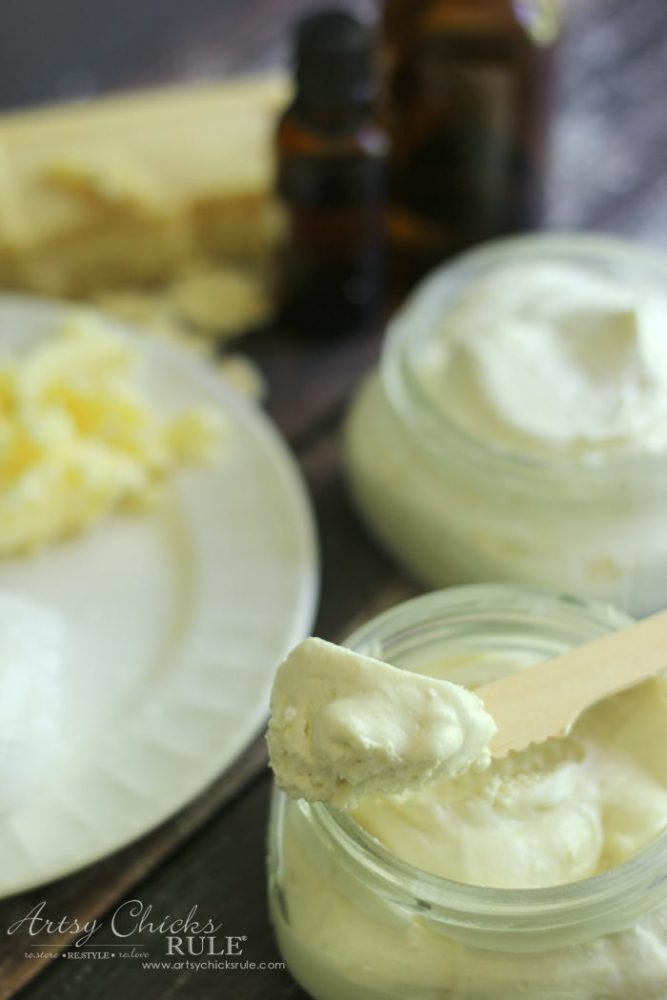 MATERIALS LIST FOR Whipped Body Butter:
Hand Mixer or Stand Mixer
Kitchen Scale ( you don't have to have this but it helps)
WEIGH YOUR SOLID INGREDIENTS
First, you need to weigh out your hard, solid ingredients. (Cocoa Butter)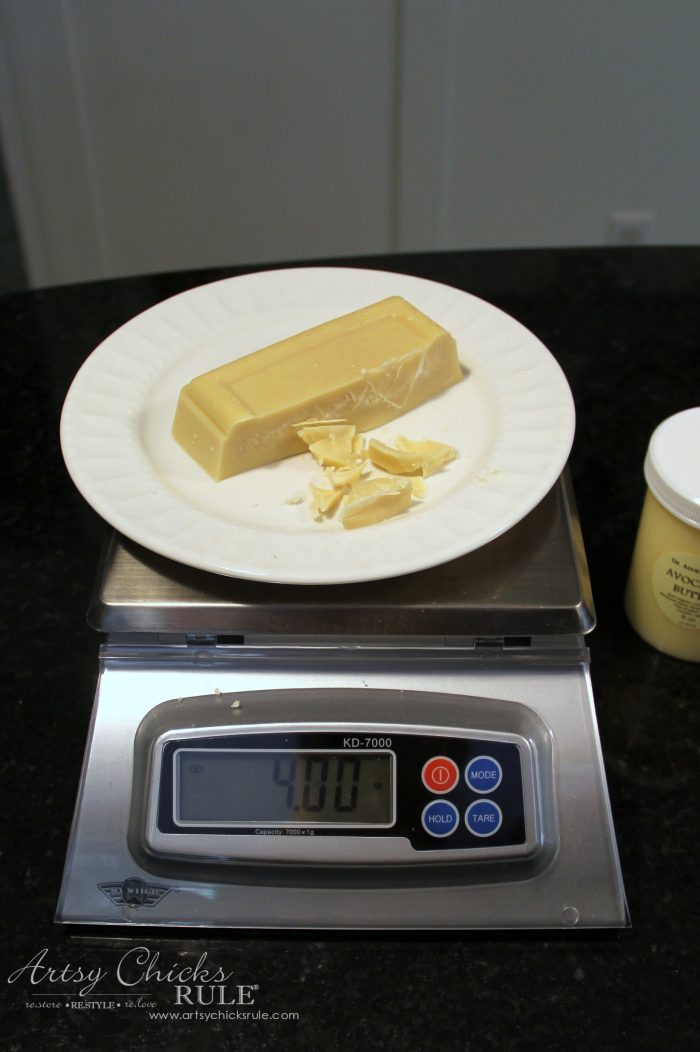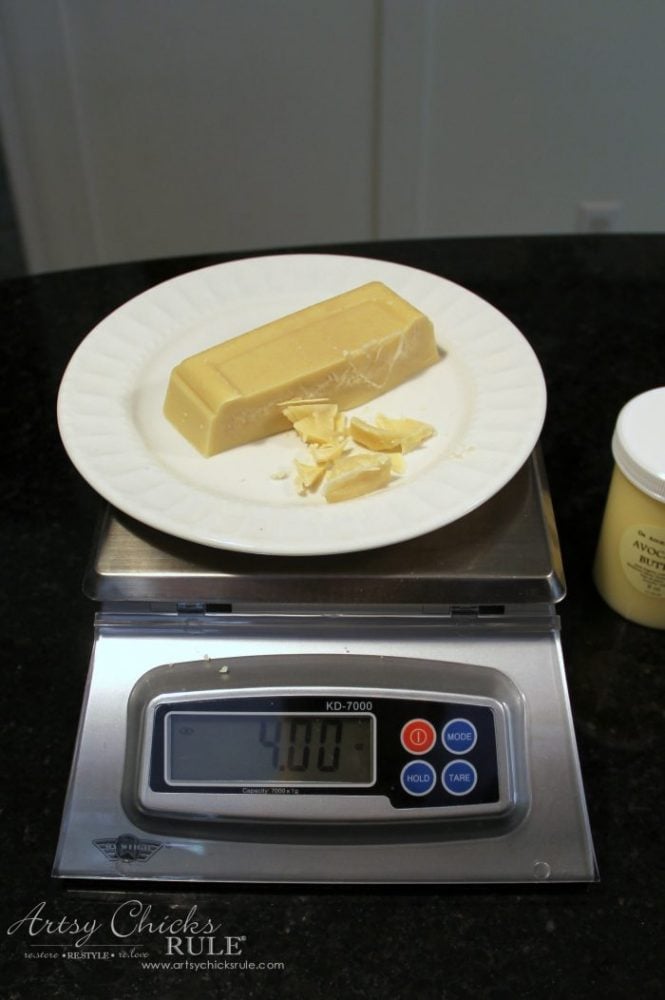 CHOP AND MELT THE SOLIDS
Chop it up into smaller pieces and place it into a small pot to melt.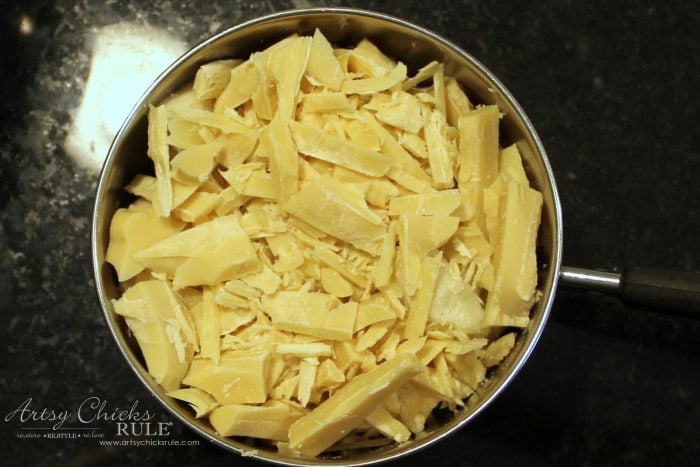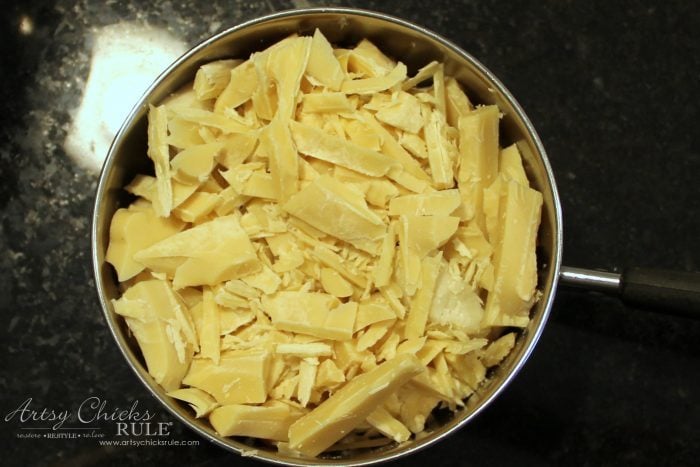 Be sure to heat on very low heat, stirring constantly.
Take it off the heat when you still have a few solid pieces floating around.
You don't want this to get too hot, and they will melt from the heat.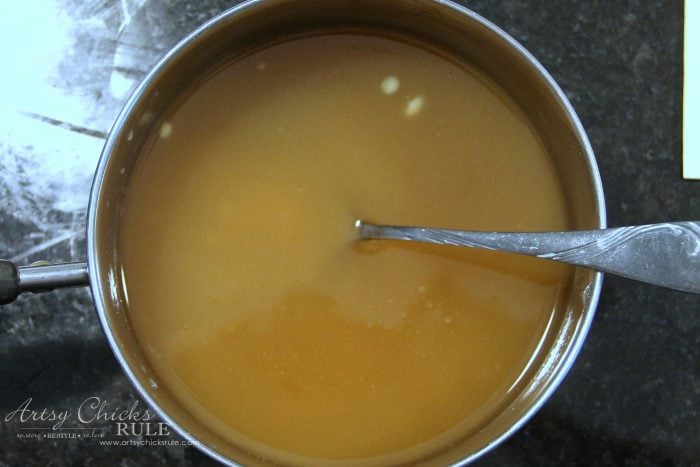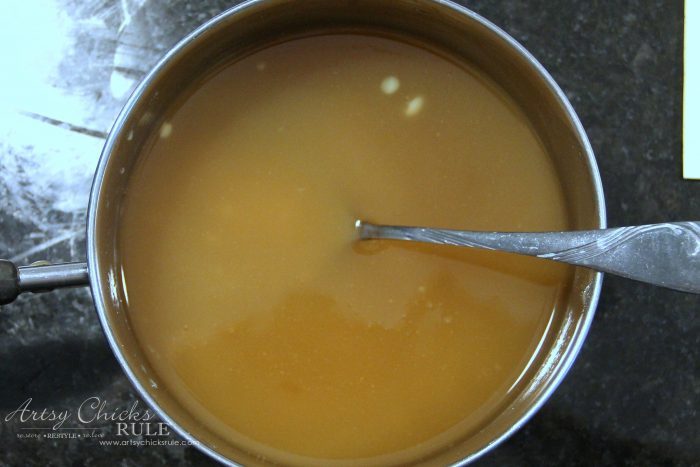 Place it into the refrigerator and cool until it has thickened.
Be sure you don't leave it so long that it gets too thickened and hardened.
You want it somewhat thickened and no longer hot to the touch.
MEASURE SOFT BUTTERS
While that's cooling, measure your soft butter ingredients. (Shea Butter, Coconut Oil and Avocado Butter)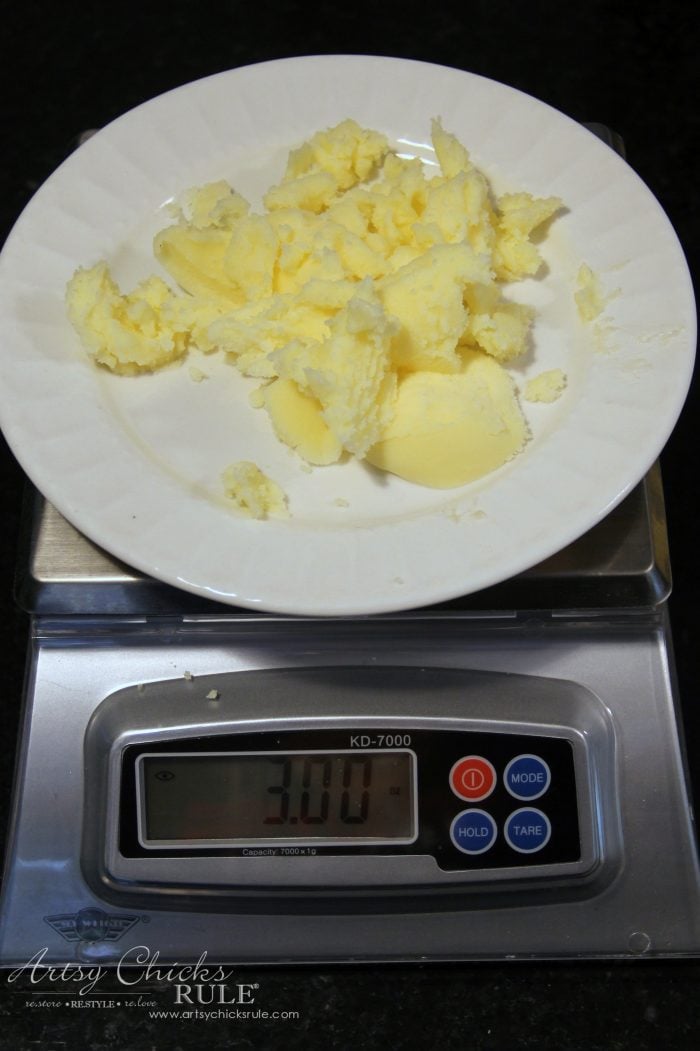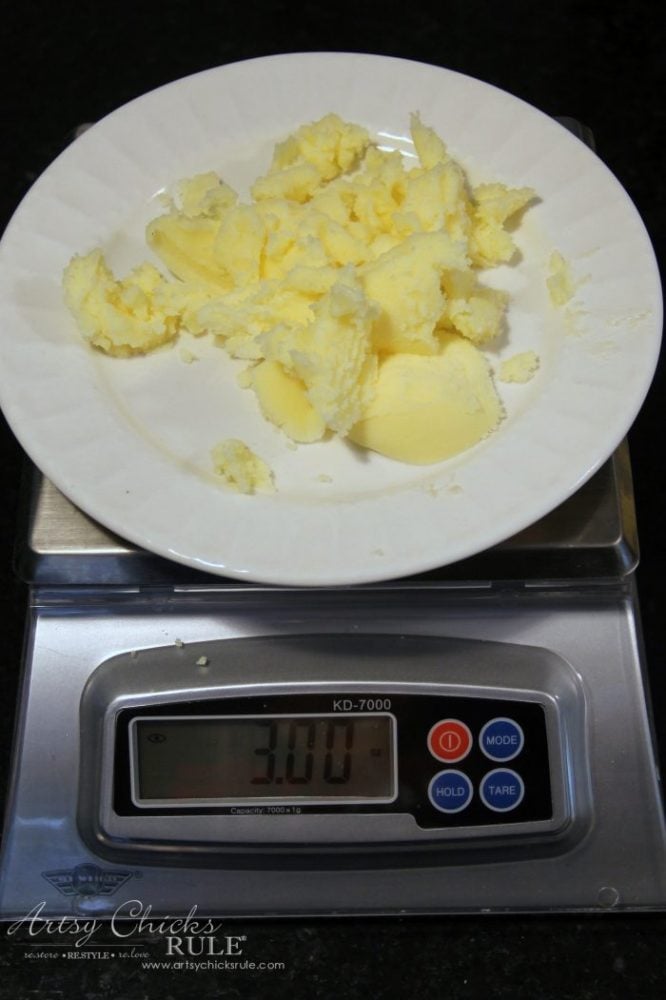 WHIP SOFT BUTTERS
Place them in the mixing bowl and whip them up.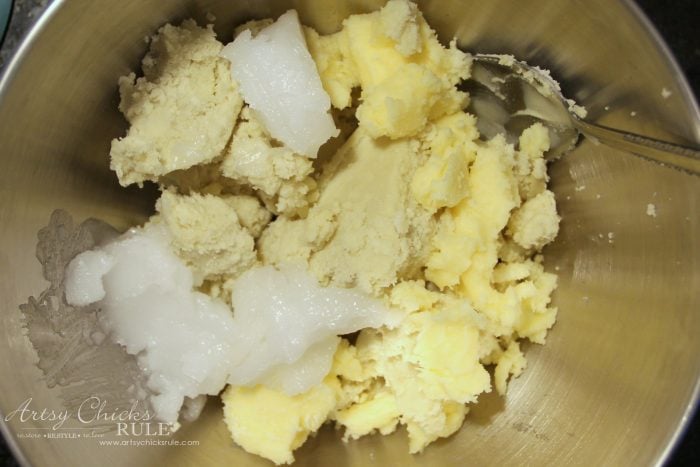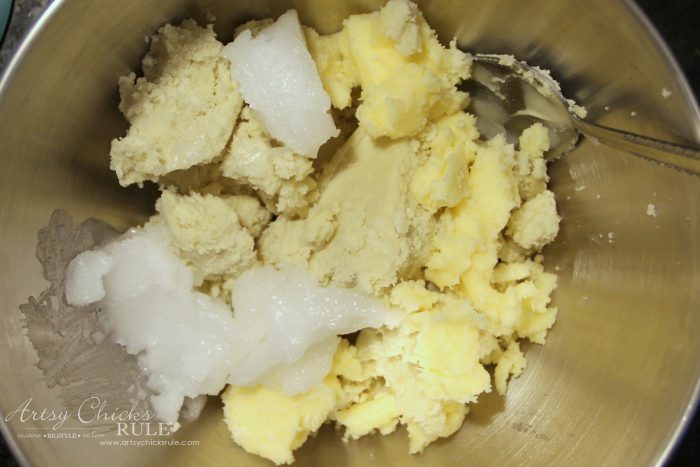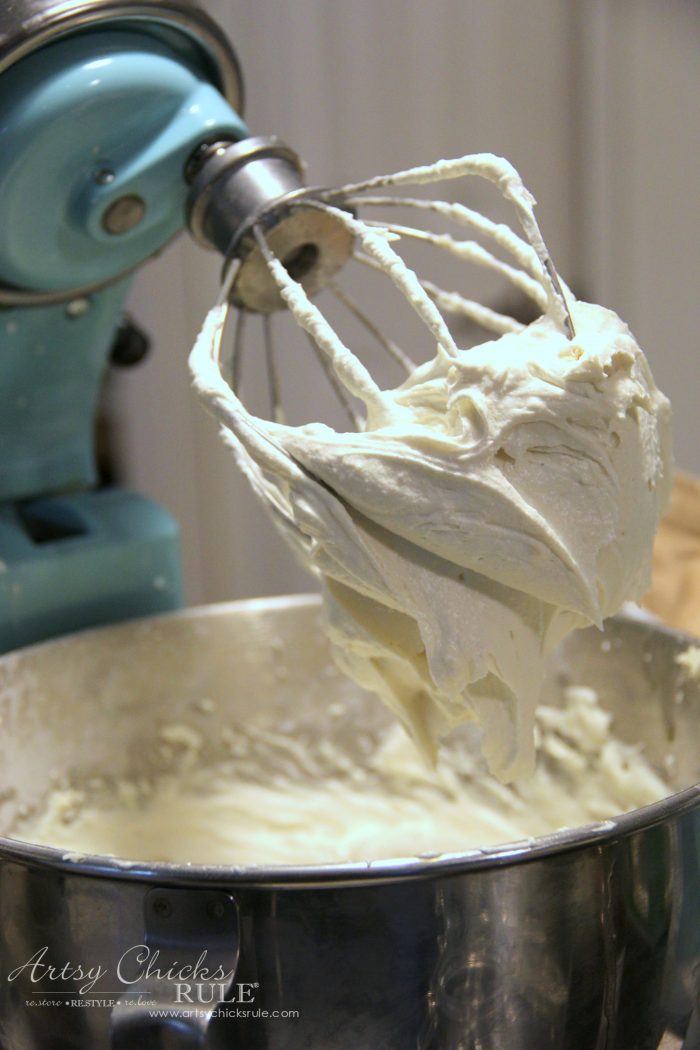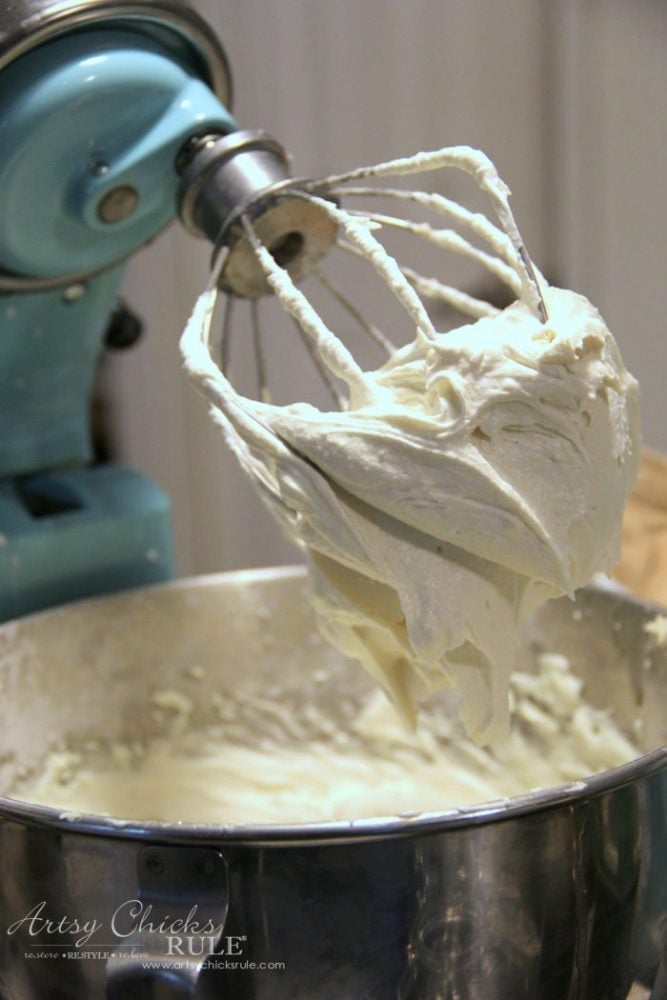 I used unrefined, raw butters.
They do have a smell so if you want to be able to add your own scent (essential oils, etc) then be sure to purchase refined, deodorized butters instead.
I like the natural smell and less processing is always better. Cocoa Butter smells like chocolate. Yum.
Shea Butter smells similar but has sort of a nutty smell. So, I'd say a nutty chocolate-ish scent.
With all that said, I do use the unrefined butters sometimes.
And just a little note about all of this stuff.
I created and owned, for 7-8 years, a soy candle and natural products online business back in 1999-2007.
I made all sorts of natural things like soy candles, body butter, lotion bars, room sprays, perfumes, lotion, etc…. including handmade natural soap.
And still do!
We haven't used commercial soap in years and are about out of soap over here so I'll be making some more soon.
I may share another blog post (and video if I'm feeling adventurous!!haha ) about it here.
In the meantime, you can read all about it in a post I wrote here, Natural Soap Making – A Tutorial in Photos
ADD LIQUID OILS TO MELTED SOLIDS
Okay, so next add any liquid oils in the recipe to your melted cocoa butter.
In this case, add the Jojoba Oil.
If you'd like to add scent, this would be the time to add it.
You can use any essential oils you like. If you are using an unrefined (naturally scented) butter, I'd suggest Orange or Mint essential oils.
Those would blend nicely with the natural chocolate scent.
Or you can leave it as is. The scent is very nice alone.
SLOWLY POUR THE MELTED OIL BLEND INTO THE SOFT CREAMED BUTTERS
Once that is done, slowly pour the melted oils into the creamed soft butters very slowly, while beating.
I used my Kitchen Aid Mixer with the whip attachment.
WHIP
Whip it, whip it good.
Ha…sorry, couldn't resist! Now that song is stuck in your head, right? lol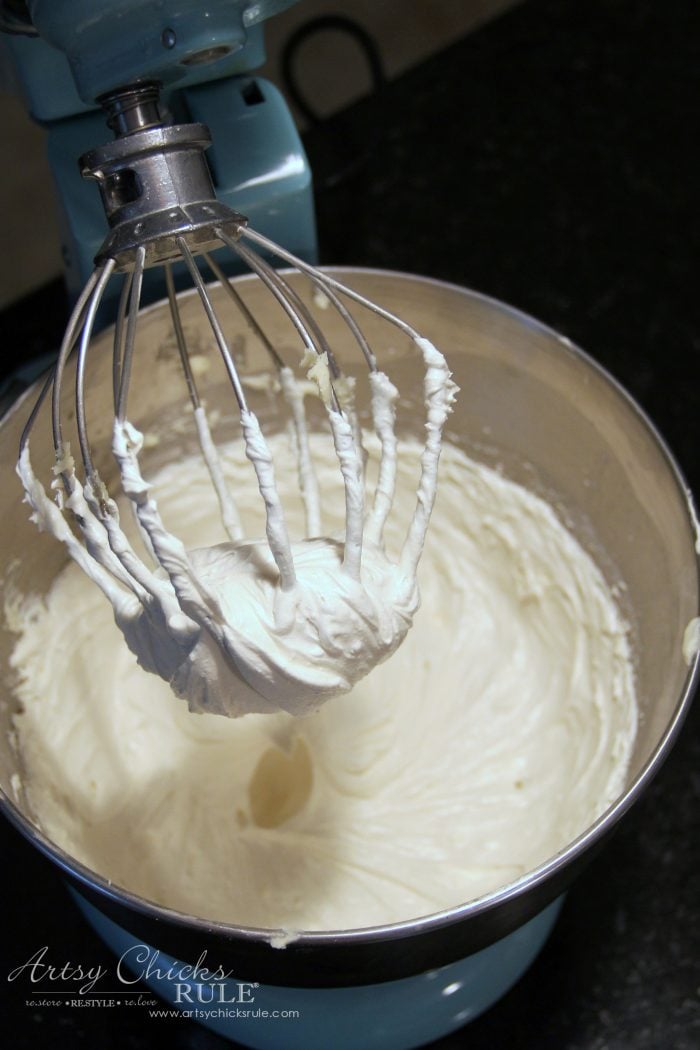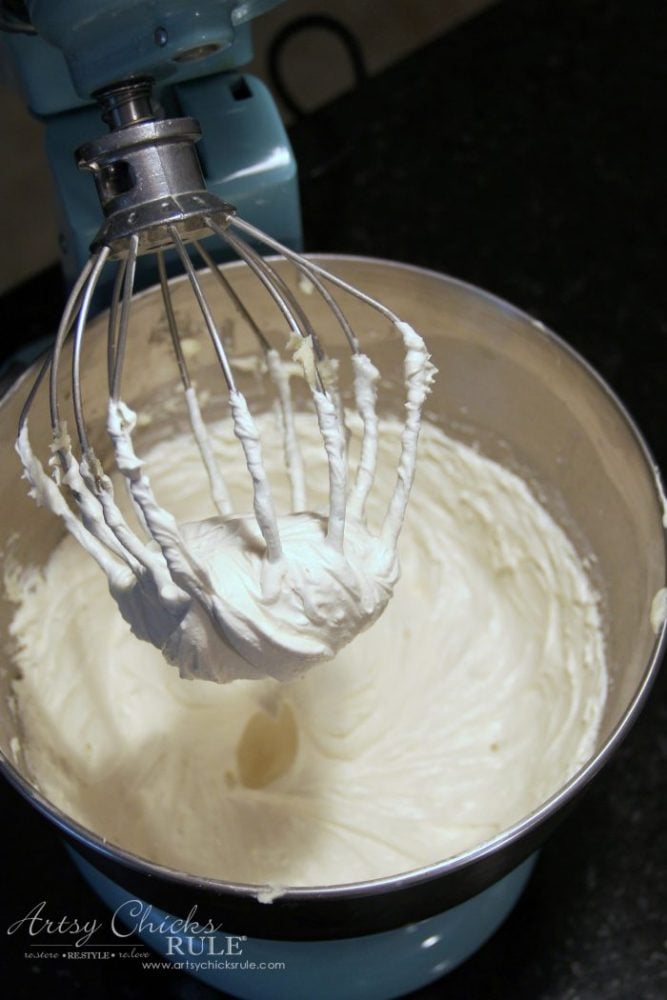 Do you see how whippy it got? Isn't that the neatest thing?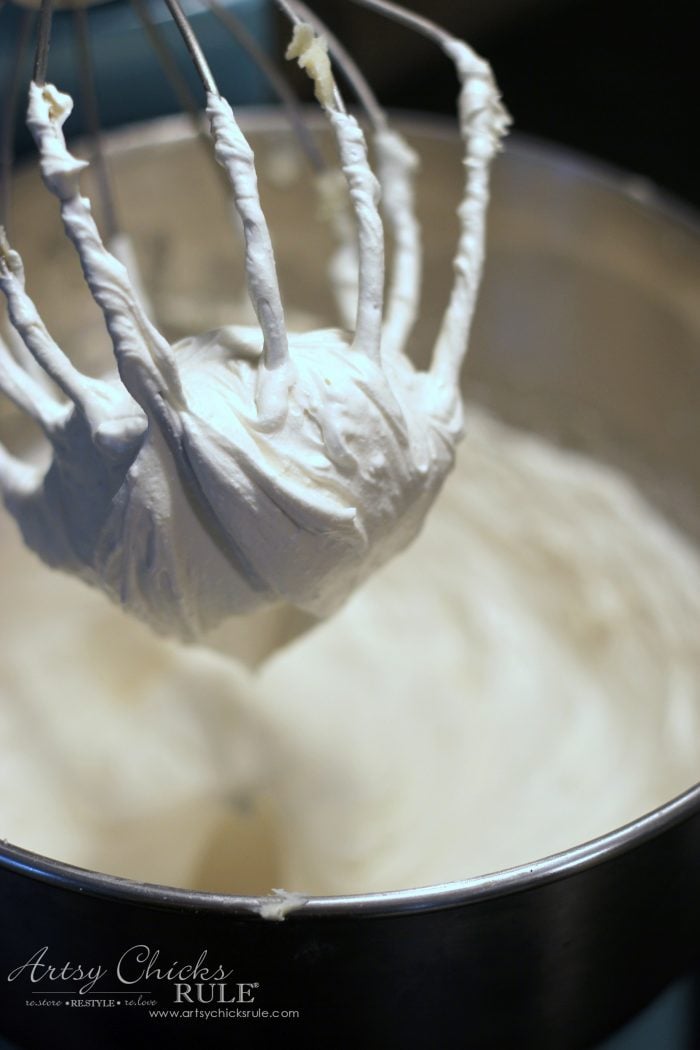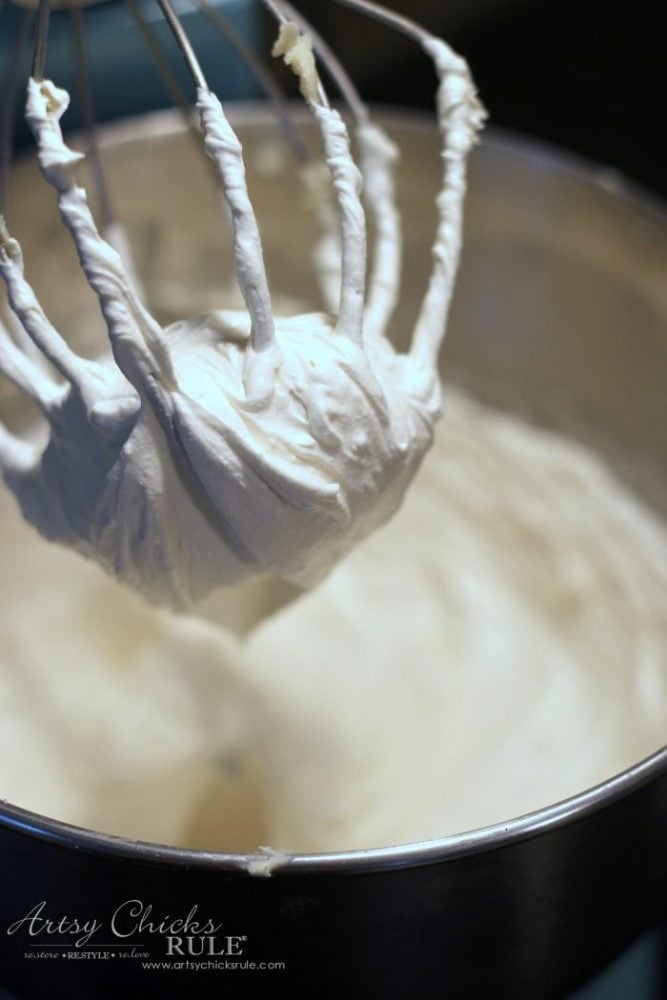 So smooth and creamy.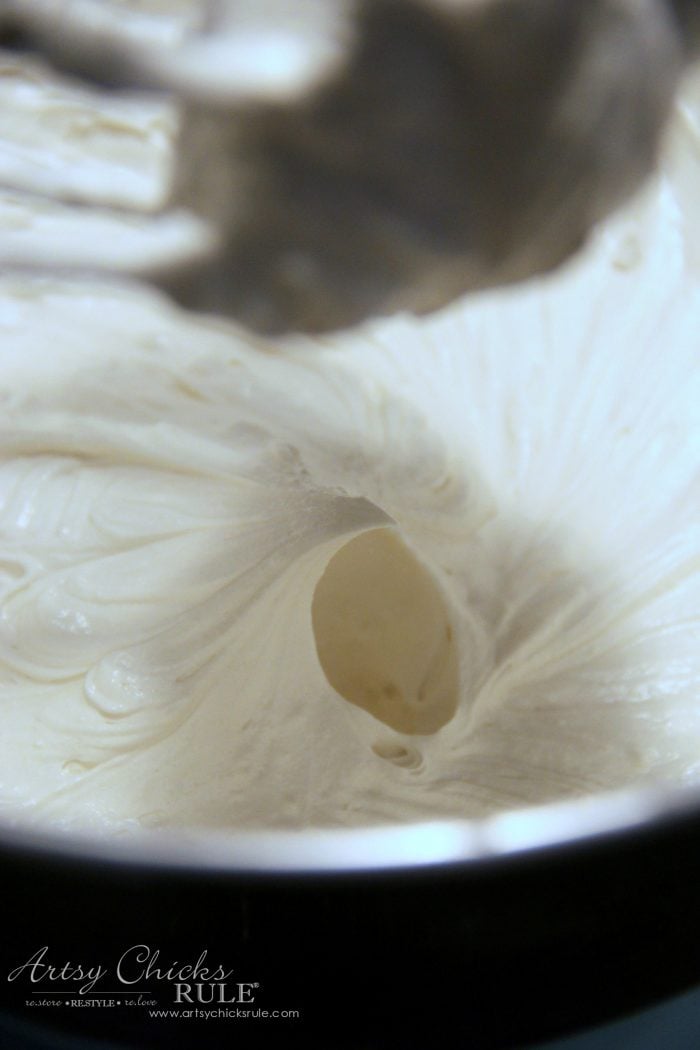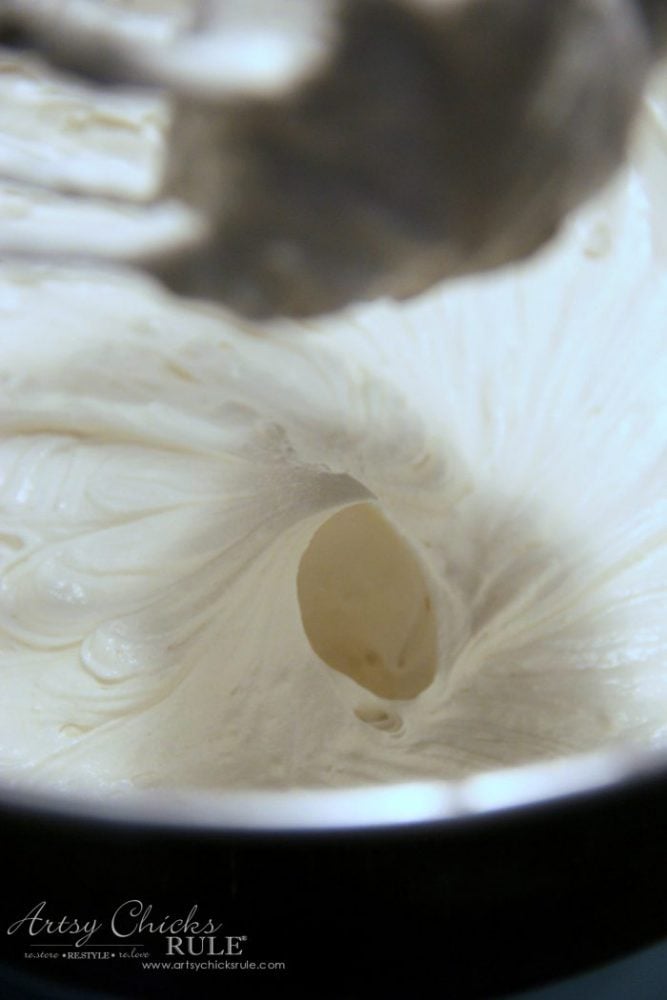 ADD STARCHES/POWDERS
Once it is mostly whipped, add in the tapioca starch or arrowroot powder.
Either will work so just use whatever you may have on hand.
This will take some of the "greasy" feel away and give more of a "silky" feel instead.
FILL JARS
Then just spoon them into your jars.
You can also use a sandwich bag (ziplock), fill it, cut the corner off, and squeeze it neatly into your jars.
I shared the locking lid, and hinged jars in the photos above but I also used these canning jars…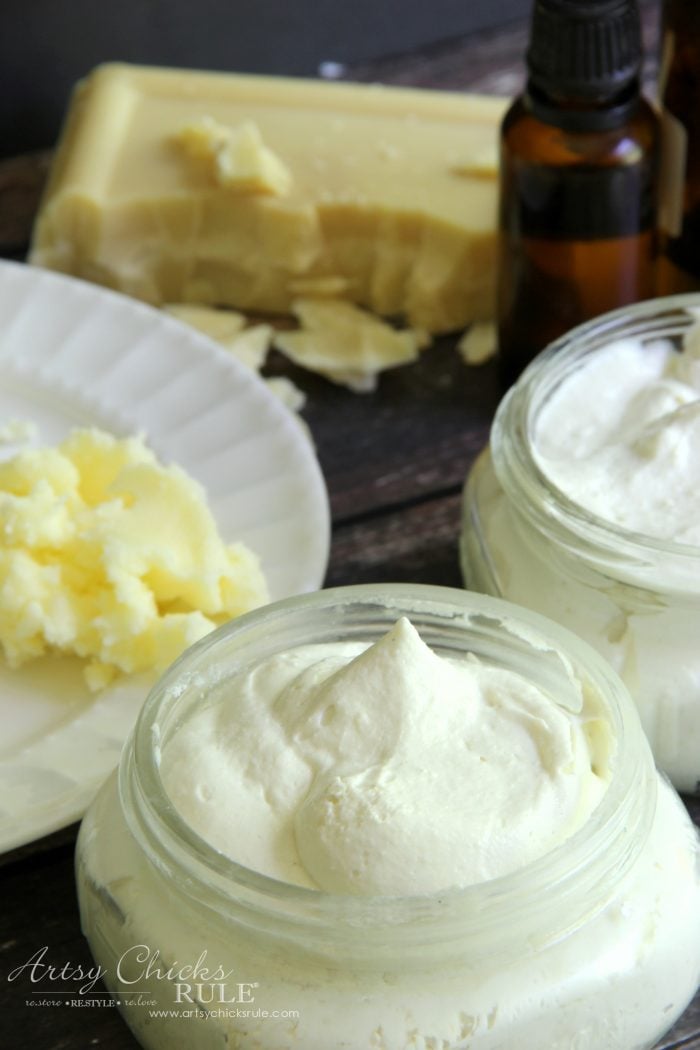 Both are nice and easy to scoop out of.
You can use other butter and oils in this recipe. There are so many out there!
Be sure to follow the hard butter, soft butter directions though.
Also, if you'd like to create more of a stand-alone "lotion bar" product, reverse the cocoa butter and shea butter amounts in this whipped body butter recipe.
Then skip the "whipping" part of the recipe. Just melt everything pour into molds and cool.
Here's the easy whipped body butter recipe for you to print out…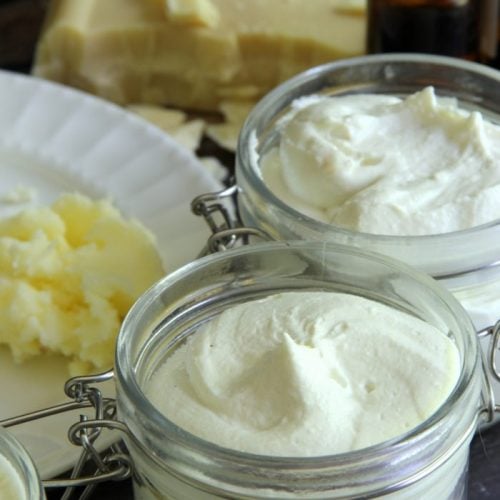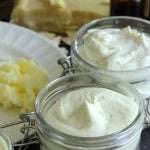 Easy Whipped Body Butter Recipe
Ingredients
12

oz

Shea Butter

3

oz

Cocoa Butter

3

oz

Avocado Butter

3

oz

Coconut Oil

not liquid

2

oz

Jojoba Oil

2 - 3

Tbsp

Tapioca Starch or Arrowroot Powder
Instructions
Weigh and chop the cocoa butter into small pieces and heat over low heat, stirring constantly.

Remove from heat when there are a few small pieces still floating around. Continue to stir to melt. Cool in the refrigerator until thickened.

Weigh the soft butters and add to mixer bowl.

Mix until smooth and creamy.

Remove the cocoa butter from the refrigerator and add the jojoba oil to it.

Slowly, while beating, pour a thin stream of the melted cocoa butter and jojoba oil mixture into the creamed soft butters.

*Be sure the cocoa butter is no longer hot as you will not get the whipped result you are after.

Whip it until it has soft peaks. Add the tapioca or arrowroot and mix again to incorporate.

Spoon into jars or spoon into sandwich bags, cut the corner and squeeze into jars.
Recipe Notes
This does not contain water so it does not require a preservative, however, be mindful of this and discard if it becomes rancid, etc.
You can store in the refrigerator for longer shelf life.
Since this recipe does not contain water, you don't need to add a preservative.
You can add one if you'd like. Here are a few:
Grapefruit Seed Extract
Vitamin E
Rosemary Oil Extract
I hope you'll give this a try! It's so nice to have something homemade AND good for you.
Plus, what's better than knowing exactly what you put onto your skin….and knowing it's nothing but goodness.
ENJOY!
PIN this Whipped Body Butter Recipe to save for later!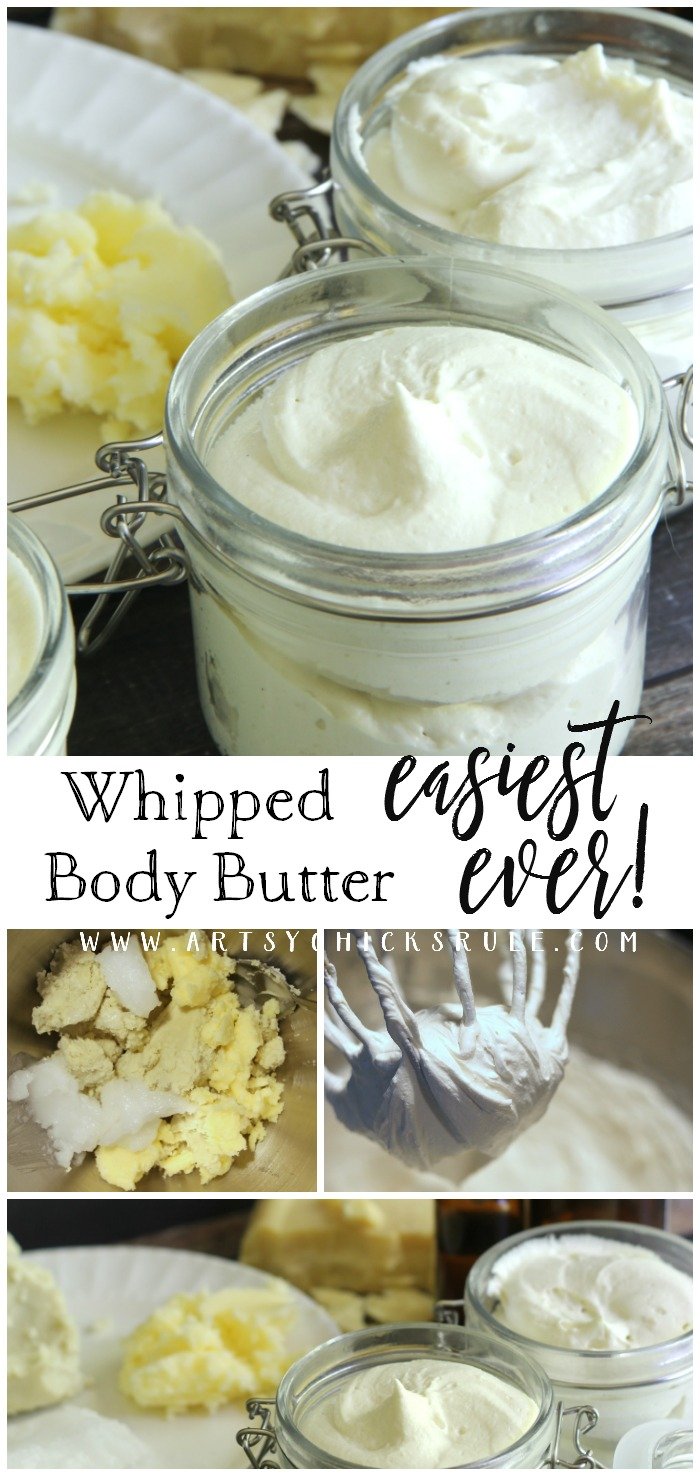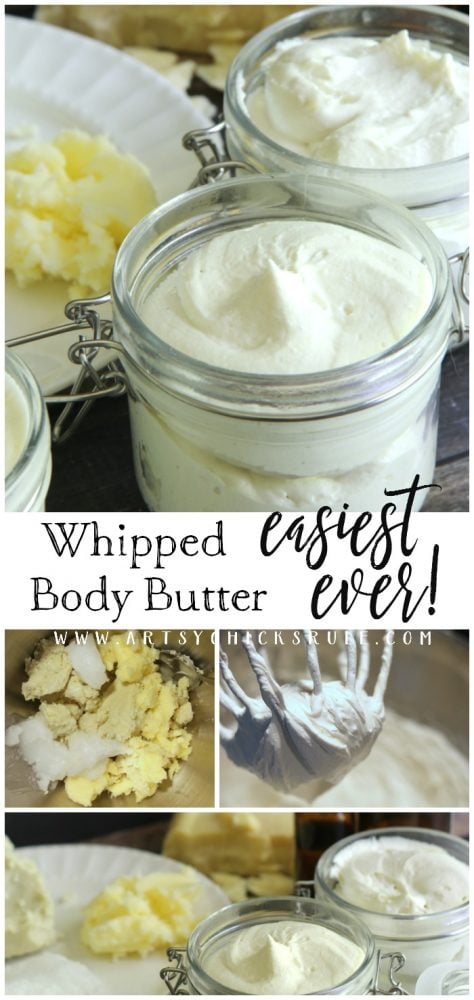 Want to see more handmade natural home and body products?
Salt Scrubs
Handmade Sugar Scrubs
Handmade Natural Deodorant
Scent Your Home Naturally
Handmade Soap
And here are last week's Mother's Day Gift Ideas if you'd like a few more ideas!
Hope you enjoy!
See you back here on Thursday with another update on the One Room Challenge. Eek!!
Down to the wire and it's gonna be a close call, y'all. I am not sure at all that we will finish in time for the reveal. :/
But we'll see! We got flooring this past weekend and are finishing it up tonight (Monday).
We'll see how the shelves, countertop, and decorating falls into place in the next week!
That's all the time we have left to complete.
See you Thursday Friends!
xoxo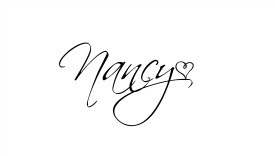 Note: I am not a health professional or medical doctor. The information and directions given on this site are of my own opinions and my own experiences with such and not meant to take the place of medical or professional advice. You may choose to try any or all recipes, etc, I post at your own discretion.