Coastal Farmhouse Laundry Progress – One Room Challenge Week 4
This post may contain affiliate links. Please see disclosures here.
Hey Friends!
It's time for another update on the One Room Challenge & the Coastal Farmhouse Laundry. :)
It's Week 4 and time is short to get it completed.
We are trying hard to get everything done…but we'll see! ;)
You can see Week 1, here and Week 2, here and Week 3, here.
We are still working on the shiplap. It's mostly completed minus a a few pieces. (and some trim here and there)
That has been a job, y'all. I don't think I want to see a piece of shiplap again for a long time!! ha!
Except for those pretty white boards already up in my laundry room, of course.
Anyway, let's pick up where we left off on the farmhouse laundry last week…..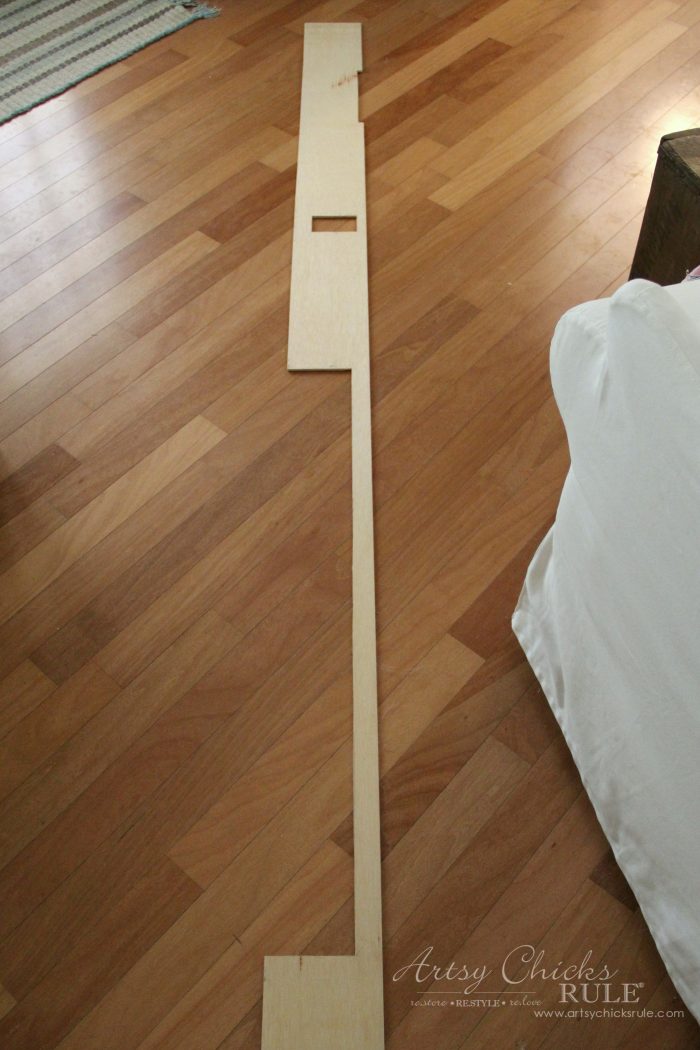 ….this piece had a lot of cuts.
And here it is in place….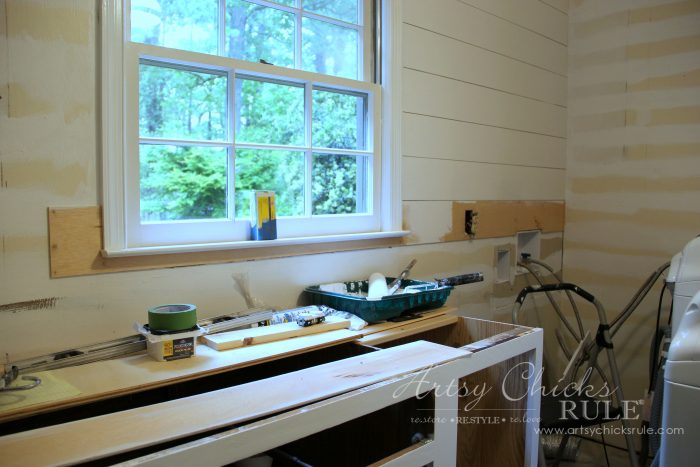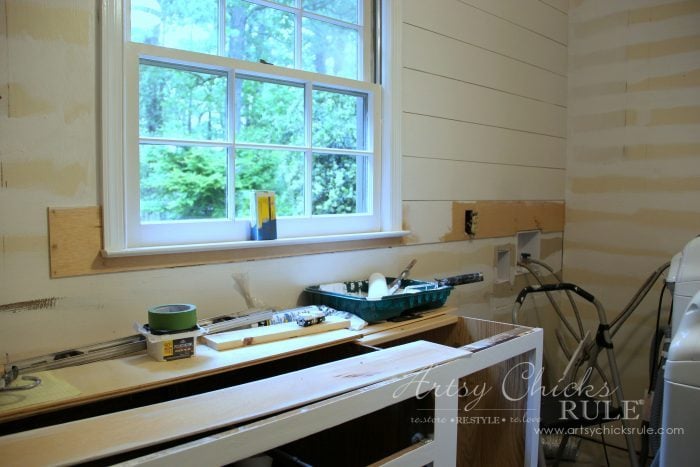 And here we are now…..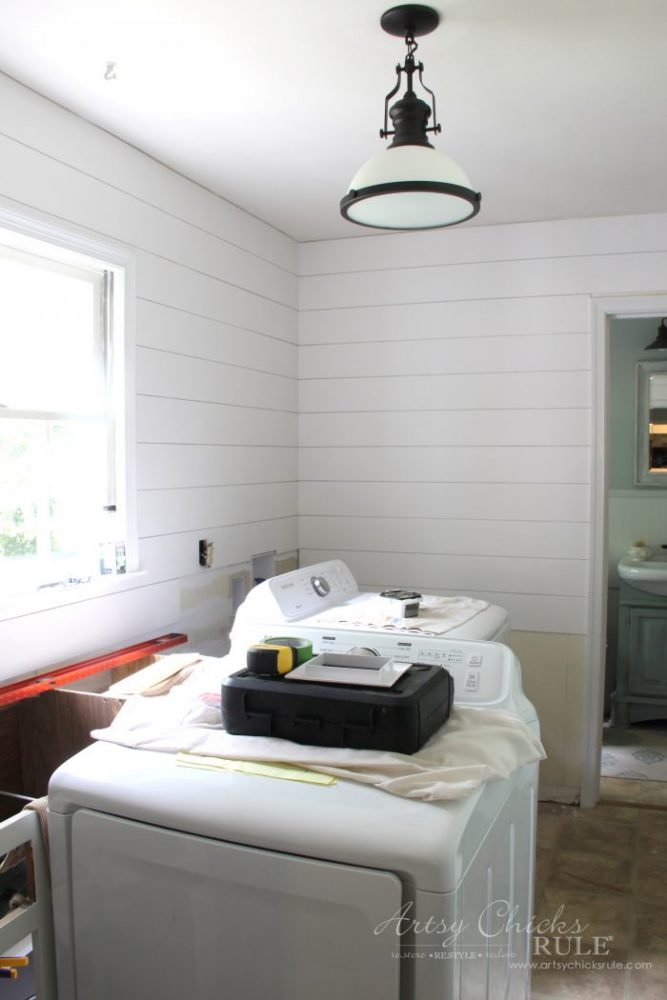 Yay! Painted and pretty.
A few more pieces behind the washer/dryer and on the far wall. And then DONE!
As always, I'll try to include a few affiliate links to products I've used. See disclosure, here.
And remember this necessary eyesore?
Here's what I decided to do with it…..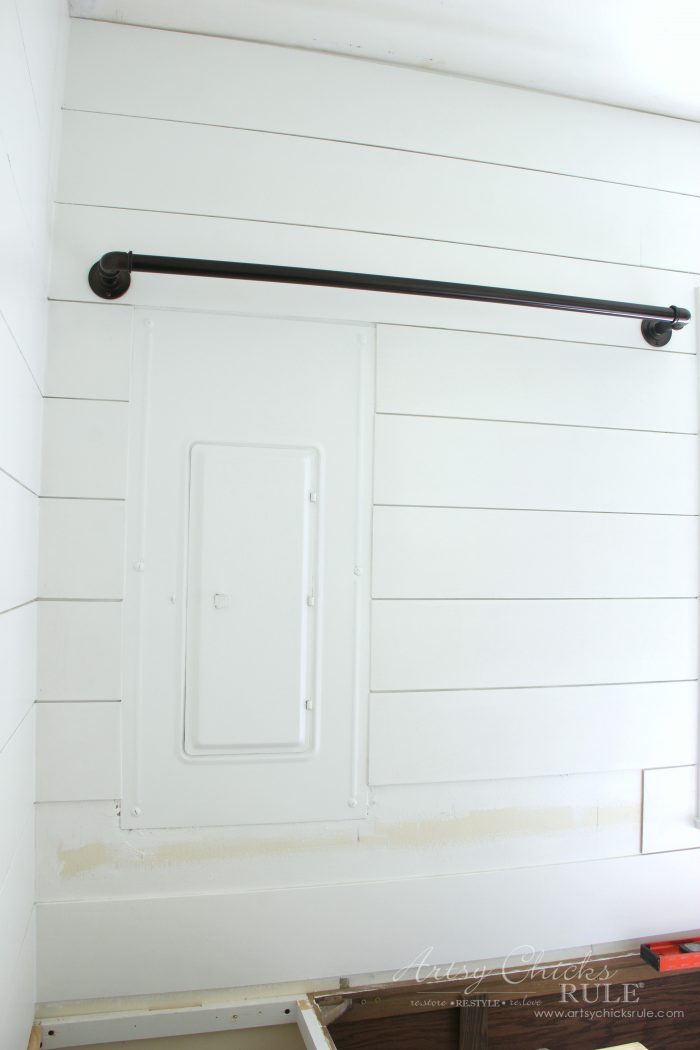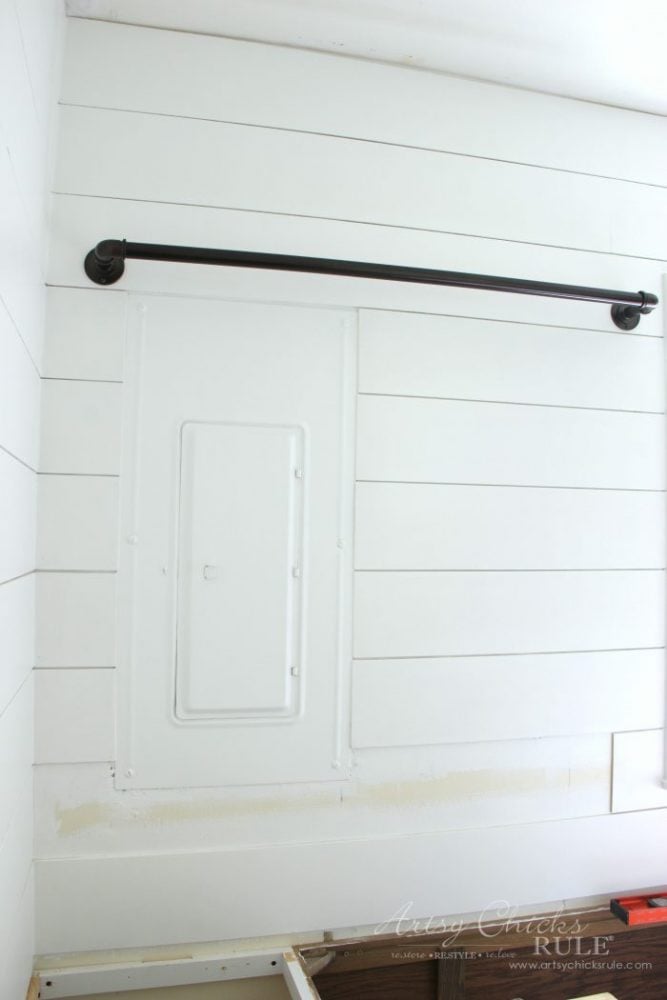 Fancy, huh? ;)
In the end, I just didn't want to mess with trying to cover it.
We came up with several plans that would have worked okay but I'm totally happy with this.
It is a laundry room, after all.
That dandy little pipe thing on the wall is actually a curtain rod….and it was only $22!
I was so happy to come up with this idea. :)
Until I put it up and actually hung something on it…..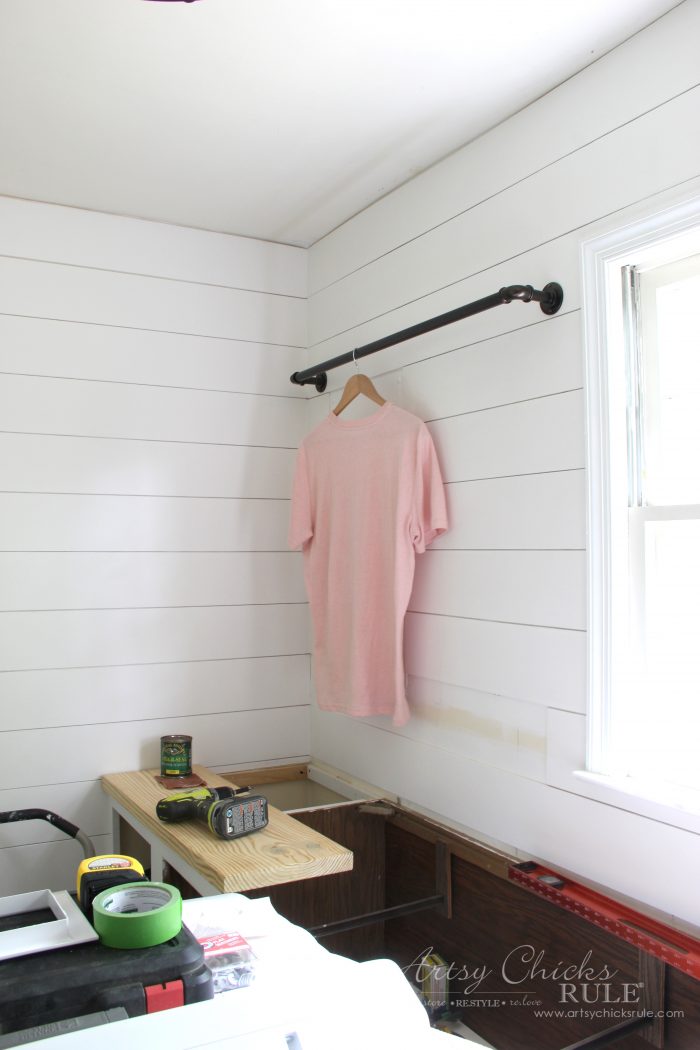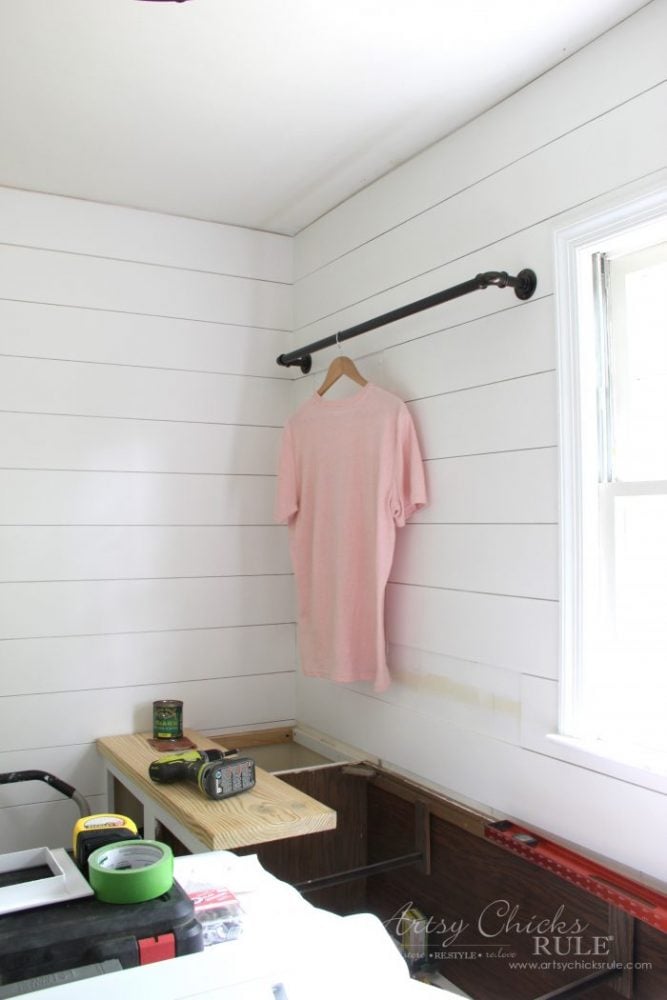 Hahaha!! Dingy me.
Um, that's not going to work too well Nancy. ;)
I sent a photo to my hubby after I put it up (he was out of town on work) and said "yea, it was a good thought anyway". haha
I never thought for a second about the depth of it when I found it.
Oh well, back to the drawing board.
And not too big of a deal. I already have something else worked out….and yes, it's really going to work this time. ;)
Do you like how I strategically covered up that electrical panel with the shirt? ;)
Anyway, let's move on to this…..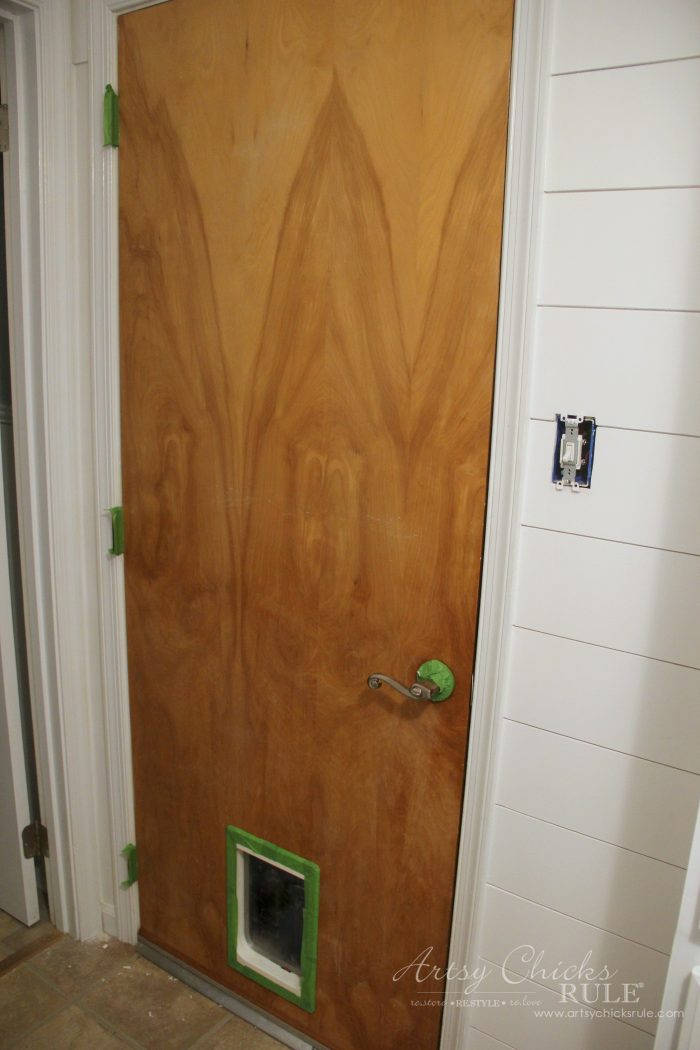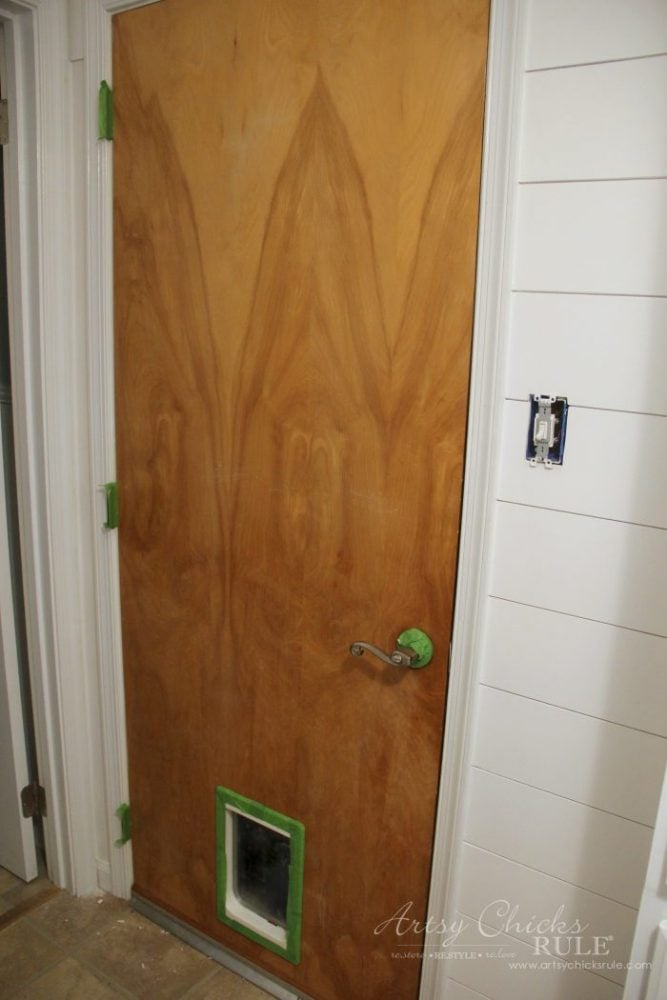 Remember this door from the earlier ORC posts?
It's solid wood…and kind of an orangey wood. (and very 70's)
Since it's a nice solid, heavy door we didn't really want to replace it.
Plus, we didn't want to have to cut a kitty door in a brand new door either. ;)
So I thought I'd paint it white to blend in with the walls like I did with the electrical box.
But just as I was getting ready to paint that first stroke, it hit me. Why not just stain it darker….prettier?
So that's exactly what I did.
I love contrast and the white would have just been too much in here.
There is already plenty of white.
I didn't want it too dark so went with an Antique Walnut Get Stain.
Love the gel stain, it's so easy.
I'm about half way down the door here…..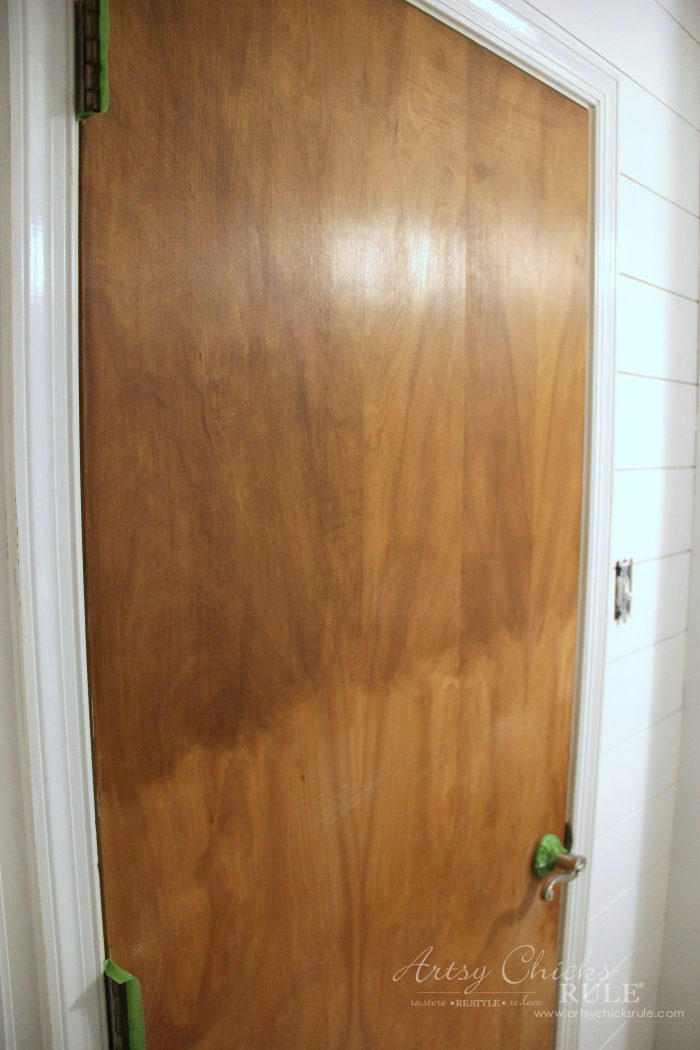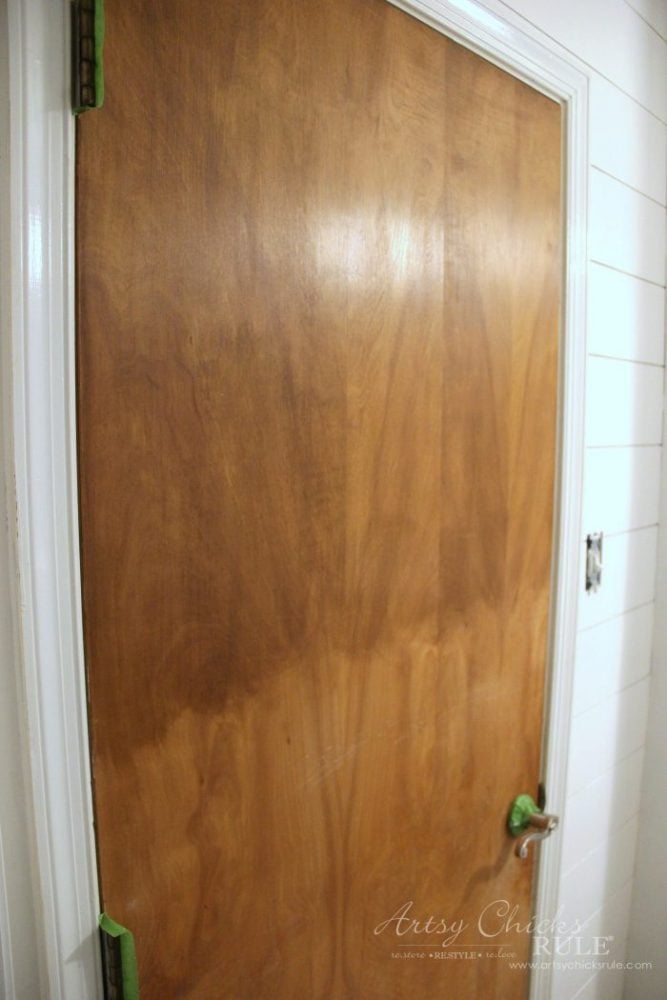 And here is a better shot to show the difference it makes….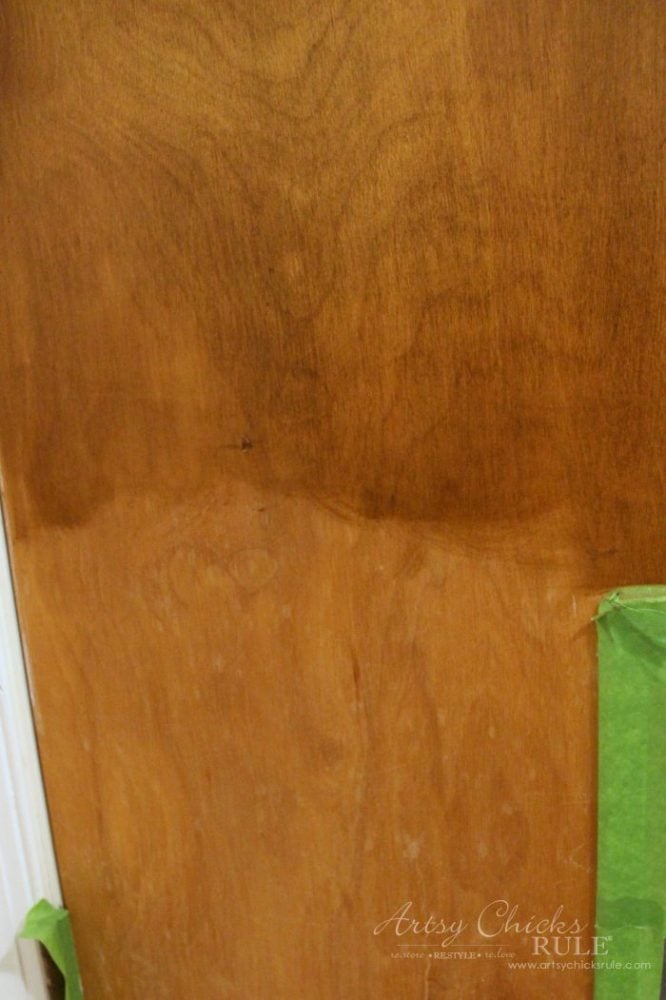 It really brought this old door to life!
I'm so glad I thought to do this. I just love natural wood and am loving the contrast between it and all the white in here.
And here it is, 2 coats…..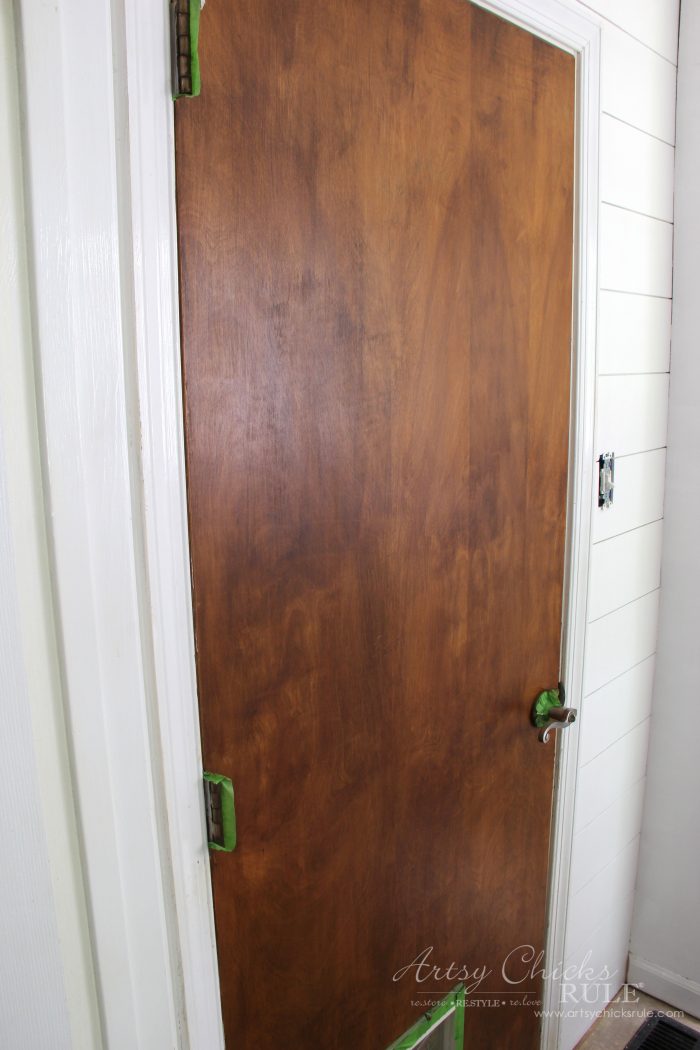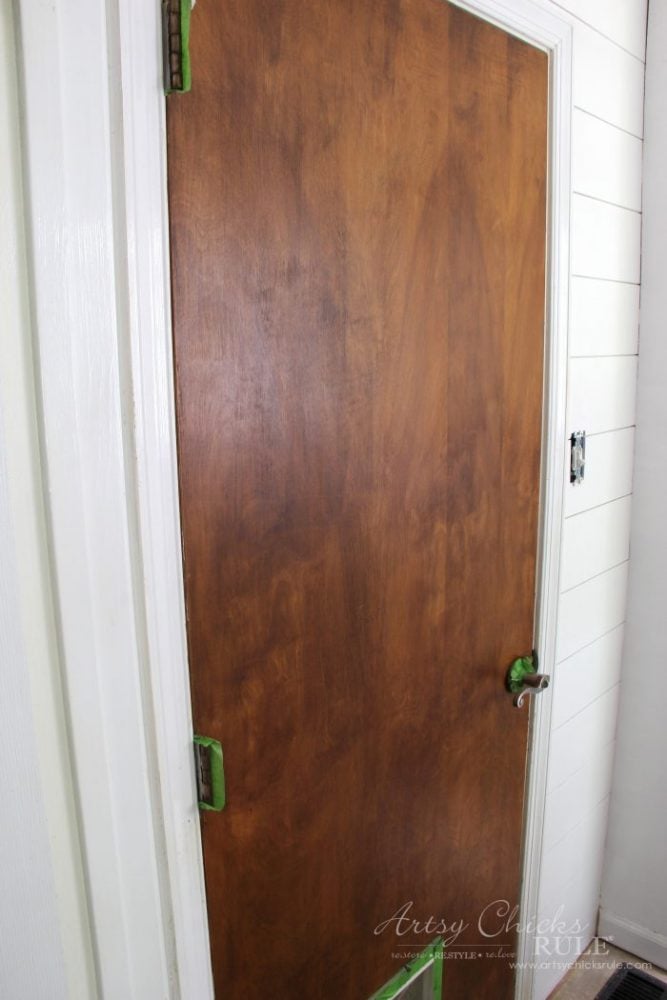 SO MUCH BETTER.
Don't you think so too?
Loving it!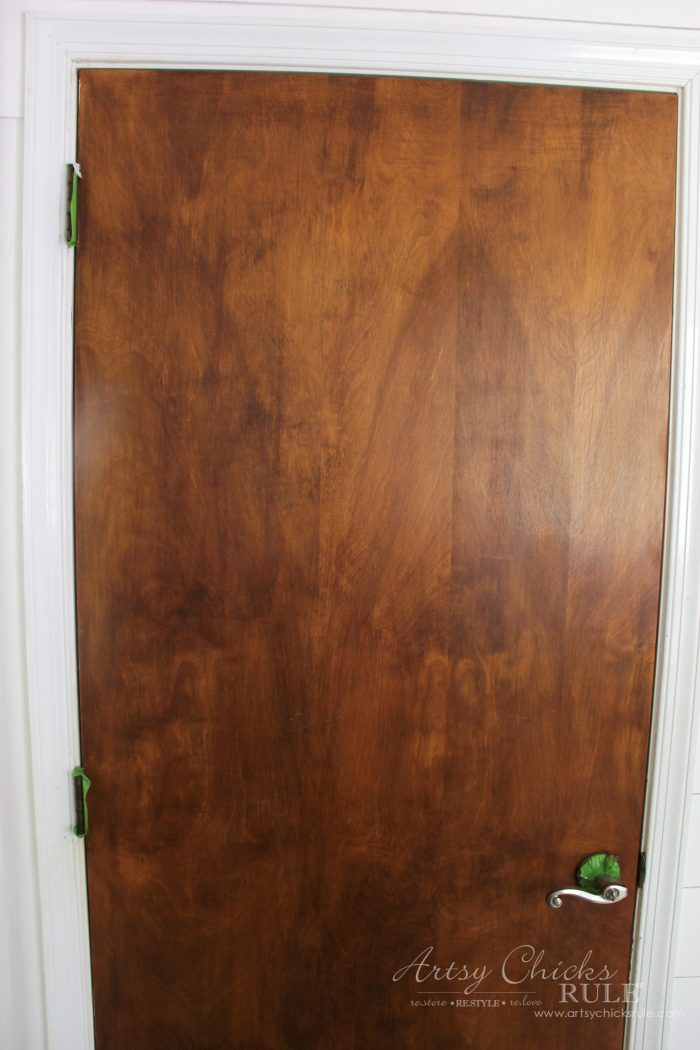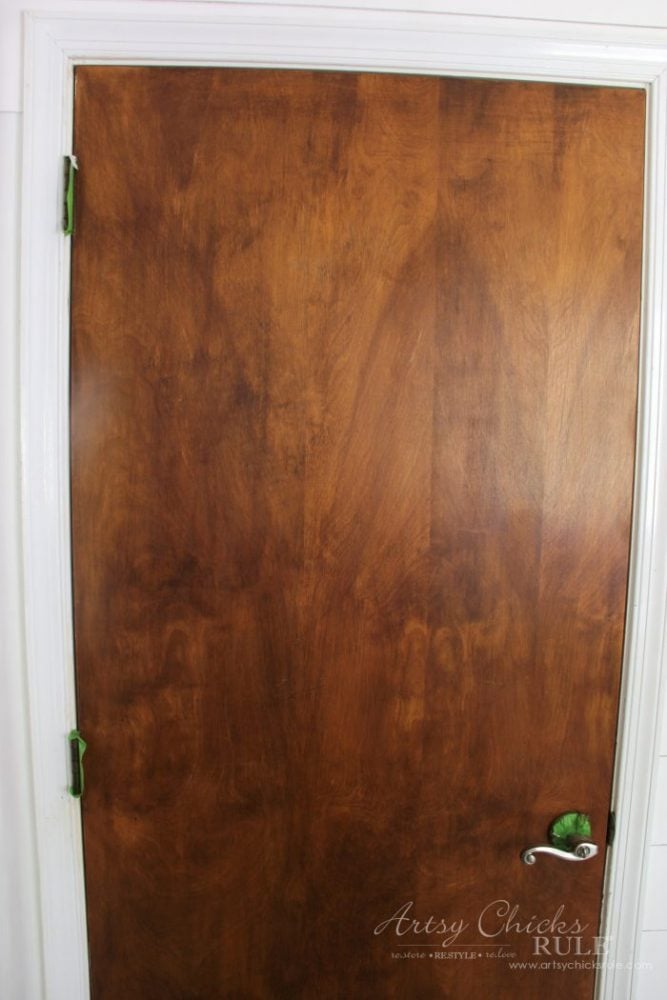 I still need to give it a coat or 2 of poly. I think I'm going to use this top coat.
And one more…along with that pretty shiplap.
We still need to put a small piece of trim there by the cabinet.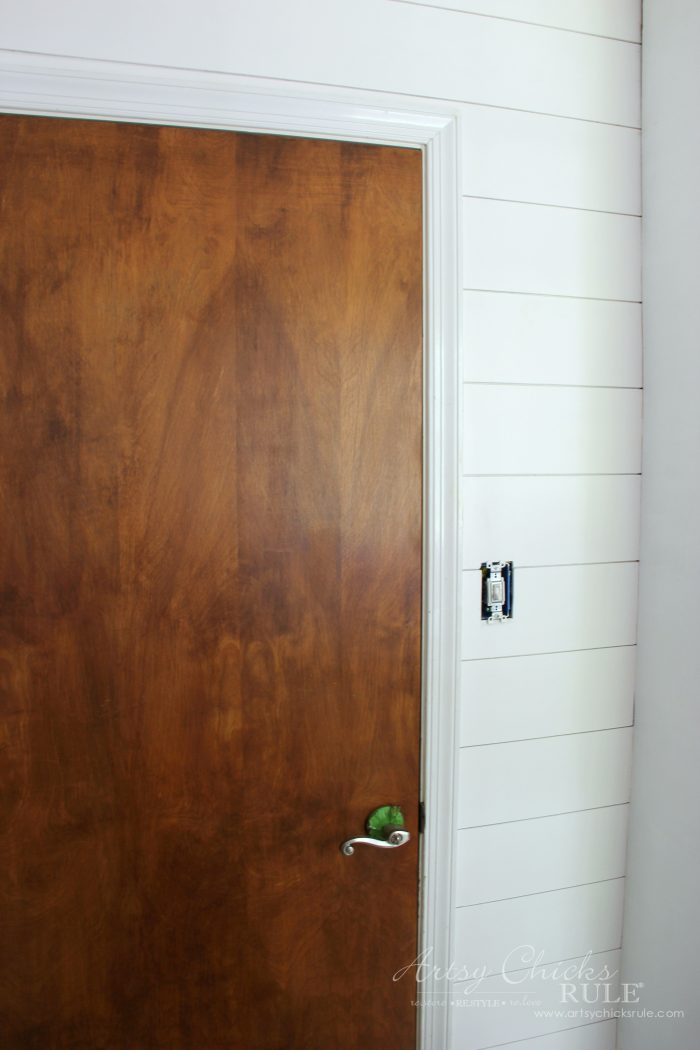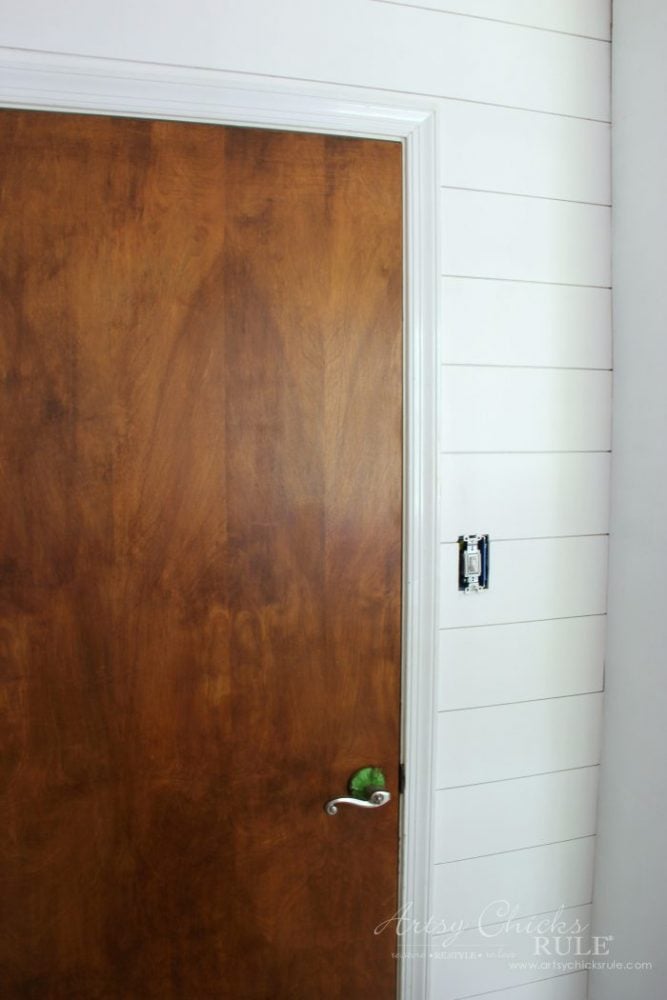 Isn't my brand "new" door so pretty? :)
And one last photo of our tight work space.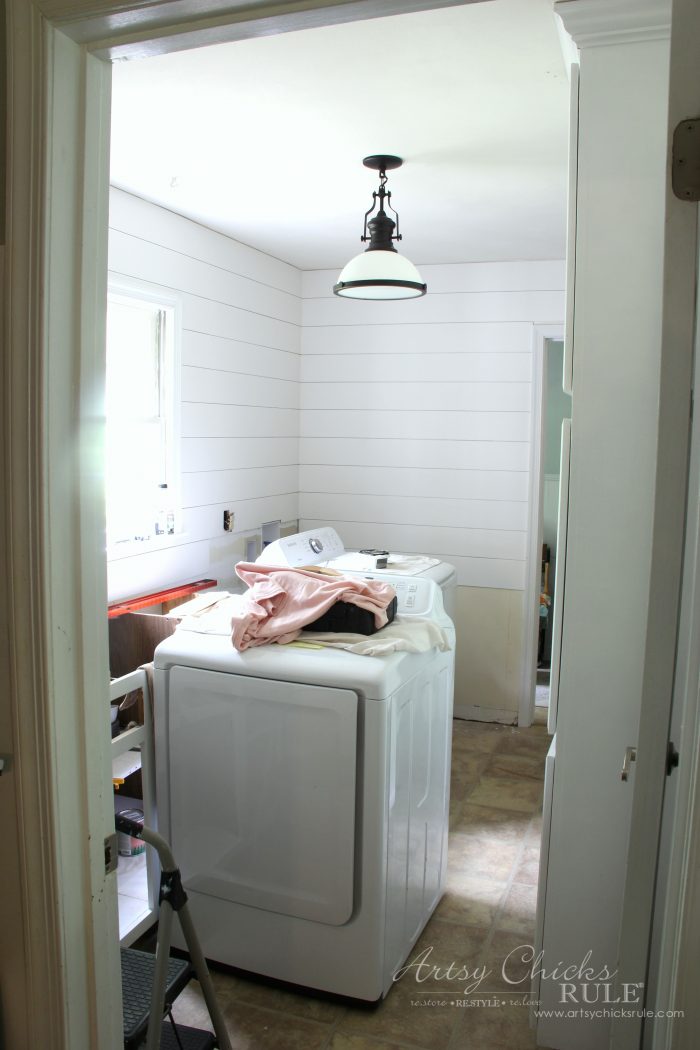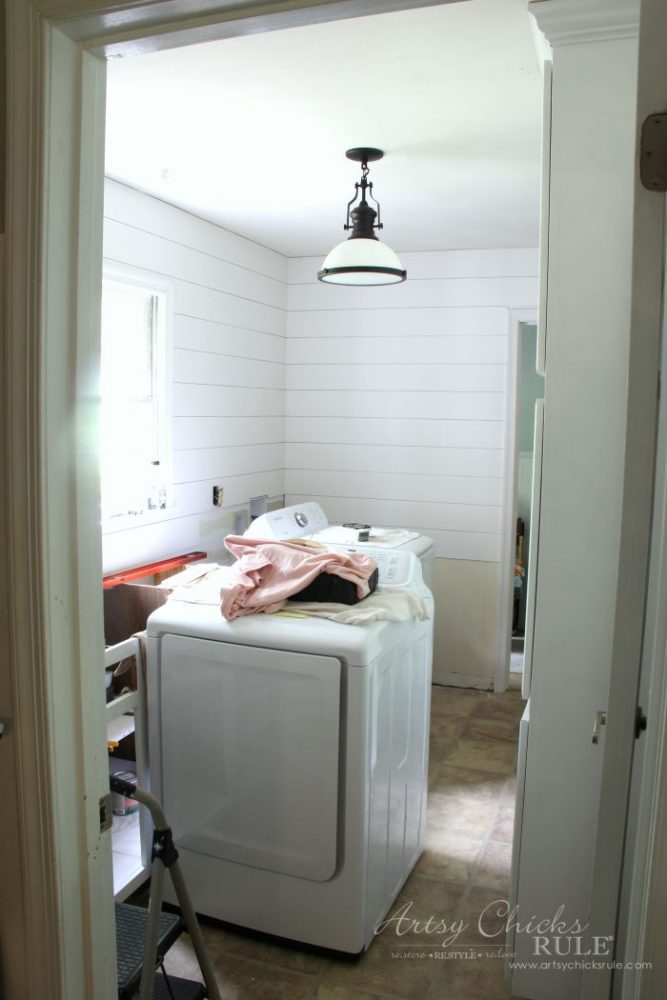 We were going to move the washer/dryer out of the room but too much trouble really.
So we are working around them. :)
I'll be SO glad to get them back in place. Hopefully this weekend after we do the floors.
(of which we still haven't pinned down just yet)
My husband took Friday off so we are going to be weekend warriors this weekend. :)
I hope you have a wonderful weekend! Go have some fun for me. :)
The weather is calling for in the 90's on Saturday here.
That's just crazy but I'll take it over cold any day!
Don't forget to hop over and see all the other One Room Challenges going on.
And PIN this coastal farmhouse laundry progress, week 4, for later!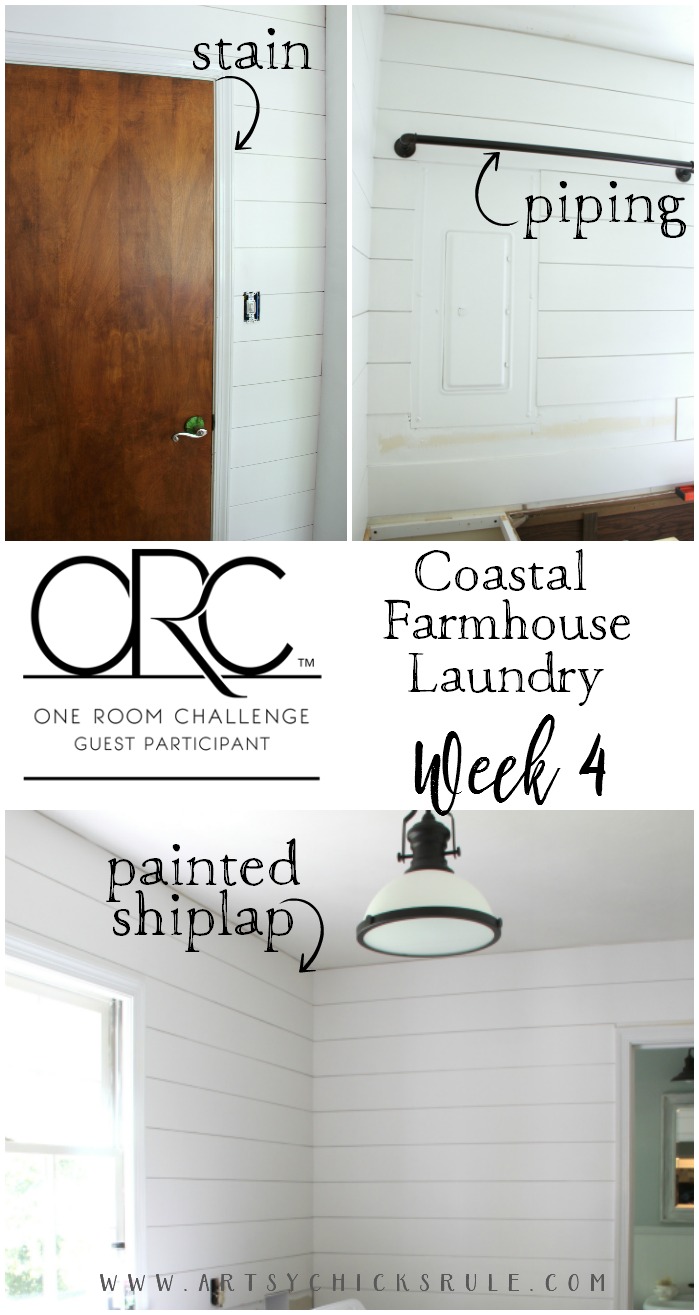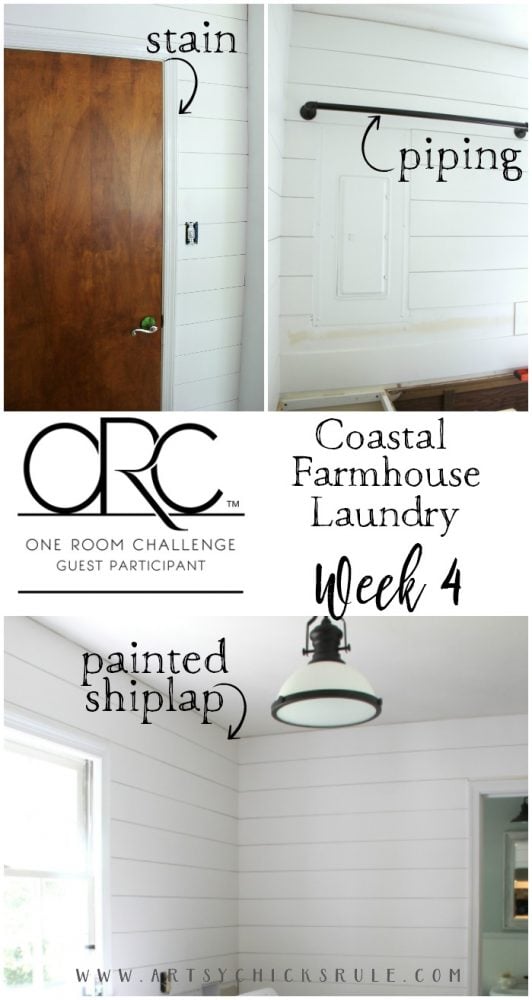 I'll see you back here next week with that decadent Mother's Day gift I mentioned in Tuesday's post. (Mother's Day Gift Ideas, see it, here)
And the last progress report on Thursday before reveal day. Eek!! We have our work cut out for us.
Follow along on Instagram as I'll be posting sneak peek stories along the way this weekend. :) (hopefully flooring and shelves)
Updated to add: See other posts in this challenge here.
Week 1 Style Plans
Week 2 Painting Cabinets
Week 3 Shiplap Progress and New Lighting
Week 4 You are here!
Week 5 Vinyl Plank Flooring
Week 6 The Big Reveal!!
xoxo