Update Old Wood For A New Look
This post may contain affiliate links. Please see disclosures here.
Update old wood for a new look! Or update it for a new "old" look too! Easier than you think!
Hello friends!
I hope you all had a fabulous fall weekend! It sure is feeling like fall finally around here. Downright chilly at times! Looks like we might have a last hurrah of warm weather though, in the next few days. Maybe that will be it for this year?? Who knows around here?!
Today is Trash to Treasure Tuesday and I'm back to share a brand-new find with y'all. My friends are sharing their new treasures too so be sure to scroll all the way down to catch 'em!
Also, have you entered my latest giveaway yet??
If not, hop on over right >>> here to enter to win the tote I made AND a $100 gift card to >>> our shop.
Update Old Wood For A New Look
Here is what I'll be sharing today.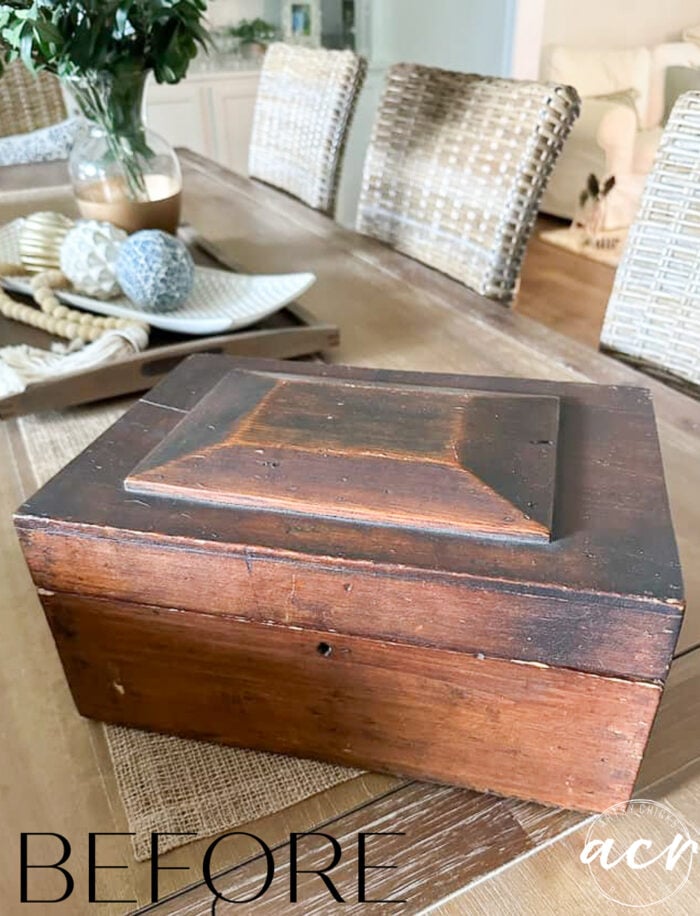 I found this antique wood box for 6.98 (and 50% off of that, so 3.50).
This one is definitely old. Take a look at the keyhole to lock it. Unfortunately, there was no key that came with it. I am sure it is long lost!
By the way, did you spot the cutest little photo bomber in the picture above?? lol (with my son's sock in front of her…sock thief! haha!)
So…let me tell you before I begin, I forgot to take a photo of the "before" of the inside!! Ugh!!!
It was rough. Way rougher than the exterior. It was oddly half-stained and very beat up. Not sure why!
But darn, I'd have loved to have been able to show you. Whoops.
SAND
I spent about 15 minutes sanding the exterior of the box and this is what it looked like after that was done. (I started with a 150 grit then finished with a 220)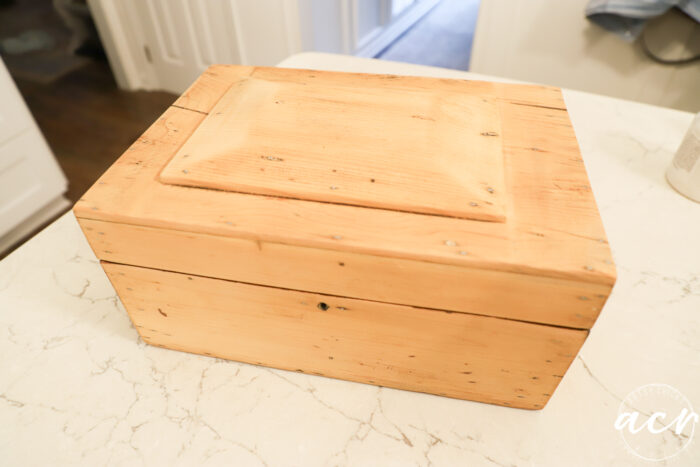 Already better!
Lots and lots of nails showing though that didn't show up with the stain. I was okay with that though as I decided to embrace the "old" on this one.
If you could've seen the interior you'd understand why.
For the inside, I decided to go dark. (for the reasons I stated above) No way I could really sand inside, etc. I considered adding some sort of decorative decoupage or fabric but decided to go for the whole "rustic" look inside and out. I thought it was more fitting for this particular wood box.
PAINT THE INTERIOR
So I mixed up some Ash (dark charcoal color) and Chestler (dark green-toned lovely blue shade) to come up with a very dark navy-ish blue shade.
You can see the two colors below before I mixed them.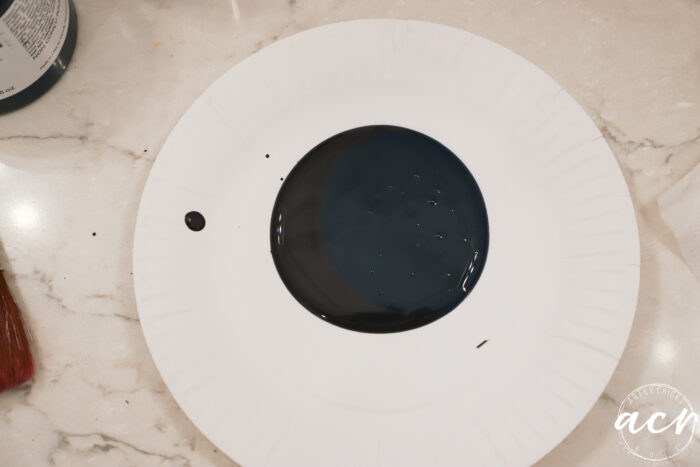 And painted the inside.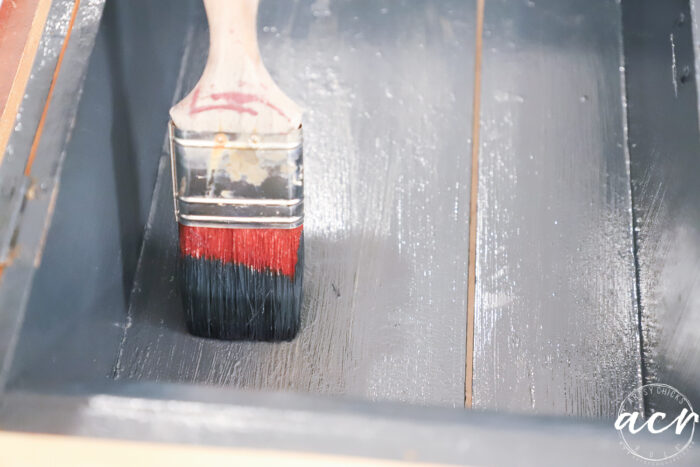 I also used Chestler on this pretty little table makeover here >>> Easy Way To Glaze Painted Furniture
You can find all the products I used here:
WHITEWASH THE WOOD
For the outside, I decided to give it a "wash" of white to take away a bit of the orange/yellow tone.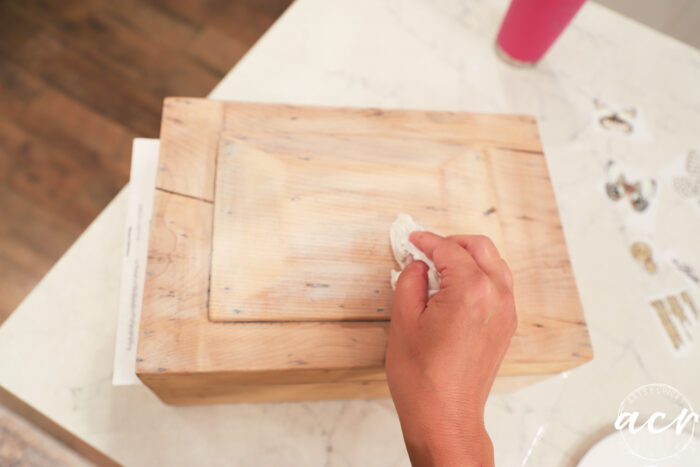 I grabbed a rag and wet it, then dipped it in a mixture of Casement (white) paint and water. (you want enough paint so that you can somewhat see it when you wipe but not enough that it completely covers…you want to see the full woodgrain through it)
You can see what I mean below. The top has been whitewashed, the bottom section has not.
See the difference?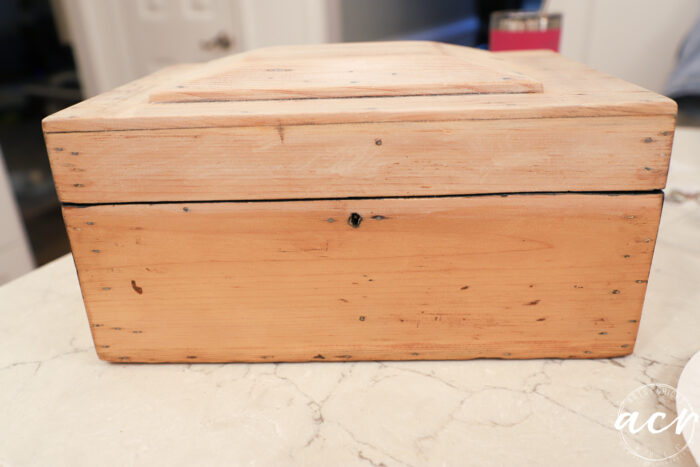 And again here, the entire box has been done except for that one side.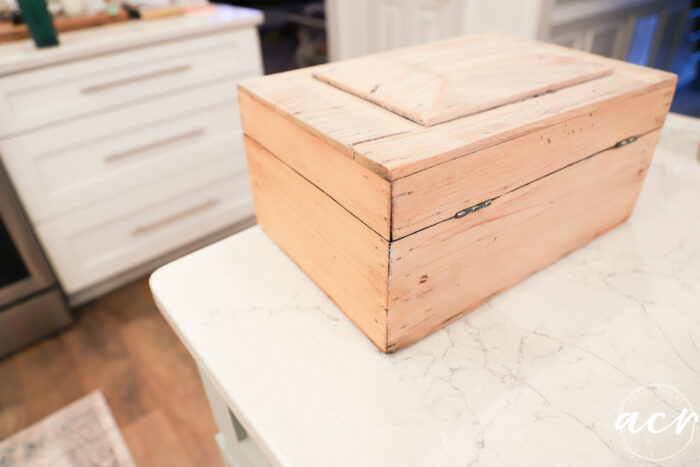 It's subtle but just enough to update old wood and remove the orange tones for a whole new look.
And keep in mind it's still wet in these photos. It will naturally look lighter once it's dry.
APPLY TRANSFERS
I decided to add a few butterfly transfers to the interior. Also a few on the very aged mirror too.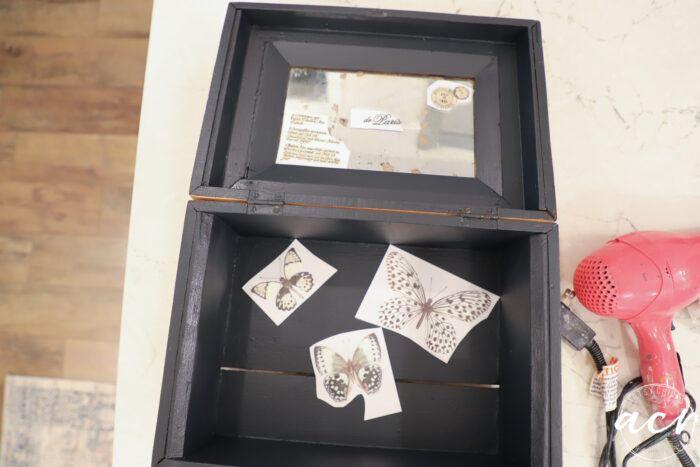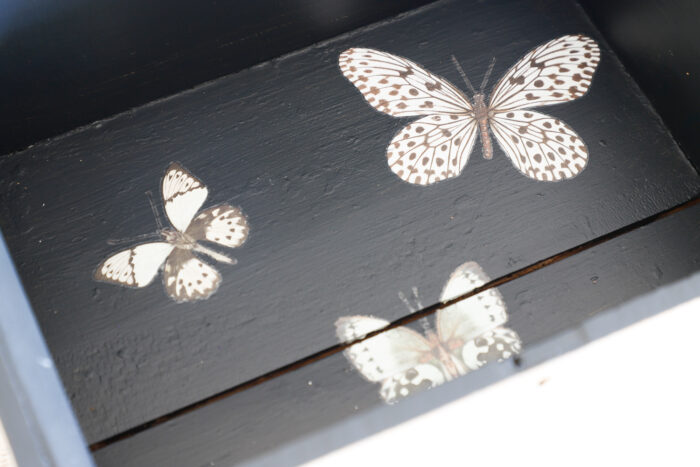 I also used some of this same transfer on this project here >>> Mini Butterfly Cabinet Makeover
I think the ones on the mirror go perfectly with the state the mirror is in.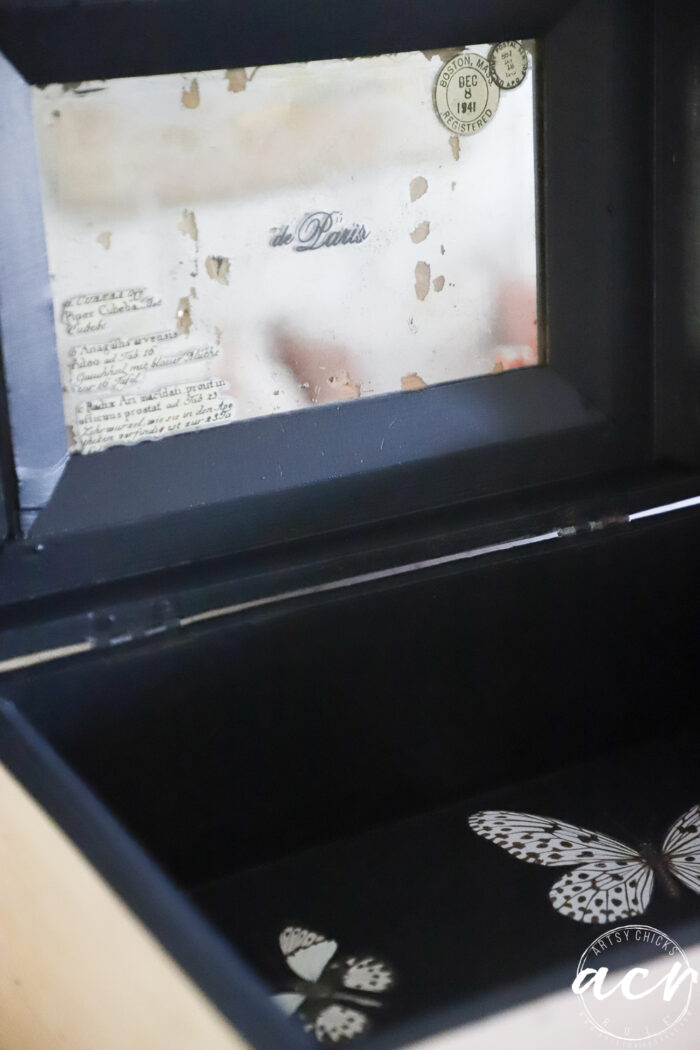 SEAL THE INTERIOR
Once I had added the transfers, I sealed it with Tough Coat Topcoat. (all products I used are listed above in the gray box with links to each)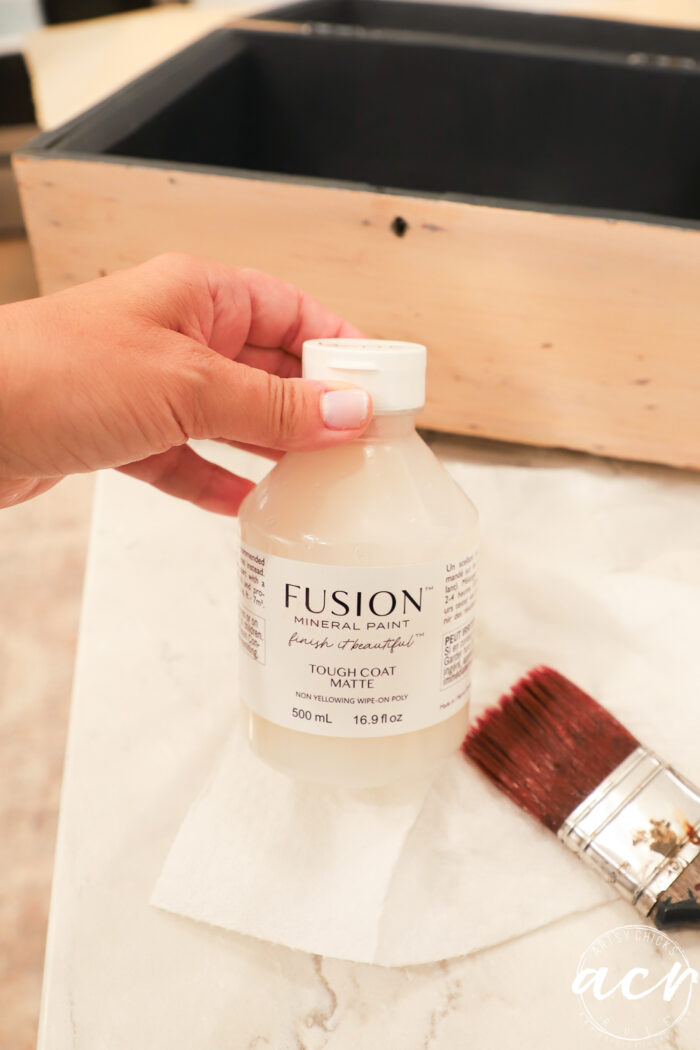 I let that sit overnight and then waxed the exterior of the box in the morning.
WAX TO SEAL THE WOOD
Lastly, I used an old rag and this lovely wax to seal the lightly stained wood.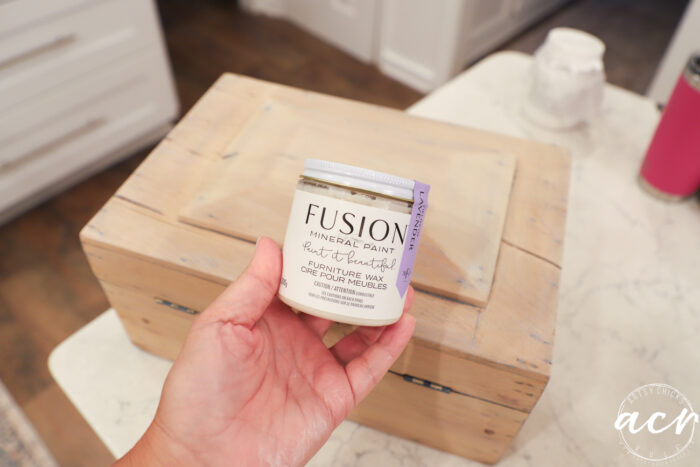 It smells divine while you are using it. Love it.
Plus, just look at that gorgeous luster. So good.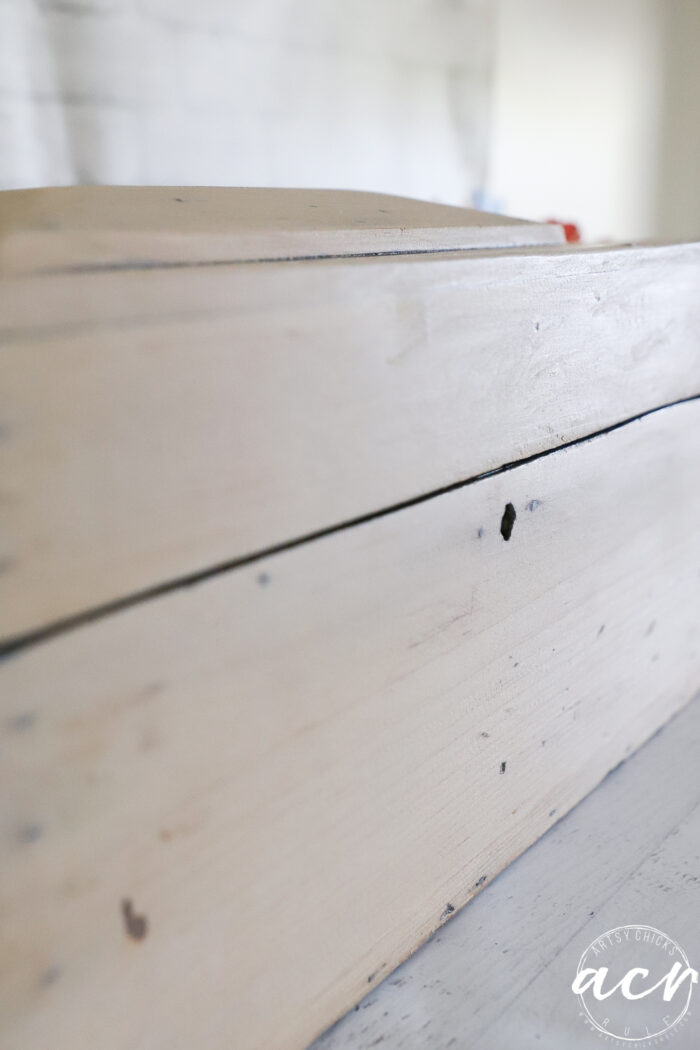 I don't use wax often anymore but do love it on raw wood! It's the perfect thing to use when you update old wood like this.
And done!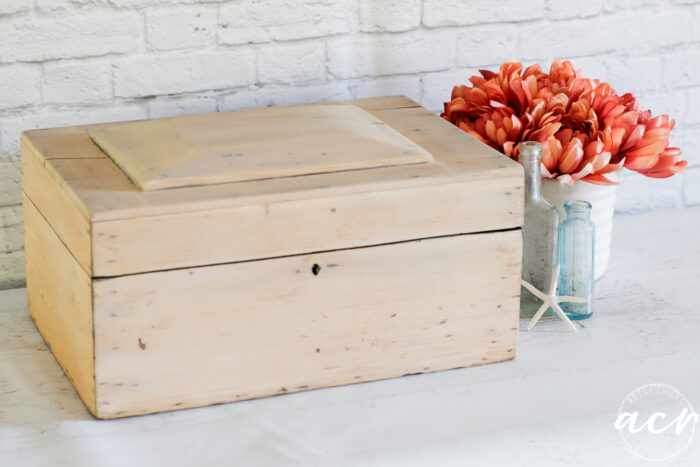 Updated old wood box. With age. Love it!
So I wasn't necessarily trying to make it look new. I wanted to update it but keep the wear and the charm.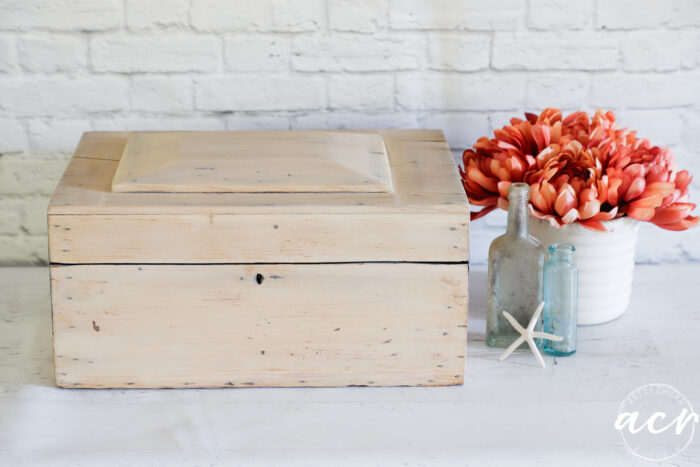 So bumps and marks and nails showing everywhere. Perfect!
Open it up and you get a sweet butterfly surprise.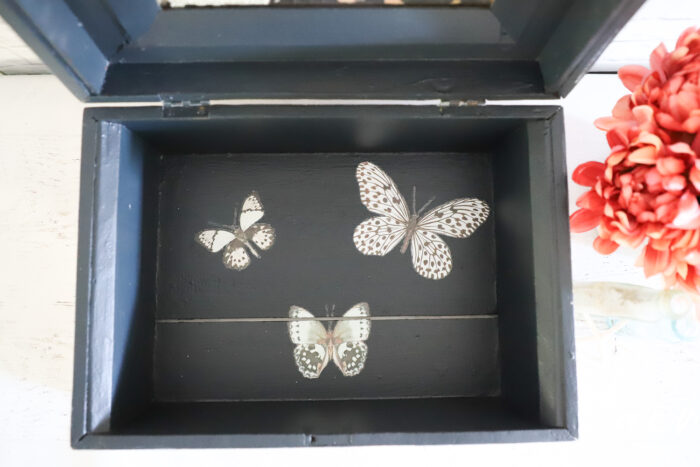 And the old mirror with vintage transfers looks like they've always been there.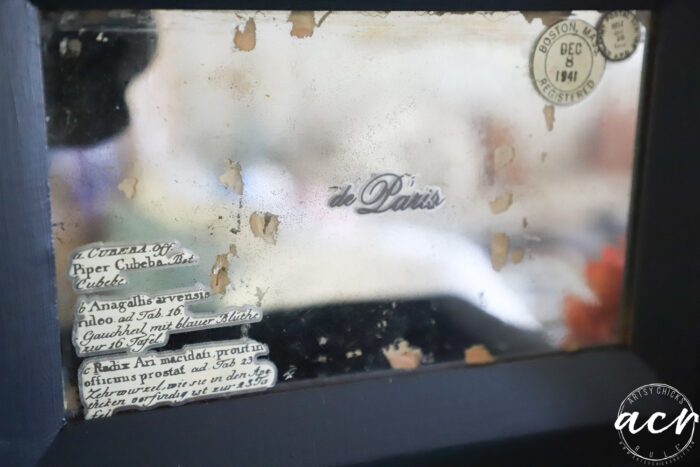 It's really a treasure. I love old things.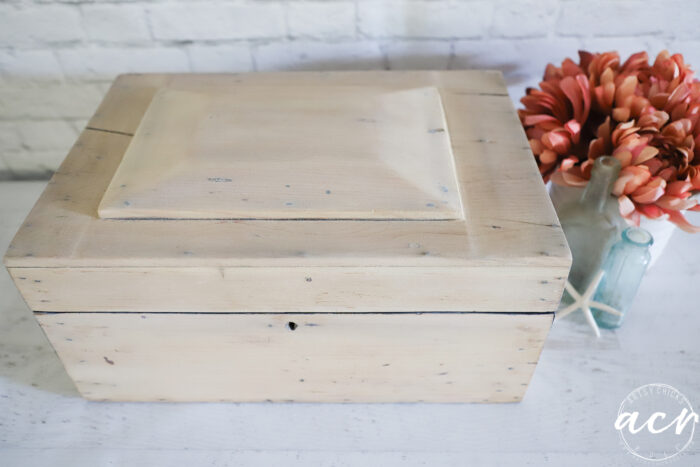 Isn't it great how well a simple wash of paint tones old, raw wood so well??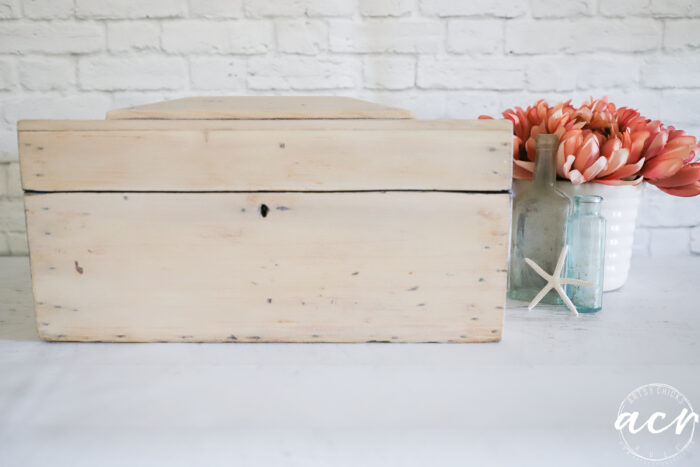 Might be a keeper!
Have you updated old wood this way before? I love this process.
I've done a few other similar projects you might also like here:
PIN it to save it!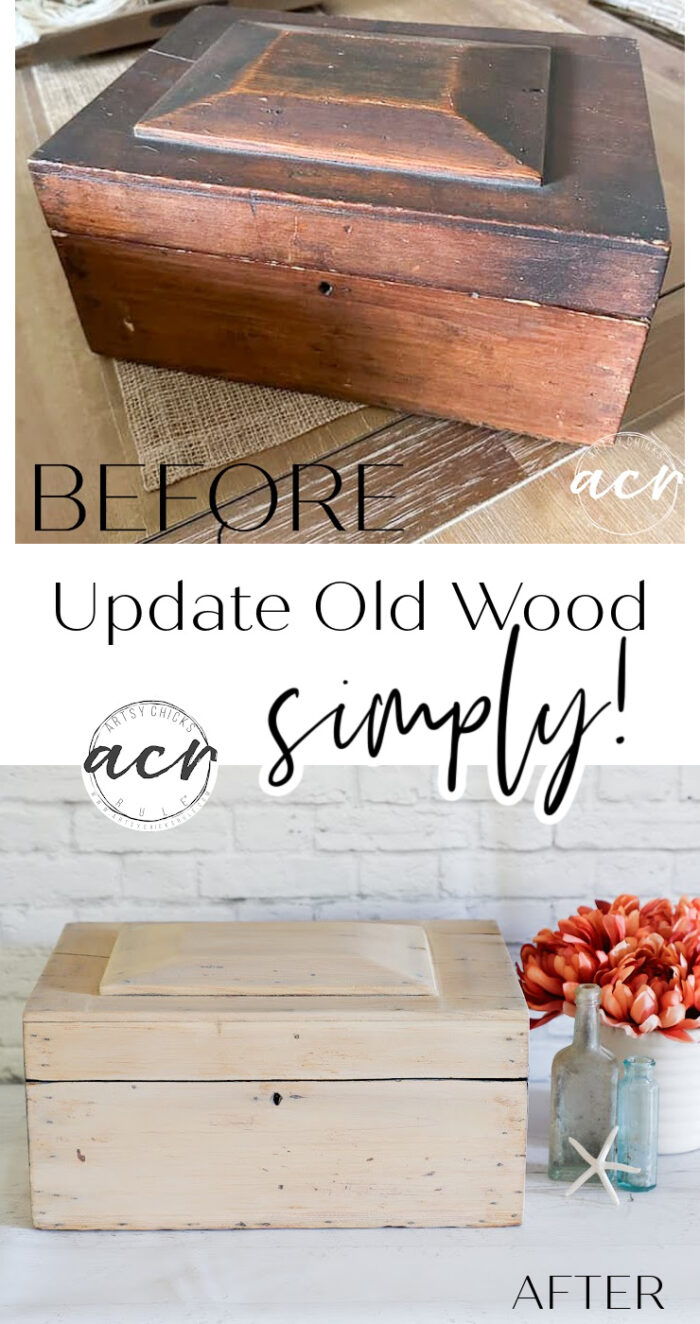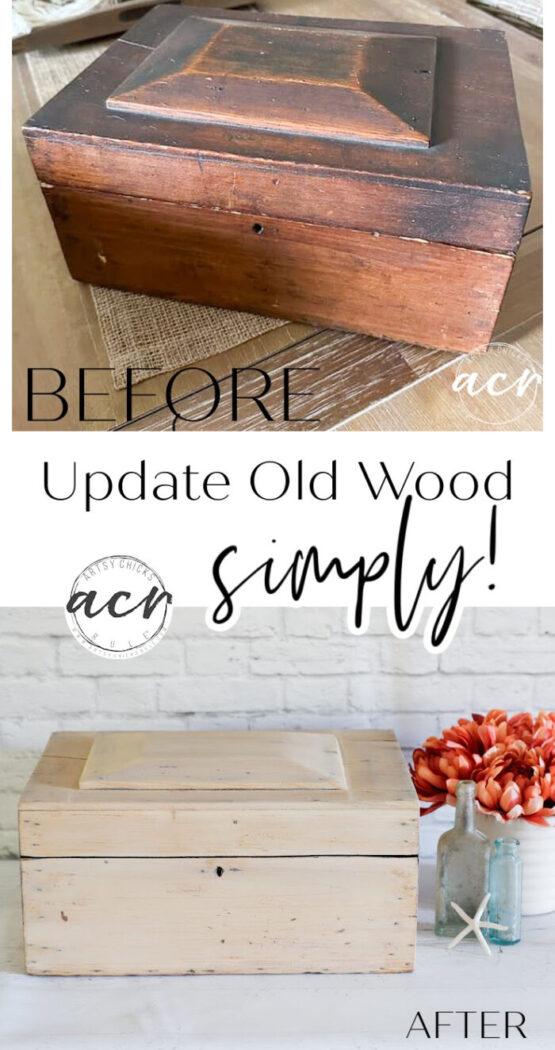 Wait! Don't go just yet! Hop on over and visit my friends' makeovers too!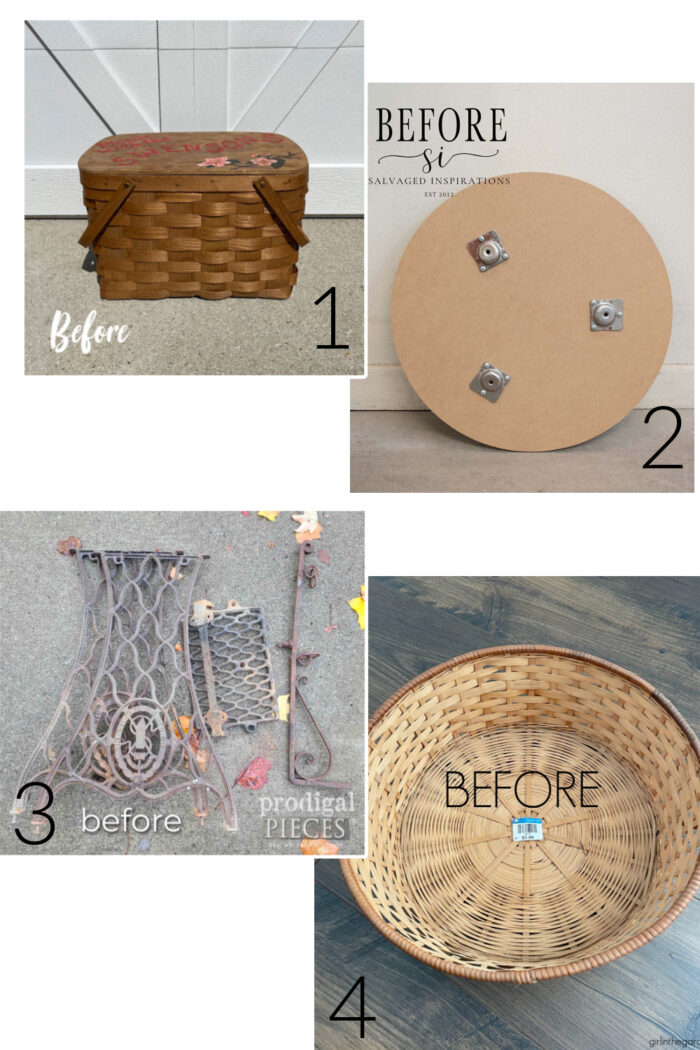 Have a blessed week!
xoxo