There's just something about wood grain.  I love it! And sometimes you just have to let it shine.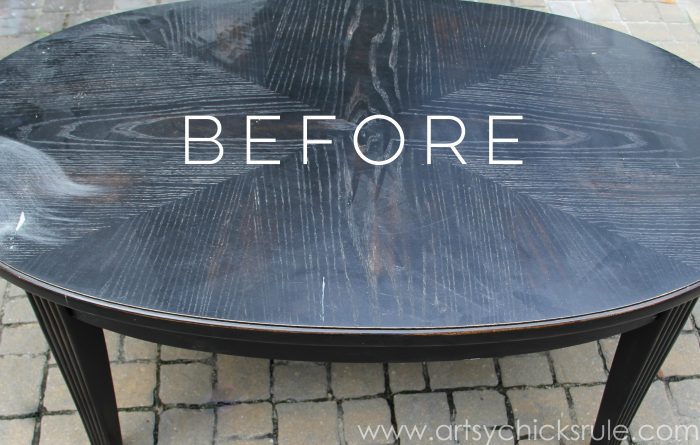 Look at the wood grain in this $6 thrift store table. I knew immediately I was going to have to let that shine! ;)
Hey friends! It's themed tour Thursday and the theme this month is "Words/Letters".
And what's better than a little French typography??
I'm a words, letters, graphics, typography loving girl (as is evidenced by this blog AND my home ;) ) so I am really excited about this month's theme.
For anyone new, some blogger friends and I get together every month and bring you a themed furniture makeover.
You can see past month's themes –> here.
Now onto this month's makeover….a little French typography and whitewash…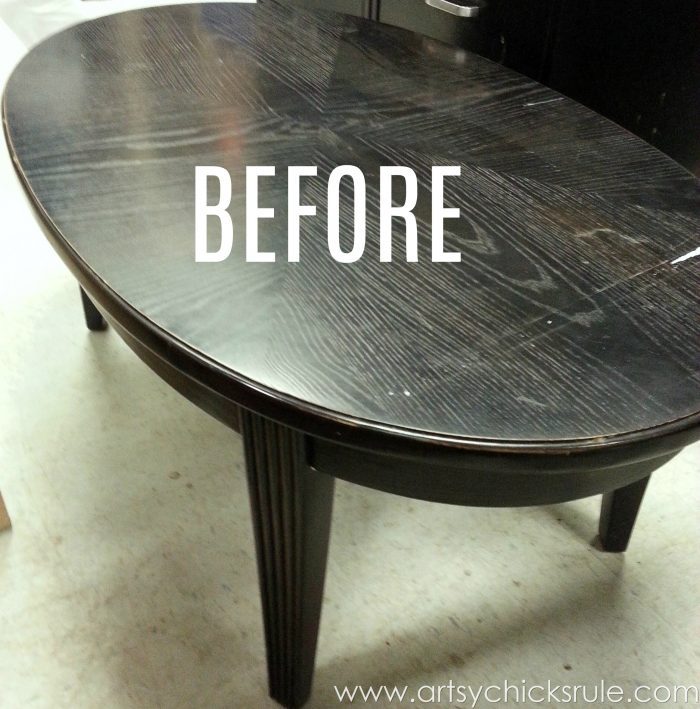 It was a bit beat up but nice and solid.
But who could pass that up for $6???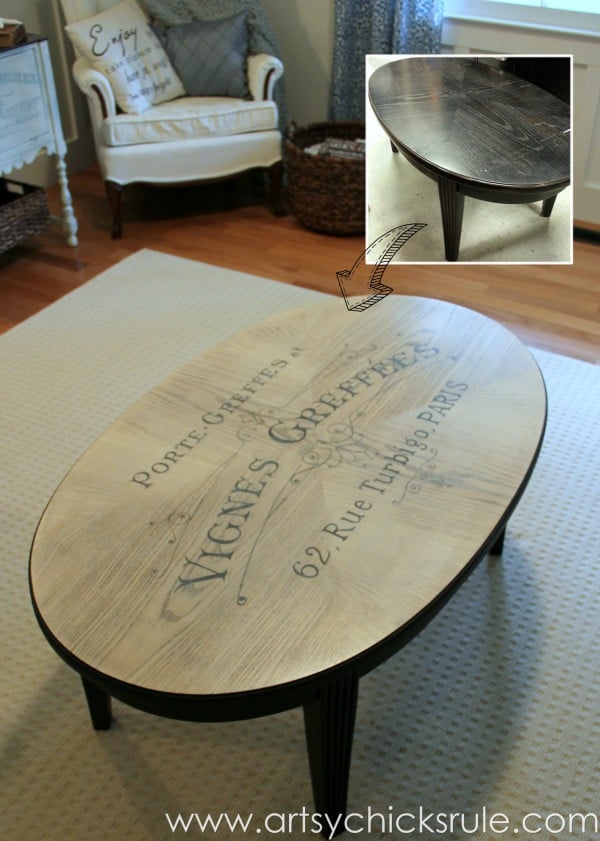 I sure couldn't!
I knew I'd need to sand (and I hate sanding) but sometimes it's just a necessity.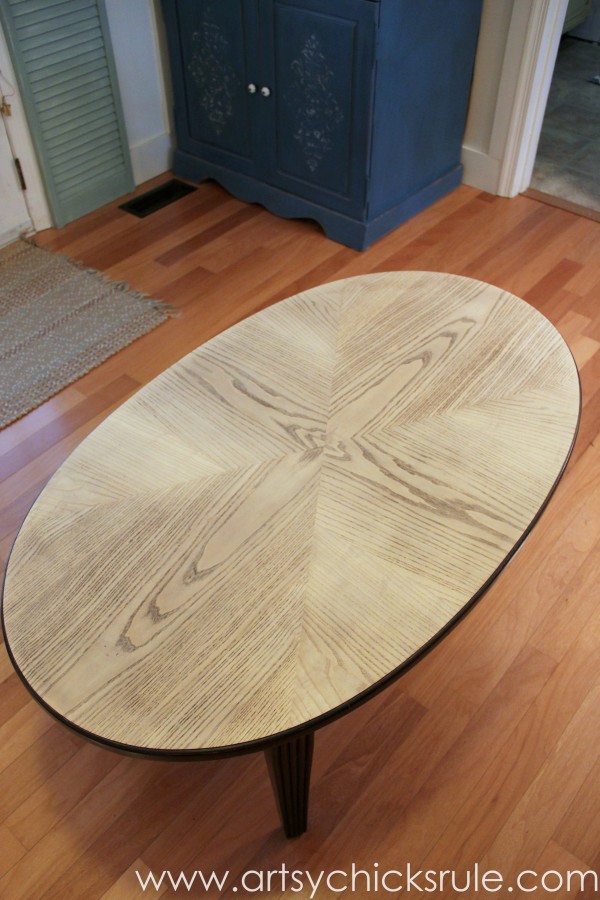 But just look at that. Gorgeous without doing another thing!
I was actually liking the way the grain held onto the black in the top and how it was looking sort of  "bleached".
I originally thought I'd leave it that way until I wiped it down…and it looked YELLOW.
NO, just no.
I knew it would end up looking yellow once I added the poly or wax coat. (when dry, it looked very bleached, "wet"…it looked yellow)
So I whitewashed it instead.
I mixed up a little "Old White" Annie Sloan Chalk Paint and water and applied like so.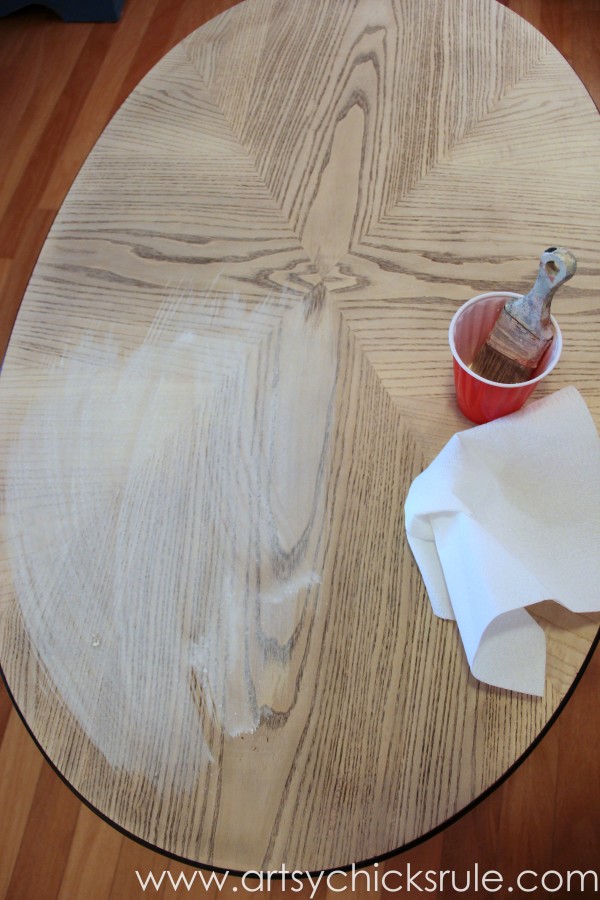 I just worked it in and lightly wiped over with the paper towel. (you don't want much of the paint to stay behind, just a hint)
PERFECT.
Now it will stay more "bleached" looking (white) once I put the sealer on top.
Next I set up my projector (that I got off of Craigslist for around $40) and began transferring the image.
I printed out this graphic from The Graphic's Fairy onto clear label paper to use on the projector.
If you don't have that, you can have Office Max, or the like, print one out for you.
It only cost pennies..or a couple of quarters. I don't remember but it wasn't much last time I had them do one.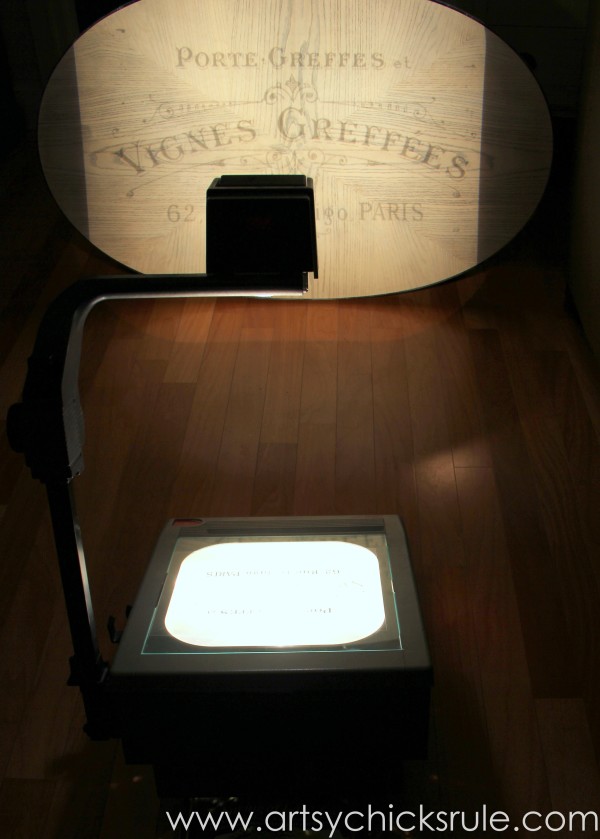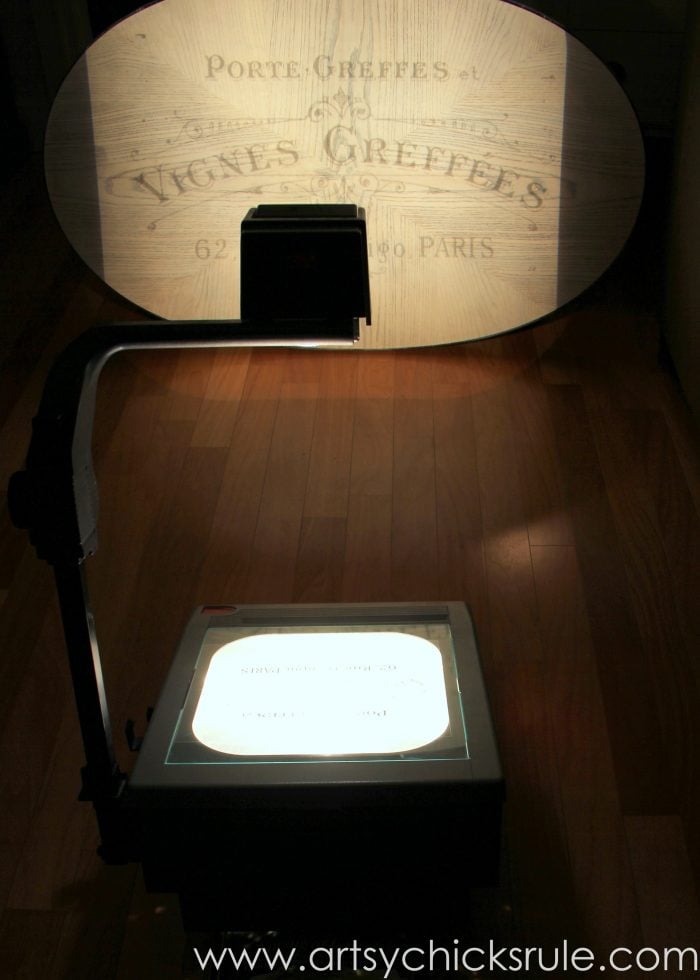 This is such a great way (and still my favorite way) to transfer large graphics onto something.
Here are a few of my other favorite transfer methods >>> "How To Transfer Graphics – My Favorite Methods"
I used a black  Watercolor Pencil to transfer the image.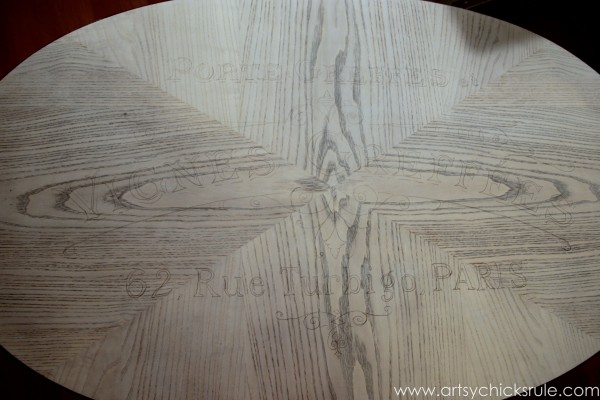 Up close….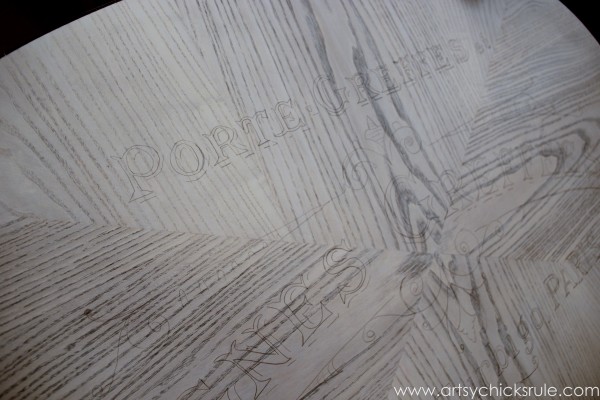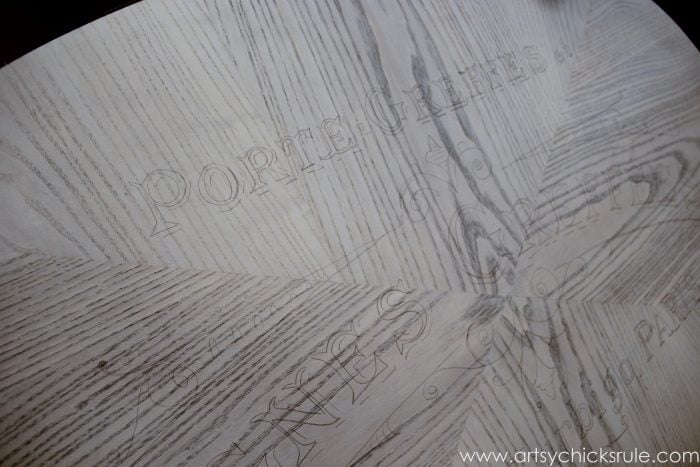 I used this same method on my Coastal Themed Dresser and this Estate Sale Sideboard.
I then hand painted it in using "Graphite" Annie Sloan Chalk Paint and a script liner brush (they are my absolute favorite for doing any kind of lettering)…..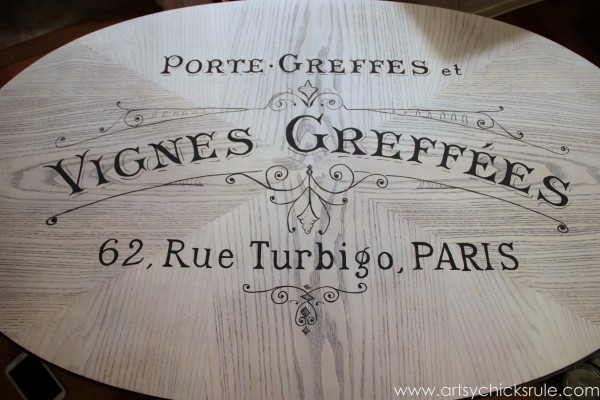 Pretty easy, just takes a bit of patience. As I've mentioned before, I love it, it's my "mind therapy" time. :)
Put on some music you like, get comfy and just start painting "in the lines"….before you know it, you are done.
I very lightly sanded the typography and then I added a bit more "whitewash" over the entire top.
See below…the lettering is a bit softer now.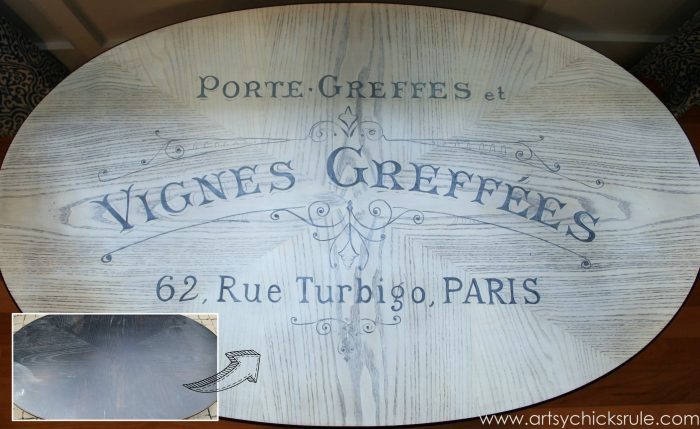 I sealed the top with  General Finishes Gel Topcoat.
Some close up shots of the top….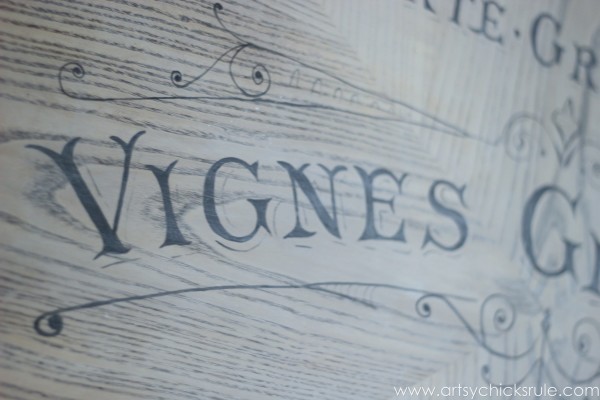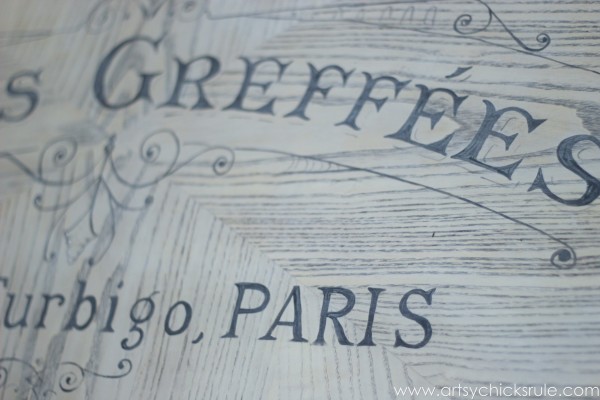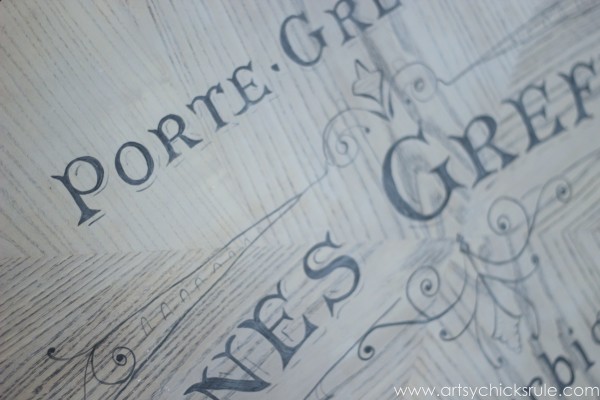 I like how the whitewash ended up looking on the black letters…almost antiqued looking.

I painted the base with General Finishes Lamp Black Milk Paint because I wanted it "BLACK". (Graphite is more "Charcoal")
I just LOVE that Lamp Black.
A lot.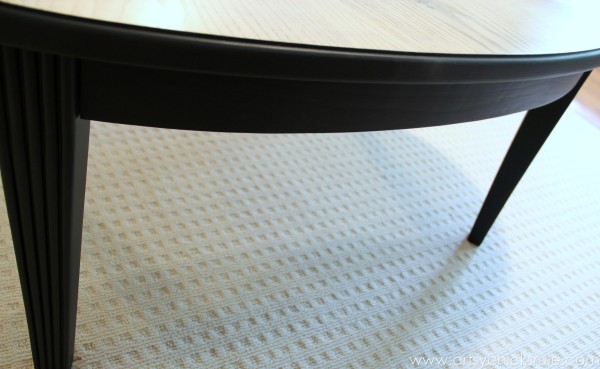 And it applies so smoothly….
and is a nice, true, dark black.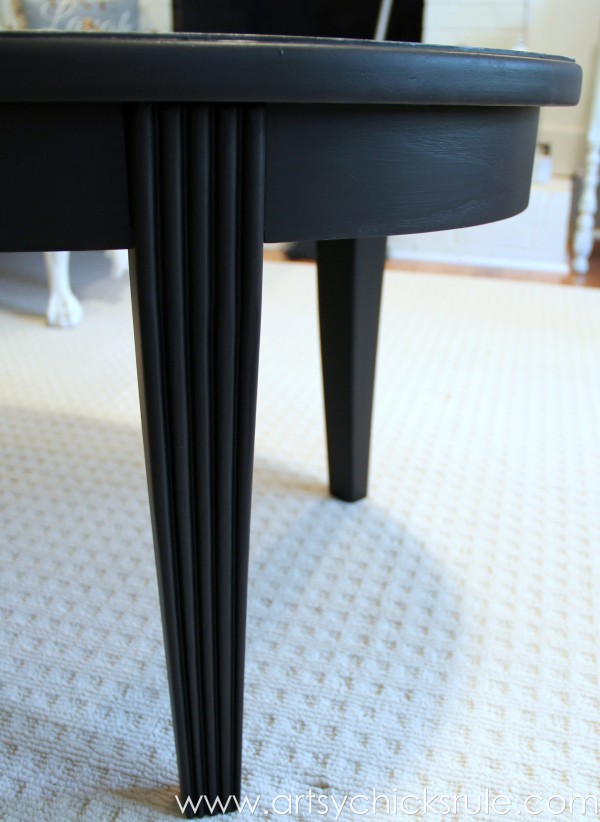 Simple and elegant.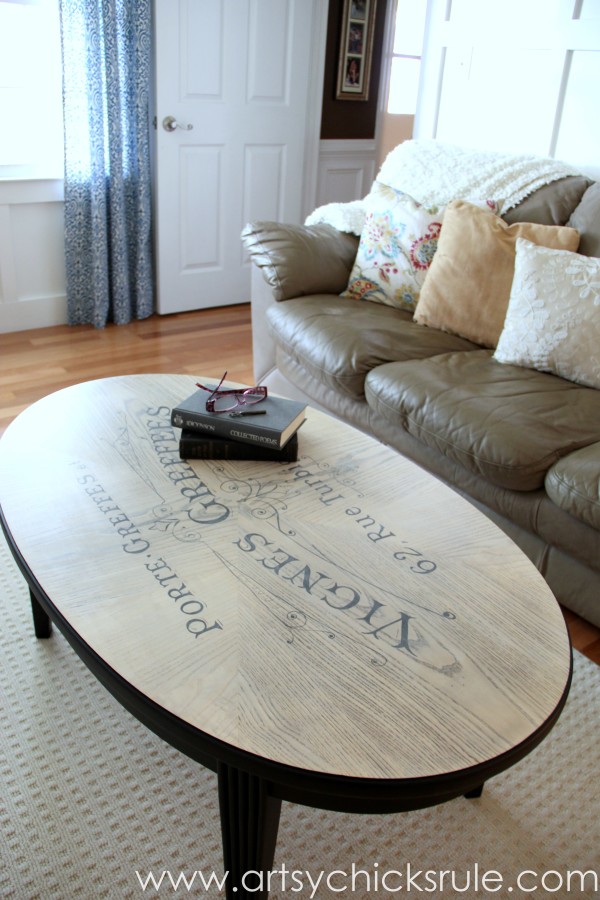 With nothing because who wants to cover up that pretty French typography? ;)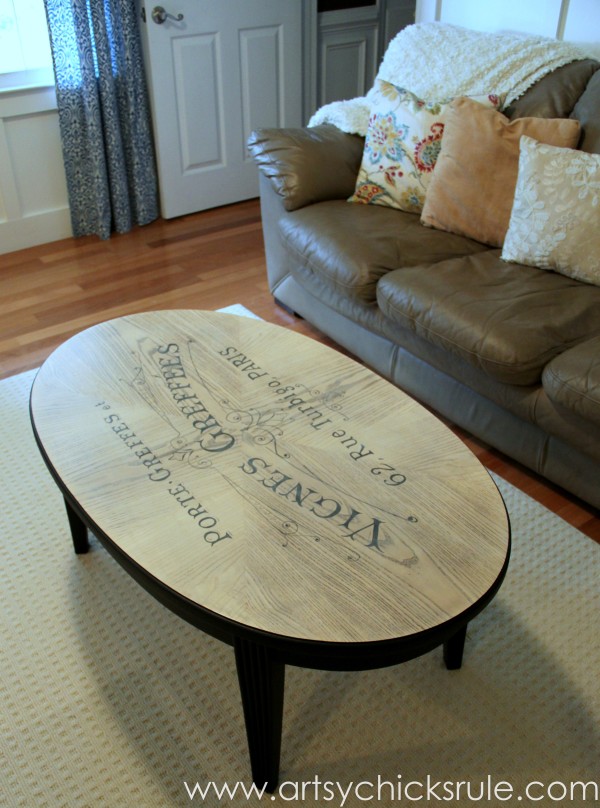 …and that gorgeous wood grain pattern I love so much.
So there you have it.
My $6 thrifty find turned Frenchy fun and fabulous! ;)
PIN this (truly simple to do) French typography project for later!!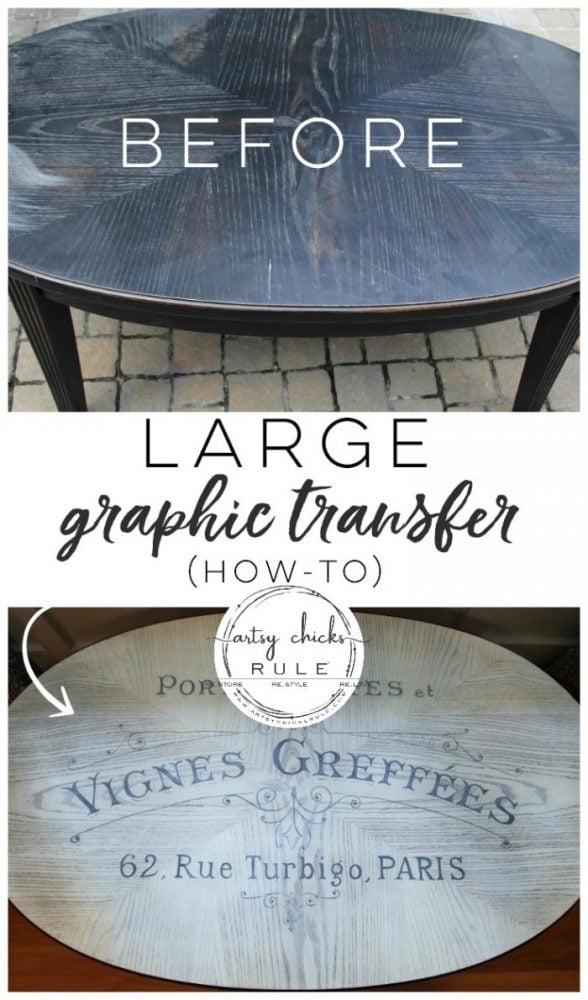 Hope you give it a try!
Be sure to check back later this week to see what I did to this old beauty!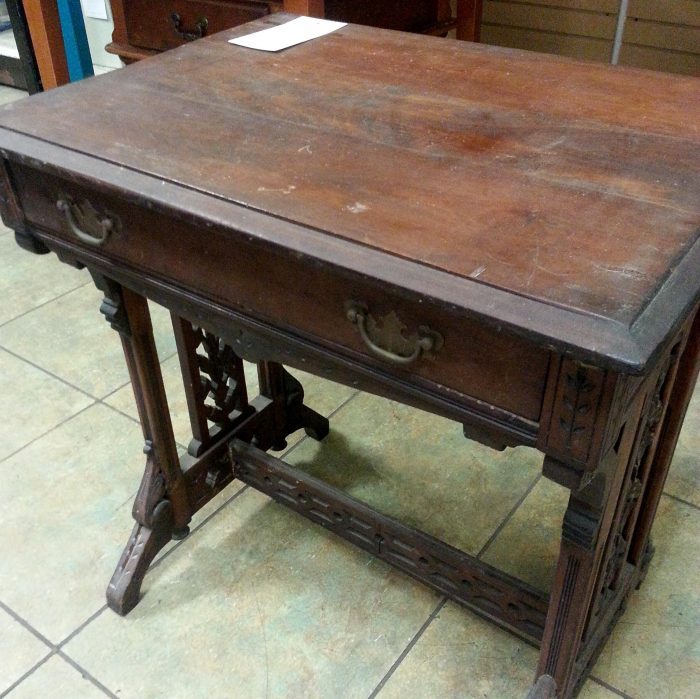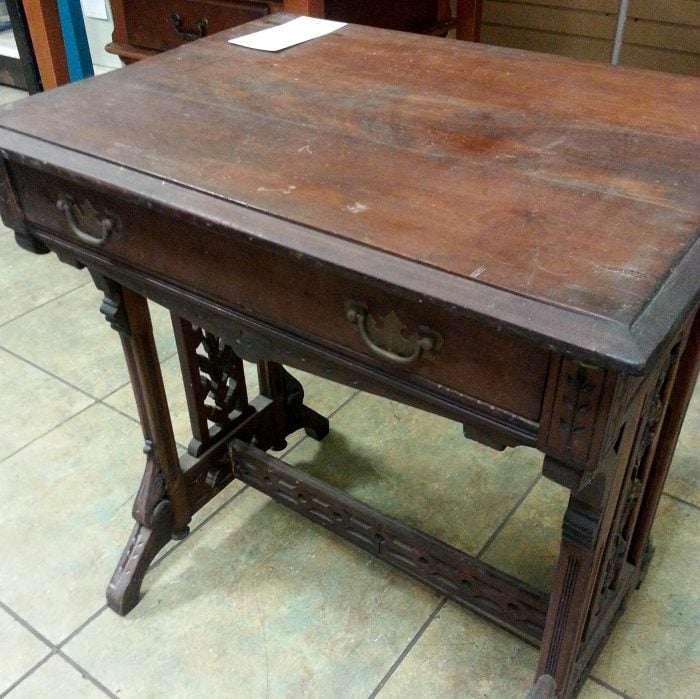 UPDATE!!! See it now, here!!
xoxo