French Styled Cabinet Makeover (Graphics & Chalk Paint)
This post may contain affiliate links. Please see disclosures here.
Sweet and unique French-styled cabinet makeover, first time wasn't the charm… but it's a winner now!
Edited 1-19-2023
Today I'm pulling this oldie (but oh-so goodie) out of the archive! All the way back from 2014, wow! I think it totally deserves a little more attention.
One of my favorites that I kept for years but no longer have. I hope you enjoy this visit down memory lane!
……………………………………………………………..
Want to see how this little Frenchy gal started out?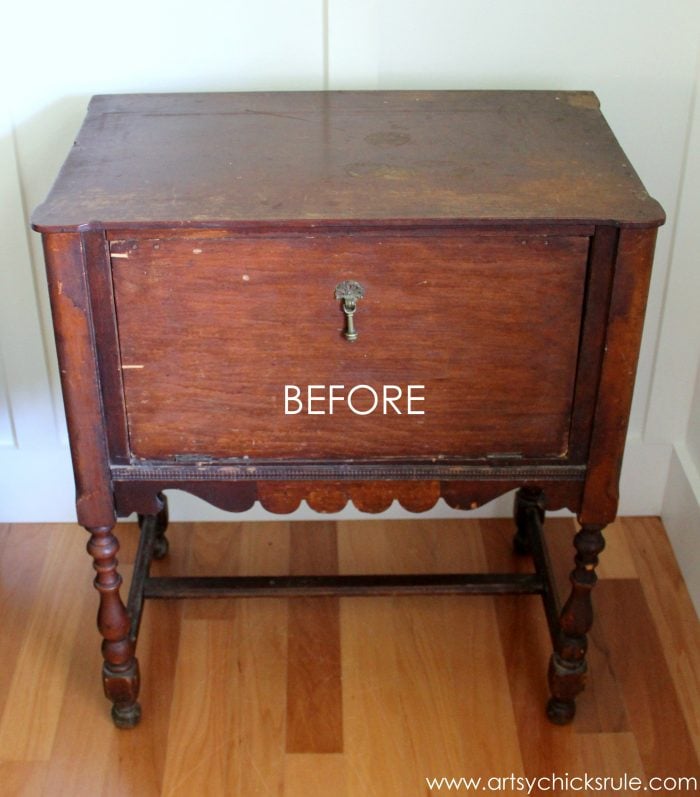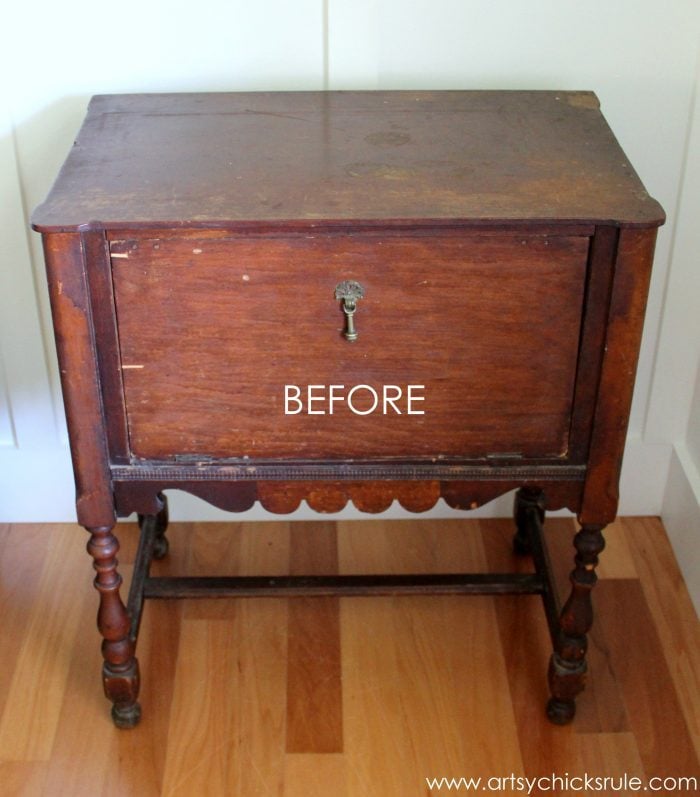 It's been a long time coming.
If you follow me on Instagram…you've seen it. BUT it didn't quite turn out as I had originally planned.
Nope.
It was a bit of a big fat ole fail at first.
I had a vision. (that's a scary thing sometimes…just ask my husband!)
But sadly, as it goes sometimes, the vision and what I actually ended up with were two totally different things. Boo.
So back to the drawing board, it was.
And this is what I ended up with.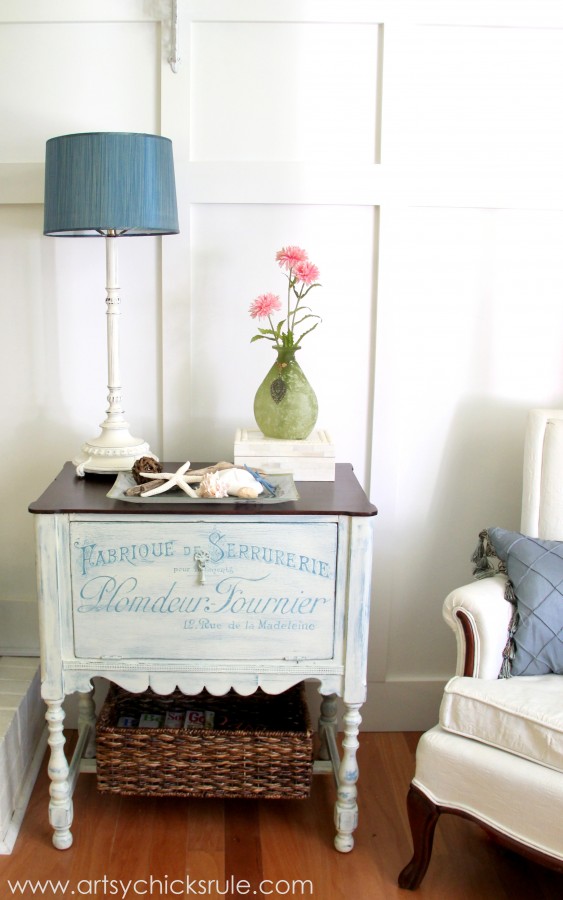 Not a bad cabinet makeover at all.
I am actually happier with this outcome than I was with my original vision! Yay!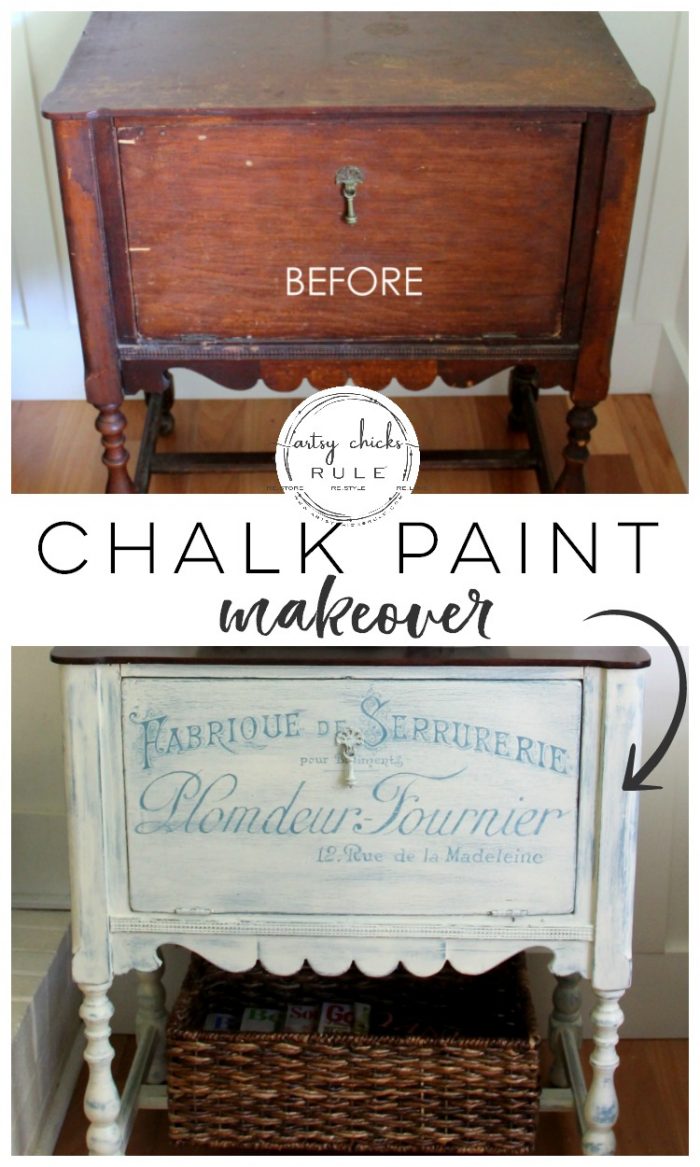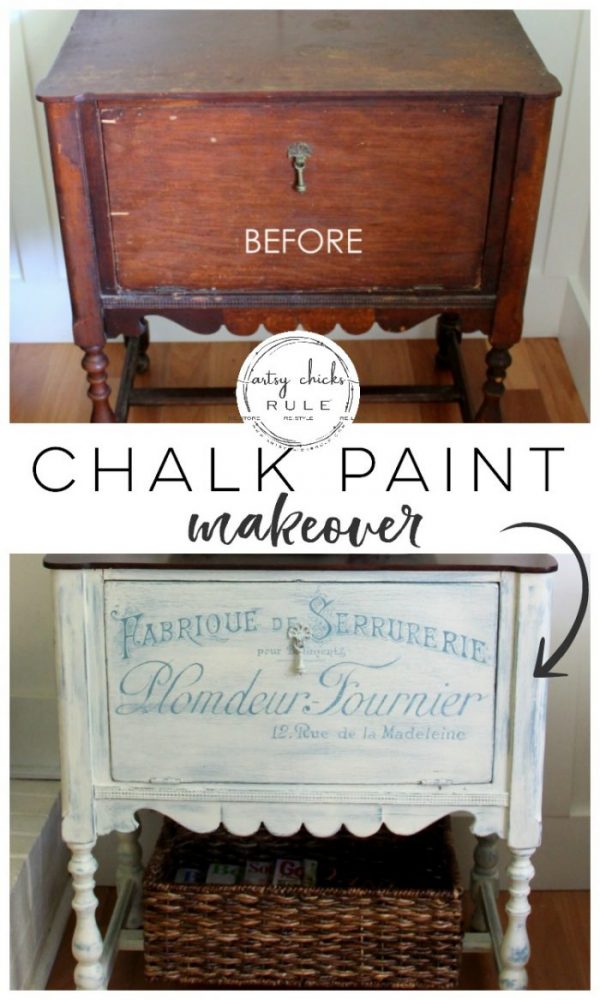 It was a thrift store find…. $20! At that time, we had recently put the TV over the fireplace (we've since changed that too… here) and I had been looking for a while, a long while, for something to house our cable box, etc.
This was a pretty good find for that, I think. Maybe not ideal or what I totally had in mind but it would work.
But it was in not-so-great shape.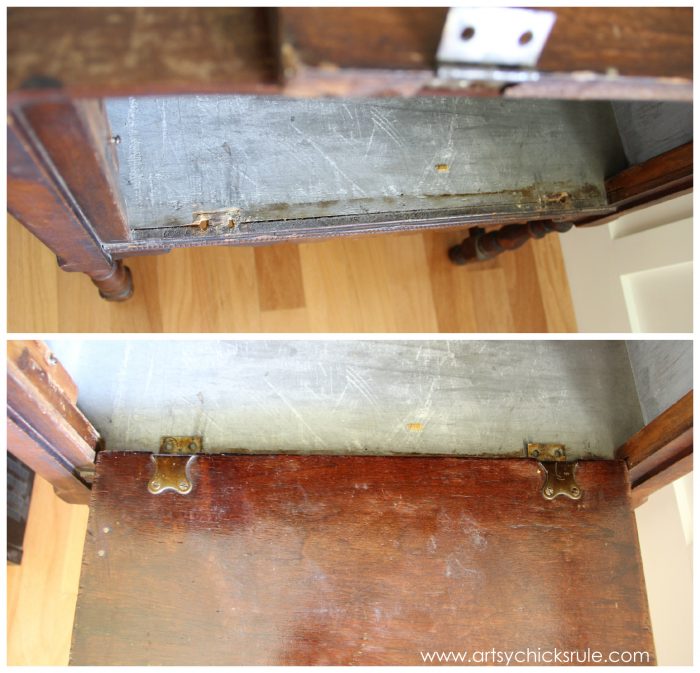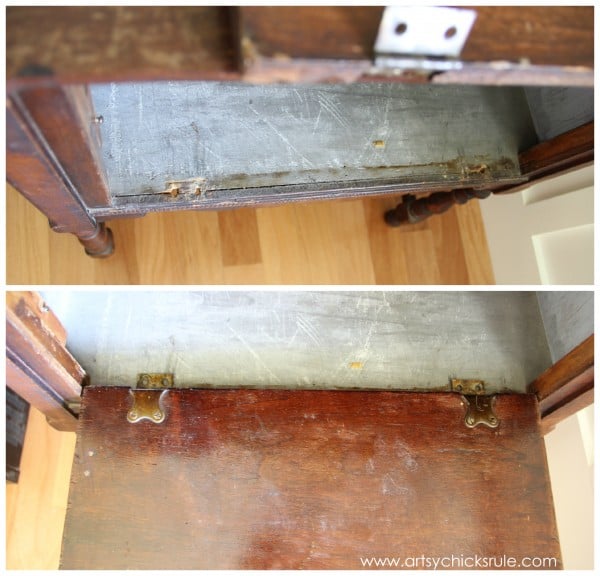 The door was not even attached when I bought it. Easy to see why!
So I brought it home with the idea of painting the bottom and sanding/restaining the top.
That was going well until I sanded…uh oh.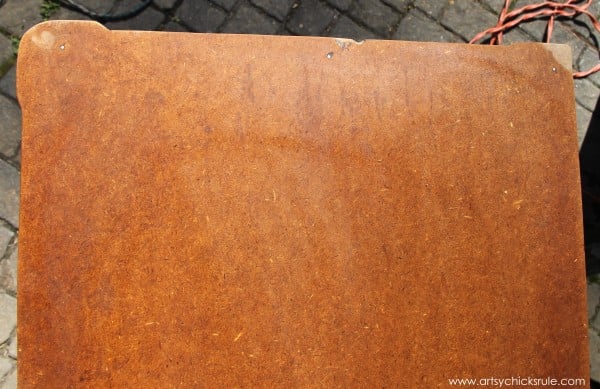 …and yes, that is particle board. Weird, huh? It was stained particle board.
Not sure what's up with that except maybe the top was ruined at some point and replaced with this?
Who knows?
I was so bummed. There went my plans to restain.
But not one to be deterred for long I decided to stain it anyway. I wanted it 'stained' so it was getting stained! haha
And I'm pretty happy with the result.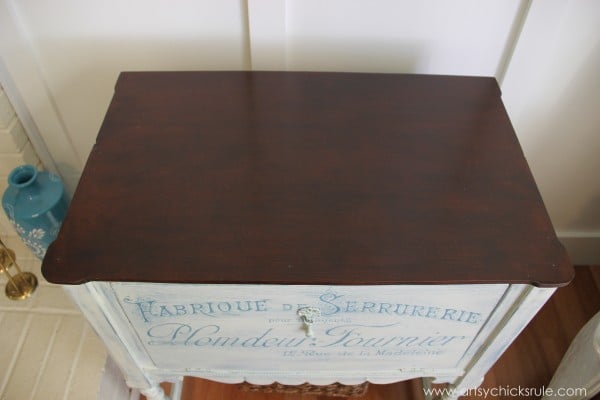 I used Minwax PolyShades (which I thought was ideal for this situation).
It was perfect since it kind of just lays on top of the wood. I was able to disguise the fact it is particle board underneath…for the most part.
Isn't that the coolest??
So anyway, back to my original "vision" for the paint. (which was yellow)
Yep, didn't love it so I repainted.
This time I used a shade of Aubusson Blue with my blend of Old White/Pure White over top of that.
Edited to add: Similar colors to those are Seaside and Casement.
I sanded and distressed to really get the blue to come through all over. Even the sides.
Which I ended up disliking …highly.
So back to the drawing board on those….again.
I repainted the white and then added grain sack stripes instead.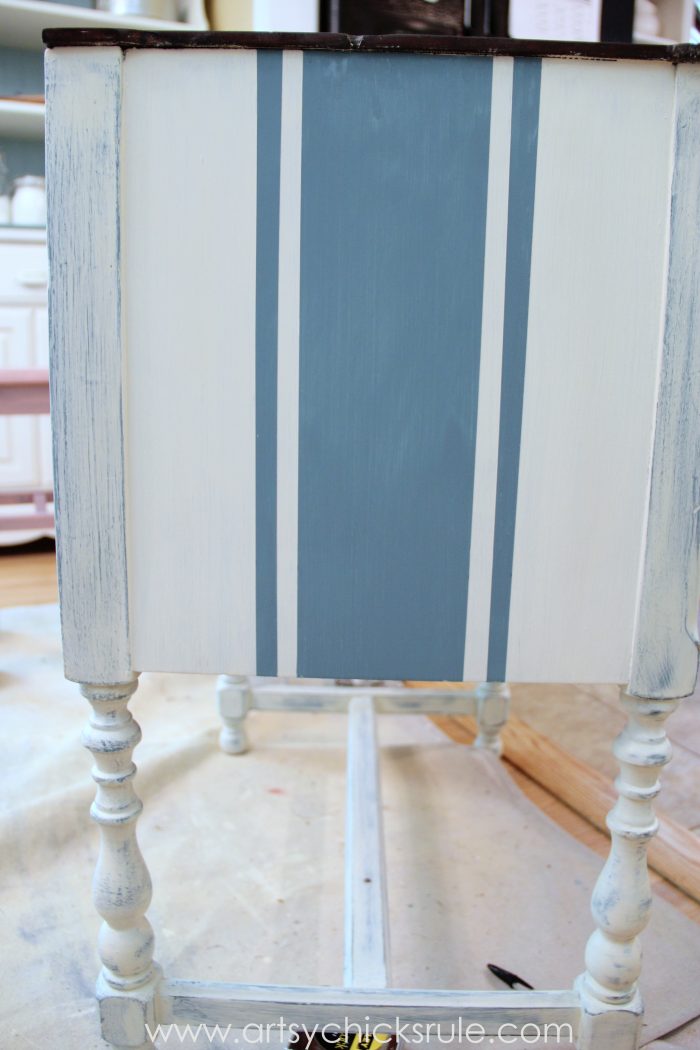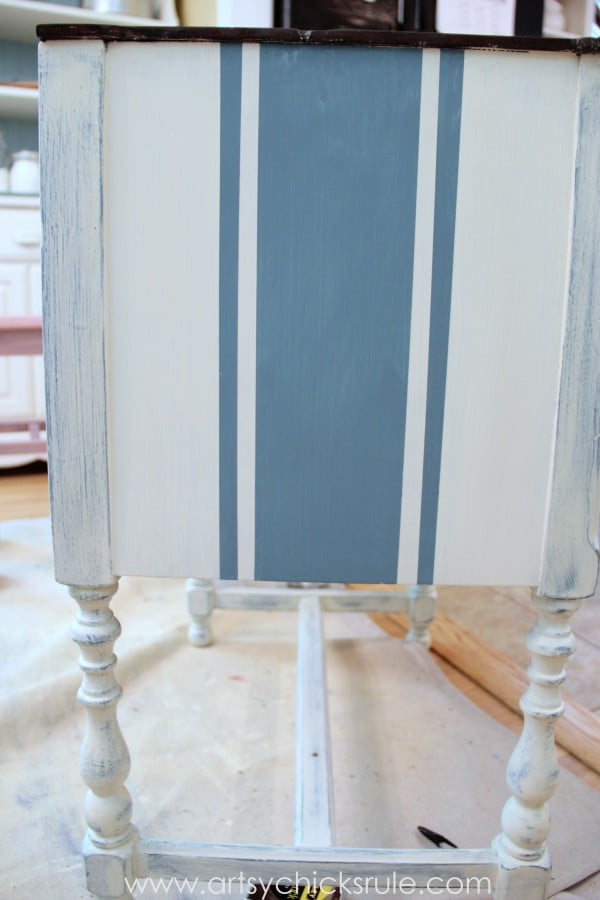 And then distressed (lightly sanded) those to match the rest of the cabinet.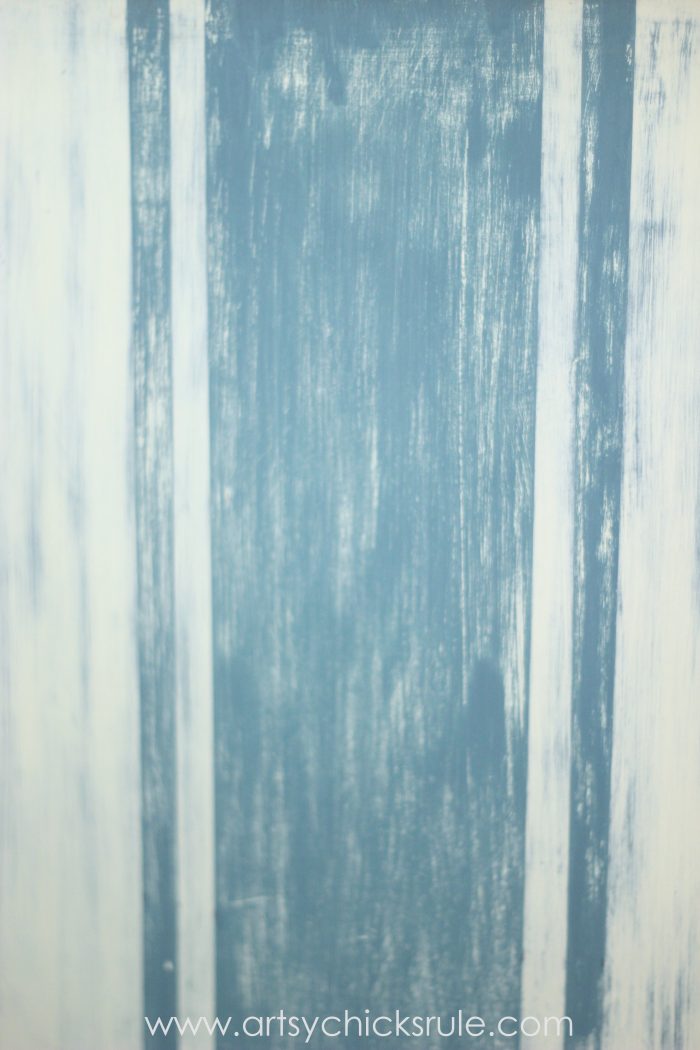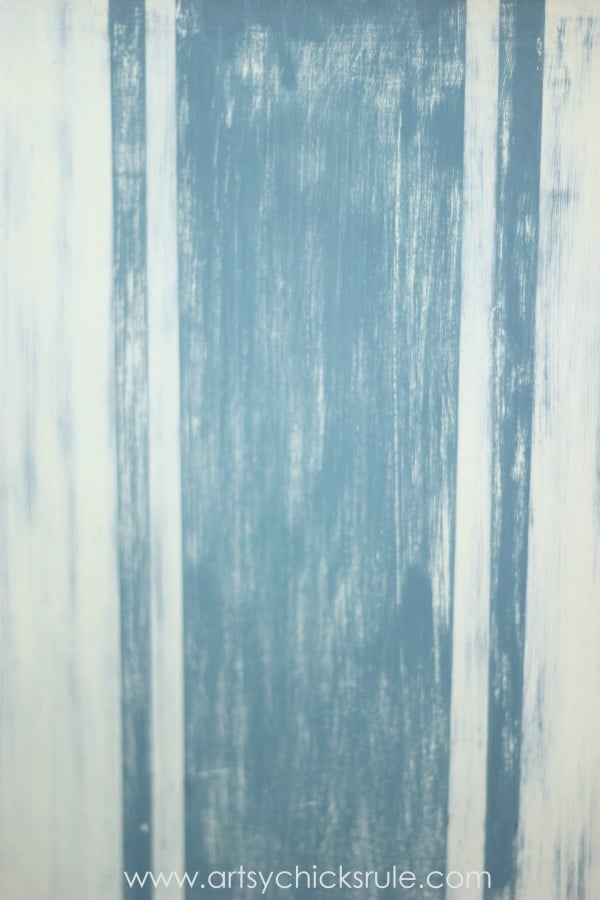 What a fit this little cabinet was giving me, right??? lol
It's okay…it all worked out in the end. That's just how the creative process goes sometimes.
I did this project quite a few years ago now and used chalk paint. I don't use that often anymore.
But here's a post with a bunch of different paint types/brands you might enjoy reading about.
Want to know about 26 other chalk style paints?
I've got the low down for you right here! >>> 26 Types of Chalk Style Paint For Furniture
I reinforced the underneath of the cabinet to hold the screws for the door and painted the inside with Cream colored chalk paint.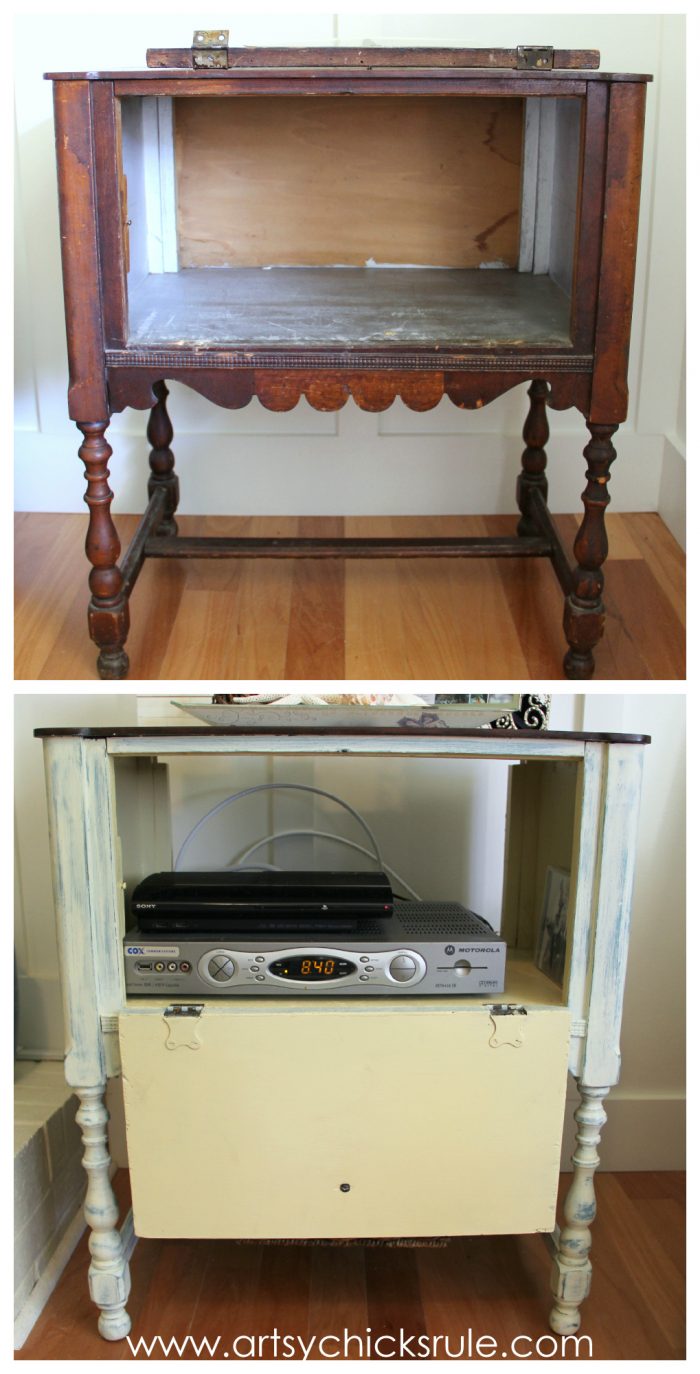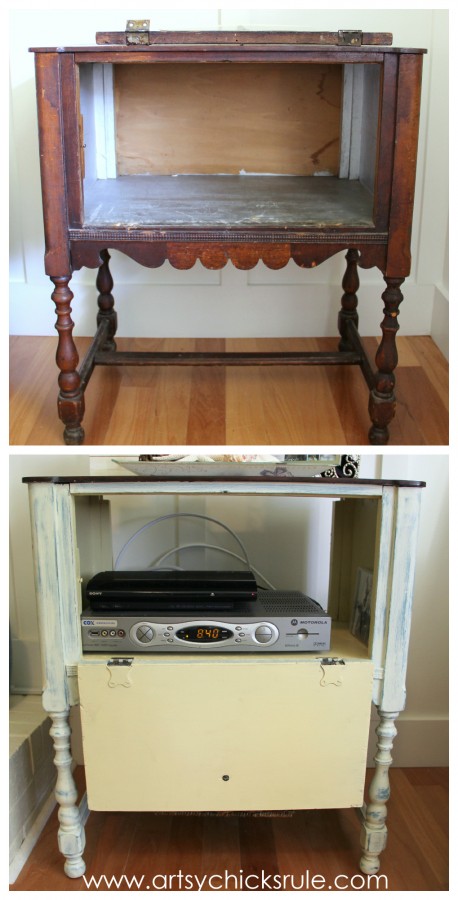 You can see it in "action" here. We removed the back so the equipment could get air and not overheat when the front is closed.
I transferred a graphic (from The Graphic's Fairy) onto the door using the "projector method".
You can see how I do that in this post here–> Coastal Themed Chest.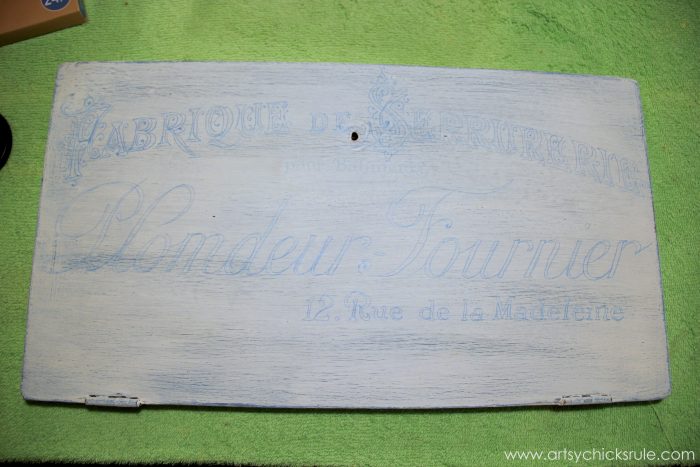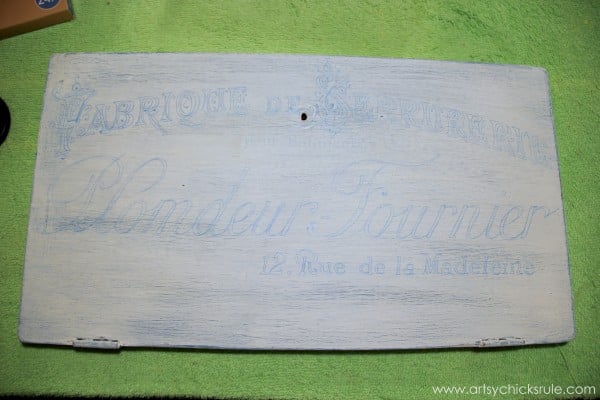 I used a blue watercolor pencil since I knew I'd be painting it in with the same shade of blue I used underneath.
I hand-painted it in using a script liner brush.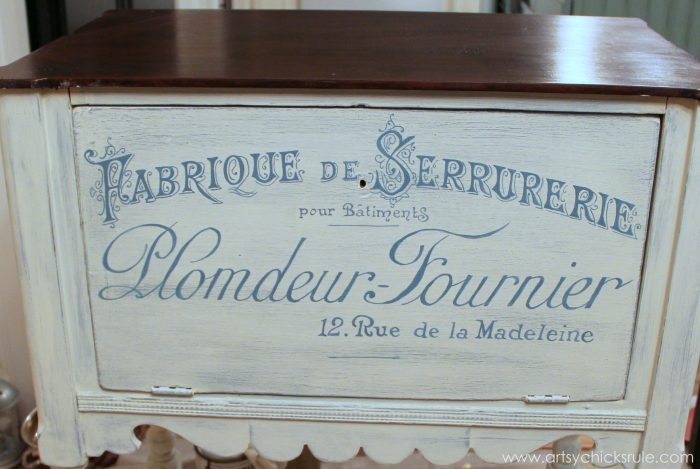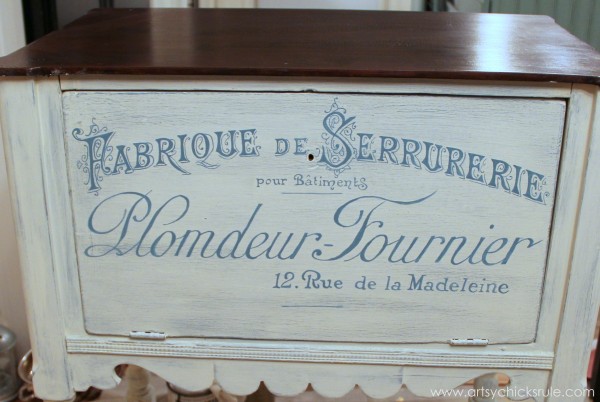 Want to see all of my favorite transfer methods?? Check out this post, here!!
You can see how I already distressed the underneath a little bit already.
Then I lightly distressed a bit more, including the lettering.
I really wanted to see some of the blue under there.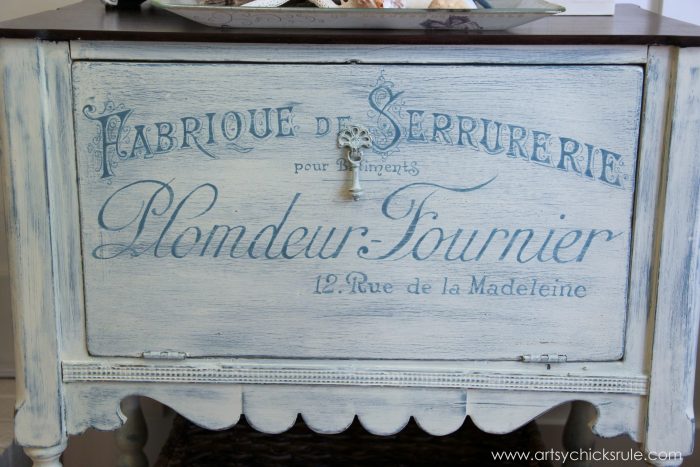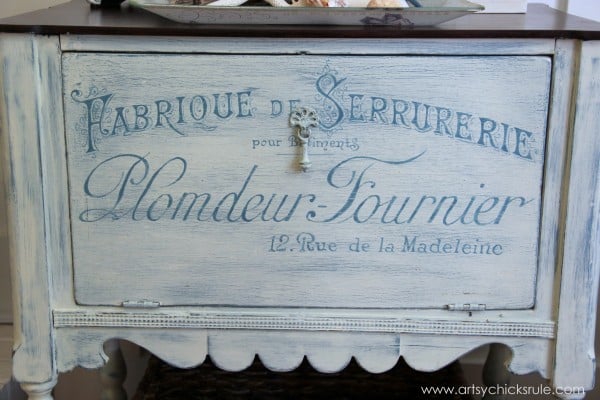 I sealed the entire thing with a coat of Annie Sloan Clear Wax, including the top stained portion.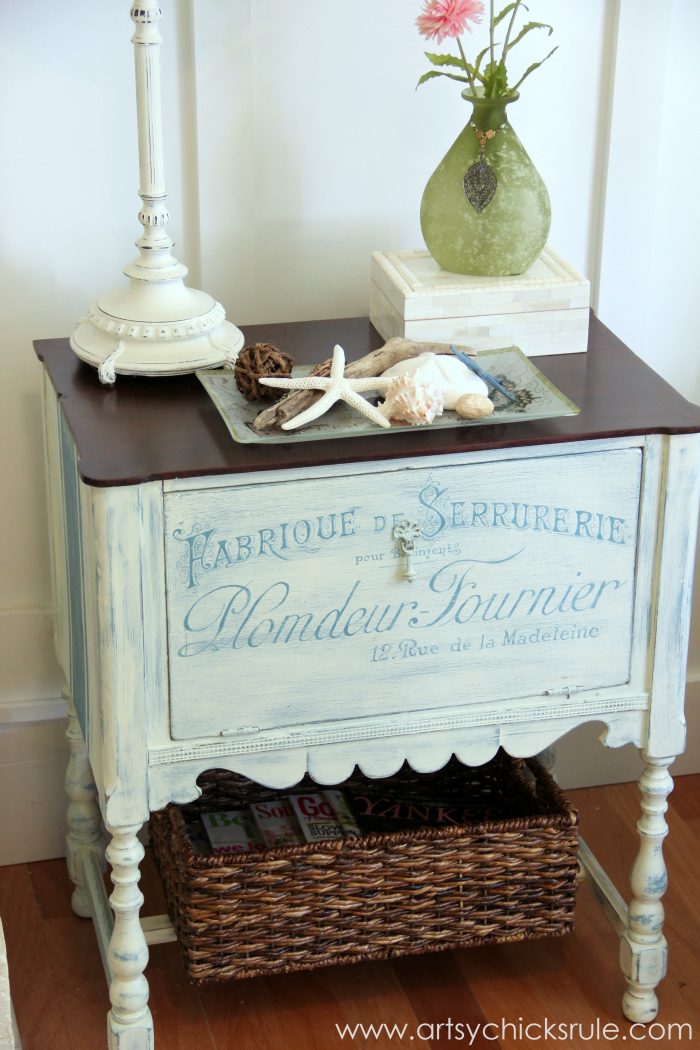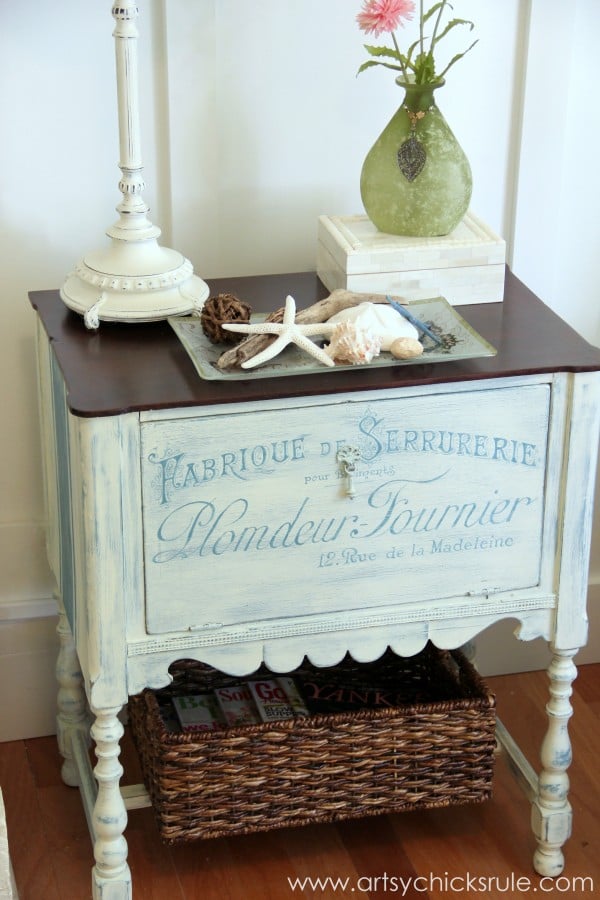 I don't use wax that often anymore but here are a few nice ones >>>Wax options.
Side views of the grain sack stripes…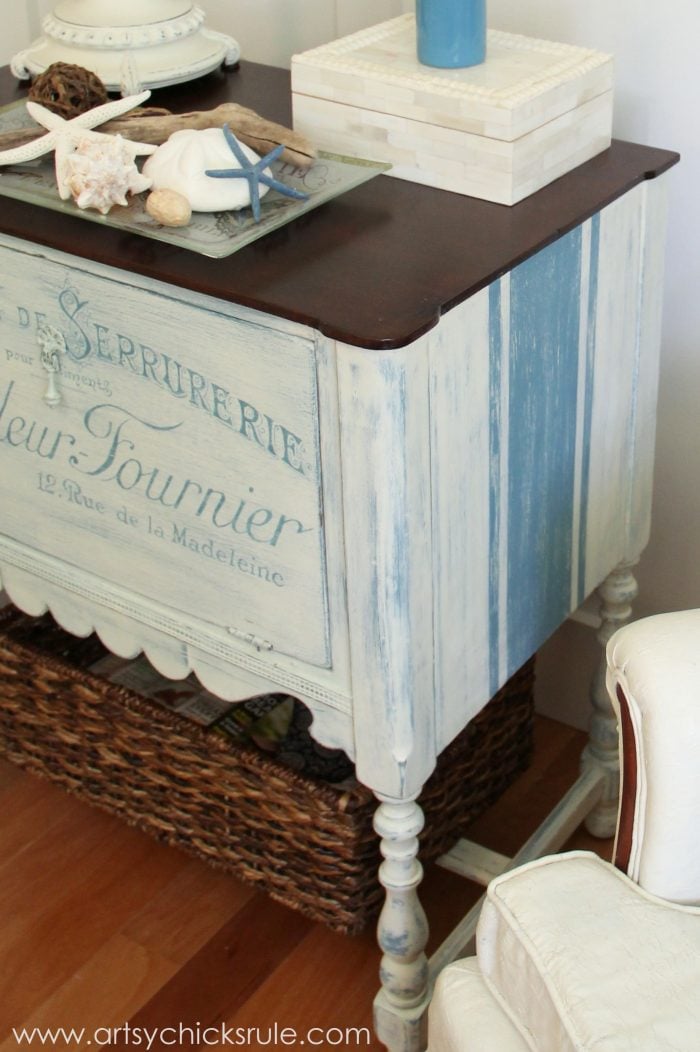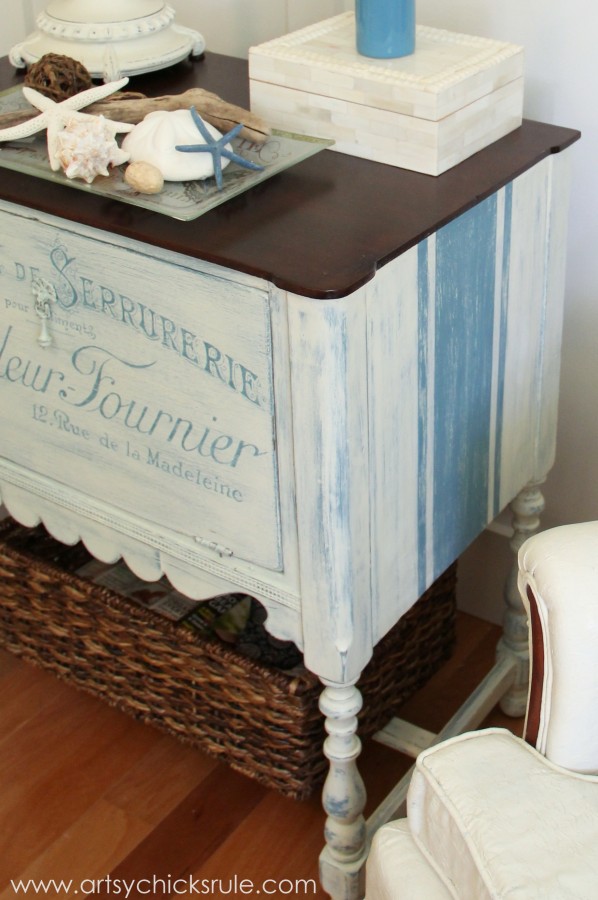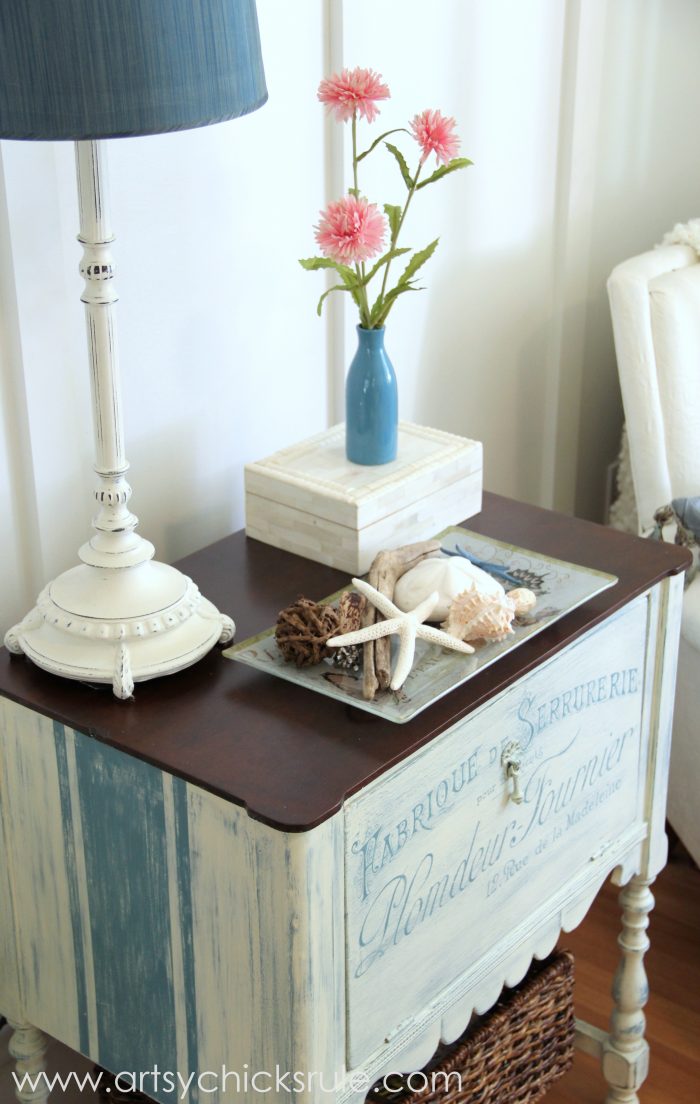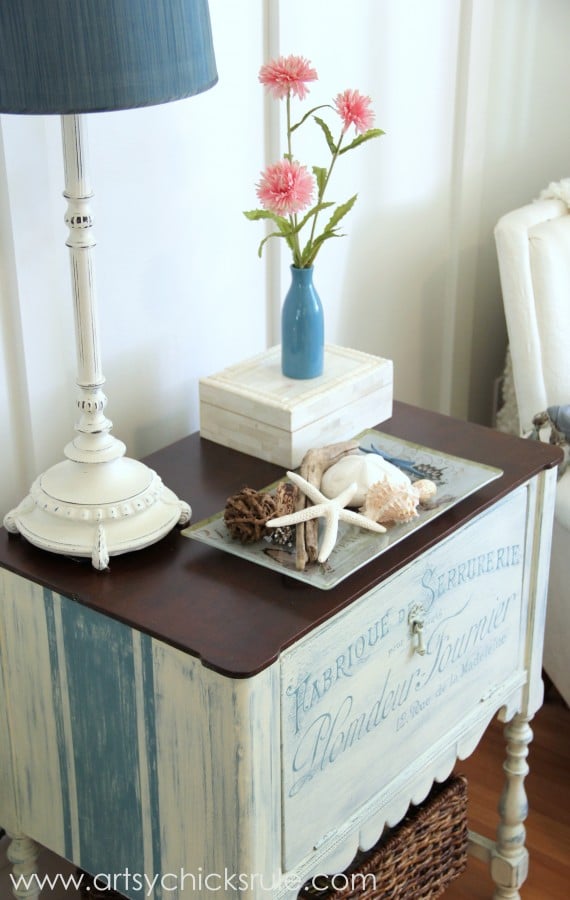 Up close of the lettering…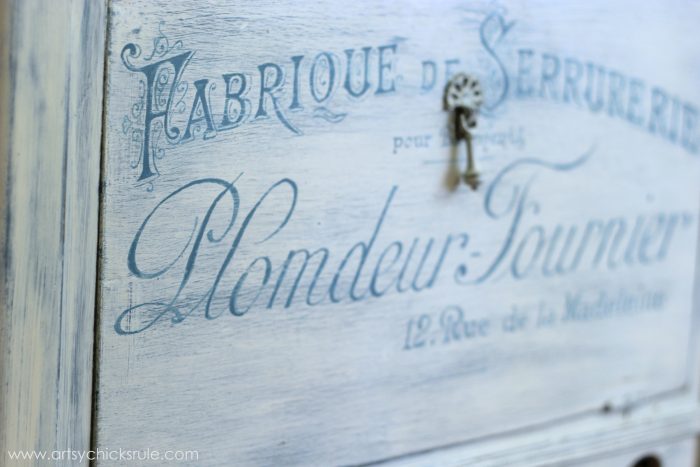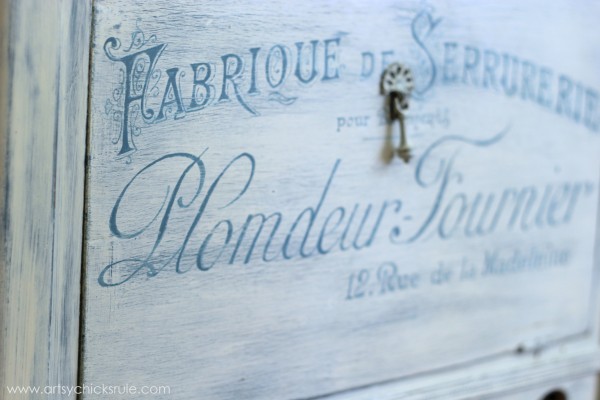 Painted pull…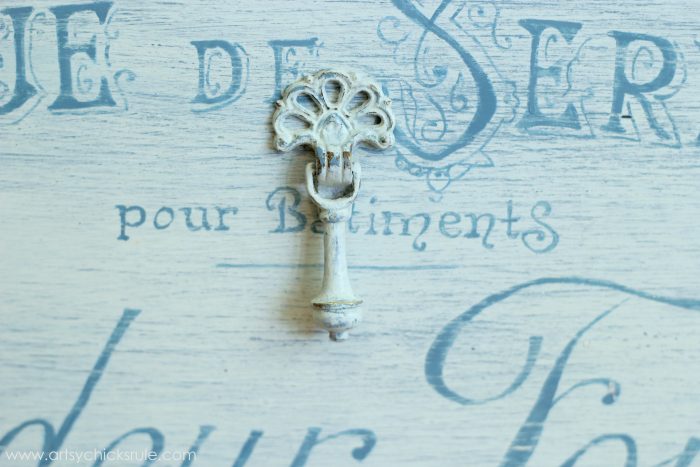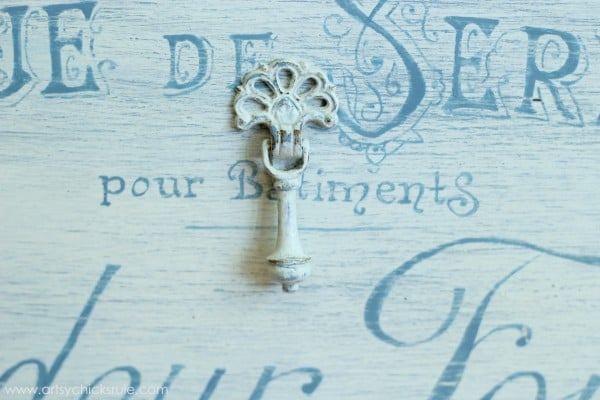 What a difference, right?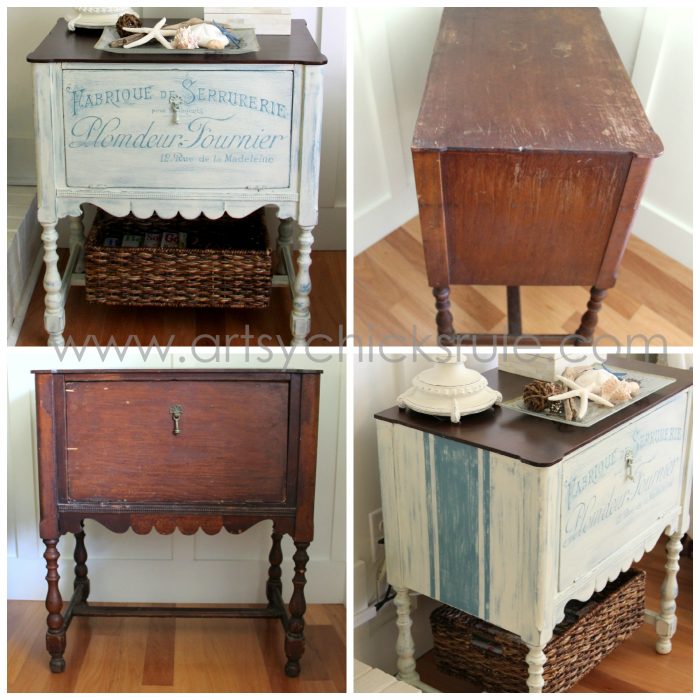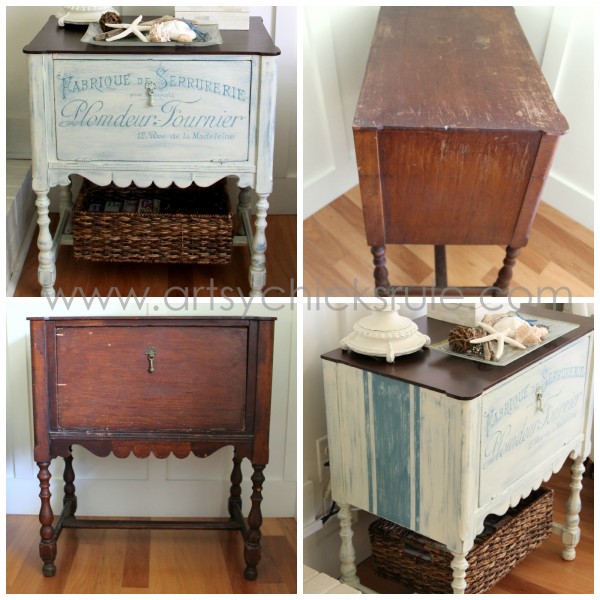 And what a sweet and very unique cabinet.
I was really happy with how it finally turned out.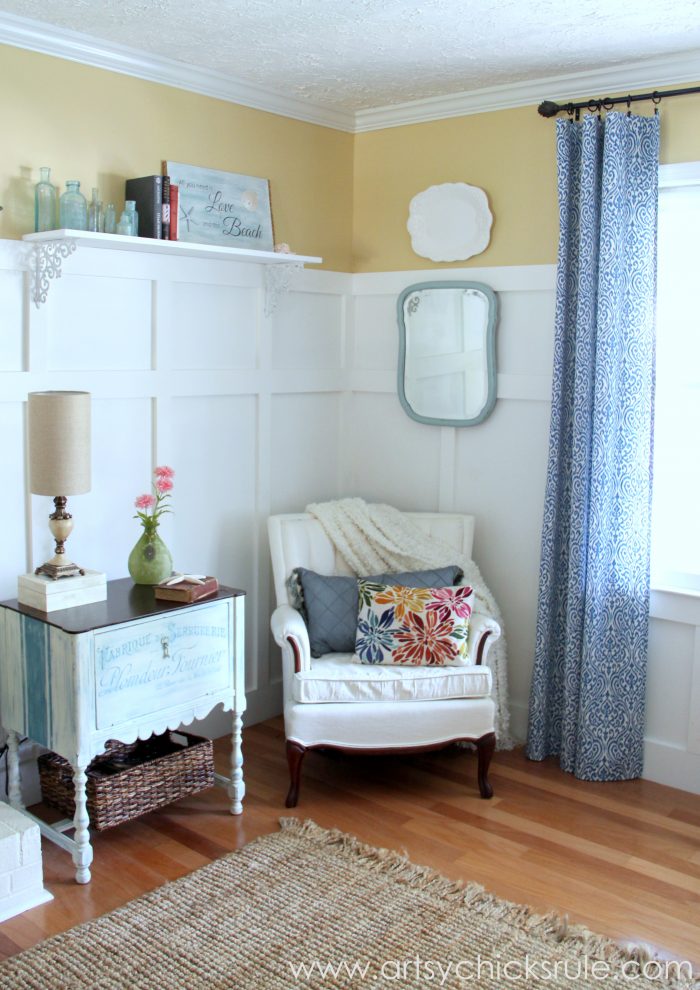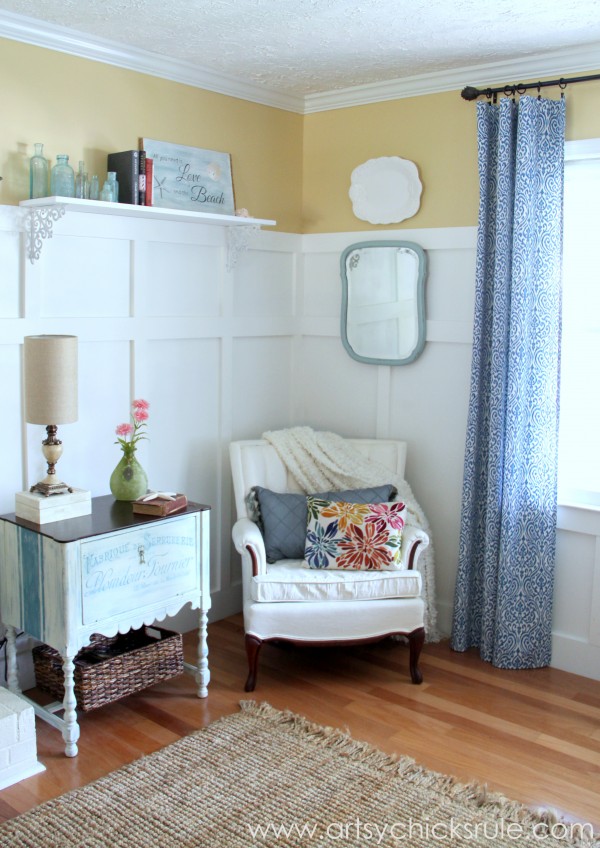 It was really perfect for holding that equipment without being too big or bulky beside the fireplace.
Although, I didn't like how open it was underneath because you would see the wiring.
That was something I had not anticipated so I placed a basket there to "cover" it up.
That was a happy little accident too.
PIN this little cabinet makeover for later!!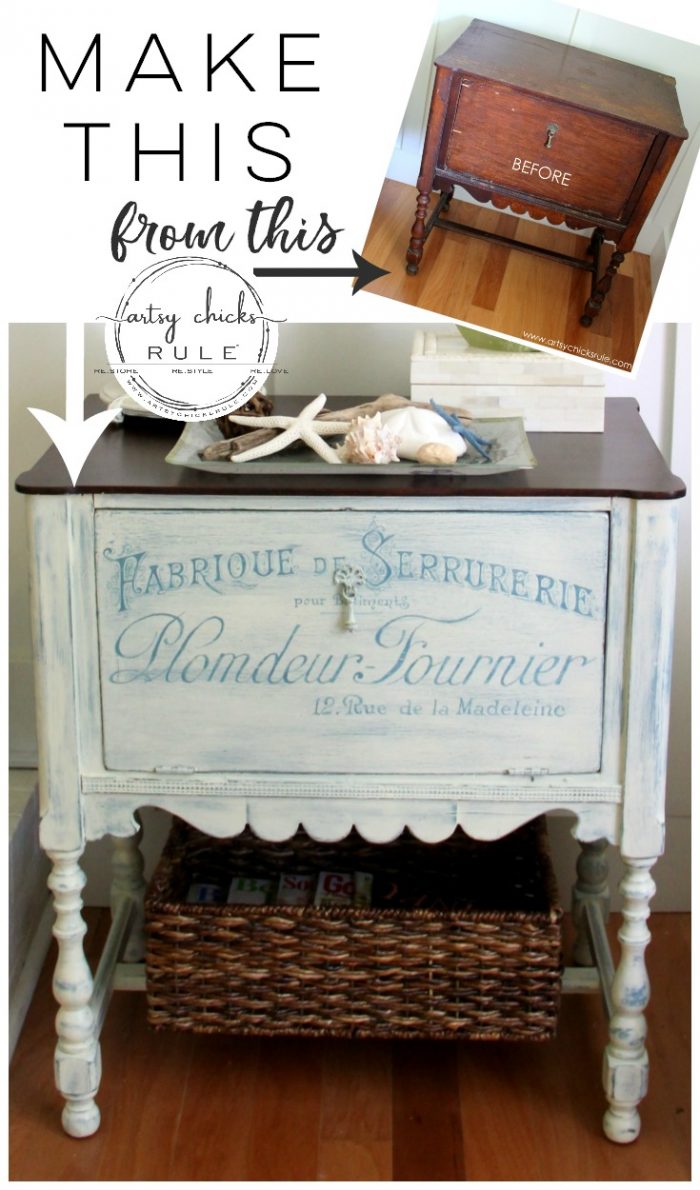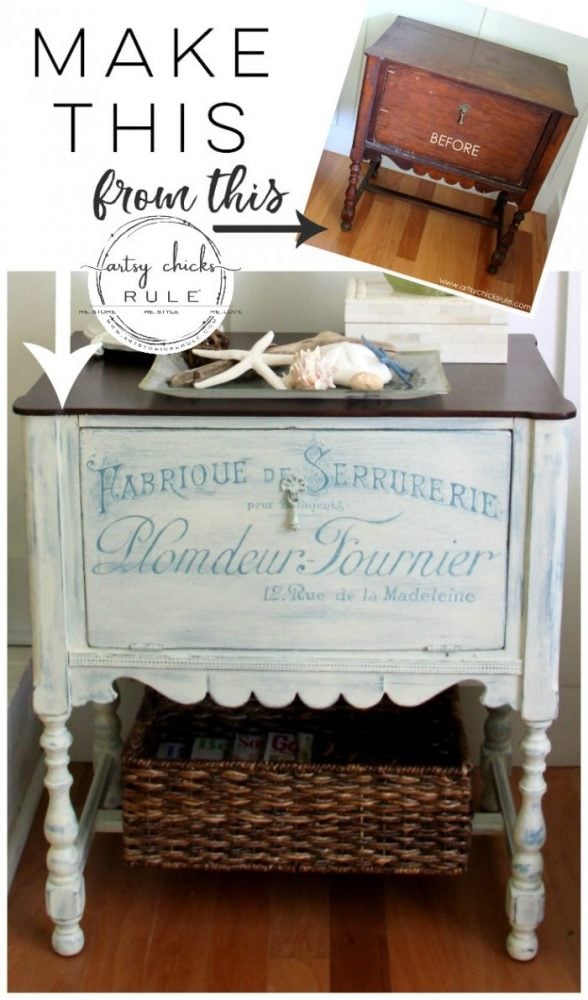 I think the basket on the bottom compliments the look and balances it out a bit.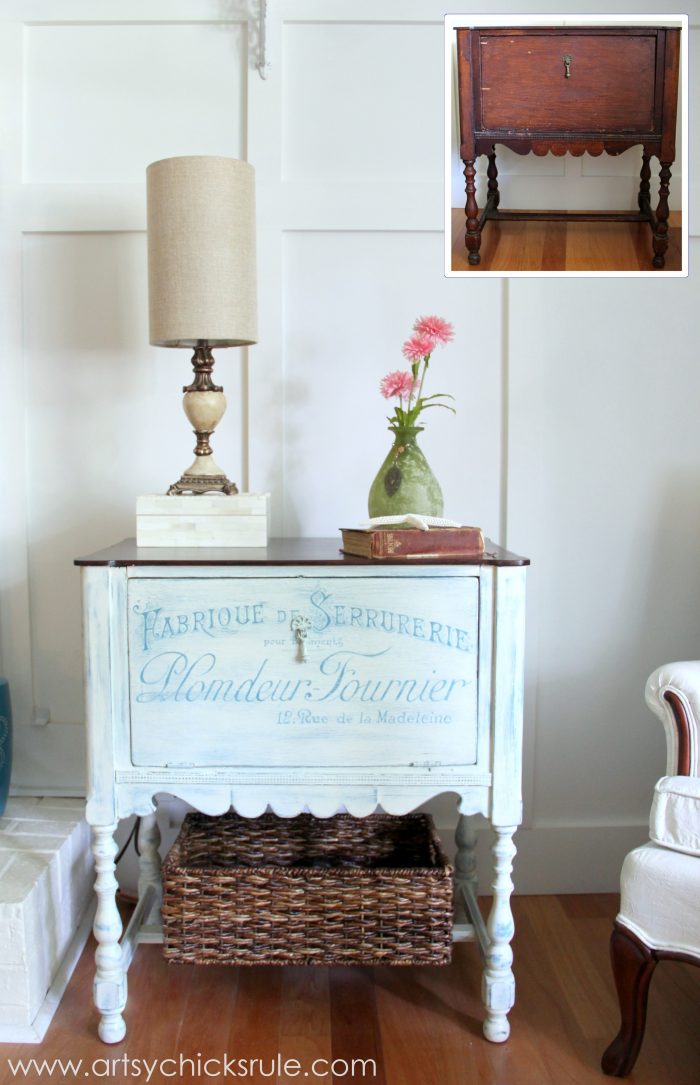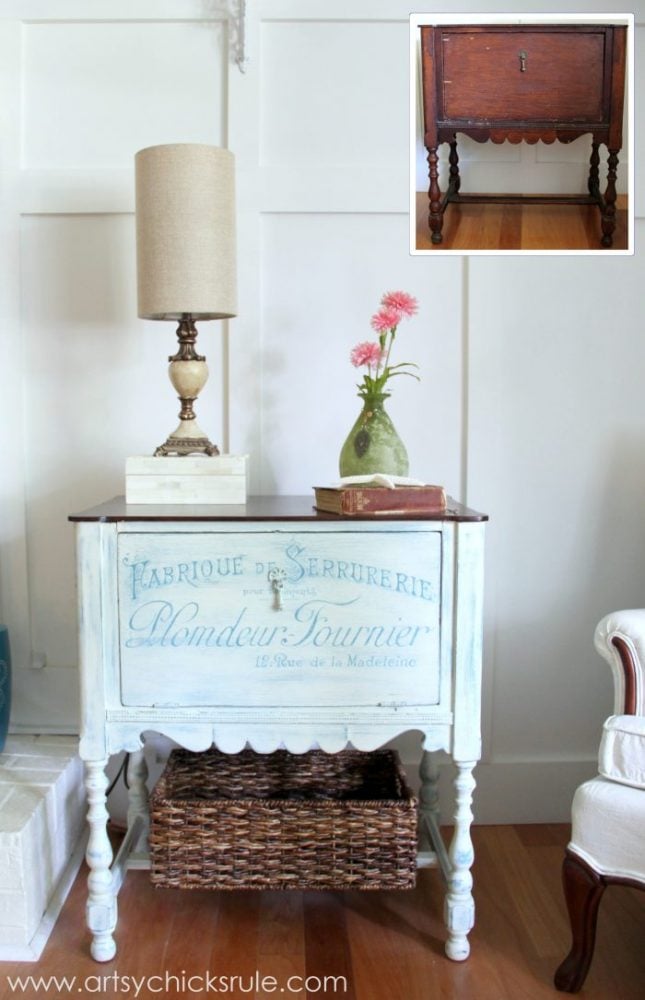 Yay for happy accidents…which this entire project ended up being. It certainly did not end up like my original vision but that's okay.
Sometimes the creative process is a bit long and foggy…until it becomes clear!
EDITED: Our home has undergone some changes since I gave this little cabinet a makeover.
We've since got a different cabinet and a little bit of a different look in here. (we do have a small ottoman/coffee thing in the center there, I don't have a photo of that at the moment)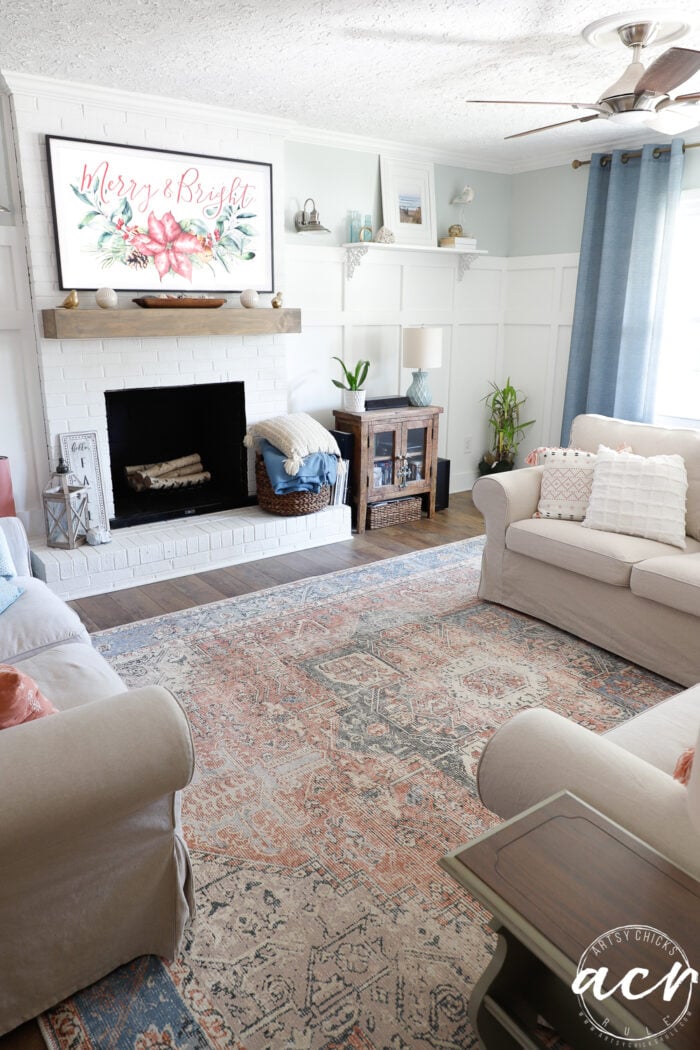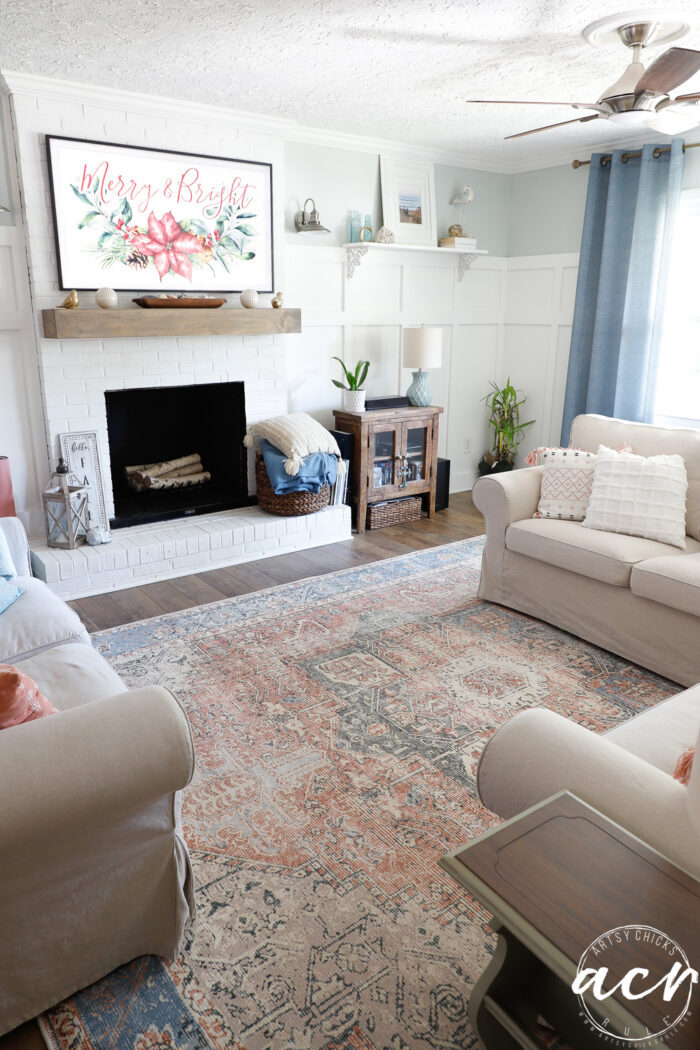 Don't miss this one next! It turned out SO good!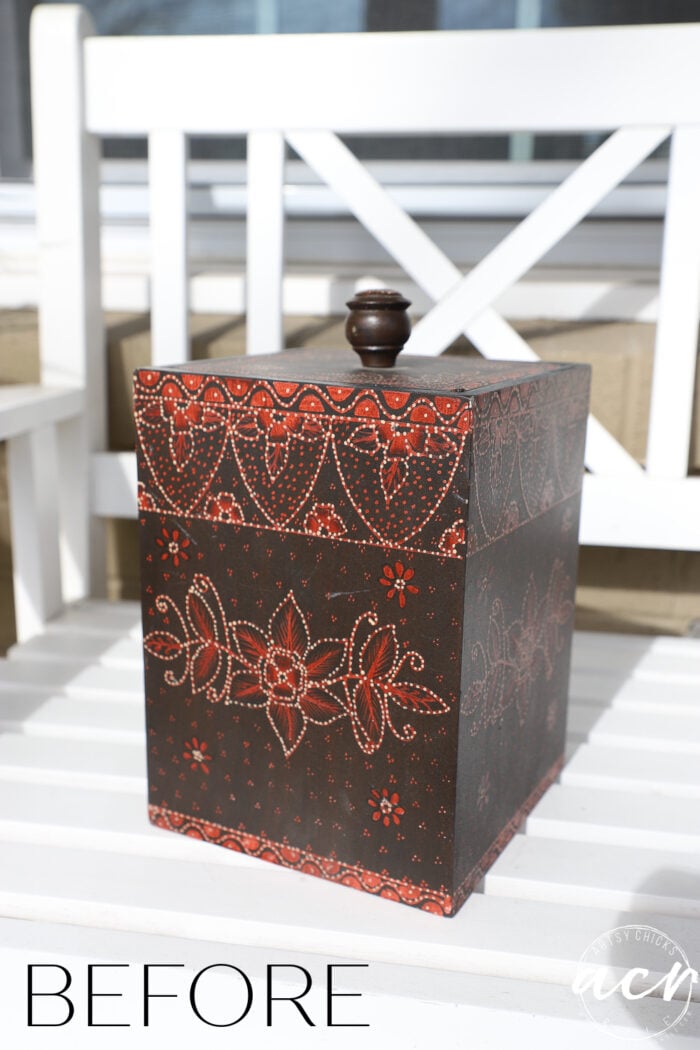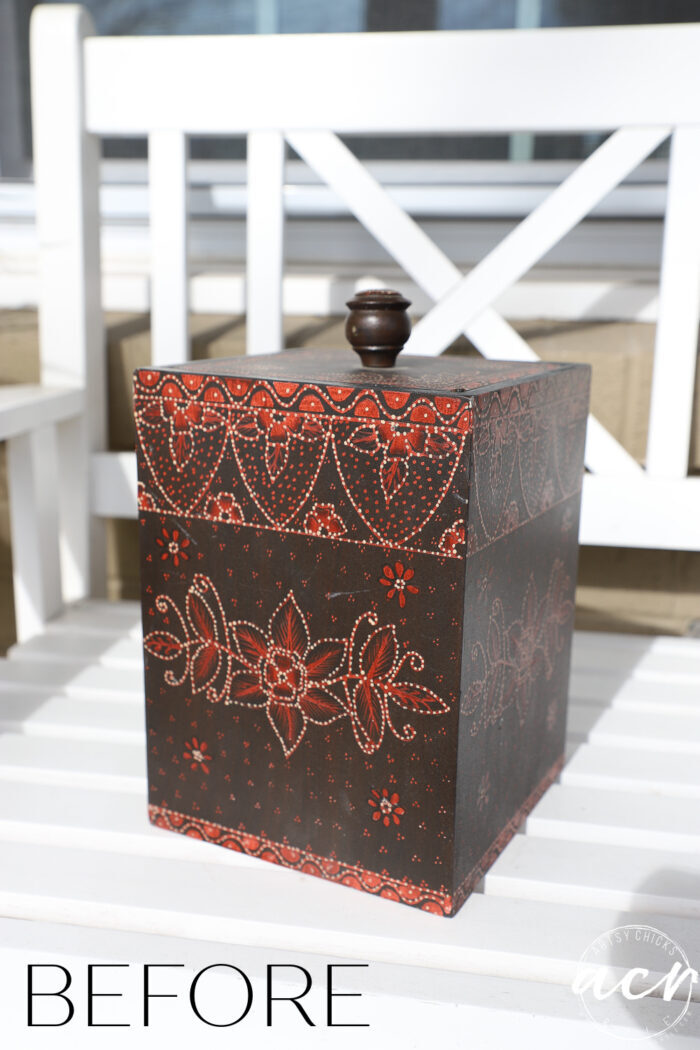 Check it out now, here!!
Have a wonderful weekend, friends!
xoxo