This post may contain affiliate links. Please see disclosures here.
How to repair furniture, caulk, glue, wood putty, clamps…and more glue!
Hello, my beautiful friends! I hope you enjoyed seeing my really fun makeover Tuesday. If you missed it, you can see it here.
It was colorful and happy and so easy to do!
Today, for Throwback Thursday, I'm sharing this old, antique writing desk. It is SO worthy of a reshare! I loved this one so much. The details, hand carving, oh my, just so lovely.
And how to repair furniture like this.
How To Repair Furniture (caulk, glue, wood putty, clamps…and more glue!)
Well, this is how it began…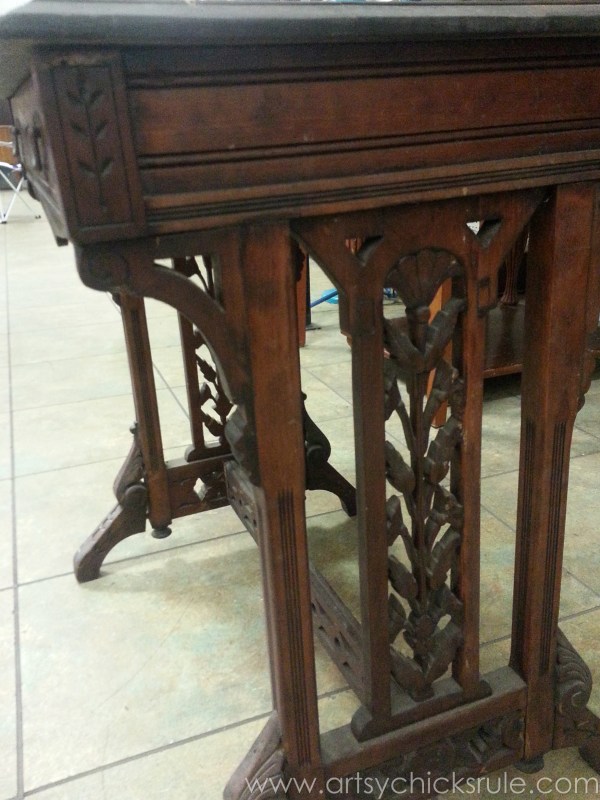 You can read about it and see all the pretty "after" photos in this post here–> Old Carved Writing Desk.
I didn't share all the fixes and such in that post. This poor thing needed a LOT of love so it needed an entire post to detail it.
It's easy to post pretty after photos, of course…but sometimes the work that goes into repairing an old, broken, forgotten piece is the magic.
Well, not sometimes, every time! That is surely where the magic happens.
Those darn "after" photos take all the glory though, don't they? haha
But take a look at the lovely bones in this piece.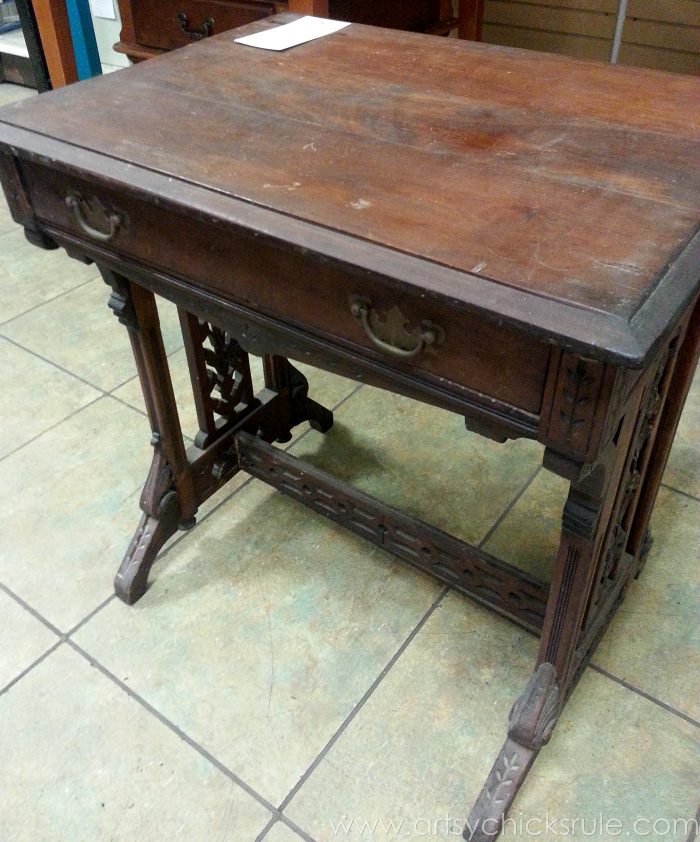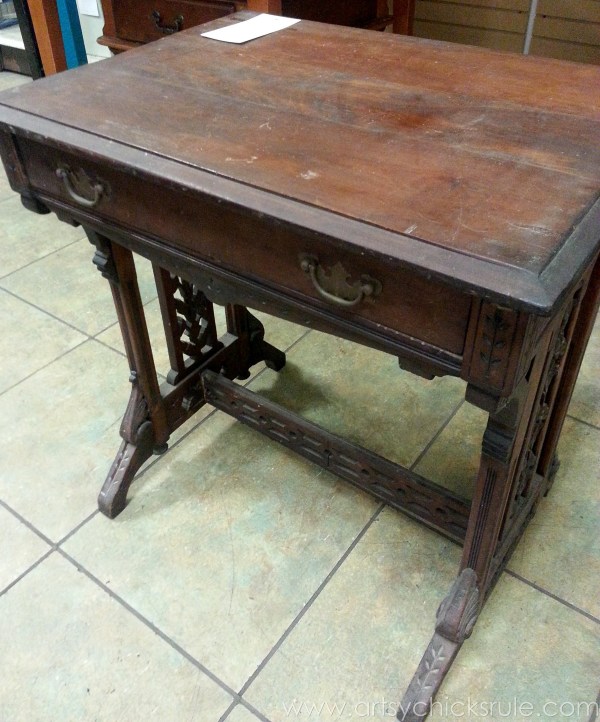 You can see why I didn't leave it behind. And at first glance, in the thrift store, it looked just fine.
That was until I went to move it. Then I knew it. Ugh
The poor sweet thing needed work and lots of it. She was a wobbly ole mess.
And I'm guessing it's one of the reasons someone let this one go.
I don't really bring broken pieces home with me. It's just so much work. I didn't really do it much in the past either but this one surely wasn't being left behind. lol Well, let me go back a step, I do and I have brought broken furniture home with me. Just as my storage unit (units). Yes, oh yes, I still have a few pieces in there I've been promising I'll get done. One of these days!! See?? That's what happens when I buy broken furniture!! Haha!!
Anyway, back to this lovely.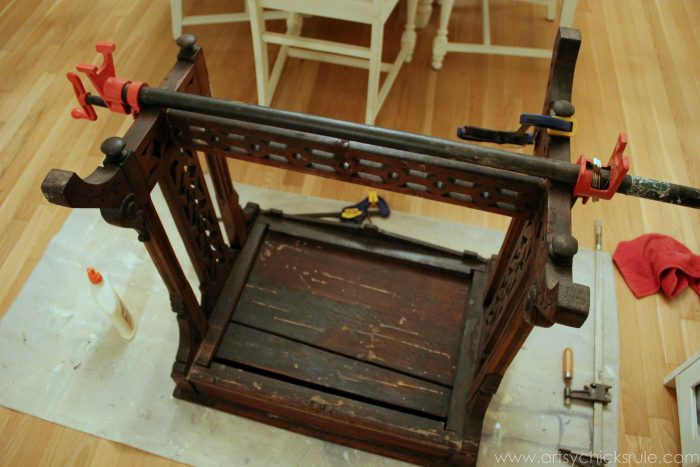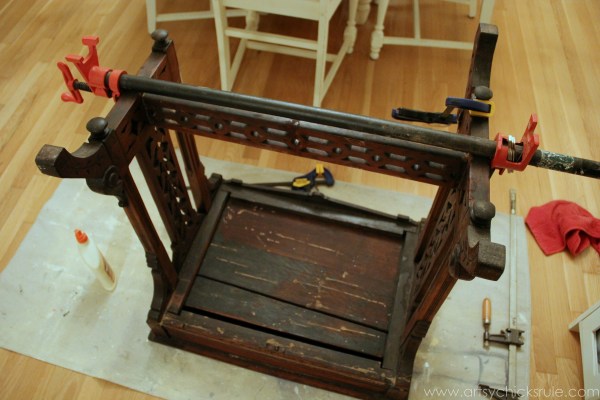 I used a big clamp to glue and stabilize the bottom piece.
Hoping so much that would sturdy it back up.
It didn't. Boo
Then I had to remove a leg because someone had glued and nailed it back on incorrectly. Like what the what??? Why???
See it below…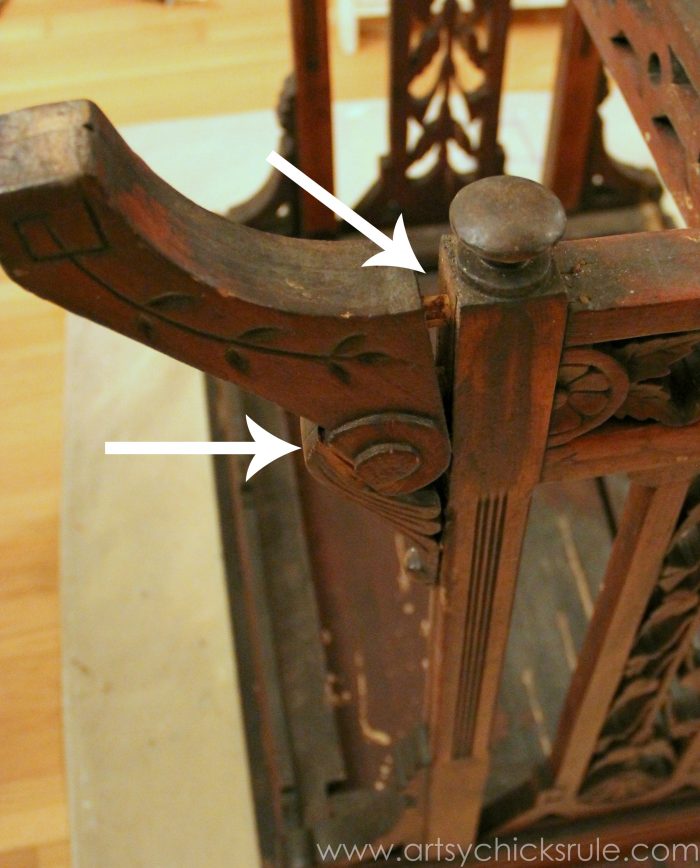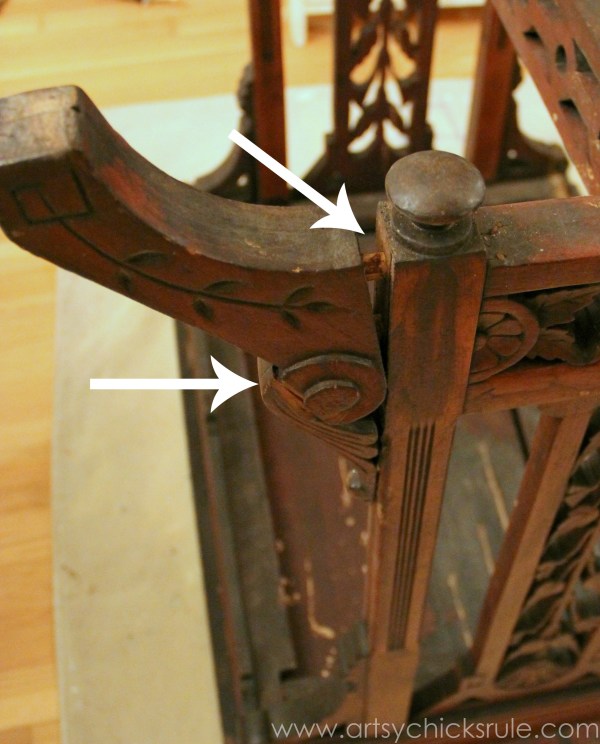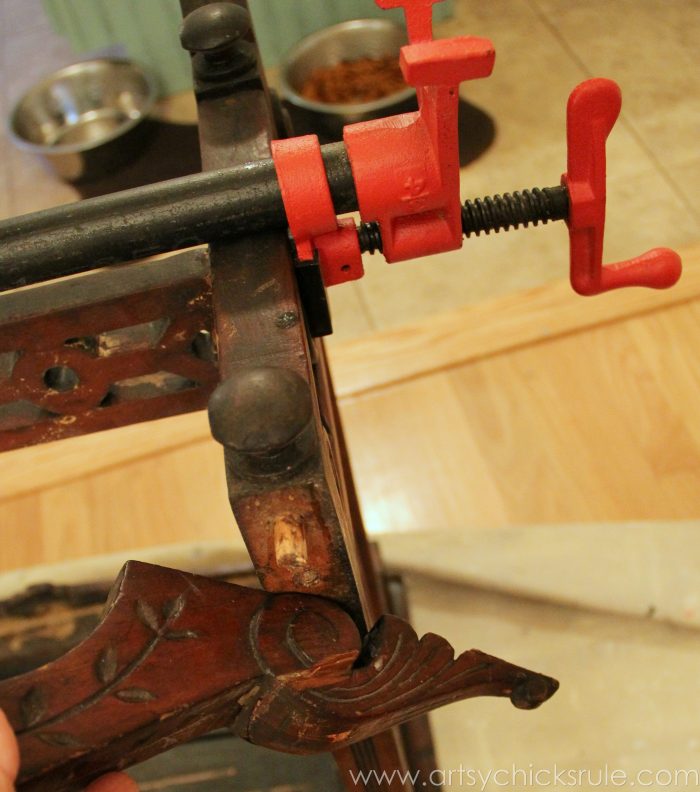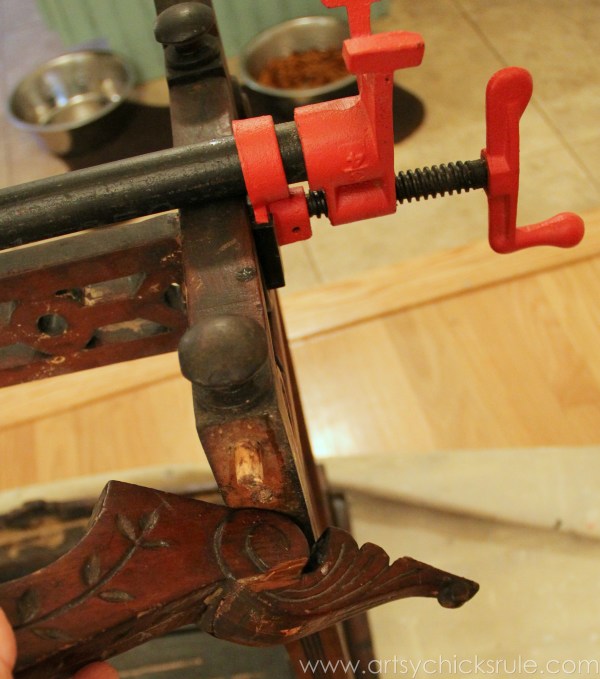 I "made" the missing curved detail with wood putty after it was put back together properly.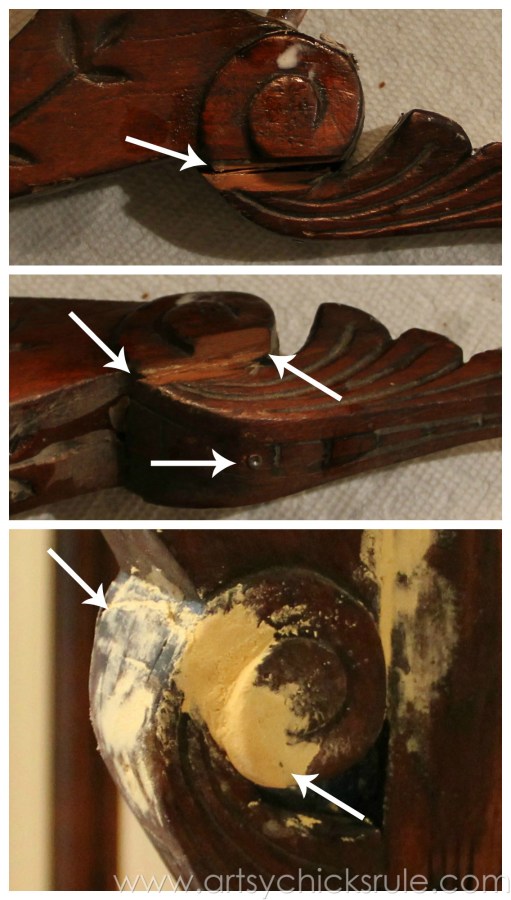 The broken area is put back together where it belongs in the photo below.
And new detail was created to match what was missing.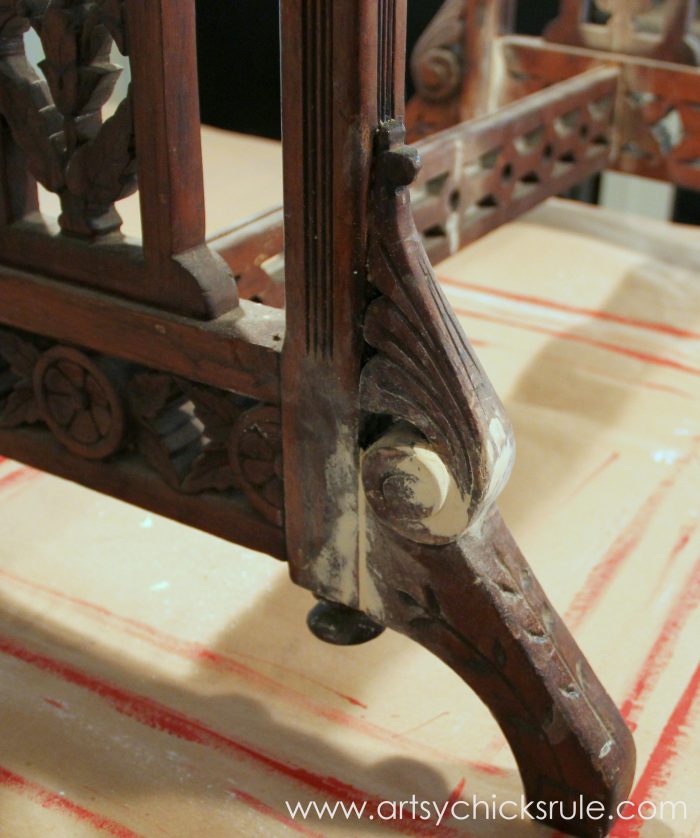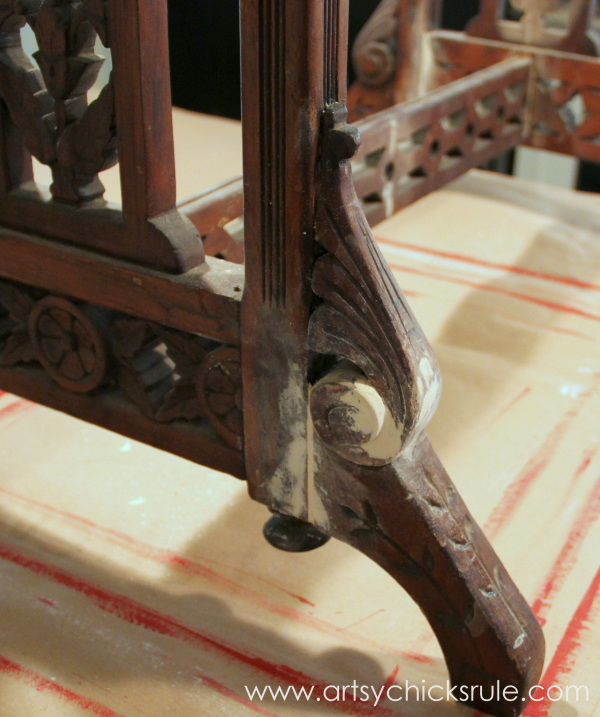 I used lots of glue and clamps on the other areas…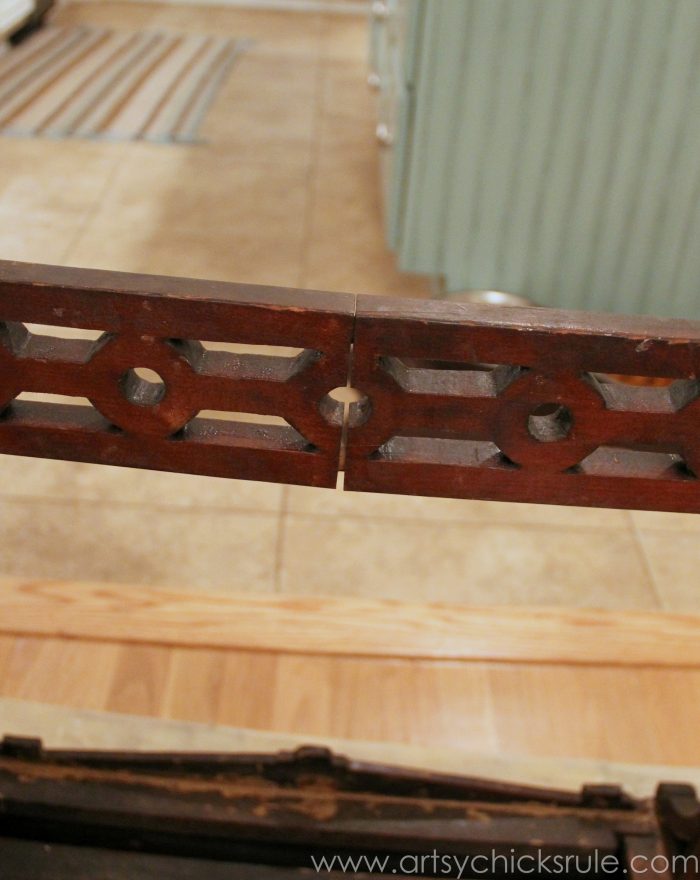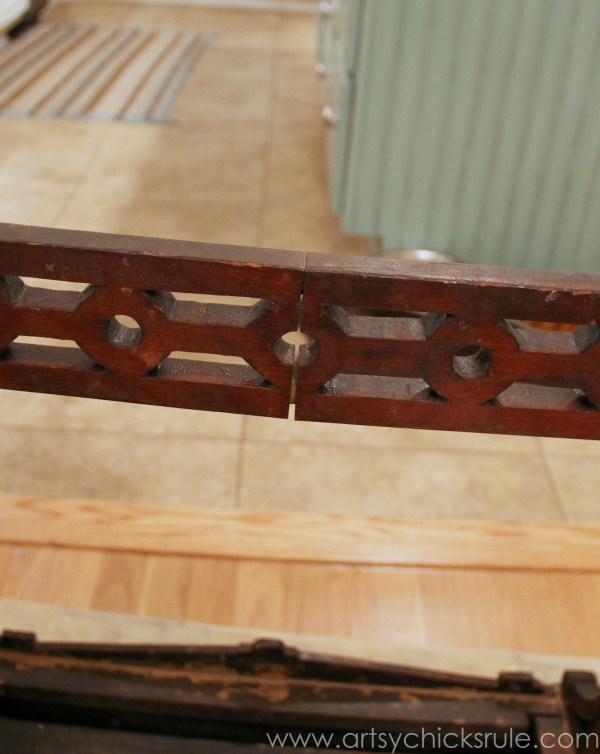 All the legs needed glue, well, shoot everything needed glue.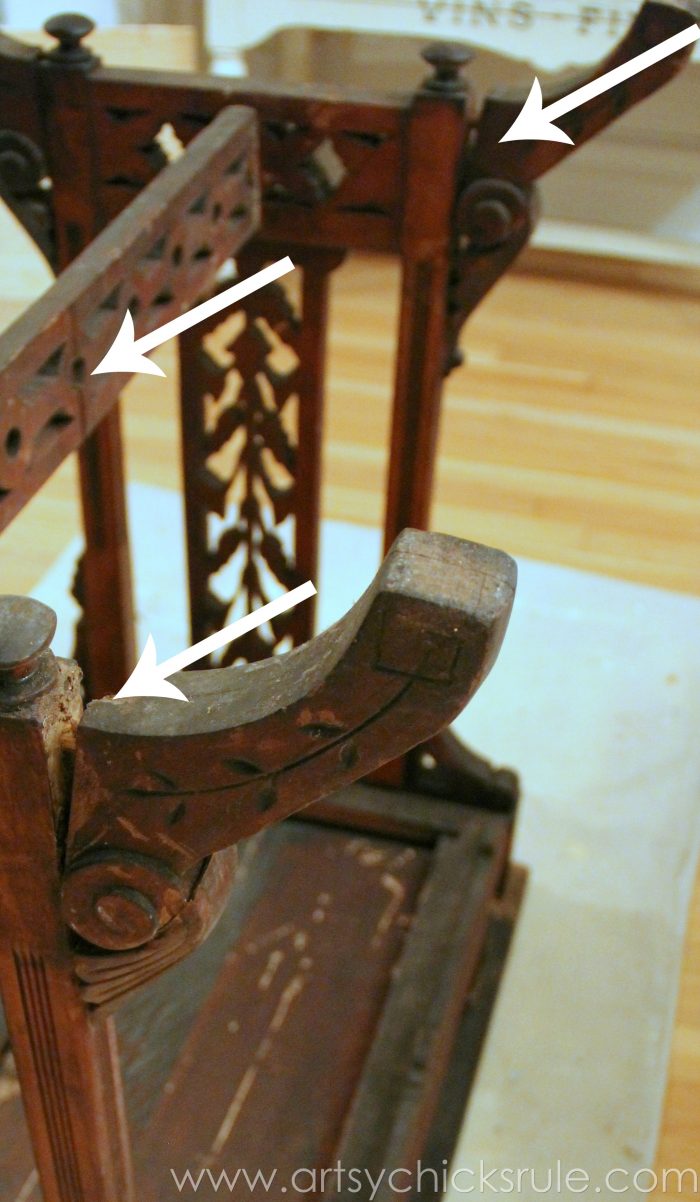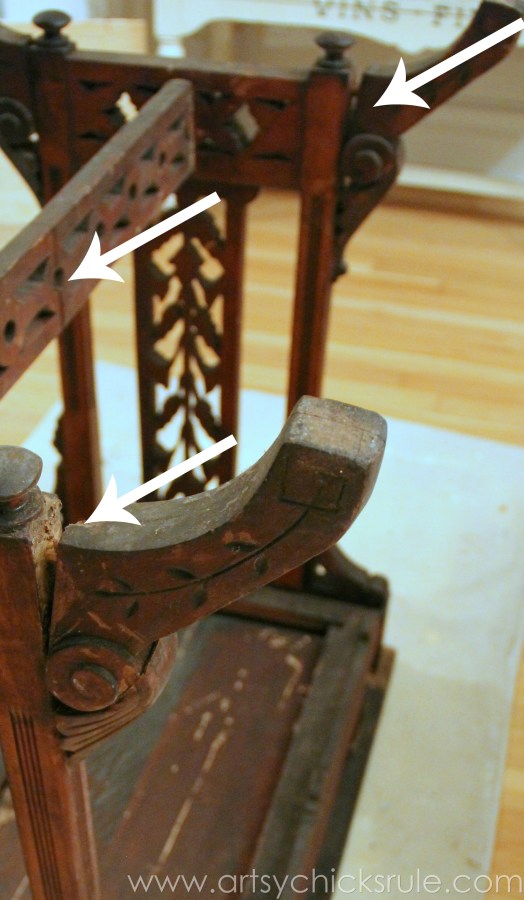 And if it didn't get glued, it got caulked and wood puttied.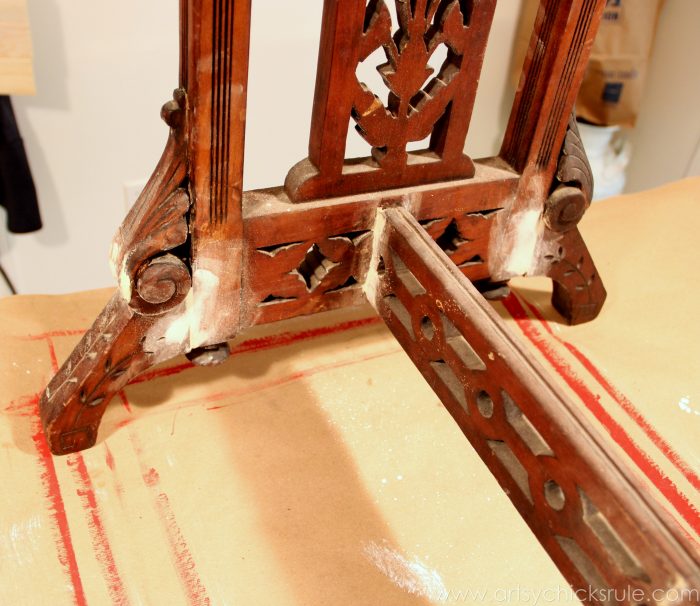 Caulk…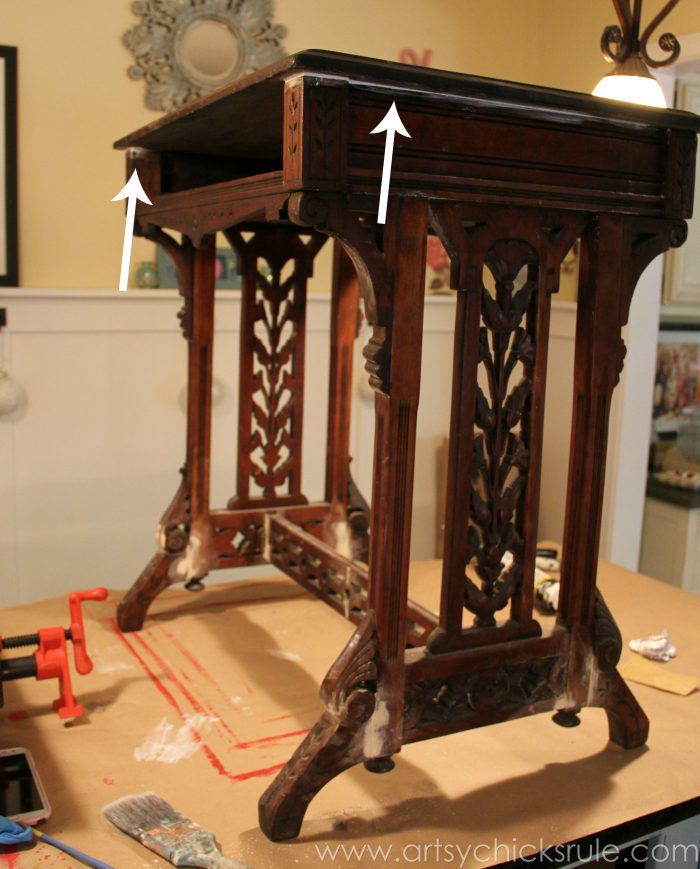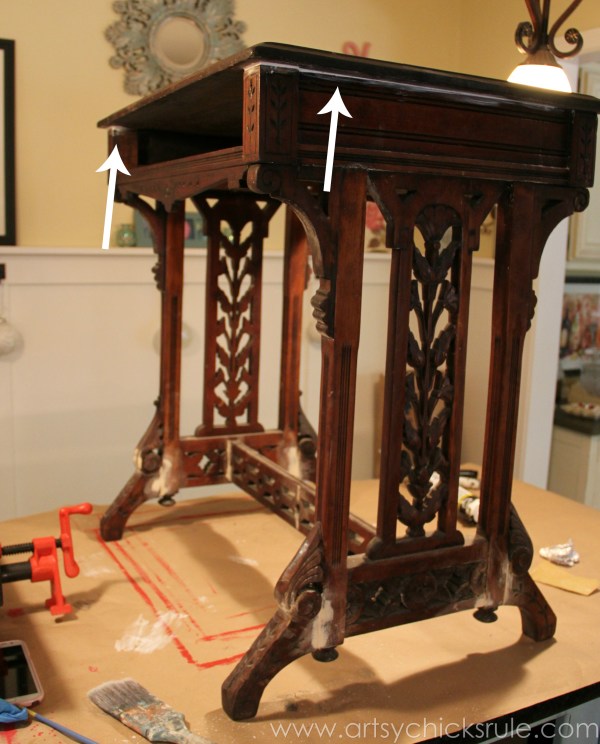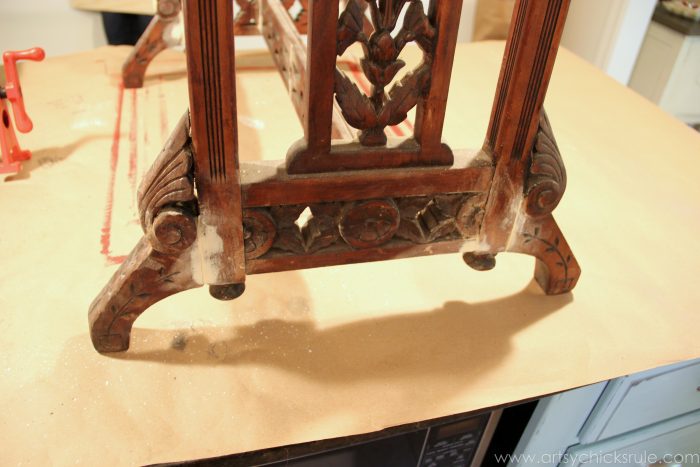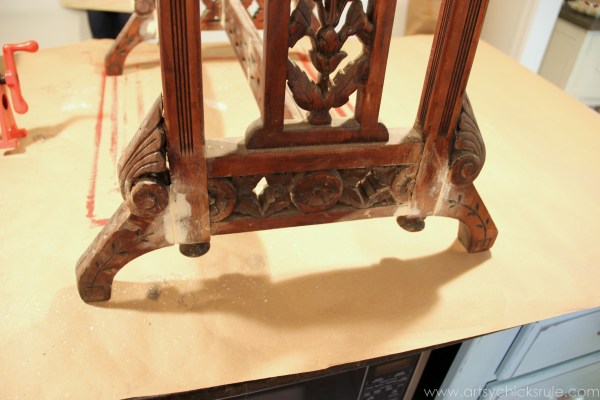 Everywhere you look. But it had to be done or this thing would have fallen apart.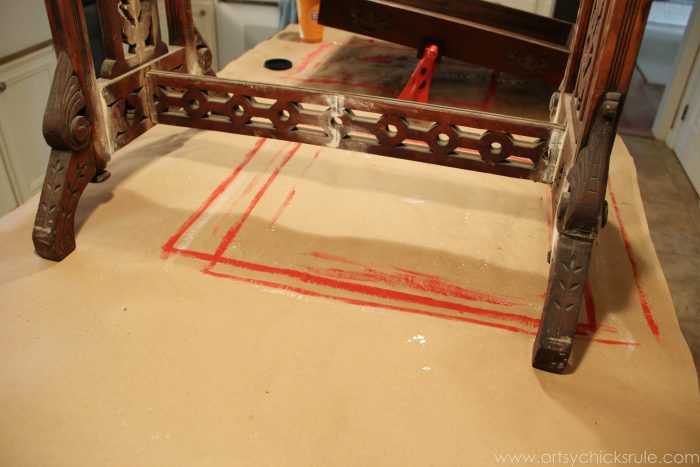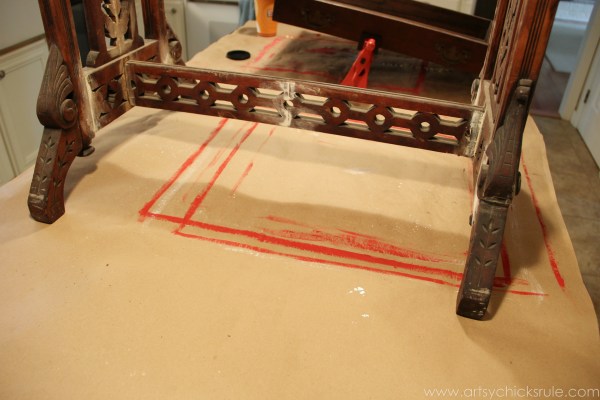 A true labor of love.
But dang, after all that….still wobbly as heck.
So my husband pulled out his Kreg Jig and fixed that problem once and for all. Boom!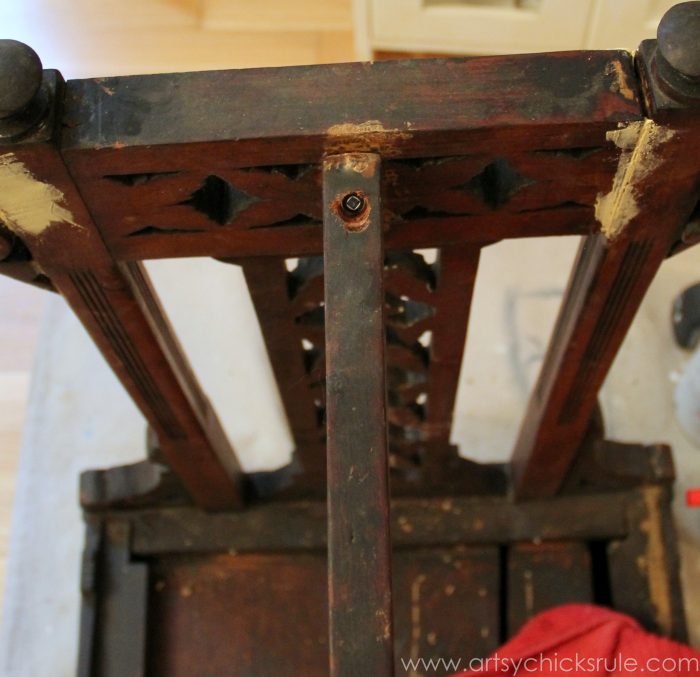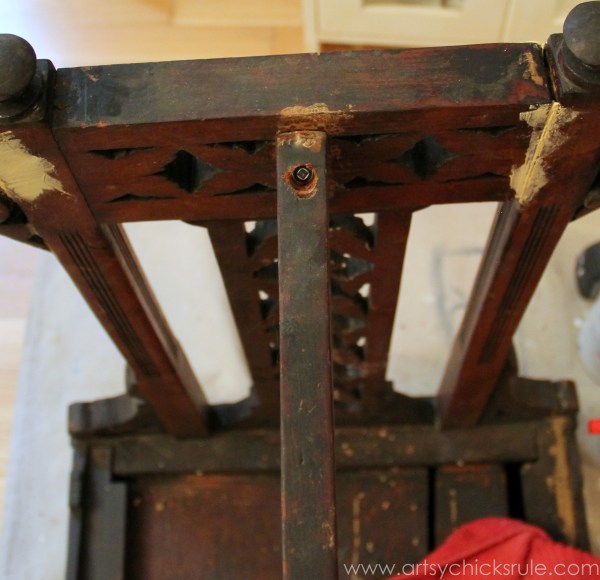 And more screws are here at the top.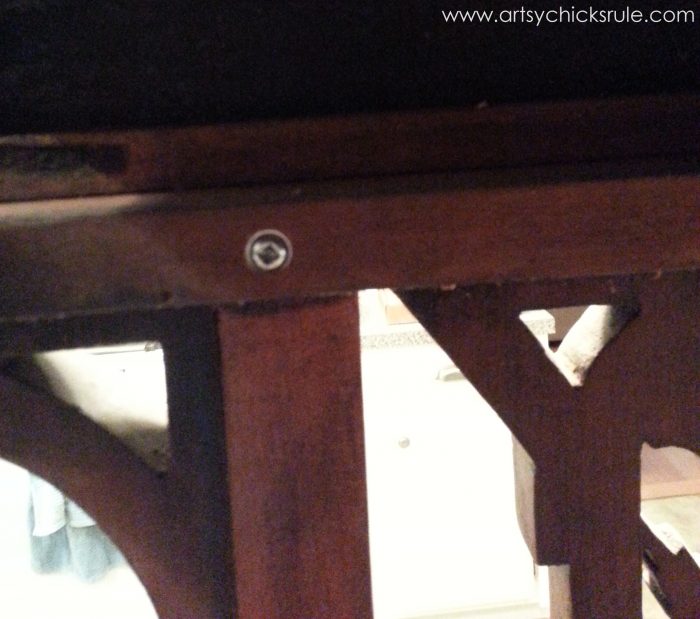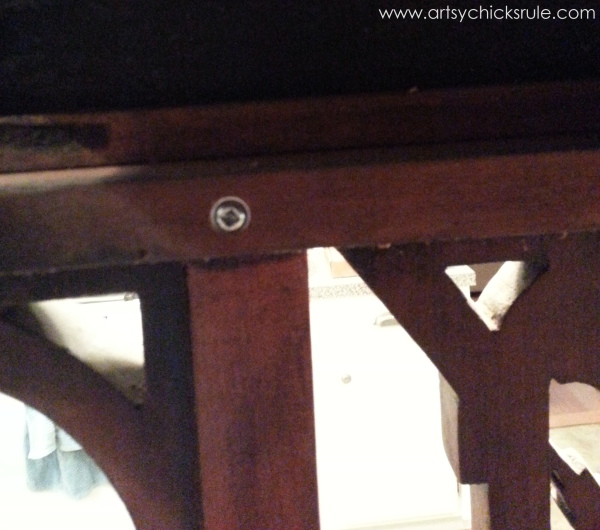 Both sides, top, and bottom are now very sturdy.
The Drawer…
It needed love too.
The gentleman who helped me moved it to my car picked it up and the drawer fell out. Ouch.
I think it was already split…but that back piece almost fell completely out of the track.
So I glued and clamped that too. (there were two splits, one complete one-the one that fell out the backside- and one partial one)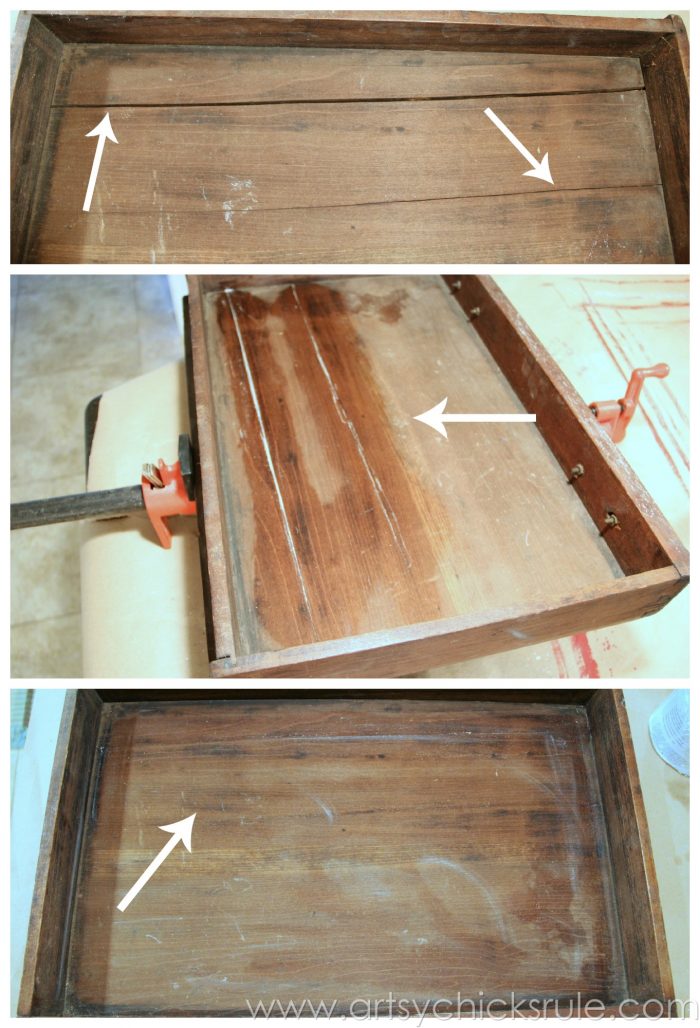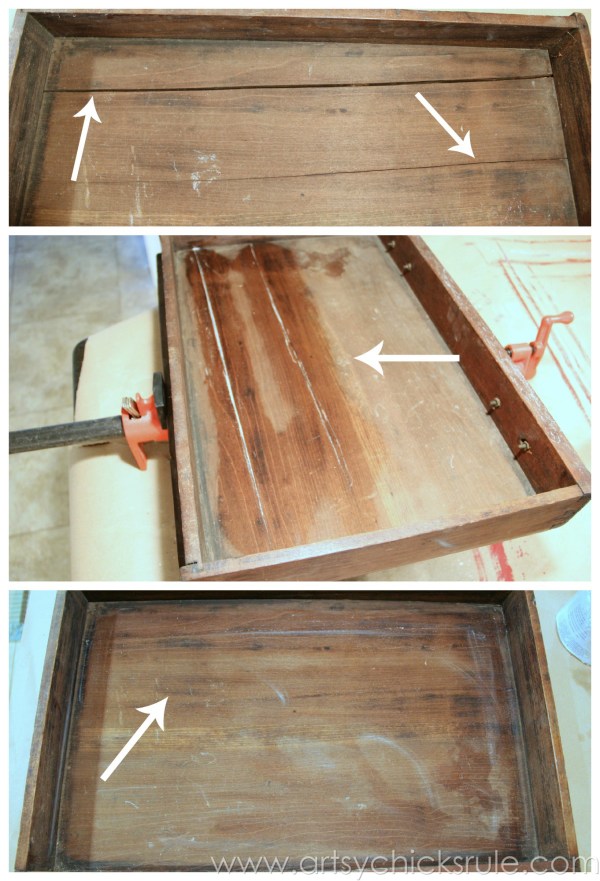 All fixed, good as new!
Here it is all finished. Painted, stained, and glued/caulked/puttied all over. Ha!
But you'd never know, would ya?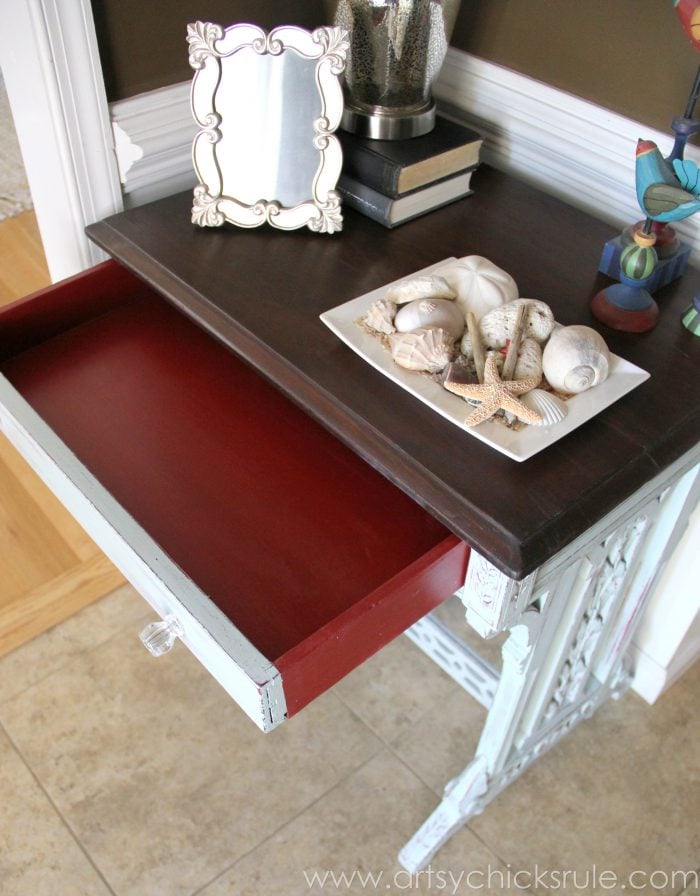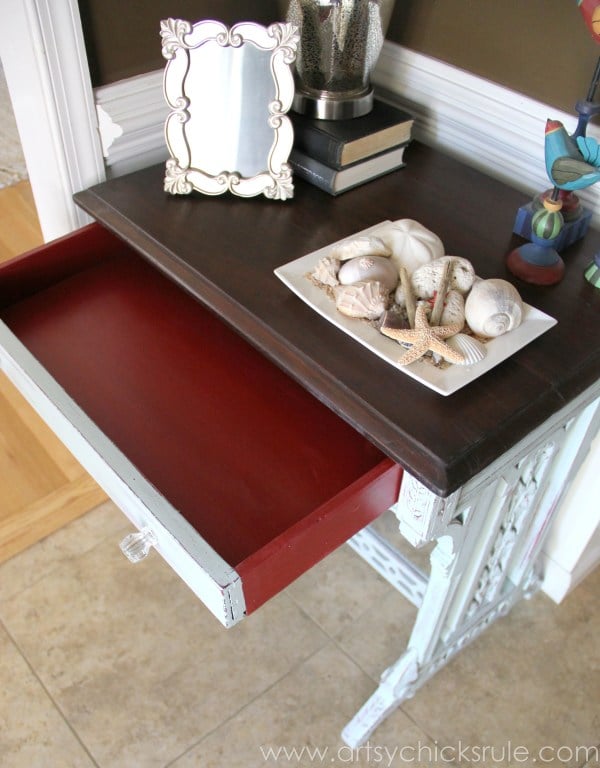 I would've loved to keep it stained but will all that repair work, I really had no choice.
Paint it was!
I did stain the top though.
It just needed a little sanding beforehand.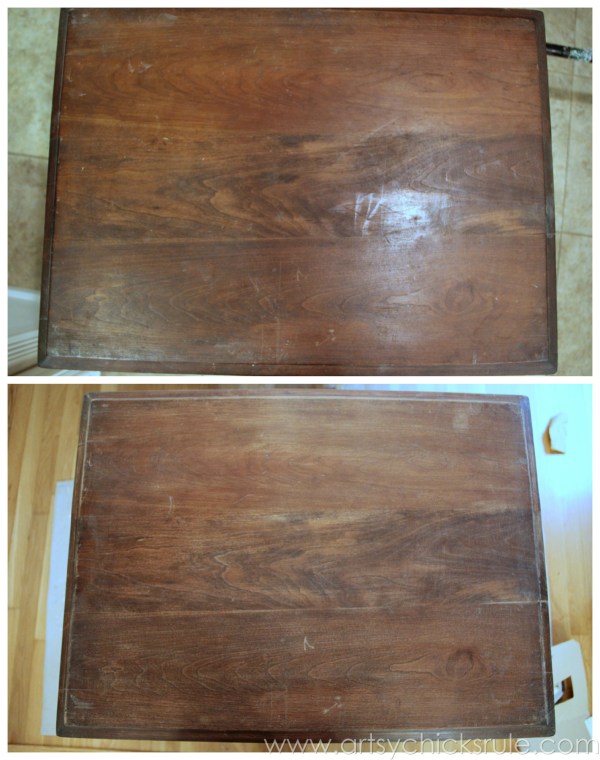 …and done.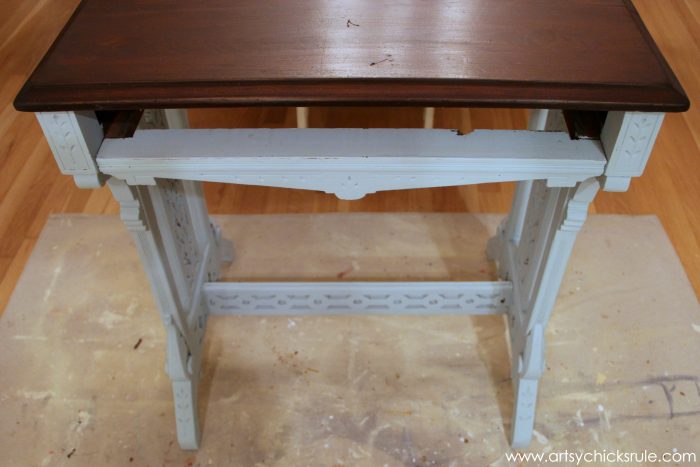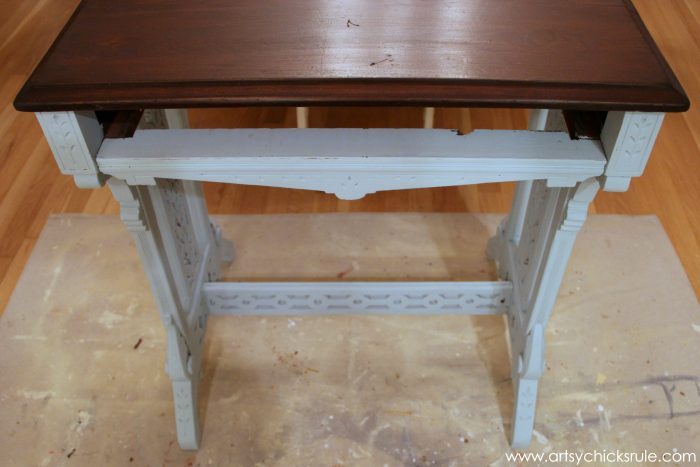 Such a beauty.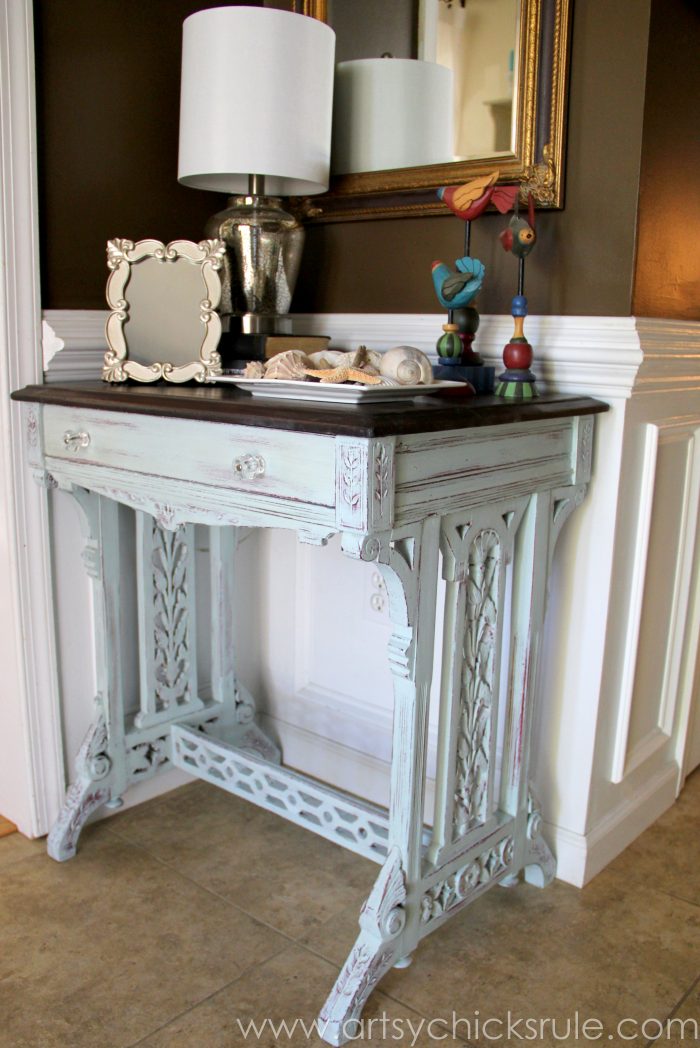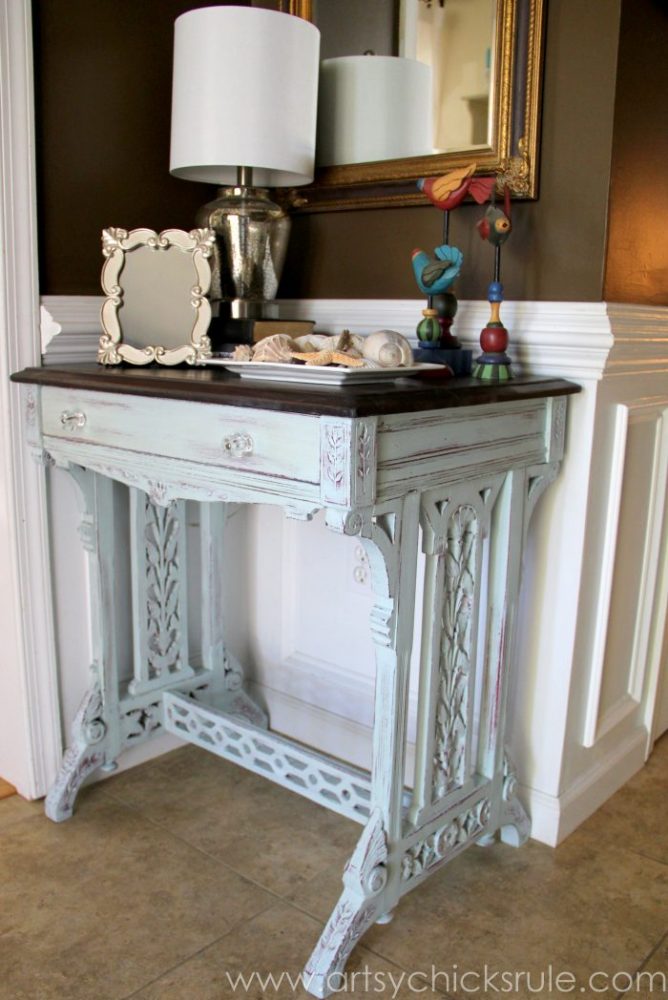 I painted this table with Teal and Red Chalk Paint. The top got Java Gel Stain.
I know this little writing table/desk was a ton of work, but so worth it.
I kept this one for a long while and used it in our foyer. I sadly let this one go a few years back.
It's so hard to pour your heart and soul into a piece and then let them go. But can't keep them all!
This one had a long, old story before it found me. I just added a little to it.
PIN it to save it!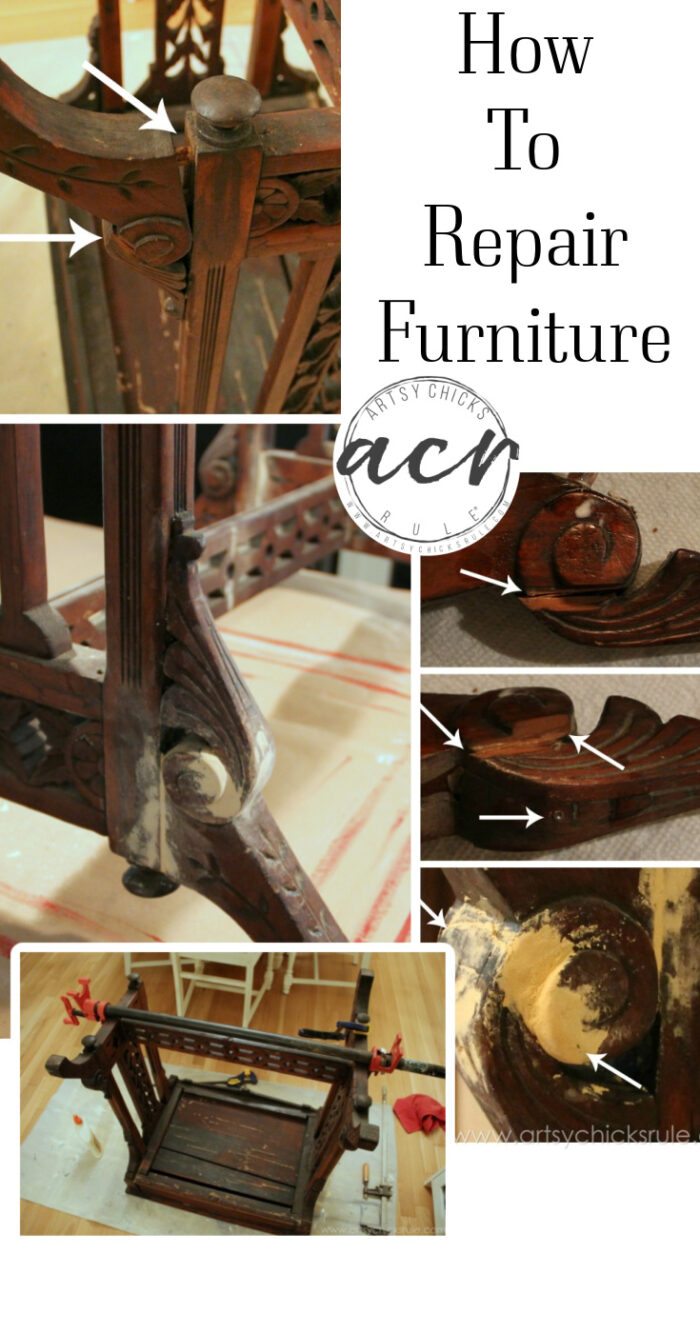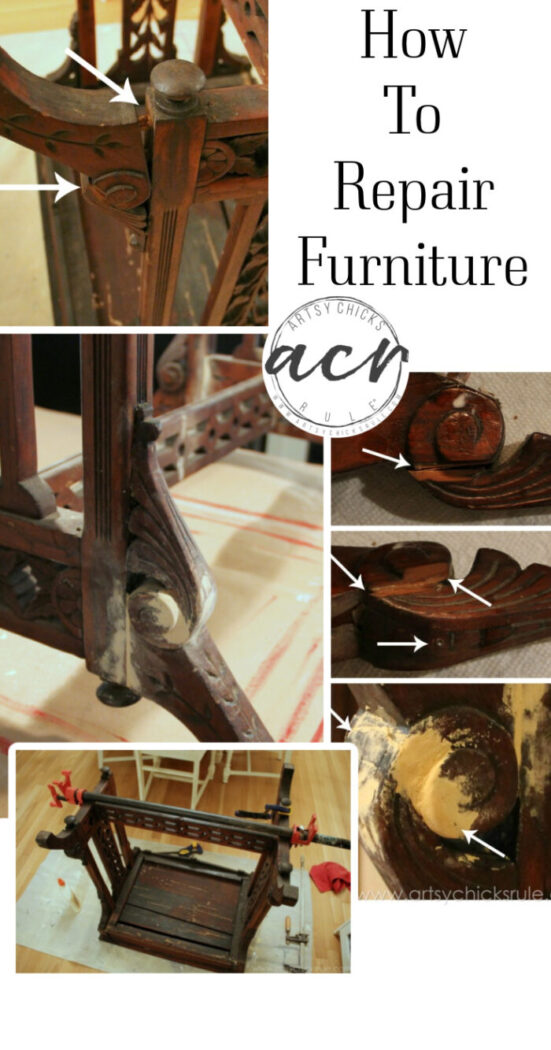 Have a wonderful weekend, friends! Hope you are getting some cooler weather. We are still pretty darn hot (and humid) here!
xoxo