Old Carved Desk Transformed with Chalk Paint (Red Theme Tour)
This post may contain affiliate links. Please see disclosures here.
Giving this old carved desk new life with a little paint…and love!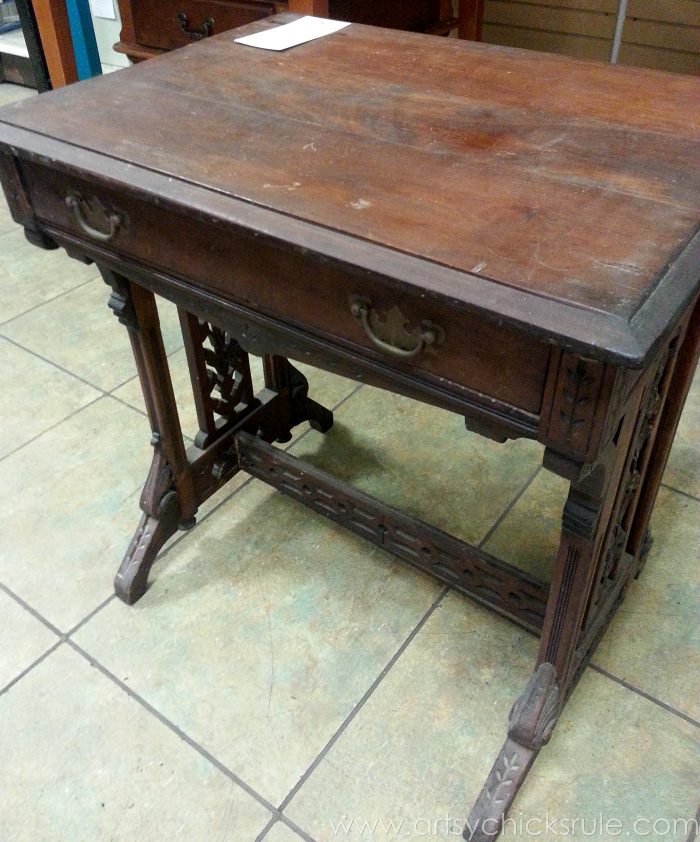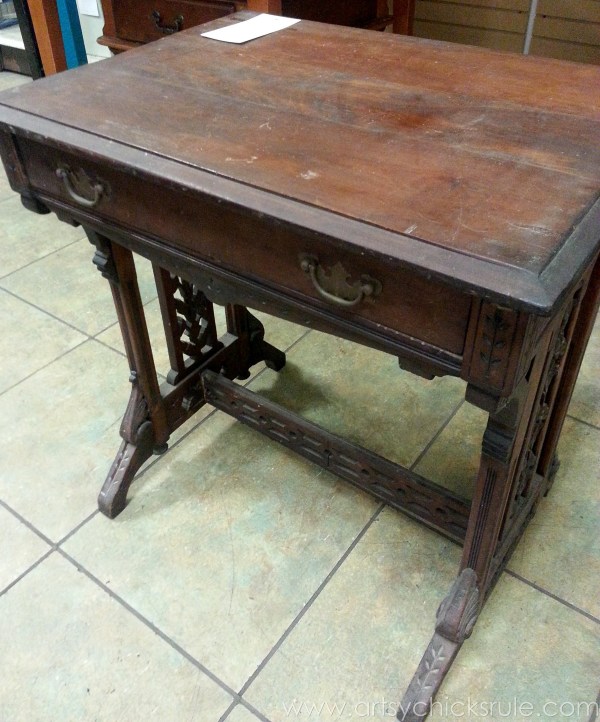 It's Themed Furniture Makeover day! This month's theme is RED.
(to see previous month's themes, look here–>Themed Furniture)
Red is fun. Red is festive….and red is bright! ;)
I love red…in small doses.
So when I saw the theme for this month I wondered how in the world I would incorporate an entire piece of furniture with red.
That's when I got to thinking about how much I love the colors teal and red together. I love how they off set each other.
Opposites with such contrast.
Just like my Family room during the Christmas holidays last year. You can see what I mean in my Holiday Home Tour here.
So….I incorporated that exact idea into one piece of furniture and came up with this….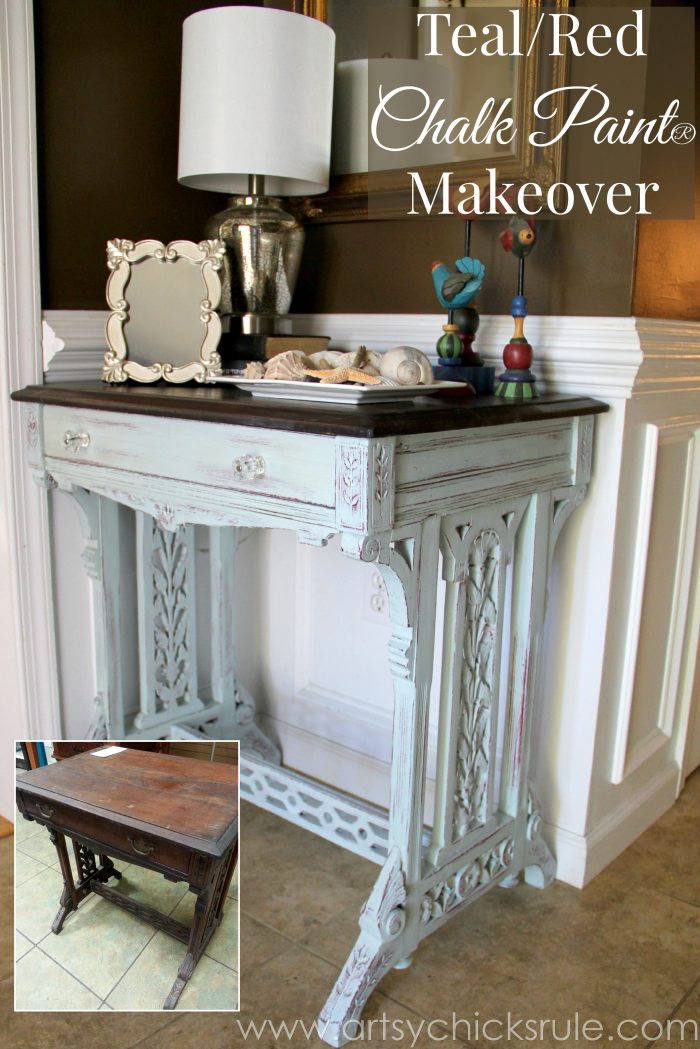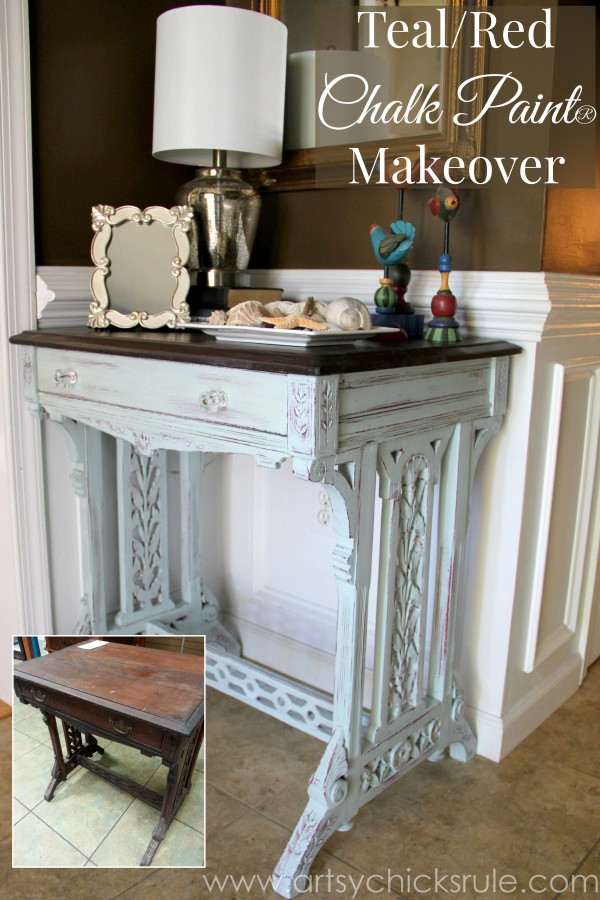 This old carved desk was falling apart…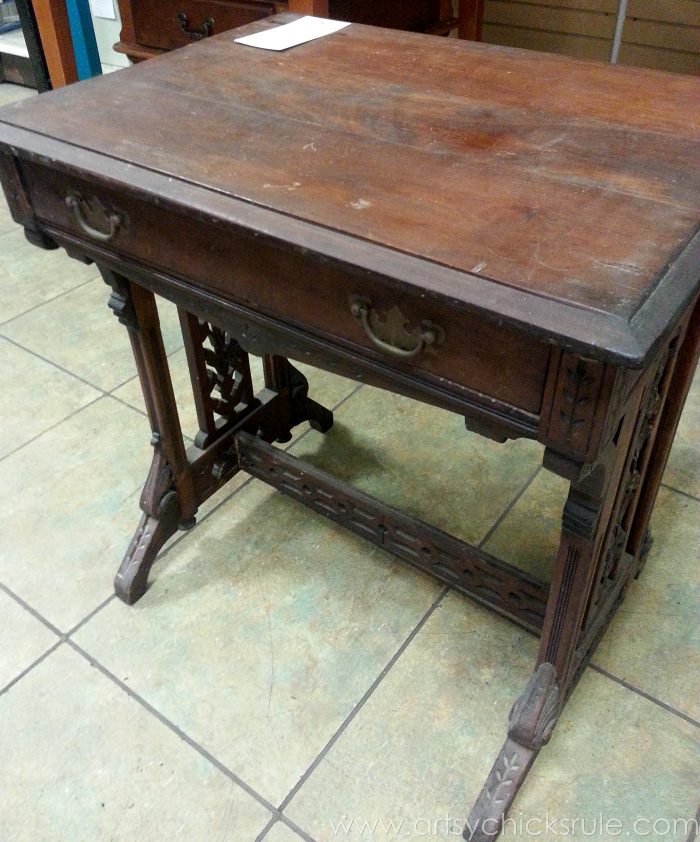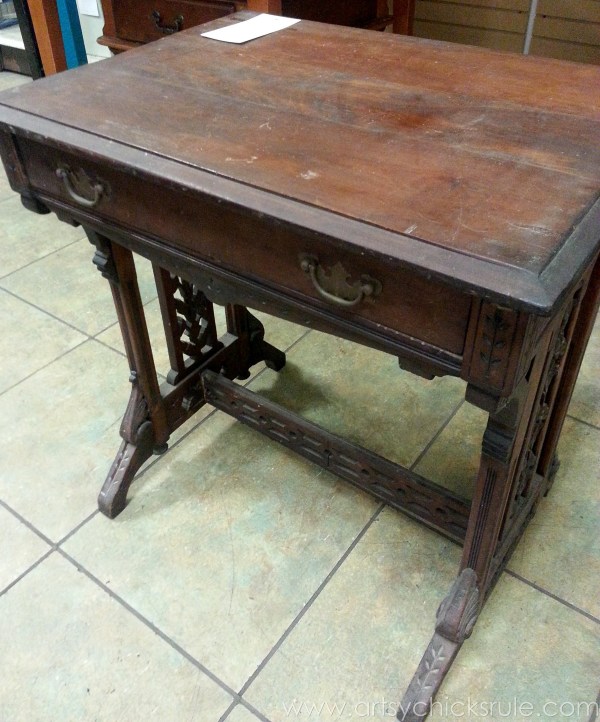 I know there are a lot of "wood lovers" out there. Yes, I do love paint BUT I also love a nice wood finish.
However, this table had problems. LOTS of them.
I'm not going to show you all of them in this post, or how I fixed them all, because I'd have to share 40 pictures!
I'll share the makeover details in another post. <<< UPDATE: You can see it now, here!
Today, I'm just sharing "the pretty". :)
I mean, take a look at all that gorgeous detail that is almost hidden in the old finish.
It's just beautiful and when I found it at the thrift store I couldn't pass it by.
I knew she was coming how with me. Poor little sad, quirky thing.
Yes, very quirky….such as, why does it have knob feet….and legs?
Anyone know?
And did you happen to notice the trim on the legs?
I think someone mixed some things up.
The two scroll-ier legs (they have an extra flair at the top) are on one side (end to end) and the not as scroll-y legs are on the other!
I am guessing the fancy ones were supposed to be on the front…and the less fancy on the back?
Anyway, I left it as is…because it has character. Not to mention, it has been this way for many, many years and who am I to change it?
But as far as painting it….well, I'll give you a teaser photo of all the work I had to do…and why it really needed paint.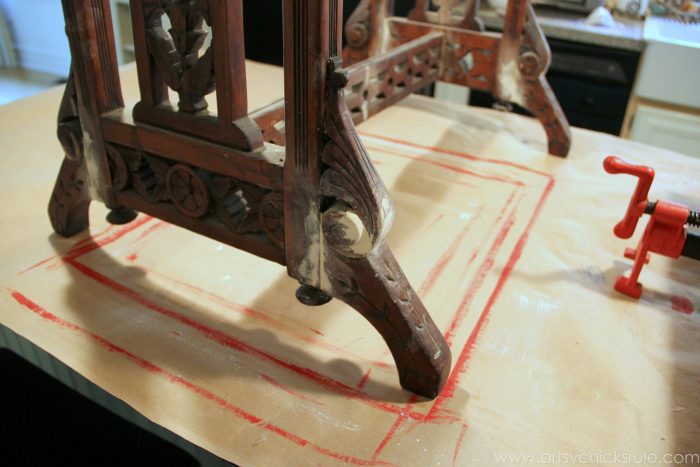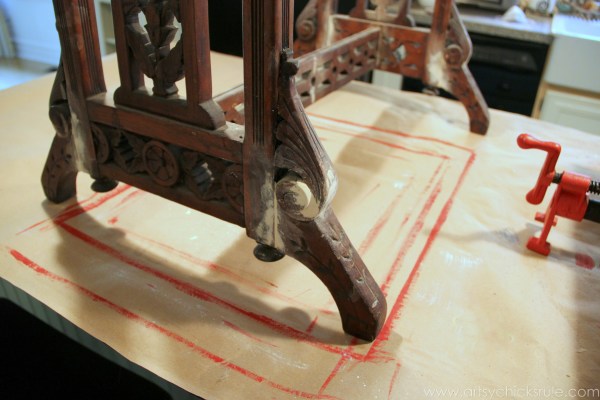 Lots of fixing. Lots of putty and caulk. Extra screws for support. Decorative trim parts missing and molded to make anew.
So painting was the best option. Plus it really brings out the detail, in my opinion.
I did keep the wood top though.
After repair and cleaning her up, I started by painting the base red.
Emperor's Silk & Primer Red Chalk Paint® mixed, to be exact. (approx 1/3 Primer Red to 2/3 Emperor's Silk)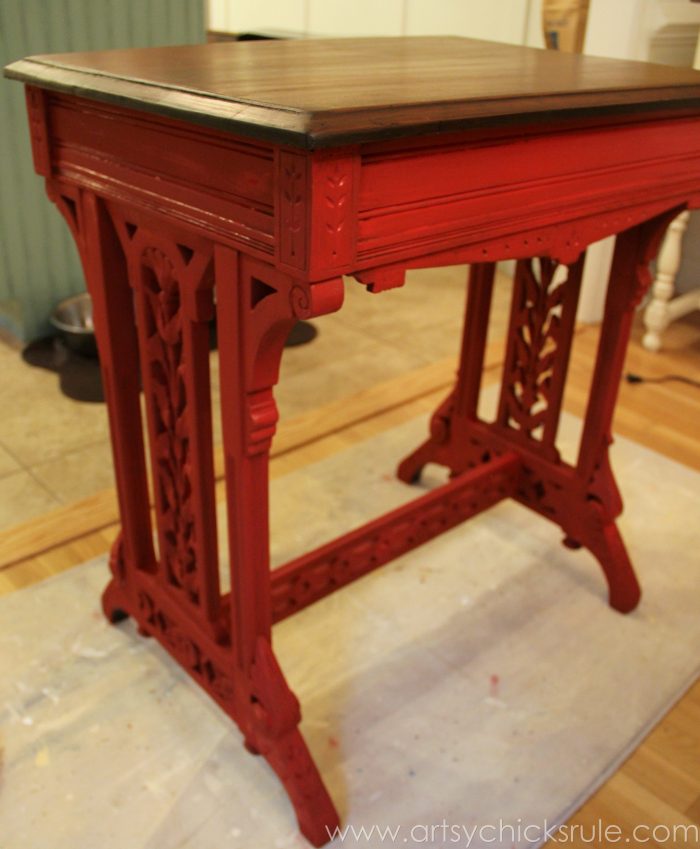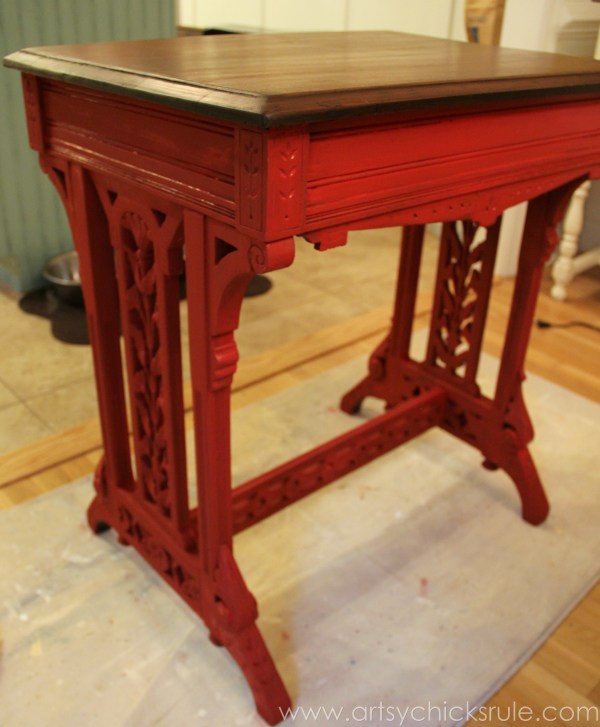 Then painted over that with a mix of Provence and Pure White Chalk Paint mixed. Heavy on the white.
I wanted a very pale teal over this so the red would "pop" underneath.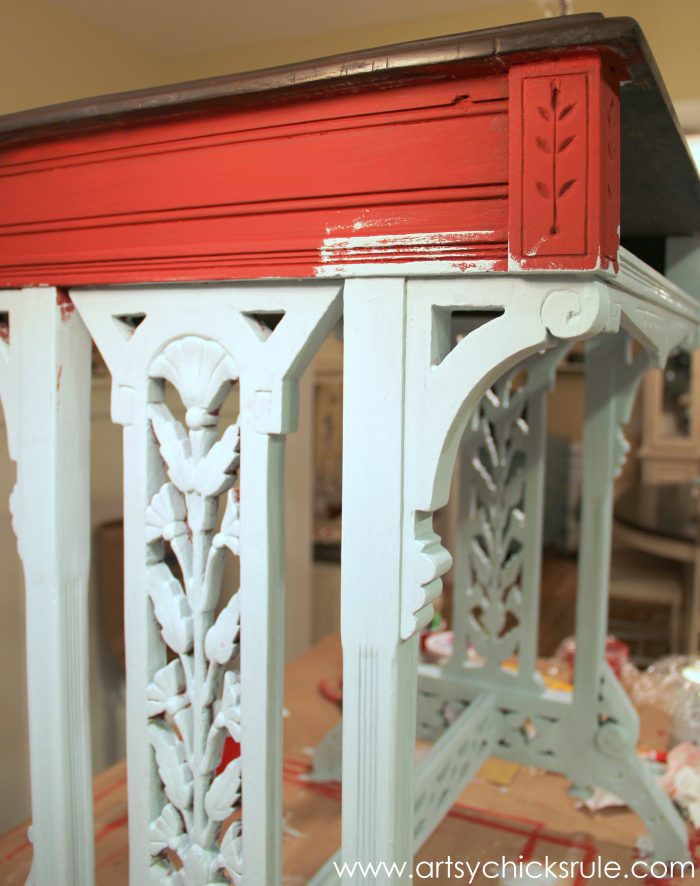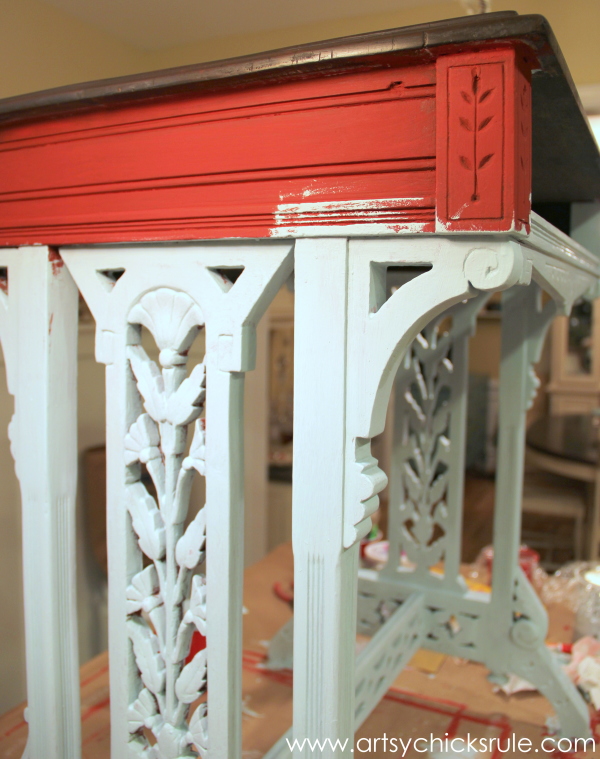 Once the red was dry I painted one good coat of the teal shade over top.
One coat only because I didn't want it too thick so I'd be able to distress it easily and see the red.
Painting all that detail…..well, lets just say I won't be in a hurry to do that again anytime soon!
UNLESS I use my paint sprayer. AND if it weren't 30 degrees outside, that's surely what I would have done.
Before the teal coat dried fully (easier), I took fine grit sandpaper and went over every single inch distressing edges…..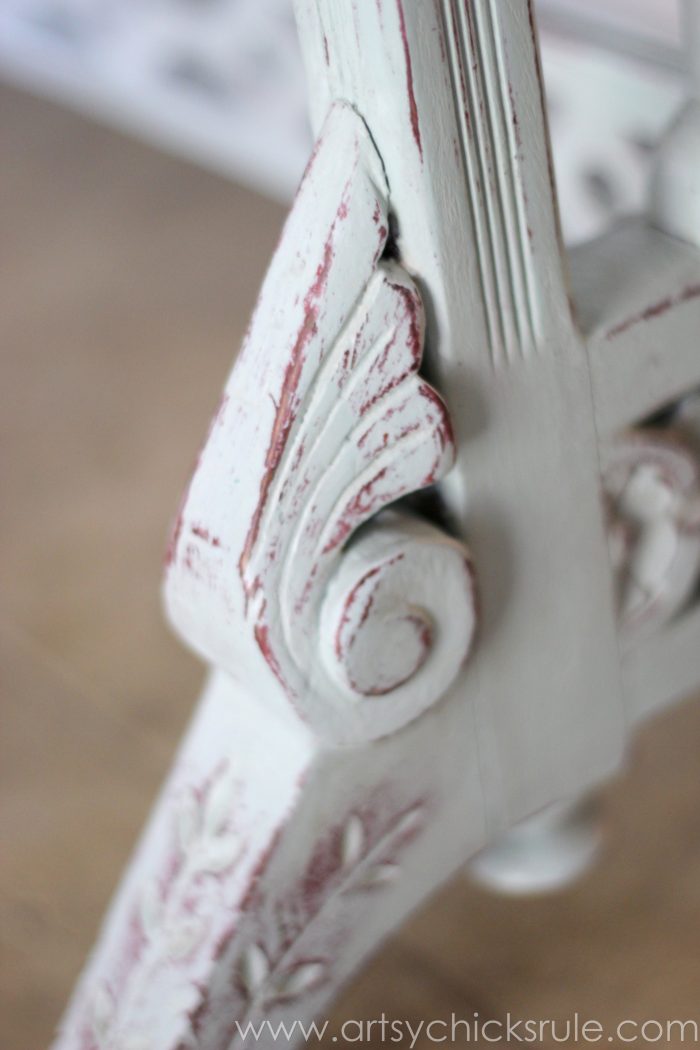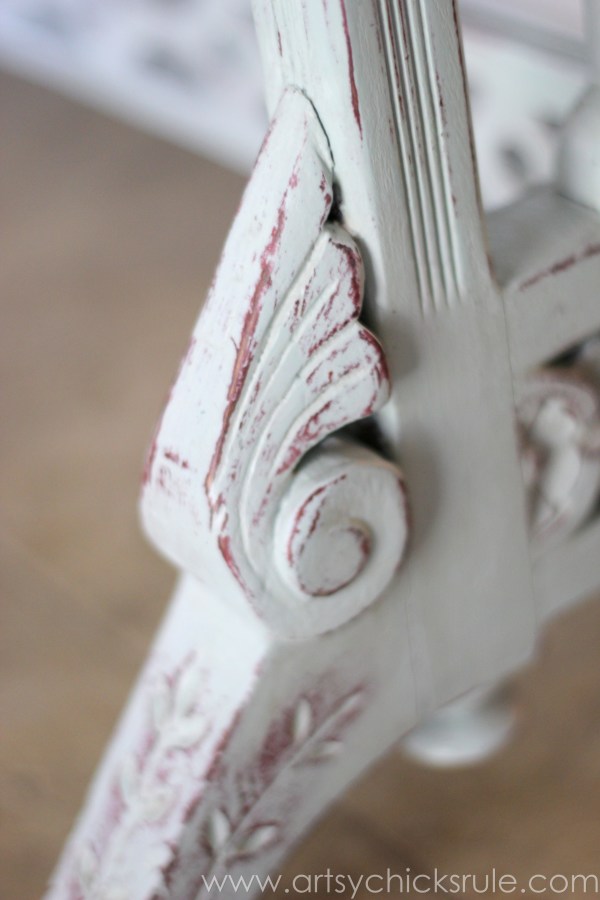 …bringing the red out all over.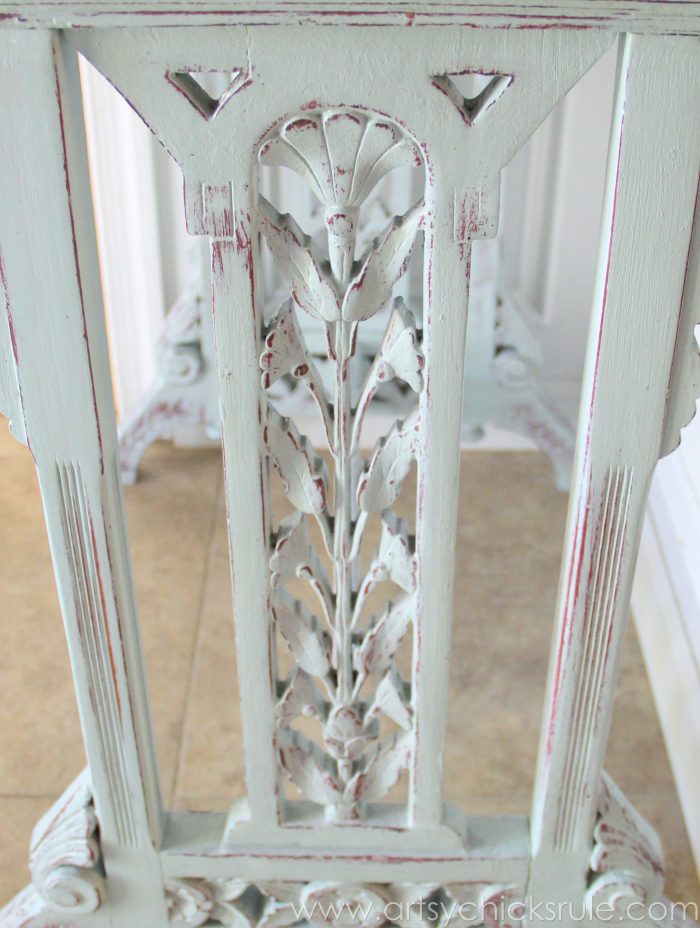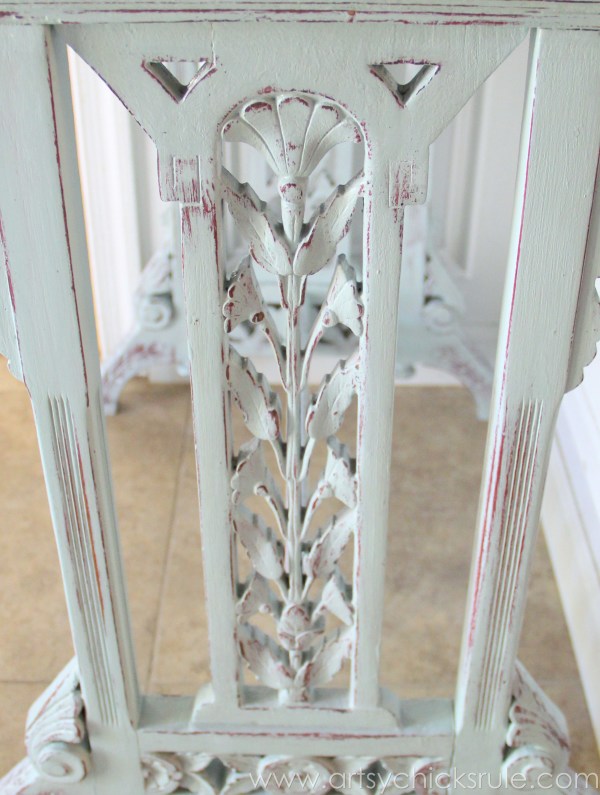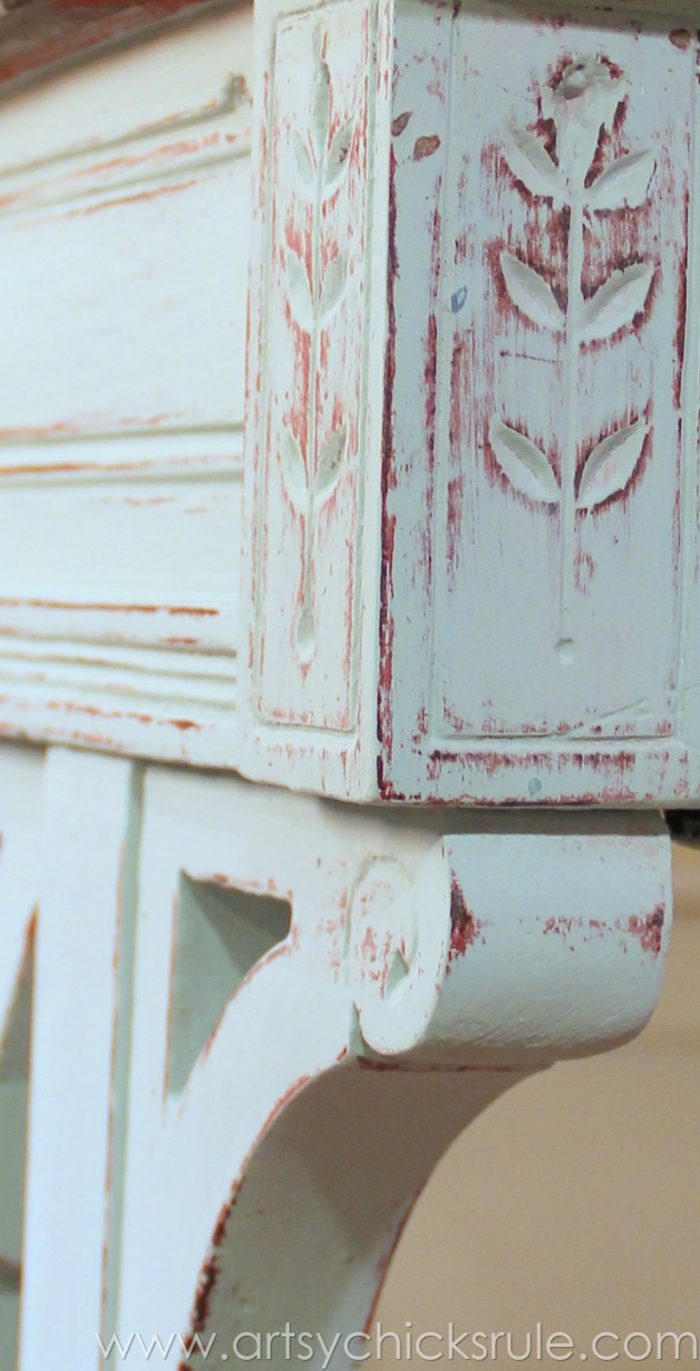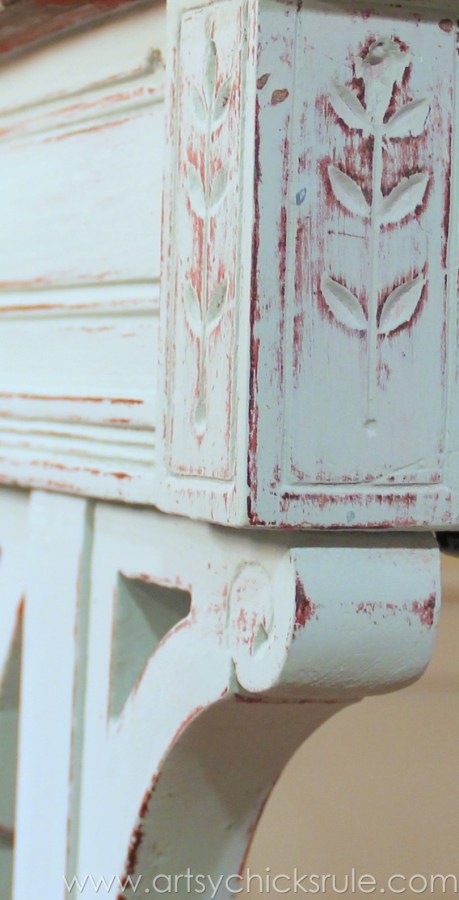 Red, red, red coming through all over. I just love the mix of these two colors together.
And how about this fun little surprise….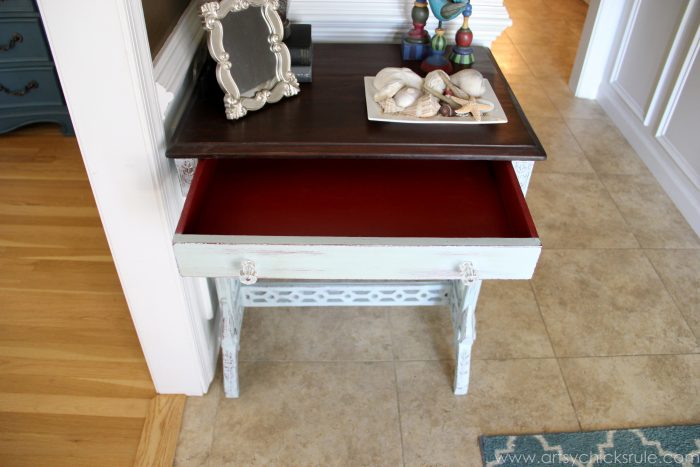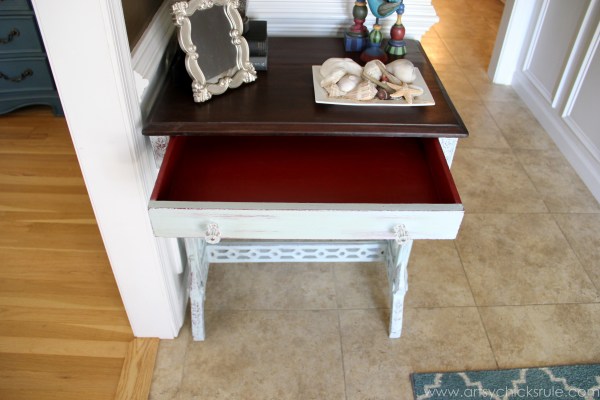 Boom!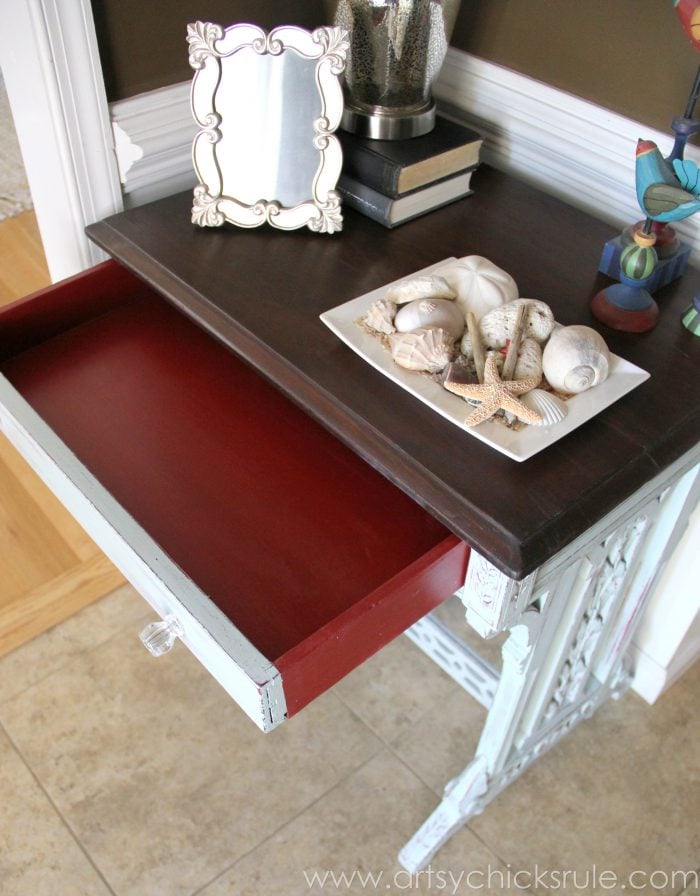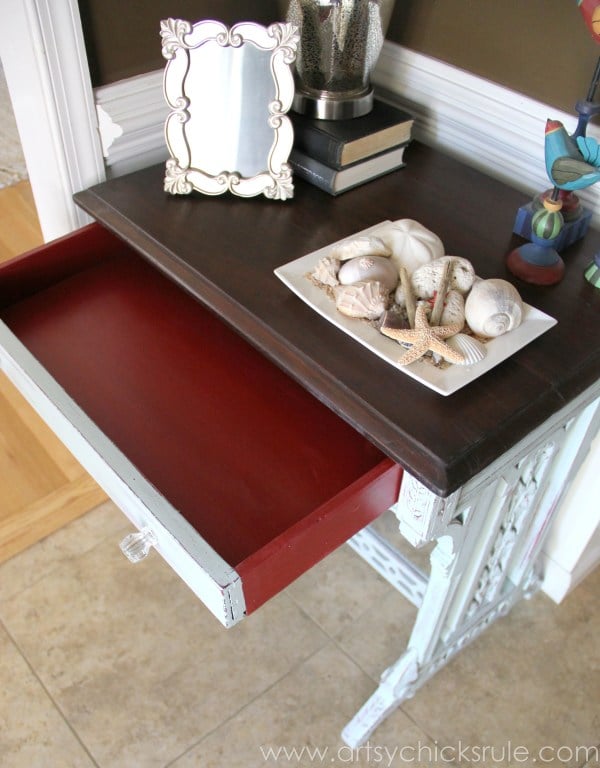 Now that's RED.
I love that fun pop of color when you open the drawer.
I decided to change out the original hardware for these pretty crystal knobs…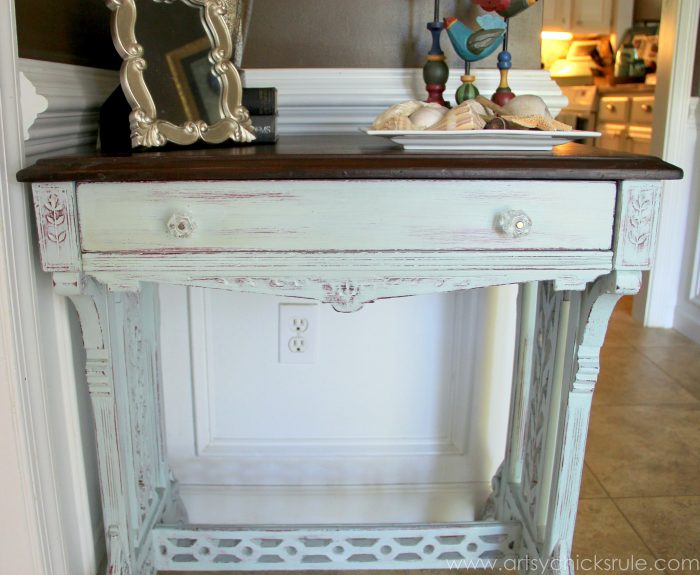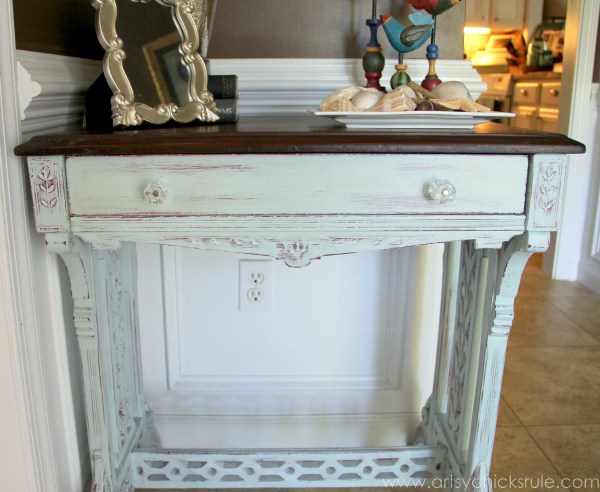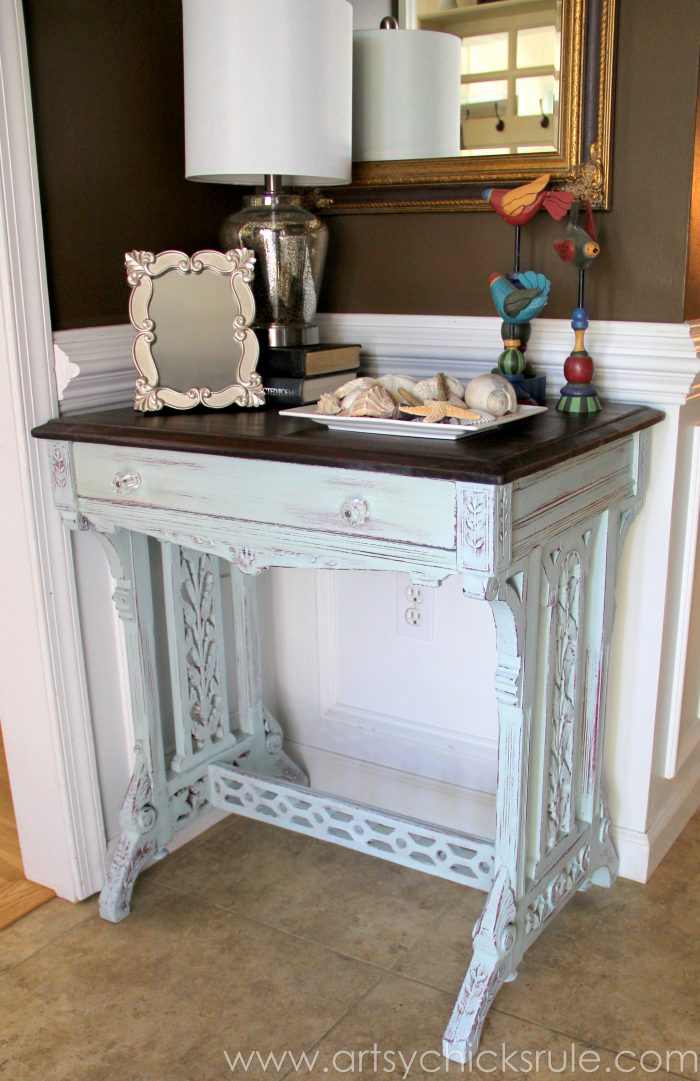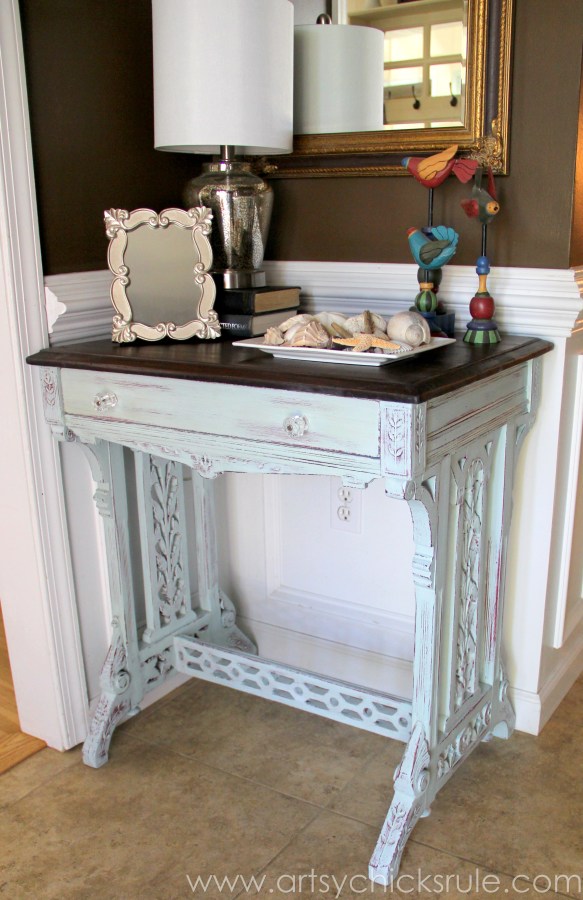 But wanted to show you what it looked like with red knobs too….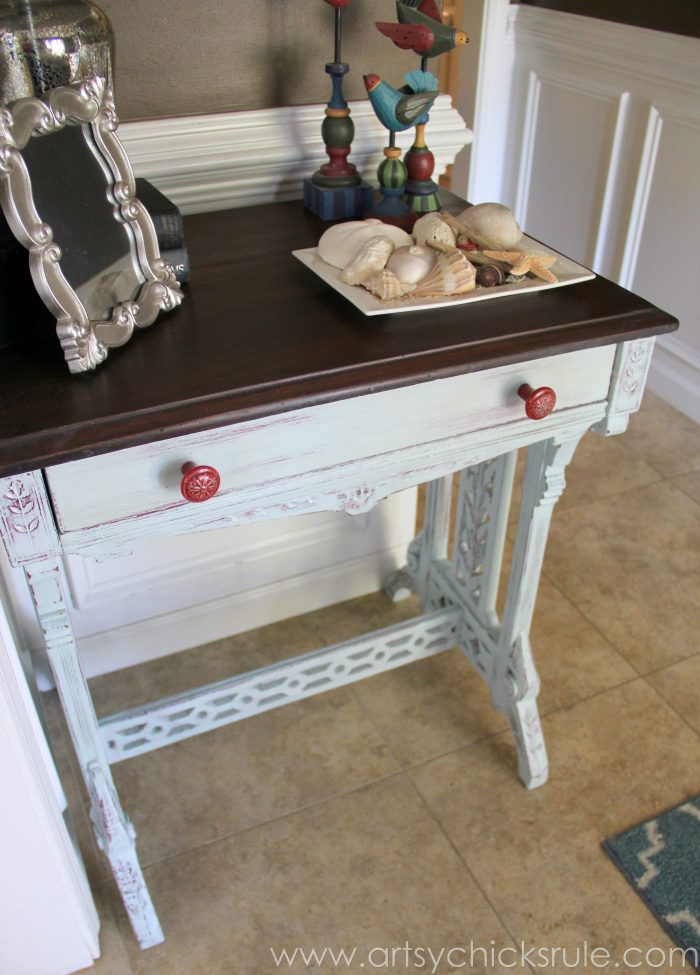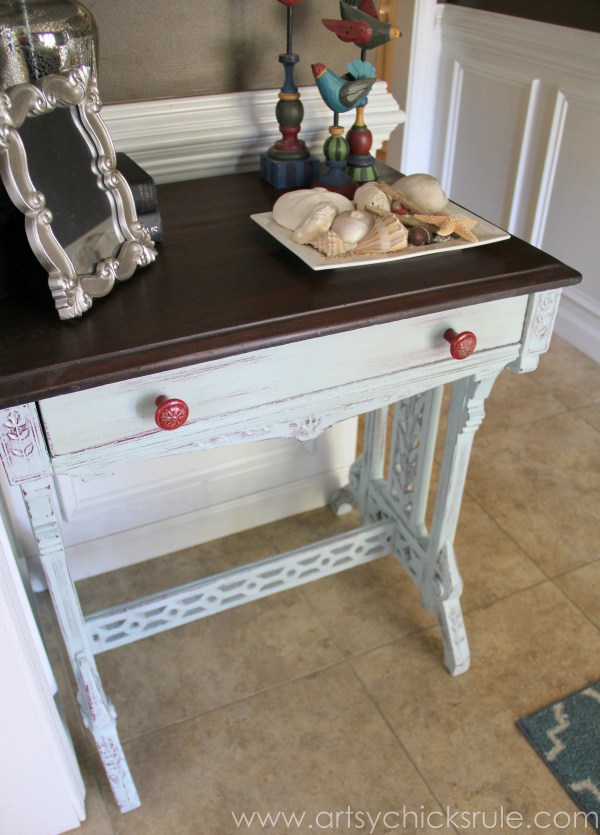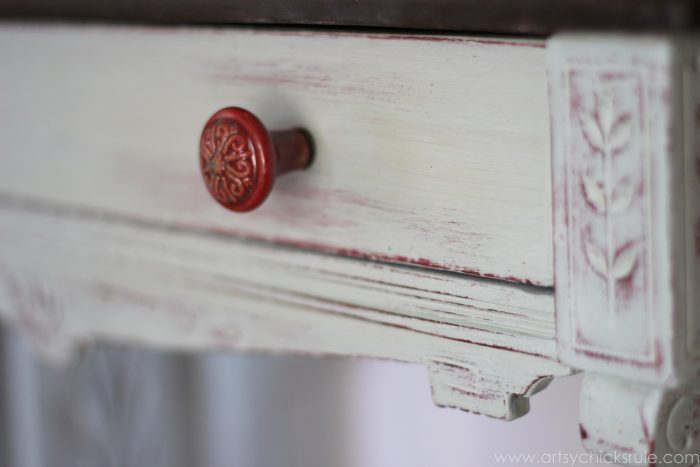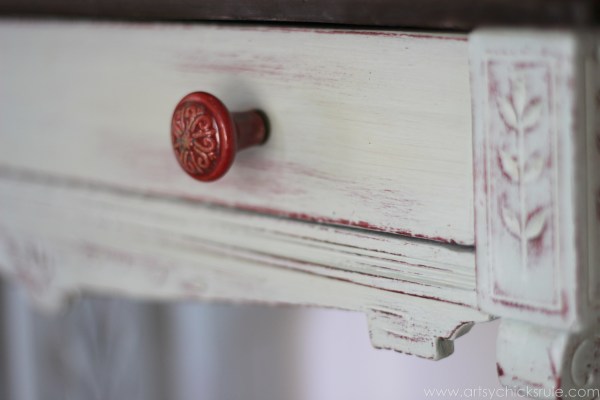 Isn't the top gorgeous?
I used General Finishes Java Gel Stain on that.
Will talk more about that in the other post too. I LOVE this stuff.
Night and day…and ridiculously easy.
I'll also talk about what I sealed up the paint with on this carved desk and why.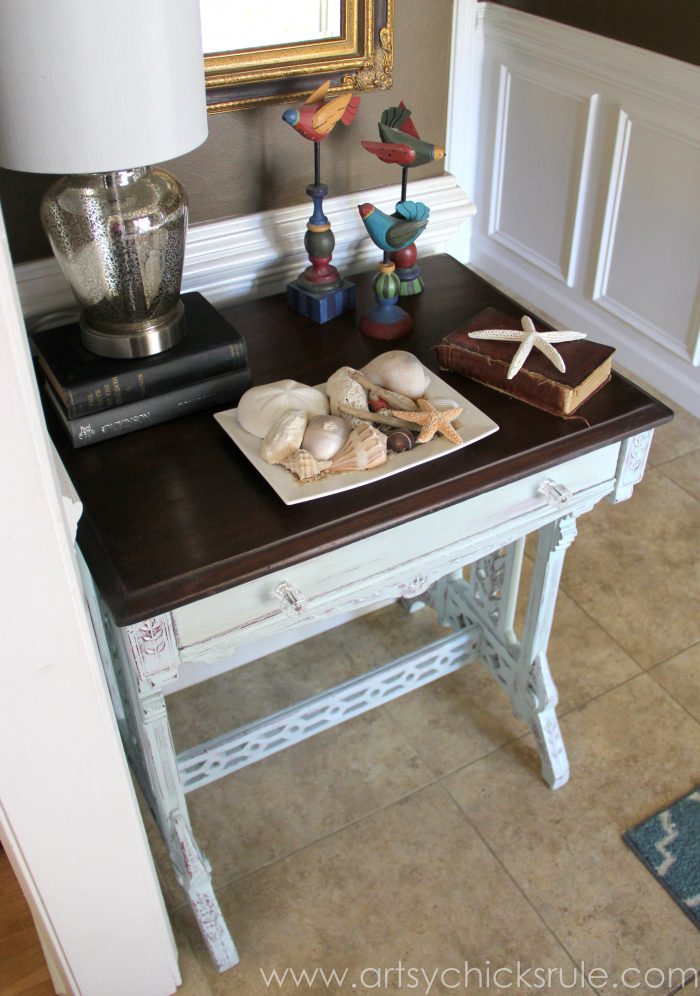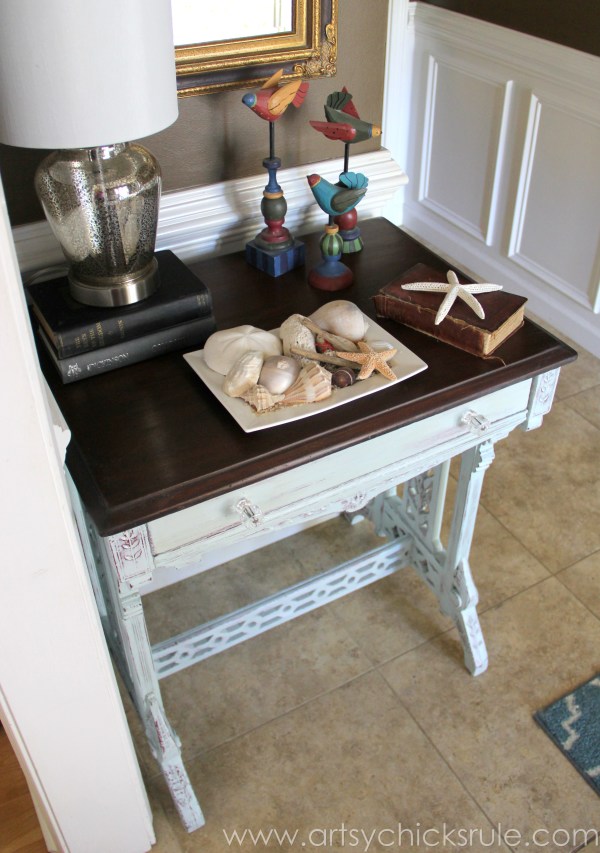 I'm not gonna fib and say this one was an easy transformation.
It wasn't.
BUT only because it needed a ton of repair work and have you ever painted nooks and crannies like that before?
That many? With a paint brush???
Ohmigosh. No. Don't do it. ;) No, really, I'm serious. You might never paint again!
But I am in love with the result. And I'm glad I came to this sweet, quirky little desk's rescue.
Sitting there all lonely in the thrift store just waiting on me.
I always wonder what story these old pieces have to tell. This one was has a great one, and was well loved at one time, I am sure. :)
And now, this pretty old, carved desk is ready to be re.loved all over again.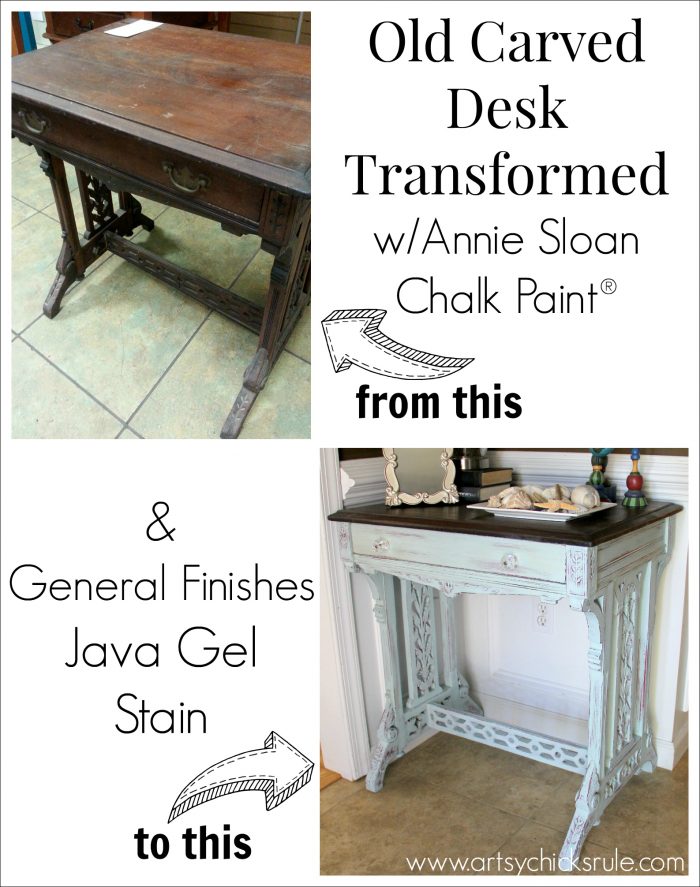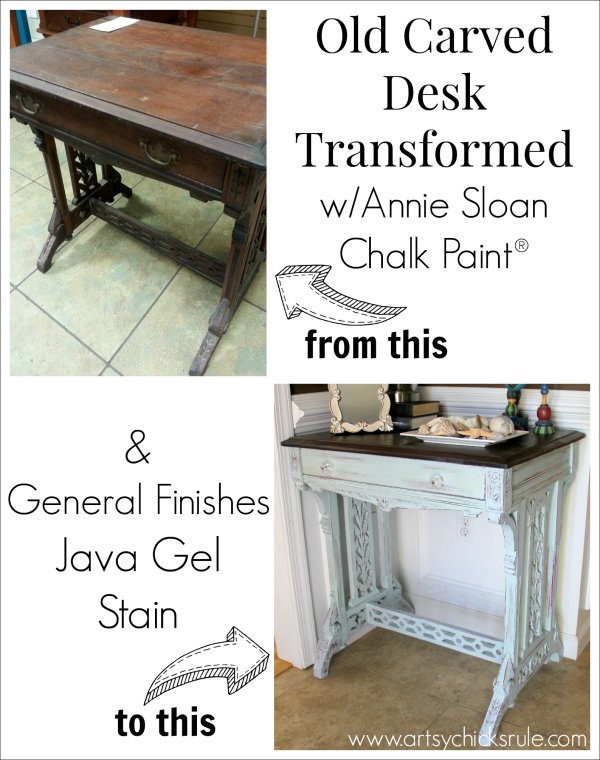 Be sure to keep an eye out for the upcoming post about the details of this makeover. It's a doozy! ;)
And not to be missed…especially if you love to makeover furniture.
Now it's time to take a look at all of my friend's RED furniture makeovers below!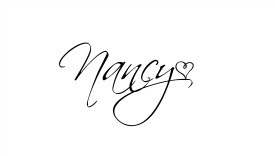 Sharing with: Funky Junk Interiors