Teal and Red Writing Desk Makeover (with Glue, Screws and Chalk Paint!)
This post may contain affiliate links. Please see disclosures here.
So I shared this pretty little writing desk makeover with you all recently….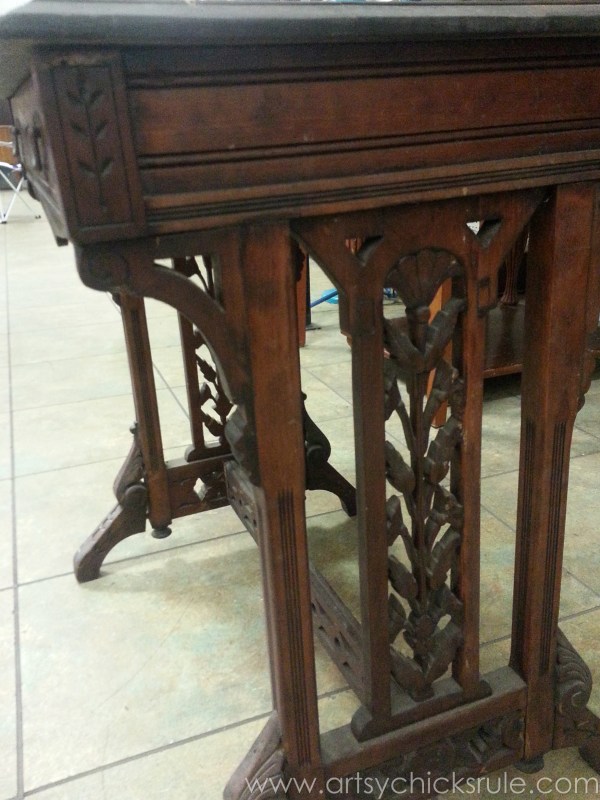 Well, you might remember it now looking like this….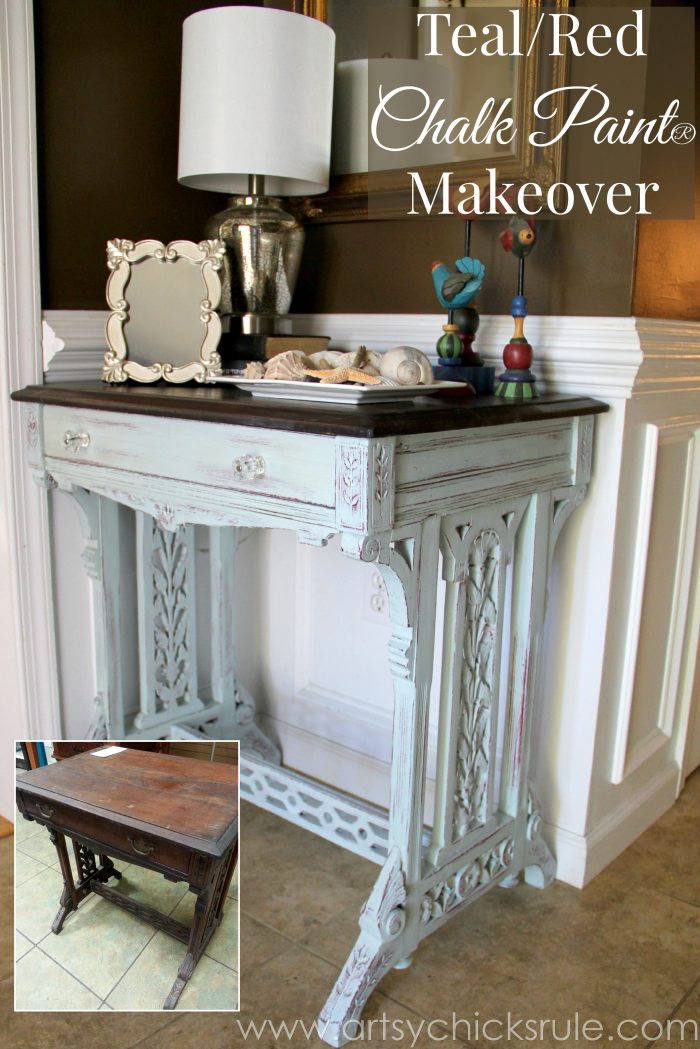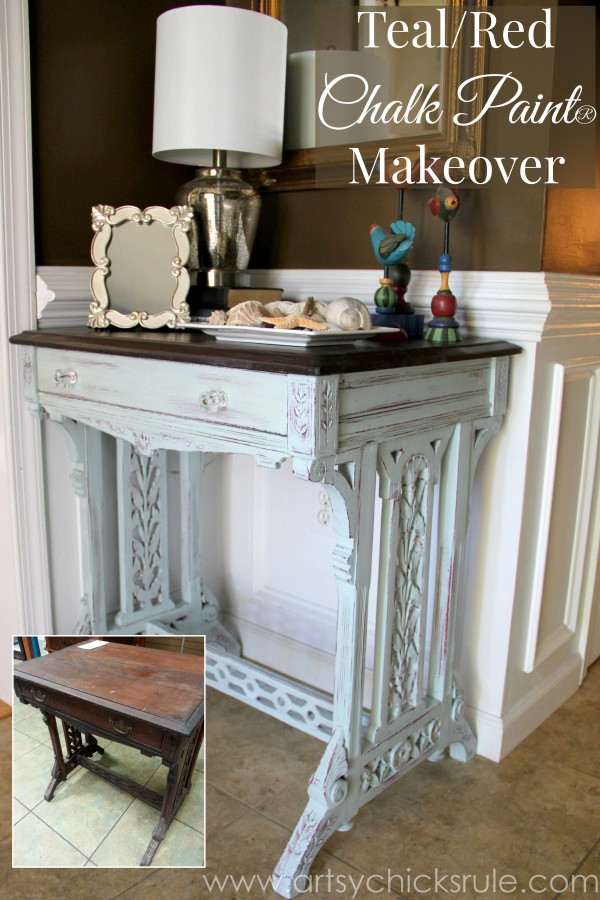 You can read about it and see all the pretty "after" photos here–> Old Carved Writing Desk.
I wasn't able to share with you all that went into repairing in that post but thought I'd do that today.
Mainly because….it's easy to post a pretty after photo…but sometimes the work that goes into repairing an old, broken, forgotten piece is the magic.
The paint, stain and the "pretty" take all the glory though! ;)
But take a look at the lovely bones.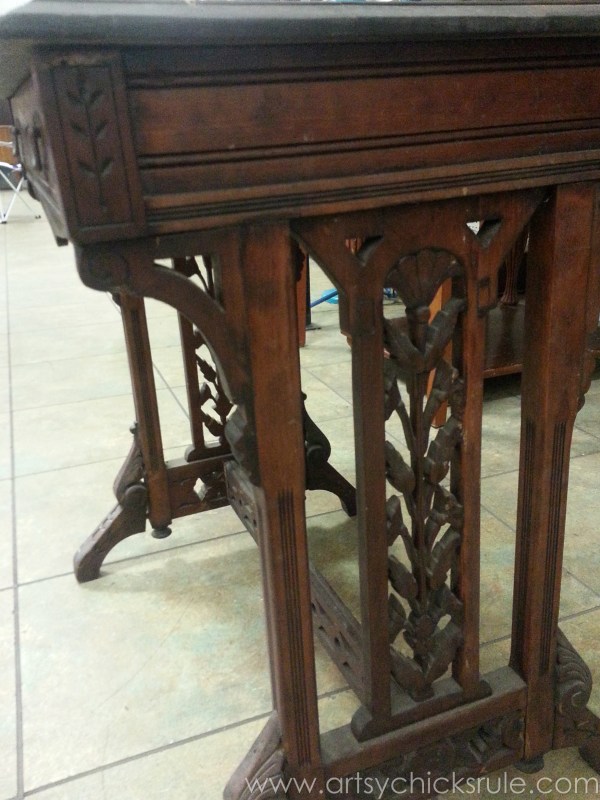 At first glance, in the thrift store, it looked just fine.
That was until I moved it. Then I knew.
She needed work and lots of it. She was a wobbly ole mess.
And I'm guessing one of the reasons someone let her go.
(and yes, she is a "she"….she's too pretty to be a he ;) …sorry fellas, but you know what I mean!)
I'll be honest and tell you, as of late, I often leave the really broken pieces behind. I just don't have the time to repair anymore.
UNLESS it's a fabulous, one of a kind, can't live without, can't pass by, kind of piece.
Just like this one.
It was all of the above.
It's almost like they twinkle at me when I look at them. Ha..sounds silly but it spoke to me…and twinkled. ;)
So I brought the poor, broken, sweet thing home.
…and got to work right away. (take not of the bottom of the broken drawer there)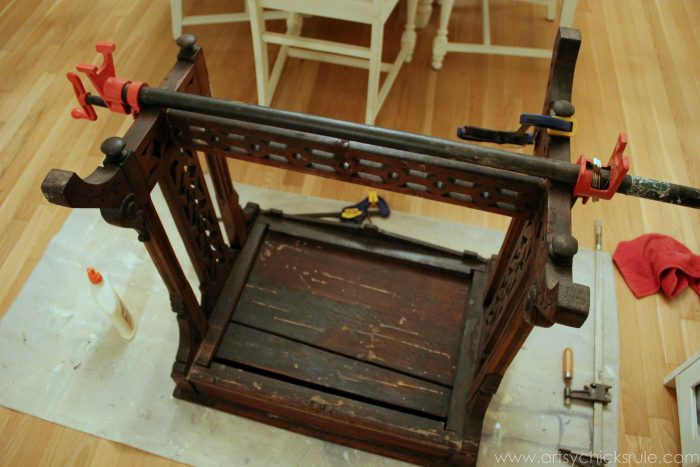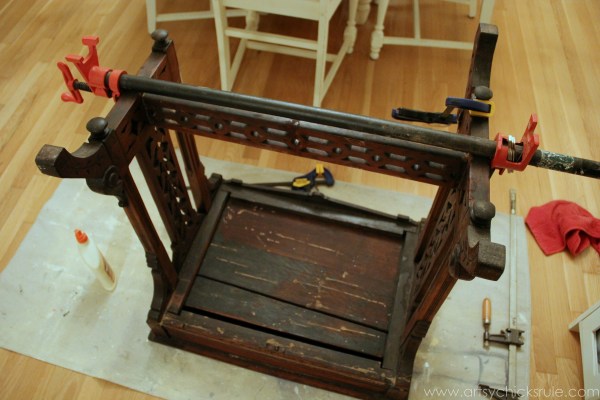 Tried to glue and stabilize the bottom piece there.
Hoping that would sturdy it back up.
It didn't.
Then had to remove a leg because someone had glued and nailed it back on incorrectly.
(it was coming off anyway but I needed to repair the part that did not fit together correctly-you can see the bottom arrow below)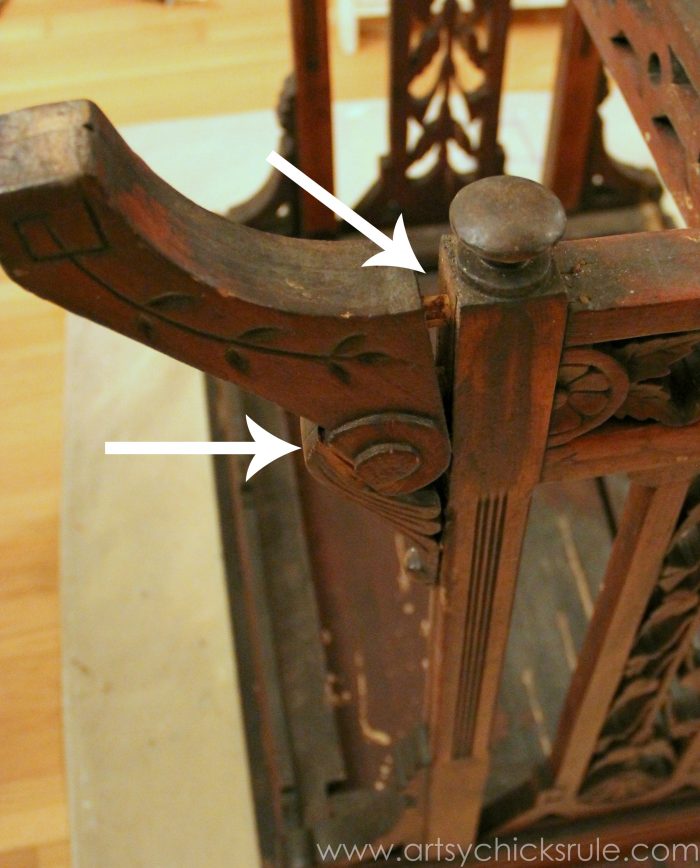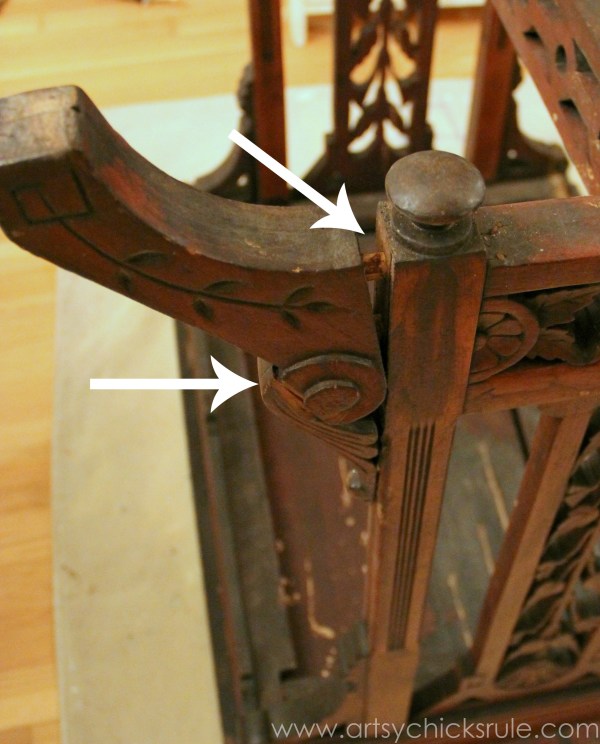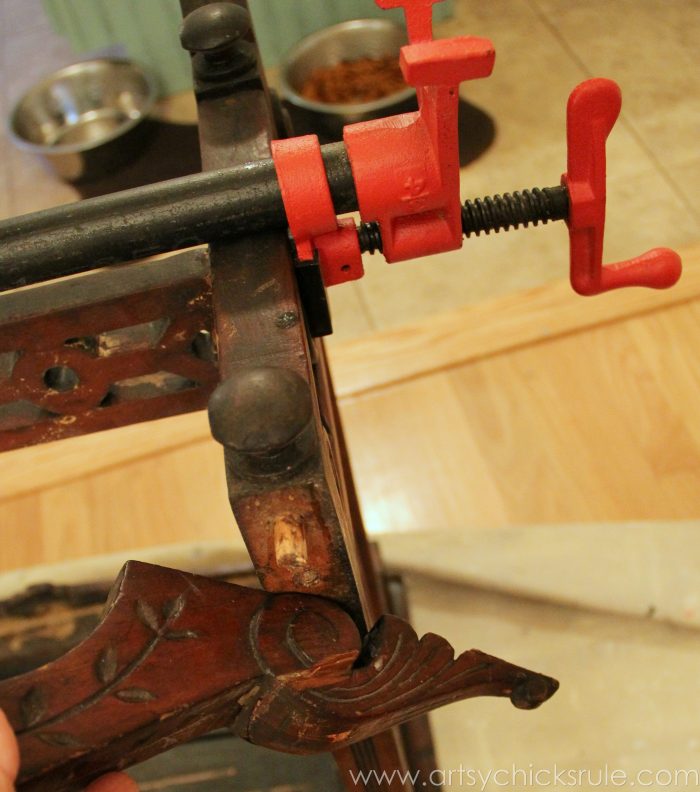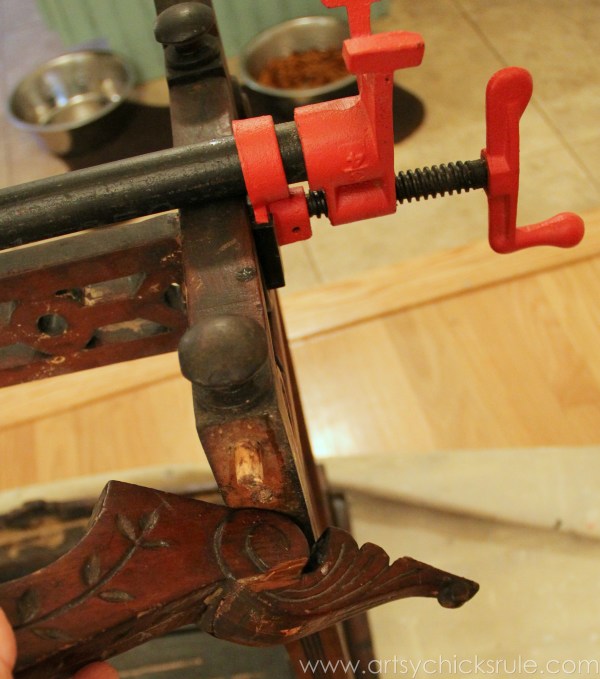 I "made" the missing curved detail with wood putty after it was put back together properly.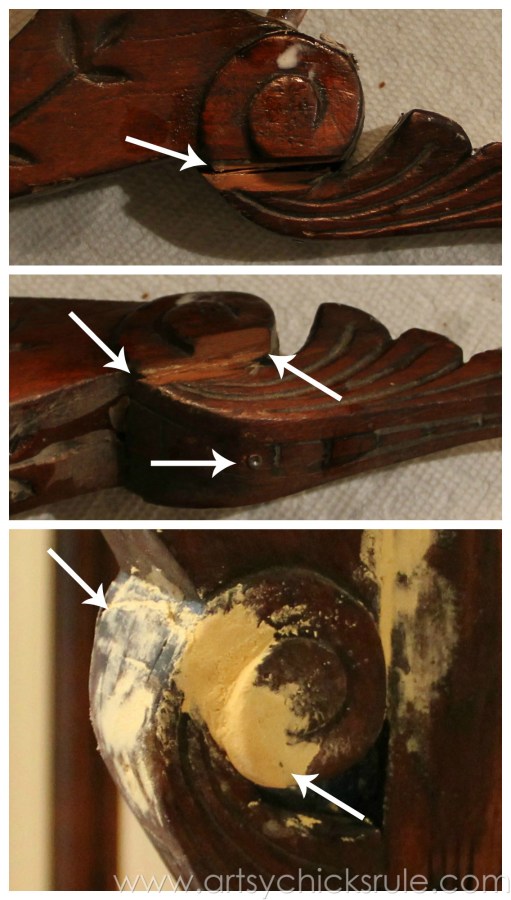 The broken area back together where it belongs and new detail created to match the missing.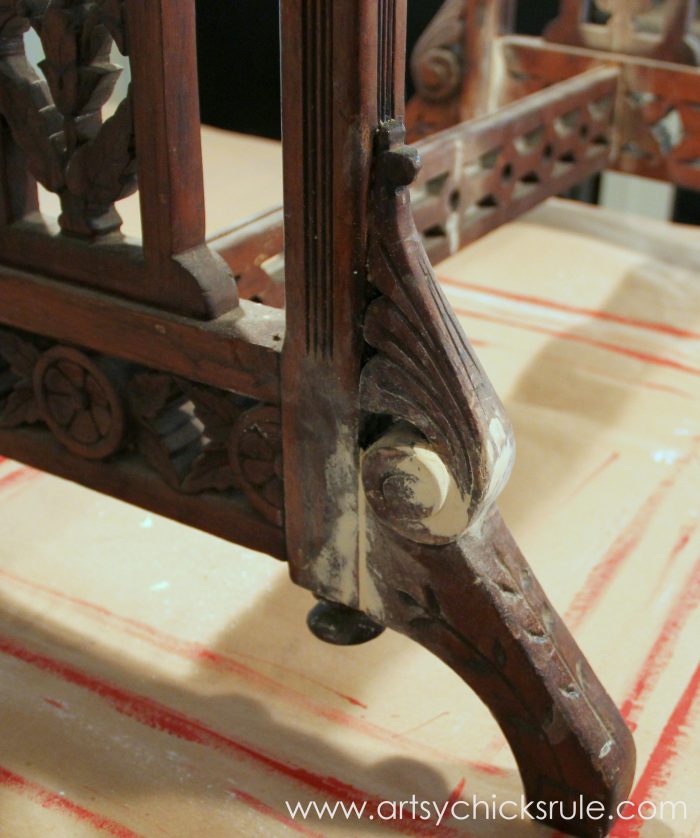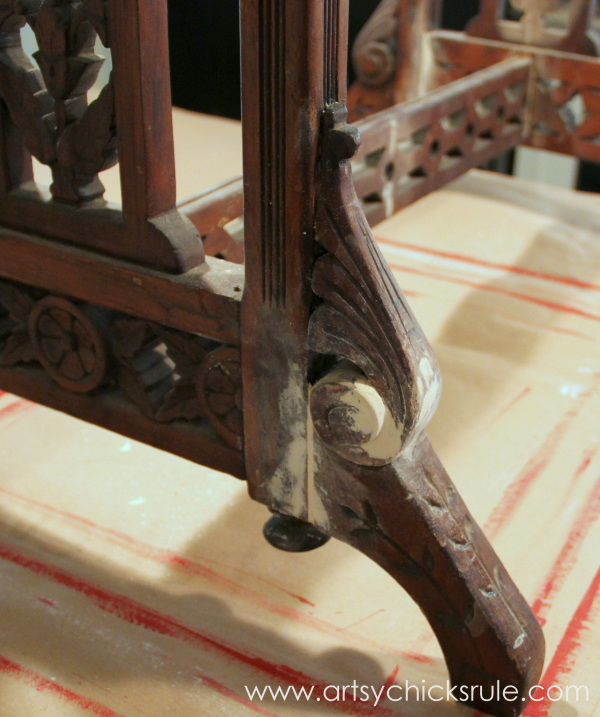 Lots of glue and clamps on the other areas….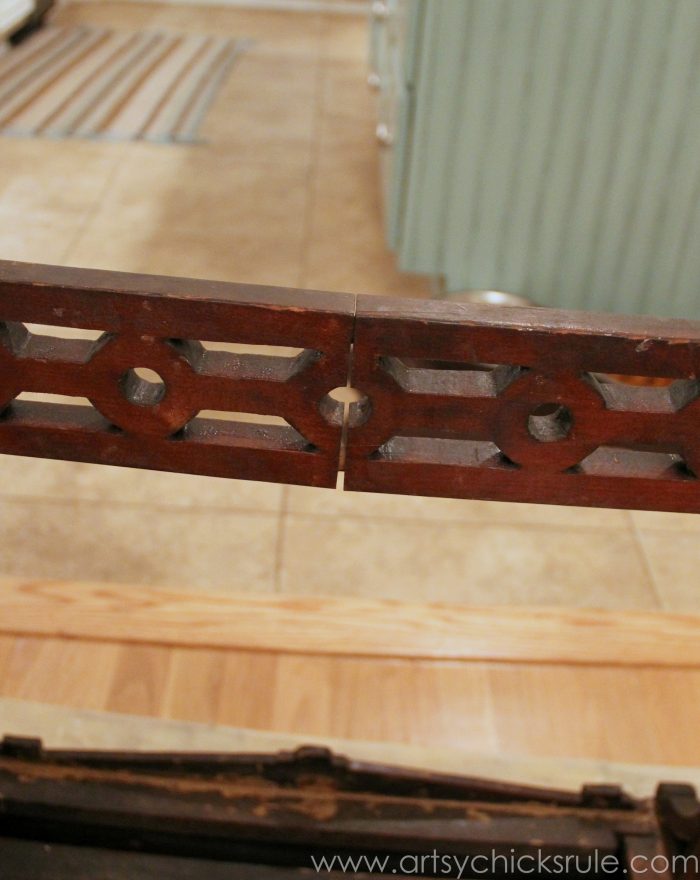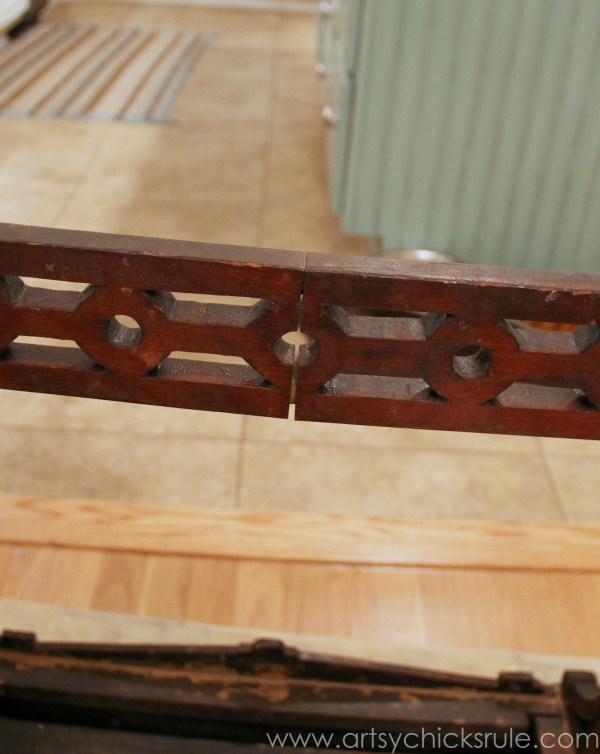 All legs needed glue….well I glued just about everything. :)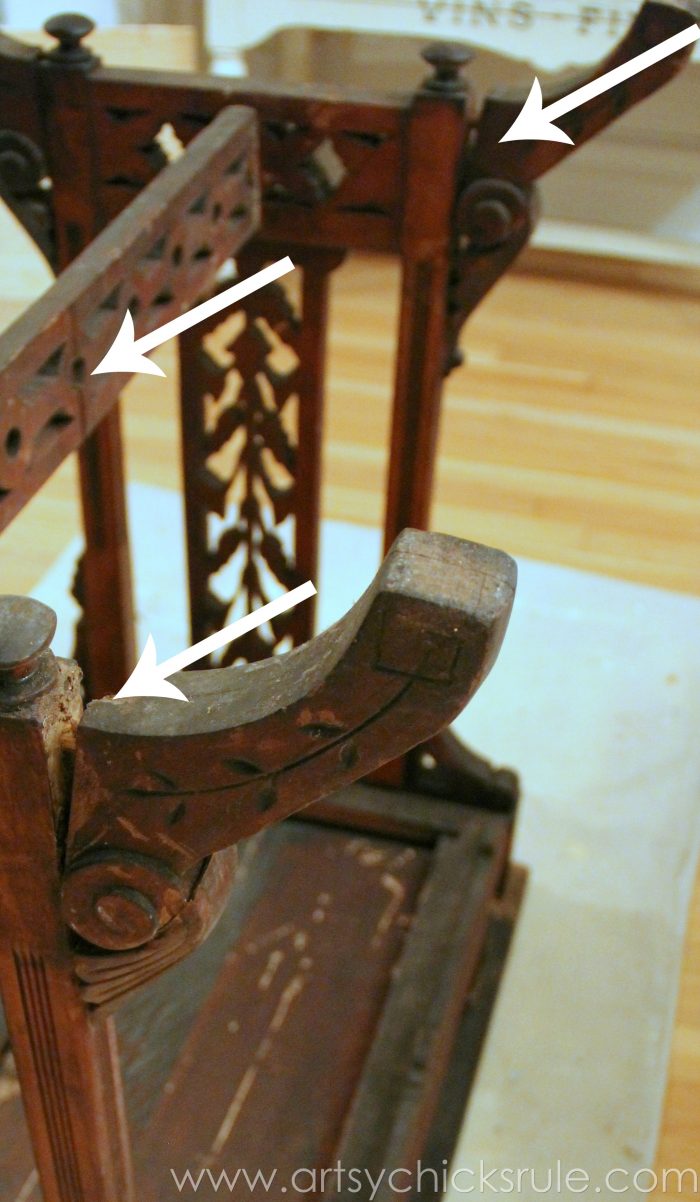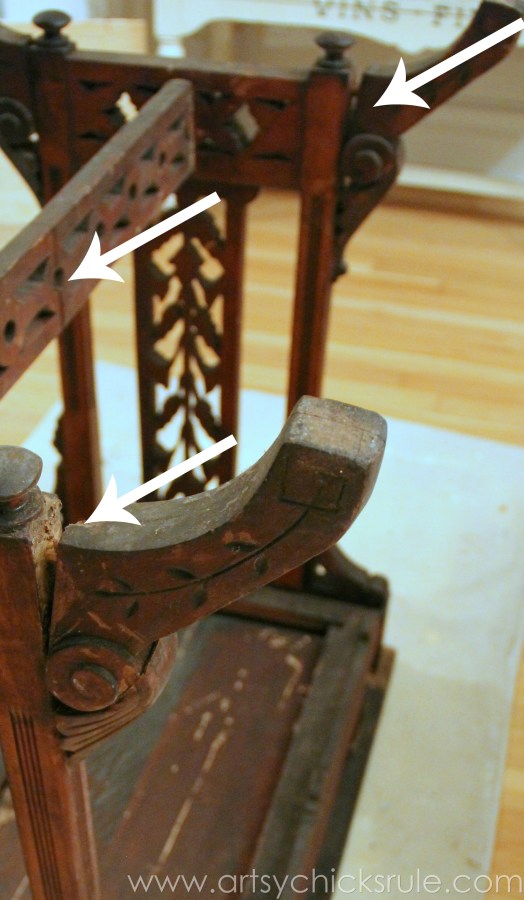 And/or caulked and wood puttied….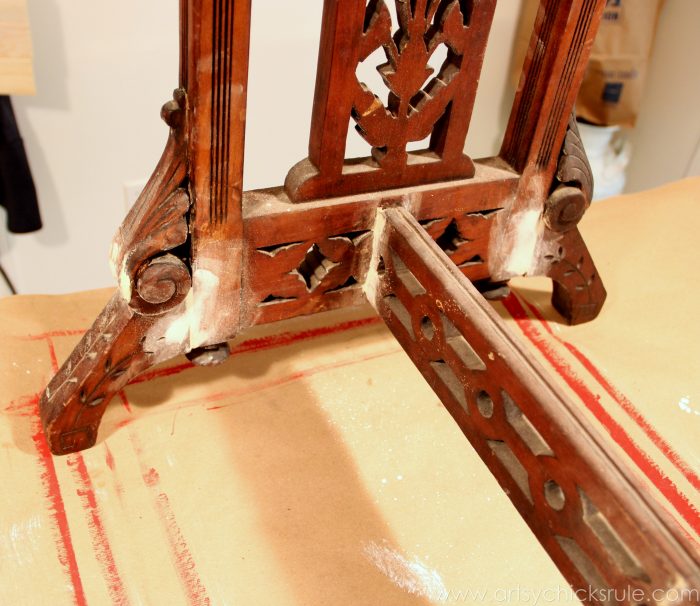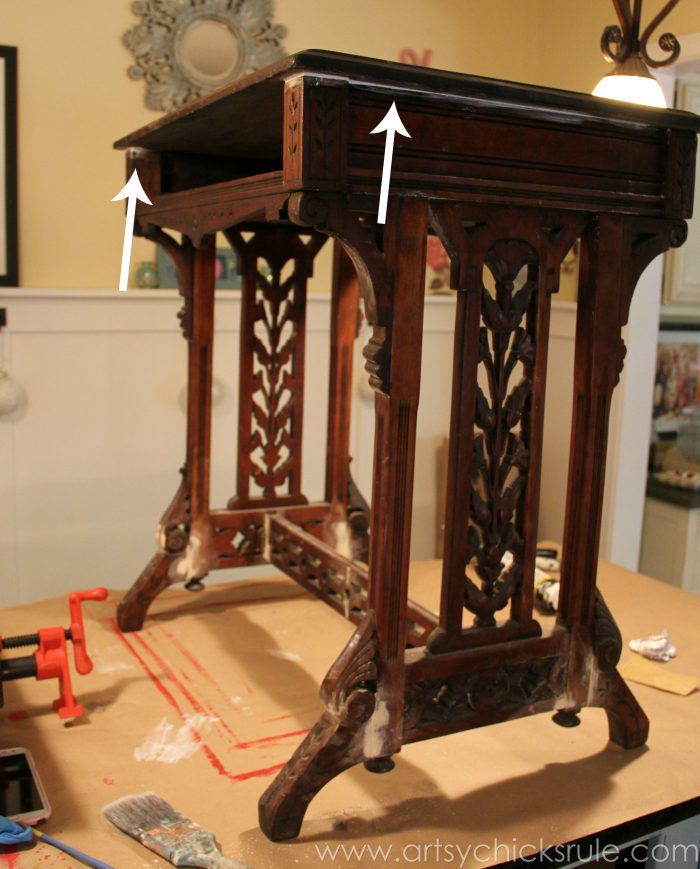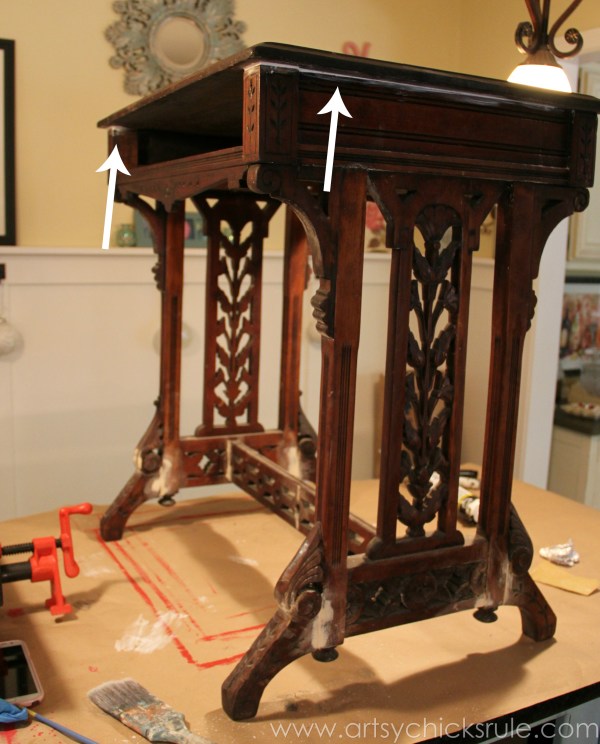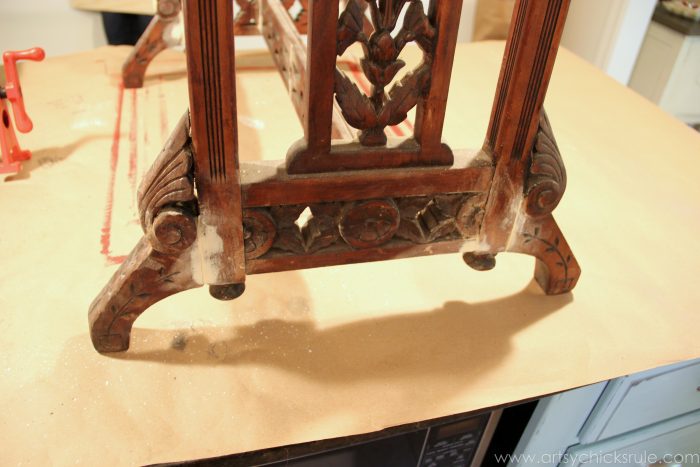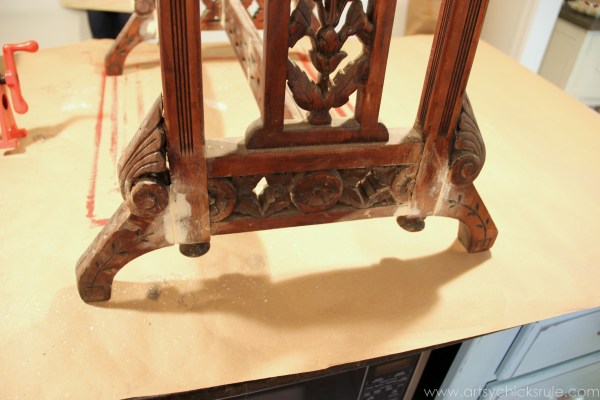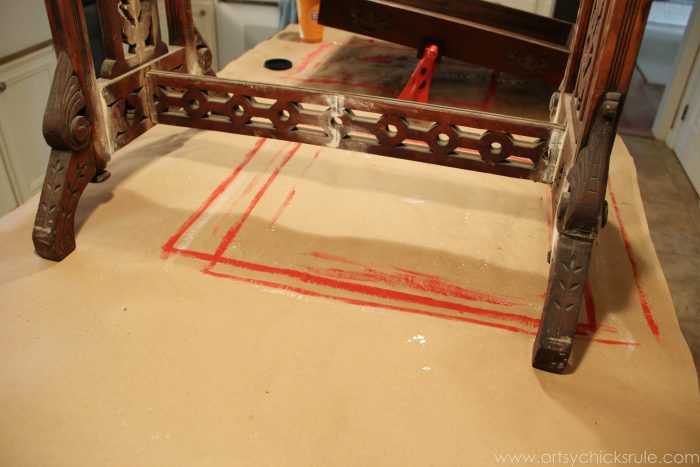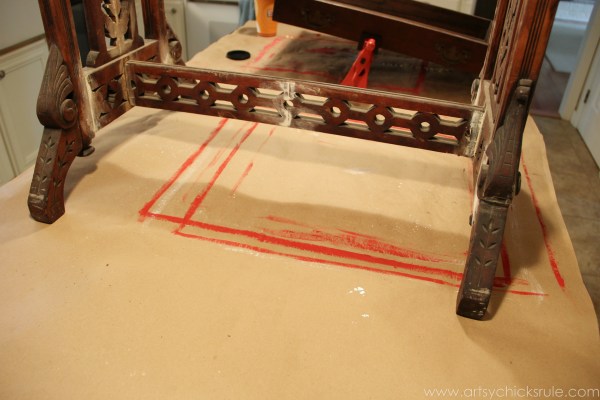 Well, after all that….still wobbly as heck.
So my husband pulled out his Kreg Jig and fixed that problem once and for all…..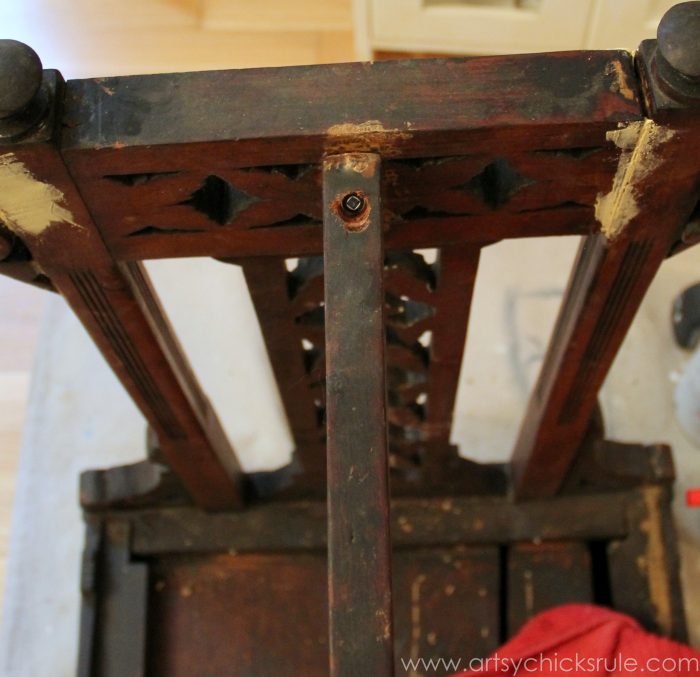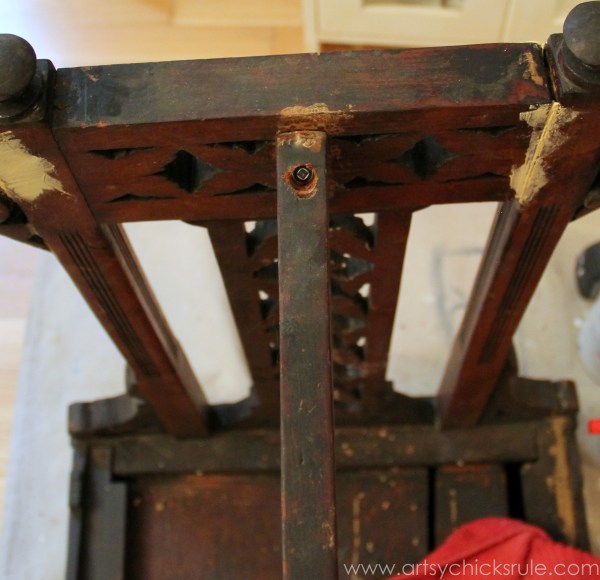 And more screws here….at the top.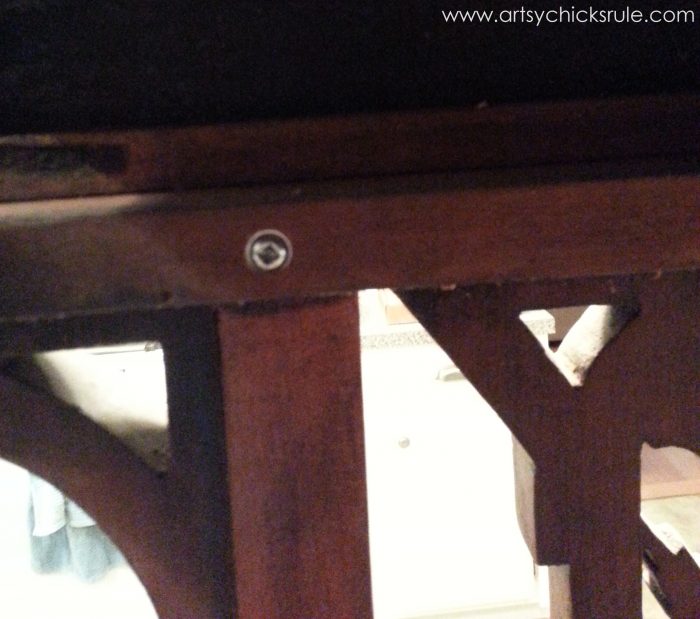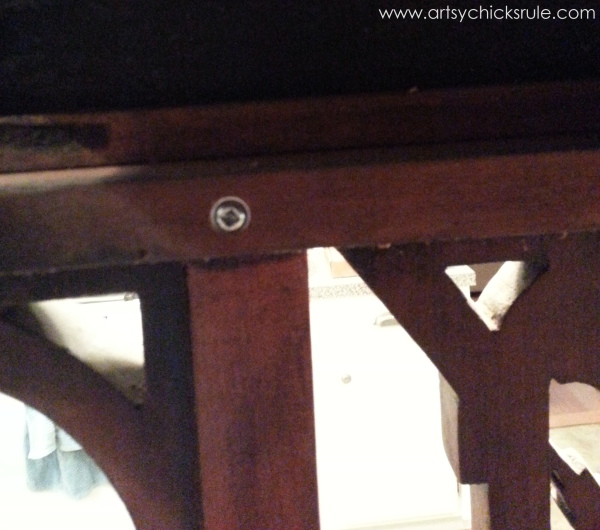 Both sides, top and bottom….NOW it is very sturdy.
The drawer even needed some gluing and clamping. (remember that photo above?)
The gentleman who helped me moved it to my car picked it up and the drawer fell out.
I think it was already split…but that back piece almost fell completely out of the track.
So I glued and clamped that too. (there were two splits, one complete one-the one that fell out the backside- and one partial one)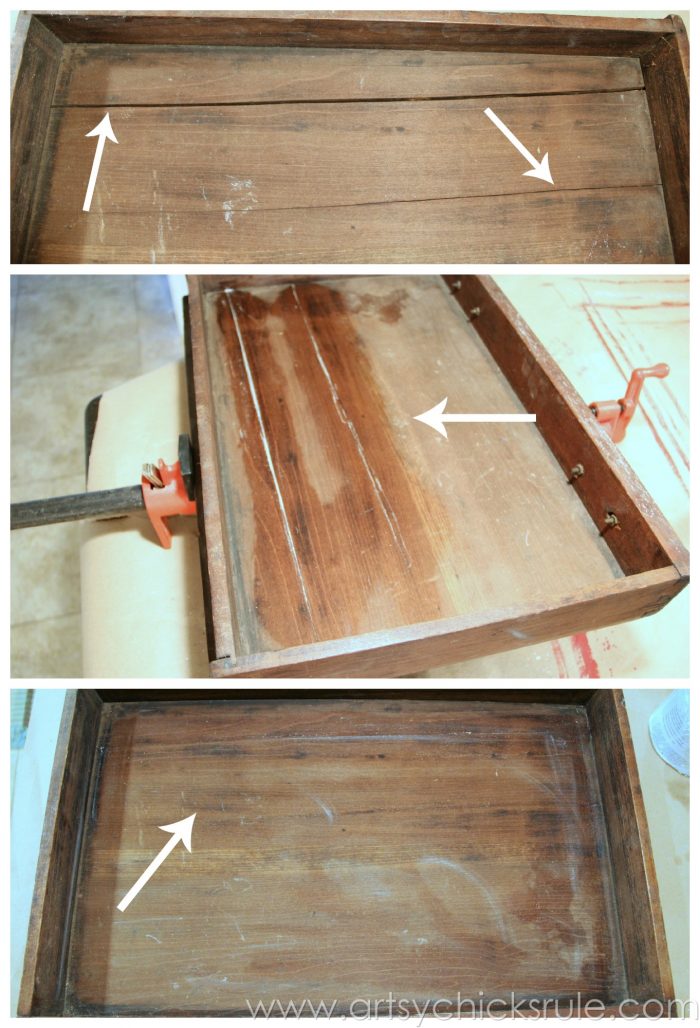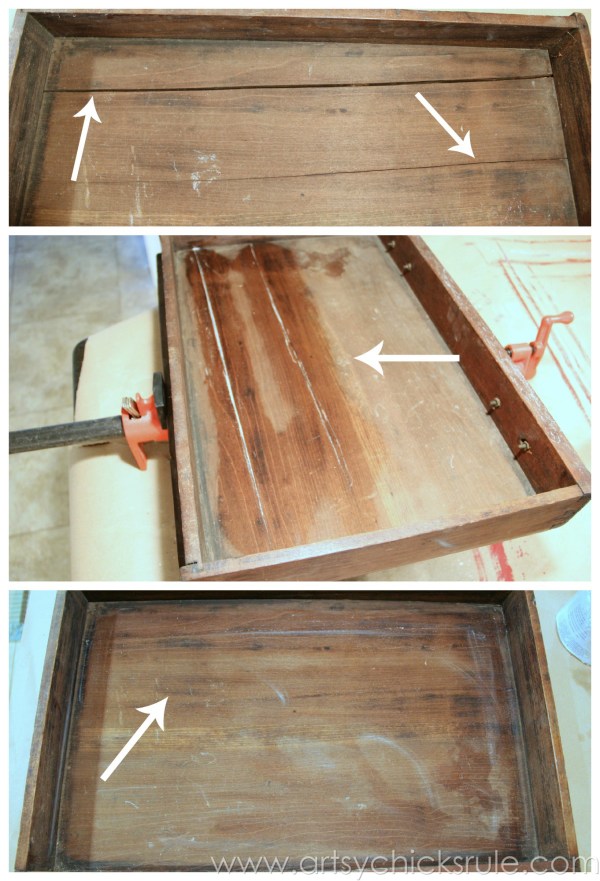 All fixed, good as new! ;)
Cleaned up and painted so you'd never know.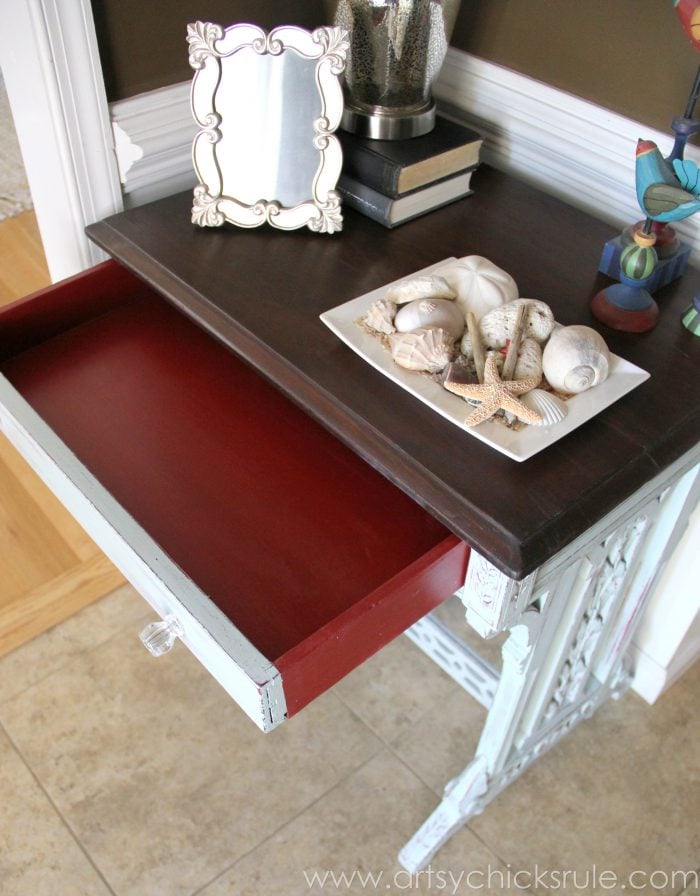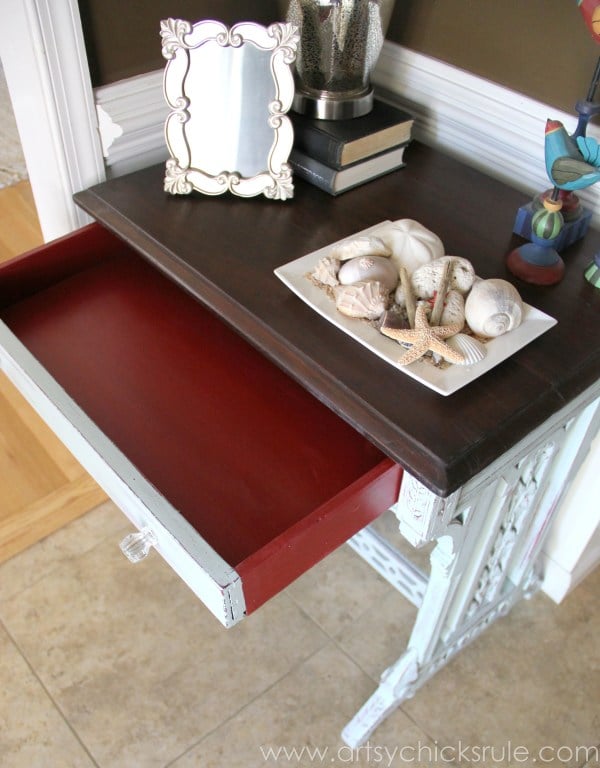 I knew the rest of this needed to be painted with all of that repair work but I really wanted to stain the top.
So I very lightly sanded and applied General Finishes Java Gel Stain. (after cleaning well)
That stuff is the bomb. Really.
I am just loving it. It is SO easy to apply….and with great results.
After that had cured for a few days I applied a coat of General Finishes Gel Topcoat Satin.
Let that dry a day or two, lightly sanded and applied a second coat.
Loving that as well. It's also a delight to apply.
Just rub it on…and it looks fabulous.
Before and lightly sanded.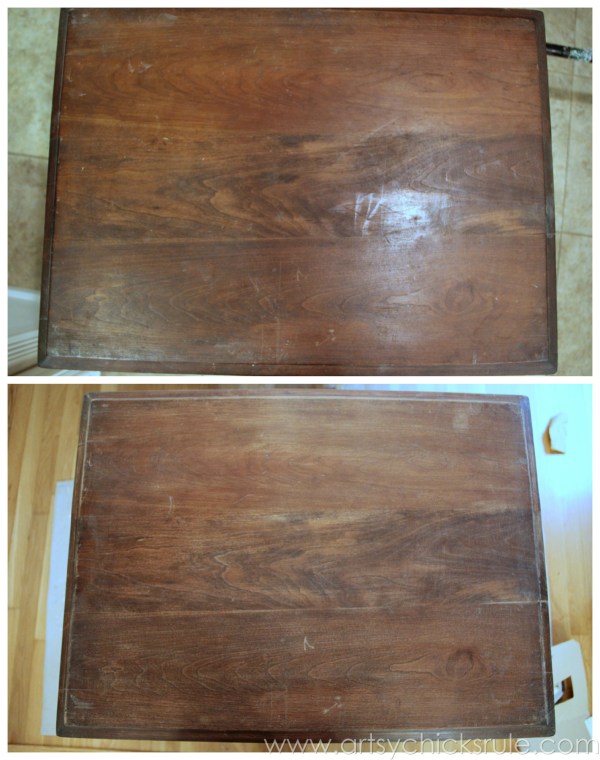 …and done.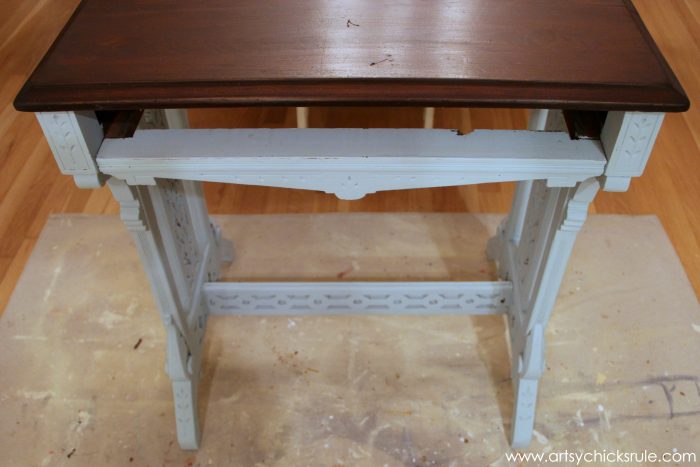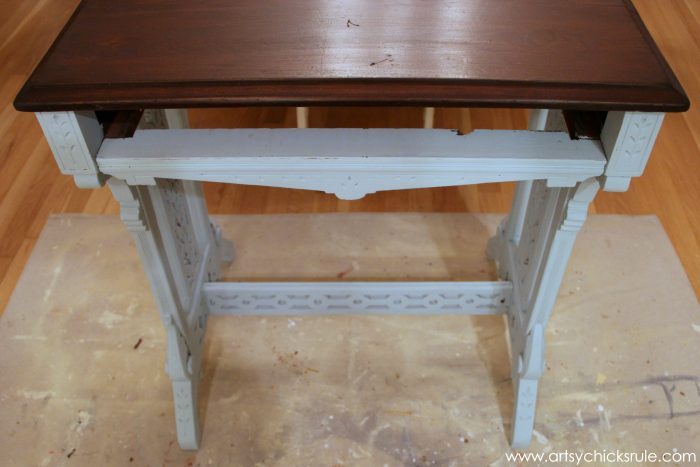 PIN this writing desk makeover to save it for later!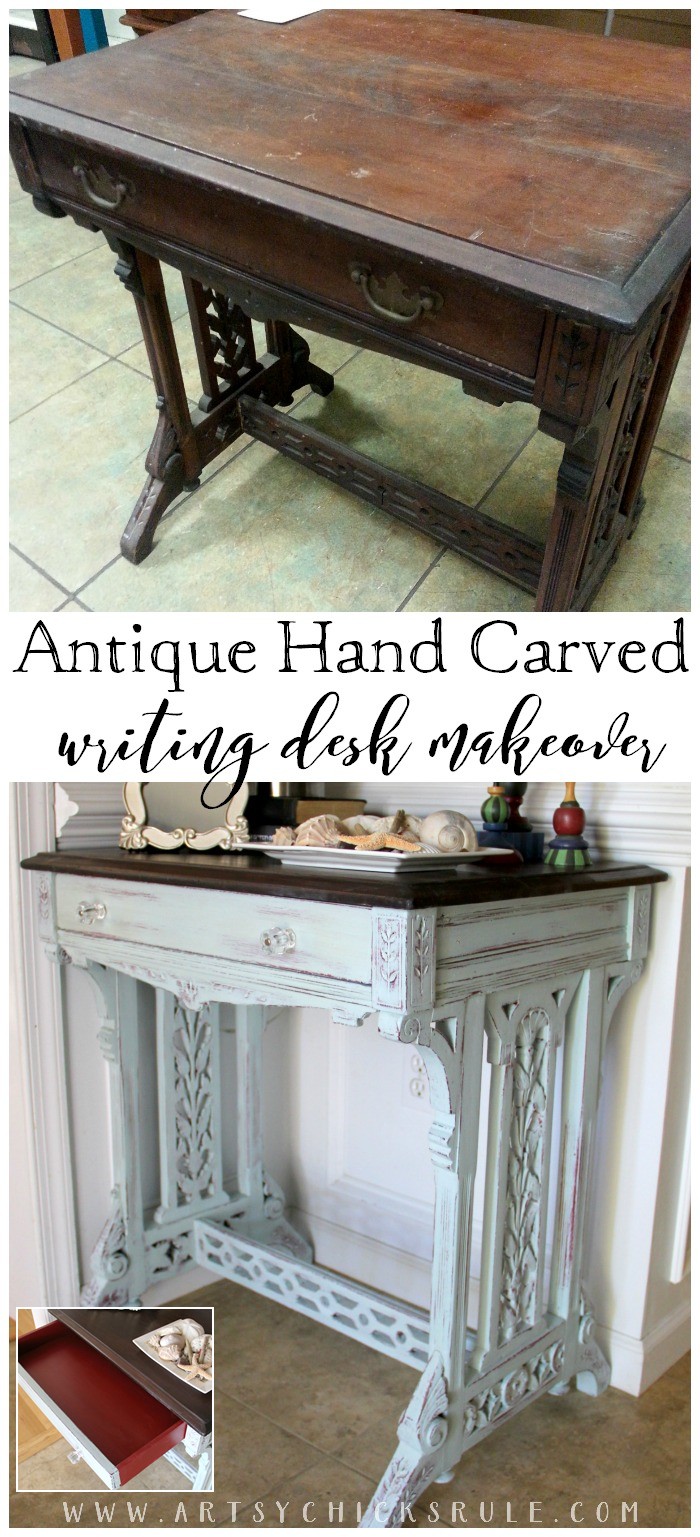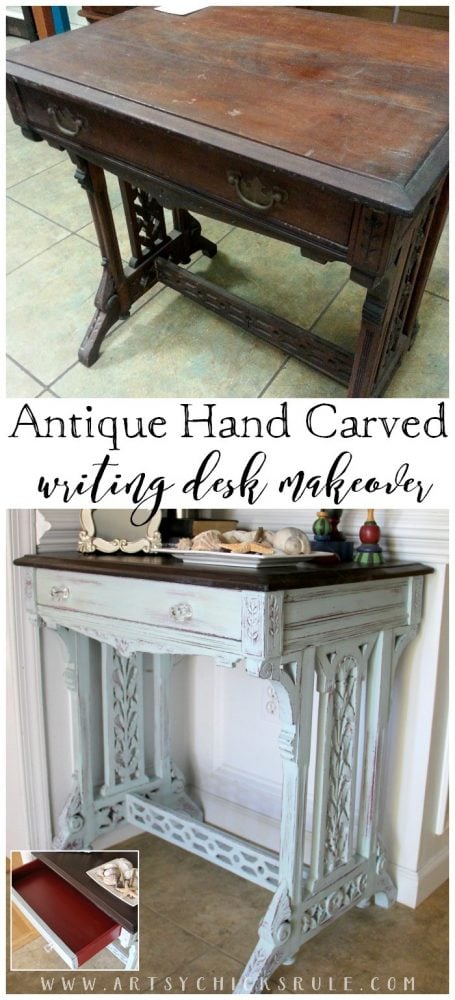 I painted this table with Teal and Red Annie Sloan Chalk Paint.
I didn't use wax to seal, for one, because I think I might have gone a little crazy trying to get into all those crevices.
(I almost did with the paint brush! ;)…as you saw if you read the other post about this table I linked above)
So I decided to use the same sealer I used on my Chalk Painted kitchen cabinets…..Varathane Floor Sealer (in semi-gloss).
I love it and it's held up beautifully on my kitchen cabinets….and it'd be sooo much easier to seal this way.
I know this little table/desk was a ton of work….but she was so worth it!
So much so, that I had originally intended to sell this piece once finished (I am out of room in my home ;) ) but have decided to keep her.
I'll find a permanent place for her…but for now she is here in the foyer.
Check back in next week to see how I transformed these night stands! (it involves fabric! ;) )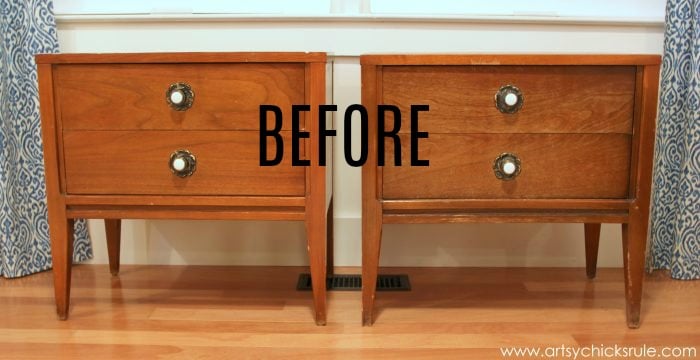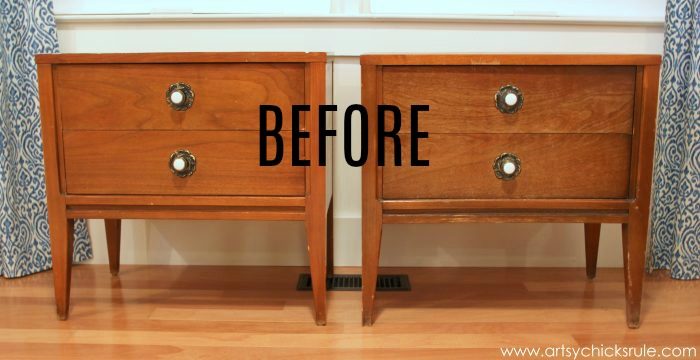 UPDATE!!! See it now, here!!