DIY Secret Santa Gift (Naughty or Nice Stocking Tutorial)
This post may contain affiliate links. Please see disclosures here.
*This post contains affiliate links which are noted by asterisks. See bottom of post or here for full disclosure.
I have such a fun craft/holiday decor to share with you all today.
Some of my blogger friends and I got together to do a DIY Secret Santa gift for each other.
None of us knew what the other was making until we received it in the mail.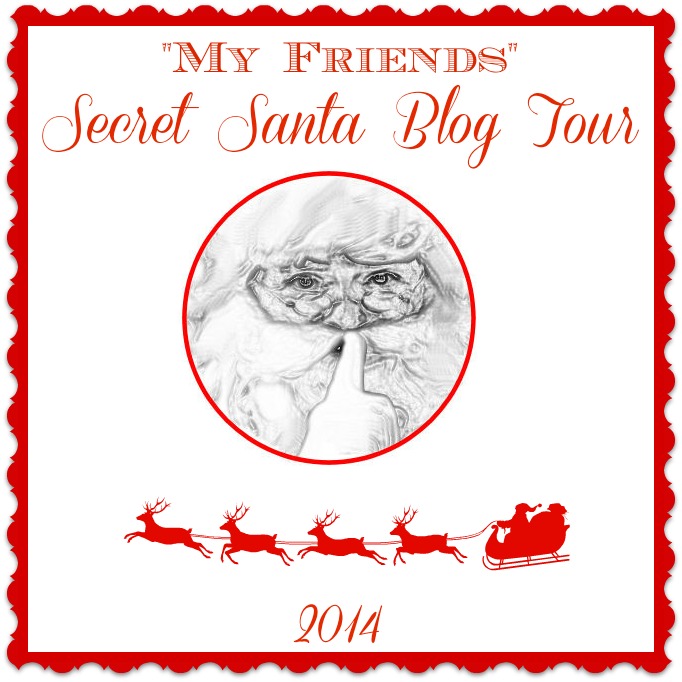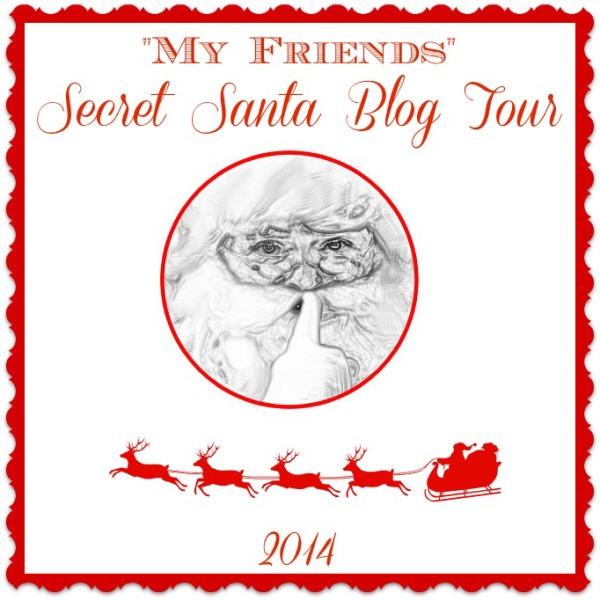 So much fun! :)
I just love things like this. Creating something special for someone else….and receiving something special someone else has created for me.
What I'm getting ready to share with you all was made for Megan over at Rhapsody in Rooms.
So as you can see from the title of this post, I made a "Naughty & Nice" Stocking.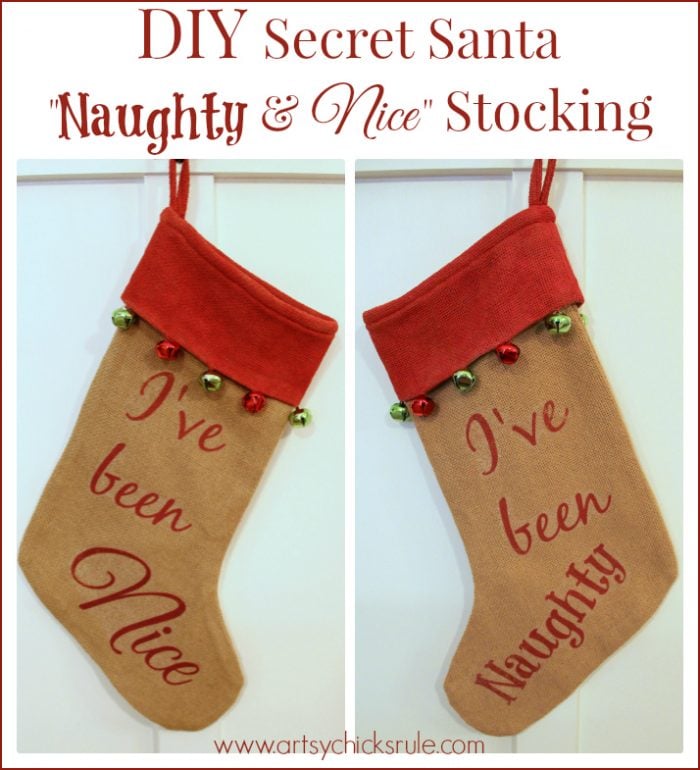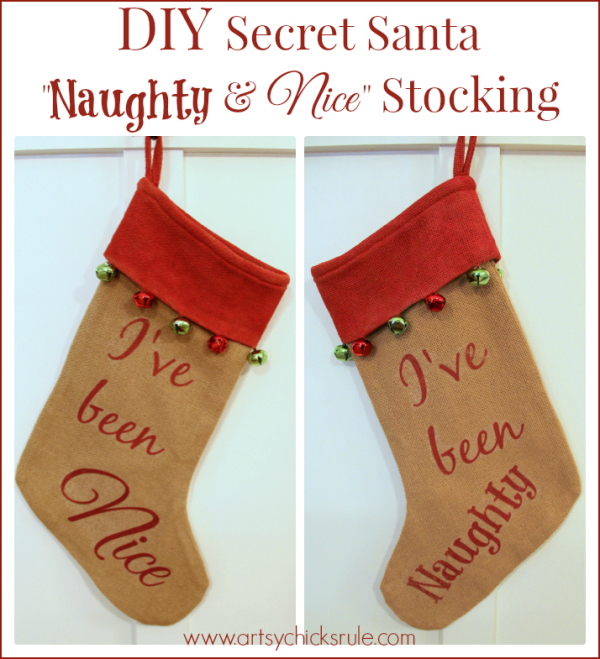 I obviously like this saying… ;)
I used it on a Chalk Painted pillow last year. You can see it here –> "Naughty or Nice Thrifty Pillow Makeover".
I hand painted that one on. For this one, I used *Transfer Artist Paper that you iron on.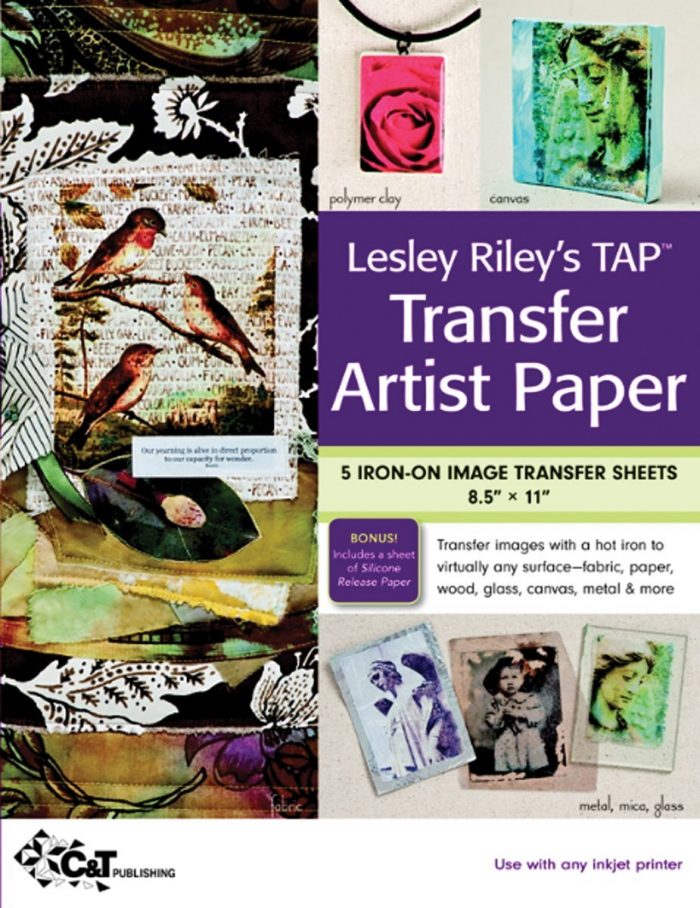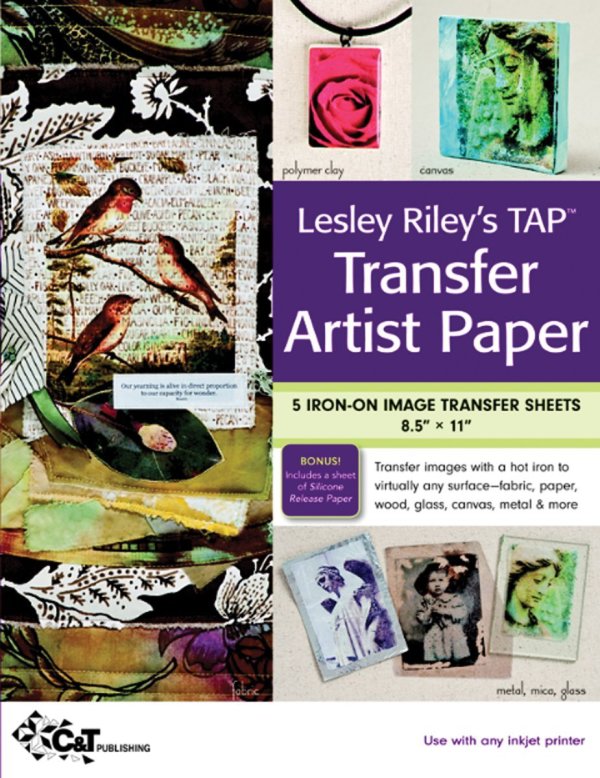 I've used it several times before. It is kind of pricey but it really works great.
I got the stocking from Amazon (and the transfer paper too). If interested in getting the same one you can check here, *Burlap Natural Holiday Christmas Stocking.
It appears to have gone down in price by about $4 since I purchased so now might be the time to grab it up! ;)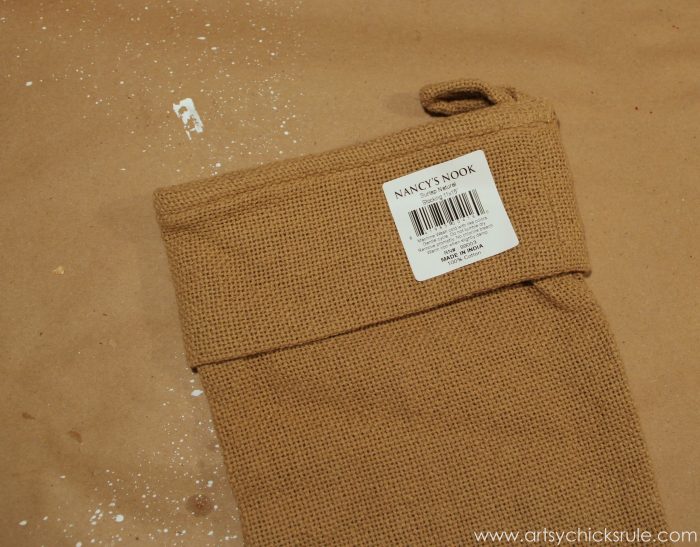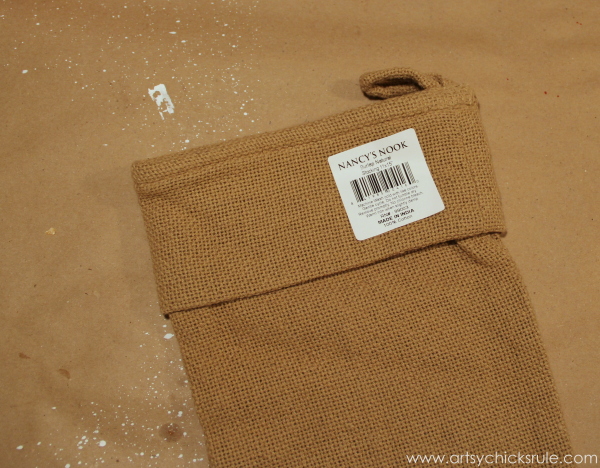 Had to share this sticker. :) "Nancy's Nook"!
I created the wording in Picmonkey and saved them to my computer.
Want the free printables?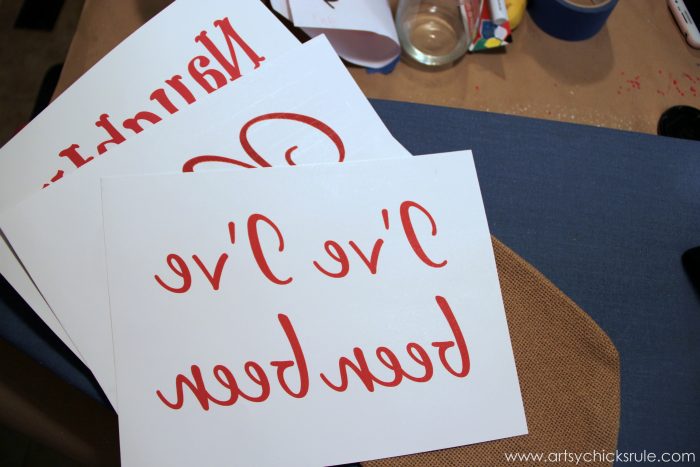 Then I printed them out adjusting the size as needed for the stocking.
(be sure to print in reverse)
I painted the top red first.
I used Annie Sloan Chalk Paint in Emperor's Silk.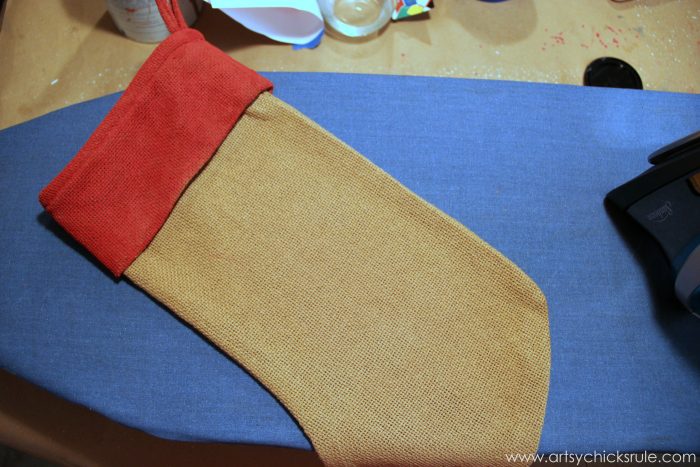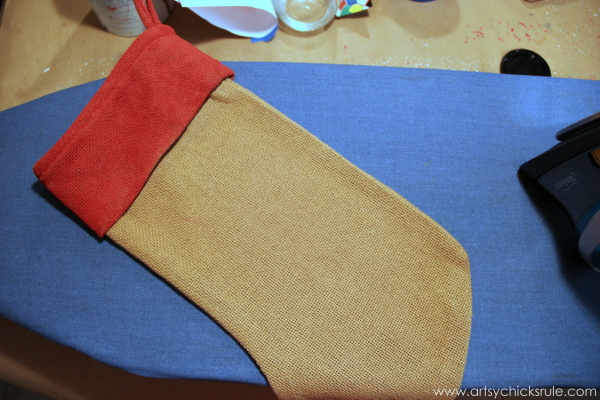 Then cut the words out ….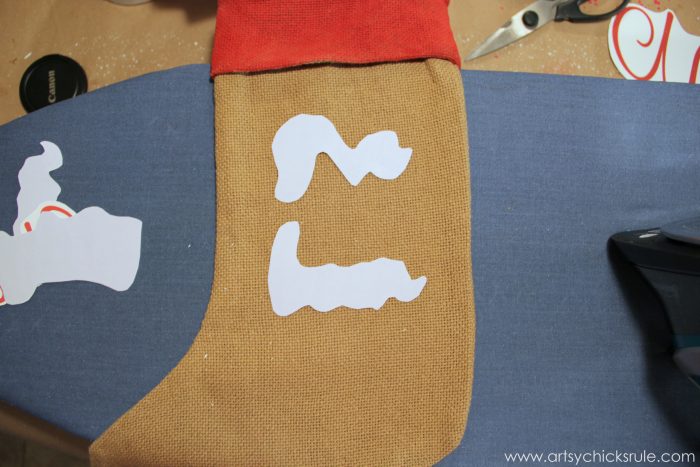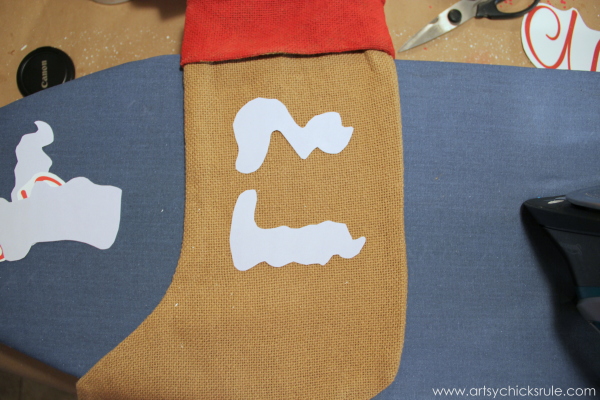 Position the transfers where you want them to be on the stocking.
Then iron as directed.
I cut each word out and placed by eye. Ironing for each.
After doing each side…I added bells to the top.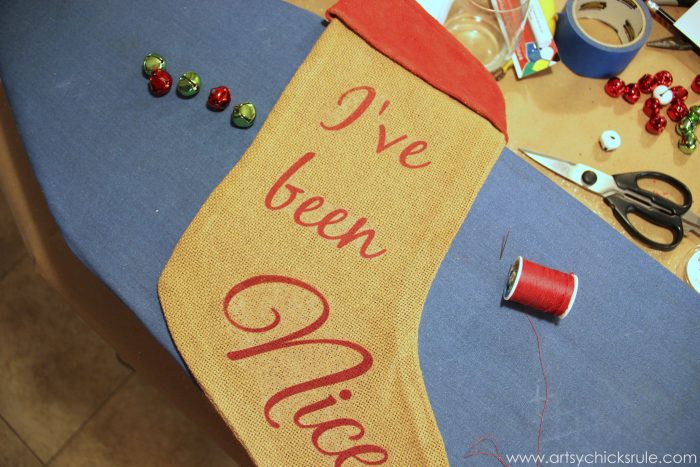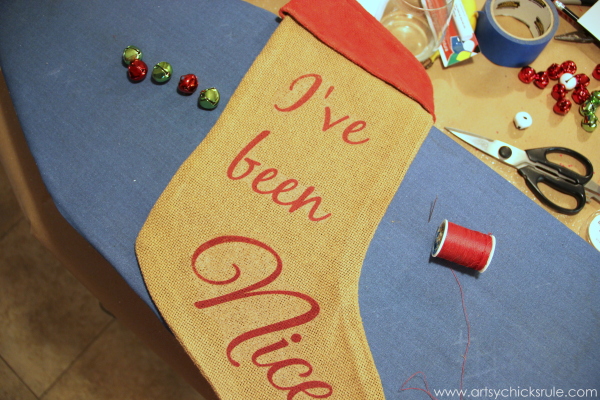 Yea, I know, I don't sew. Well, I do, I just don't use a machine.
Needle and thread…I can do. I still don't like it but sometimes it is necessary. :)
And I really wanted this stocking to have jingle bells.
You can see them better here…and where I painted (and stopped painting) the top.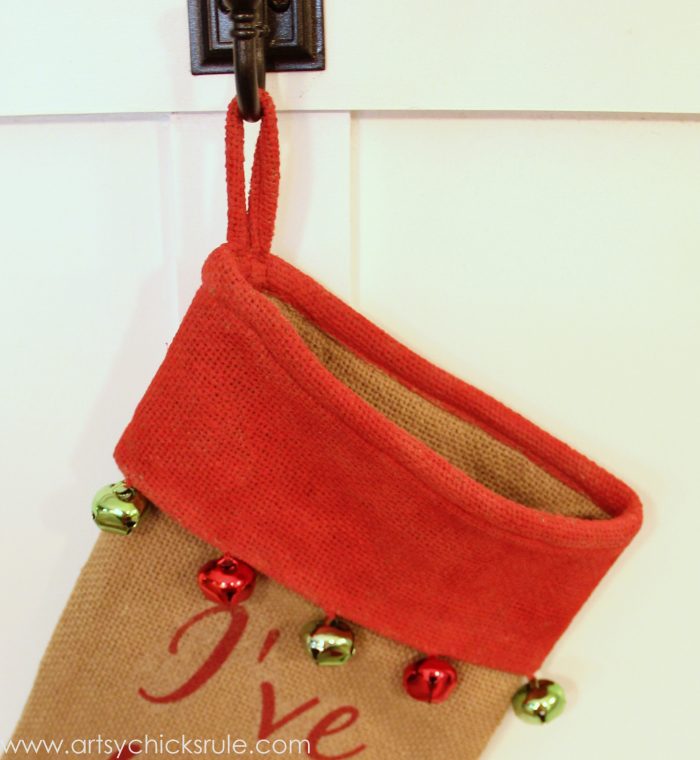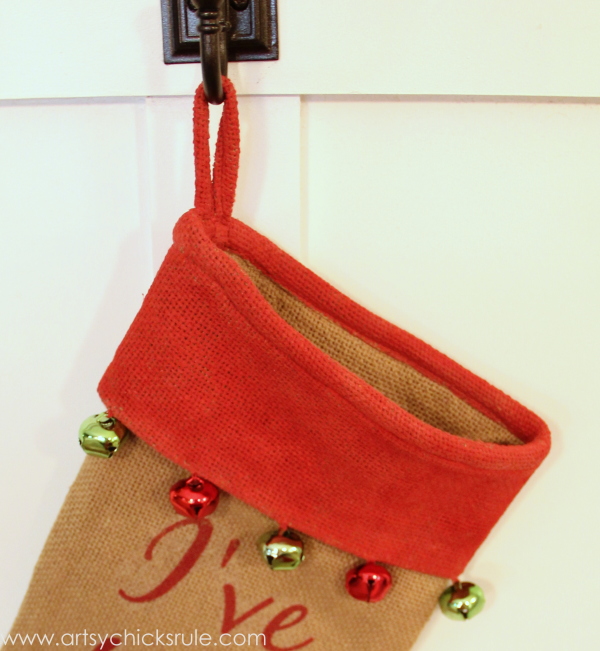 And each side….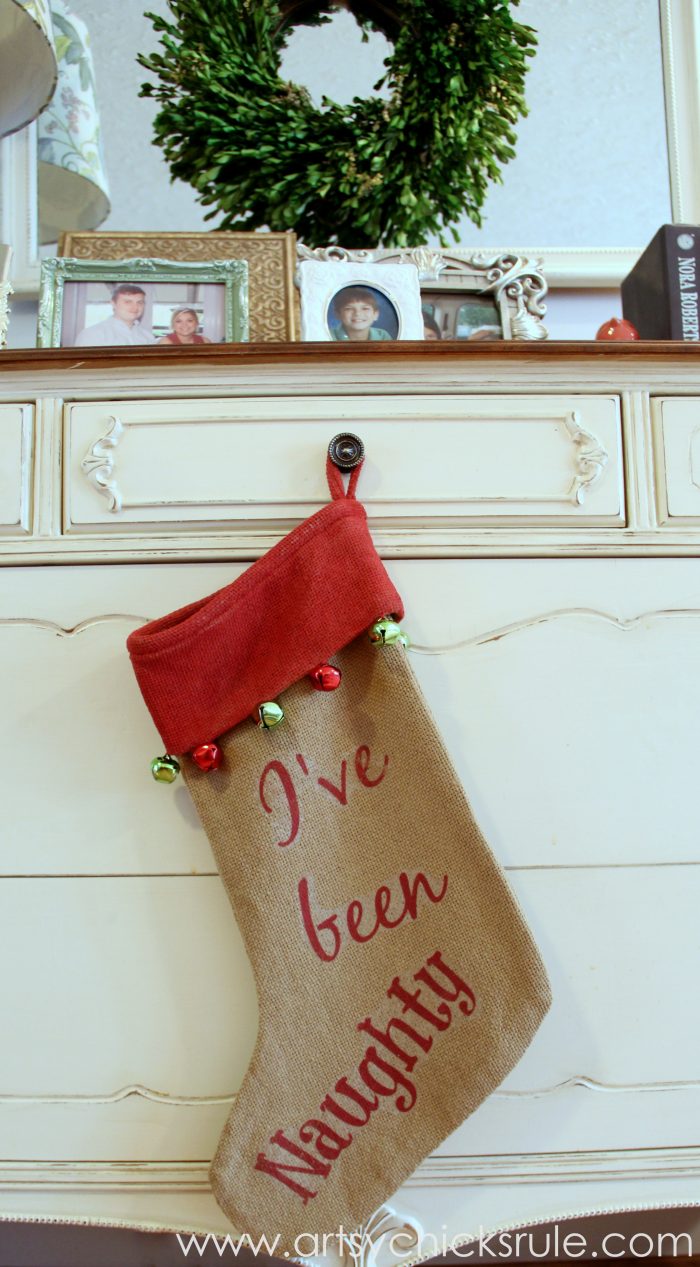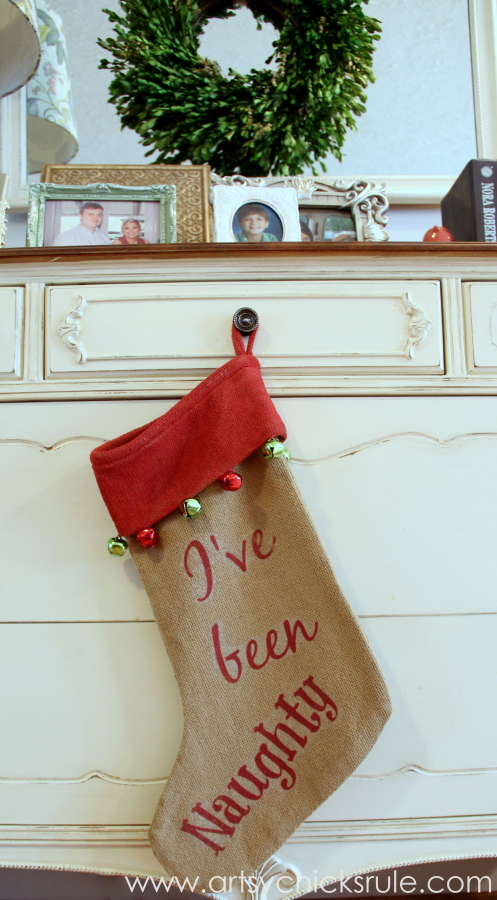 I would have hung this on my mantel but I didn't have it decorated yet.
So the dresser (and the kitchen wall hooks) has to do.
You get the idea.
And you will get to see it in Megan's home. I am pretty sure she will have it on the "nice" side! :)
No stocking is complete without a little goody or two inside….so I sent chocolate.
Can never go wrong with CHOCOLATE…right??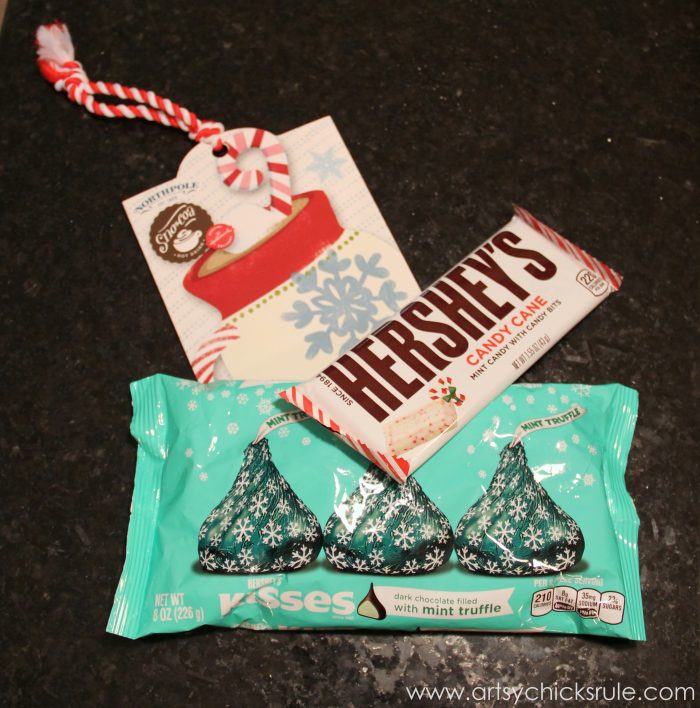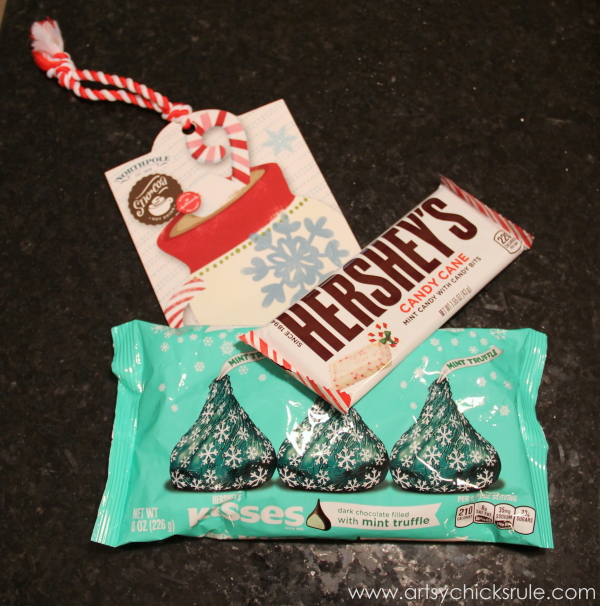 Now it's time for the gift I received.
Mine came from Jeanette over at Country Design Style.
And look how nicely it came packaged…..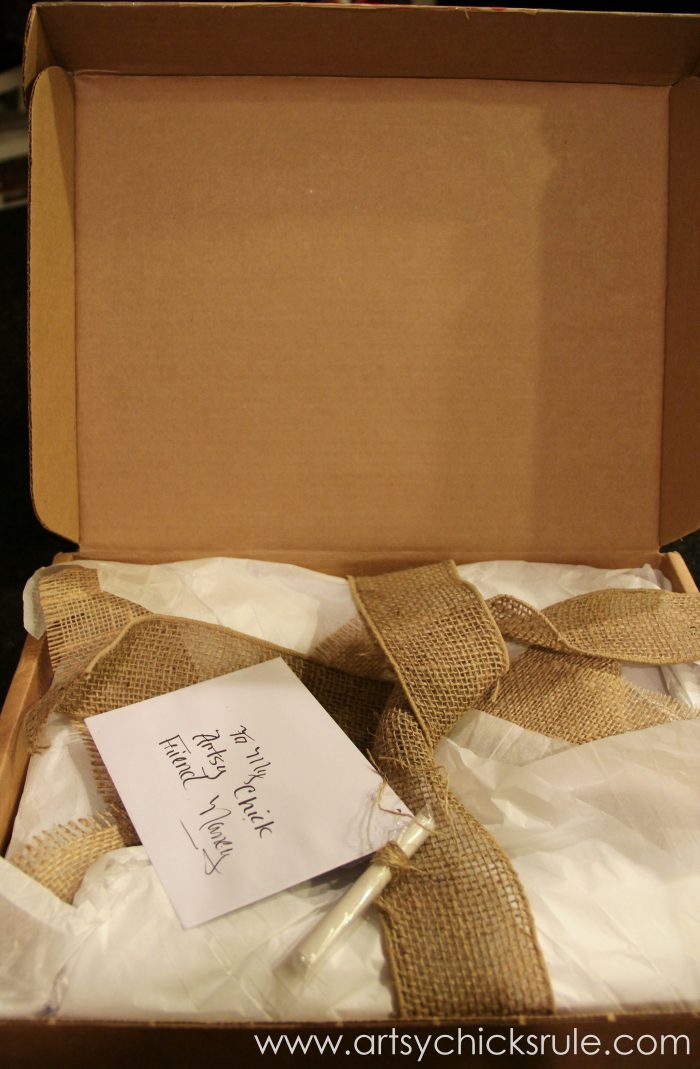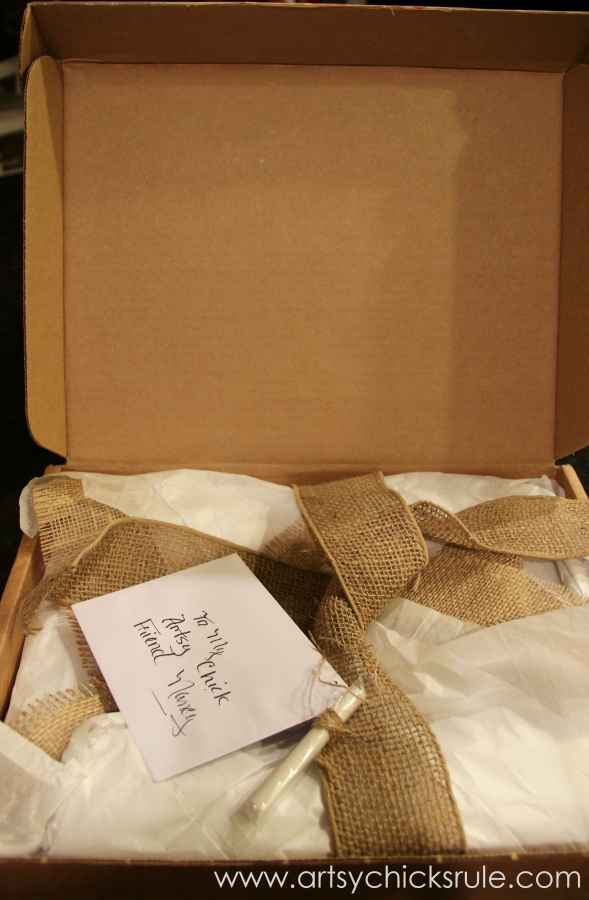 I just love what the card said. (inside and out)
And here is what I found inside…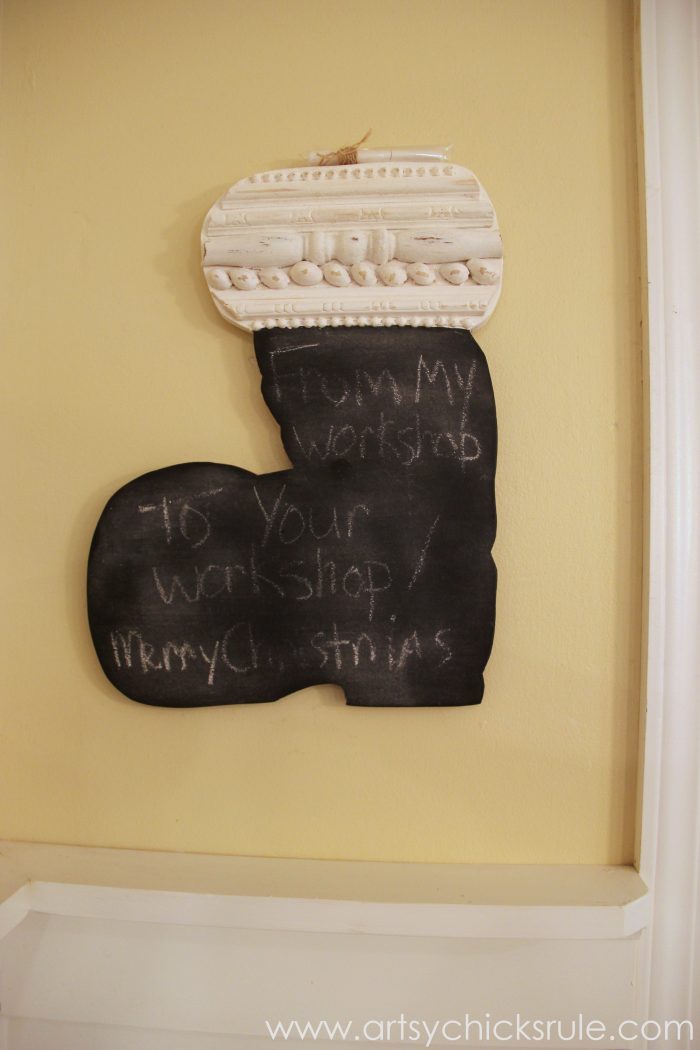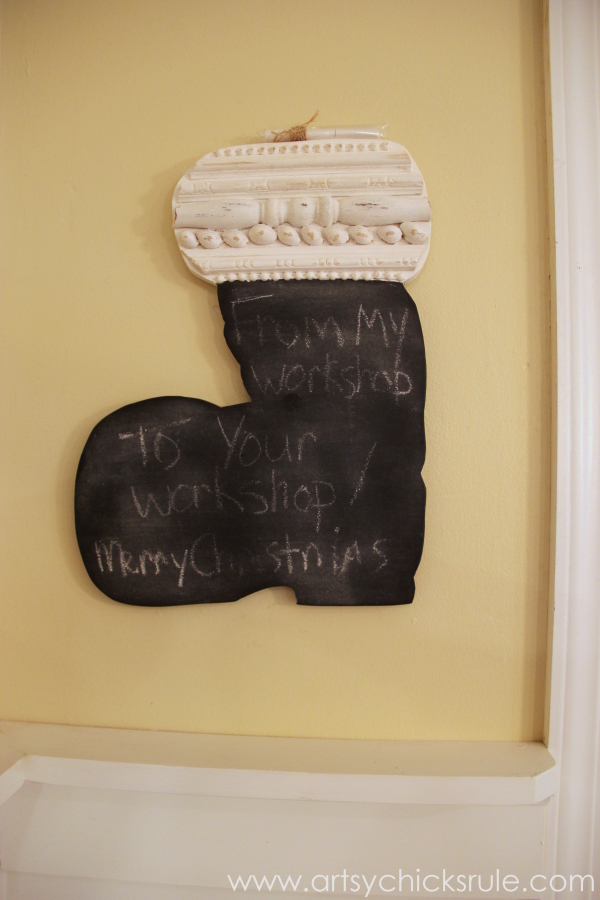 How cute is that???
Santa boot chalkboard…with a special message from Jeanette to me. :)
I love it!!
Jeanette always creates the most unique and creative projects/crafts/decor. And I'm a unique, eclectic, whimsical kinda girl!
So this gift is right up my alley. Thank you Jeanette!!!! xoxo
I haven't decided if it will stay here or get moved somewhere else. (it's in the kitchen now)
I'm still decorating and moving things all over and around.
But for now, this cuteness is right here where all can see.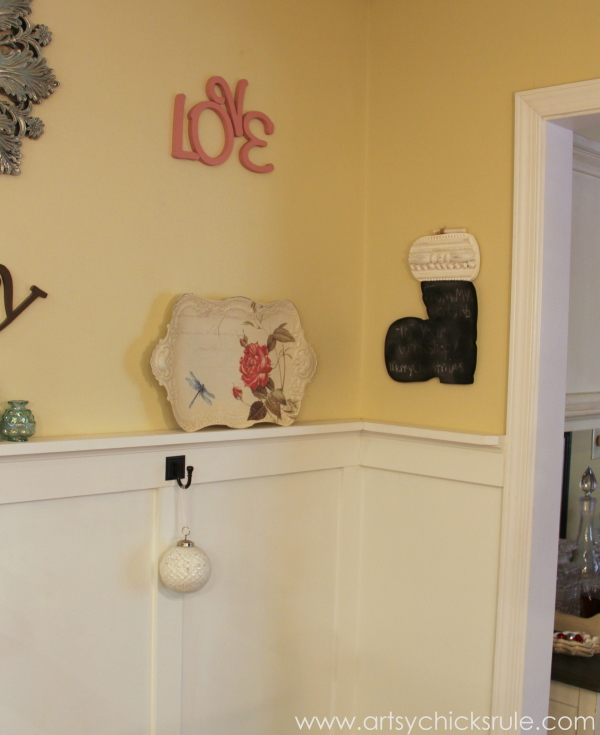 It's fun & whimsical….just like me!! And the wall in my kitchen. ;)
So it might just stay right there.
Be sure to take a look at all the rest of the Secret Santa gifts in the tour links below.
I know I can't wait to go through them all to see the creative goodness everyone has come up with!
Also, be sure to check back here on Friday (Black Friday) to see something I made with my Silhouette AND see some of the great Black Friday deals they've got going on! :)
Enjoy and Happy Thanksgiving!!