How to Make an Antique Mirror Tutorial (and Christmas sign!!)
This post may contain affiliate links. Please see disclosures here.
Ever wondered how to get that cool "antiqued" mirror look ….without having to actually find an old, antique mirror?
Well, today I'm going to share with you a DIY aged, antique mirror tutorial.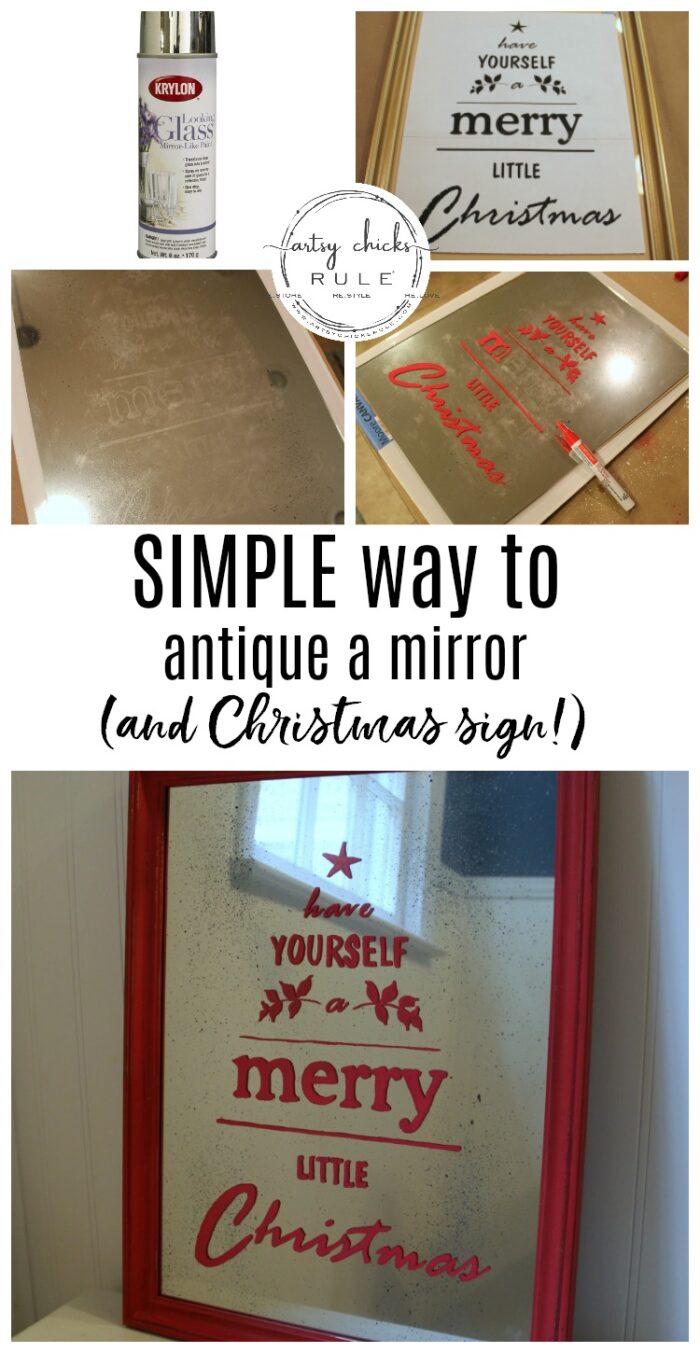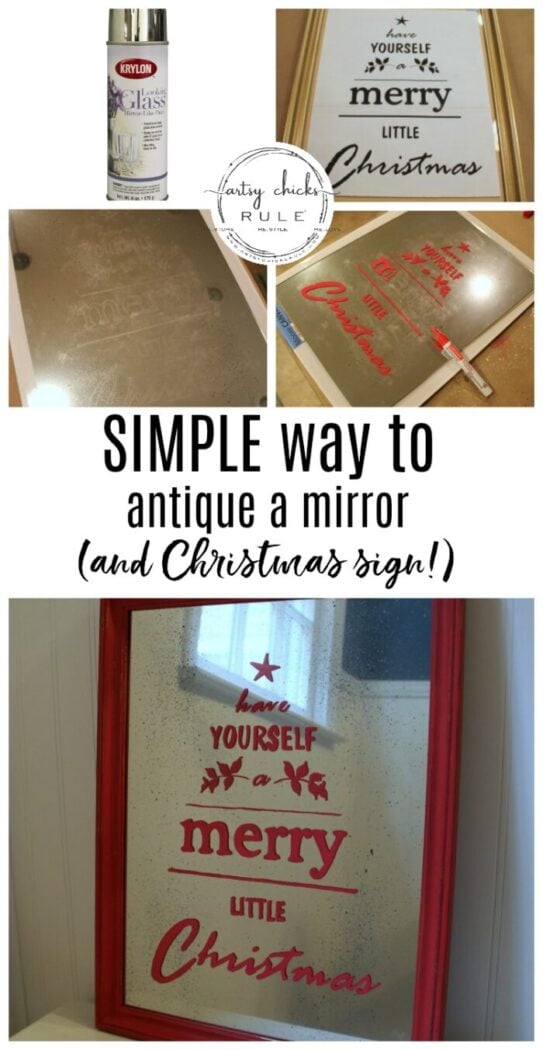 AND it's so simple and easy you'll be wanting to make one yourself!!
Here's what inspired me to make it…Pottery Barn's sign, here.
And with a $3.98 thrift store glassed frame, $7.99 Looking Glass spray ( of which I still have plenty leftover), I'd say I saved a ton.
Not to mention, this sign is no longer available on the Pottery Barn website.
Here's the antique mirror tutorial (in all it's crazy simplicity!)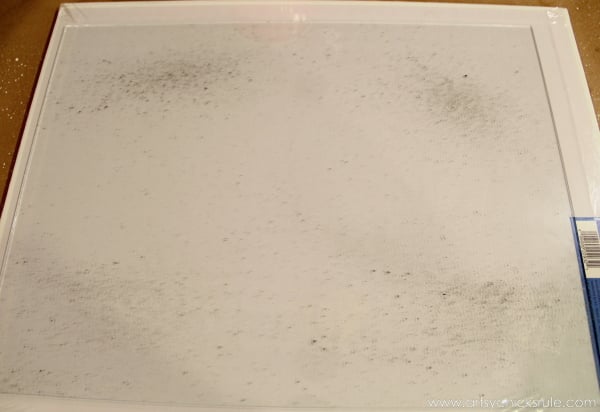 I know, it doesn't look like much.
But when I went searching for "how to's" for this project, I wasn't thrilled with the results.
Muriatic acid? No thanks.
That's all I could find.
So I came up with my own, less toxic, way to create the look.
I took the glass out of the frame and mixed a bit of Graphite (black) Chalk Paint® and water. (make it watery-ish)
Then I took a small paintbrush and filled it with the watery paint mixture and "spritzed" the glass with it.
(basically, run your nail over the bristles while pointed towards the glass)
I did that until I thought it was "enough".
Then once that was dry I started spraying thin coats of this over top of it.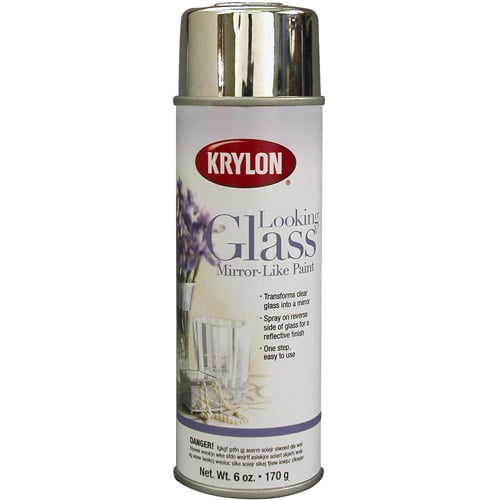 *Looking Glass Mirror Spray Paint. I would look for it locally but it is sometimes hard to find. I did find mine locally on my most recent purchase.
If you can't find locally, Amazon does sell it.
I've made a mirror before with it…you can see it HERE.
It's really awesome stuff!
It also makes really pretty "mercury glass" too.
It took several passes to get it fully "mirrored". Just be patient and take your time here.
Isn't this the easiest antique mirror tutorial ever? Yep!
Once done, I transferred the graphic.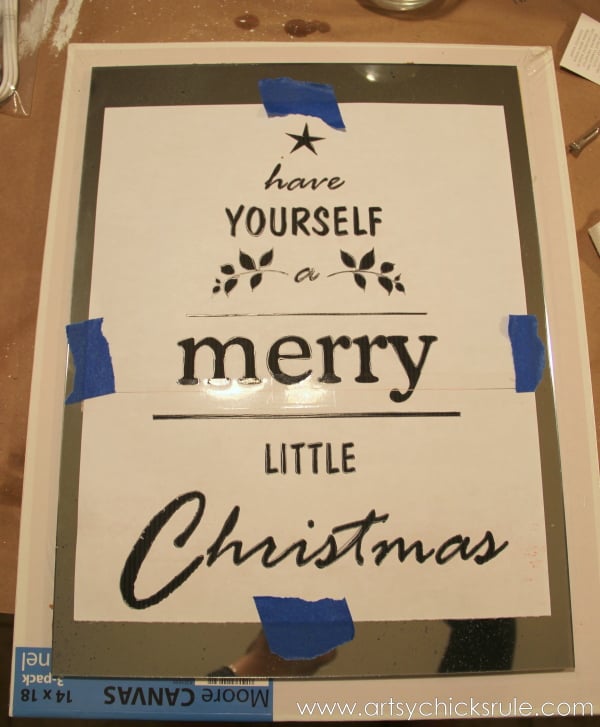 Please tape it down! You do not want it moving.
Trace over it with a pencil and voila…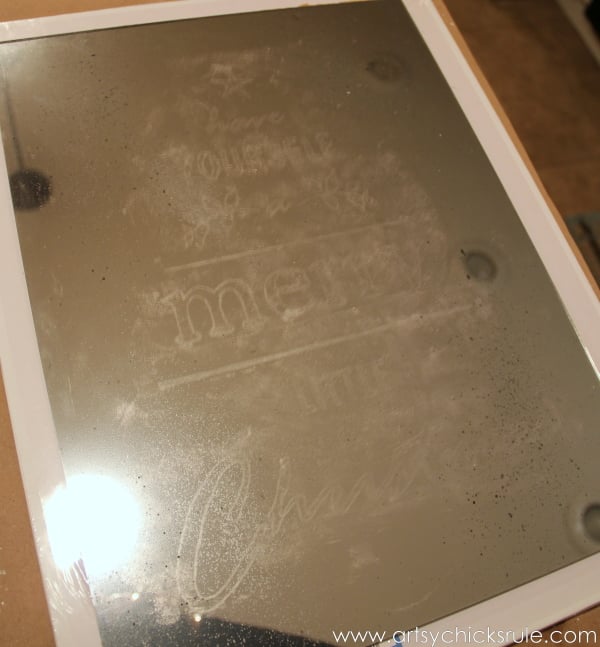 Since this was a mirror I was transferring onto, I used the "chalk transfer" method as I used in this post here–> "Thrifty Tray Turned Coastal Chalk Art"
It's very faint but visible enough to "paint in the lines".
I decided to try a paint pen for this project. It's water-resistant but removes with alcohol.
Which basically means it's sort of temporary if I want it to be.
I don't normally do that…it feels wishy-washy to me. ;)
But I wanted to try it out.
I didn't love it.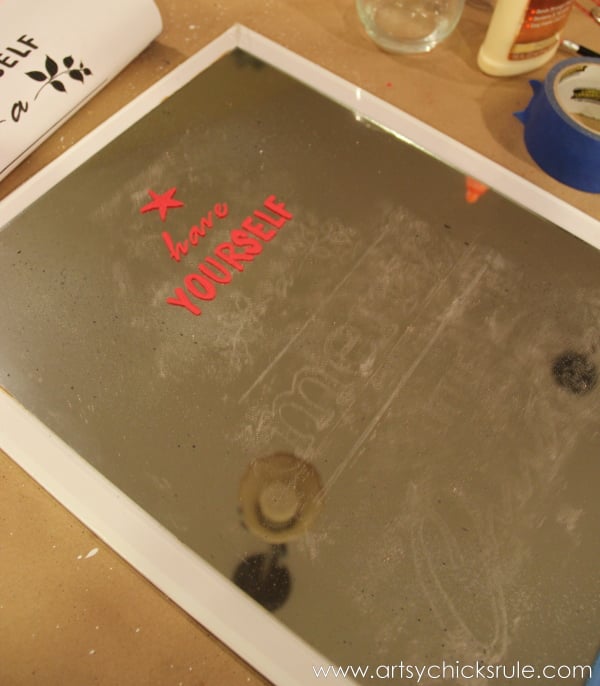 What I did love was how easy it is to paint it in verses painting with a small brush.
I am guessing the problem lies with the shiny glass surface more than with the pen itself.
I've used *Chalk Ink Pen with great luck. I'm thinking this paint pen, on a more porous surface, would be brilliant and much loved.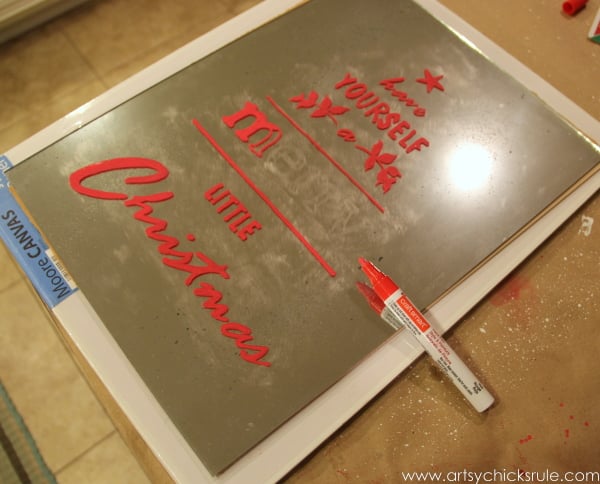 Quick and easy! That is definitely true.
They also have oil-based paint pens…but the "to be used with adequate ventilation" kept me away.
I didn't want to breathe that the whole time I was coloring it in.
The less chemical exposure, the better.
(and yes, I spray paint quickly outside, while holding my breath, and then run back inside… I know I am a sight to behold! )
Since this was an antique mirror I wanted the frame to look antique as well.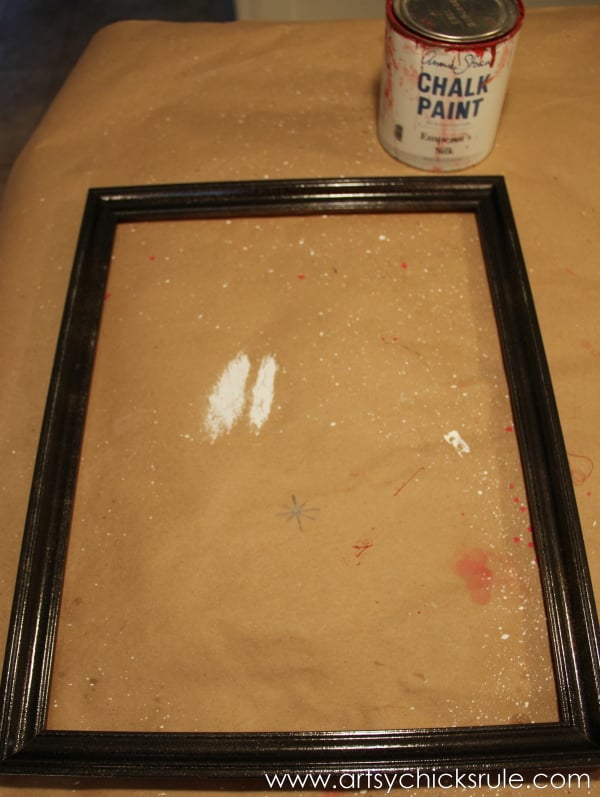 It started out gold but then I sprayed it with Oil Rubbed Bronze (black would work too).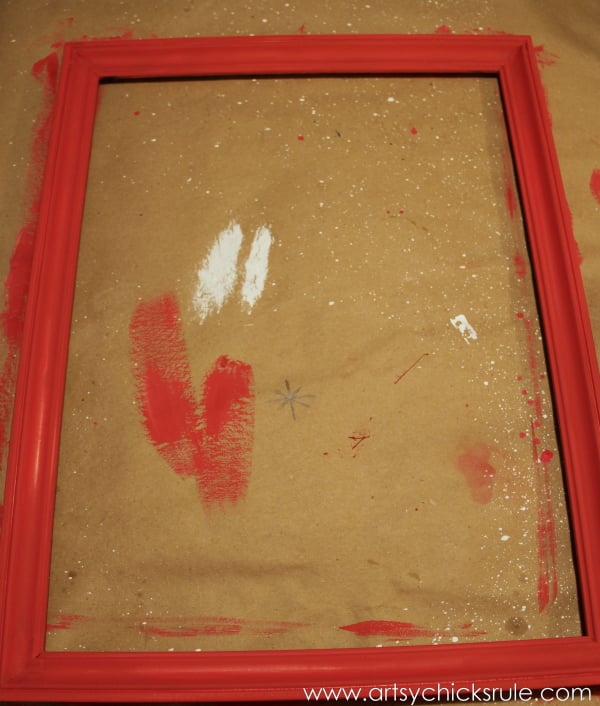 And since the red color on the pen was so bright…I decided to mix a little white into my Emperor's Silk Chalk Paint to lighten it up a bit to match. (and wow, it ended up being a perfect match!)
After that was dry, I took a wet cloth and rubbed through all over to reveal the two underneath layers.
Waxed and done.
Can you believe this used to be clear glass?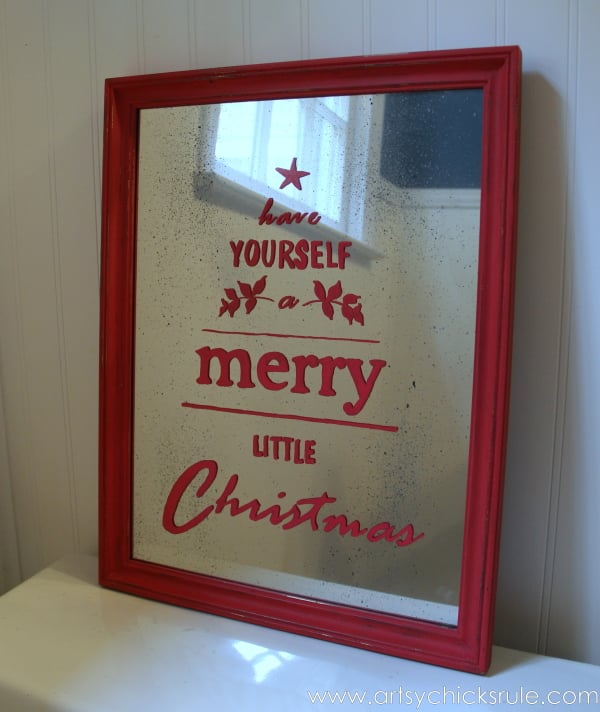 Isn't this antique mirror tutorial and technique the coolest?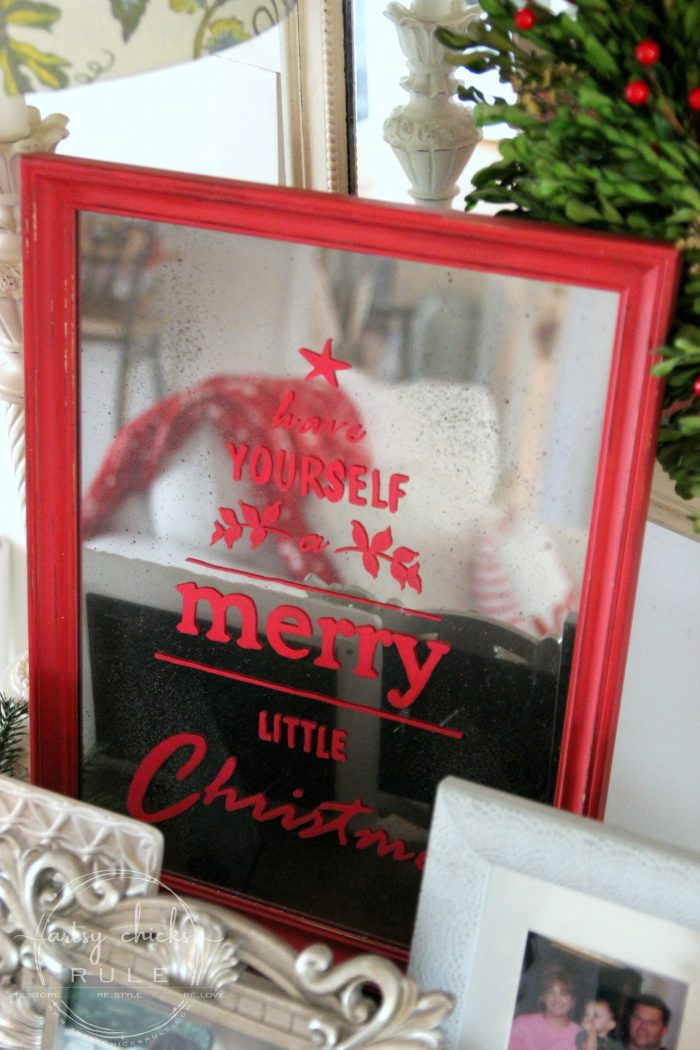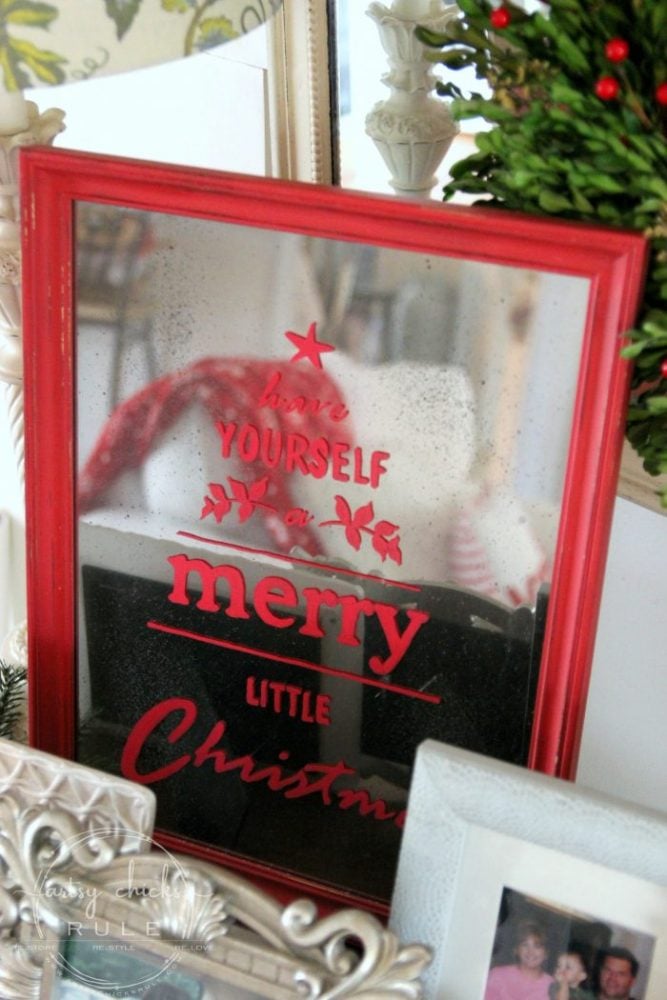 I think so!! I was thrilled that my vision panned out. It doesn't always.
It actually turned out exactly like I was hoping.
LOVE when that happens.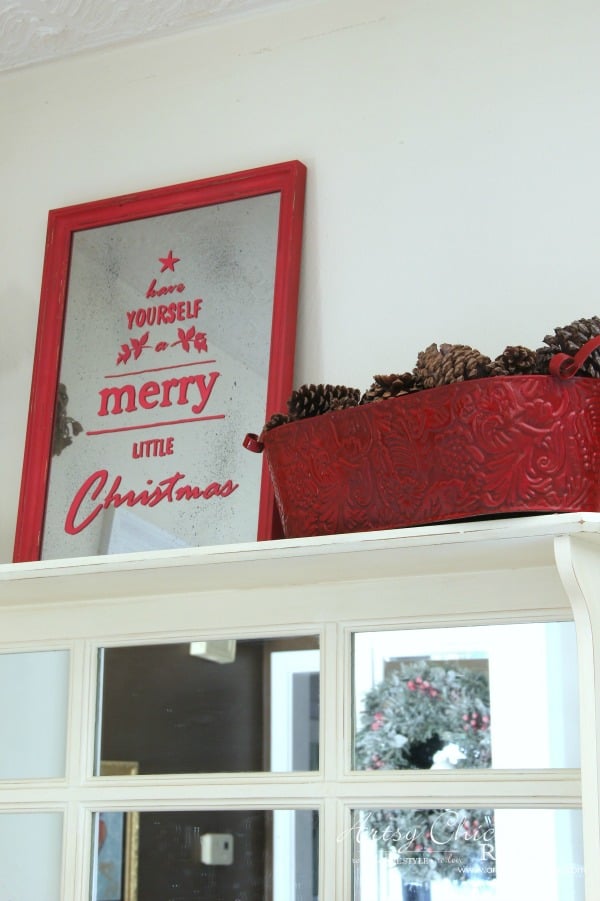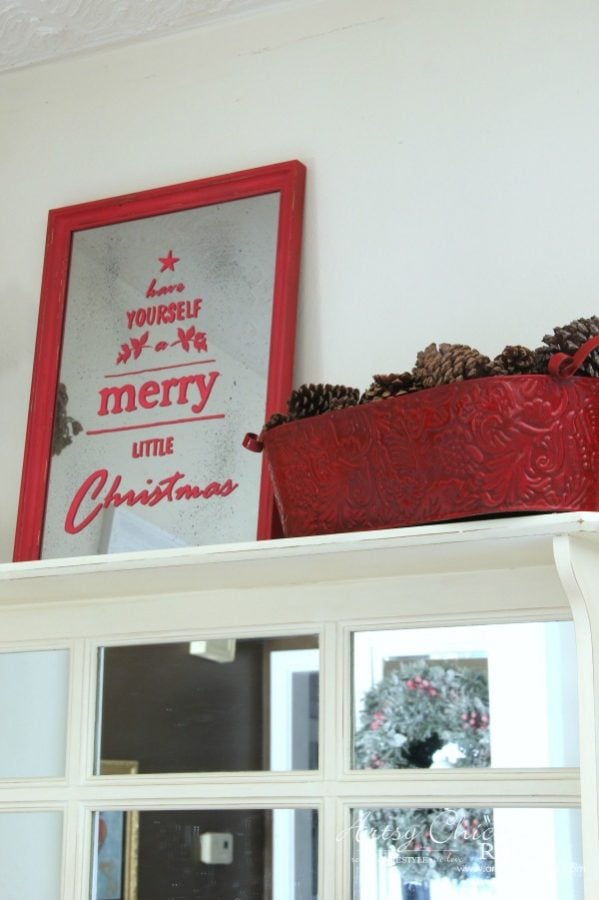 And yes, indeed, it is on the back of my guest toilet.
Because I would like to wish my guests a "Merry Christmas" every time they visit the loo.
It's really hard to photograph a mirror….without getting in the mirror. (as you can see…my arms)
That's my son and husband fishing in the photo. Isn't he cute…he's taller than me now.
Time sure does fly!
I created this graphic in Picmonkey so it's easily recreated with the fonts of your choice.
Just be sure to make it into a "Christmas tree" shape as you go down.
Or …you can use the one I created.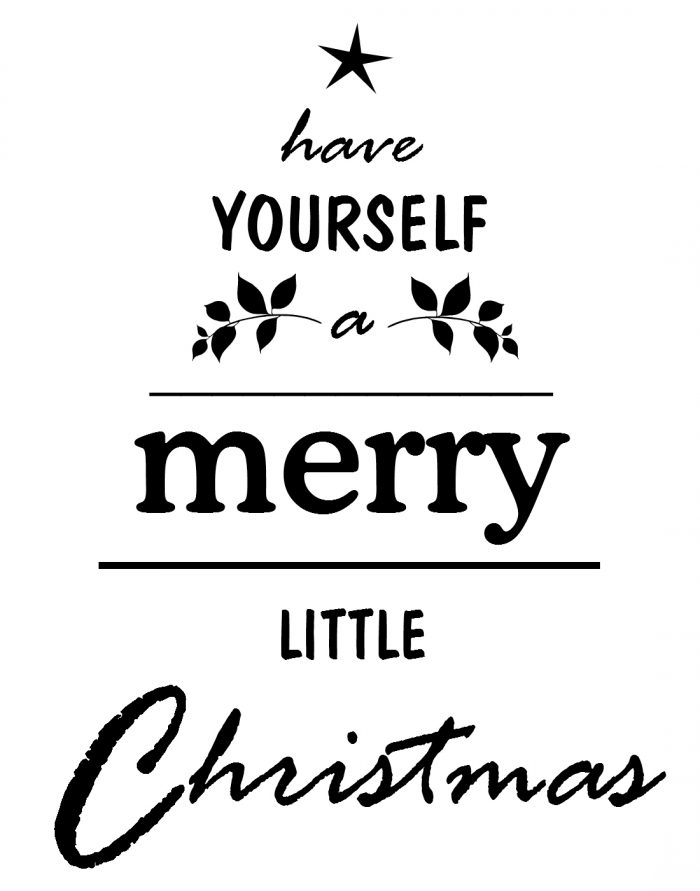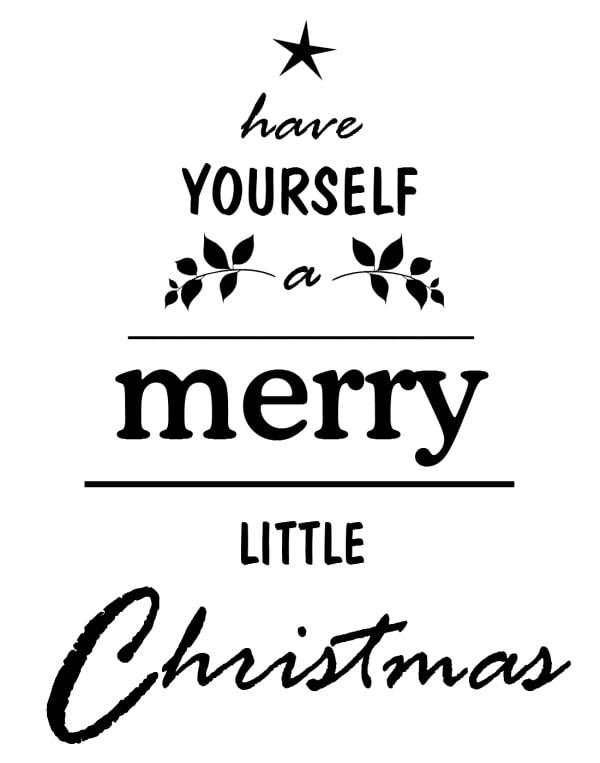 Here it is in another spot.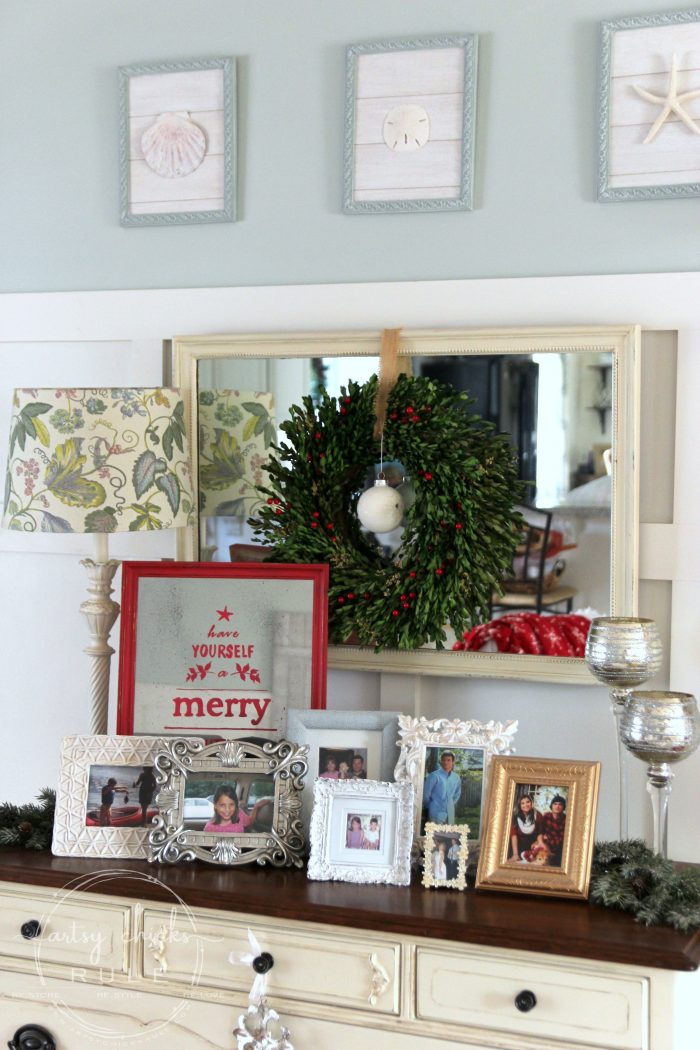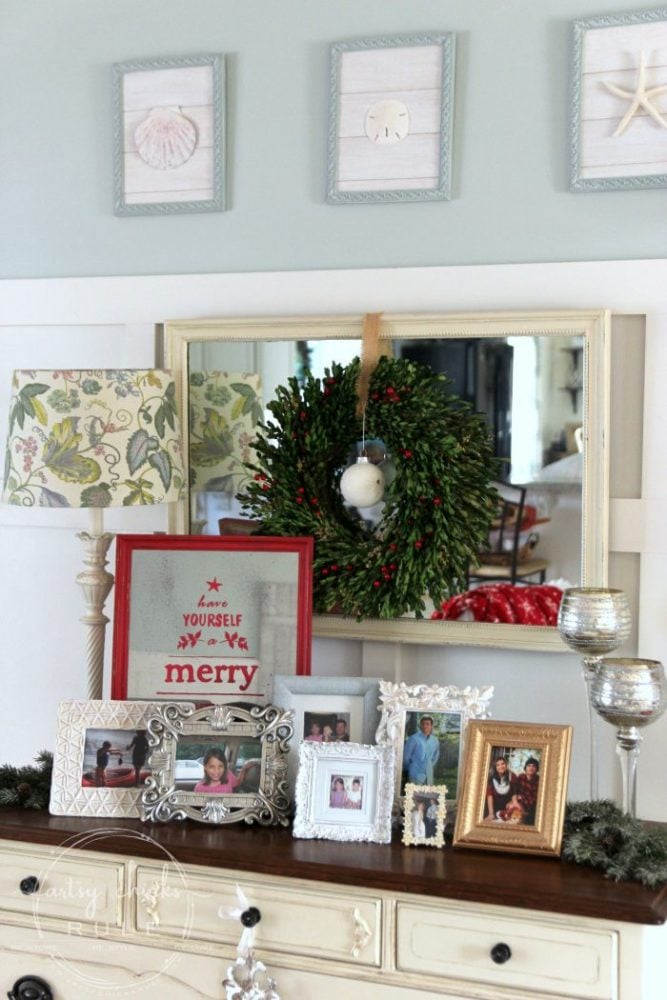 A few close-ups of the antique look…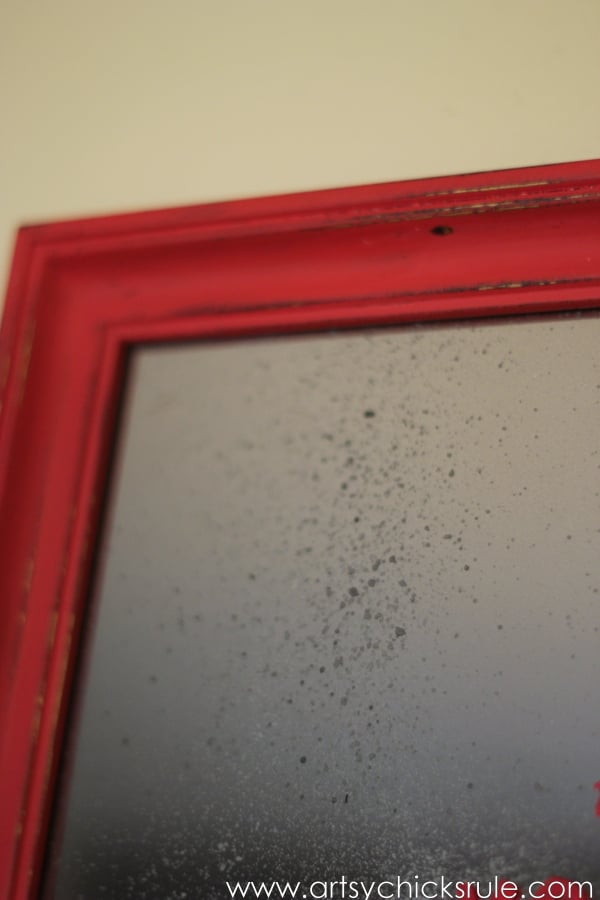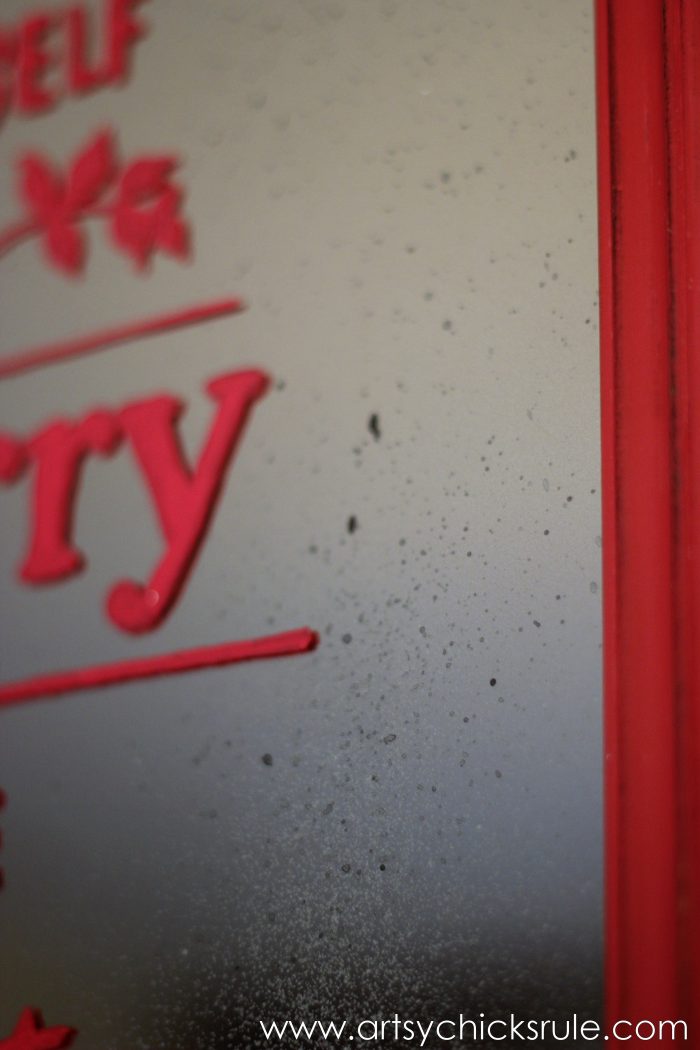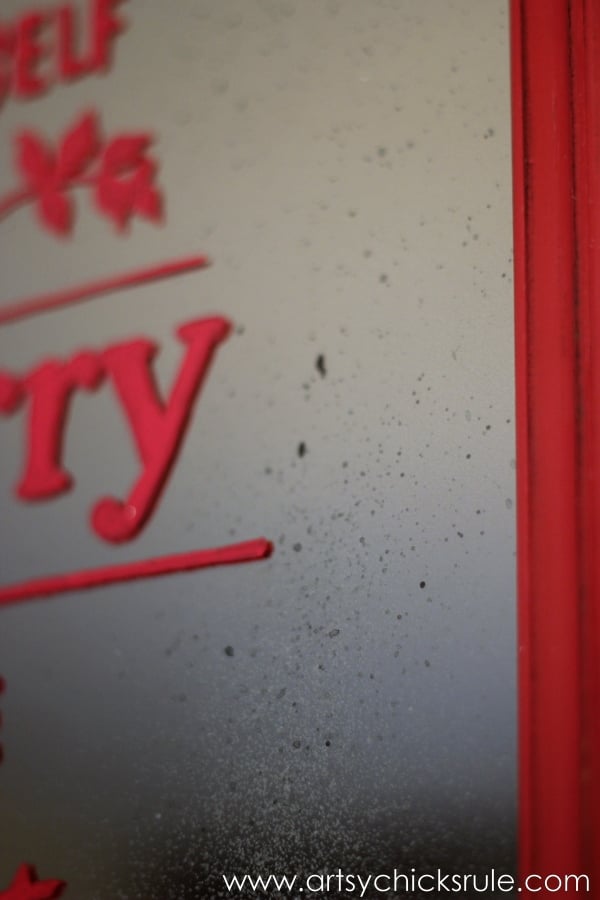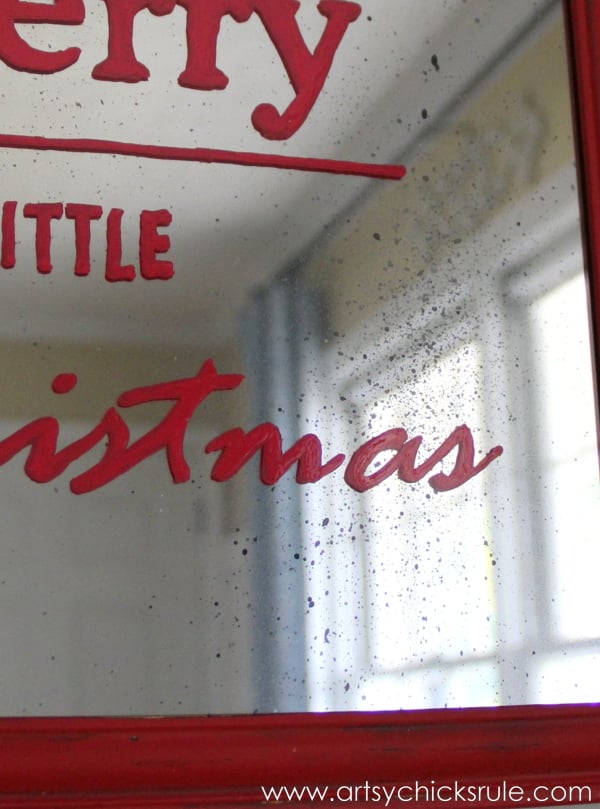 Okay, more than a few…but I am just thrilled with how it turned out and I can't wait to use this technique again.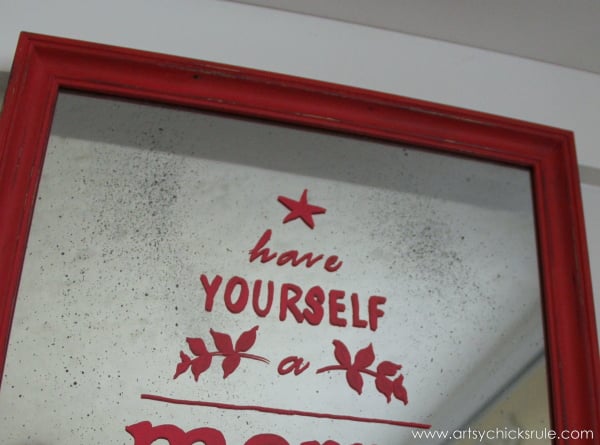 Hanging in a different spot…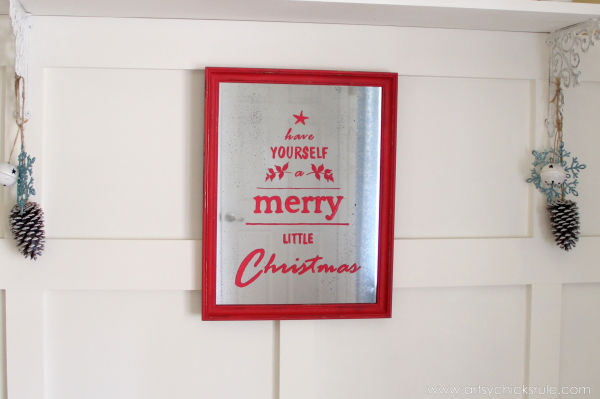 Something else is hanging in this spot. It's something I painted and rhymes with Fanta.
I'll be sharing him soon. He's my fave.
But for now…one last look…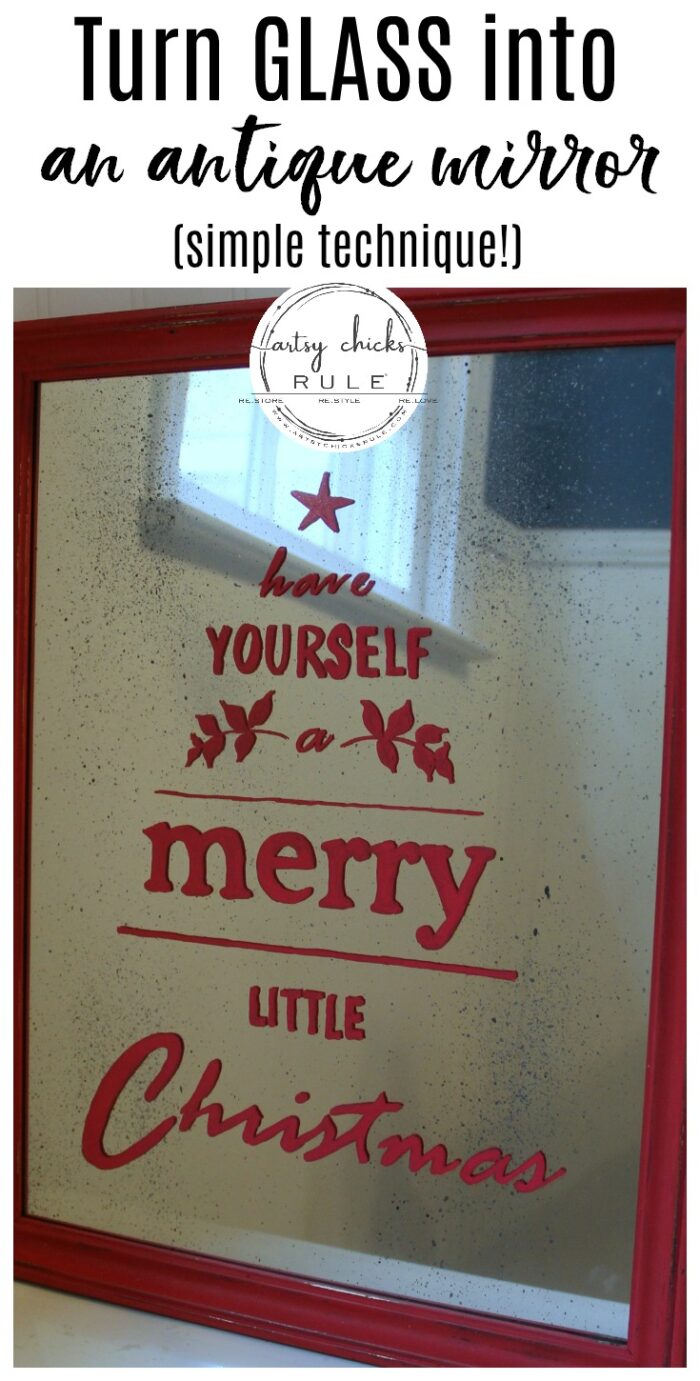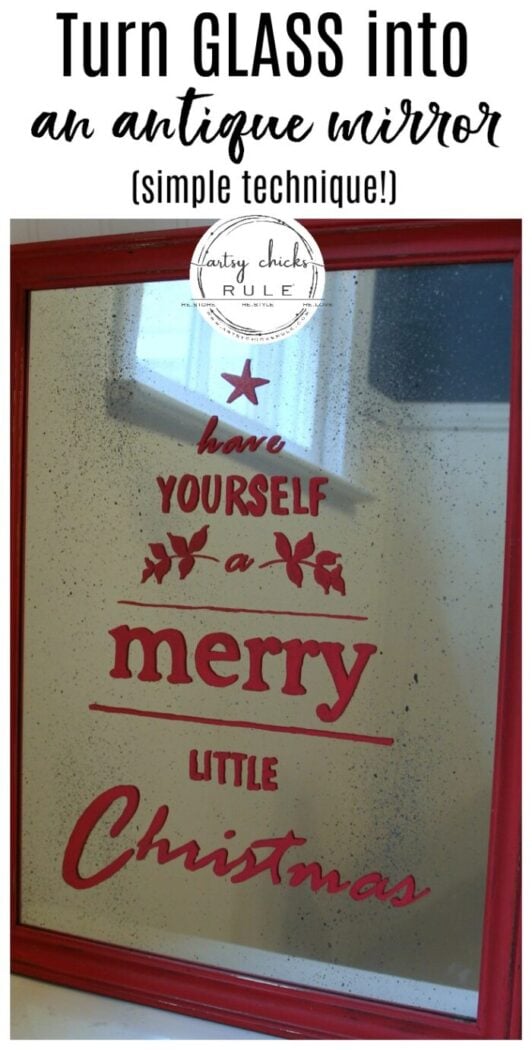 Hope you'll give it a try!! Let me know if you do.
It's ridiculously easy and much safer than using chemicals to create the look! I will surely use this antique mirror tutorial again.