10+ DIY Thrifty Christmas Decor (anyone can do!)
This post may contain affiliate links. Please see disclosures here.
Since the holidays are upon us….almost (and because I'm a THRIFTY girl) I thought I'd round up 10+ DIY Thrifty Christmas Decor I've created and posted about over the last 2 years here on the blog.
All things thrifty, all things simple, all things anyone can do.
I just posted this latest one on Tuesday … "No Sew DIY Christmas Tree Tapestry".
Super, crazy simple.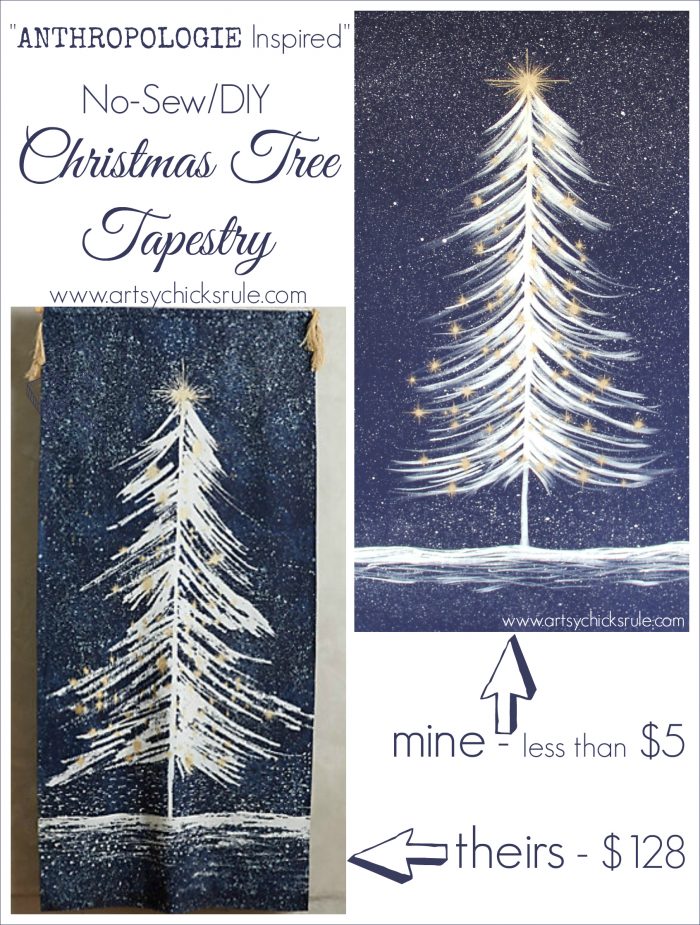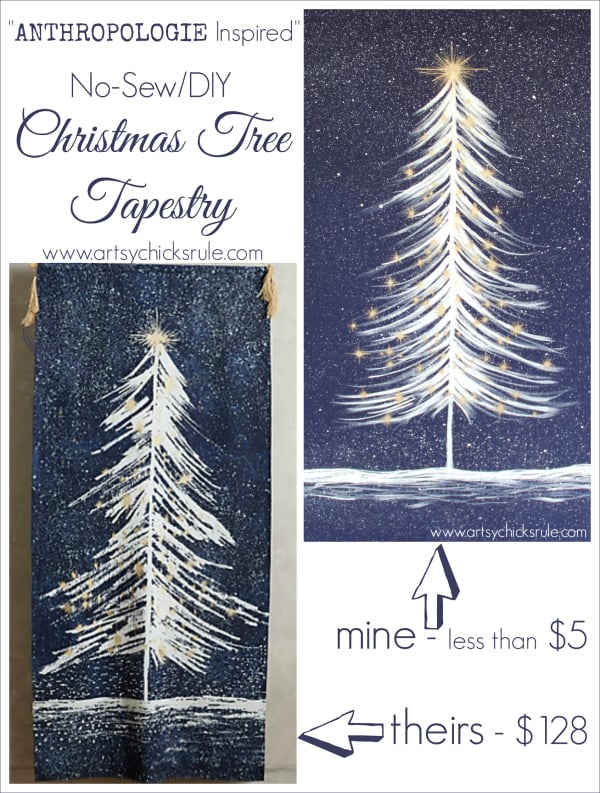 …and check out the money saved.
It's the same with all the ones listed below.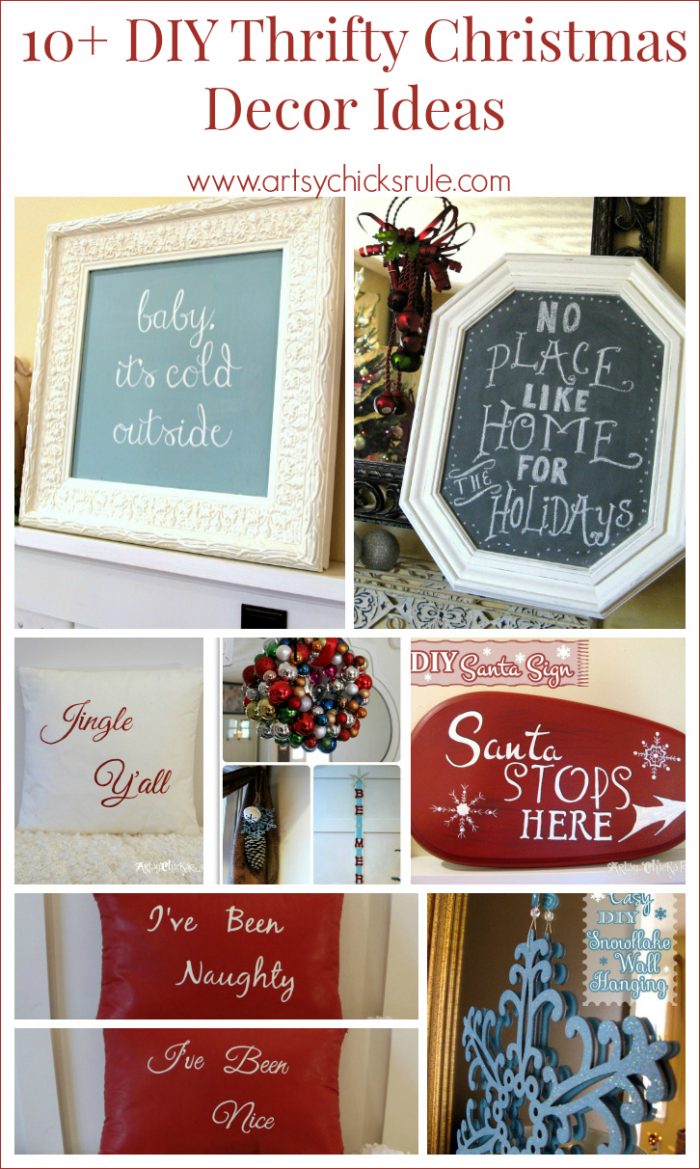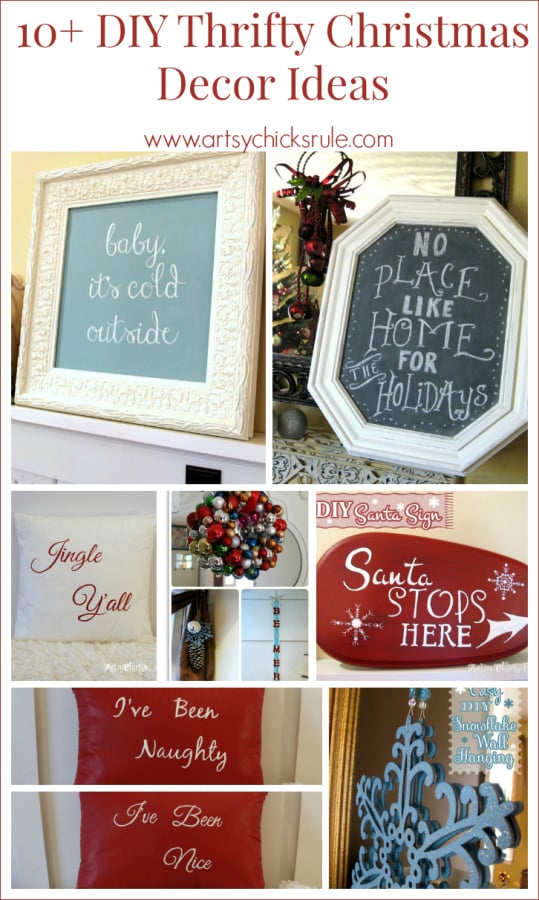 Let's start with this little gem….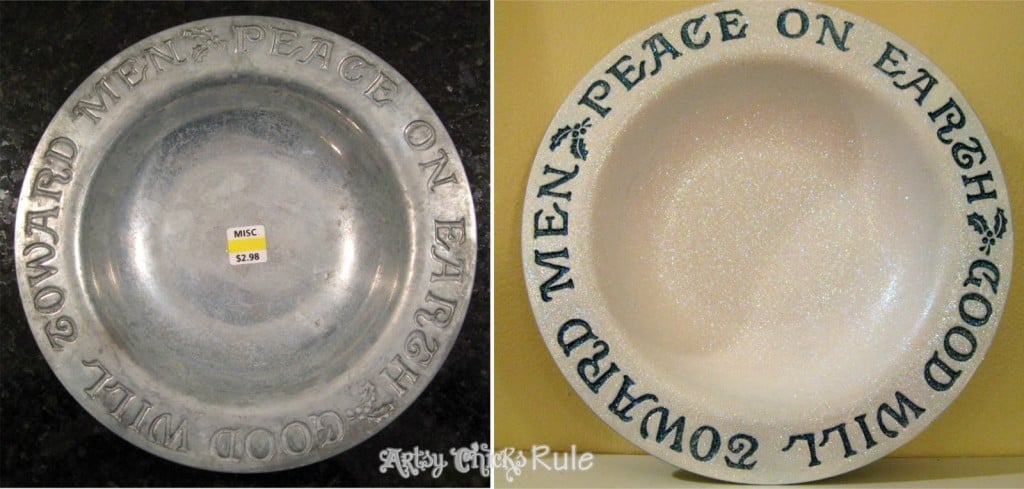 "Ugly Thrift Store Find -to- Gorgeous, Glittery Holiday Platter"
I'm not sure you'd be able to find this exact bowl/platter but it is a great example of taking a thrifty find and making it pretty for the Holidays.
Hop over to see the full tutorial on how I painted and glittered this pretty little bowl up.
I LOVE it…it's one of my favorite pieces.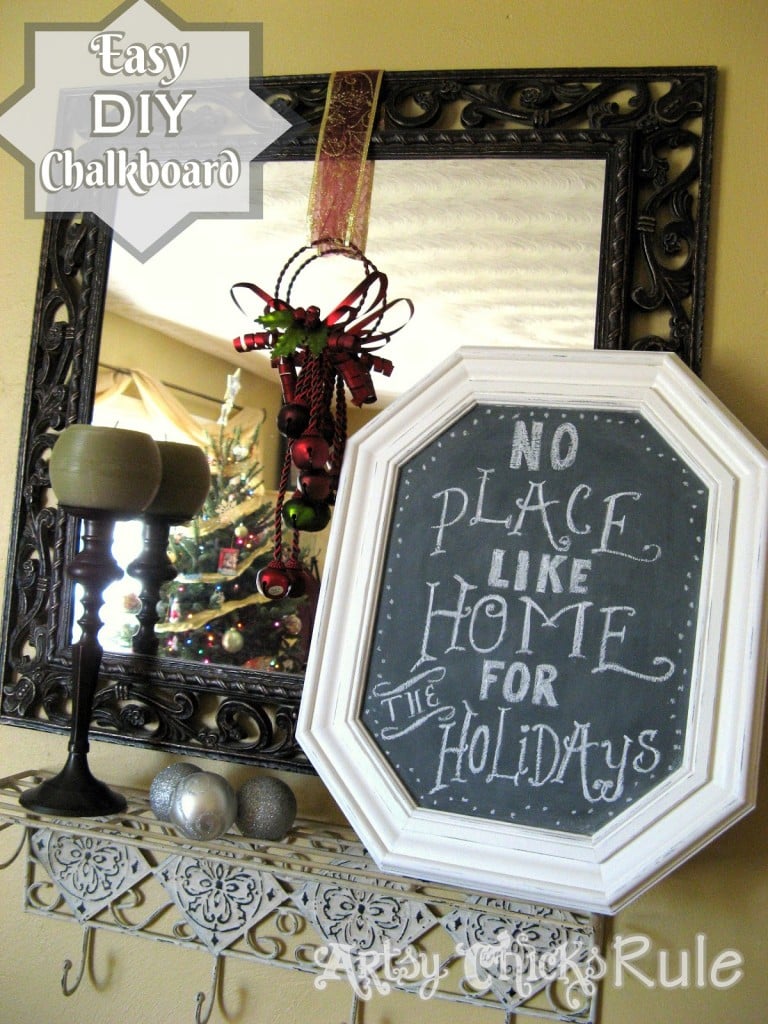 "DIY Chalkboards From Old Pictures"
This was an old picture I picked up at the thrift store.
I painted the glass with Graphite Black Chalk Paint to make a "chalkboard".
Thrifty way to create a chalkboard for holiday greetings, menus or messages.
Full tutorial on the link above.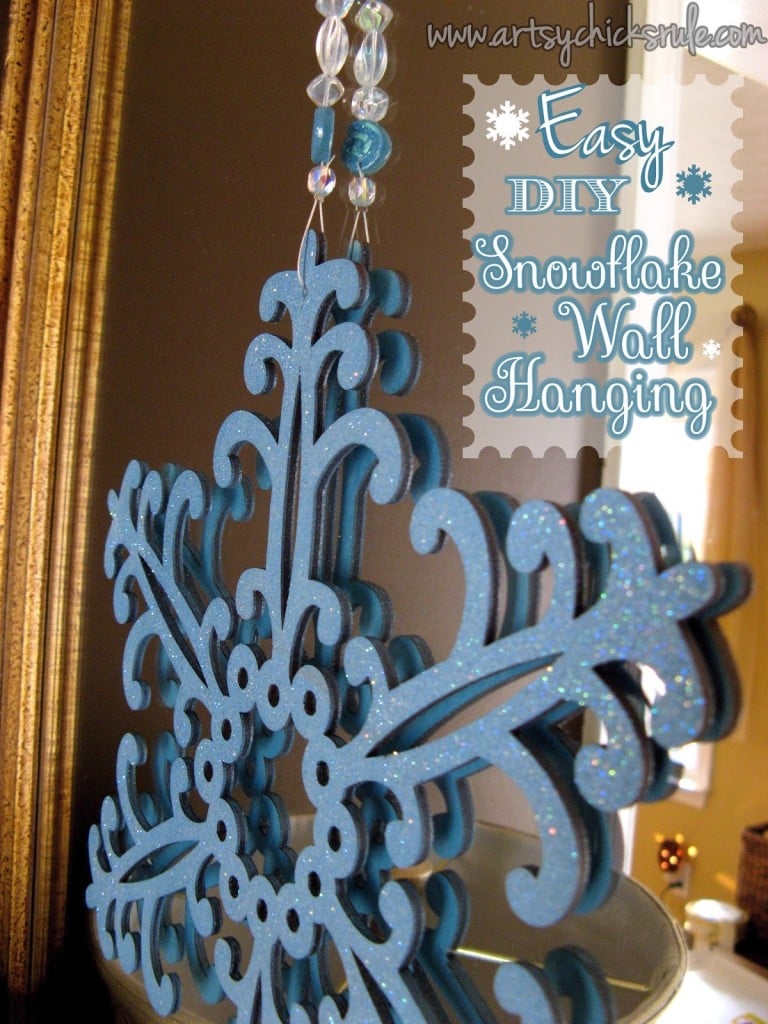 "Easy, DIY Snowflake Wall Hanging"
These wooden snowflakes came from Michael's and all I did was add spray paint and glitter.
Oh, I also created the "bling" to link them together.
Full tutorial on how to do that is above.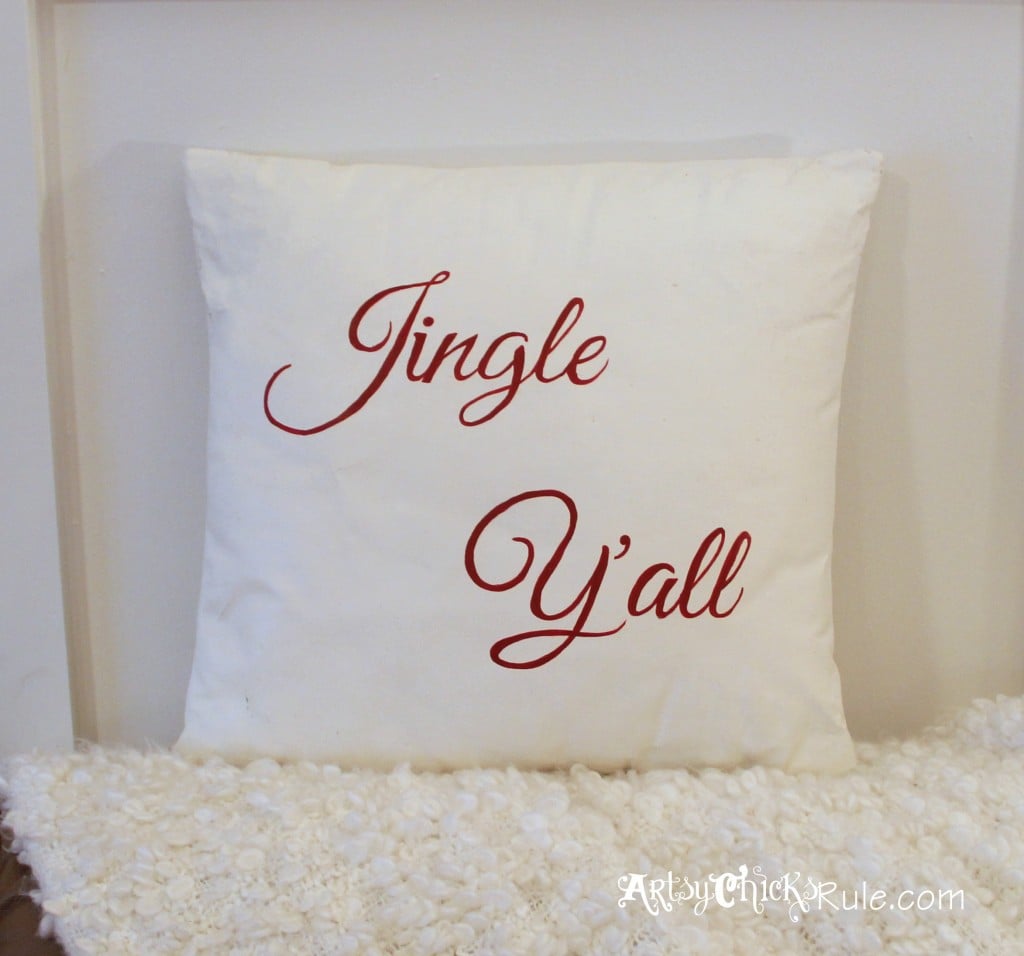 "Jingle Y'all – Thrifty Pillow Makeover"
I painted this pillow. I know, it's kinda crazy…but I did!
With Chalk Paint…and then I painted words on it. ;)
See how I did it above.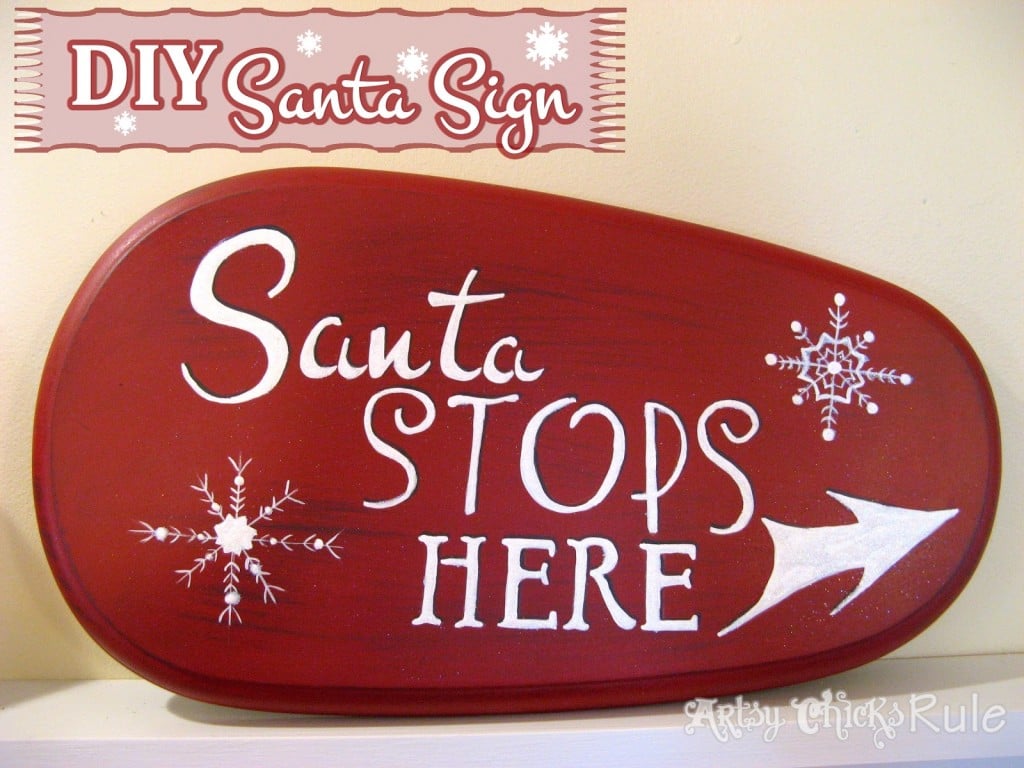 "Santa Coming to My House, the Sign Says So!!"
Yep, he did and he is again! Cause I've been nice. ;)
I made this sign out of a thrifty find.
I actually hand drew the letters by looking at a sheet I printed out…but I've since come up with better ways to do it!
You can see the many transfer methods I use in my posts.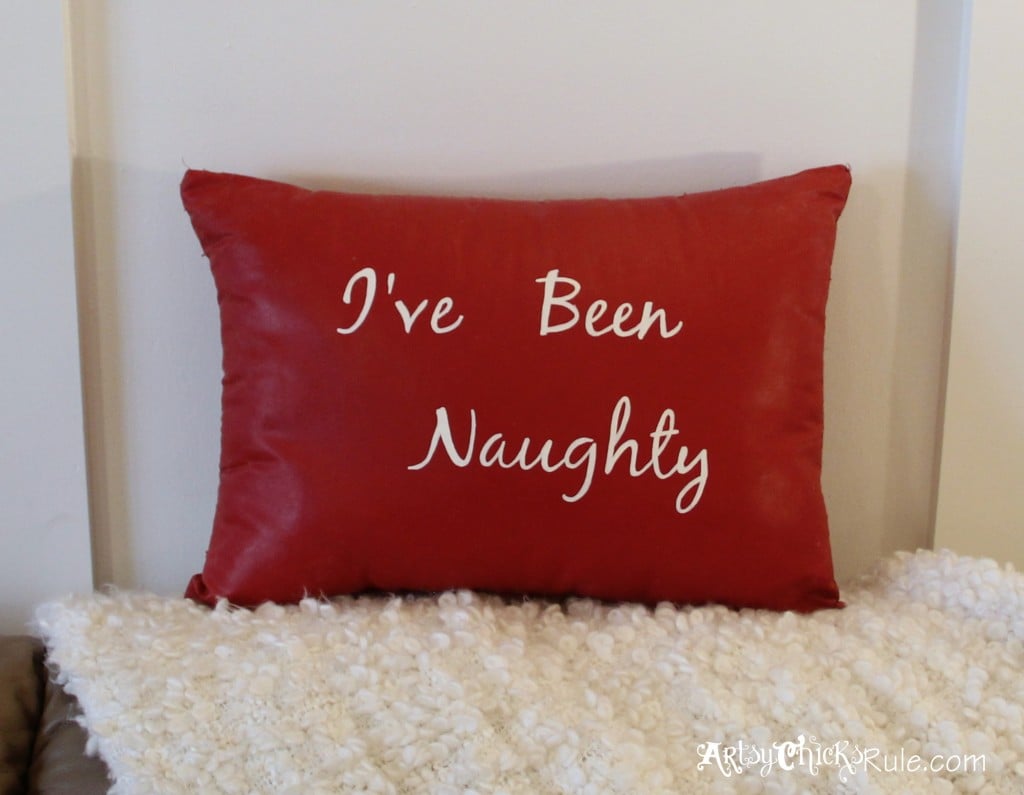 Oops….I did say I've been nice, didn't I? ;)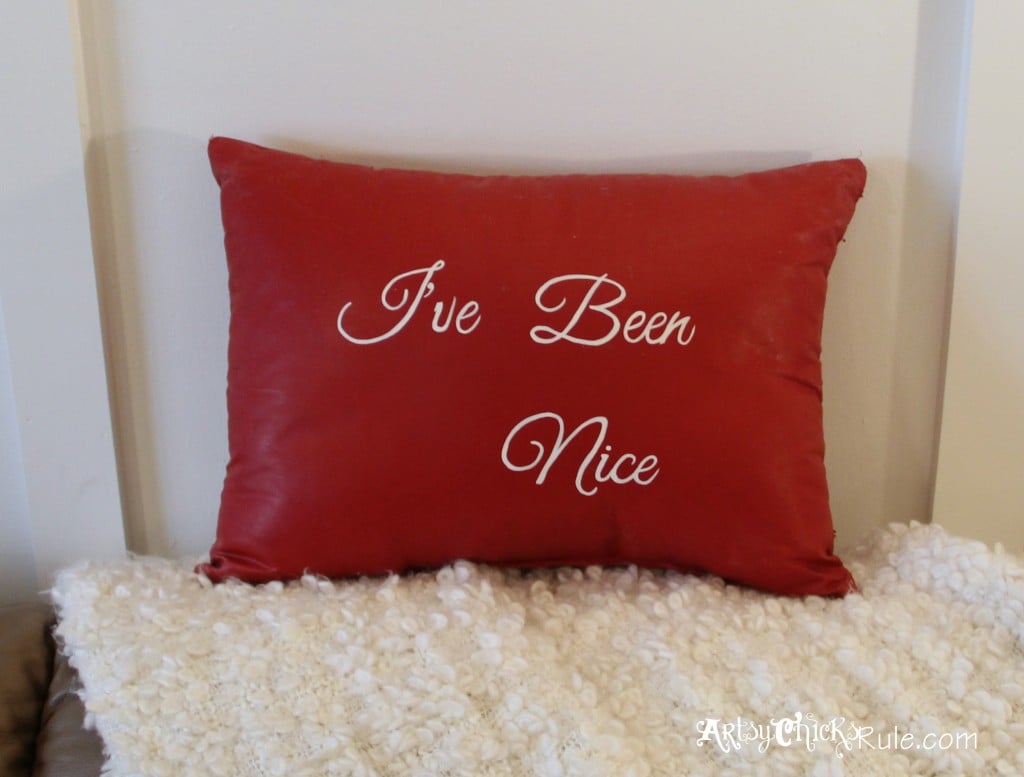 "Naughty or Nice? Thrifty Pillow Makeover with Chalk Paint"
Yep, another Chalk Painted pillow….with a message.
You can let Santa know which you've been. Just flip to the side you need. ;)
See how it looked before I painted it above.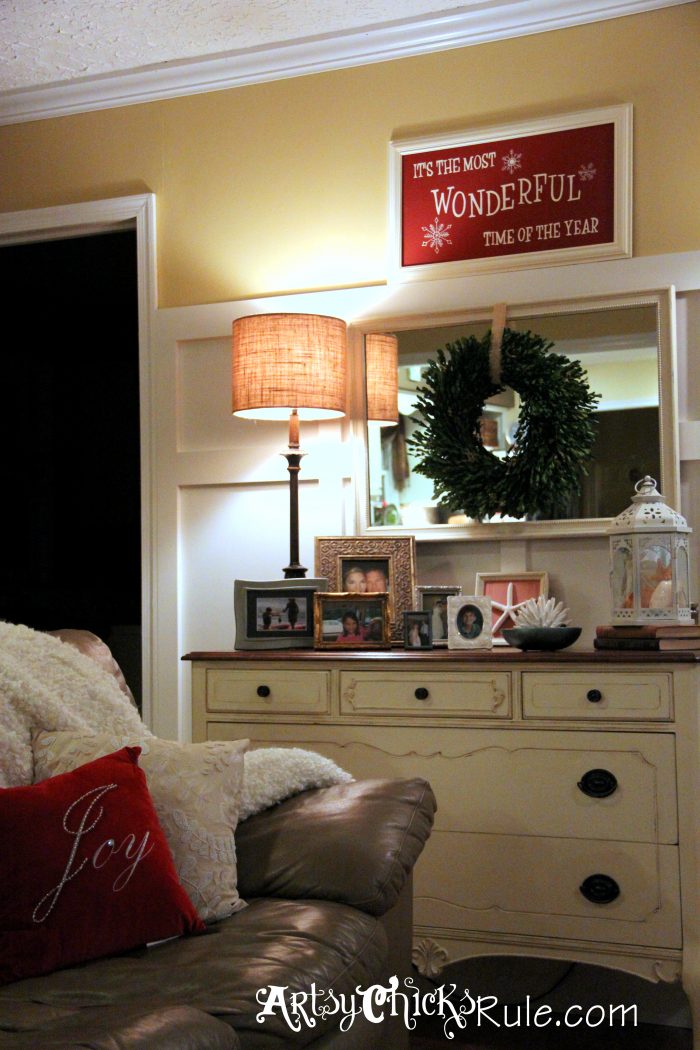 "DIY "It's the Most Wonderful Time of the Year" Pottery Barn Inspired Sign"
I love this one….because it just really is —> the most wonderful time of the year!
Full tutorial in the link above.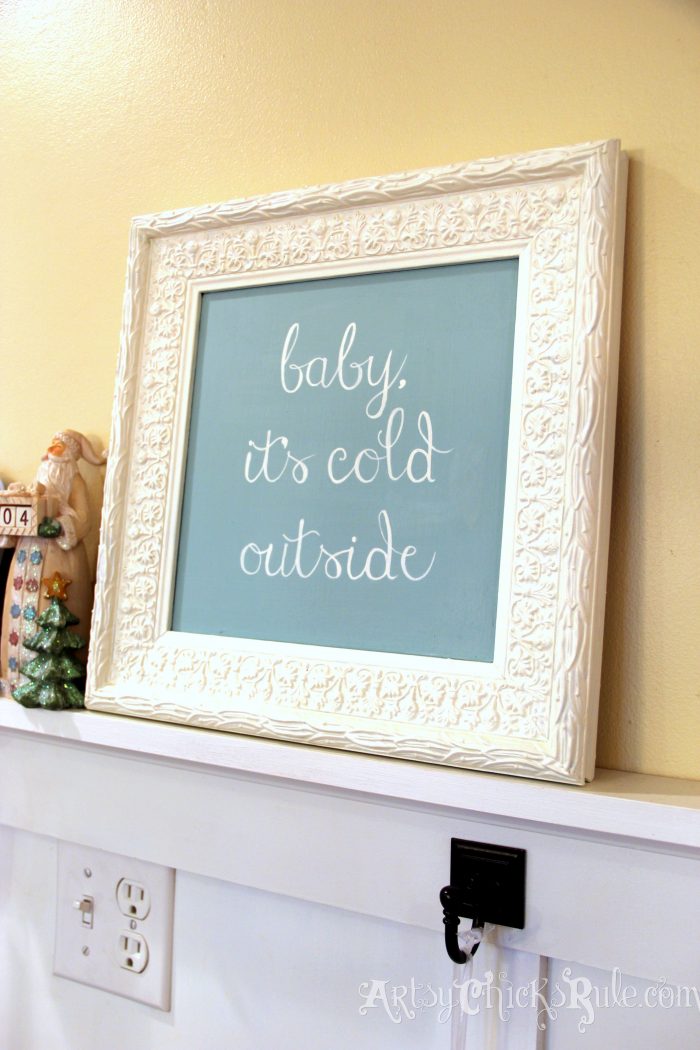 "Baby, It's Cold Outside – Thrifty Makeover w/Chalk Paint"
That's a mirror. A thrifty mirror.
Well, it was before I painted it with Chalk Paint.
Now it's a sign for the holidays!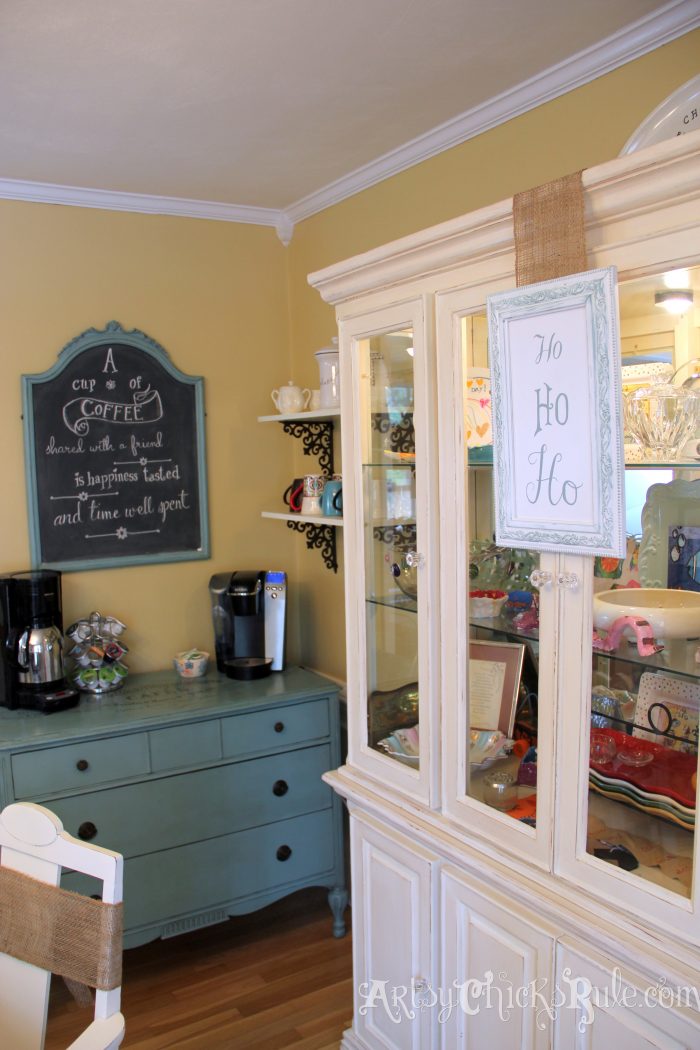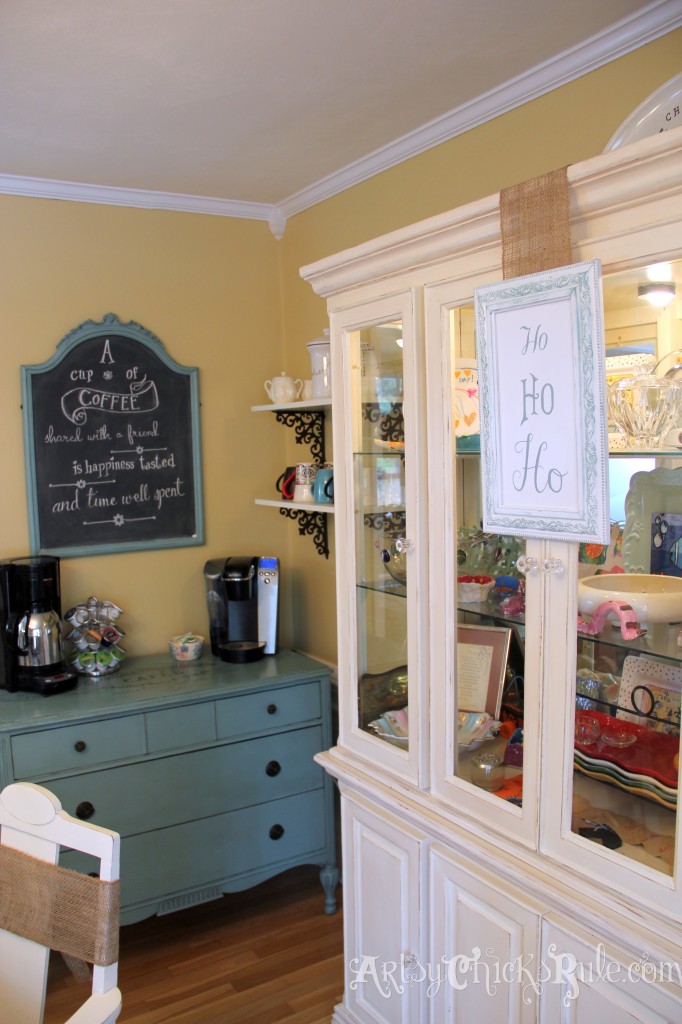 "Ho, Ho, Ho – Thrifty Find to Holiday Decor"
Are you noticing a theme yet?
ALL thrifty finds….decorating on a budget. :)
This was an old, dated picture. I spray painted right over the glass and added "Ho, Ho, Ho".
…..
And lastly (for now…I have more in store and coming soon)
All FOUR in one post…..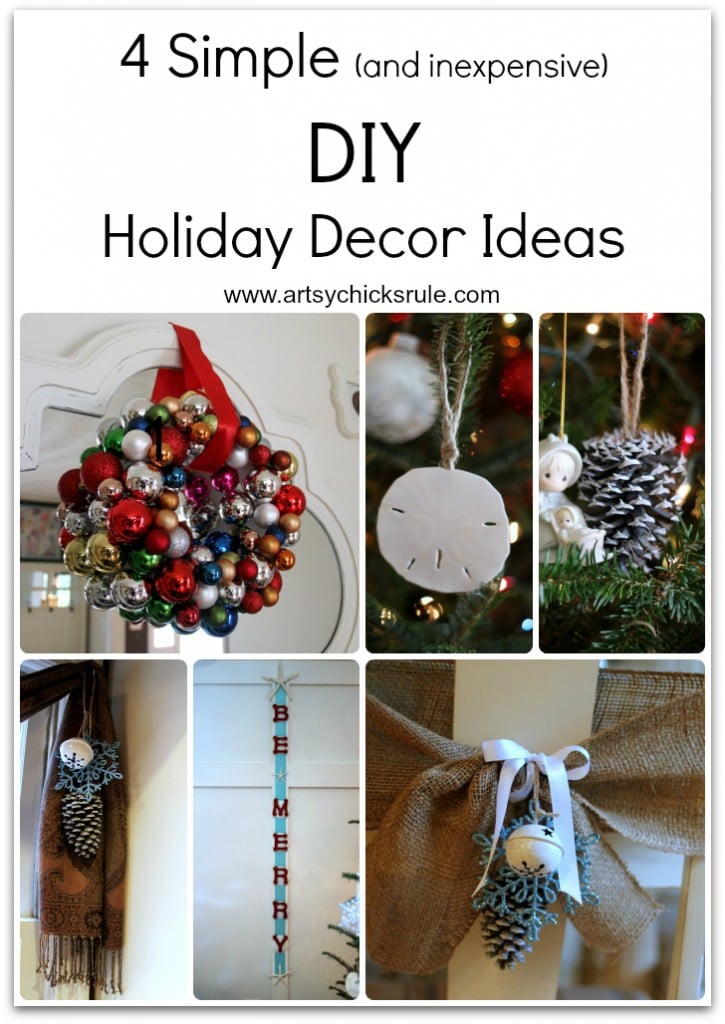 "Easy, DIY Holiday Decor Ideas"
All things I created for my home last year.
And many I am sure I will use in some way again this year…but maybe differently (or in different places) to mix it up a bit. :)
Ornament Wreath
Sand Dollar, Starfish & Seashell Ornaments
Painted (snow-tipped) Pine Cone Ornaments
Window and Chair Decor
Wall Hanging "Be Merry"
See the link above for the "how-to" on all of these.
I have at least 4 more NEW thrifty Christmas decor projects in the works for this year!
Be sure to check back (or subscribe so it comes directly to your inbox) so you won't miss them.
They were (well, are..since I'm still working on a couple) FUN to do. :)
Happy, happy, merry, merry…almost! ;)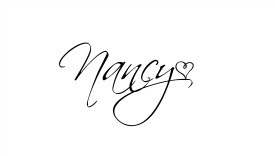 Be sure to follow me on Instagram and Facebook if you don't already!
I always post projects and things I'm working on
long before it hits the blog…..
….plus lots of fun random daily things too.