No Sew DIY Christmas Tree Tapestry
This post may contain affiliate links. Please see disclosures here.
Today I'm sharing a "No Sew DIY Christmas Tree Tapestry" that was inspired by Anthropologie.
This post was updated Dec/2020
I can't believe it's almost Christmas! Wow, how does the time go so fast these days?
Or is it just me?
I'd bet not. You think so too, don't you?
This project I'm sharing today is the first of several DIY Christmas decor ideas I'll be sharing with you this month.
A few of my friends are sharing their "inspired" pieces too in the "Rock Your Knock Off Tour – Holiday Edition".

Fun, fun, fun!!!
Here are a couple of other "inspired by" projects I've done… Pottery Barn's "DIY "It's a Wonderful Life" Sign" and my most recent Ballard Design's "DIY Carved Wood Medallions".
I just LOVE these kinds of tours….tons of pretty, tons of inspiration, and lots of saved money.
Here's what inspired me to make this Christmas wall tapestry ….. "Shimmering Spruce Wall Tapestry by Anthropologie" (no longer available)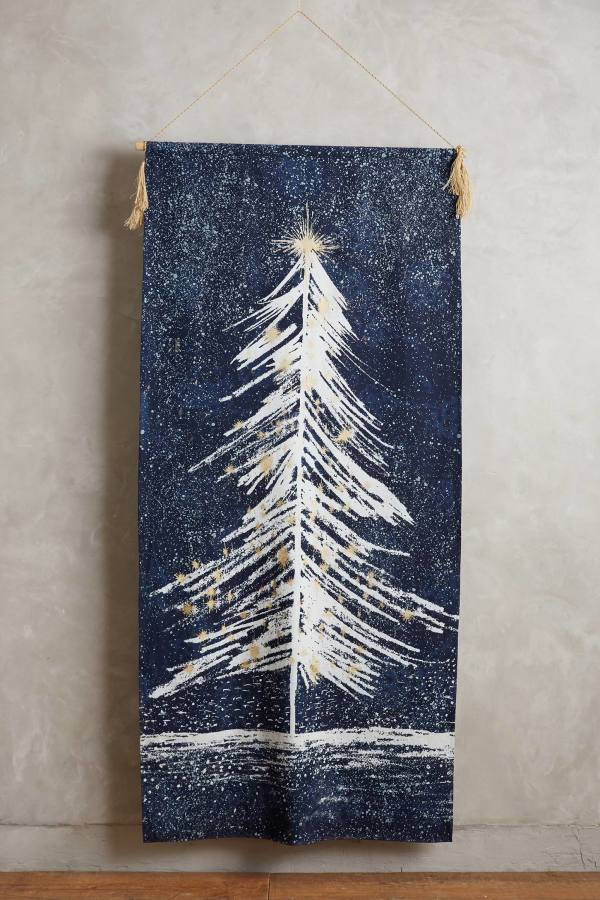 I made mine for less than $5.
Their's .. $128. Wow.
BUT theirs is also much larger. I didn't want mine that large.
Even so, I could have made mine the same exact size for probably less than $15.
How To Make a DIY Christmas Tree Tapestry
I bought the fabric on sale from Jo-Ann's Fabrics for $4.99 a yard.
I only used half a yard. (so $2.50)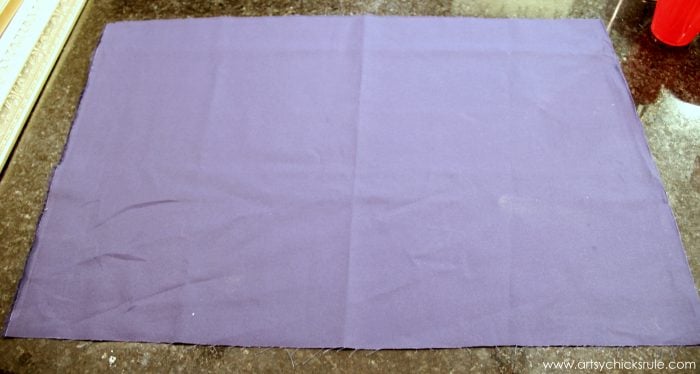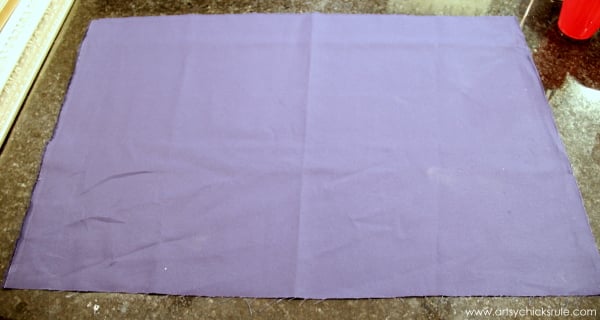 (it's not quite the blue/purple as the picture shows…I had my camera on the wrong setting)
I didn't worry about making the back perfect. (who's going to see it?)
No-sew is the way to go. Unless you know how to sew… then you should sew.
But I don't sew, so this is the way I go. lol
I ironed the seams first as shown below…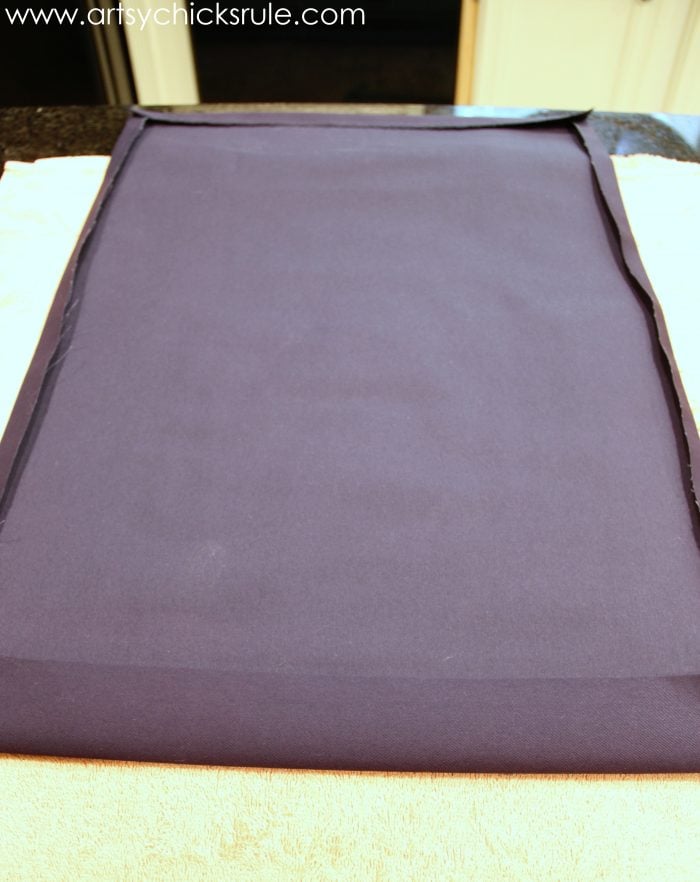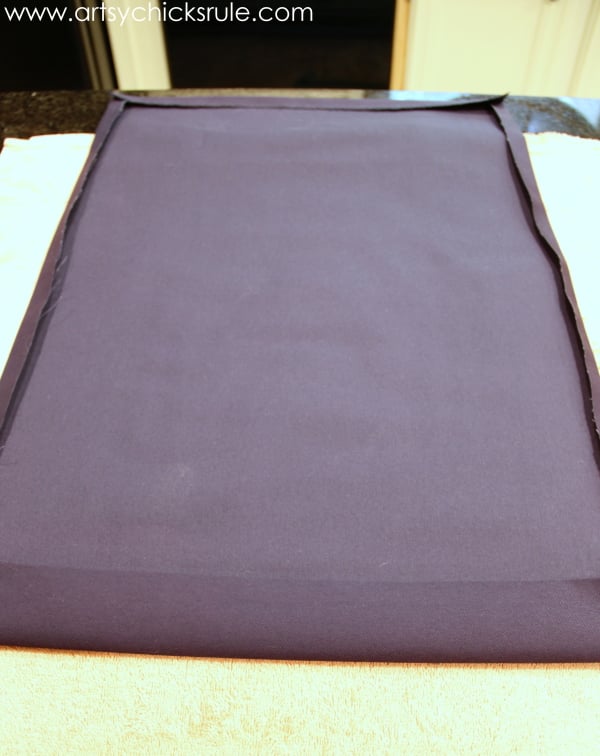 The top had a seam and then I folded over again for the dowel rod to fit through.
After I had my seams, I went back in with Steam-A-Seam 2 to seal the seams.
You can see one of my favorite "no-sew" tutorials here… "Easy, No Sew Curtain Panels".
Once that was complete…… I started painting.
Ha…no, I didn't. I practiced first…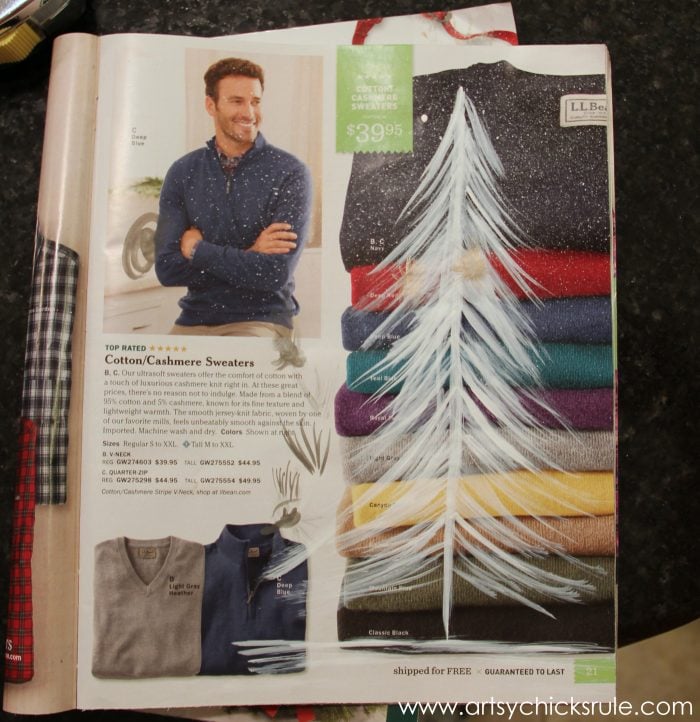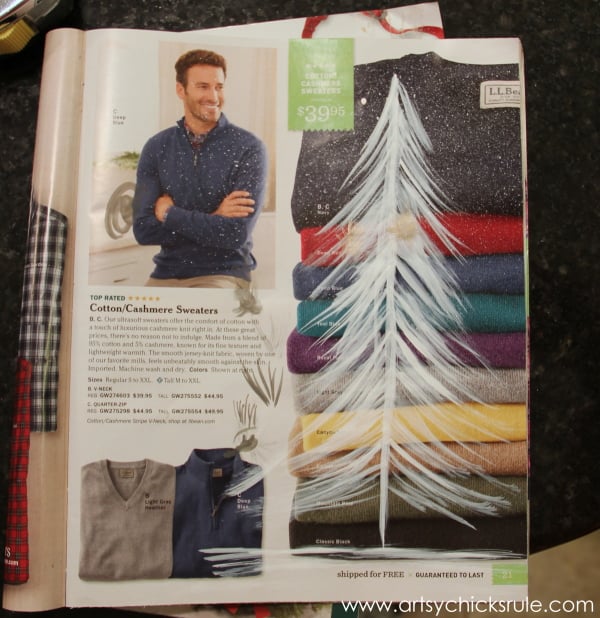 …on whatever I could find laying around. Which just happened to be this magazine I was looking at earlier.
I was a little intimidated by that big, dark, blue piece of fabric to tell the truth.
White paint, blue fabric…no room for error.
I did have the other half of the yard so not too big of a deal but I didn't want to have to use it. The tree was pretty simplistic and I got right to it once I realized the odds were good I wouldn't mess it up.
I did use a straight edge to create the first line though….with CHALK.
Measured from side to side and all.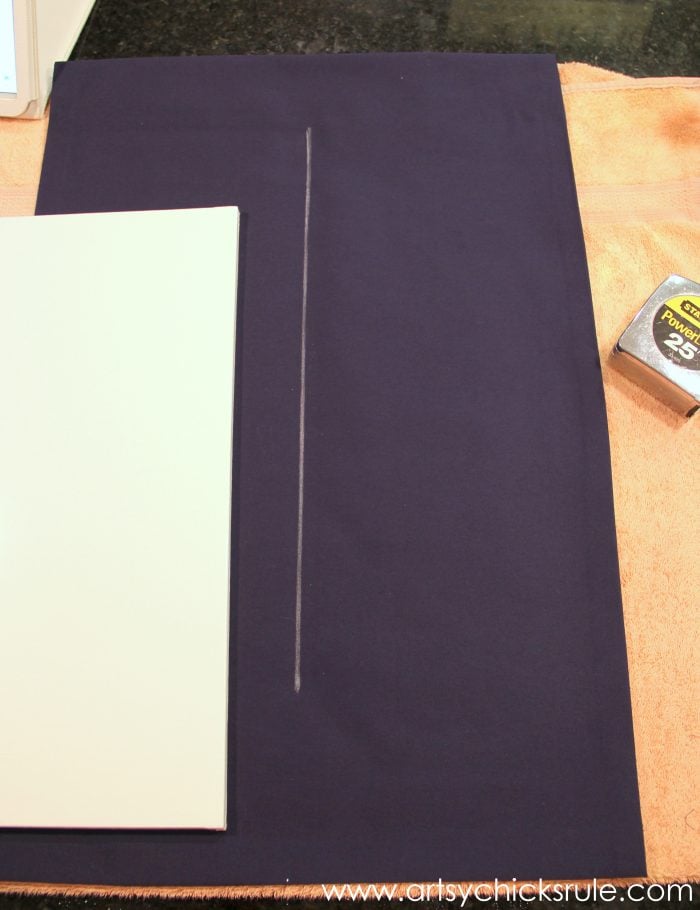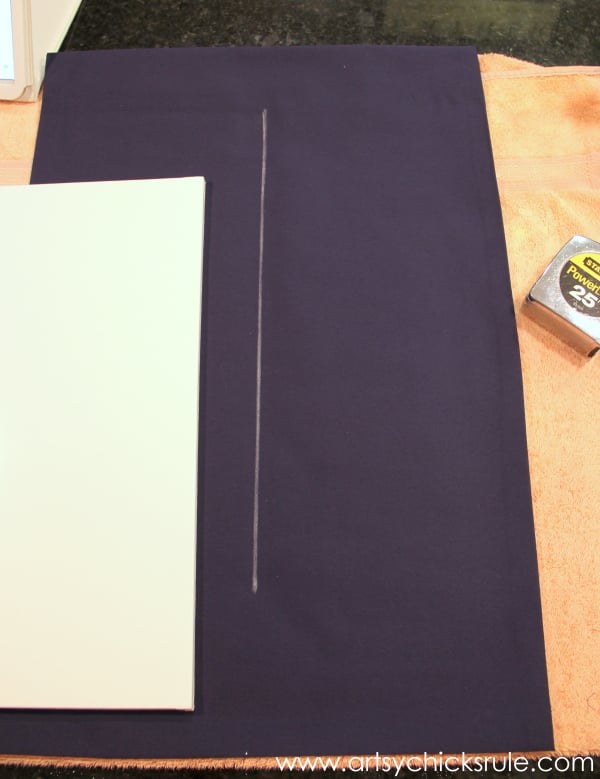 Then I just started painting (Snow White Milk Paint, General Finishes) and adding the limbs/branches…
Note: any gold or white craft paint will work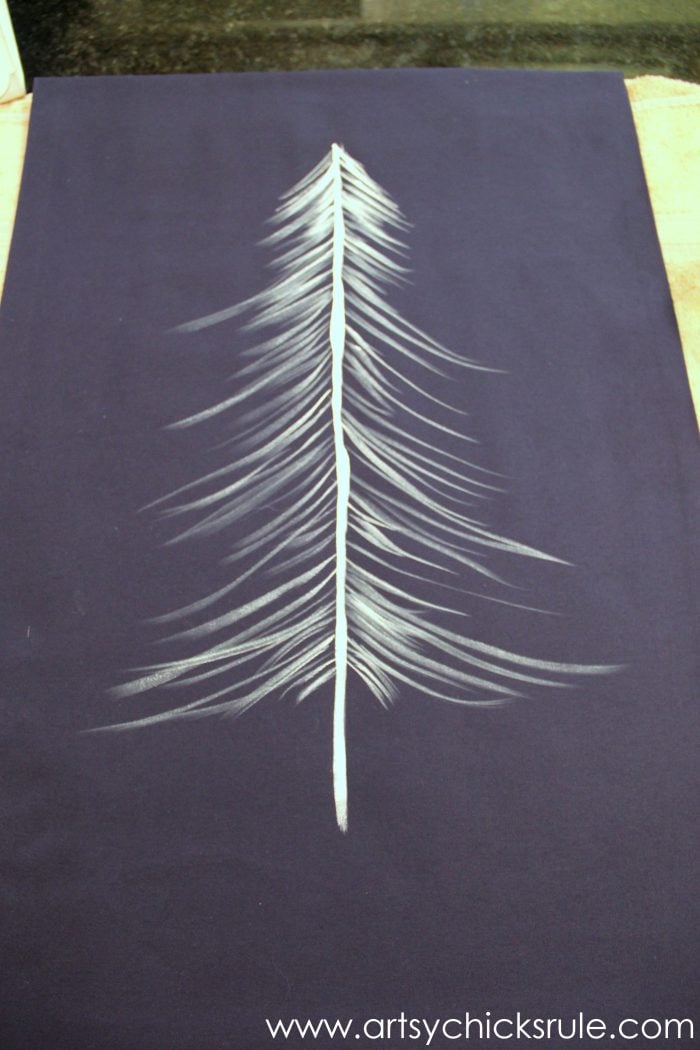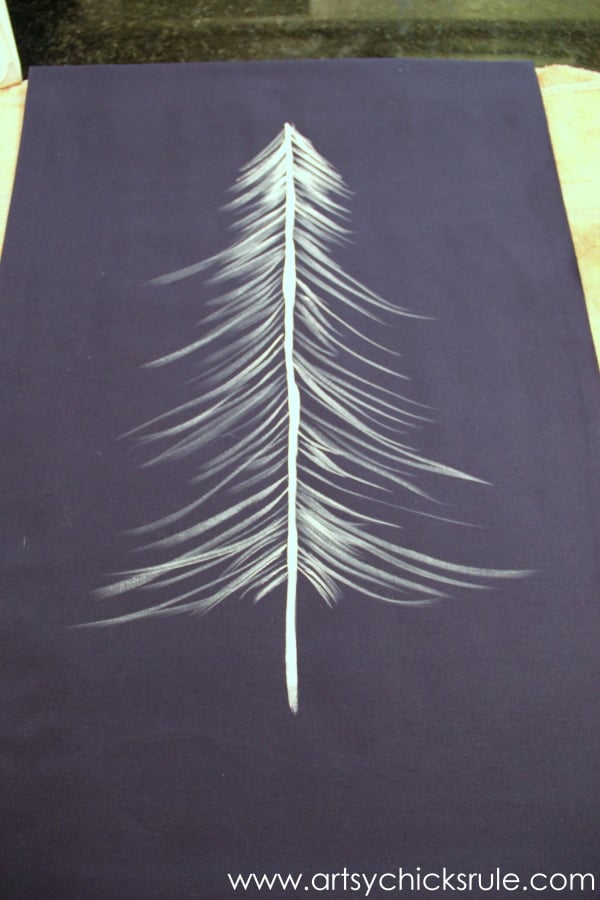 You can see I didn't paint over the chalk line very well.
My oh so steady, not steady, hand. Oops!
No worries…it will get filled in. Plus, trees are not perfect, right?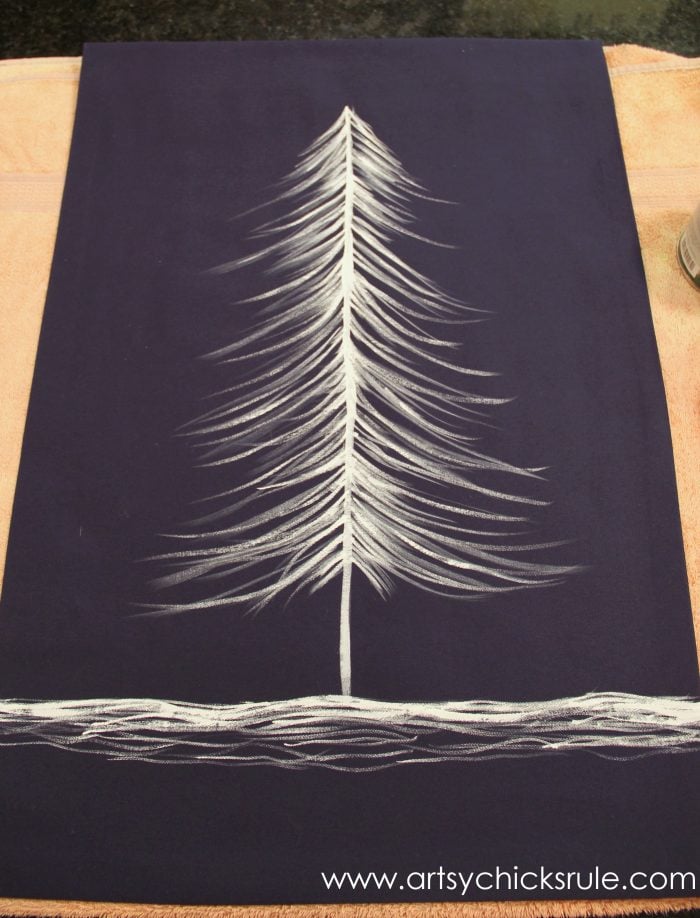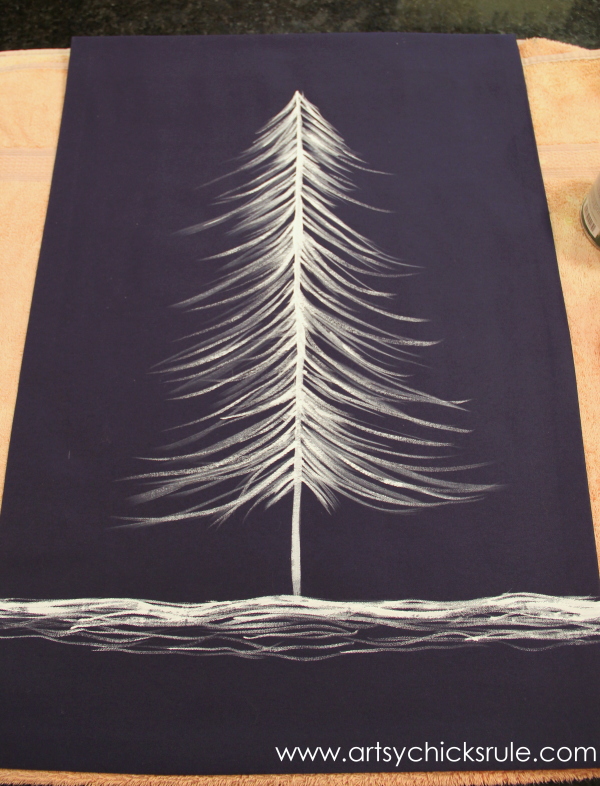 I used a small angled artist's brush for this part. Then went back in and used a liner brush to create some finer lines.
Kind of sparse looking right now though.
So I went back in with the angled brush until I got it as thick as I desired.
Then added "snow"…and voila!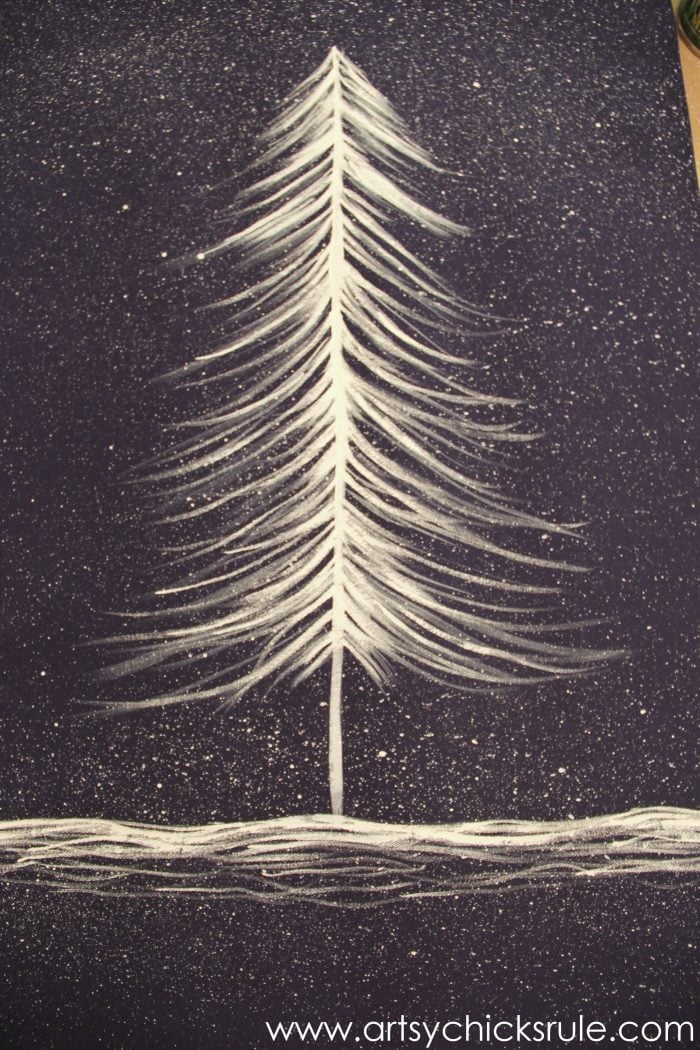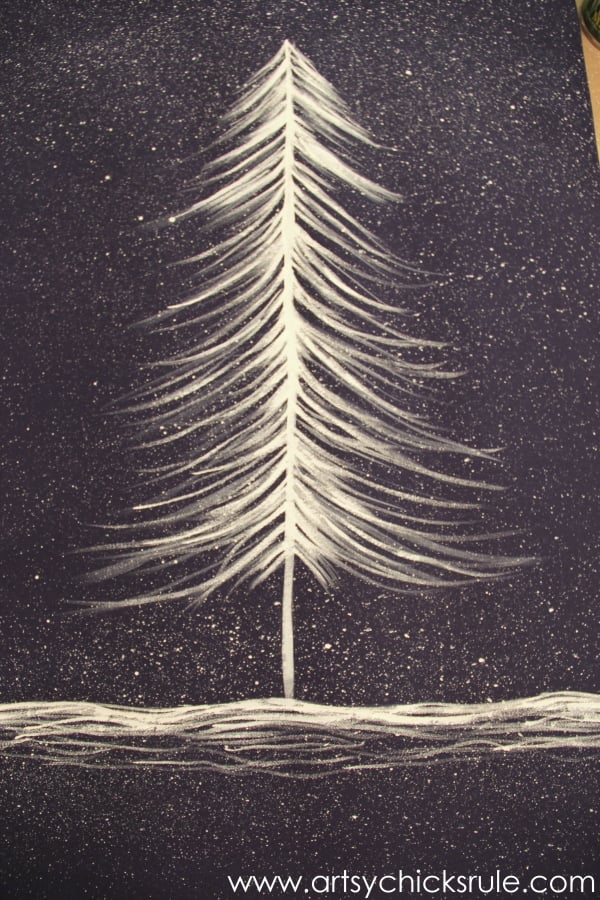 What a difference, right??
That was actually SO MUCH FUN to do!
I watered down the paint a bit to get it a little liquid-y. Then I dipped my brush in and ran my fingernail across the edge while pointed at the fabric.
It sprayed out so perfectly.
Just like snow.
Then came the stars.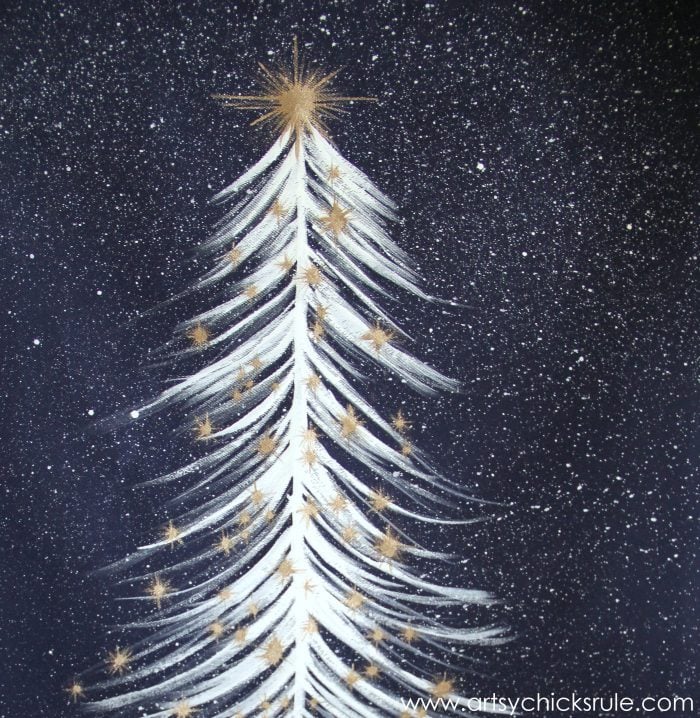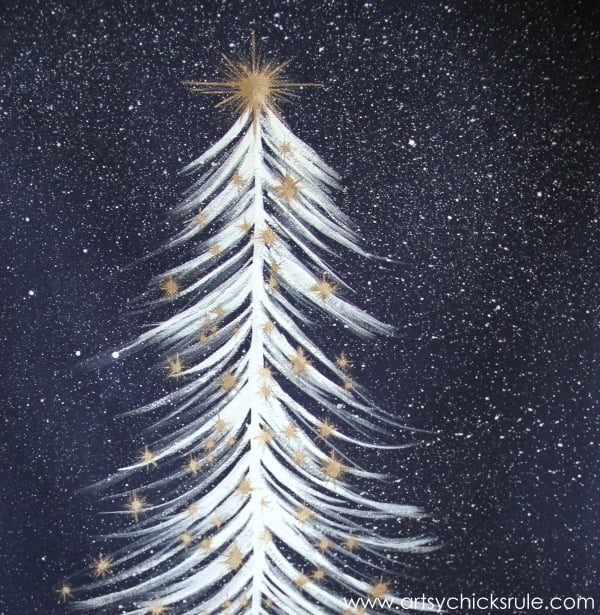 The glorious, beautiful stars that just complete the whole look, in my opinion.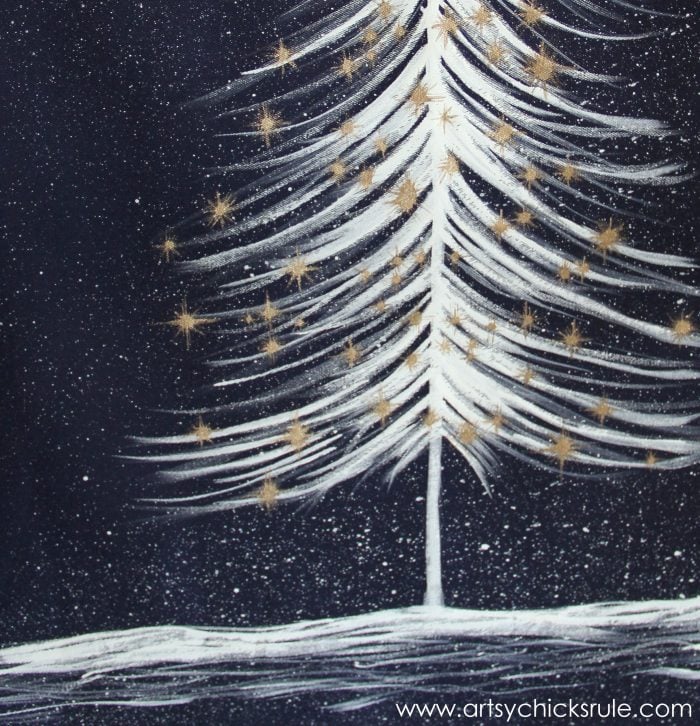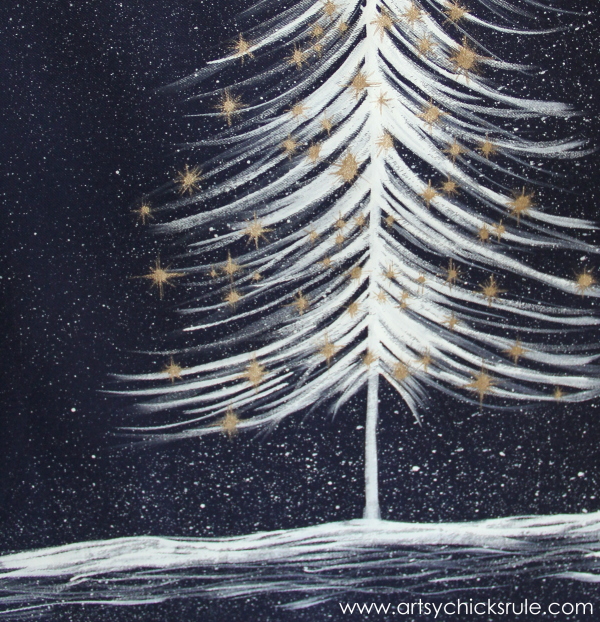 Don't they just?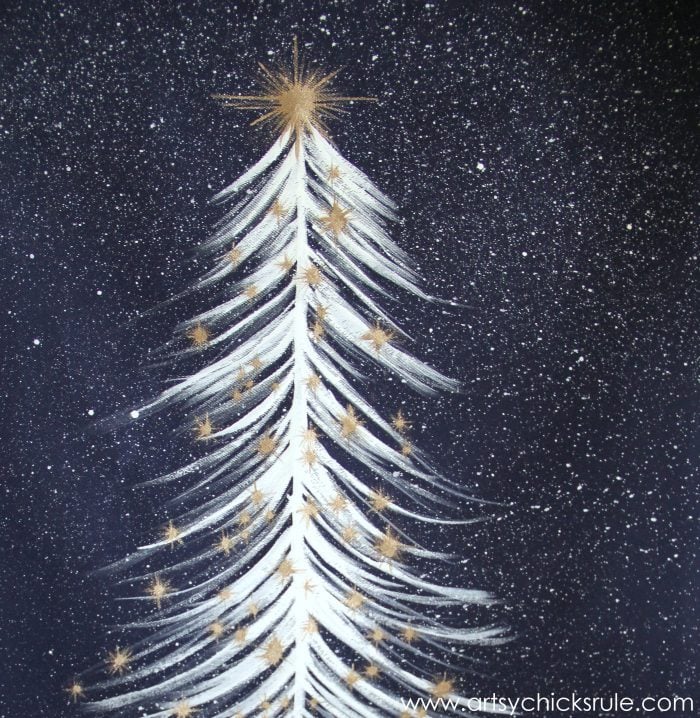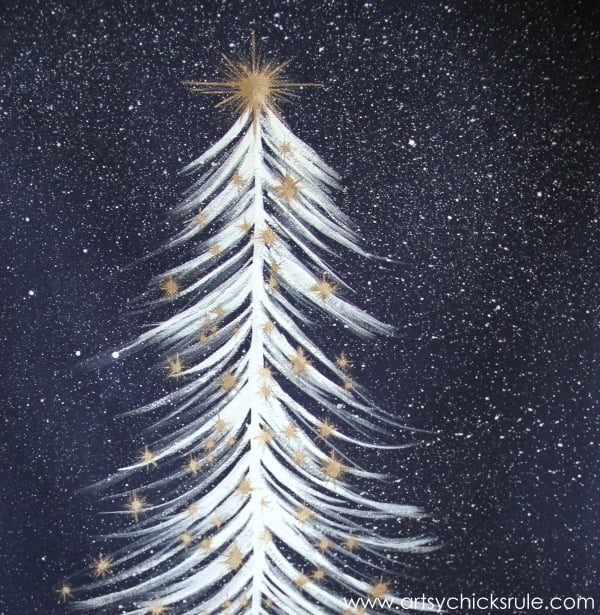 Up close shot of the top one…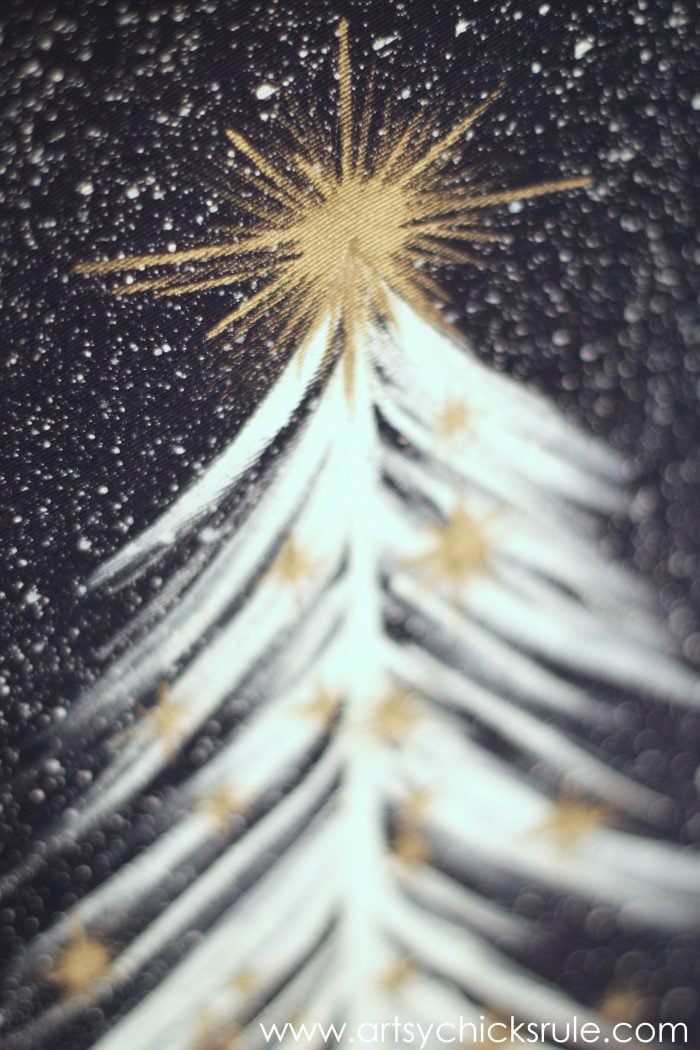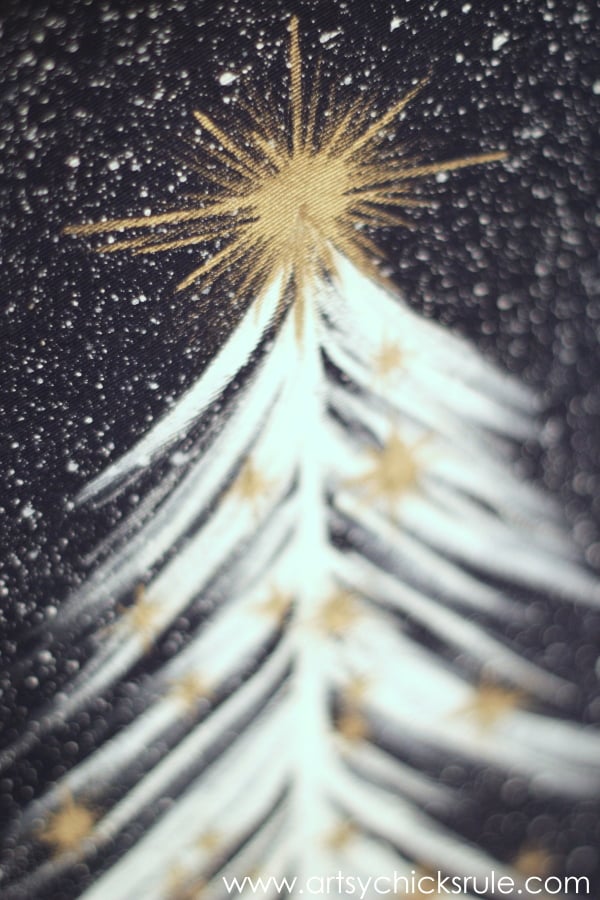 Here's how I created them.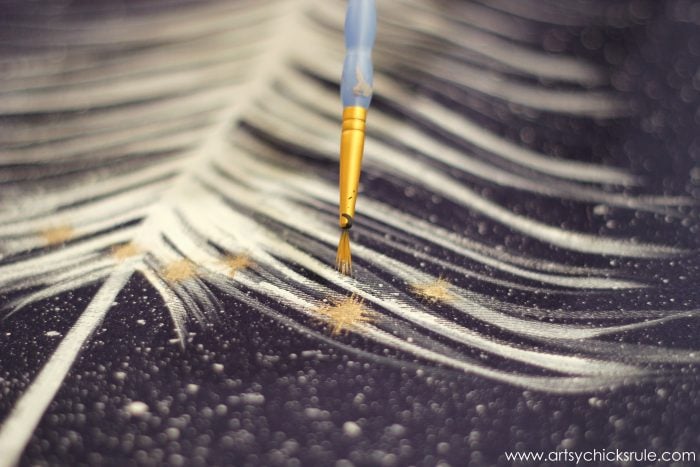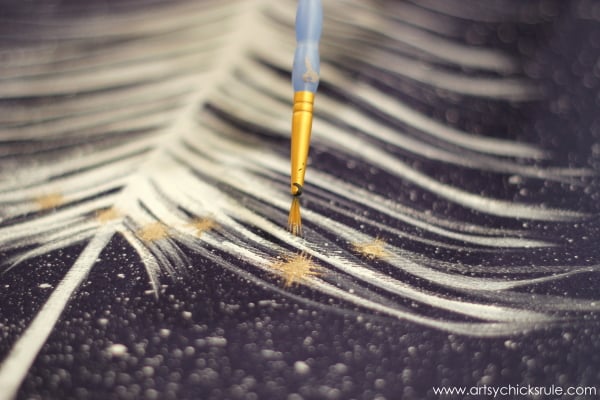 I plopped down different sized globs of gold paint (Modern Masters Metallic Paint, Warm Silver) –> which is really "gold".
Then I used this little brush that has flared bristles and "swiped" the gold paint out and away from the center to create a "star-burst" effect.
After that, I went back in with my liner brush to create longer star-bursts out like a star on every.single.one.
That was the longest part of the entire process.
Still, I started and finished this project within an hour or so.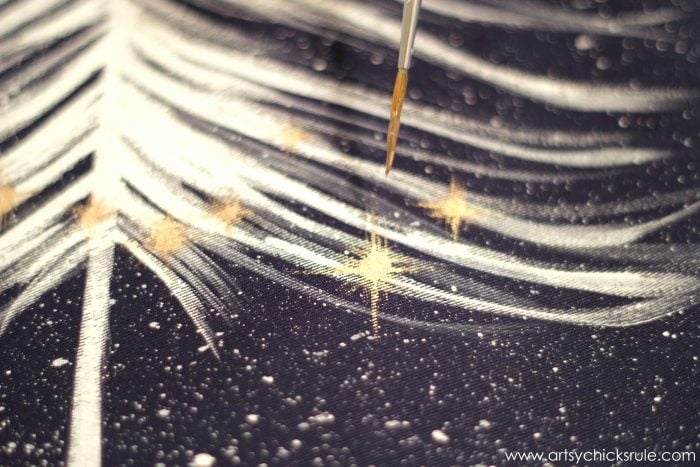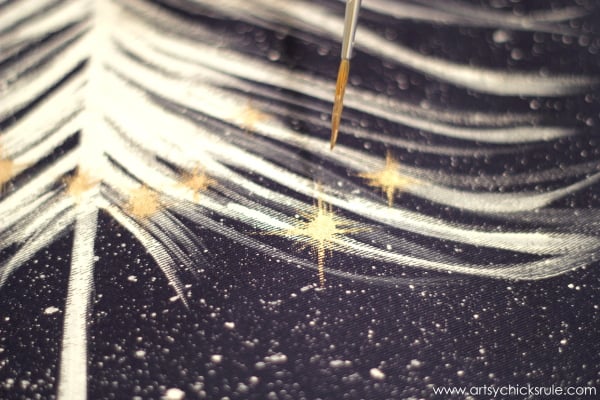 I already had a dowel rod on hand so cut it to fit.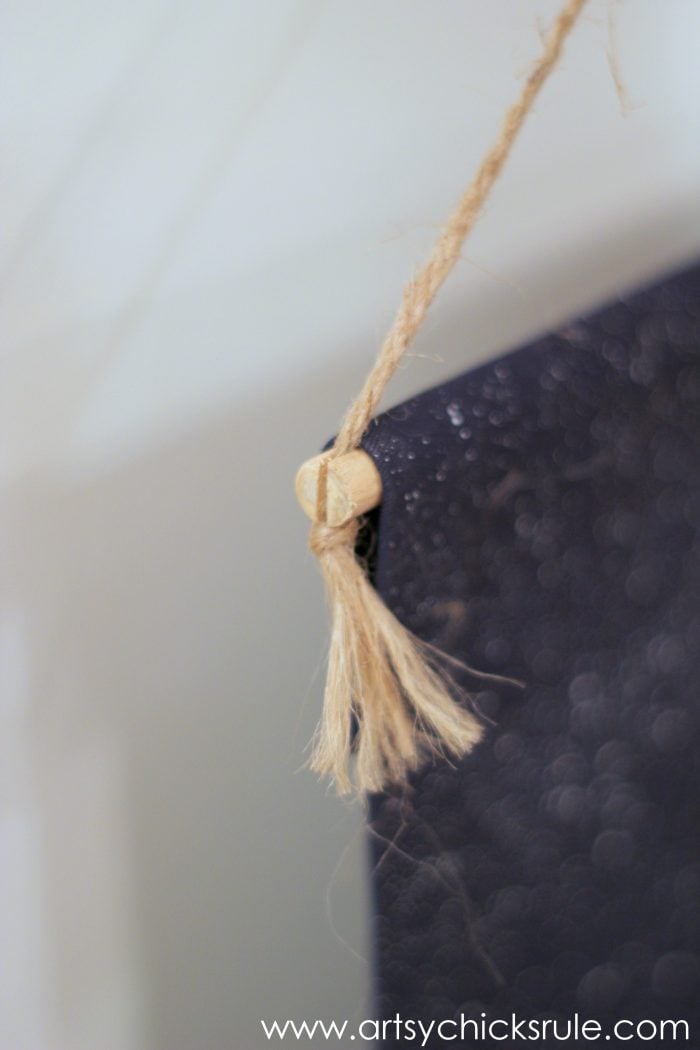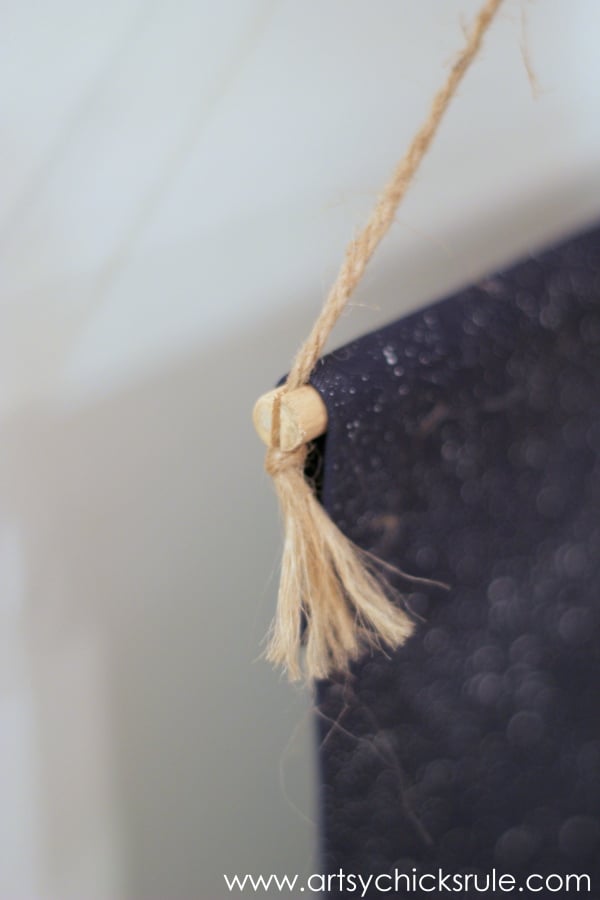 I had my husband cut the notches in so I'd have somewhere to hang the rope.
I just tied a knot and pulled through on each side.
Then I unwound the end pieces to give them a tassle-ish look similar to the inspired piece.
And done!! That's it!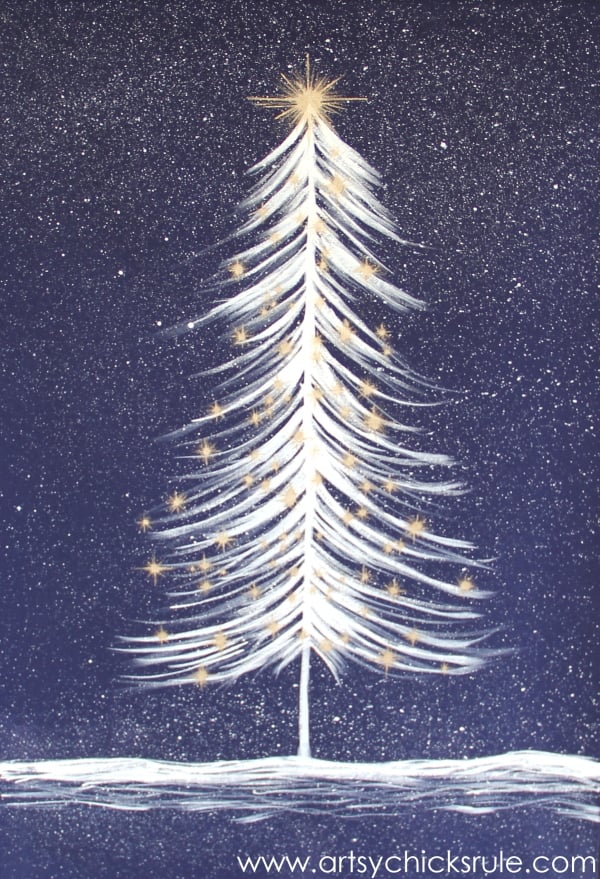 I really love how my version of the Christmas tree tapestry turned out.
I'm not sure yet where it will end up in the whole Christmas decor…. you'll just have to check back to see!
But here it is in a couple of different possible places I can use the holiday tapestry.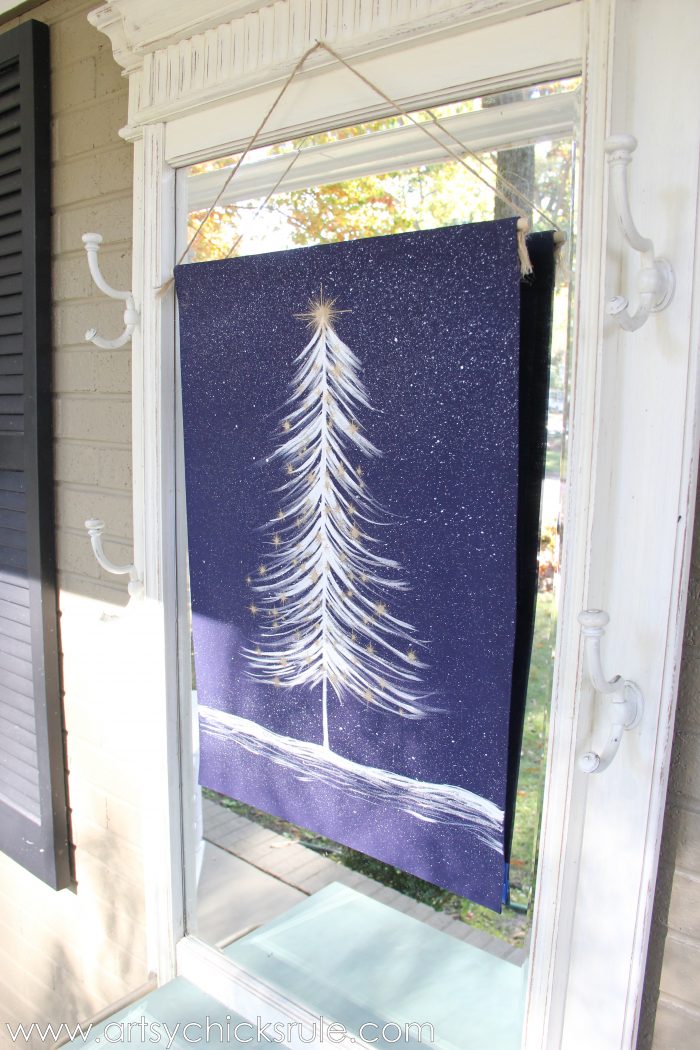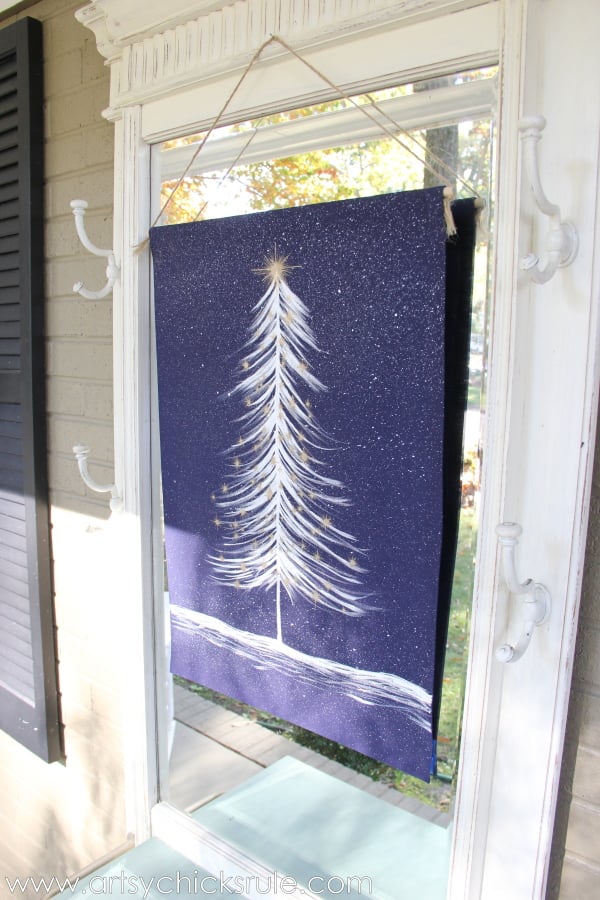 Outside on the front porch, on the hall tree.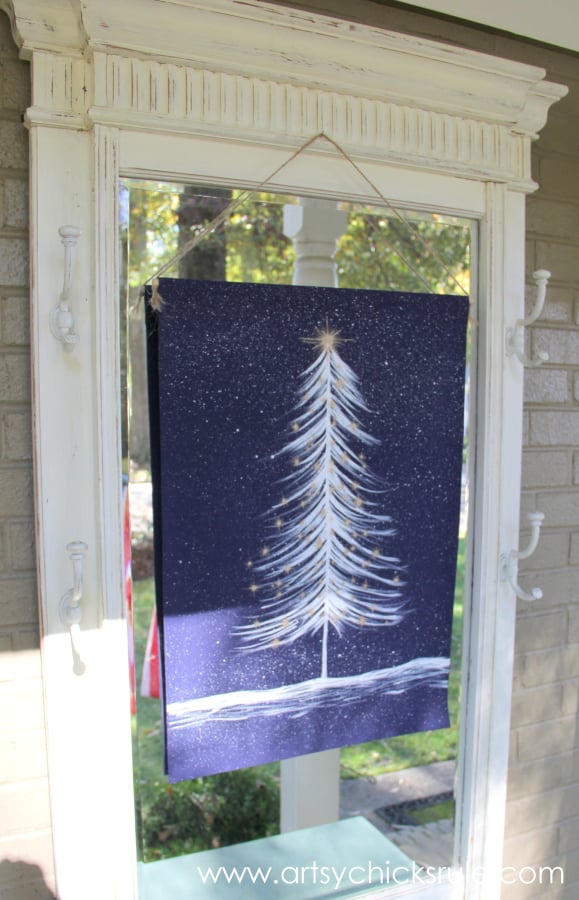 On the inside of the front door…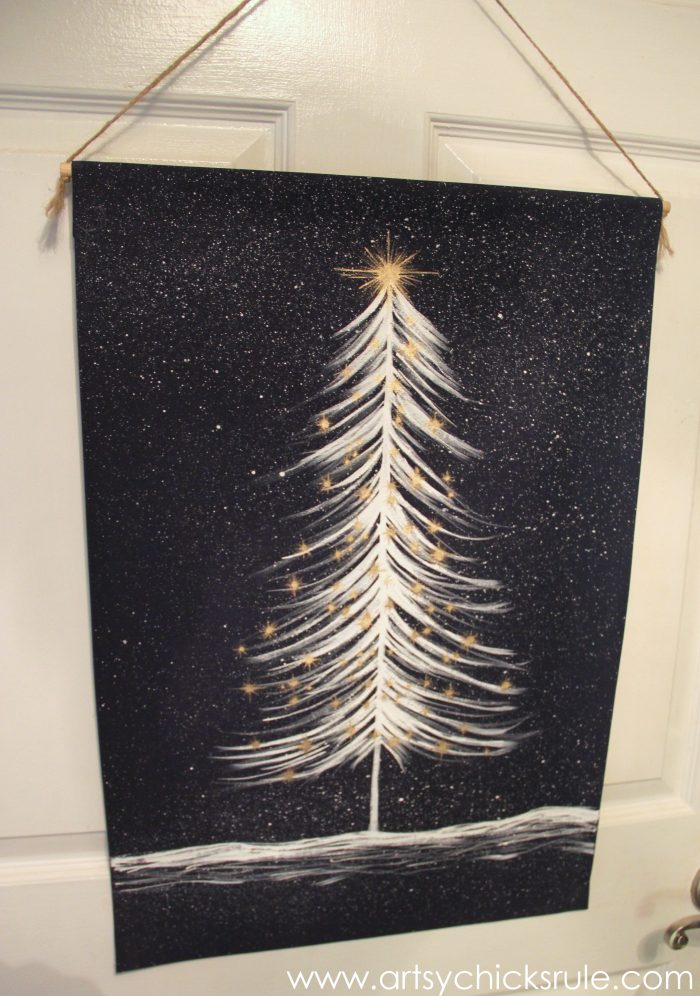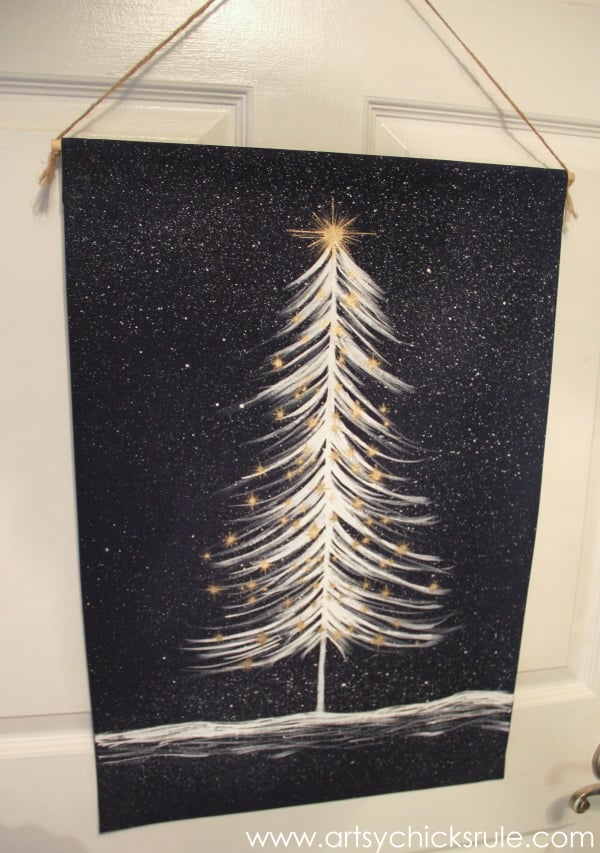 (looks black, it's not, the hall tree photo shows the correct color)
Pin it to save it!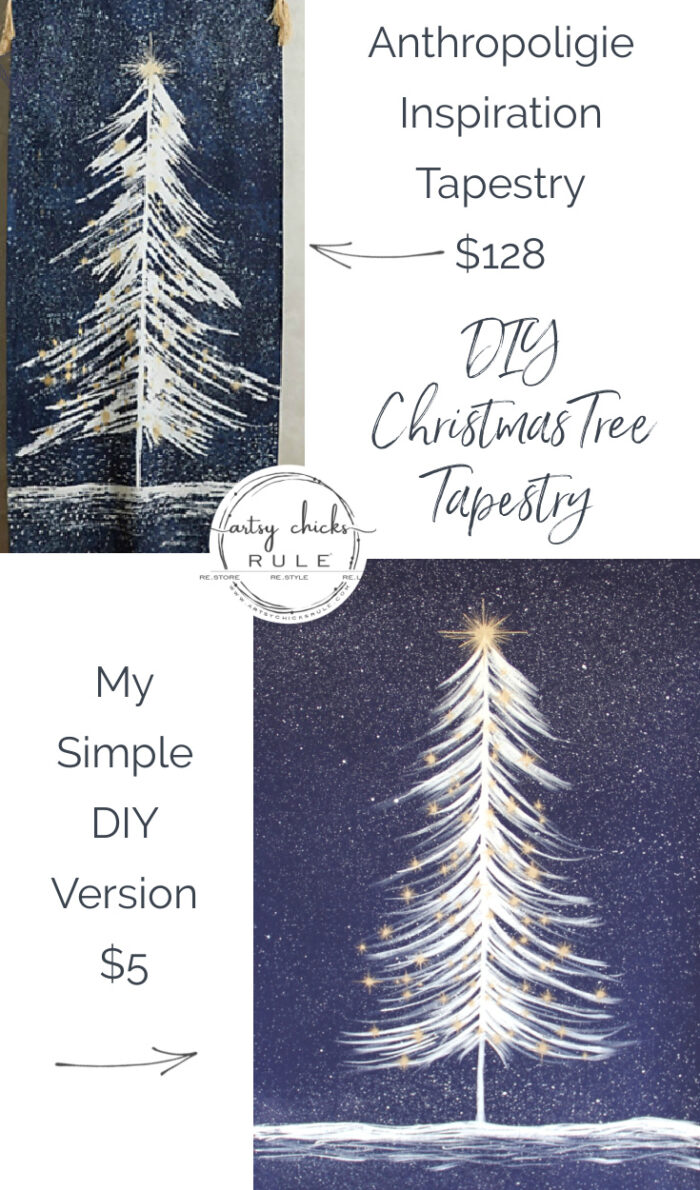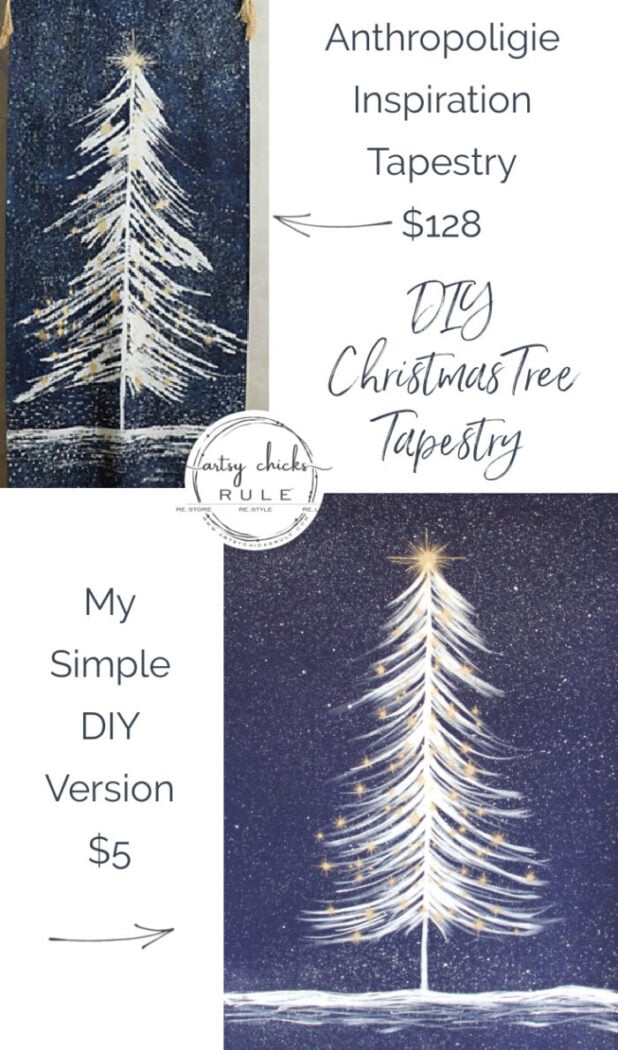 Would you ever guess it was no-sew?
Or that is cost less than $5 to make??
I wouldn't think so, or maybe…haha!
Big savings, easy, quick DIY Christmas project for your home.
My kind of project.
And with lots of options….like a red fabric background with silver stars instead, for example.
Hmm, a teal-colored background with silver, or even white, stars would be really pretty too.
Below you will find links to all of my friends "inspired by" projects… ENJOY!!!
xo