Easy DIY "Dairy Box" – Milk Paint Tool Box
This post may contain affiliate links. Please see disclosures here.
How fun is my new Milk Paint "tool box" aka, Diary Box?
(You might have seen the little snippet sneak peek of this one over on Instagram)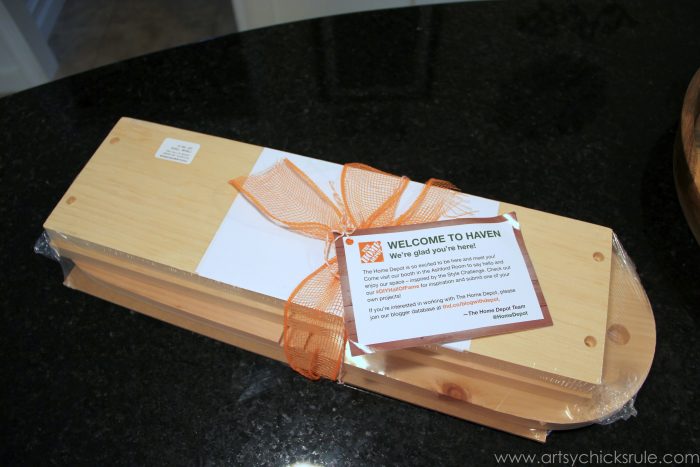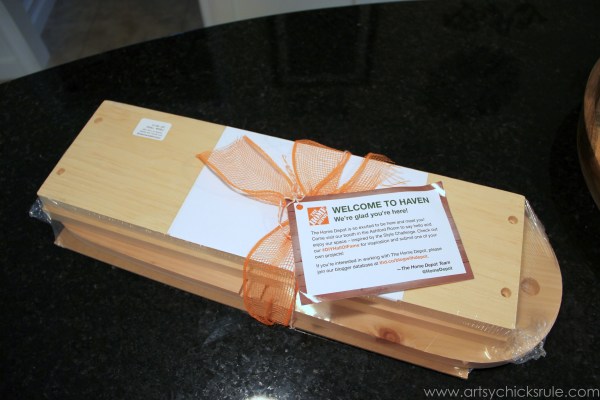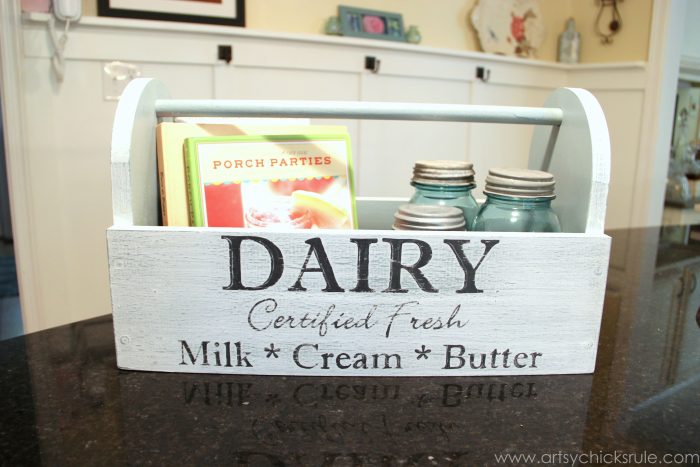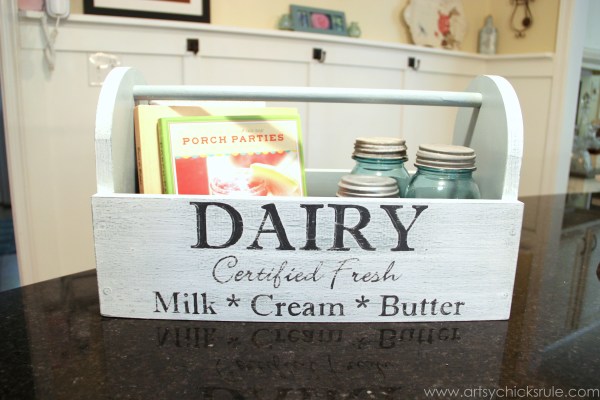 I love little projects like this because they are just that….fun. :)
My inspiration for it came from this old milk can I painted awhile back….. ( you can read about that project and see the tutorial here — "Old Milk Can Makeover")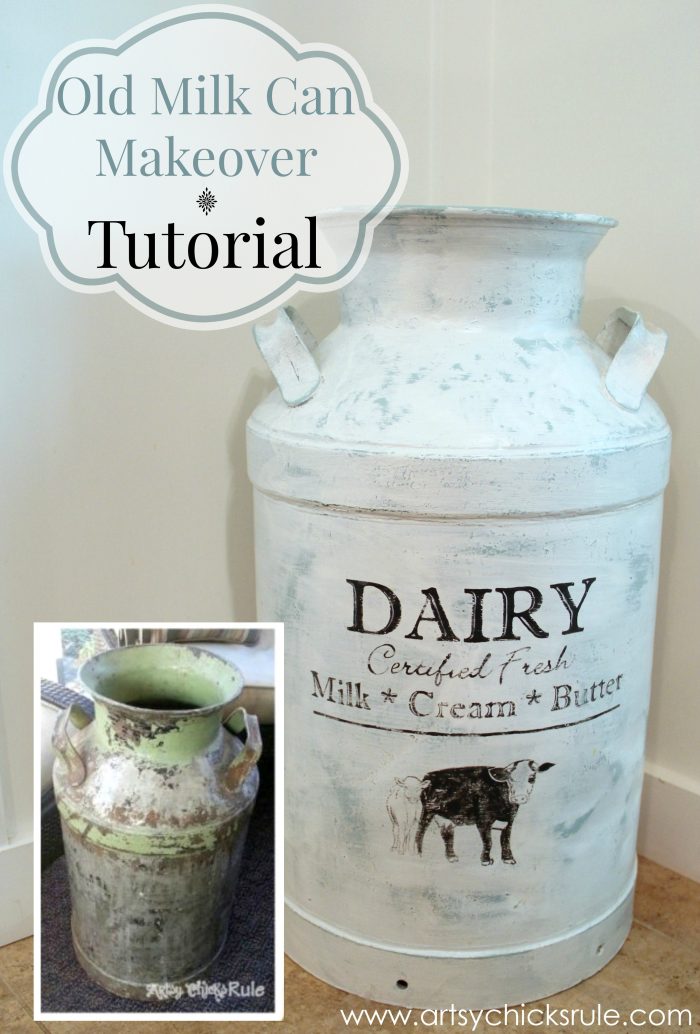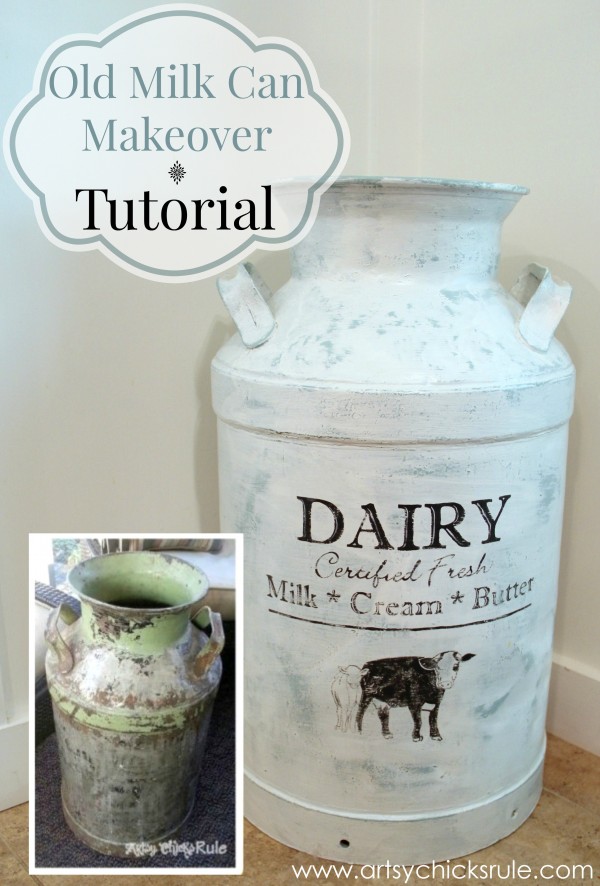 It was a really fun one to "makeover". I love the theme and have it sitting right there in the corner of my kitchen to this very day.
It's my cork collector….wine corks. I've got a ways to go before it gets full. ;)
So I knew exactly what I would do with this "tool box" kit I received from Home Depot (and the Haven Blogger's Conference I attended in July).
….make a matching "dairy box" to go with my milk can.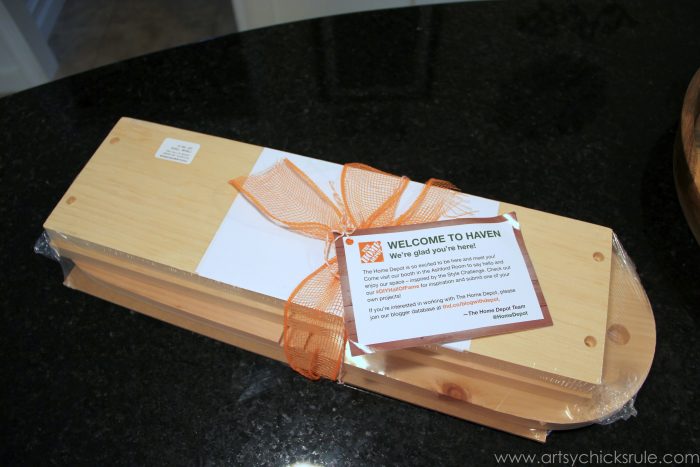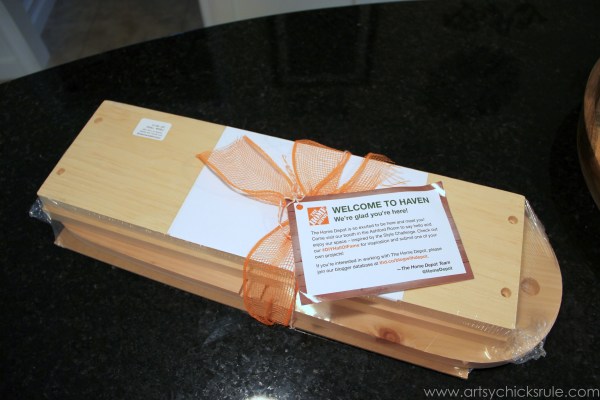 I assembled it first (so simple!)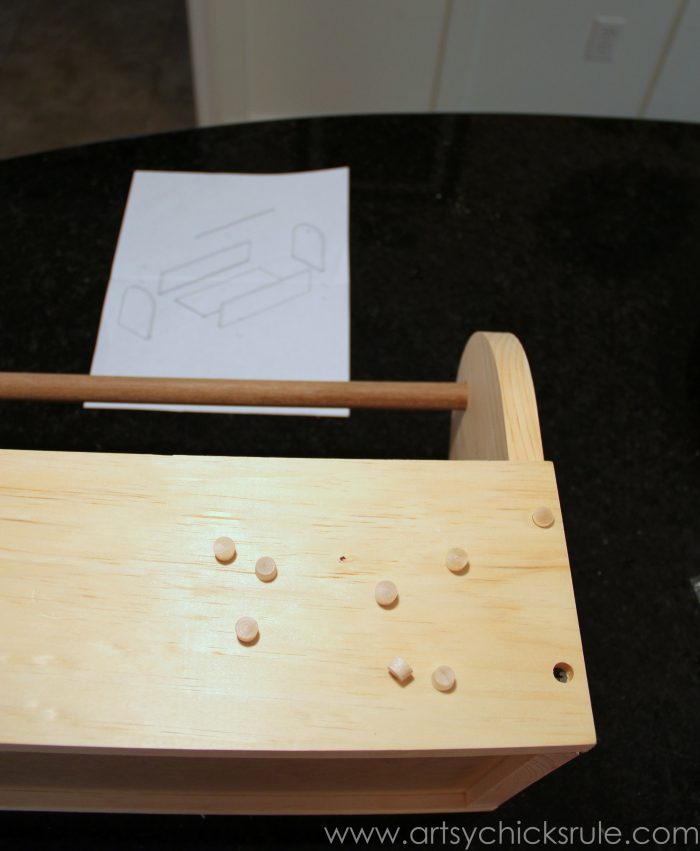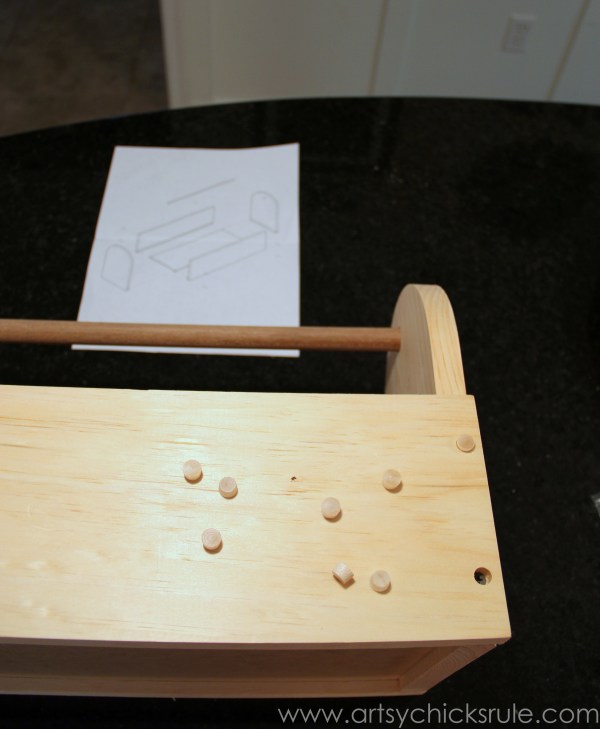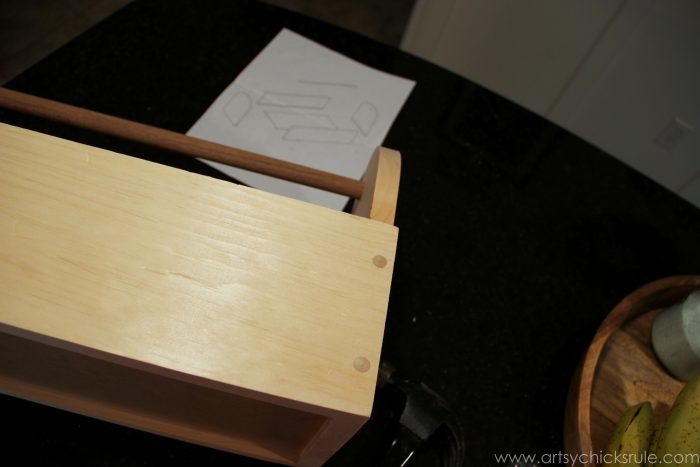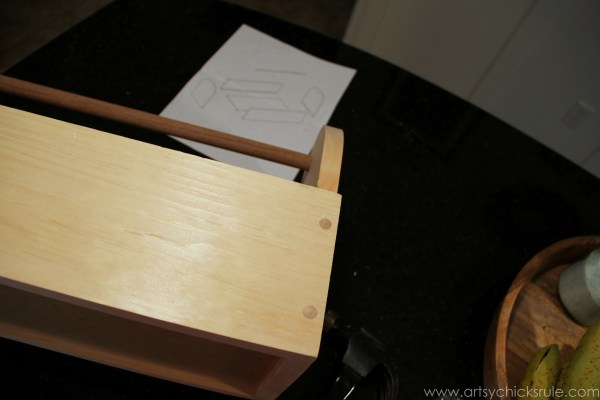 And then printed my graphic out the size needed for the front of the box.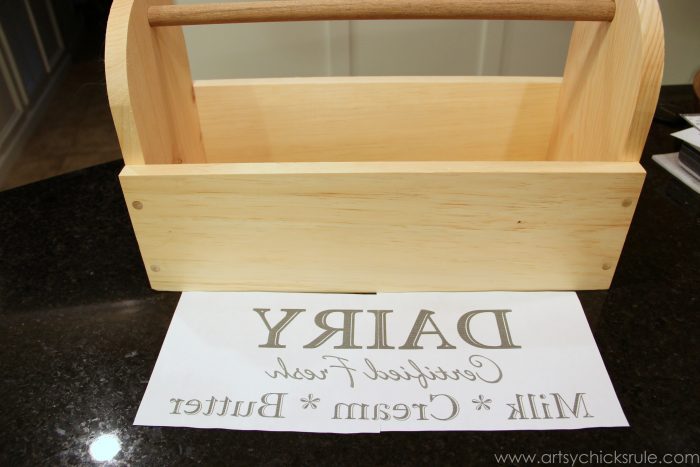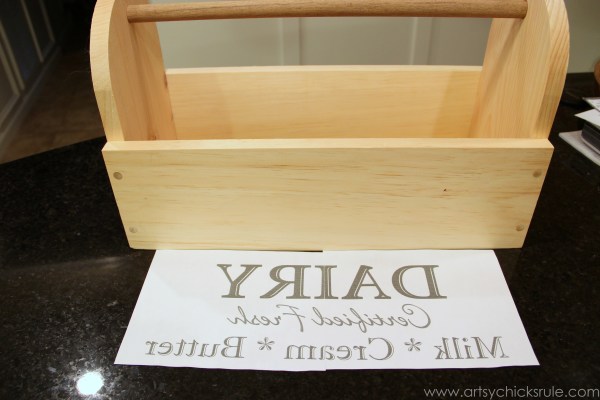 I decided to use *Persian Blue Milk Paint (by General Finishes) for the main color. (2 coats)
Love this color!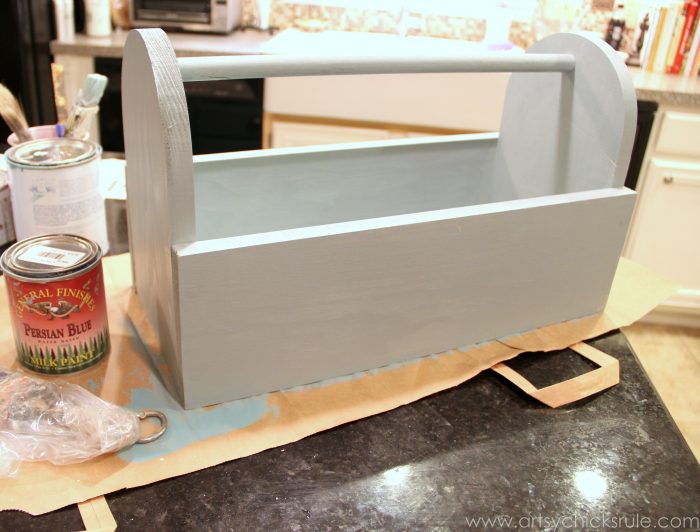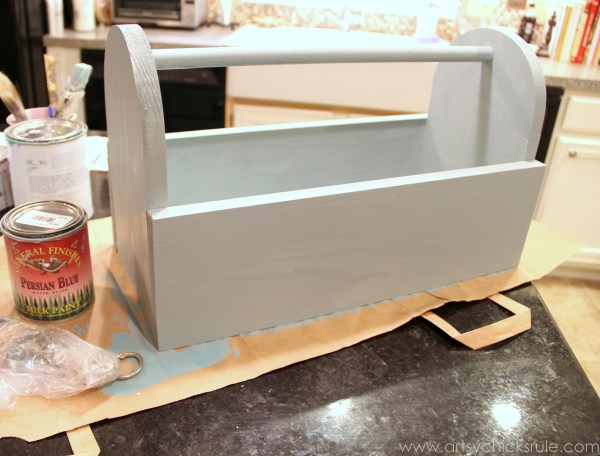 After that was dry, I applied one light coat of *Snow White Milk Paint. ( also General Finishes)
I wanted it to look "old" and have the blue color show through.
— I also used this same color combo on this little table here –> "Two Tone Side Table Makeover".
Once completely dry, I transferred the graphic I created by rubbing over the back with a spoon. (or pencil, anything will work)
(printed in reverse on a regular inkjet printer)
Here are a few tutorials (older posts) on different ways to transfer graphics:
Projector Method : "Estate Sale Sideboard"
Impression/Indent (good for softer woods) : "Ready for Summer Beach Sign"
Shading the back: "DIY Pantry Sign"
With Chalk onto a Darker Surface: "Baby It's Cold Outside Sign"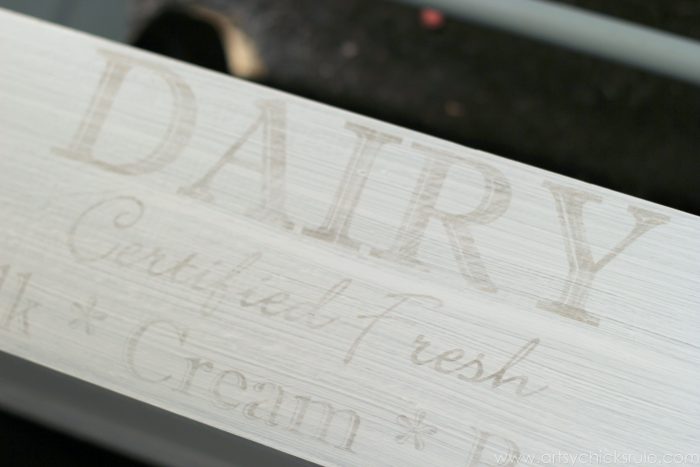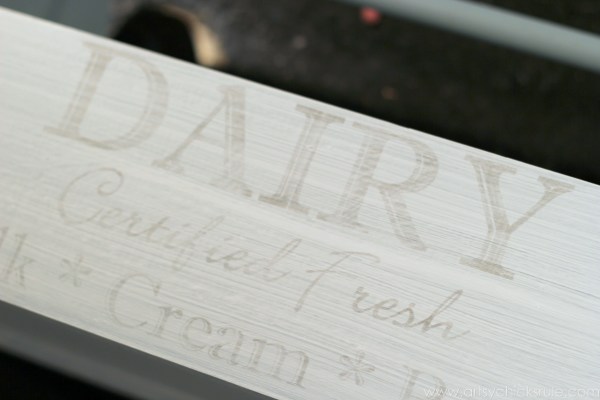 You'll notice that this font/graphic has white accents inside the top and bottom set of letters.
I don't try to paint around that to leave the white underneath, I paint right over top of it with the black.
It'd be much too hard (and might make me a little crazy!) to try to do that.
Instead, I go back afterwards and paint in the white accents over top of the black.
So much easier.
All lettering is hand painted in and complete.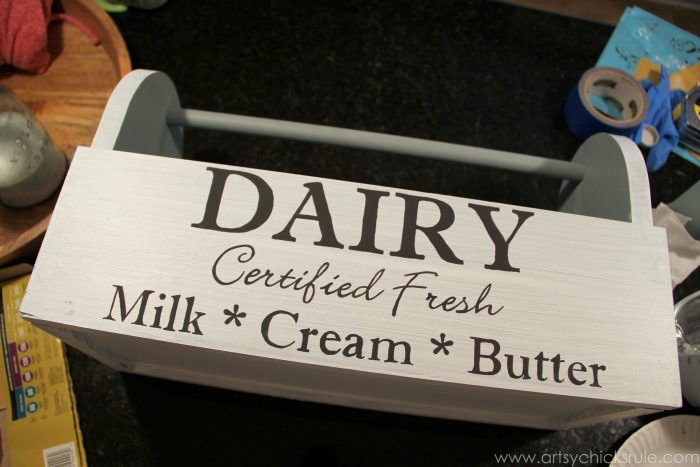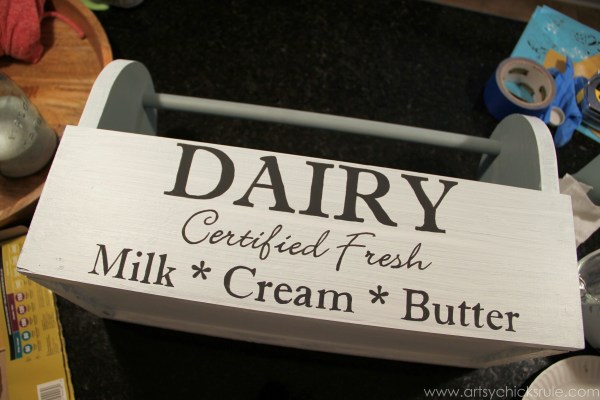 It's not perfect, as you can see. ;)
I used a different brush this time. I normally use a really thin script liner. (best!)
So I had a bit of trouble controlling this one but it won't matter because you won't notice once it's finished.
You'll see. That's the beauty of a distressed, "non-perfect", finish.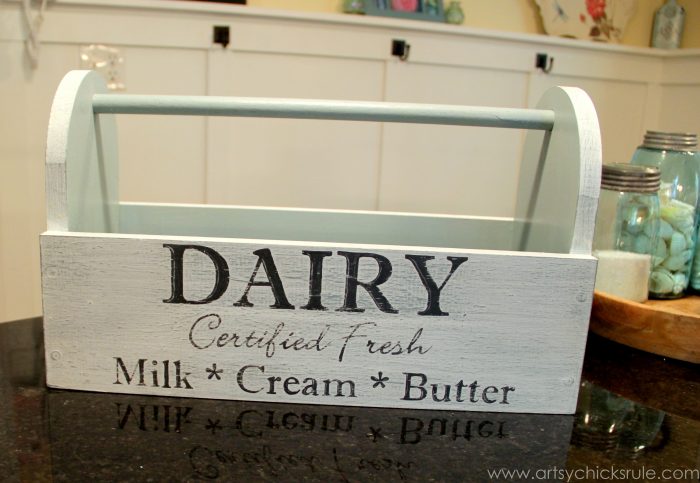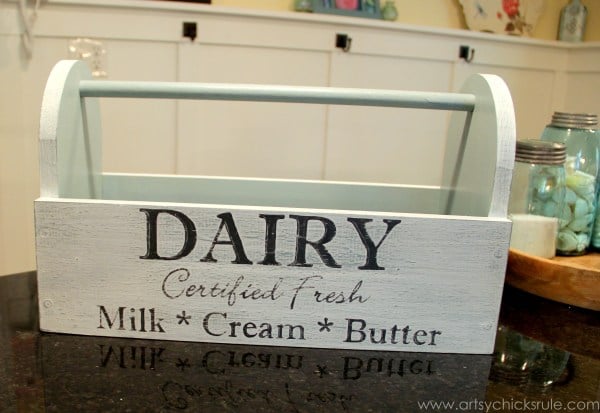 The above photo is shown with the wording, and the Snow White layer of paint, lightly distressed to bring the blue through.
I went back in with the white paint to put in the accenting detail on the letters shown below.
Want the free printable?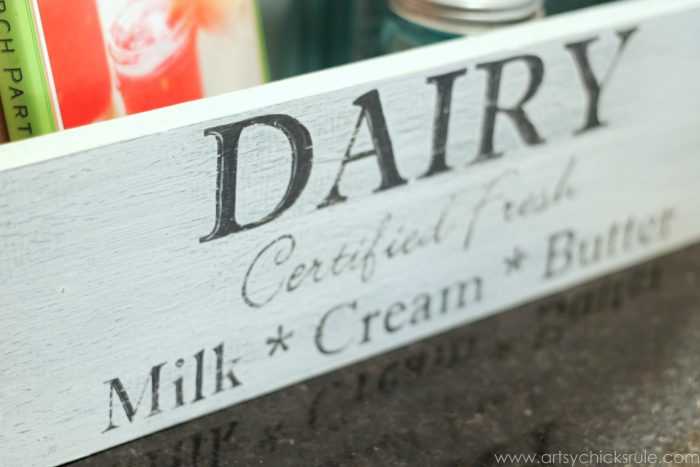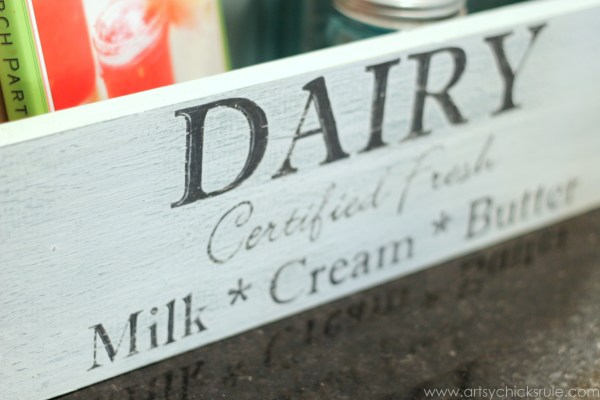 I am loving the solid blue inside and glad I decided to do that.
I had originally thought I'd paint one light coat of white all over.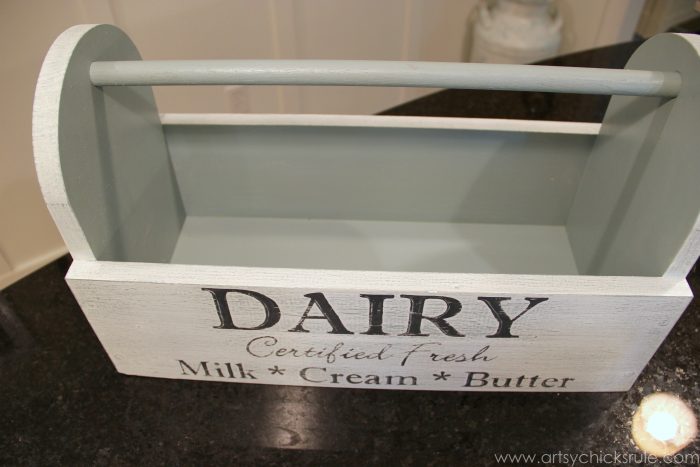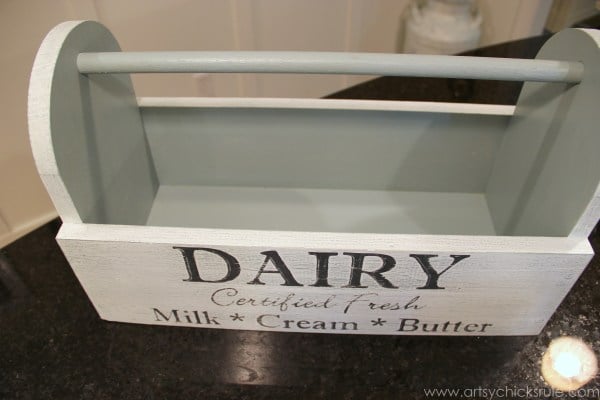 I sealed the entire piece with one coat of *General Finishes Gel Topcoat in Satin.
(soooo easy to apply, I am really loving this stuff)
All finished and filled with some goodies. :)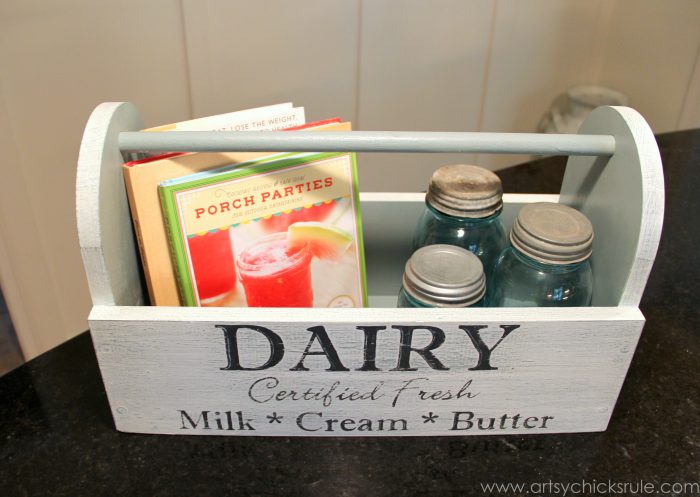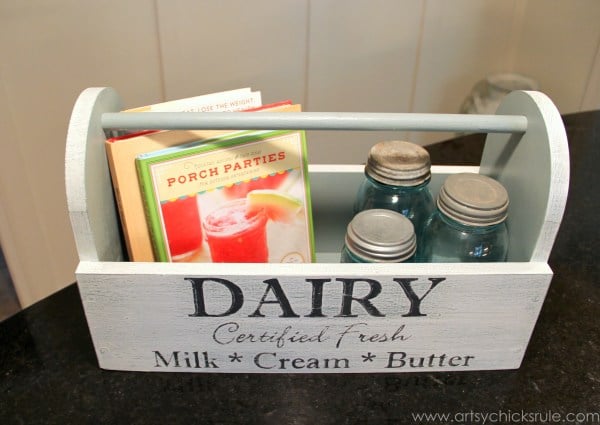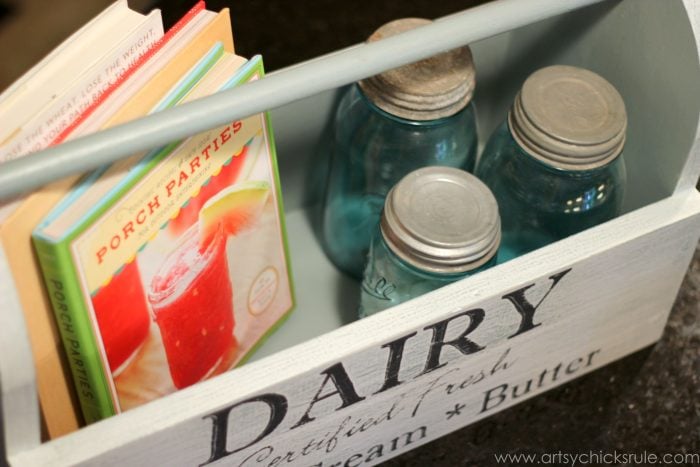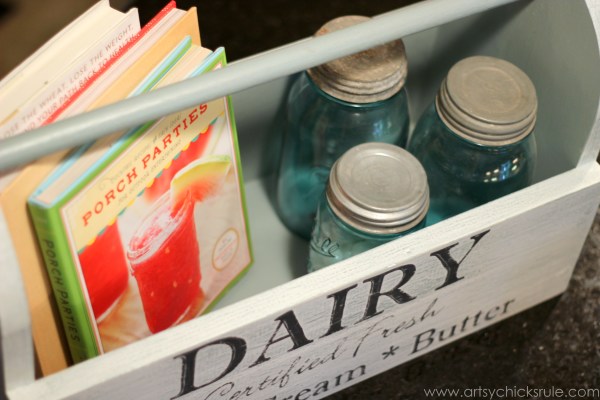 And a couple of shots with my "inspiration" in the background…. (focused on one and then the other)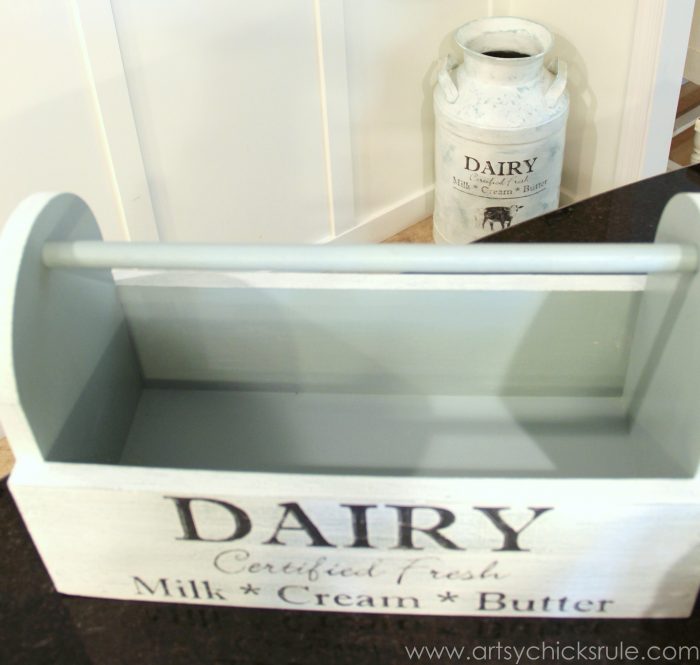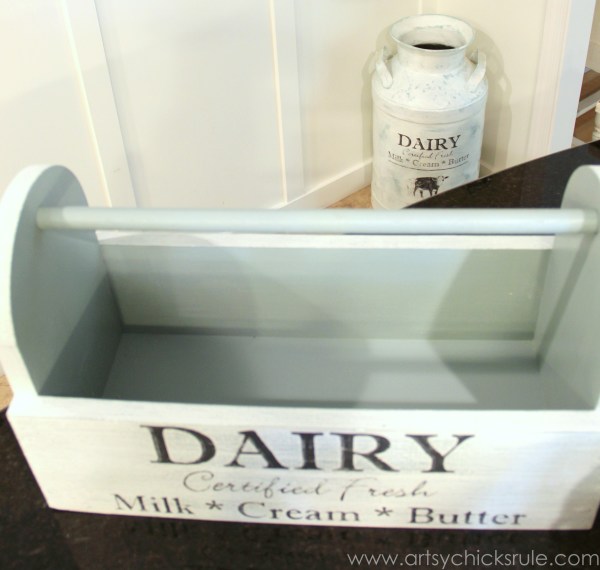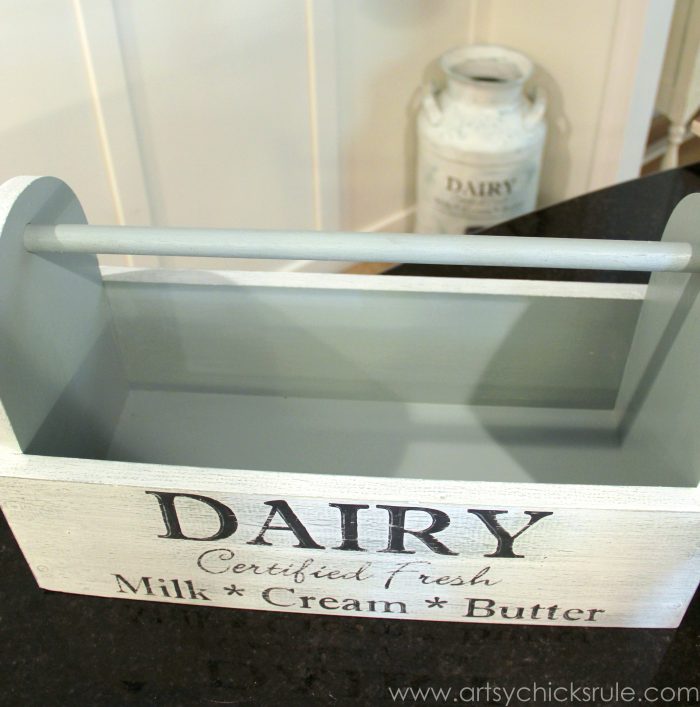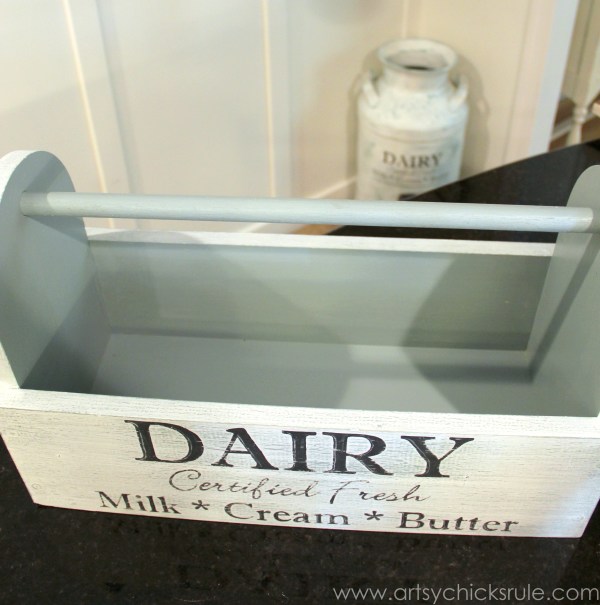 Really easy little project.
You can try paint pens too if you don't want to attempt a brush.
Those are a bit easier to control and come in all kinds of colors now.
Even a black Sharpie will work…..I've used those before.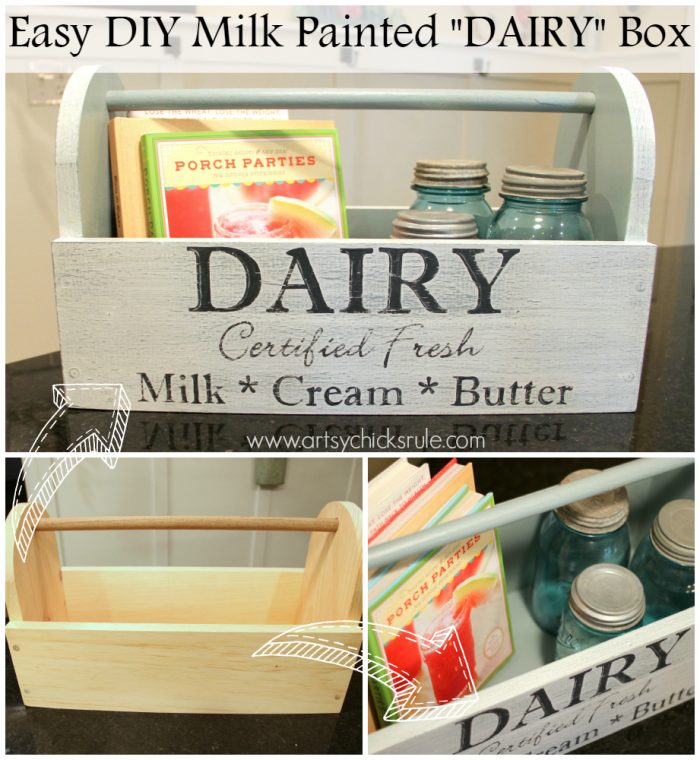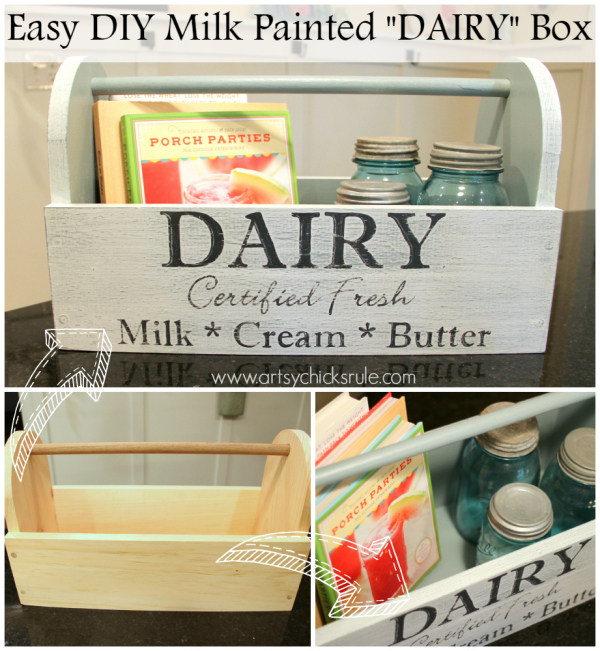 But it really is easy either way.
I hope you'll give it a try! :)