Front Porch Decor – $35 Hall Tree
This post may contain affiliate links. Please see disclosures here.
When you find a $35 hall tree…you bring it home, paint it, and put it out on the front porch, right?!
Updated 7-12-23
So, as you know by now, I frequent my local thrift stores…often!
Sometimes I'll come across a piece of furniture I'd love to have but the price is too high.
No worries, most stores lower the price on these items each week or so.
So I wait and stalk…and pray no one buys it before it can be lowered to a price that I feel is worthwhile considering the work I know I will put into it.
This hasn't gone so well in the last 6 months or so…prices have been up, up lately. And even more so all these years later since I first did this project.
Back in the early days of the blog, I would come across so many amazing deals. It's become so much harder to find those kind of deals today!
Thankfully, we have places like FB Marketplace to shop now. It's nice to have more options, right?
Either way, it's always fun to "hunt"!
This lovely hall tree was priced at over $100 when I first saw it.
I was semi-interested but not so much that I made a point to stalk the piece weekly. I did, however, take a look at the tag each time I came in.
(****By the way, this is NOT an antique piece of furniture for those who might be wondering…hence the price. It is a repro, most likely from the late '70s/early '80s)
On my next visit, it was down to $85. Still a hard no.
Next visit….$65. Nope. (I was thinking it was going to become a permanent fixture at this store…which is unusual for this place!)
And yet on another visit (after what seemed like forever) they had removed the old tag and replaced it with a new one starting at $50.
Hmmm.
I almost bought it ….but didn't.
Honestly, $50 was more than fair but I thought I'd see how far we could take this. haha!
And when I came back a week later it was still there.
I thought for sure it would sell at $50. Nope, it had just been marked down to $35.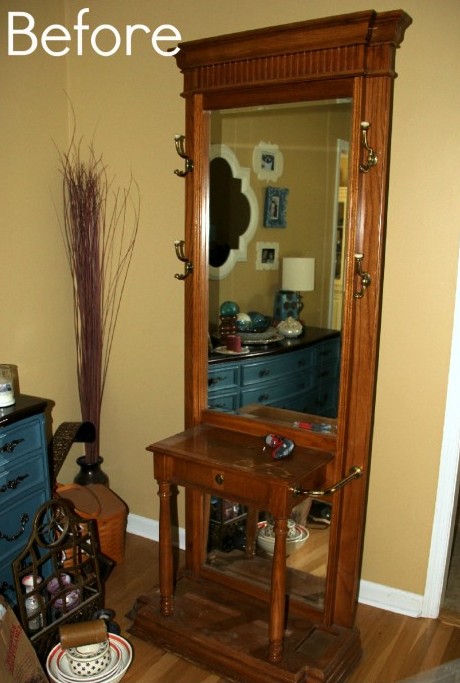 Yippee!! So, yep, $35 was a deal…..and SOLD! Thank you!
I knew I could do something with it. Sell it in the shop I had at the time or use it somewhere in my home.
For $35, why not?
But in the end, it found its way…. to my front porch, what?? Yep, and I love it there.
I used Old White and Duck Egg Blue in Annie Sloan Chalk Paint. I used to use that quite often. I've since moved away from it as I've come to love and use other paints. Fusion Mineral Paint is an absolute favorite and what I sell in my shop. (because I love it so!)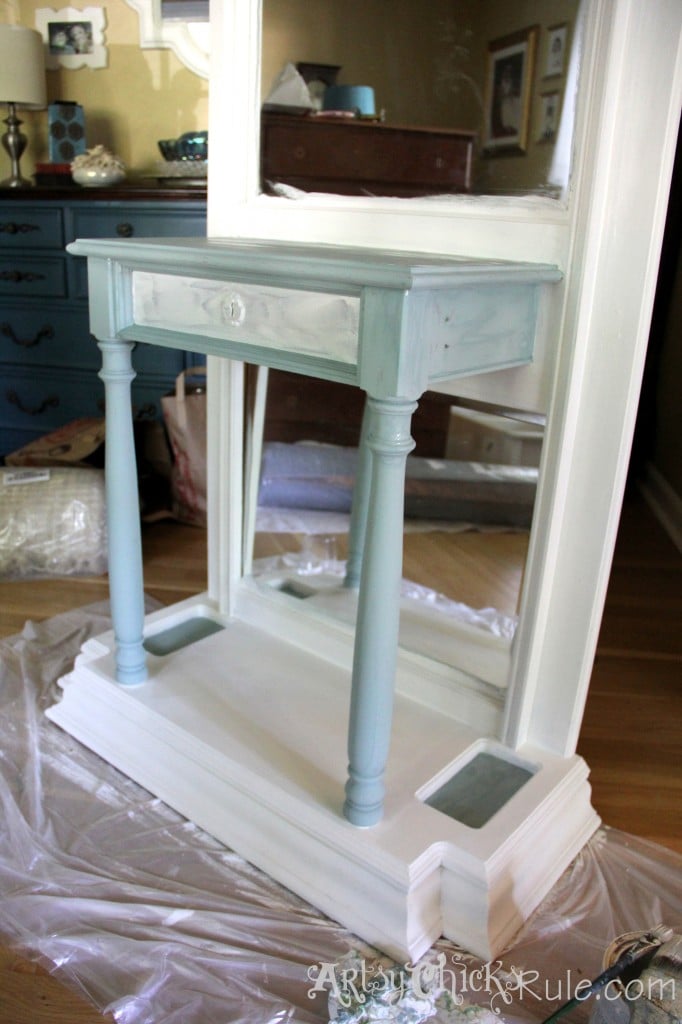 Please disregard the mess in this room (the Study).
It's a large room that ends up being my "work" room when the garage is full.
Which it always seems to be.
(Oh! And I can't remember if I've mentioned it in another post but I've painted this room again…wait til you see it. It is no longer yellow and I love it so much. If you follow me on Instagram, you've already seen it. Update…see this room now here. )
I did 2 coats of paint…..and then distressed the edges. I almost always sand before sealing.
It's just my way. You can sand after too, if you like.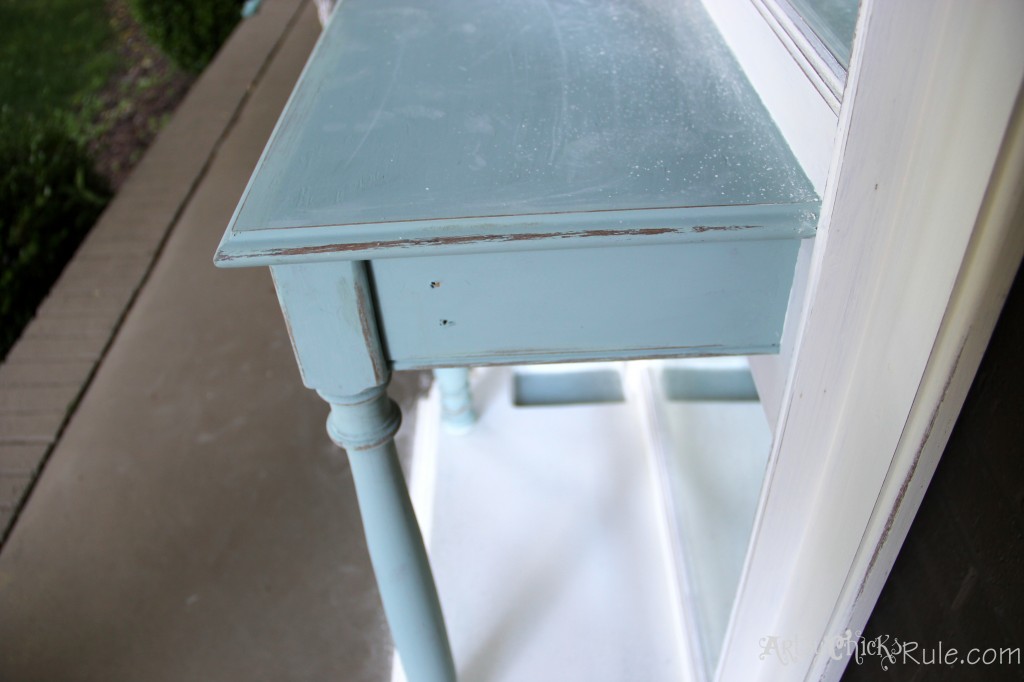 Since it will be outside (on my covered front porch), it's a good choice to seal it with poly.
I sealed it with water-based since it was a covered porch.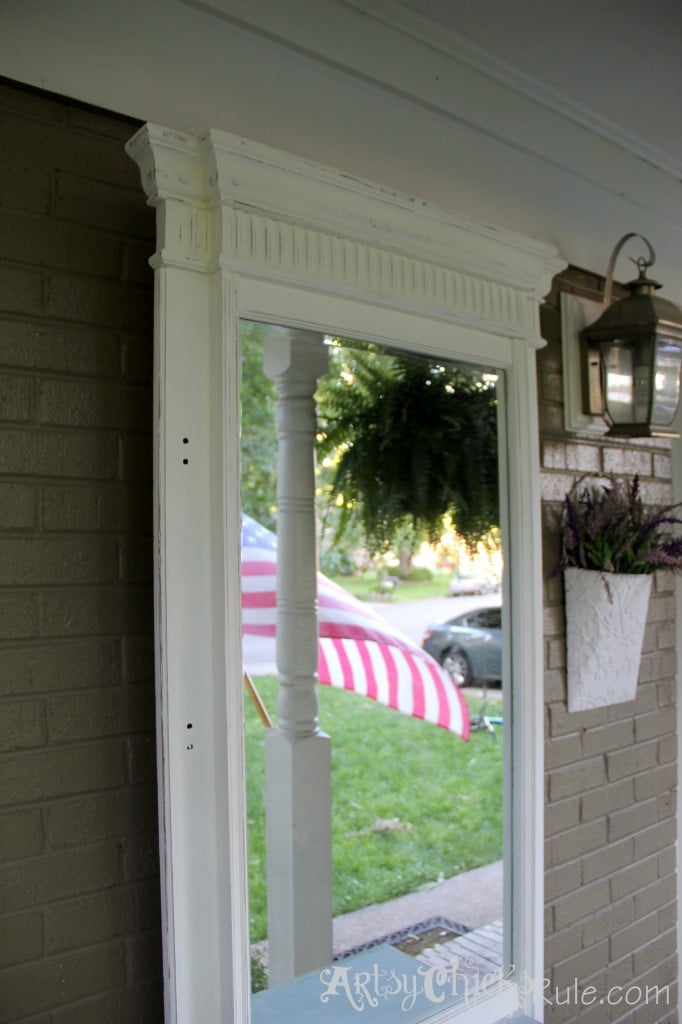 The hooks got spray painted in an off-white primer and then painted with the same Old White.
The side pieces got spray painted in Satin Nickel. (both were brass, to begin with)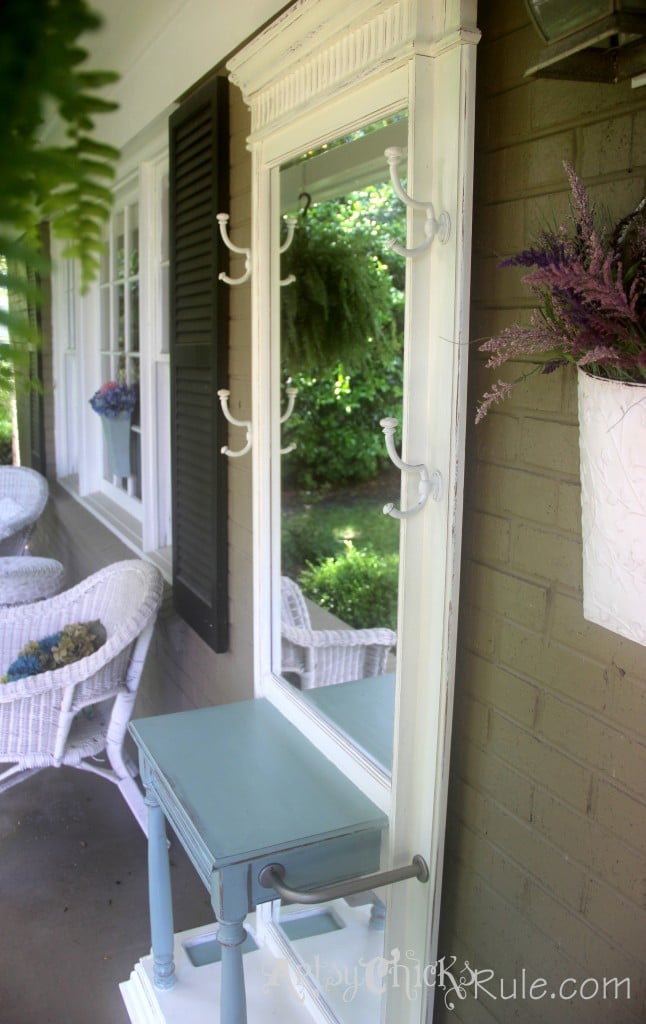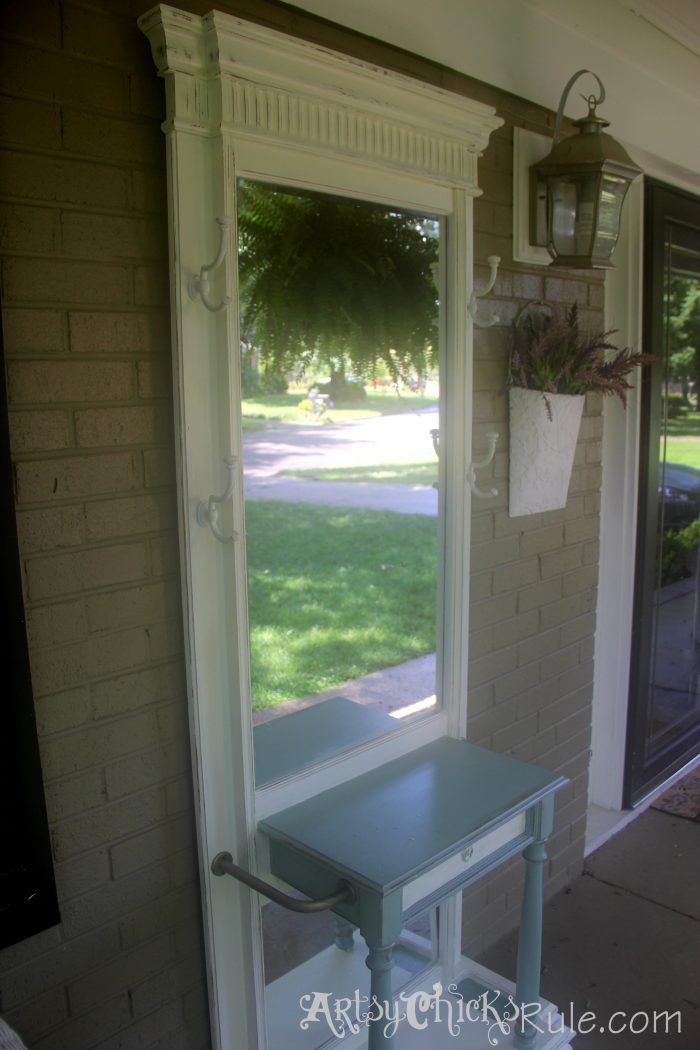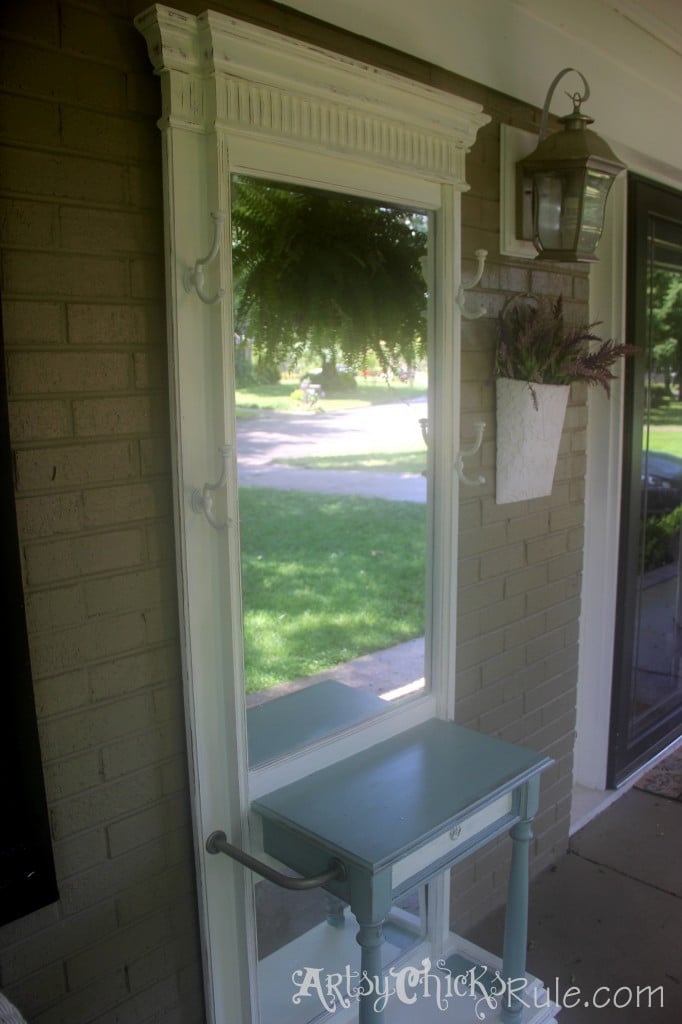 And the details, up close……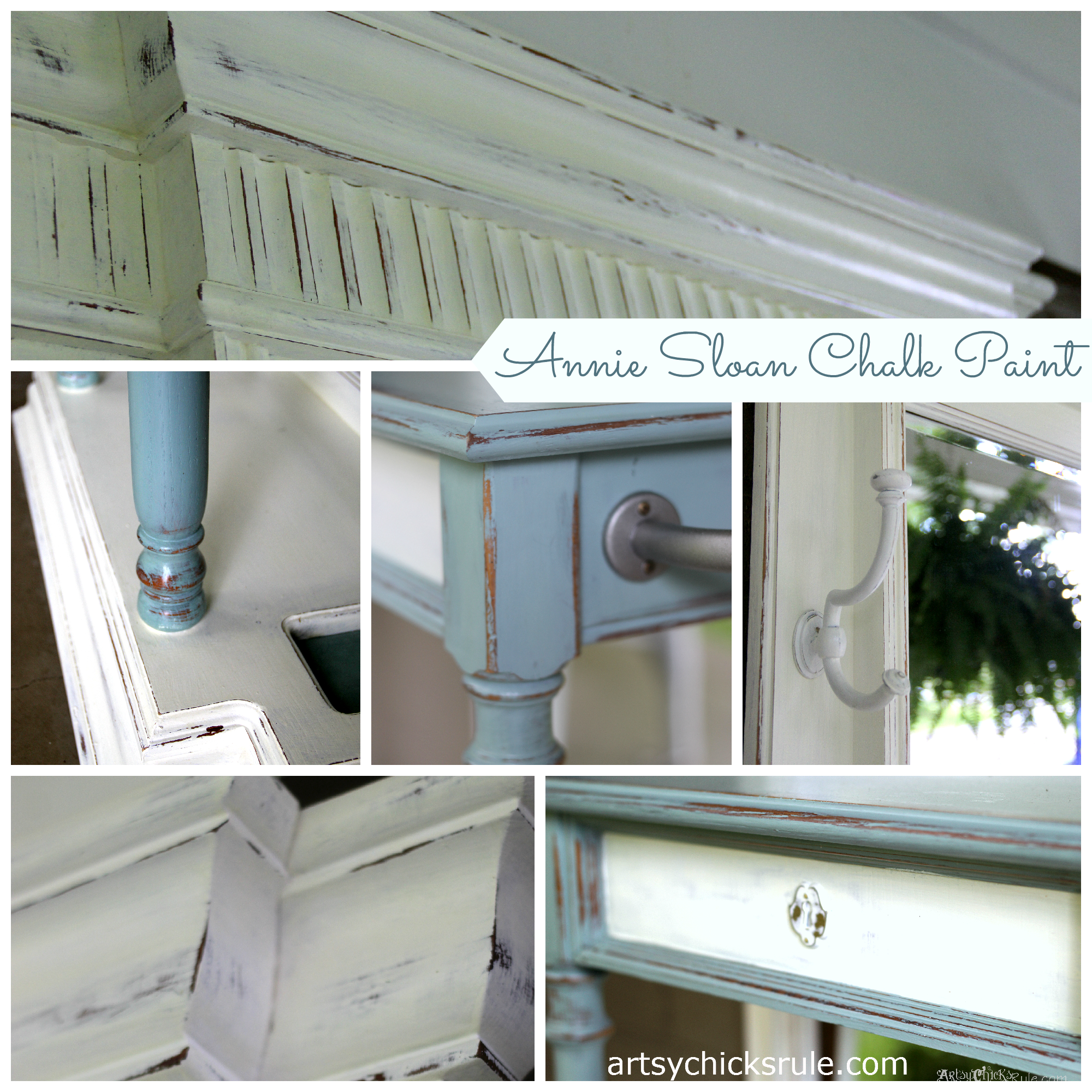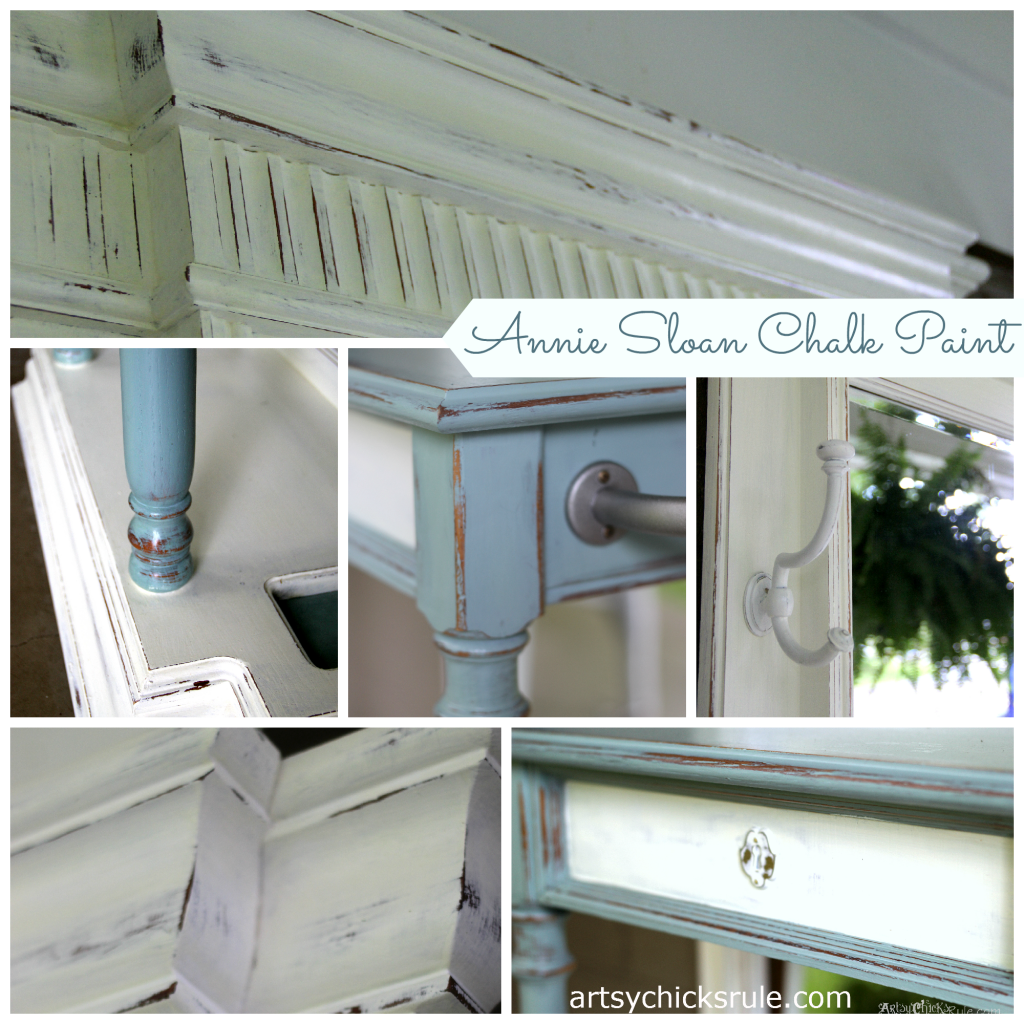 Want to know about 26 other chalk style paints?
I've got the low down for you right here! >>> 26 Types of Chalk Style Paint For Furniture
Hazy shot….(was still trying to learn the new camera at the time)
For some reason, I could not get a shot from back here without the haze. I'm thinking it was because it had rained and was humid, maybe?
Clearly, I am not a whiz with the new equipment….yet. lol But I still thought the shot was sort of cool looking so am including it.
I'm thinking it was cool from being inside and hazed up with the heat. Who knows?!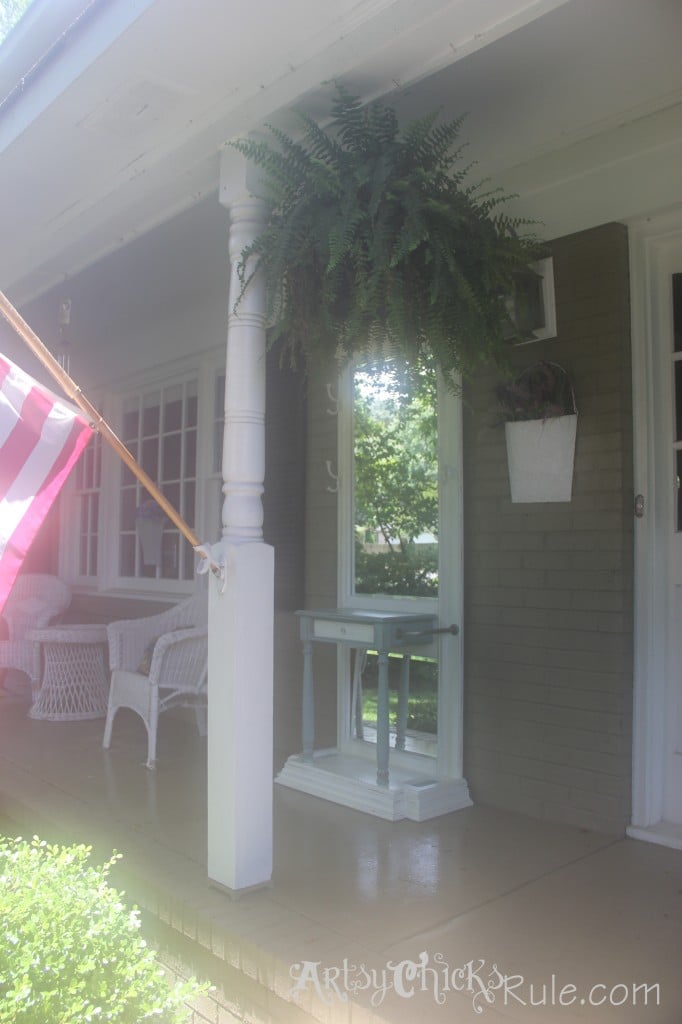 So yes, I do have a "hall" tree on my front porch.
Not the usual place for one, I know.
But I like it….for now anyway. Everything is subject to change around here.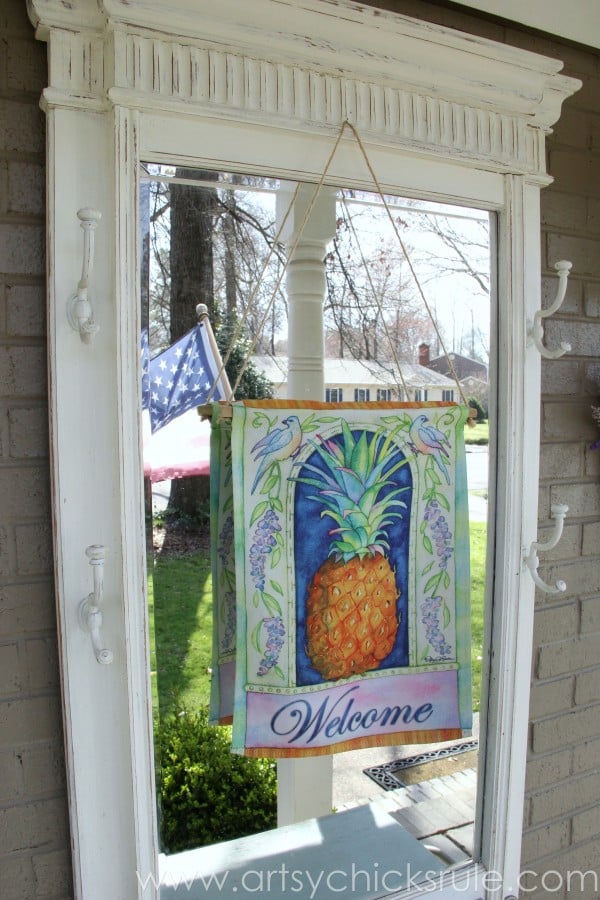 And surprisingly this didn't change fore YEARS! I really did love and keep this on our porch for a lot longer than I ever thought would. It is gone now, but I sure did enjoy it over the years it was there.
PIN it to save it!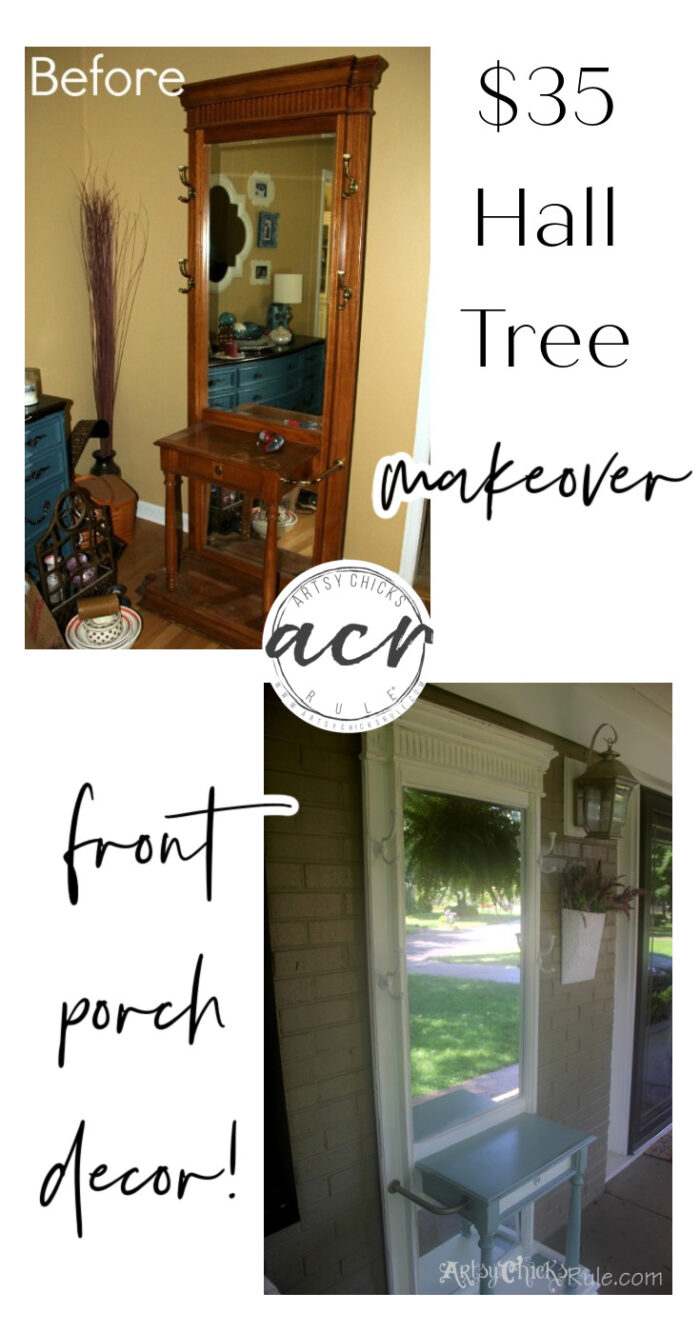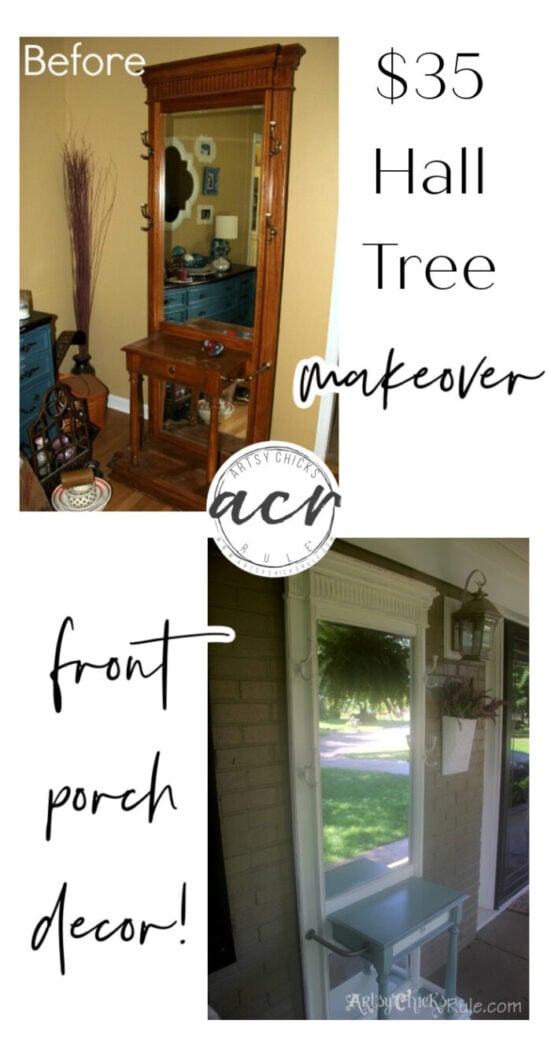 I also loved the touch of blue up there too. Everything had been all white for too long.
It was definitely some time for a little color on the porch.
As is the back screened porch. There will be much more to come for both. So stay tuned….. (Update…see the back screened porch how it is now, here.)
Be sure to check in next week when I share what I did with this!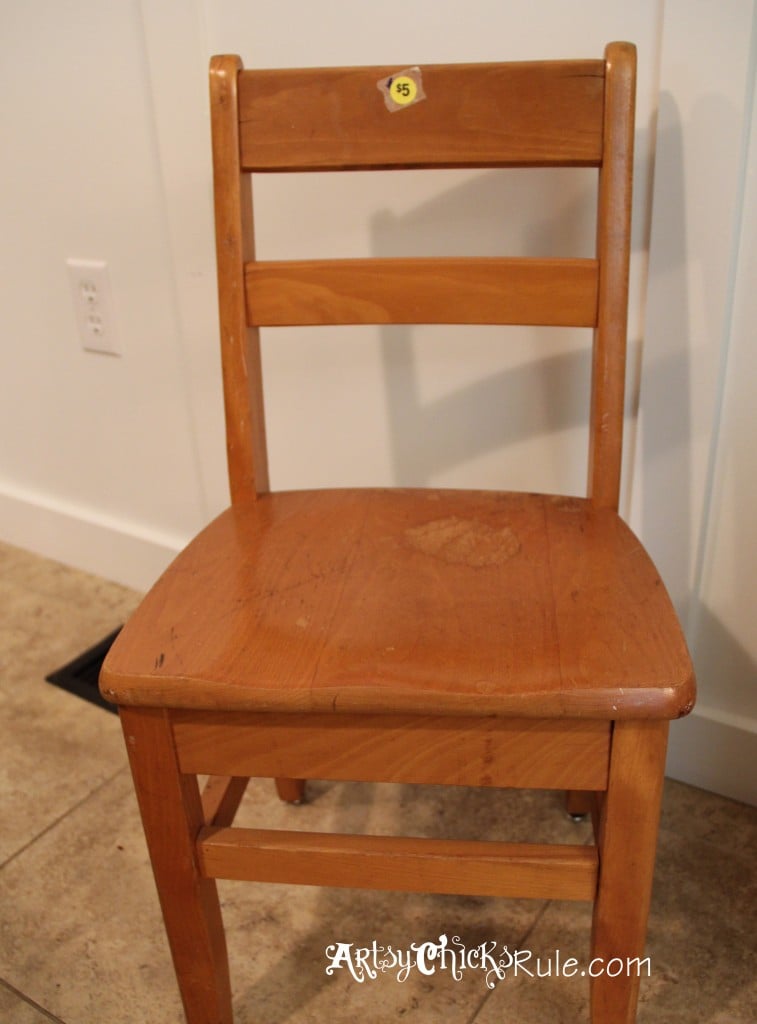 UPDATE!!! See it now, here!
Have a wonderful weekend, friends!!