Screened Porch Refresh (aqua and brown)
This post may contain affiliate links. Please see disclosures here.
This aqua and brown screened porch refresh is cozy and inviting with pillows, throws, baskets, greenery, and more!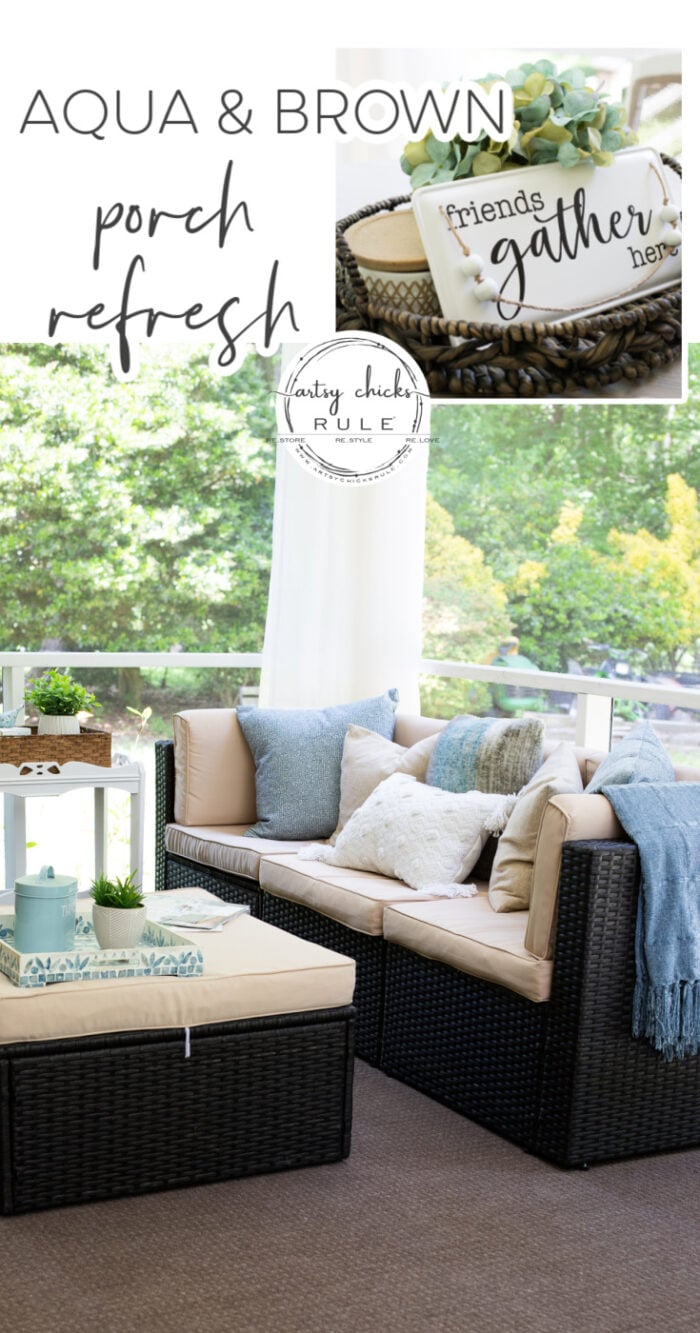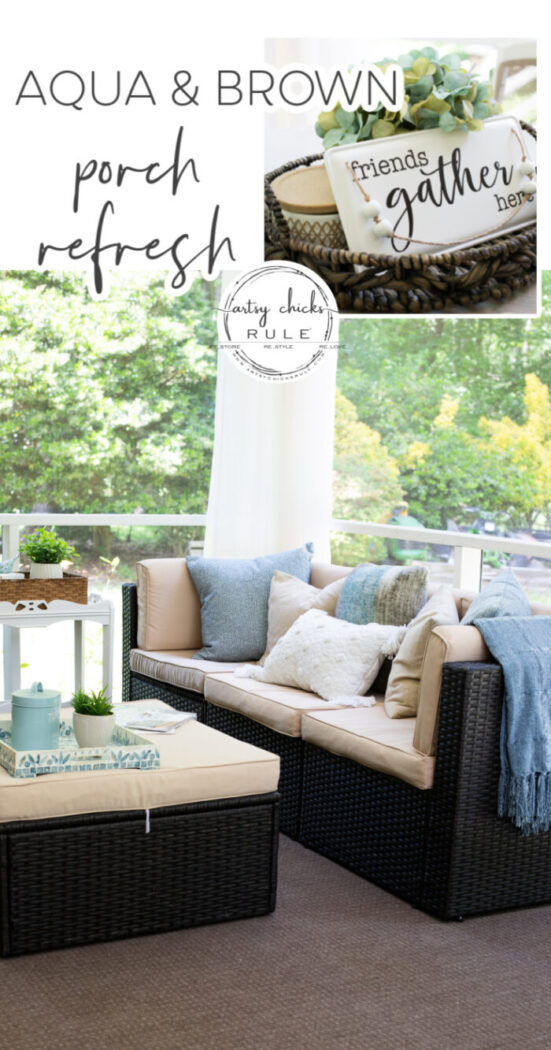 Hello friends!
I am finally sharing our screened porch refresh…reveal. You know, the one I was supposed to share last year! haha
So happy you are patient with me.
Better late than never, right? We are slow but dang, we have a lot of irons in the fire 'round here.
I can not tell you how incredibly happy I am that I finally finished the last few things on this space. Yippee!! Just in time to enjoy it with the warmer weather.
Before I get on with it, let me give you a little refresher. Hop over and visit this post first.
This will catch you up on where we began with this porch (like how it looked at move-in) to where it went after that … to now.
Okay, now you can scroll down to see it now. I'm so thrilled with how it turned out.
Screened Porch Refresh
If you went over and visited the other post, you saw that we had a blackish-gray outdoor carpet out here. I was ready for that to go!
I wanted something warmer (in color) and something that would go with this new brown furniture below.
I certainly did not want just the cement flooring as seen below.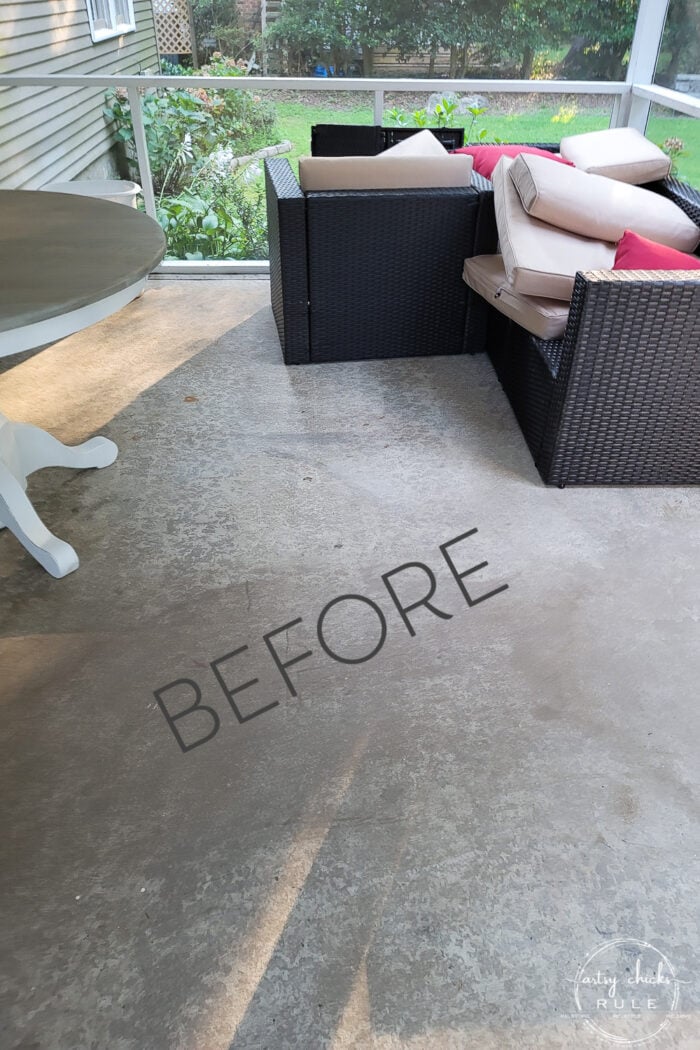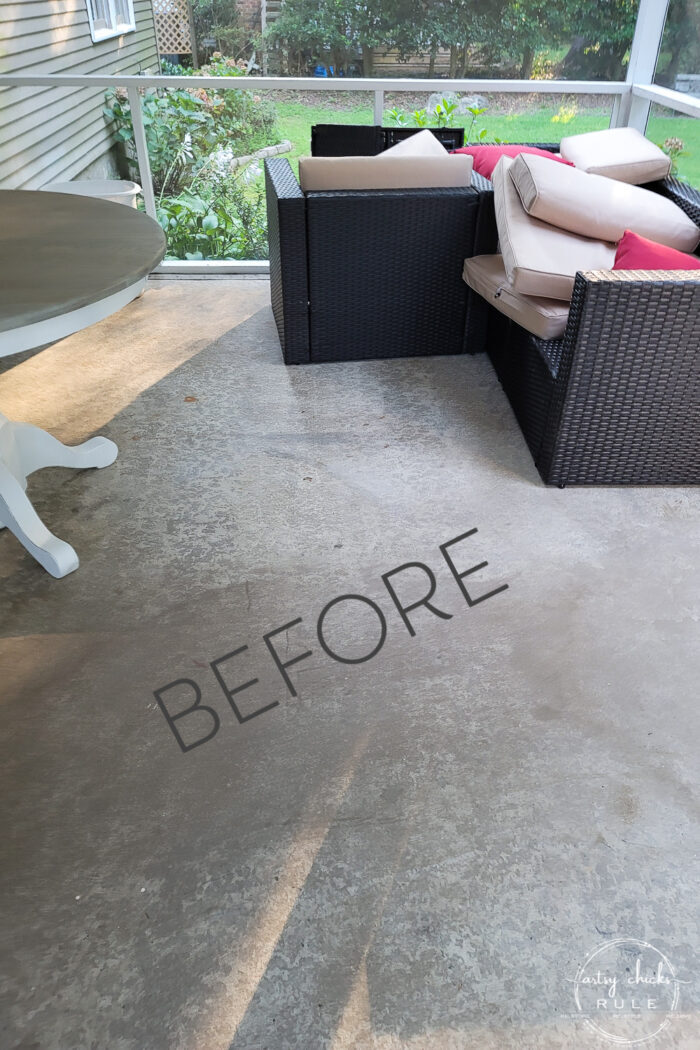 I did consider painting it (again, that is a sponge roller painting I did years ago). I also considered tiling it.
I would have loved it tiled but who has time for that? lol Not me!! ;)
So I set out to find another outdoor carpet solution.
And I found this…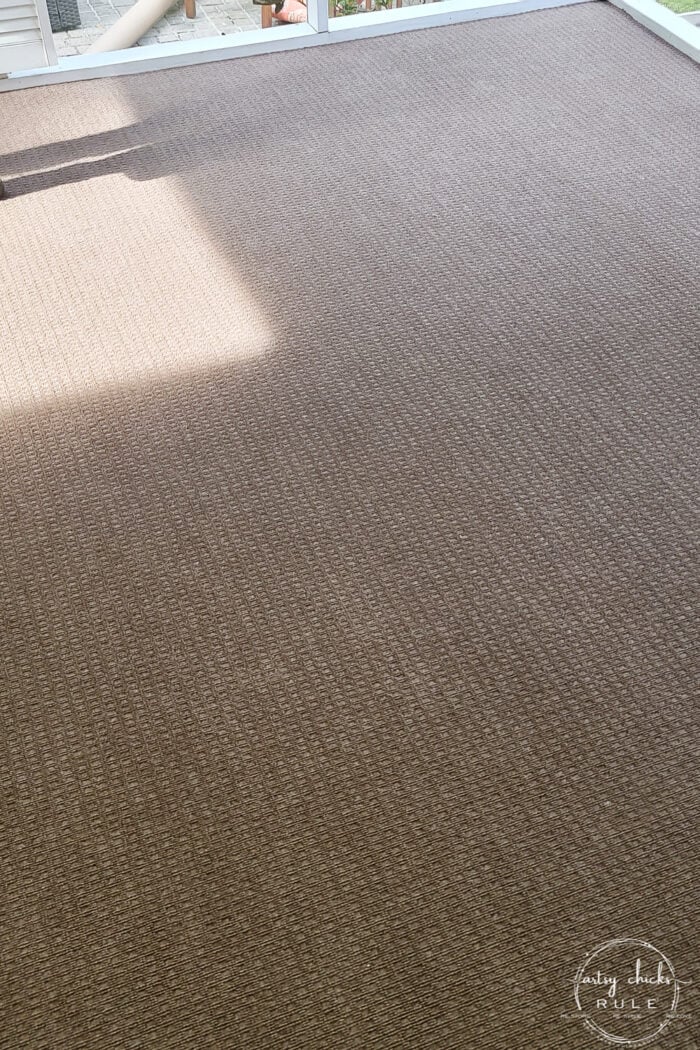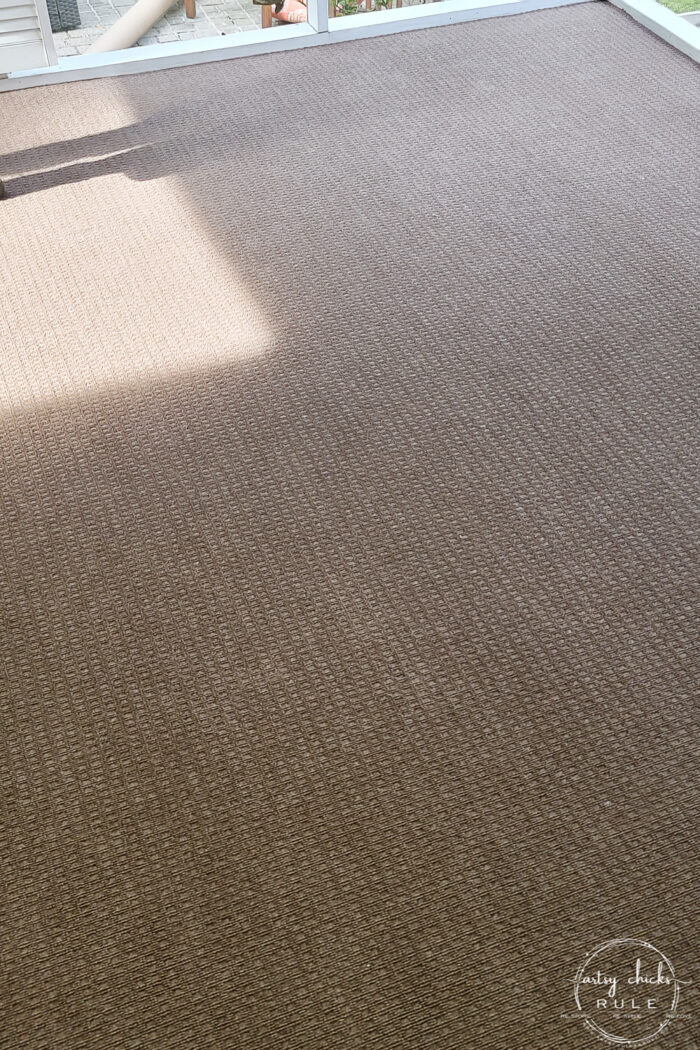 Pretty close to what I wanted. And it comes on a roll so you can cut it to the exact size. WIN!
Plus, it's cheap. Double win.
And it creates instant coziness. Triple win!! lol
Anyway, I'm team outdoor carpet even though I am sure there are those that aren't.
My daughter said, no, mom… but hey, I like it!
You can find this outdoor rug here >>> Outdoor Espresso Rug
I mean, just look. So cozy, warm, and inviting. It wouldn't feel like that without this carpet.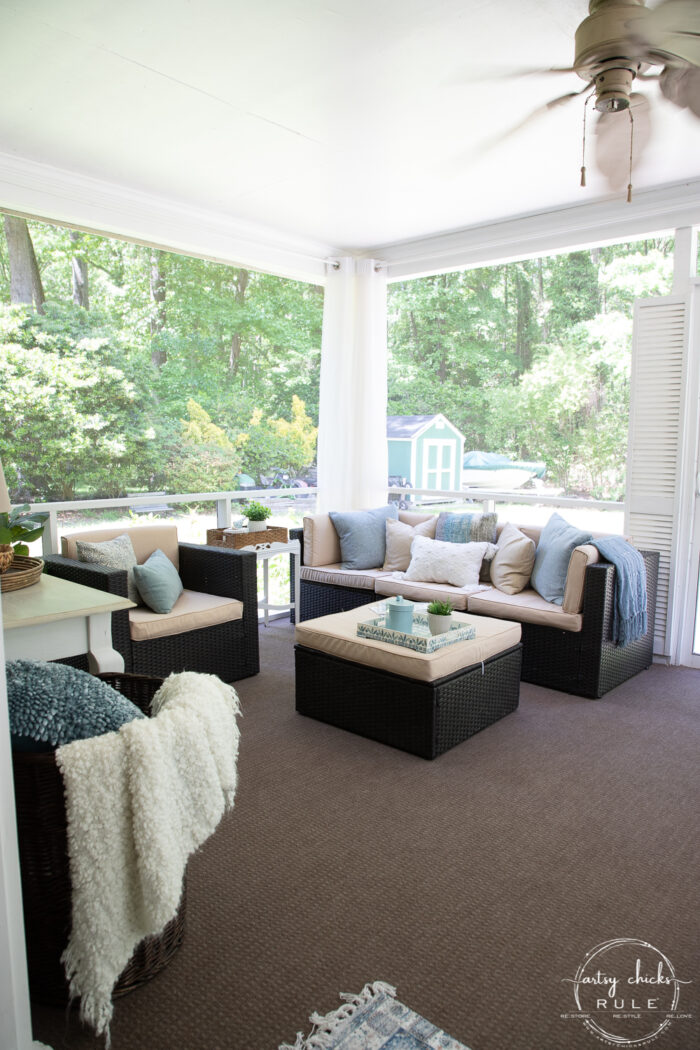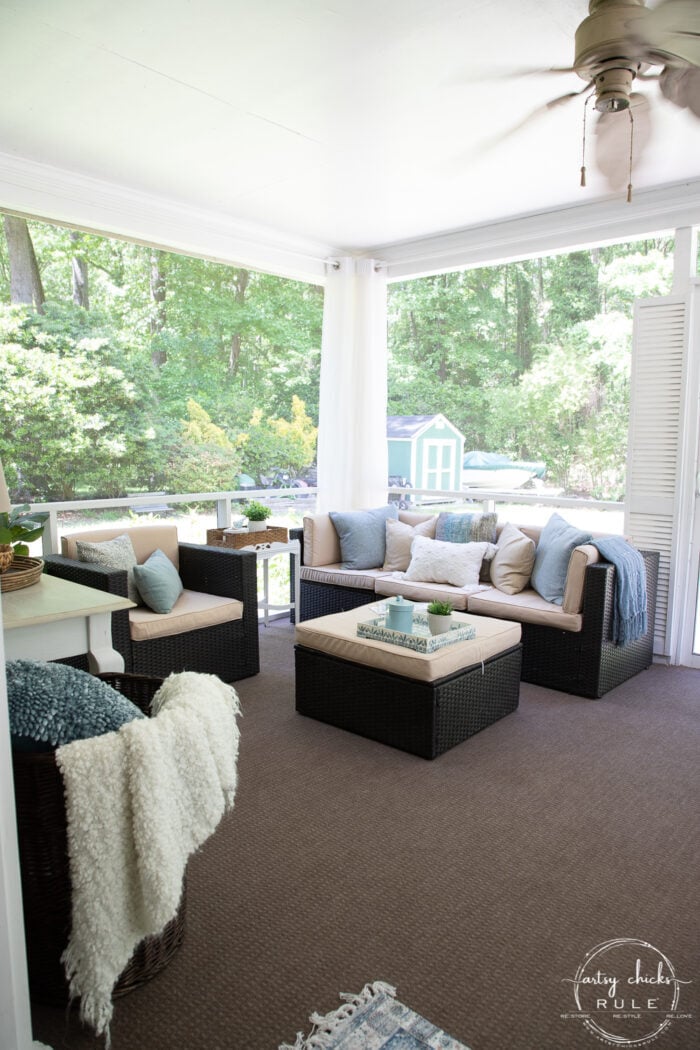 I actually considered adding a decorative area rug in the "living area" where the couch is but decided against it.
It does get wet sometimes so that is a no-go. We have a lot of humidity here and I really don't want to have to deal with mold/mildew so skipped it.
But wouldn't that have added to the "layers" and coziness? Yep. Oh well.
Ignore the ceiling fan, it is getting changed out. There is no globe because the lighting portion has long not worked.
The patio set I have here is no longer available but I found this one that is very similar here >>> Patio Set
(ours did come with a glass-covered coffee table also but we didn't have room for it so gave it away)
And on the other side of the porch is this table for outdoor eating.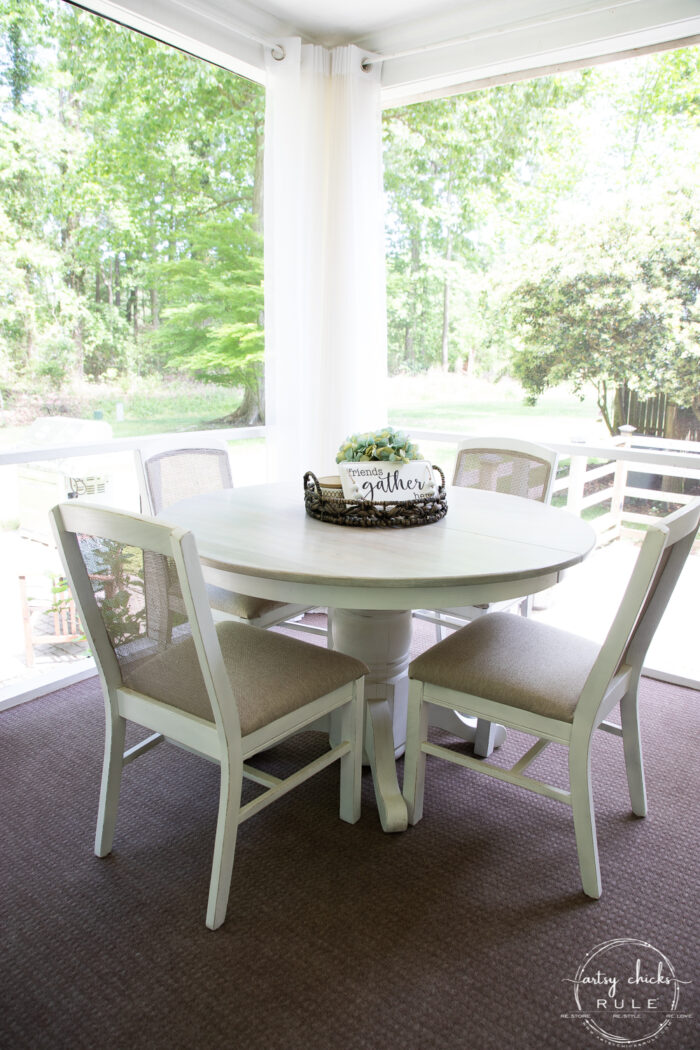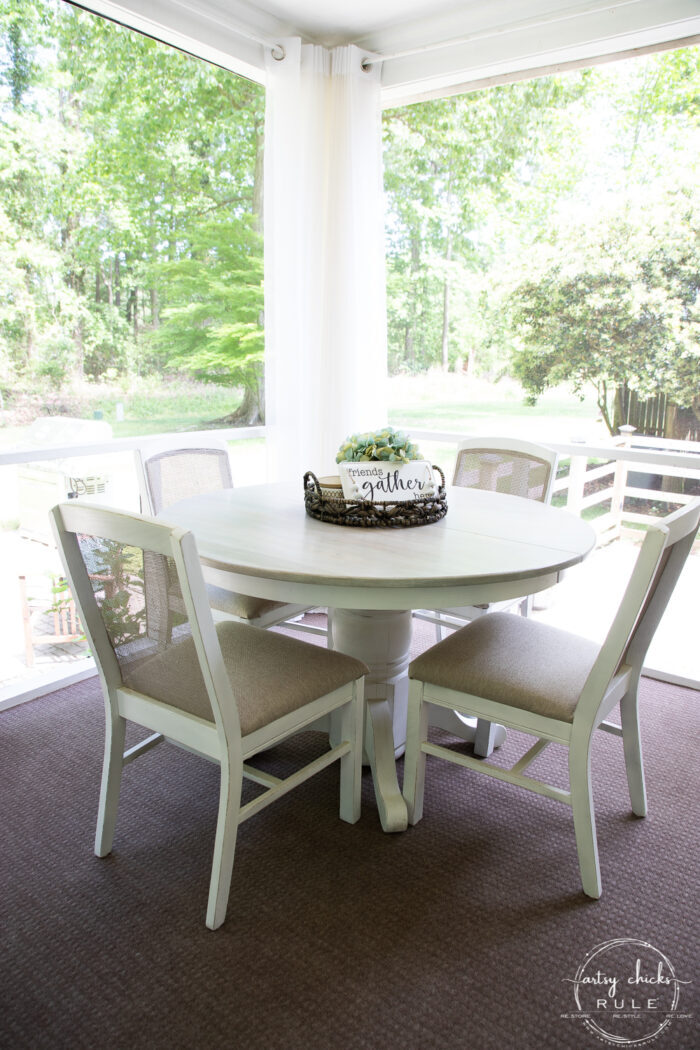 You might remember it.
Close up of the goodies on the table.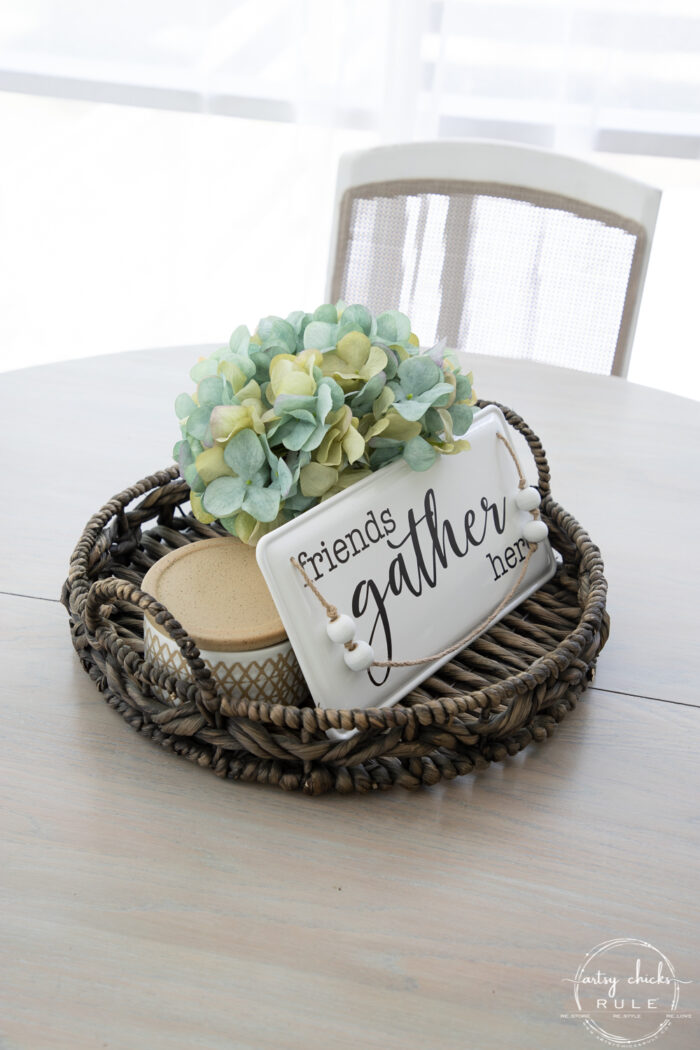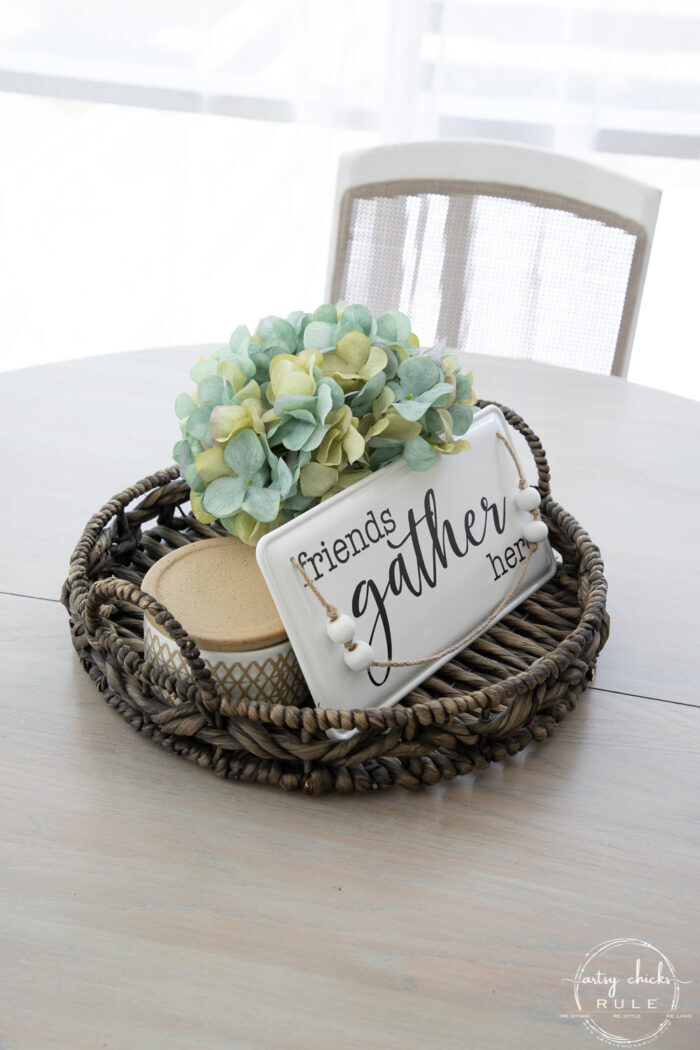 When I came out to finish up the decor, I added lots of layers.
That's what really cozies up a space.
Things like plants, throws, pillows, baskets, layered baskets, etc.
I think this basket was a thrift store find, the hydrangea and ceramic dish came from Home Goods.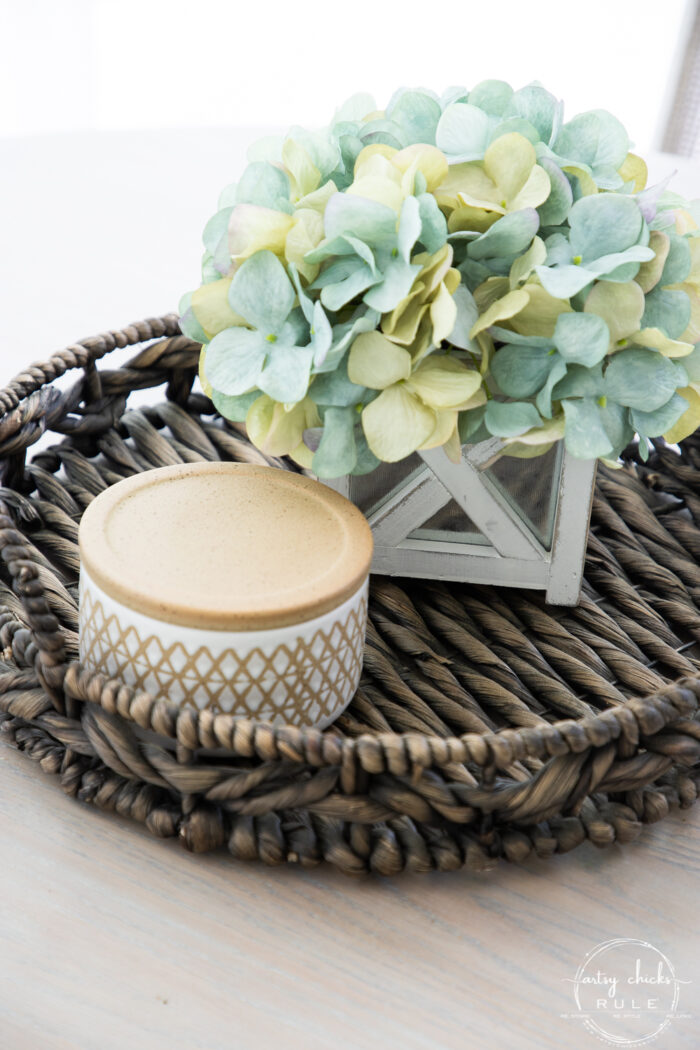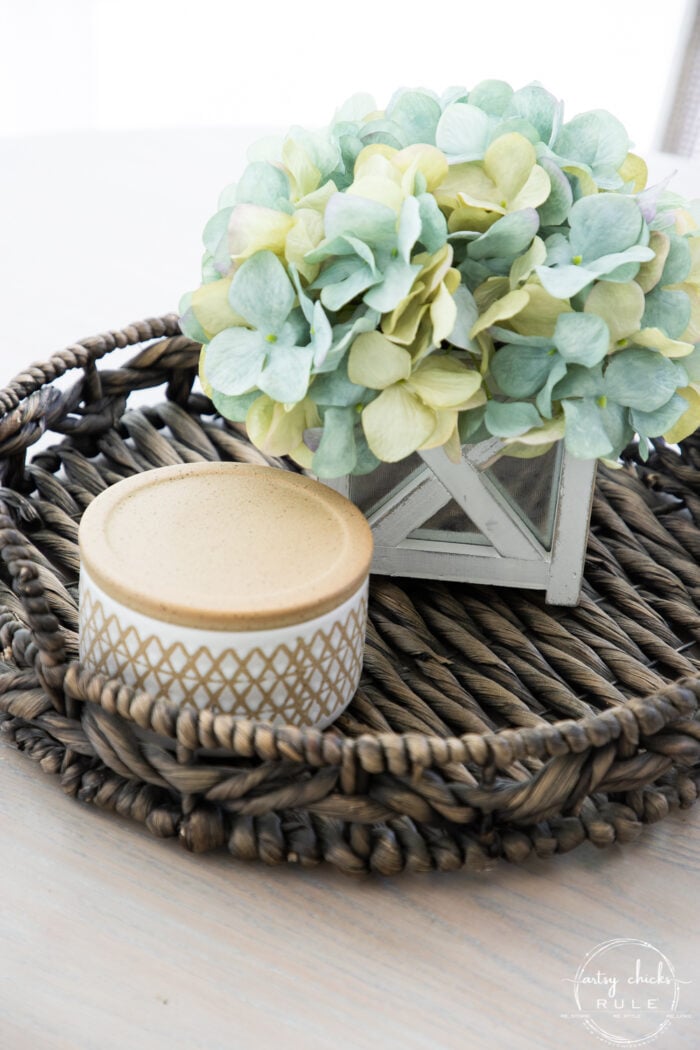 The sign came from The Cotton Gin in the OBX. I picked it up this past weekend.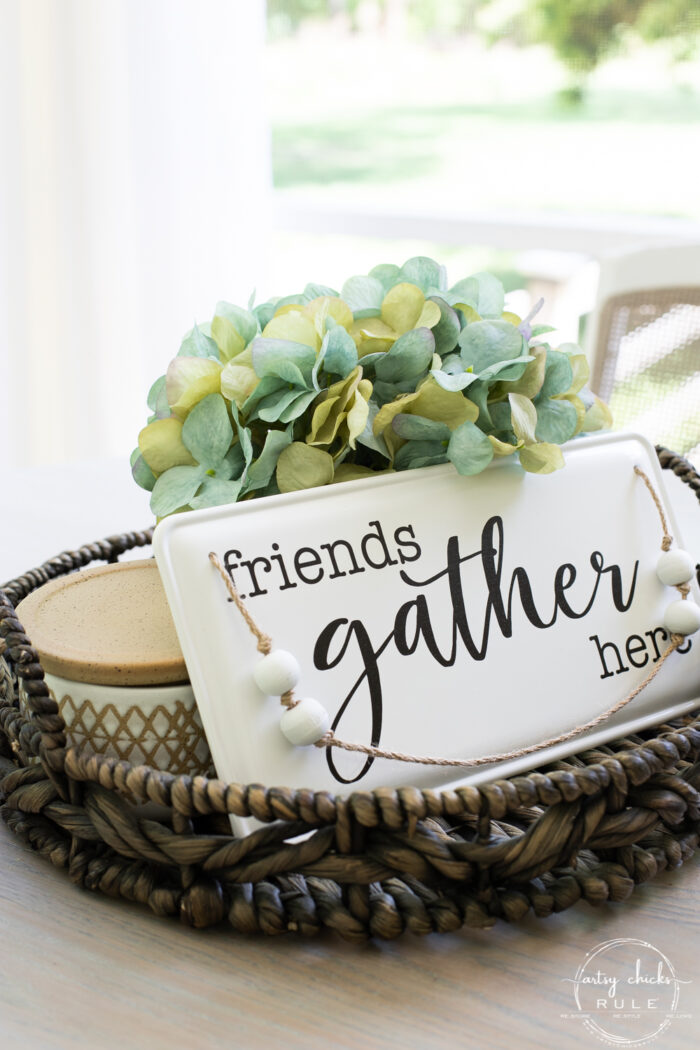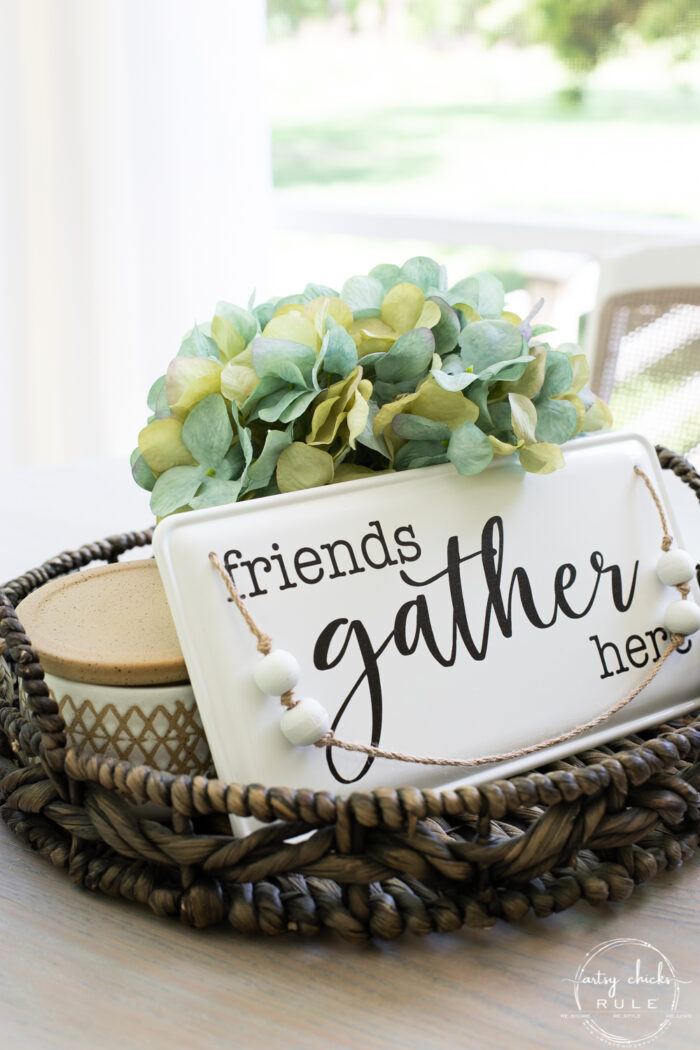 The perfect finishing touch, don't you think?
Add a throw for a cool night, lots of pillows to snuggle in with.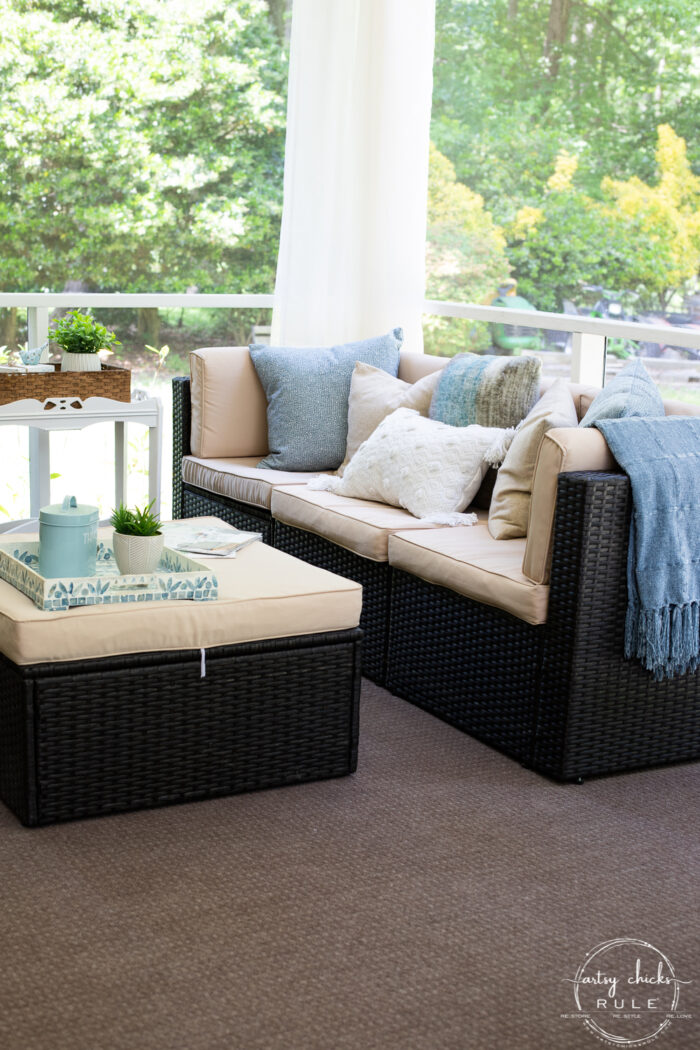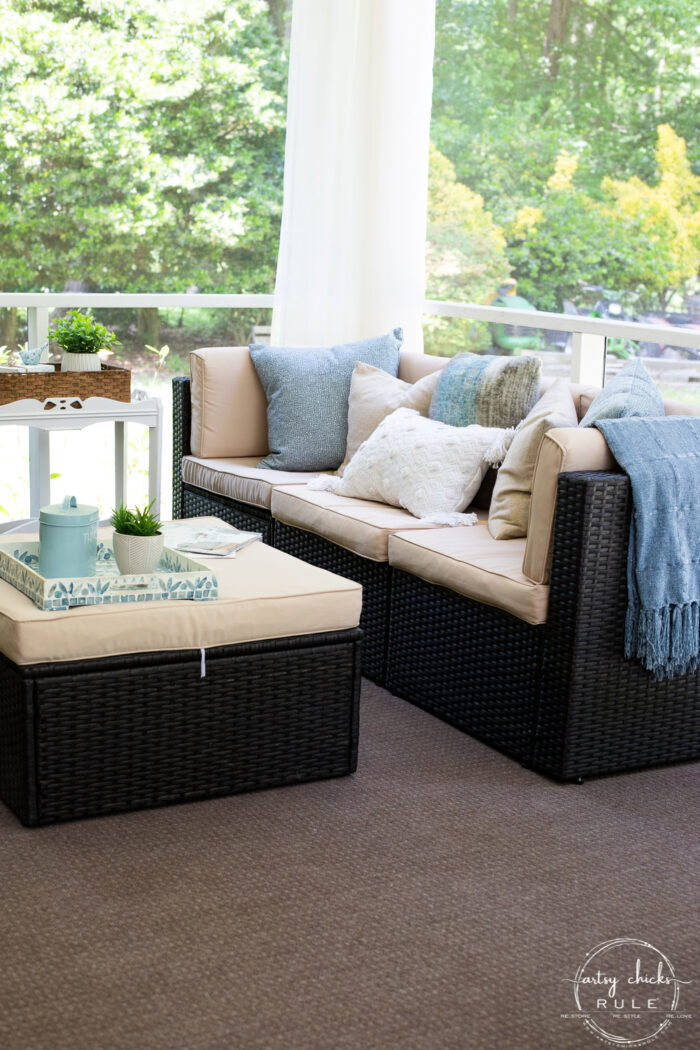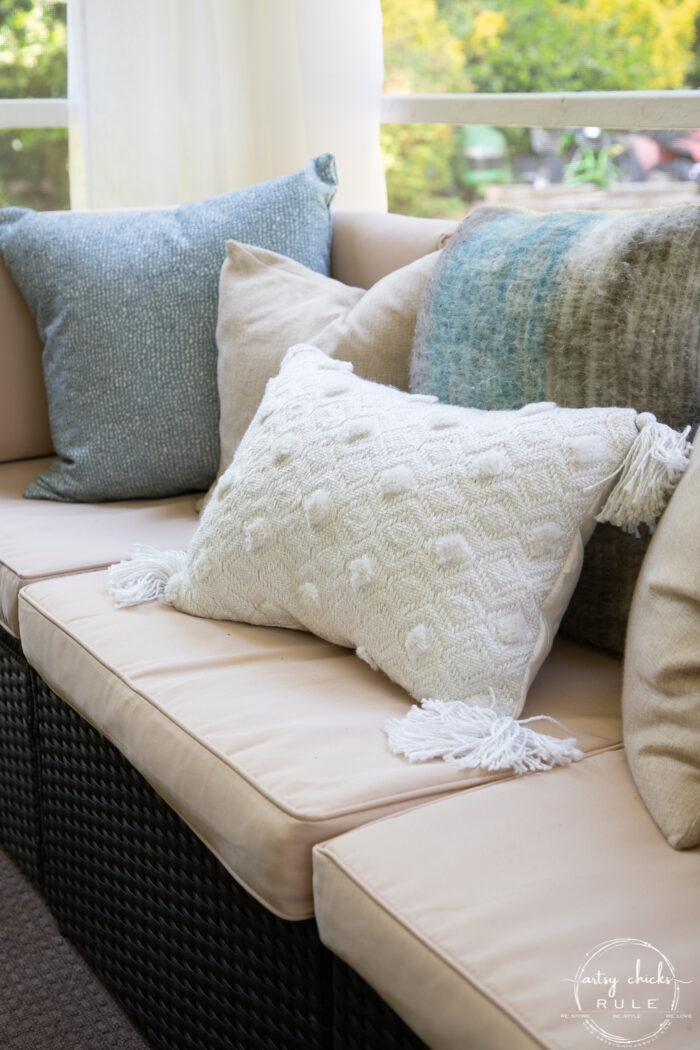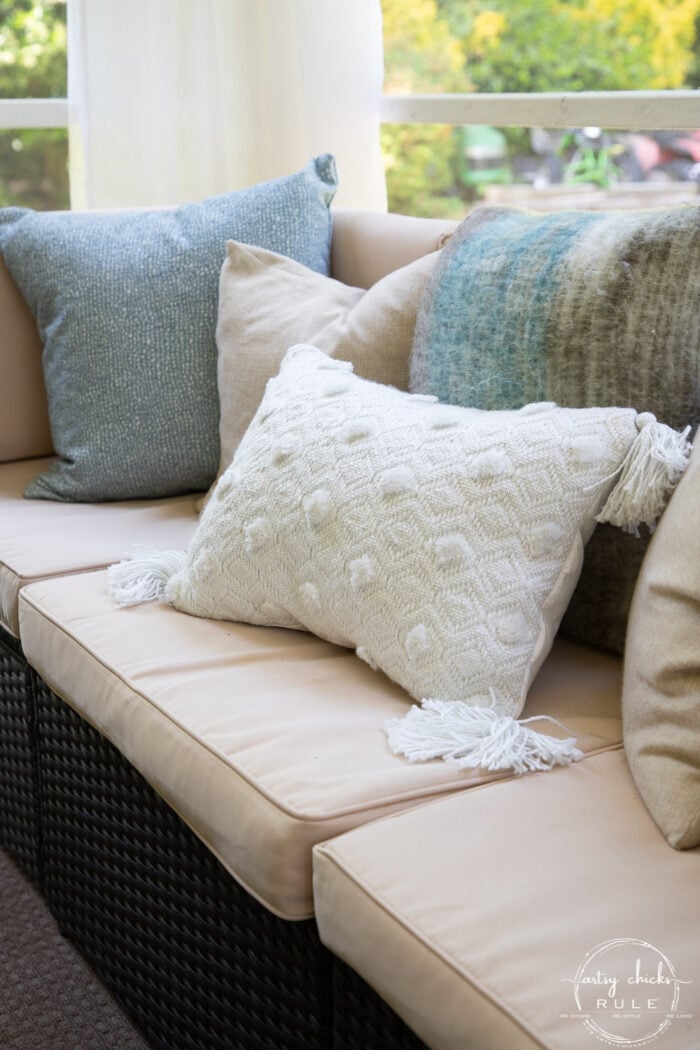 A pretty tray on the ottoman/coffee table for drinks and such.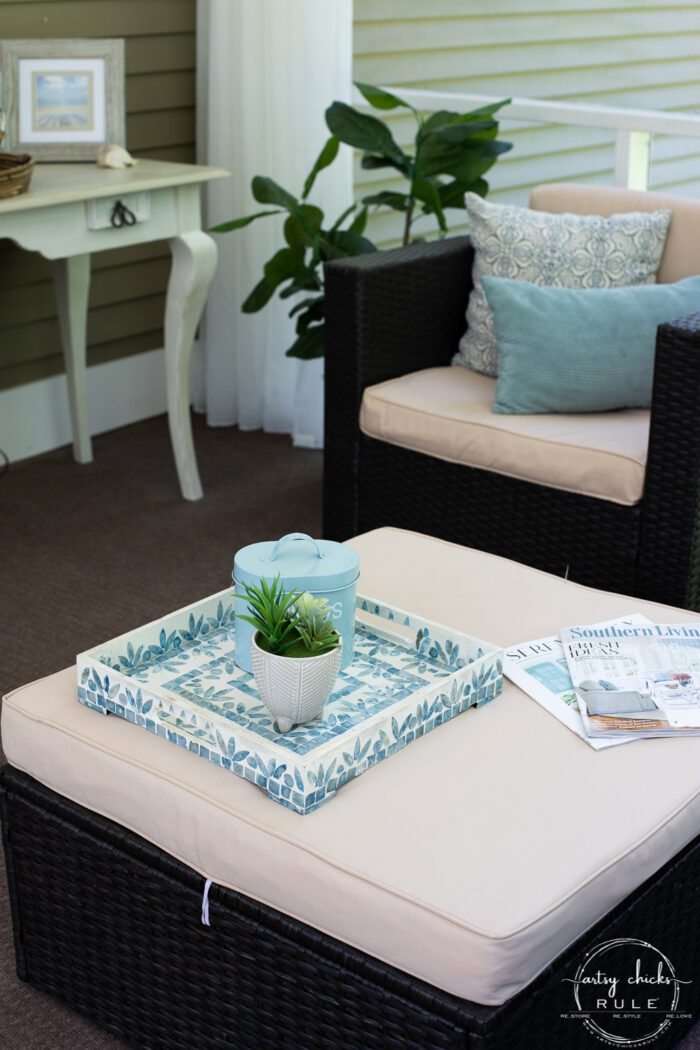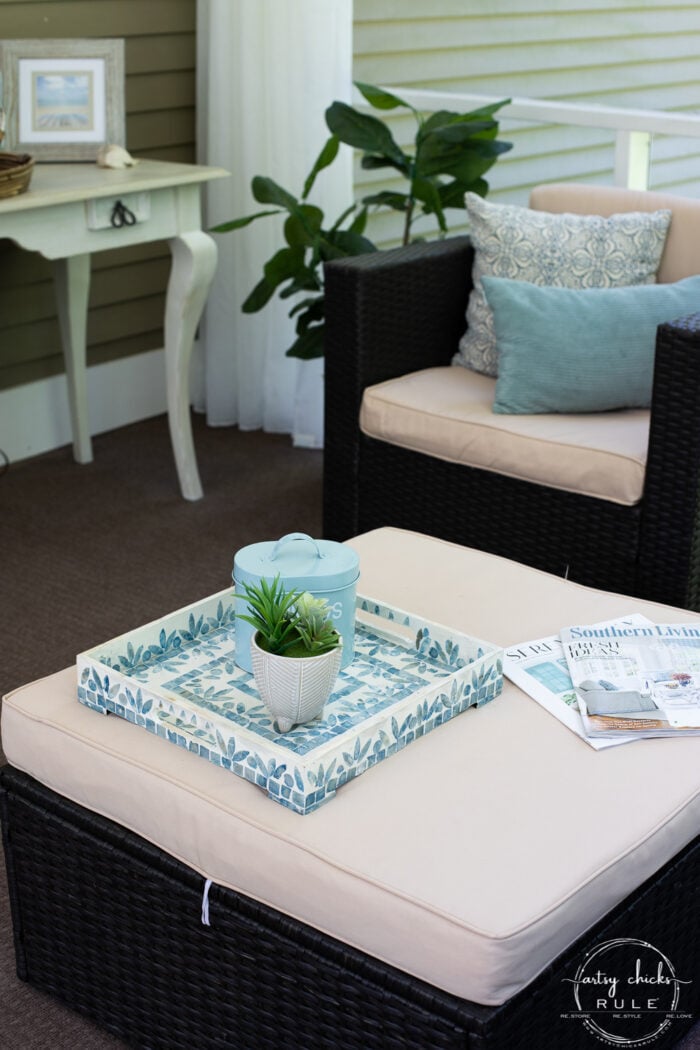 (which is a pretty tiled tray from Home Goods)
Remember this little white table?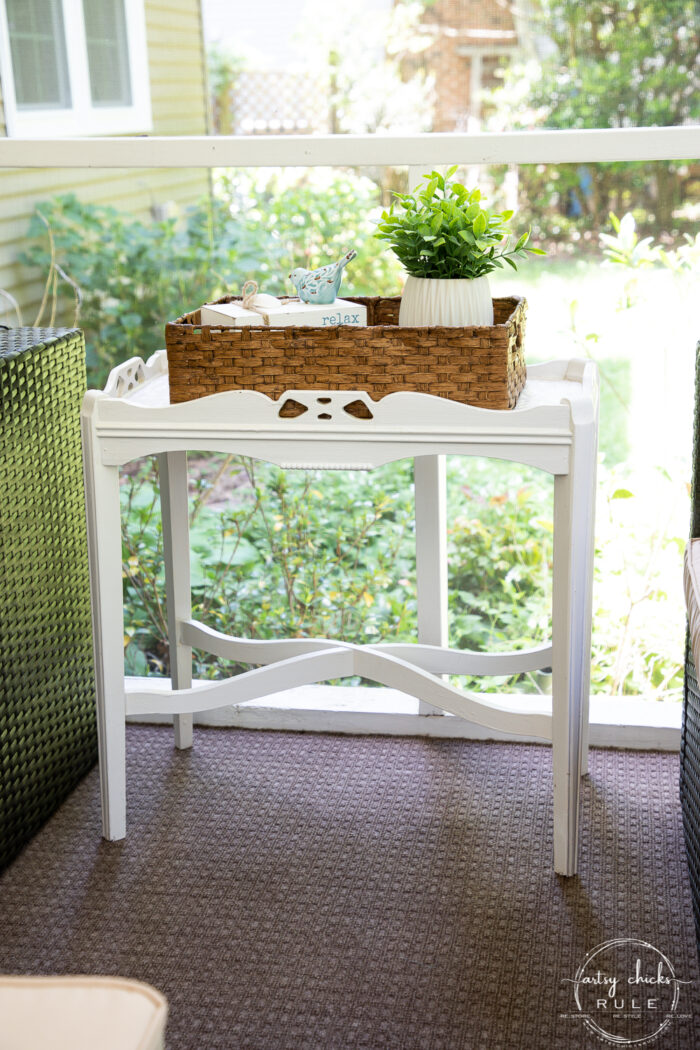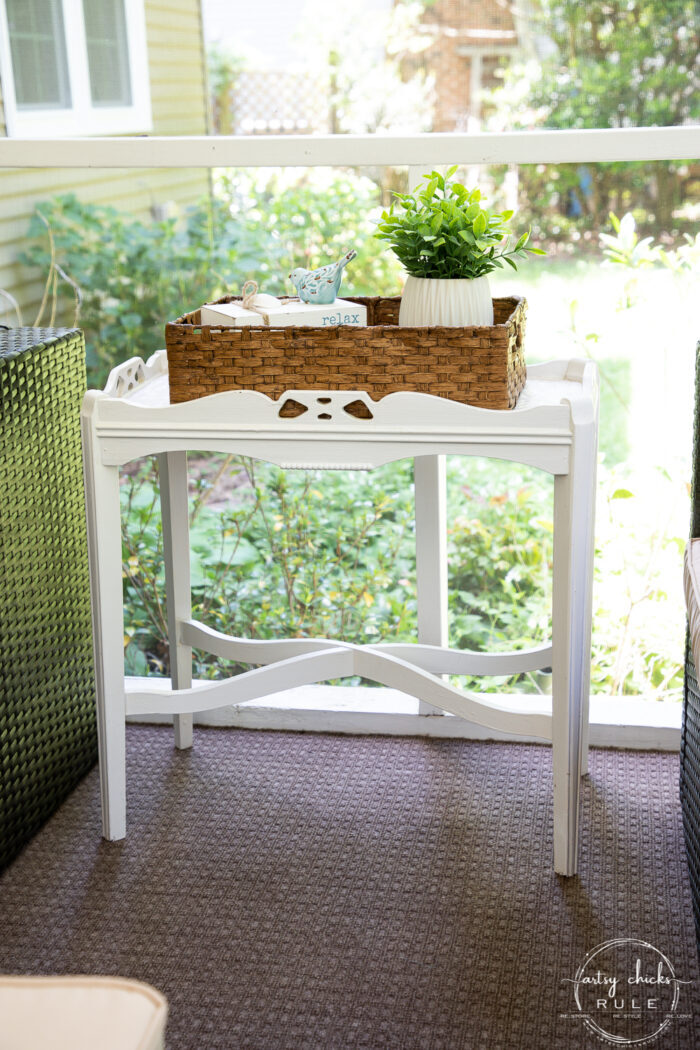 And basket?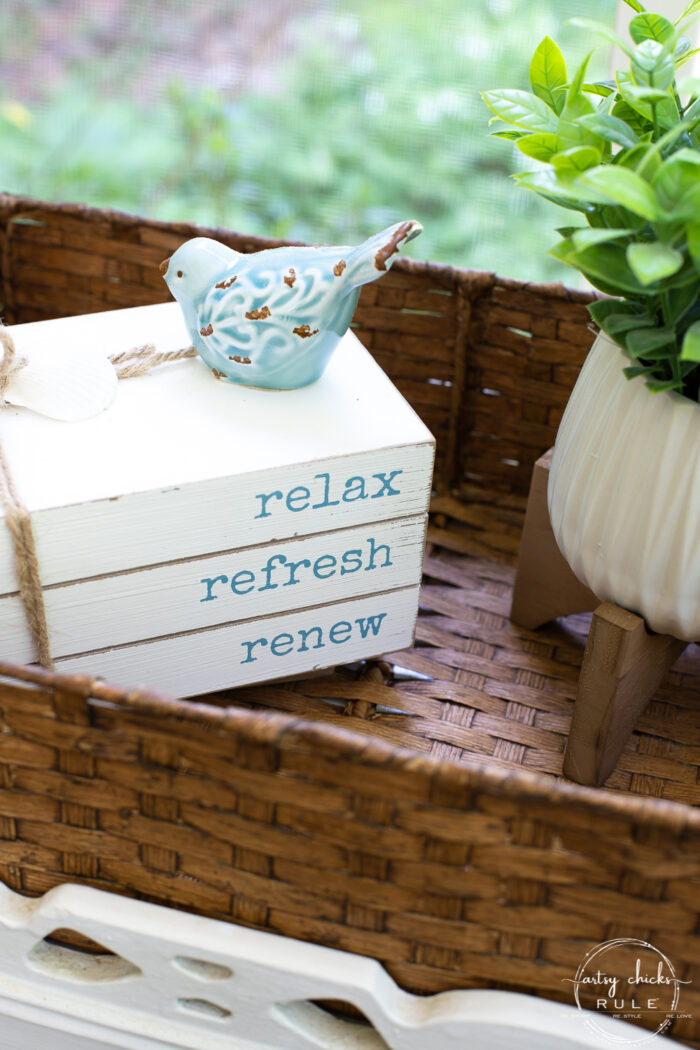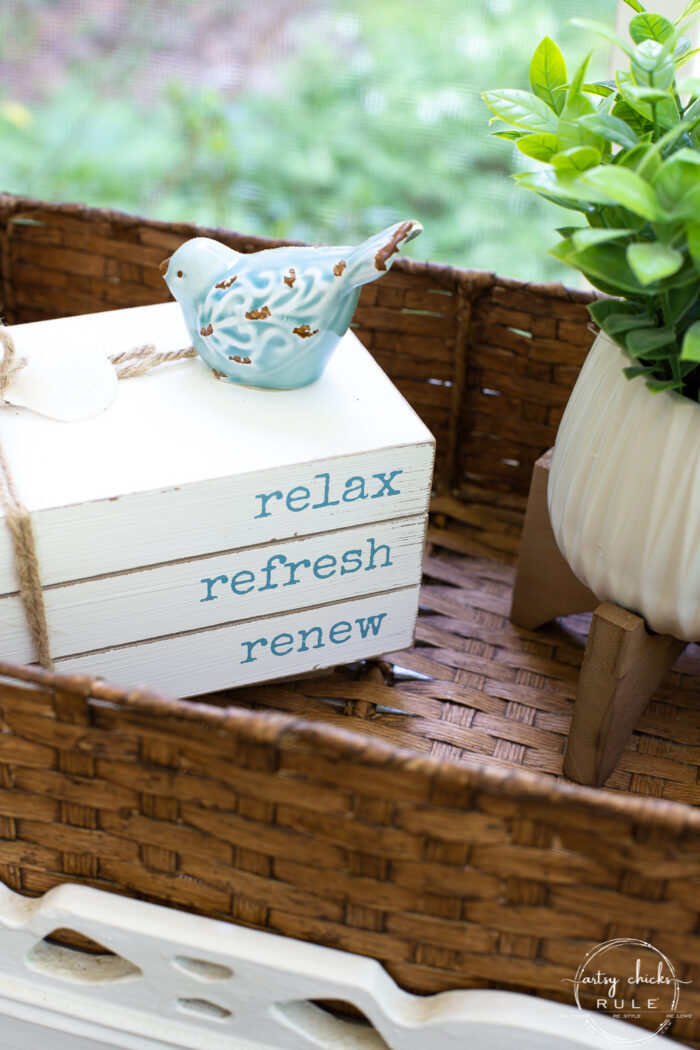 Here's the other side of the porch.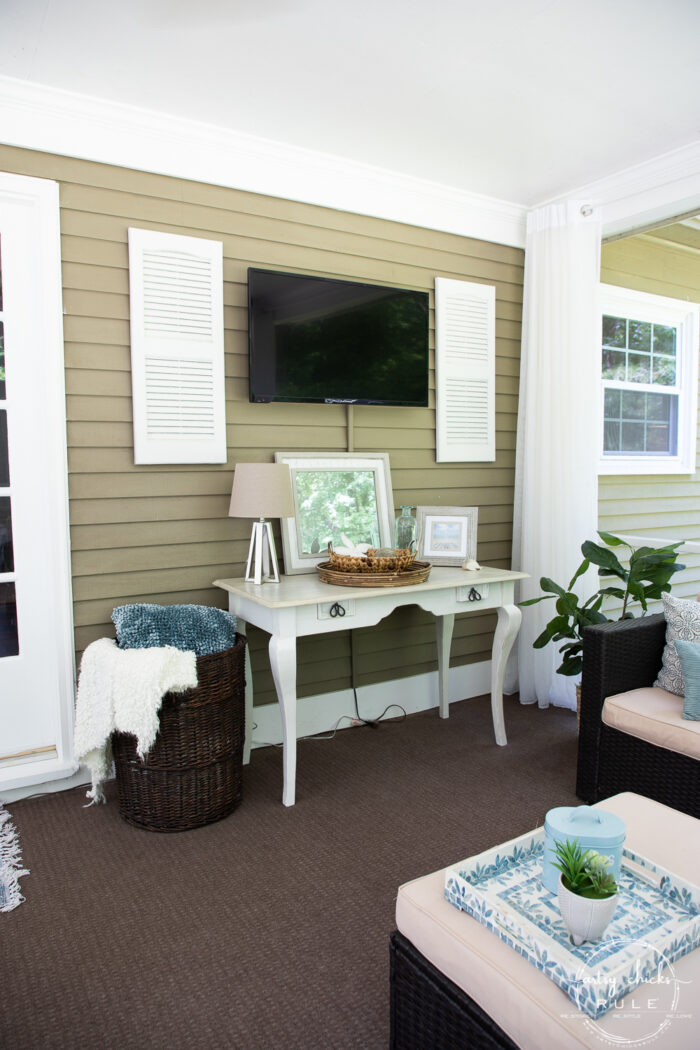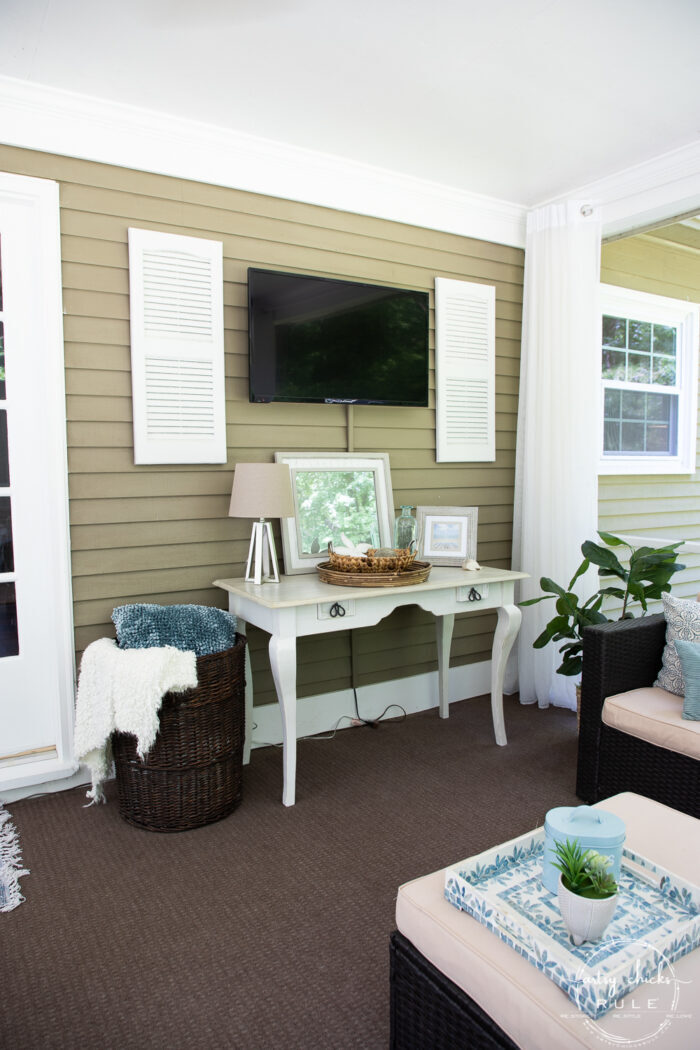 I painted the shutters white, added a faux fiddle leaf fig (also from Home Goods), and a few other things.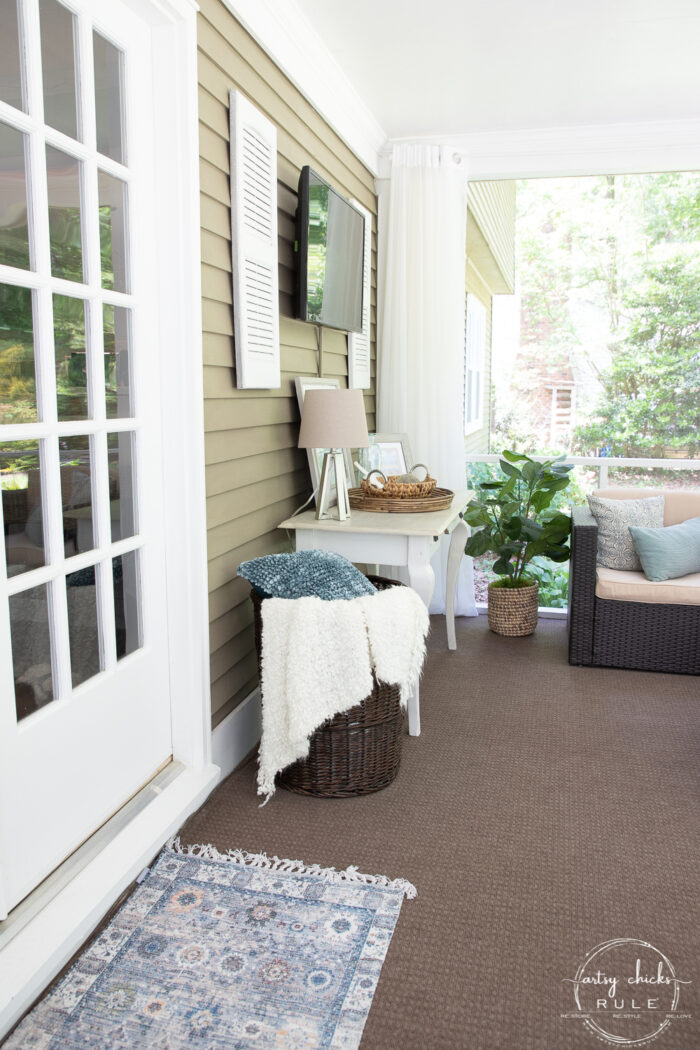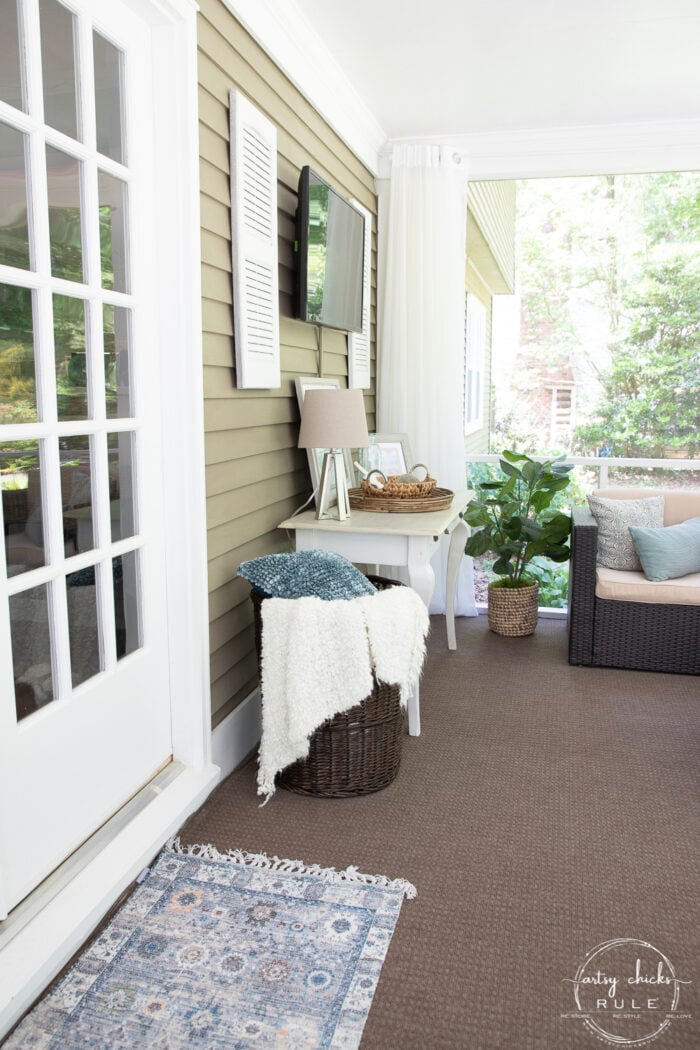 I found the small throw rug at TJ Maxx.
Console table I made over…
And this basket? I ended up keeping it.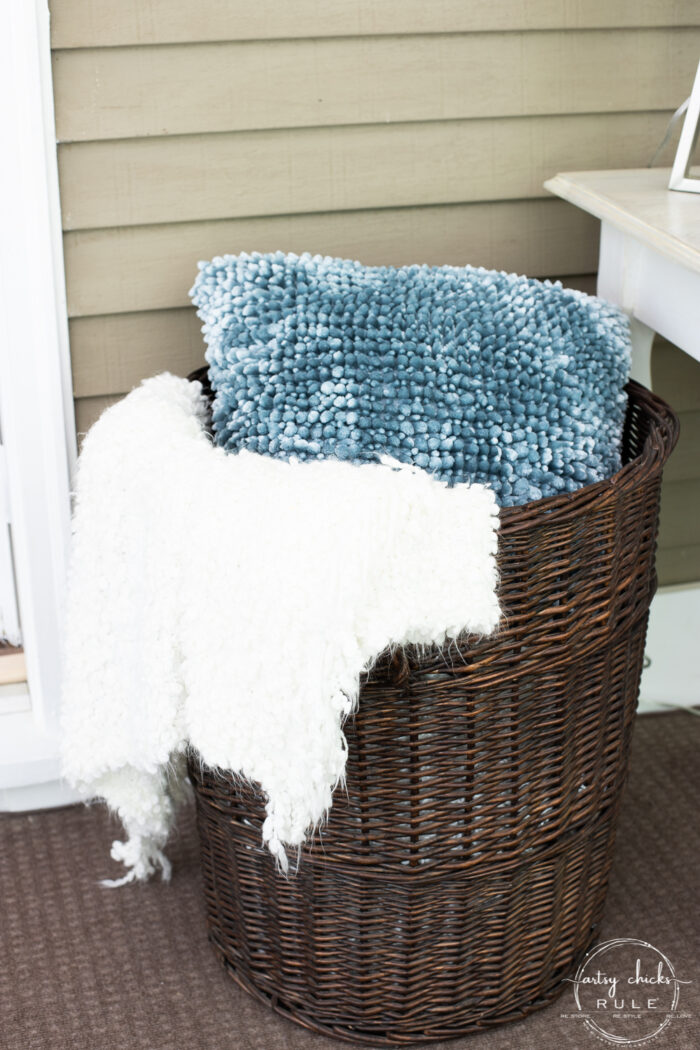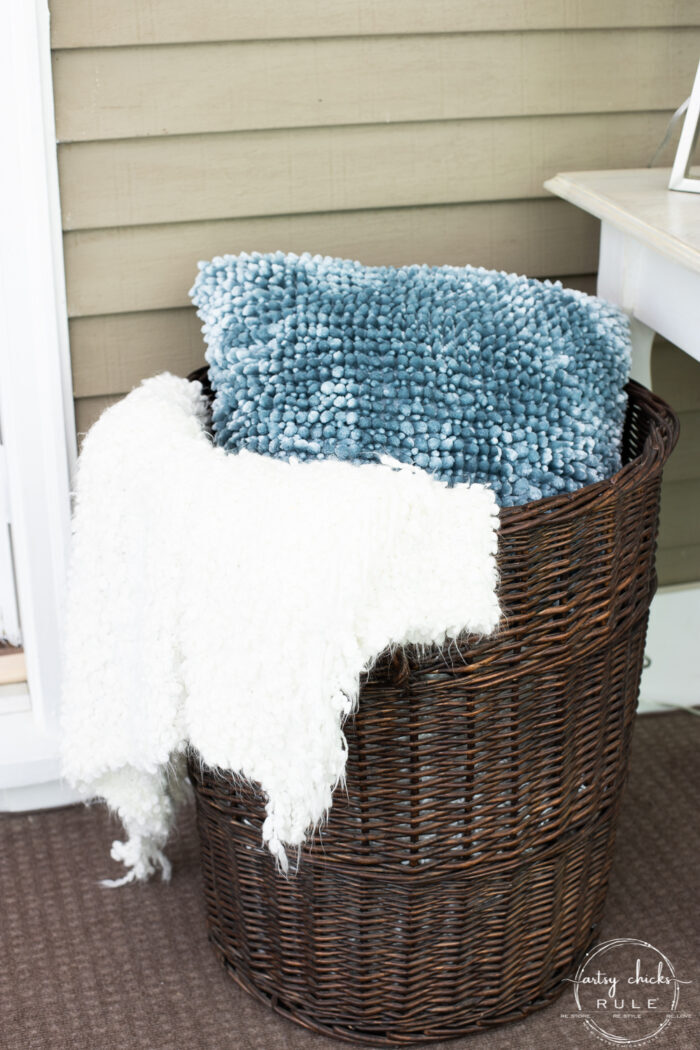 It's perfect out here for holding extra throws and pillows.
Layering baskets/trays…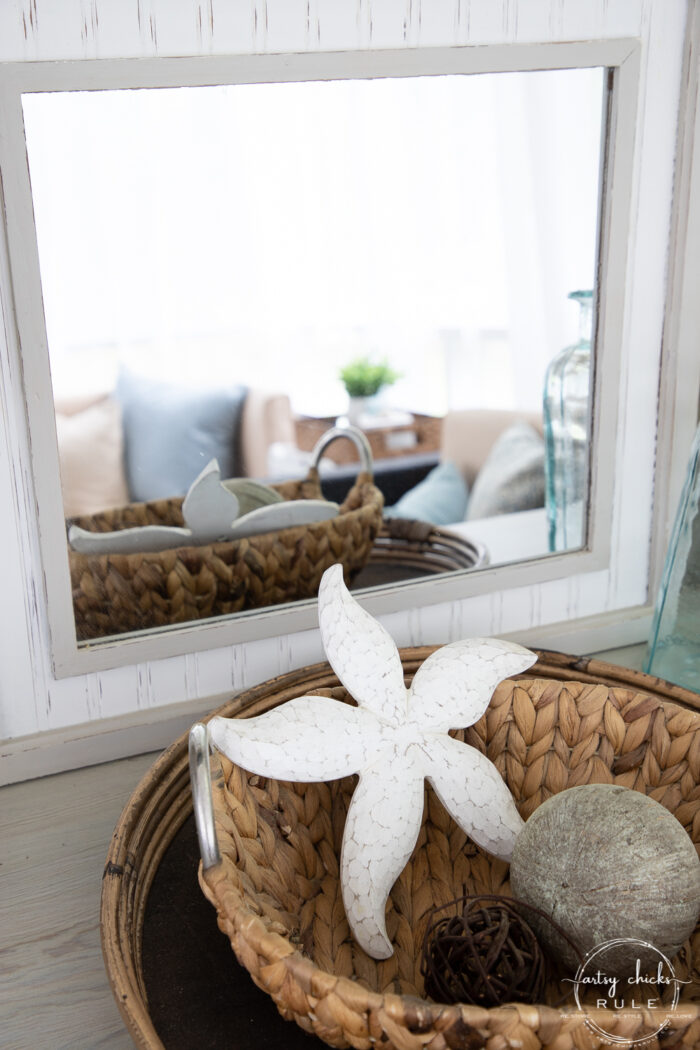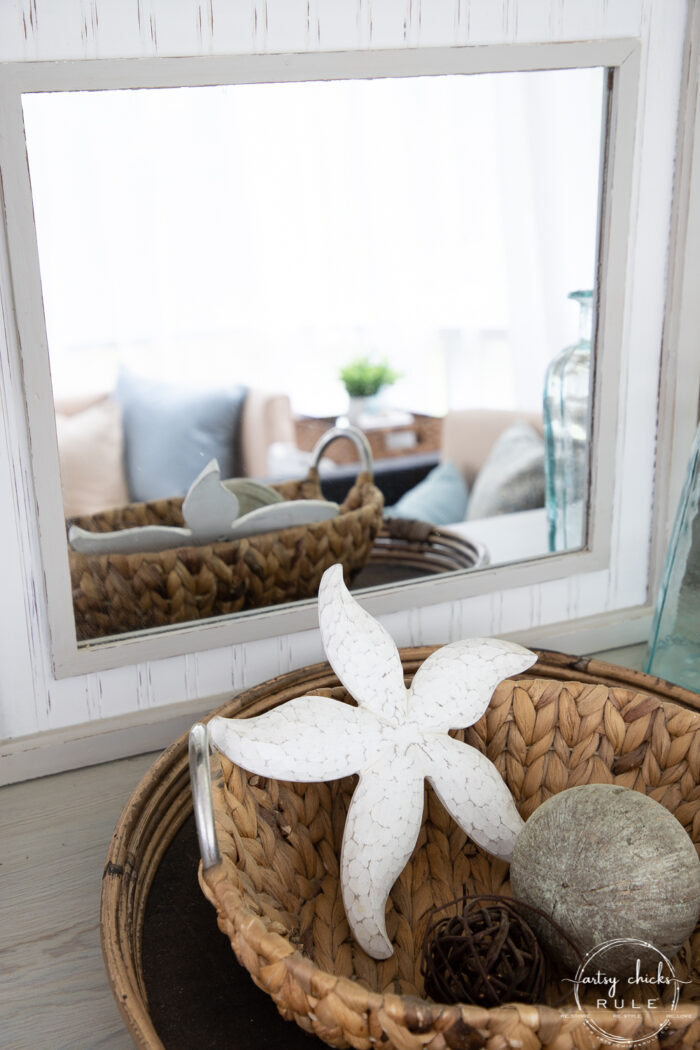 Remember that mirror?
Believe it or not, I came across this frame "print" when we were cleaning out the junk/extra bedroom a couple weeks ago.
I had it in a thrift store stash and had planned to give it a makeover. I've had it for years.
But no makeover needed! It works perfectly out here. Frame, print, and all.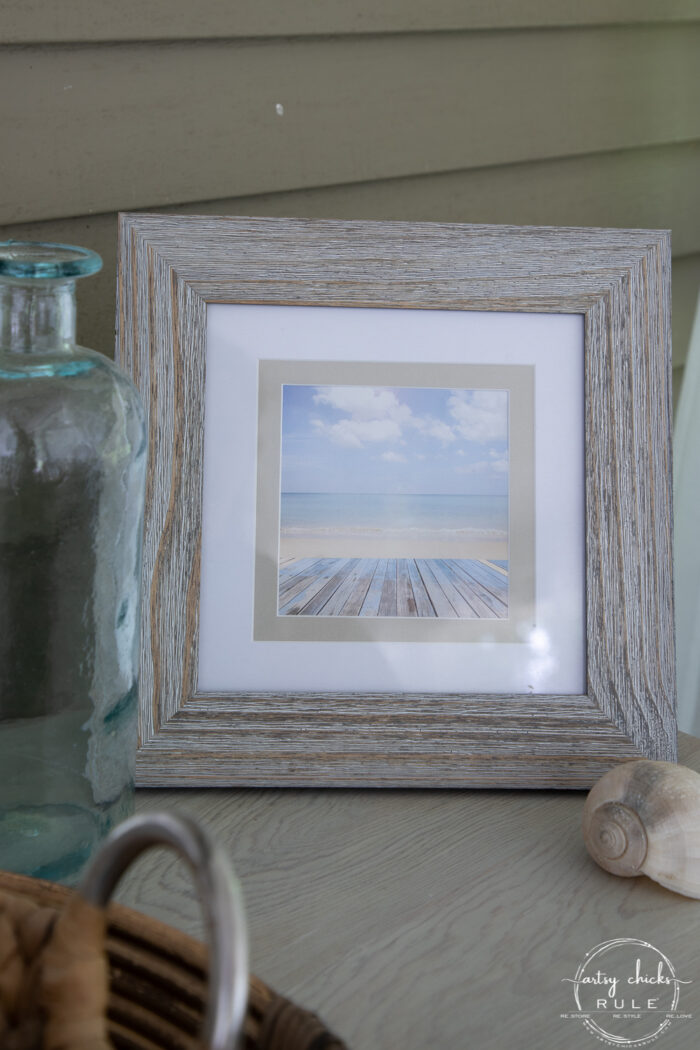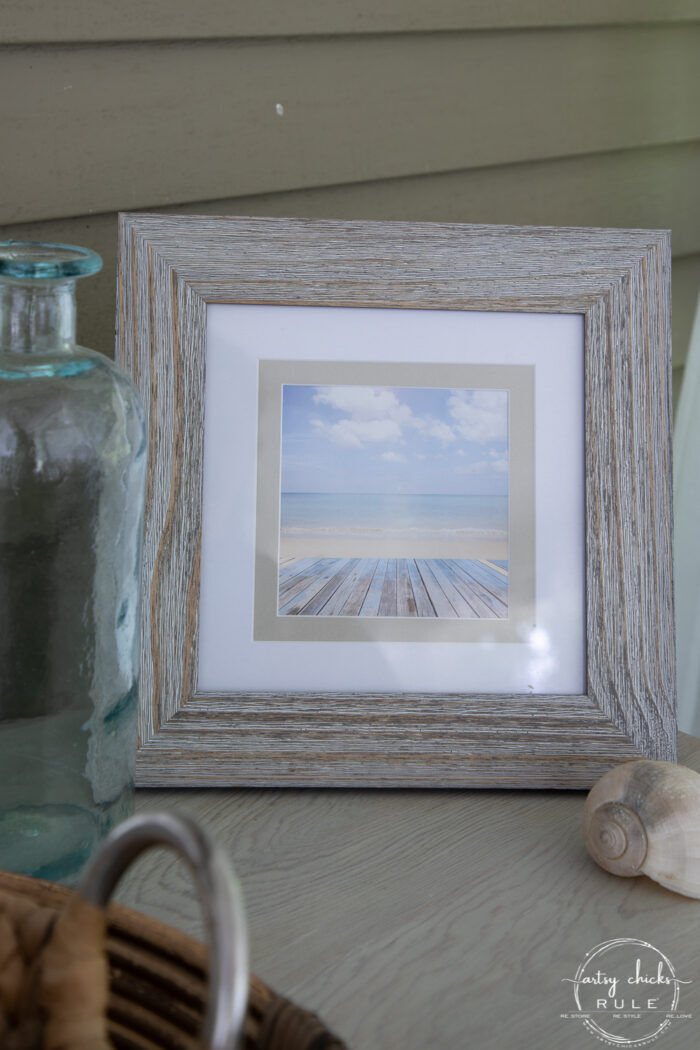 By the way, the print is actually just the paper that is used to sell the frame. You know, like when they have photos of people in new frames, etc?
But hey, it's the ocean and it works…for the time being anyway. ;)
Here's the small wall on the other side of the french doors.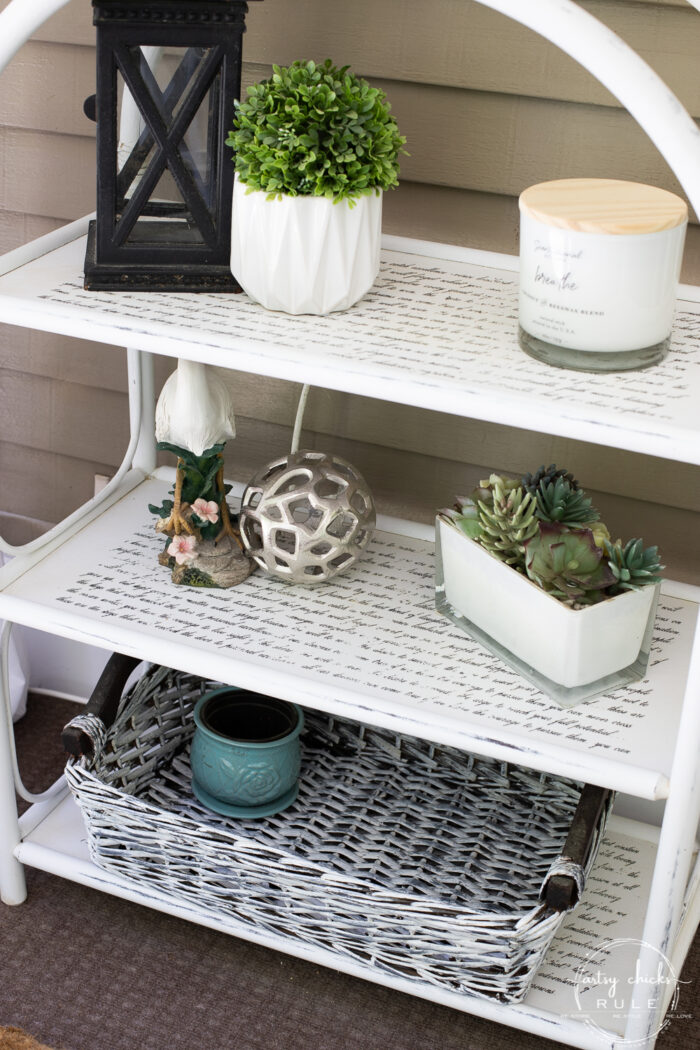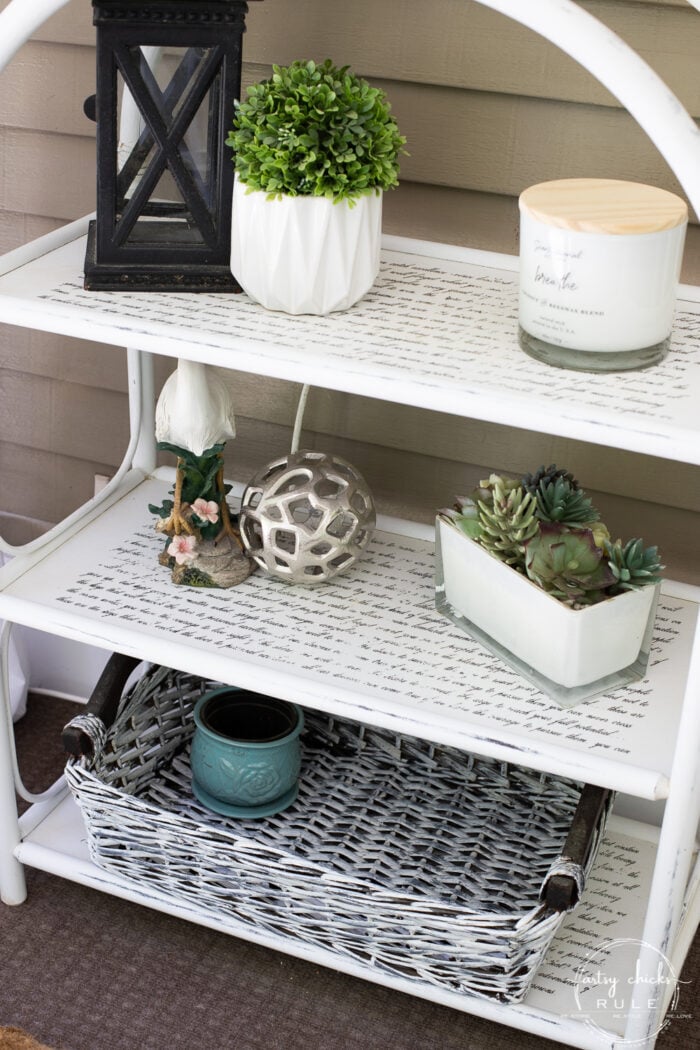 Some old things, some new things on these shelves.
Remember this shelf? And the basket?
And oh, hey, look who wants to come outside. lol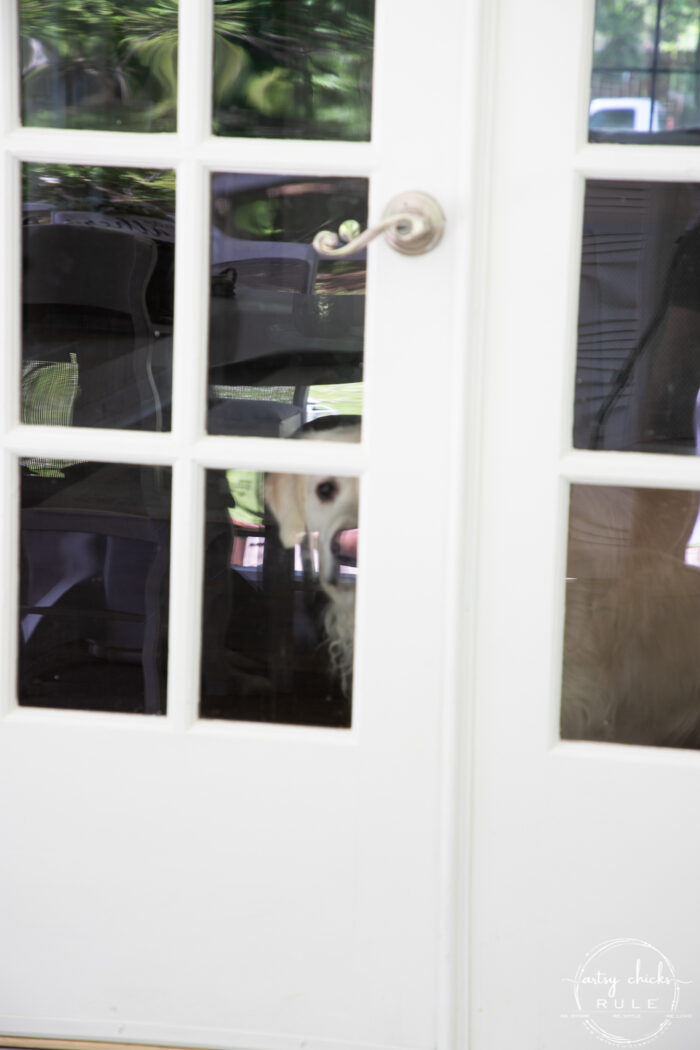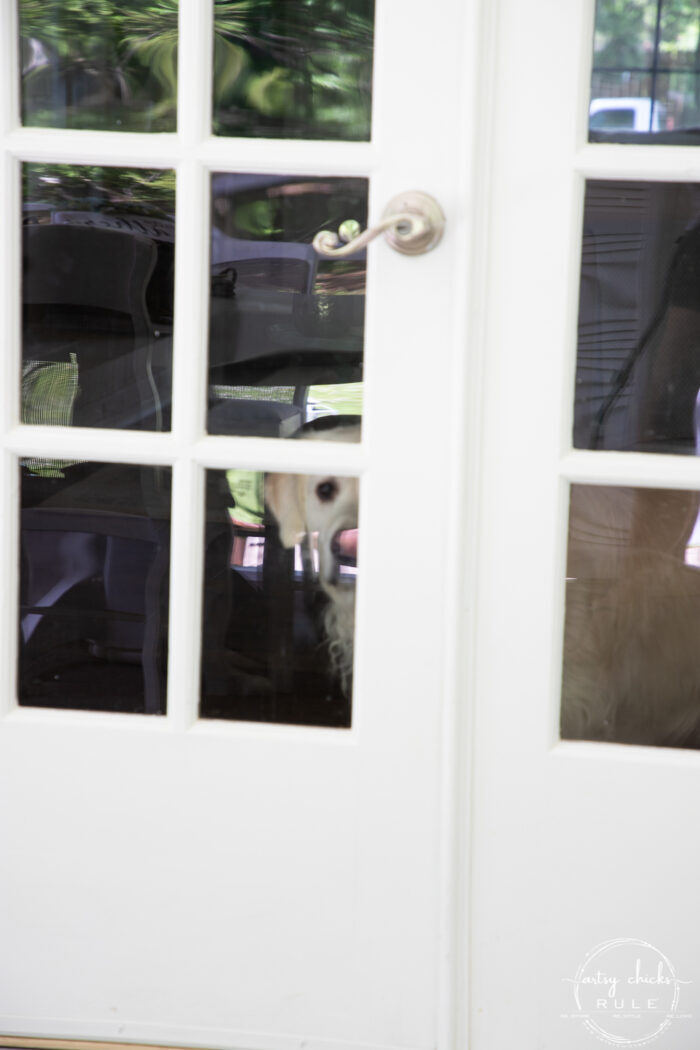 Hey, Roo.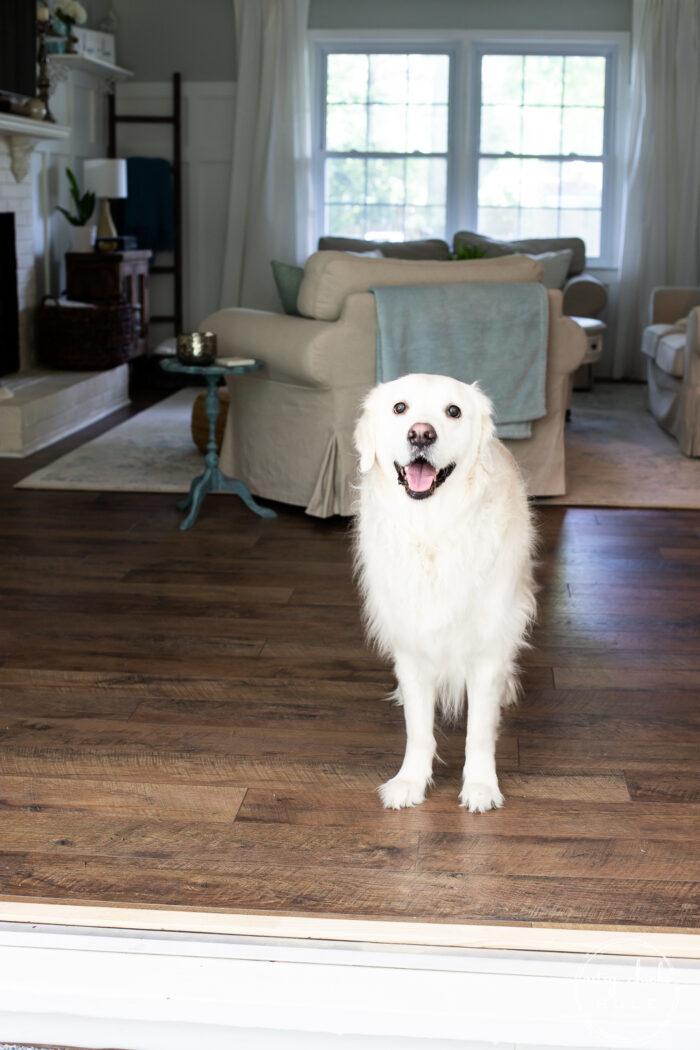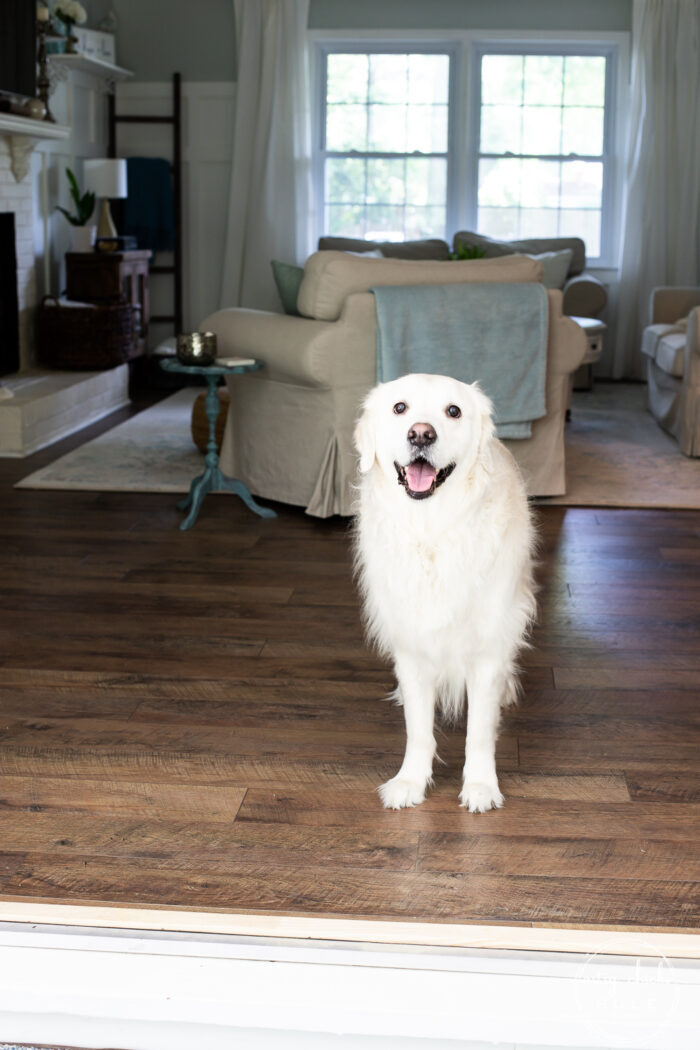 Happy boy wants to go find Frank. (our yard turtle, he's been around for several years)
He's actually obsessed with Frank. haha!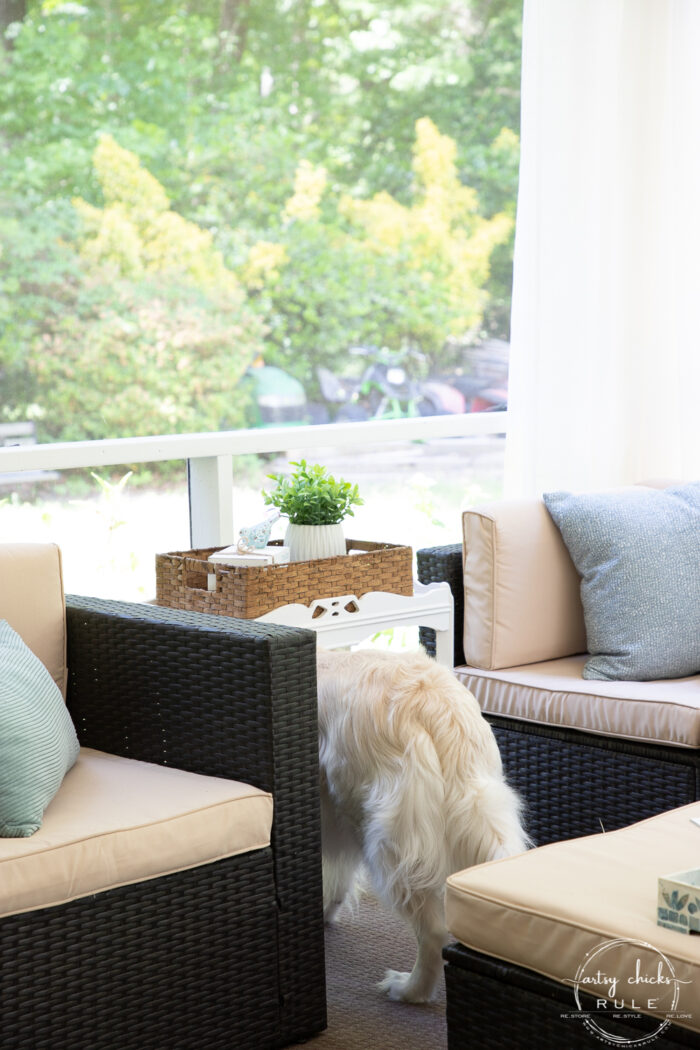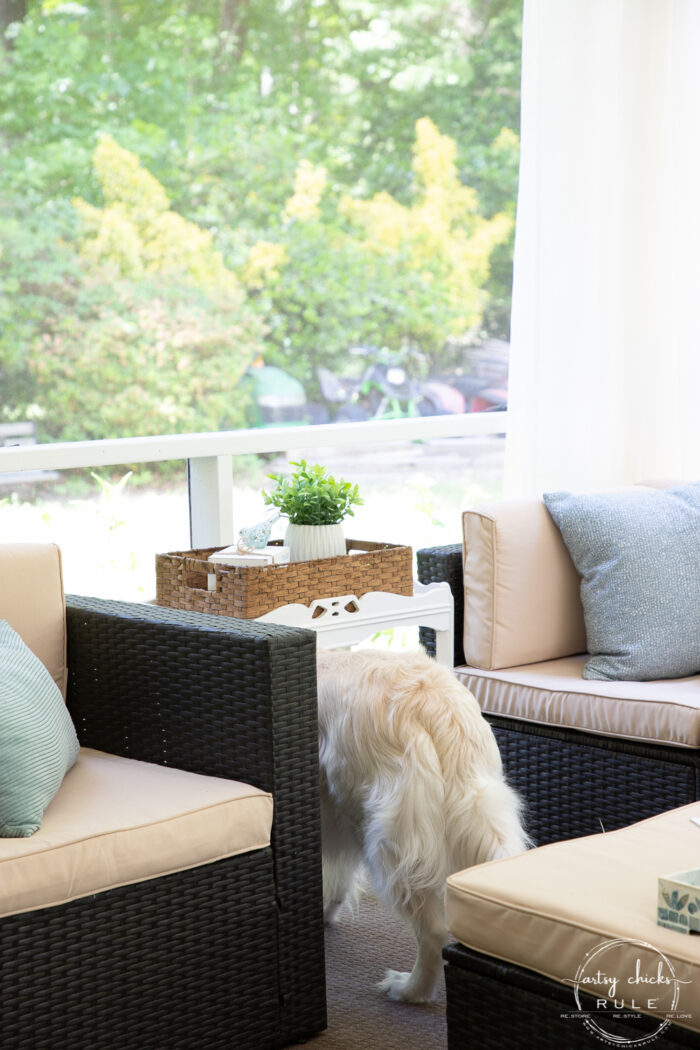 See him under the table looking outside for him? That's how he spends his time out here.
Going around all the sides, looking for Frank the turtle.
Don't say "Frank"…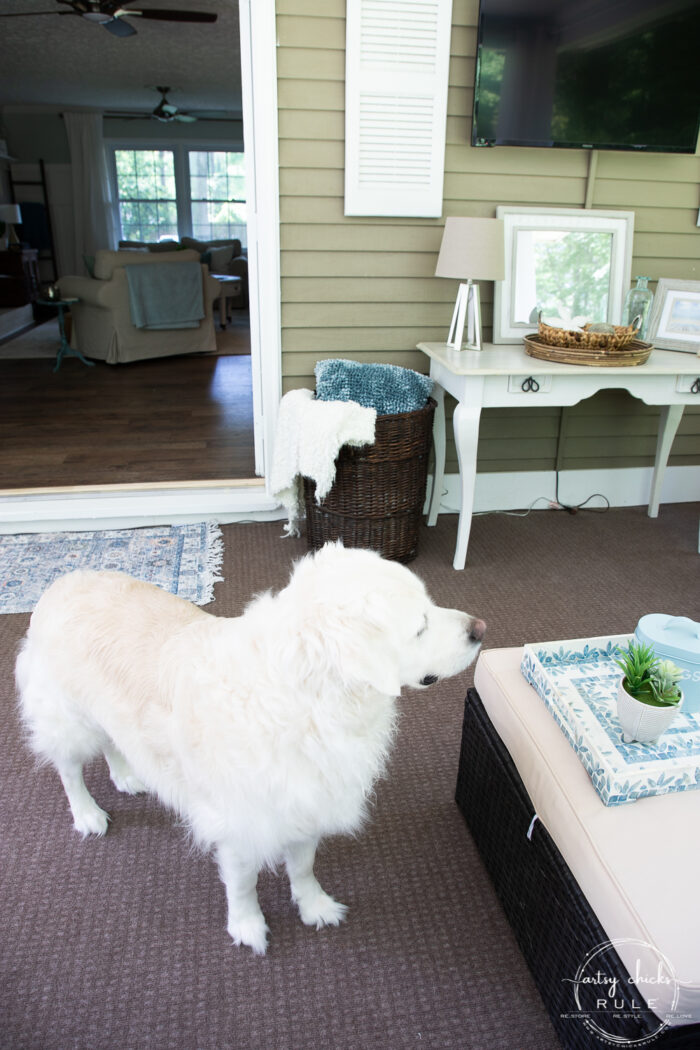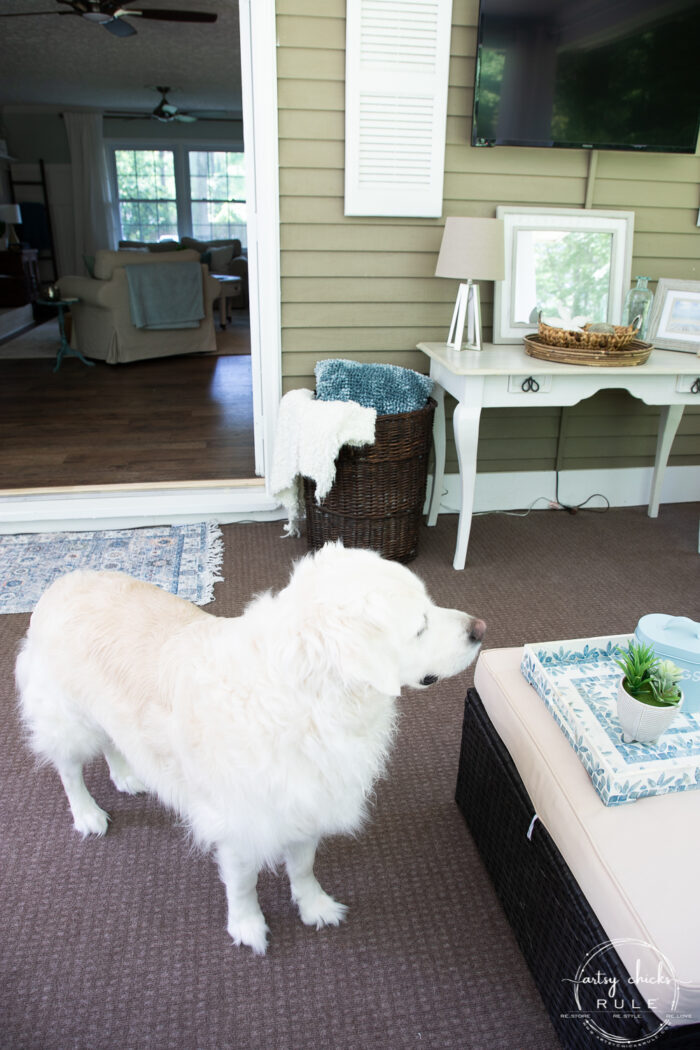 Or he'll really go crazy looking. lol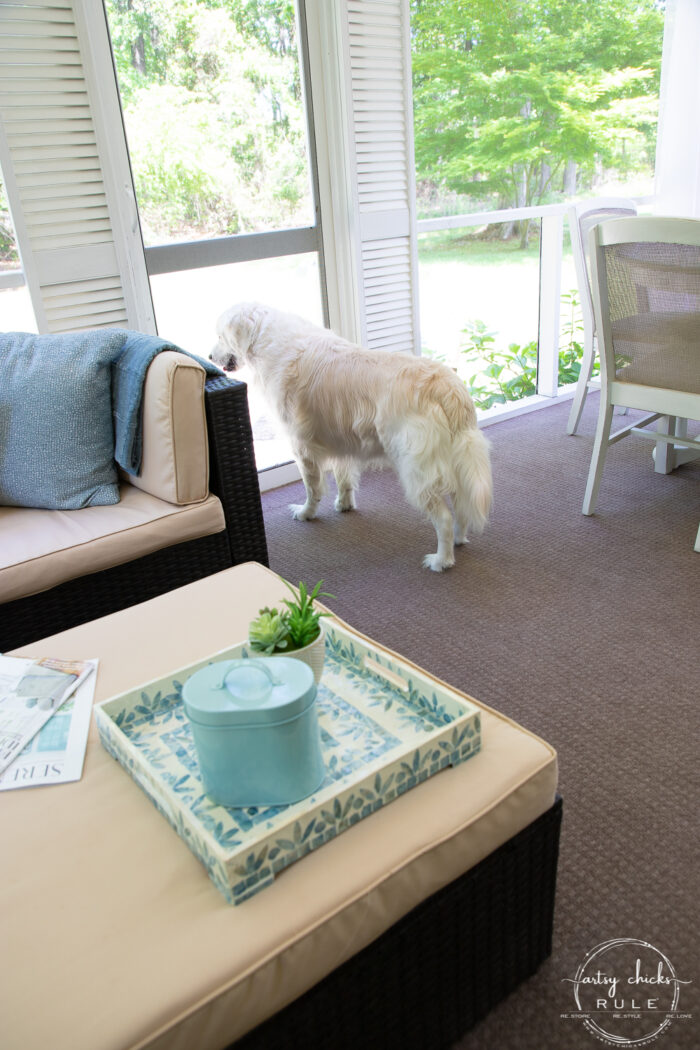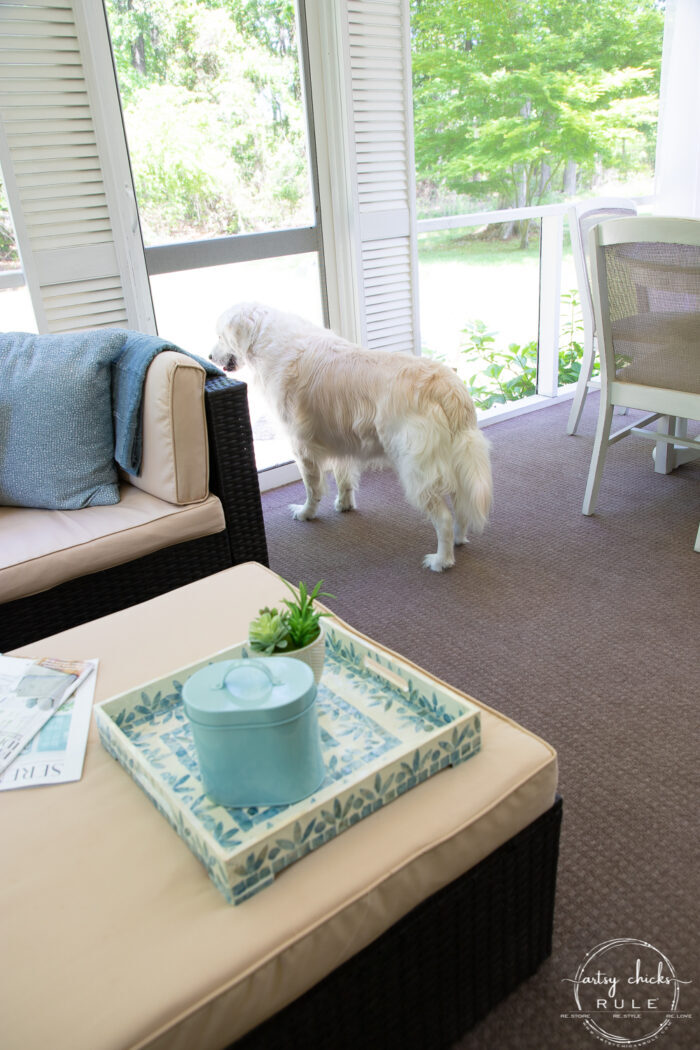 I love when the weather is nice enough to open these doors wide open.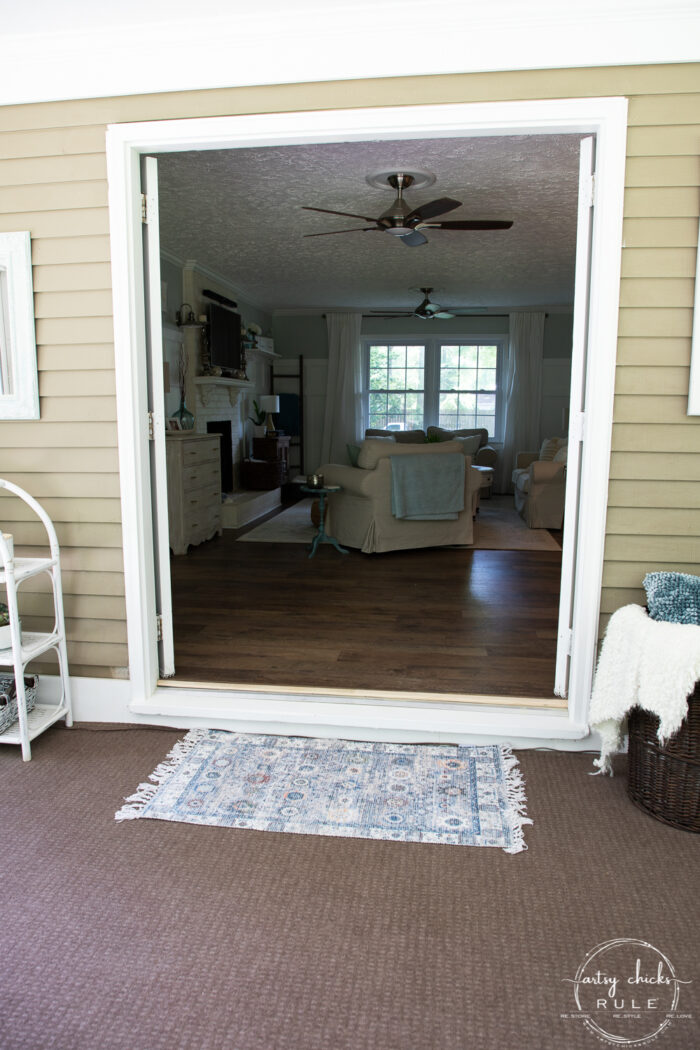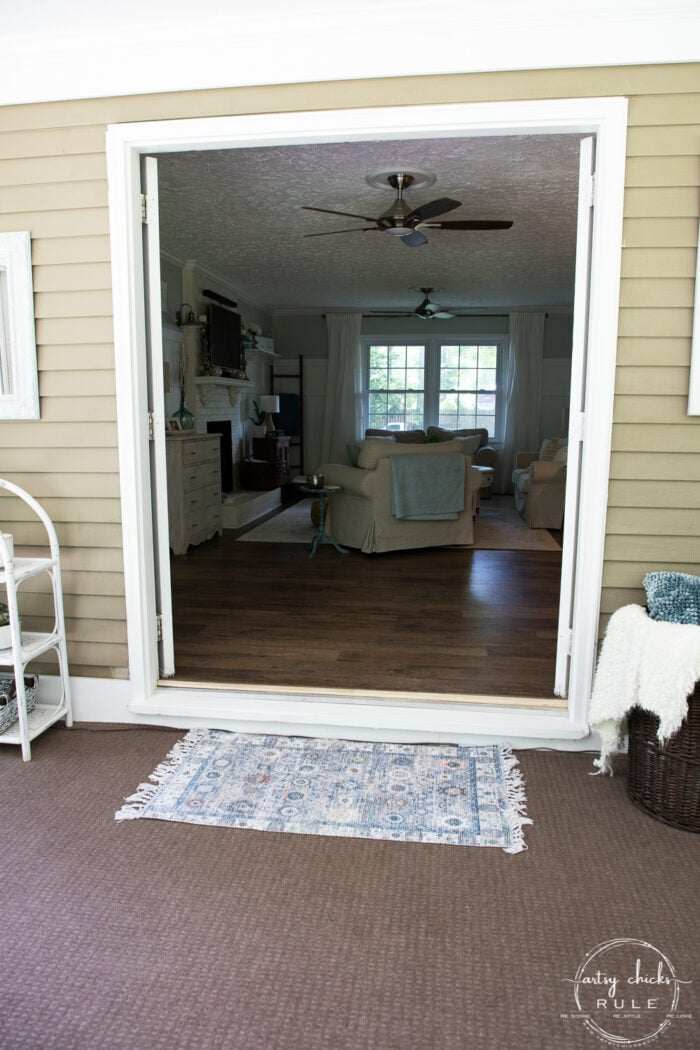 It makes this space feel roomier and the inside space seem so open and bright.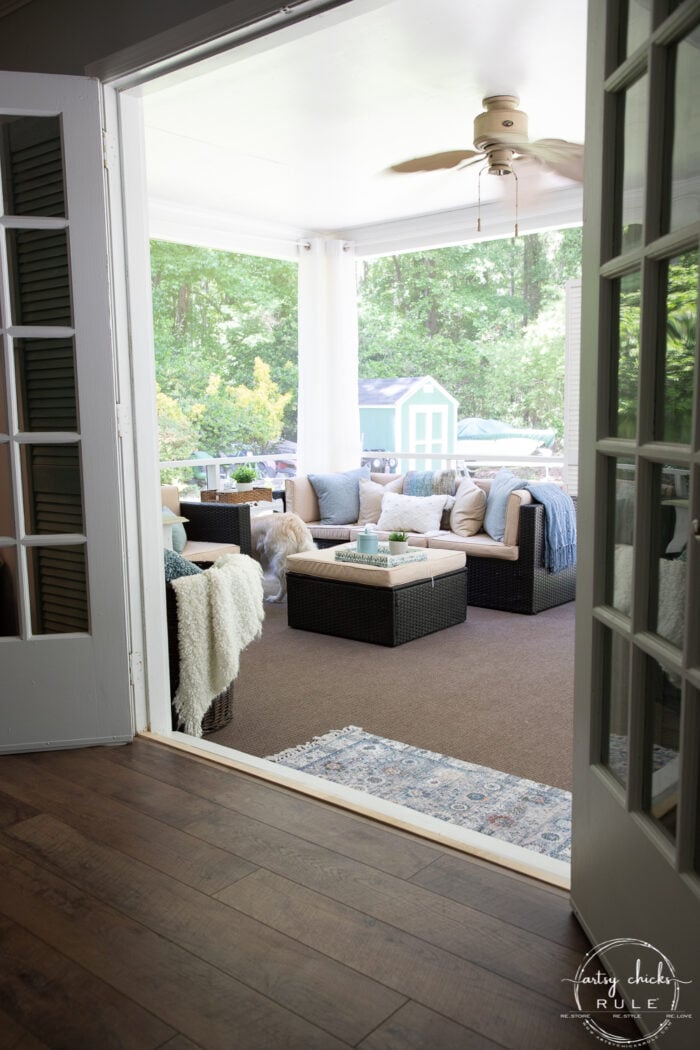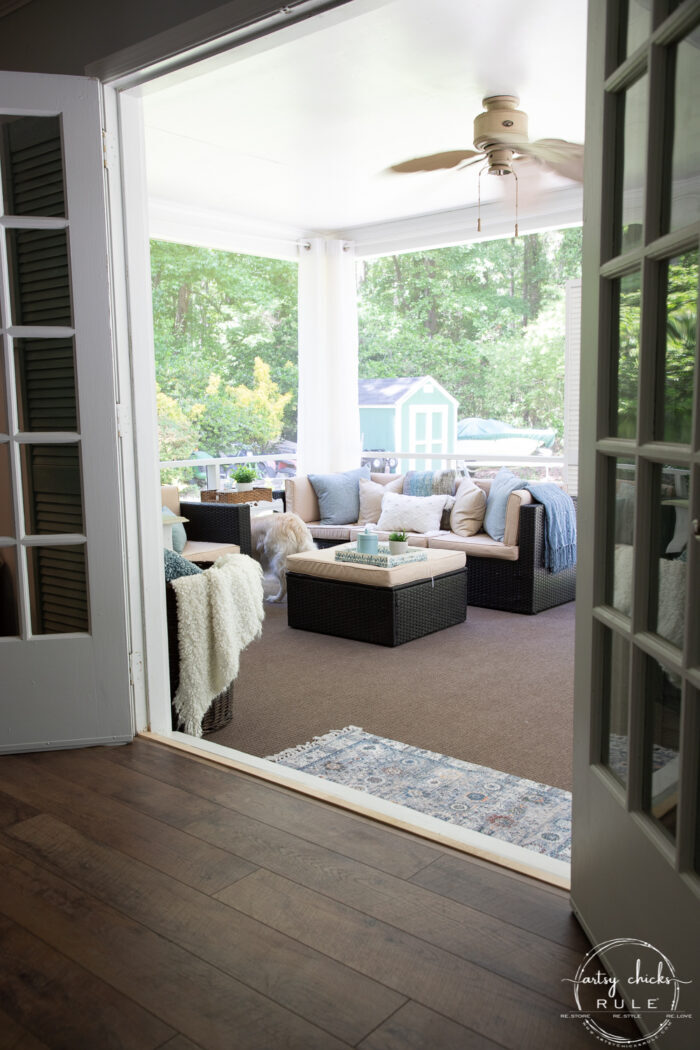 See Ryder's tushy over there? haha Squatting under that table to look for Frank.
I told Ryder to go back in for a few minutes so I could take more photos without him in them.
Haha…and he was not having it.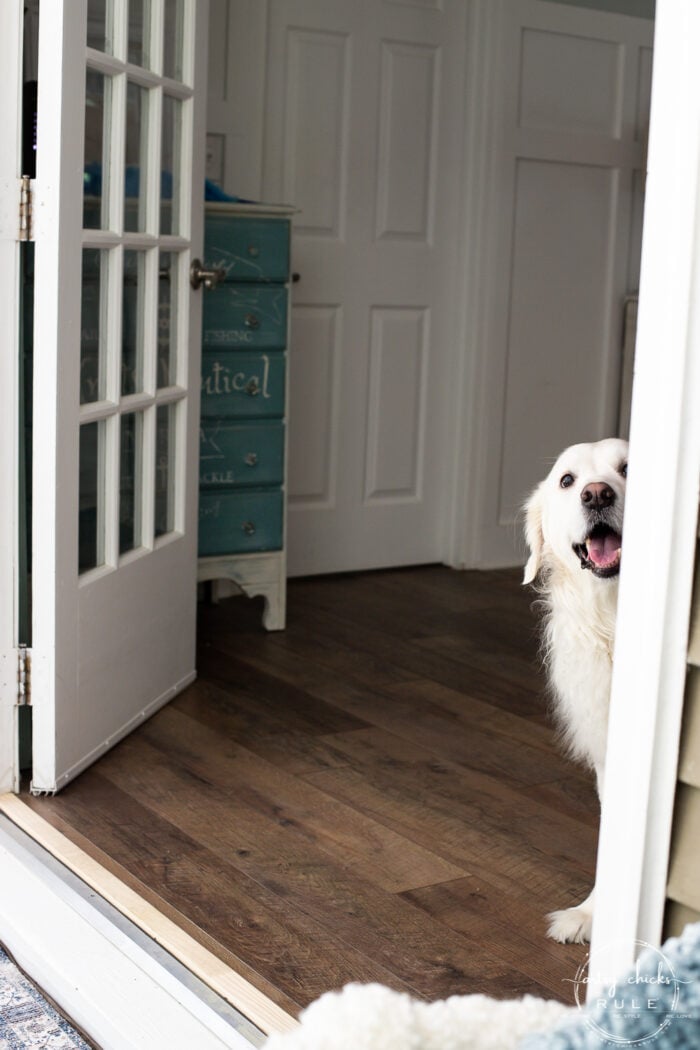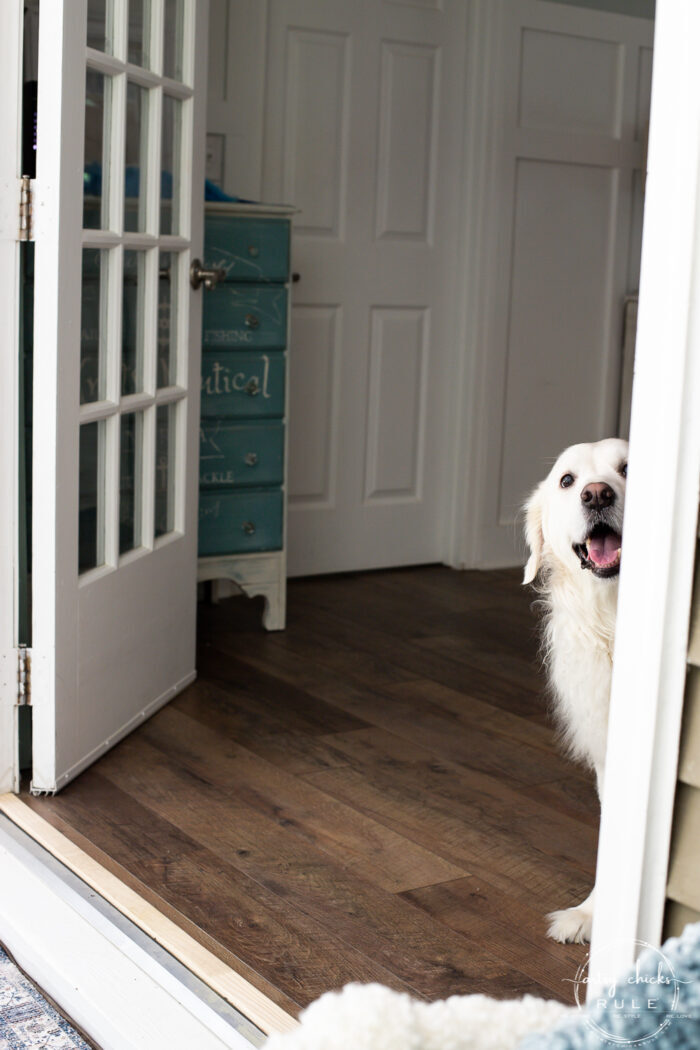 "Can I pleeeasseee come back out, mom?"
Now I want to show you how the porch looks with all the curtains closed.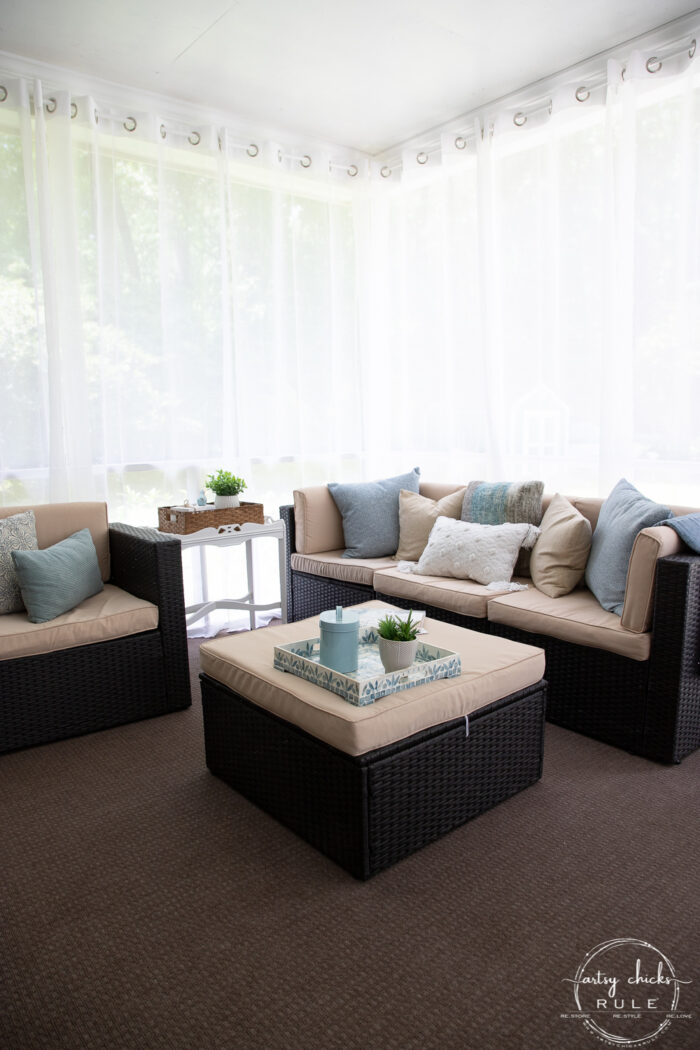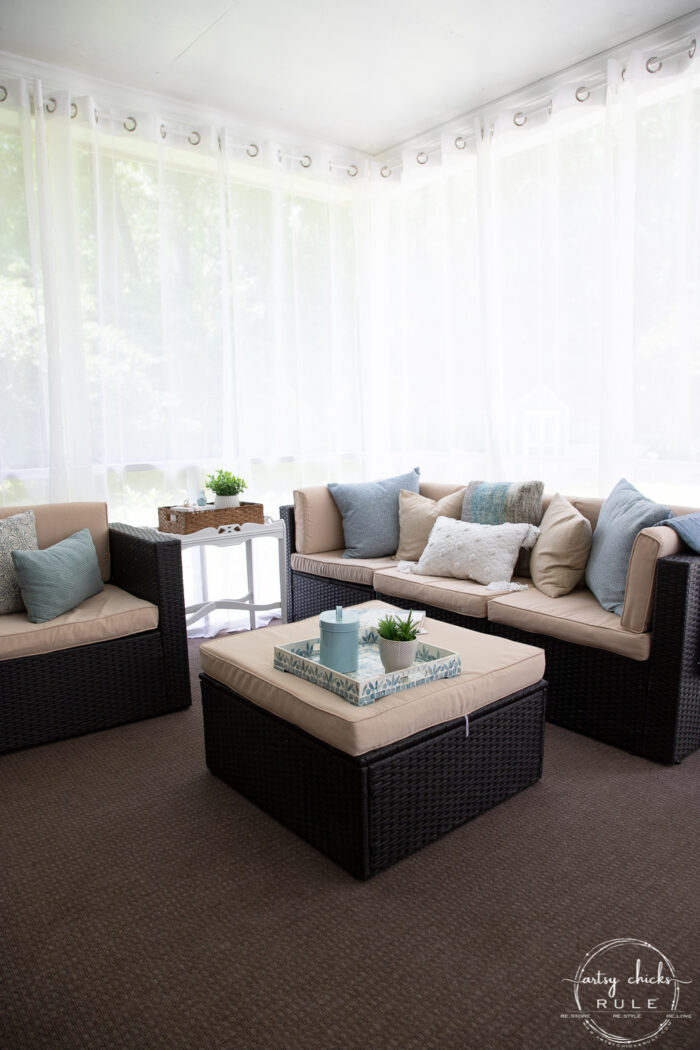 So cozy.
Open…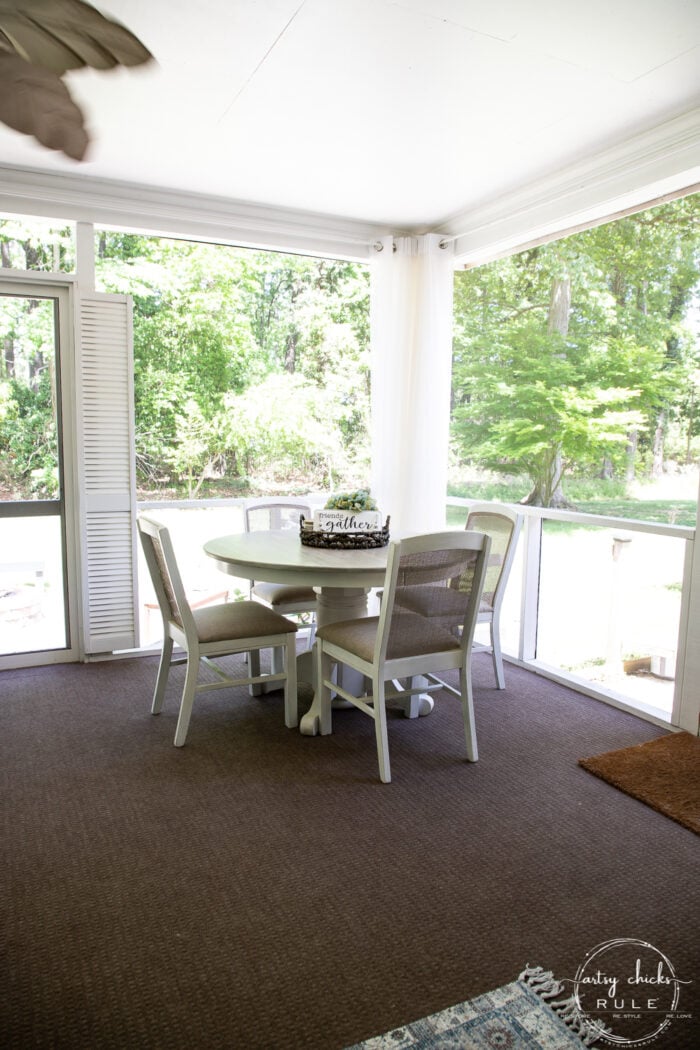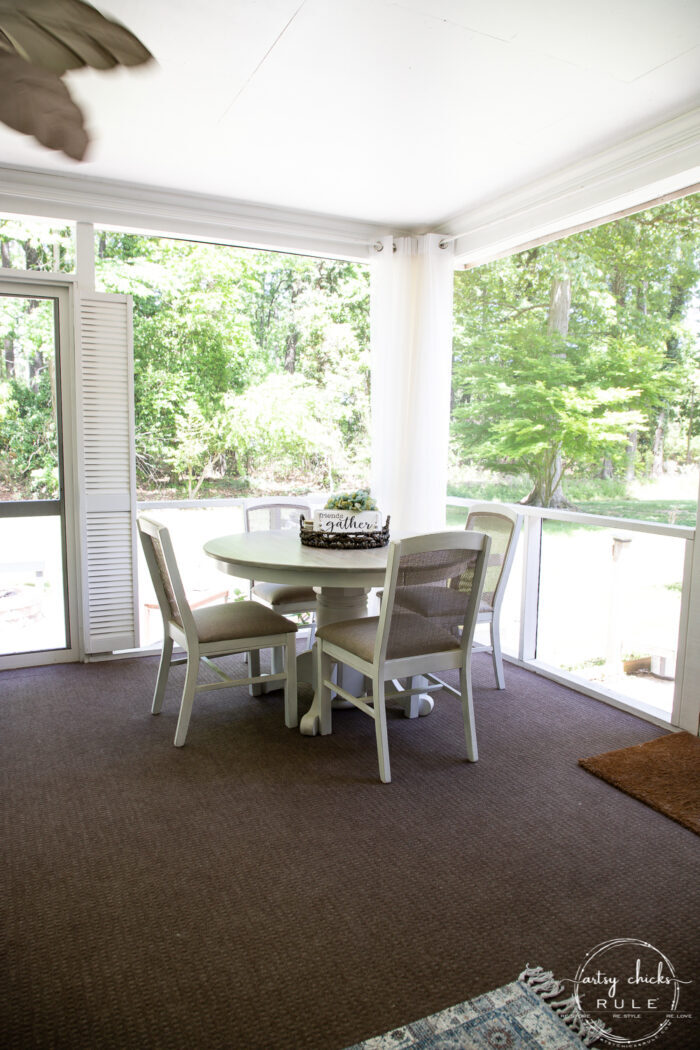 Closed.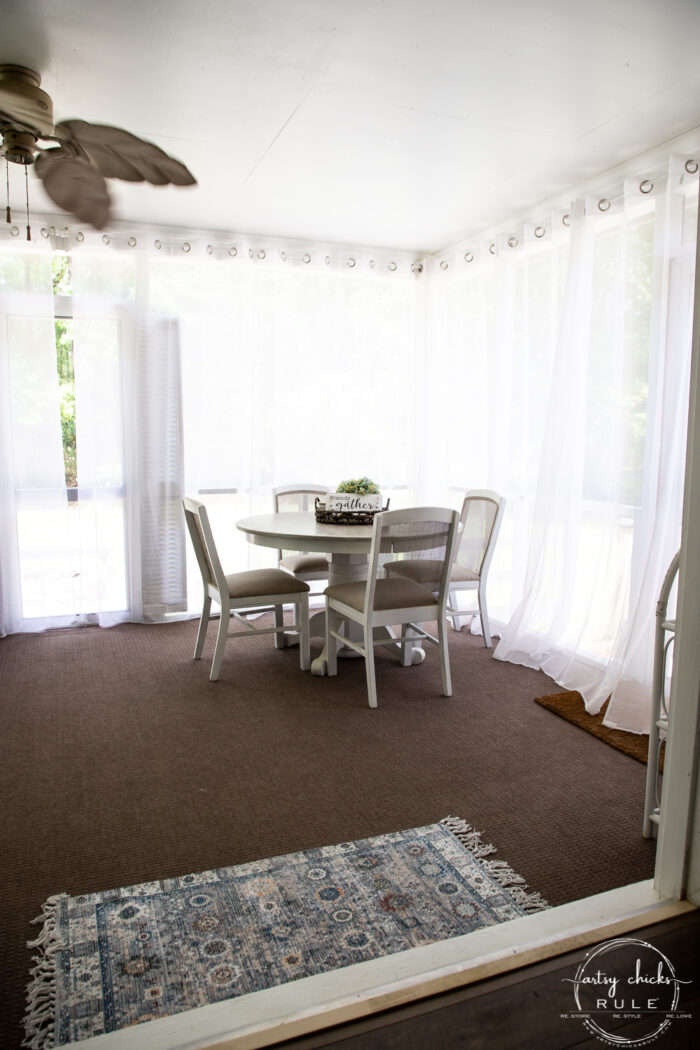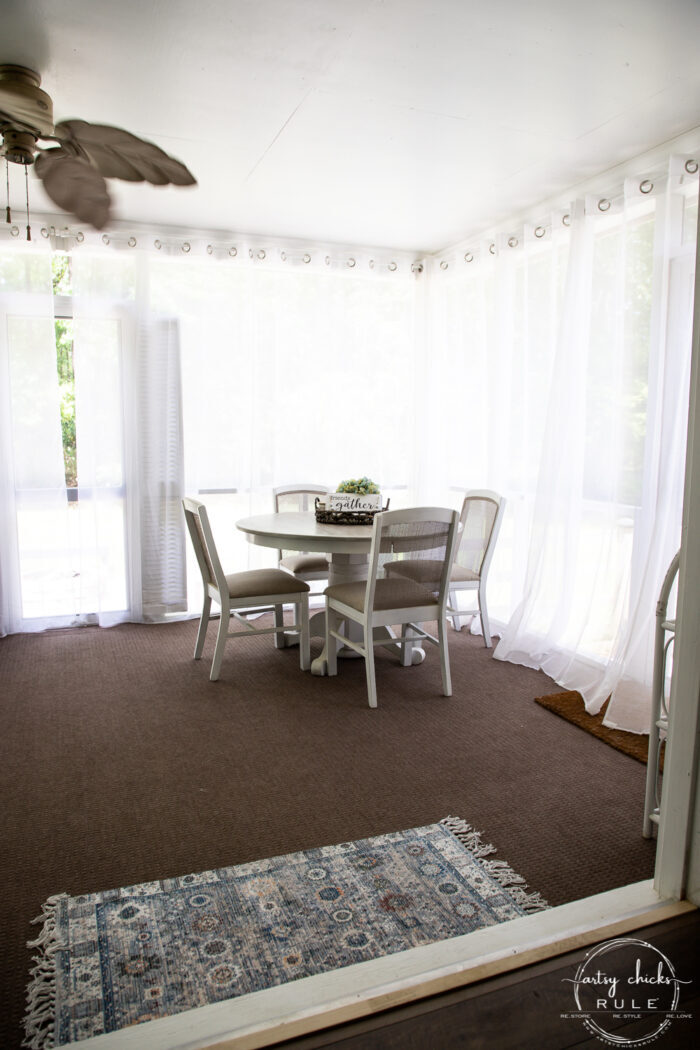 They are very sheer but provide a tiny bit of privacy which is nice.
I wanted them to do that as well as "hopefully" keep the pollen out in the spring. And keep the rain out.
Which they actually do pretty well. They are "waterproof" curtains.
You can find them here >>> Waterproof Sheer Curtain Panels (the rods are from IKEA)
It did work a bit but we are right across the street from the Chesapeake Bay so there is wind off the water quite often.
The weather cooperated with me today and let me take photos! But they do blow around sometimes.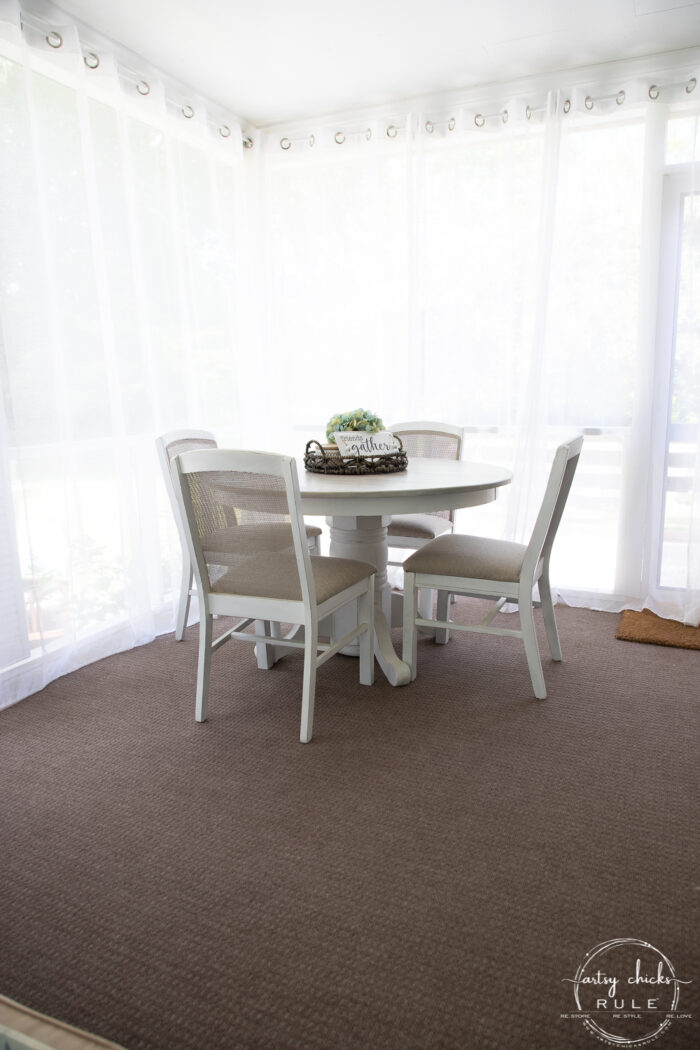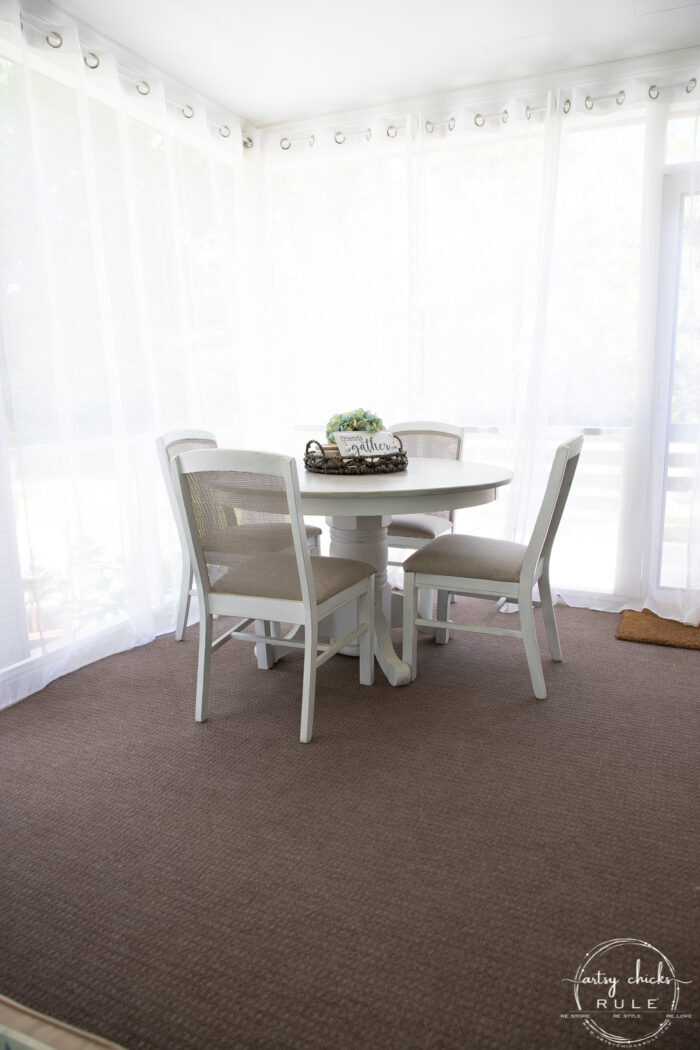 It is a nice option though.
We really love our "new" space.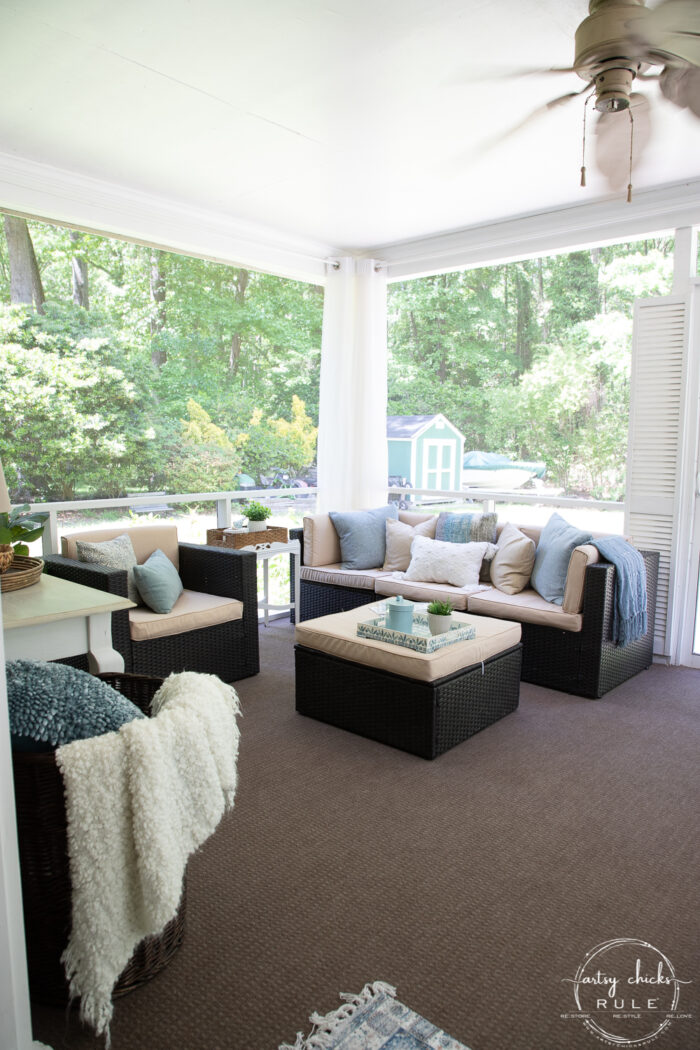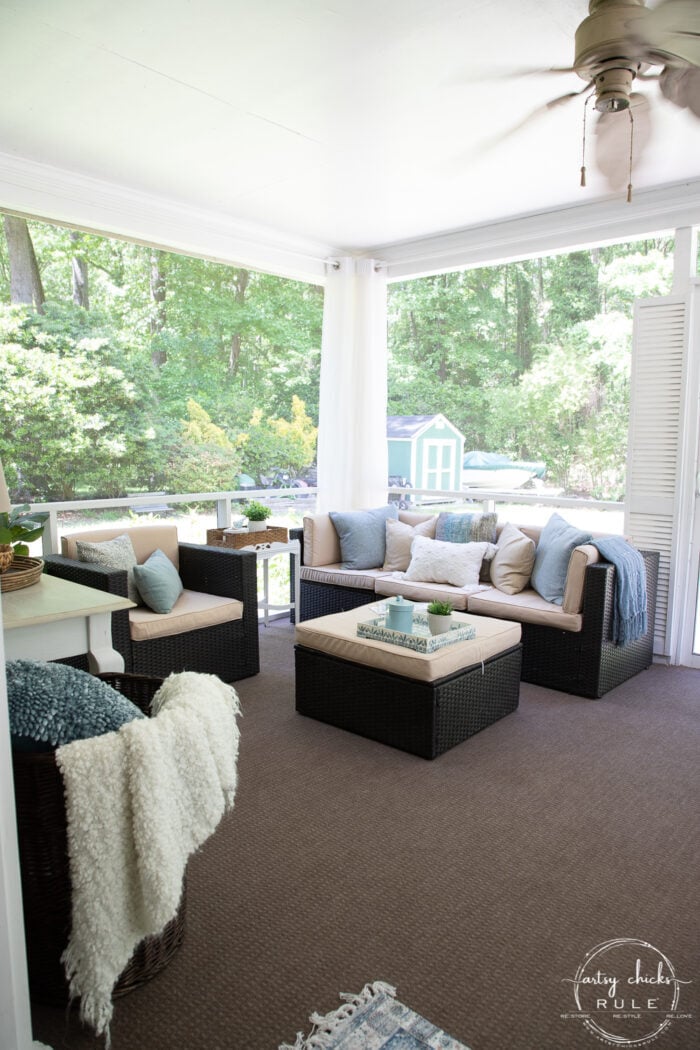 Now to work on the yard. Our flower beds need some loving.
But I just noticed today that our hydrangea bushes have the most blooms on them that I've ever seen!
I am floored.
We have 3 large ones and about 3 smaller bushes. I can't wait till they all come out.
I'll try to share over on Instagram stories when they do. Keep an eye out over there if you love hydrangeas. :)
PIN it to save it!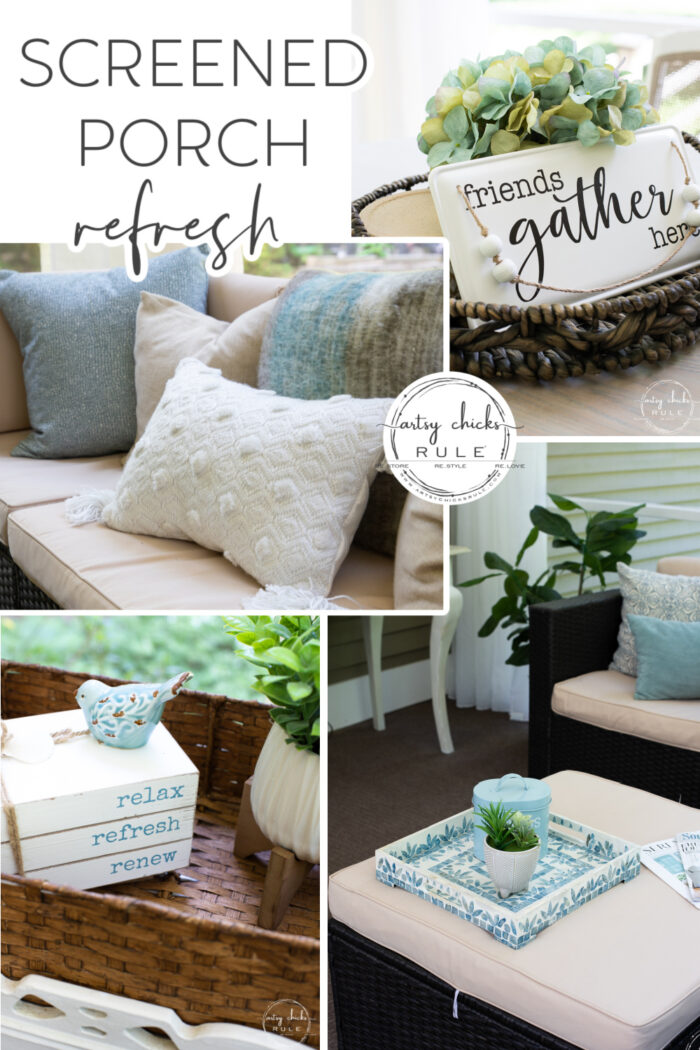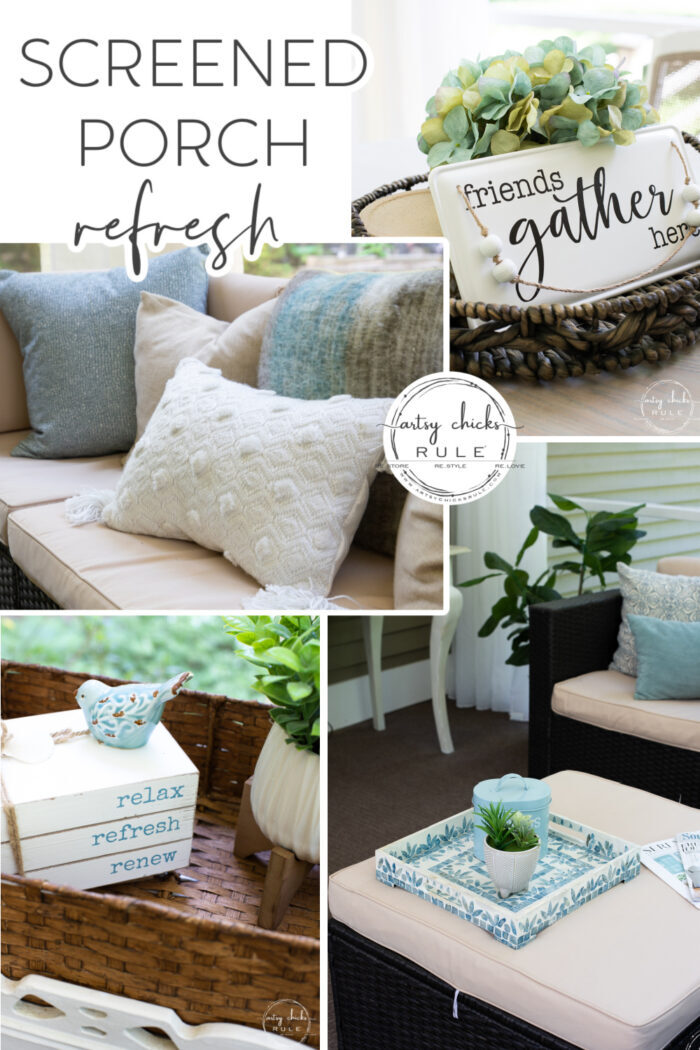 Have a blessed weekend, friends!
And a wonderful Mother's Day to all of you mothers too. Hugs!!
xoxo