Simple Makeover with Painted Tile (and Thrift Shop Shakedown #5!)
This post may contain affiliate links. Please see disclosures here.
Have you ever painted tile?? You can, you know. I'm sharing how I painted the tiled top on a thrifted table today…simple!
I'm also excited to share another installment of Thrift Shop Shakedown with my blogging bestie, Christy, from over at Confessions of a Serial Do It Yourselfer.
We get together to thrift shop every few months and film each other so we can take all of you along with us! This will be our 5th video of our thrifting adventures!
Whatever we end up finding is what we will do for our makeover over here on the blog. She'll be sharing hers too, so be sure to scroll all the way to the bottom to see.
But before we get to the makeover, let's go on our fun shopping trip so you can see what we found…
If you have trouble seeing the video, you can click here to watch it on YouTube.
Be sure to scroll all the way to the bottom so can you can see how Christy's makeover turned out too!
And….here's the table I found that I'm making over today. :)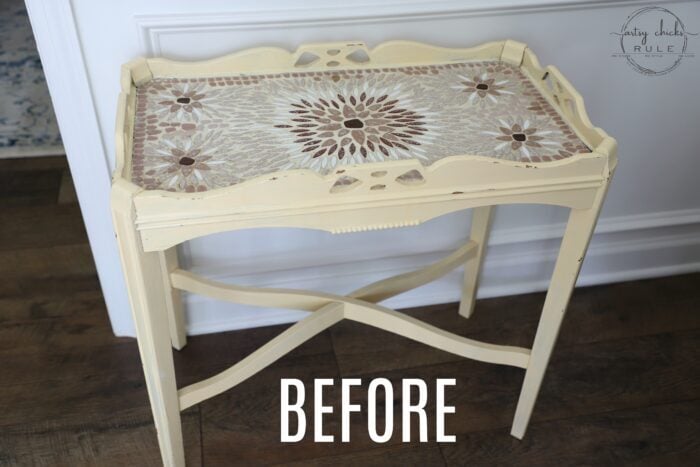 As you just saw, I actually found some bar stools too. I have big plans for those and can't wait to get working on them.
Keep an eye out for them!
Can you believe this was a whopping $4 find? Wow!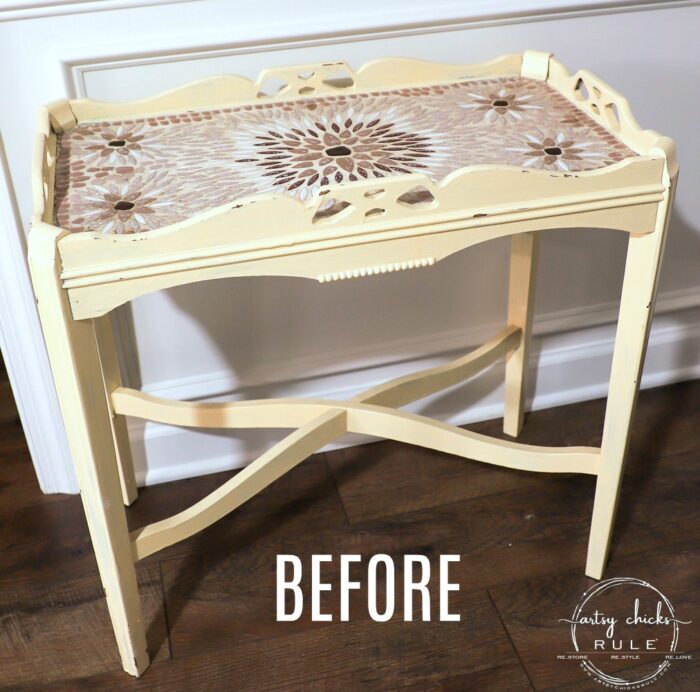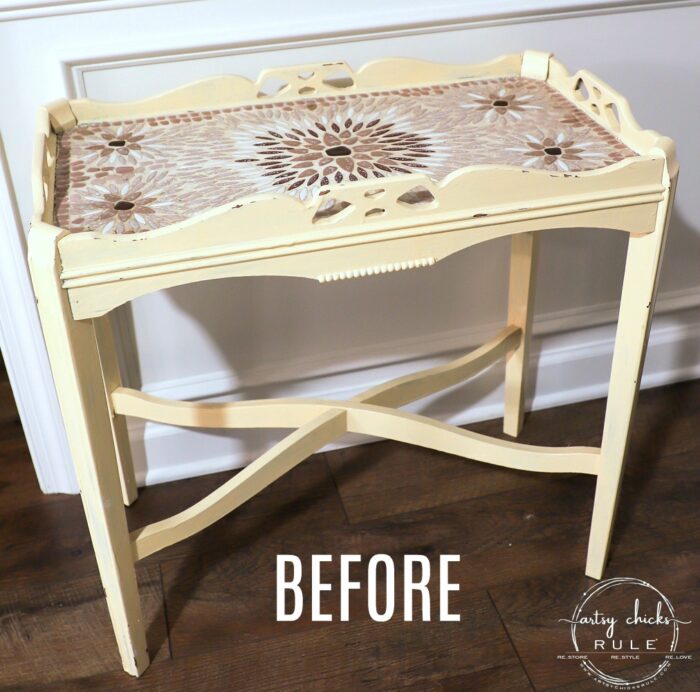 It's a pretty old table that someone had previously painted (badly) and added tile to the top.
The tile is kind of cool. The pattern anyway, not so much the colors. (for my home)
It looks like it was done a while ago so I started out by caulking all around the edges to fill in all those gaps and cracks before painting.
I like things smooth and seamless.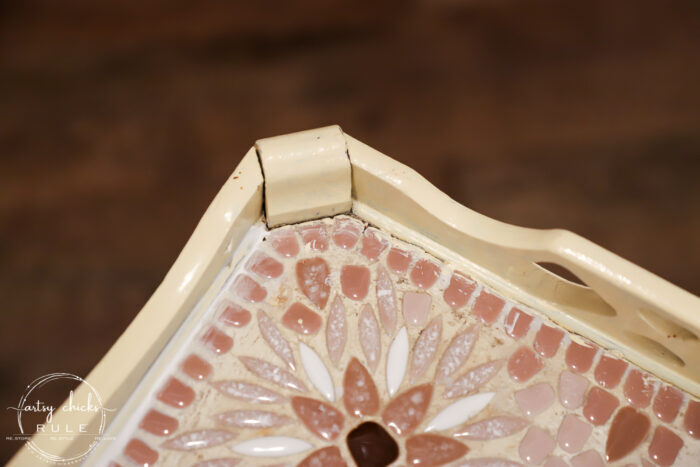 You can see on the left where I caulked and on the right where I have yet to caulk.
The tile was in pretty good shape so I kept it. Although, I had planned to keep it intact from the very first moment I laid eyes on it.
I just knew I'd be painting it in some way!
Simple Makeover with Painted Tile
I gave it two coats of the white chalk style paint that I love.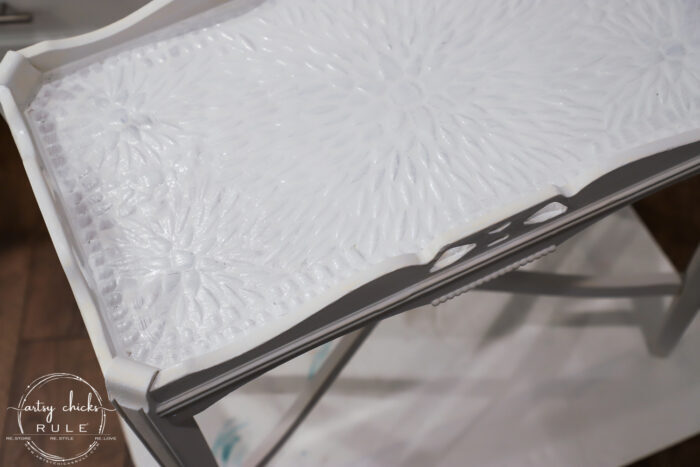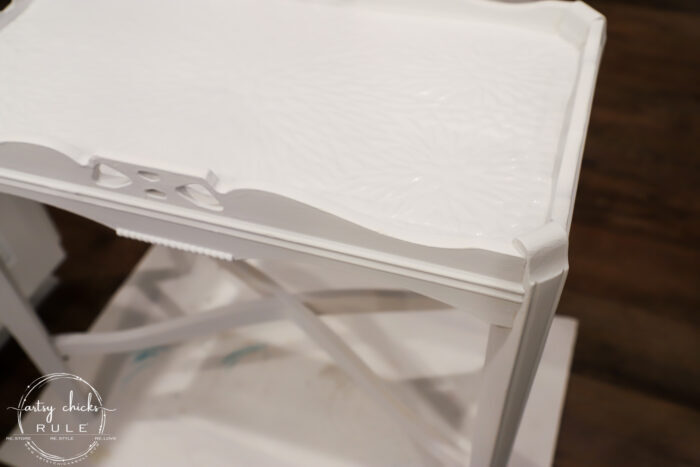 And then, surprise (to me!) I was loving it all-white.
I had not planned it all-white at all.
I thought I'd maybe have painted tile in some shade of blue (what else? ;) ) and then white over top, then wipe away the white to reveal the blue on the raised tile areas. But I was absolutely loving the clean look of all white.
The tile just looked so good white I decided not to paint it any other color.
I did consider painting some of those lines on the sides of the table blue as well as the criss-cross base. I started and got halfway across and decided I did not love that at all.
So I went back over it with white!
I applied the top coat sealer to the whole thing and then went back over just the tiled top with 2 coats of this decorative top coat that just made it shine.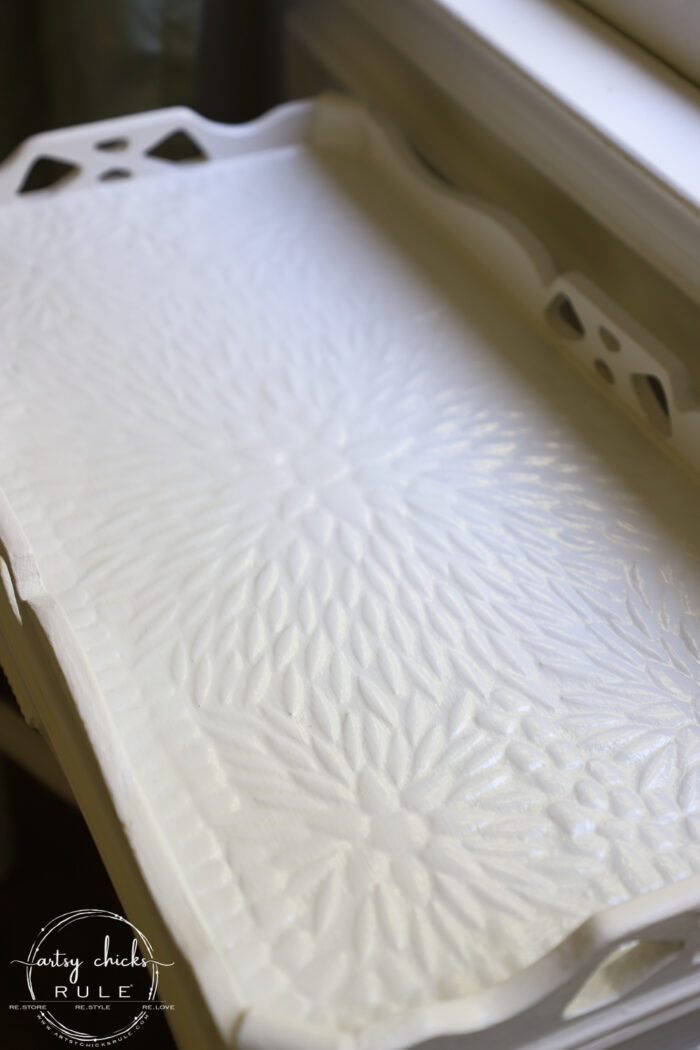 Want to see some of these projects in "live" time? Hop on over and follow along with me on INSTAGRAM. I'm always sharing in my stories as I'm doing projects, finding new furniture, fun finds….just all the day to day behind the scenes. 
I had a tough time getting in photos the gorgeous sheen that is on the top here.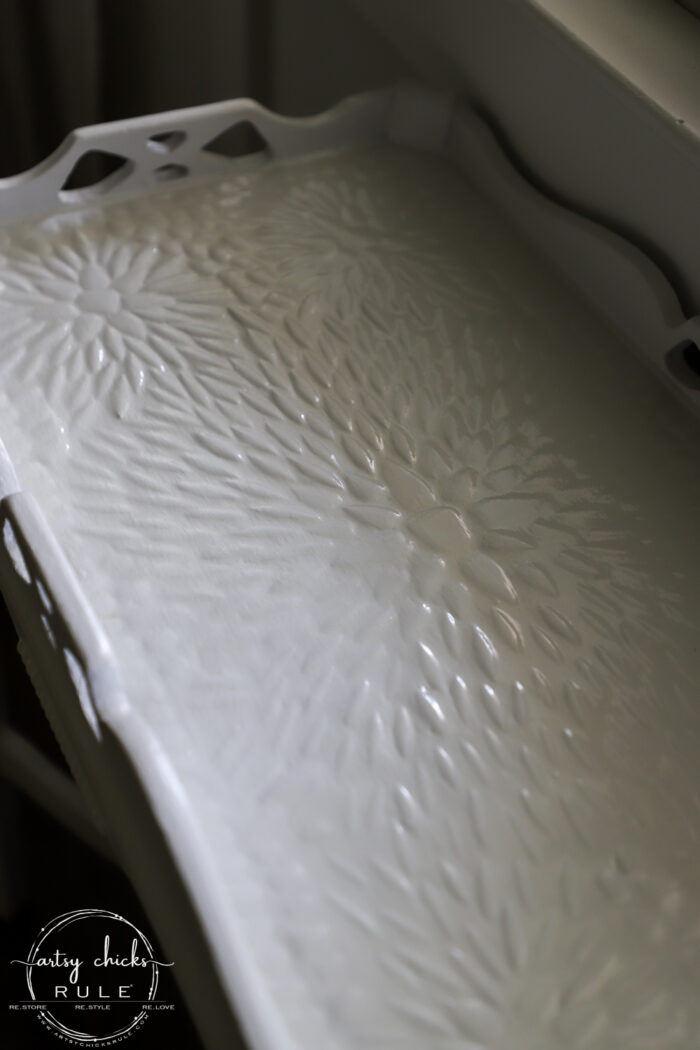 Doesn't that painted tile look so good? I just love it!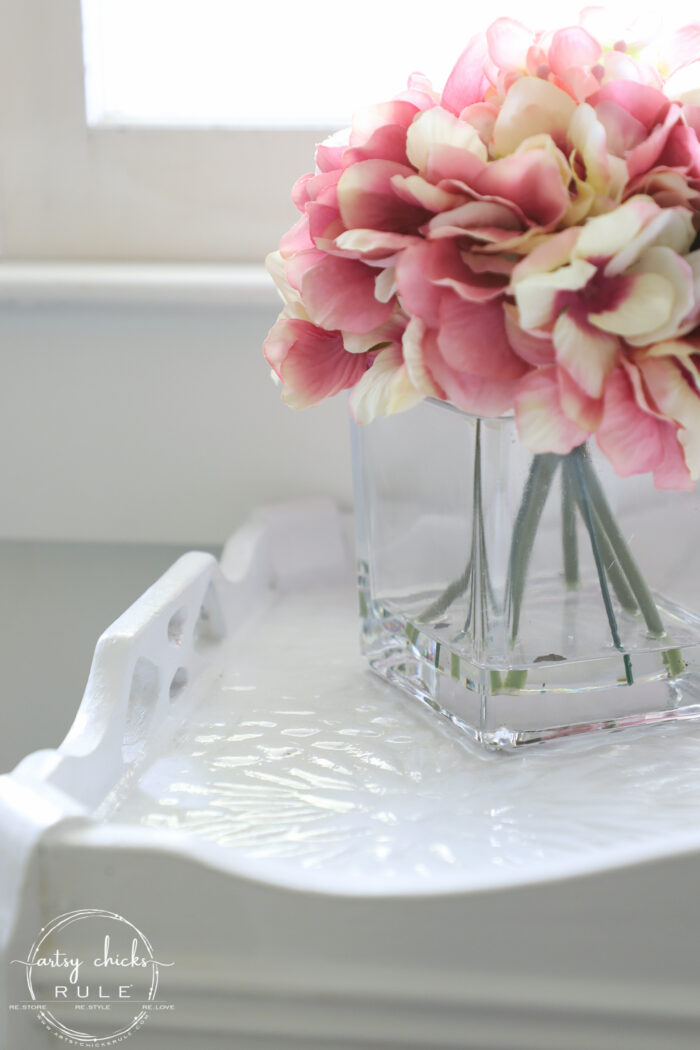 It doesn't even look like the same table.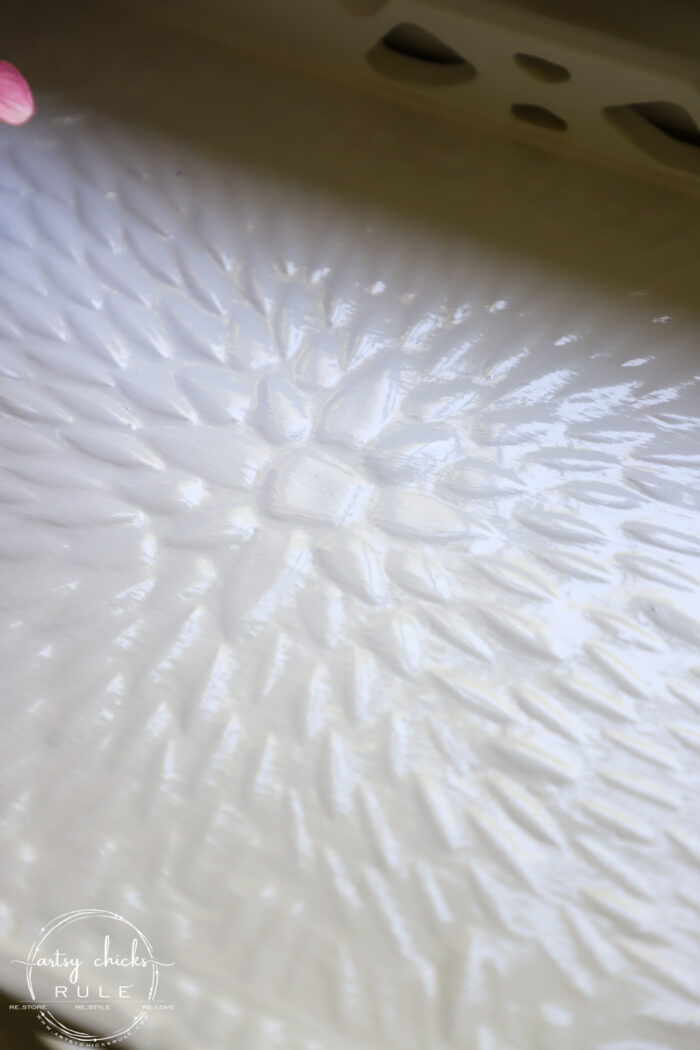 The painted tile is the star of the show. Subtle but just right.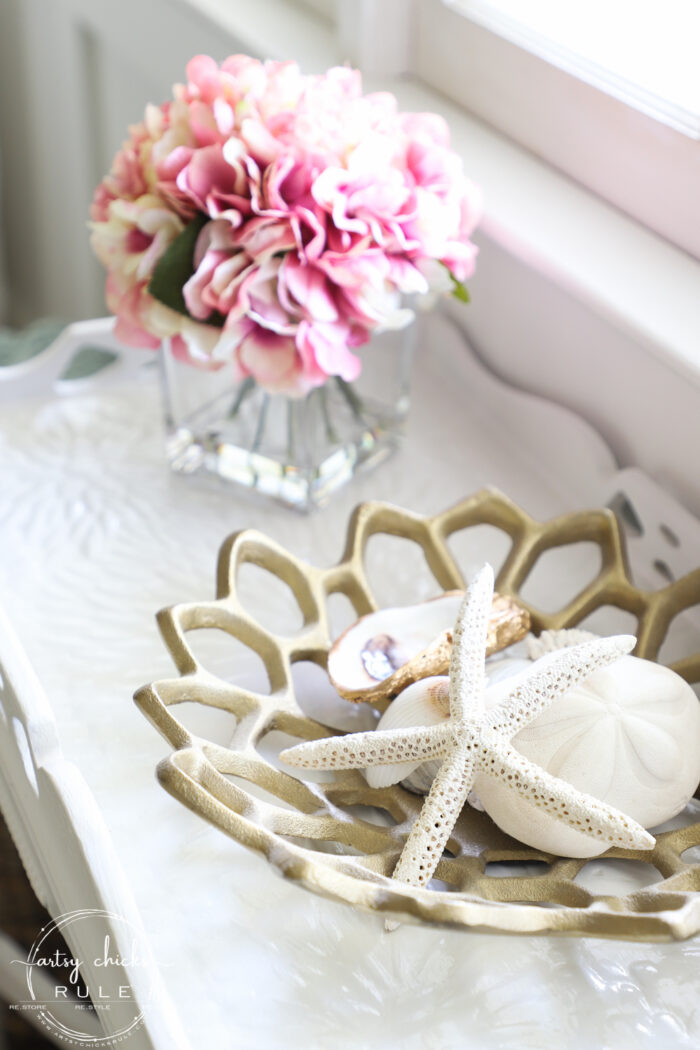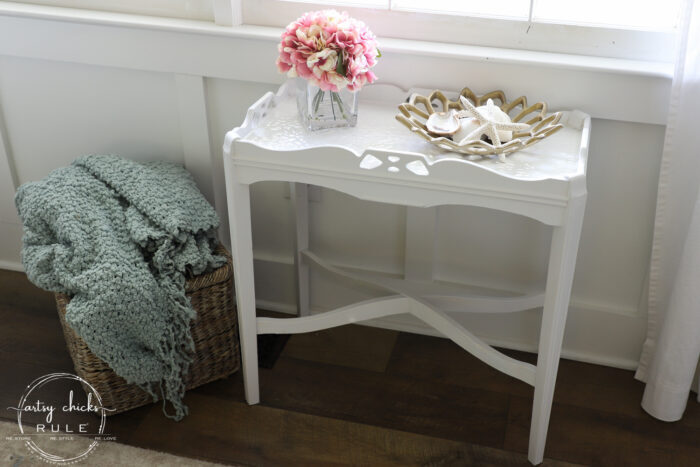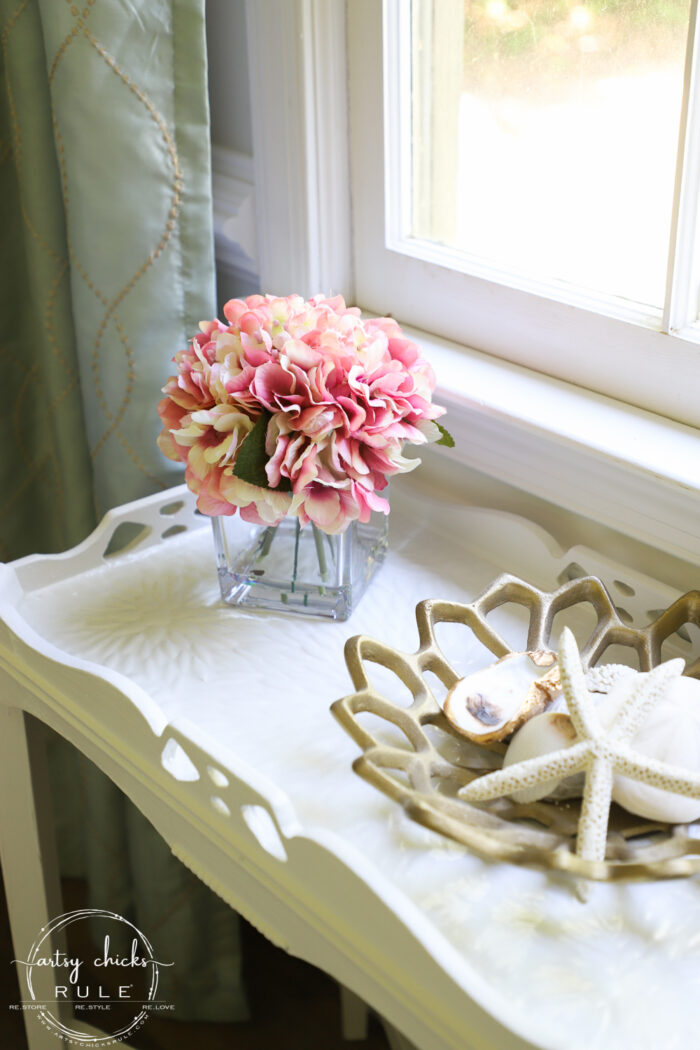 I'm so happy with how this one turned out.
It was not at all what I expected it'd be but sometimes in this creative process, you just have to go with the flow!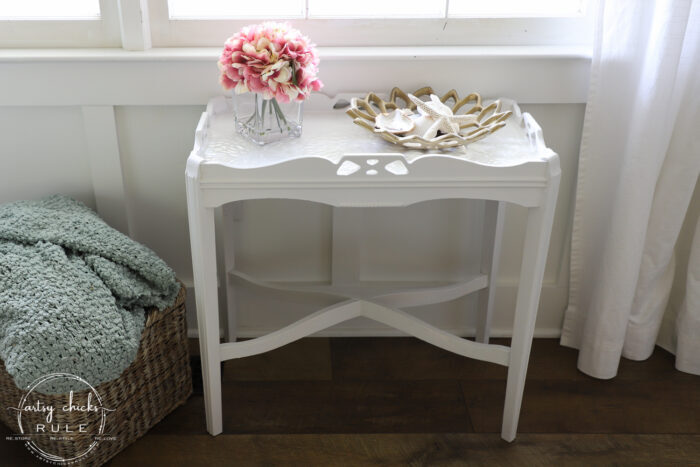 I'm planning to keep this one and use it in front of my windows in the morning room for plants to sit on in the sun.
I'll share pictures of that at a later date.
This just goes to show, you can makeover pretty much anything you find at the thrift store and turn it into something beautiful.
And this one truly couldn't have been simpler.
PIN it to save it!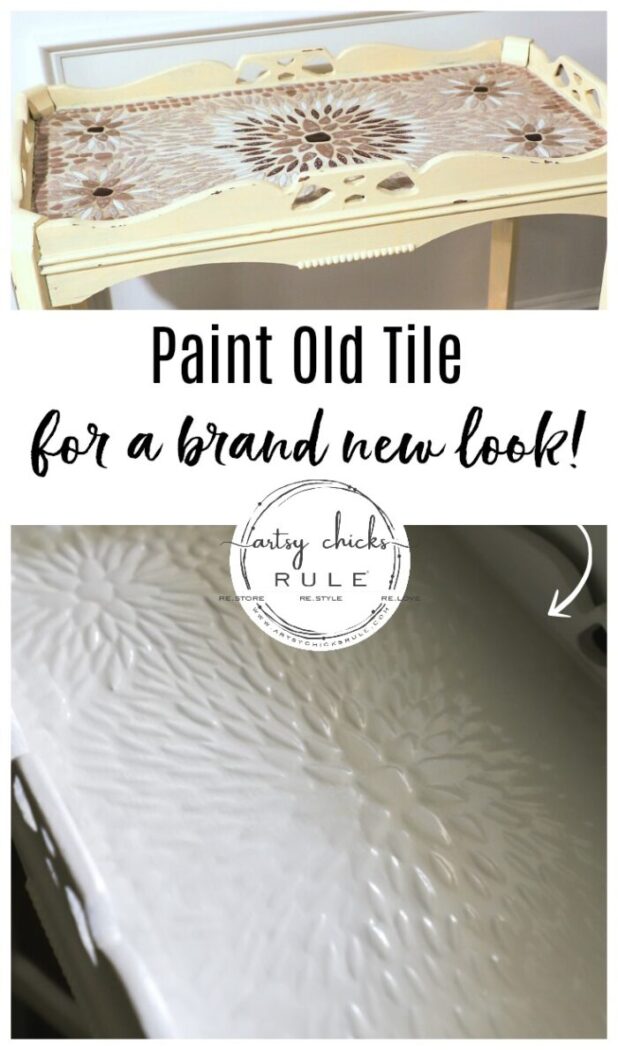 Here is the chair Christy found and is going to make over! Click here to hop on over and see what it looks like now!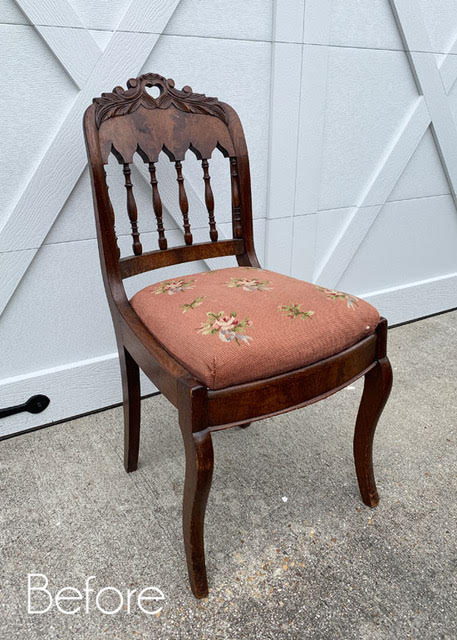 I hope you enjoyed our video as much as we enjoyed making it! We will be getting together again soon so stay tuned for #6. :)
Want to see our other videos and makeovers??
I hope you all have a wonderful weekend! Go check out those garage sales and see what kind of goodies you can find!
xoxo