Bread Box Repurposed Into Charging Station (Thrift Shop Shakedown #3)
This post may contain affiliate links. Please see disclosures here.
Bread boxes can be found in abundance at most thrift stores. There's no end to the things you can do with them like today's bread box repurposed into a charging station.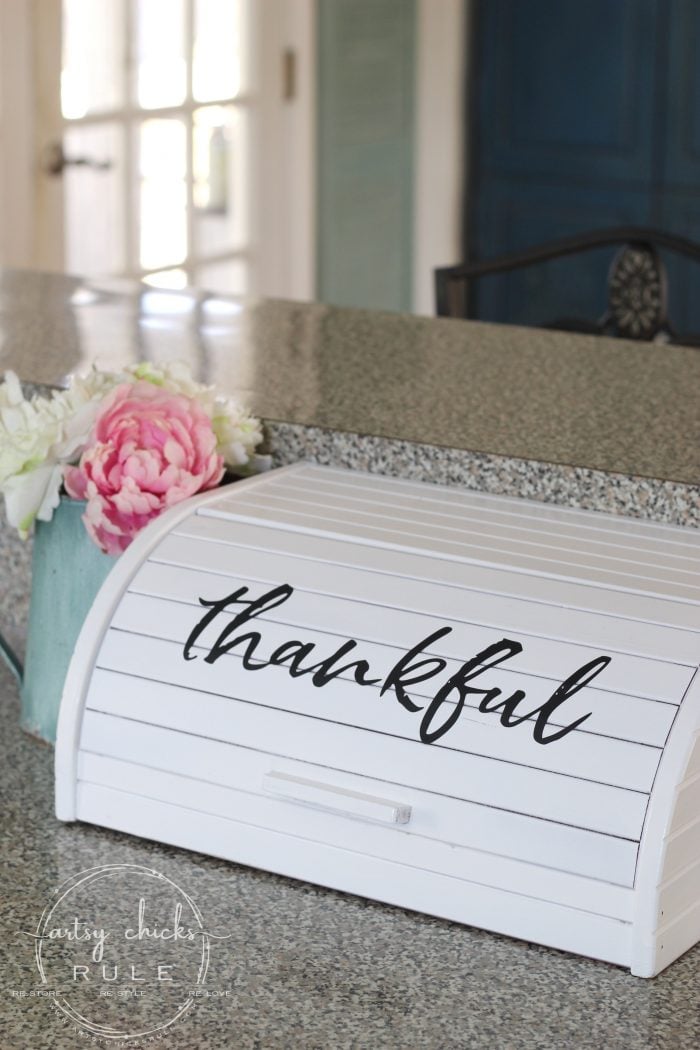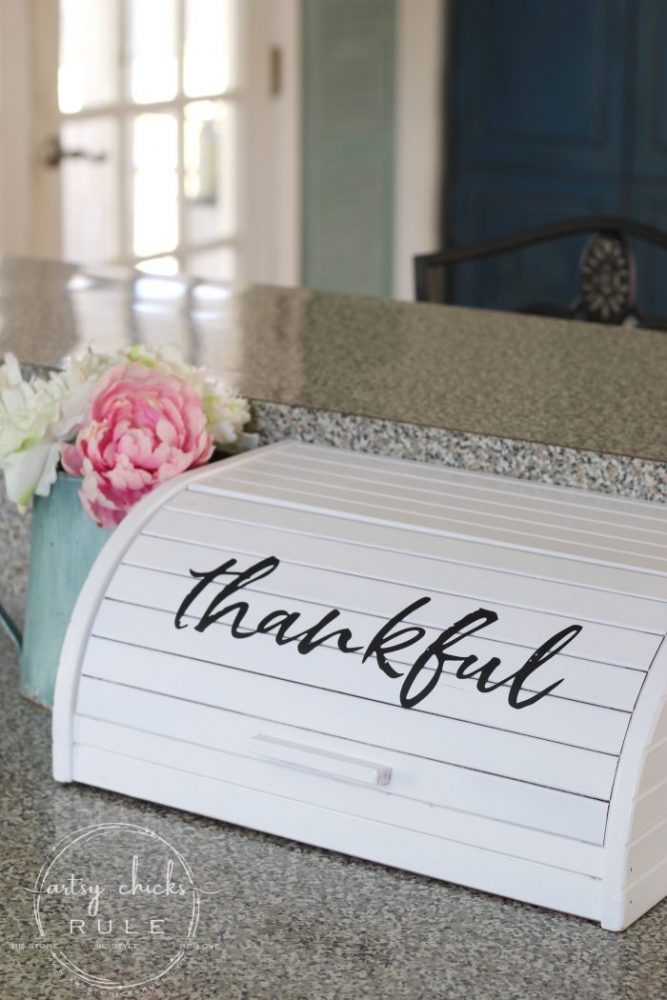 Hey sweet friends!
I've got a really fun post for you today. My blogging bestie, Christy from Confessions of a Serial Do It Yourselfer and I live near each other and like to get together every once in awhile to go thrift store shopping….or just visit like below at Christmas.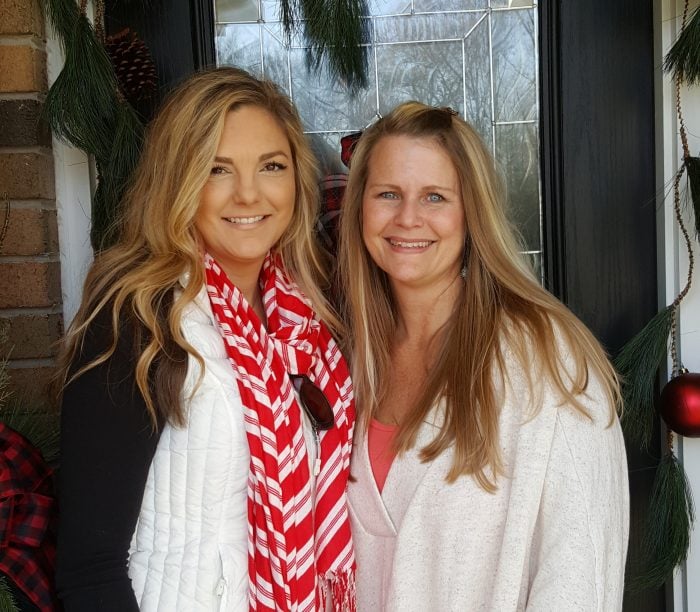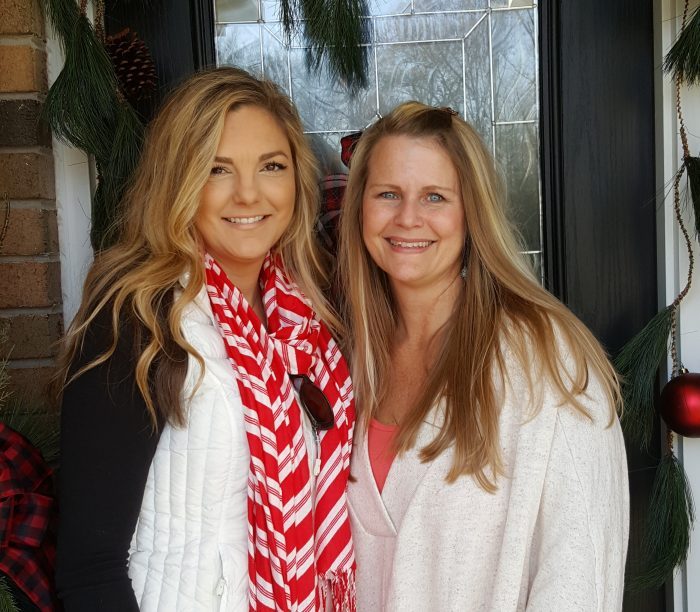 Since she and I both like to do furniture makeovers, thrifty decor, and repurposed items, we thought it would be fun to take you thrift shopping with us!
Whatever we find for the day, we make over for you guys here on the blog.
We had grand plans to do this about every other month but that proved harder than we anticipated!
We are busy, busy, busy, and haven't been able to do it as often as we'd liked. However, we are going to try hard to create and share more videos with you moving forward.
Before we get started on the makeover, come along with us on our thrift store shopping adventure…..

Here's that bread box repurposed into a charging station "before"…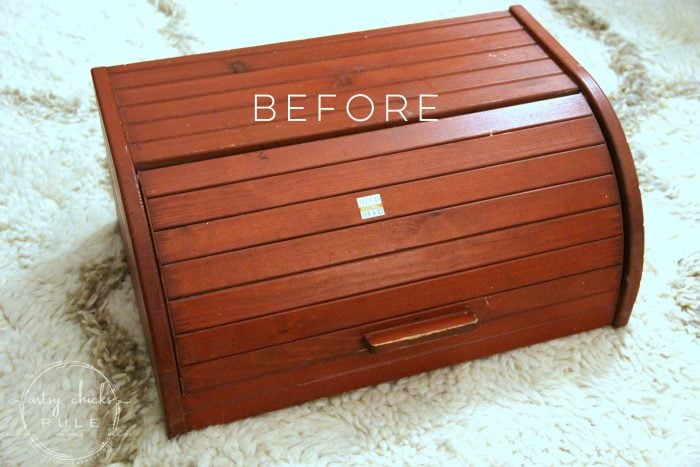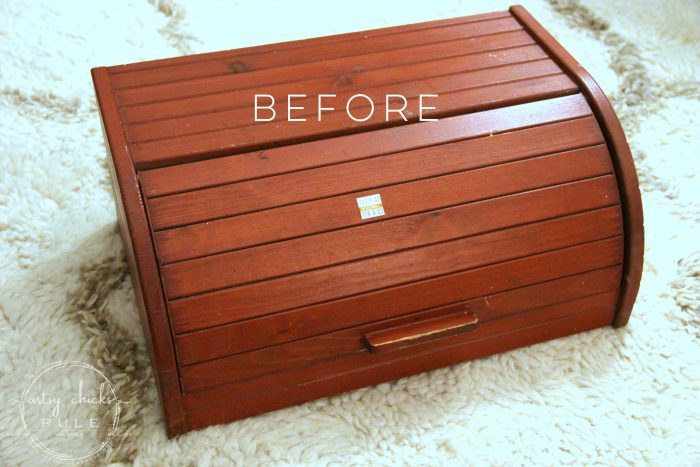 (On our new rug in the study, love it! You can find it, here)
The bread box was $4.98 and since I already have a made over bread box, I decided to turn this into something else entirely.
A charging station for cell phones (or tablets, etc) and a place to collect change, hold a notepad and pens.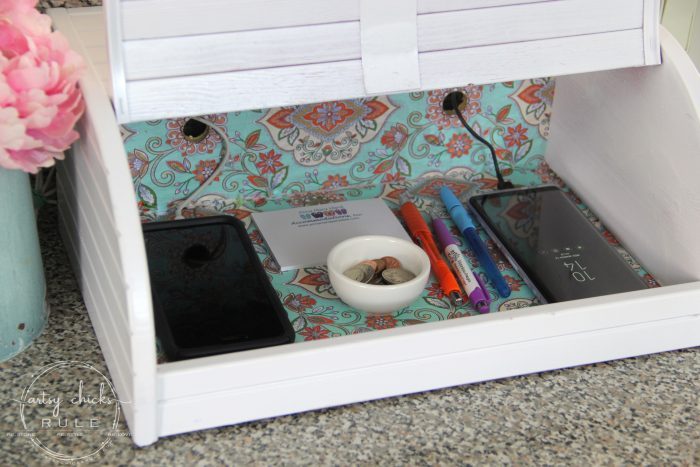 All hidden, just the way I like it!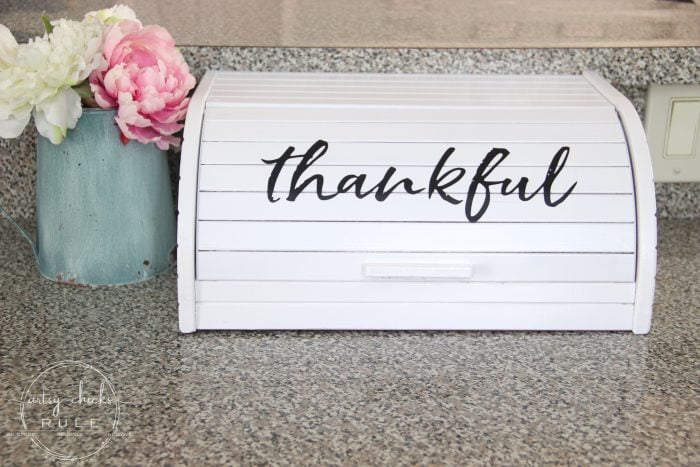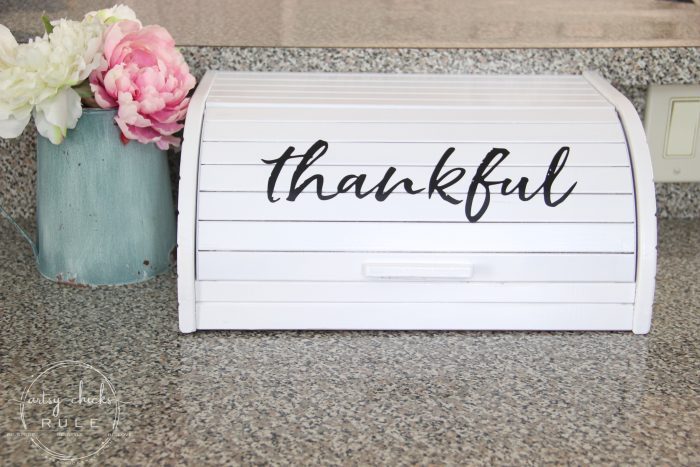 This was a pretty simple makeover.
I sprayed it with basic white spray paint in a satin finish and then created this graphic to use on it.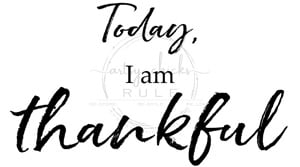 I originally thought I'd used all of it …..but as you can see, that didn't happen.
You can save that to your computer and use it together or just use the "thankful" portion by itself as I did.
I used my Silhouette Cameo to cut out the vinyl for this project.
Want to see how easy it is to use your own designs inside of Silhouette? Click here >>> How To Import Your Own Designs Into Silhouette Cameo.
Or you can also use any of these transfer methods to do it if you don't have a Silhouette machine.
Here's how I thought it would go……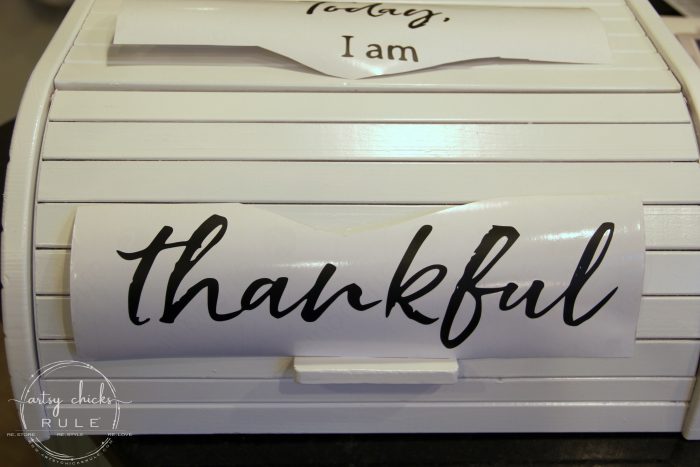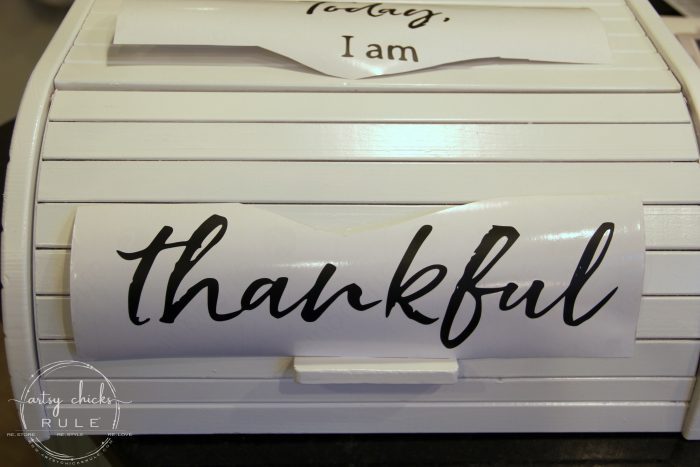 and then…..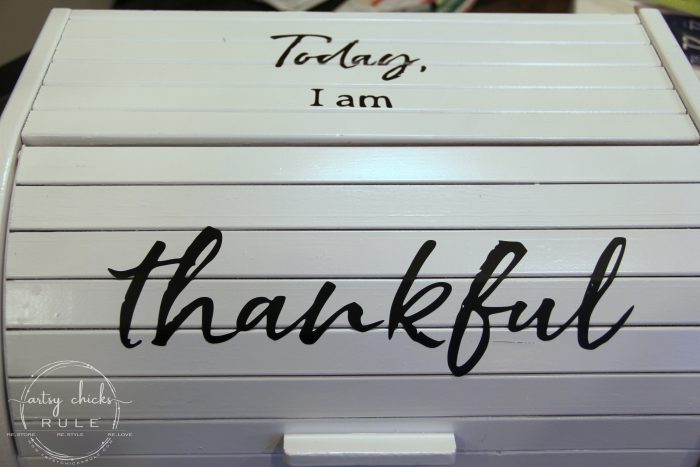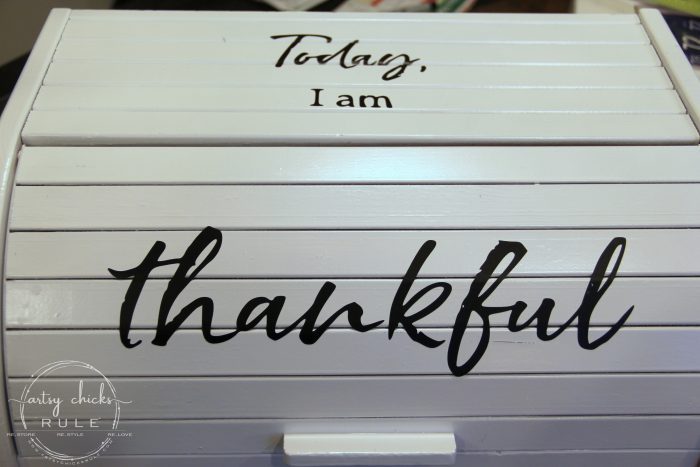 Nope!
Wasn't loving that.
I wanted something inspirational to greet you as you open the box to grab the phone but that "Today, I am" just looked like it was out of place.
So I carefully removed it.
Which left me with just this…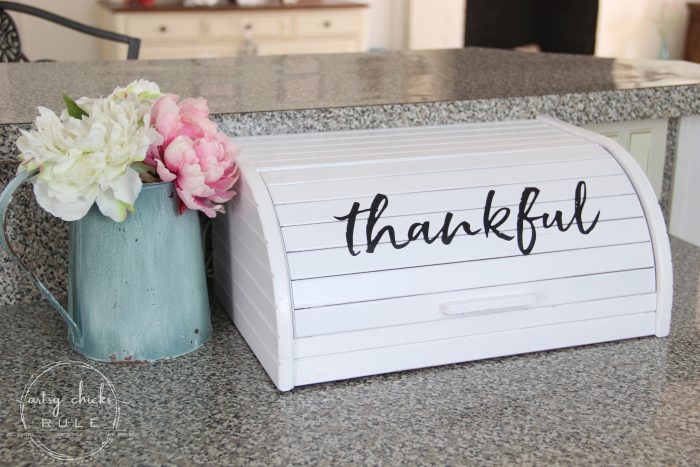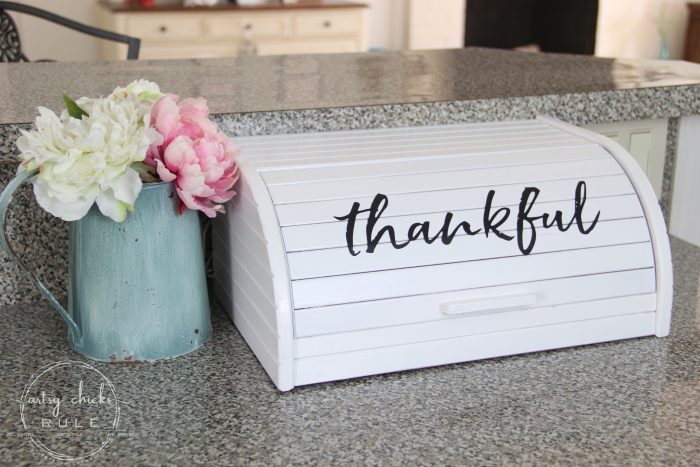 Simple and to the point.
That's all it needed.
Since the top simply lifts and doesn't fold or bend as you lift it, the vinyl worked great for this.
For the inside, I added that same pretty tissue paper that I am so smitten with right now.
I just used it inside a drawer on this little table.
I applied it with Mod Podge and gave it a seal coat with HP top coat.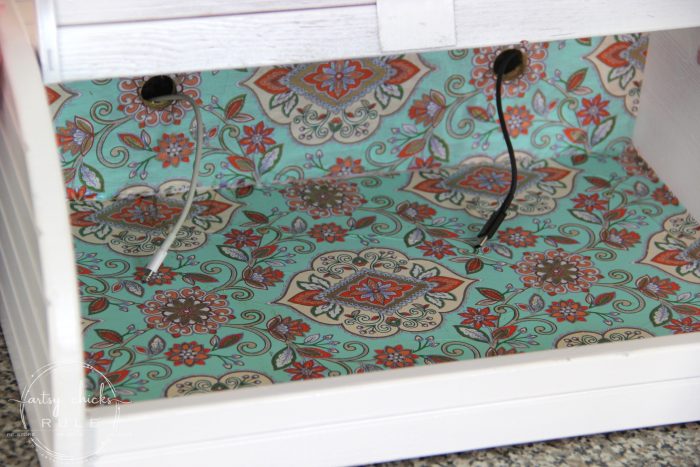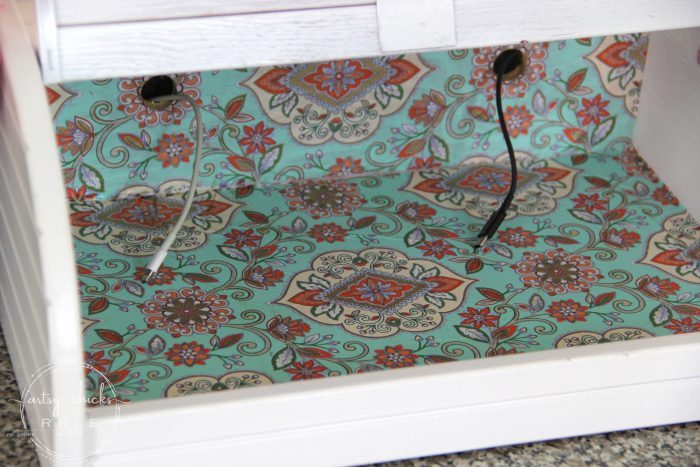 I didn't even have to cut those pieces. Believe it or not, those 2 pieces were left over from that table project and they fit perfectly!!
I love when that happens!
I drilled two holes into the back for the charger cords….and if you'll notice, I drilled them in the center of the flowers. Hee hee…I like symmetry!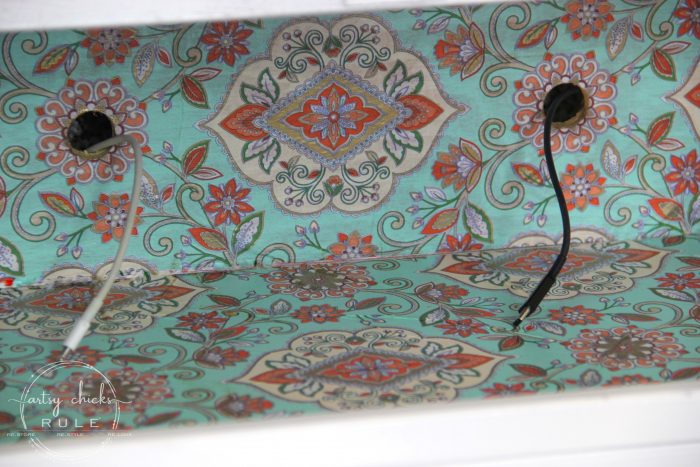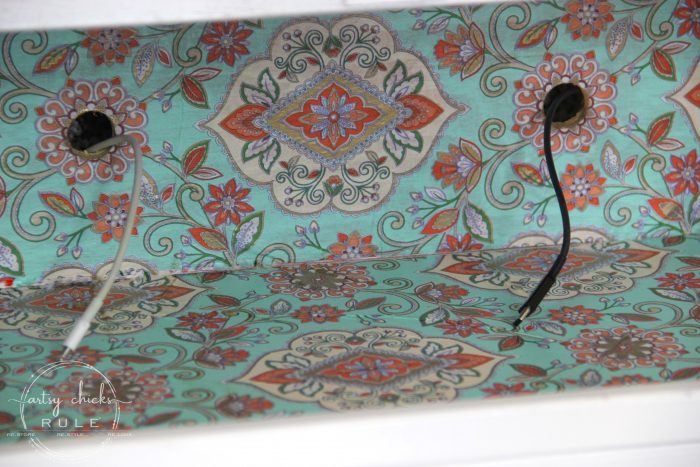 This …..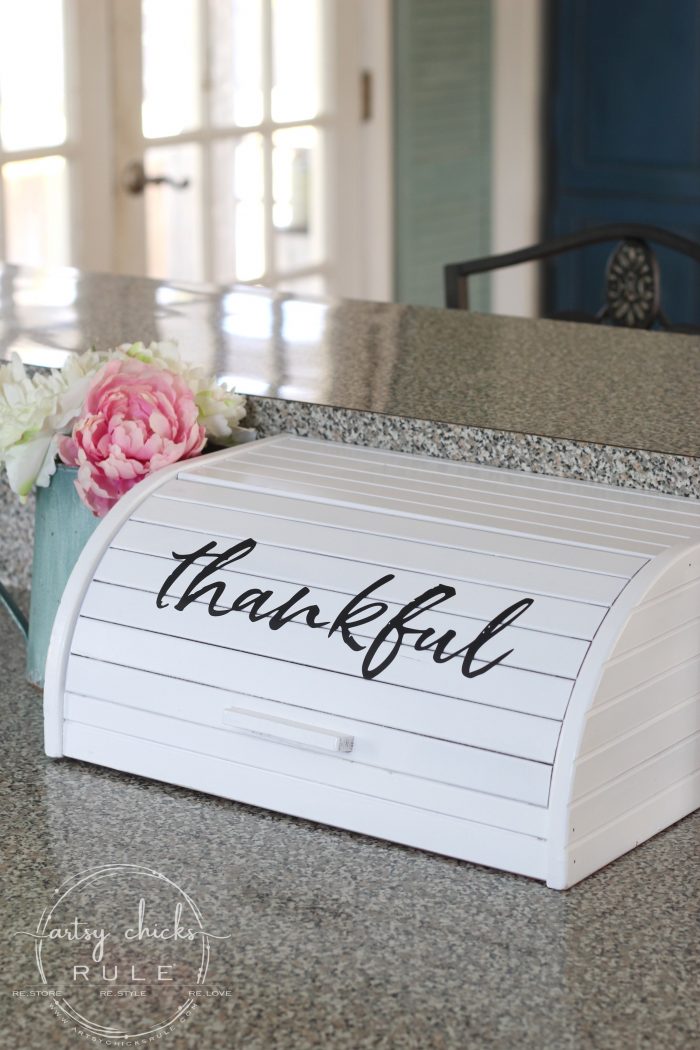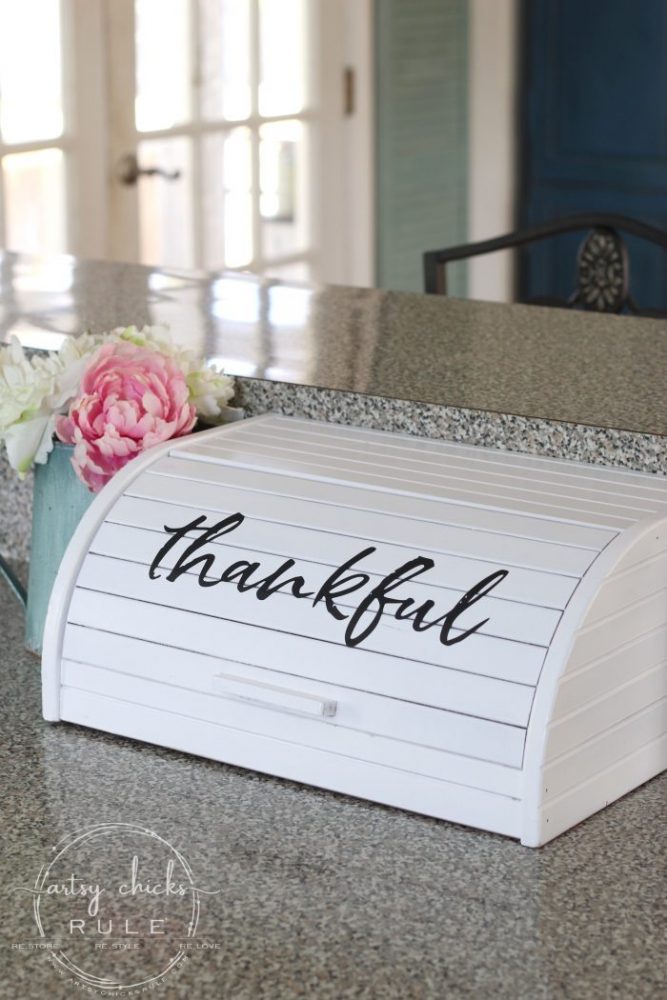 …sure looks a lot better than this…..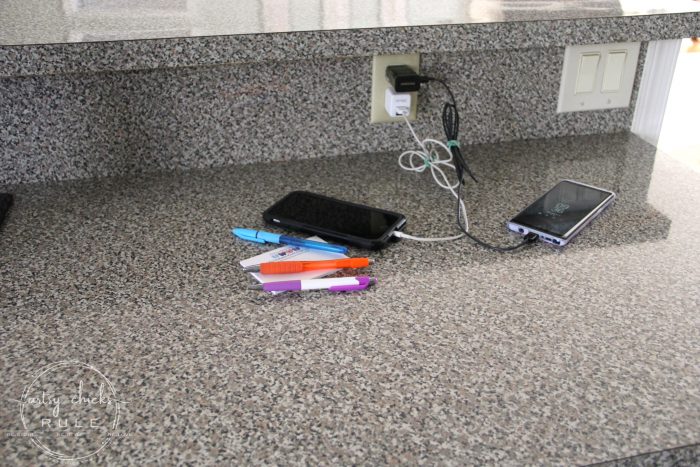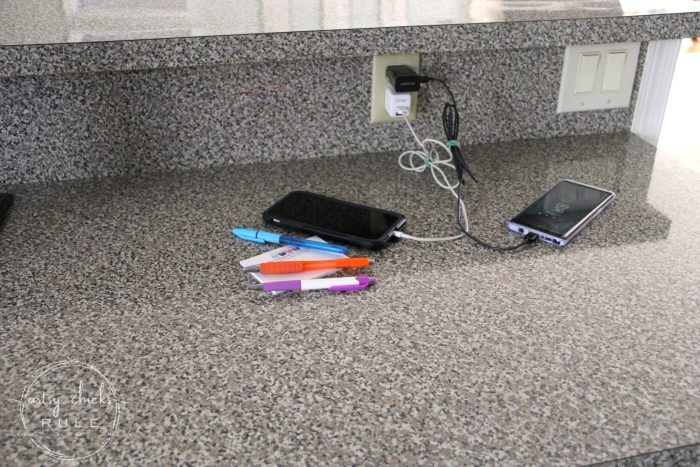 As if this spot is ever this clean! lol It's usually covered in mail, and well, anything else that can be dropped right here.
It seems to be the drop spot. You know about those, right? Walk in and that's where everything goes.
Well, now the cords, plugs, phones, and mess can be hidden away. Some of it anyway.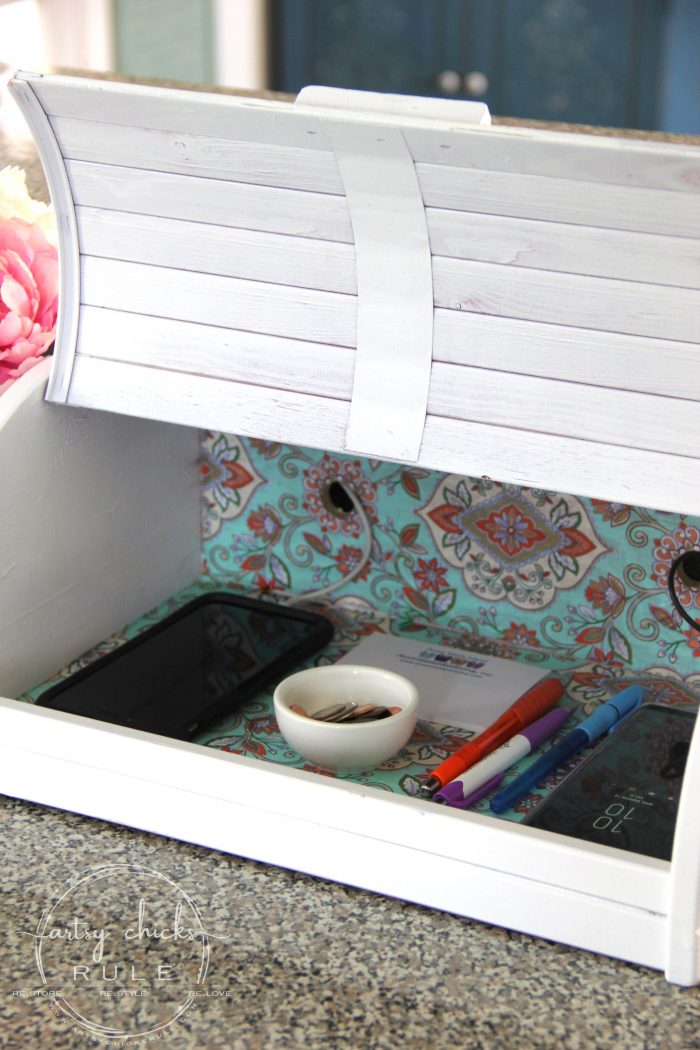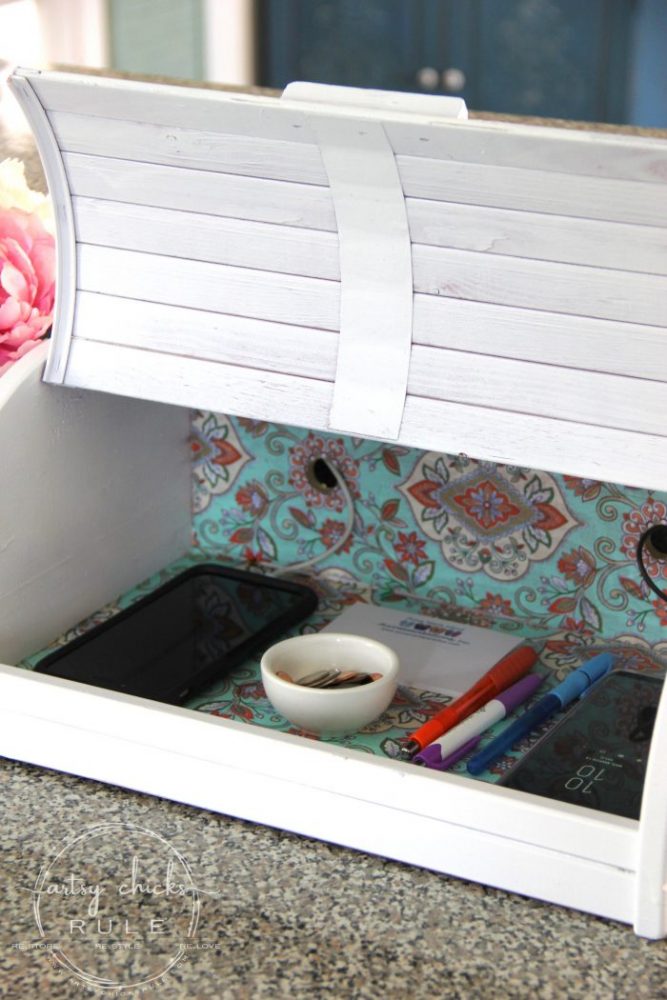 Such a fun little makeover and bread box repurposed.
Go to your local thrift store, bet you'll find a bread box or 2 yourself!
Get busy on a bread box repurposed into something else for your own home.
Hope you enjoyed Christy's and my 3rd post/video in a series. (a series we're hoping to do more of, regularly, from here on out. We'll see how we can do! ;) )

Don't forget to scroll down and see what Christy did with her makeover!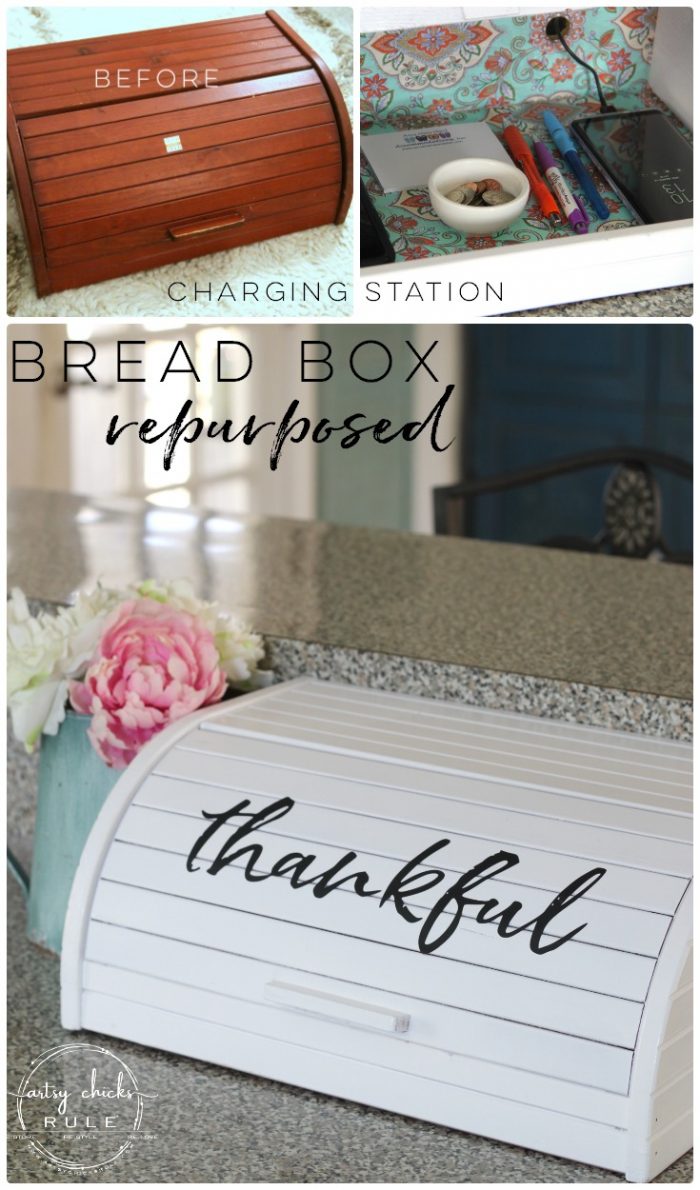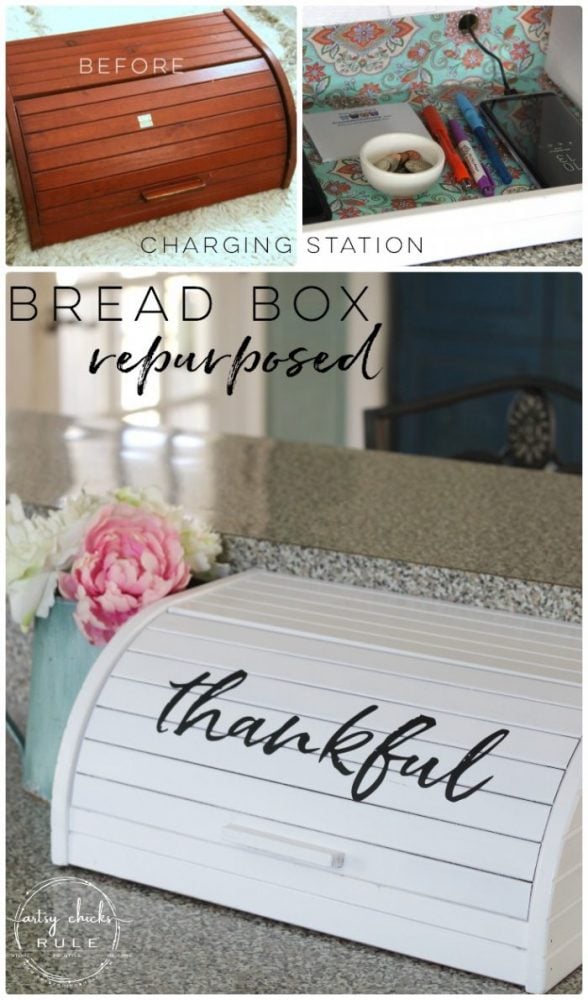 Click here to see what Christy did with her thrifty find!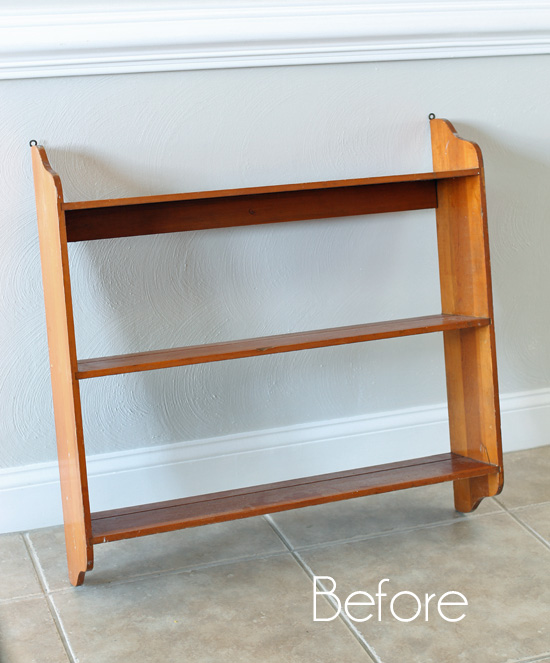 If you missed our first 2 thrifting videos and posts, you can see them here:
Check back in over here next week to see what I did to this thrifty makeover!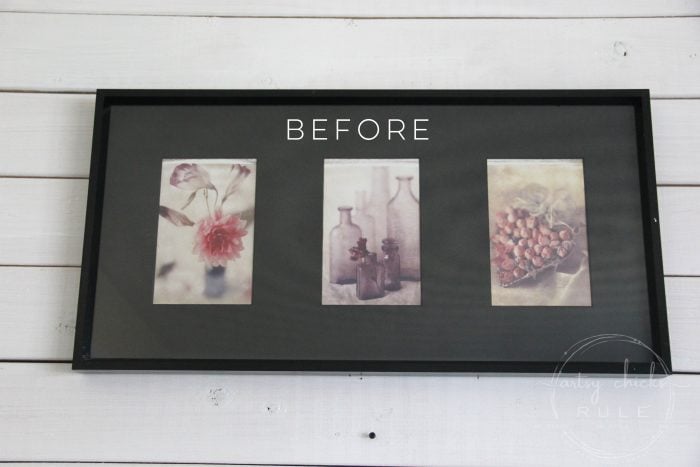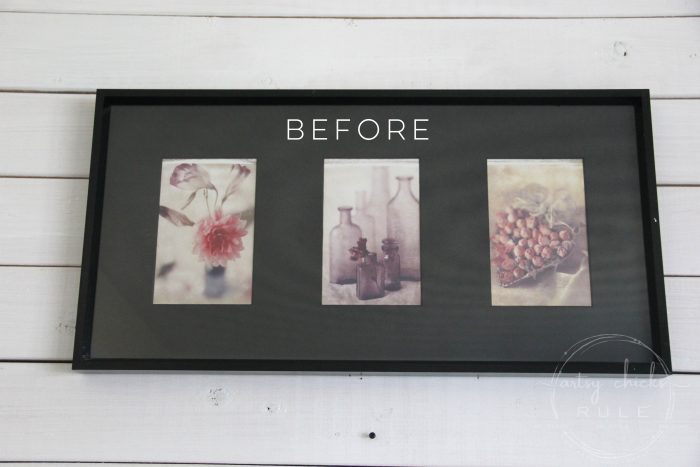 UPDATE! You can see it now, here.
Have a wonderful weekend friends!
xoxo