Hey y'all, I hope you had a wonderful Thanksgiving and holiday weekend.
I had a great but very busy one. I flocked a tree and two wreaths that I'll soon be sharing with you.
I'm so happy with how they turned out! I've never flocked a thing in my life before, have you?
It was interesting but more on that later. ;)
Well, on this fine Sunday I have something really fun and exciting to wrap up your weekend with!
One of my best blogging friends, Christy over at Confessions of a Serial Do It Yourselfer,  and I decided to share our thrifting outings with you guys.
(in a video, ack! ;) )
It was her idea and I think a great one that you guys will enjoy. Or at least be entertained by. ;) haha
We're calling it "Thrift Shop Shakedown" and thought it'd be fun to show you what we look for when we go thrift shopping.
What we pass on and what we don't.
We will be taking videos of the process, creating the makeover and then sharing both with you here.
Won't that be fun??
We hope you will enjoy seeing us being silly, thrifting and making over our fun finds.
And hoping it inspires you to do the same!
Here is what we found for me to make over….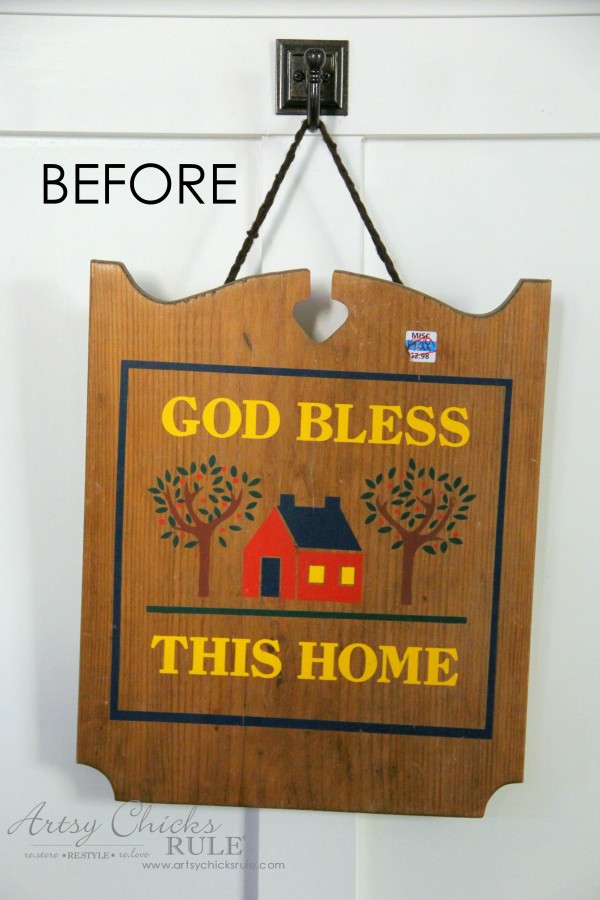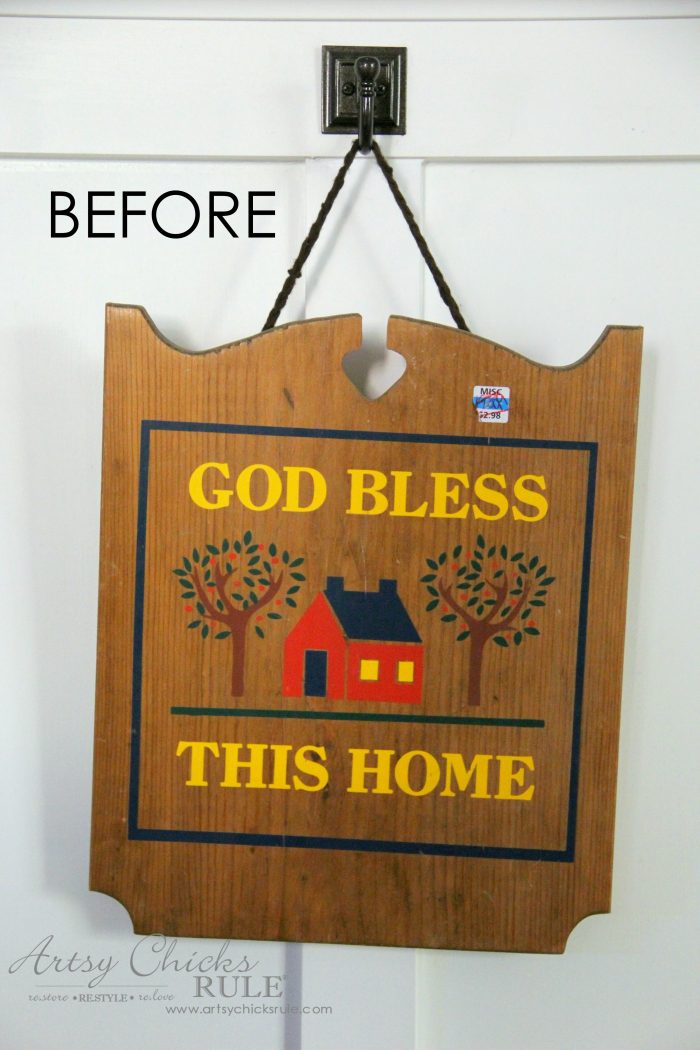 Want to see how we found it??
And do you want to see what Christy found to make over too? ;)
Watch below….(haha…I cringe… I like "hiding" behind my lil ole keyboard and computer screen here, only sharing pretty decor and such)
This is definitely a bit out of my comfort zone but here it is…. (and no, those clowns did not come home with us! #clownphobia)
Whew, okay, now that you have seen how we found our "treasures", let's talk about the makeover.
First, this sign was only 99¢. How can you beat that?
And it was just begging for a makeover too, don't you think so?
There are a multitude of signs and things just waiting to be found and made over out there.
Like these I've done, all from thrift store finds…
"Merry & Bright" Sign
"Eat Cake" Sign
"Life is Better" Sign
I've included a few affiliate links below for your convenience in finding the products I used. You can read my full disclosure here.
I thought the shape of this sign was perfect for something vintage looking so went with this graphic found at The Graphic's Fairy.
I painted the board with black spray paint first.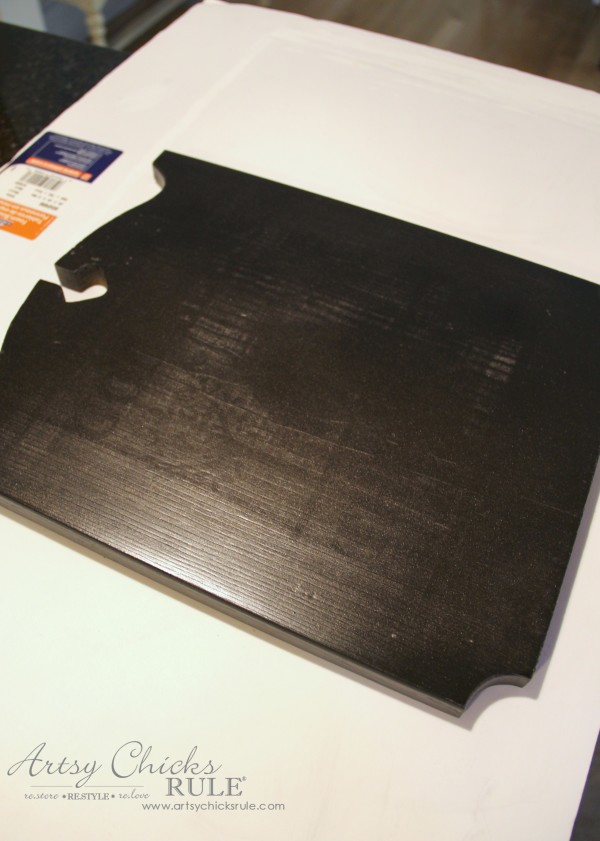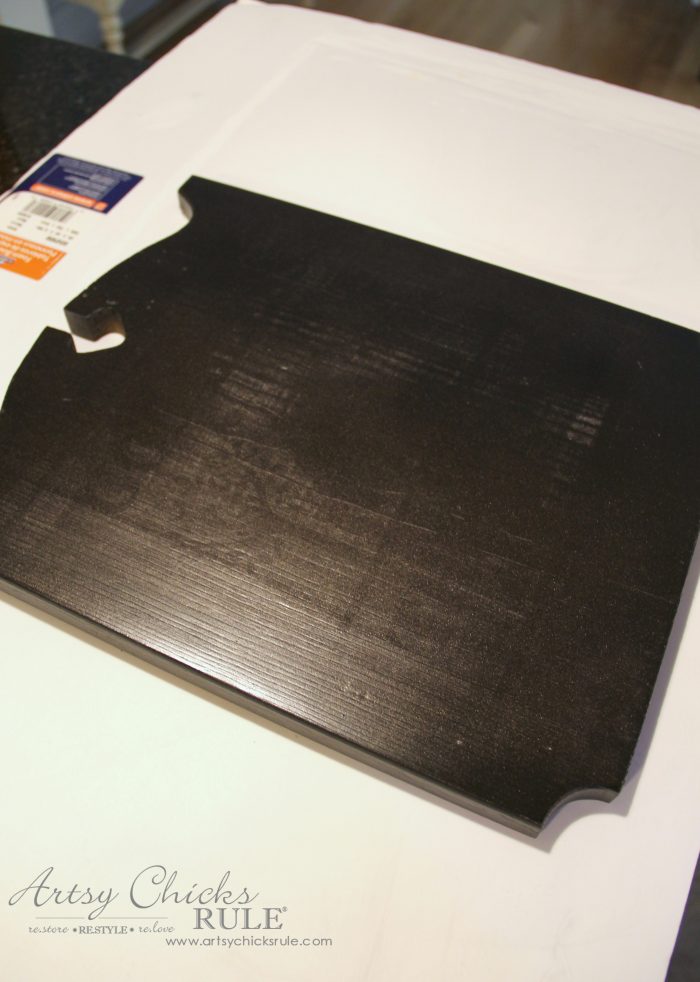 I wanted to be able to see a bit of black underneath.
Then I painted one coat of Pure White (Chalk Paint® by Annie Sloan)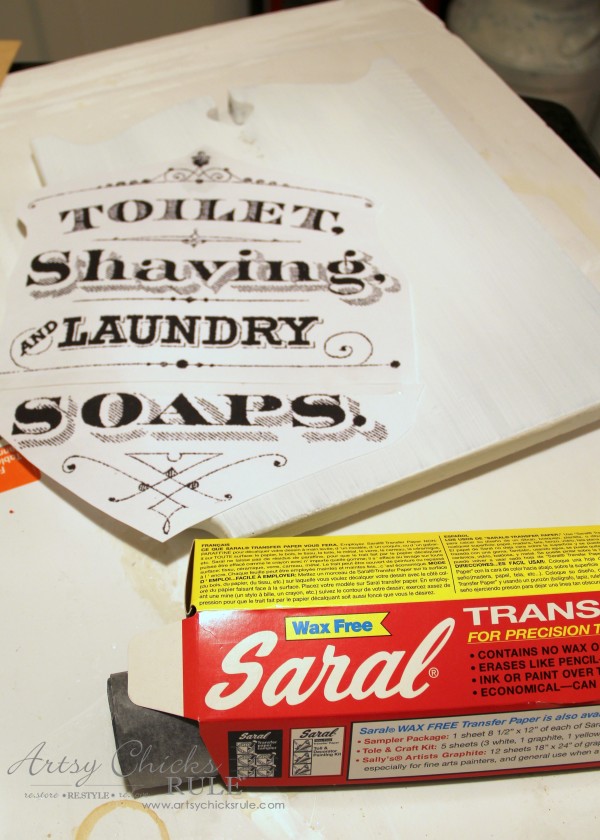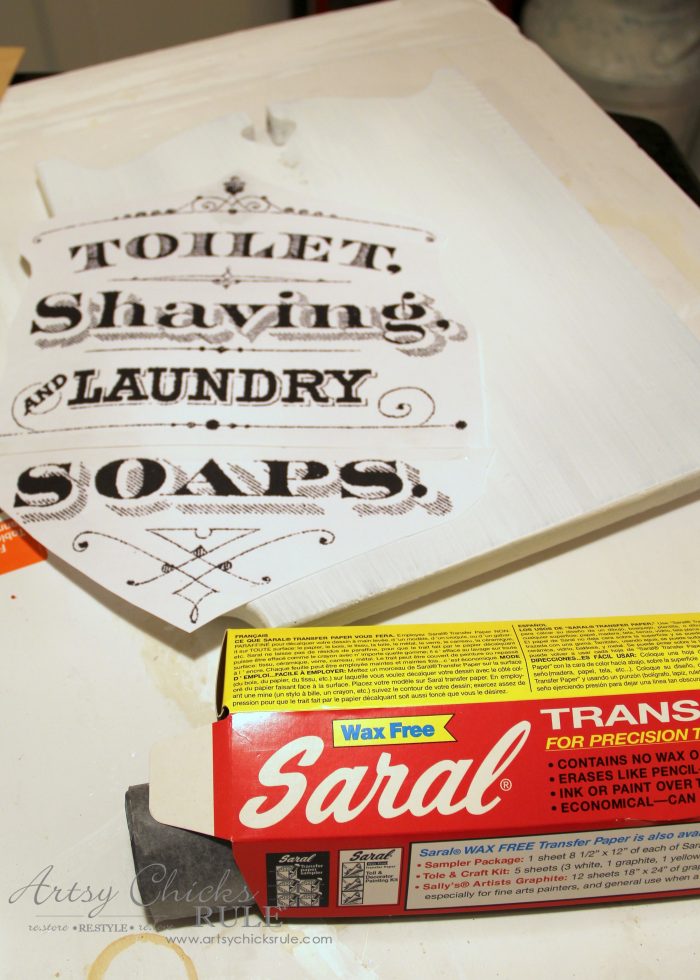 One coat because, like I mentioned, I want it to look "vintage" with a bit of a worn look.
Above you can see the image I printed out and trimmed. If you need larger images, you can print them at blockposters.com.
The *Saral Transfer (Tracing) Paper in graphite is what I used to transfer the lettering.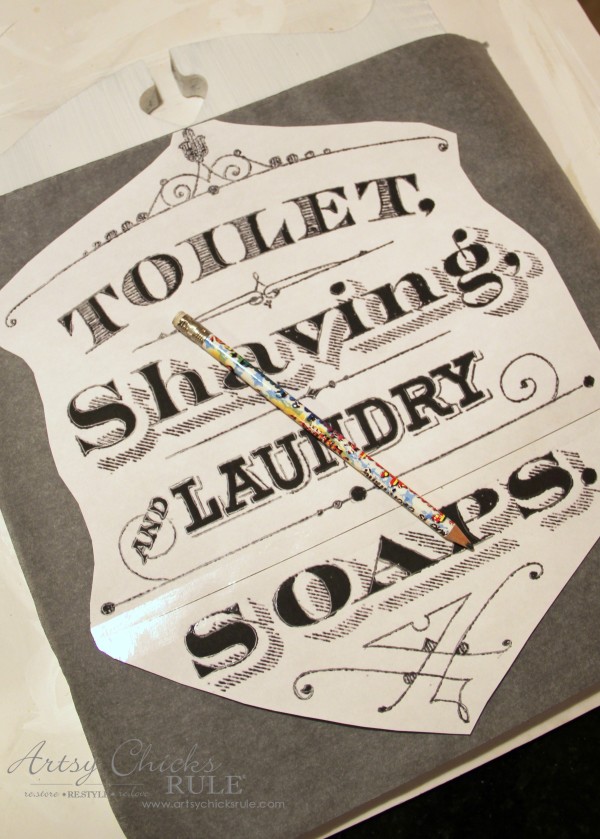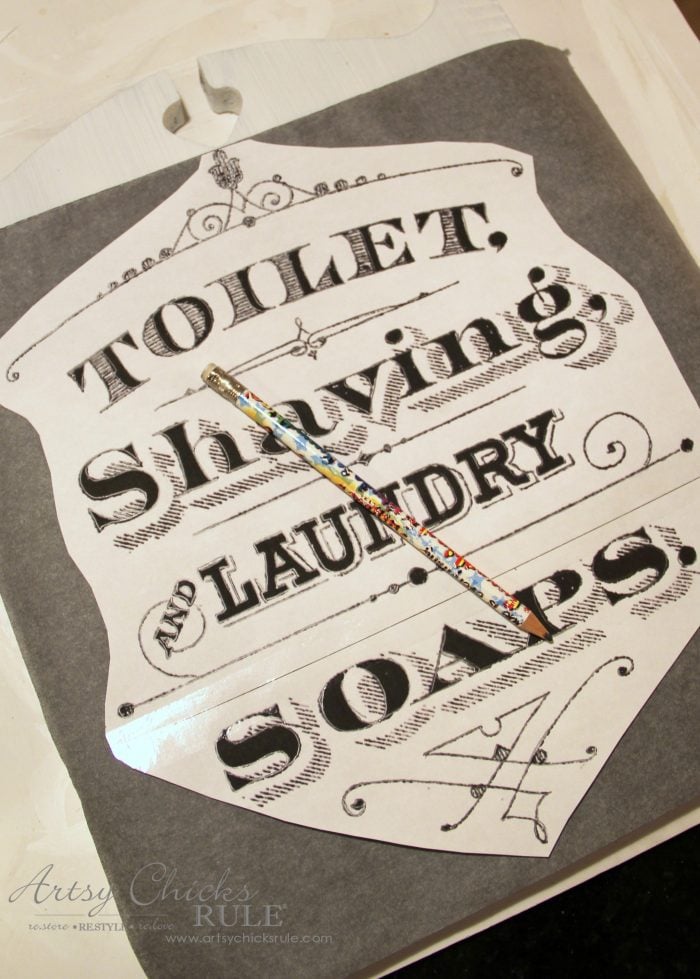 I bought this paper several years ago and never used it!
It was up on my shelf in my office  with other craft supplies and I think I thought it was "Saran" wrap. ha
Saral…Saran.  I kept overlooking it.
Anyway, it works pretty great.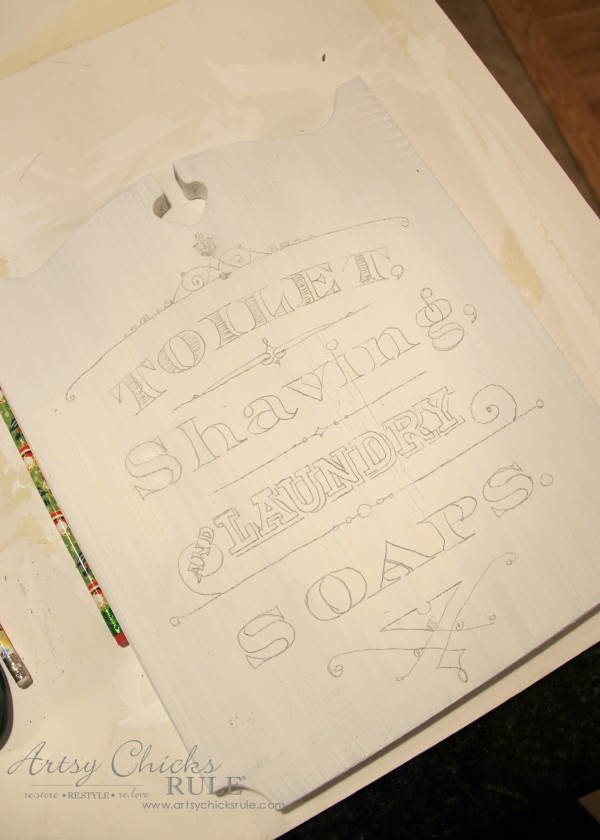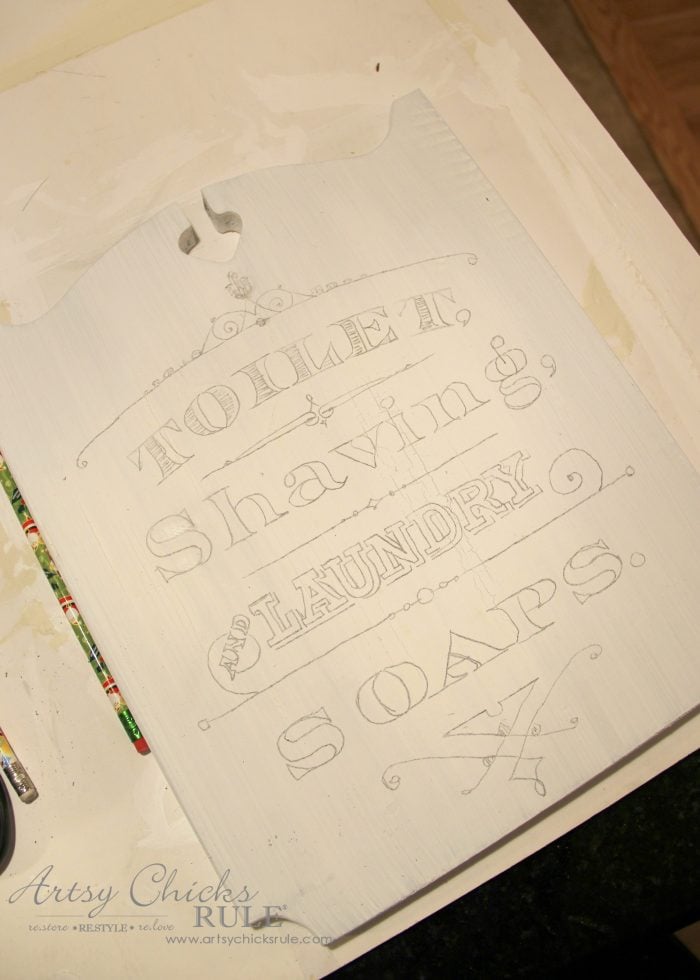 Then I used these paint pens to "color" it in.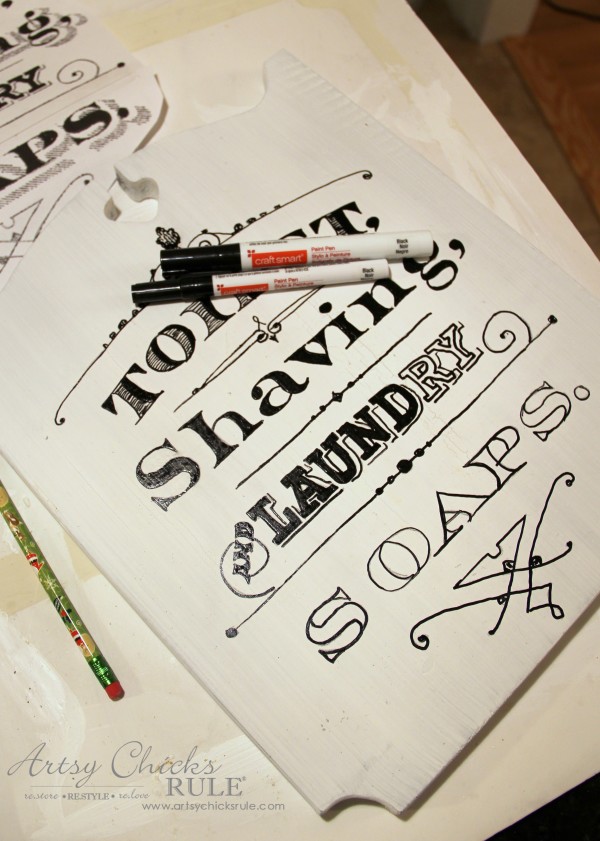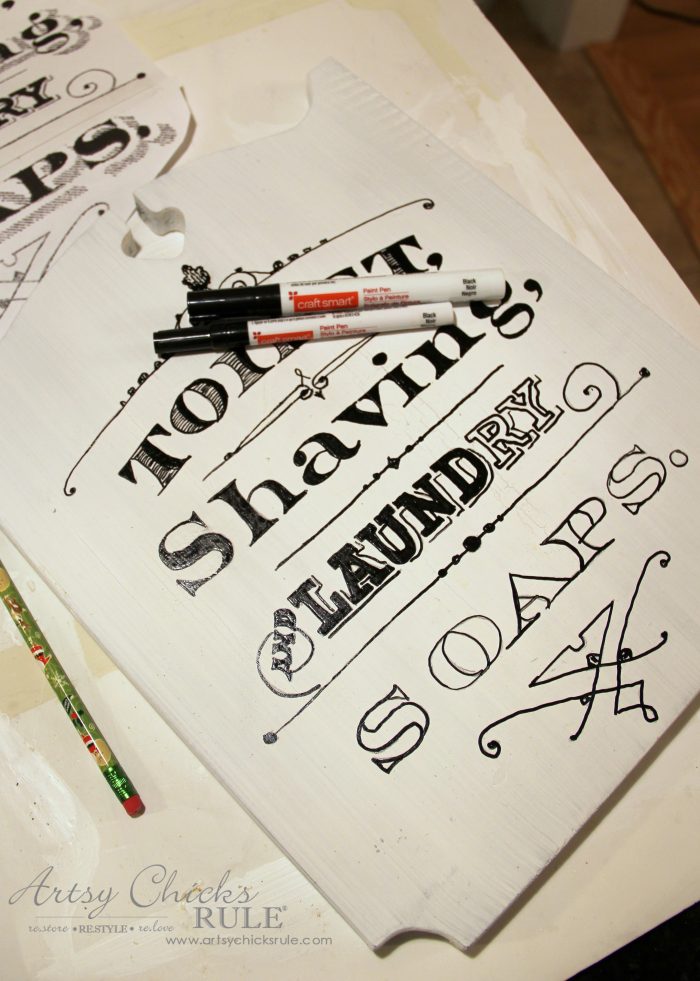 The ones above came from Michael's (I think) but Amazon has these (*Sharpie Paint Marker Oil Based Black All Sizes Kit with Ex Fine, Fine, Medium & Bold
) paint pens that are very similar (and a set of different sized tips which is awesome).
This was SO quick, by the way.
Much quicker than using an artist's paint brush and paint.
However, I do like the look of the paint brush better but this is a good alternative.
AND perfect for beginners.
Anyone can do this….so be sure to PIN this for later! :)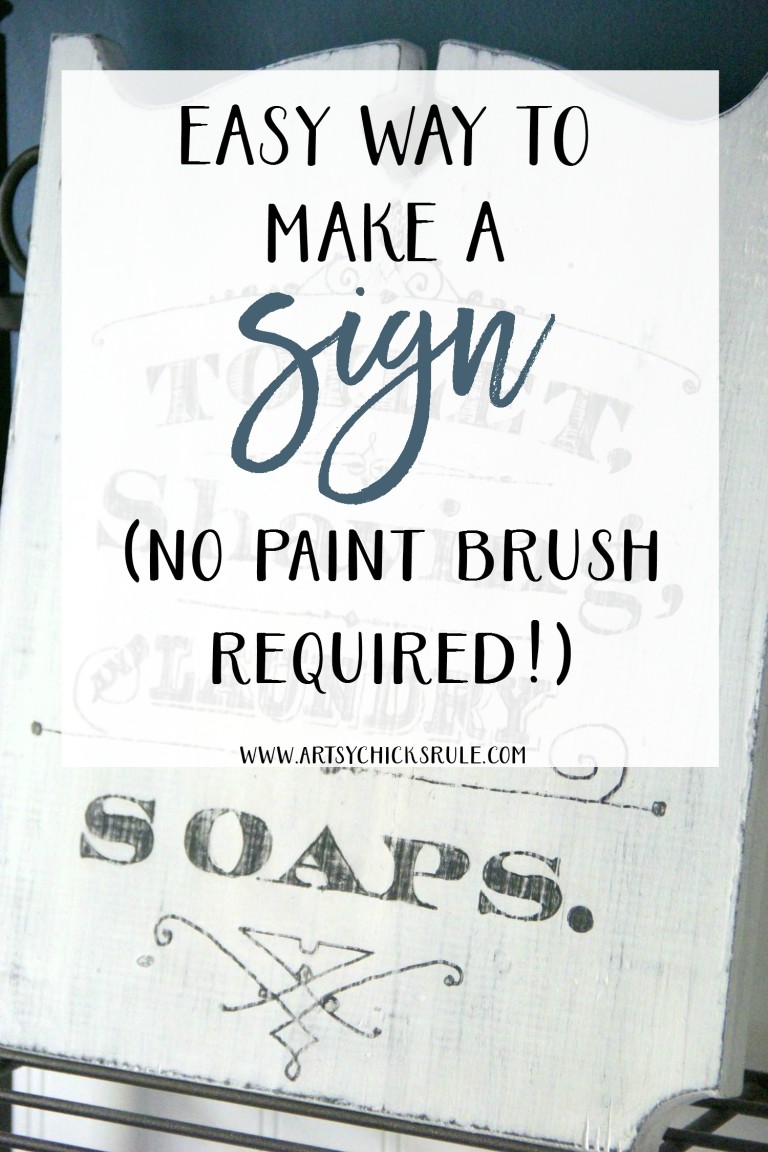 Truly simple.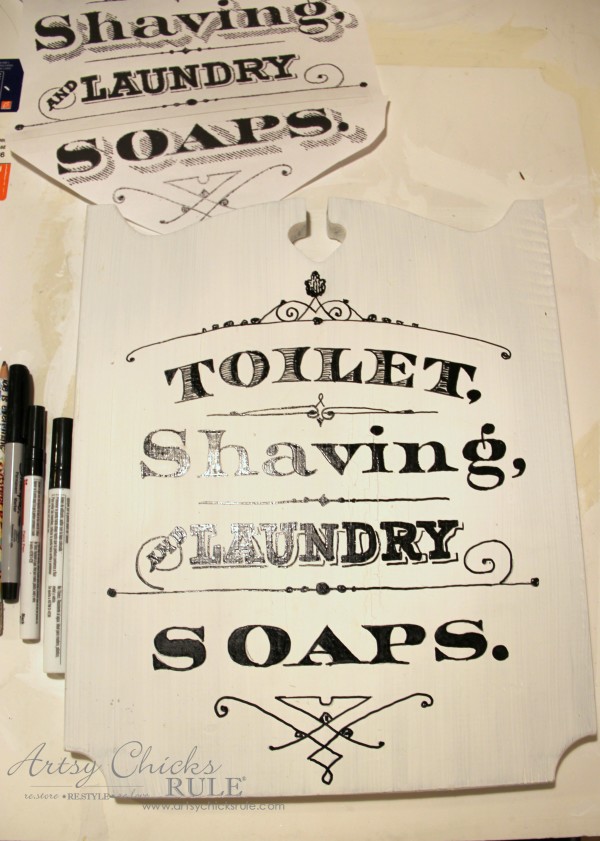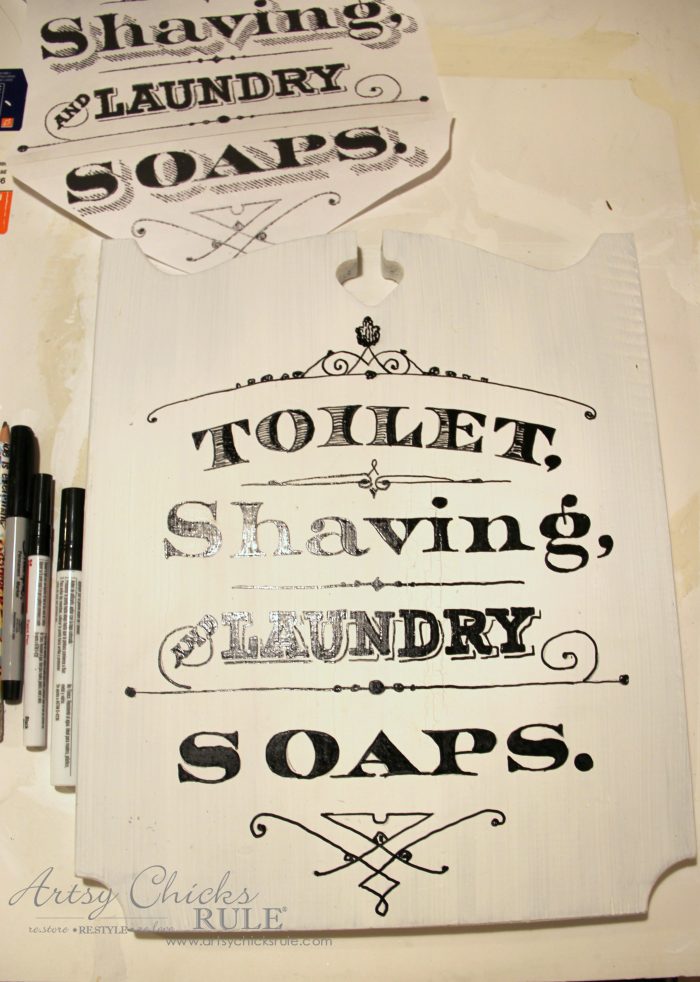 You might have noticed I decided to omit the tiny lines around the words "shaving" and "soaps".
I didn't think it really needed it….and honestly, I didn't want to draw them all in. ;)
I lightly sanded the whole thing and sealed it with one coat of clear wax (Annie Sloan).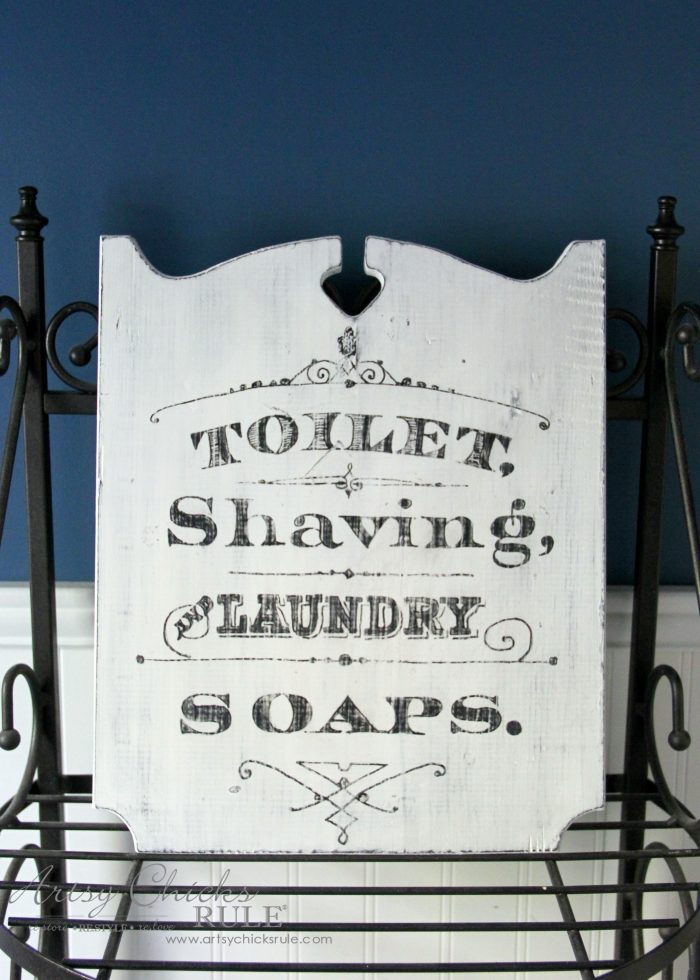 See how the black shows through on the edges and elsewhere?
Sort of gives a more vintage look, I think.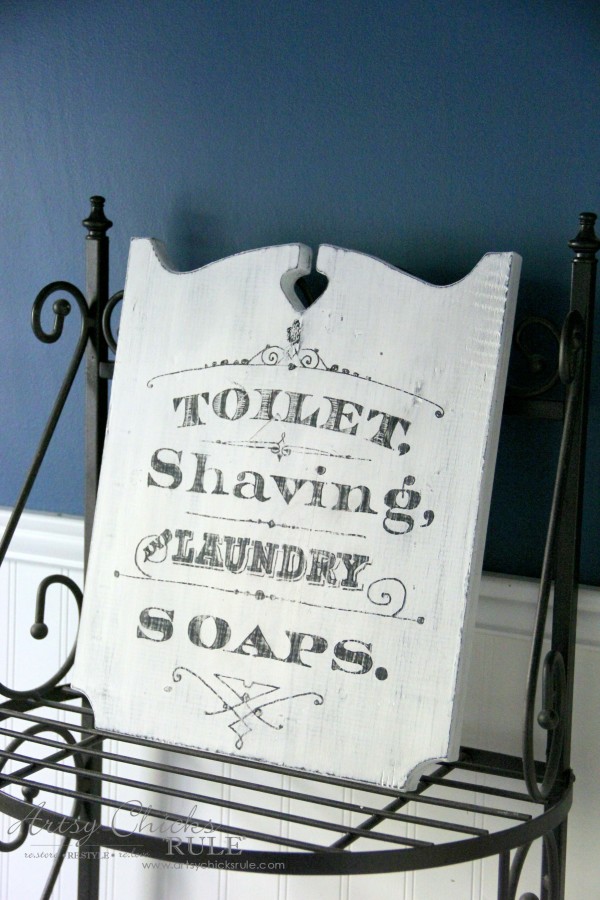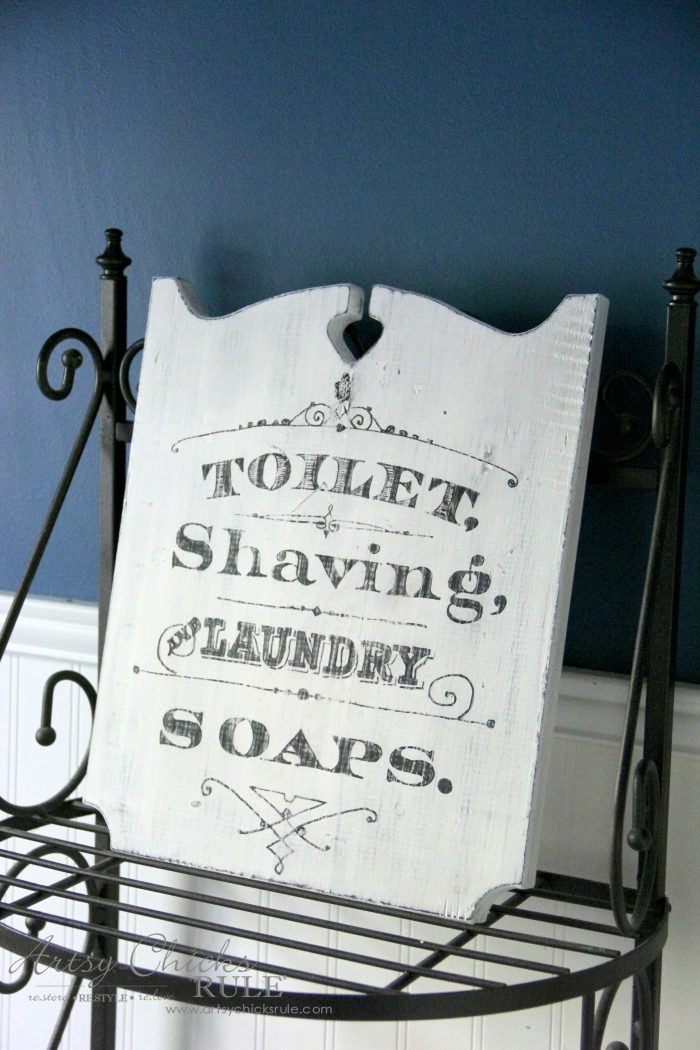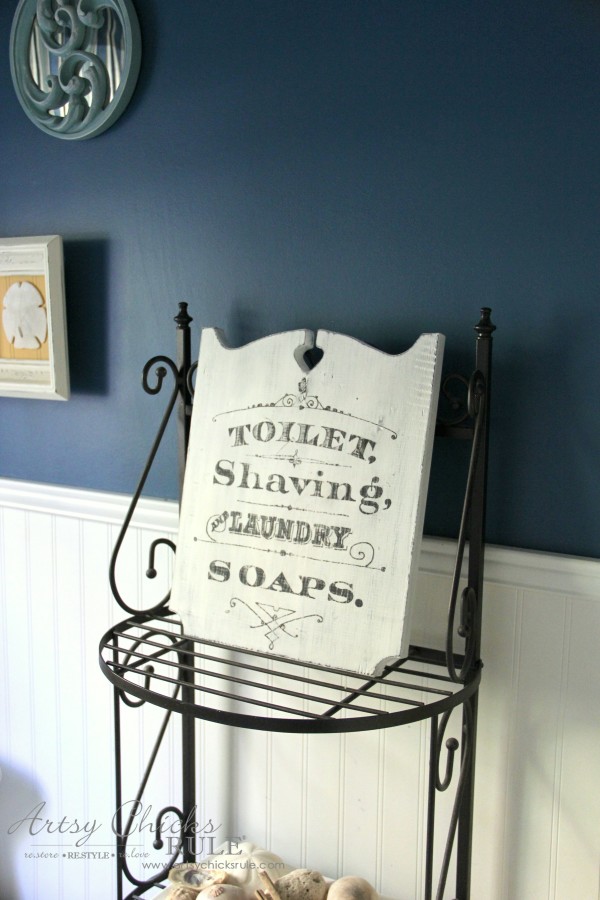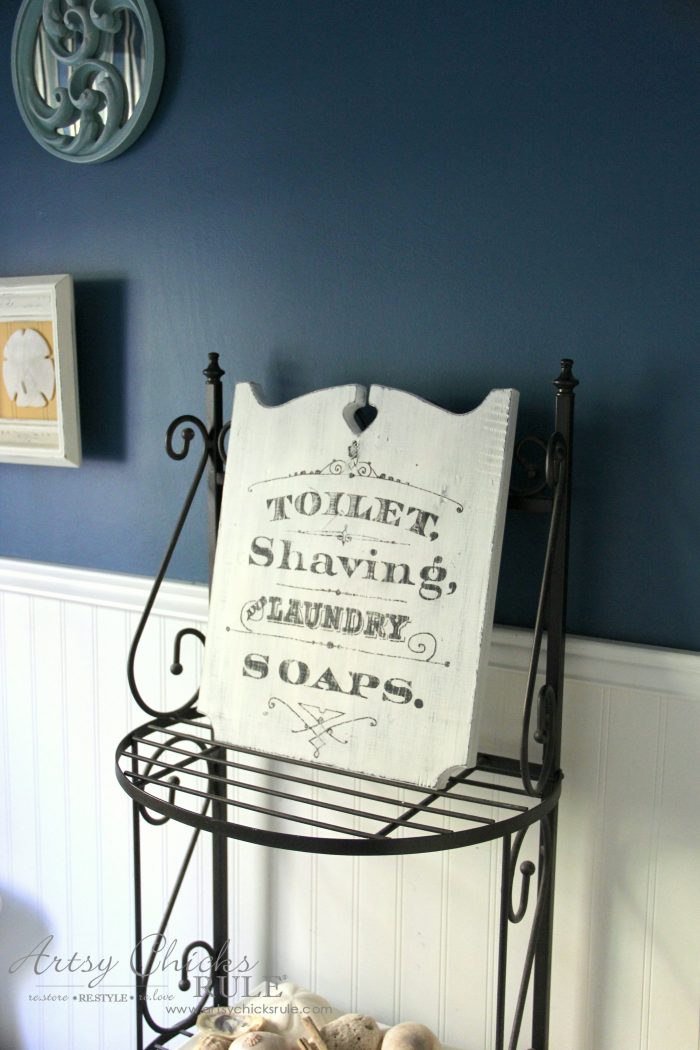 Cute. :)
Signs are one of my favorite things to make and this one took no time at all. (the best kind for this "go go" girl!)
PIN this thrift shop makeover to save it!


What a difference a little paint makes, right?
Now let's hop on over and see what Christy did to her little table we found for her. :)
Christy's Makeover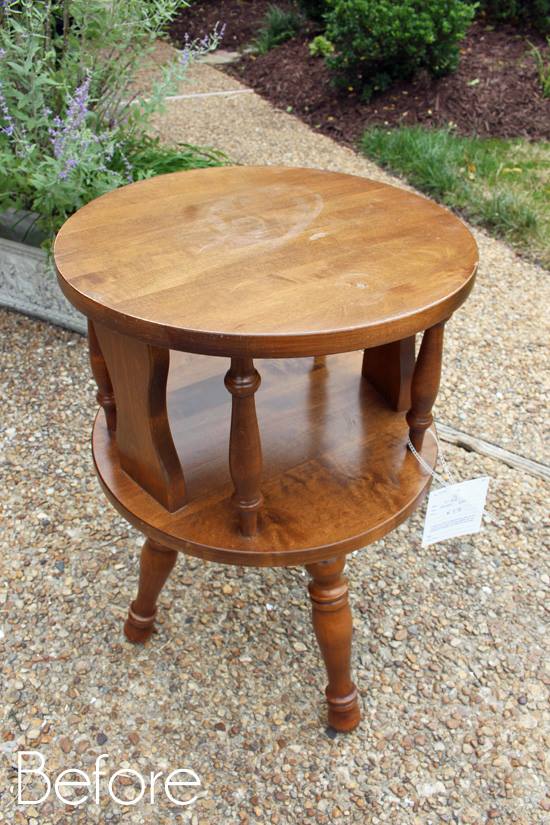 I have not even seen it yet! Can't wait to pop over and take a looksie. :)
Hope you guys enjoyed watching this as much as we did making it.
Of course, Christy and I always have fun together.
She's my buddy and roommate at all of our blog conferences too.
I'll see you guys back here on Tuesday when I'll be sharing lots of fun little (and unique) gift ideas so be sure to stop back by.
AND…..on Thursday I'll be sharing the flocked wreaths (and maybe even the tree if I can get it decorated in time).
UPDATE: See our 3rd, "Thrift Shop Shakedown", here!!
See you then!
xo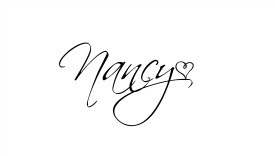 Follow Along Here!