DIY Flocked Tree (easier than it seems, all the details!)
This post may contain affiliate links. Please see disclosures here.
Don't you guys just love beautiful, snow-covered trees, branches, and such? It evokes a feeling of magic….beauty….and serenity to me. Today I'm sharing how I made this "snowy" DIY Flocked Tree (so simple!).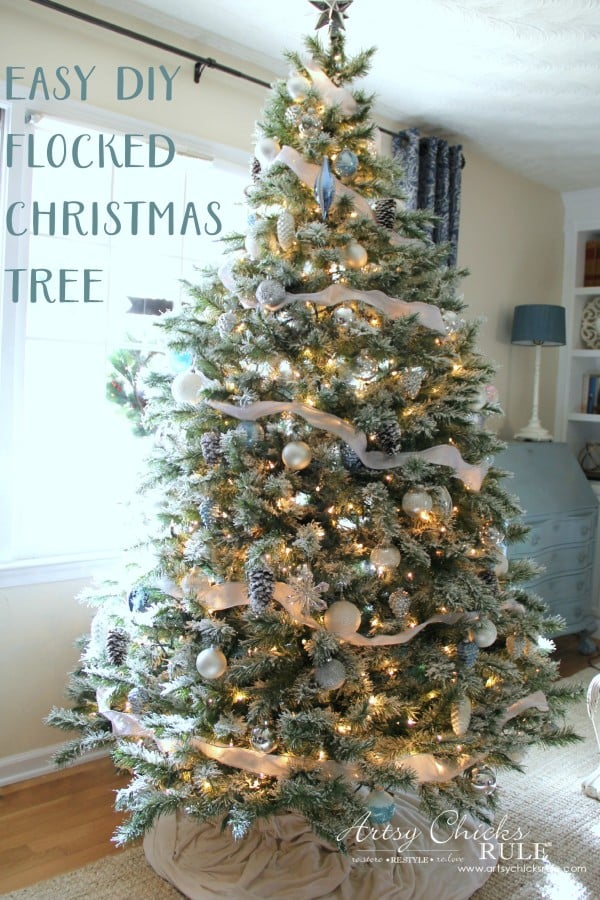 I've always loved a flocked Christmas tree, but gosh, they can be expensive.
I did find a few that weren't too pricey this year but they weren't very big, full, or really as nice as I'd hoped.
I wanted to get one to put in the study as a second tree but I had given up hope for this year.
But then I wondered about flocking my own. Because, you know, that's what I do.
DIY girl all the way, ever since as long as I can remember. (even as a child, my poor parents, I was always into something ;) )
So…this holiday season I looked on Amazon (Prime, my first "go-to" for just about everything!) for the flocking material.
Sadly they didn't offer tons of options in the way of flocking BUT they did have a few.
The one I chose was not part of Prime but still came quickly and had free shipping, yay!
But I didn't have an artificial Christmas tree to flock since we always buy real.
No worries, I went right on up to the thrift store and found this big beautiful tree…..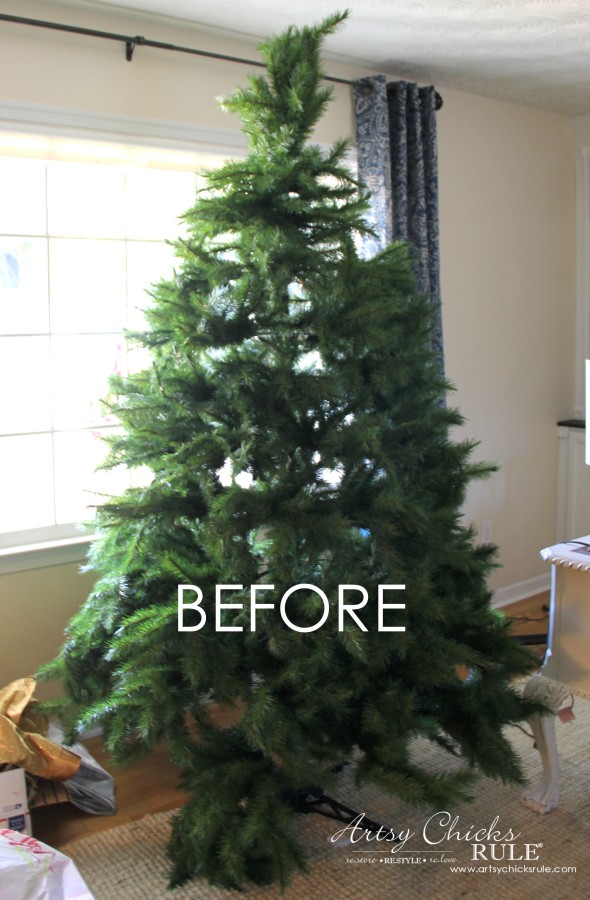 Well, it's looking a little traumatized from the ride home in the bed of the truck AND the removal of about 1000 colored lights!
UGH…I had no idea they wrapped those things so intricately on pre-lit trees. (I've never had one)
It took (I would say "ME" but I had to hand the job over to my sweet husband) forever and was one of those…" oh my, we should have just left those lights on but we are too far in now to turn back" … moments. Oy.
I had to have white lights….sigh.
This tree was $75 at the thrift store. (which is a great deal for the size, quality, and pre-lit…well, anyway)
The flocking is listed for $21 – link below. (and I've flocked just about everything and still have at least half of the bag leftover)
(and I now have about 1000 colored lights too! haha)
DIY Flocked Tree
I've included affiliate links below for your convenience. Full disclosure info is here.
This is a photo of the flocking I used (listed above).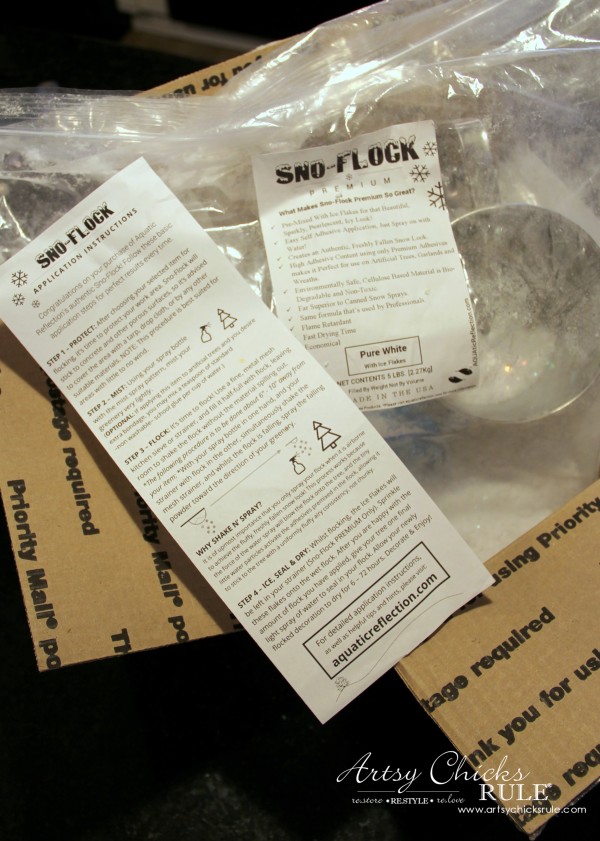 And here's my DIY y'all….follow those instructions above that come in the box!!
No, really, do.
I'll share photos (and tips) here but everything you need to know, they send with the snow.
Even though the snow is already adhesive I did decide to use some ELMERS Glue-All in the spray water to help the snow stay more permanent.
(it's in the directions they send)
So here's how to make your "snowy" DIY flocked tree

…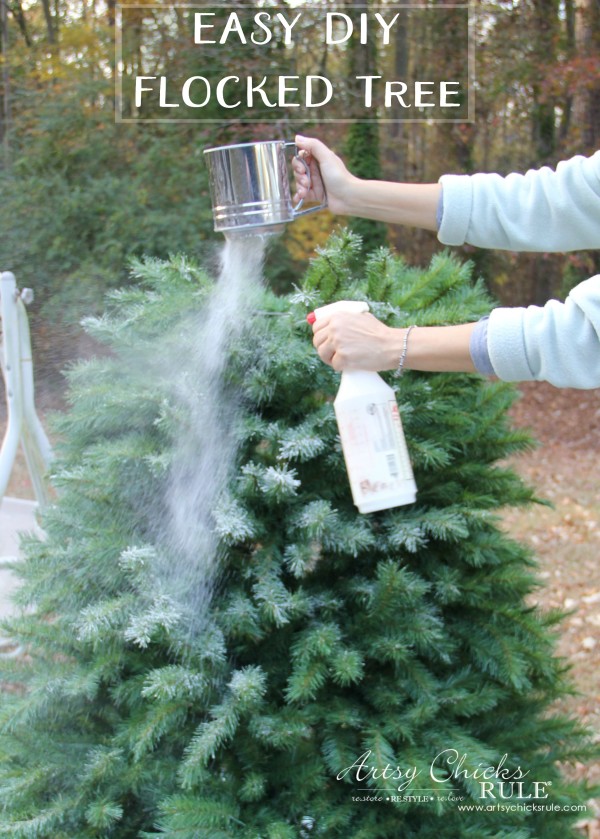 I took the top section off the tree and did it separately. I stood on a chair to get the rest of this top part.
Be sure to wear a mask and protective eyewear of some sort.
As you can see above and below, I am spraying as I am sifting.
The directions say to sift and then spray the snow as it's falling. (to make it more realistic)
I can chew gum and walk at the same time but I'm telling ya, haha, it's not as easy as it sounds.
I did my best and it all worked out just fine. You do get in sort of rhythm as you go.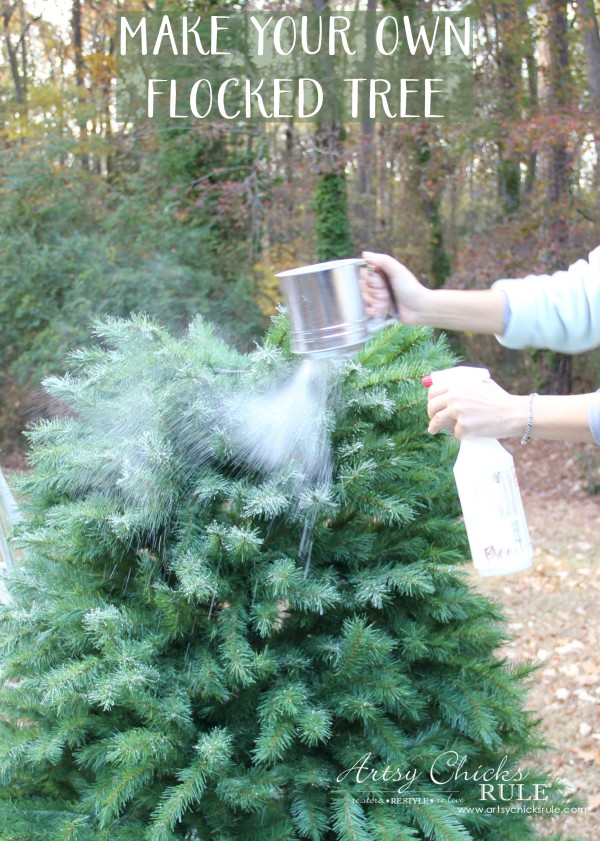 I bought the sifter to use with the snow (and only the snow).
First, lightly spray the tree where you are working then start sifting the "snow" over it while spritzing.
Once you have it as you like it (the amount of "snow" you want) then just go back over it with a light spray to seal it on.
Here's a tip….take the tree apart.
I didn't think I'd need to because the snow just falls and it will work out just fine, right?
NO, don't do it. It would have been so much easier had I taken the time to remove each branch.
Then I could have laid them all out and sprayed them all evenly.
This tree was so thick with branches I had to keep going back and over and under, in and around to get it all.
I wanted it really flocky.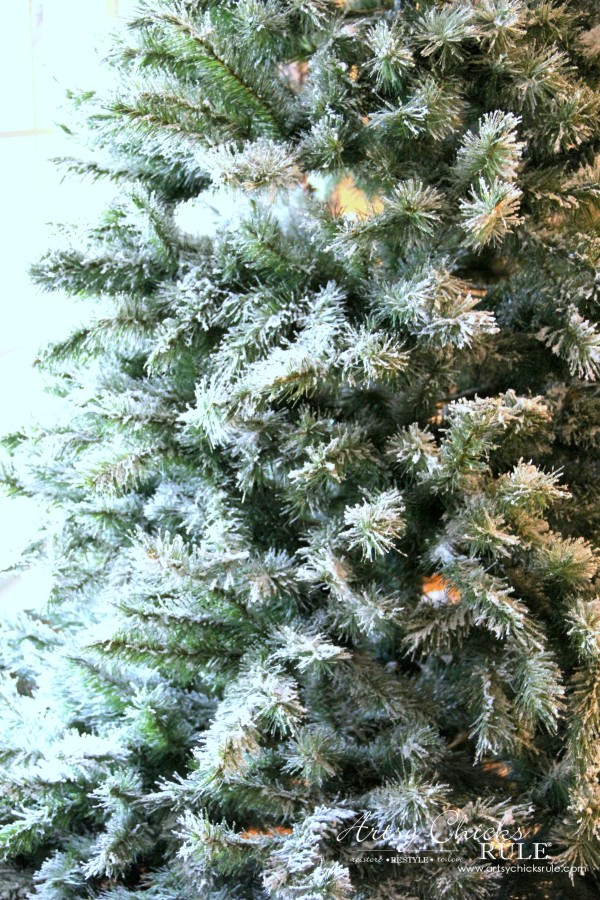 Here's another tip…. just do it in the grass. (oh and wear old clothes and shoe as it can make a mess)
I used a drop cloth but it's pretty much worthless now. In the trash, it's going.
The product is safe to use on real trees, etc, so once the grass is cut the "snow" is gone.
Instead, I'm throwing my drop cloth away.
Also, there are little "shimmery pieces" in the "snow".
They were bigger than my sifter (and probably most other sifters too).
So after I sifted all of the fine particles out, I just scooped those out and sprinkled them throughout the tree by hand.
You can see some of them in the close-ups of the pine cones below.
It was all worth it. I do LOVE my "new" tree.
And I saved a bunch by doing it myself.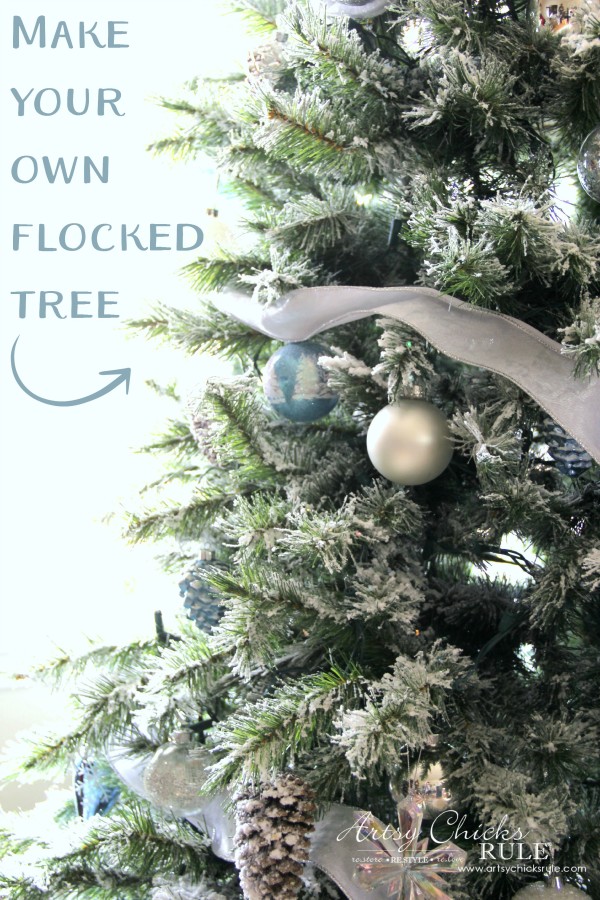 Want to see some of these projects in "live" time? Hop on over and follow along with me on INSTAGRAM. I'm always sharing in my stories as I'm doing projects, finding new furniture, fun finds….just all the day-to-day behind the scenes.
Lights off with Christmas decorations on…
Lights on… I used all white, silver, and aqua bulbs on this tree.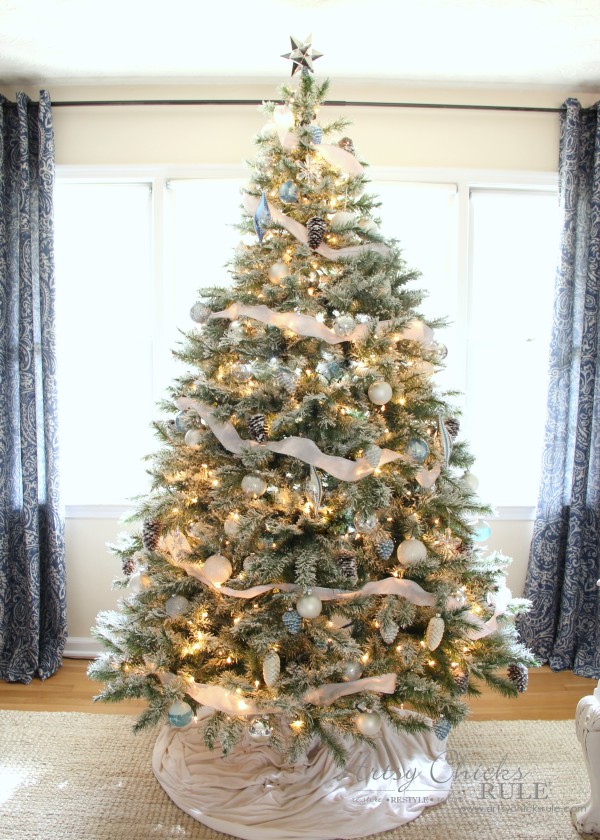 My son (who insists on having a real tree every year) LOVES this tree. I think he's told me ten times since this weekend how much he likes it.
I said, "oh good, no more live trees then".
He said, "oh no, we still have to have a real one too". Okay…yes, we do.
Some up close shots of the branches (and pine cones I got out of my backyard and flocked too!)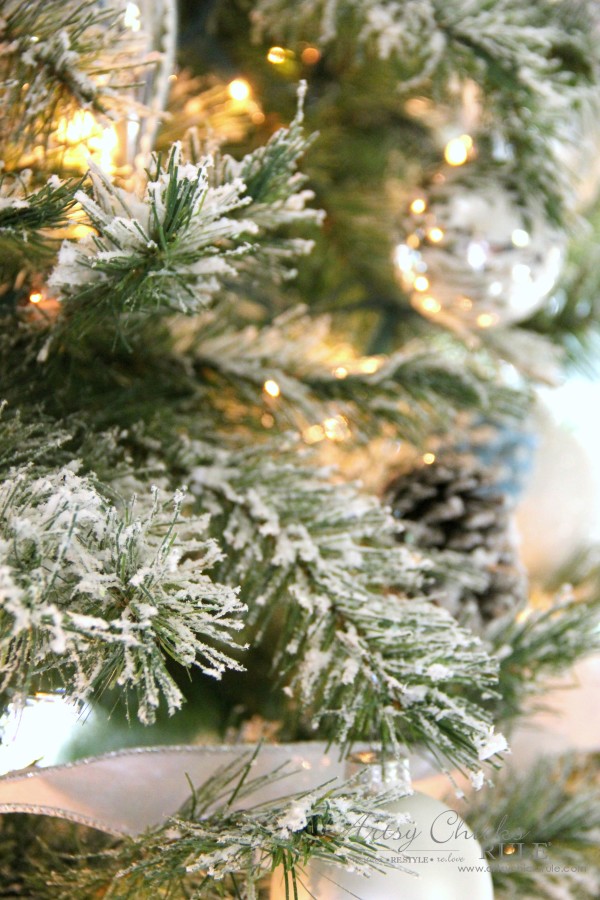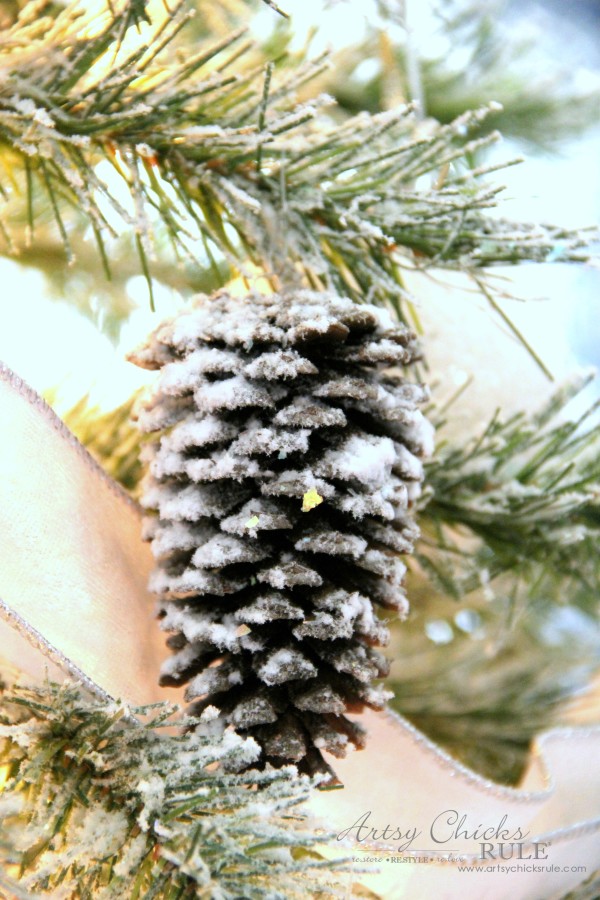 It looks just like freshly fallen snow to me.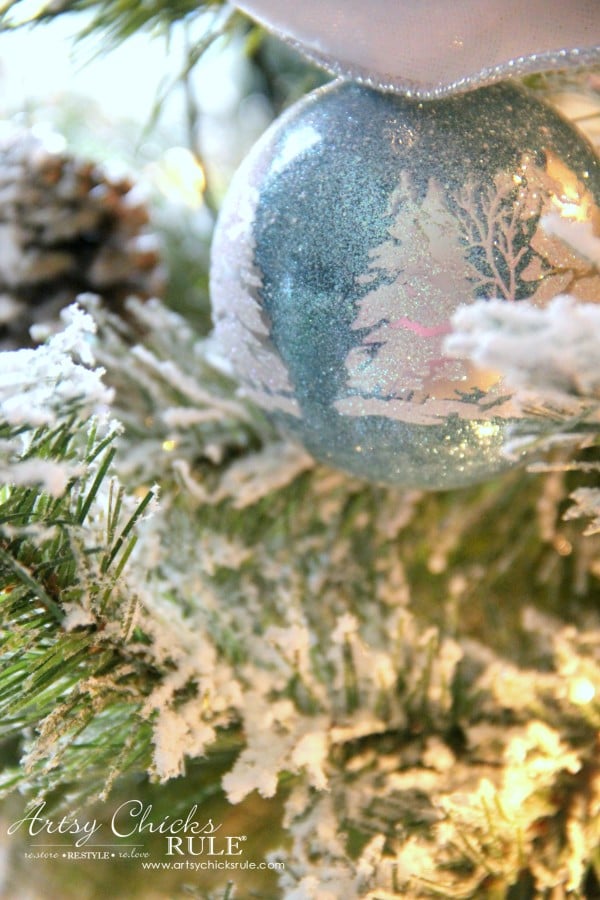 Oh…and I should mention that it seems to be stuck really well to the tree branches.
I've had very minimal flake when moving it back inside, putting lights on and adding ornaments, etc.
Lights, by the way…..twinkle lights from Michael's…..I am in love!
What a difference this flocking makes. It's like that magical white Christmas come to life.
So what do you think?
Do you think you'd like to flock a tree…or maybe just start with a wreath or two or even some garland.
You can buy smaller portions of the Sno Flock but I bought the big ole box knowing I'd "need" it.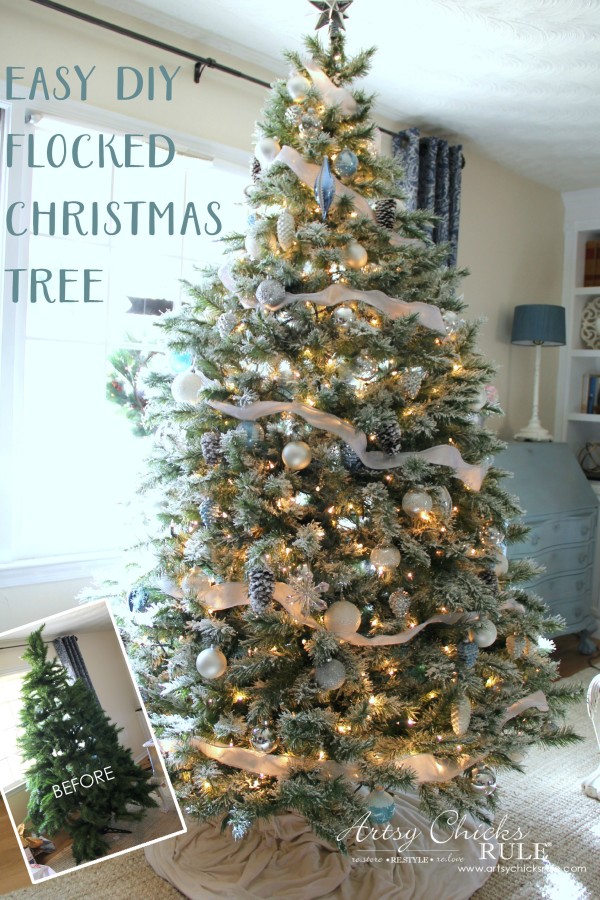 Let me know if you decide to create a DIY flocked tree too!
PIN THIS for later so you can make a DIY Flocked Tree yourself!!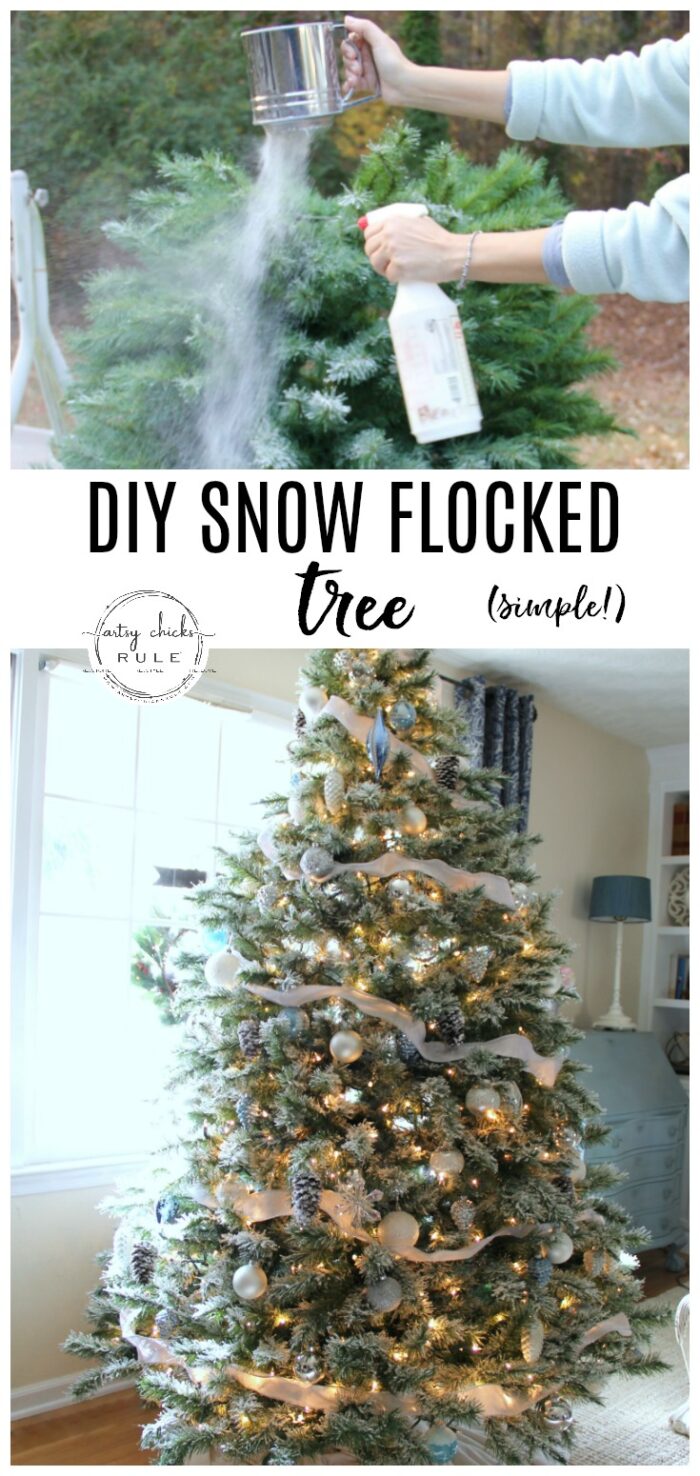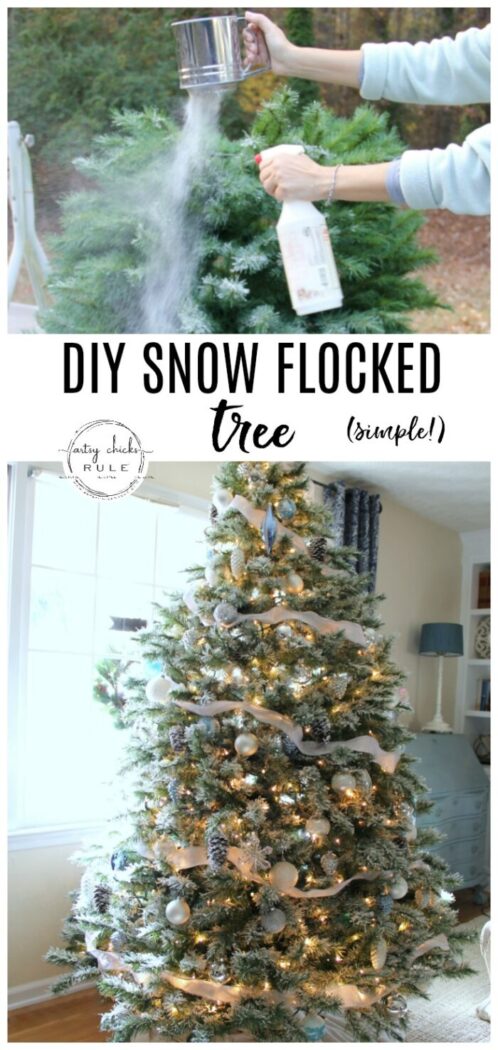 I'd love to see it if you do.
Want to see even more snow-flocked goodies? (or how about how this stuff looks on real, live branches, too??)
Click here to see what I did to this wreath and more.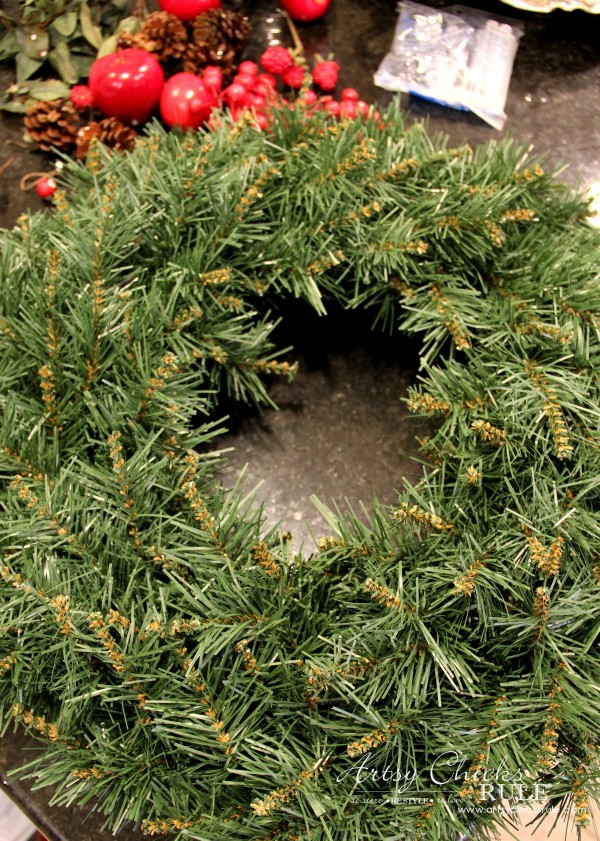 UPDATE! Click here to see how our tree looks (and how it held up) 2 years later!
I hope you have a great weekend!
xo