DIY Snow Flocking (wreaths, live branches and more!)
This post may contain affiliate links. Please see disclosures here.
Snow covered trees, wreaths and branches…..just magical. Don't you agree?
Did you know you can get that very same look yourself? DIY snow flocking is the way to go for your very own magical holiday decor.
Once you learn about DIY snow flocking, you'll want to flock it all! :)
I know it's only Halloween but it's never too soon to start preparing for the big holiday!
And if you want to do any DIY snow flocking, it's best to get it going ahead of time.
I did my tree a couple years ago and it's just so pretty, I couldn't stop at the tree. I wanted to flock it all!
If you are new here, be sure to hop on over and see the sad little thrift store tree that I turned into a magical Christmas treasure with this DIY snow flocking stuff. ;) It's a keeper, for sure.
Besides the tree, I also made these plain wreaths I picked up at Lowe's (15% off, so around $10 each)
I used an old swag (pulled apart) that I bought at the thrift store last year for a few dollars to decorate them with.
Thrifty, thrifty!!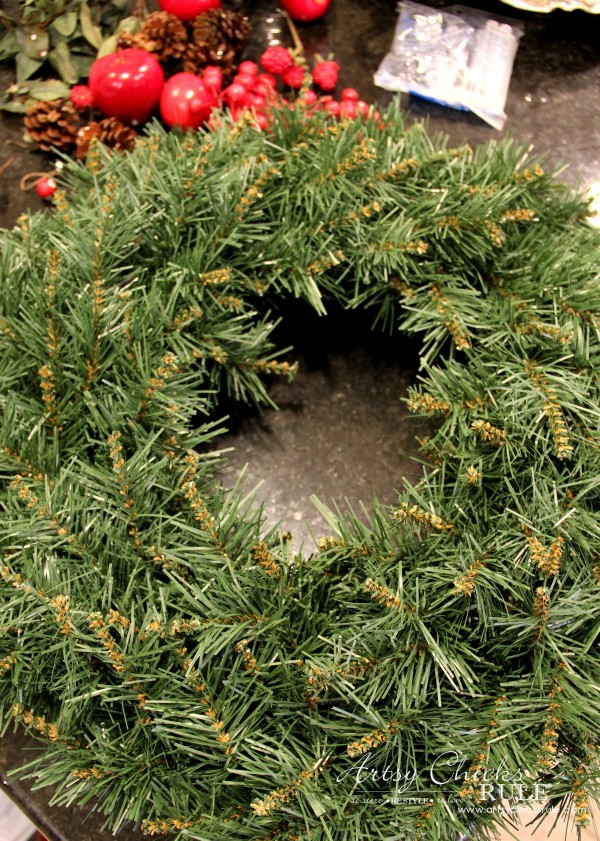 Just plain old wreaths. Nothing fancy about them.
I've included affiliate links below for your convenience. Full disclosure info is here.
MATERIALS LIST: (click the links below to purchase the items)
Sno-Flock (premium artificial decorative self-adhesive snow flock powder with ice flakes)
Elmer's Glue All
Sifter
Spray Bottle
I simply used some hot glue and the pieces from the swag I pulled apart in and around the wreath.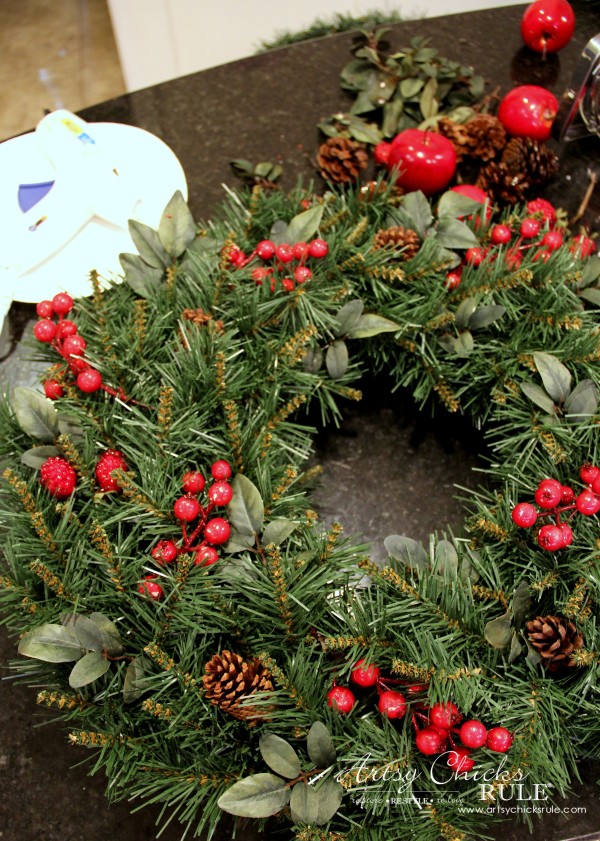 Then I sprayed them with the DIY snow flocking. (see this post for all the details)
So much fun. ;)
I added a pretty, sparkly ribbon but you could leave that off.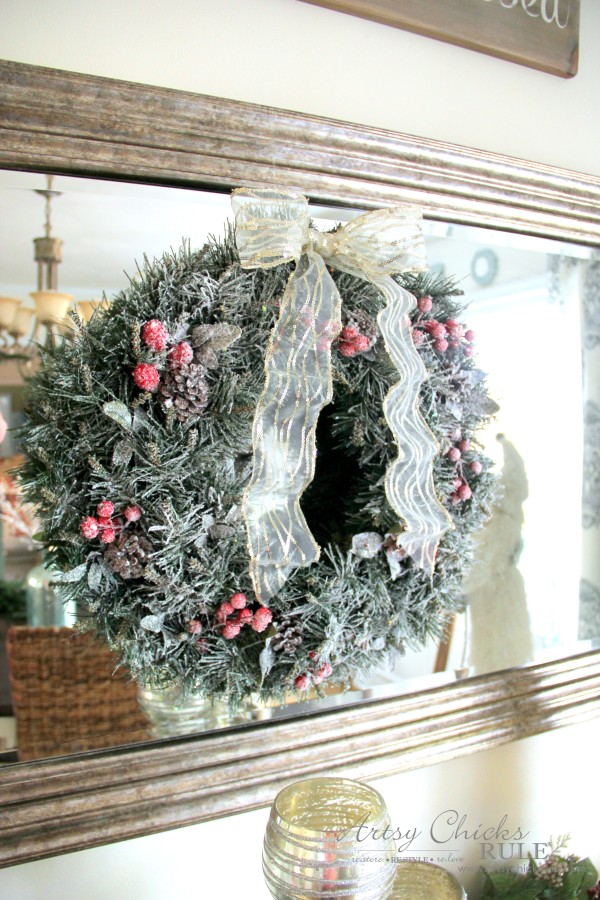 Up close….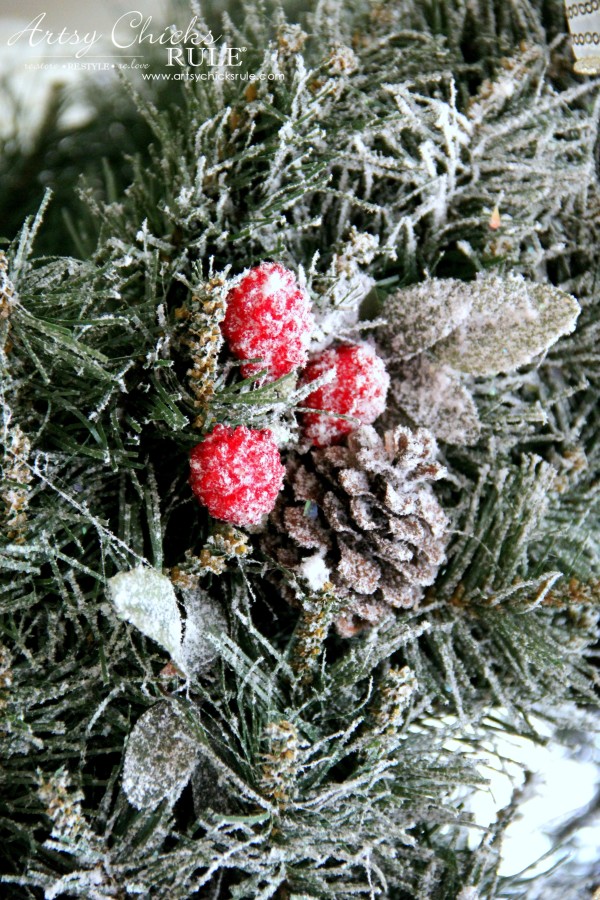 I wanted to flock everything then.
Snowy goodness.
Things like the artificial greenery I usually have out….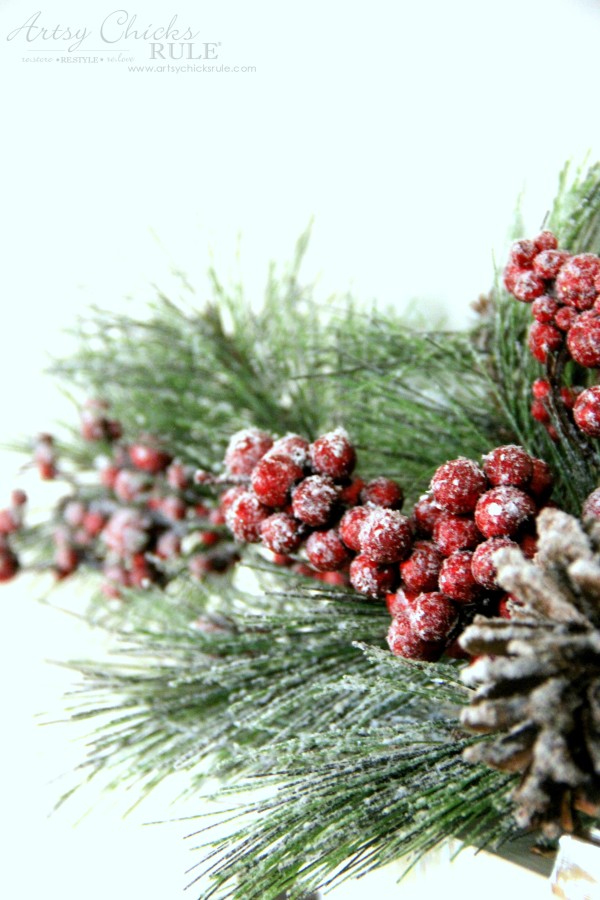 And I always use the left over branches from our real tree to decorate with….so I gave them some DIY snow flocking too!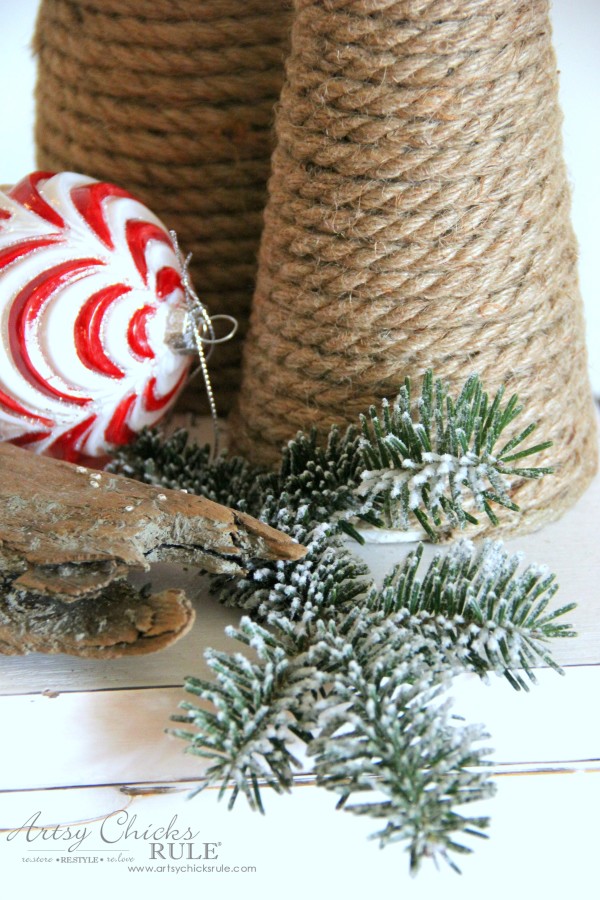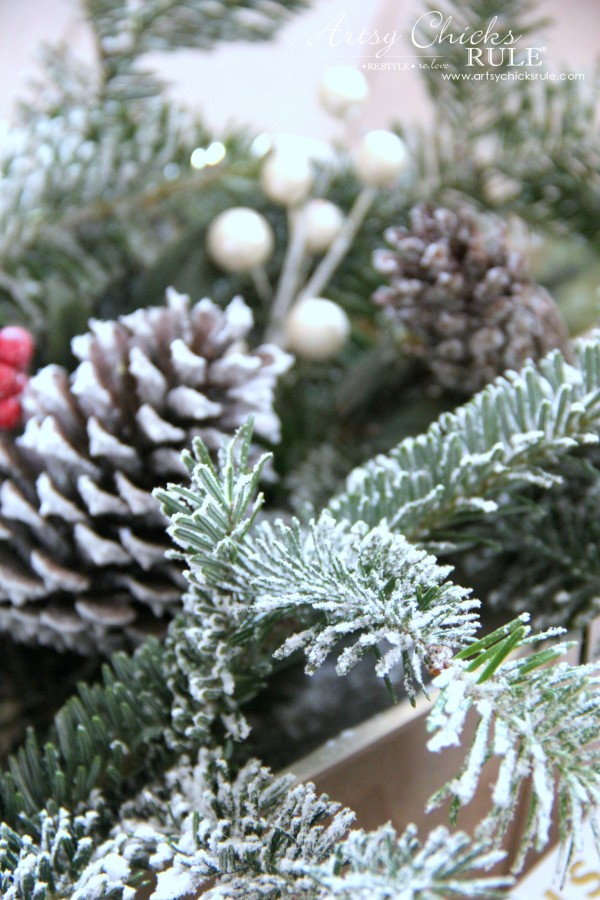 Doesn't that look like real snow?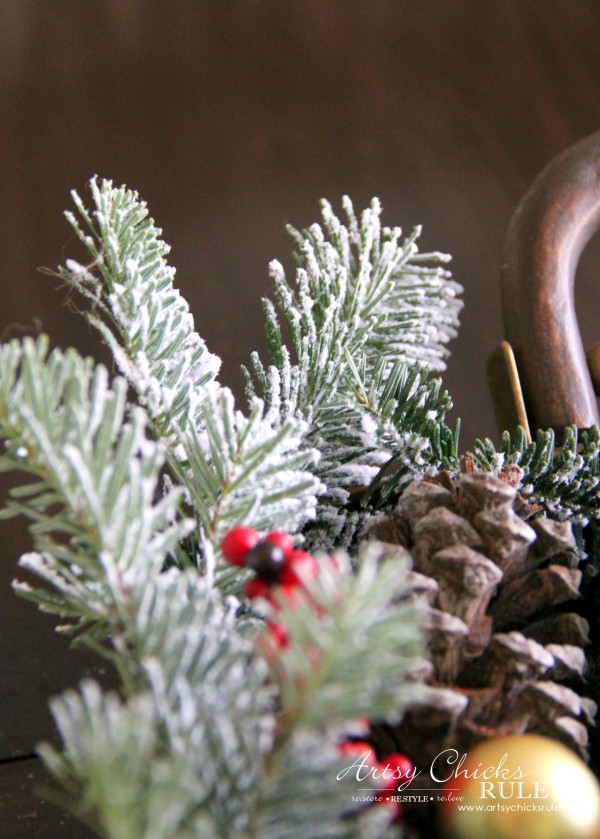 I really does and just makes everything looks like a magical, snowy wonderland.
I still have a bunch of the snow flocking left over so I know I'll be at it again this year!
Nothing is safe from me and the snow flock, I tell ya! ;)
I just love it.
Like this easy DIY snow flocking? PIN it to save it!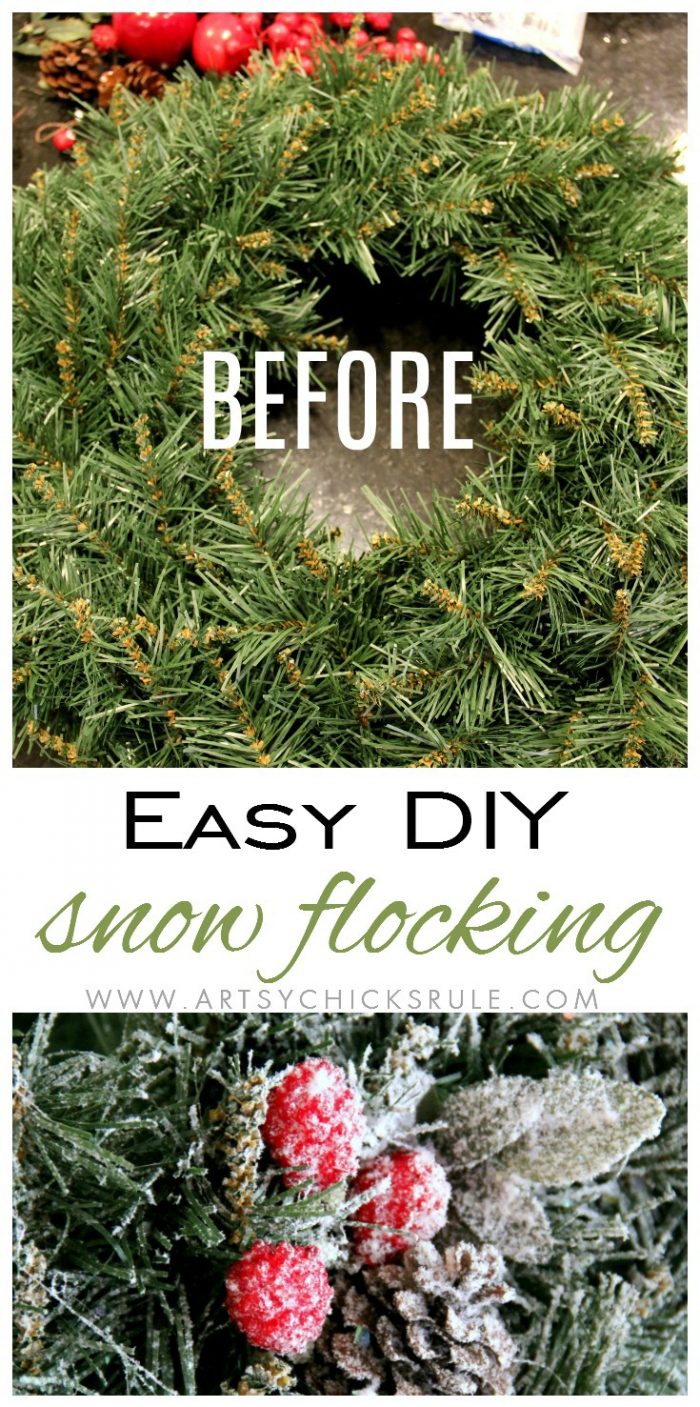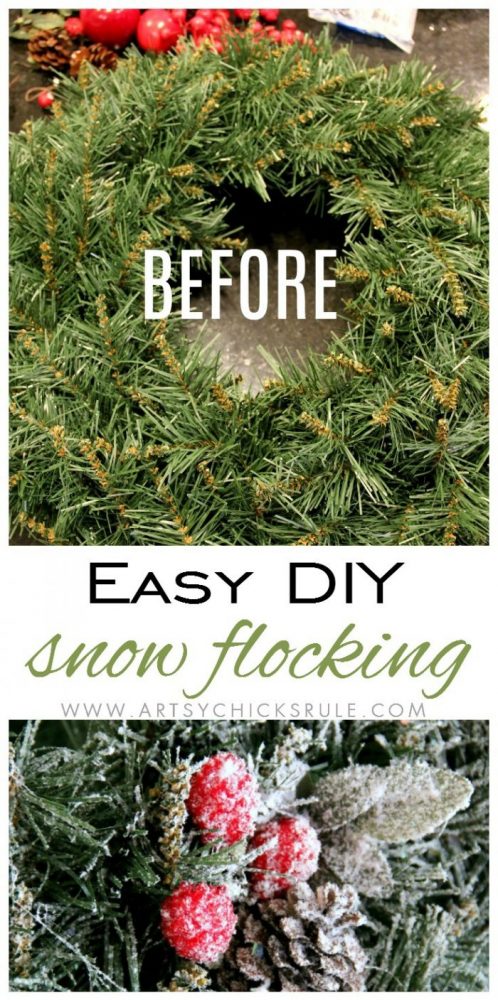 If you haven't yet visited my post "DIY Flocked Tree", pop on over there to see how I turned this old thrift store tree into a snow flocked beauty!
Click HERE to see it AND a few more helpful tips I have on applying this Sno Flock!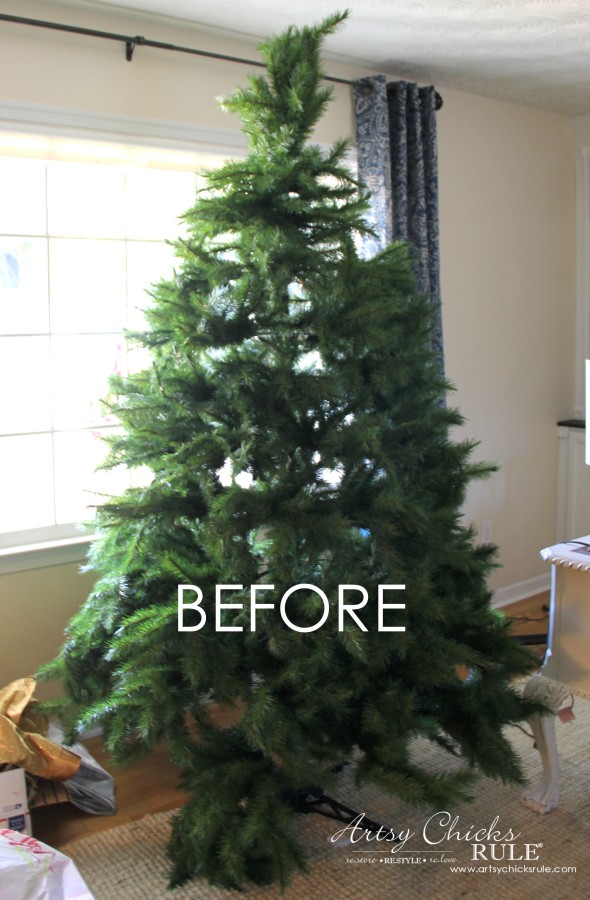 Enjoy and hope you have fun with this. :)
xo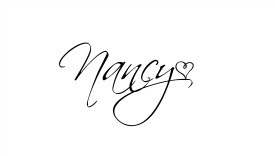 A few more things you may like…