Kitchen Organization Tips (ideas & favorite products!)
This post may contain affiliate links. Please see disclosures here.
Kitchen organization tips, ideas, and my favorite products for using every single inch in your kitchen and pantry!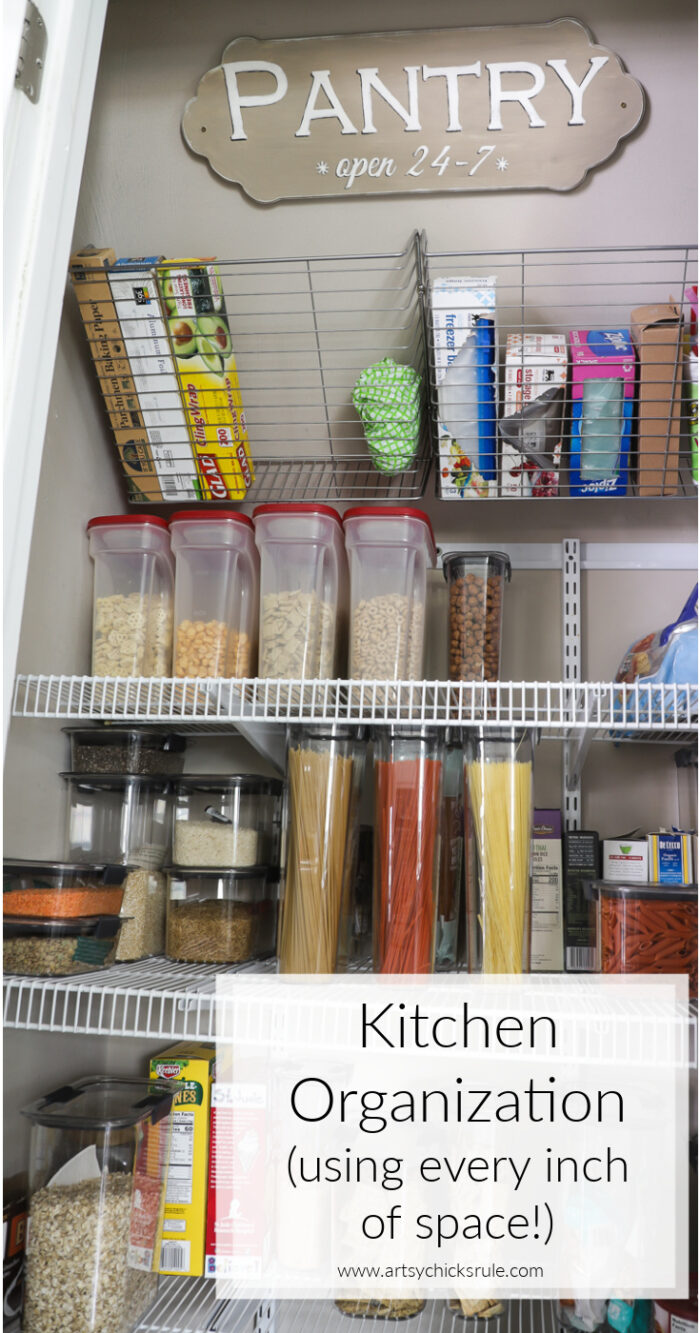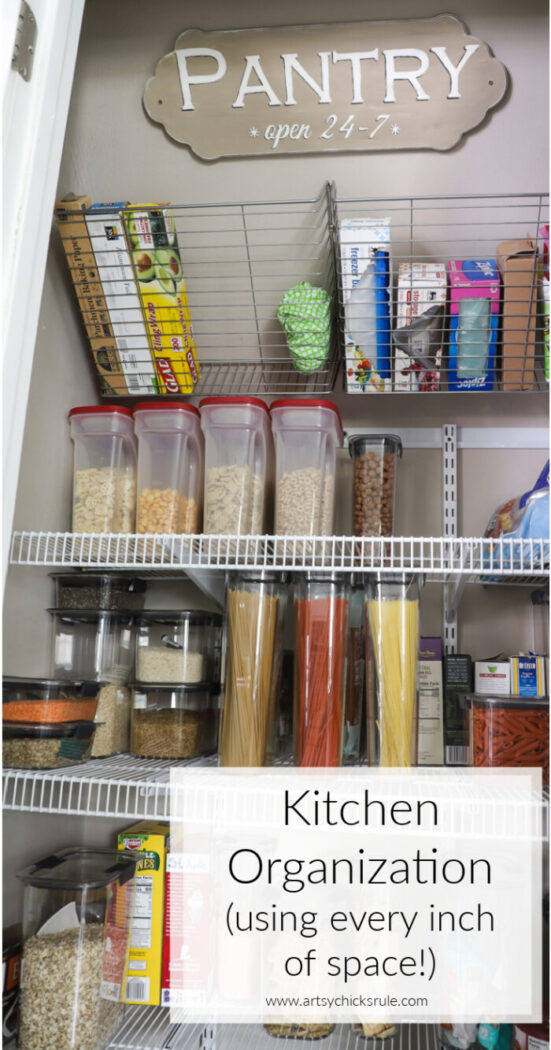 Hello friends!
I told you I was sharing a different kind of post today and this is it.
All about kitchen organization…and how I have maximized our small spaces.
You might have seen my little snippet of some of this on my Instagram stories last week. I shared a bit of my new kitchen organization. Well, I got quite a few of you who messaged me asking about it and for links to the things I used. So I thought I'd write a blog post and share them all here in one place.
………………………………………………………………………………………….
Kitchen Organization Ideas (and my favorite products)
Oh, how I would love a huge walk-in pantry with shelves and counters. (actually, that's one of the main things I want in our next house, lol)
BUT since I don't have that in this house, we have maximized as best we could.
As I mentioned, we are currently "looking" for another house…slow as it goes. (EDITED 1/23…still looking!lol) And once we decided to start looking again, I got in gear and started going through and purging all closets, cabinets, etc, OH MY GOSH, what a breath of fresh air that's been!
I can not even tell you. I'm not sure why I didn't do it sooner.
It will certainly make it easier to move once we find "the perfect house"…which has so far been elusive. (yes, I'm picky because we don't dislike this house, we love it but want/need some different things that this one doesn't have…for example, a first-floor master, space for me to work on projects — besides my kitchen island and so on, larger garage, etc.)
Anyway, I had purged and organized every single closet, and cabinet in this house … except the pantry and kitchen spaces. So I decided they needed some help too.
Unfortunately, none of those "organizing" projects were really blog-worthy, just closets, cabinets, bath cabinets, etc. But boy, did it feel good to get done!!
And I didn't even think about blogging about the kitchen organization either since I was just doing it for us.
So I have no "before" photos to share.
We only have this one small pantry closet…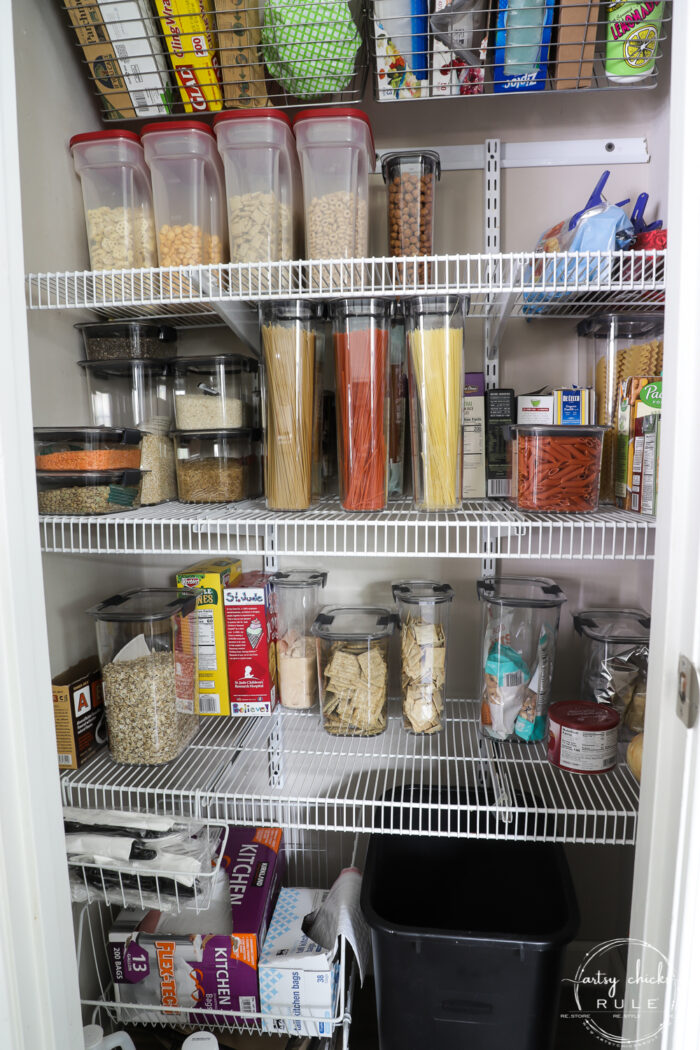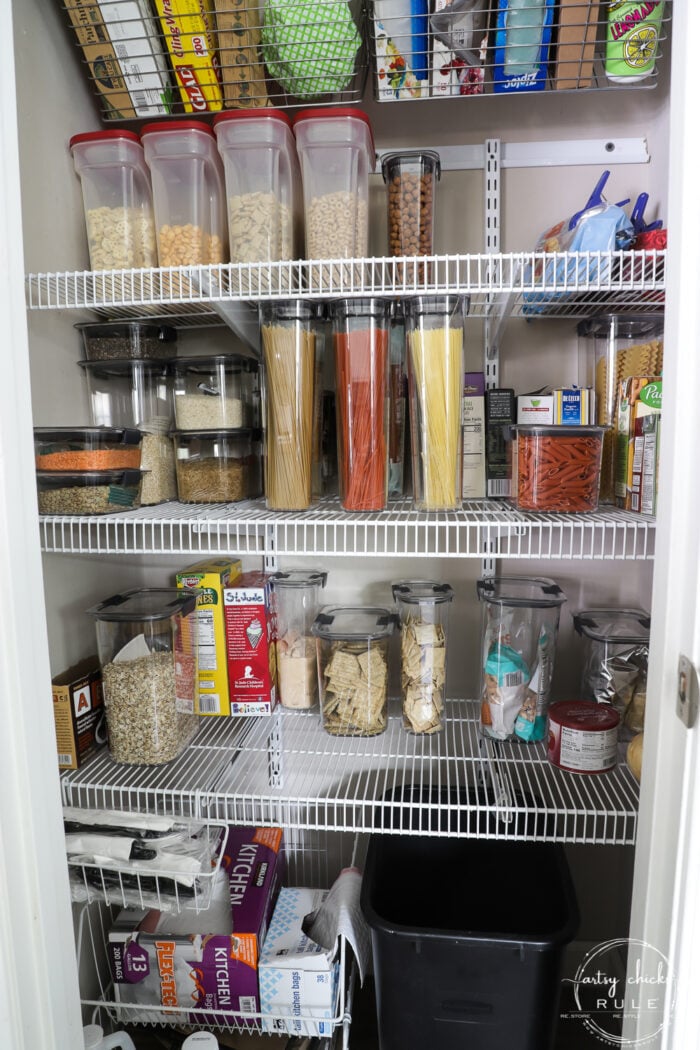 Gosh, I wish I had the "before" but let me explain.
I had none of these containers just boxes and stuff everywhere.
Basically, I could never find what I was looking for. OR I didn't even know what to look for because I couldn't see it.
It was buried in the back, etc.
I had one plastic wire wrack for those sandwich bags, foil, saran wrap, etc, on each side. (where the wall is blank by the door openings) I always hated that.
It was hard to utilize and just looked like a mess. So I thought, why not use that space for that stuff on the ceiling instead??
I'll just put the wire wracks there and free up space on the sides. (it is the slanted ceiling where on the other side are our stairs going up)
This metal plastic grocery bag holder was also on the side down lower, in the way. We moved it up here completely out of the way but still handy to grab a bag when needed.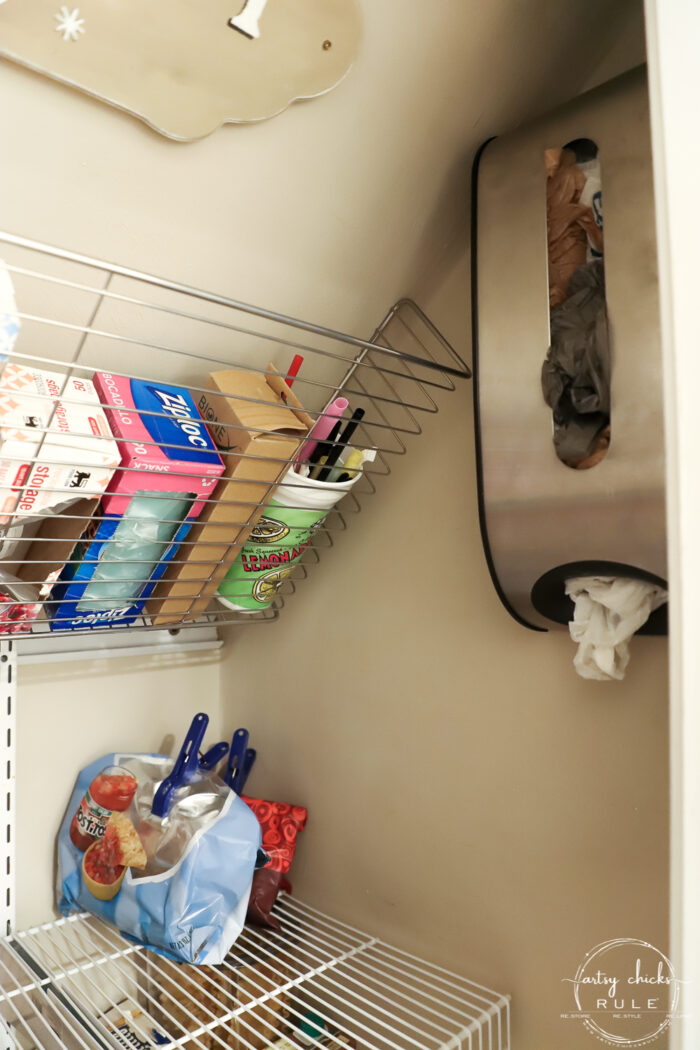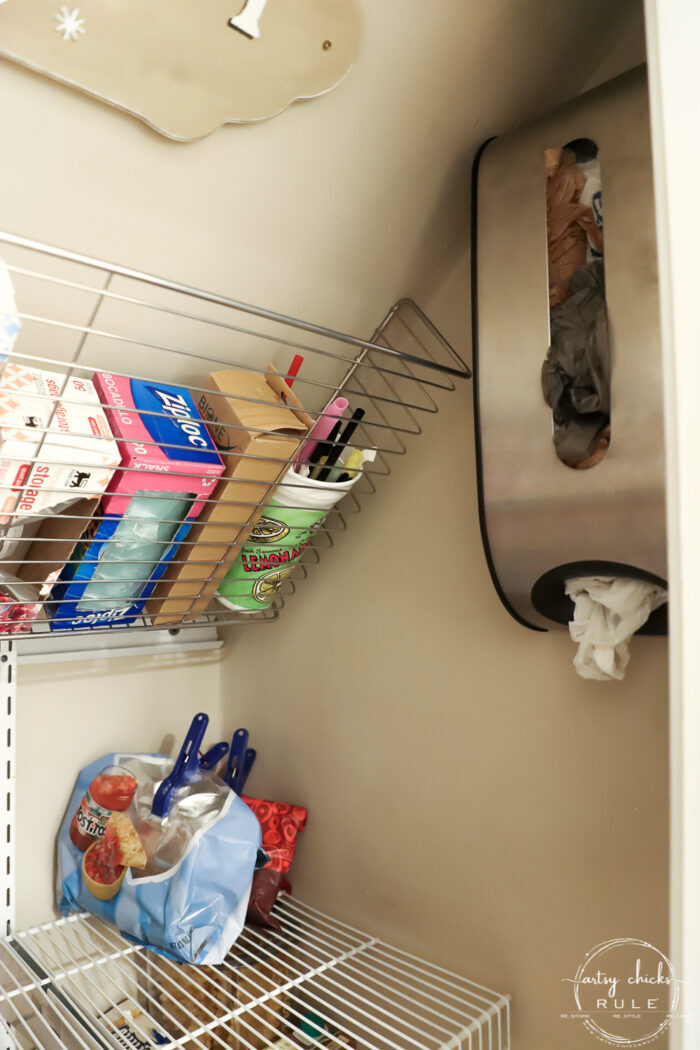 Oh my, SO much better!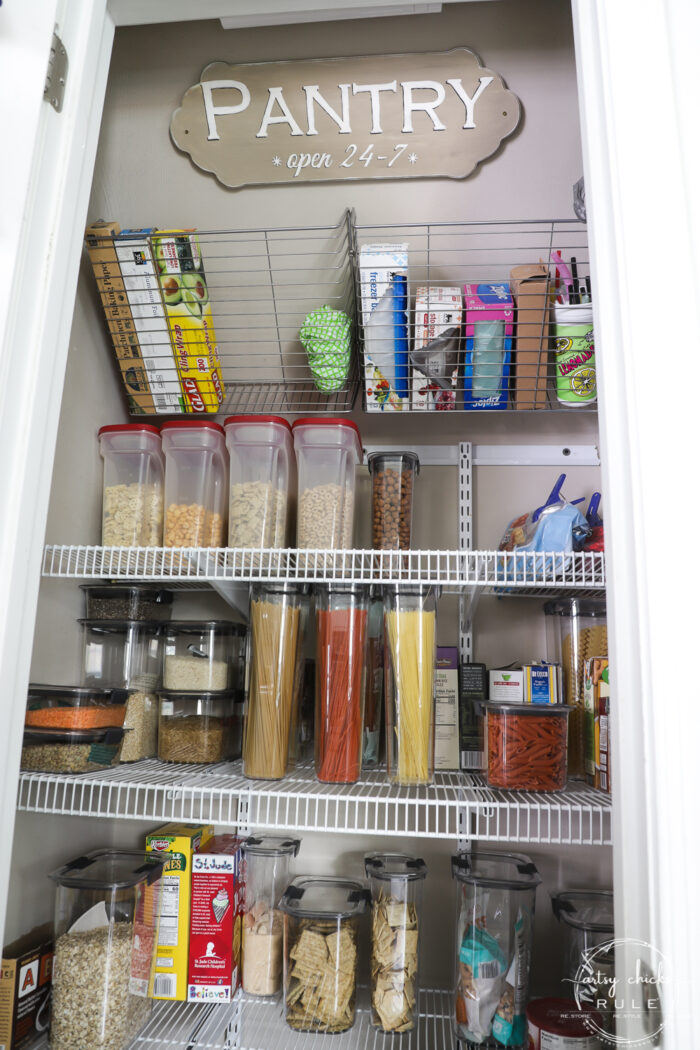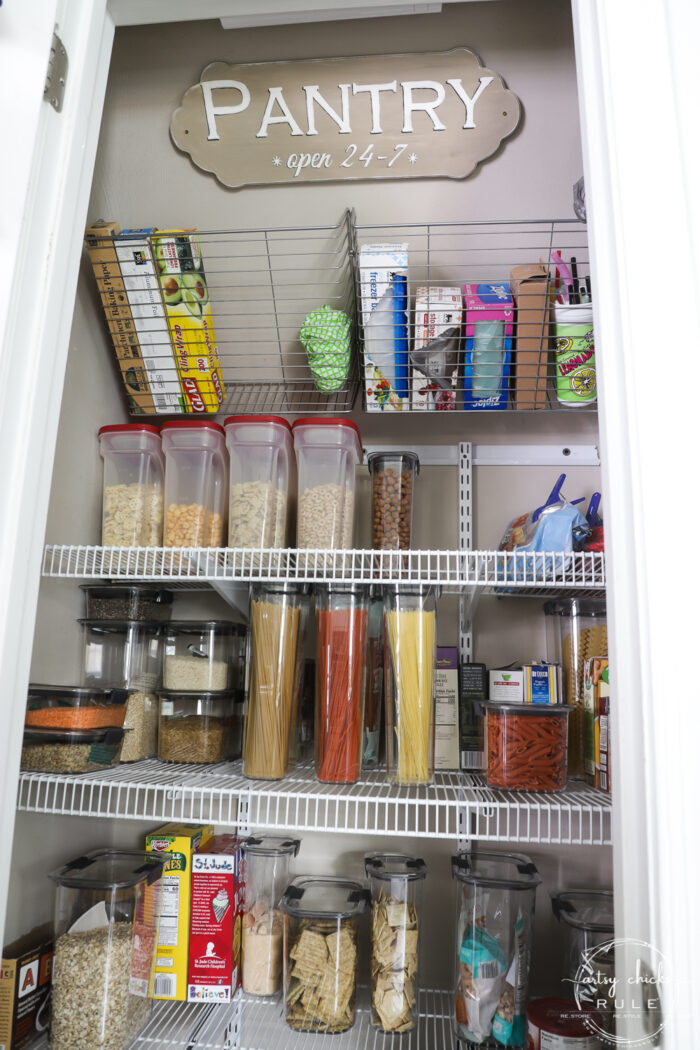 Remember that pantry sign I painted years ago? It used to hang on the outside above the door but I took it down when we remodeled the kitchen.
I thought it would be cute to open the door and see that, lol, so I hung it up in the empty space above the wire bins.
I love having the cereal out of the big, different-sized boxes and in those containers.
And getting rid of all the different pasta boxes, rice bags, etc…win!
Cracker boxes everywhere…no more.
These containers are the bomb…and made in the USA which I love.
I'll have all the products I used linked at the bottom of the page.
Down below I have a wire basket on the floor with extra paper bags and plastic trash bags.
To the right is our recycle bin.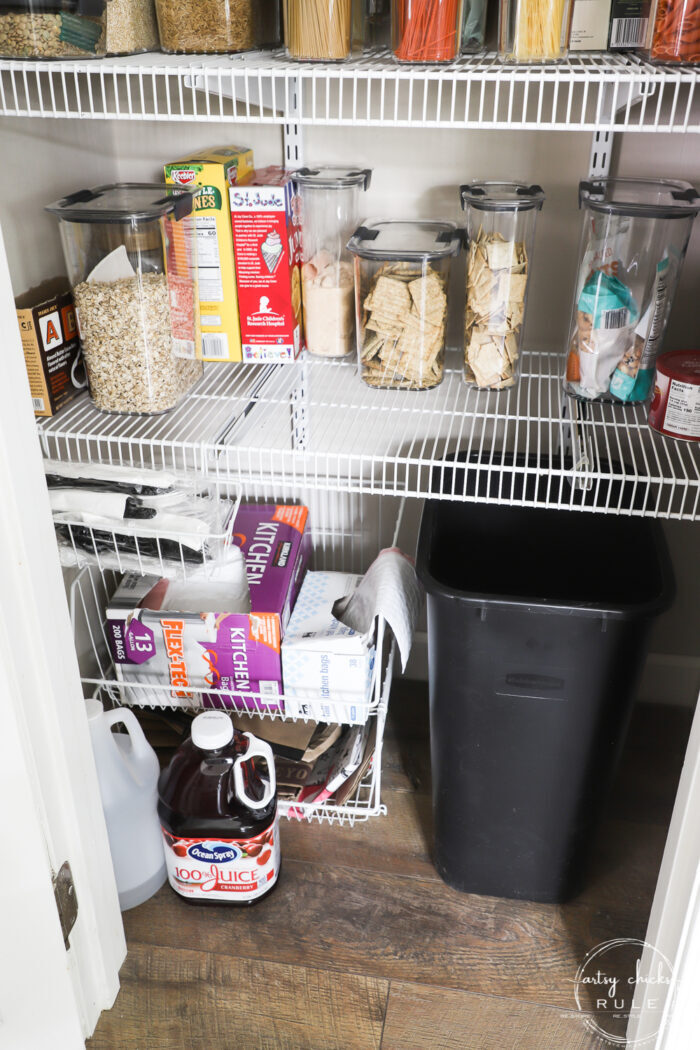 I didn't want to put each kind of nut in a separate container so I just wrangled them all together and put them into one. (beside the crackers on the bottom shelf)
I actually did the same with these items below.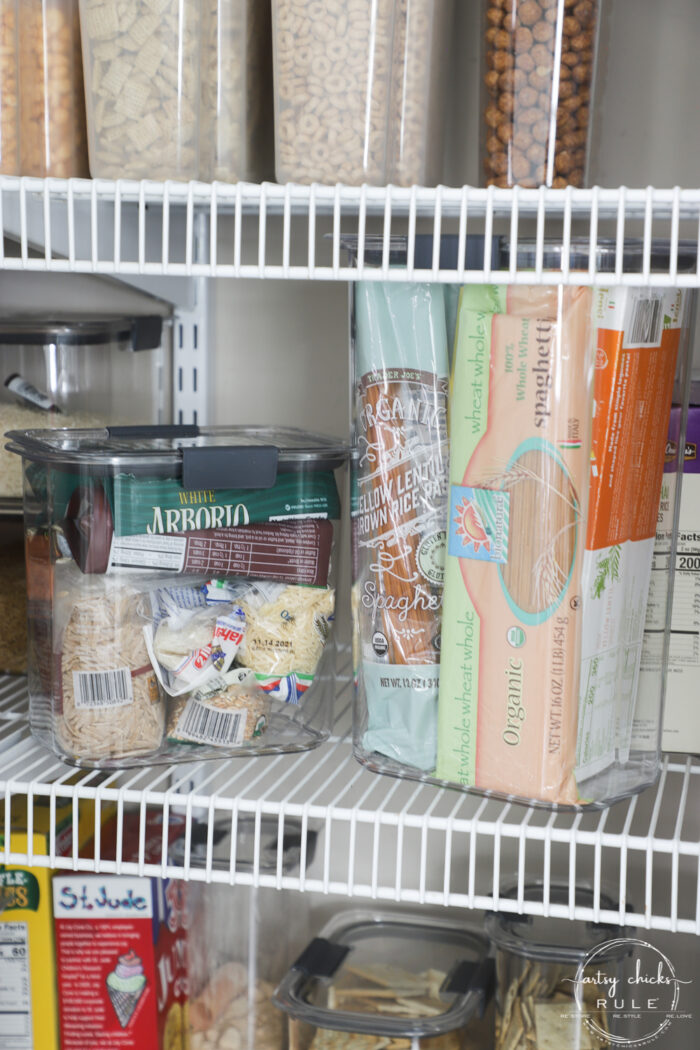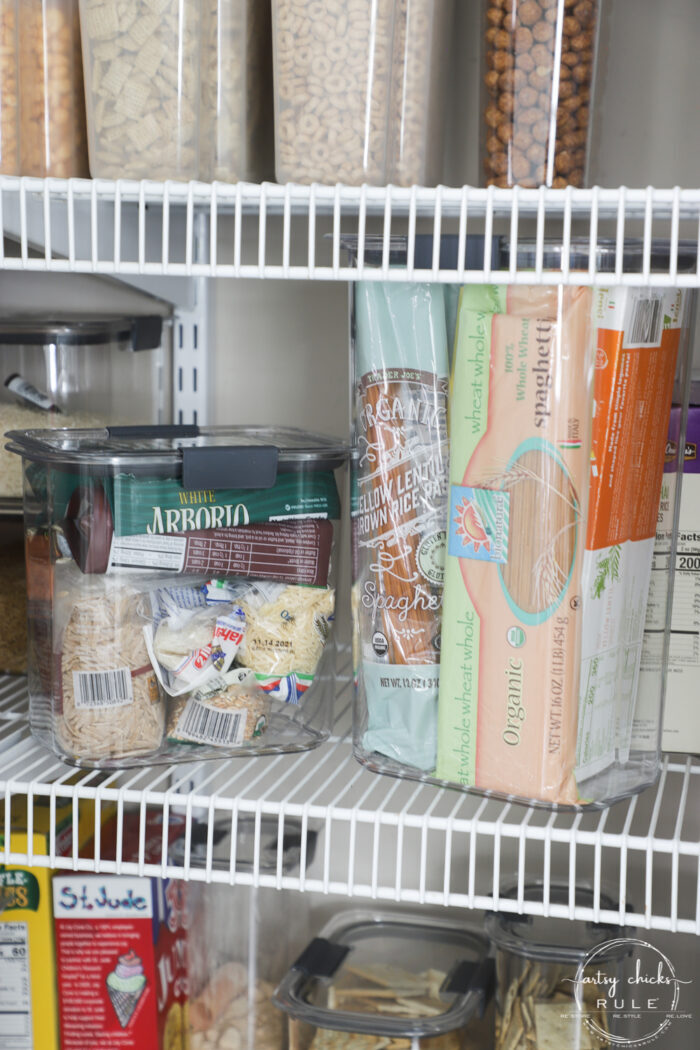 It still keeps them nice and tidy. AND easy to find.
My husband put a little light up there years ago but we never use it. It'd be nice if it came on automatically when the door opened but we aren't that fancy. haha
It was a good thought but I guess not really needed.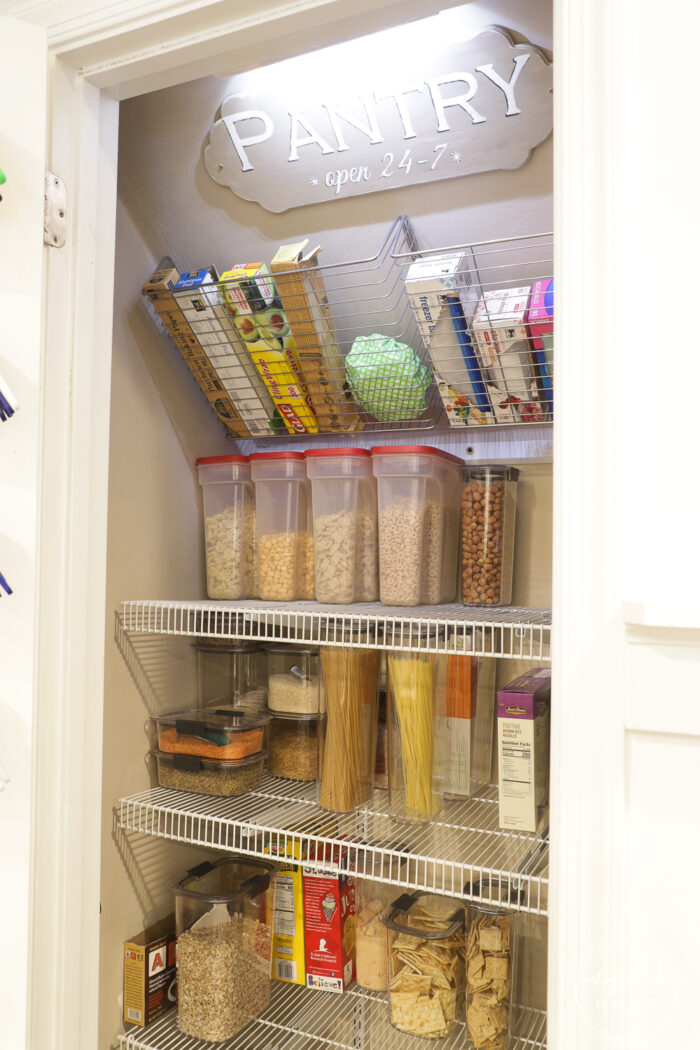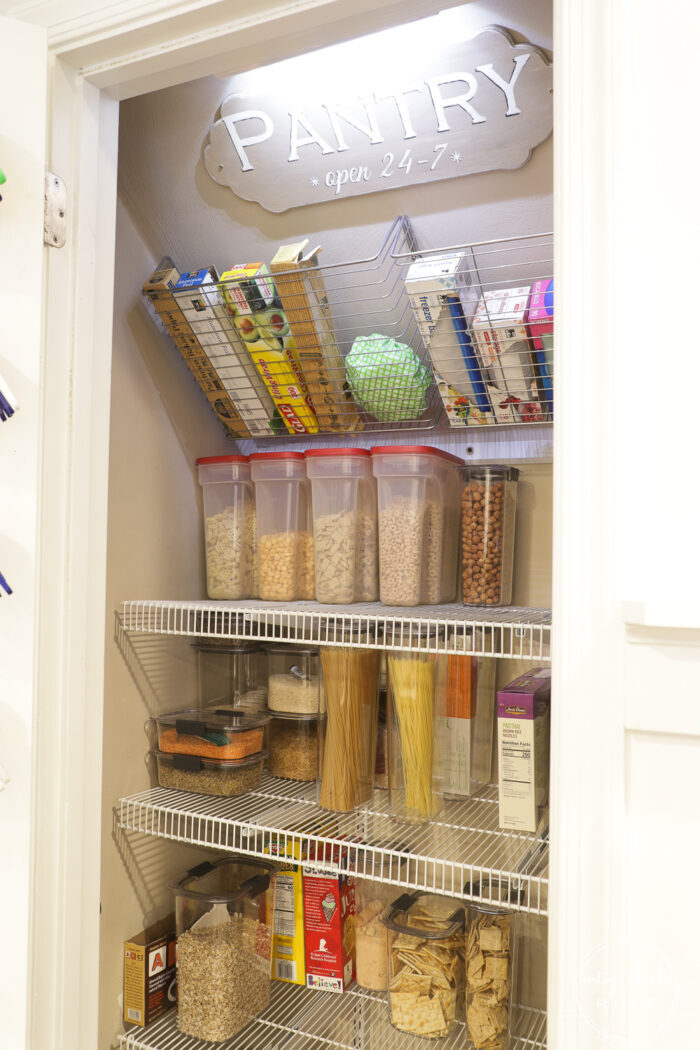 To the left, on the door, we have these metal bins.
They are GREAT for using every single inch of space.
I reorganized this too. It was a bit of a free-for-all.
No more!
The top has our sweeteners and flavorings.
The next shelf is odds and ends…and the next 2 shelves are our spices.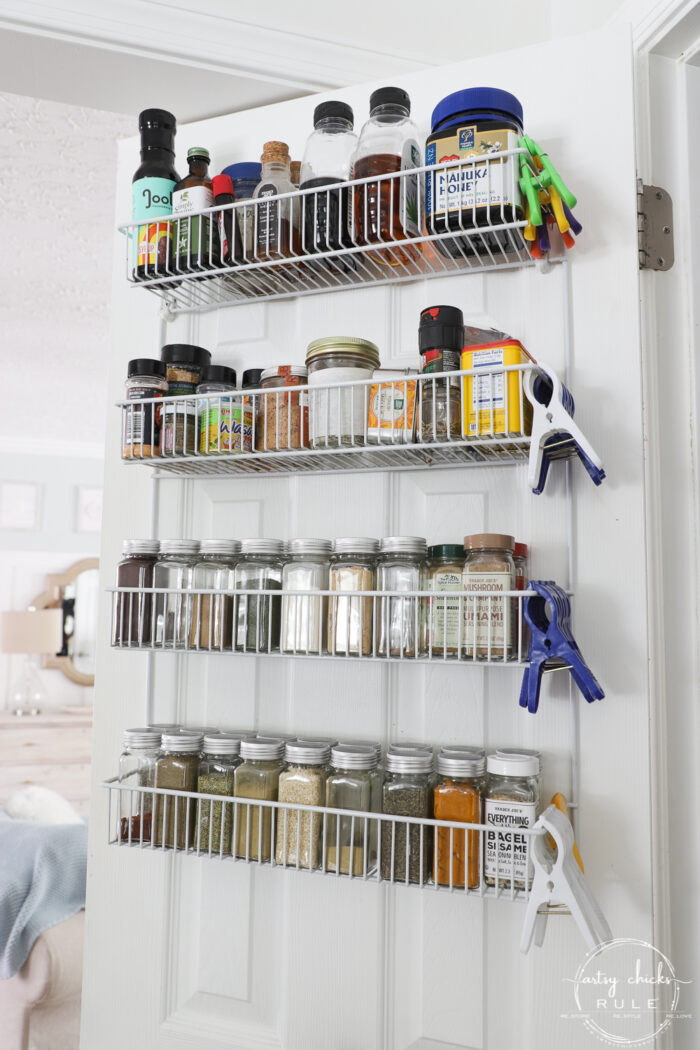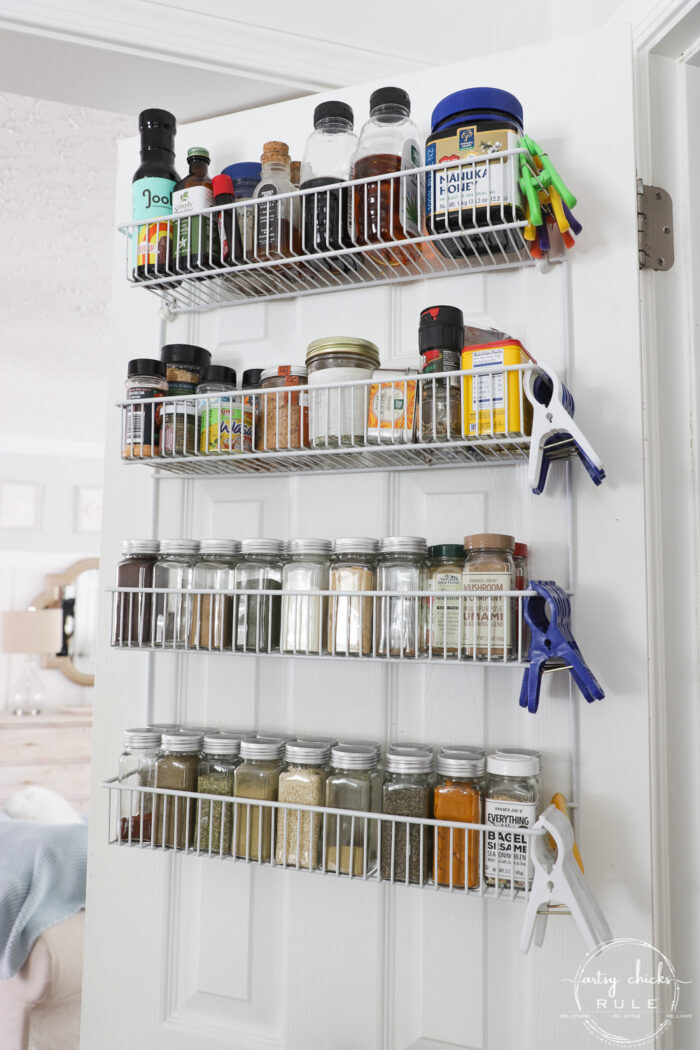 I had all different sized, shaped spices, etc, and could never find what I was looking for.
So frustrating. I would pull 5 out, and move 3 to find the one I needed.
Now they are super easy to see.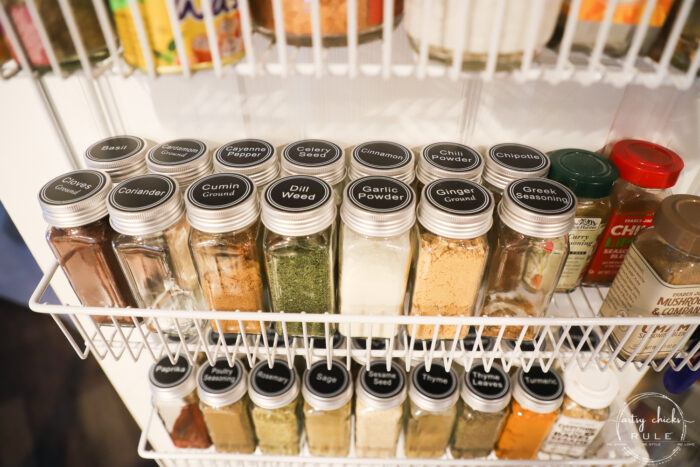 In alphabetical order too. lol
AND even better, they actually came with all of these labels. (they have just about every spice label you can dream up…plus blank ones and a white chalk pen so you can fill out your own if you like)
You can put the labels on the front or on the top of the jars.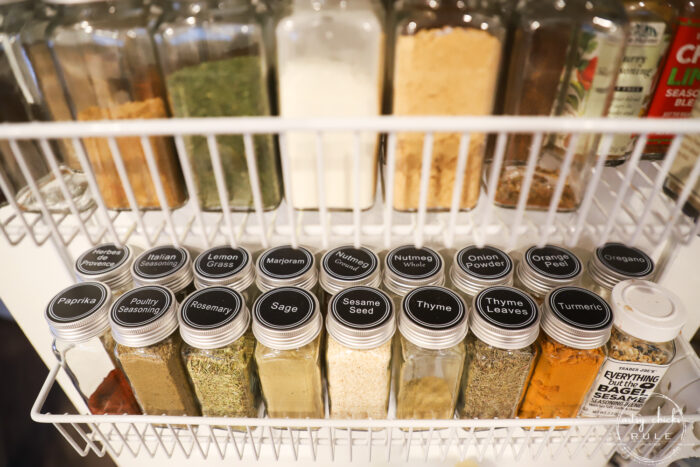 I LOVE it.
The next shelves are our oils/vinegar, oil sprays, etc.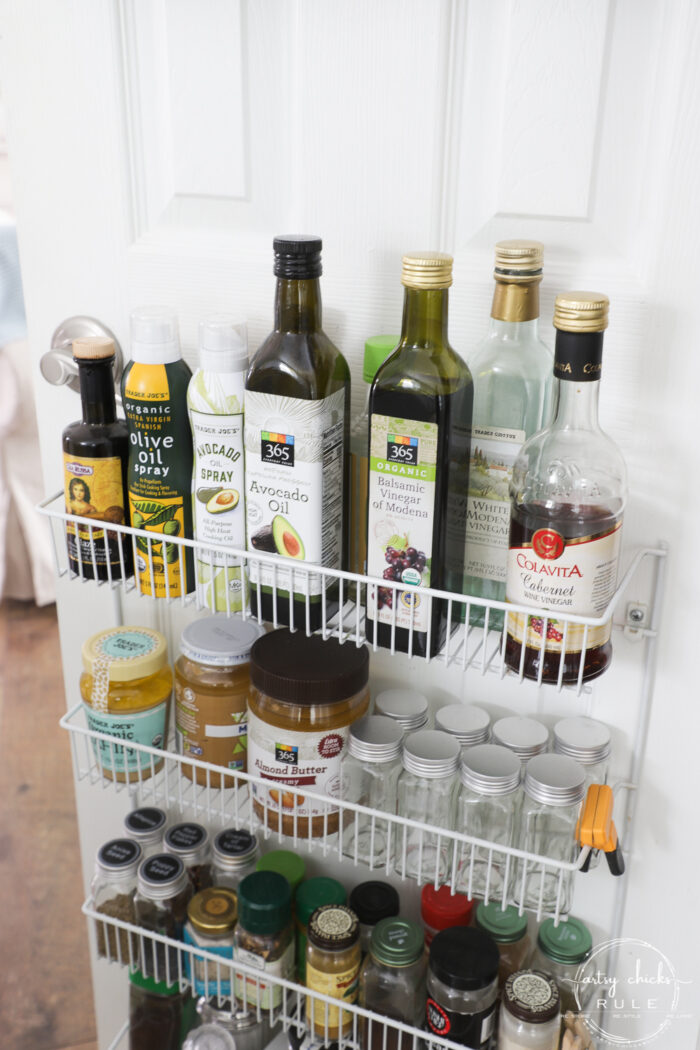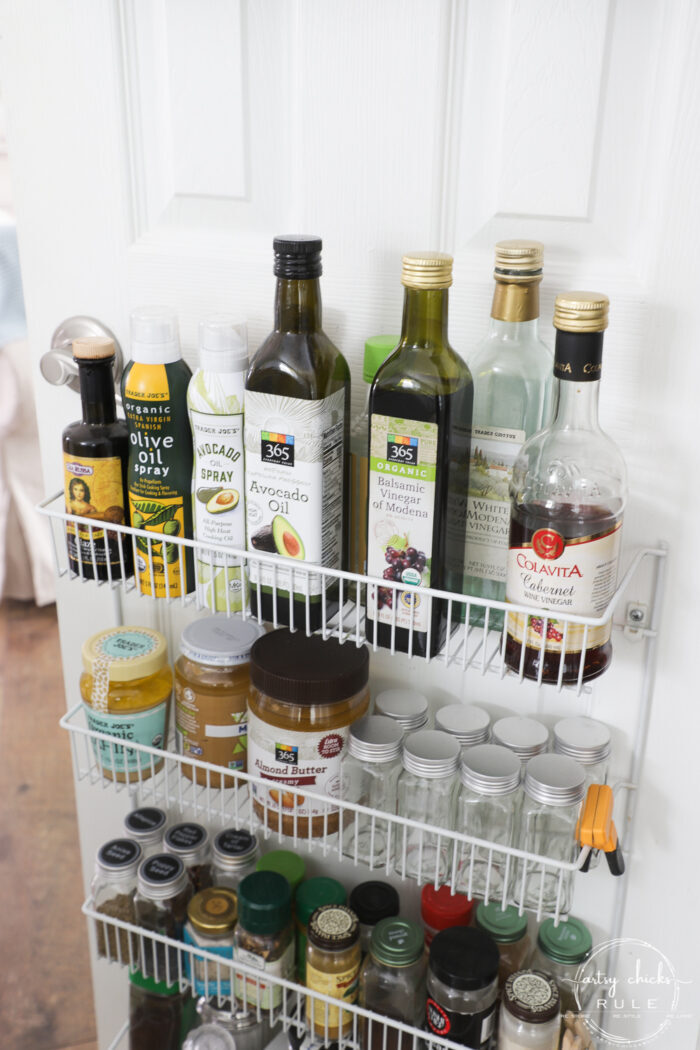 Extra condiments, extra empty bottles, and below that are spices we don't use as often.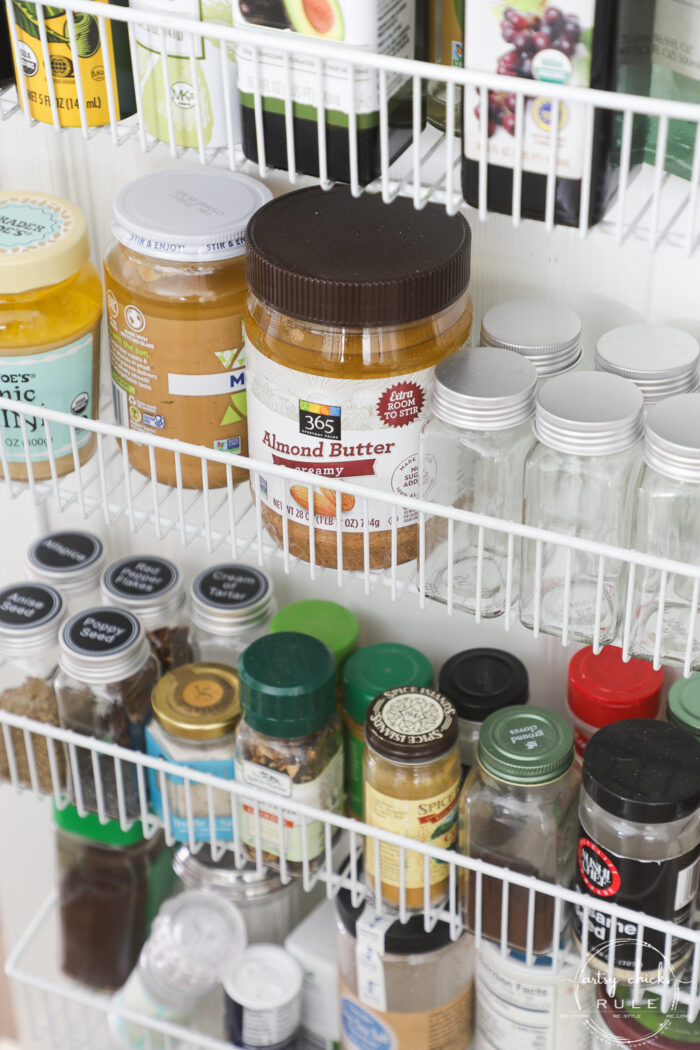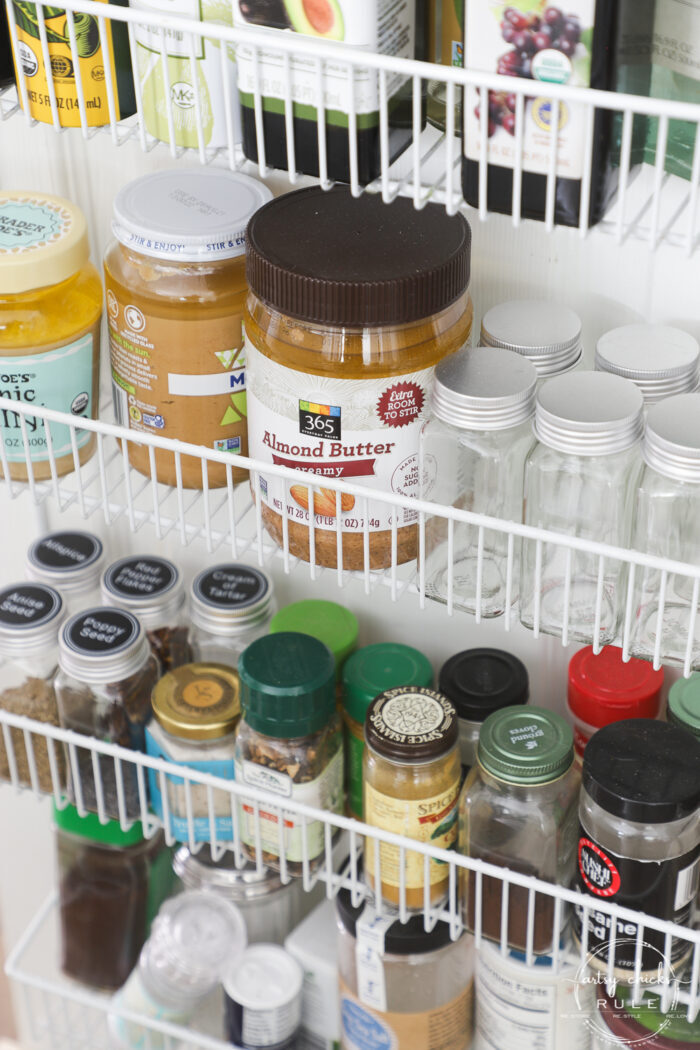 The bottom shelf has our extra sea salt, pepper, and other condiments/supplies.
And you might have noticed all those clips on the side there. Those are our clips for bags, etc.
Out of the way, but handy when needed.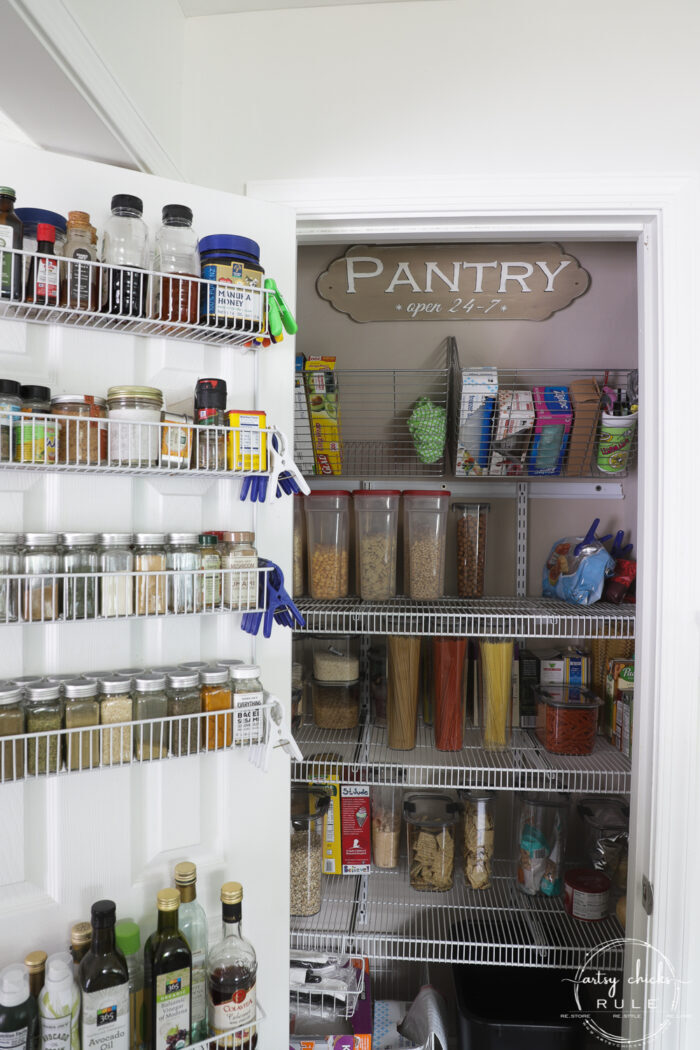 You might be wondering where the rest of my pantry-type items are, like cans, etc.
Well, I have another "pantry"…in the laundry room.
This wall of cabinets that are on the right there.
We installed upper wall cabinets on this entire wall after we moved in. I knew I needed more pantry space than the little closet held.
And we don't have a lot of closet space in this house as-is, so the extra cabinets were needed.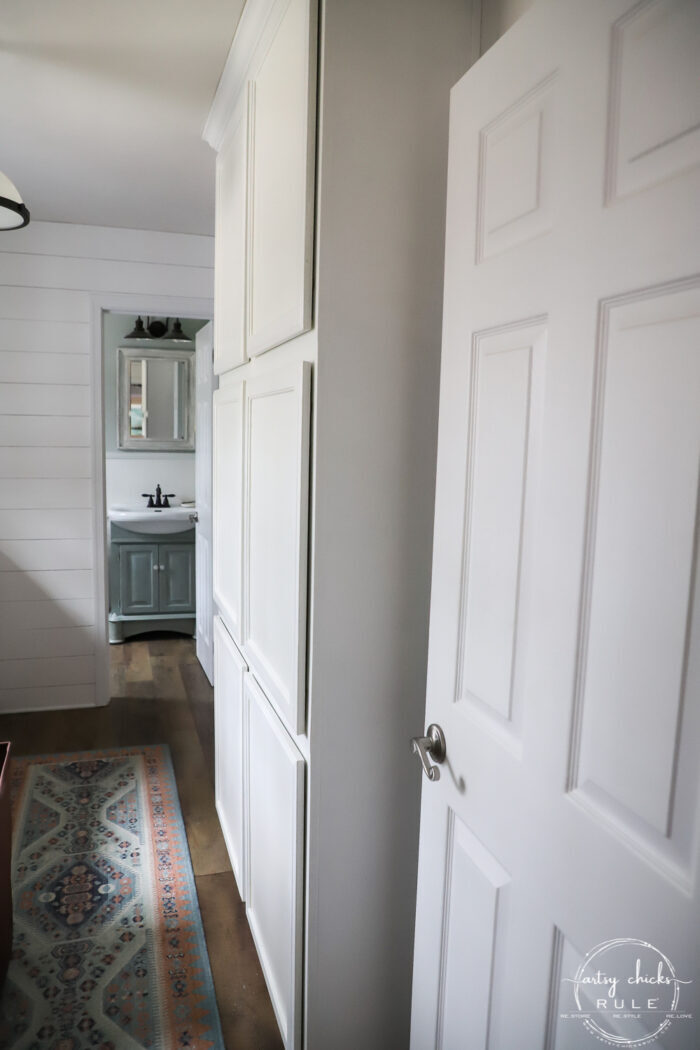 It's just across from the kitchen so not a big deal as far as keeping items in there.
The ONLY before photo I took because this one was an afterthought. I hadn't planned to change it.
But decided it needed a little help too.
Now, I should mention that you can label your containers if you wish. I'll link some of those too.
But I didn't feel the need to as I know what all these are.
One thing I did do, on some of these and some of the things in my main pantry is to cut out whatever I wanted/needed from the packaging and placing it inside the container.
(for example, cooking directions, expiry date, etc)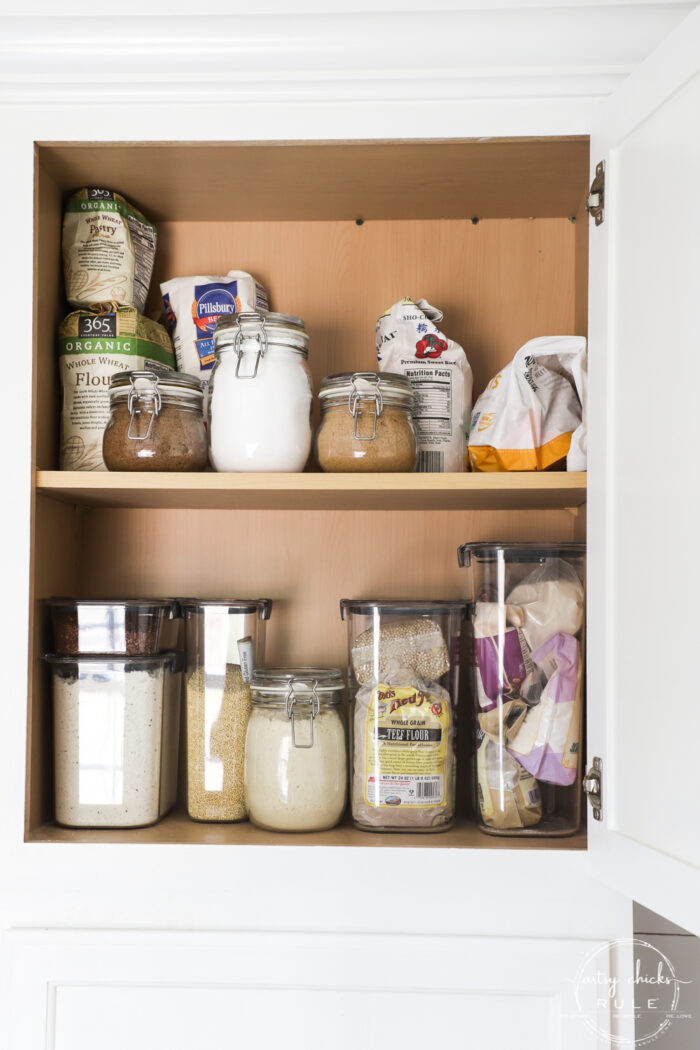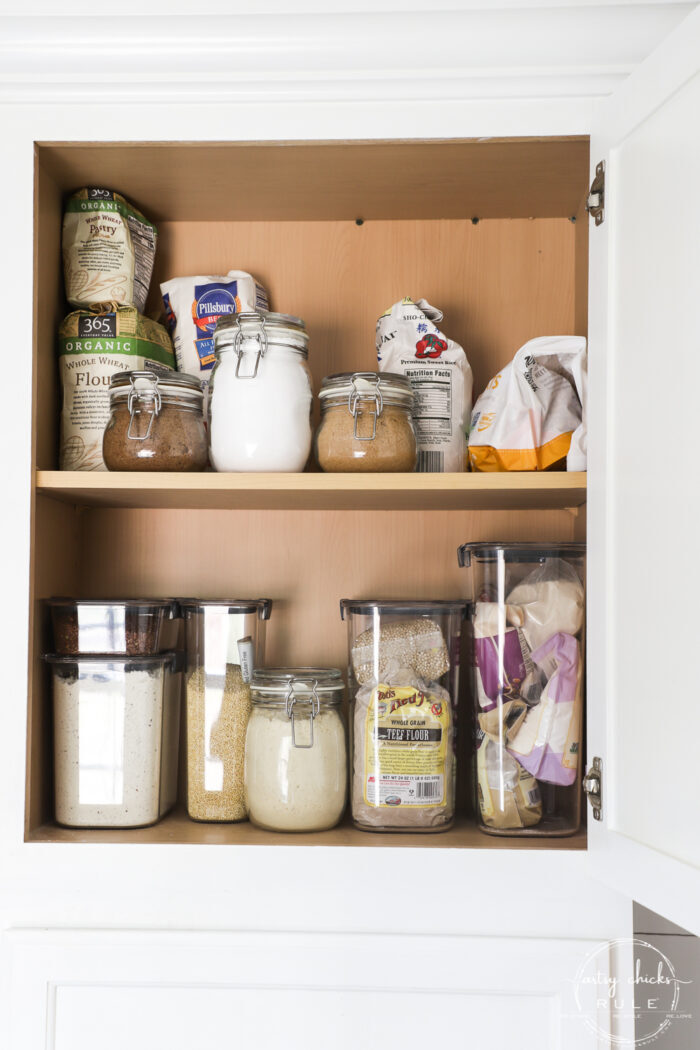 I did the same "wrangling in" of a few smaller items as I did in the other pantry.
I put them inside in such a way so that you can easily see from the outside what is in.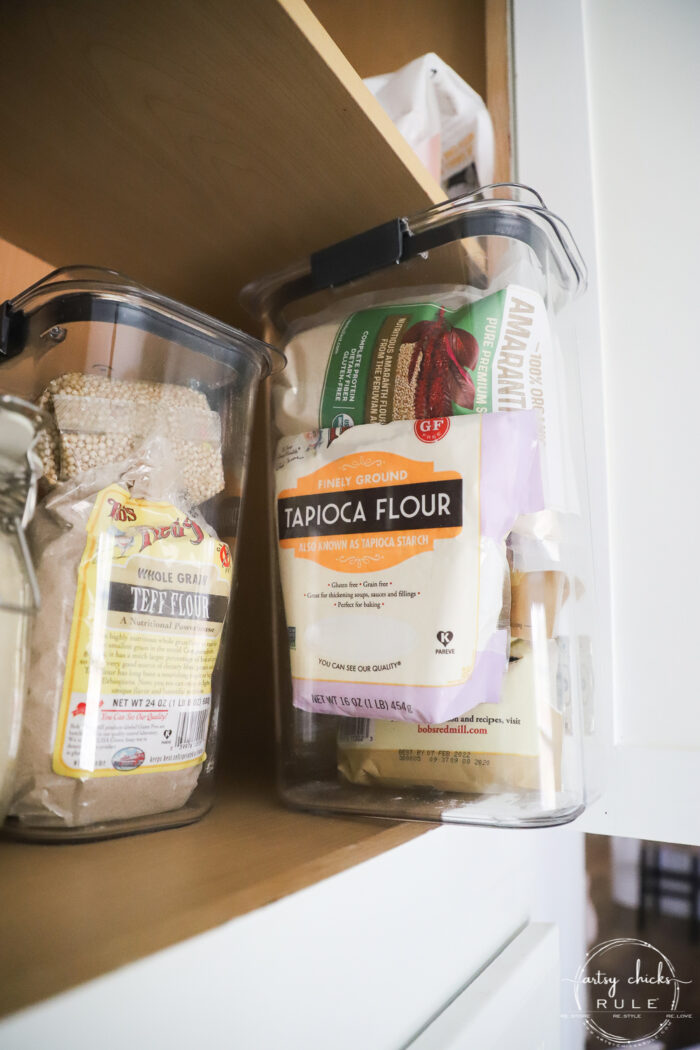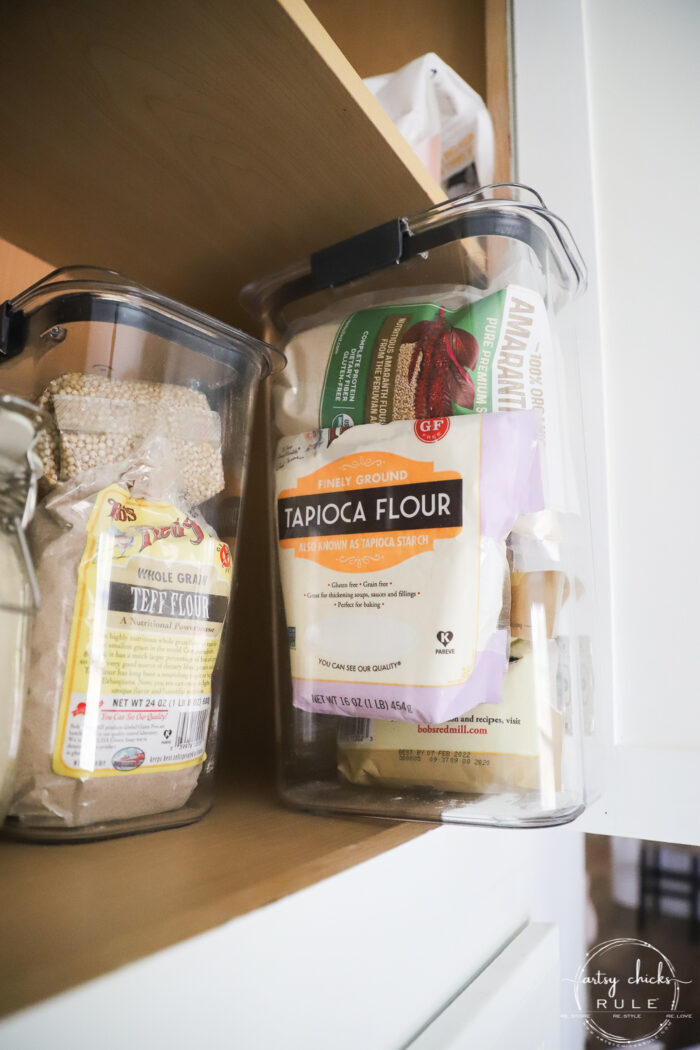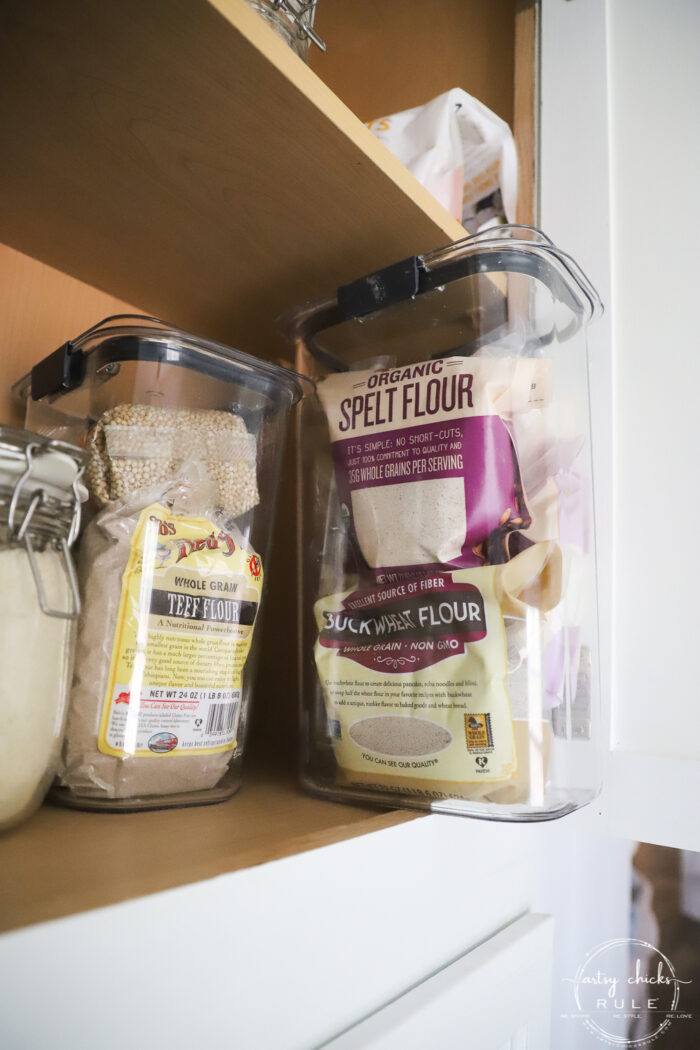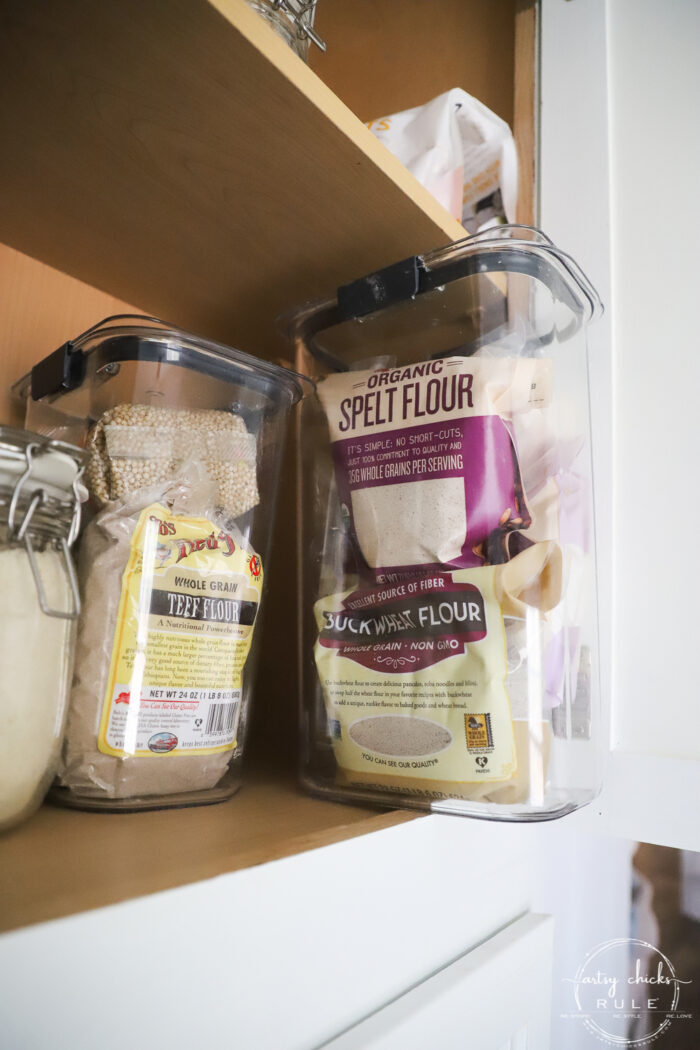 That one and the one beside it (picture below) are my "baking cabinets".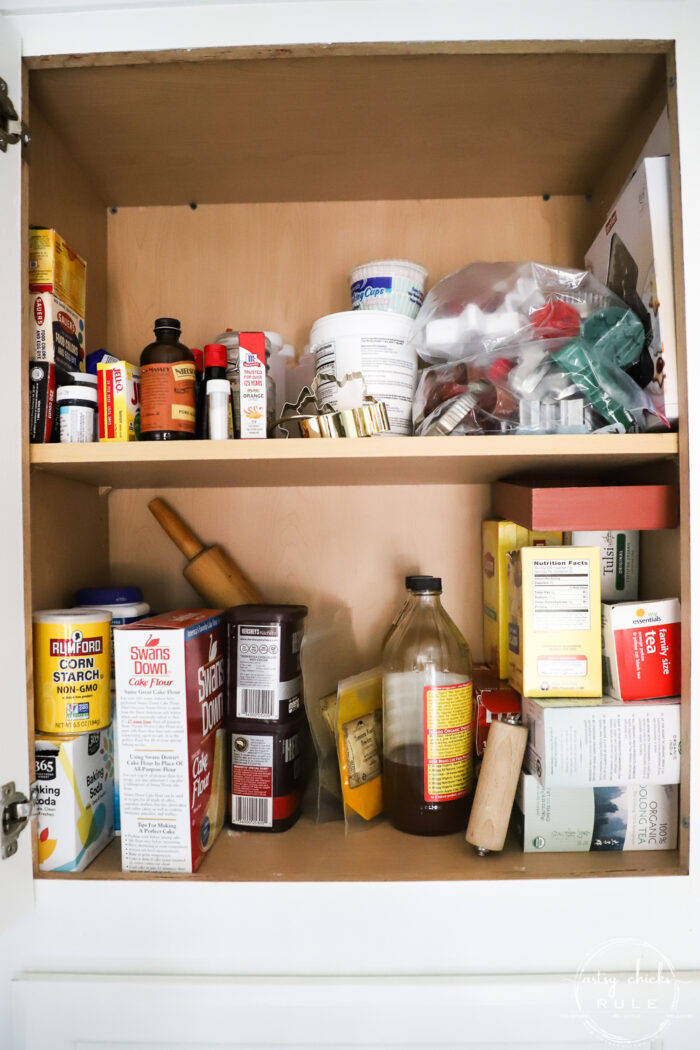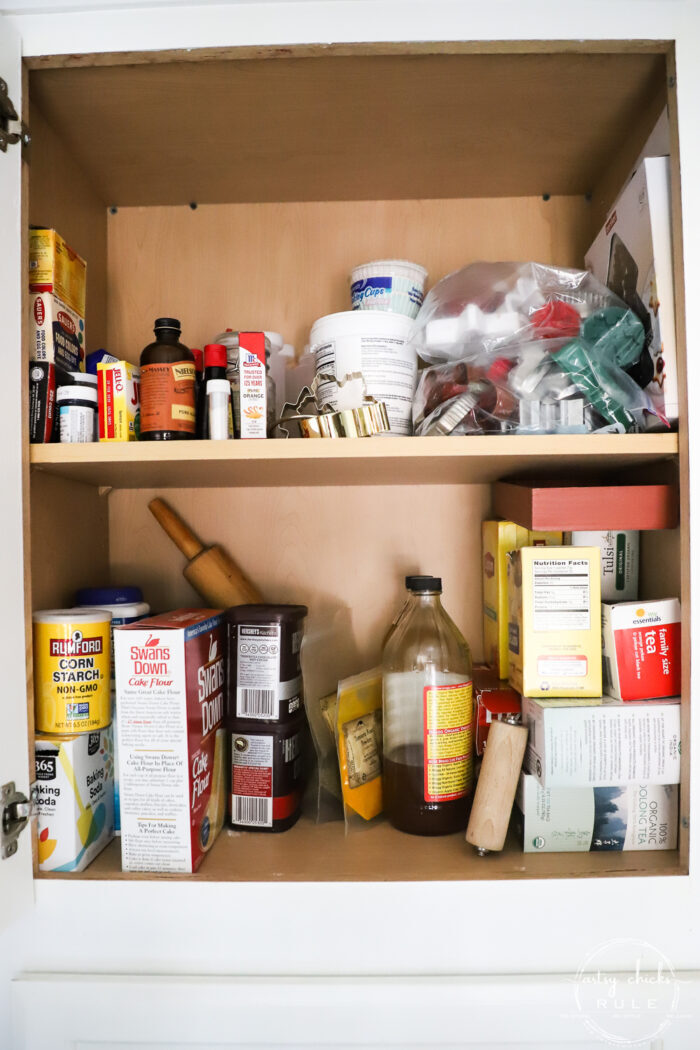 And extra tea too.
Here are my canned and jarred foods.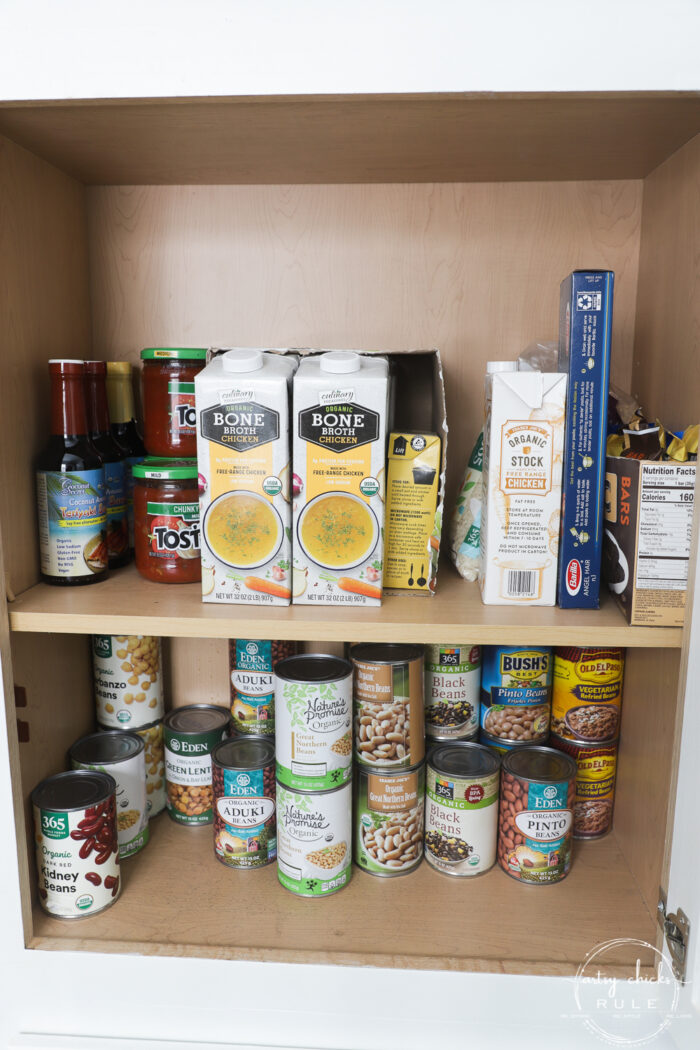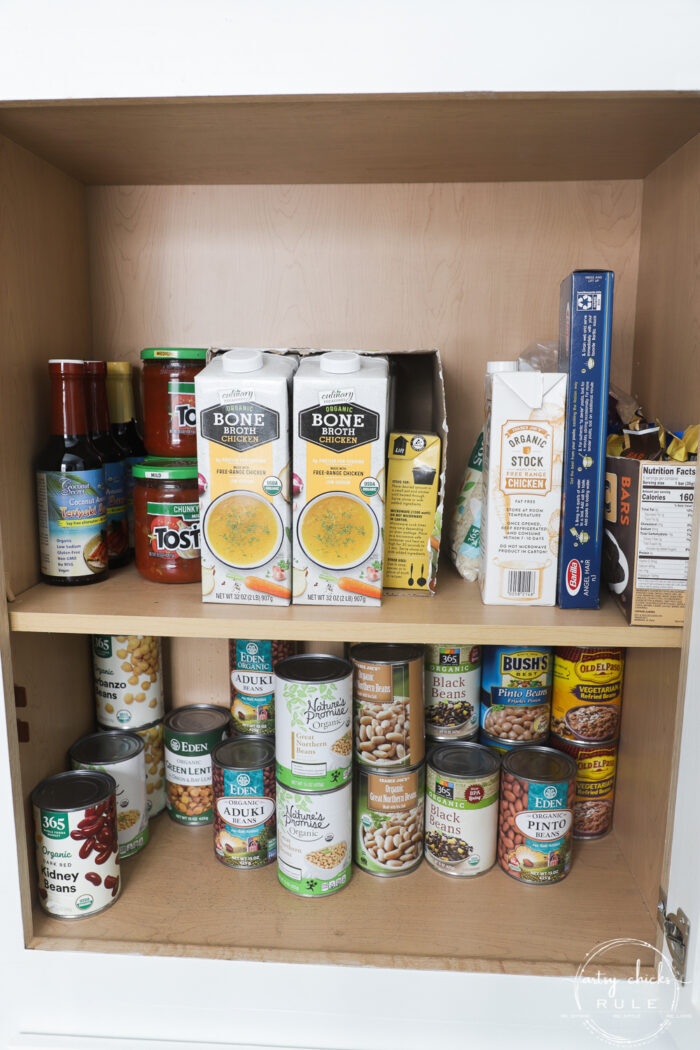 Soups and tumblers. I actually just organized those too. They were a mess with the lids sitting on top falling all over.
I put the basket there to wrangle all the lids in one place.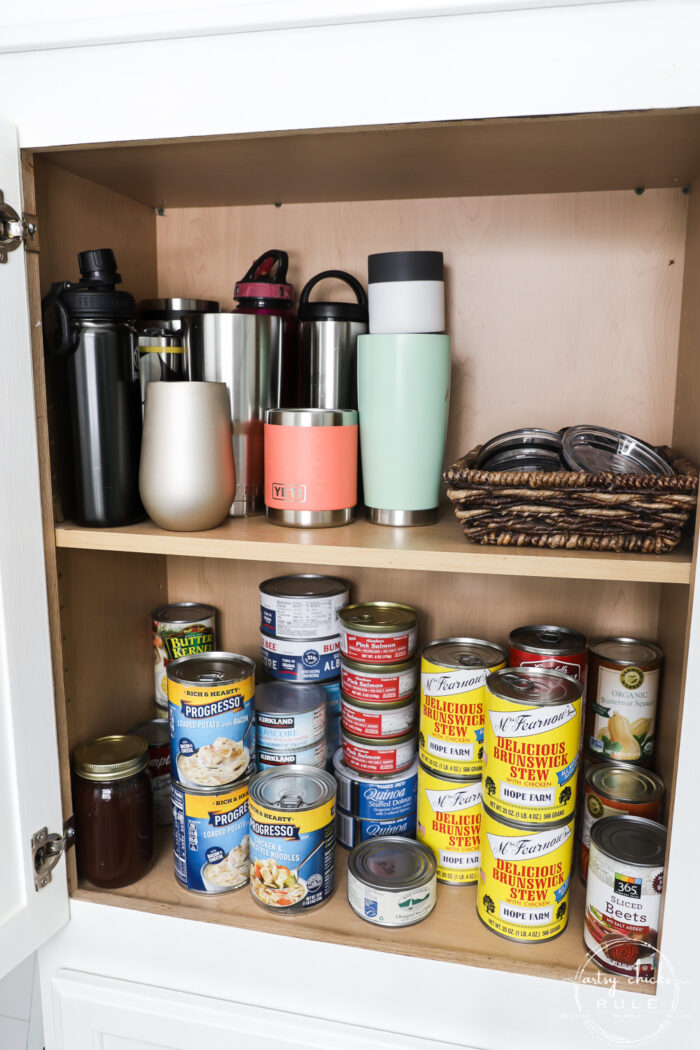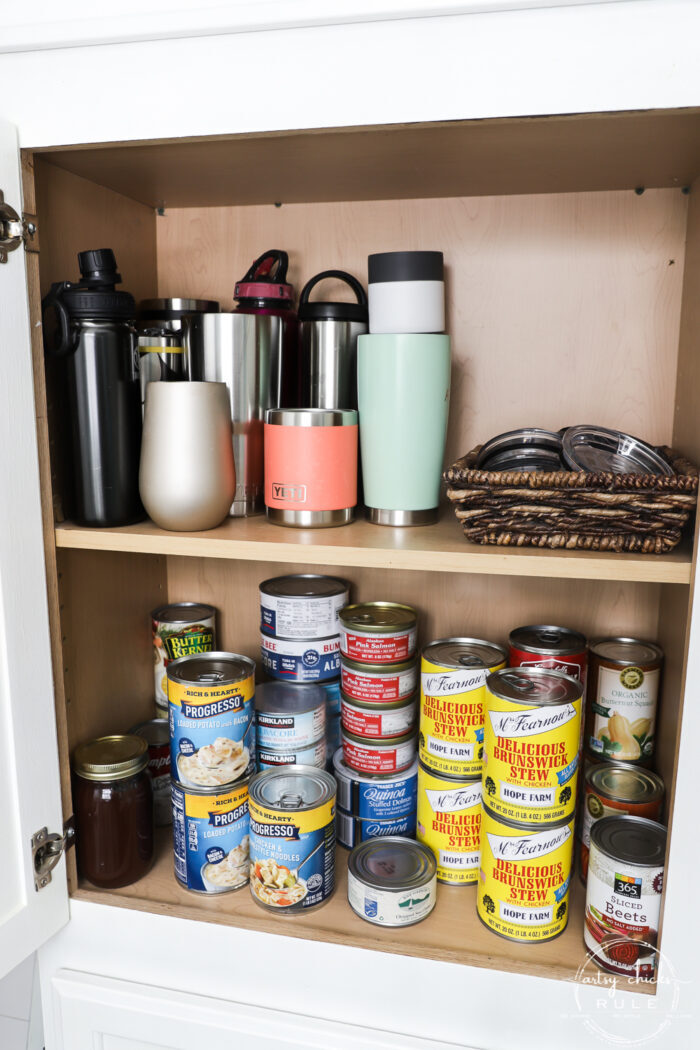 The last two cabinets on the bottom are miscellaneous things.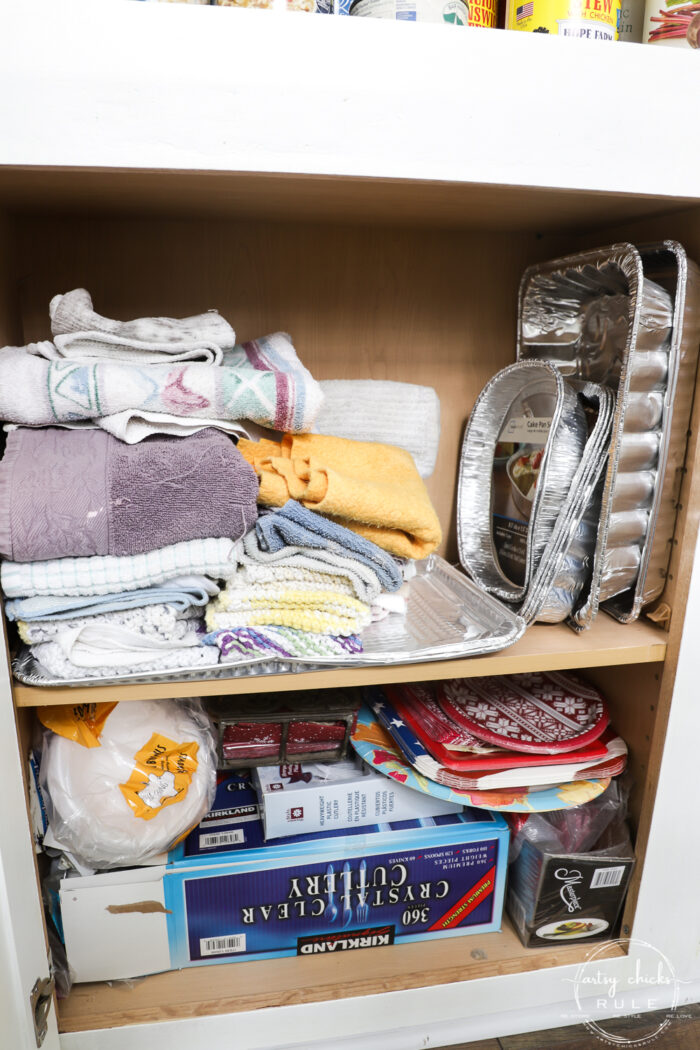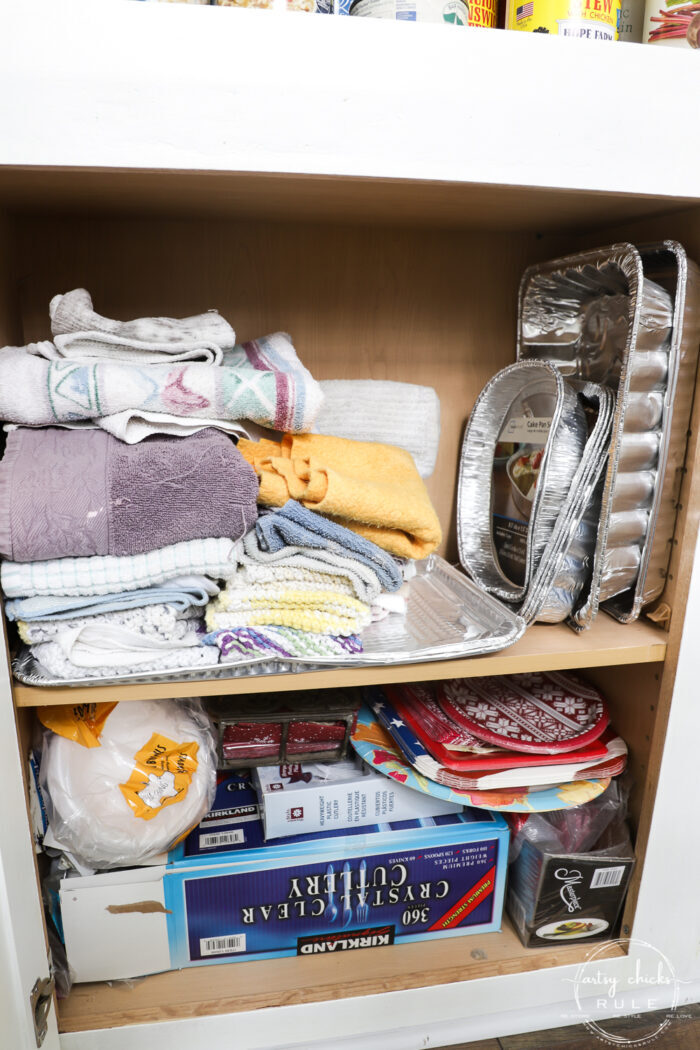 Plastic cutlery, plates, old towels/rags, and aluminum cookware for making food to take for others.
Plastic containers for taking food out to others, etc. Extra supplies, plates.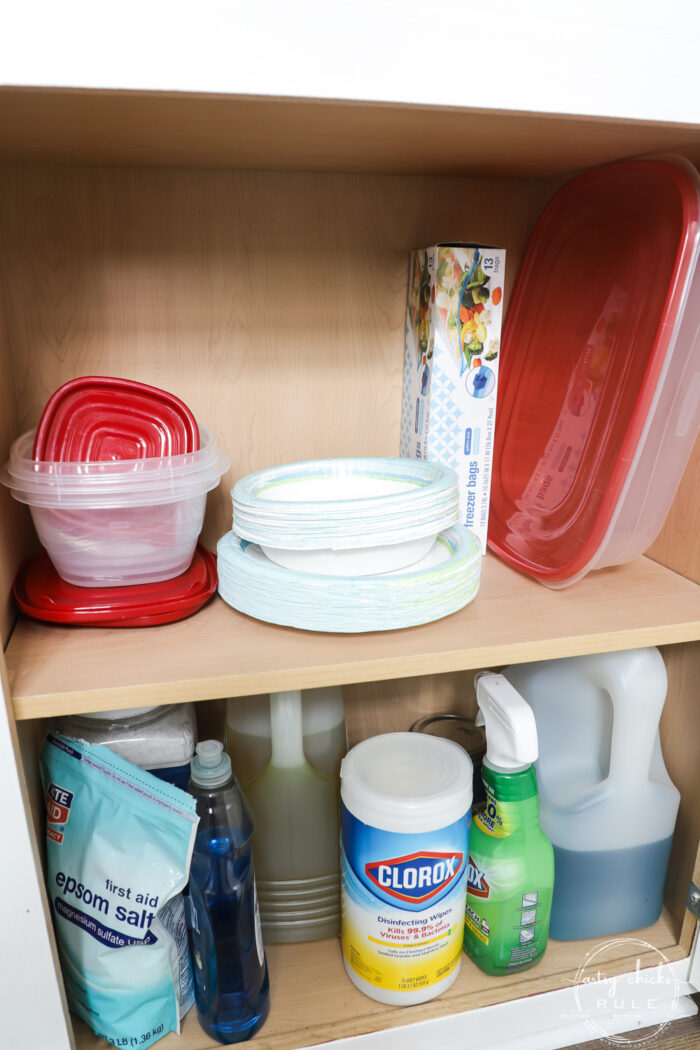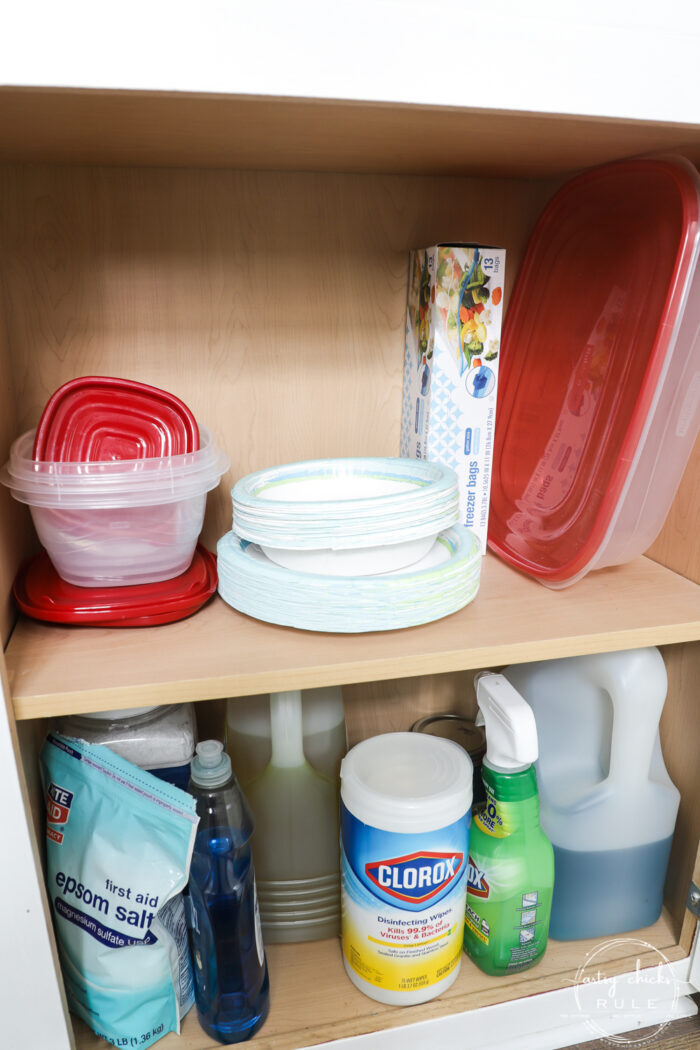 And another favorite kitchen organization idea…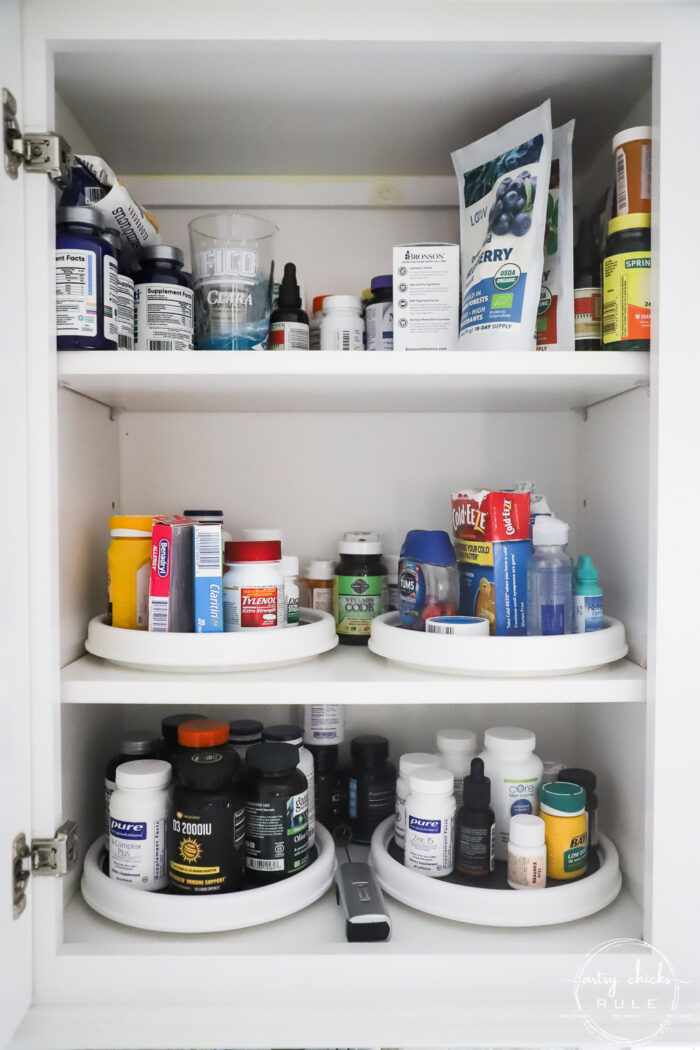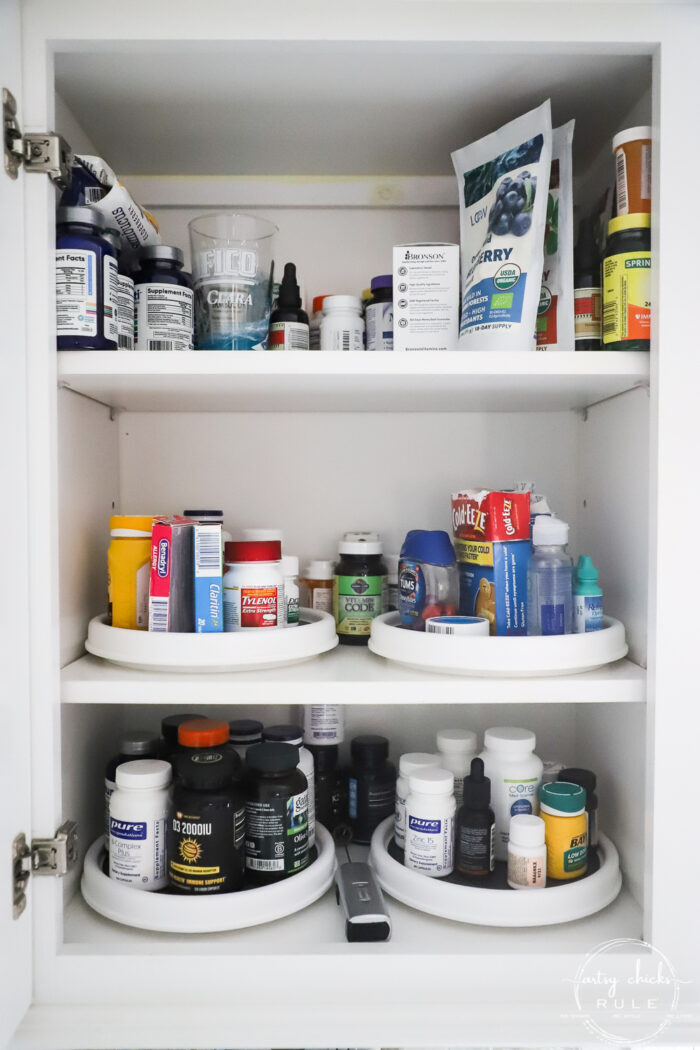 Oh my gosh… a game changer.
I was always searching for the vitamin bottle that I couldn't find, haha!
I put these little lazy Susan-type trays in and wow, so much better.
(the silver thingy is for my matcha green tea making…I keep it in this cabinet…I'll link it)
It's amazing how much a few small changes like this can make.
SO much more organized, SO much easier to find what you are looking for.
And SO much less wasted food potential. (pushed to the back and never seen again, goes out of date, etc)
Kitchen Organization Items In This Post
Food Storage Labels

(these are cute – I might get these)

Frother (I use it to mix my Matcha tea powder) (this is the same one I bought, just new and improved since I bought mine)
Wire Door Shelving (similar to mine, mine was here when we moved in)
I hope this post has been helpful to you!
It sure feels good to be so organized in this house. Makes everyday life more enjoyable, for sure.
Especially since we are spending so much time in our homes these days.
EDITED on 1/23 to say, that 2 years later, everything is still organized like this. It stuck! ha! But really, having the right "tools" certainly helps. The containers, the lazy susans, the spice jars…all a definite win-win!!
PIN it to save it!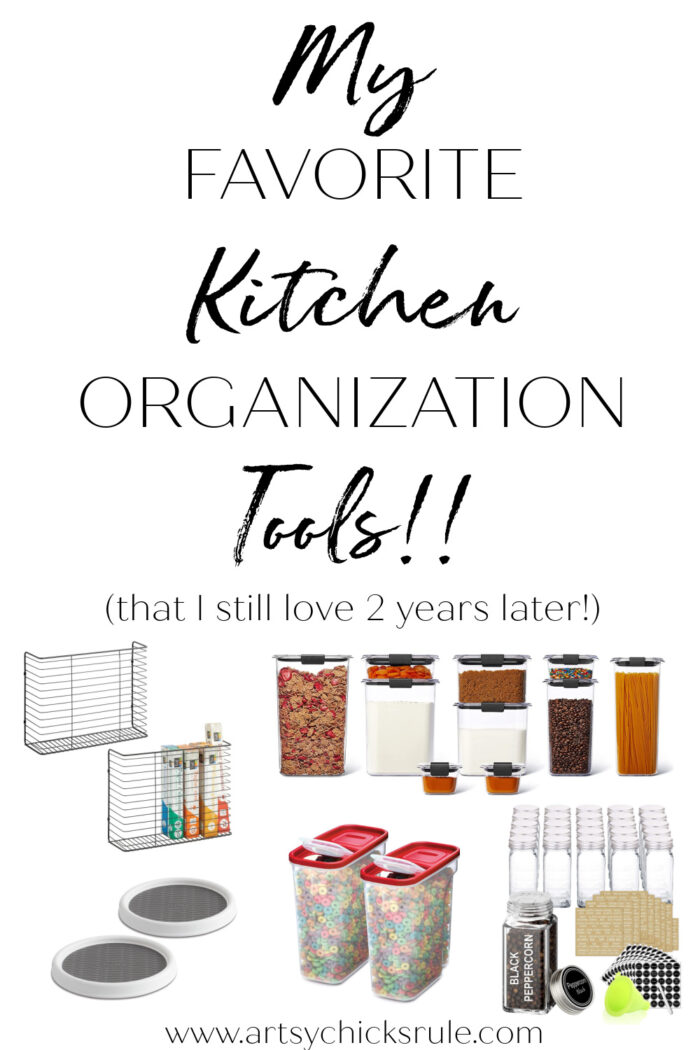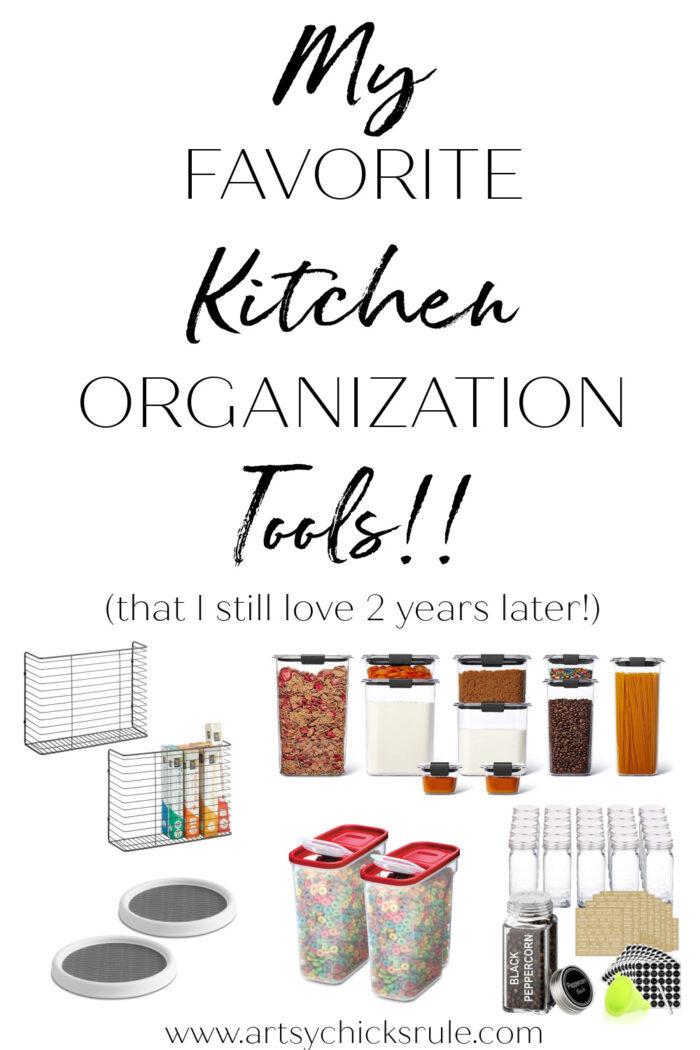 Have a blessed and safe weekend all!!
xoxo